Big shopping bags and the 763 to GVA
Salut, dear readers,
just a week ago, I´am back from our summer vacation in Spain
Air Nostrum/Vueling To Pacha Island
(by
FLIEGER67
Dec 10 2010 in Trip Reports)
There is an open position from two legs to GVA in August.
That´s the way now to close it, with two more flights down to GVA on another airline and a less covered airliner, at least for me.
Thursday, 16.09.2010
.
.
.
.
Service BA 903 operated by British Airways
Scheduled: 11.20 // 12.00
My first flight of the day will depart from FRA, the last leg coming in to STR, so Deutsche Bahn fills the gap once again.
The cell phone calls me at 05.00 am.
On the way for STR airport at 06.00 am.
Much more traffic than expected and in the terminal some five minutes ahead to the local trains departure, made it.
Down to the main trainstation only to notice that the ICE to FRA
runs behind schedule.
Nothing serious, but it´s the norm these days, so it seems.
A thousand of pax at the track, you know Germany´s DB runs not with fixed reservations, sure it´s possible to buy a seat, but there is no sale limit for all trains.
In my case I´am lucky to catch a open corner between two first class compartments and ride to FRA in future FR standard, on my own feet. But at least it is cheap 21.00 Euro´s.
OLCI is easy to use on BA´s website, seat 39A, the last row window, two seater, recline is possible and finally two for me with a load of 90 %.
Booking is done together with leg two by Fly.de, the fare is 50.00 Euro´s.
My engine at FRA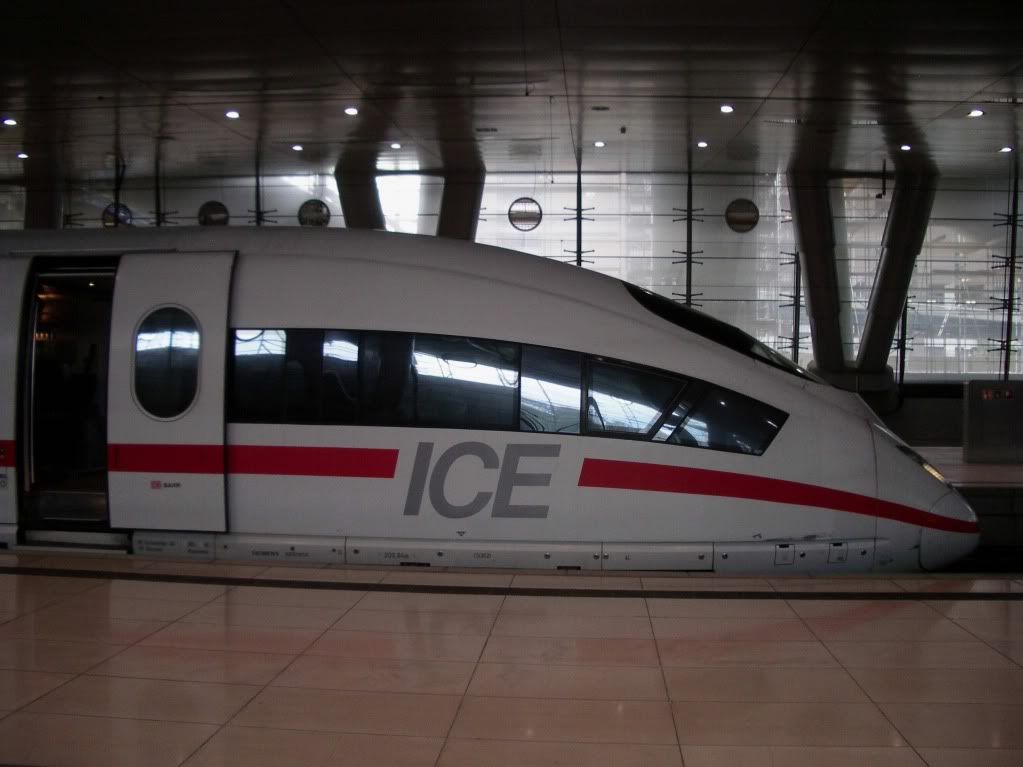 The oldfashioned but well used LH terminal 1B
A picture from the train to terminal 2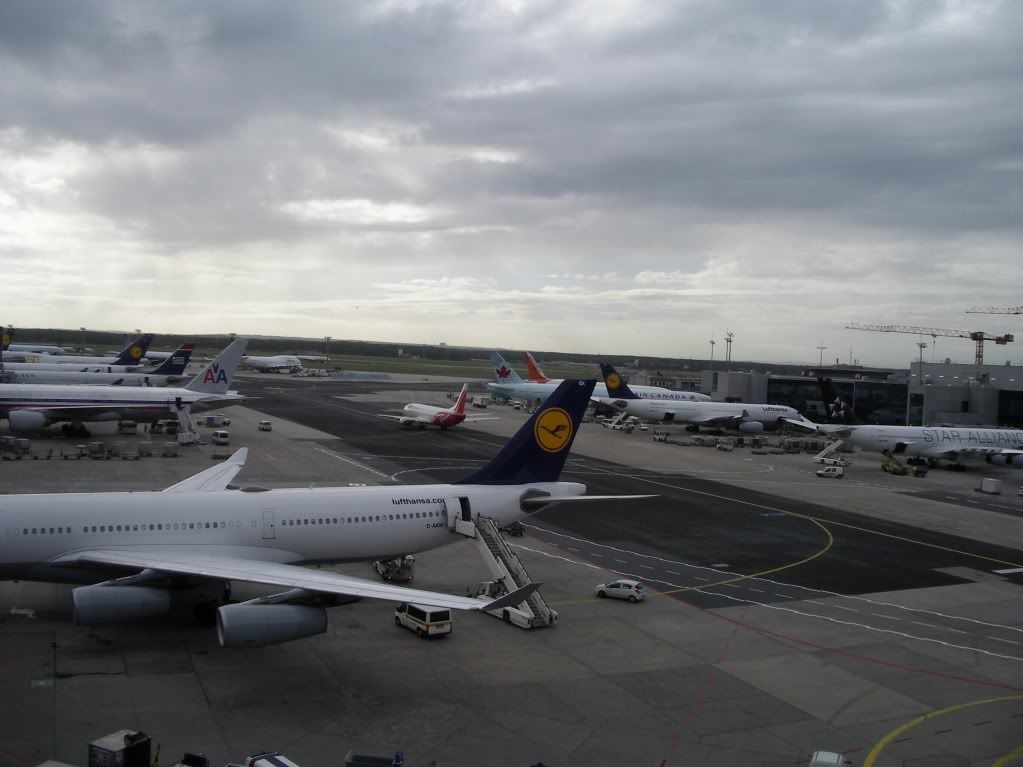 Two lines here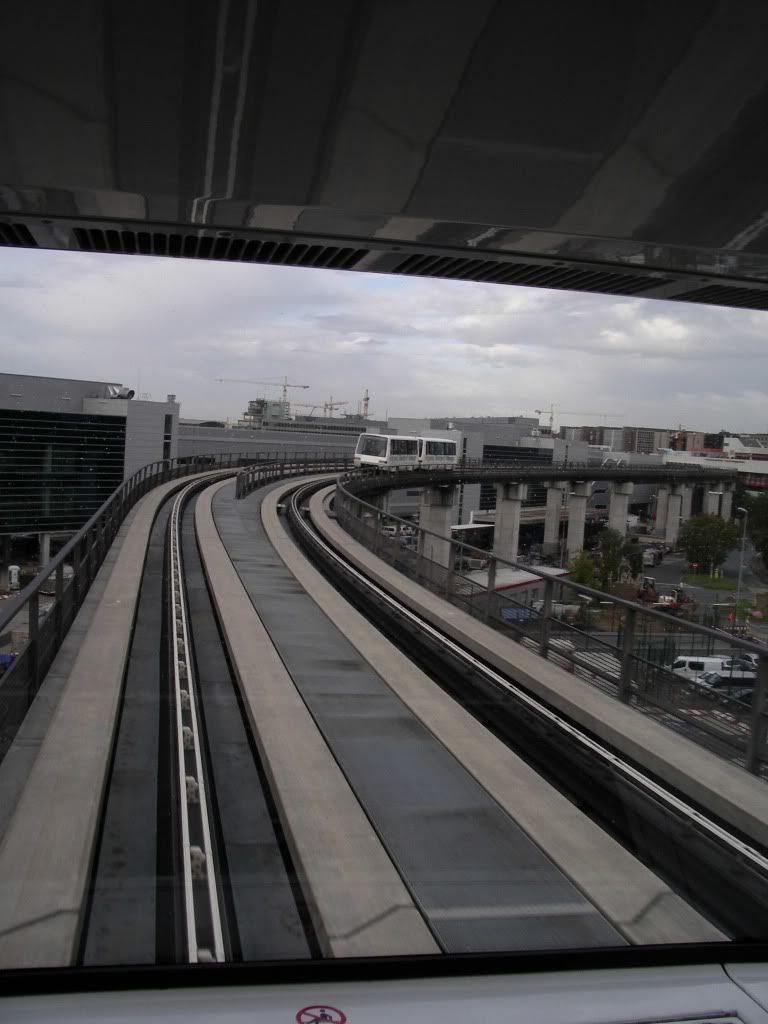 My plane is on the screen, a finger position today
This is it just after touchdown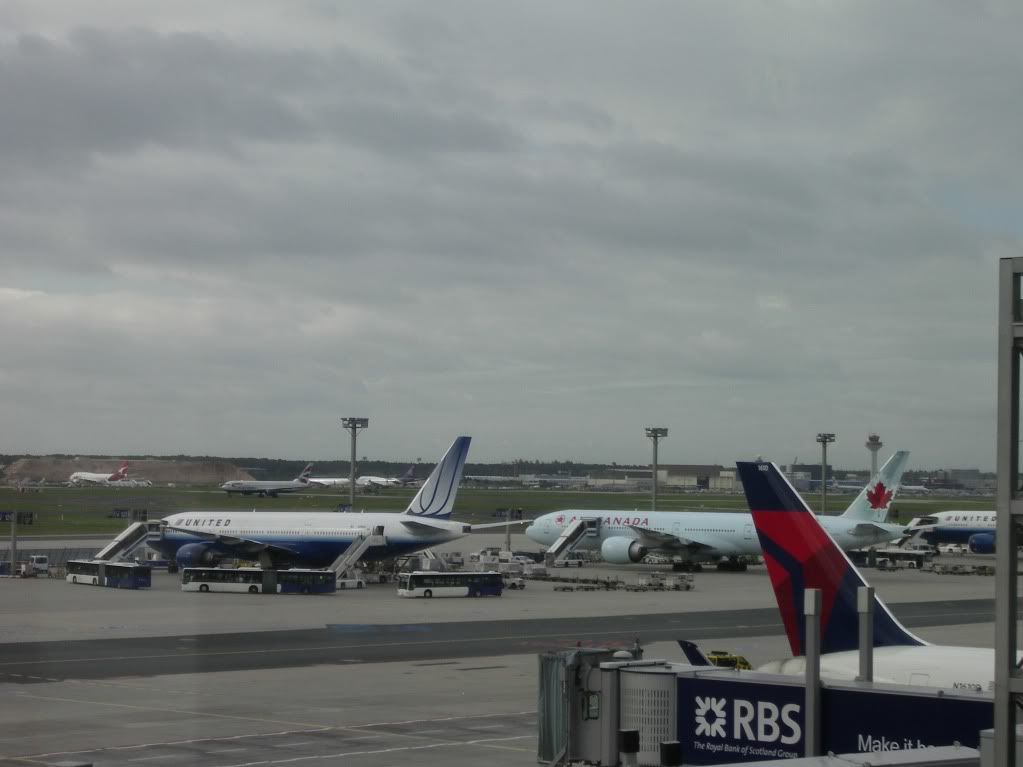 Taxi to T2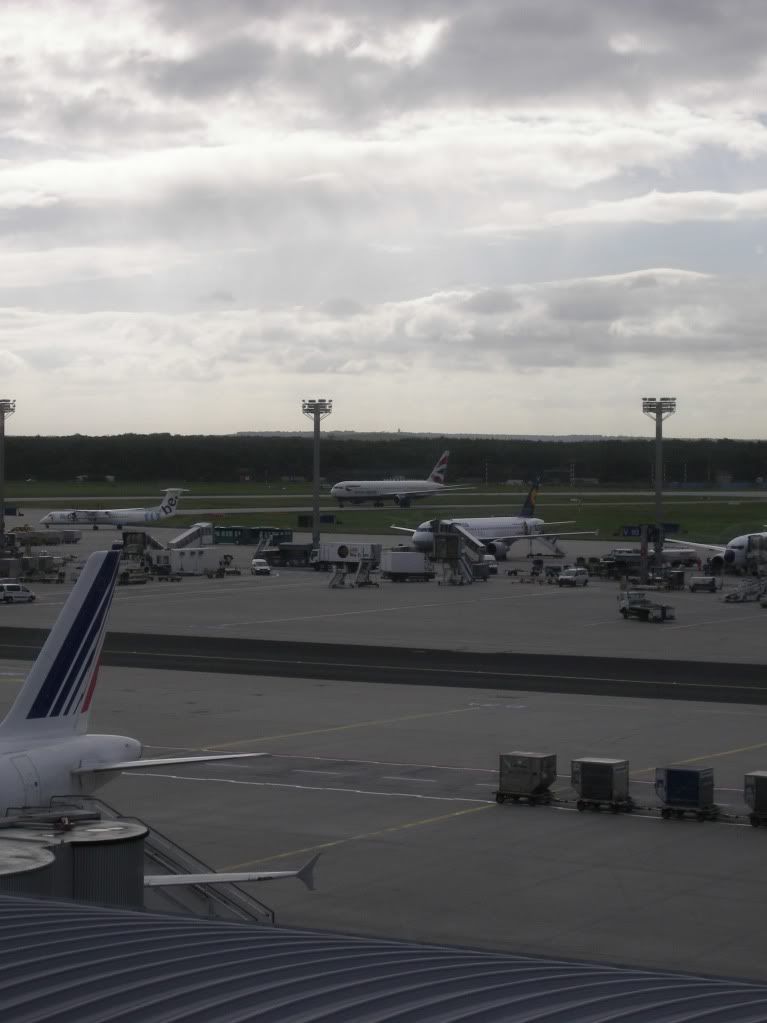 Three B763´s in one picture
It is G-BNWZ, the scheduled 767-300, a new registration for me, leg no. 4 only on type
This machine is in service with BA since 25.02.1997.
One of actual 21 in the fleet
Looks good, isn´t it?
Comfortable seaters at the gate
D4 for me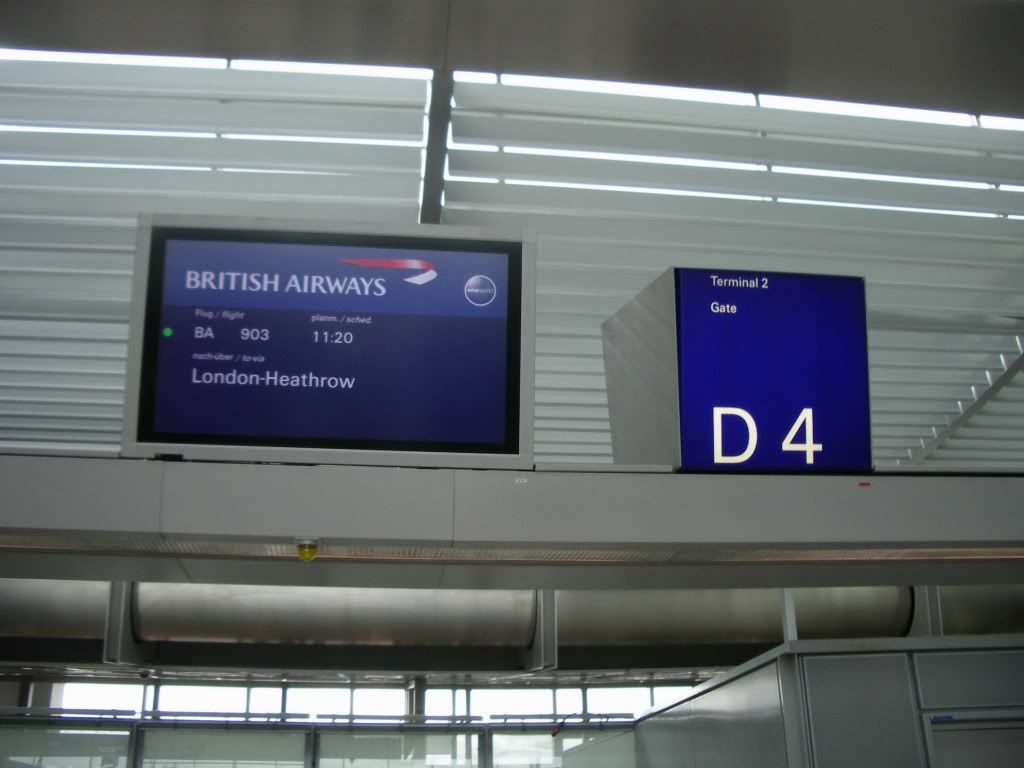 Well, it´s not the best decision for UK travels today.
Not only me heading there, also the pope coming in.
That means all UK flights in a separate area with an extra security check.
Some ten minutes to wait there.
Two very whitehaired US ladies, so it seems, cuting the queue,
well, everyone here knows, the wait in line rule is not guilty for people with an age over 80 years!.
While doing my pictures I saw some police guys running to the security station, the staff running away, all pax like prisoners
in there areas, nobody is allowed to move.
What happens?. There is a small white bag unattended at the security station. Sniffer dogs coming along, one guy from the special force checks the bag with something what looks like a radar gun.
Finally they open it and false alarm.
Remember that whitehaired ladies?.
One of them coming along with a gate staff agent, "My bag, my bag, what are you doing with my bag?. Unbelievable.
With all that chaos, boarding starts a little late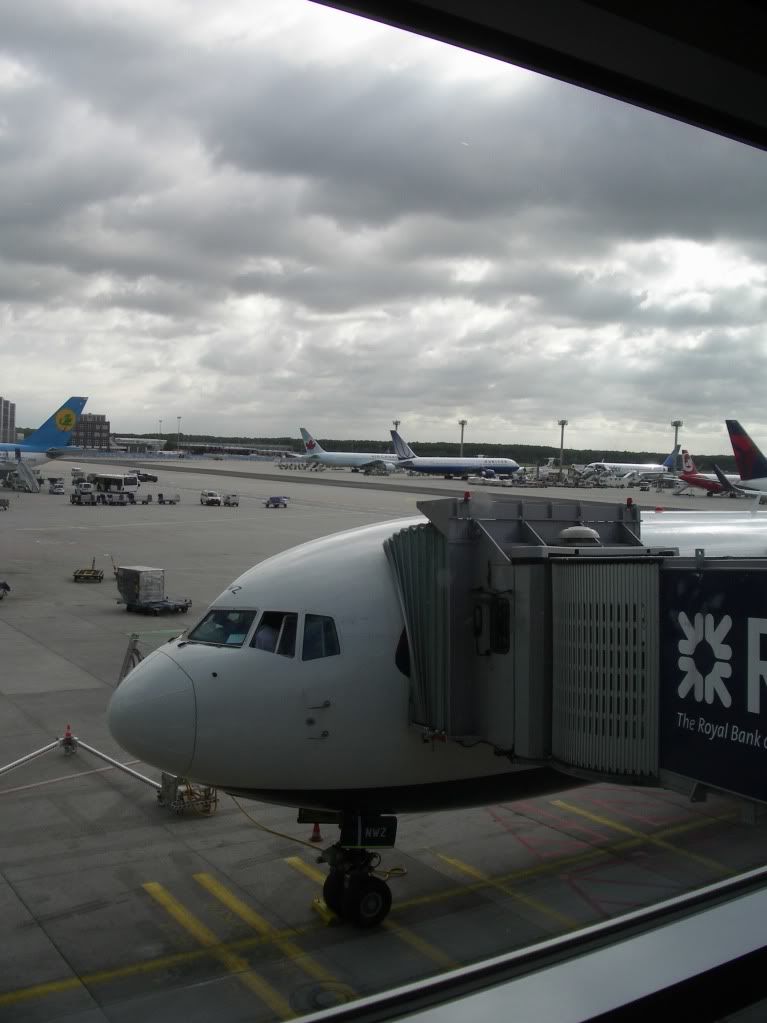 Cabin view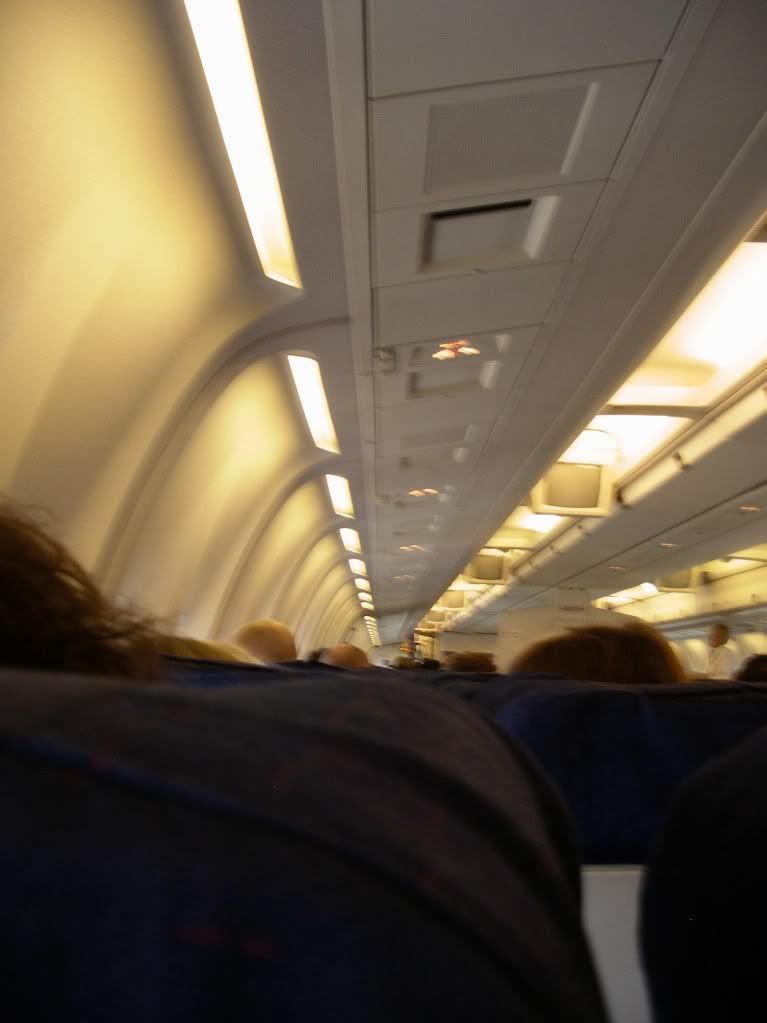 Oldfashioned blue fabric seats in different colours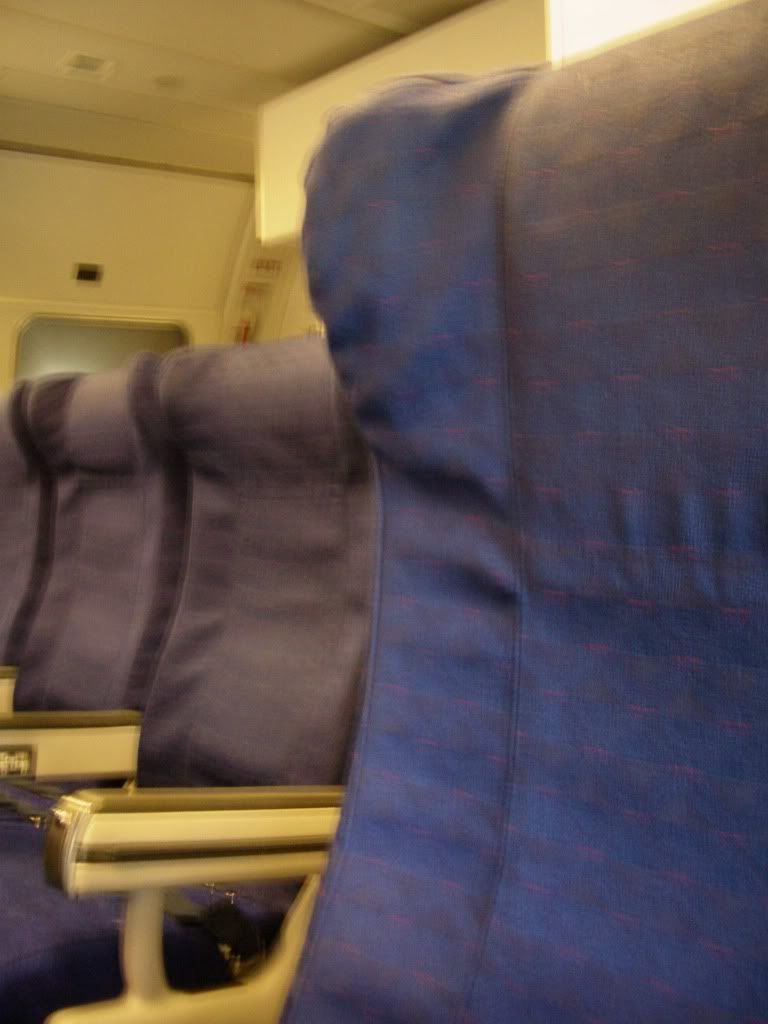 Cockpit crew is from the UK, the captain with a very nice and detailed welcome during boarding is completed.
We see an ATC delay due to heavy traffic into LHR, some minutes to wait.
The safety card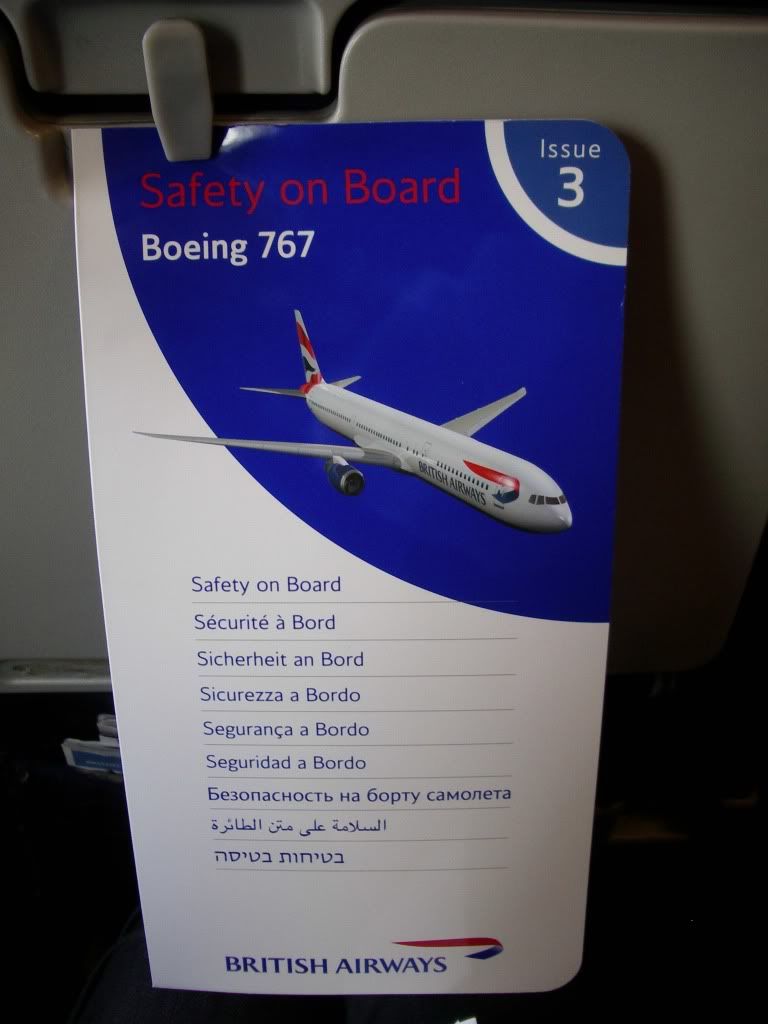 And the magazine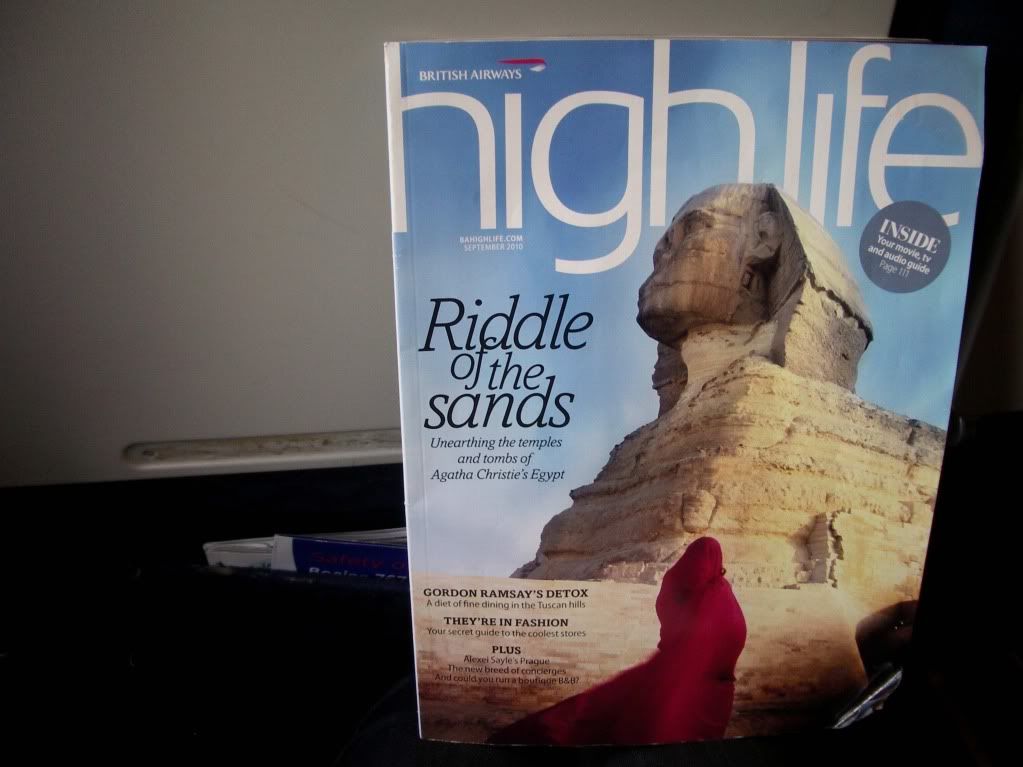 LH A380 on taxi
Just departed from the 4000 meters runway 18, note the very dirty wing.
It is 11.20 am, ontime, cloudy but dry and the temperature is 15 degrees.
1 hour 25 minutes bound for LHR
I love that moment when you leave the clouds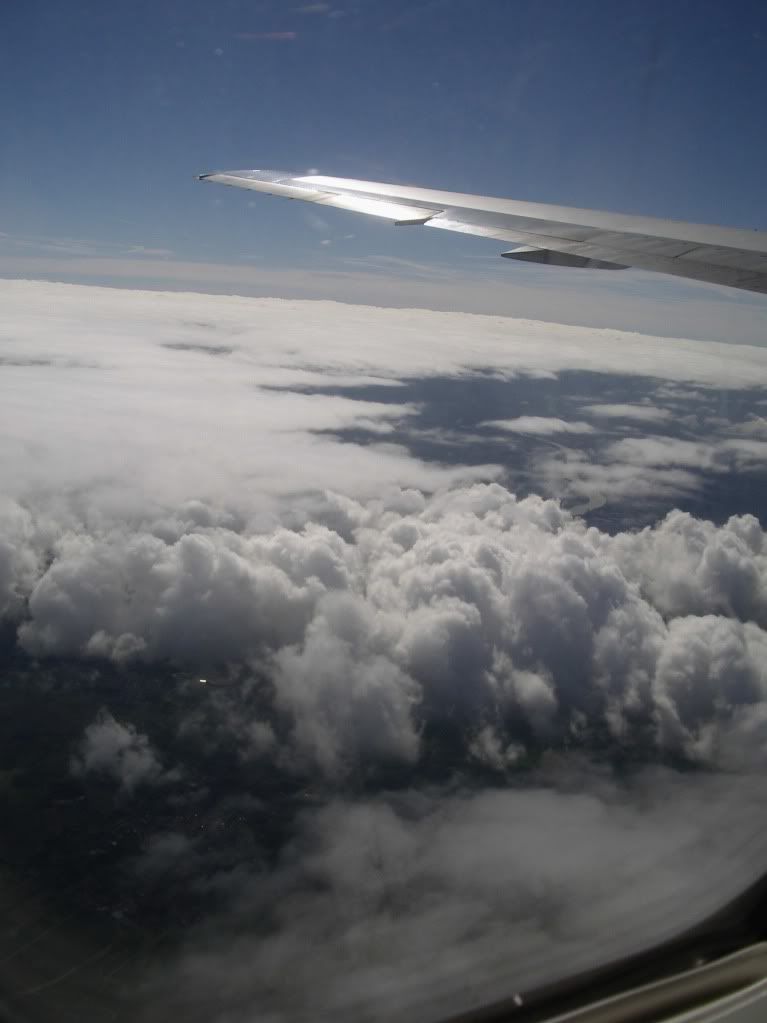 I count seven female FA´s here, all together well experienced, so it looks like and nice.
The cabin, the oldfashioned center monitors not in action today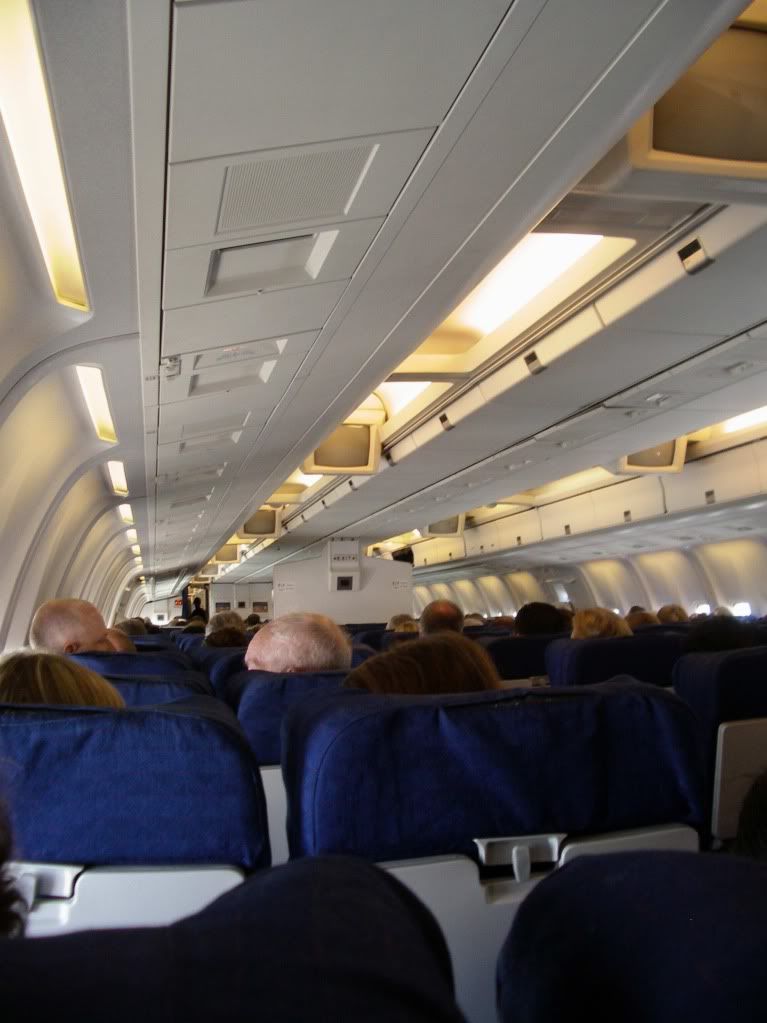 Good legroom here in the last row.
Dark blue fabric seats, worn out, oh yes, somewhat dirty, no individual climatization here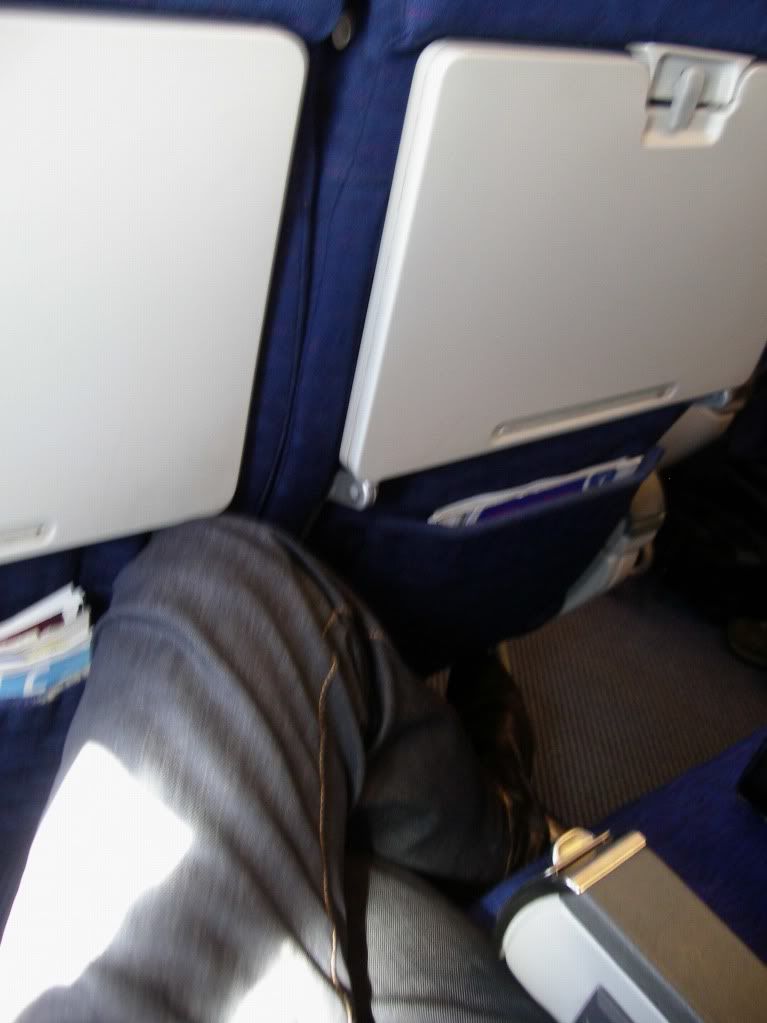 Service is snack and free drinks.
No route information, but a calm flight at 32000 feet.
The captain is on the speakers short to approach detailed, holding as usual and once more after holding prior to landing.
Touchdown at the 3658 meters runway 27L, it is 12.10 am, close to ontime, in the UK, 1.10 pm in Germany.
Cloudy sky here also and 15 degrees.
No, that´s not a third world carrier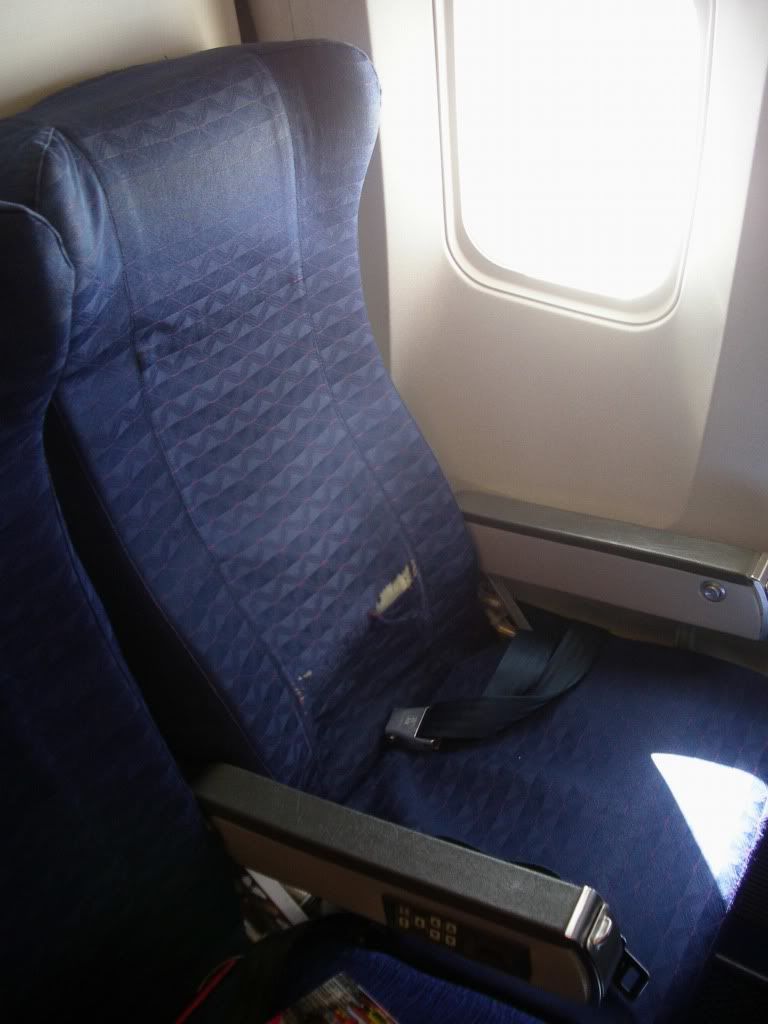 Docking at T5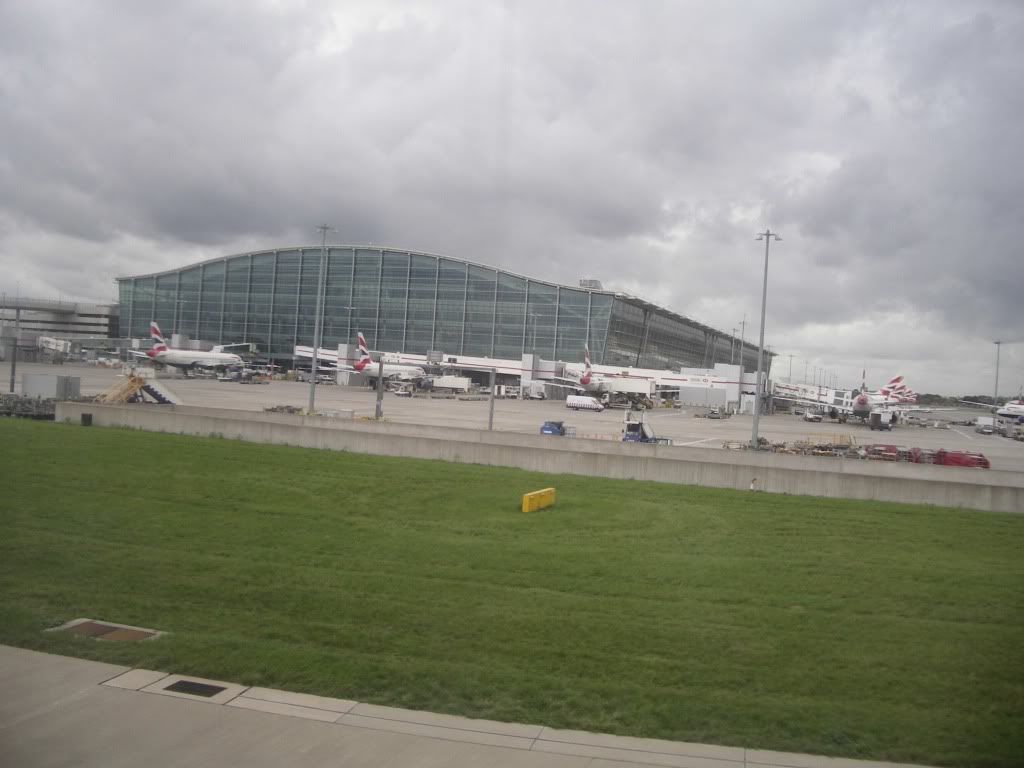 A last view to my machine
.....