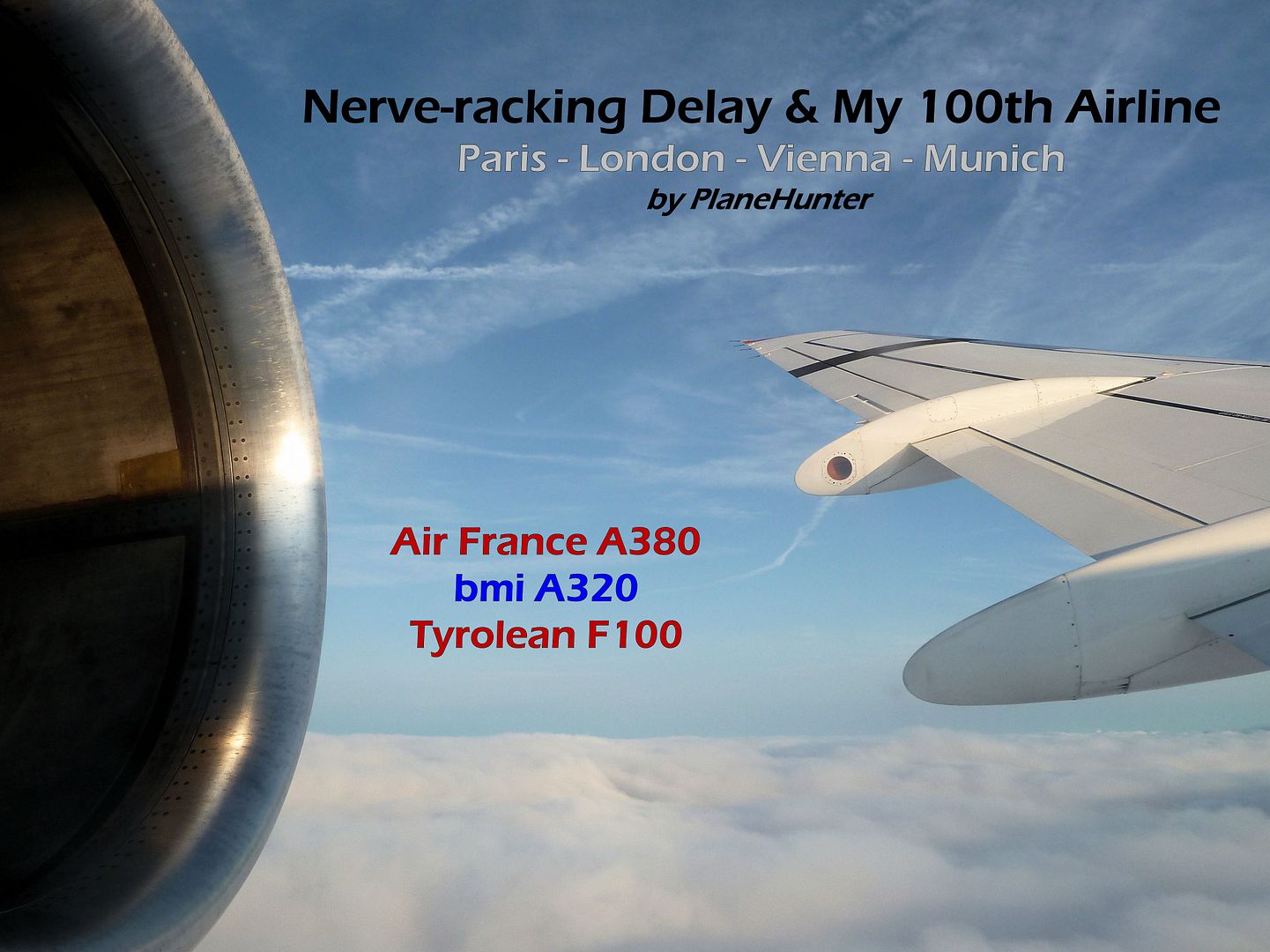 Background
Fifth Freedom is a magic term in aviation enthusiast circles. Fifth Freedom enables us to fly on airlines without having to travel all the way to their home countries. One of the various non-European airlines with traffic rights between some European cities is Kuwait Airways. I had been interested in the carrier and its operations between Frankfurt and Geneva (A340-300) and between Rome and Paris (A300-600) for a long time. By the end of May I finally decided to book a flight on one of these routes. It soon turned out that flying times and fares were most attractive on the Rome-Paris run. Getting on the A300-600 was not a priority, but of course I wasn't unhappy about another ride on that meanwhile classic and more or less rare bird.

The next task was to find attractive flights to Rome and from Paris. One-way fares to Rome were insanely expensive, but I soon discovered a reasonably priced MUC-FCO-MUC round trip on Alitalia, operated by an Air One CityLiner CRJ900. In order to avoid fare increases and booking fees I quickly bought the tickets on Expedia and then started searching for a hotel and interesting return flight options.

Kuwait Airways would be my 98th airline and Air One CityLiner would be my 99th, so of course I tried to complete my itinerary with airline No. 100. Unfortunately, I didn't find any interesting and reasonably priced options between Paris and Munich. Then I decided to have a look at the Air France A380 service to London. I hadn't wanted to book a trip for the sole reason of getting on that bird, but why not add it to an existing itinerary? One-way fares were too expensive, but I found a round trip for 78 Euro and quickly booked it on Air France's website.

Now I needed to find a flight to Munich, but again I wasn't impressed by the available options at first. easyJet offered relatively low fares, but I didn't like the idea of a transfer from Heathrow to Gatwick. I finally was about to book an ordinary British Airways A319 flight, but then I suddenly discovered a well-timed connection offered by Austrian Airlines: bmi A320 to Vienna and Tyrolean Airways Fokker 100 to Munich. I wasn't amused about the price, but I couldn't resist to get on Tyrolean which would be my 100th airline. I booked the remaining flights on Expedia and finally reserved a room at the Ibis CDG Terminal hotel.

Part 1 can be found here:
Fifth Freedom Tidbit: Kuwait Airways A300-600
(by
PlaneHunter
Dec 2 2010 in Trip Reports)
Sunday, 18 July 2010
Paris (CDG) - London (LHR)
Air France AF1980

10:05-10:25 (12:01-12:25)
Flying time: 00:47 (hrs)
Economy Class, Seat 93K

Airbus A380-861
F-HPJA (MSN 033)
Built in 02/2009 and delivered in 10/2009
1st flight on F-HPJA
3rd A380 flight
3rd A380 carrier
(status prior to flight LH380)

After logging several more registrations from my hotel room...
...I enjoyed the excellent breakfast buffet, checked out and took the CDGVAL to Terminal 2. I had already printed my boarding pass at home, so there was no need to stay in the Terminal 2E check-in hall.
It was my first journey on Air France after the company had introduced the automatic check-in for most short and medium haul flights. Whenever you book on
www.airfrance.com
you automatically receive the boarding pass 30 hours before departure. At the time of booking I hadn't been able to select a seat, but I had requested a window seat. Unfortunately, during the automatic check-in process, the system assigned me a window seat in the front section on the main deck. I had been seated on the main deck on Emirates and Singapore Airlines, so I really wanted to try the A380's upper deck this time. Some 28 hours prior to departure I checked the seatmap and found out that all window seats on the upper deck weren't available any more. So I chose seat 93K in the end, an aisle seat on the upper deck - not optimal, but still acceptable. I didn't check the seatmap again at the airport and went straight to security where I joined a long queue.
20 minutes later I arrived at the gate and was glad to find out that
F-HPJA
, the first A380 in the fleet, would operate flight AF1980. Unfortunately, taking good pictures was impossible: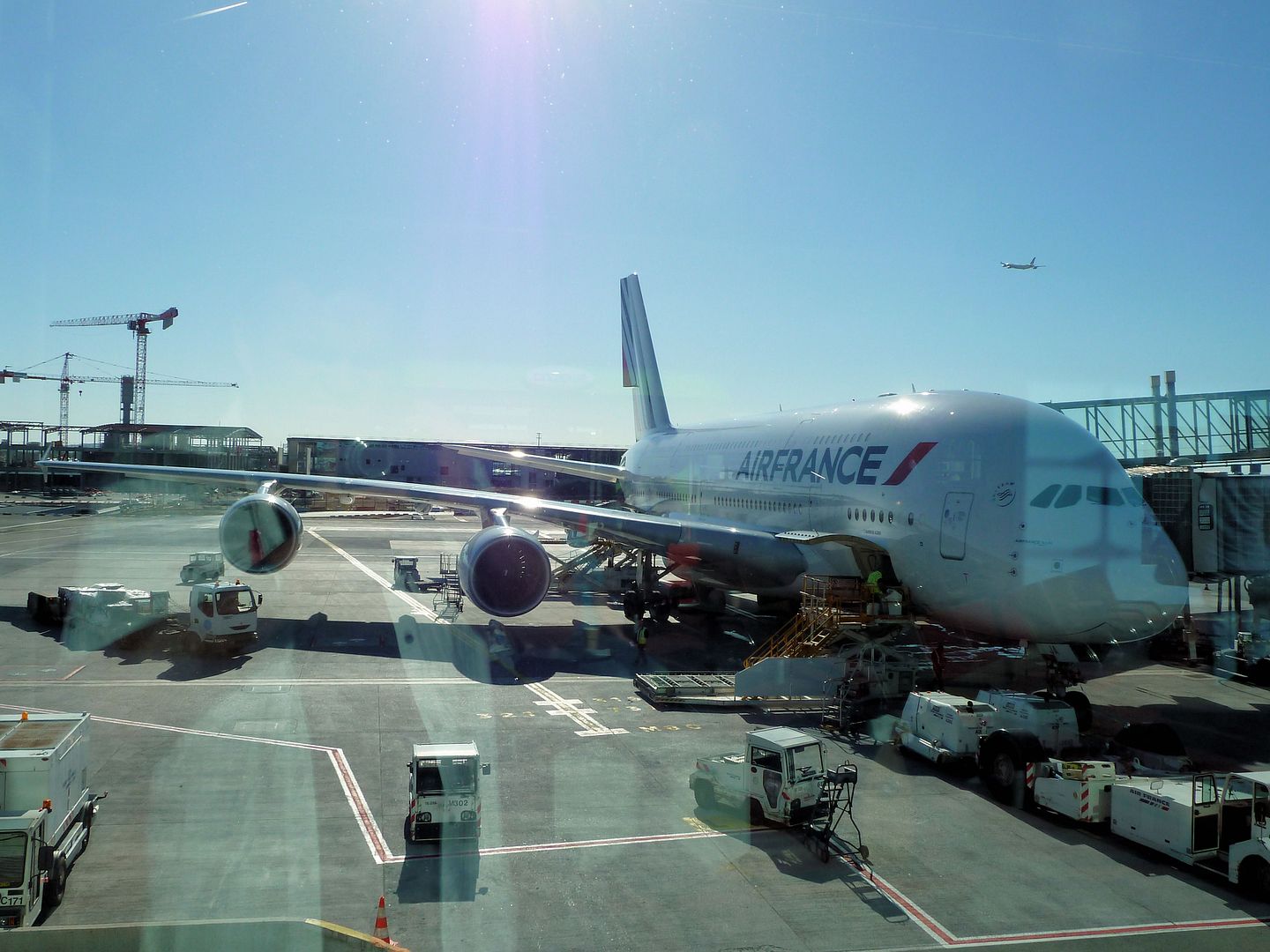 Sister ship F-HPJB was parked at the adjacent gate: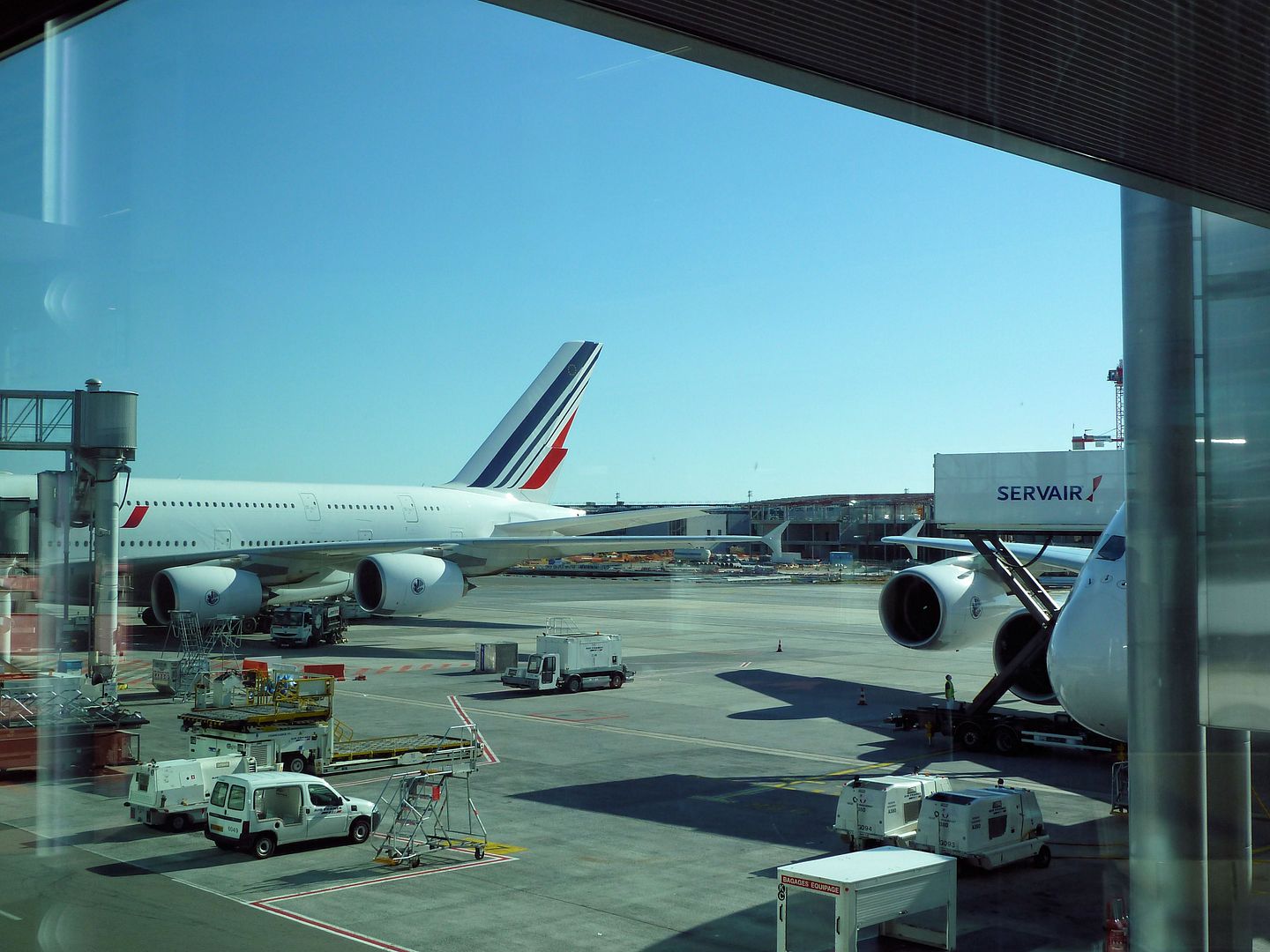 I still had plenty of time left, so I walked to the front end of the concourse where I could enjoy great views of two runways, some taxiways and some gates. I and was able to log many new registrations within an hour, one of the most interesting birds was Air France 777-300ER F-GZNE in Skyteam colors: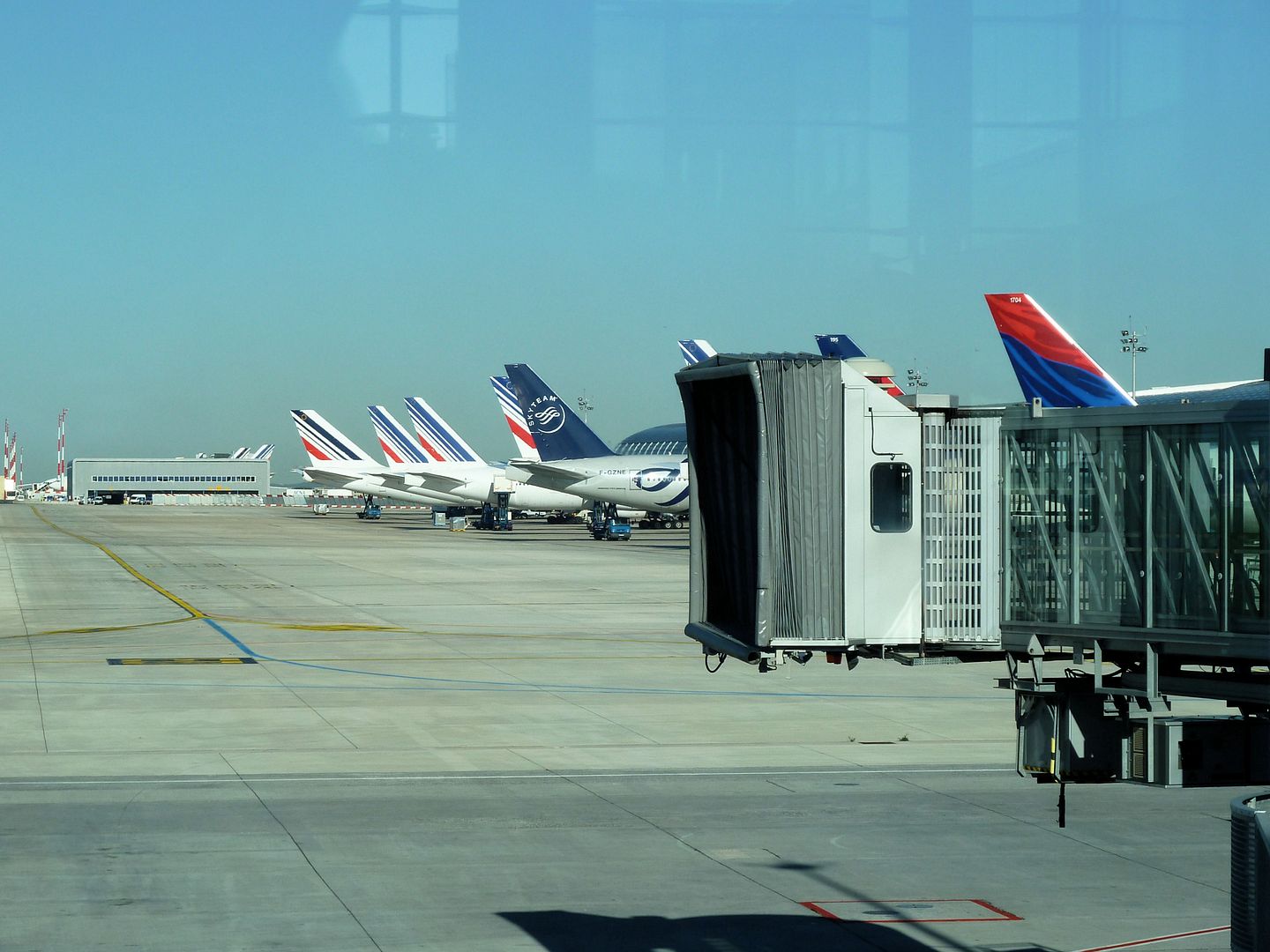 Finally, it was time to return to the gate and I wasn't amused to find a large crowd there. I wasn't sure where I should line up at first, but then I noticed signs for both main deck and upper deck passengers. Apparently, numerous people had not seen or understood the signs and chosen the wrong queues. Anyway, boarding commenced early so it was obvious that all passengers would be on board for an on-time departure.
I had been expecting that Air France would also use the upper deck jetway for boarding, but the corresponding escalators were blocked off. Friendly flight attendants welcomed me at a main deck door and directed me to the stairs. Of course I took a picture of the famous "salon":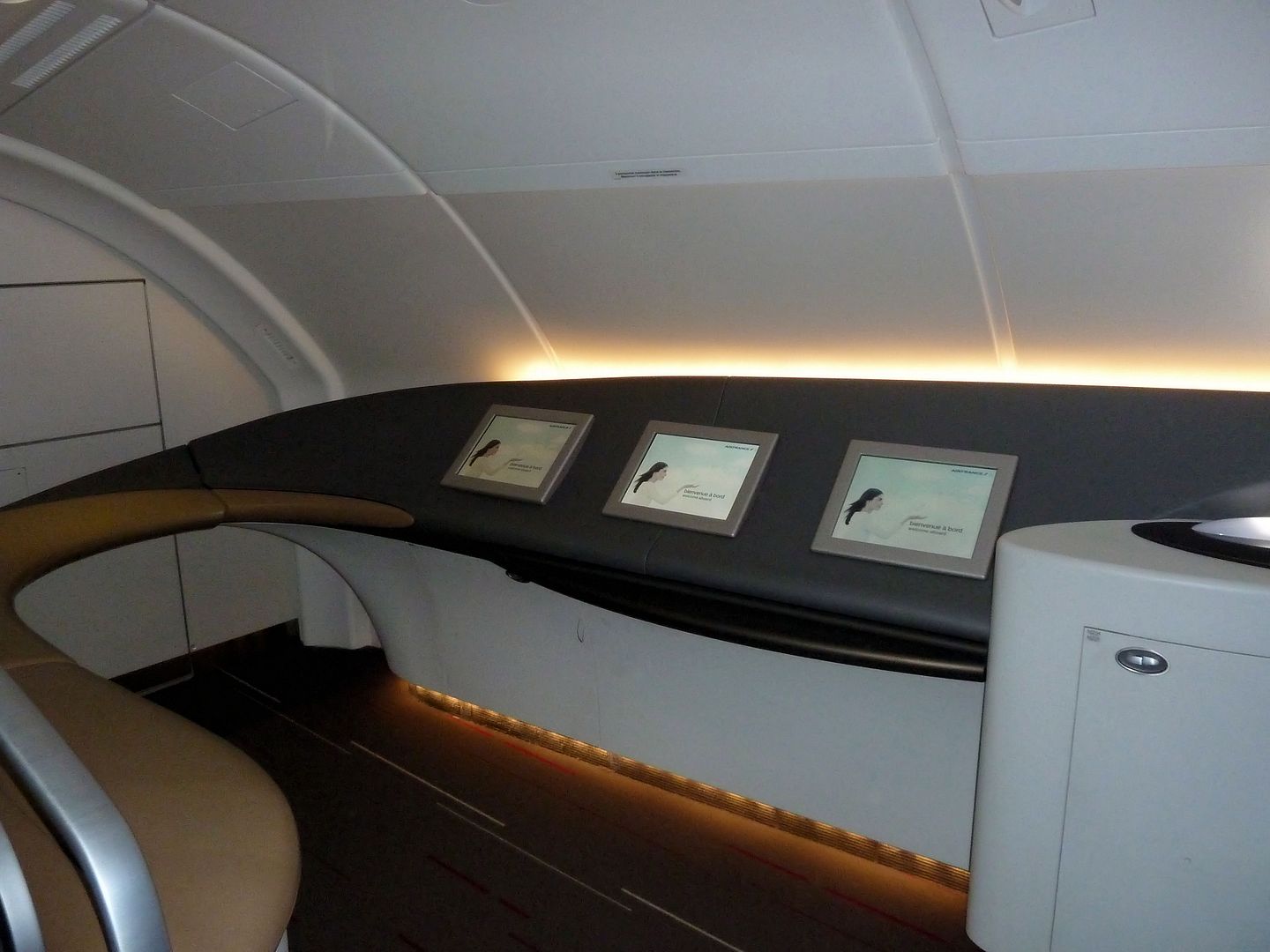 Business Class seats: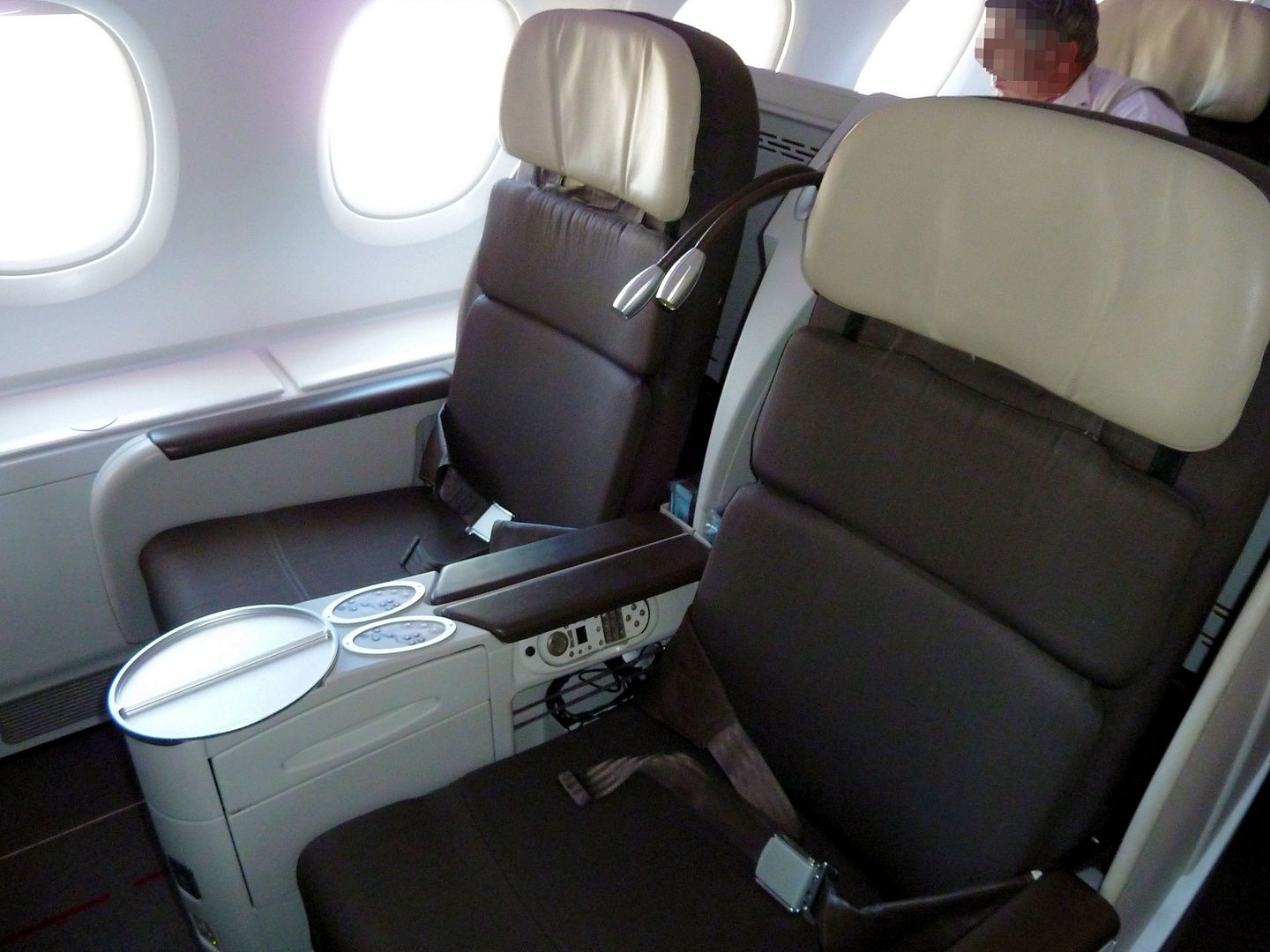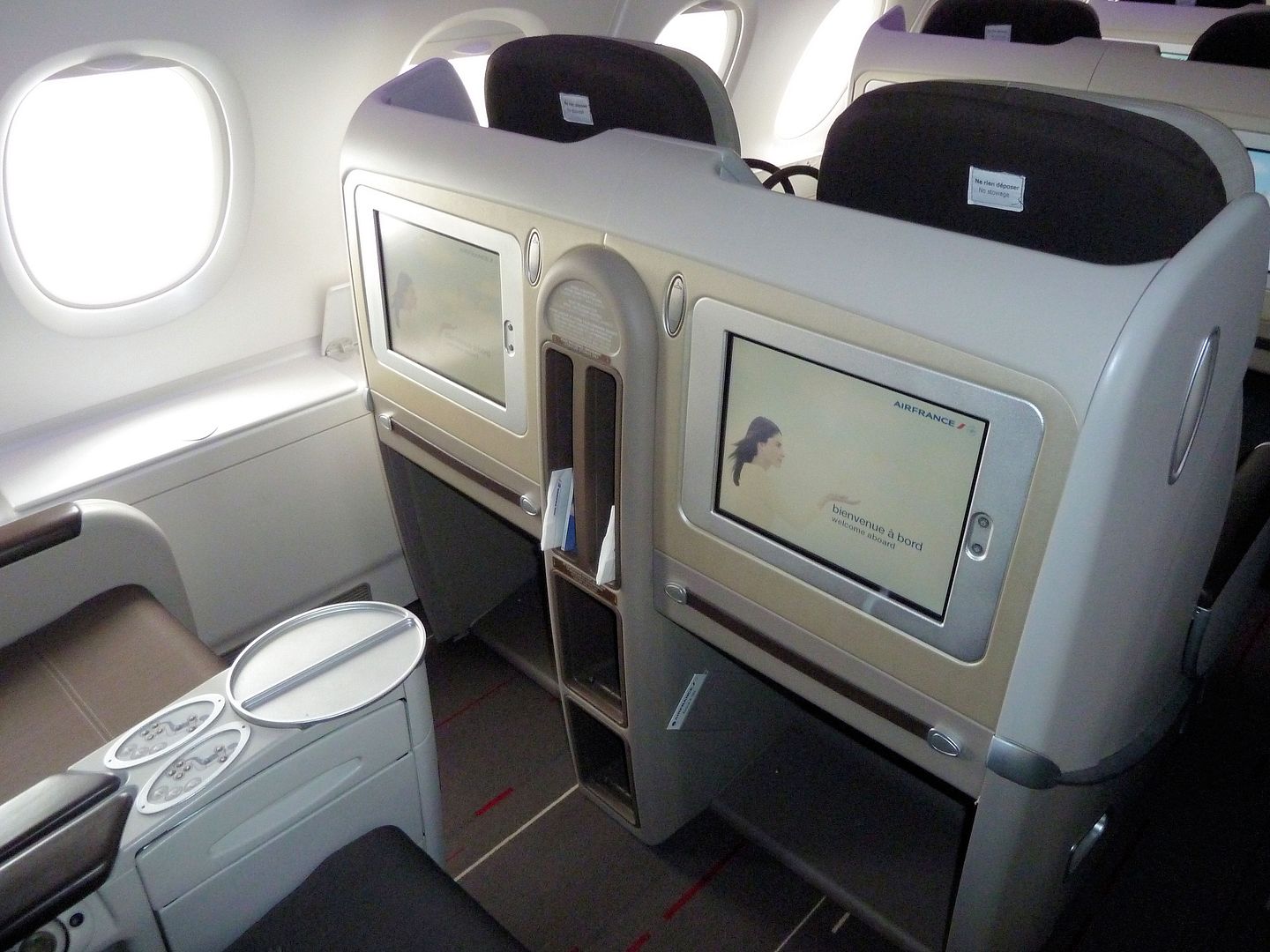 The 19-inch wide Economy Class seats are hard, but still comfortable...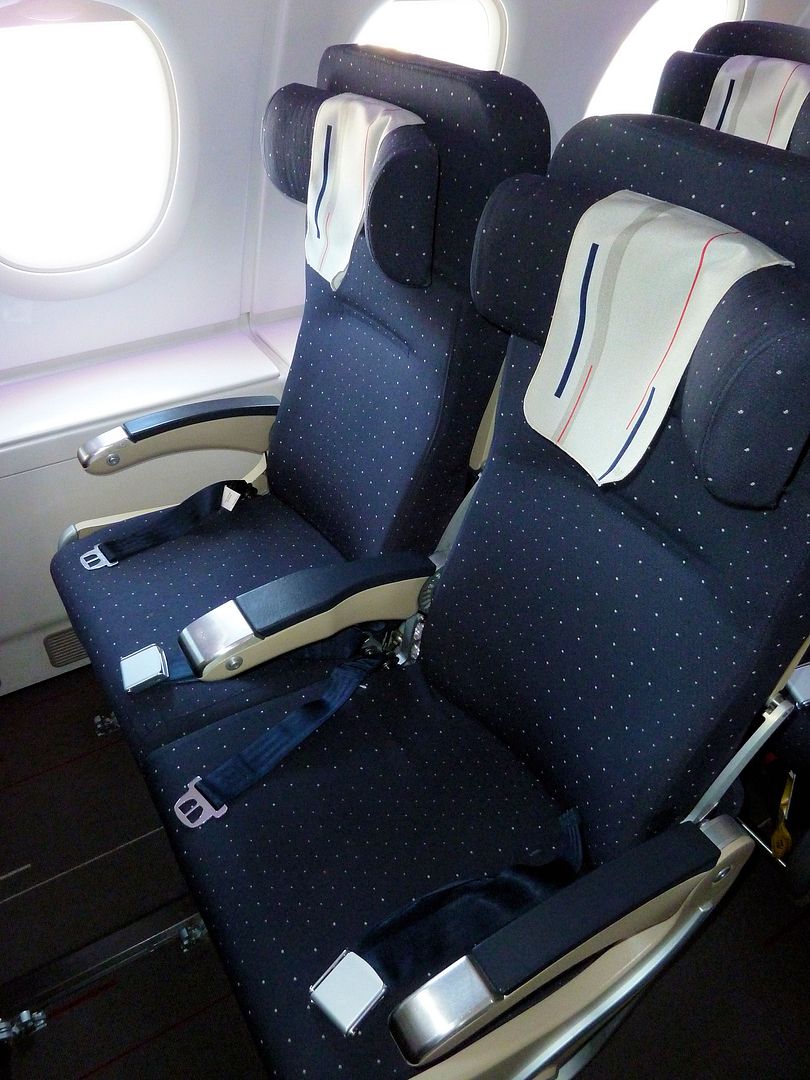 ...and the 34-inch seat pitch must be appreciated, too:
Welcome screen: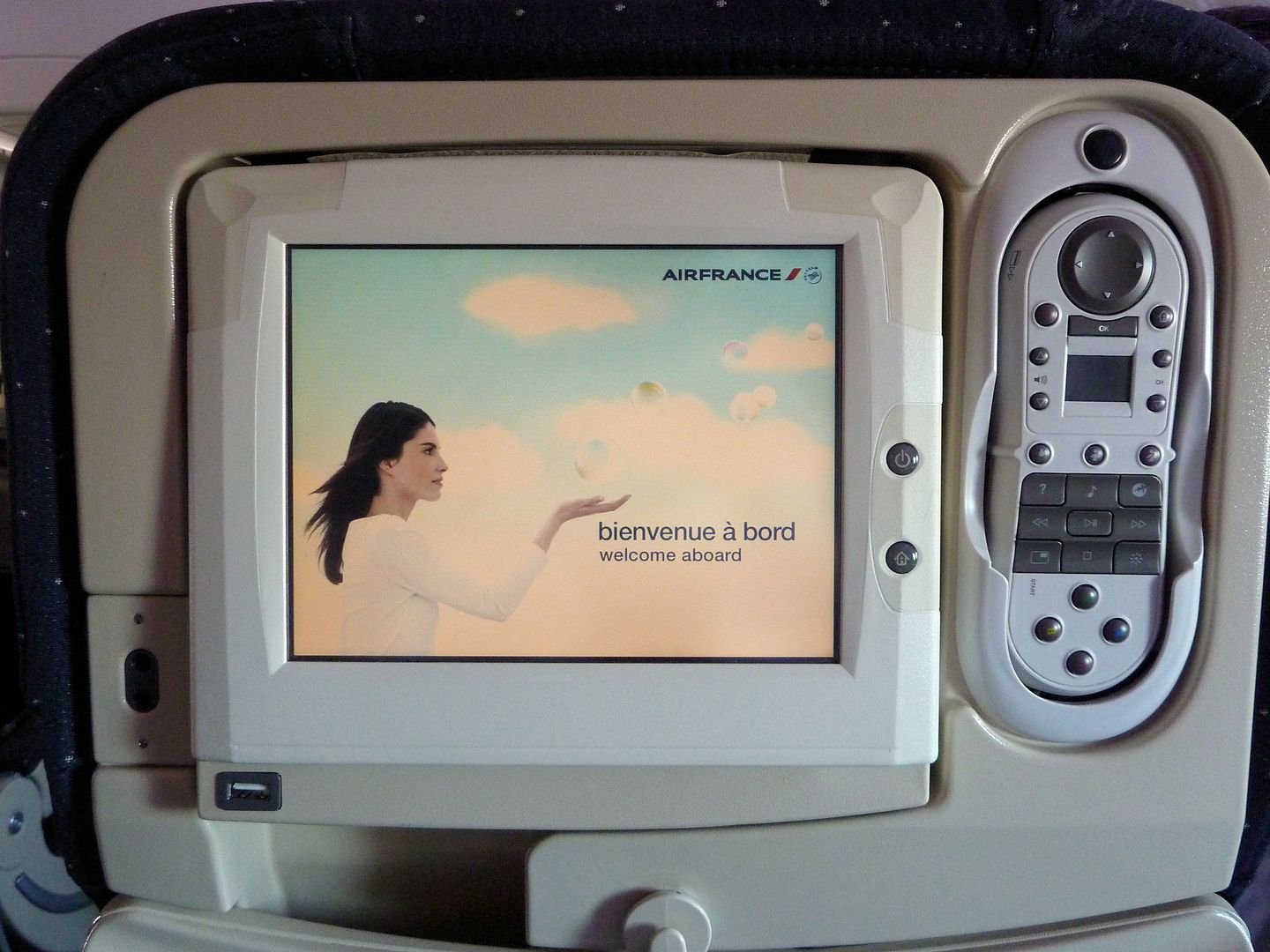 I really liked the low mood lighting during boarding: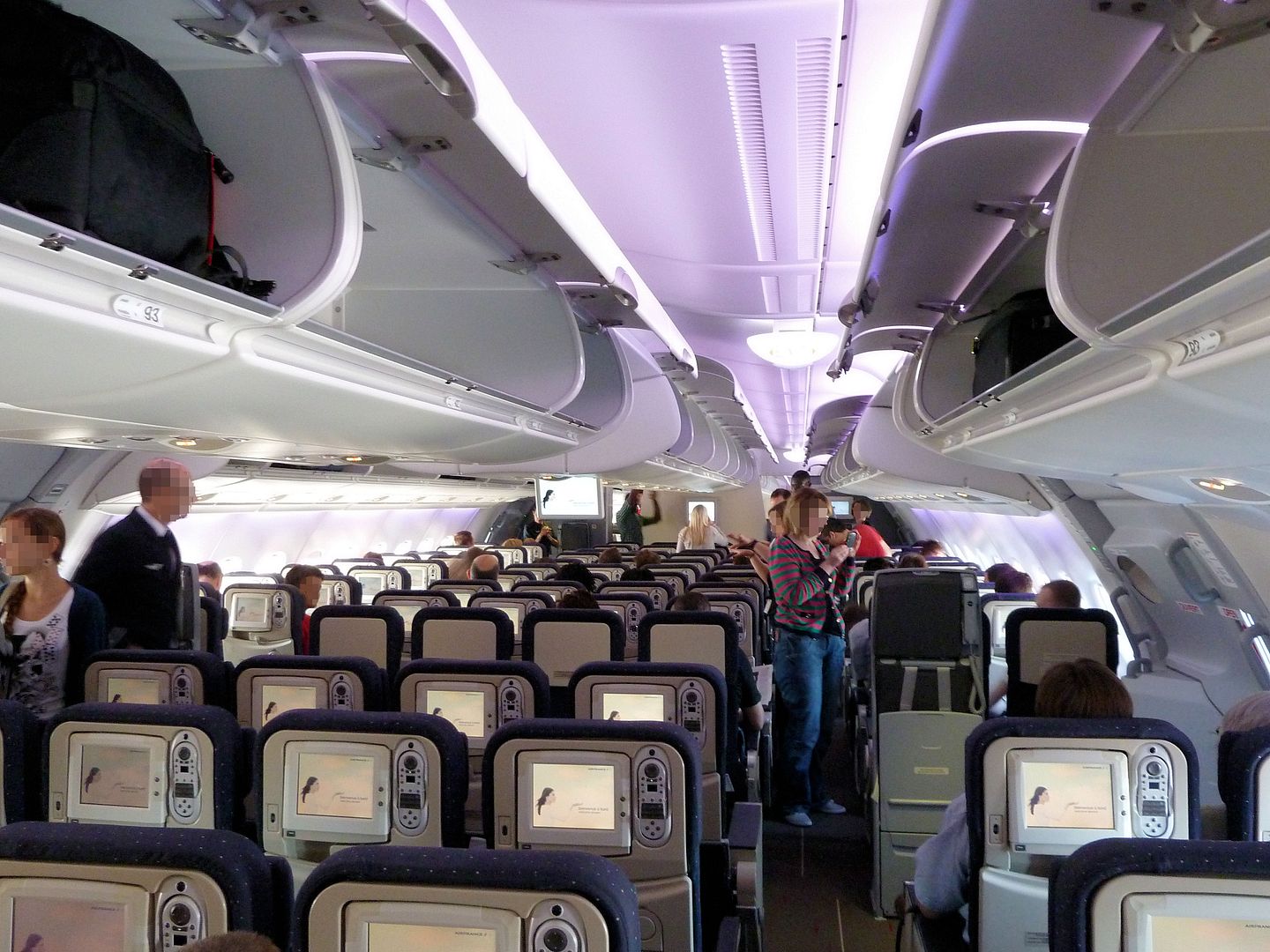 Rear stairway: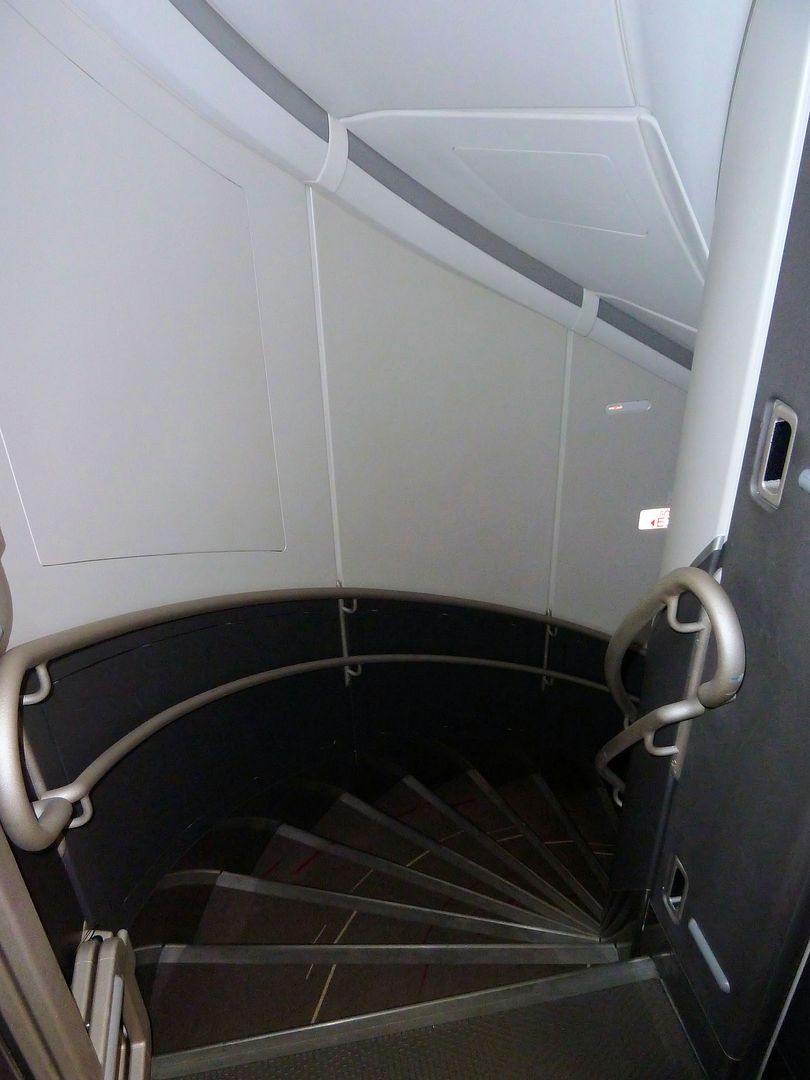 Taking pictures through the windows on the upper deck isn't less difficult than doing so on the main deck. Air France 747-400, Aeromexico 767-200ER and Delta 757-200:
"Are you here for pleasure?"
my seat neighbor asked me immediately after his arrival.
"Pure pleasure"
, I replied and we started talking. After a few sentences he introduced himself as A.net user
brightcedars
and he was surprised when I introduced myself as
PlaneHunter
. Later we talked to the guy in seat 92L and found out that he was user
babybus
- what a coincidence to come together in that section without any planning!
Some time after boarding had been completed, the captain announced a flying time of 40 minutes, but also informed us about a slight delay due to a
"last minute technical check"
. I was assuming that we would depart 15, 20 or maybe 30 minutes late, but I didn't think anything of it and we continued talking about past and future trips, aircraft types, orders etc. However, after not hearing any news for at least 30 minutes, we started wondering.
At 10:45, no less than 40 minutes after the scheduled departure time, the captain came back on the intercom. The first announcement was in French which I once learned in school. I don't remember much of that language, unfortunately, but I clearly understood a short term - and that was enough to know that something serious was going on:
"Autorisation d'Airbus"
Before the captain repeated the announcement in English,
brightcedars
had translated the message: Air France was being faced with a technical problem and had to ask Airbus for authorization. I was shocked about these news considering that I had to catch a connecting flight at London. My bmi flight to Vienna would leave at 14:05 (London time) from Terminal 1 and I still had to pick up a boarding pass. There were more than four hours left, but I wasn't expecting an immediate departure of our A380.
My mood was getting worse when
brightcedars
told me that some flight attendants in the galley were already whispering about a possible cancellation. I knew well that I would be stranded at CDG in such a case. A rebooking to a later London flight would be useless, my connecting flight would be lost. I draw the conclusion that I would need to buy a new ticket to fly from Paris to Munich - and that would be very expensive.
brightcedars
was concerned about missing his first A380 flight, but he had booked a same-day return trip on the big bird - so at least he wouldn't face a financial loss. I had flown on two different A380s before, but of course I also didn't like the thought that I may not be able to add the AF model to my log. Flight attendants passed through the cabin several times during the waiting time and offered water, but I didn't want to drink anything.
Some time after the captain's announcement, when a flight attendant was walking by,
brightcedars
took the chance and asked her in French what was going on. She then told him that, apparently, a ground vehicle had hit a cargo door.
After hearing this, I was almost convinced that the flight would be cancelled - and I started hoping that the worst case scenario would be announced soon so that I wouldn't lose too much time...
At 11:30, just after I had put back my camera, binoculars and other stuff to my hand luggage, the captain made a new announcement. I was prepared for jumping up, but then he said:
"Good news!"
According to him, Airbus had given go ahead to operate the flight and the crew was just waiting for some signatures.
All of us where relieved and we were now looking forward to the flight more than ever. However, nothing happened for another 30 minutes. Did a person in charge refuse to sign in the end?, I thought. My transfer time was shrinking and shrinking, only about two hours would be left after arrival. Transferring at LHR can be a pain and I was hoping that there would be an airside connection between Terminal 4 and Terminal 1.
Finally, exactly 1 hour and 56 minutes behind the scheduled departure time, the big bird started moving...PUSH-BACK!!!
Now I truly enjoyed the tail camera views: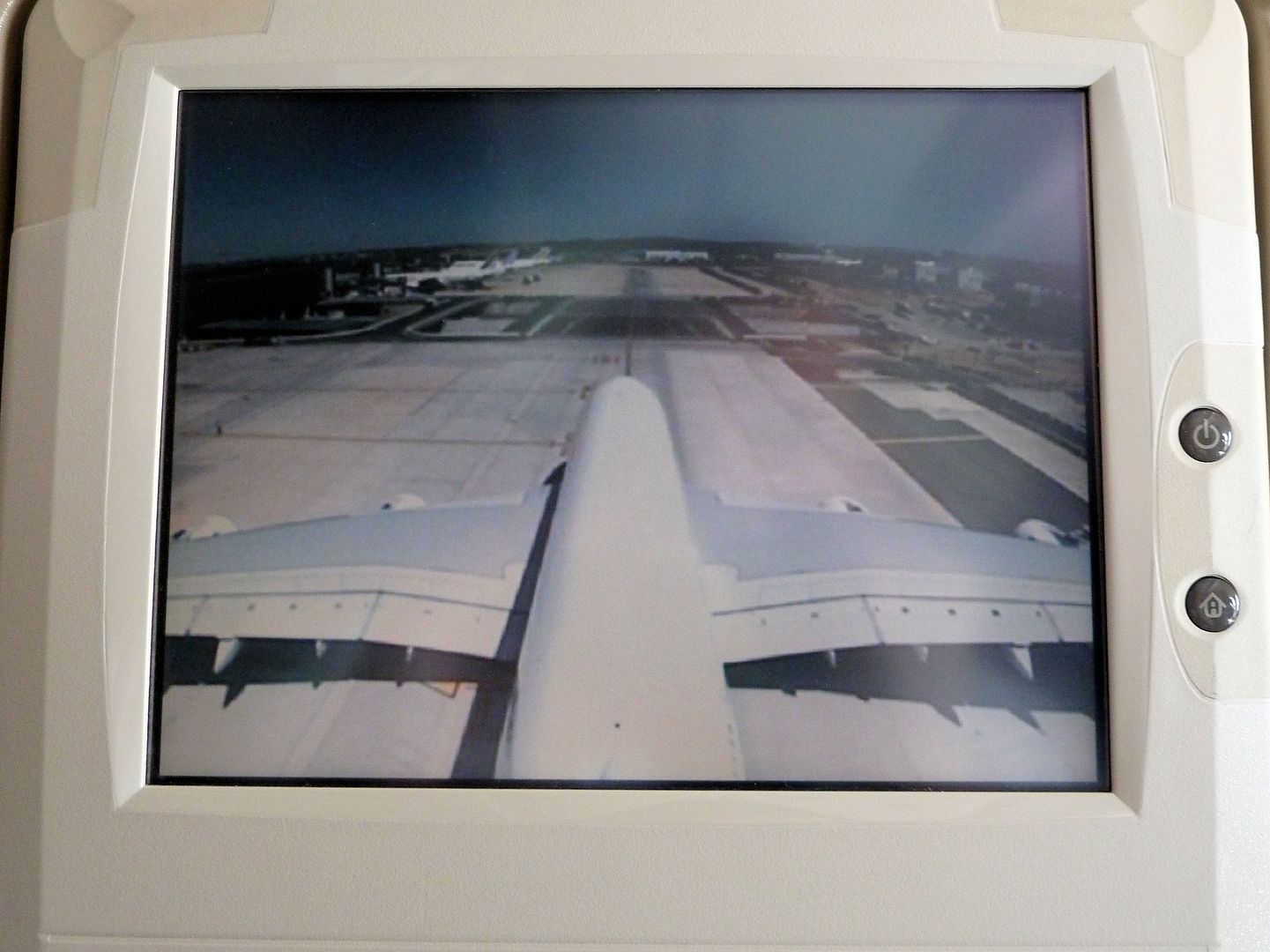 The massive wings make this taxiway appear quite narrow:
At 12:24
F-HPJA
finally turned onto the runway, quietly accelerated...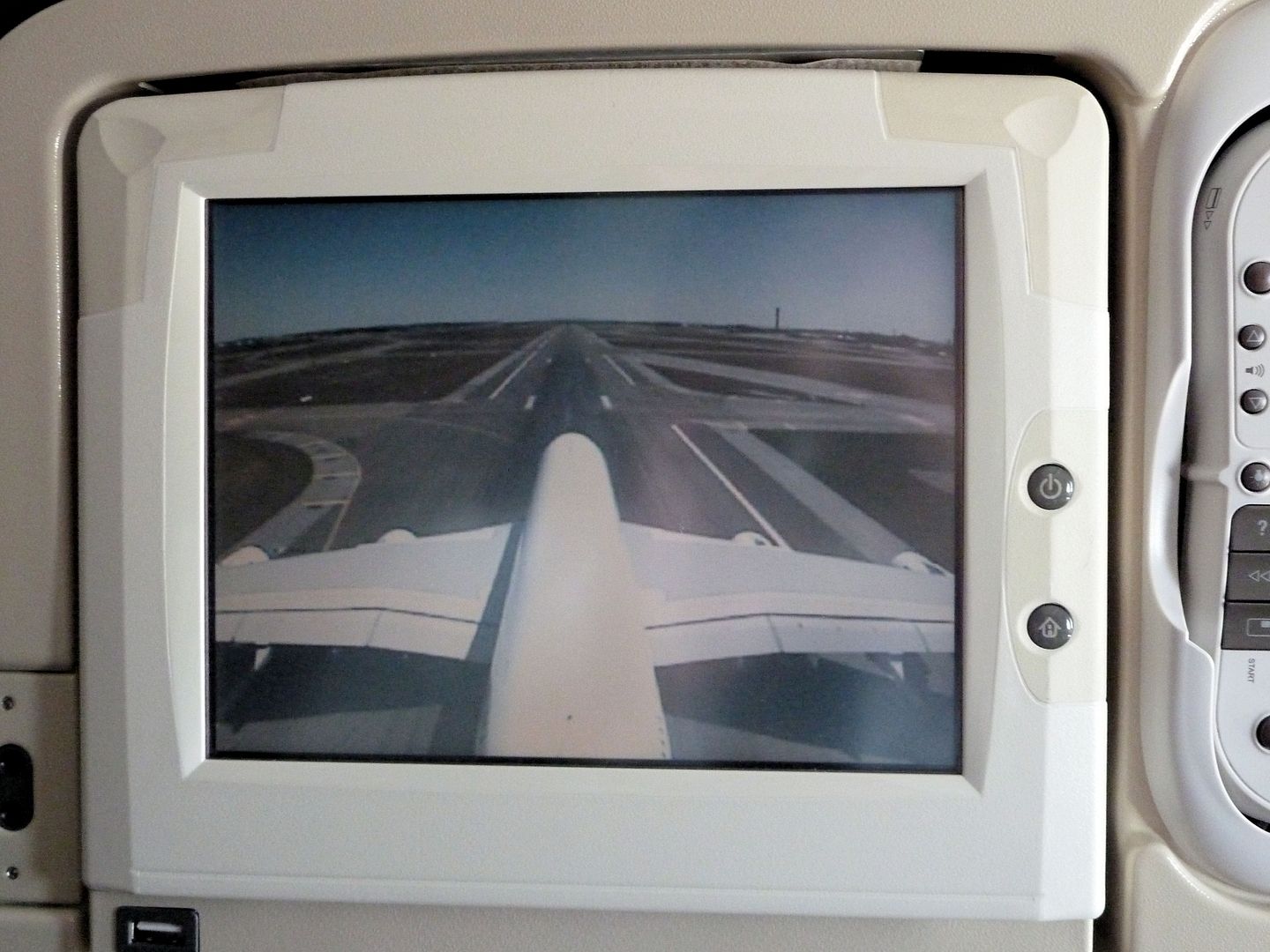 ...and gently lifted off after a short take-off roll: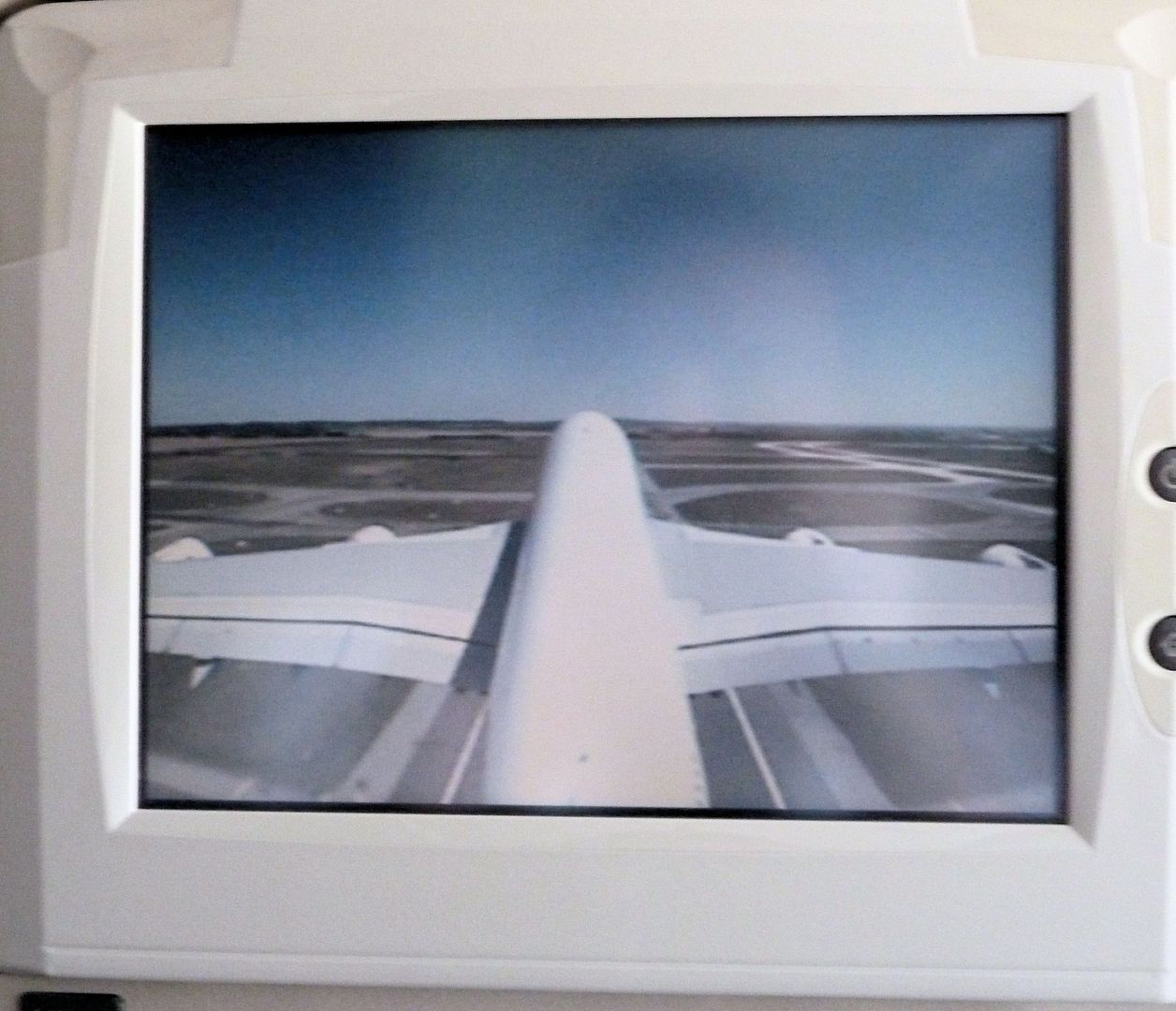 While climbing away from the runway we were hit by turbulence, causing the wings to oscillate - quite interesting experience.
Suddenly the tail camera was hit by bird strike - or whatever it was. Unfortunately, the camera was switched off before I could take a picture (see the landing pictures).
Interesting air show feature:
Due to the short flying time I quickly checked the IFE options. Main menu: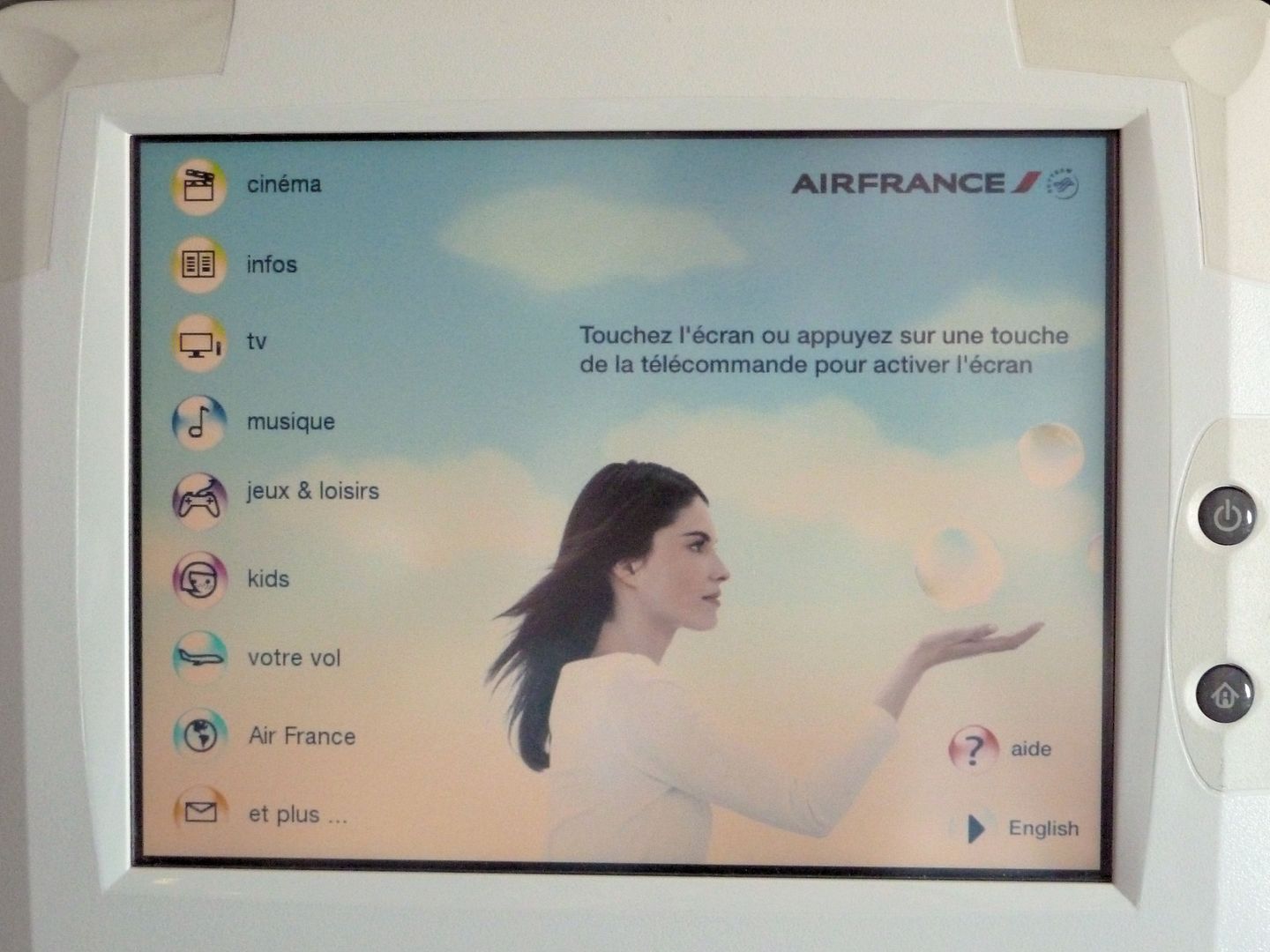 The Thales TopSeries IFE system offers a choice of about 100 on-demand movies, 300 audio CDs, 26 games and many more features. In my opinion, the live cameras and the interactive maps beat them all: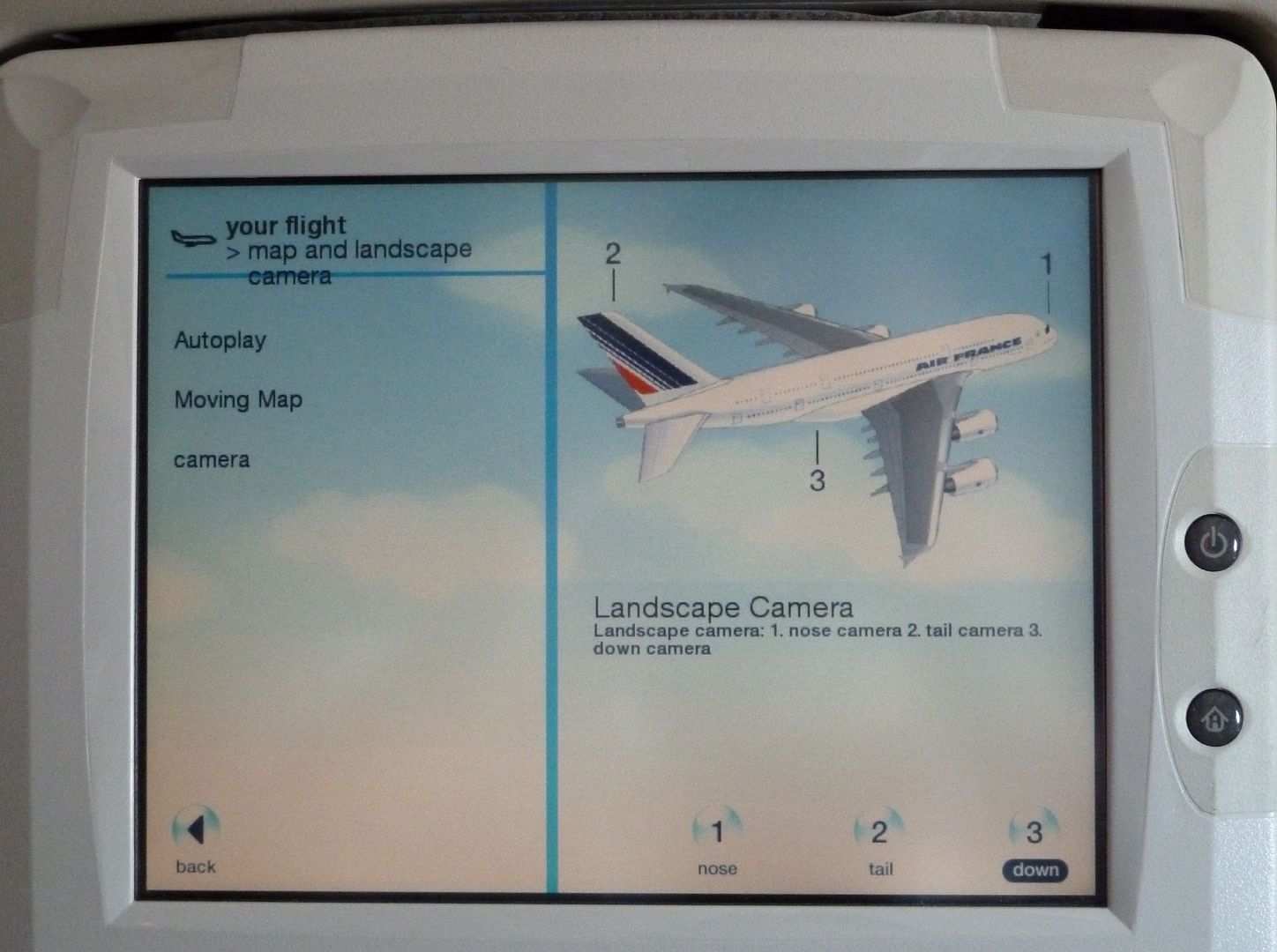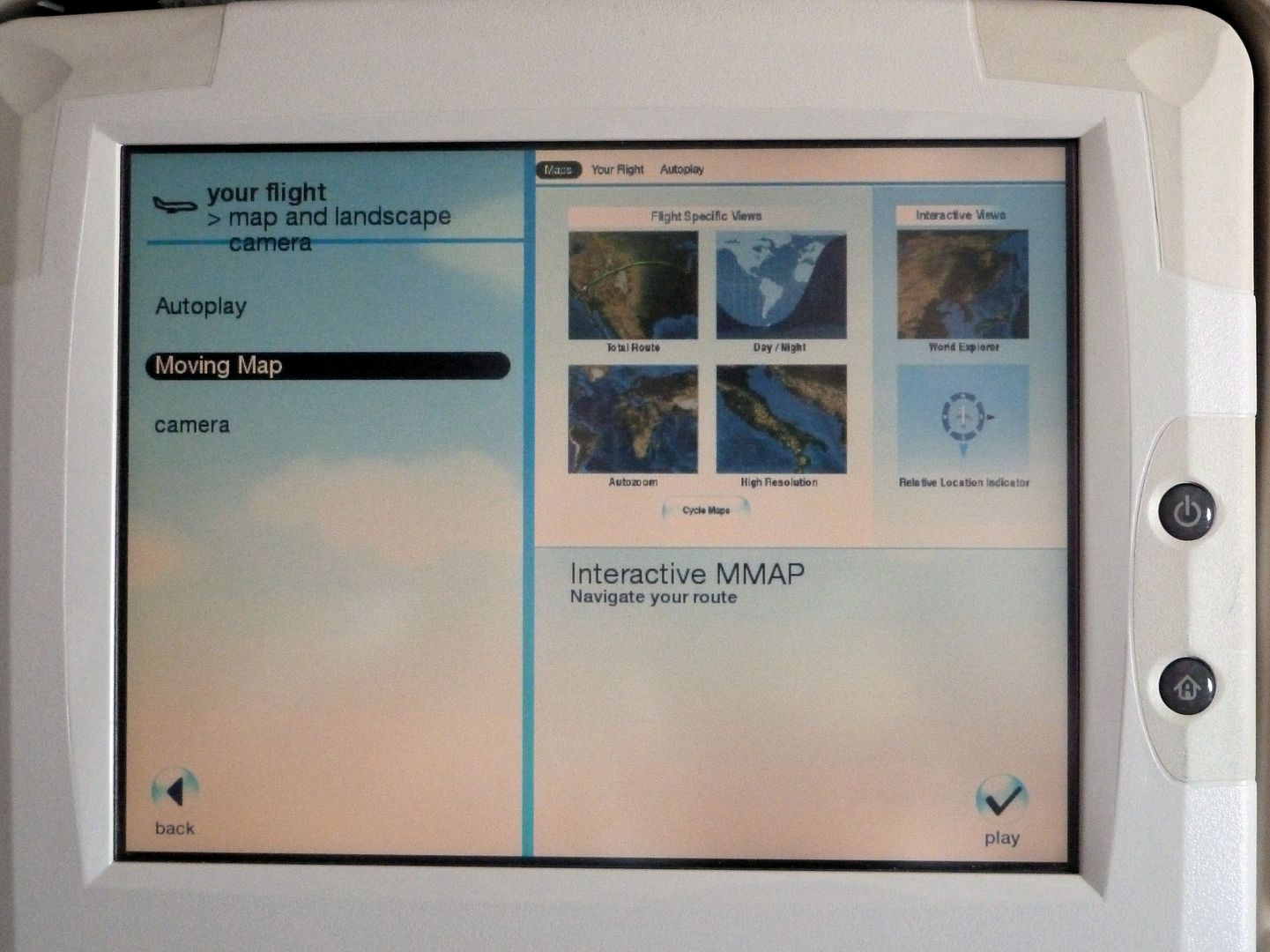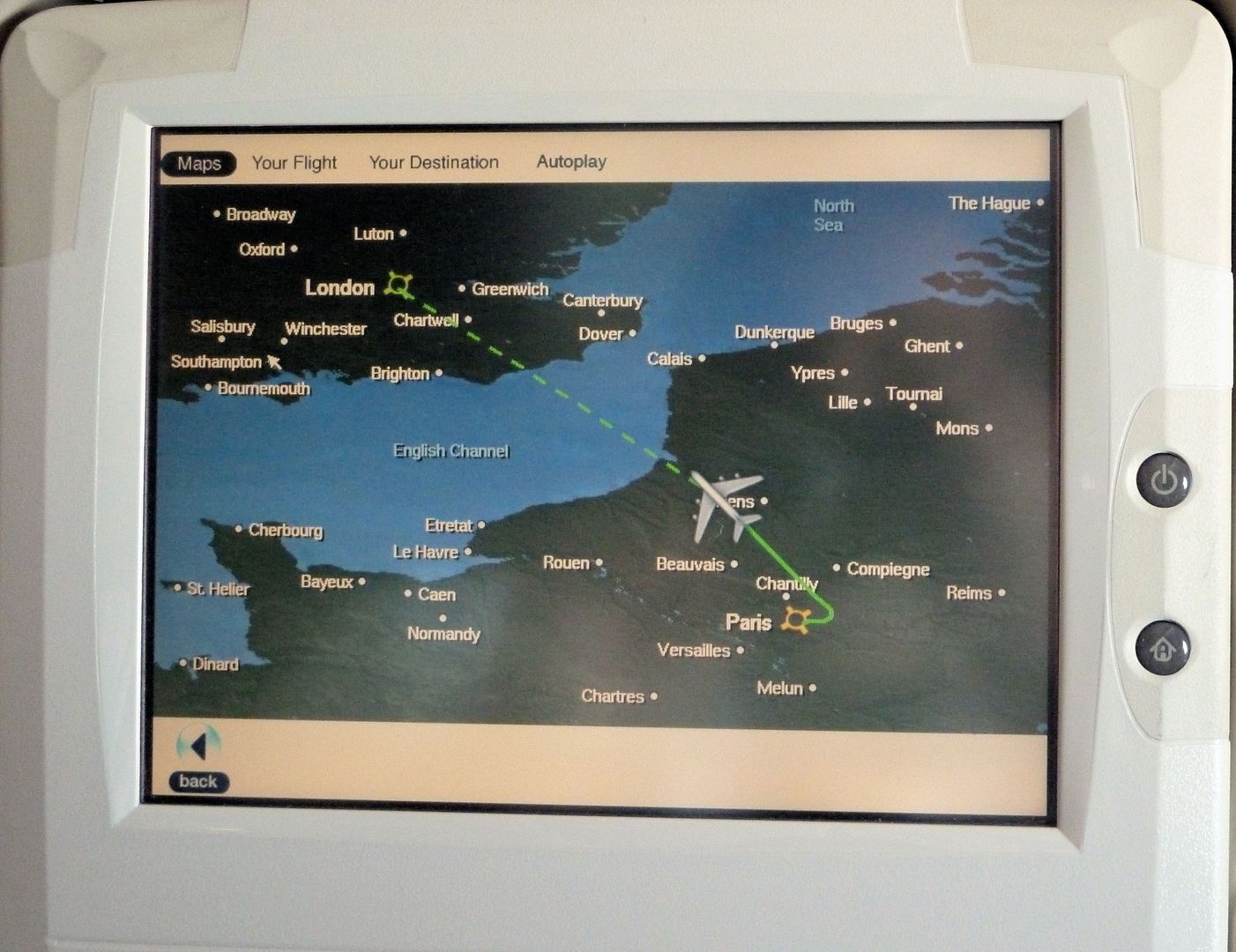 The flight attendants started offering drinks and snacks only a few minutes after take-off - there was no time to lose on that short hop. Before they arrived at our row I quickly made some more cabin shots. I didn't see an empty seat in the upper deck Y Class section: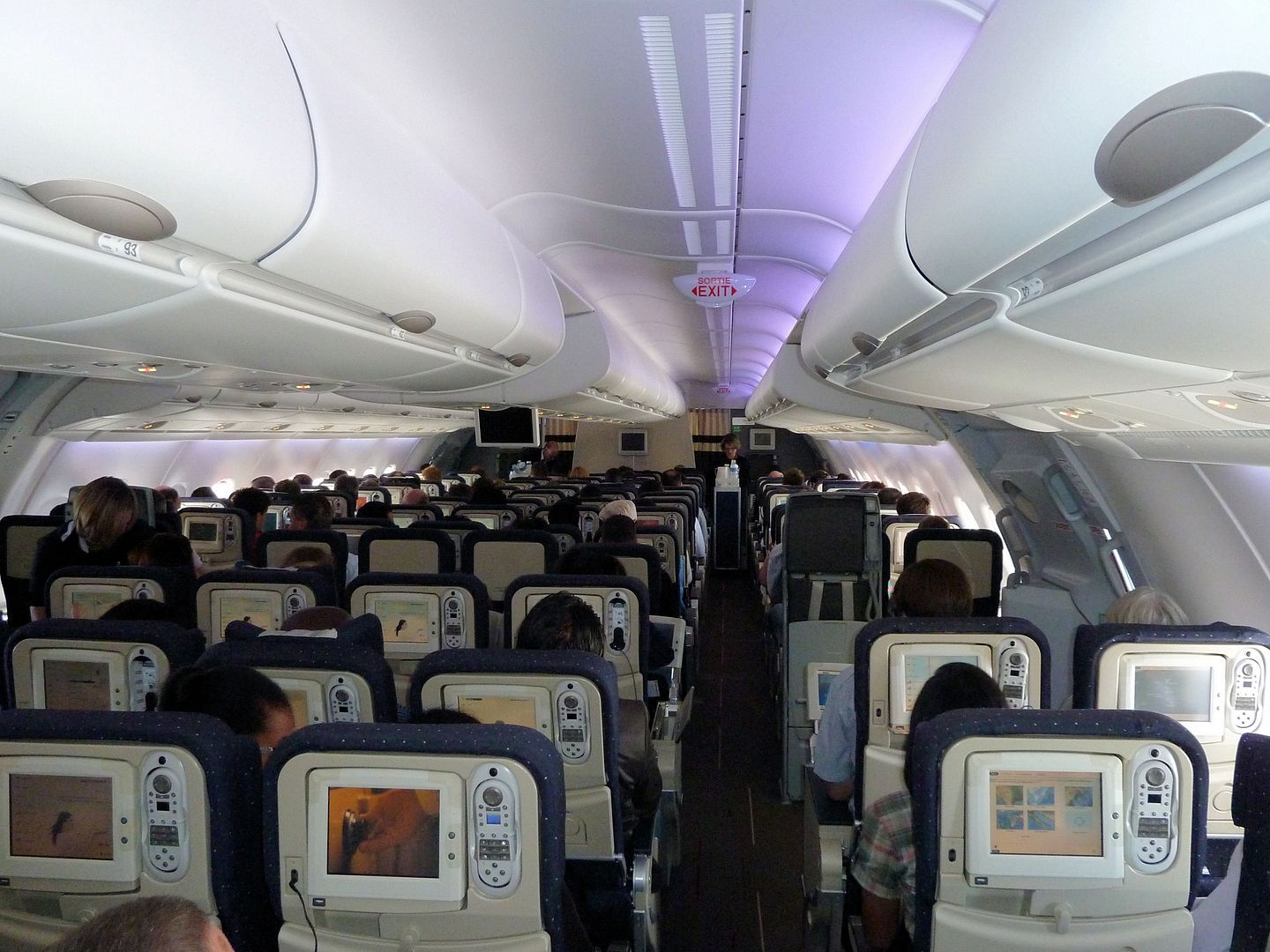 Stairway blocked off: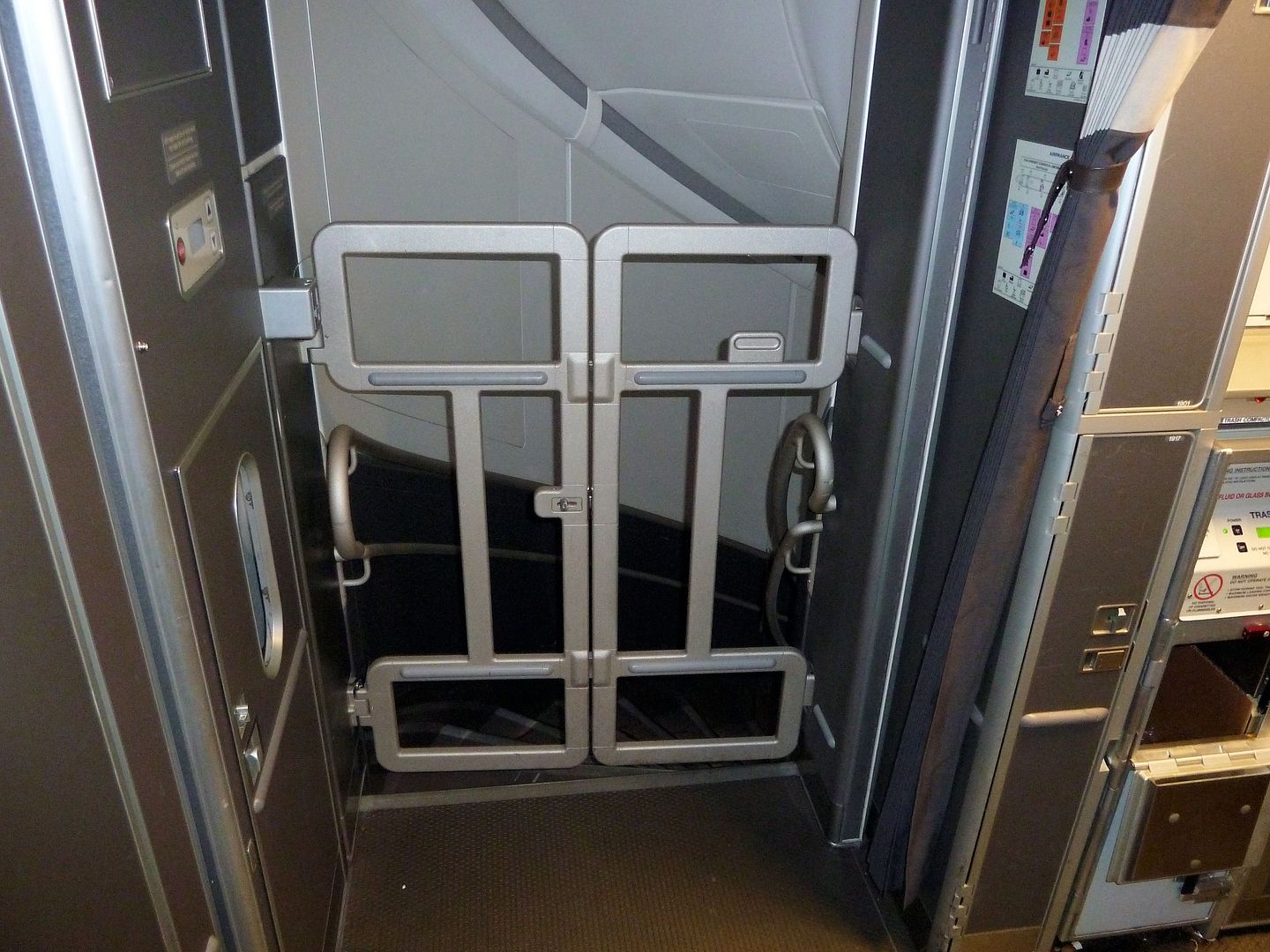 I ordered a Pepsi Max and also got very tasty cookies: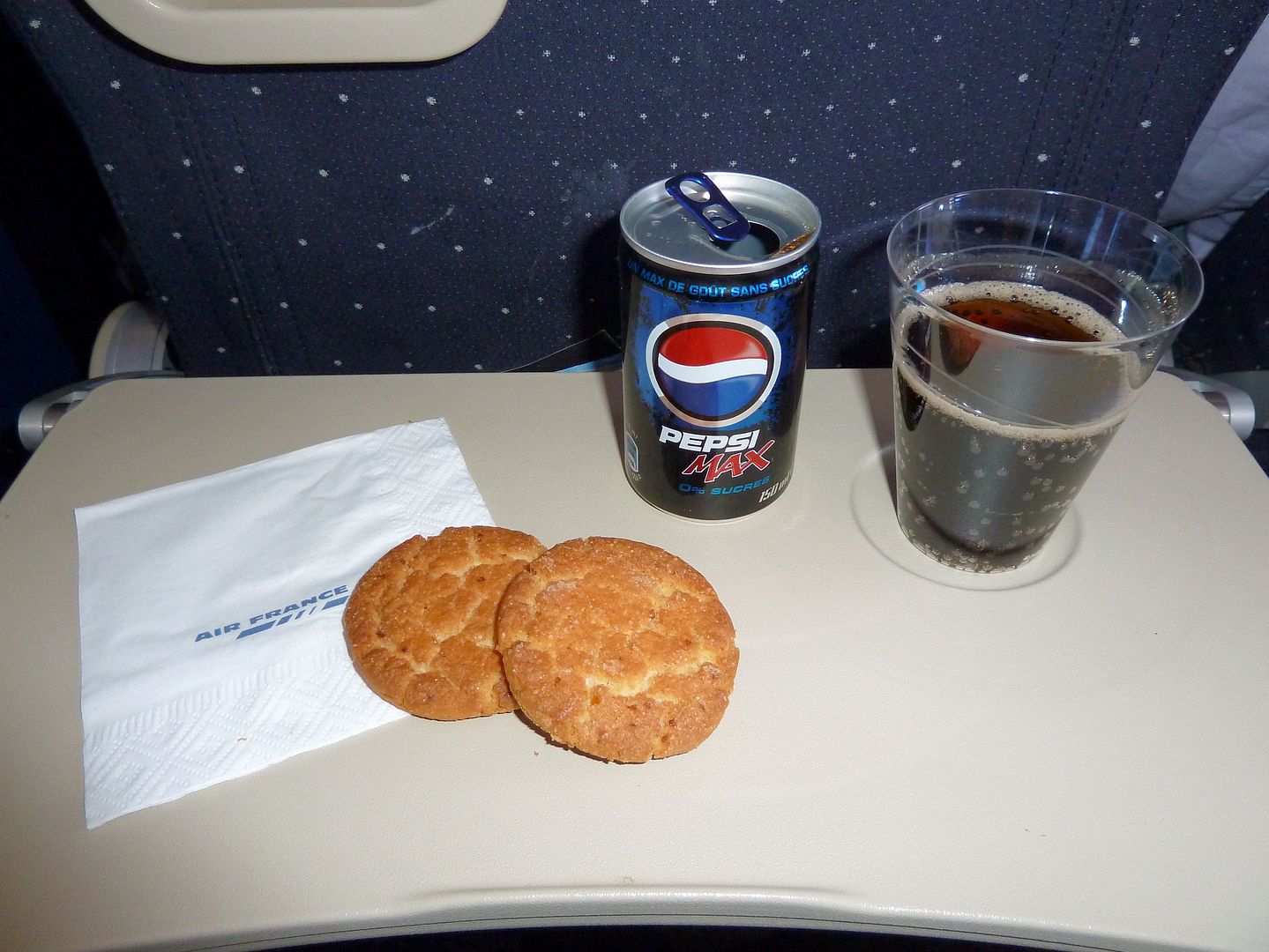 We crossed the channel at 24,000 feet and started descending only 23 minutes after take-off. Final approach:
Tail camera view again - this time a bit different: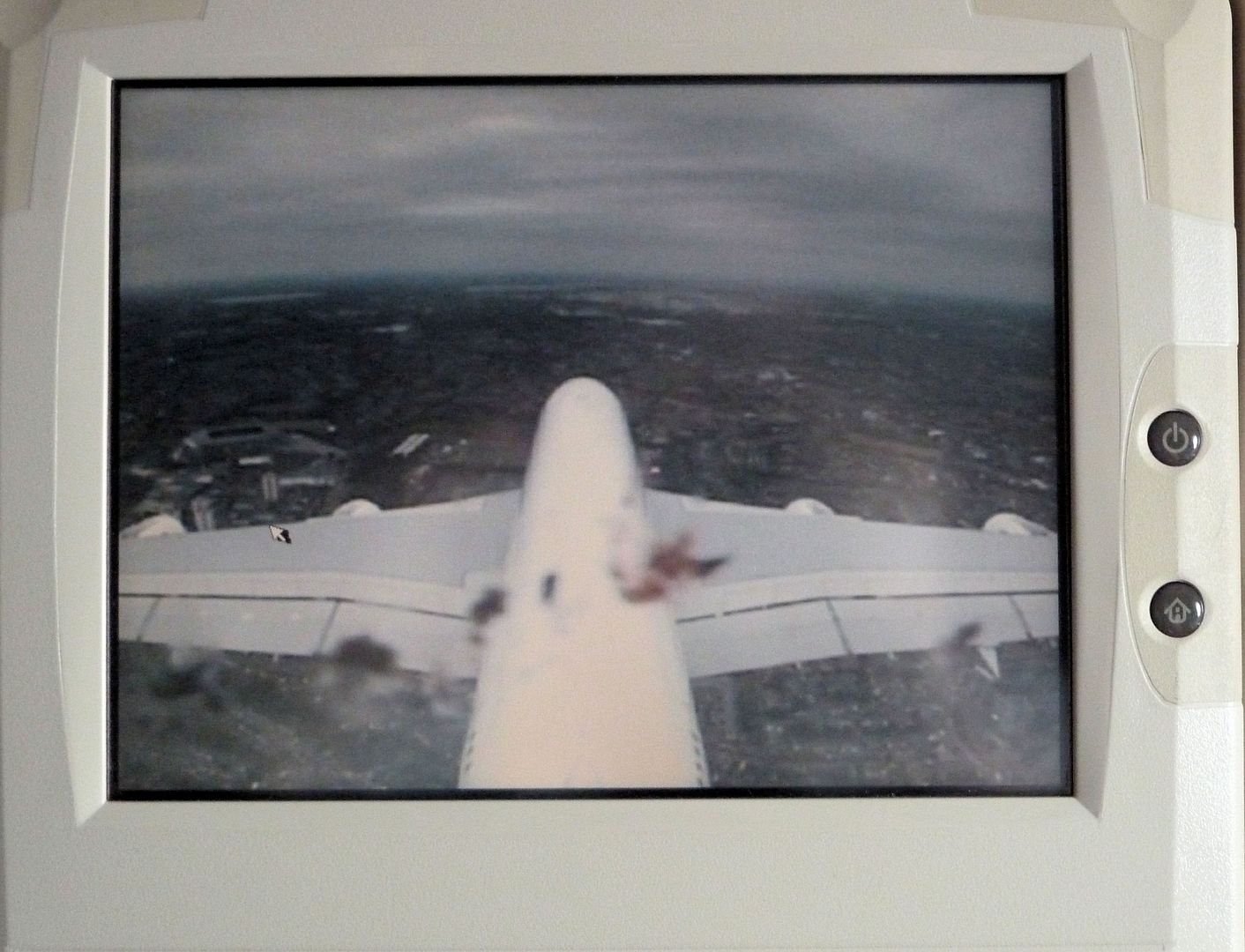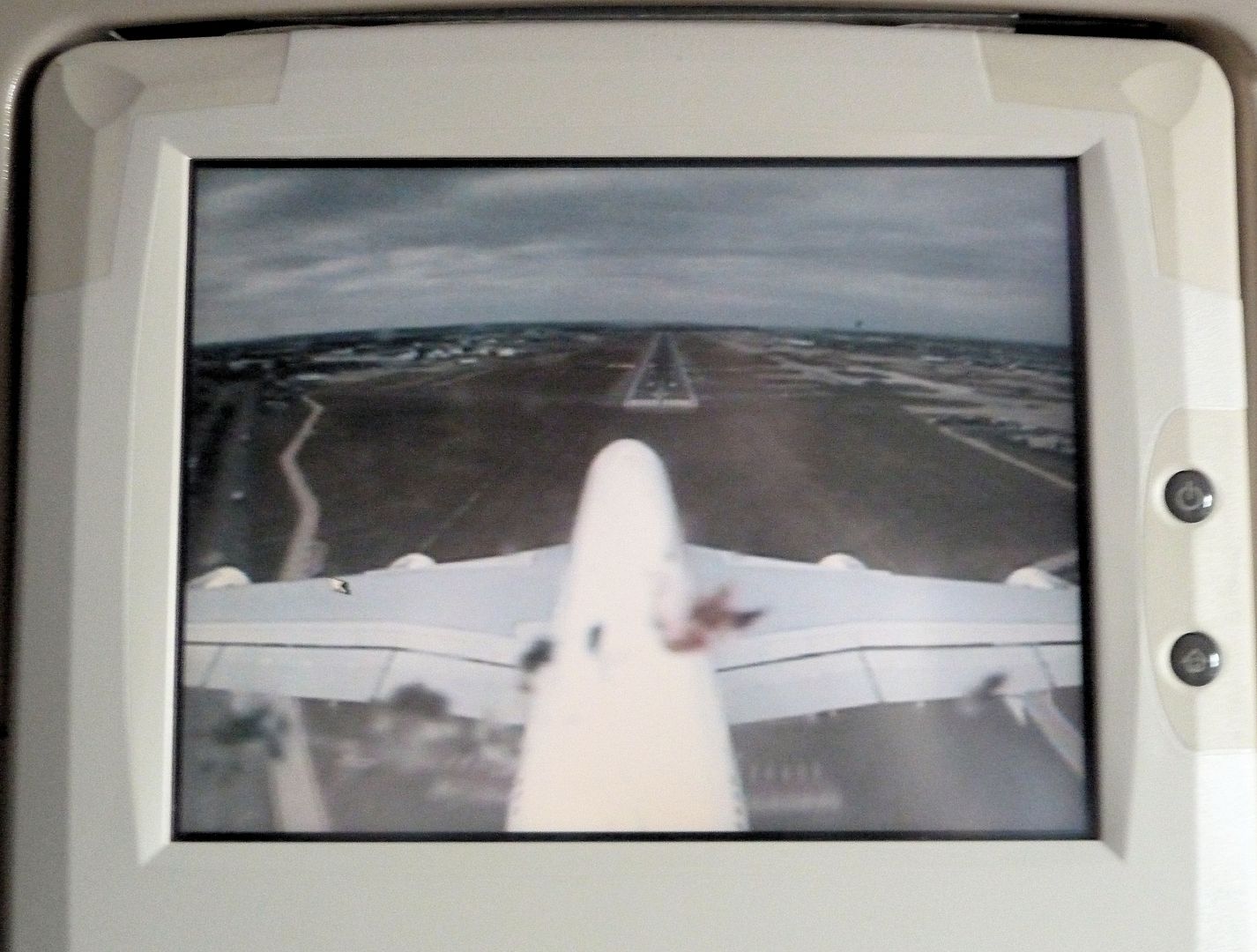 We touched down 47 minutes after take-off and I was hoping that the plane would taxi straight to its gate. However, the plane had to stay on the taxiway for some time and didn't arrive at the gate earlier than 12:25, exactly two hours behind schedule. It took another ten minutes until I was able to leave the aircraft, so I had 1 hour and 30 minutes left for the transfer. Last picture of
F-HPJA
:
I followed the connection signs and was relieved when I found out that there was an airside bus transfer to Terminal 1.
Sunday, 18 July 2010
London (LHR) - Vienna (VIE)
bmi BD427
14:05-17:25 (14:13-17:30)
Flying time: 01:53 (hrs)
Economy Class, Seat 27A

Airbus A320-232
G-MIDX (MSN 1177), STAR ALLIANCE livery
Delivered in 03/2000
1st flight on G-MIDX
34th A320-200 flight
35th A320 flight
61st A32X flight
About 20 minutes after leaving the AF A380 I arrived at a bmi transfer desk and picked up my boarding passes for the flights to Vienna and Munich. I had asked about a window seat in the rear section on the bmi A320 and the friendly female agent had kindly offered 27A in the last row. That was surprising considering that barely one hour was left until departure. Interestingly, the gate number wasn't even shown yet, so I had to "wait in lounge" some more time - that procedure at LHR never ceases to annoy me.
When I arrived at the gate some 45 minutes prior to departure I was happy to find
G-MIDX
there - the last remaining aircraft in the world wearing the old Star Alliance livery. Quite funny to see the Ansett, Mexicana and Varig logos on the fuselage: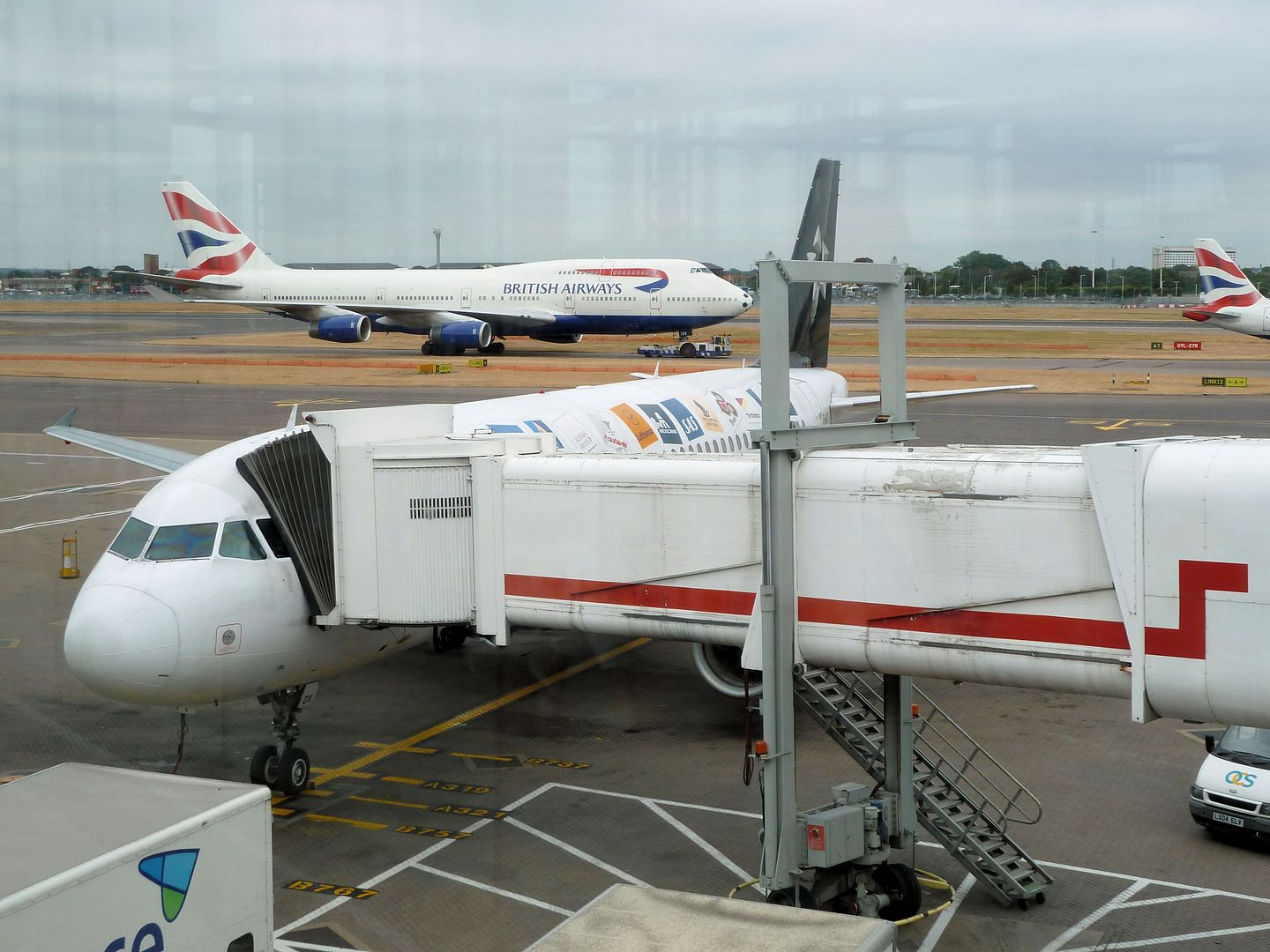 I continued spotting as long as possible and stepped on board among the last few passengers. The flight was packed, but the middle seat in my row remained empty. The leather seats were quite comfortable, even though my seatback didn't stay in upright position:
Legroom was absolutely sufficient - definitely better than on the bmi A319 which I had flown on in early 2009: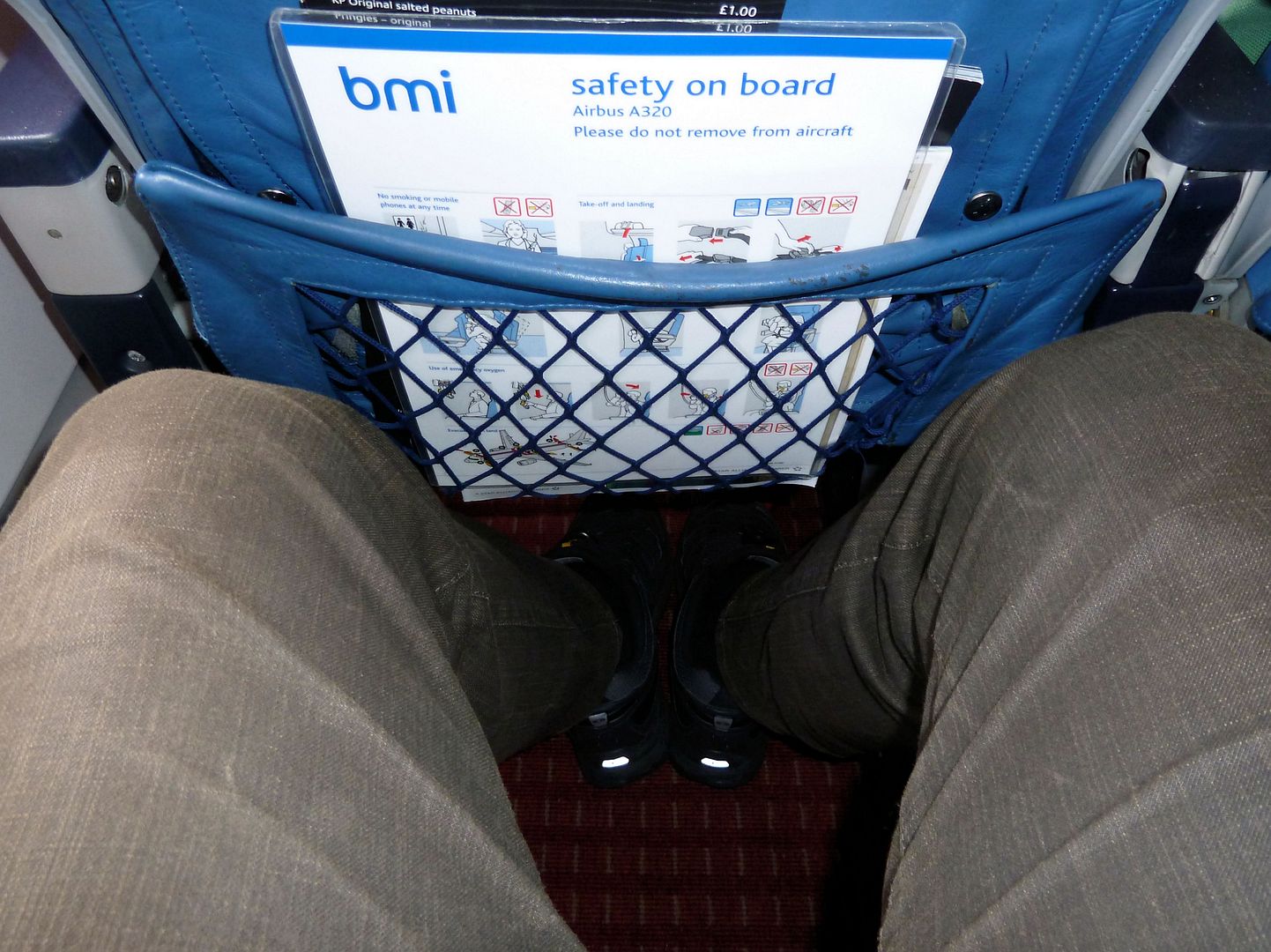 Parked next to us was A321-200 G-MEDU, originally ordered and never taken up by BMed: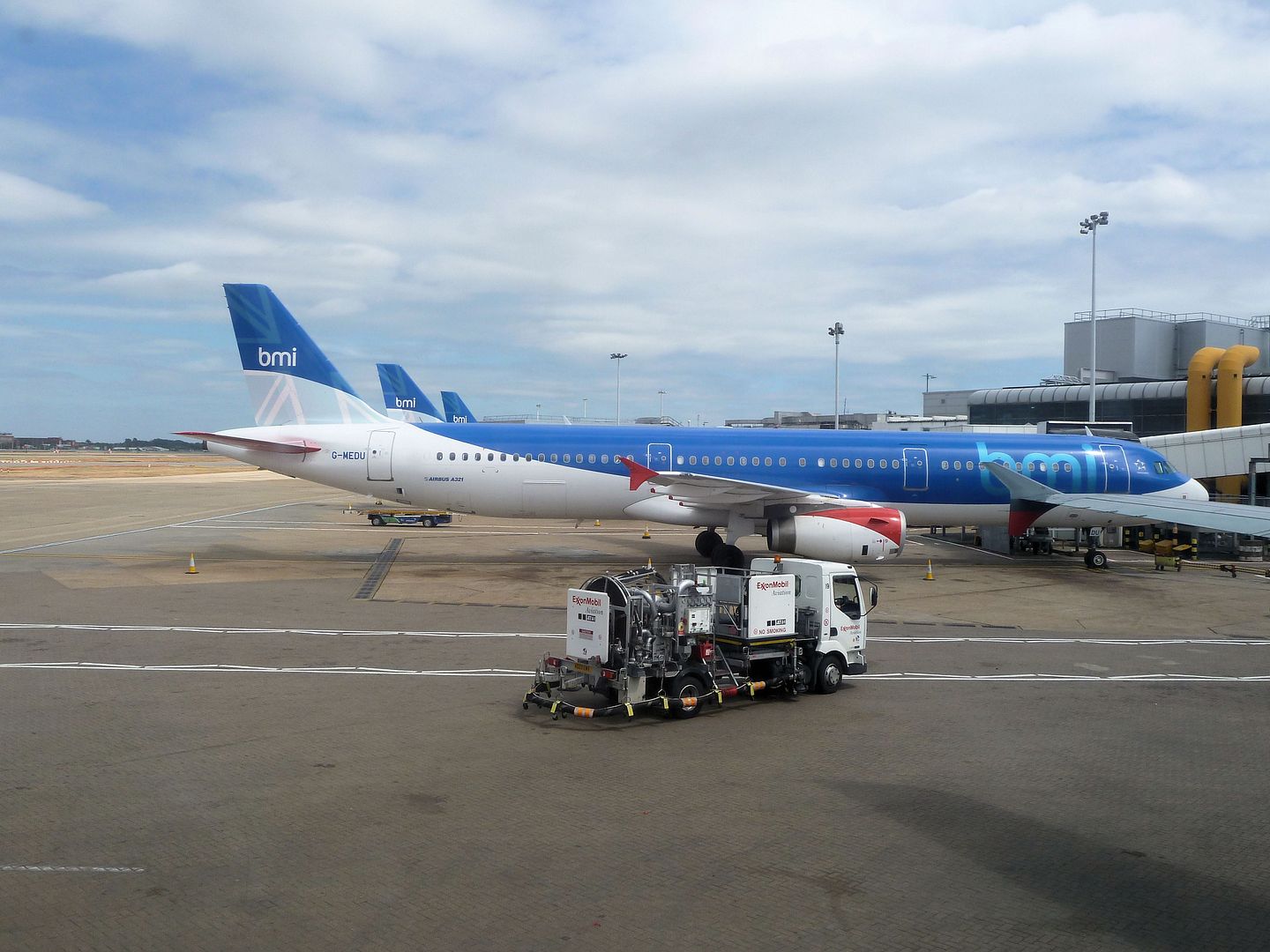 After boarding had been completed, the captain announced a traffic related delay of 15 minutes. I took the menu card from the seat pocket and was quite disappointed that only muffins and similar stuff would be available for sale - not even sandwiches. A friendly male flight attendant who was chatting with another passenger suddenly turned to me and said:
"Sir, sir? It's free!"
I was positively surprised to hear that. Drinks and snacks hadn't been offered free of charge on my first bmi flight between London and Dublin in early 2009. Apparently you only have to pay on domestic flights and other short services.
We finally left the gate eight minutes behind schedule and started taxiing to runway 27R. British Airways 777-200ER G-YMMI with anti-strike slogan: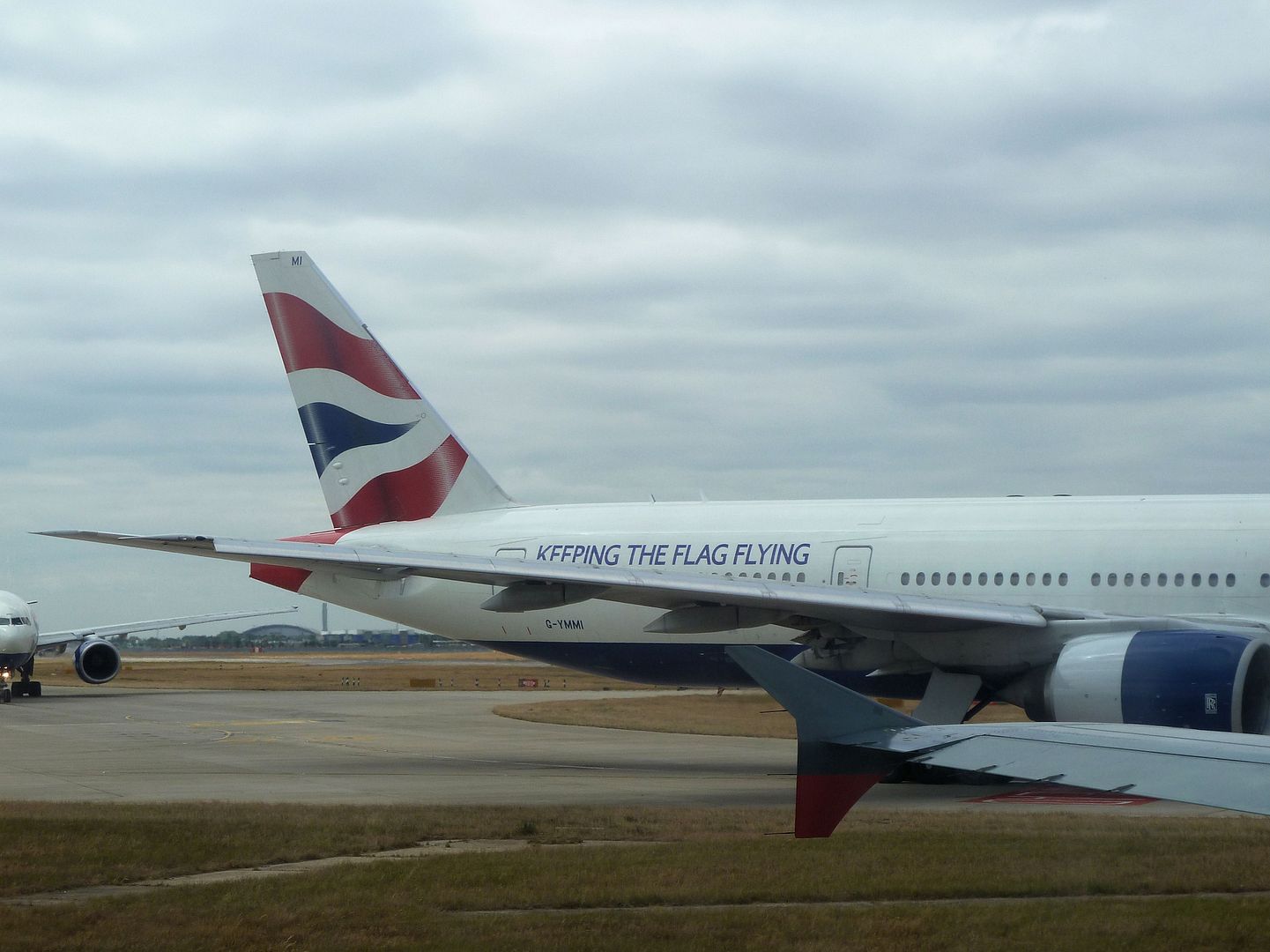 After spending 16 minutes on various taxiways,
G-MIDX
powerfully accelerated. Climbing out of Heathrow is always a pleasure: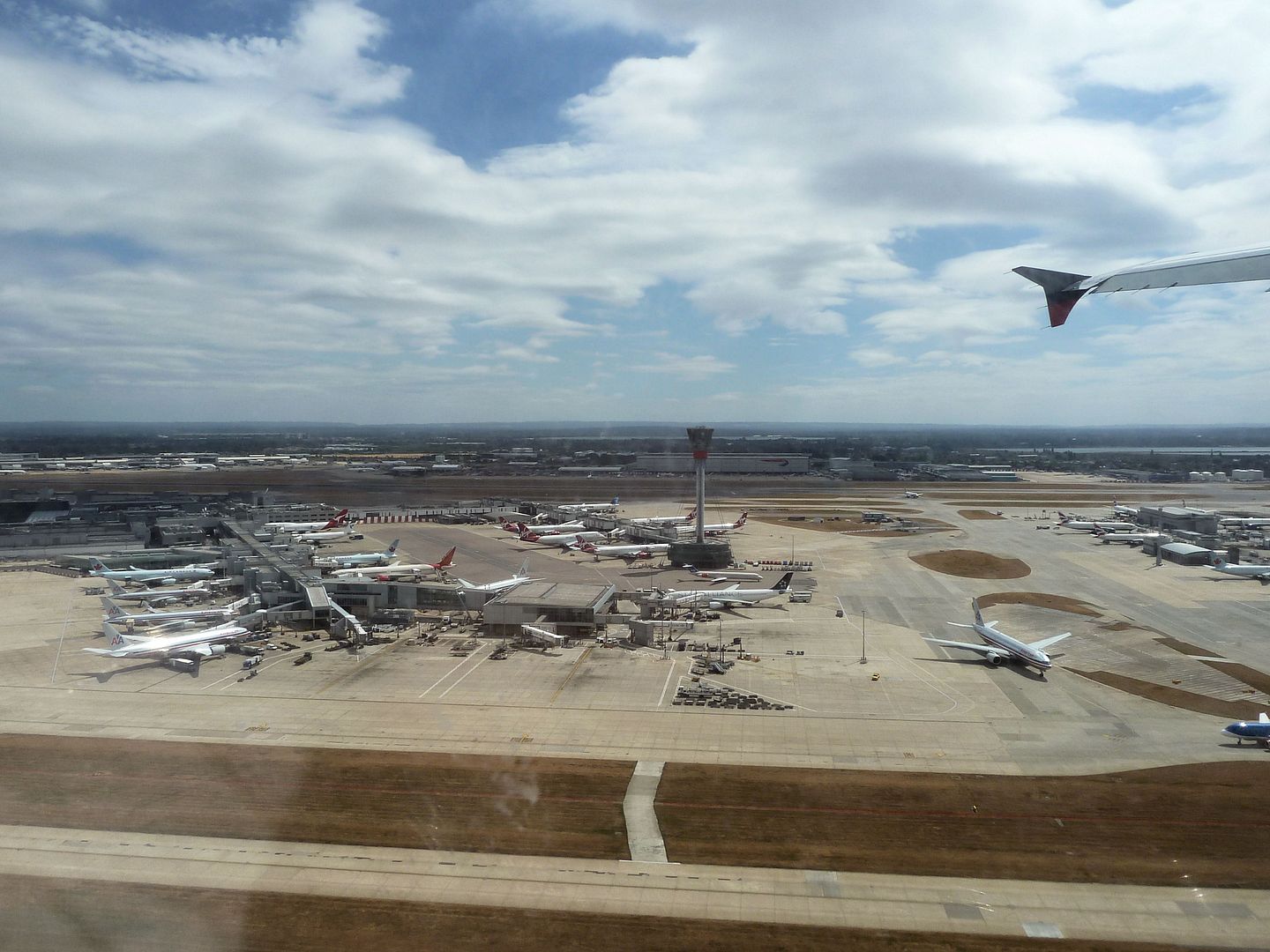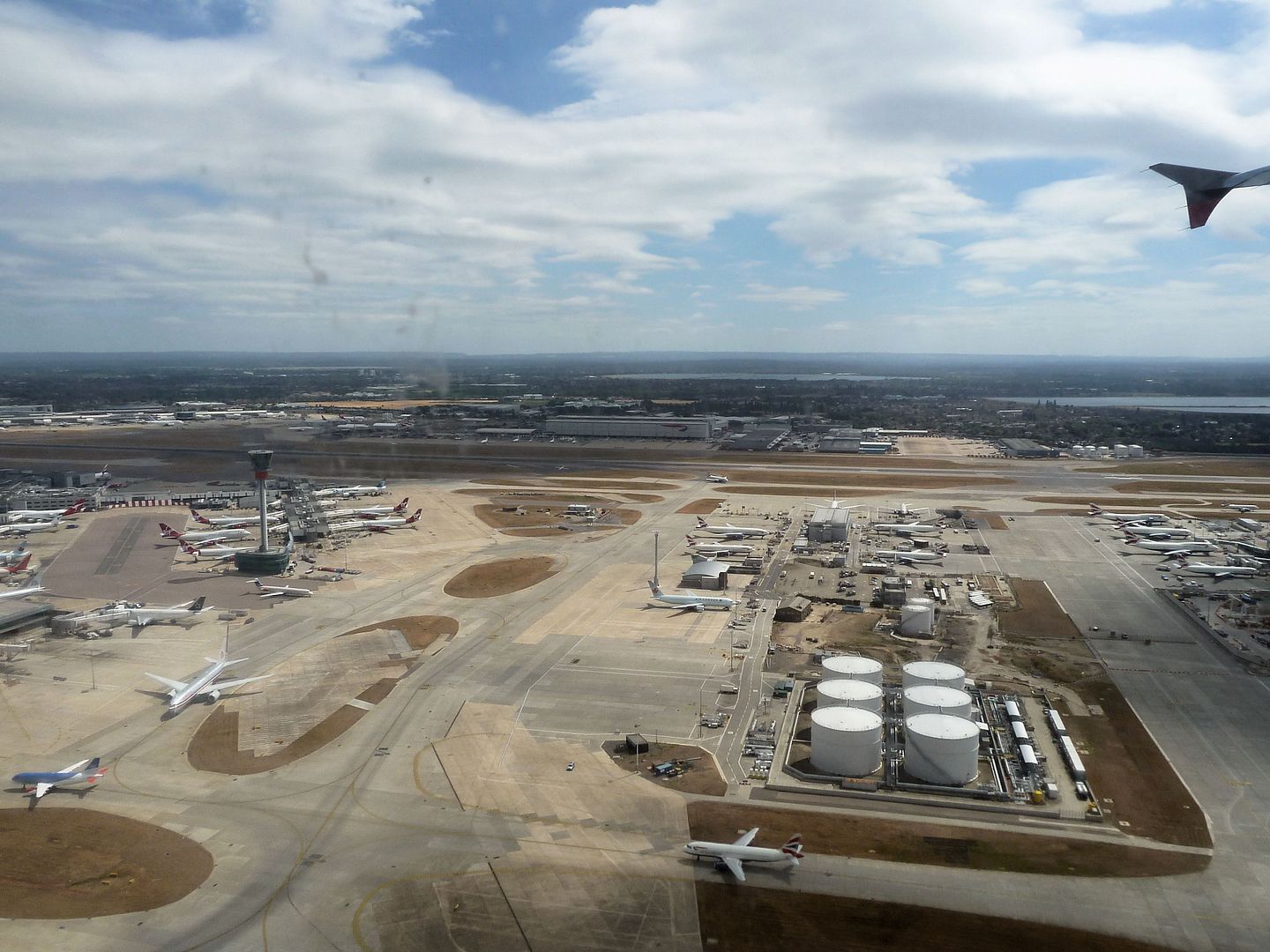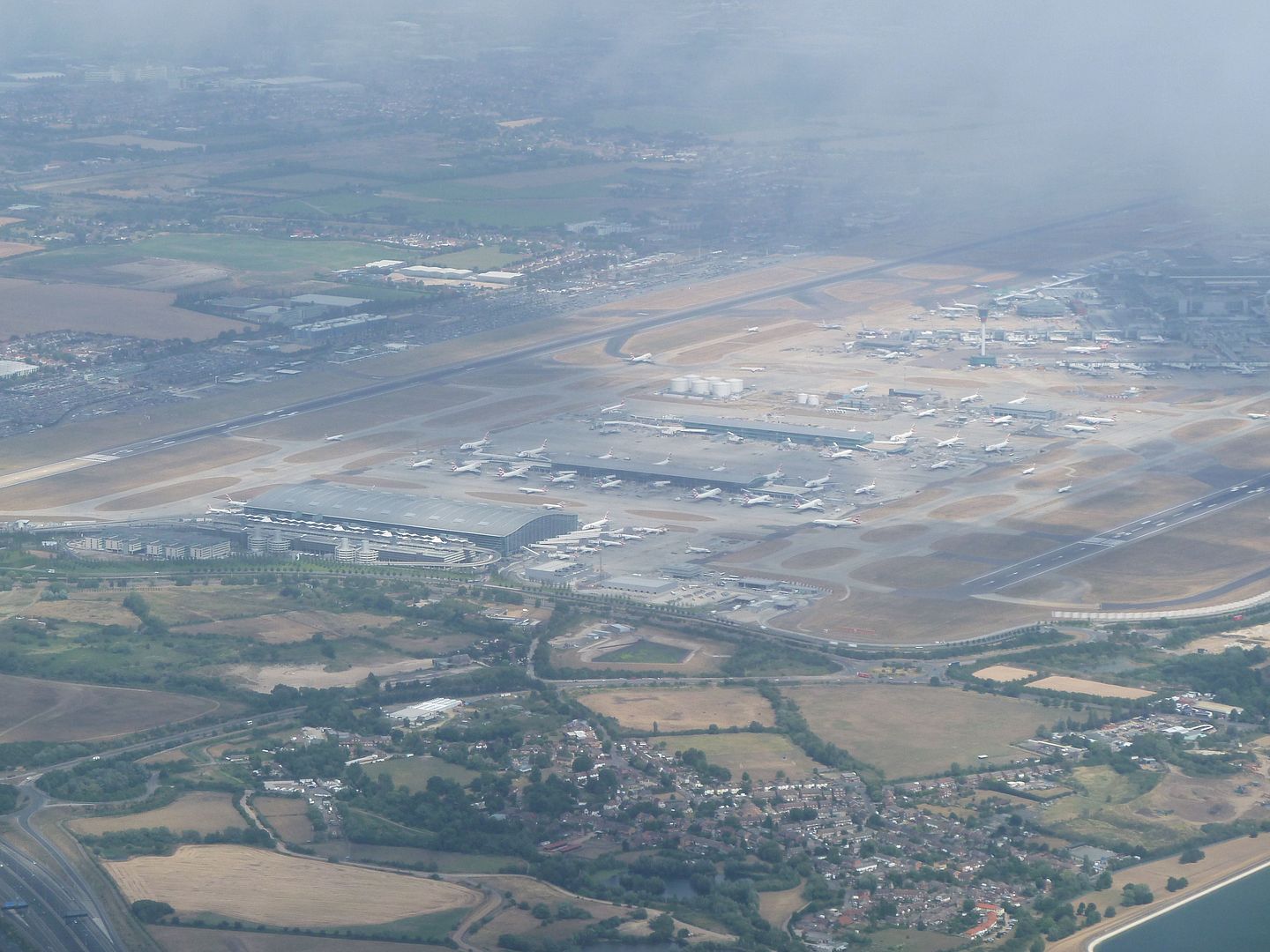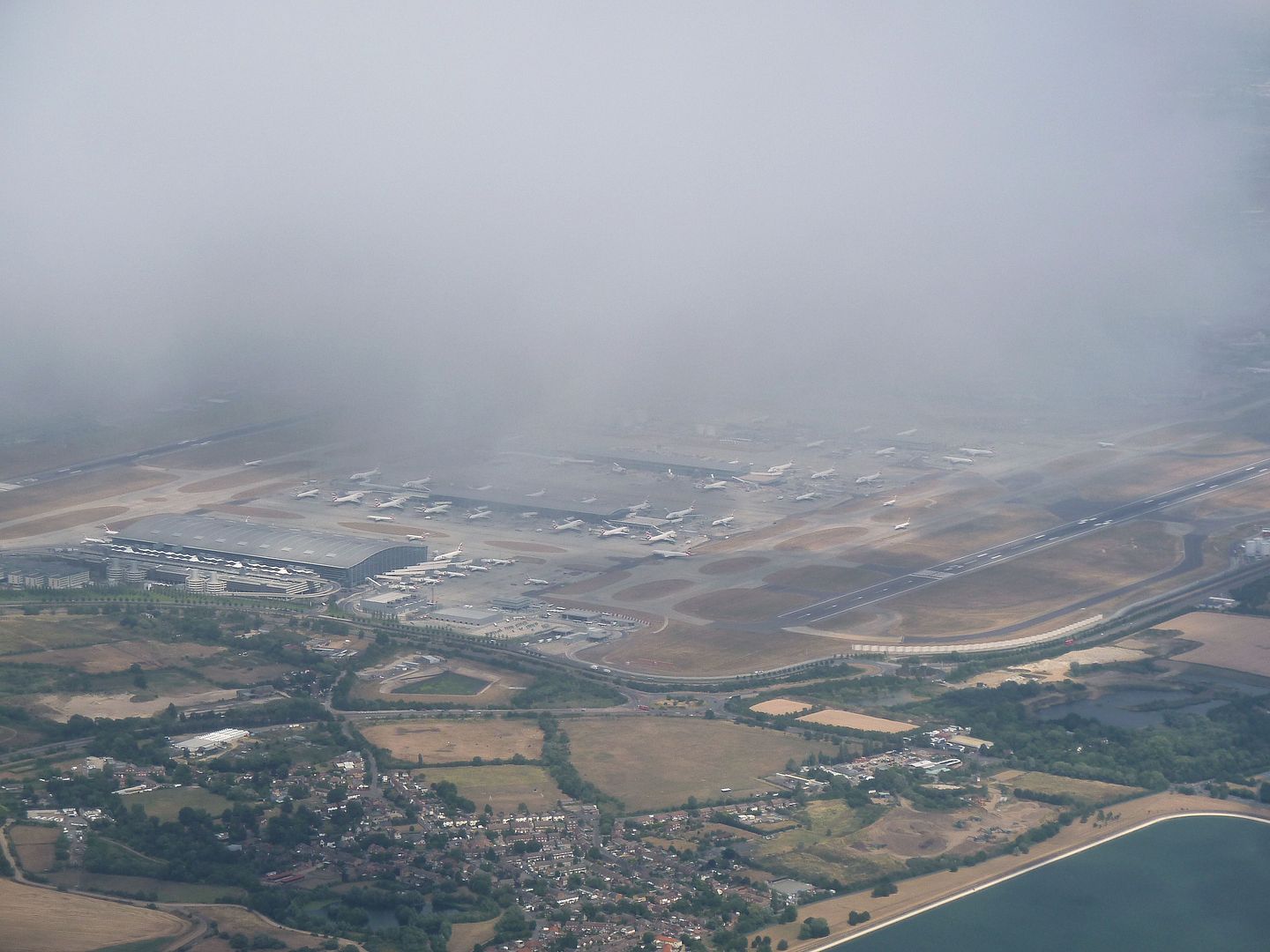 We stopped climbing for a while after breaking through the clouds: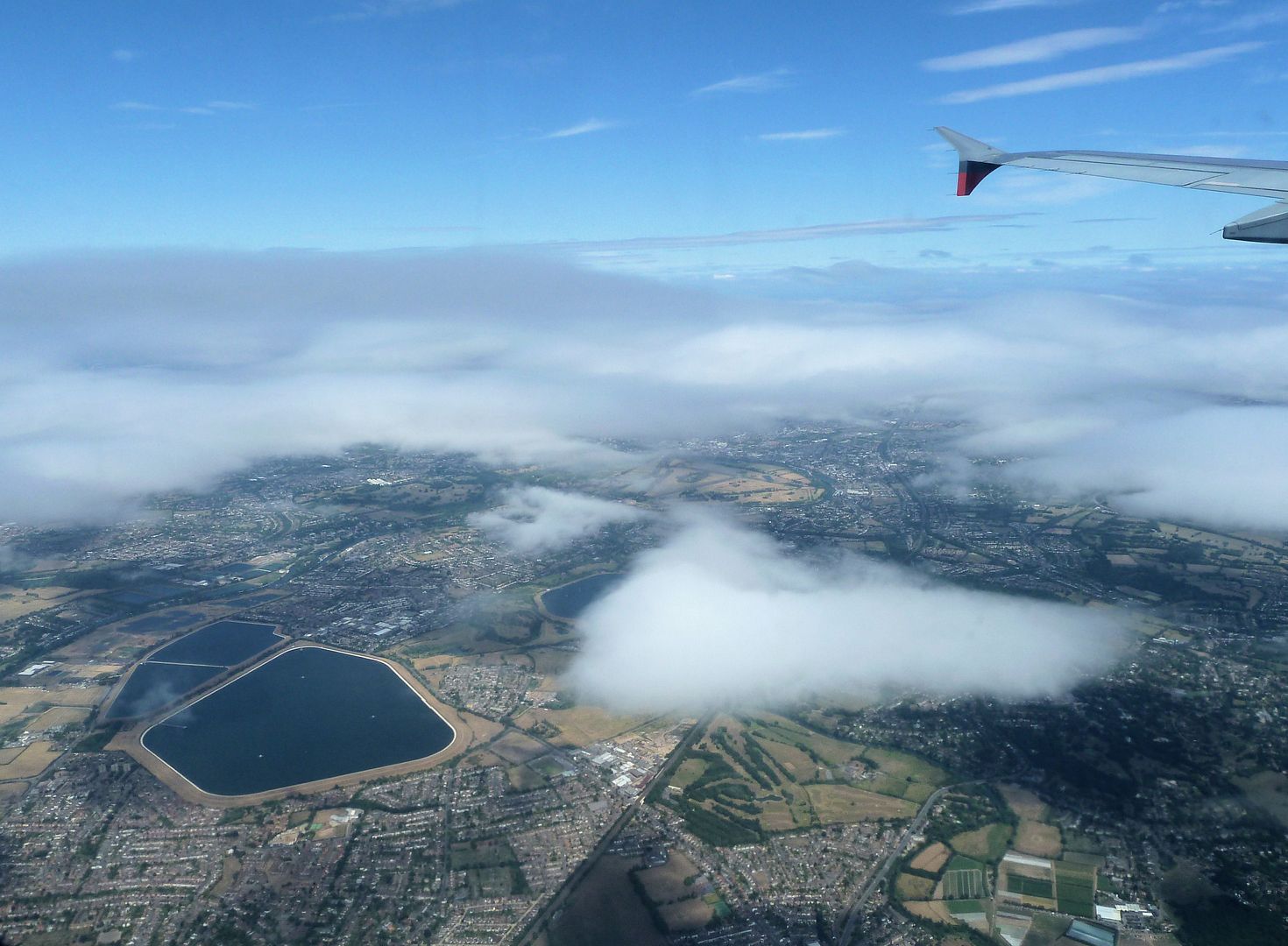 Beautiful scenery: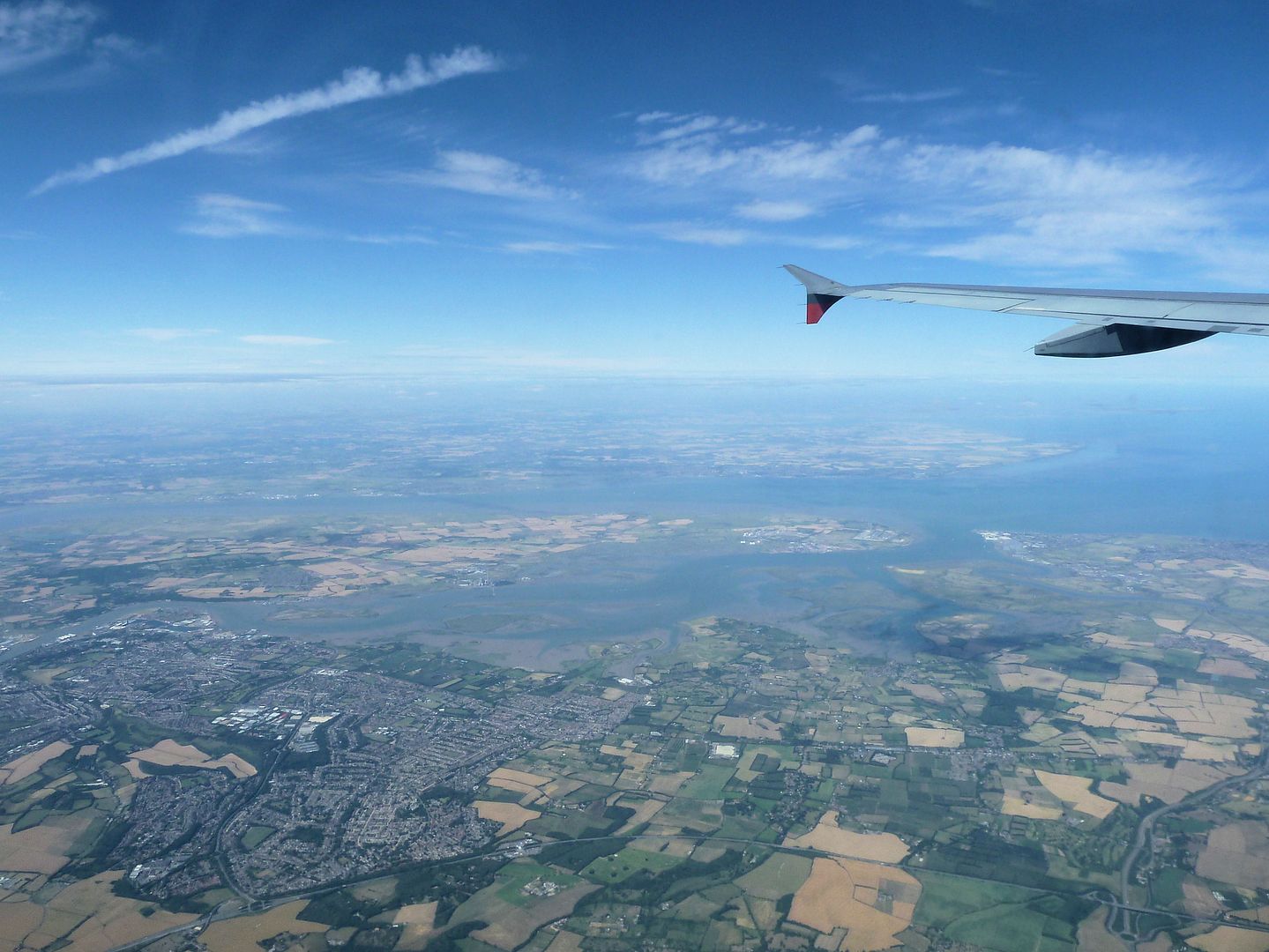 Kent Airport on the left, the city of Ramsgate on the right:
26 minutes later we passed Brussels Airport: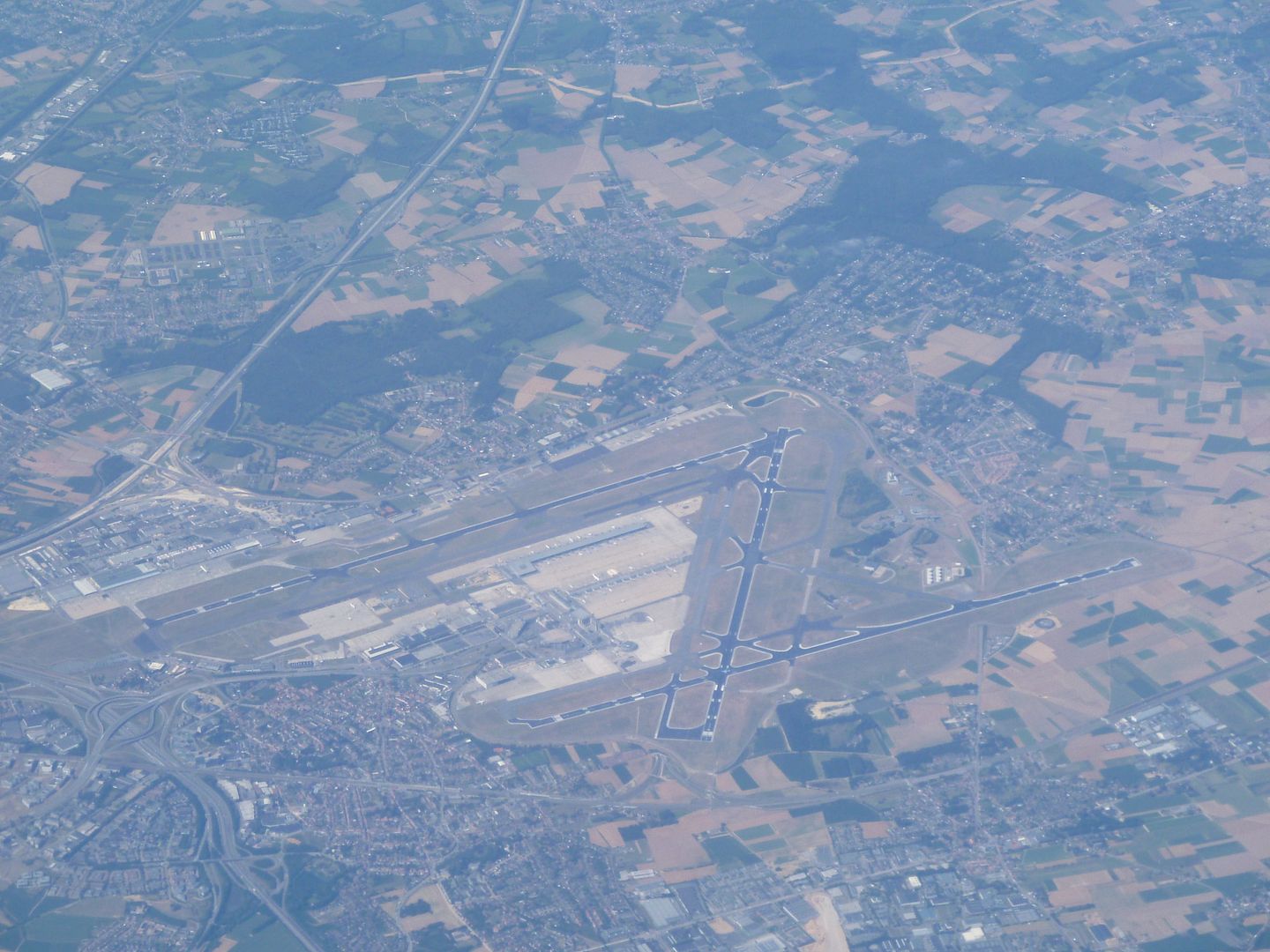 The friendly flight attendants soon served an egg sandwich, an orange juice and black tea. Good to see that free range eggs were used: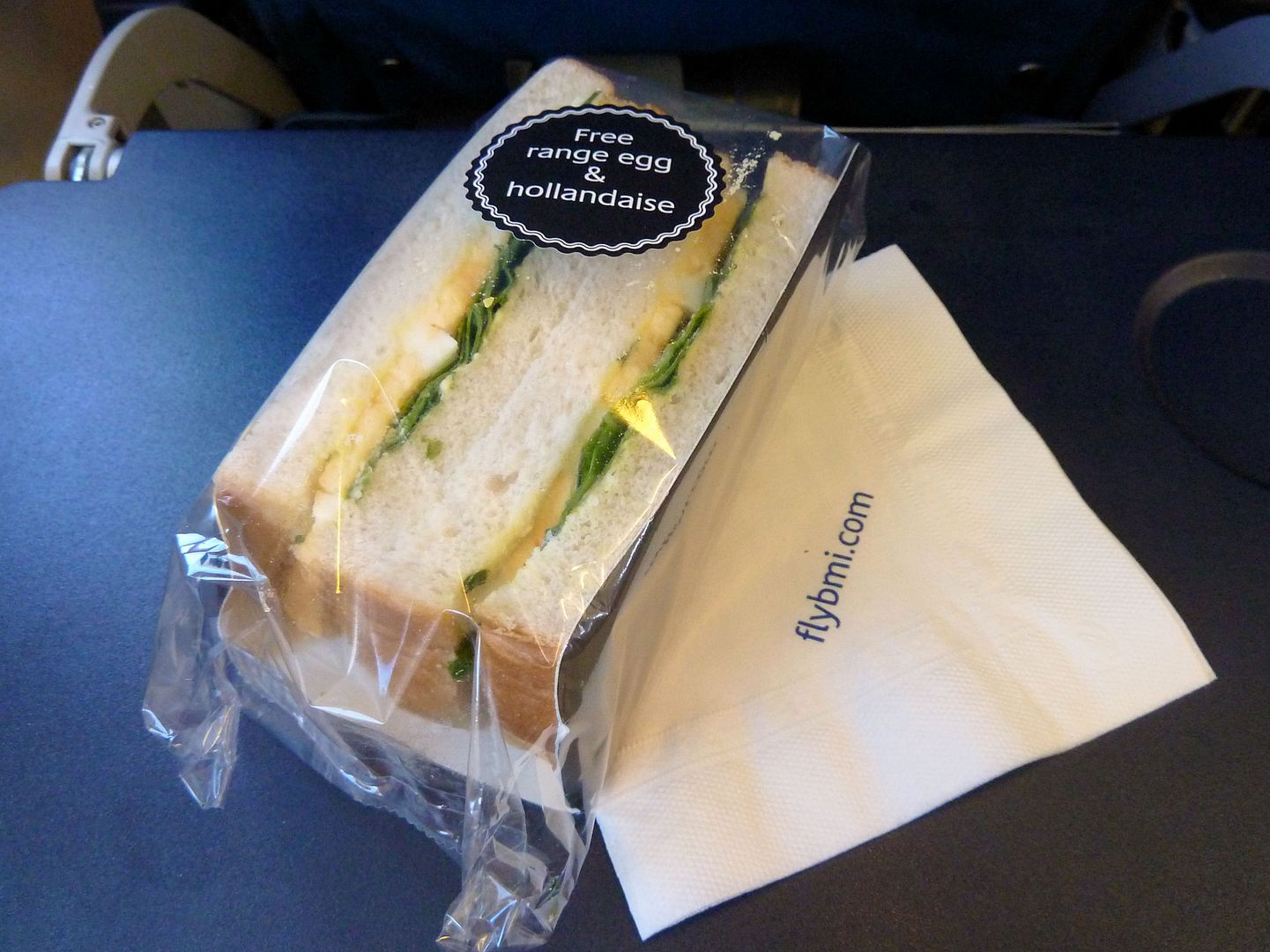 I was really surprised about the high quality sandwich, it tasted very good. The black tea wasn't bad either.
Emirates 777-300 heading down to Dubai: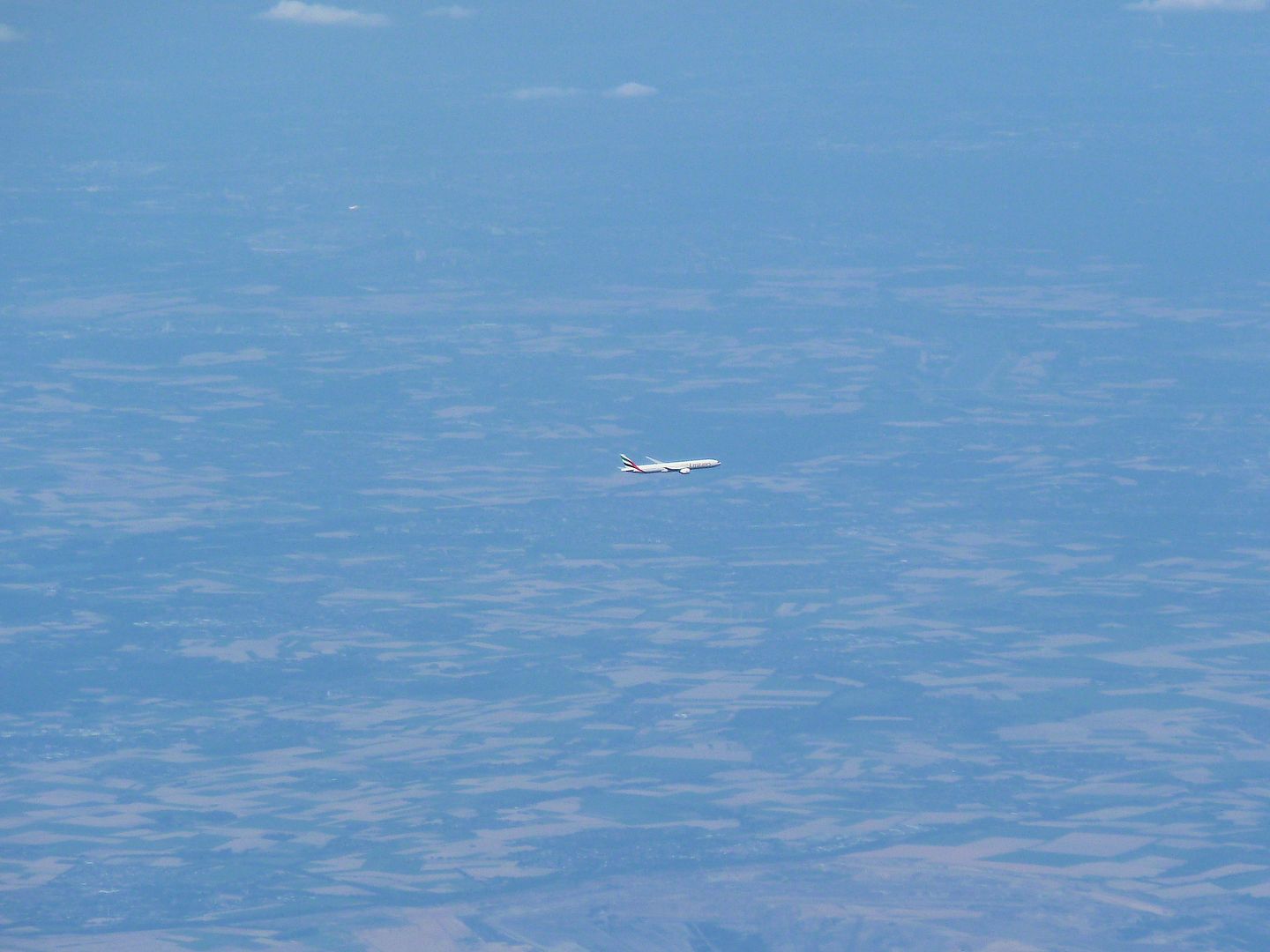 Cabin shot: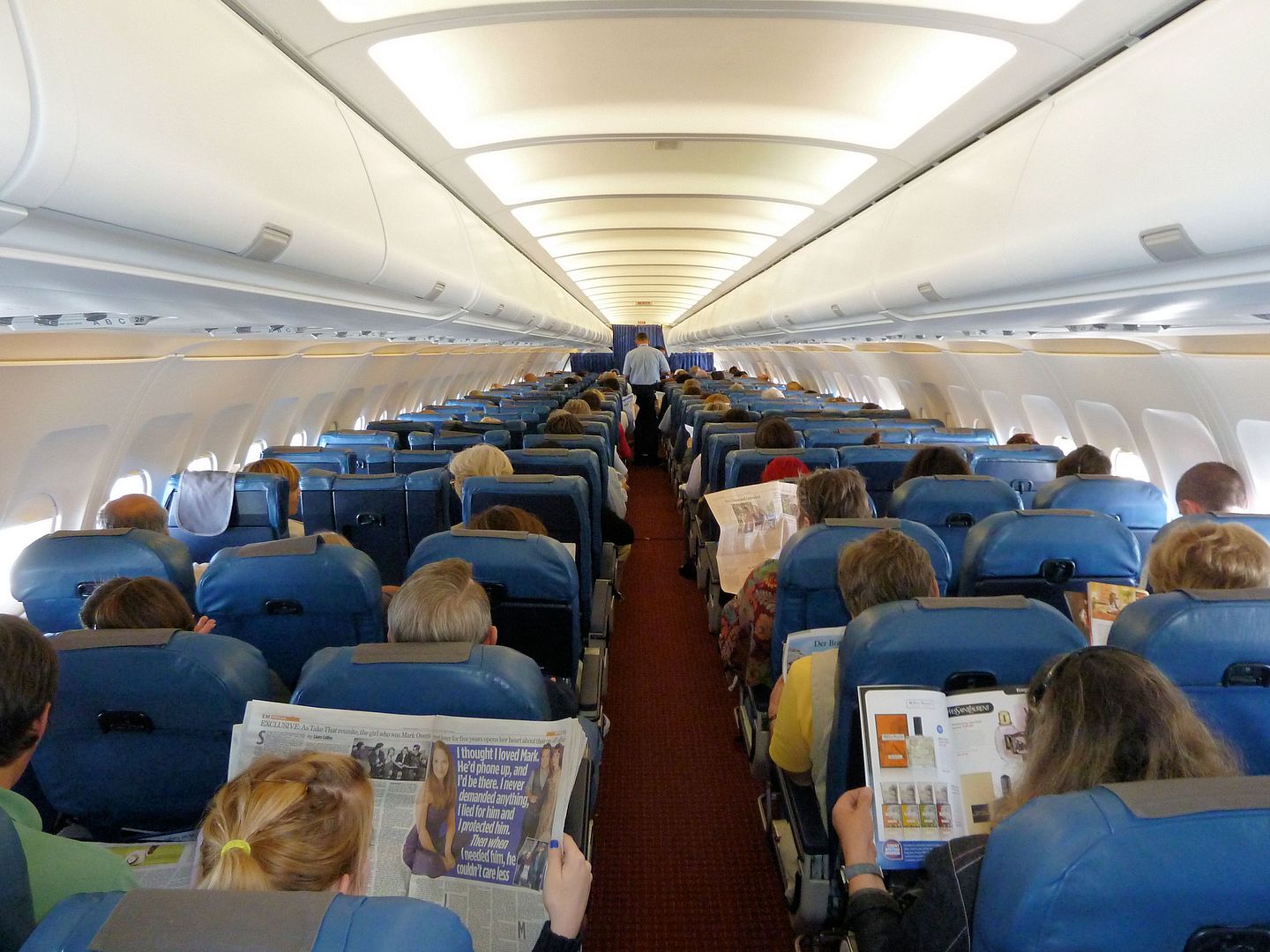 The remaining flight was uneventful - well, almost. The lady in the aisle seat was stressed for a while by her three kids who were seated in the opposite row. They were having a loud dispute and after the lady had failed to calm them down, she grabbed one of the kids and placed it next to me in the empty middle seat. The flight was almost over anyway...
Low clouds on approach to Vienna: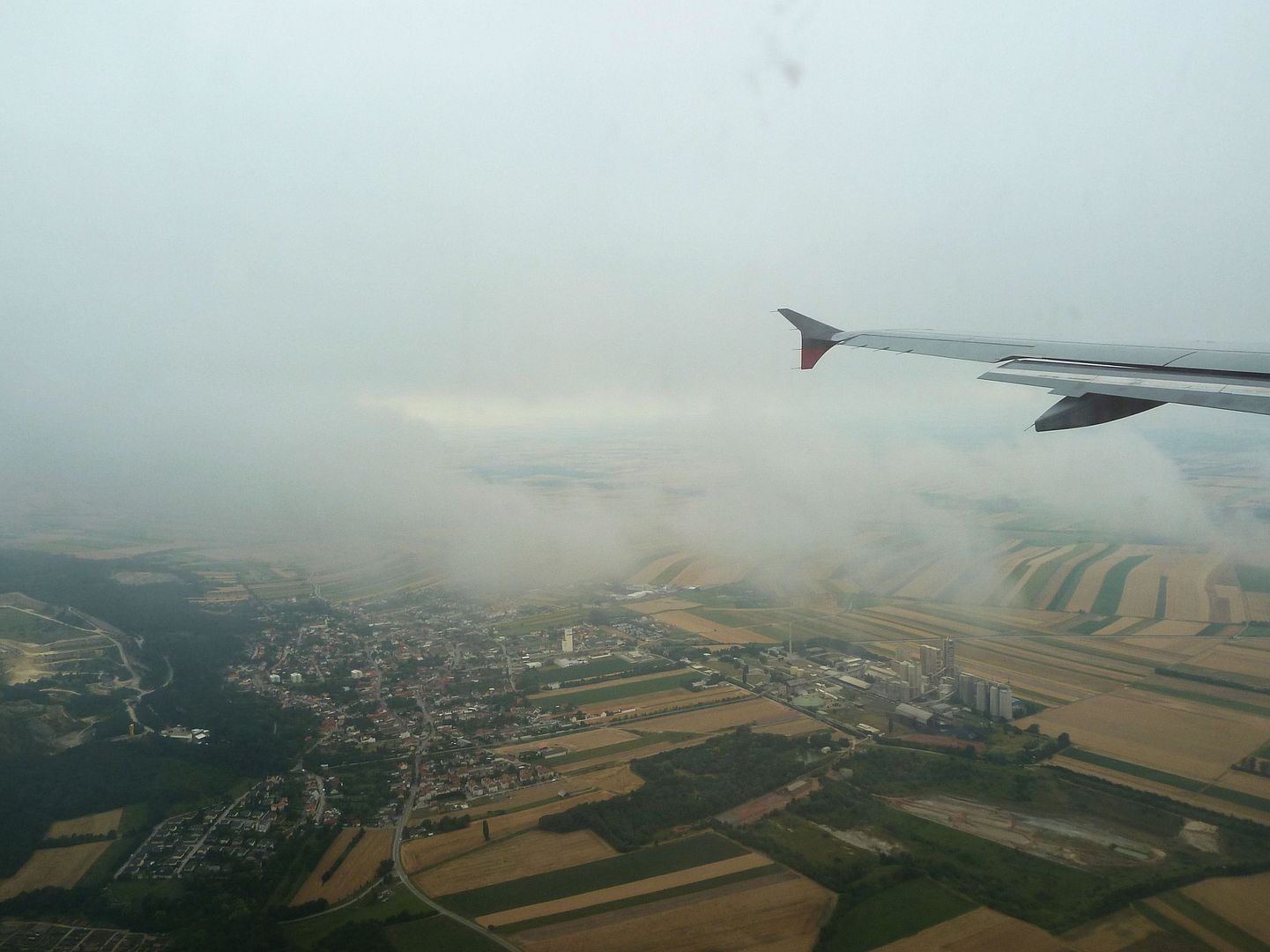 We touched down after a flying time of 1 hour and 53 minutes and taxied to a remote parking position: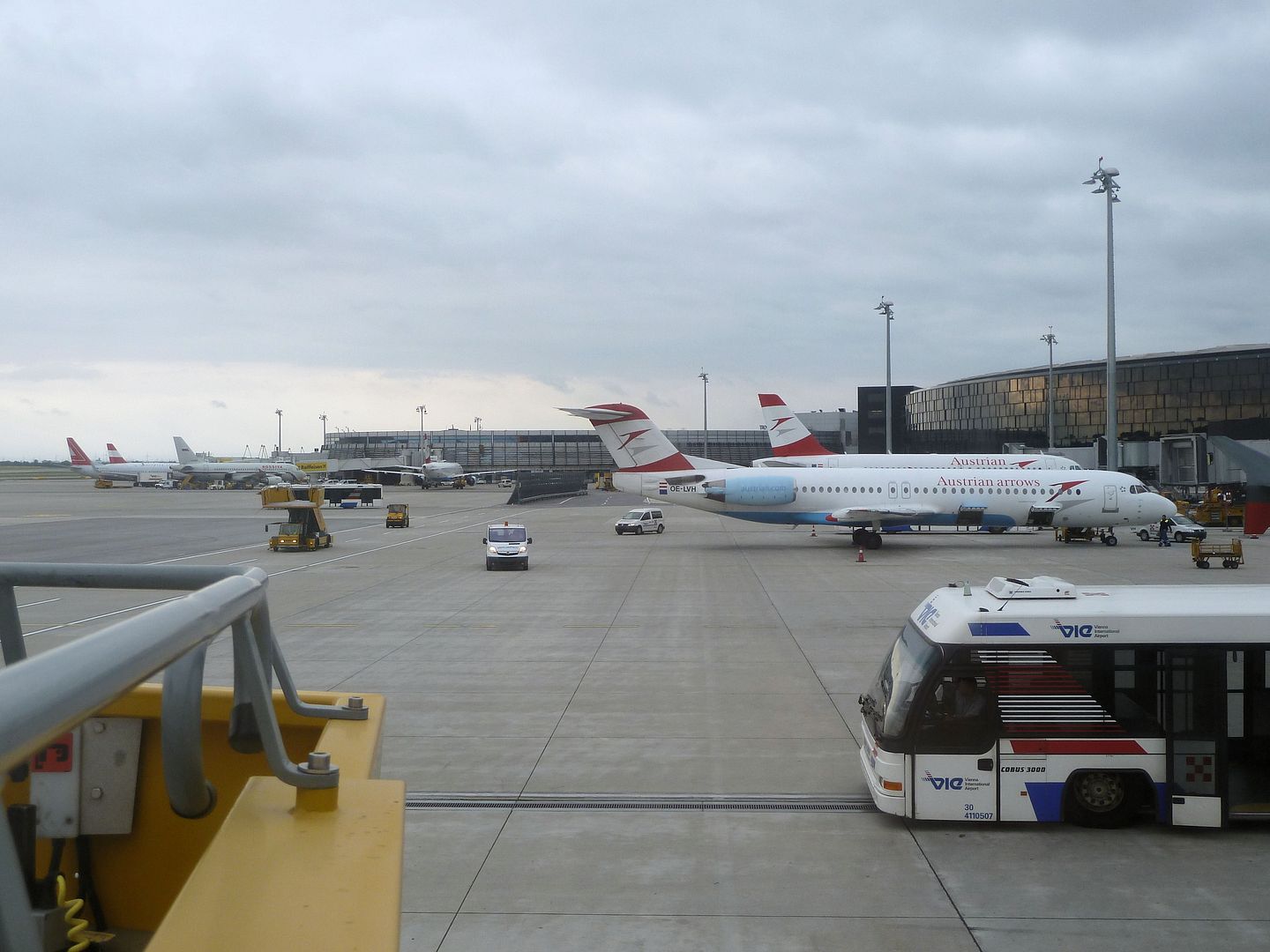 I was very glad about that because I could take some more pictures of the plane which may get a new paint job soon:
After arriving at the terminal, I went straight to the rundown Hall B where my flight to Munich would depart from two hours later. I could have stayed elsewhere for a while, but I was neither hungry nor thirsty and viewing options in other airside areas wouldn't have been much better. I took a seat at my gate and kept reading a book and a newspaper while the whole area was getting more and more crowded.
Sunday, 18 July 2010
Vienna (VIE) - Munich (MUC)
Austrian Airlines OS117, operated by Tyrolean Airways
19:35-20:40 (19:43-20:45)
Flying time: 00:44 (hrs)
Economy Class, Seat 20A

Fokker 100
OE-LVL (MSN 11404), named "Odessa"
First delivered to American Airlines as N1421K in 07/1992
1st flight on OE-LVL
3rd Fokker 100 flight
4th Fokker 70/100flight
100th airline
Former appearances as N1421K and C-GKZU:
Boarding commenced on time, but we remained stuck in the bus for a while. There was a problem with someone's boarding pass and it took at least ten minutes to solve it. The bus finally brought us to
OE-LVL
, one of 15 Fokker 100s in the fleet: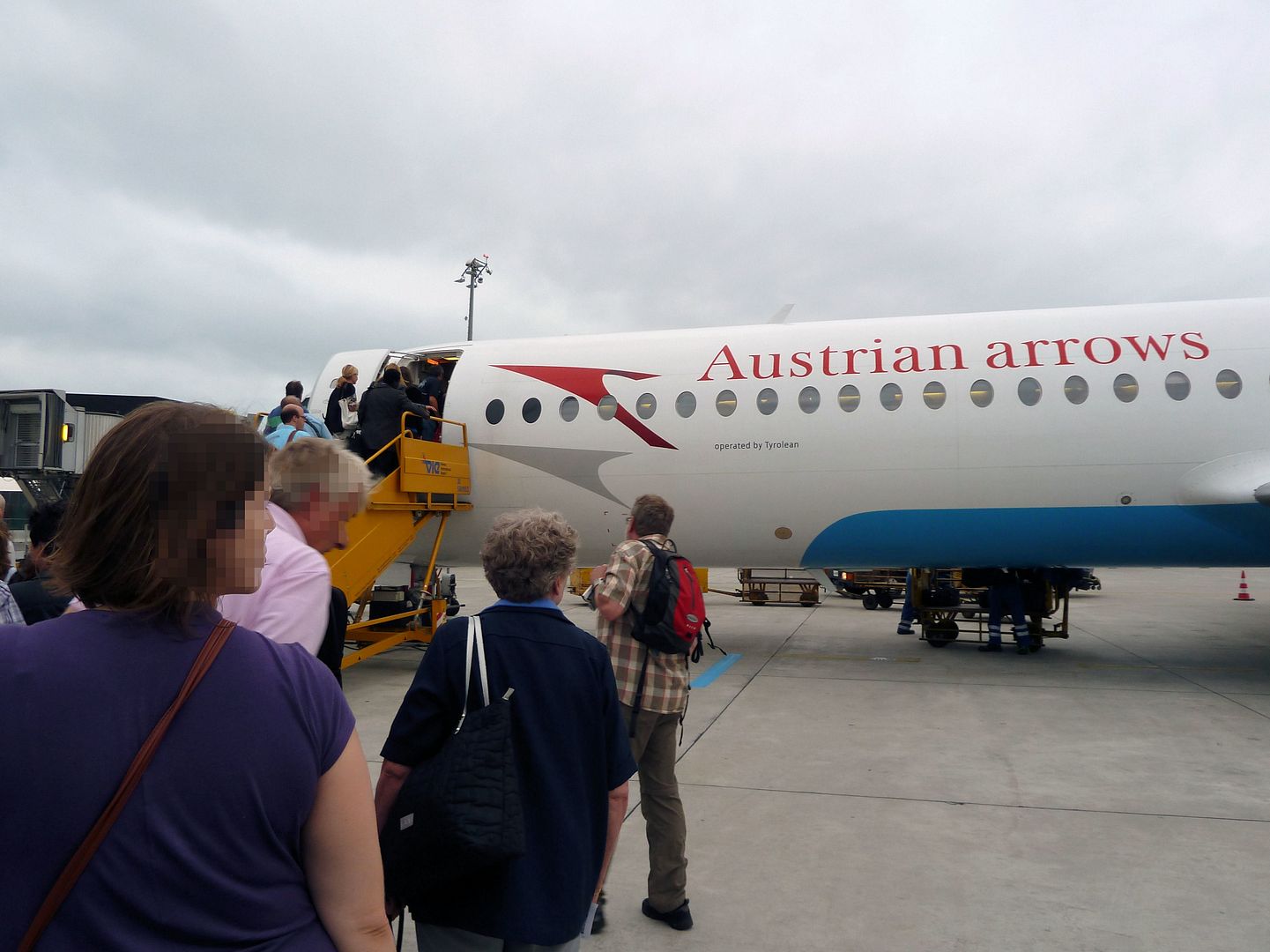 Operated by Tyrolean - my 100th airline.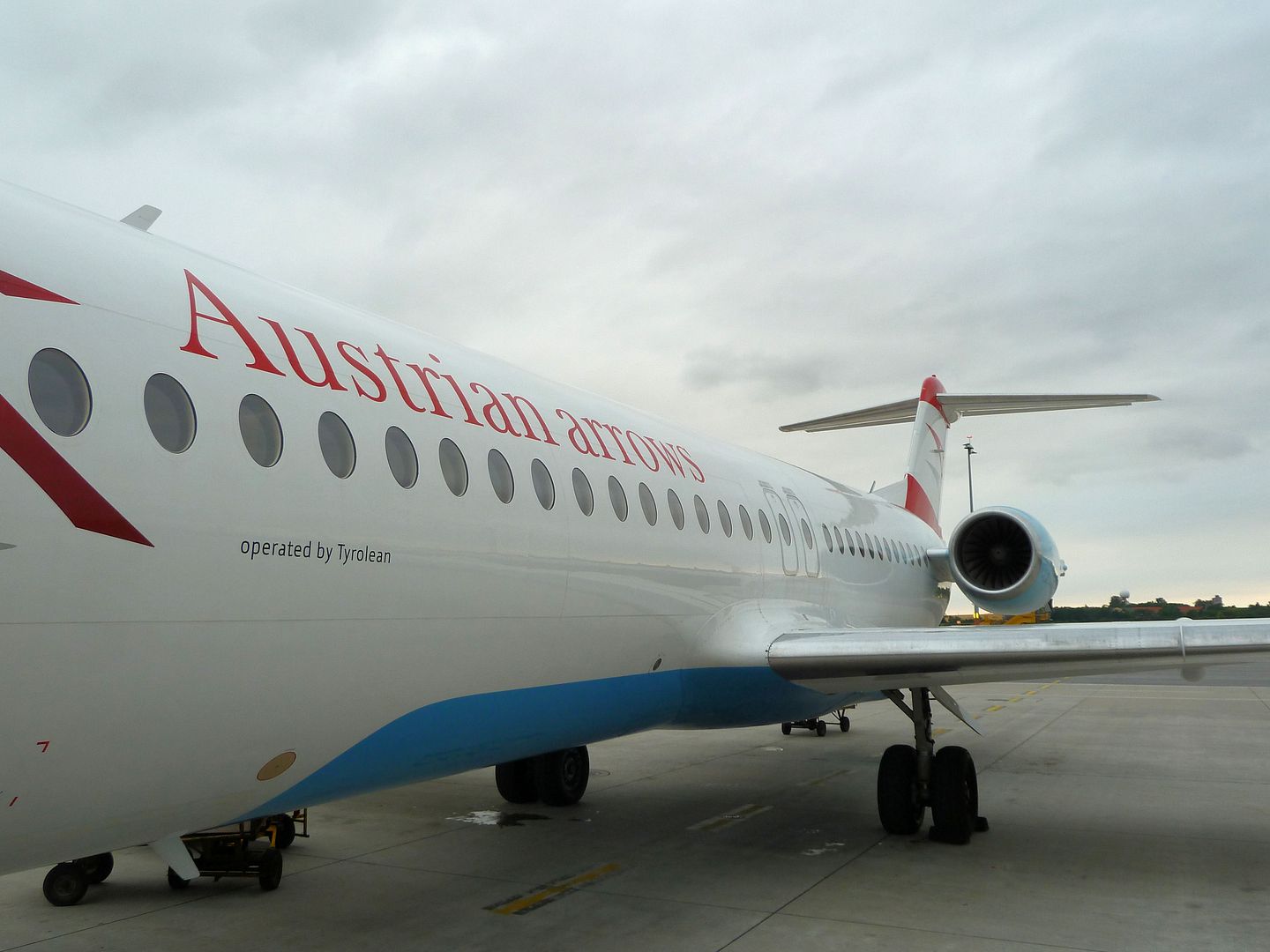 After being welcomed by a friendly flight attendant, I made my way to row 20. I'm not sure what to think of the green color, but the old-style seats were quite comfortable: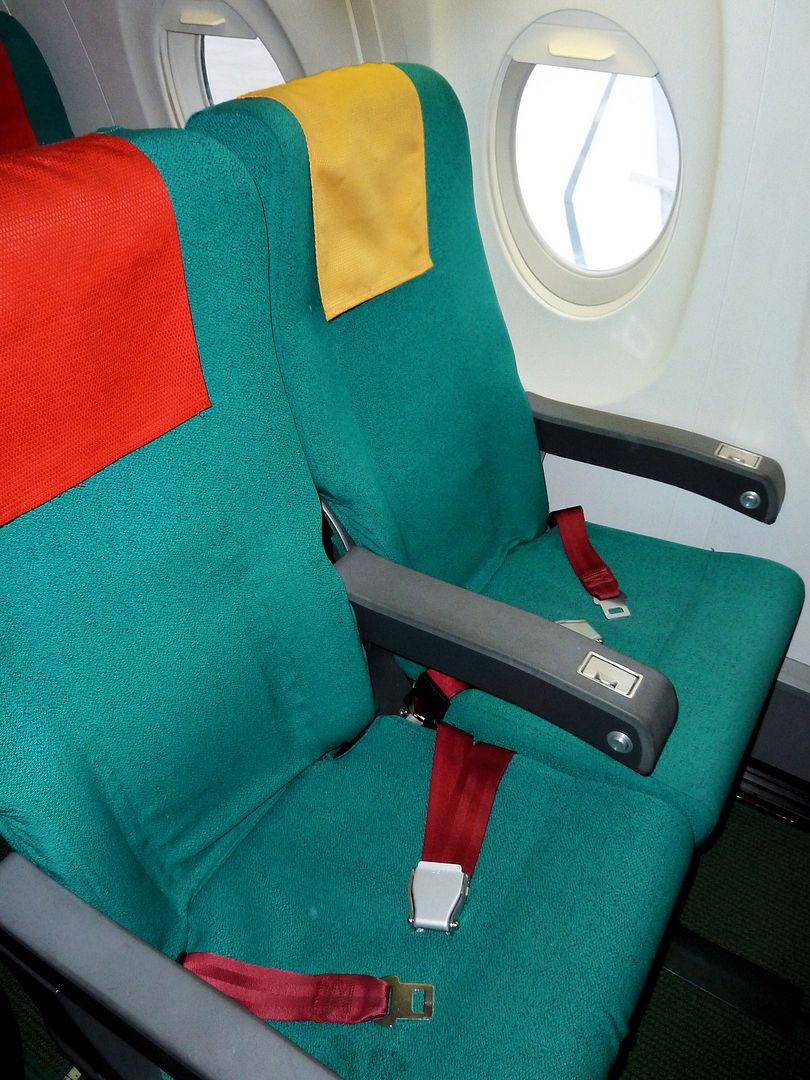 What I definitely didn't like was the tight seat pitch: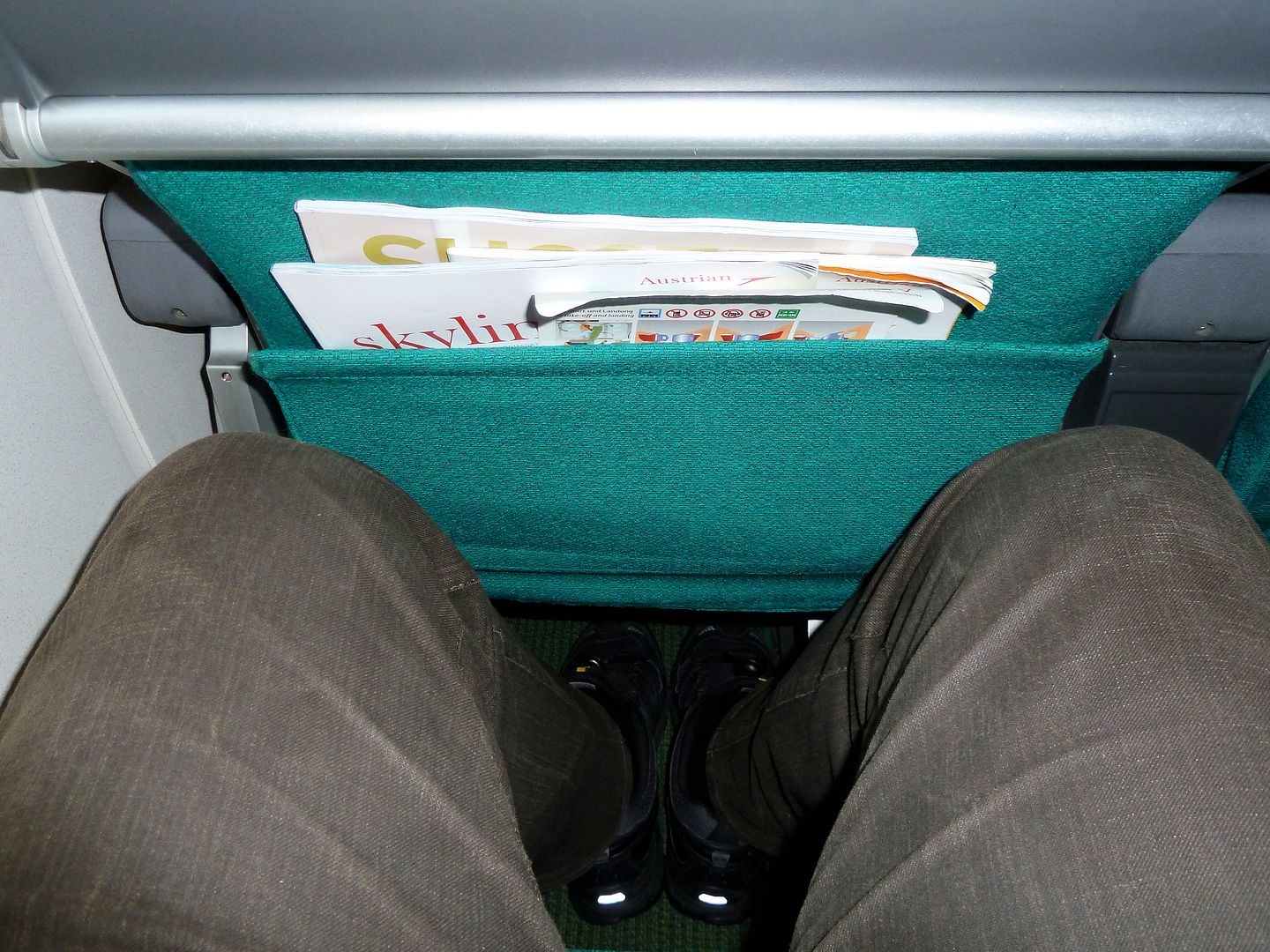 Seat 20A - which I had selected in advance on OS' website - was just perfect: Engine on the left, wing on the right:
Engine close-up:
We left the parking position eight minutes behind schedule and I could take one last picture of good old
G-MIDX
which was still here:
It took another 13 minutes until
OE-LVL
noisily lifted off into the gray skies. This is what I would call "field artwork":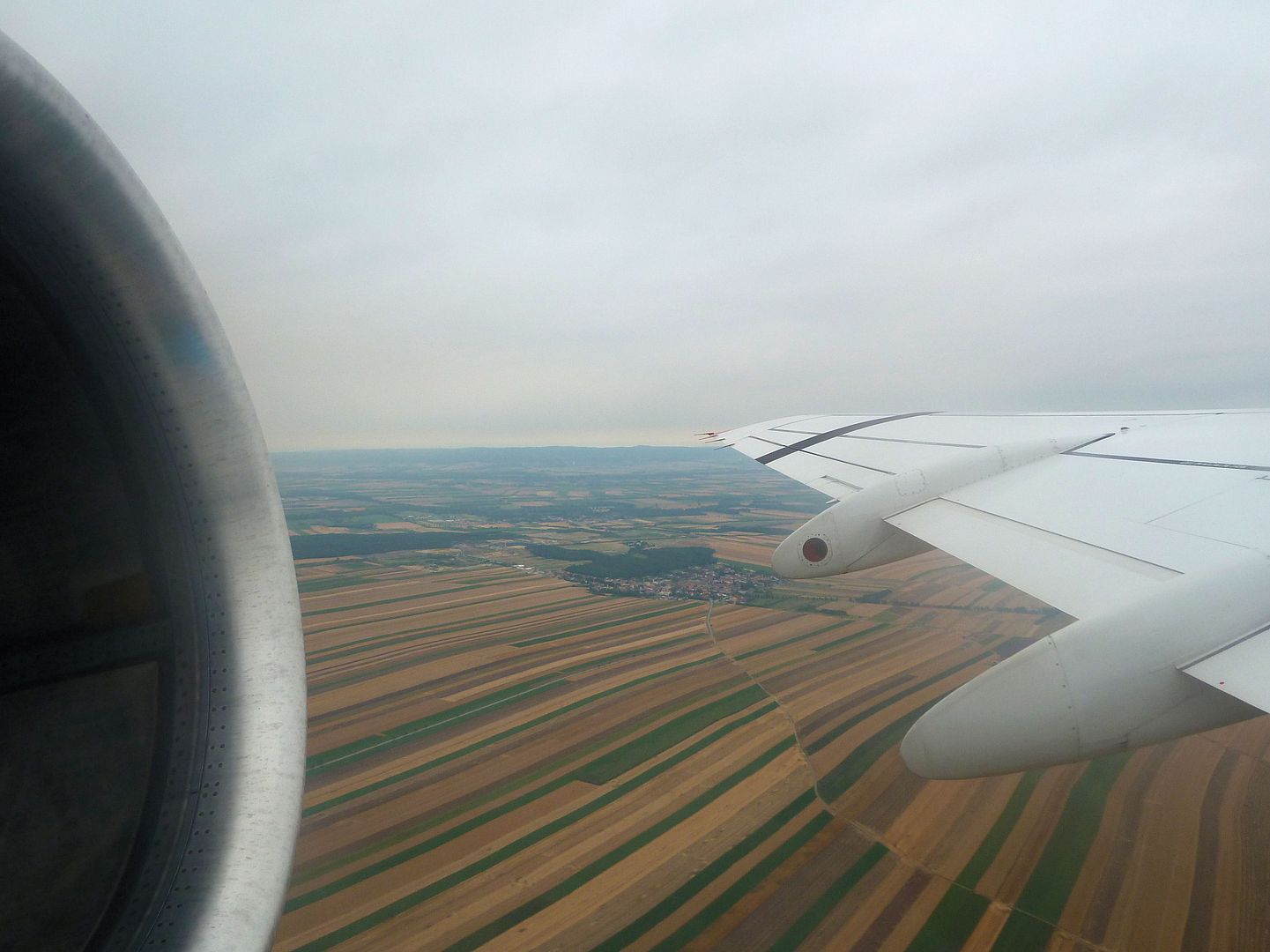 Clouds + evening sun = beautiful scenery: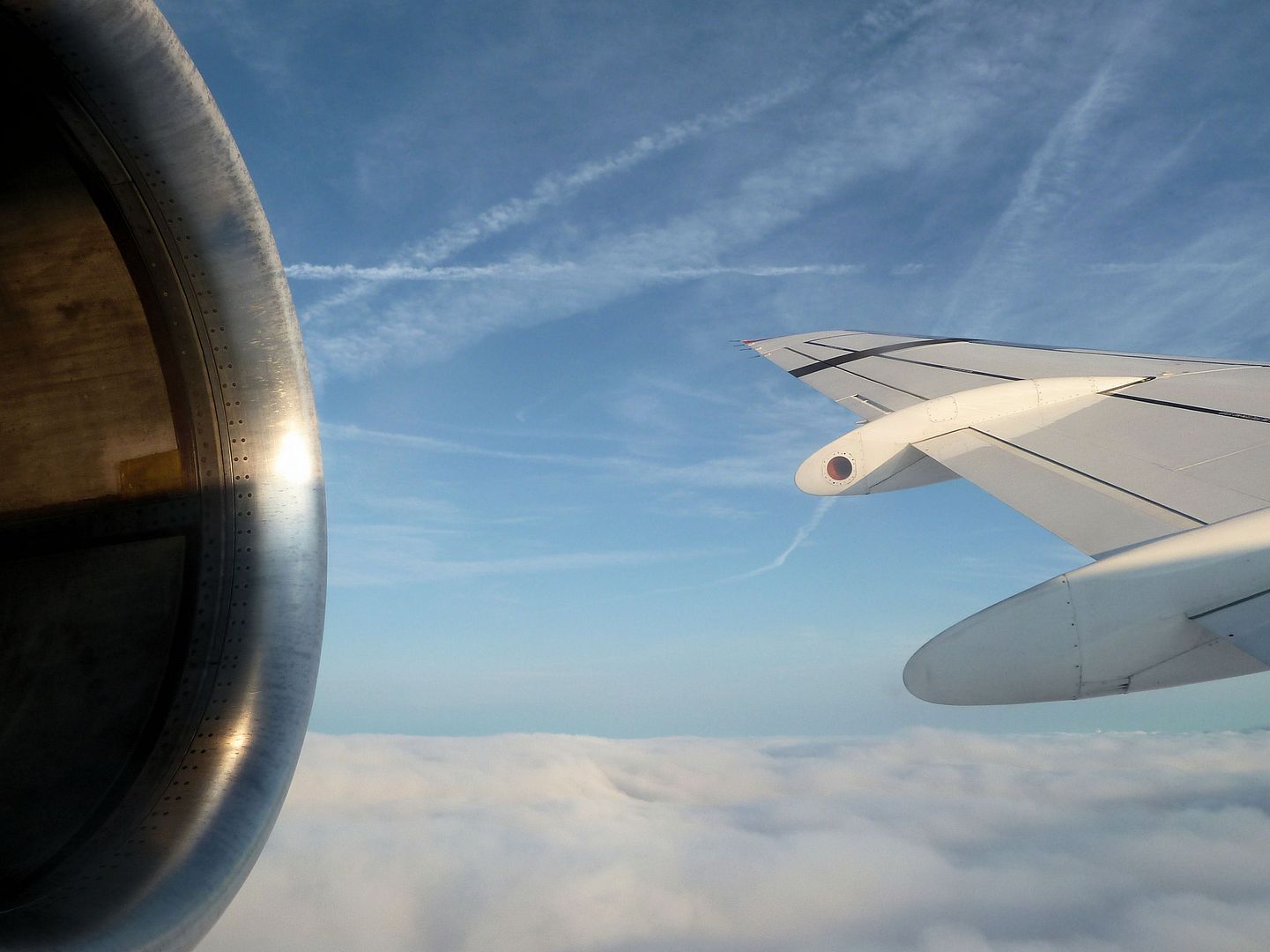 There was an announcement during climb, but I didn't understand a single word due to engine noise. So who knows what they tried to tell us.
After the flight attendants had started serving drinks and snacks, I quickly took a cabin picture. Not a single empty seat on this evening service: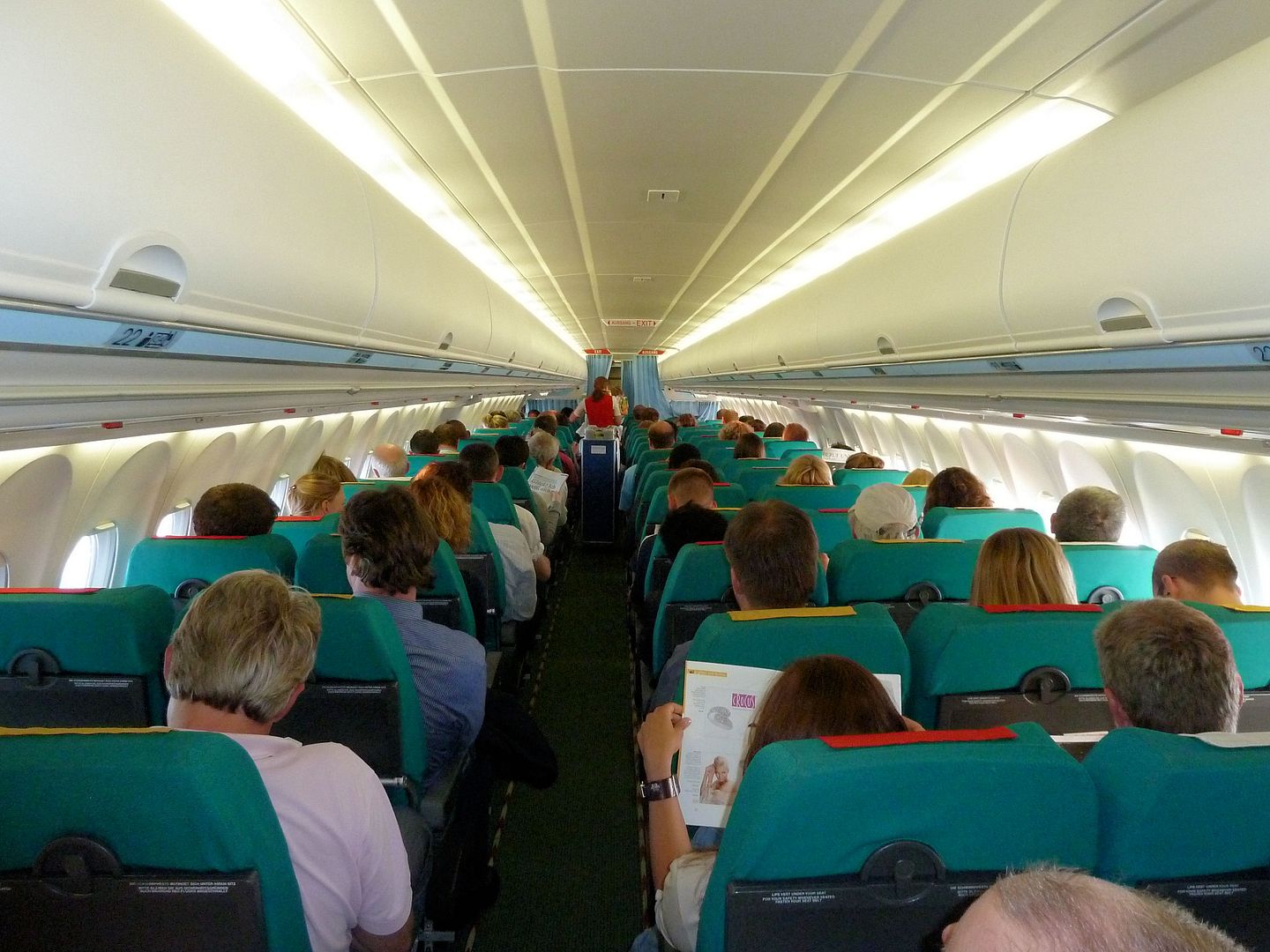 I also went to the lavatory and soon found out that the door lock didn't work properly, but I managed to be back before the flight attendants arrived at my row.
In light of Austrian's recent cost cutting measures I was expecting to get some crackers or probably a small sandwich, but the flight attendants served a salad box: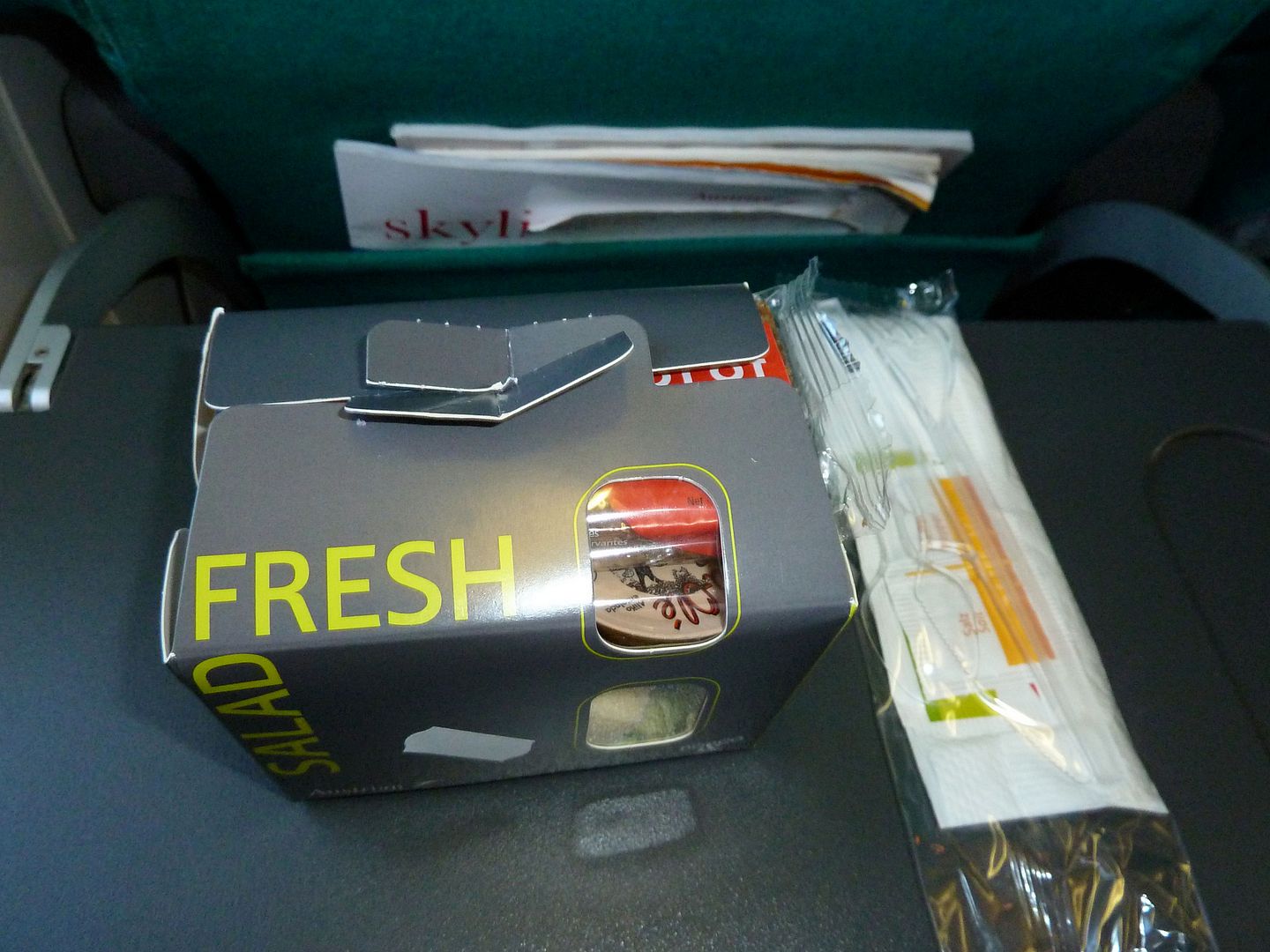 The mixed salad along with the dressing tasted very good - and the wholemeal bread wasn't bad either. Well done, Austrian:
Some 30 minutes after take-off we already started descending again. I would have preferred to keep cruising over the clouds some more time: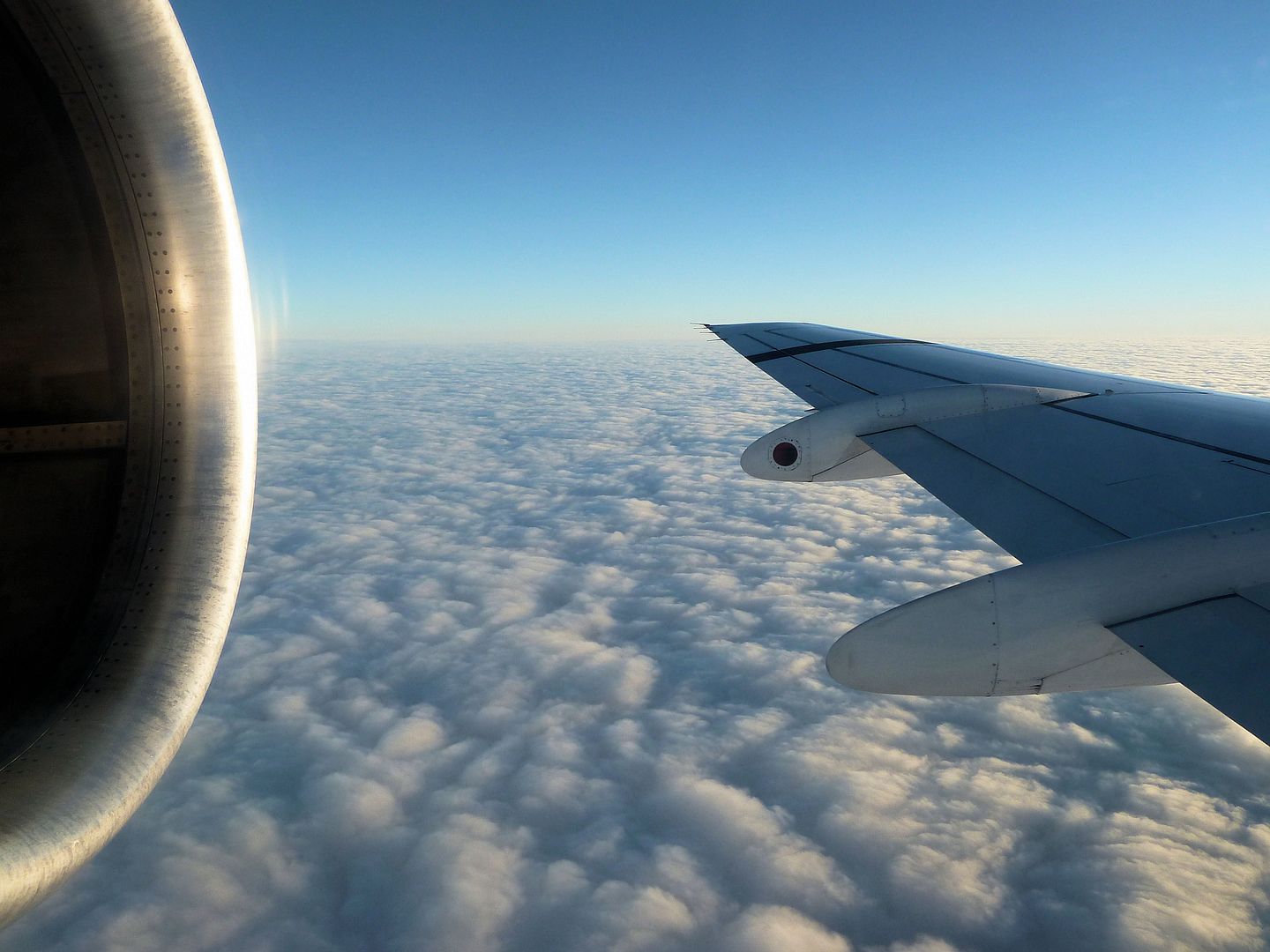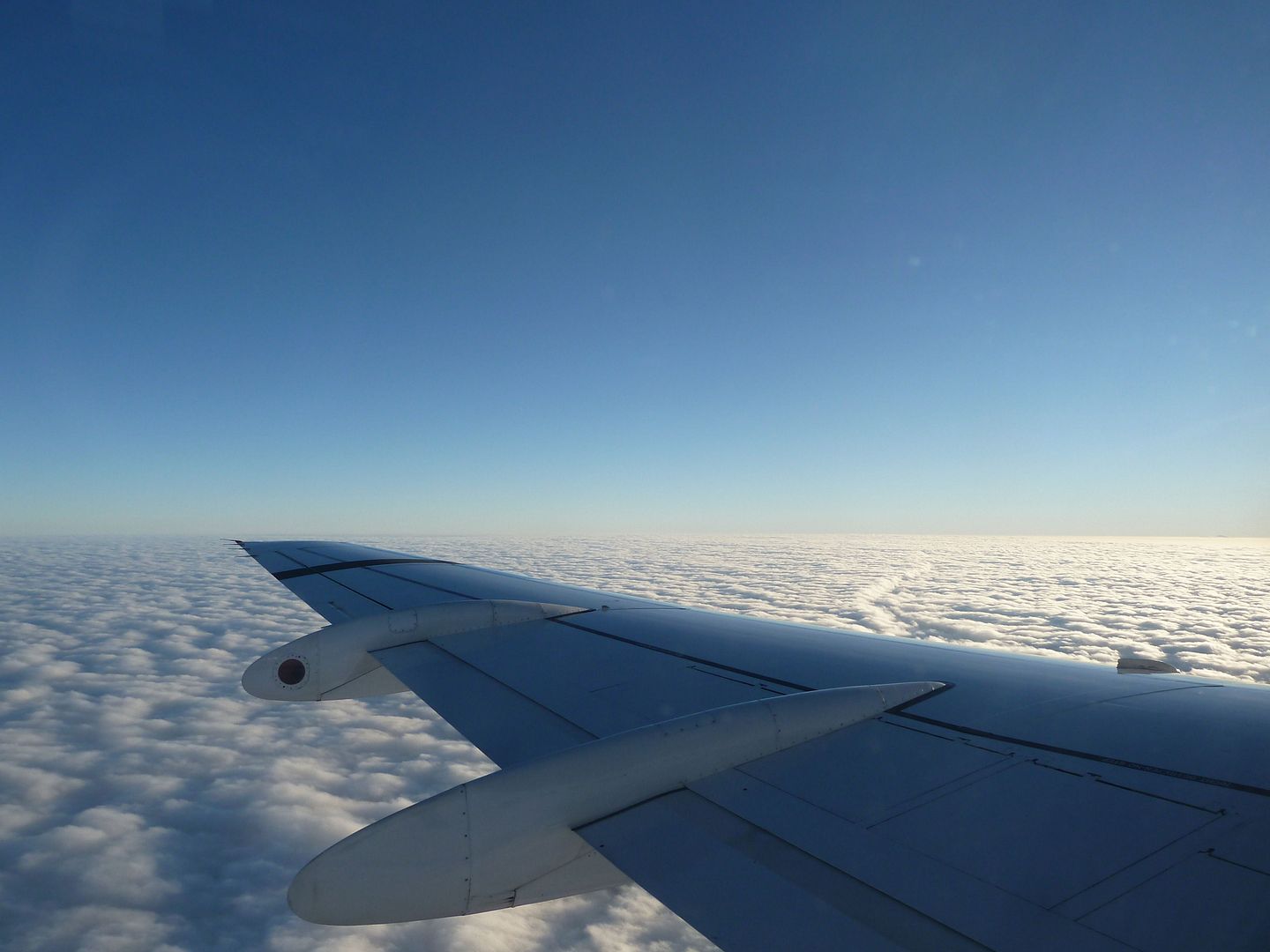 Allianz Arena: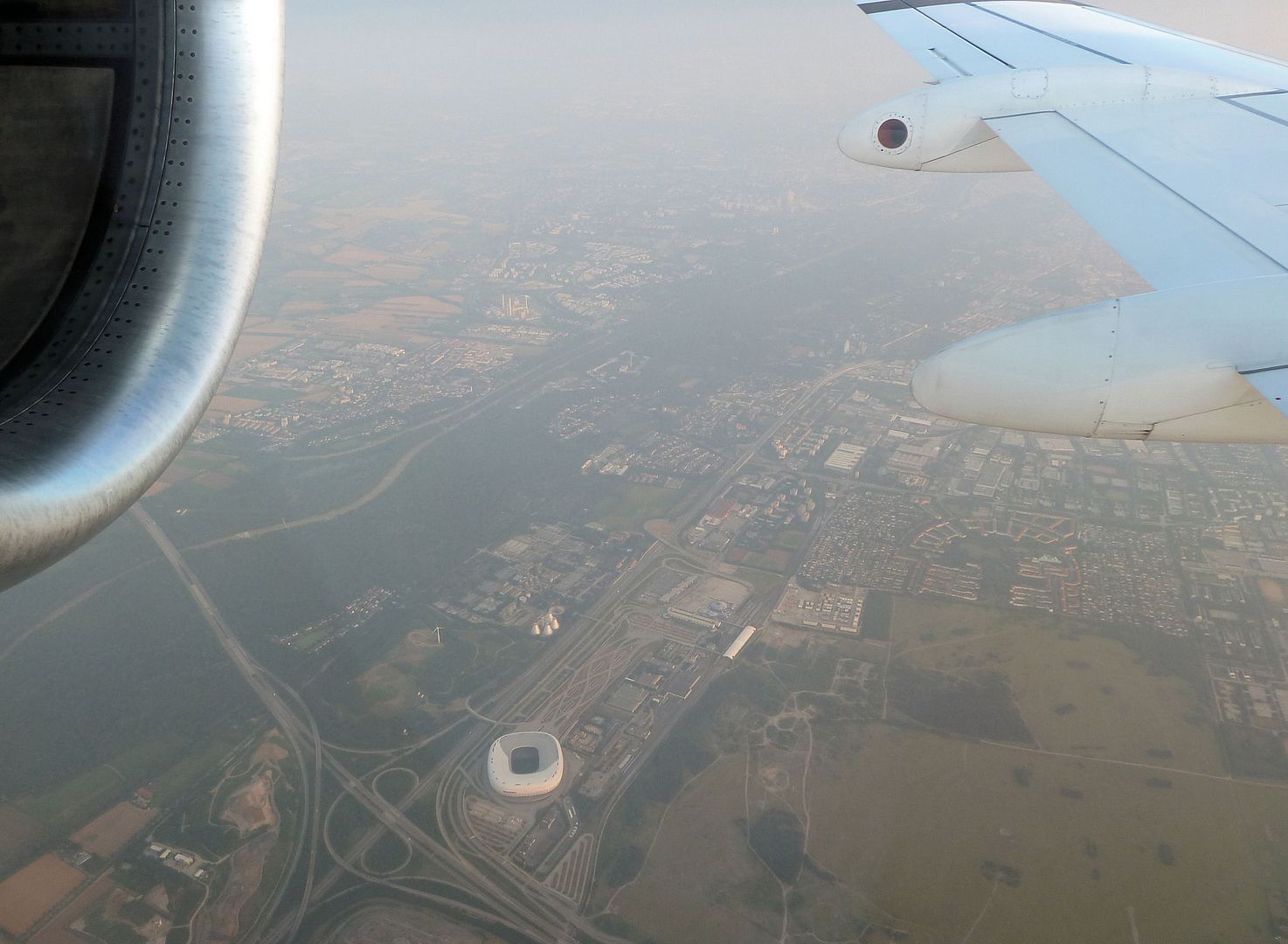 Autobahn 9: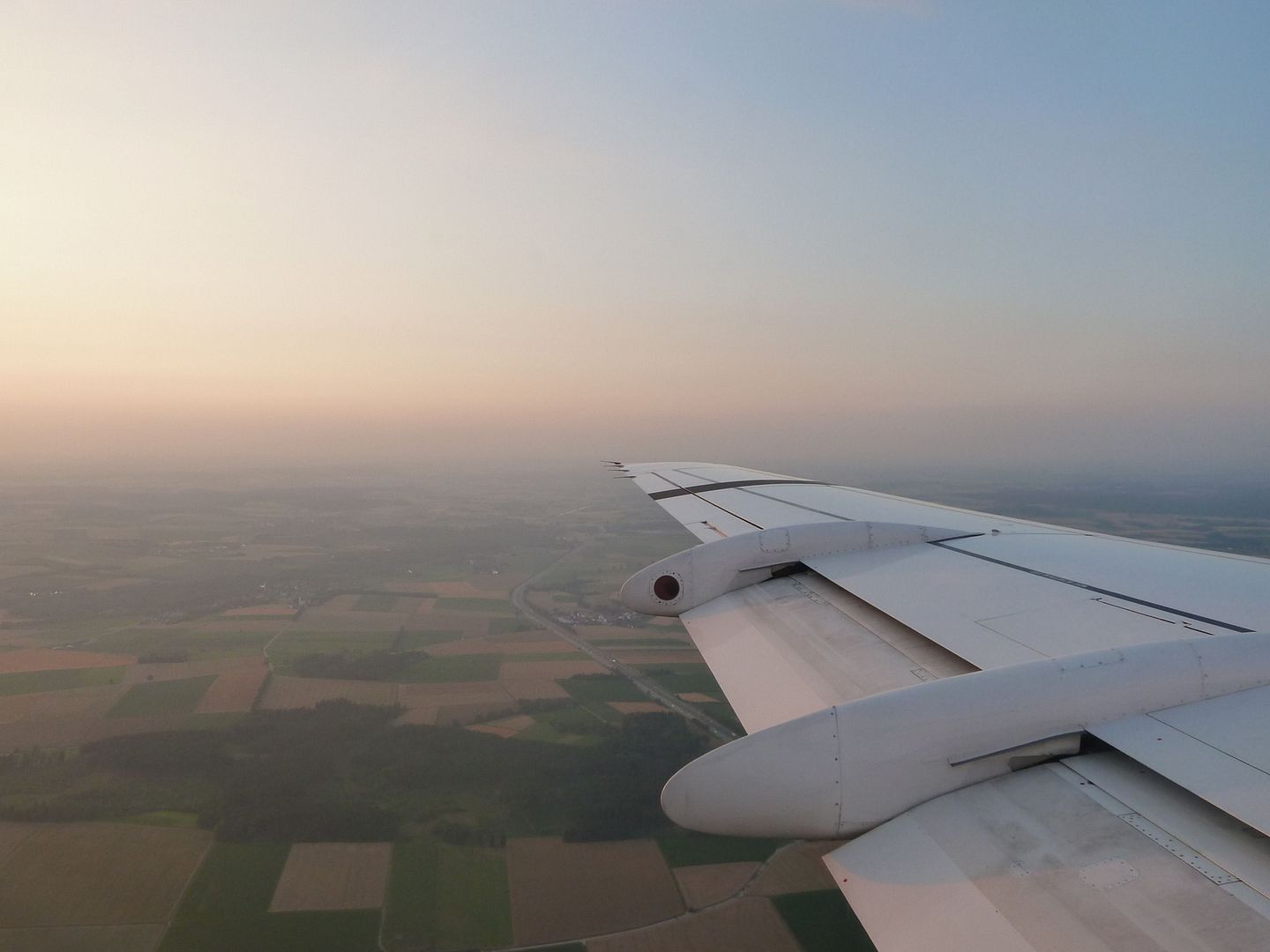 Only a few more moments to go: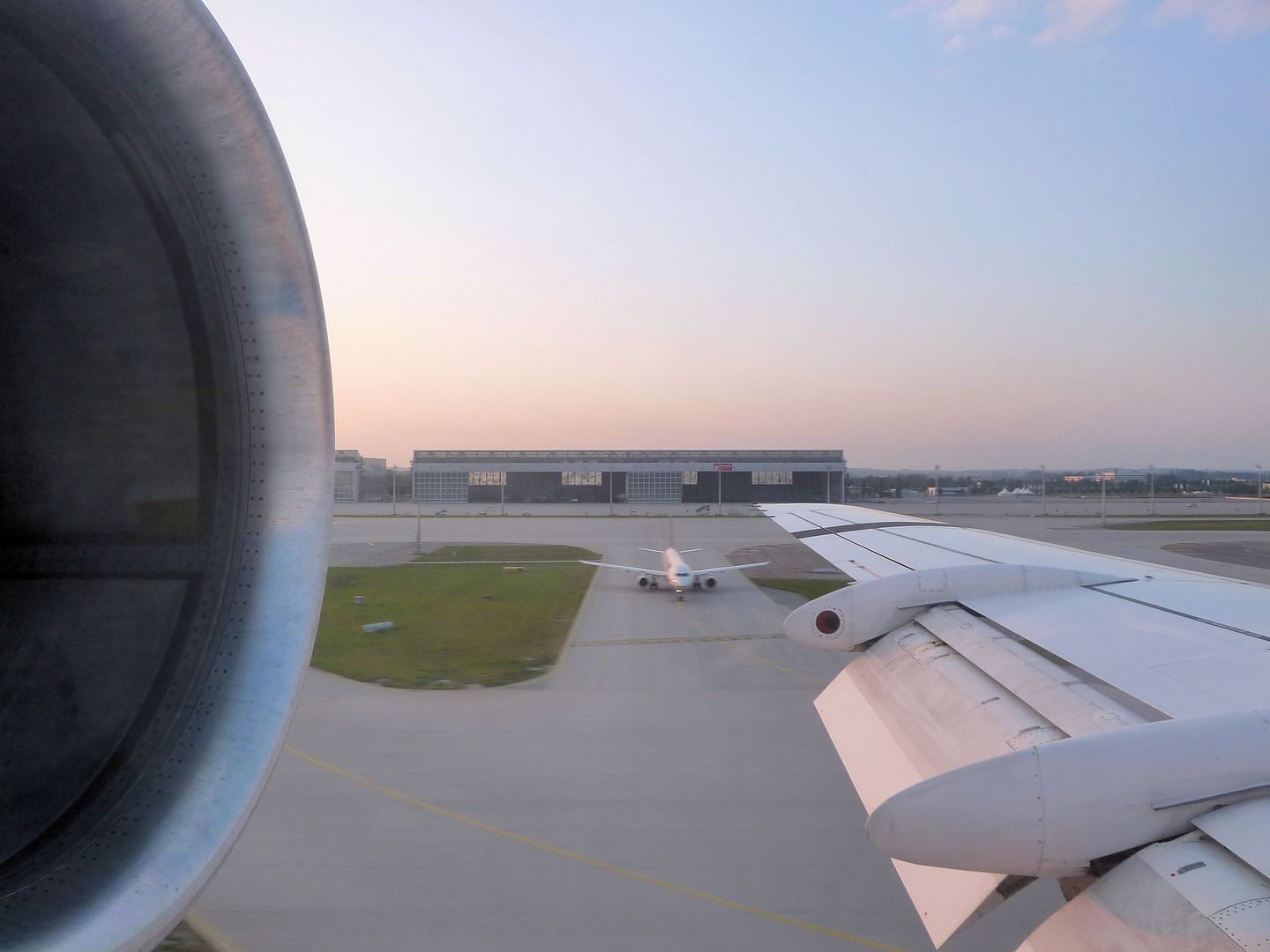 OE-LVL
touched down after a flying time of 44 minutes and quickly slowed down: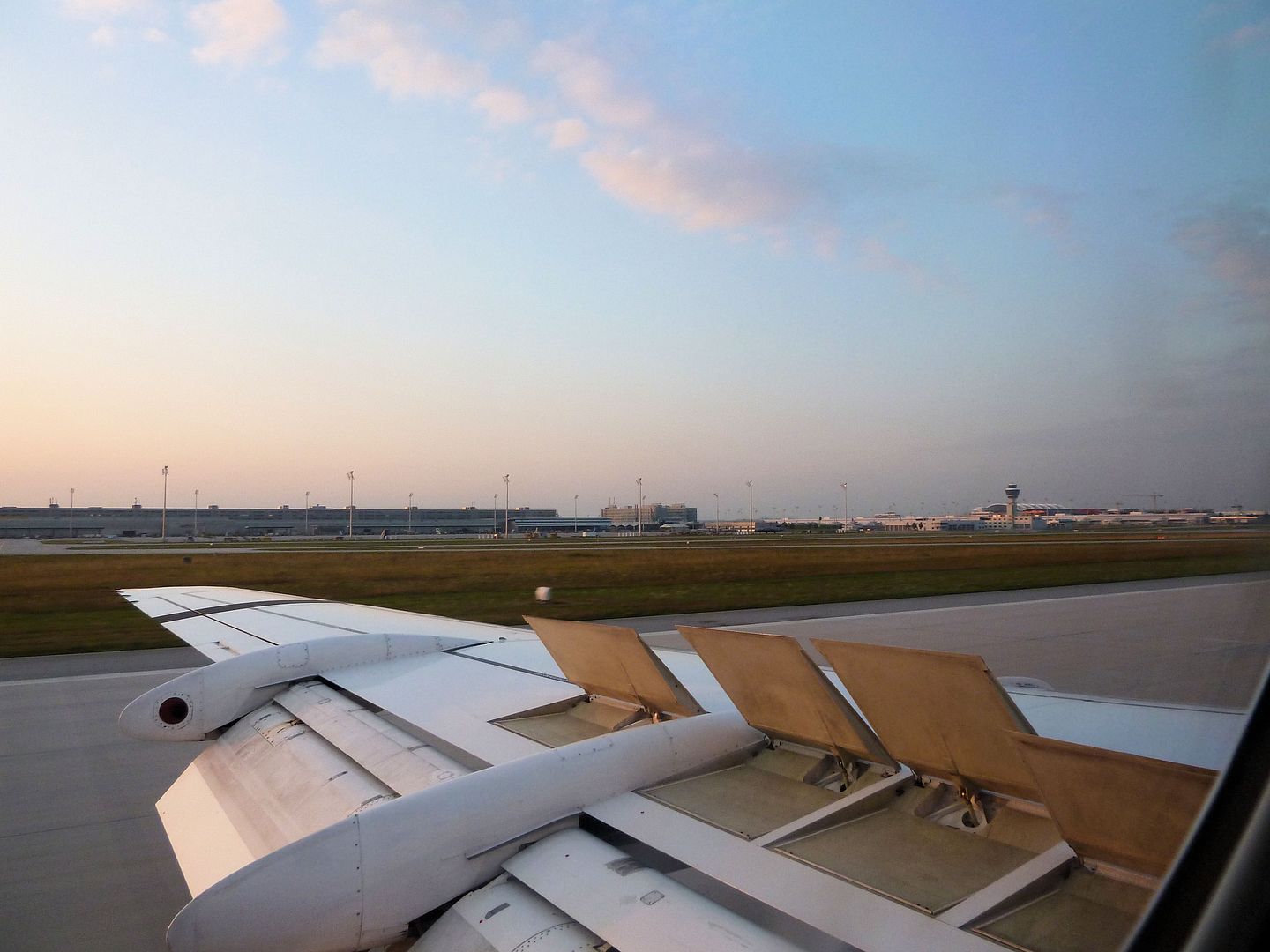 Privatair 737-800 operating for Lufthansa:
We stopped at a remote parking position five minutes behind schedule, next to Lufthansa A319 D-AILE: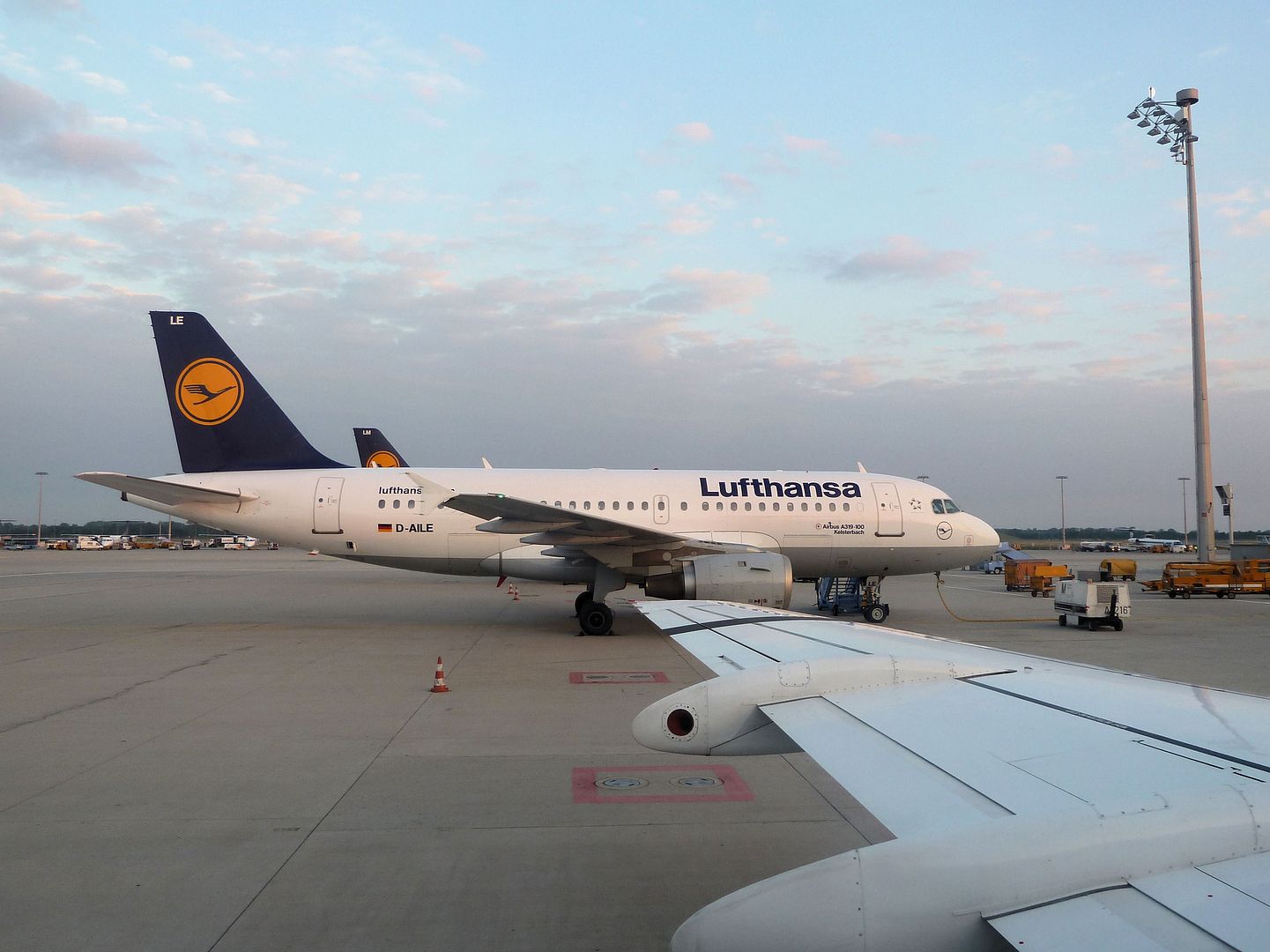 One last picture of
OE-LVL
:
Some minutes later the bus dropped us off at the terminal and I felt sorry for numerous passengers who started running to get their connecting flights. Hopefully they made it. All I needed to do was to take the S-Bahn to the P81 car park. Three new airlines - including my 100th carrier - two flights on extraordinary widebodies and 123 new registrations for my spotting logbook - another
PlaneHunting
journey was successfully completed.
Conclusion
The delay on
Air France
was nerve-racking, but there's no reason to complain about the airline. The problem was caused by a ground vehicle and the captain kept us updated. As soon as we had left the gate, I enjoyed the time on AF's A380 which offers lots of seating comfort and a great IFE system. Ground staff members and flight attendants were friendly and I was also satisfied with the catering on that very short flight. However, I didn't like the automatic check-in. Anyway, it's just a matter of time until I will book a long-haul flight on AF's A380.
My expectations hadn't been high after a rather disappointing experience in 2009, but this time
bmi
surprised me with friendly ground staff members and flight attendants, comfortable seating and good catering. I would definitely choose the carrier again.
I felt a bit cramped on the Fokker 100, but the flight on
Tyrolean Airways
was still a positive experience due to friendly staff and good catering. I wouldn't hesitate to book Austrian Airlines again, but I hope that the airport's Hall B will be refurbished soon.
Best Regards,
PlaneHunter
P.S.: Just in case you missed them - my previous trip reports:
Fifth Freedom Tidbit: Kuwait Airways A300-600
Ship Vs. Plane: Porto Santo Line & Sata Air Açores
Awesome Approach, Splendid Scenery: LIS, FNC & TAP
Guernsey, Ash Cloud Alarm & Mostly Empty SQ 77Ws
Totally Thrilling: Scenic Flight On Lufthansa A380
Cirrus D38, Adria CRJ & Captain Niki Lauda On Duty
Monarch Hot Meal, E195 & More: PMI-ALC-MAN-MUC
Premium Meal & Palma Spotting: MUC-PMI, DE 757-300
The Dead Slow Transfer: PEK-MUC On Air China A332
Cancellation Brings Joy: HKG-PEK on Dragonair A330
A380 Cacophony, 777 Star Livery: DXB-SIN-HKG on SQ
The Next 5* Carrier? MUC-MCT-DXB, Oman Air A330
Turkey For 1.5 Hrs: Daytrip To AYT On Sky Airlines
CO Scores Again: ATL-IAH-EWR-FRA On ERJ, 752 & 764
Riding The Ultra Long-Haul Twin: Delta 777-200LR
Pacific Coast Jaunt: 3 Carriers, E120, E140 & Fog
The Ultimate 737: LHR-IAH-PDX On CO 777 & 739ER
Bye Bye, Hell! TRD-OSL-TXL-NUE - DY/AB/HE DH4
My Trip To Hell: NUE-CPH-OSL-TRD On Cimber & SAS
SFO-YUL-FRA: Map- & Sleepless On Air Canada's 77W
Sin City Gloss & Virgin America's Chic First Class
Seat Dilemma & Canyon Glamour: FRA To LAX, AC 763
On Par With Air France? DTW-AMS-MUC, KLM A330
Goodbye, Red Tails! DC-9-40/50 & Chicago Tour
Champagne & World Of Coke: Air France A340 To ATL
"Mission A380": Disappointing Legs On BA/BD/EI
Delights Of Doha, 773 & 77W: DOH-DXB-LHR On EK
A380 Really a Step Forward? LHR-DXB-DOH On EK
Quality & Style: HKG-LHR On Air New Zealand 744
Taiwan Trio: TransAsia, UNI Air And The Taipei 101
"The Wings Of Taiwan": EVA Air A332, 744 Combi
SHA-SZX, Shanghai 757: Delayed By The Military
PEK-SHA, China Eastern A330 & Shanghai At Night
Striking Newcomer: Berlin-Beijing On Hainan A330
Short & Splendid: MXP-MUC On Air Dolomiti's 146
3 Hours On Blue1: HEL-MXP On The MD-90
BCN-MAD-ZRH-MUC: UX Shuttle Meets Swiss Quality
MUC-MAD-BCN: Star MD-87 & The Pain Of Vueling
Low Fares, Lovely Island: AK & Best Of Langkawi
4 Stars Or 5 Stars? FRA-KUL-FRA, Malaysia 777s
First And Last Time? JFK-FCO-MUC, Alitalia 777
JFK For 1 Day: Transatlantic Hop On CSA's A310
Sardinian Sun, Shiny New 73Gs & Cramped Mad Dog
Top And Flop: KIX-HEL-MUC, Finnair A320 & MD-11
The 524-Seat Twin-jet: HND-ITM On ANA 777-300
Kobe For 1 Hour: 767-Quickie On ANA & Skymark
Rocketing To Tokyo: FUK-HND On JAL (ex-JAS) 777
Oddities & Okinawa: JTA 734 & JAL 744D(Domestic)
MUC To Nagoya: Finnair E170 & (Old) "New" A340
Mad Dog, A320 Tech Delay & Best Of Lanzarote
Canaries Prop-Hopping: Islas Airways & Naysa
Canaries And Confusion: LH CRJ900 & Spanair A321
Hubbing For 162 Miles: HOQ-FRA-STR Ret On IQ/EW/LH
BOS-JFK-AMS-MUC: SSSS-Check And KLM 777
ATL-PIT-JFK-BOS: FL B717, JetBlue E190 And Delays
MUC-AMS-MEM-ATL On NWA A332 And 40-year-old DC-9
FRA-BKK-FRA Via CMB: SriLankan A332 & A343
BNE-SIN-DXB-MUC On Emirates B772ER & B773
2 Hours In Paradise: Hamilton Island (JQ/DJ)
BNE-SYD-BNE: Domestic Run On QF's Oldest B747-400
Testing Qantas: SYD-MEL-SYD-BNE (B738, B763, A332)
Going Down Under: MUC-DXB-SYD On EK A332 & A345
9/11 Review: Failed Trip To LAX - Fuel Dump Pics
Surprised By NIKI's Newest A320 & Screw-up By AB
Leisure Vs. Full Service: Condor & SN Brussels
"betterFly" On LH: Business Class For 99 Euro
Weekend Transatlantic Trip (2): US A321 & B762
Transatlantic For A Weekend (1): MUC-DCA On US
[Edited 2010-12-25 11:54:43]