Il-62M Deta Air SAW-CIT & An-24B Scat Air CIT-ALA
Good Day everyone,
Happy New Year to all of you!
It is a great pleasure to share this trip report with you about a memorable trip on Deta Air's Il-62M and a Scat Air An-24B in Kazakhstan, about one month back.
Before I start I would like to express a big thank you to our fellow user Ian (UK_Dispatcher) and one of his work colleagues in Istanbul, who have made this trip possible. There is no doubt that without their efforts, this trip would have never taken place. Were we were also joined by fellow user XV105 and one of his friends. A fifth user from Finland was unfortunately declined his visa on short notice due to the OSCE summit taking place on the same weekend we travelled.
I hope you enjoy reading this report, and I am looking forward to your feedback. Questions & comments are always welcome.
Background & Booking
No justifications needed that the Il-62 cannot be missed in the logbook of an aviation enthusiast. I have been after the Il-62 for several years and I remained unsuccessful so far. I missed them by a few months when they still operated in Russia until late 2008 due to the unforeseen grounding of Dalavia, Domodedovo and Interavia. Suddenly I was left out without opportunities and I have already started to write the Il-62 off. Although at that time there were still random Cubana and Air Koryo services, these turned out difficult to plan and had no predictable schedules. Good news when Deta Air from Kazakhstan leased three Il-62s to Aria Air in Iran in early 2009 to fly regular domestic passenger services. I immediately signed up for an Airevents tour to Iran confident to finally catch the Il-62, together with the 707 and many other oldtimers. Sadly this opportunity disappeared only 3 months after commencement of services with the fatal crash of UP-I6208 in June 2009. A trip on Air Koryo, I at least had a small but realistic chance to get on one of their Il-62s. On the day of departure to Pyongyang while driving up the airport ramp of Beijing's Capital Airport I then was able to spot this:
Our flight to Pyongyang appeared to be operated by the long hunted Il-62. It took about an hour until I realized the departure gate was a different one to this Il-62 and soon after an Air Koryo Tu-154B-2 taxied into our gate. On that day there were two flights to be operated to Pyongyang within 30 mins. I shouldn't complain about flying on a Tu-154B-2 which was much better than their Tu-204, but no doubt the Il-62 was more difficult to catch and I thought I was very close.
A few months later I was able to snatch this photo of the ill-fated Aria Air UP-I6208 stored at Mashad International Airport.
There were rumors Aria Air would restart a year after the accident of UP-I6208, however nothing materialized throughout 2010.
The first time I was to hear the absolute deafening noise level of the Il-62 and its four D-30KU turbofans was in Kiev Boryspol Airport in September 2010, when a Ukraine government Il-62 taxied past while I disembarked my flight from Simferopol. I tried to grab a photo, but an airport official tapped my shoulder halfway through the exposure and asked me to get on the bus. The photo hence did not turn out well, but here it is anyways:
Very impressed by the Il-62 and looking for other possibilities, I kept browsing the production lists. I observed that Deta Air in Kazakhstan apparently had three Il-62s active in addition to the leased aircraft to Aria Air. It definitely was an unusual operator due to the fact that almost no photos or evidence of operation existed. However Deta Air upgraded their website in 2010 and suddenly a schedule was available, advertising a weekly service between Shymkent Int'l Airport (CIT) in southern Kazakhstan and Istanbul's Sabiha Gökçen Airport (SAW).
Immediately I started checking the departure and arrival information of SAW airport, any traffic monitor or route information tool you can imagine, but there was zero evidence this service was actually operated. There were some random Deta Air Il-62 photos in SAW airport on other aviation pages from 2007 - that was it. A year back a fellow user posted a trip report in here about a flight into SAW, where he photographed the distinctive Il-62 tail on the remote ramp. Also, an Il-62 is captured on Google Maps on the southern cargo ramp of SAW airport. That was all I could find, not a lot of promising information I guess... It also didn't take long to figure out there was no possibility to purchase a Deta Air ticket online. The only opportunity given by the website was contacting a ticketing agent named 'Irena' in Istanbul.
But I was committed to give it a try as it seemed to be the last chance. One phone call and basically zero convincing was necessary to have user UK_Dispatcher on-board for this challenging trip. He had already made an attempt to contact Irena in Istanbul before I spoke to him, and he actually was successful to have her on the phone but ended up being lost in translation with zero information about this service.
Throughout 2010 we all got more desperate to fly on the Il-62, so that we launched another attempt. This time Ian was able to have a work colleague based in Istanbul calling Irena in Turkish language. Suddenly things changed quickly and we got confirmation that the service was in fact operated once weekly as advertised on their website. We immediately sent our booking requests to Ian's working colleague, hoping things with Irena would move quickly.
Now a period of about two months followed, where we were told through a long chain of information that a booking was in place, but we were not given any written evidence or confirmation whatsoever. Numerous requests with Irena followed to get information on when the service was operated and what the fare was. To make a very long story short, it took over a month and a good dozen of requests and phone calls until we were finally given a scanned copy of our tickets (visible from the date, these were indeed issued not long after lodging our initial booking request). This only happened by threatening Irena that we will cancel our flights if we are not given some sort of confirmation. Luckily the visa application didn't require booking confirmations for in- or outbound flights of Kazakhstan. It was a period full of worries, as we were told earlier that this service is usually booked out 4 weeks in advance and there are only a limited number of seats due to the combi configuration of the Il-62. Finally we received an email a week before the departure with this encouraging attachment:
In that moment we were also given indirect confirmation about the departure time, which so far was nothing more specific than 'very early Friday morning'. Then we also found out that the Il-62 does not fly into SAW on a Sunday night as per the online schedule, but on a Wednesday night. It then stays overnight in SAW to allow for sufficient crew rest and then flies out again every Friday morning at 4am. I assume the landing & takeoff fees of SAW are reduced at those times?
The next piece missing in this puzzle was a connection between CIT and Kazakhstan's largest city Almaty (ALA). The only possible flights are either a daily Air Astana A320, which would require an overnight stay in CIT due to the early departure time. Then our friend from Finland found a Scat An-24 connection on the Friday afternoon fitting perfectly into our itinerary, and as a bonus a new aircraft type for all of us. Here is the route network of Scat Air with the flight CIT-ALA highlighted (click to enlarge):
Again we were faced with the problem of booking a ticket. Scat Air's website is a joke and of course no online booking facilities were available. Ian then made an attempt to contact a Scat Air ticketing agent in DXB, who advised us that he could make a booking but their system was down for the rest of the week (the week before departure). Then about three days before our departure he apparently made a booking, and provided a 5-digit (instead of the usual 6-digit) booking code and advised us that we could walk into the Scat Air office in CIT to pay cash on site and collect our tickets. We never received an email confirmation or so which was a bit weird, but availability was still shown in the system for this flight so we trusted him.
In terms of getting back home I found a good Air Astana fare (I think the only Kazakh airline not banned from Europe) for USD 390 routing Almaty-Astana-Frankfurt (ALA-TSE-FRA), and I added an onwards connection to ZRH on LH's classic 737-500.
As mentioned, the visa application was possible without confirmed reservations and I was surprised how cheap and simple the process was. My travel mates unfortunately had a couple of more constraints and Ian only got his handed out two days before departure, with a good chance of not receiving it on time. But all worked out fine and we were ready to depart.
My schedule on this trip was to be as follows:
TK1908/02DEC TH ZRH/IST 1045/1430 737-800
DET9008/03DEC FR SAW/CIT 0400/1130 Il-62M
DV705/03DEC FR CIT/ALA 1630/1800 An-24B
KC621/05DEC SU ALA/TSE 1320/1510 757-200(WL)
KC921/05DEC SU TSE/FRA 1620/1740 757-200(WL)
LH1198/05DEC SU FRA-ZRH 1845/1950 737-500
Part 1: Il-62M on Deta Air, Istanbul – Shymkent (SAW-CIT)
My flight into IST was uneventful - despite the fact, that a Rwy 23 approach into IST is basically a free scenic flight over IST which was great. The aircraft was TC-JFI in Star Alliance livery.
I was the first of us to arrive into IST so I placed myself into the bar in the arrivals area, waiting a couple of hours until the fellow travel mates to arrive from UK and UAE. Luckily we weren't delayed by the snowfall in Europe and everyone arrived on time around 1800. From then on, we still had a good 8h to check-in at SAW airport for the 0400 departure on Deta Air. As we had to transit between the two airports in Istanbul anyways, which are located at the opposite two ends of the city, we headed downtown to have some drinks with Ian's work colleague who had done all the hard work for our booking. We couldn't thank him enough for this, and we met in a bar near Taksim Square and enjoyed several local beers and food which was great. Due to the fact that there was so much telephone communication between Irena and Ian's work colleague, Irena actually called him while we were out to confirm whether all of us arrived into Istanbul that night.
At about midnight we decided to depart downtown Istanbul and headed to Istanbul's low cost airport named Sabiha Gökçen Airport, in short SAW. It mainly serves low cost carriers and airlines of the middle and central east.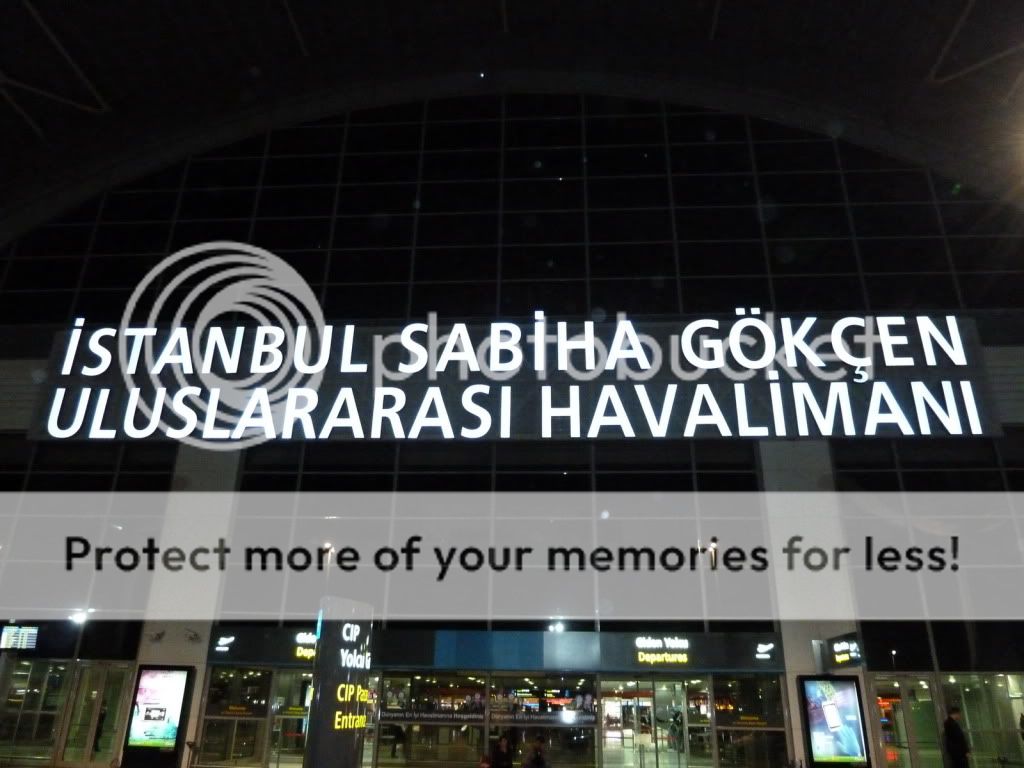 (Photo taken by Paul)
After the screening to enter the terminal, our first view was to go on the departure screen, and we were happy to see our flight after a general no-show on all online departure screens:
A few meters down the terminal we came to the check-in area, which was already crowded by the passengers of this flight.
With the excuse to first pay and collect our tickets, we didn't line up and bypassed the crowd and went straight to meet the mighty Irena. She recognized us immediately (not hard as everyone else was Kazakh on this flight). Firstly we paid our tickets in cash at the check-in desk, then we were able to choose our seats and were to be a bit disappointed. We had always believed (or hoped) that the combi was configured having the cargo section in the front, and the passenger section in the rear cabin. The opposite was the case, so we were to miss out on the unique engine shot all of us were hoping for. Nevertheless we grabbed four window seats in the rear of the cabin, just ahead of the wing and hoped for some great engine sound. Here is an Il-62 boarding pass:
Irina was very nice and helpful, and it was good to finally see a face after all the communication which went back and forth. She asked why we were so desperate to would fly on this service, and (as usual) she couldn't believe it was due to the Il-62 alone. In that moment the Captain and Co-Pilot came to the check-in desk (easy recognizable who was who due to large labels on their uniforms). Irena informed them that today they had some plane geeks on their flight and we hoped to be able to have a look around the cabin & cockpit during the flight.
We spent the remaining time until departure with some more beers in SAW airport which was basically dead at that time - except one very interesting (and noisy) departure, which we could only hear but not see. If you check the above photo of the departure screen, you can see Kazair Trans flight KUY9552 which operates to Zhambyl-Taraz (a city located between Shymkent and Almaty, also in Kazakhstan), scheduled departure 0210. I just checked, they operate a single Tu-154M. If anyone knows about this service, please let us know! Other than that we spotted an interesting Saravia Yak-42D but could not see the Il-62M yet.
Down at the departure gate, some 60+ passengers were already asleep or getting sleepy while we were getting more excited, only minutes away from finally flying the Il-62. We boarded a bus 30mins late at about 0400am, which was to cross the runway for the southern SAW cargo & maintenance ramp. The bus held short of Runway 06/24 in the middle of the night for no apparent reason. After some sweaty 15 mins of waiting without aircon in the bus, we continued and we were able to spot the Il-62 sitting in the darkness on the ramp. We drove up near the stairs and were curious to find out which reg would operate our flight. As usual everyone rushed up the stairs but Ian and I let everyone pass to spend more time outside and snatch some shots. Different to Russia, no one seemed to care about us grabbing some shots. Here we go:
We were so busy taking shots that I actually forgot to check the reg, which I wasn't able to find out until we visited the cockpit later. It was UP-I6209, an ex-CSA airframe, still wearing basic CSA colors today. In the cabin Irina was observing boarding from the rear of the cabin, making sure no-one would randomly take our preferred seats (happened many times to me before). Boarding was completed relatively quickly, Irena left the plane and we said goodbye to her and thanked her one more time. Everyone else seemed to be in a deep sleep already, even before the door was closed.
Pushback took place quietly – no APU or aircon noise and I could hear the engine of the pushback truck. Then UP-I6209 came alive, firstly the anti-collision lights, then firing up its four great Soloviev D-30KU turbofans. No doubt all of us recorded it on film (footage linked below). Unfortunately the engine start-up sequence was interrupted by an announcement of the crew, nevertheless you can hear the great sound produced by this engine. There was no safety briefing or instructions, but I recall some announcements were made in English though difficult to understand.
Taxi lights came on and soon after the engines spooled up with an unbelievable sound. UP-I6209 slowly moved away from the ramp position, bound for the holding point of Rwy 06.
Here is the footage, showing UP-I6209 firing up the D-30KU turbofans, taxi and line-up on Rwy 06. Apologies for the dirty windows, there was lots of water between the inner and outer frames, but I think this video is more about the sound. Here we go:
http://www.youtube.com/watch?v=z0BbXx-_VPc
Lined up and ready for departure, let's have a look at the flight details:
Ilyushin Il-62M
Reg: UP-I6209 (s/n 3139956), built by KAPO
Delivered to Aeroflot 21/10/1981 as CCCP-86518
Delivered to Deta Air in SEP 2008
Routing: SAW-CIT (DET9008)
Date: 03. December 2010
04:15 - 11:30, flying time 4:15h
Seat 11A
Load factor was almost 100%.
http://russianplanes.net/EN/REGINFO/2376
Here is the link to the takeoff video. An unmatched sound when the D-30KU turbofans spool up for takeoff thrust. I love the takeoffs where full throttle is set with the brakes locked. When thundering down Rwy 06, I realized we used almost the entire available takeoff length and the following climb rate was flat, however the acceleration was not as bad as in the Il-86 or Yak-40. Most of Istanbul's southeastern suburbs must have been thrown out of bed when we climbed out of SAW airport overhead their homes at 0430am local time.
http://www.youtube.com/watch?v=Q_DknfjlNX4
With all of us trapped in a window seat and no light outside, there was not much to do so I started grabbing some more cabin shots:
The Il-62 has a window shutter made from colored glass:
Probably I am a bad reference being 1,92m tall, but I survived the legroom so I guess it was fine, at least better than the ridiculous pitch on-board the Atlant-Soyuz Il-86.
In-flight service started about an hour into the flight and we were served a standard menu from LSG Sky Chefs. A welcome change from all the beer we have had before the flight.
Soon after the sun started to rise while we were somewhere overhead eastern Turkey. Due to the water in my window there was unfortunately no chance to catch a clean wing shot. Here it is anyways, maybe you can make out the distinctive kink in the leading edge of the Il-62:
The crew in action with cabin service:
This is the galley right behind the passenger cabin. We were curious if there was a chance to see the cargo section, and possibly take a shot of the engines.
The mountain range near Armenia, Azerbaijan and Georgia:
With everyone asleep, here is the cabin of UP-I6209 and the retro style flight attendant button:
Not sure where this heart-shaped lake exactly was, but it was east of the Caspian Sea already in Kazakh airspace.
Then Ian made an attempt to see if we can have a look around the aircraft, and he called me to join him into the rear galley. There was a section with a sofa-like seating arrangement where the loadmaster, a ground engineer (again, easily recognizable by their large badges on the uniform) and a third staff member were relaxing.
Their English was basic, but we were able to communicate and were to find out that we were very lucky. They explained us that UP-I6209 was to be converted to full cargo configuration by end of 2010, and that the service will be operated by a 737-500 from January 2011 onwards. How disappointing would it have been to arrive at SAW only to board a 737-500! From that moment on, we enjoyed our flight on UP-I6209 twice as much
We told them that we work in the aviation business as well and are enthusiasts, and that we were on this flight due to the equipment type. Here is the centre galley which apparently was also used for storage:
We thanked them for their time and I headed back to my seat – too early as it turned out. Just back at my seat, Ian called me to follow him for a cockpit visit which the loadmaster has kindly arranged for us after our chat. A bit embarrassed but very committed to not let an in-flight Il-62 cockpit visit opportunity pass, I politely asked my two seat neighbors to let me out of my seat again only a minute after I returned from the rear galley. Aviation enthusiasm at its best…
In the cockpit, we were able to grab some good shots and I had a chat with the captain who was interested where we were from. He also informed that we were only minutes away from starting our descend into CIT, and he said that visibility in CIT was below 1km due to heavy snowfall and a low cloud base. Considering the local infrastructure at CIT, this weather condition promised to result in an interesting approach.
For everyone who is unfamiliar with the Il-62 cockpit, there are 5 crew members comprising two pilots, a flight engineer (centre), navigator (left) and radio communicator (right). Hard to believe this aircraft was built as recently as 2004, although in low numbers.
Returning from the cockpit, here is an (almost clean) cabin shot:
And the very interesting and rare Deta Air Il-62 safety card:
Descend was initiated and we dove into the dense clouds. I was curious to see the route we flew on Google Maps, but unfortunately my GPS logger disconnected half-way into Kazakh airspace. Here is the route anyways as far as I recorded it (CIT airport is at the right):
Looks like Deta Air has no rights to overfly Uzbeki airspace. Here is an interesting chart of our airspeed and altitude:
No more photos of our descend and the crew was busy approaching CIT airport. Seeing the runway covered by snow and blending into the surrounding landscape to almost complete invisibility, I was very impressed by the crew navigating down to Rwy 28 in these adverse conditions. CIT airport has a single 2800m long runway and appears to have a very basic infrastructure. Not sure if CAT II is available here.
Standard operating procedure on the Il-62 is to engage its reversers on #1 and #4 before touchdown; however I was not able to figure out if this procedure was applied during our landing. Touchdown was extremely gentle and almost not recognizable. Spoilers came up very slowly several seconds after contact was made with Rwy 28. We used the entire runway for deceleration and made a U-turn at the opposite threshold. While taxiing back, I saw some Mil Mi-24s and some Mig-29s, not sure if airworthy though.
Check out this impressive approach & landing on video (apologies again for the bad visibility through the windows):
http://www.youtube.com/watch?v=mwqcVF4Dn_E
We taxied to the West side of the CIT apron, where two company Il-62s were in storage.
With the engines shut down, a set of 'Shymkent' branded stairs with a large Kazakh flag was moved into position:
On top of the stairs I stupidly asked an official whether I could take a photo, of course the answer was no
. I was the first of us on the bus, and the official on top of the stairs went into the cabin for a few seconds, so I quickly grabbed this shot (unfortunately not leveled), picturing three happy fellow plane geeks in the Kazakh snowfall:
Looking forward to the immigration bureaucracy of CIS countries, we lined up at the end of a single immigration desk. After an hour later with almost everyone processed, I was to find out the difficulty of claiming luggage and customs. To make it short, we had to get our passports stamped, which probably as the only foreigners ever to arrive into CIT in my case took over 5mins. Then go through a customs screening with all hand luggage searched into the last corner of my bag, wait outside in the snow for 30 mins, then come back in the same building, secure your checked luggage in a wild mob of people, and again go through customs back outside.
Part 2: An-24B on Scat Air, Shymkent – Almaty (Alma Ata) (CIT-ALA)
Me busy with securing my checked bag, the others in the meantime had located the Scat Air office to get our onward tickets sorted. We were notified by the friendly Scat Air counter lady that our reservation was non-existent or had expired, somehow no surprise. She was able to restore it and luckily there was still availability on flight DV705, the only chance for us to get out of CIT that day. The next hurdle was that they would not accept USD, and we didn't have any KZT (Kazakh Tenge) with us. She asked us to go the city to get a change, but we then were able to convince her that if we paid a bit more than the regular fare in USD, she would change the money herself and keep the balance. She agreed and we paid some USD 150 each and had a printed booking confirmation & receipt shortly after.
Here is the relatively new Shymkent Airport Terminal with the Scat Air office on the ground floor:
And some more shots inside the small terminal with the Deta Air Company office:
In the meantime I was to learn from my friends what the meaning of 'Scat' is if not mentioned in conjunction with 'Air Company' or 'Air Line'
. About an hour before departure the single check-in counter opened and a few people lined up. We also checked in and received this basic boarding pass (4B apparently is a window seat):
The airport layout was very similar to the small airport of Cherepovets (CEE) in Russia which I visited during my Yak-40 flights a few months back (trip report linked at the end of this report). Once checked-in and screened, one can hang out airside with great visibility of the apron. It only took a split second that all of us had their cameras out zooming on UP-I6209.
If you look closely, you can see the aircraft was still in the process of getting its cargo unloaded a good 3h after arrival. We unfortunately never found out if the cargo section of UP-I6209 still had seats, cargo racks or containers positions. According to the safety card shown above, there are apparently still two toilets at back of the cabin which means there may still be seats.
Here is one of their two ex-Aeroflot Cargo DC-10-40F. Also check out the other equipment around. The An-24 to the left was to operate our flight a bit later, and there was a BAC 111 in storage but invisible on this photo:
In the meantime another An-24 departed and we observed the engine start-up, taxi and take-off. We noted that the snow on the runway was not removed, and the An-24 landing gear massively splashed through the wet snow during take-off.
We also observed the de-icing of our An-24. A guy on the wings removed the snow with a brush, that was it. I trusted that after decades of winter services they knew what they were doing. Boarding of a bus commenced shortly after and we were brought near the interesting storage area of Shymkent Airport. There were several engineless An-24 in storage, two seen on this photo:
A Tu-154B version and a hushkitted (ex-Delta?) 727-200.
Boarding was slow so we were able to have a look around the storage area.
My turn to board UP-AN407:
Inside, we figured out that flight DV705 was actually fully booked. There were no empty seats and we can consider ourselves lucky after the cancelled reservation to be on-board.
From here all moved quickly - engines were started up, we taxied to the threshold of Rwy 28 and took off followed by a long right turn. Here is the footage of the start-up, taxi and take-off. Love the prop feathering sound, looks like the crew enjoyed accelerating the aircraft beyond what is considered a normal taxi speed:
http://www.youtube.com/watch?v=uefoZsIbX54
Lined-up on Rwy 28, let's have a look at the flight details:
Antonov An-24B
Reg: UP-AN407 (m/n 97305305), built by KAPO
Delivered to Aeroflot 05/08/1969 as CCCP-46310
Delivered to Deta Air in 29.02.2008
Routing: CIT-ALA (DV705)
Date: 03. December 2010
16:30 – 18:00, flying time 1:30h
Seat 4B
Load factor was 100%.
http://russianplanes.net/EN/REGINFO/3044
Here is the climbout from CIT and following right-turn:
The large windows allow for a shot of the horizontal stabilizer:
The cabin looked quite good considering 41 years of age. Note the mirror in the centre section of the ceiling:
I think that child in row 1 is looking at me
.
Here is the meal we got served:
Half-way into the flight outside visibility went down to zero and it got dark. We flew parallel to the near mountain range and approached ALA airport from the Northeast. The crew successfully navigated down to a Rwy 23L approach in zero visibility. Here is the route we flew from my GPS logger and the altitude & airspeed graph:
During the approach, the crew kept switching the landing lights on and soon after off, but due to the heavy snowfall this resulted in a white curtain in front of the aircraft. I only catched visual ground reference when we overflew the threshold of Rwy 23L. Check out the video of the approach, landing and taxi incl. engine shutdown, again with some great prop feathering sound:
http://www.youtube.com/watch?v=vjCkiyxSZ44
Not sure if the An-24 has reverse pitch props which may help slowing down, you can see the Rwy was completely white covered with snow. We taxied to the remote apron, shut the engines down and were pushed back into the position by a truck:
Here is a last shot of UP-AN407 from the bus with lots of snow on the apron:
Outside the terminal we negotiated a taxi fare for the hotel and were finally off for some well deserved rest. After several more beers in the Holiday Inn hotel bar we crashed around midnight for a deep sleep.
[Edited 2011-01-01 08:28:38]