P E R S O N A L - I N T R O
Reading trip reports on a.net is one of my favorite on-line activities. Unfortunately most of my flying is U.S. domestic on Delta Air Lines and there is nothing too interesting or special about them. I recently flew Delta from the U.S. to Hong Kong via their hubs in ATL and NRT. I knew I wanted to do a trip report and got some advice from some a.net veterans beforehand. Unfortunately taking photos on a U.S. carrier is very problematic as many a.netters have found. So PLEASE forgive the poor quality of these pictures as I took most of them with my Palm Pre 2 mobile under very poor lighting conditions. For some reason taking discrete snapshots with a mobile is not a problem, but pull out a full sized SLR and plenty of people will approach you and question your motives.
B A C K G R O U N D
Delta had a promotion for double MQM (elite qualifying miles) for trips originating from a few select cities, one of which was PIT. I hadn't really considered taking advantage of the promotion until I found an EXTREMELY good fare from PIT and HKG. Even better, I could route through ATL and take one of Delta's 777-200LR's to NRT and then a 747 from NRT to HKG with a visit to the NRT SkyClub, which has the reputation for being one of the very best Delta SkyClub lounges. The deciding factor was that the cheapest fare was for traveling on Thanksgiving (a U.S. non-religious holiday) so I would not miss any work/school! After deciding on the trip I was even able to find a fellow FlyerTalk.com member who would be on the flight and another who would be in Hong Kong who was available to meet up.
P R E - F L I G H T....me against the bus!
I booked my ticket through Delta.com and constantly played "seat assignment roulette" to try to pick a seat where the middle seat would remain empty. It was hard because from day to day it would seem SOMEONE would specifically pick the middle seat right next to me, even with plenty of aisle and window seats available! Several days out I got confirmation that my domestic flights had been upgraded to first class thanks to my Platinum status. Alas Delta does NOT give complimentary (free) upgrades on international flights and in fact makes it very difficult to use miles to upgrade from economy to their "BusinessElite" cabin.
I had a pretty long drive from my home in Upstate, NY to PIT but the roads were deserted and I had a nice audio book to keep me company. As I got closer to PIT the rain started! I parked in the extended economy lot and proceeded to the nearest bus shuttle stand/shelter to catch the shuttle to the airport.
Despite having an umbrella I was pretty wet when I got to the stand/shelter and it was PACKED with people. Sorry for no pictures because it was far too wet to risk taking out electronics and in a few minutes I would be too busy playing chicken with a bus to worry about photos!
As the shelter was packed I stood outside in the rain and waited for the bus. It was visible as it slowly snaked around the economy lot going from shelter to shelter. At the shelter right before ours quite a few people got on the bus. Much to my surprise it didn't slow down as it approached our shelter and just drove right past without stopping despite the yells of the people in the shelter.
At this point several of them swore and started RUNNING out into the rain towards the distant airport. With them gone I could enter the shelter and I asked why the others had left. Several older people explained that they had been standing at the shelter for over 30 minutes and that had been the SECOND bus to drive by without stopping.
Maybe it was being wet, or being tired from the long drive...but I found myself saying "Oh HELL NO! The next bus is stopping here!" An elderly woman on the verge of tears said if a bus didn't come she would miss her flight and not get to see her children and grandchildren for Thanksgiving. I told her not to worry as I'm from Boston and we don't play games!
Another 15 minutes later we saw a bus in the distance stopping at the shelter before ours and again a lot of people seemed to get on. The bus then proceeded towards our shelter. At this point, being already wet...I went and stood in the road in front of our shelter.
The bus approached but slowed down WELL before reaching our shelter. Thinking it was slowing to stop this time I started to move aside only to see the bus speed up! I went back to standing directly in the middle of the roadway with my suitcase. Without slowing the bus then started to swerve as if it was trying to go around me but I just side stepped to block its path. The bus finally stopped, but well before the shelter, and a middle aged woman stuck her head out and started yelling at the top of her lungs:
Driver: ARE YOU CRAZY! Do you want to get RUN OVER!
Me: Are you STOPPING to pick us up this time?!
Driver: NO! I AM COMPLETELY FULL!
Me: We have been WAITING AND WAITING when is a bus coming?!
Driver: A bus will come...NOW GET OUT OF MY WAY!
Me: This will be the THIRD BUS to pass us! I'm not moving until ANOTHER bus comes!
Drive: GET OUT OF MY WAY OR YOU'LL GET HIT!
Now not responding well to threats I could feel the adrenaline getting the better of me...so turning to the people in the shelter.
Me: She isn't going to STOP! GO see if they bus is really full....GO!
Much to their credit they FINALLY left the shelter, walked to the side of the bus and started pounding on the doors. There were two side doors, one up front near the driver and a mid-door.
The driver's head went back into the bus and I could see people were getting on the bus! I then quickly walked around to the side of the bus and got in at the second door, away from the driver, and prayed their wouldn't be a police officer waiting for me at the airport! Sure enough there had been plenty of space on bus!
The drive to the airport took about 15 minutes and there was quite a buzz as the people who had been on the bus were asking what had happened.
When the bus arrived at departures I got off first, as I had been the last one on, and didn't see any police...I then walked to the front door and waited to apologize to the driver. To their credit as each person from my shelter got off they thanked me as they ran into the terminal.
To her credit the driver then came down and the conversation was much more civil...
Driver: You know another bus would have come!
Me: I'm sorry about all of of that, it was just that two other buses had already driven past us
Driver: Well things are crazy because of all the Thanksgiving travelers...just don't do that again! What if I had hit you!
Me: Lucky for me you are such a good driver! (Flashing my friendliest smile...)
Driver: Half smiling...Just have a safe Thanksgiving!
Me: Thanks! You too!
And with that...dripping wet I FINALLY made it to the airport!
C H E C K I N G I N....and my Freedom Grope!
I took the escalators up to the ticketing counters and bypassed the kiosks as I knew they would have to see my passport since it was the start of an international trip.
The desk area was completely empty as I was pretty early for my flight but I still proceeded down the "SkyPriority" carpet. Behind the desks were two middle aged agents, one male and one female. I started off by saying "I'm skipping the kiosk and coming here so you can see my passport."
In the past approaching the desk first was met with a brusque "First use the kiosk!" but this time the reply from the man was a friendly "SkyPriority members are always welcome to use the desk!"
It was quite a pleasant change! I then handed over my passport and printed out itinerary, all of which were wet which I apologized for.
The woman then asked if everything was o.k., since I probably looked like a half drowned cat! I briefly recounted the story to her as the man typed away at the computer.
Without missing a beat the man turned to her and said with a straight face "If there are ANY problems with his flight this morning I'm sending YOU to the gate to deal with it!"
We all had a good laugh at that... It is this type of interaction that really characterizes Delta at its best. The friendly, easy going, rapport that the Delta culture fosters among its employees does carry over to their interactions with customers.
I then asked about my ATL-NRT flight and if there was anyone sitting next to me. They confirmed that there was not but recommended I check with the gate at ATL before the flight.
They then gave me directions to security but only explained that there was a priority line for first class and elite customers on the far right when I asked.
The line moved quickly and I noticed one of the nude-o-scopes sitting between my line and the next line. Unfortunately TSA Smurf #1 asked me to enter the machine. I politely said "I would rather not go through the machine." which was met with a blank quizzical stare as if the TSA Smurf was thinking "processing...processing...unknown input..." so I then used the magic phrase "I opt out" at which point I could almost SEE the thought bubble above his head "Oh...I've been trained for this! Wait..what do I do...oh yeah use the magic speaking box!" and he then radioed "I have an opt-out! I have an opt-out!" After a moment a large Burly Smurf with a goatee approached asking "Male or Female?" and Smurf #1 gestured at me...
Burly Smurfy then opened a side gate and gestured to me to walk around the machine to an area with a big mat on the floor. The mat had yellow foot prints and he asked me to stand on them. Smurf #1 then asked me which were my bags and I pointed to them as they came out of the x-ray. He then proceeded to do the swab test on them while Burly Smurf put on the blue gloves and explained he would be giving me the enhanced pat down, or a "freedom grope." To his credit Burly Smurf did ask if I had any medical devices on my body or any areas of sensitivity or soreness.
He proceeded with my arms and torso and then walked BEHIND me and bent down and felt my legs. He then said "I'm going to use the back of my hand to check your buttocks" and proceeded to run the back of his hands along my rear. I really wanted to fart but couldn't fart on command.
He then came around and said "I'm going to run the back my hands along your thighs until I hit resistance." Apparently my thighs are big enough and my pants loose enough that he actually stopped well before I'd expect him to buy me a drink afterwards!
I was then finally able to collect everything and head to the tram that takes you to the center of the "X" that is the PIT airport!
On the short tram ride I finally was able to get my mobile phone out and start taking photos!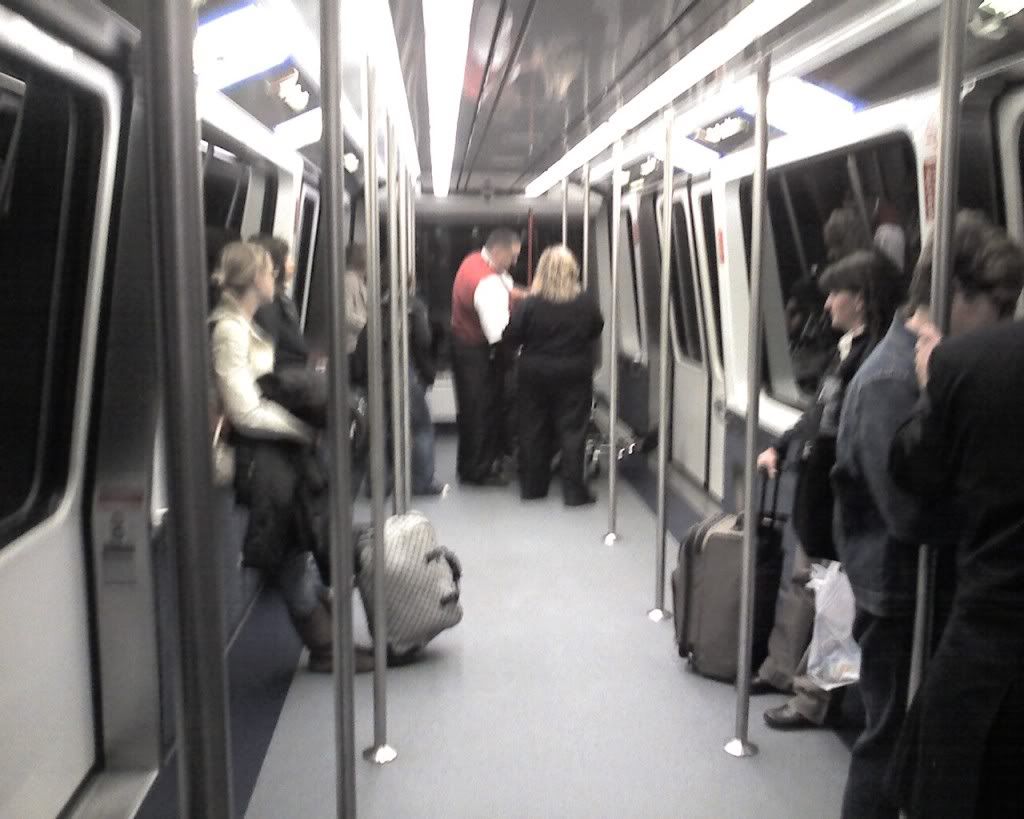 Inside of the tram to the center of the PIT "X"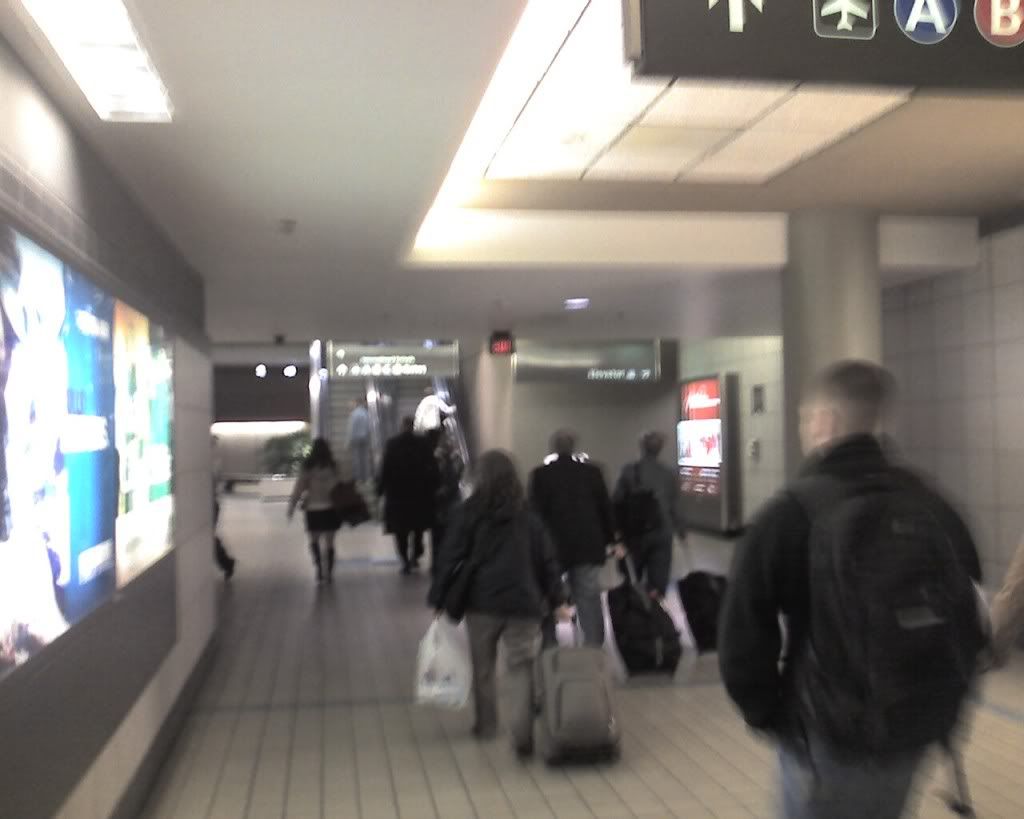 Leaving the tram, both lines empty into the middle area between them so there is only one way to go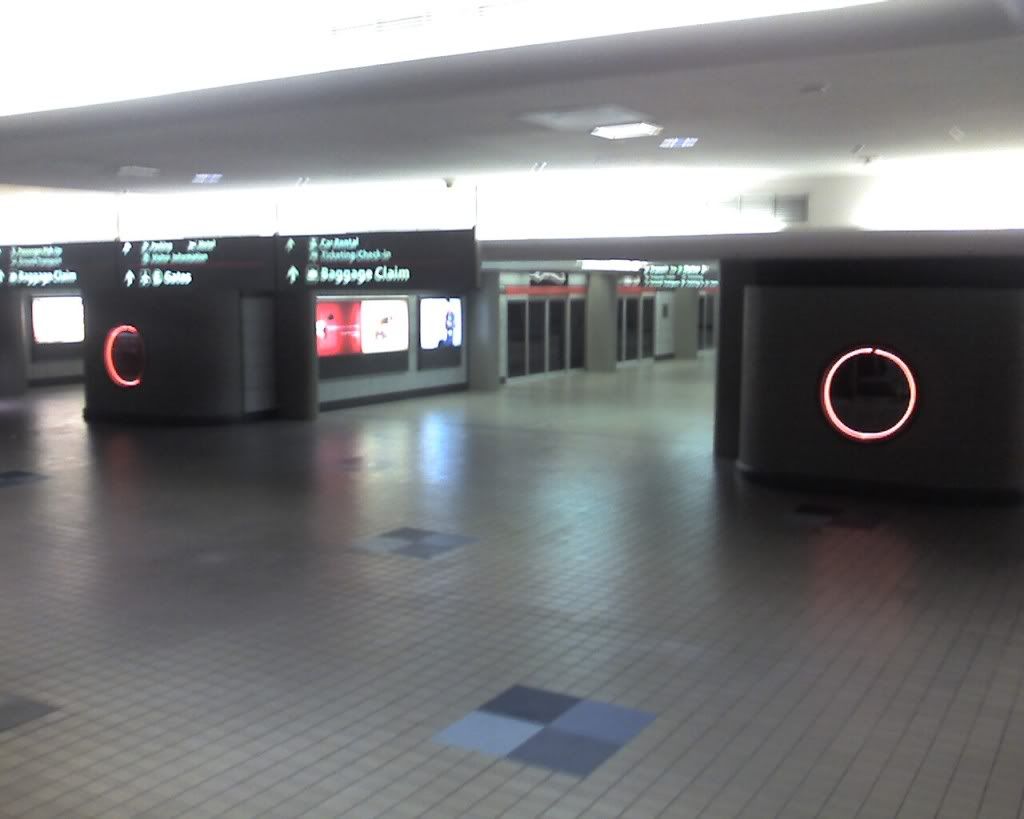 Looking back at the tram arrival area at the center of the "X"
The tram arrives at the very bottom the terminal so it is necessary to go up to the concourse levels.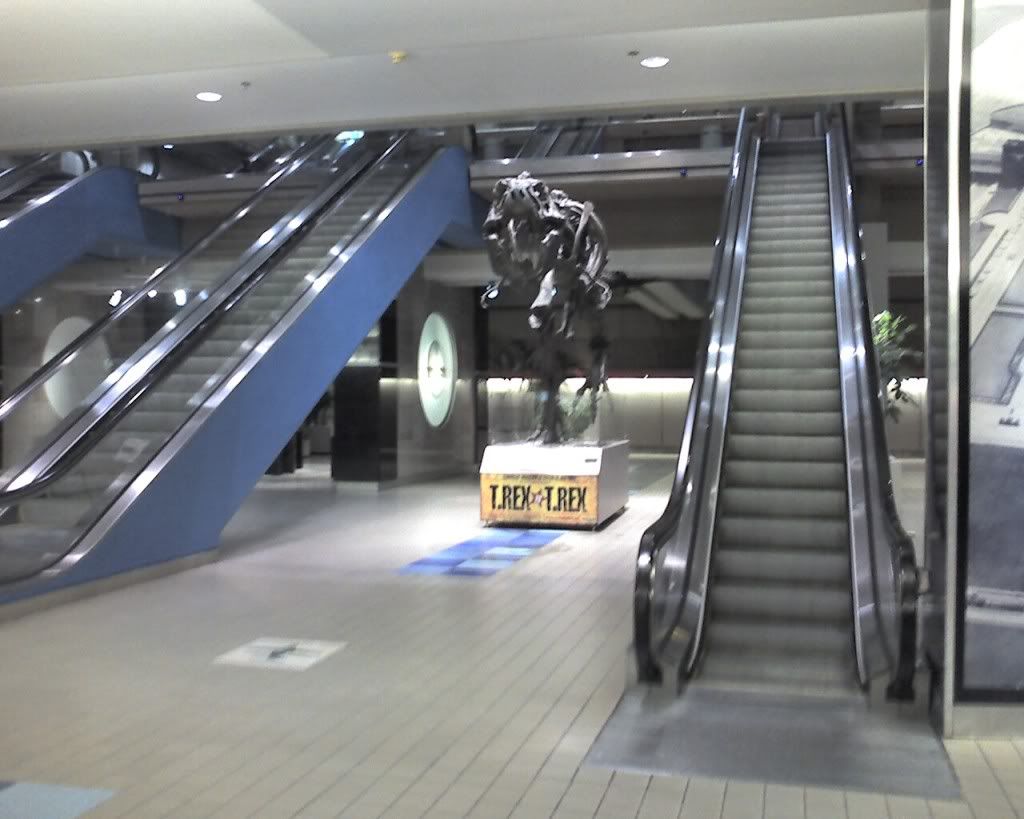 Leaving the trams the first sight is pretty nifty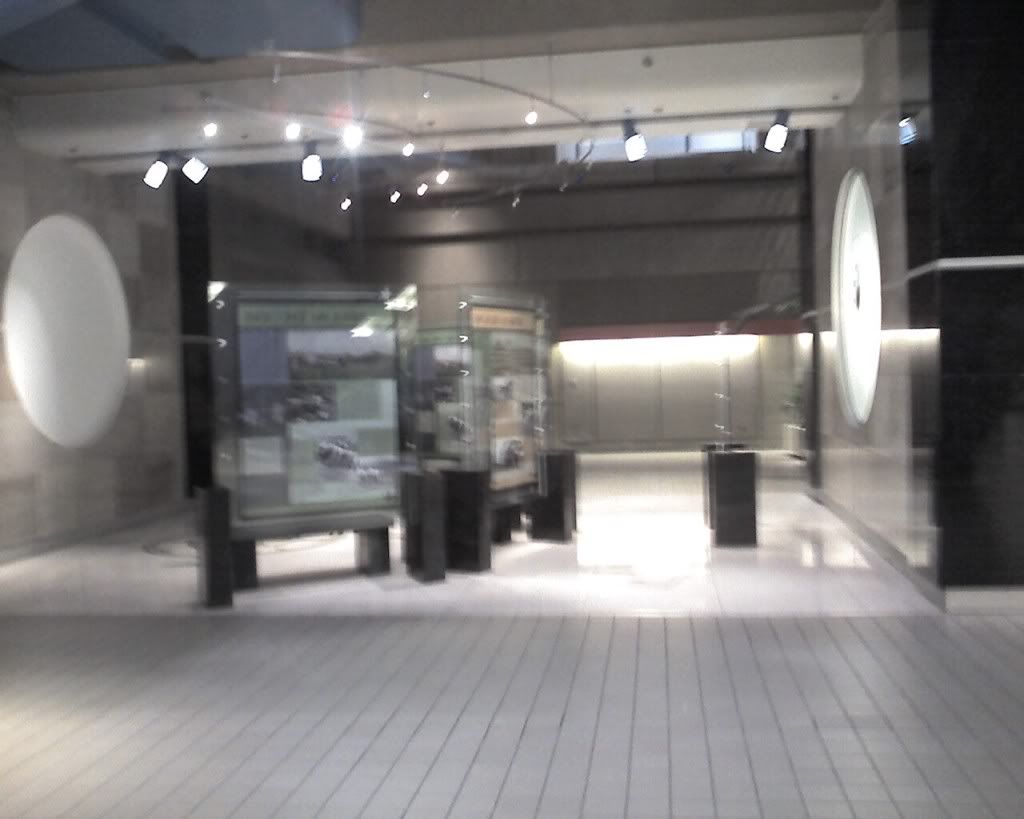 To the side of the dinosaur is a pretty cool display on the history of PIT
Going up only one level takes you to where international passengers exit customs and passport control and was deserted this early in the morning. It was here that I found a bathroom that was empty where I could dry off, clean up, and change into some DRY socks!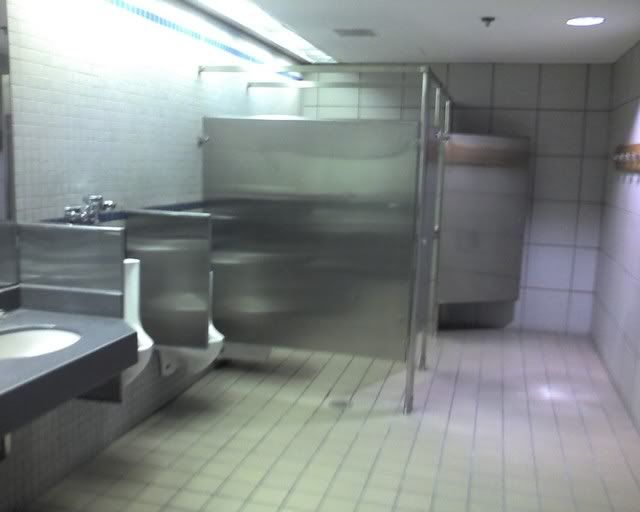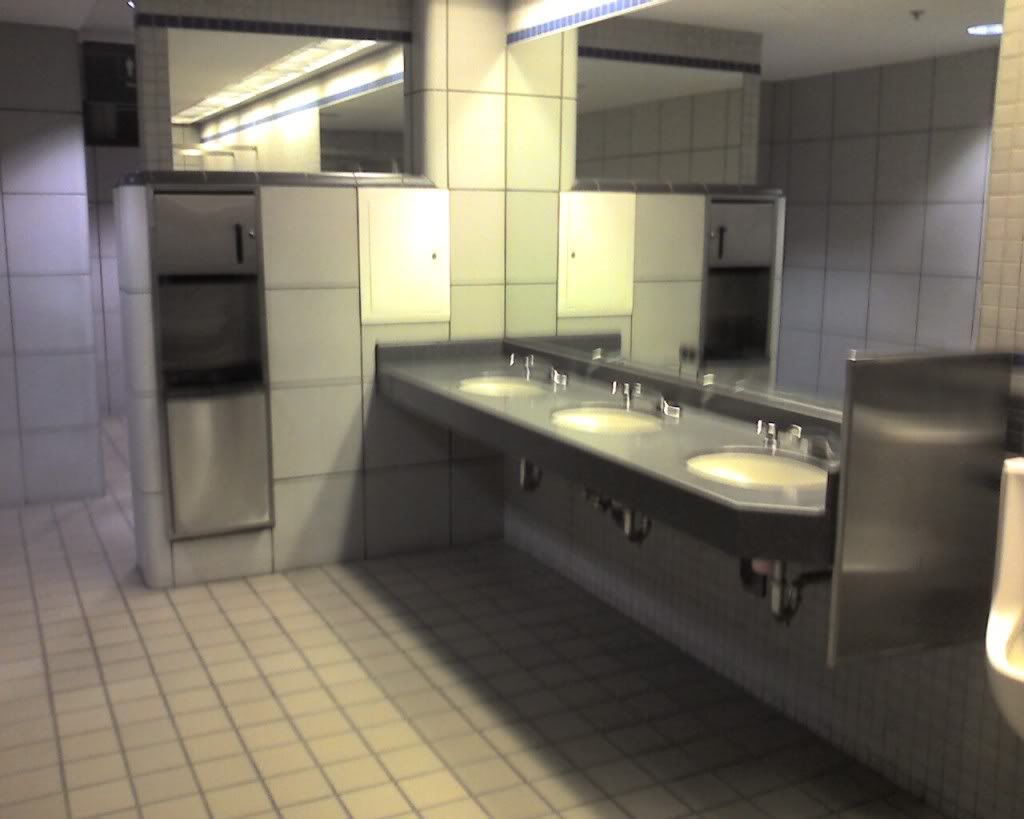 Small, utilitarian, but empty and CLEAN...a great place to clean up and dry off a little!
Going up another level finally gets you to the concourse level where they had some interesting artwork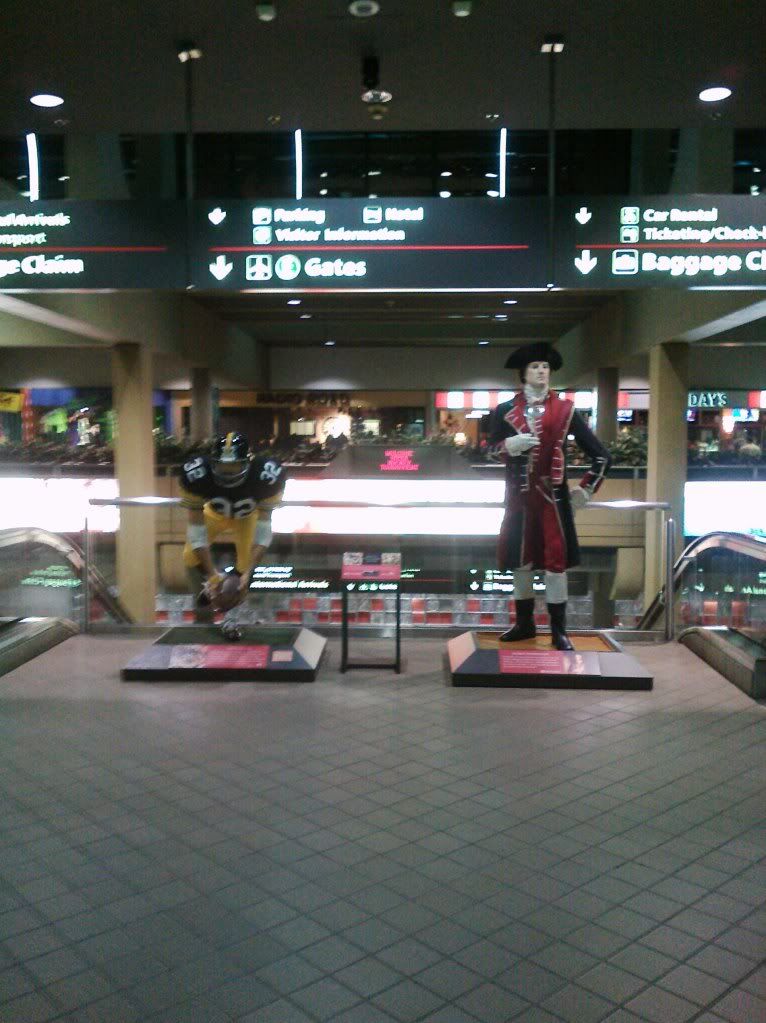 Figures related to Pennsylvania!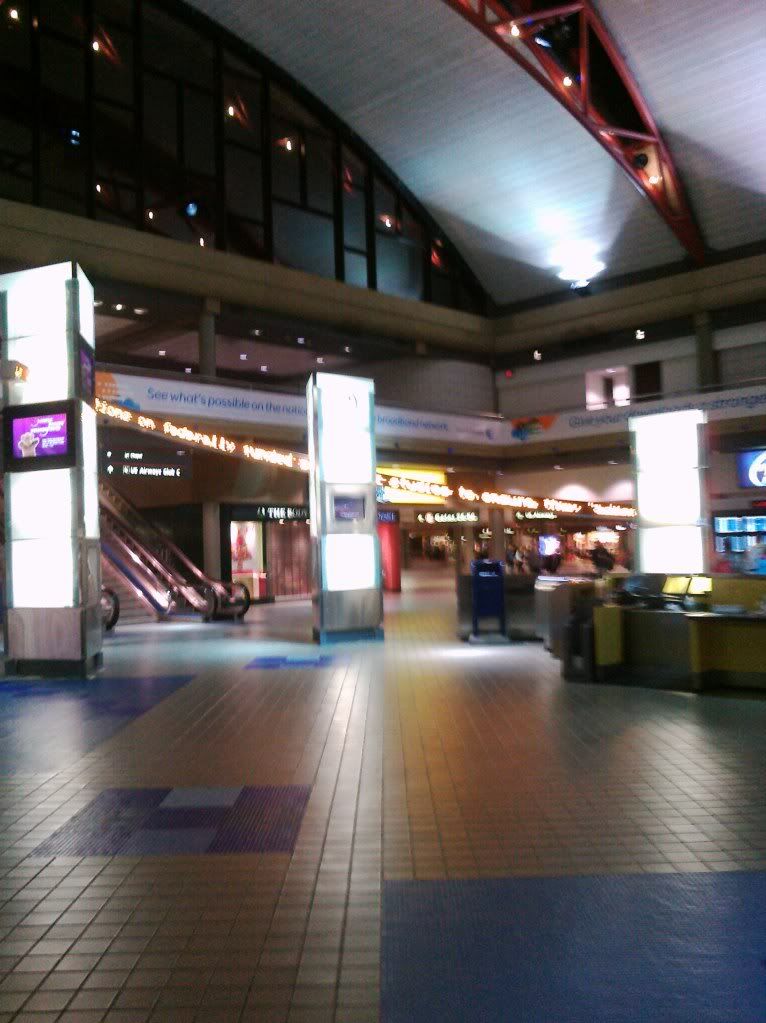 The very center of the terminal, the center of the "X" is interestingl and has an information desk
I then headed down the branch for my gate.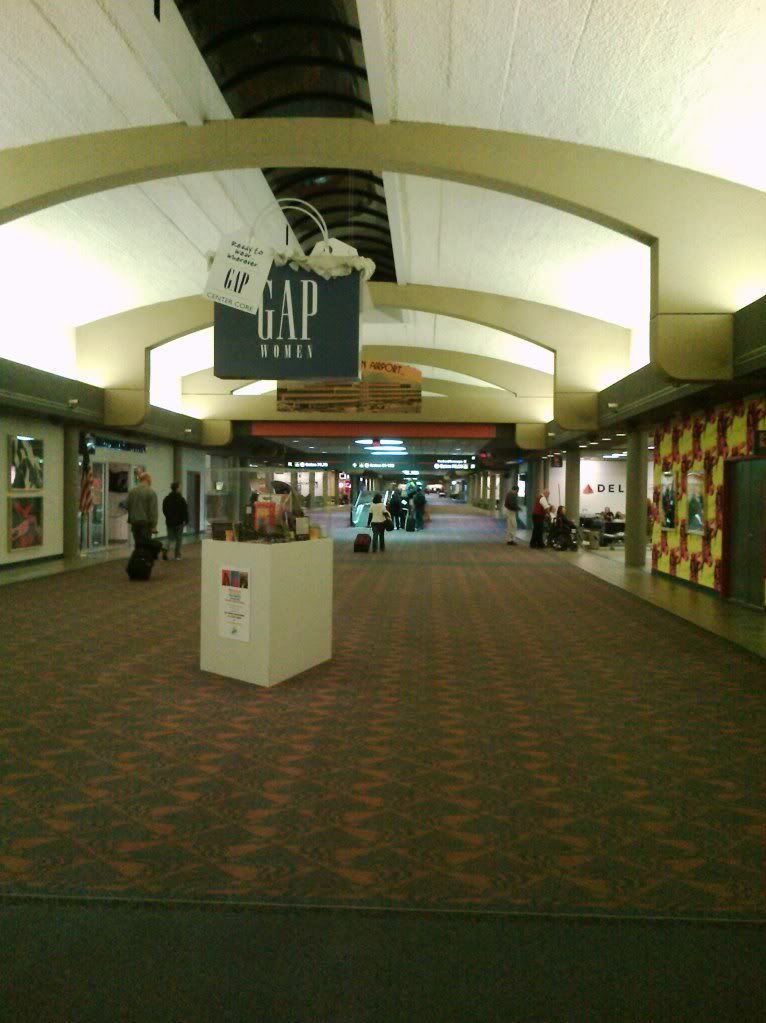 Notice the interesting wall on the right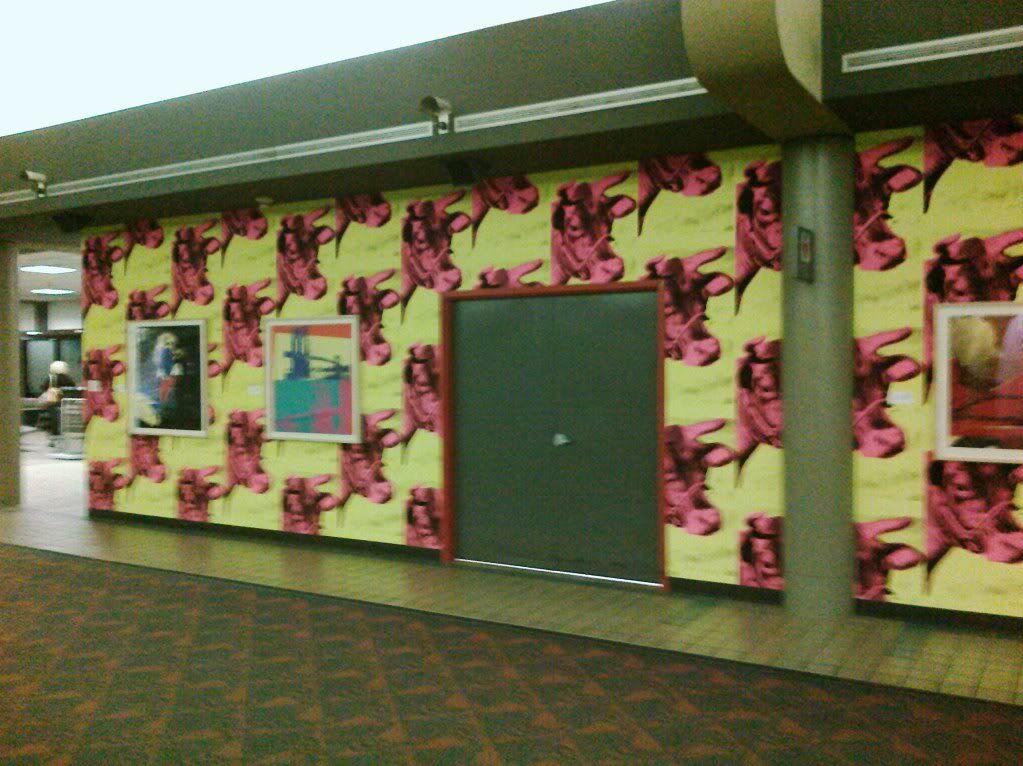 Apparently this was part of a display for a modern art exhibit at a local museum.
Near the gate was a U.S. Postal Service Office. It was closed being Thanksgiving but it is great to have a full service post office AIRSIDE at the airport!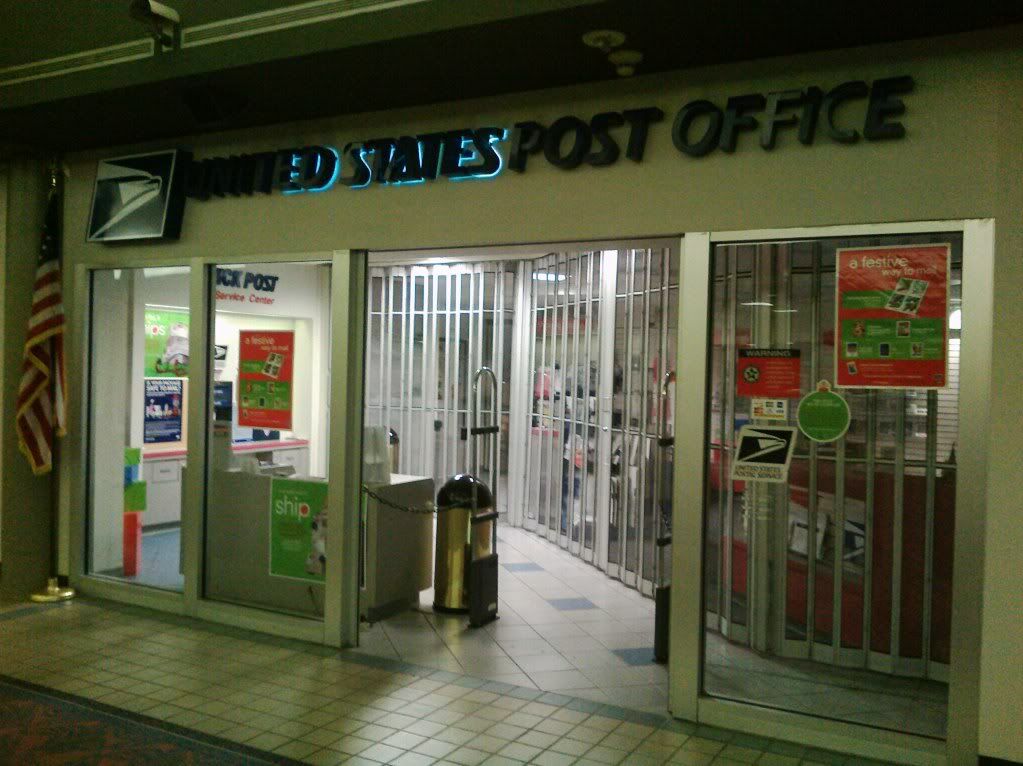 For some reason only the "ED STATES" deserves to be lit up!
Finally arriving at the gate I was able to see our aircraft head on. Again sorry for the lousy picture quality, but it does show how gloomy and rainy it was that morning!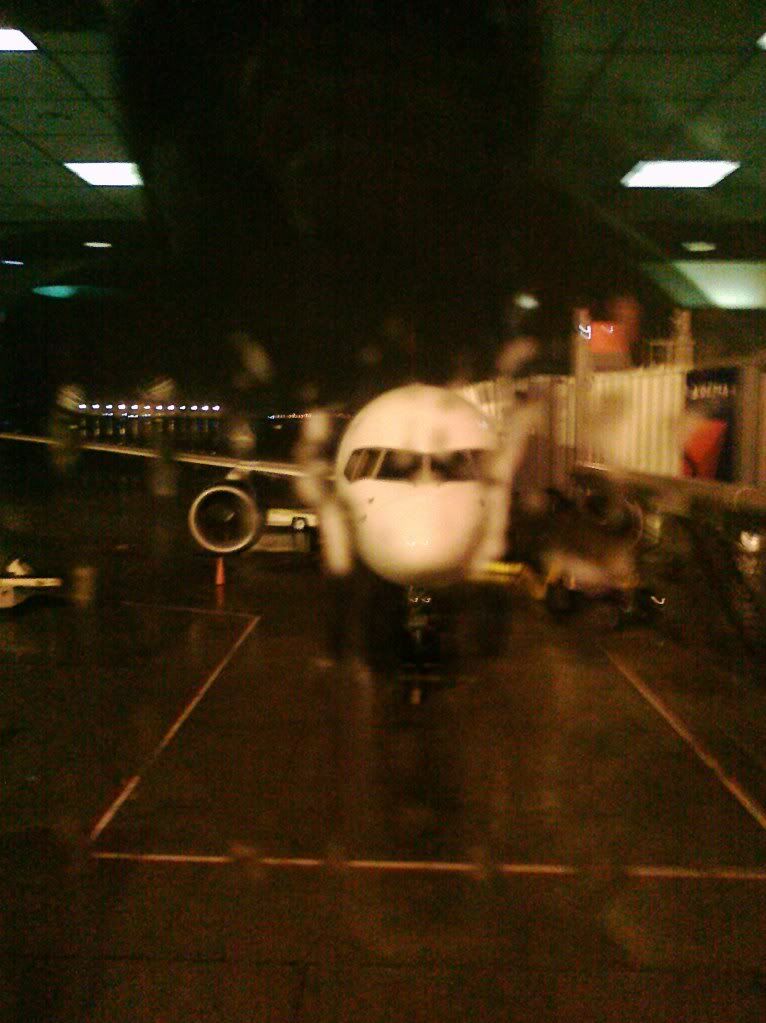 I immediately noticed that the GIDS (gate information display screen) was having issues and nobody seemed to be in a hurry to fix it!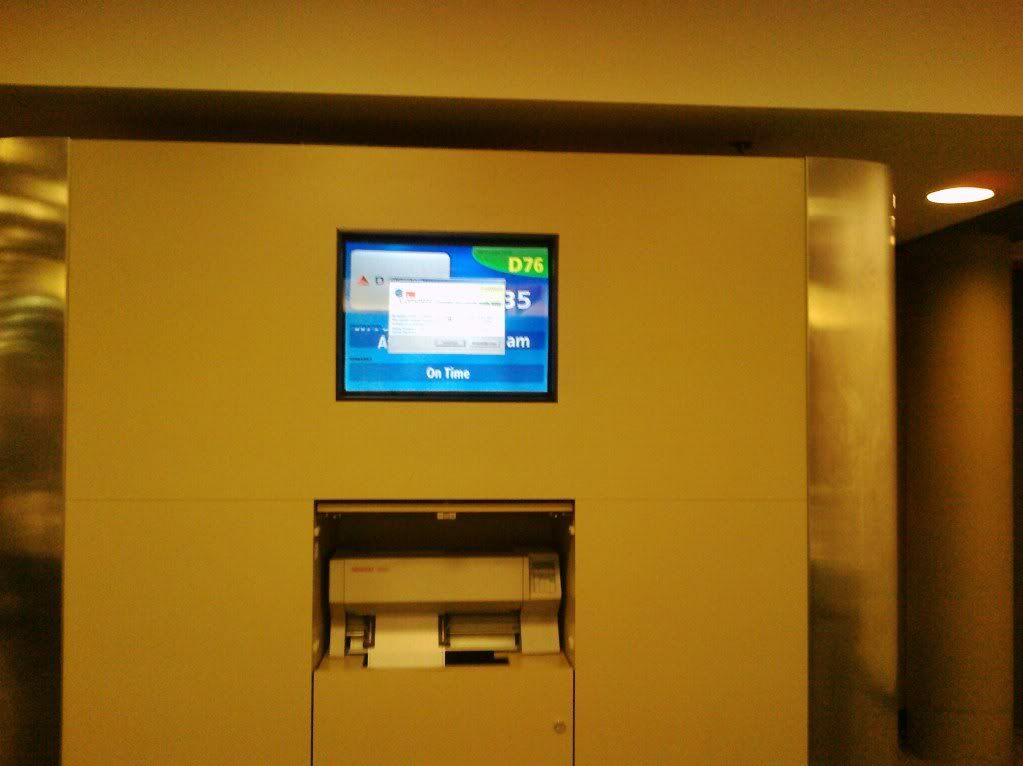 Hopefully this flight is going to ATL!
I was pleased to see the SkyPriority lane was setup!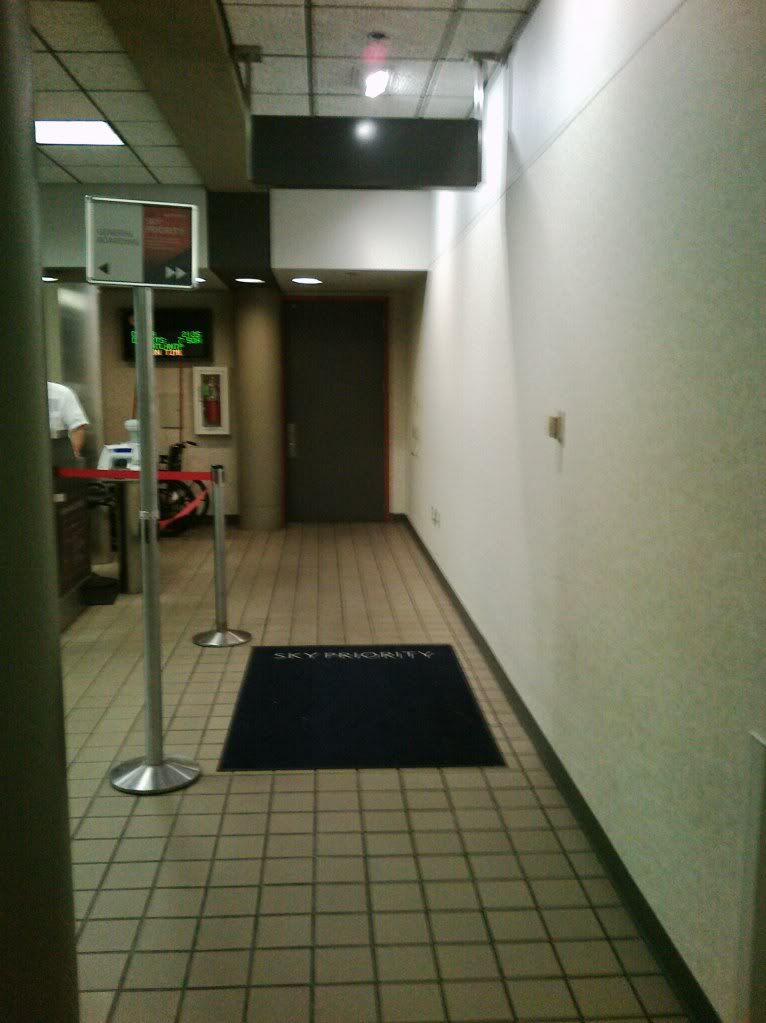 SkyPriority to the right...steerage to the left... However the wall to the right did make it feel a little bit like standing in line for a police lineup!
[Edited 2011-01-02 13:38:48]
[Edited 2011-01-02 13:59:07]
[Edited 2011-01-02 14:14:01]
[Edited 2011-01-02 14:29:10]