First, I just want to say that I read trip reports on here daily, I adore them all. I had posted this on FlyerTalk, but I wanted to share it here. It's my first attempt at a trip report really, and the first of many hopefully.
Background
Back in February, I started studying gravitation in school, and the topic of Shuttle Launches came up, which got me pondering. How amazing would it be to witness first hand a Shuttle launch, in Florida. So I suggested it to my parents, as an idea for our last "family"holiday so to speak, as I am moving out to college next year. We picked our hotel and carhire, and were stumped with the flights. We had a three way dilemma. My mother wanted to go direct, with Aer Lingus, for abour 2900 Euro rtn.; My dad wanted to go the cheapest way, with US Airways, for 2500 Euro rtn., via. PHL; and I wanted to fly with Delta, for 2,700 Euro rtn., via ATL both ways. Eventually we settled on DL and picked the following flights from the vast selection:
July 25th
DL 165 DUB-JFK Boeing 767-400ER
DL 79 JFK-MCO MD 88
August 8th
DL 176 MCO-ATL-DUB 752/76G
Flight 1 of 4 - Delta 165 - Sunday July 25th 2010
Airline: Delta Air Lines
Flight: 165
Aircraft: Boeing 767-432ER
Registration: N845MH (Breast Cancer Research Foundation)
Statistics: 3rd flight on this type, 1st on this aircraft
Cabin Class: Economy - Y
Seat: 27G (Window, two rows infront of door 3R)
Departs (Schd/Act): 12:30pm/12:30pm
Arrives (Schd/Act): 2:50pm/2:25pm
Flying time (Announced/Act): 6 hours 48 minutes / 6 hours 55 minutes
The day before departure, I attempted to check-in online, at delta.com. I had done this once before, on a trip back from Myrtle Beach, SC, and had no problems what so ever. I had other errands to run so I let my mother try it. When I returned I learned that the flight was overbooked, and that volunteers would be sought at the airport, to be re-booked on later flights. My parents, wanting to avoid this, decided it would be best to be at the airport about 8:45am, to try and get there before volunteers would be needed. This plan worked, and we arrived at the airport at around 8:40am, greeted by a crowd of people, waiting for either the AA flight to ORD, or the US flight to PHL. We headed down to Area 13, to be greeted by the highly organized Delta area, completely deserted. All the desks were still for DL 177 to ATL, which was about to close, but we were told that we could check in for DL 165 if we wanted. We already had our seat assignments, and within a few minutes, I left my parents, who had wanted to go upstairs to get breakfast, and headed through security to do some spotting. Some nice traffic at DUB that morning.
CO 752 pulling in
N1604R, heading to ATL.
EC-LEY, of Swift Air, heading to...somewhere. Must check this one out.
OY-RJF, of Cimber Air heading to Billund. There were a lot of people from the flight from BLL connecting to either JFK or ORD that morning.
There she is. N845MH arriving 10 minutes late from JFK. There was a buzz around at the windows of the 300 gates. Airport staff wanted to see the special pink plane arriving. I think it was only in DUB once, in June sometime.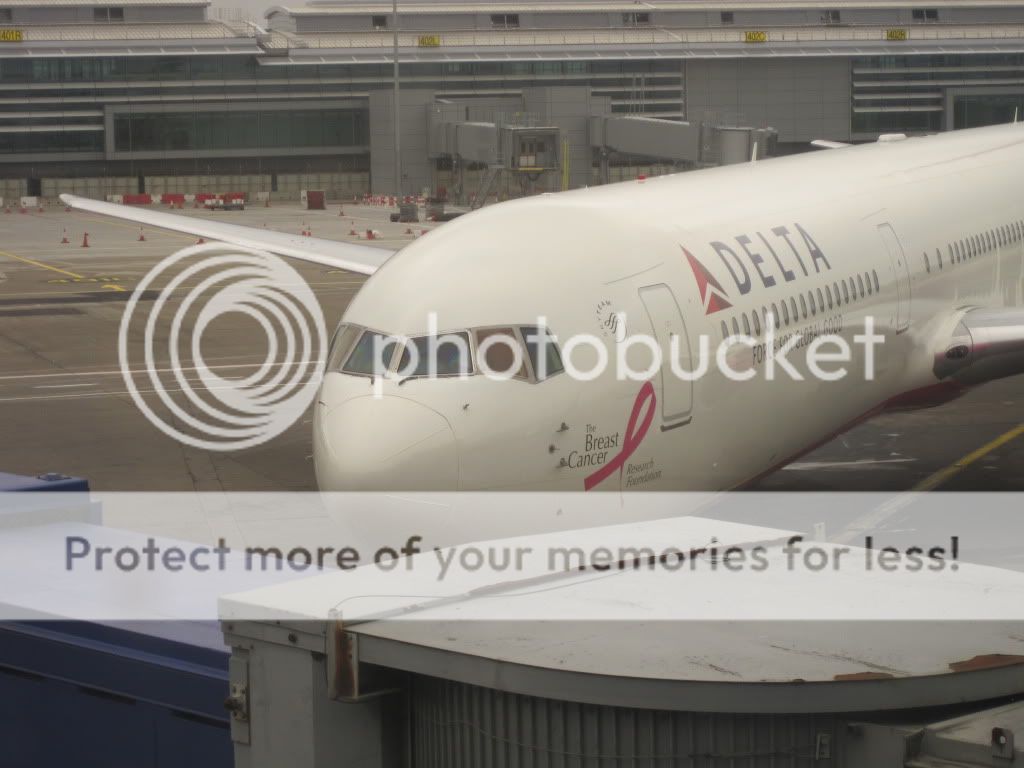 View of ship 1821 from the walkway to the old "C" gates.
I soon went down through the US CBP, after meeting my parents filling out the forms. It is very handy only having to fill out the customs form now, the ESTA online form depleting the need for the I-94 form. Twenty minutes later, we're now at gate 303, waiting to be called for boarding. They began boarding at around 11:55am. They started as usual, with Zone 1, MQM Platinum, Gold and so on, and pax. With small children and passengers needing extra time to board. At 12:10pm zones 3 and 4 were called and the scrum began. The Serviceair staff, I thought, didn't make an effort to control passengers and soon there was a sea of DL passengers all over the cramped gate area, trying to get onboard. This fiasco over, we were greeted at the door by a friendly American flight attendant, and we went to our seats. We had to pass through Biz. Elite class on the way, which didn't have the new Lie-Flat seats, making sense considering we wern't in LHR! I soon found 27G, with another friendly female flight attendant at door 3R, overseeing the process. The crew today were 8 strong, all young bar one, who was an airline veteran for 40 years. 6 female and two male, the latter of which were in J for the entire flight. Soon enough everyone was on board, and it seemed like seconds later we began our push back, at bang on 12:30pm.
Soon enough, the CF6 engines were started up, and the flaps deployed.
The pilot then came over the PA, while we waited for some traffic to pass by on the taxiway. He told us we'd be very quick today, 6 hours and 48 minutes. He said there was a very short taxiway and we'd be airbourne withing a few minutes. He then asked the flight attendants to prepare the cabin for departure and told us he'd be back in touch with route information. Promptly we started towards runway 28 and were number 1 for departure within a minute or two, joined by an EI 320 behind us. We were only waiting for a RE ATR42 to land and then it was us. The brakes were taken off when the little ATR floated over us and we slowly moved onto 28. Less than 30 seconds later the engines got going, and we did a very powerful rolling take off. We used about 70% of the runway to get off the ground, I thing rotation was just after taxiway E5. We blasted off into the sky, through the clouds, turning right and then left again, to head out towards Galway and ultimately the Atlantic Ocean, as is usual for America-bound runway 28 departures. The AVOD system seemed to activate just as he put on full thrust.
Take off Video - 720p HD
The AVOD system was the Panasonic eFX system, which is seeming extremely popular with airlines now. I know into Dublin alone, EI, DL, CO and I think the XM equipped AC airplanes use it. It has a few flaws, so I've heard with freezing and crashing but for me, I've had over 30 hours of flight time with the system, no problems to report. There was a wide wide range of movies, TV shows, HBO shows, CDs and Games but as you can guess, I had the Moving Map on most of the flight. After 5 minutes, we hit 10,000 feet and the crew got to work. We were told we'd get a beverage service, with a range of Coca Cola products, all free and the usual wine, beer and the sorts. I got a cup of Coke Zero, hoping to savour it, as the American Coke Zero compared to the Irish one, is...a word I can't use here! Lol. While that was going on, the captain told us of our route. Standard TA route: out over Galway, over the ocean for alomst 4 hours, then over North East Canada, past Halifax and down over Maine, passing Portland, Providence, Boston and decending out over Long Island and turning back in to JFK. Our initial altitude was FL320, but we'd climb if we hit rough air over Canada (that is not a big if). Anyway about two hours into the flight, dinner was served. We had a choice of either Chicken Risotto or Pasta something or other. I chose the former and it was delicious. It was served with the usual - bread roll, butter, cheese, crackers, chocolate bar, and a tossed salad consisting of lettuice, cucumber and tomato. I finished everything there, and no complaints. Yet another beverage service was offered. After this, I settled in to watch some movies. I watched Leap Year and the start of Valentines Day, an episode of Cougar Town, and a Louis Theroux documentary. I got some photos in flight.
The beautiful wing and raked wingtip.
The moving map system and the AVOD system menu.
Here's why I love people who don't close their window blinds - the glow of pink on the panelling in the cabin from the engines.
Obligatory cabin shot, with the crew on the other side just starting another beverage service. The one in the red one piece uniform (which might I add is my favourite FA uniform I've ever seen!) was the one at 3R on boarding, and the one with her back to the camera was the one greeting at the door. The glow is also present in this photo
The view I had of the engine.
Not long after that, the Duty Free service began, I didn't buy anything. The time, pardon the pun, flew today for some reason, which is odd for me as TA flights usually drag for me. We hit rough turbulence, as usual, over Canada and it kept up over Maine and northen Mass.. Soon enough, we had 2 hours left to go, and the crew got to work again, distributing pizzas, and ice cream which were nice, but nothing to write home about. We soon made a right turn between Boston and Providence. We began our initial descent with about 55 minutes to go, and made our way over Long Island, NY.
Spoilers deployed
We turned out to sea again, but turned back in again, making course for 22R
The gear was lowered, the flaps extended fully and the flight attendants made one last sweep of the cabin, a little late I thought in relation to the flight as we were coming through 1800 feet when they sat down, is that normal?
On finals
Video of approach - 720p HD
Video of landing & Taxi in - 720p HD
Touchdown, approximately 2:25pm EST on runway 22R, behind a DL 333 and 744.
We used no reverse thrust (to my knowledge, there was no loud noise like last time or nothing. The glow didn't seem to change shape either, could be wrong) and heavy, heavy autobrakes. The plane seemed to keep pulling to the right, probably the rudder movements.
We taxied in past the B6 hangar, and past a rare Uzbekistan 763 which I thought was a nice treat. We passed a VS 346, with "No Way BA/AA titles", who still had his flaps deployed for some reason. MX maybe? We pulled into Terminal 4, gate 24 beside a QR 77L, which was just in from DOH. There was a LOT of crew on that plane, about 15 Flight Attendants and 4 flight crew, maybe 5. There was the DL 744 from NRT, that landed before us, parked behind us at T3, the old TWA terminal.
Bye bye pink engine!
We headed towards door 1L, but not without taking two J Amenity Kits that weren't taken. One slightly used, and one still in it's plastic wrapping. Oops...
We disembarked and headed straight to baggage claim, and Customs. We made it through security an hour later. One comment on T3. It is seriously, seriously outdated. It needs to be improved vastly, and now. I know DL is planning it and that's all well and good but the sooner the better, seriously. It was cramped, and showing it's age. We headed to gate 29 for our MCO flight, as the bad weather started to set in.....
Flight 2 of 4 - Delta 79 - Sunday July 25th 2010
Airline: Delta Air Lines
Flight: 79
Aircraft: McDonnell-Douglas MD-88 (DC9-88)
Registration: N918DL, new colours.
Statistics: 1st on this type, 1st on this aircraft.
Cabin Class: Economy - Y
Seat: 35E (Window, give or take, 6 rows from the back, beside the engine intake
)
Departs (Schd/Act): 4:45pm/6:25pm
Arrives (Schd/Act): 8:03pm/9:15pm
Flying time (Announced/Act): 3 hours 18 minutes / 2 hours 50 minutes
We got to gate 29, about the furthest gate humanly possible from the entrance to T3. There was no MD88 there. There was the usual DL traffic, a few 76Gs heading to Europe, a lot of 752s utilized on various domestic pursuits, to SLC, LAX, etc.. There were Comair CRJs parked on stand, and a few 738s. There was more heavy traffic in terminal 2, across the "alleyway", with a TK and AF 77W, and an AZ 330, two actually, if memory serves me right. We were delayed until 5:10pm, and the captain was there talking personally to all the passengers, as he was essentially delayed for his plane too. He was cracking jokes constantly, keeping people happy, and the gate staff were going along with it too. He got a message that the plane had just landed and was waiting to get in, so he asked politely that people move along side the walls, with people in Zone 1, 2 and MQM platinum and so on to come to the wall close to the gate itself, so we can get on the plane as quick as possible. I couldn't get near a window (another problem with T3!) to get a photo, but I managed to get a picture which is badly out of focus, but you get the idea.
Soon enough, we boarded the plane, and I was greeted by two friendly crew members who directed me down to the end of the plane, where there was another crew member, and another in the galley, talking to a DL FA who was dead-heading. Two flight attendants on this flight were look alikes, in my opinion. One was a smaller version of Callie from Grey's Anatomy and the other was a blonde Miranda from Sex and the City. Soon, 5:10pm came and there was no movement. The pilot came on the PA and told us we're stuck here due to weather backing up the system. He explained the "silly alleyway system here at JFK" and said he's going to do everything short of bribery to get us on our way. After that we were contacted three more times by him, before we actually pushed back. Now, this time when we were on the ground is where I thought the flight attendants really shined from a service point of view. They made three water runs through the cabin, and gave sodas and snacks to people upon request. As DL 79 is a continuation from the OTHER DL 79 from Berlin, there were a lot of German people on board. One small family at the back, with a young baby, were struggling to get the baby to keep quiet and stop crying, the poor thing. One of the flight attendants saw this and kept checking up on them, and offered to either prepare the formula in the galley or hold the baby until the mother prepared the formula. I thought this was exemplary on the crew's behalf and I'm going to write to DL to commend this! The FA prepared the formula promptly, doing whatever was needed and then gave it back to the mother, who was delighted with this. The baby soon fell asleep and never made a sound (even with the noise of the JT8s!) until in MCO. The couple behind me were also nervous flyers, and were keeping strictly Kosher, and asked for Kosher drink and snack while waiting. The FA didn't hesitate and searched through the galley for something to serve them. She even offered her own lunch, which was Kosher apparently if they needed more. Another thing the crew should be proud of. Soon enough, we pushed back and were on our way.
The wing, engine, and the PRG bound 763 from beside us. (Also delayed)
Soon we headed out towards the runway. I want to say 31L, but I'm not too sure. We passed N842MH, which took me from DUB to ATL last July, my first DL flight and my first 764. Very good flight!
Soon enough, after a Bombardier Challenger, we took off and turned left not long after lift off, the engines making the most beautiful noise I've heard in a long time. We had an amazing view of Manhatten during this turn, with the sun setting, but I couldnt get my digital camera while using my video camera. I foolishly put it away before turning onto the runway. We headed East and turned down the coast after a while.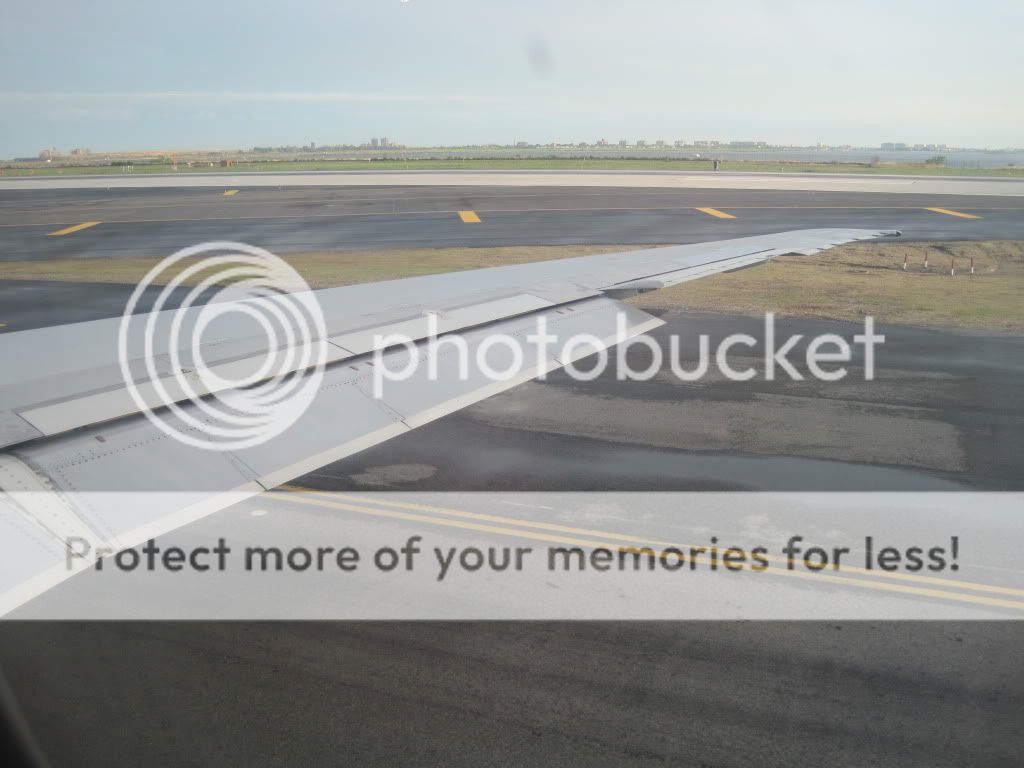 Take off video - 720p HD
Not long after this, the storm that was crippling JFK earlier, was in our way, so we had to get through that. We found a gap in the cloud and the captain took advantage of it and blasted through it and we levelled off at FL320 once again. The sun was setting and it treated us to spectacular view out the right side of the plane. The photos might look edited, but it's from my sunset setting on my camera.
Soon enough a drinks and snack service was started and there was the usual Coca Cola products and so on. We were reminded about three times that this was a cash-free cabin and only credit cards were accepted for alcoholic products. With that over, the crew were just checking everyone was comfortable and talking to passengers. We heard from the captain once more, who told us we're about 90 minutes out, just passing by Charleston. He told us there was a thunderstorm passing through Orlando (SHOCKING) but it wouldn't affect us much, if any. We passed Daytona Beach and began our steep decent into MCO, heading for 17L. We turned right and left not long after, passing through 10,000ft not long after that. We were soon cloaked in darkness and the crew made two passes of the cabin, checking belts and the likes. We lined up for 17L and once the JT8s suddenly got quieter, I knew we'd been captured by the ILS. The gear were lowered with a resounding thud and the nose dipped and we aimed for 17L. The thunderstorm was in the distance off the right, and it was impressive to watch one from the air. We soon passed over Sand Lake Rd. And over the threshold and we made a soft landing onto the runway. Now here's where it got fun. He idled the engine's the second we touched down, so we were hitting the ground running. The reverse thrusters were deployed full strength, and it was LOUD. I mean ear burstingly loud. I could feel that rattle in my chest from it, like you do when you're at an airshow and a fighter goes by. We pulled off the runway quickly and headed towards the terminal, taxying very quickly. Not stopping once.
Landing video - 720p HD
We pulled up at gate 77, I think, and were beside a company MD 88 or 90, can't remember which. Actually, do DL send MD90s into MCO? Some last shots before saying night-night.
The seat, legroom was decent enough for the length of the flight. Thank God this plane doesn't do TA runs...
The door in the galley
The galley itself, with the sticker proving it was N918DL.
Soon, we headed into the deserted terminal and got our bags which were out extremely quickly. We picked them up and headed to the Hertz desk and got our Toyota Matrix, our car for the next two weeks. We were absolutely shattered by the time we got to the hotel, I myself hadn't slept for over 24 hours now and was fixing to go to sleep. We did the usual Orlando-y stuff, see the parks, etc. We headed down to Clearwater and the satnav took us into TPA accidentally so I nabbed some pics of the traffic there.
Flight 3 of 4 - Delta 176 - Sunday August 8th 2010

Airline: Delta Air Lines
Flight: 176 (Sector 1: Orlando - Atlanta)
Aircraft: Boeing 757-232 (Non winglets)
Registration: N628DL, new colours.
Statistics: 5th on this type, 1st on this aircraft.
Cabin Class: Economy - Y
Seat: 40F (Window, near the rear of the A/C)
Departs (Schd/Act): 4:30pm/5:00pm
Arrives (Schd/Act): 6:15pm/6:00pm
Flying time (Announced/Act): 1 hour 2 minutes / 1 hour
I looked into it a bit when before I left, and DL 176 seems to be a very unfortunate flight, with regards to delay. It's plagued by long 2-4 hours long delays, in Orlando, for some reason. The next segment of 176 is at 7:25pm, so we didn't have long to connect and we hoped for an ontime departure. We got to MCO at 1pm, and saw the plane coming from ATL as flight 2369 (I think) was delayed by 10 minutes. I thought "Oh here we go" and prepared to be delayed further. I checked in at the self service counter, as is the norm now at MCO for DL pax. Now. I went onto the tram as soon as I got through security which had a lane for "experienced flyers" which I was so tempted to go through, but apparently it's for people with elite FF status, and me with my humble 5000 SkyMiles was just not adequite so I didn't bother. I knew what I wanted to see, where it was and I headed there. The VS gates to see the 744s coming in. I flew on them in 2008 to MCO and I had mixed feelings about them. I felt the cabins were dated and the IFE was not good enough for the market they were in. The crew and service made up for it in a way, but still, something was keeping them behind the competition. The first one came in on time, G-VXLG, Ruby Tuesday (not one of the two I was on) in old, old VS colours. The GE engines could be heard through out the concourse wing. It was magnificent. I then had a wander around, to kill time.
AeroMexico flight to Mexico City, almost ready to go.
One of the many, many DL 752s, probably to ATL
DL A320 to either DTW or MSP, can't remember which. I do remember it continued on to Omaha, Nebraska.
FIDS. I like that they have Arrivals displayed too.
Shamu One, WN 733 painted in Special SeaWorld Colours. There's a model of this on display in SeaWorld itself., along with a route map. Keep an eye out for it, it's in the penguin enclosure.
Remember the "No way BA/AA" 346 in JFK? Now we have this. BA's special 772 with a special "Keep the flag flying" sticker to assure customers that BA will continue on even with the crew problems....
I lost track of time, so I headed to my parents at gate 73.
Our 752 was waiting to pull in.
Very nice weather....
We boarded at 3:55pm and was greeted by a friendly female crew member and was directed towards the rear of the plane, where a young male crew member was standing in the aisle helping people.
This was an old plane. Delivered in 1987 and was showing signs of age. It had the new overhead bins but the seats were worn out, the panneling too and it had the old tvs. Mind you, it's only a 90 minute flight at most so it wasn't an issue but the renevation couldn't come soon enough if they're keeping it in the fleet.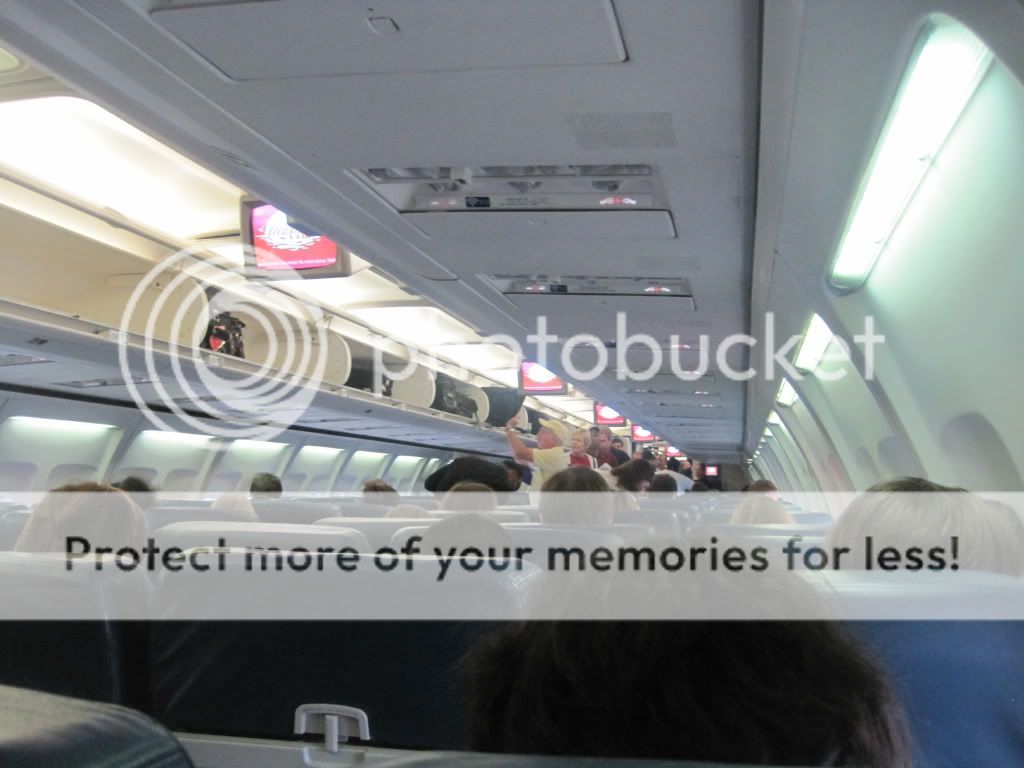 We sat there and there was a problem with people not in their assigned seats and that issue took all 5 crew members, the three dispachers and about 15 pax to sort out. We pushed back at 4:40pm and headed to runway 35L. The rain messed up my focus so apologies for the lack of ground photos. We heard from the cockpit and were informed the flying time was a brisk 1 hour and 2 minutes. He told us we'd be taking off and heading north, past Jacksonville, Daytona Beach, then turning back Northwest towards Macon and Atlanta. At 4:50pm, 20 minutes late, we pushed back and the two Pratt & Whitney engines got going. Having only ever flown on RR powered 757s before, this was a whole different experience to me. We taxied behind a WN 73G and before you know it we were number 1 for departure. The crew took their seats and we turned around onto the runway. I love, I mean really love powerful takeoffs. My most powerful to date was on an ASA CR7 last year. He spooled up to around 70% N1, then put TOGA on and took the brakes off at the same time. I was literally slammed into my seat. I was hoping for one like this again, and boy was I impressed. The 757s I were on previously were very powerful, but not on par with that little CRJ. I was at the rear of the aircraft, which seems to exxagerate the feeling of acceleration in my head. After what seemed like a lifetime of anticipation for me, I heard the deep bellowing noise of the engines and felt us starting to speed up. Then all of a sudden he put on full power and I was slammed into my seat once again. We rocketed down the runway and we rotated very quickly. The climb was steep, I'd guess the AOA was around...19 degrees, give or take. We turned right immediately and made for Atlanta.
Take off video - 720p HD
The seatbelt signs were turned off just after passing 10,000 feet. Soon enough, the wi-fi was enabled and I checked the status of our next flight, to Dublin. I like that it's free to use Delta's website and the NY Times site too. We were scheduled to depart from gate E3, and we were arriving into B13. Not too bad, could be worse. We could be arriving into E35 and departing from T1 like! The flight itself was relatively smooth, the odd bump here or there. We climbed up to FL350 and headed along the coast. We passed Sanford Airport (A place I have NO intention of returning to!), Jacksonville Airport, and we were joined by FL aircraft. I couldn't find him in my camera in time to take a photo. Service was identical to the flight from JFK, a free drink of choice and a snack. I chose the Bischoff cookie, which I had before and was nice. The crew were very cheerful and friendly today.
Soon enough we began to point back towards terra ferma and began the long decent towards Atlanta.
We passed ATL on the right, I thought we were making course for 9R. It was too foggy and misty to get a clear photo. I have some good ones from a previous trip, which I'll be reporting on another time. We headed west, and the flaps were deployed and the spoilers extended until we did a complete 180 turn facing Atlanta. We began our final decent, and I was regretting picking a seat on the right side of the plane, as we were on finals with a distant 777.
I noticed soon that there was no runway to our right, where 10/28 should be. Then it hit me that we were heading for 10/28 which gave me even more of a kick. The gear was lowered and the flaps full, we slowed right down to a crawl and slowly drifted in over the threshold only to bounce once and brake extremely hard.
Landing video - 720p HD
We vacated the runway as there was a CR2 coming in close. We began the long taxi back towards the terminal and we made it across the runways rather quickly. We passed the 'Salvador Dali' plane waiting in the queue for 9L.
Soon enough, we arrived at B13 and the doors were opened. Another great flight by Delta, and I eventually deplaned, not without the new Sky magazine and a safety card...oops. We had exactly 1 hour until the scheduled departure of our connection. We sprinted to the train and headed for Concourse E.
Flight 4 of 4 - Delta 176 - Sunday August 8th 2010

Airline: Delta Air Lines
Flight: 176 (Sector 2: Atlanta - Dublin)
Aircraft: Boeing 767-332ER Winglets
Registration: N1610D new colours.
Statistics: 4th on this type, 1st on this aircraft.
Cabin Class: Economy - Y
Seat: 36G (Window, near the rear of the A/C)
Departs (Schd/Act): 7:25pm/7:55pm
Arrives (Schd/Act): 8:25am/8:10am
Flying time (Announced/Act): 7 hours 2 minutes / 7 hours 15 minutes
So as far as flights go, this was the one I was least looking forward to. I don't like 767s, ok maybe I have a soft spot for -400s but still. I don't like them. I don't like having no PTV either. I was expecting both on this flight. DL seems to have made a little error in judgement here. Their domestic 763s have all the bells and whistles, AVOD, poweports, new seats, etc.. Where their 76Gs, the international ETOPS ones have old seats, overhead monitors, and nothing else. This, on planes that operate flights 10+ hours in duration? They're renovating them by 2013, thank goodness but frankly it should have been done a loooong time ago. Another issue I have is their planes into Dublin. Their 76Ds which now do the JFK runs are great inside, and they did the ATL flights in Summer 2009 and the year before too. They're grand for 9 hour flights I think. Yet they send old 76Gs from Atlanta, which makes no sense from a service perspective. I've gone off on a tangent and ranting but still.
Anyway, I wasn't expecting great things from this flight aside from the crew. We got to E3 eventually and straight away, there were no windows. So I couldn't get a plane shot. I walked back to E5 and a LHR bound 764 was being readied. So all I could see of my plane was this: (it's the plane on the right, tail number 1610)
I had no idea what registration 1610 corresponds to, but I assumed it wasn't directly linked to the actual registration, a lot like the 76Ds. The gate agent was talking constantly, getting us organized so we can get on quicker and depart on time. All was done in a friendly manner. Soon enough at 6:45, boarding was called for passengers needing extra assistence and MQM members. At 6:55pm, general boarding was called. We got our passes scanned and headed into the jetway. There was no queue at the door and I was greeted by a familar face. A male flight attendant who worked my flight from ATL-DUB last year. His name is Tony and he was outstanding last year. Very attentive and the image of Sean Penn. I pointed it out to him and he said he thinks he remembers me, and asked was I the one who was asking about Delta's working conditions. I said yes and he shook my hand and welcomed me onboard.
Now, here's where I started to think. We passed through BusinessElite, which was normal, but thanks to people blocking the aisles to chat, I got stuck at the bulkhead. I immediately noticed the cabin was very fresh and new looking. It almost had a new-plane smell. I stayed facing forwards, and noticed that all the J seats were occupied. None for crew rest. I walked down the aisle, and crossed over at the galley and heard a FA talking to a ground agent saying "It's awesome, I've never been on one of the renovated ones yet. It's looking great!". I immediately looked at the back of a random seat and there it was. AVOD. It hit me that there was a sub-in. There were no crew rest seats, and the new cabin, meaning it was a 76T, which is used for long flights, to AMM and TLV, and so on, not the usual DUB run. There were under-deck crew rests too. Another thought crossed my mind, while still in the aisle. Winglets. I took my seat, which was extremely comfortable and new, and opened the blind. There it was. A huge, HUGE looking blended winglet. I was in heaven. The seat pitch was great too, but then again I am only 5 foot 9.
I couldn't wait to get going. I noticed the crew were talking to passengers on the other side of the cabin. A couple weren't feeling well, and the heat of the plane wasn't helping (the sun was beaming in the side of the plane, hence why the blinds were shut, still made it warm though). The crew hurried off to the galley and returned with a 2 liter bottle of water, and 2 plastic cups. They gave them to the couple and an extra blanket each. They were told to ask if they needed anything during the flight, and just try to sleep as much as possible. The crew made periodic checks on this couple during the flight, making sure they were ok. Also, Tony and the rest of the crew were asking everyone how they were, if they were comfortable and so on. A nice touch. The cabin was very nice, and gave the sense of space.
At 7:55pm the plane pushed back, and Deltalina was displayed on the screens again. After, the pilot came over the PA, introduced the entire crew and apologised for the delay, as they had to find a substitute aircraft as the one we were supposed to be on was taken for maintainence. He said we'd still be early into Dublin and that we're heading for runway 8R. Our route would take us over Albany, NY, Canada, St. Johns, out over the ocean and over Mayo and into Dublin.
Never gets old that sign. We headed to 8R and were behind an MD88 heading for El Paso, TX. We turned onto the runway and were lined up at 8:05pm. I have no take off video, as my camera refused to work at the last minute. So I have some poor photos instead. We took off very powerfully, and didn't rotate until at the DL hangars near the ATC tower.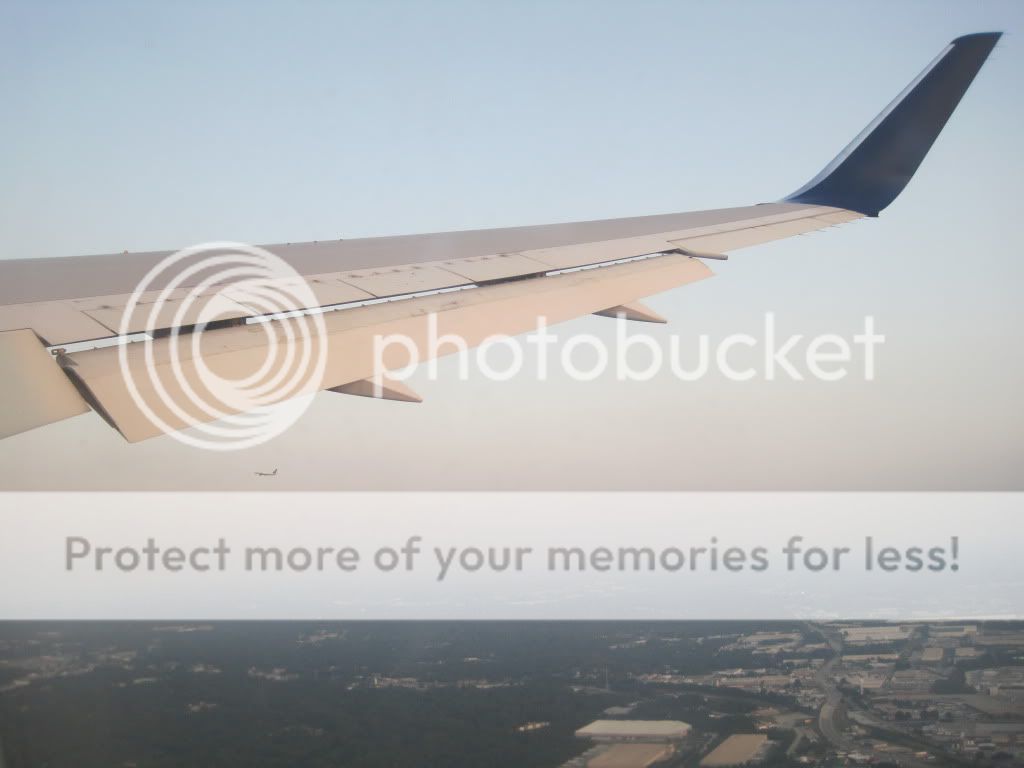 We headed up to FL320 and the cabin got dark. Dinner service began, same choice as before. A lot of drinks services were offered. Turbulence started to get heavier and we climbed up to FL360, as advised by a plane in front of us. I started playing with the AVOD (again, no dinner pictures, I was starving! It was delicious though.) and watched an episode of Cougar Town, and watched Date Night. I noticed in the cabin, that a lot of call lights were on, but no dings. There was a circuit problem in the plane (teething issues maybe??) and we were told that crew will be patroling the aisles if you need anything, and not to use the call lights. This was the case for the entire flight, and the crew never seemed to be without a tray of cups of cold water. A nice touch. I got a bit of