http://flightaware.com/live/flight/D...2/history/20101226/1455Z/KPHX/KMSP
Airline-Delta Airlines
Flight Number 1492
Date, December 26th 2010
Seat 5D Window. LF 100% full
Route-Phoenix(PHX) to Minneapolis (MSP)
Departure Time, 8:07AM MST
Arrival Time, 11:48AM CDT,
Departure gate. 23 Arrival gate G-16
Departure Runway 8 Arrival Runway 35
Aircraft. N595NW, B757-300
Flying time 2:41, at FL350.
The day began with the sound of my alarm clock going off at the all too early hour of 4:30AM. After some last minute packing, I was out of the house by 5:30 and being it was so early in the morning and the day after Christmas, traffic was light which made for a quick trip to the airport. After parking in the T3 ramp we went to the ticket counter to get our tickets and check our bags through to Bemidji. With tickets in hand and baggage checked, it was time to head to security which was quick and easy process. Thankfully, there are no body scanners in T3 and they weren't doing pat downs which was a relief. There were several flights all boarding around the same time as ours, including Delta flights to ATL, SLC and DTW and a Frontier flight to DEN. After a quick stop at Starbucks, boarding was called for our flight starting with First class and frequent fliers, We were all in First class so we got on with the first group of passengers. Just before I got on the plane the sun was just starting to come up over the horizon illuminating the beautiful B757 in warm light, The B757 is definitely one of my favorite looking planes that is still in service today. Once on the plane I took my seat and got a good view of traffic using runway 8.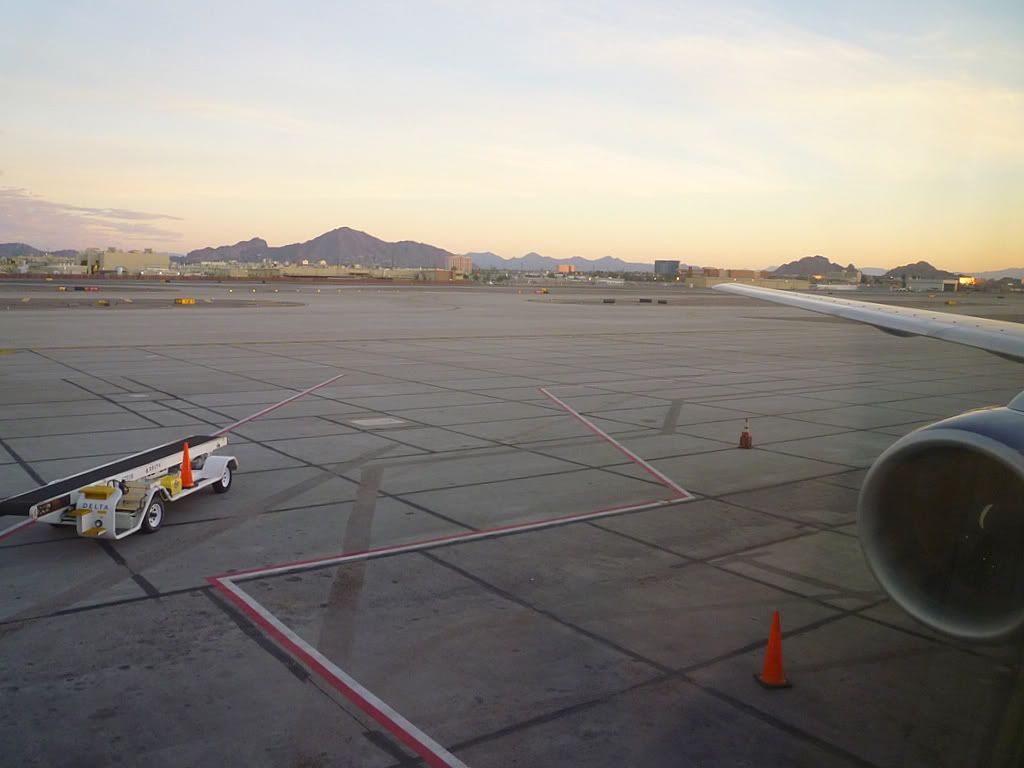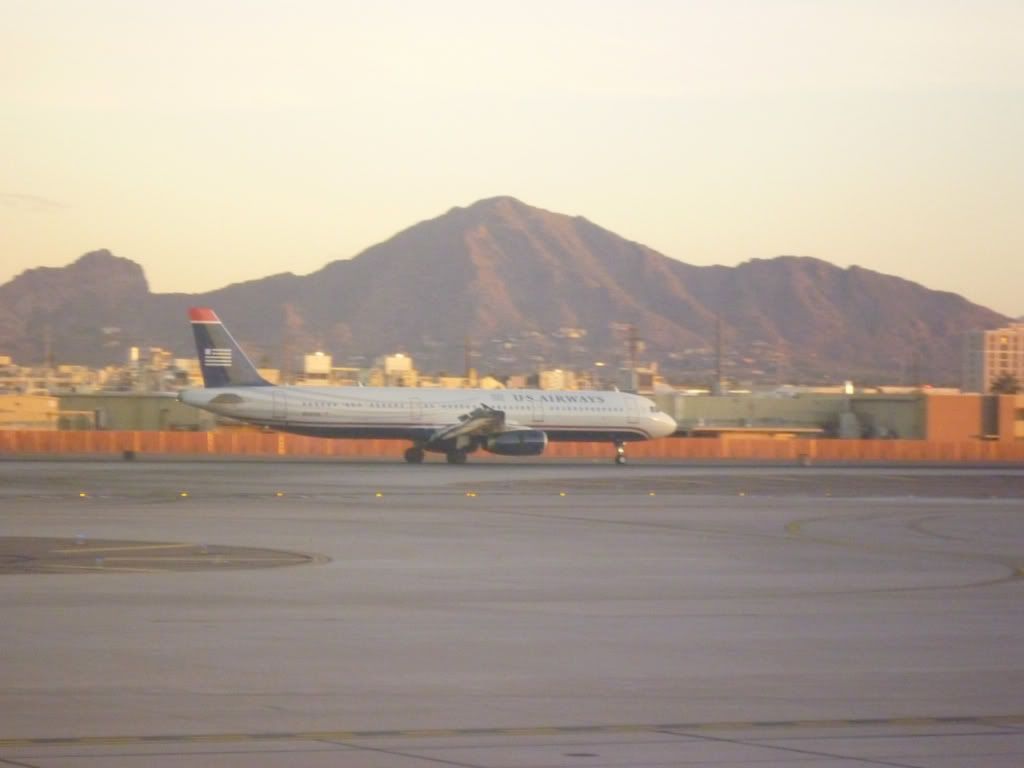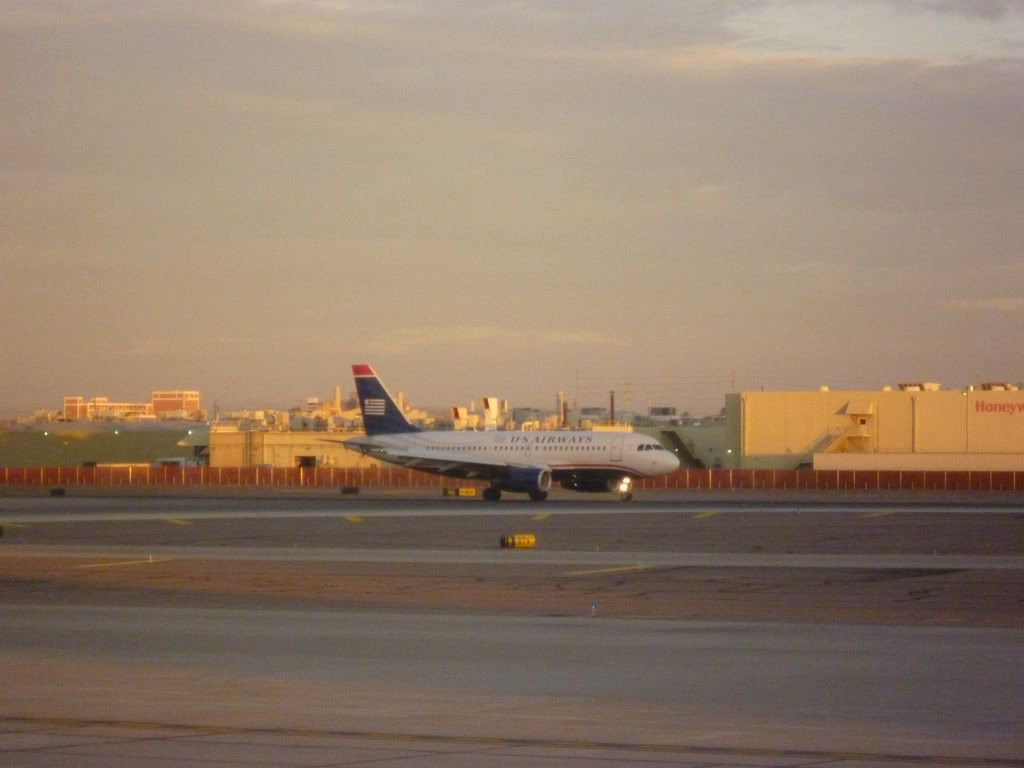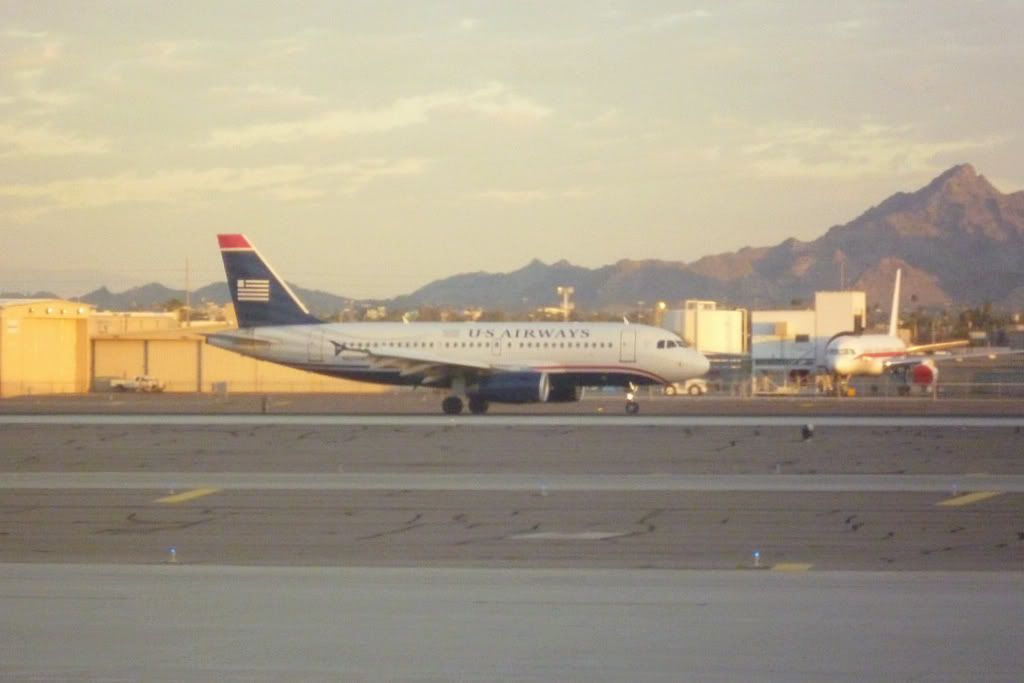 Deaprting to ATL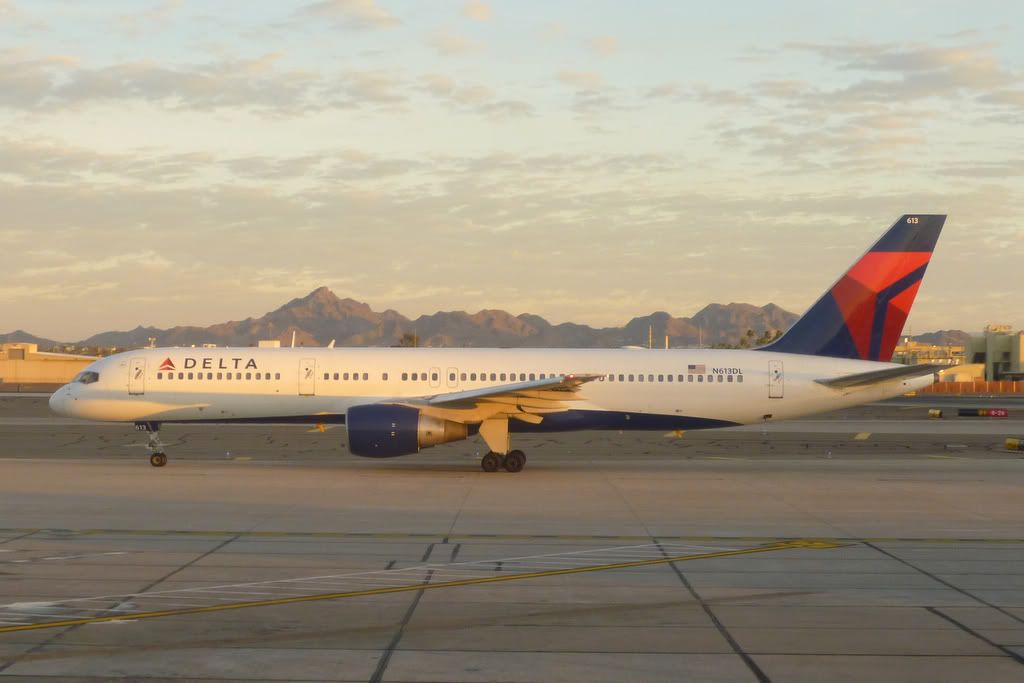 The first class cabin looked like it was well used, however the seats were still comfortable with plenty of legroom. shortly after arriving at my seat the flight attendant came by to see if I would like a beverage, having just got starbucks however, I decided to wait till breakfast. Boarding was completed in due time and we were ready to go, We were pushed back and the engines were fired up with a bit of smoke. Once the engines were running we then taxied out to runway 8, we were number 2 for take-off behind a F9 A319. 2 US Airways jets landed then the Frontier took-off and then it was our turn to go. the engines reved up to move us into position and with no delay the engines were throttled up to full power and we were off like a rocket, Take-off is one of the best parts about flying on 757s, even a fully loaded 757-300 the take-offs still feel so powerful. Flight 1492 became airborne just past Terminal 3 and then began to climb steeply up as only 757s can do. We flew east over most of the city before turning towards the North.
There were a few bumps on our way up through 10,000ft but things smoothed out nicely the closer we got to our cruising alt of FL350, Breakfast service started while as we crossed into Colorado. Breakfast consisted of cereal, yogurt, fruit and a bagel. Nothing fancy but it tasted good. Along with the meal drinks were offered, I chose an Orange juice.
Breakfast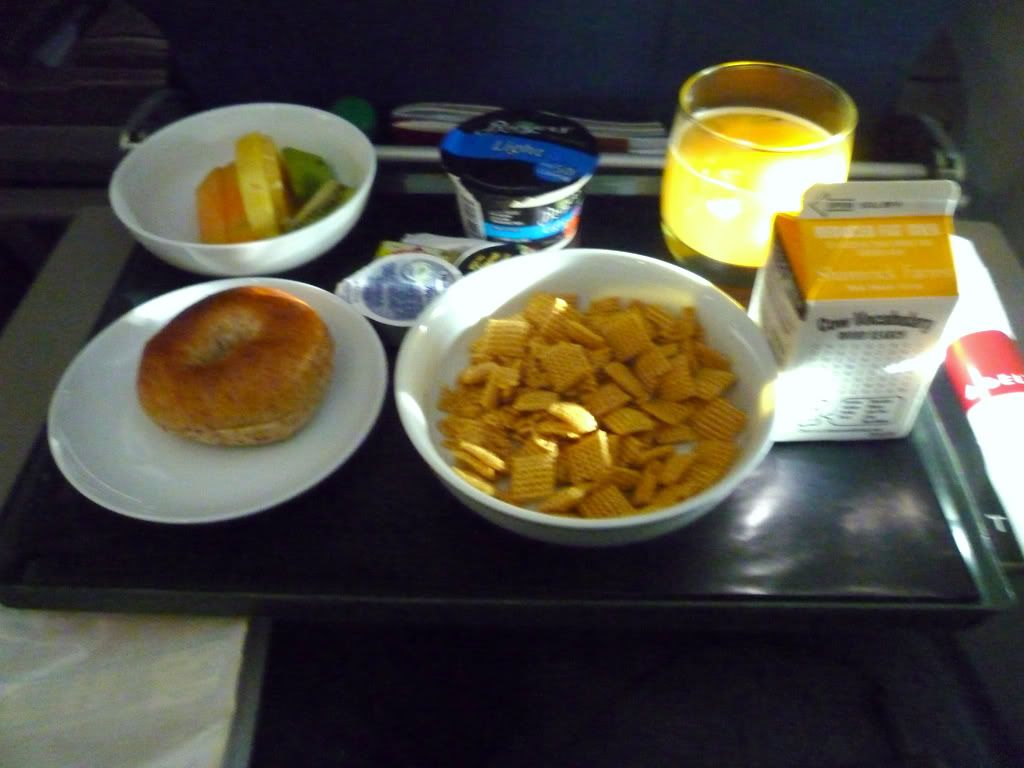 nice view for breakfast.
In-flight entertainment offered, consisted of a movie, (I don't remember which one it was) and in-flight Wi-Fi which was free over the Christmas and new years holidays.
The rest of the flight was uneventful and before I knew it we had begun to descend into MSP. We landed in a snowy Minneapolis on runway 35 a few minutes ahead of schedule and began the trek back to the terminal. After waiting for a few planes to take-off, we crossed 12R-30L and parked at gate G-16. Our plane would continue on to MCO next...the life of an airliner, from Arizona to Minnesota and on to Florida in the same day.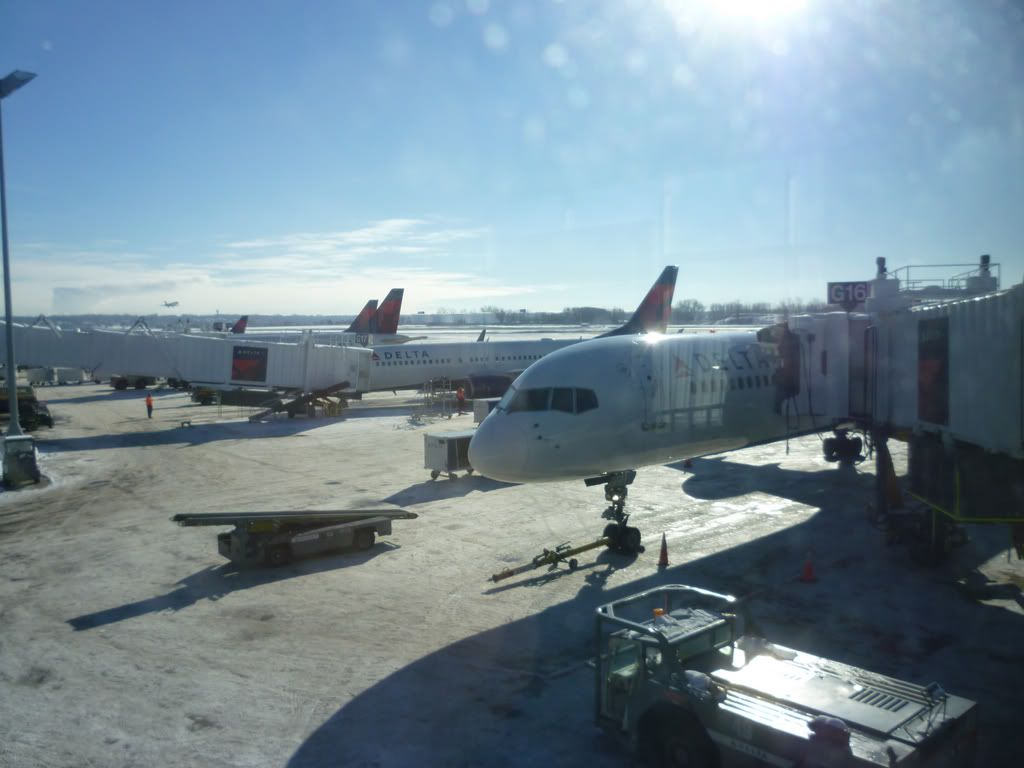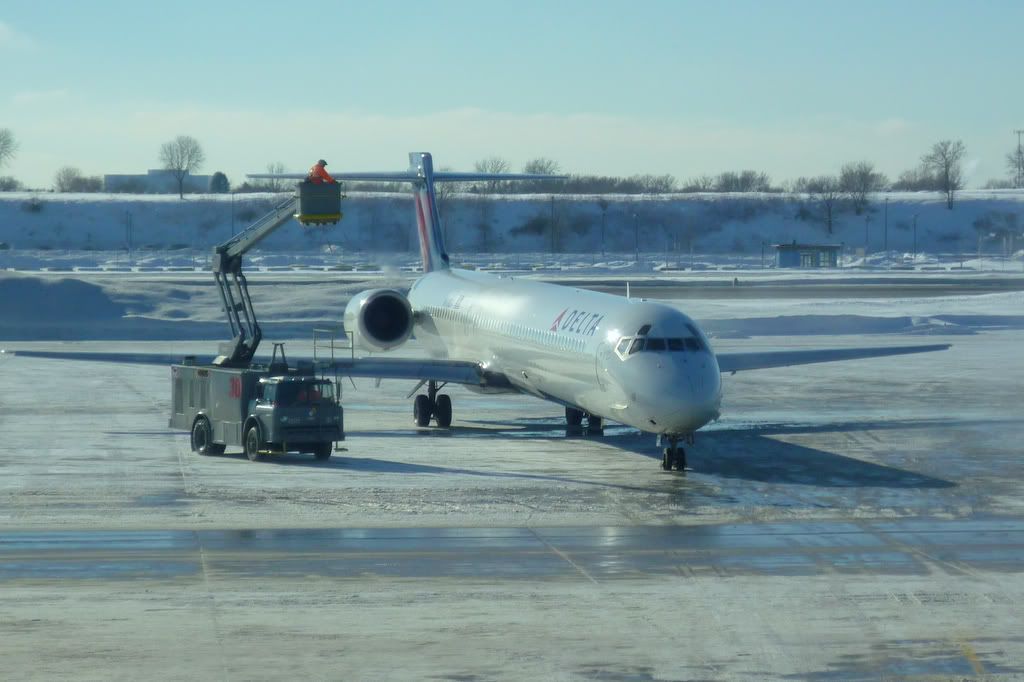 Once off the airplane, we had 3 hours before our flight to BJI so we had some lunch at Fridays on concourse C, after which I payed a visit to the observation deck at concourse D. Where I took a lot of pictures that I will put in the next post.