Welcome to this ever so slightly delayed trip report of my recent service from Brisbane to Auckland. This flight was the second of three on my trip with the total itinerary being CHC-BNE-AKL-CHC. The CHC-BNE flight (13Nov) was on one of the reconfigured a320's in the NZ fleet with the economy only layout. This flight was taken in the transition period with the 'new' economy only configuration and the 'old' meal inclusive traditional economy service. I managed to snag seat 1A which had plenty of legroom, more than the old J seat that used to reside in this spot due to the removal of the bulkhead on this side of the cabin. I didn't consider this flight over to Australia worthy of a report due to this transitional product now being redundant.
However, I will mention that it was an eventful flight, with one of the 3 friends travelling with me falling ill whilst on board. The aircrew responded by putting him on an oxygen bottle, however, this only worsened his condition and he threw up blood in the toilet. He pressed the attendant call button from within the toilet and at that point a medical emergency was declared. Luckily a doctor was found onboard when the cabin crew asked over the PA system. The Captain speed up the engines and got us priority approach to BNE (2hr30min CHC-BNE flight time), and we were met at the air bridge by an ambulance crew. They put the aircraft into quarantine for 30 mins to investigate the blood issue, and determine whether it was part of a larger onboard respiratory problem. Finally, they took my friend off the aircraft in a wheelchair and I followed in hot pursuit. We rushed through customs etc with no opportunity to collect bags or the such, barely a glance at immigration and through to an awaiting ambulance and into RB hospital. So, it was an eventful service after all. Luckily, these on board issues didn't start until after i had finished my meal and onboard movie.
As stated above, this report focuses on the return J class sector to AKL
Date: 18 Nov 2010
Flight: NZ 136
Dep: 11.25am
Arr: 5.25pm
Flight Time: 3hrs
Aircraft: 777-200ER
Seat: 3K
After a shuttle ride up from the Gold Coast where I had spent the last 5 days I was dropped off at around 8.30am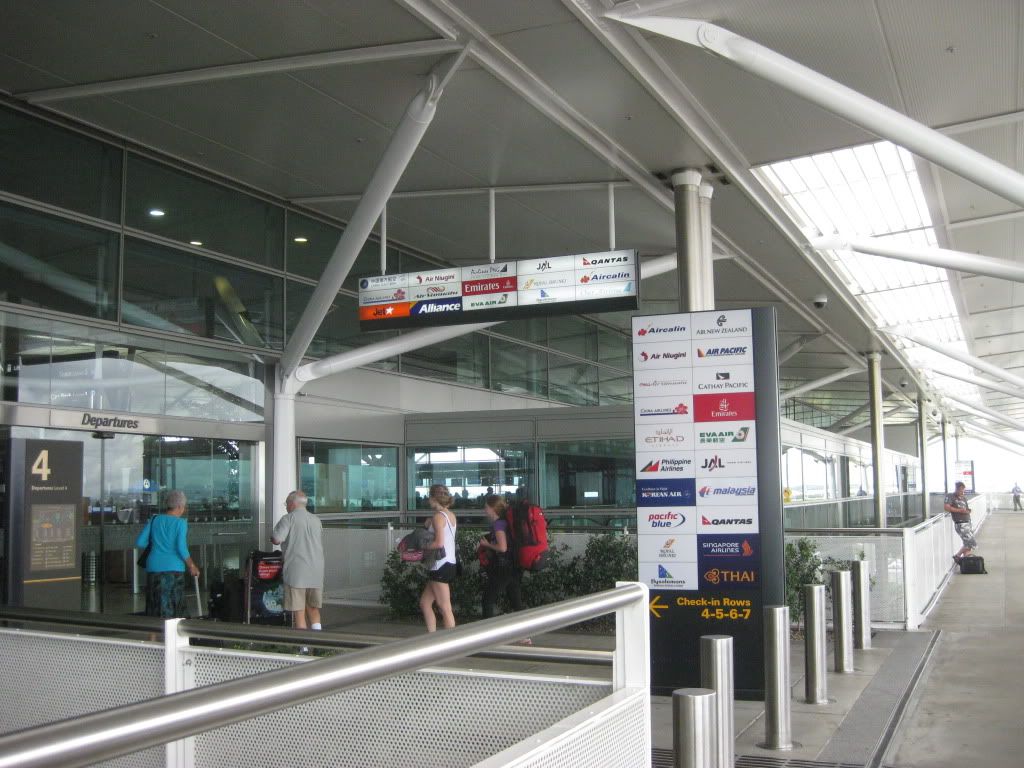 I checked in without much wait. Unfortunately, I was initially assigned a middle seat (I wanted a window), but this was latter resolved at the lounge by the helpful attendant. I requested a window seat, or if this was not possible, was happy to downgrade to Y+ so as to have an external view.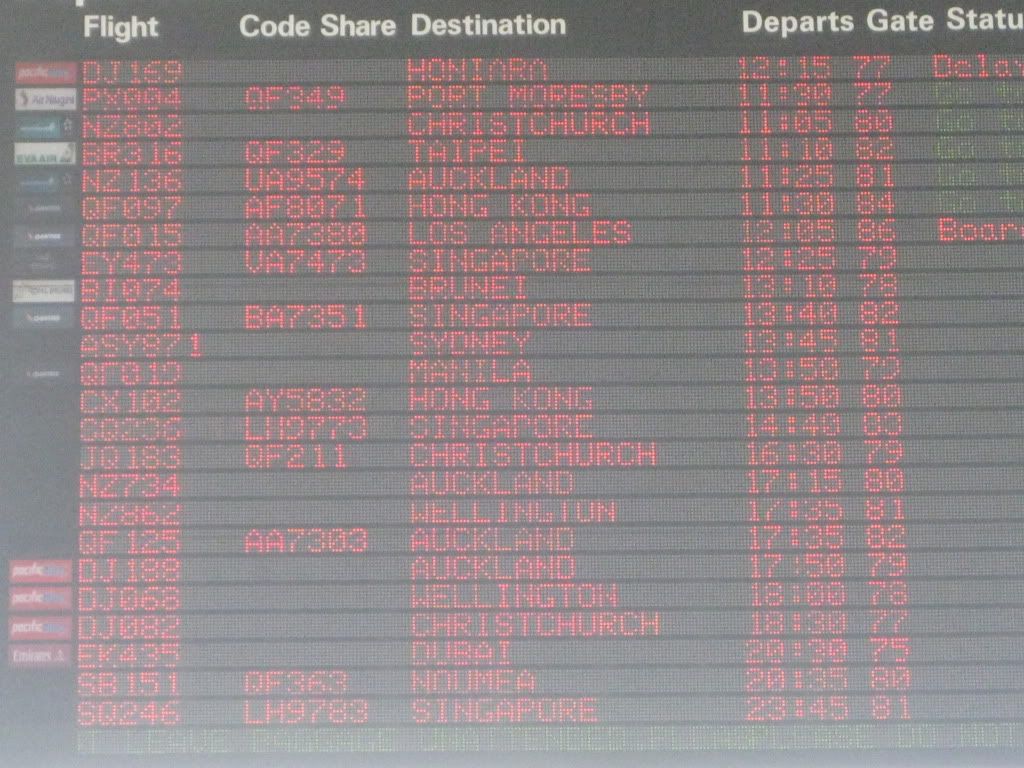 Below are various shots of the BNE terminal and aircraft that were able to be spotted:
I enjoyed the large glass window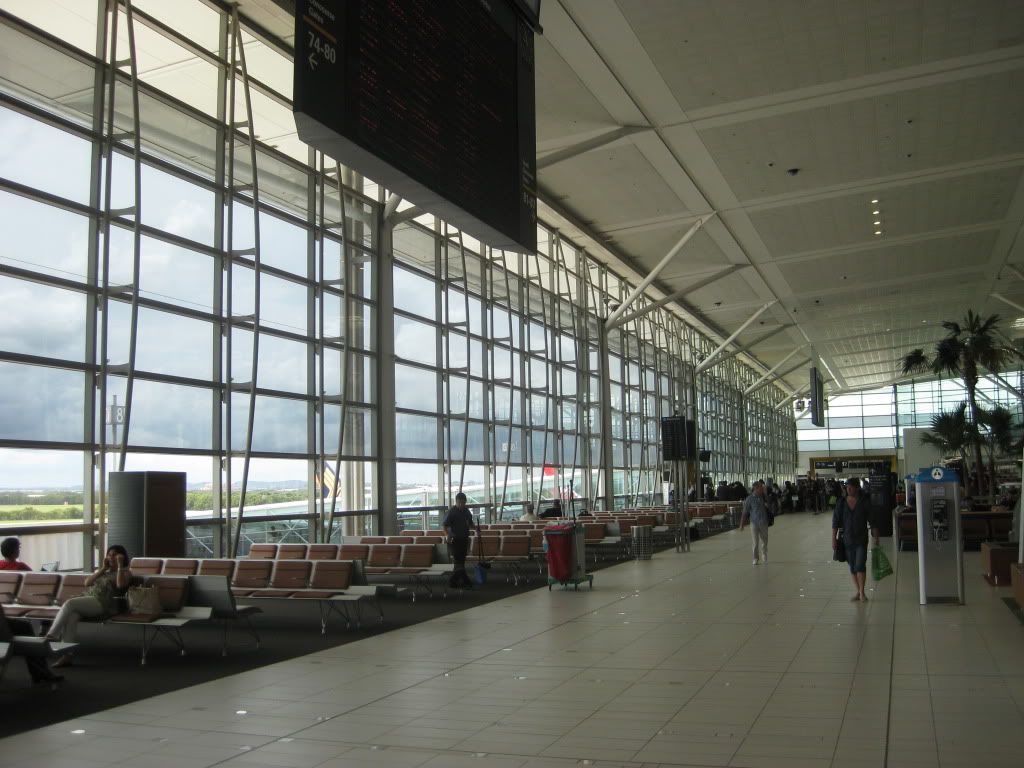 SQ333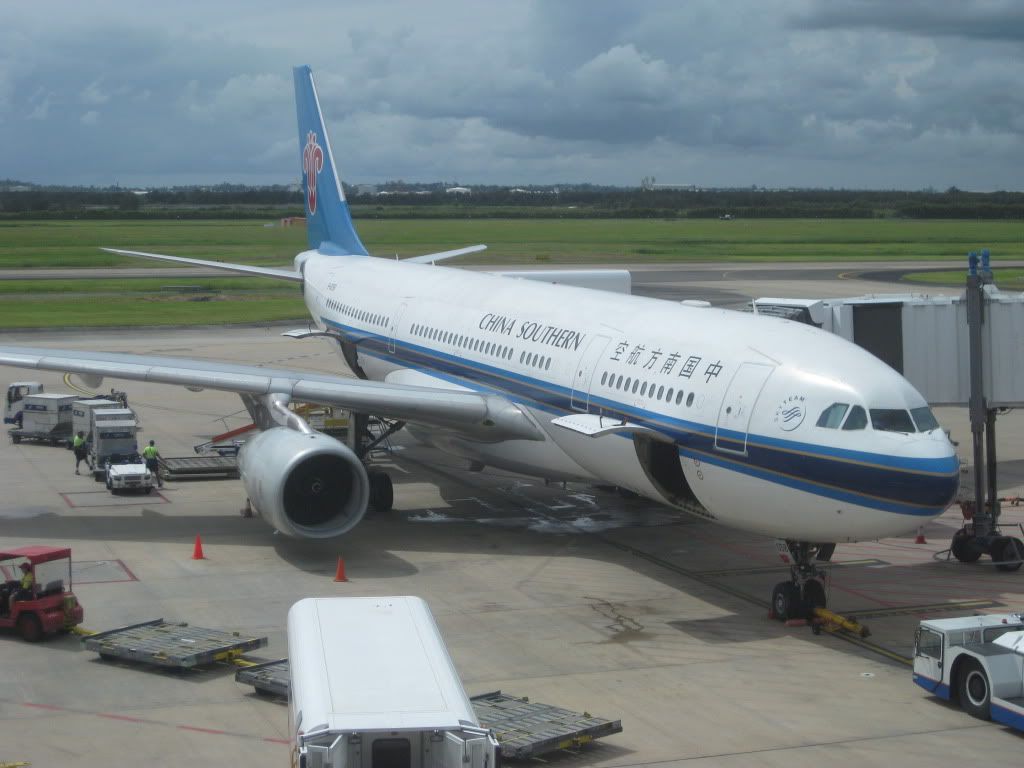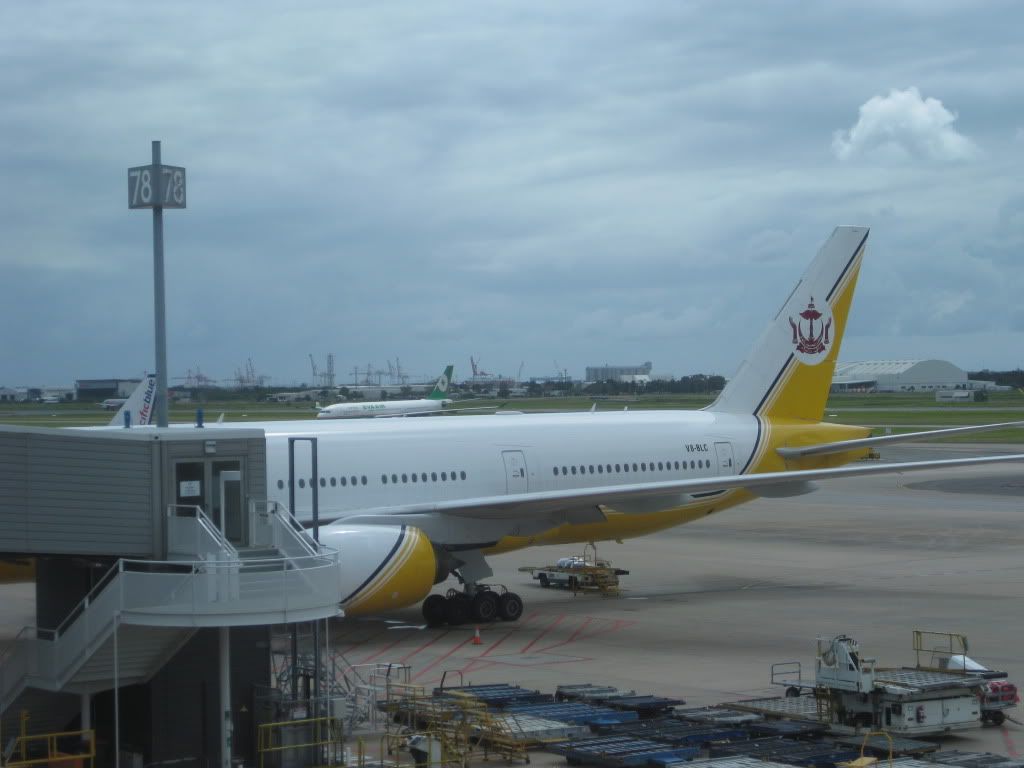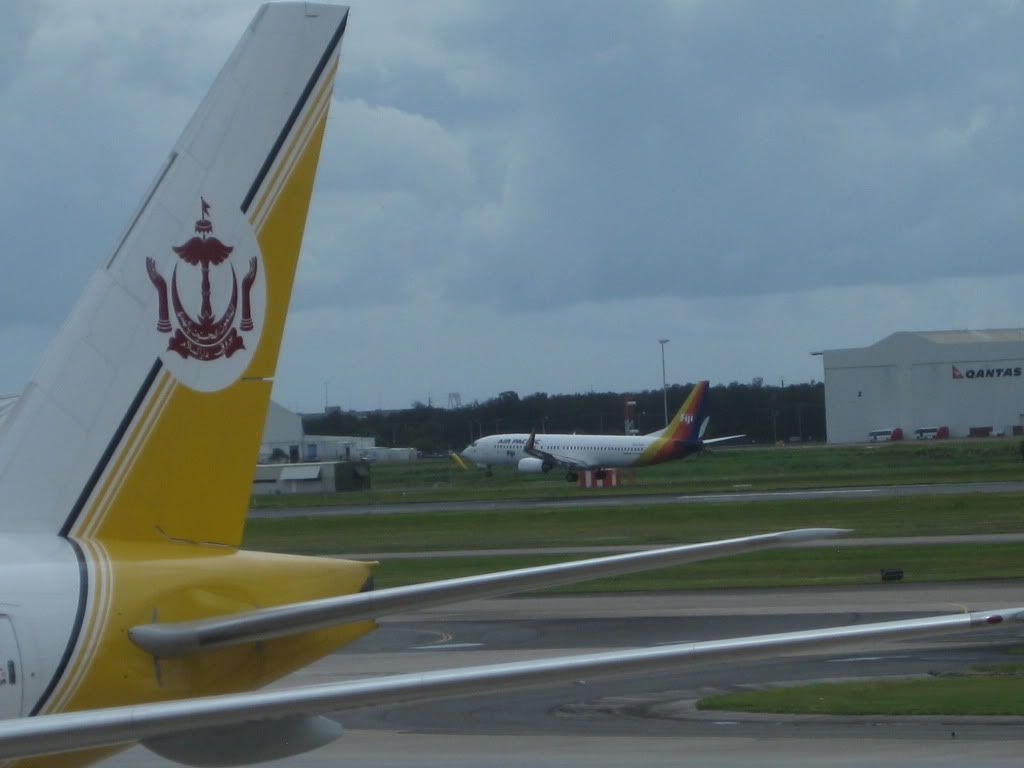 After some spotting I headed to the Koru Club for some light refreshments. I had initially intended to visit the SQ lounge for some Asian food, but was disappointed to learn that it was closed at this time of day. The Koru club was found at the bottom of the escalator that leads up to the QF lounge facilities. As I was walking to the lounge I was following a large German woman with 2 naughty looking children, fortunately they went up to the QF lounge, pheeew!
Lounge Entrance:
The lounge looks down over the BNE terminal car park. While this clearly isn't as good as looking out at the planes, it does let in plenty of light, making a nice lounge environment. The style of the lounge is pre 'beach house theme' (unlike MEL) which I prefer as I find the chairs much more comfortable.
I decided to sample a selection of light snacks before my flight as I was a little peckish.
To start with I had some fresh fruit, yogurt and muesli:
Then some beans, eggs and German sausage which was delicious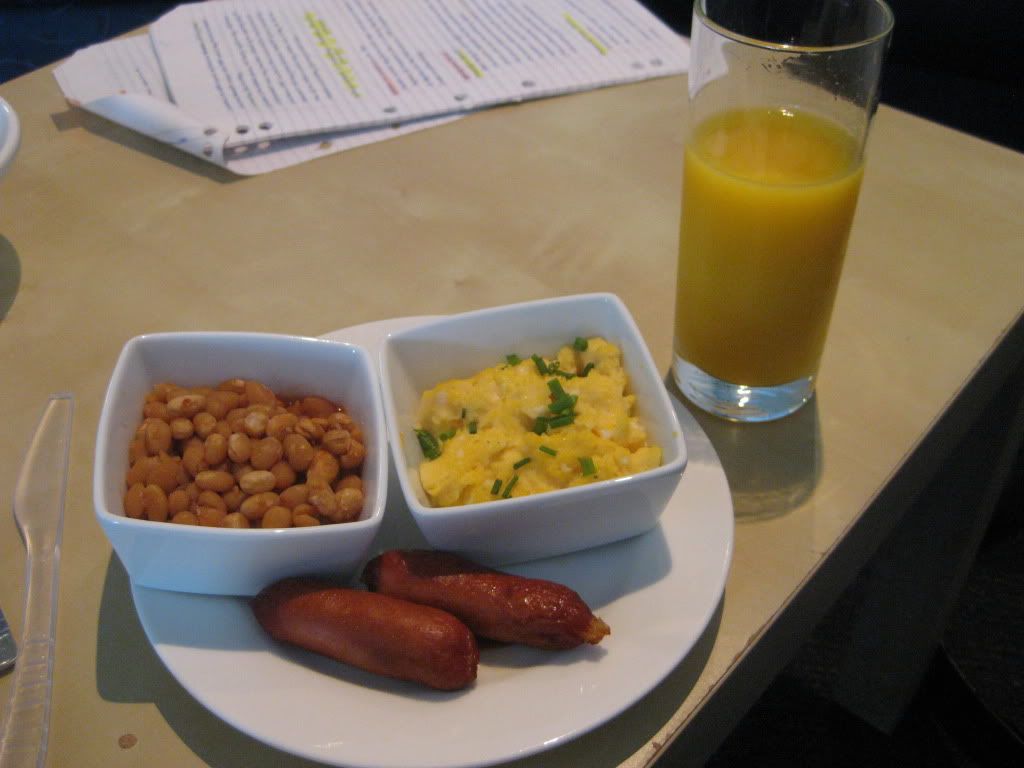 I couldn't resist trying the automatic pancake making machine. It was such a stupid looking thing perched proudly on the breakfast buffet. It was rather humorous watching businessmen in suits stand patiently waiting for their delicious treat to be spat out. Grrrrr, uuurrrrrm plop. They weren't nice.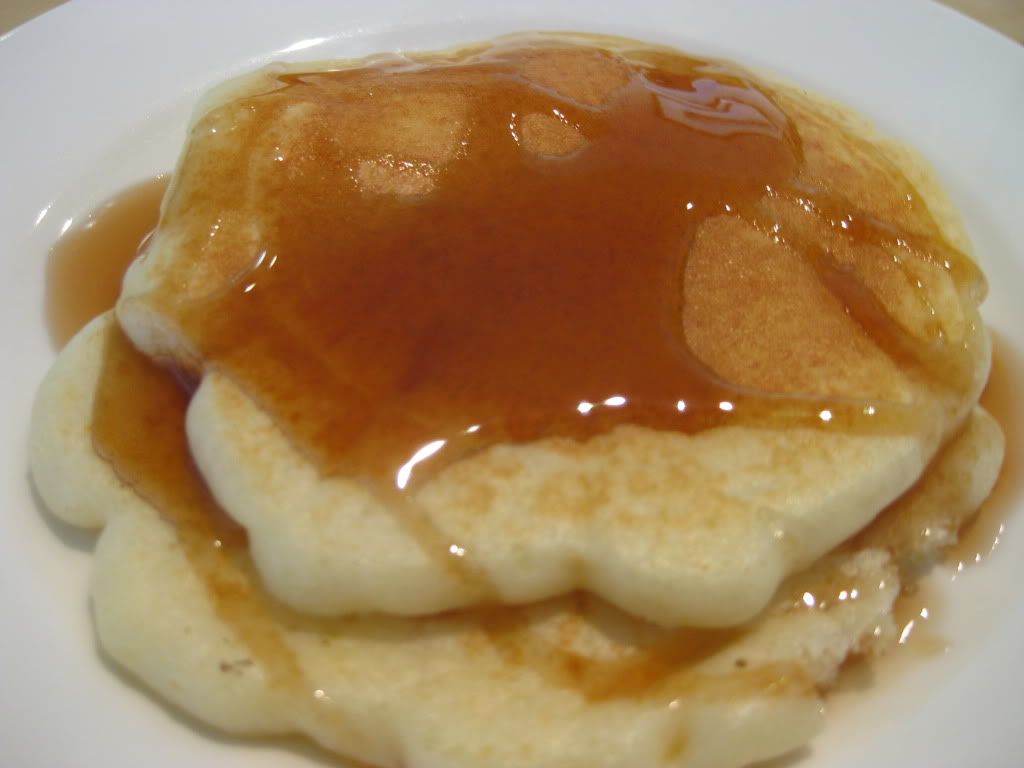 Then I had some sandwiches and savouries before exiting the lounge bound for my 772.
My plane: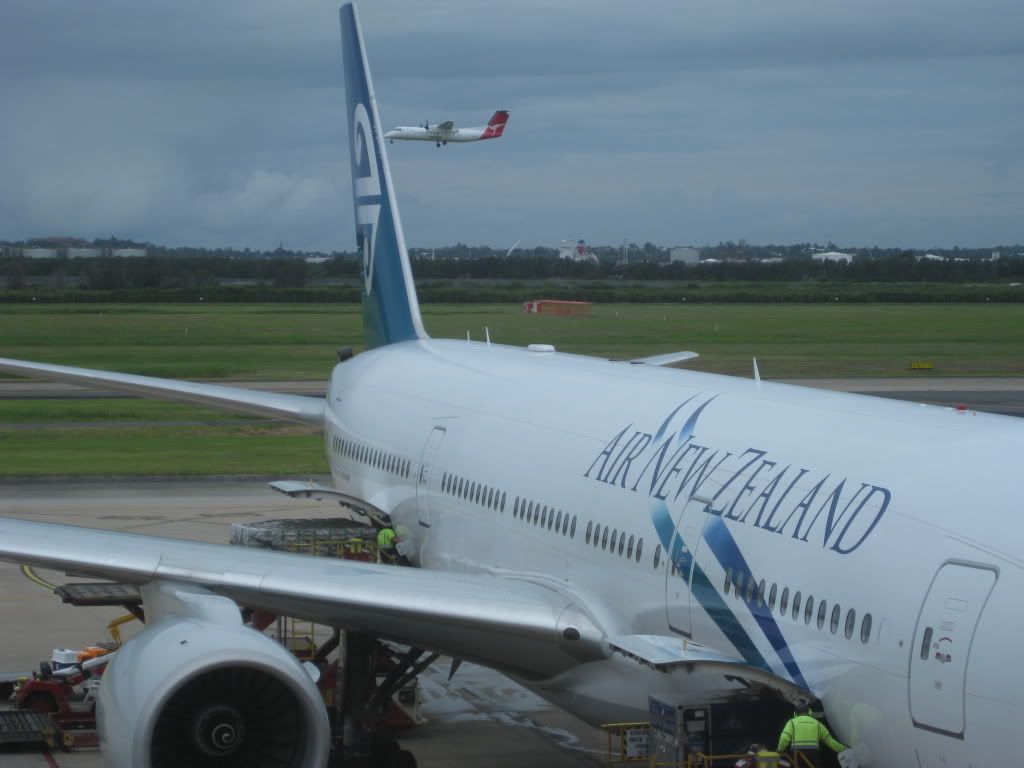 Loading my bag. On with it, I've got a schedule to keep!
I boarded when they called for J class, and cut the lengthy line forming of those travelling in Y.
Today's Line-up: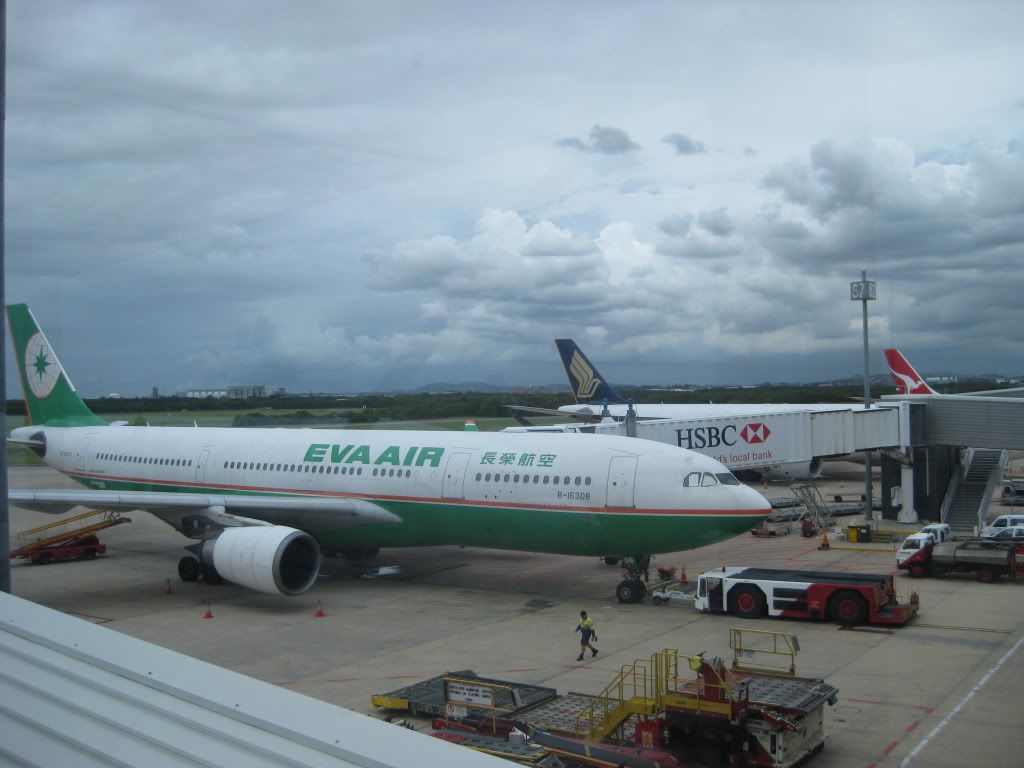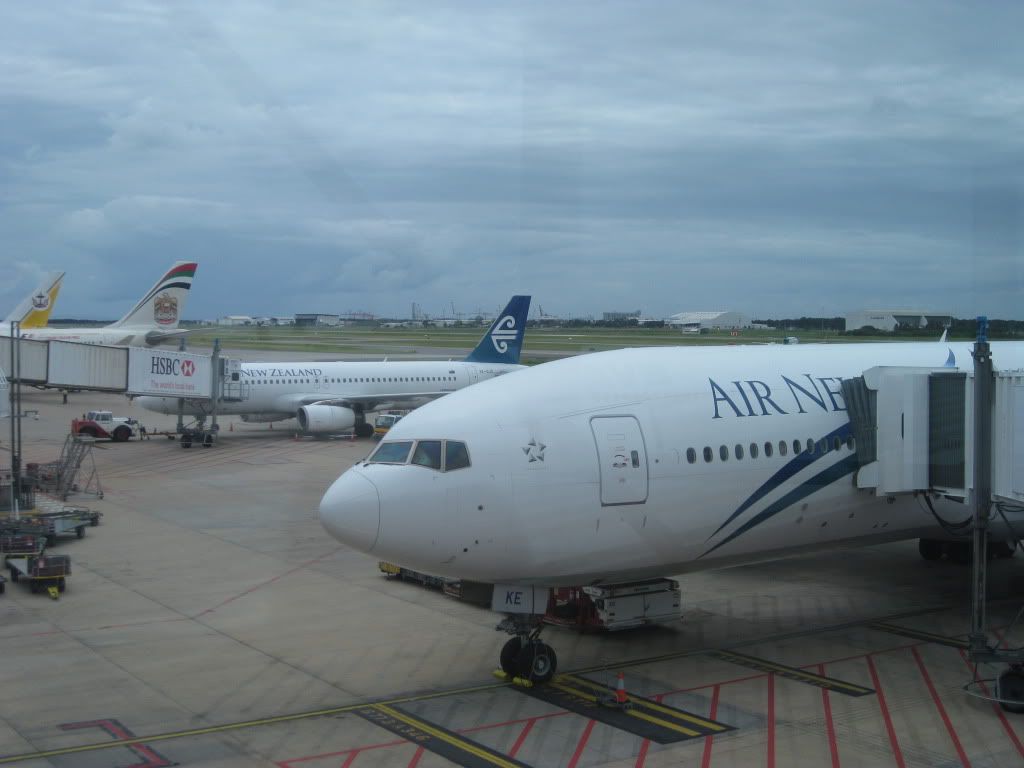 As I walked past premium economy I noticed that the seats had been recovered in a dark blue. The crew told me this is an interim measure, put in place until the aircraft are refitted with the new 77W cabins. The dark royal blue apparently features in the new Business Premier.
Recovered Y+ seats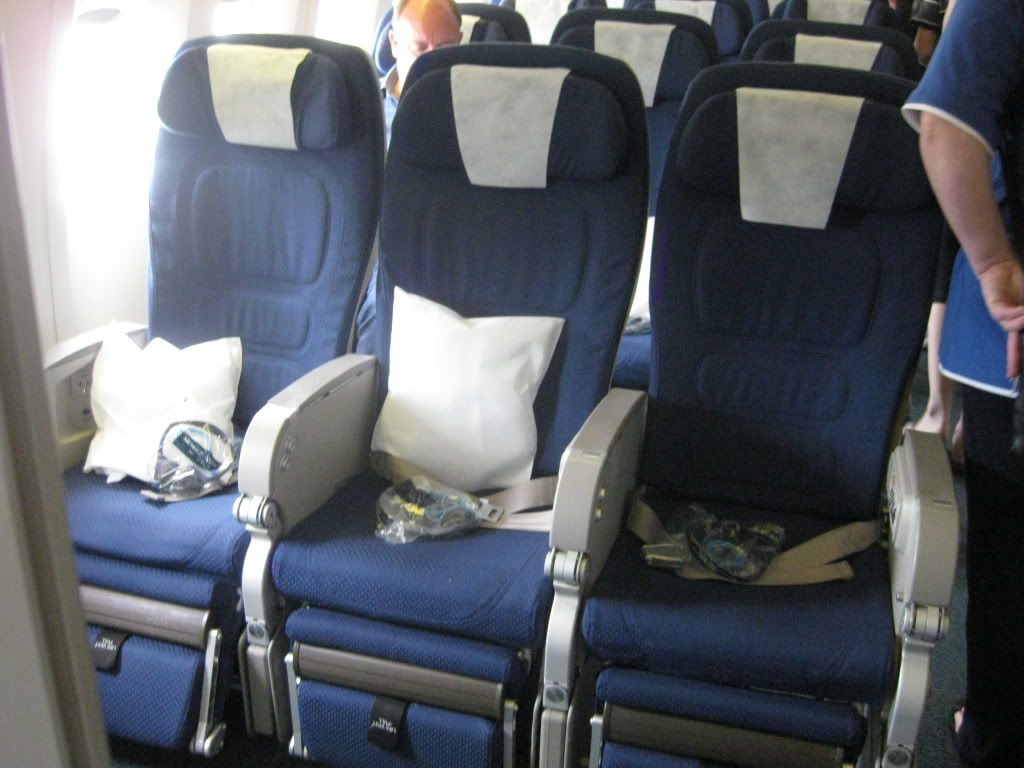 Seat 3K (taken after landing in AKL)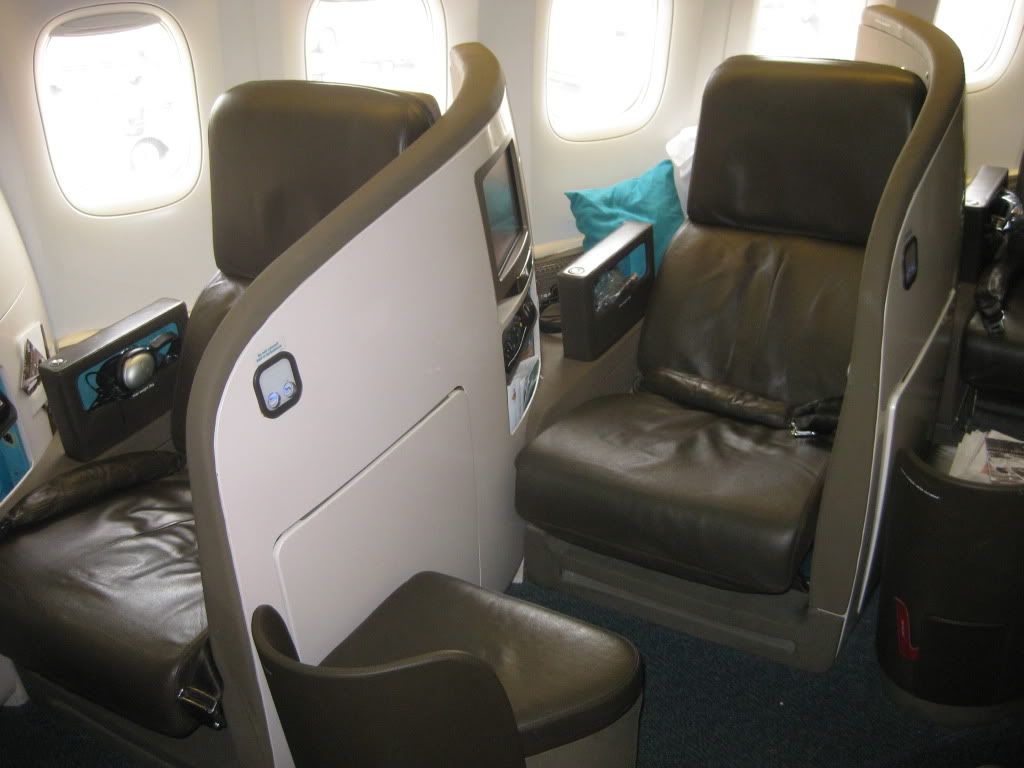 After sitting down, the crew came through and offered me Champagne, to which I corrected them, as they were actually serving sparkling wine! Nonetheless, it was a decent drop.
After sitting on the tarmac for a bit, we taxied out to the active runway for departure. Unfortunately, as is typically the case with trans-Tasman wide body services, the takeoff was somewhat de-rated due to the low weight.
Soon after a smooth takeoff the cabin crew proceeded with the meal service.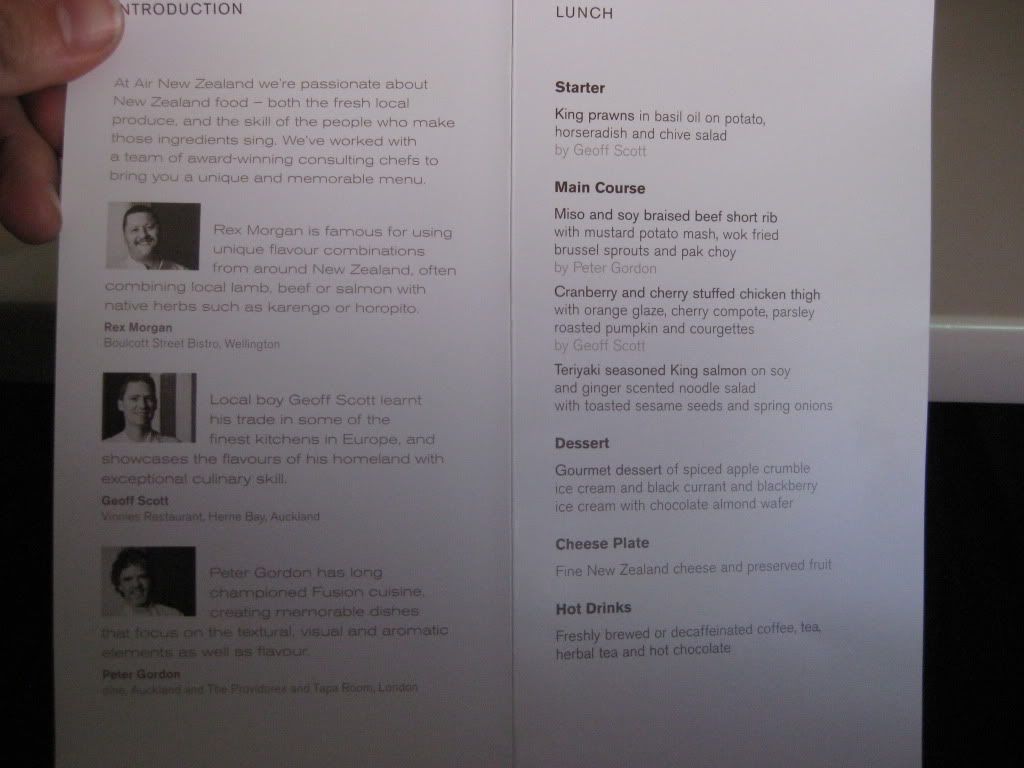 This was initiated with prawns. I was hoping for an Australian Shiraz (my favourite), but was disappointed to find no such wine on the wine list. However, the pinot noir I settled for was impressive and above expectations.
The prawns were first up,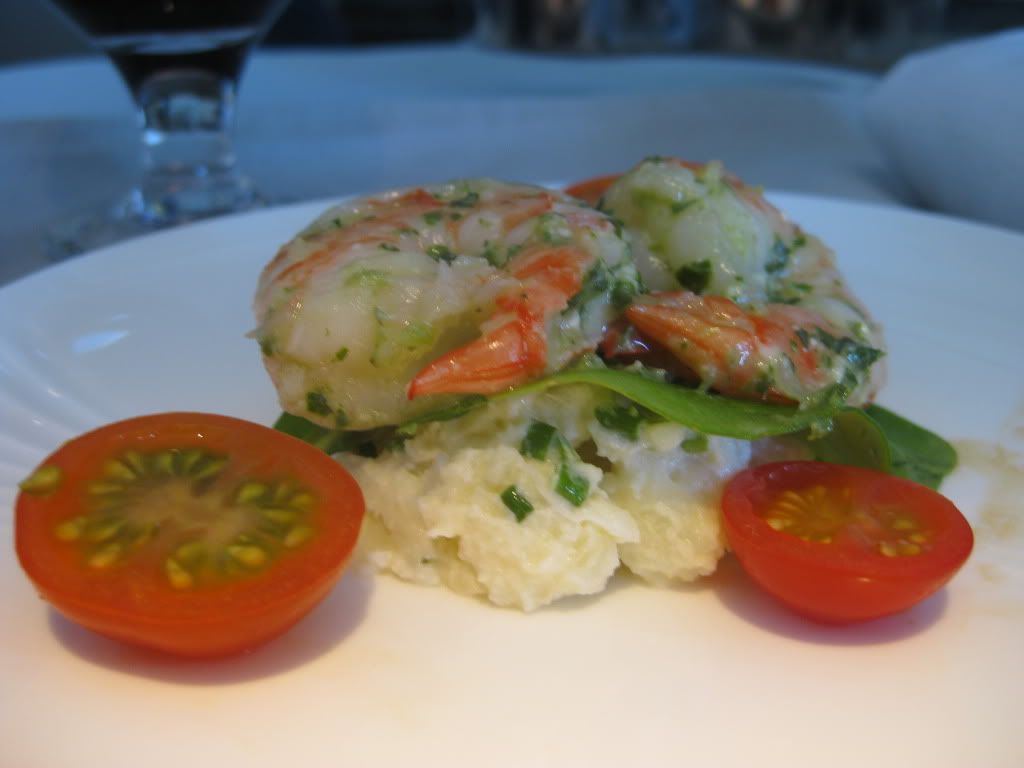 Served with a selection of breads: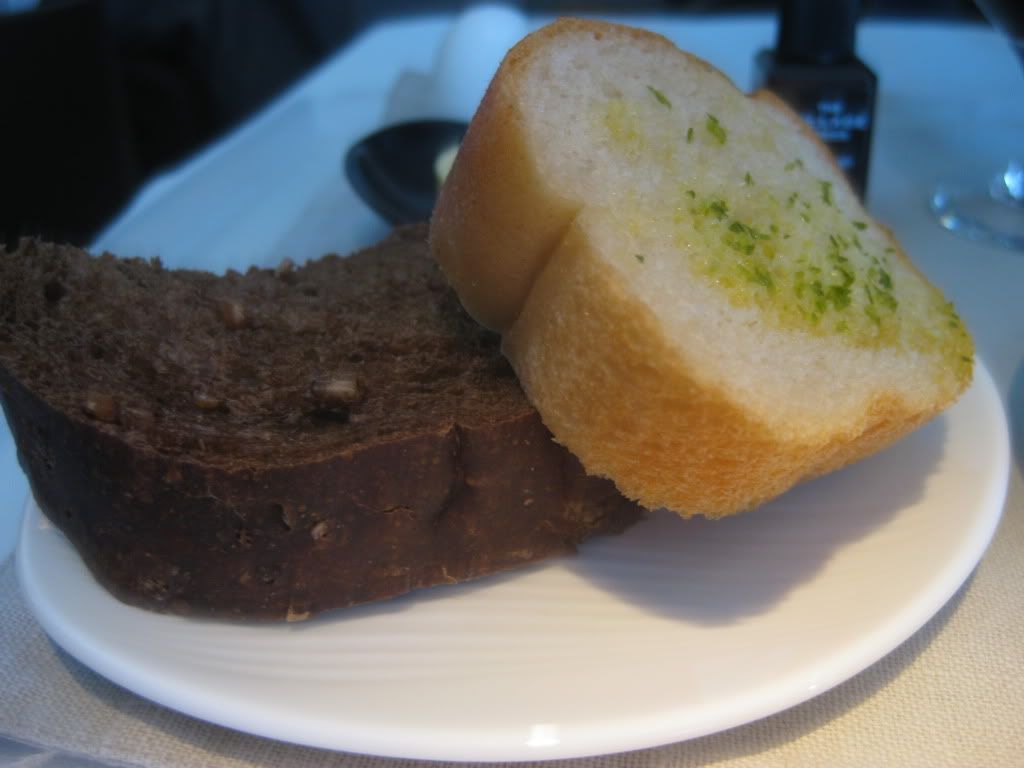 I opted for the Salmon as my main, favouring something lighter after my refreshments in the lounge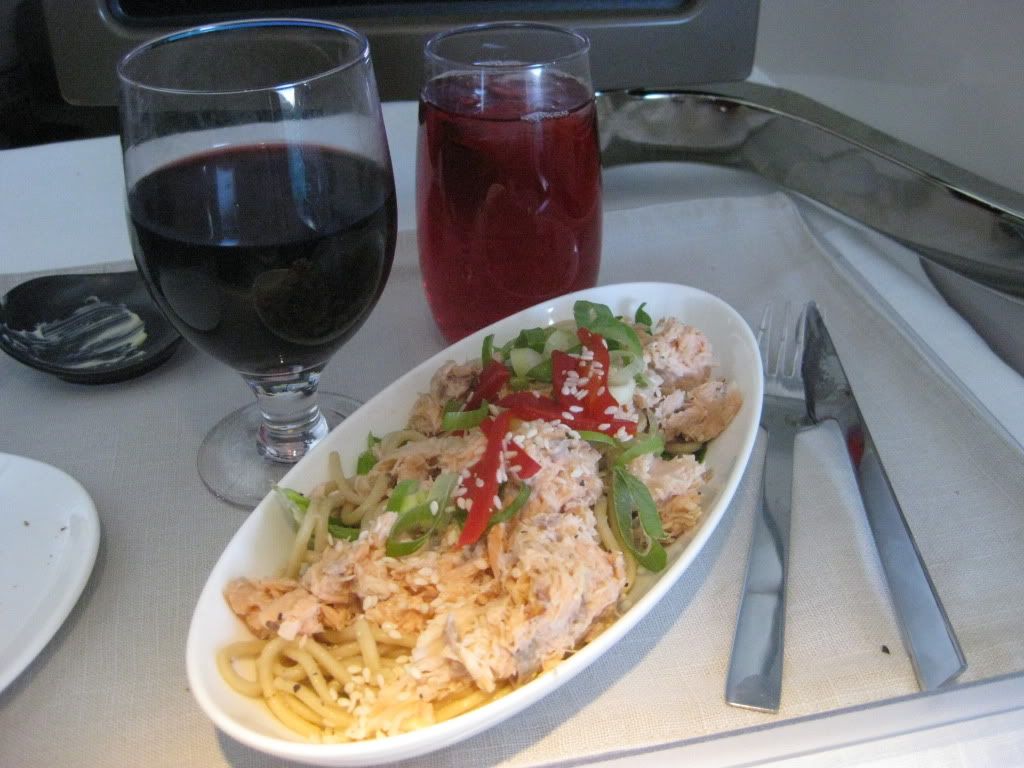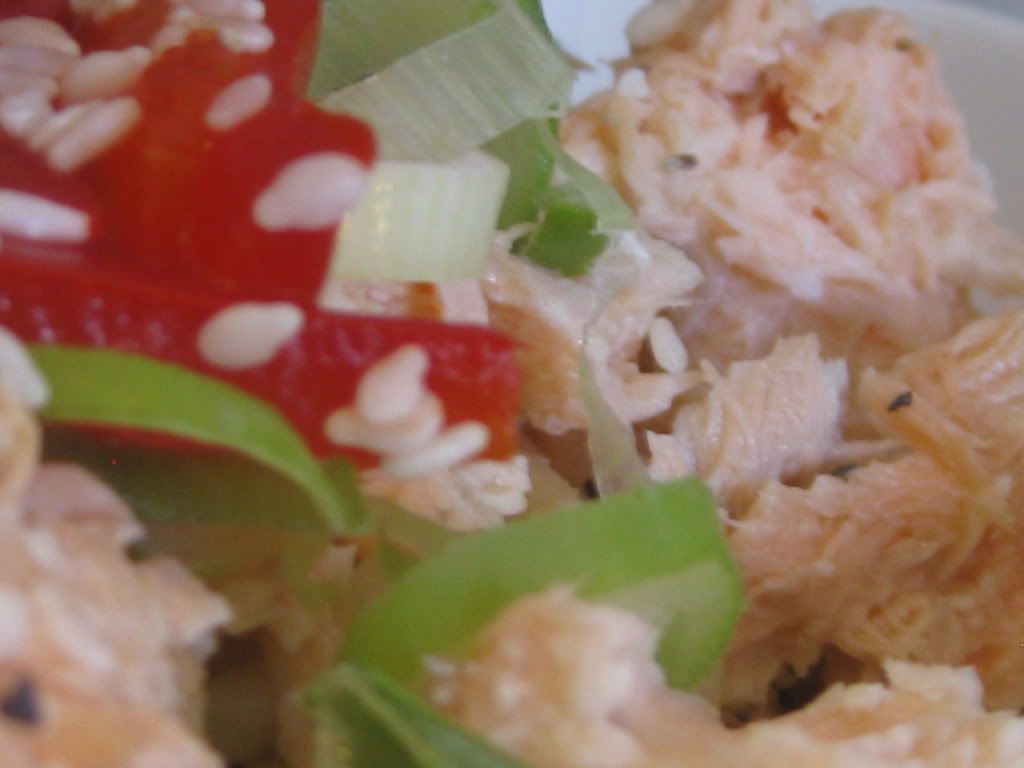 I finished up with ice cream and some dessert wine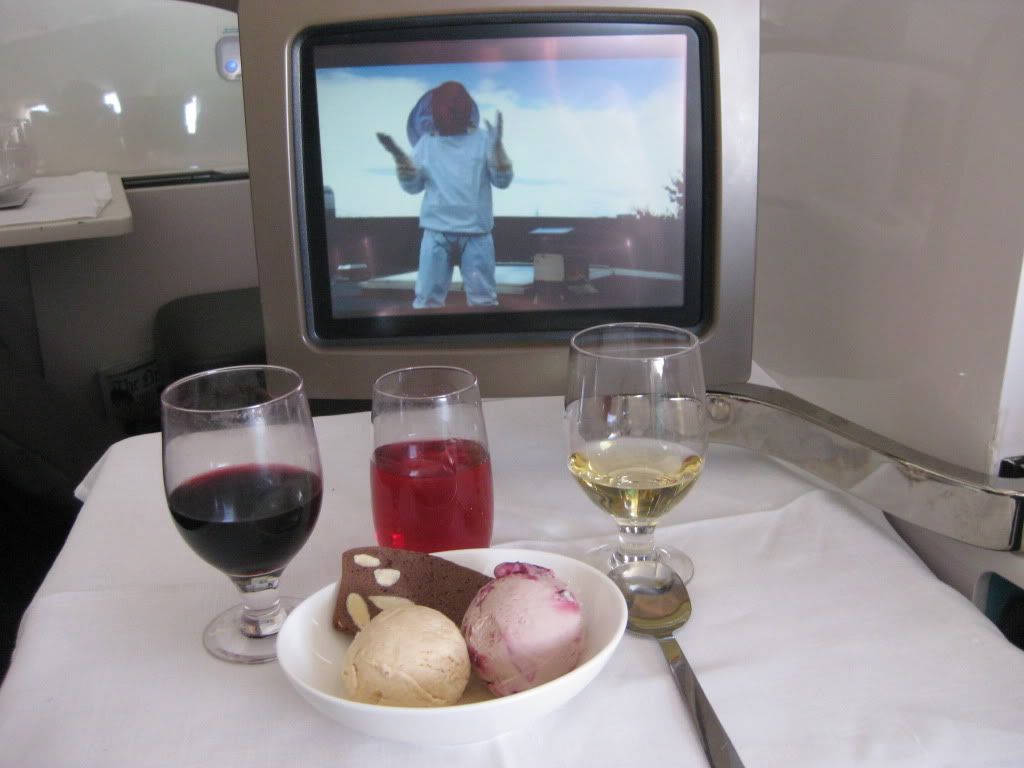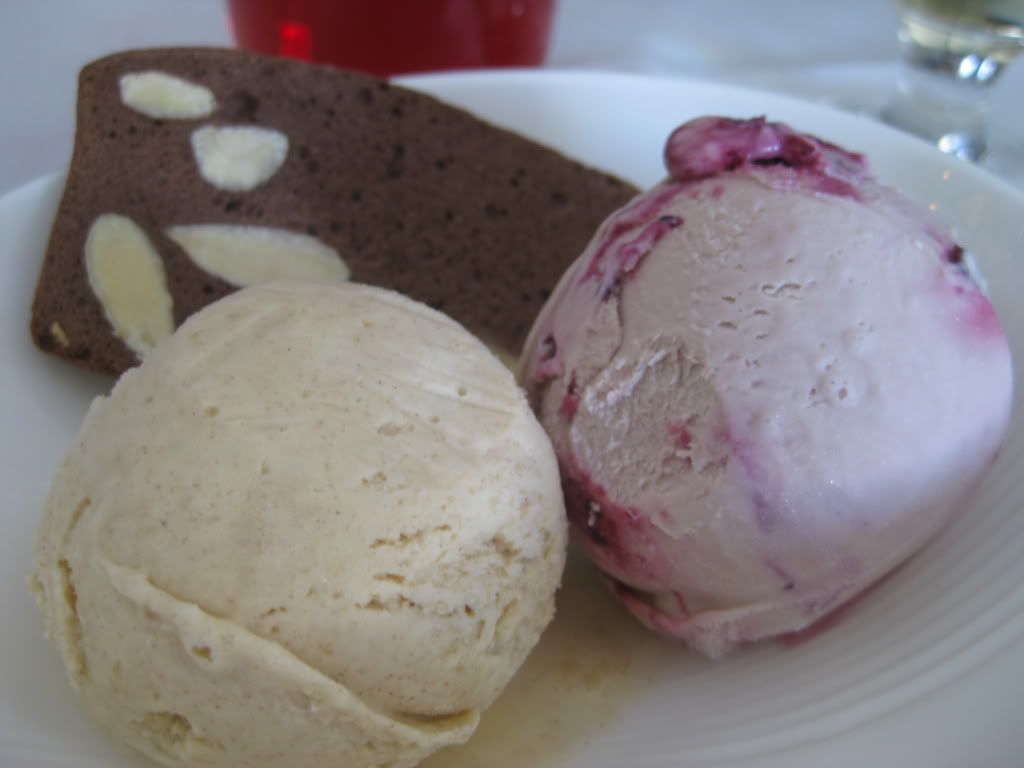 Then some cheese which was offered with port, but I decided to stick with my red.
I skipped the Tea/ Coffee round, knowing I would continue my dinning in the AKL domestic lounge prior to my connecting flight down to CHC.
Landing was smooth into AKL, and before I knew it I was on NZ soil.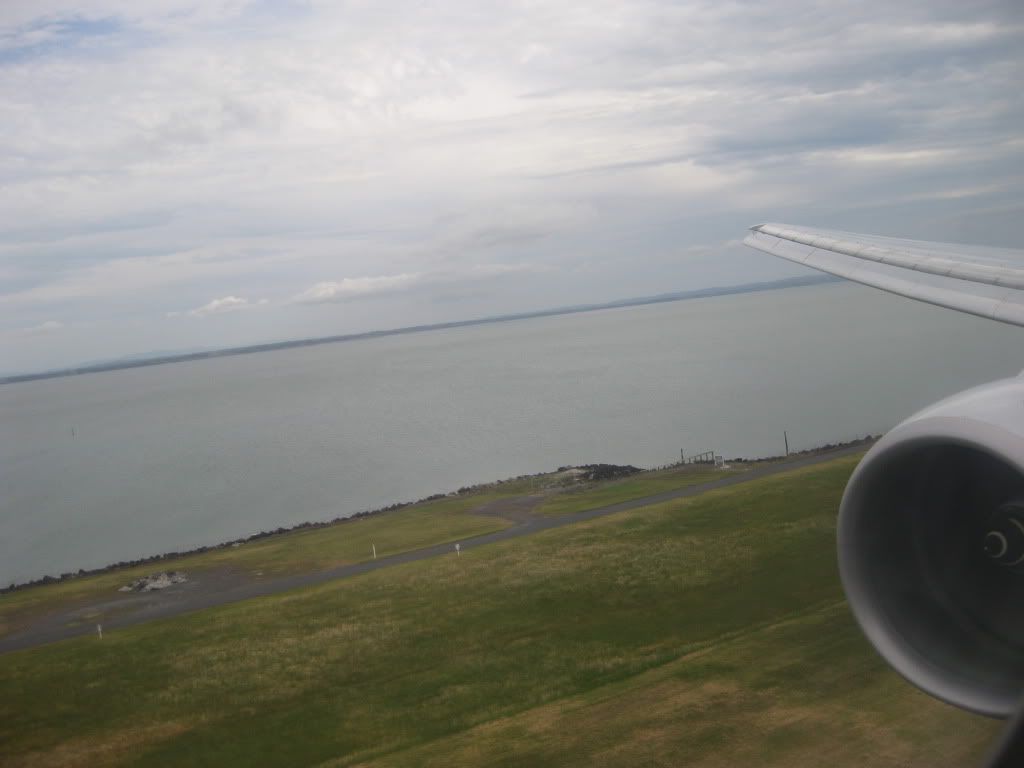 Below are some pictures I snapped later that evening prior to boarding my 733 flight to CHC from the AKL domestic terminal:
Overall, I enjoyed this flight and found the J service most sumptuous. I think NZ may have even improved the J class trans Tasman food offering as it seemed much better than my prior MEL-CHC and MEL-AKL J flights over the past couple of years. Overall, the J product is good value across the Tasman, and i will continue to use it when possible!
I hope you enjoyed this report, and I welcome any comments or questions you may have!
Thanks,
Timb777