Hello everybody!
I used to live for almost six years in the beautiful country of Costa Rica and I made maaaany wondeful friends over there. Last time I was there was two years ago, so it was about time to visit my friends and my favorite country in the world!
I am spending this years winters in Peru, so I checked the sites of Copa, Taca, Avianca and Lan for good deals. However, ticket prices from LIM to SJO were moving around 1000 USD. Terrible!!! It is about time form a low-cost to enter Latin America and help decrease those unhumane prices of Latin American airlines!
However, TACA came with a great sale, decreasing the prices of tickets by of 50%. So I quickly bought my ticket for 528 USD with taxes.
The direct TA flight LIM-SJO were more expensive. So I chose the cheaper fare with conections, which I didn´t minded at all. My routing was LIM-GYE-SJO for the outbound and SJO-SAL-LIM for the inbound.
03/01/2011
Lima, Peru to Guayaquil, Ecuador
TACA Airlines flight TA 138
Airbus A320
Scheduled Departure: 10:38am
Scheduled Arrival: 12:48
Flight time: 2hrs 10min
Gate: 20
Seat: 22F
I arrived at the airport around two hours before departure, because I pre-checked online the night before, which is very convenient. And it resulted to be even more convenient than I thought. The line for the TA flights was huuuuuuge! However, I saw the last counter said "Pre-checked passangers" so I went there and there was nobody! I got my boarding pass and checked my bag in two minutes! Excelent!
Security was a breeze, however, paying the airport tax was a pain, since the line was soooooo long
Once in the transit area, I started to look around shops and did some spotting, even though LIM is not the best airport for terminal spotting, since there is a double window which makes it much harder to snap good pictures, so I apolozige beforehand for the lower-quality pictures.
TA bound for CCS: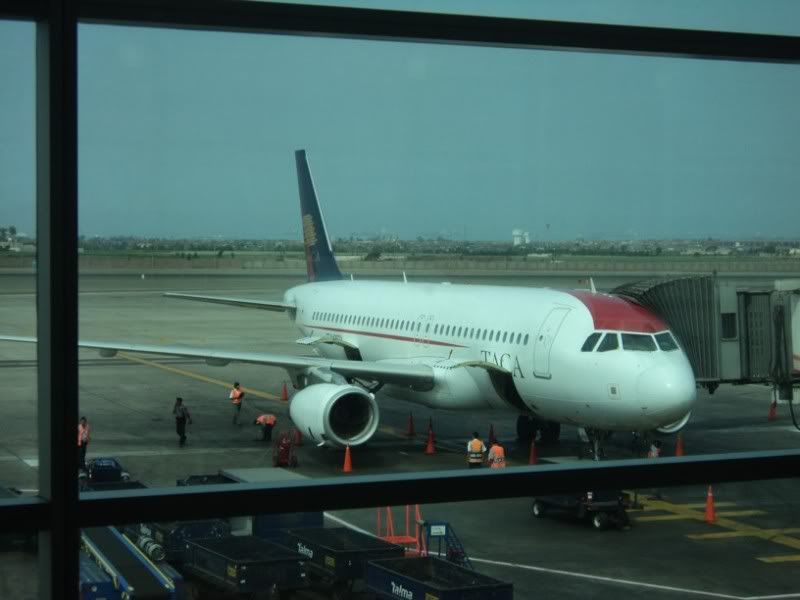 Departures that day: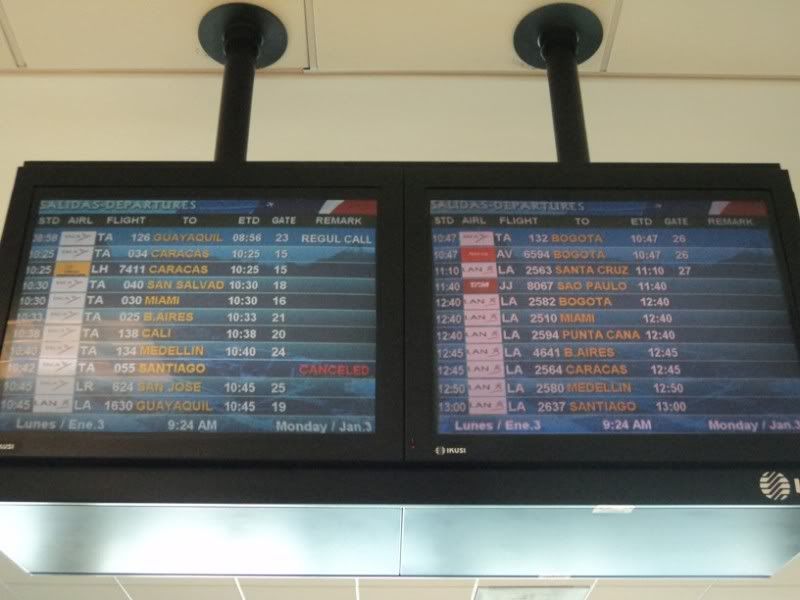 Airport Cafe Britt shop: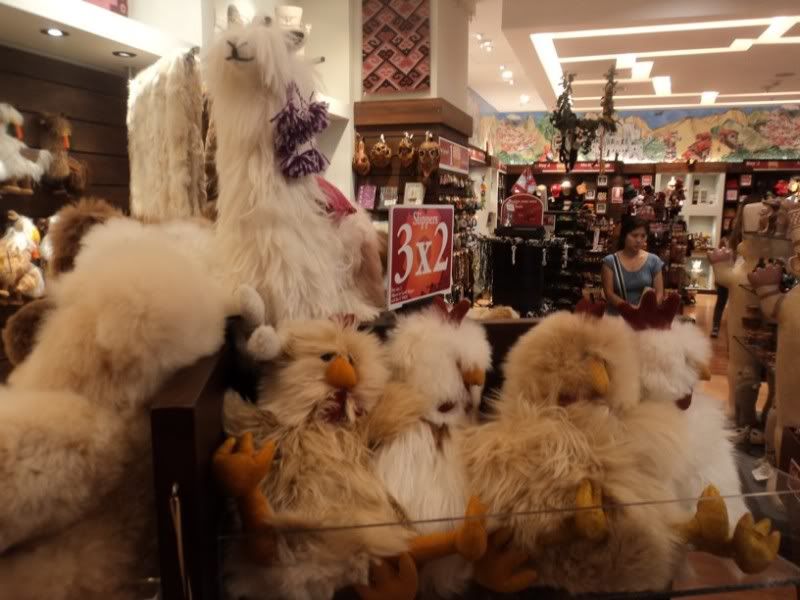 Note the nice local Christmas decorations on the tree: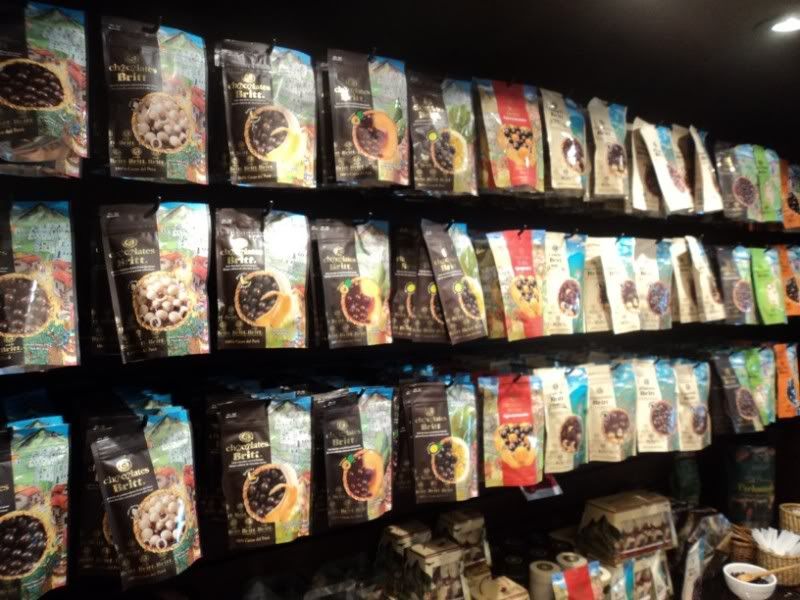 Amongst the more interesting traffic at LIM that morning was an A340 of IB:
And a LAN 767: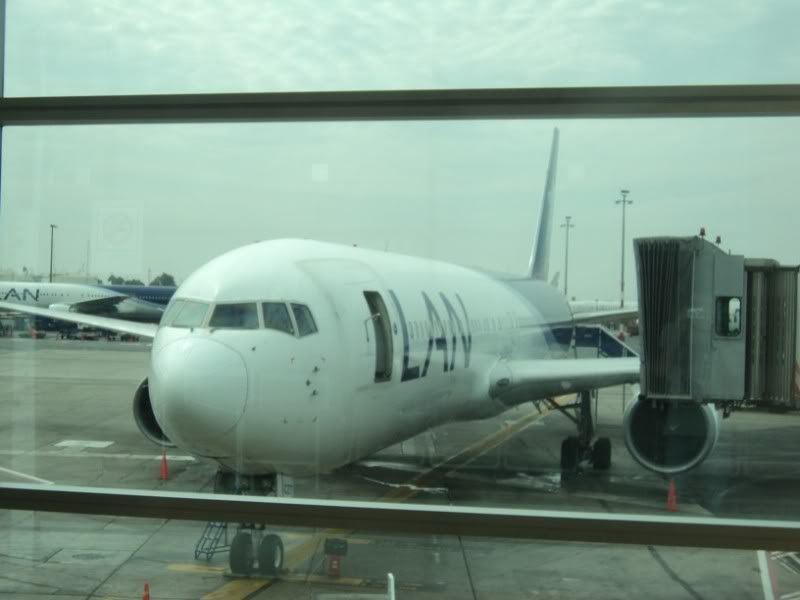 Lima airport is very modern and spacy, love it: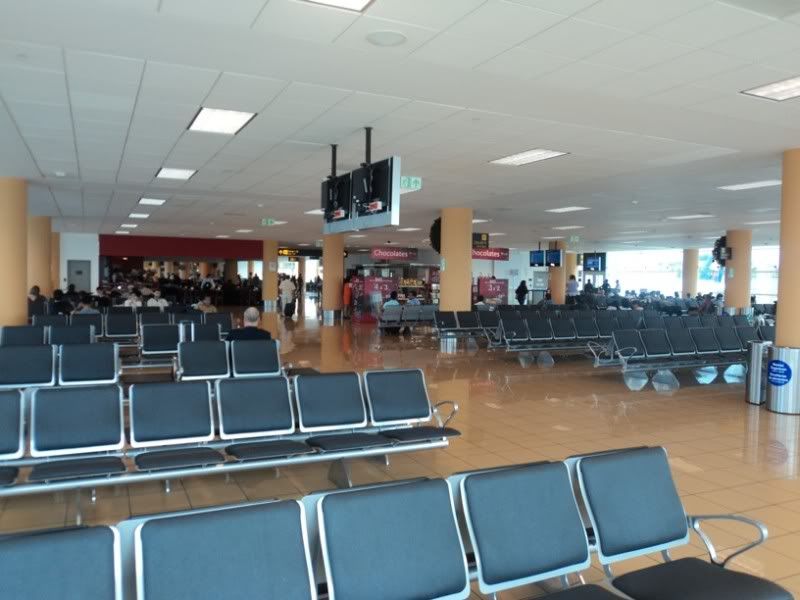 Around 9:40am the boarding for my flight started, then I learned that my flight continued after GYE to MDE, which was fairly interesting. Later, when dissembarking in GYE, I noticed only about 15 people stayed in the plane to fly to MDE, the rest deplaned in GYE.
Boarding was standart, first were invited C-class passangers, then Elite members, later families with kids and people who needed help and later Y-class boarding started from back to forth of the plane. I was almos the first to board the plane in Y-class, since my seat was the first category to board.
I was welcomed by a very friendly crew and sat at 22F. The seat is rather confortable, it was a Recaro seat with no seat pocket and looooooots of legroom!!
Seat:
Knee picture: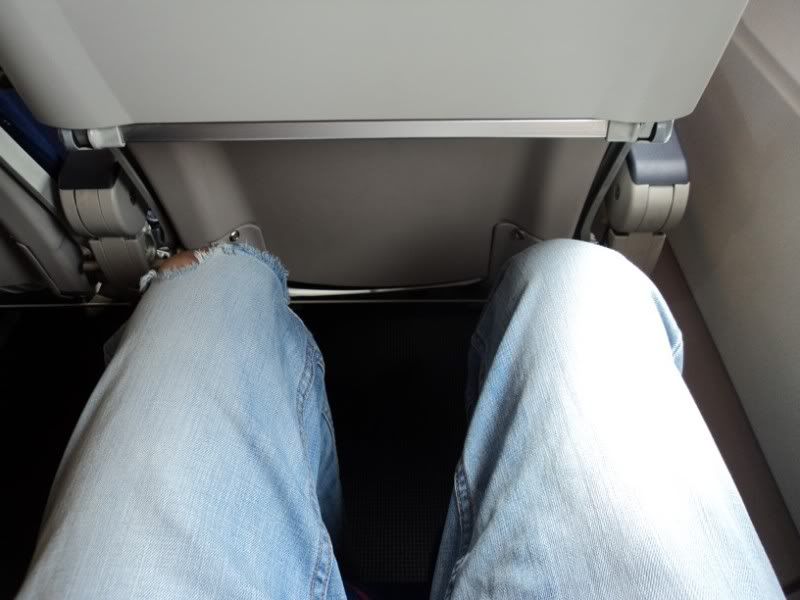 View out of my seat, next to us a TA bound for EZE:
Soon, all pax were on board and we pushed back on time and after the safety demo was played in the TV´s, we headed to the runway and took off from Lima.
IB A340: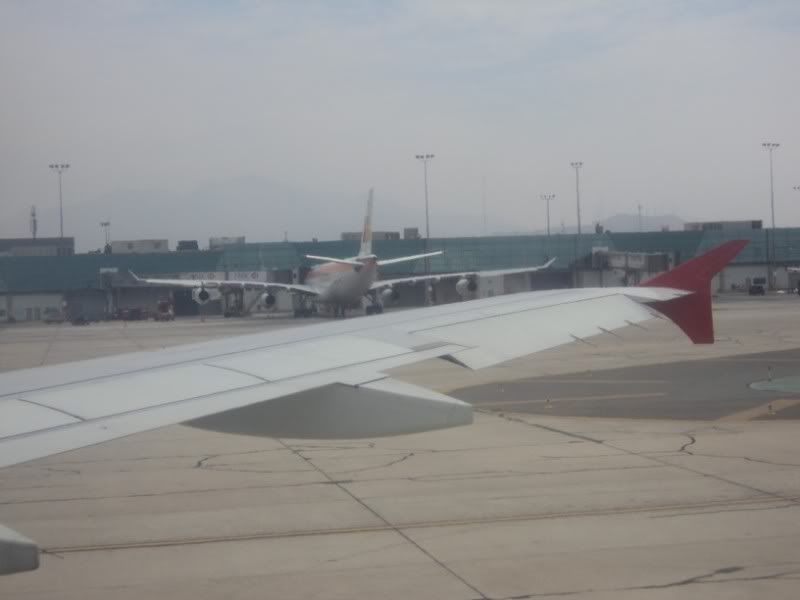 Peruvian Airlines 732, very interesting!!!!
Lan landing: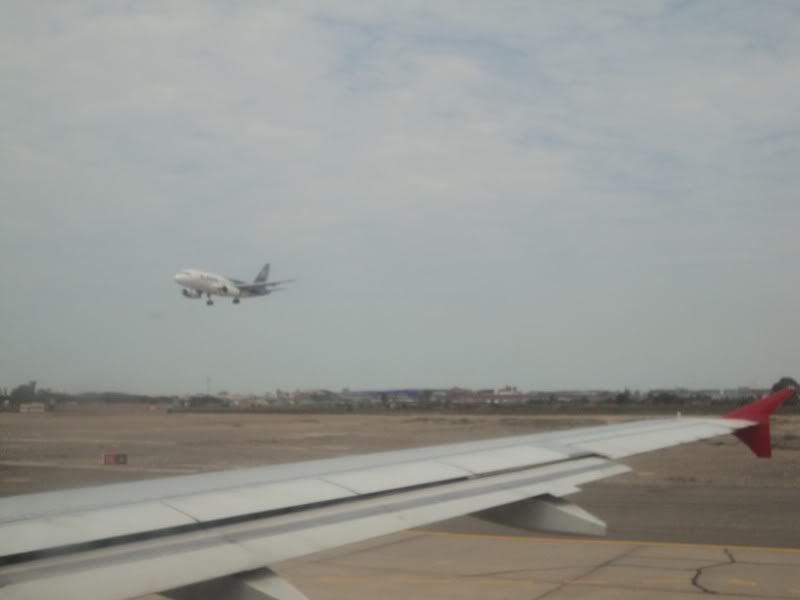 Take off: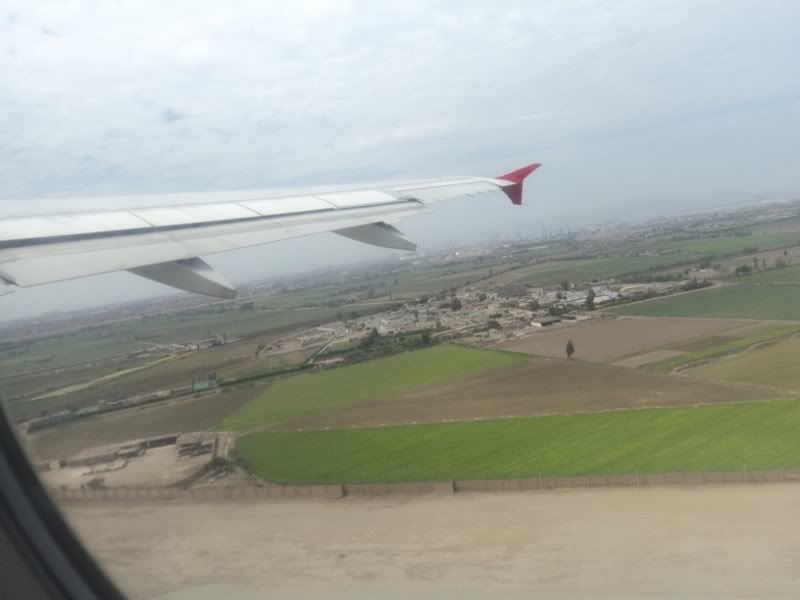 Lima from the air: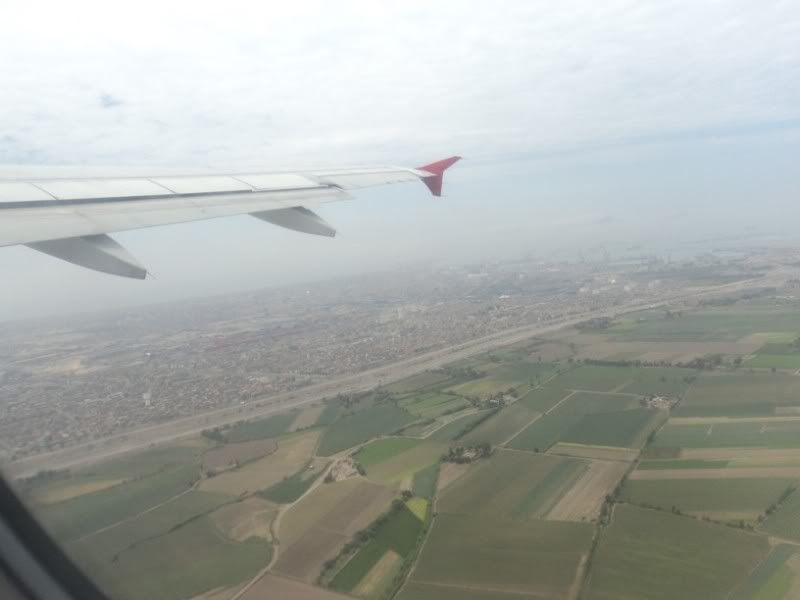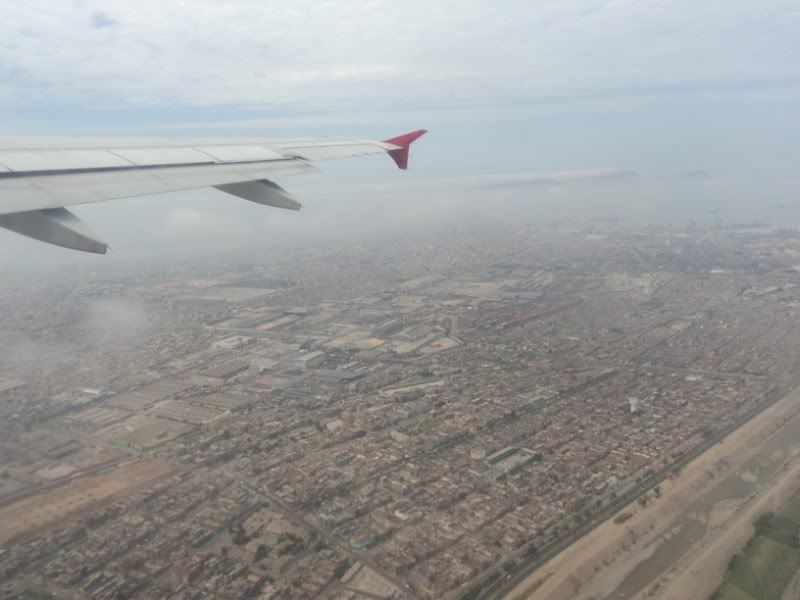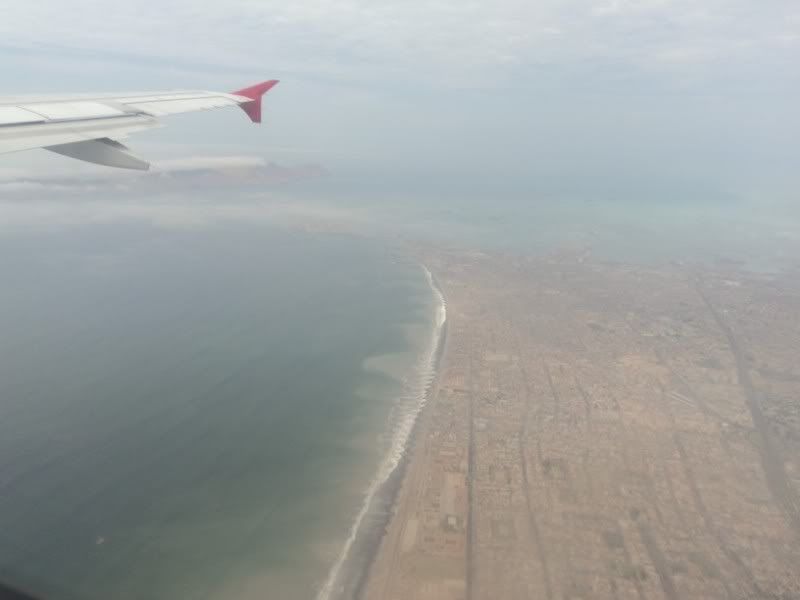 After takeoff, services started, with a meal service and a drink round.
Crew performing service: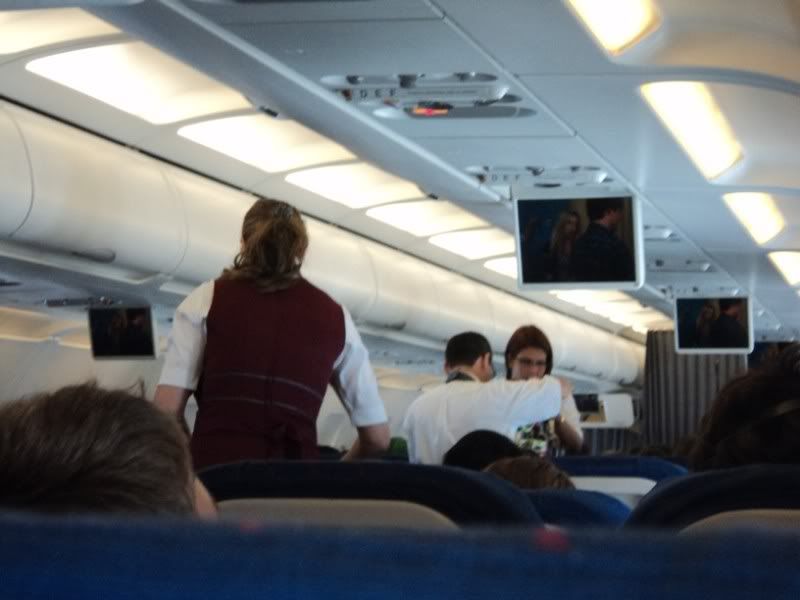 When flying from LIM to the north, ALWAYS choose the F window seat, because you get a beautiful view of the Andes cordillera! Today, it was kind of cloudy, but still, the views were spectacular!!!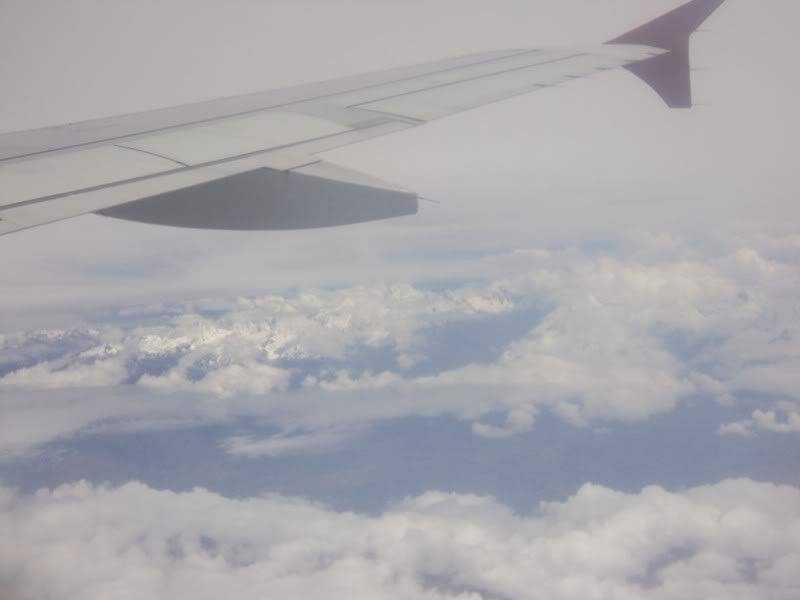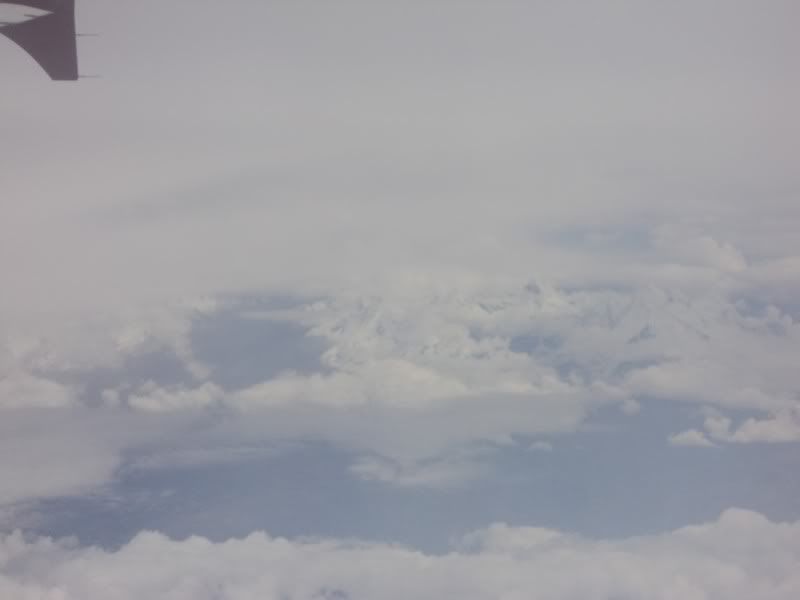 The meal was served, it consisted of an empanada and a salad: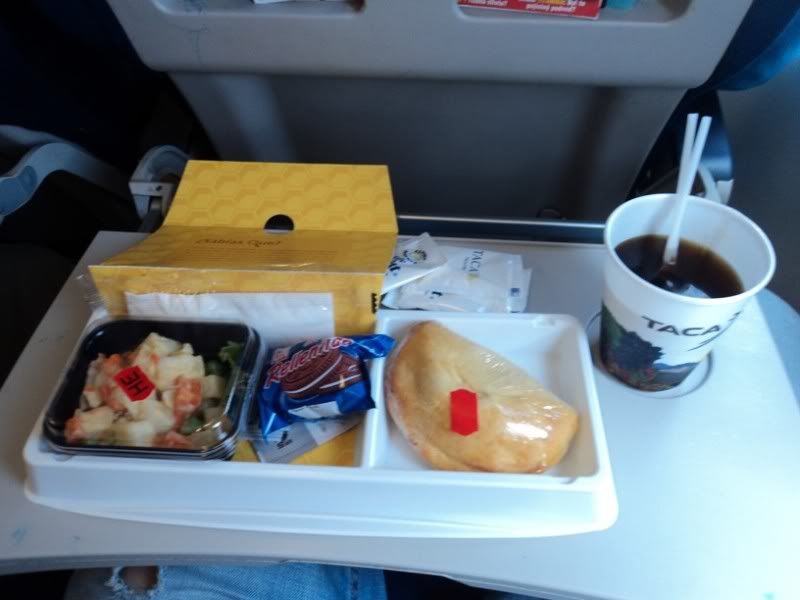 Very nice presentation: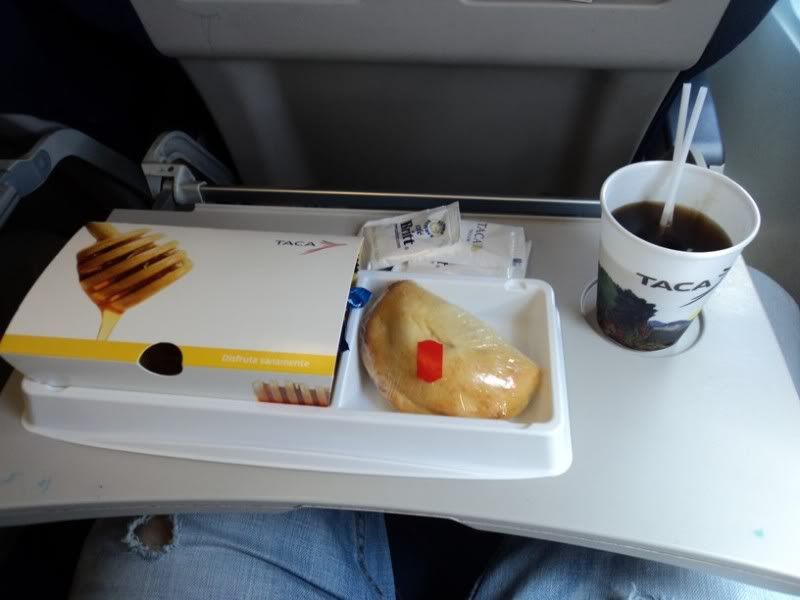 The meals was tasty and very nice, taking into account the flight is only 2hrs long. On a similar flight I did with Czech Airlines in November from PRG to TLL (the flight is 2hrs) we got only one little sandwich in no box and with nothing else. Way to go TACA!!
The IFE consisted of two episodes of 90210, unfortunately, no airshow today
Before landing, the crew perfomed a duty free round which took them forever, because people were buying like crazy! I have never seen some many people buying on board! The crew didn´t even finish going through the cabin with the duty free, because the plane was already landing! Interesting to see this AFTER Christmas...
Very nice views when landing in GYE: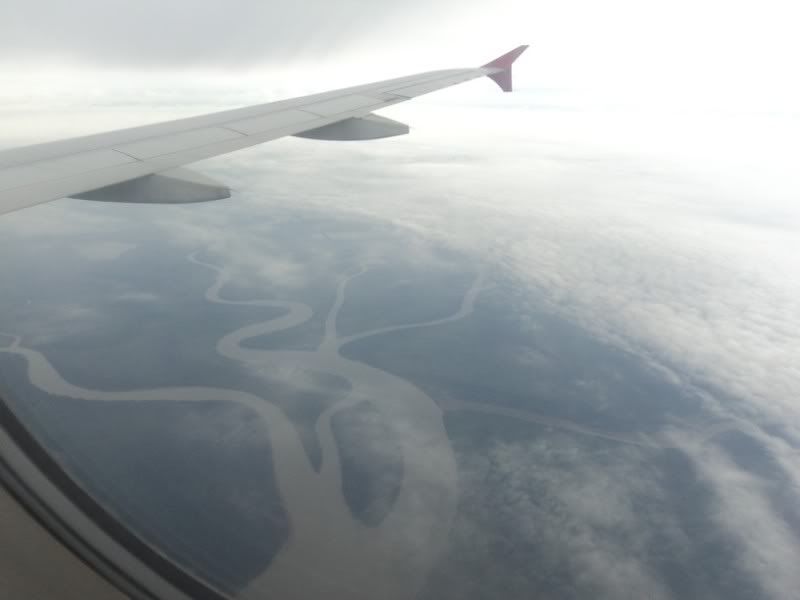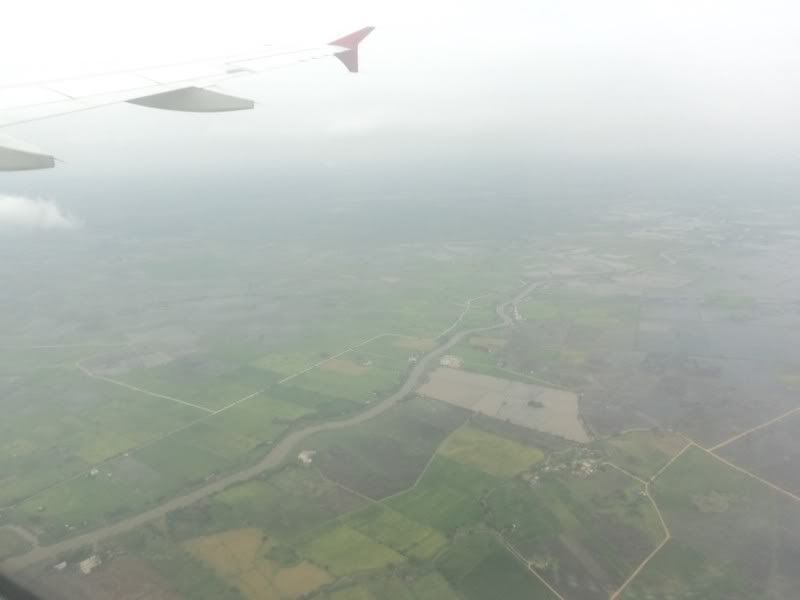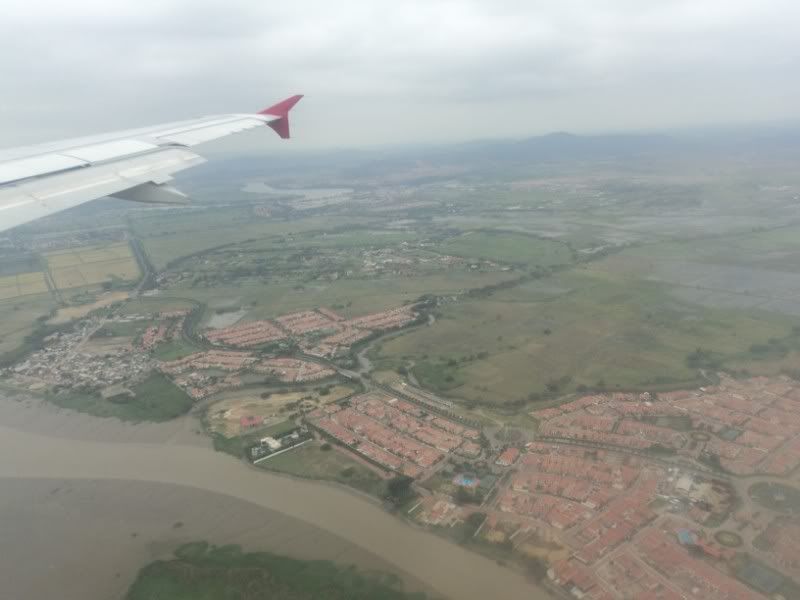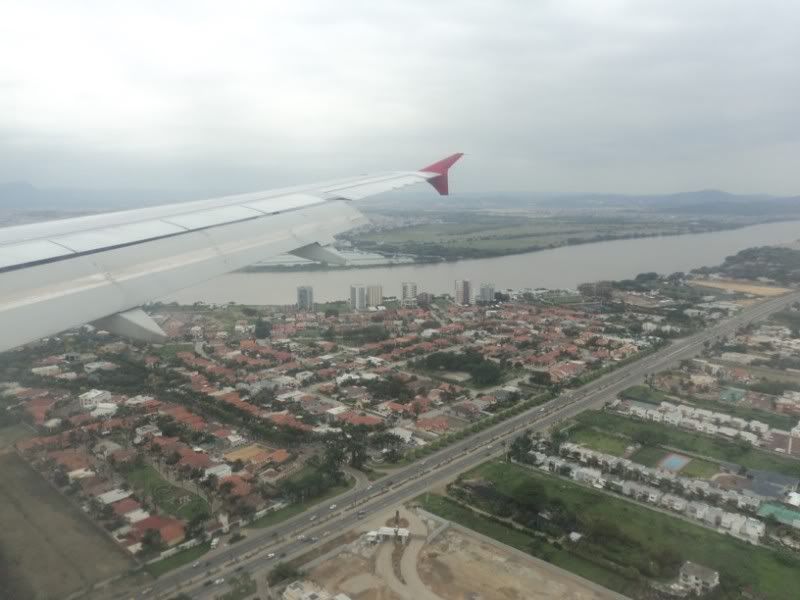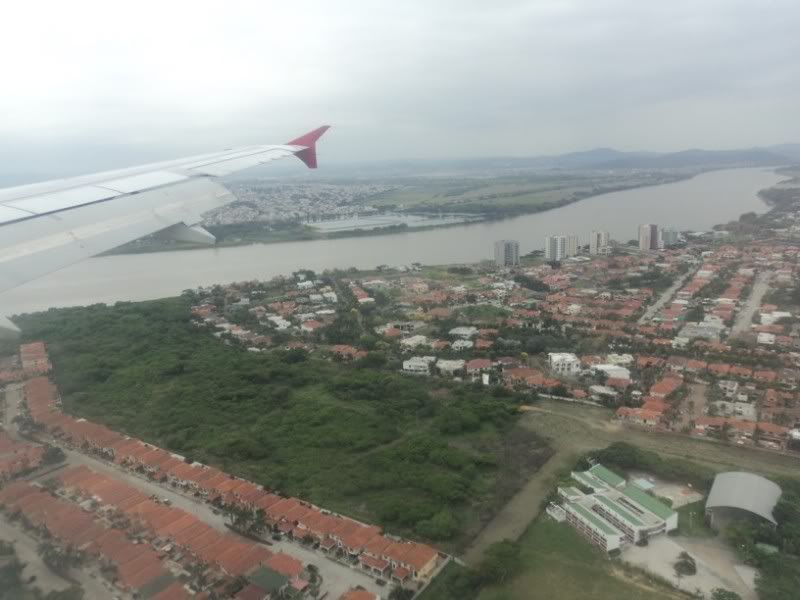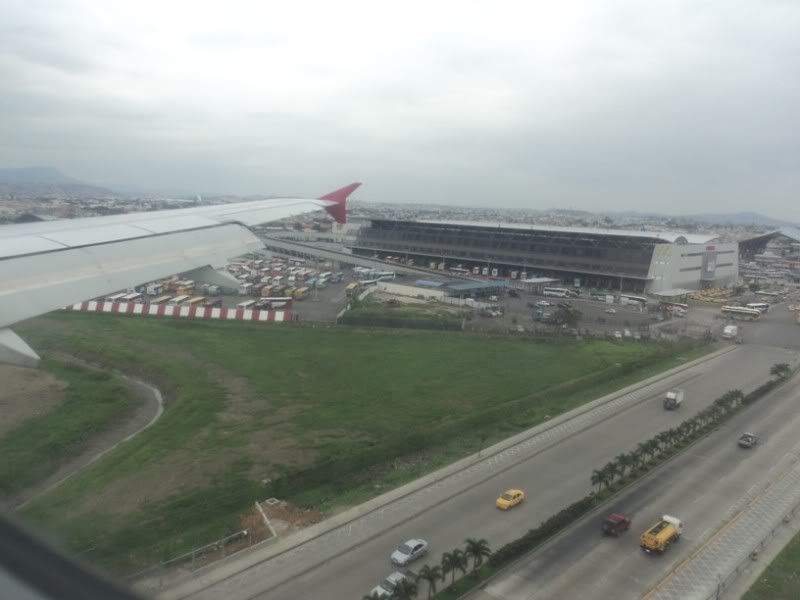 We landed on time and dissembarked. As I as before, most of the people left the plane in GYE, only a few continued to MDE.
Our plane at GYE:
Guayaquil is a smaller airport than Lima, but very spacy, modern and nice, with free wi-fi and nice view of the terminal. I bought a bag od Ecuadorian coffee and cocoa and observed the traffic. I had about 2hrs to spare before my flight to San Jose.
GYE terminal: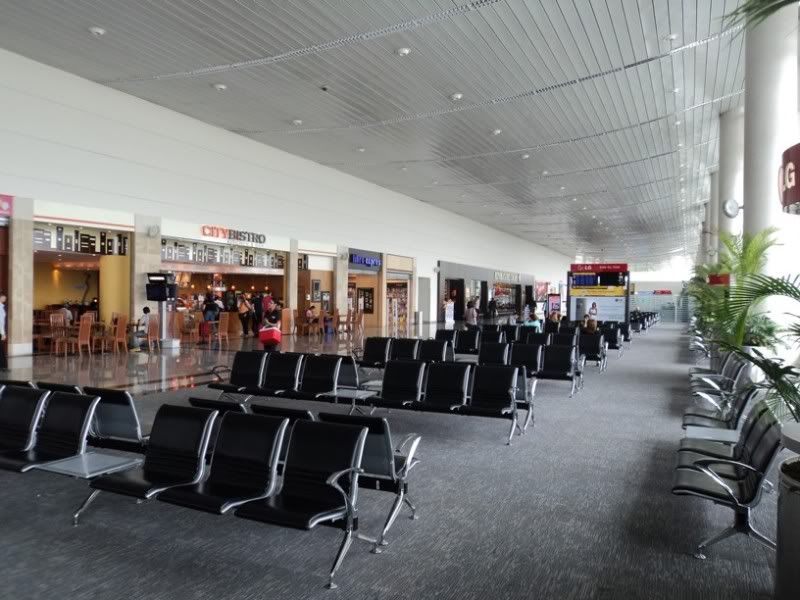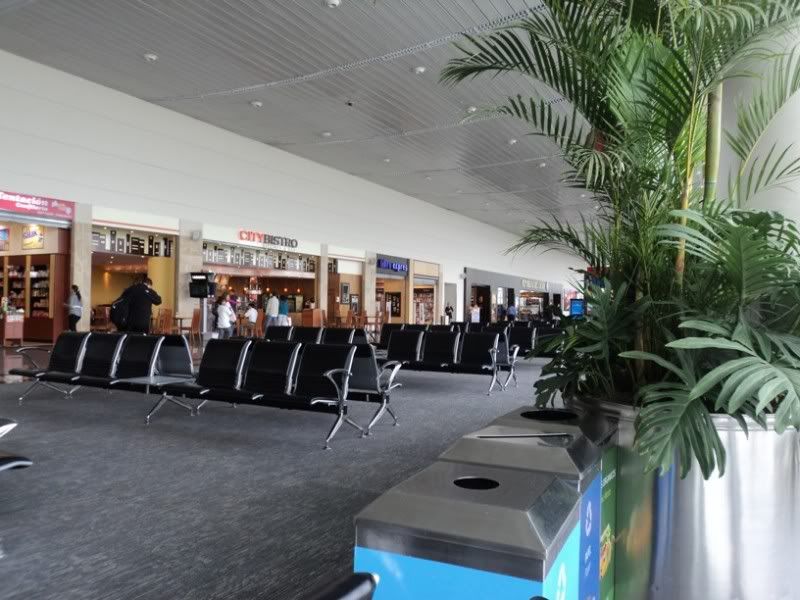 Shops: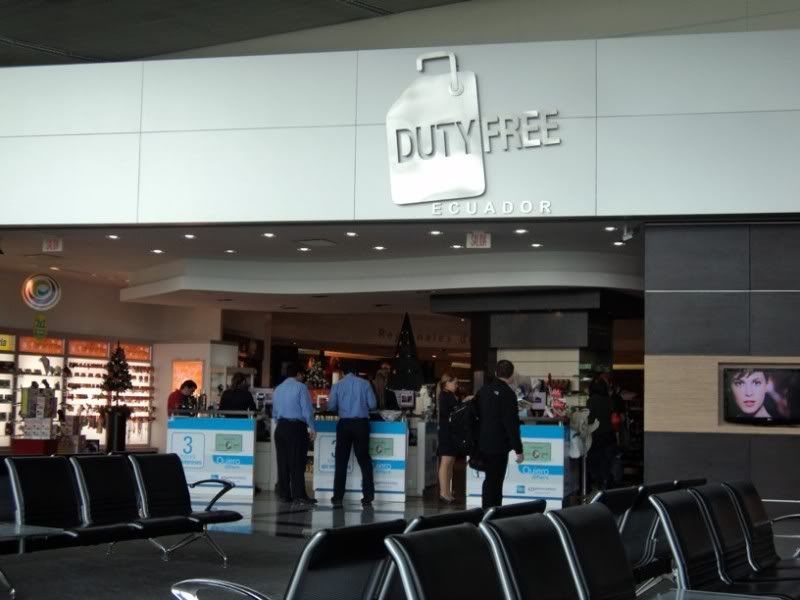 Interesting traffic today at GYE.
AeroGal 757: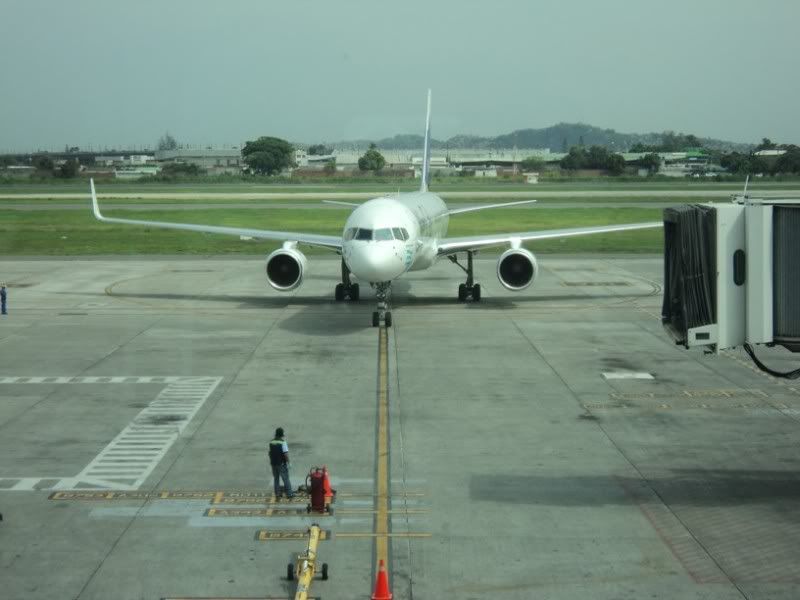 AeroGal 767 bound to JFK: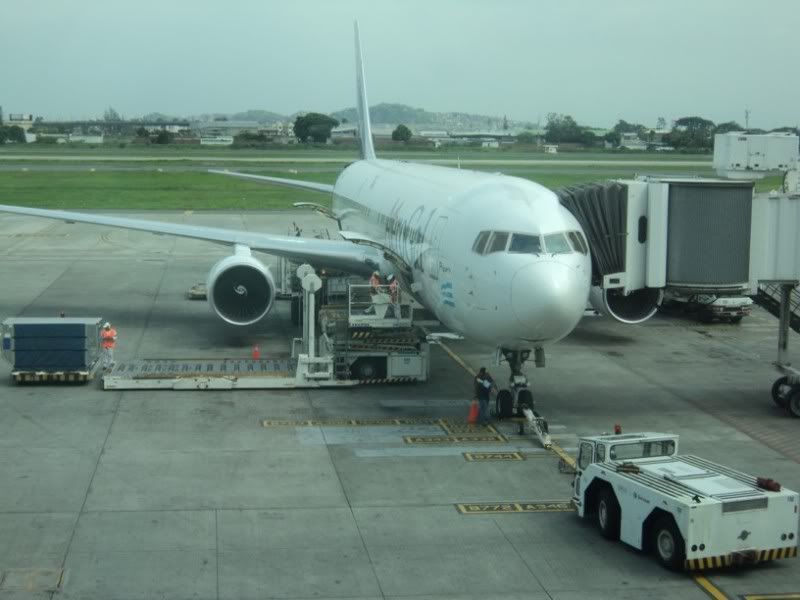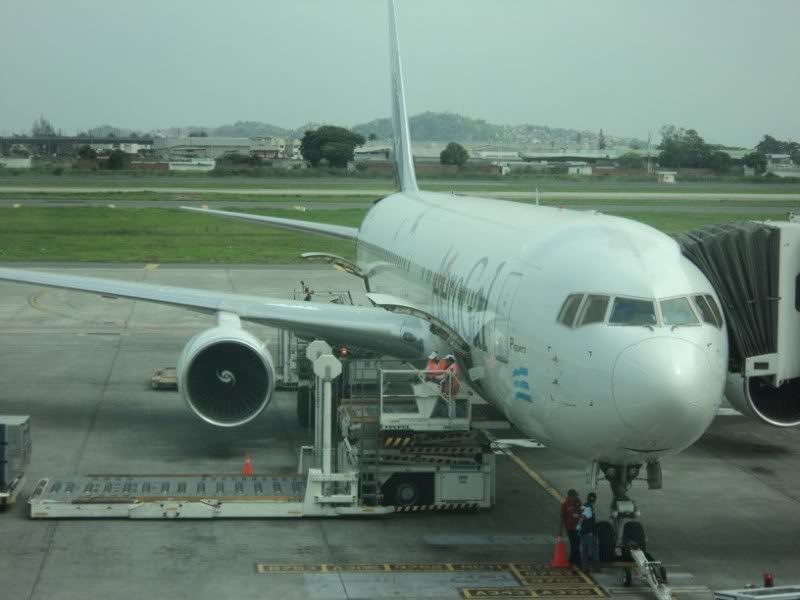 Tame Embraer: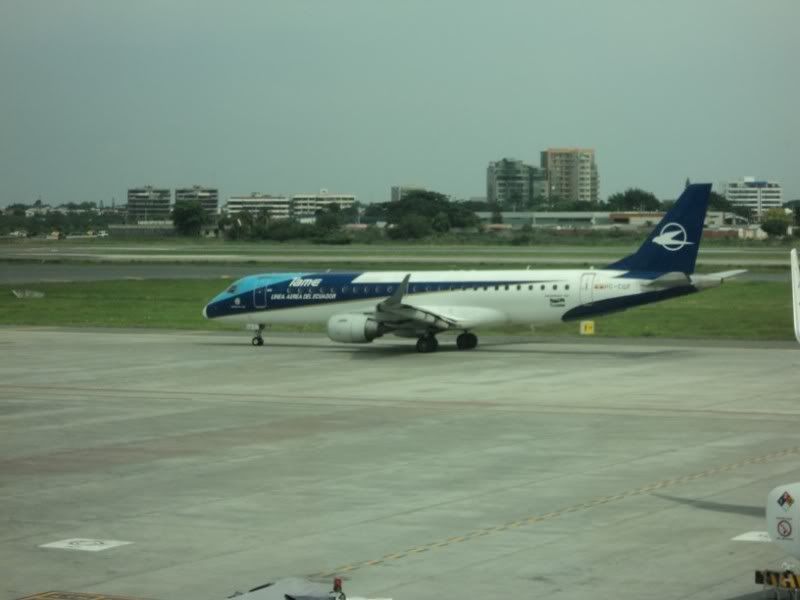 Copa arriving from PTY:
LAN 767 with winglets departing for JFK, the AeroGal 767 will follow him soon and a LAN A319 just landing:
My bird just arrived from UIO and will continue to San Jose: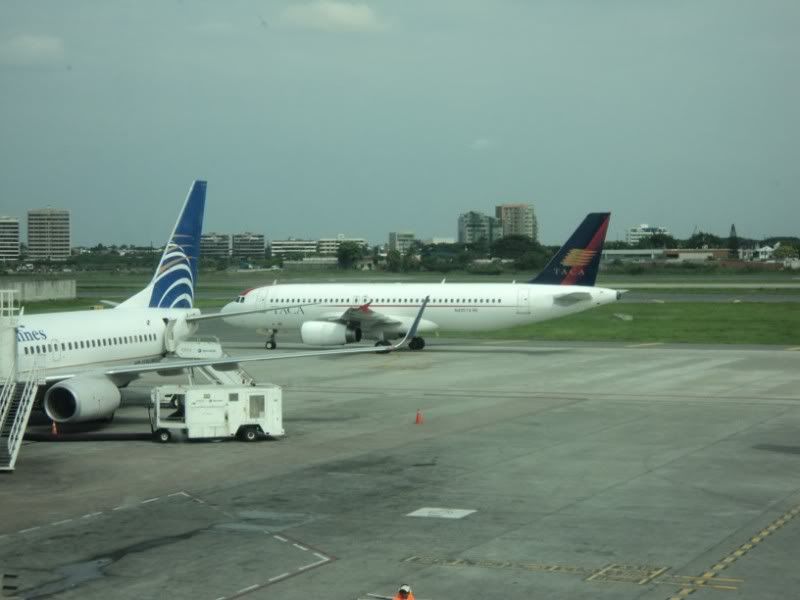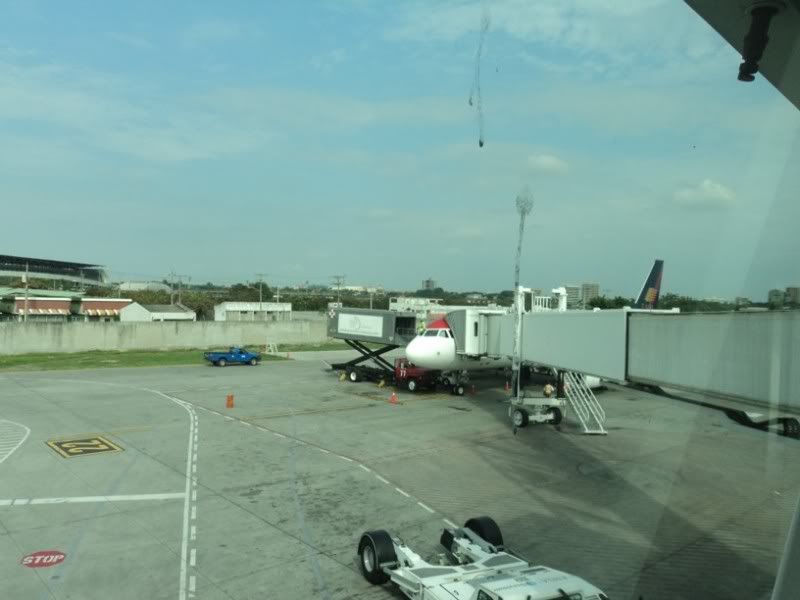 03/01/2011
Guayaquil, Ecuador to San Jose, Costa Rica
TACA Airlines (LACSA) flight LR 660
Airbus A320
Scheduled Departure: 03:35pm
Scheduled Arrival: 4:50pm
Flight time: 2hrs 15min
Gate: 14
Seat: 22A
Boarding was quick and soon I was again on an A320, where many people were already flying in from UIO. Quickly, we are all abord. A very short taxi followed and we took from from GYE. Bye Ecuador!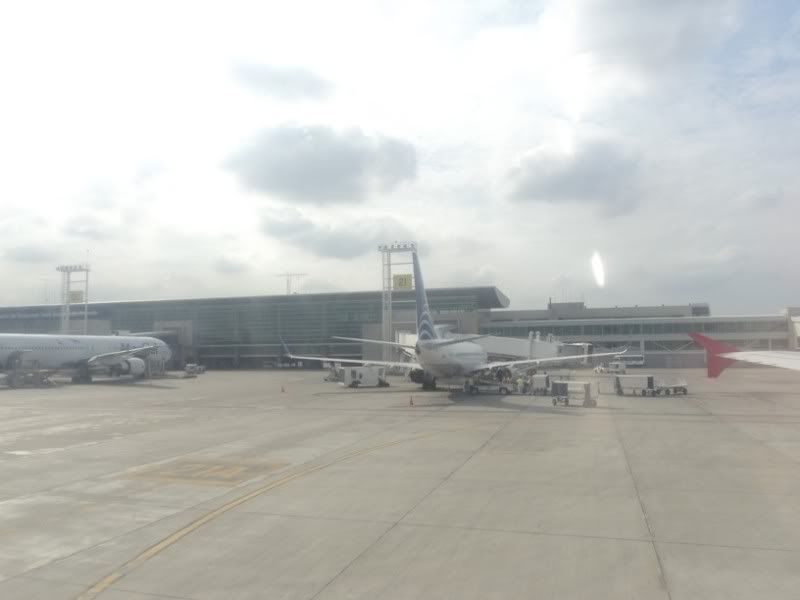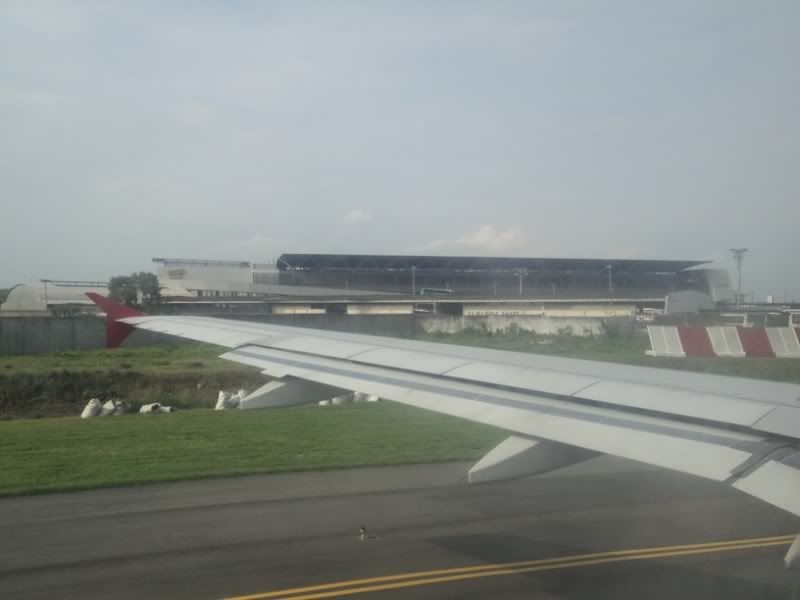 Guayaquil is pretty big: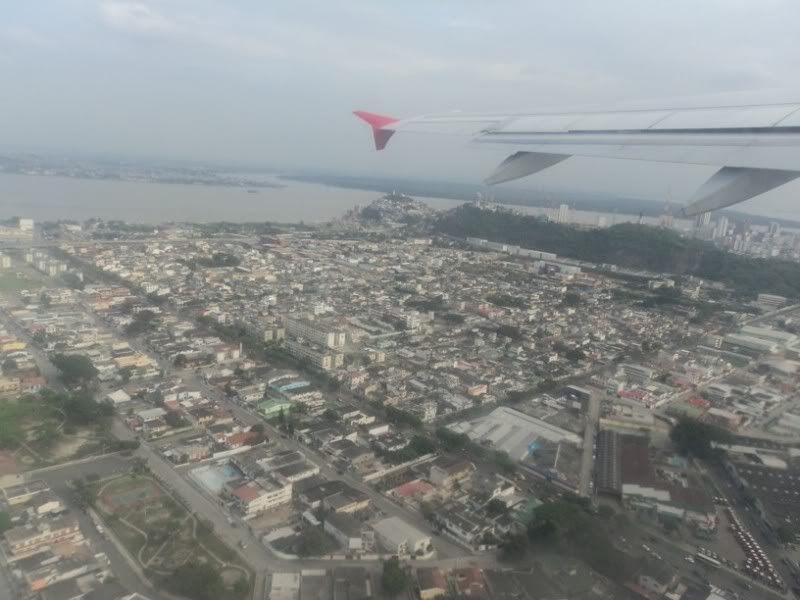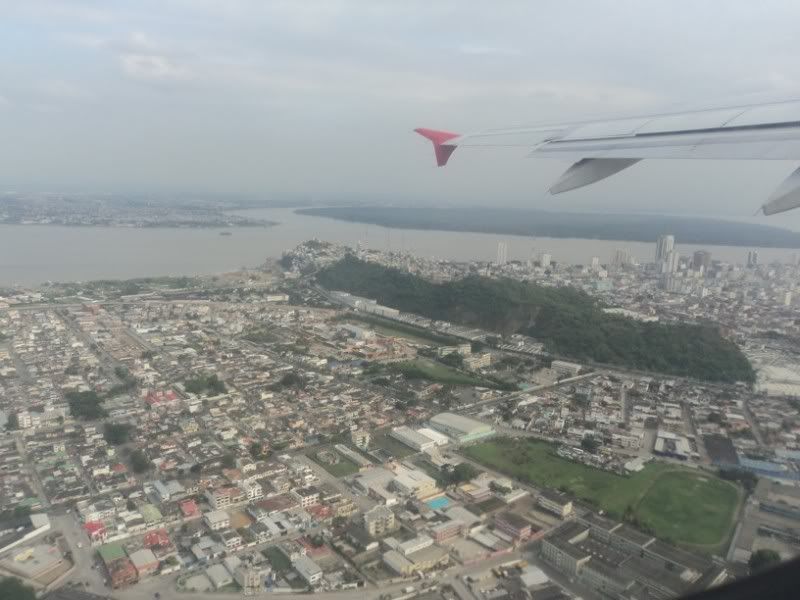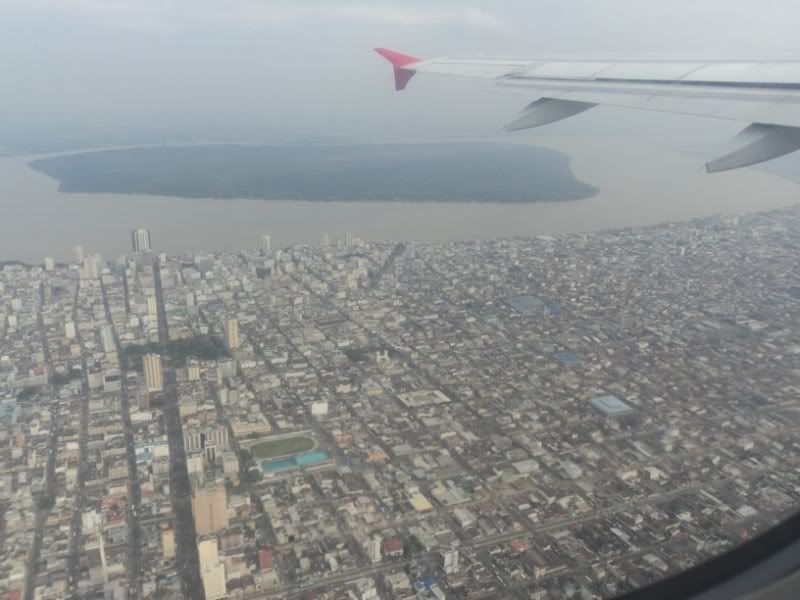 What I like very much about Taca is that the crew is super friendly, they introduce themselves by name and keep saying, that if you need anything, don´t hesitate to ask.
Meal service consisted of the same box as on the LIM-GYE sector, but this time, it just included a few pinneapple bits and a small cookie. Very small meal indeed! But I fortunately had a sandwich in GYE, so it was OK. As a drink, I had a beer, which was a Tecate, mexican, fairly good beer.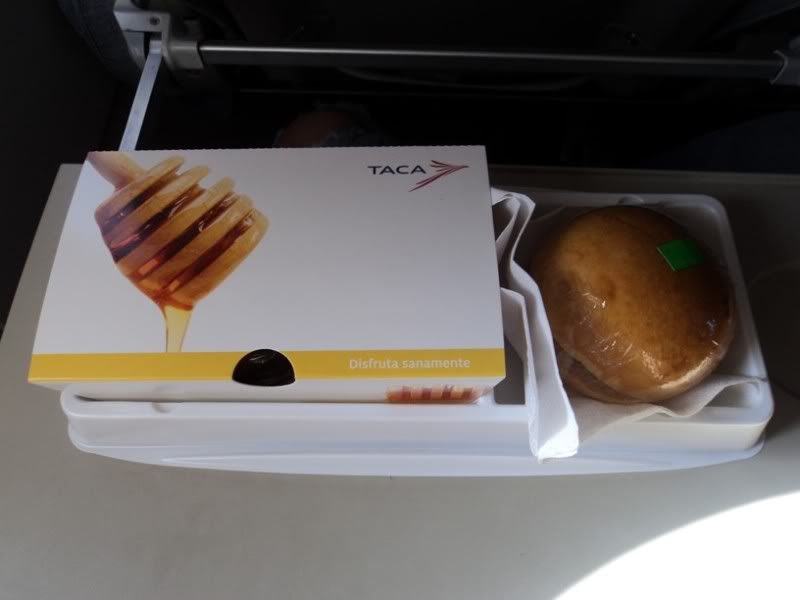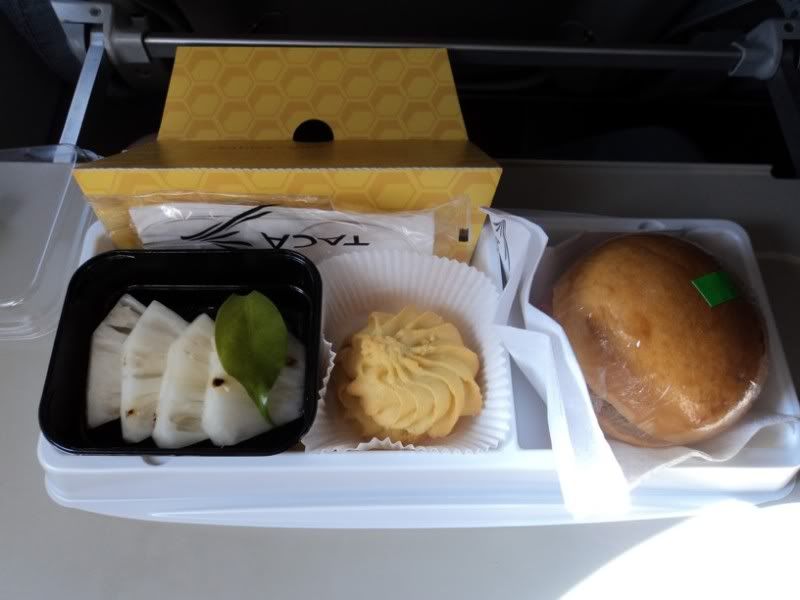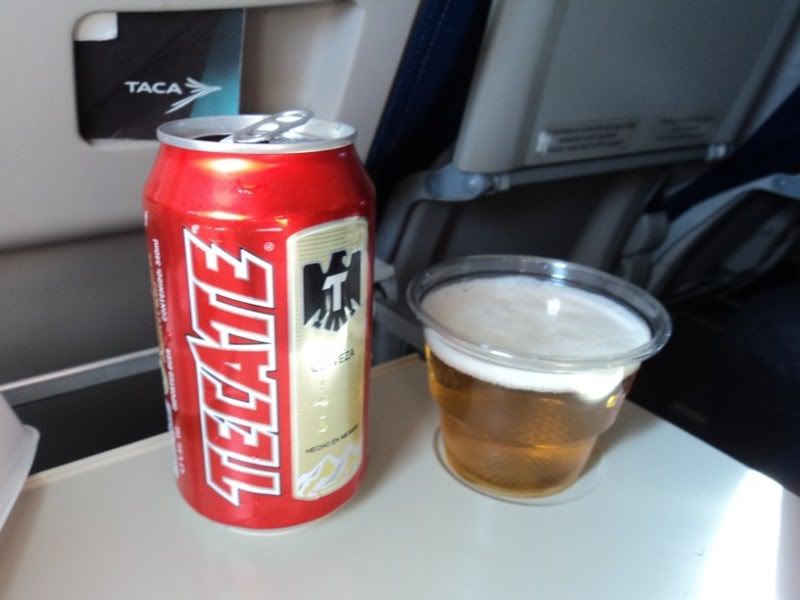 Cabin service: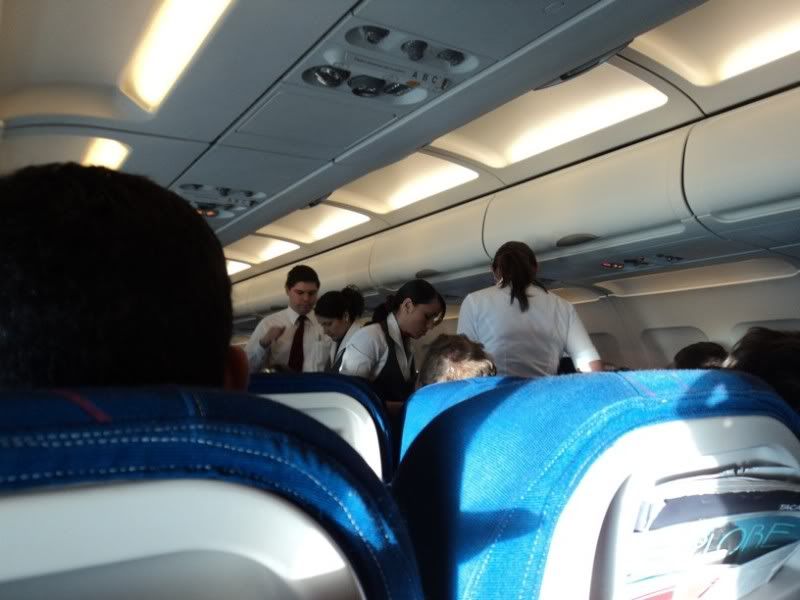 Nice views: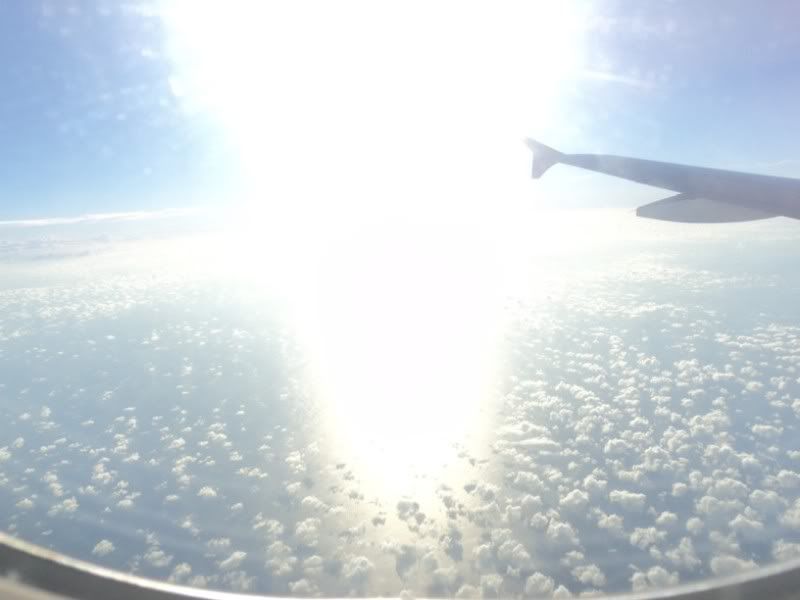 As we stared our descend, some incredibly nice cloud formations could be seen over Costa Rica: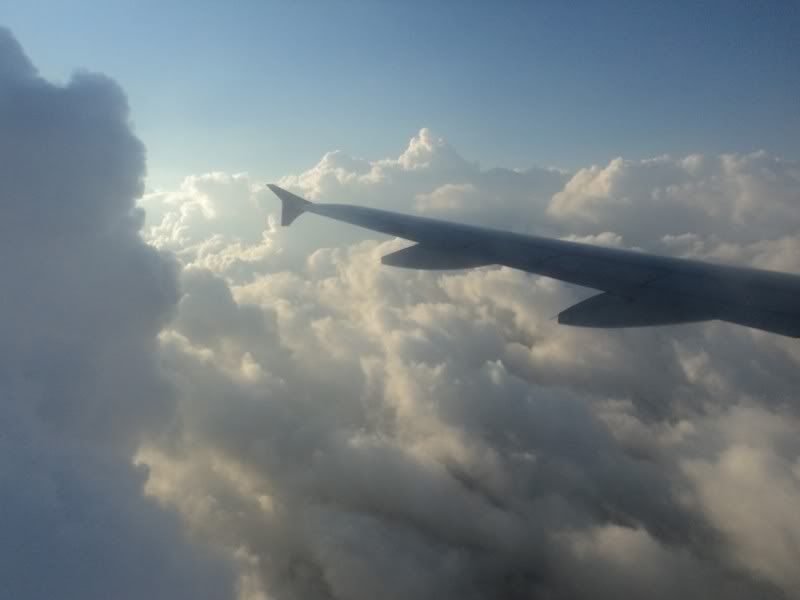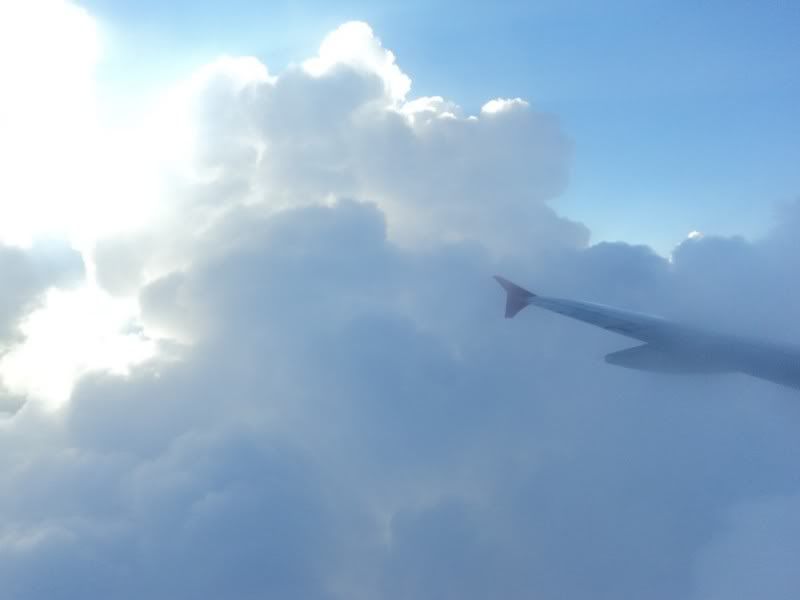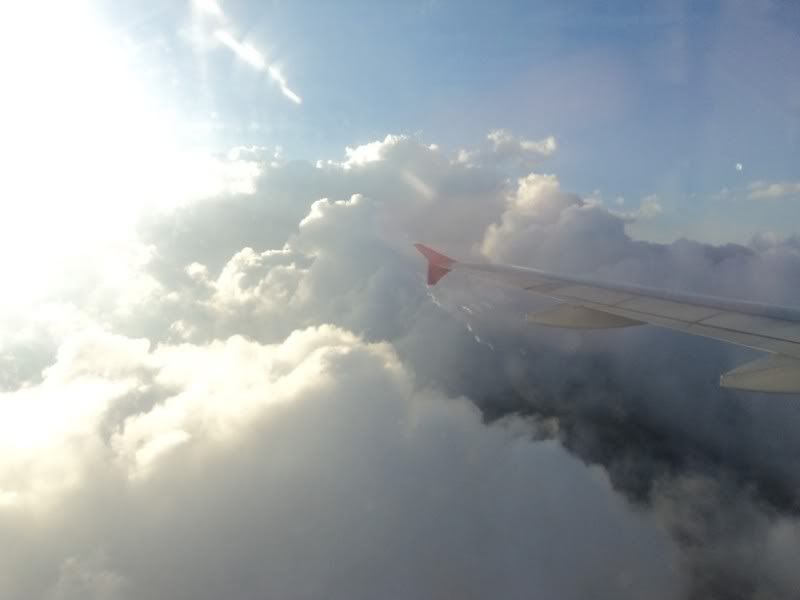 As usual when landing in SJO, it was a bumpy ride, but with very nice views: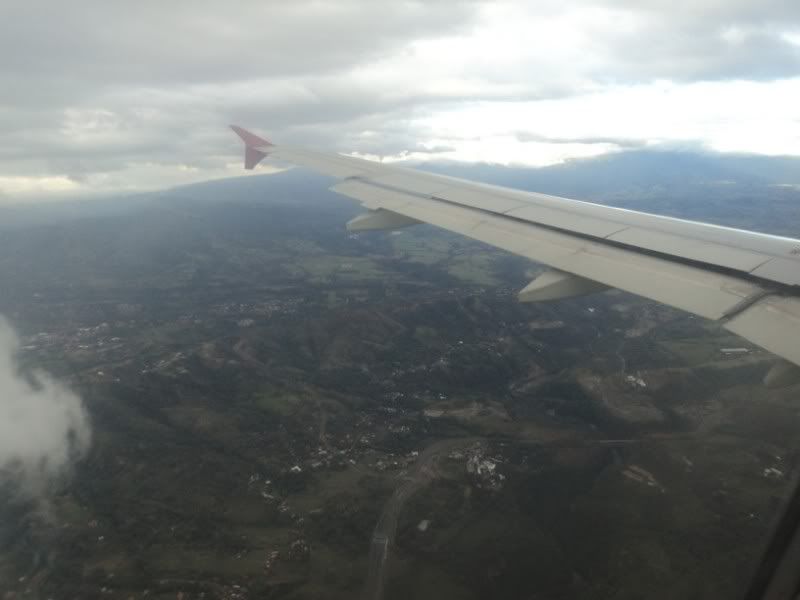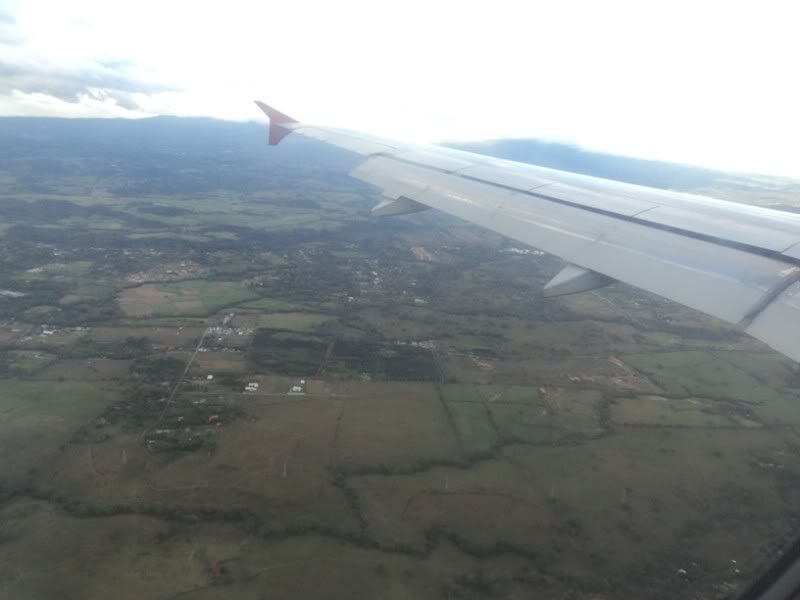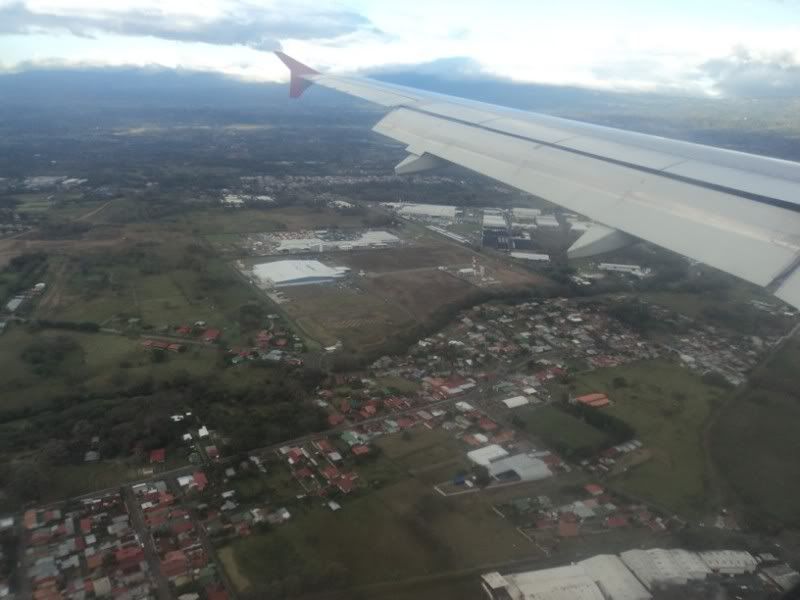 Touchdown: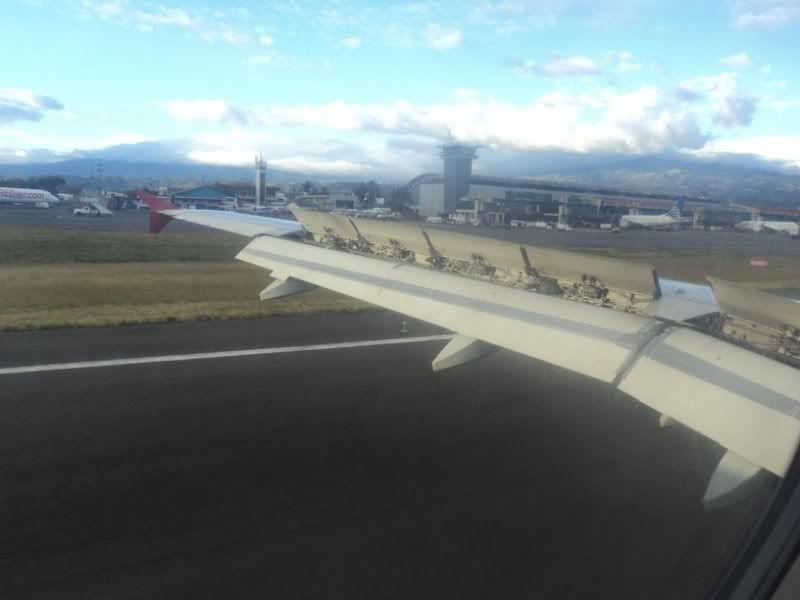 We dissembarked by bus, because all airbridges were being used. After immigration and picking up my bag, I went to meet my friends who were waiting for me. It was so niiiice to see them after two years!!!
Costa Rica:
I am going to include some pictures of Costa Rica, just to tempt you guys to go and visit the most beautiful country in the planet: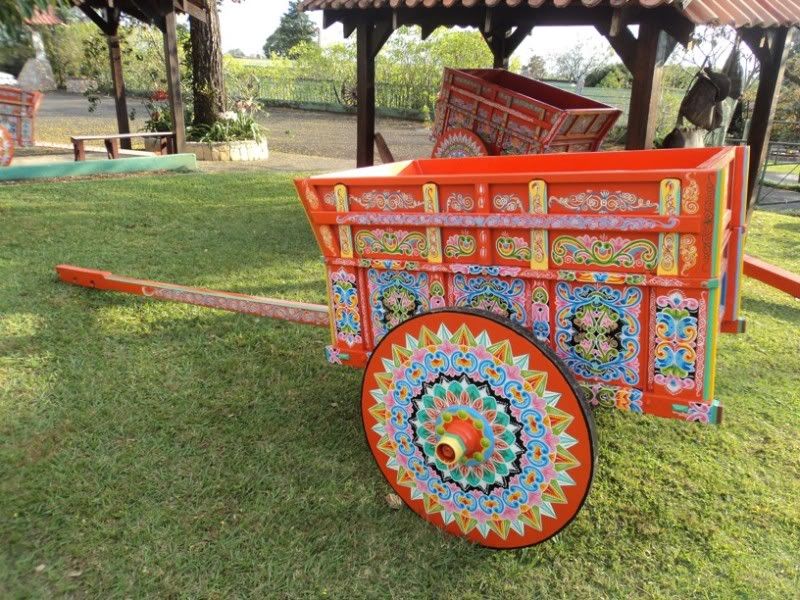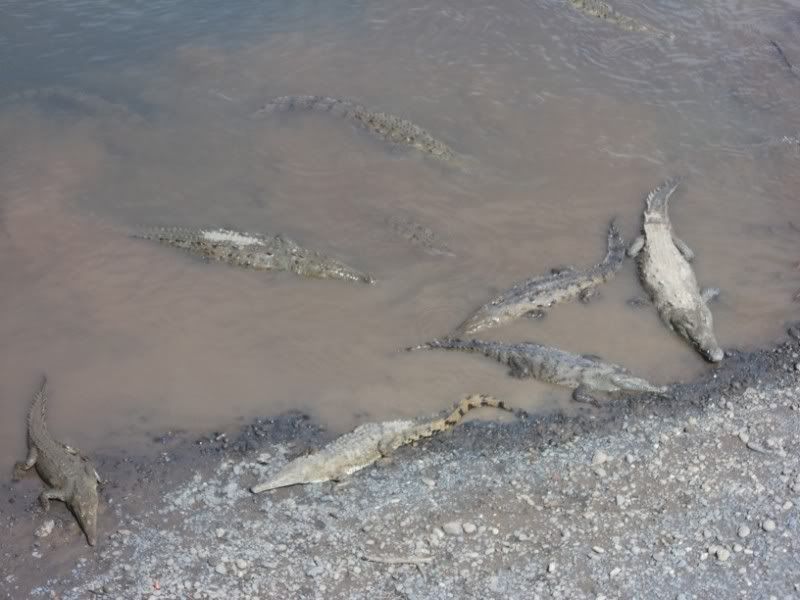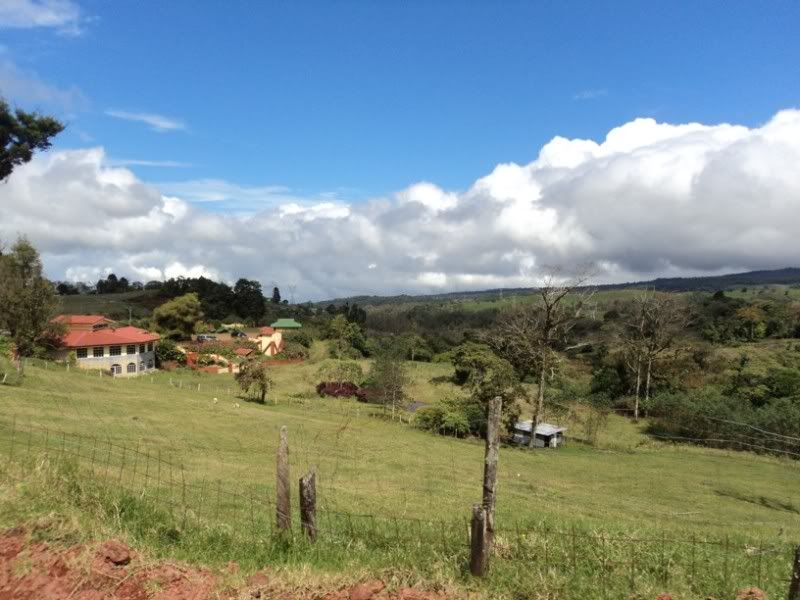 Me with a tucan: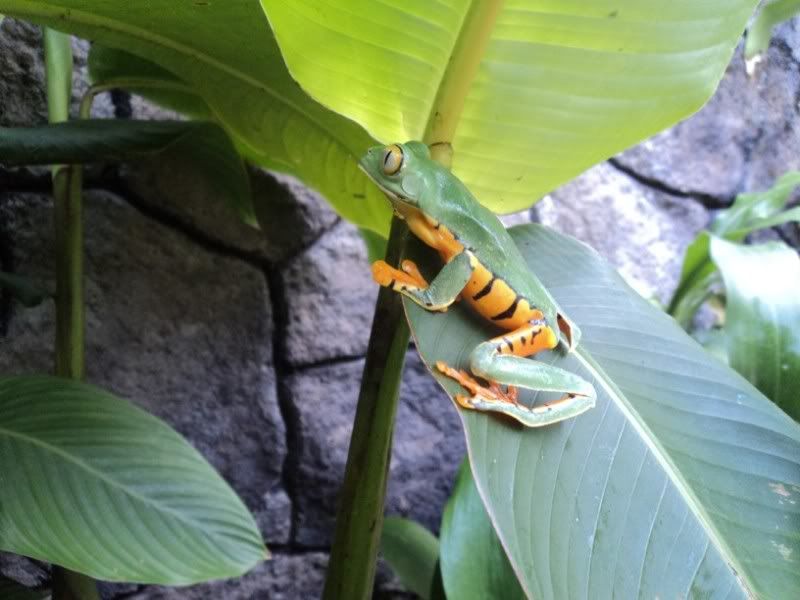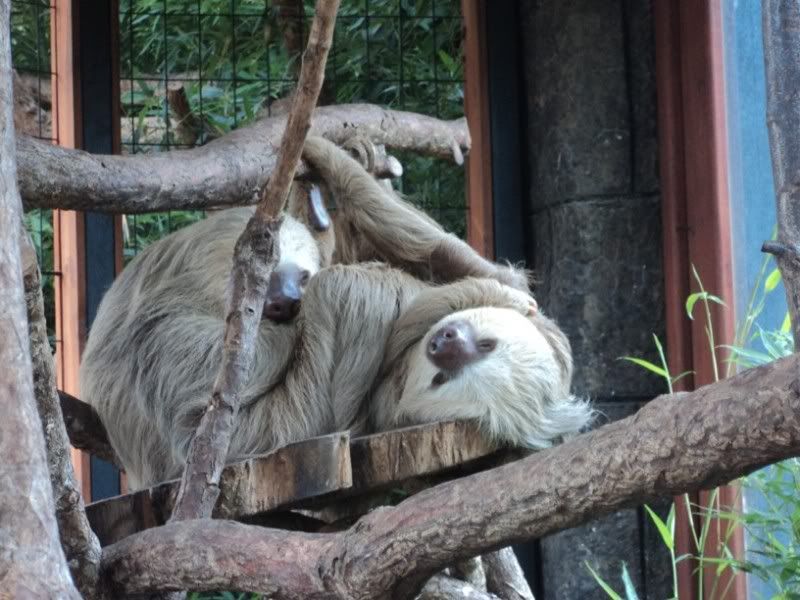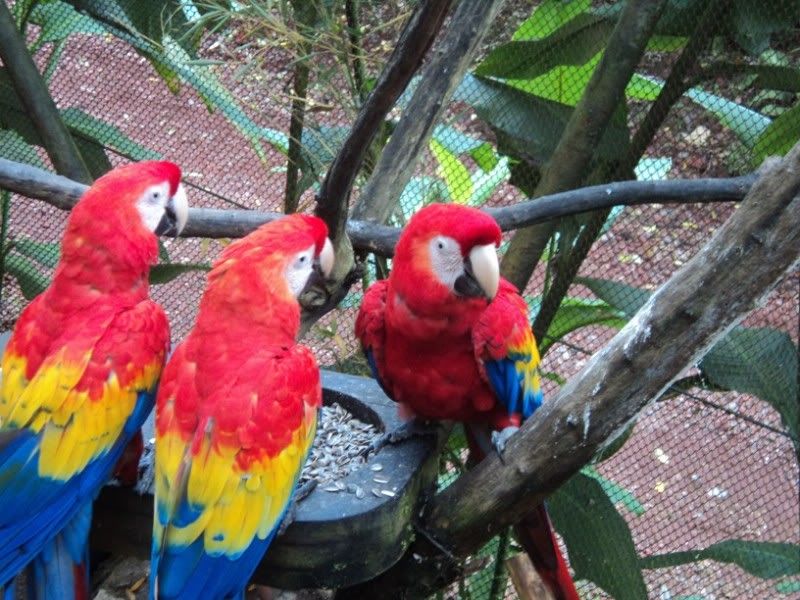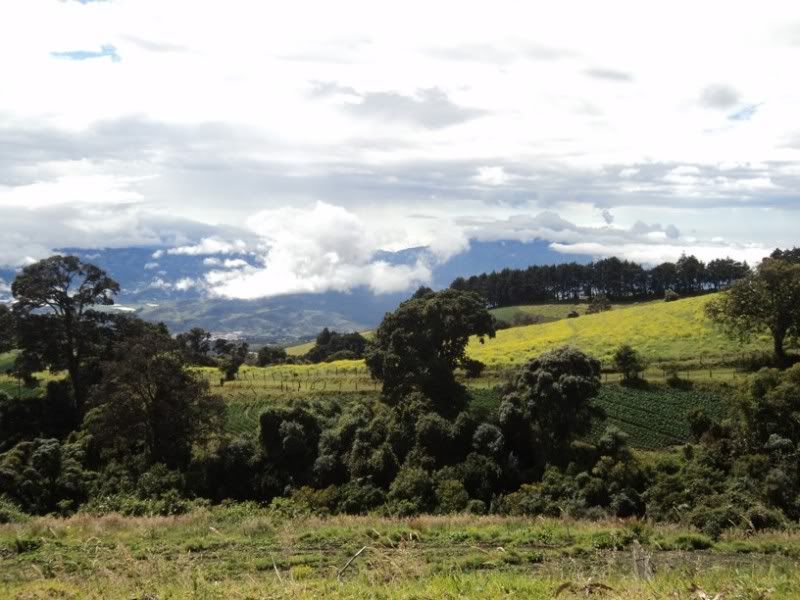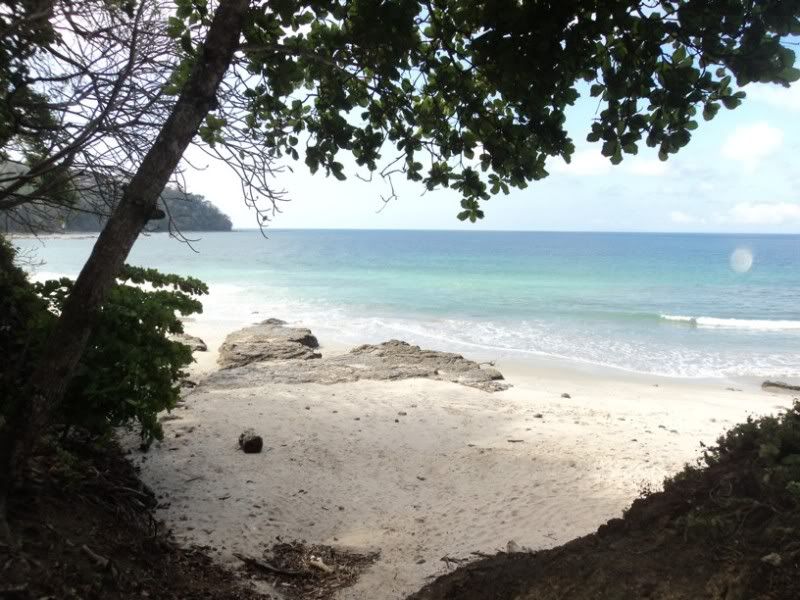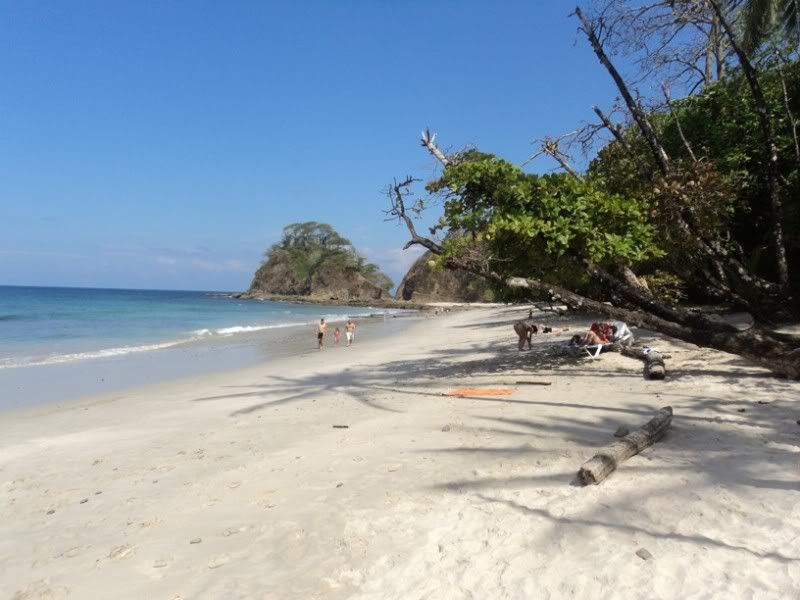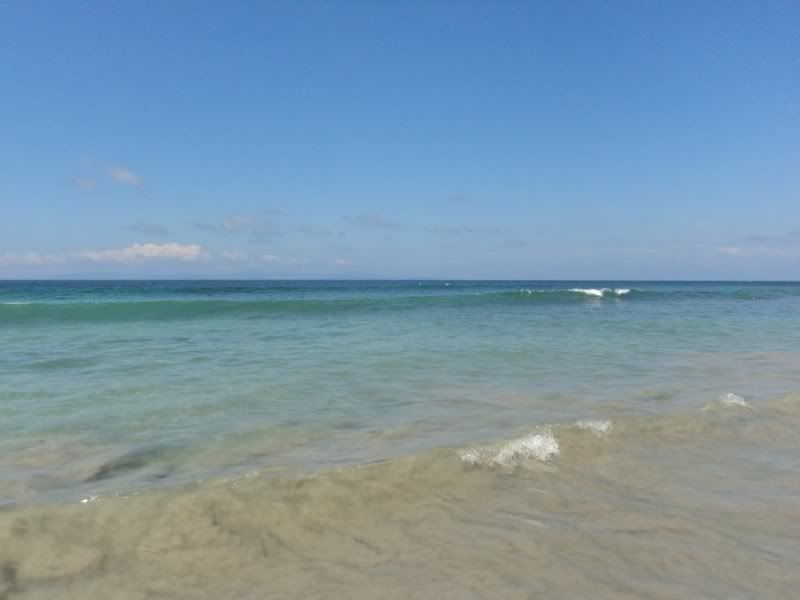 Enjoying a "pipa":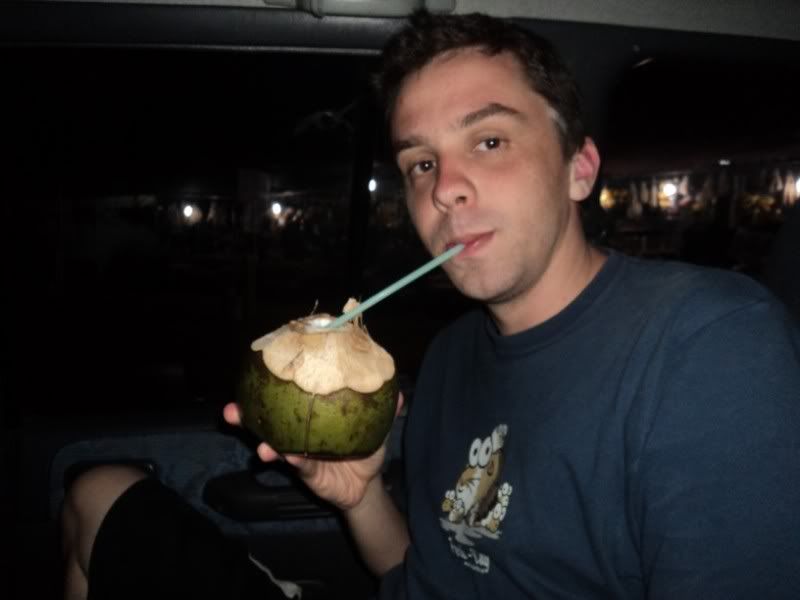 After ten days, it was very sad to say goodbye to my friends and go the airport to get back to Lima. Those ten days were just wonderful!!!
13/01/2011
San Jose, Costa Rica to San Salvador, El Salvador
TACA Airlines (LACSA) flight LR 636
Airbus A321
Scheduled Departure: 12:20pm
Scheduled Arrival: 01:40pm
Flight time: 1hrs 20min
Gate: 7
Seat: 28F
I pre-checked again, so I skipped the horrid line and had my BP in less than a minute. SJO airport is very modern and nice, nice work done in the past two years, it is now much more spacious.
Our A321 to SAL: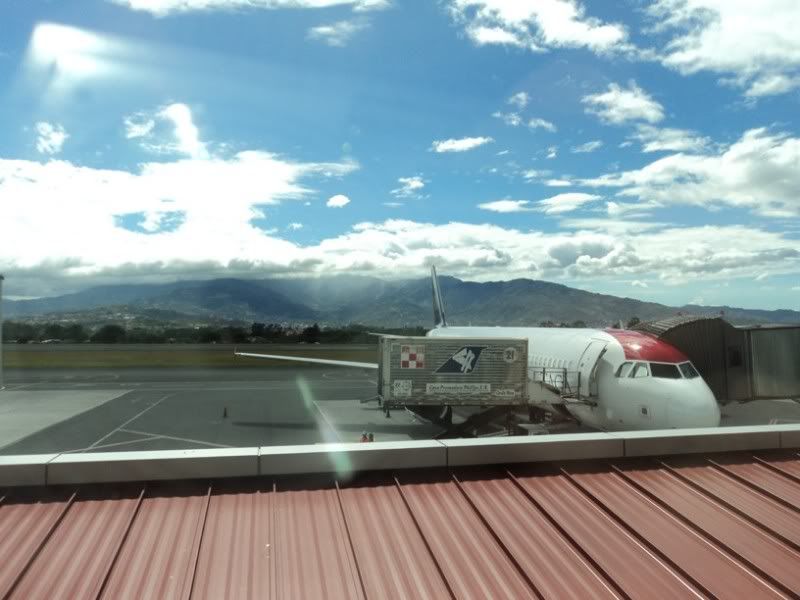 AA 737 from MIA: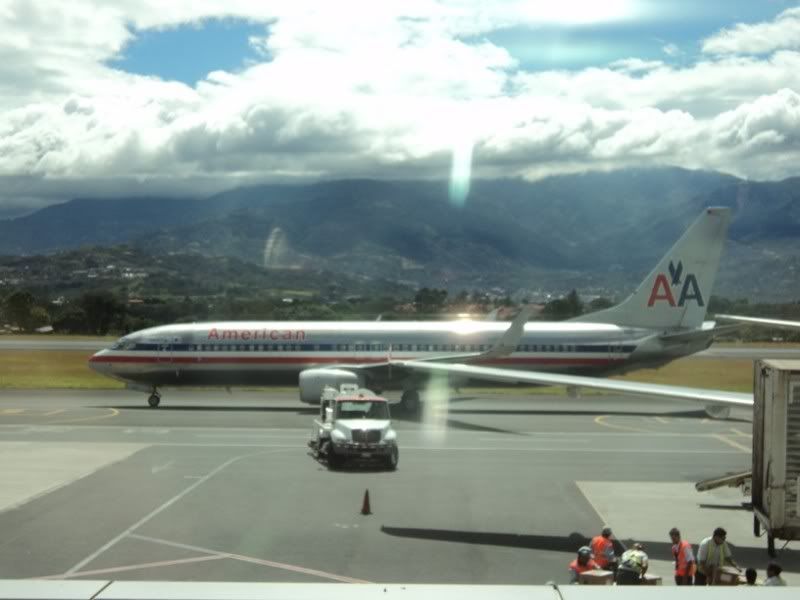 SANSA regional Cessna Caravans:
SJO: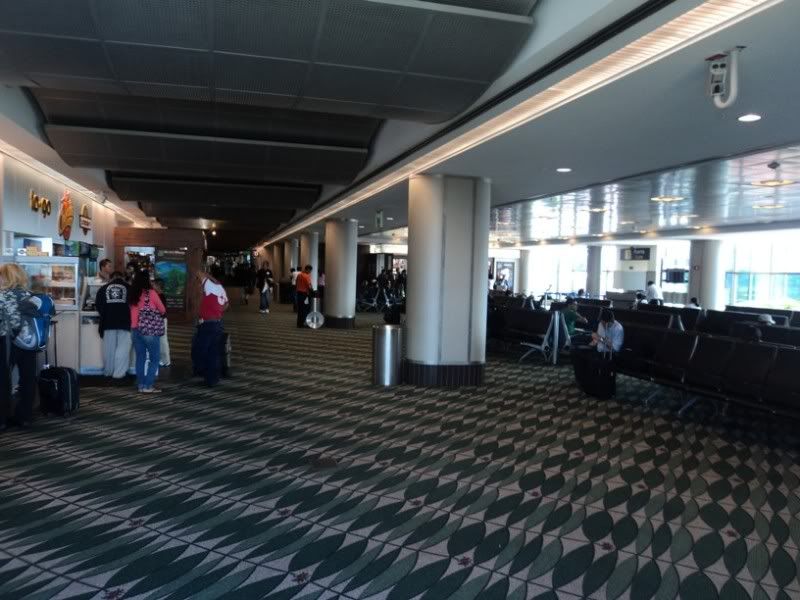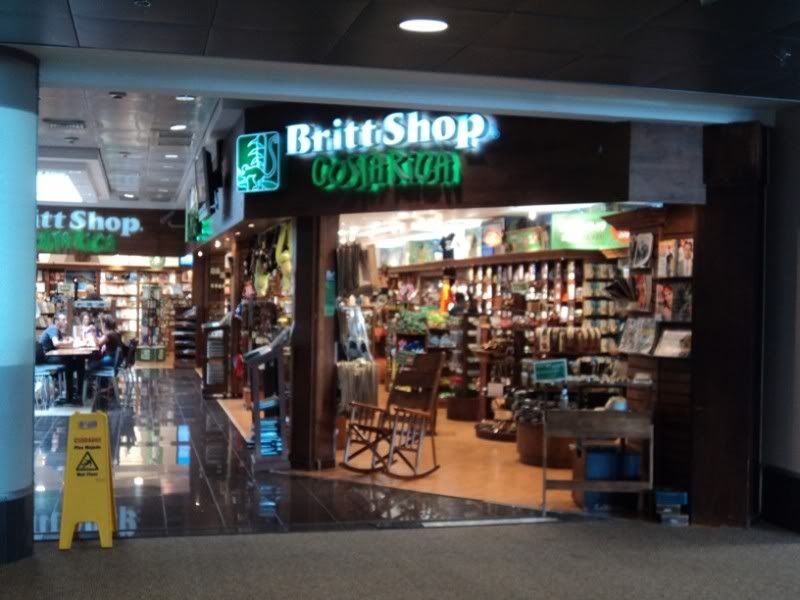 Soon, it was time to board, and again, I was among the first to board the economy class section, since I was sitting in the back of the plane.
The crew was very nice and wonderful was, that I was the only one in my row!!!
Boarding process: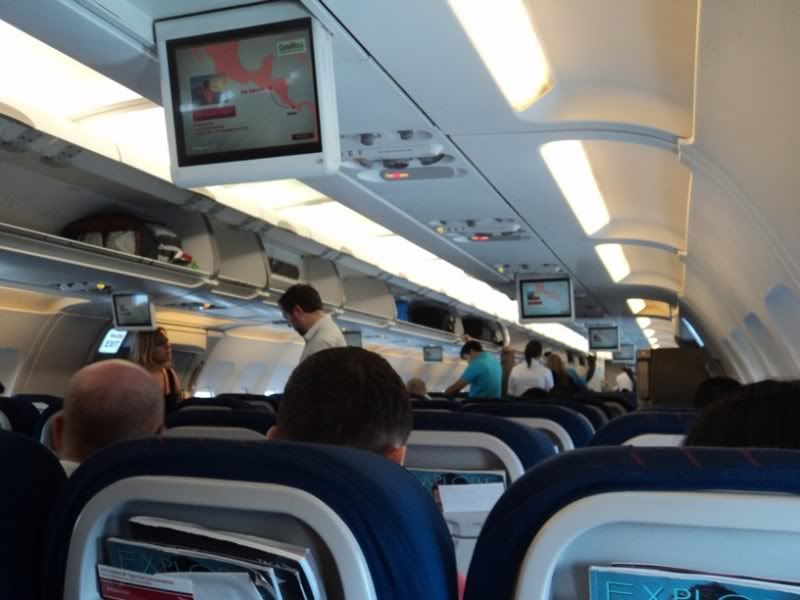 Excelent legroom: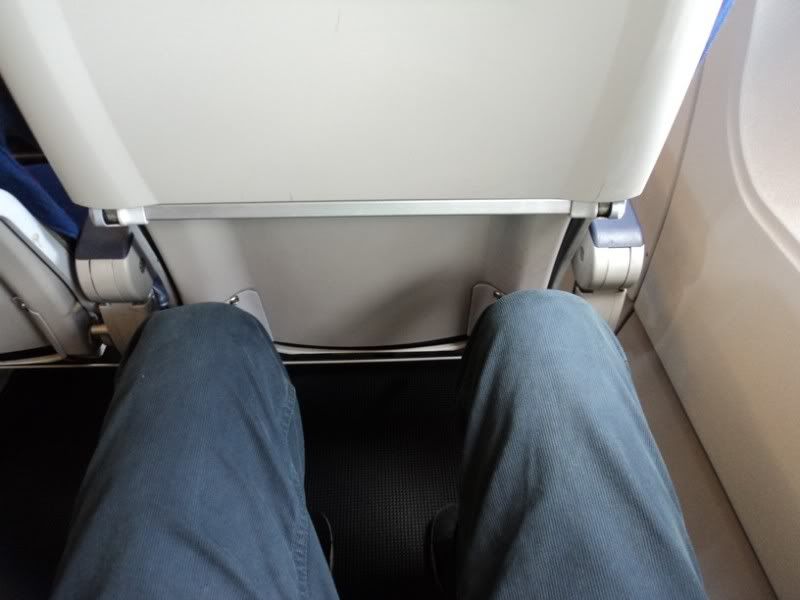 Recaro seats: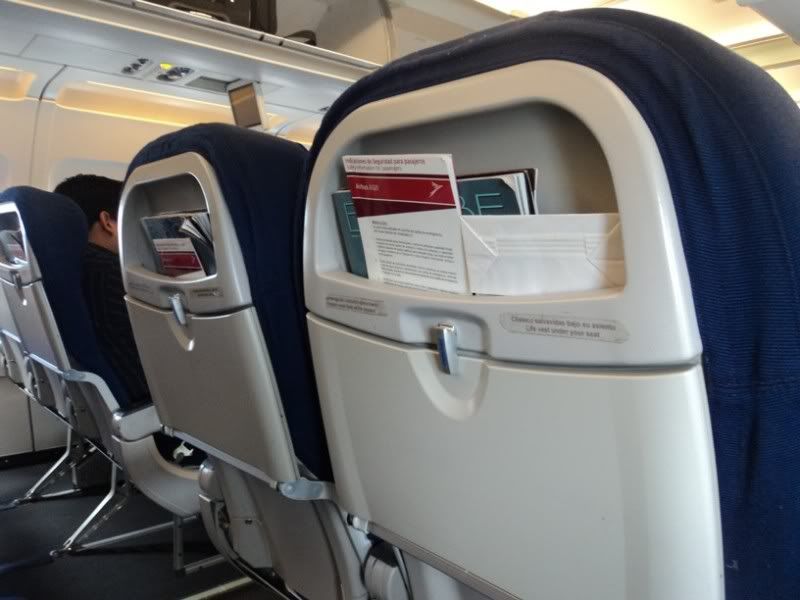 We pushed back on time and left SJO after a short taxi to the runway.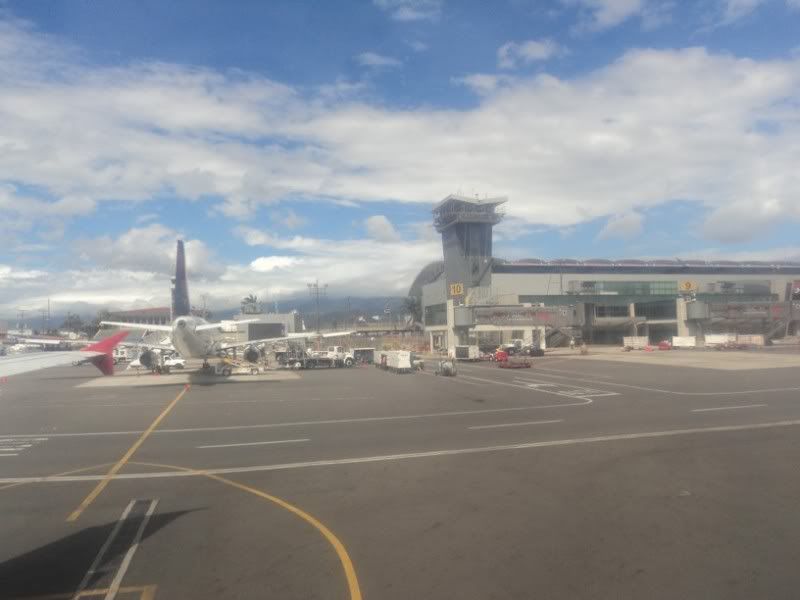 An Avianca A319 probably undergoing a check in SJO: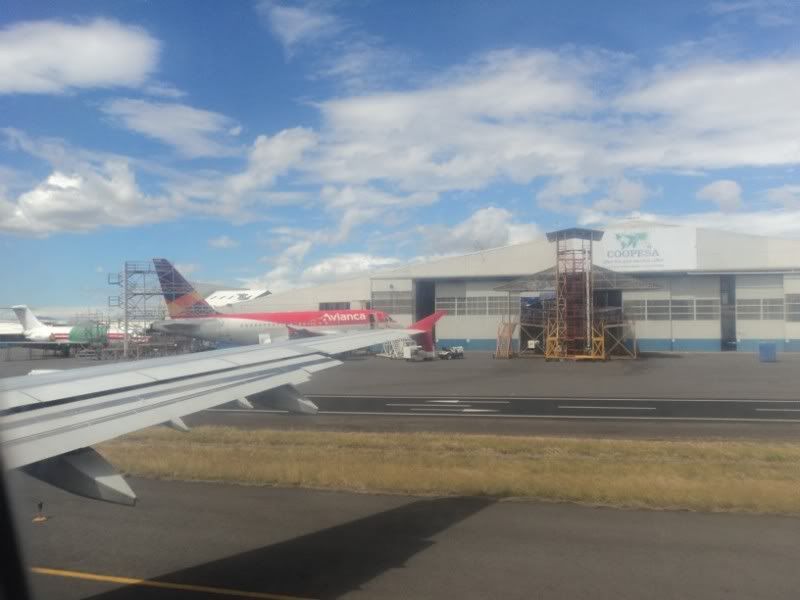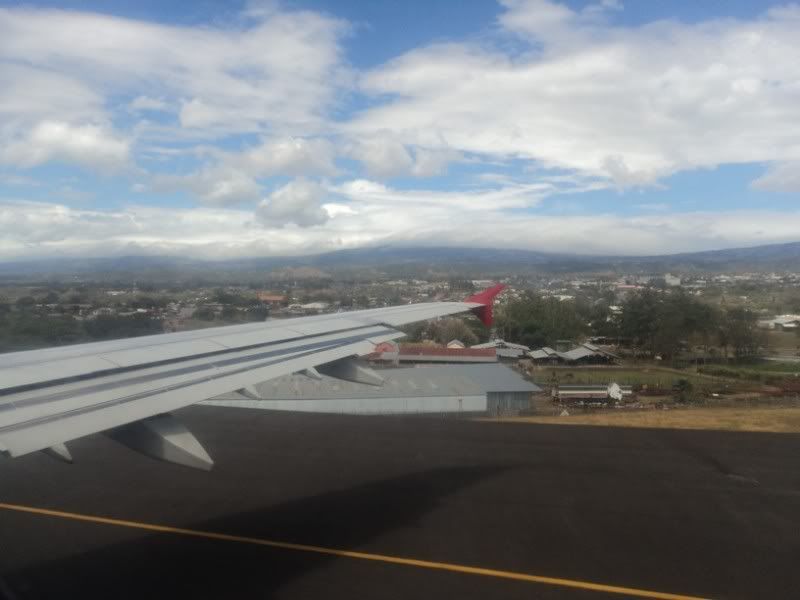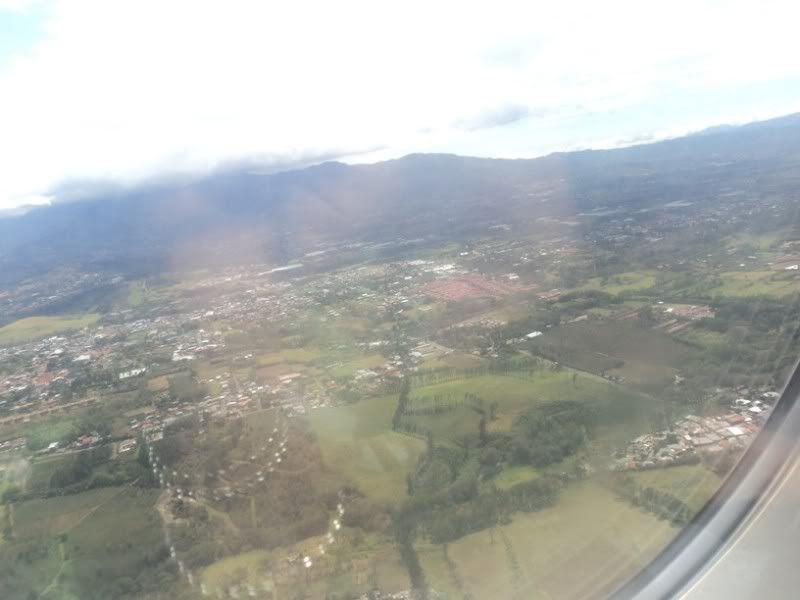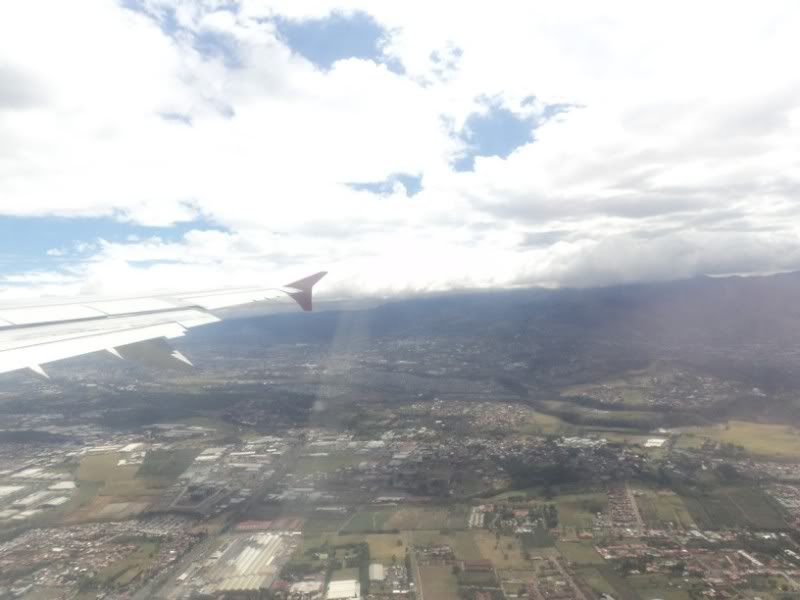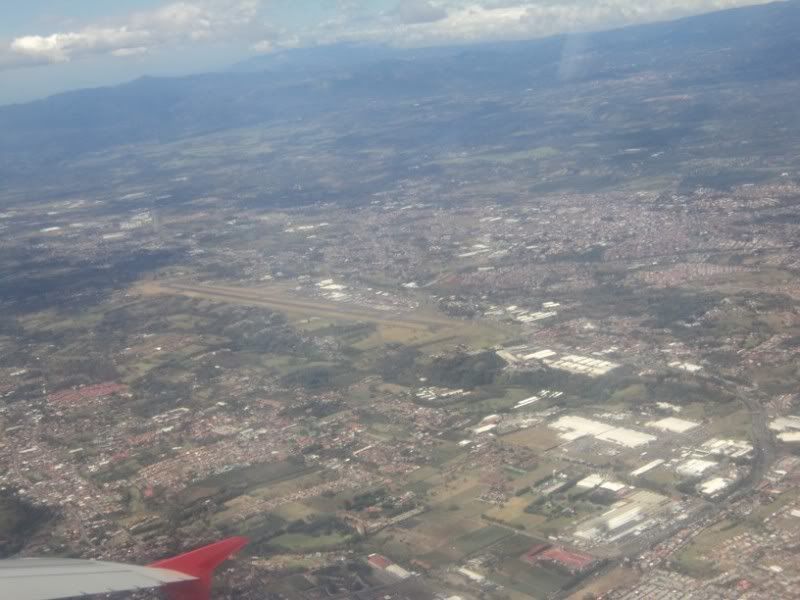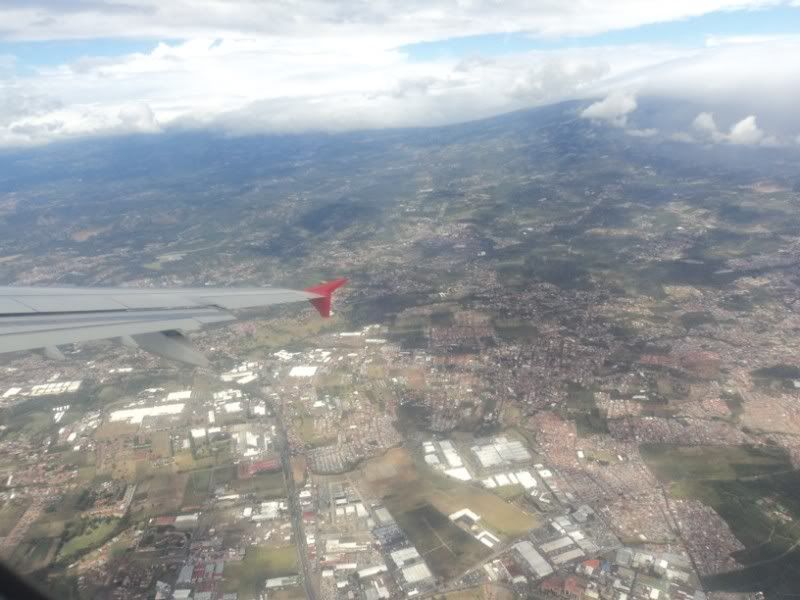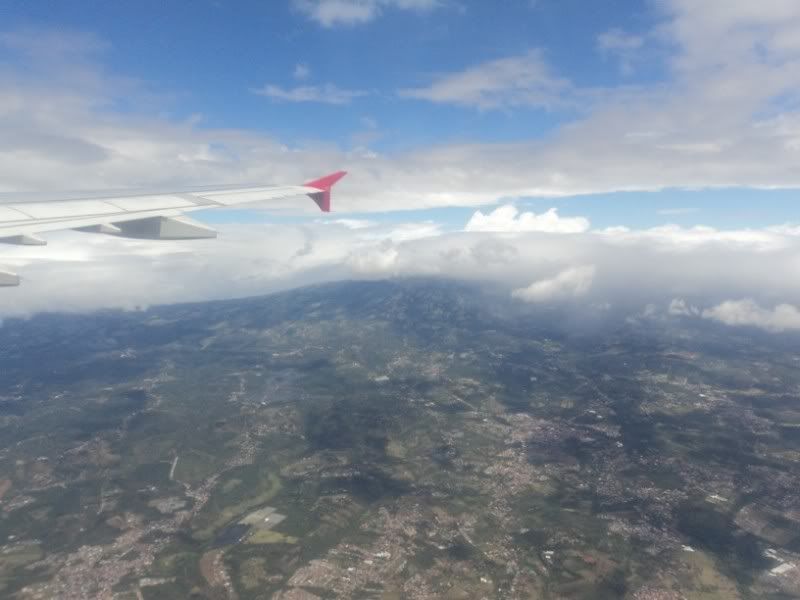 After take off, I went to the bathroom, pics: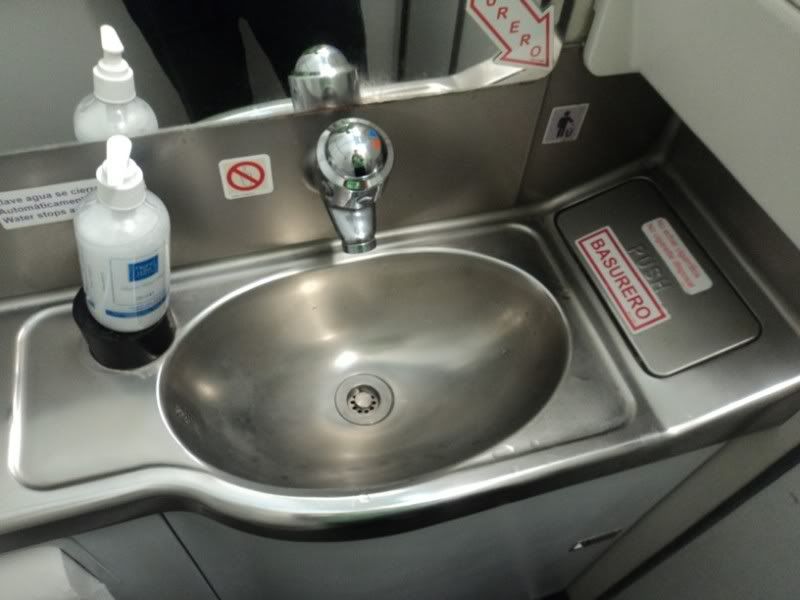 Service started and the meal today was a hot cheese empanada and a delicious strawberry cookie. I had coffee with my meal.
Meal:
Nice view of the Nicaraguan coast: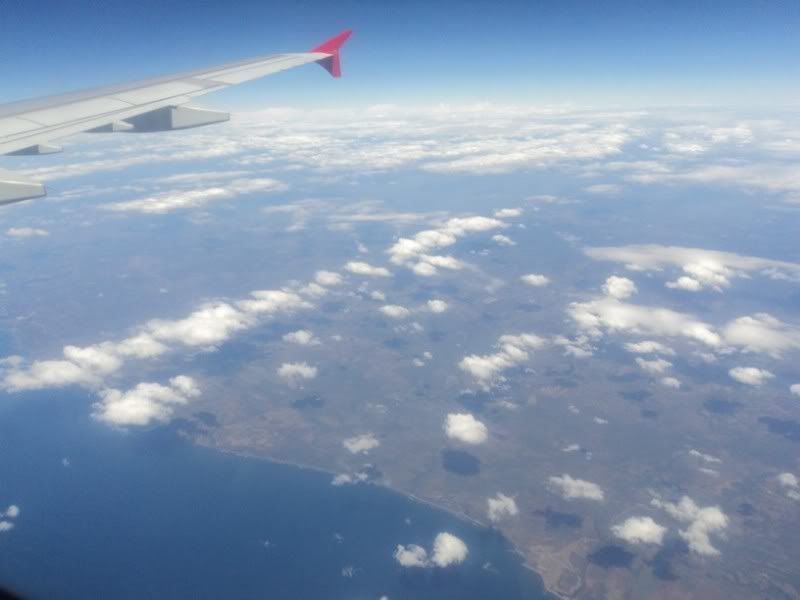 Approaching SAL: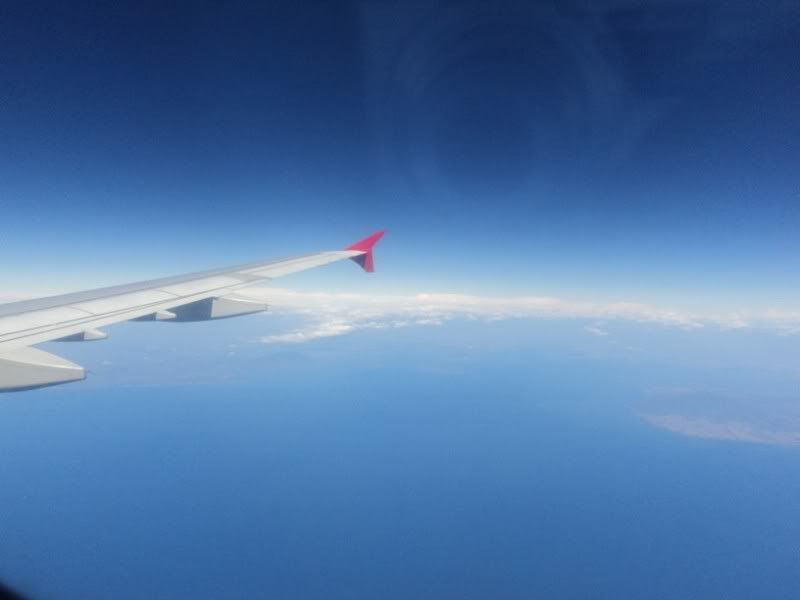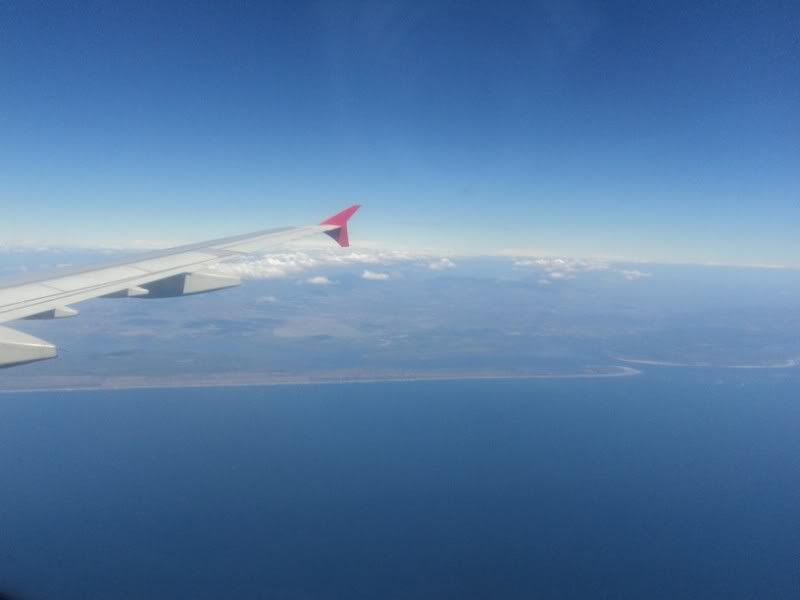 El Salvador is a land of volcanoes:
The coastline: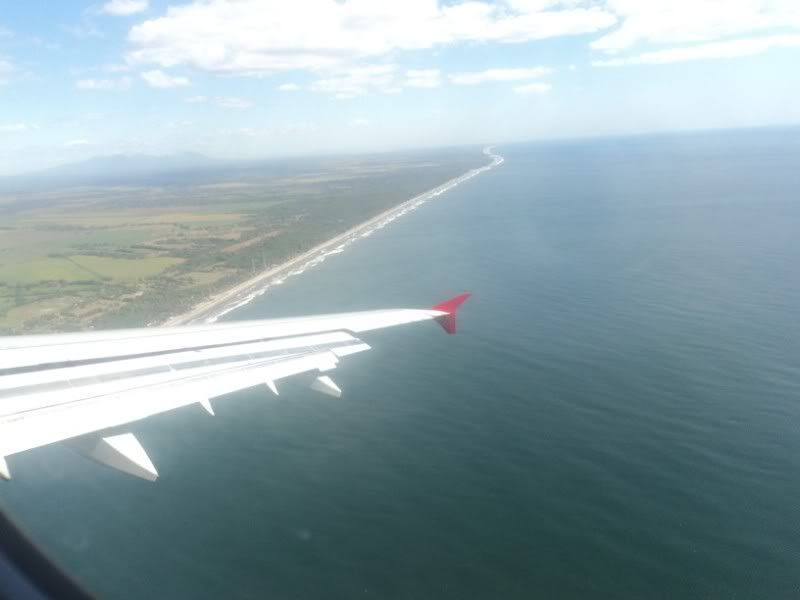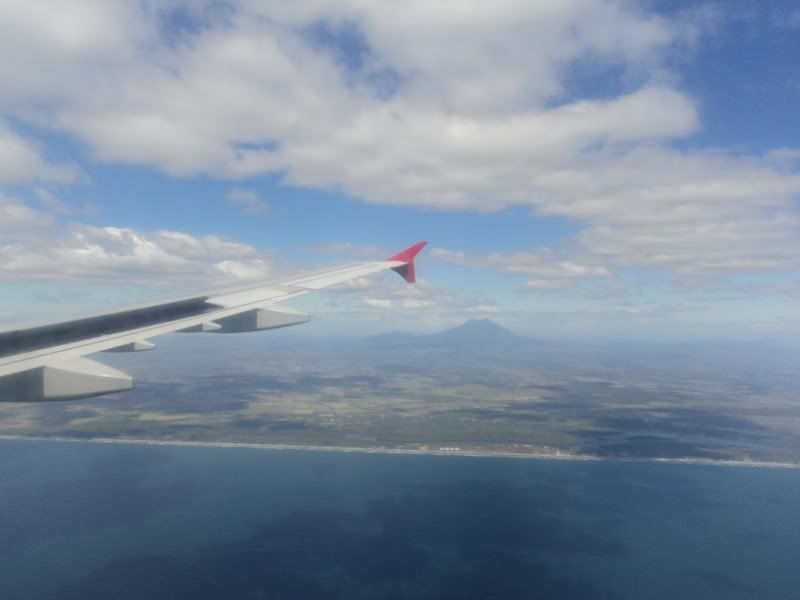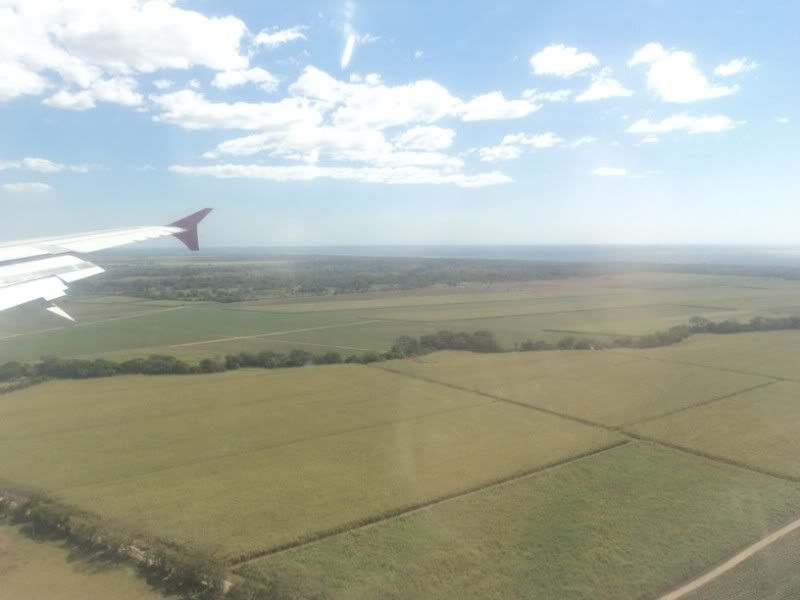 Touchdown: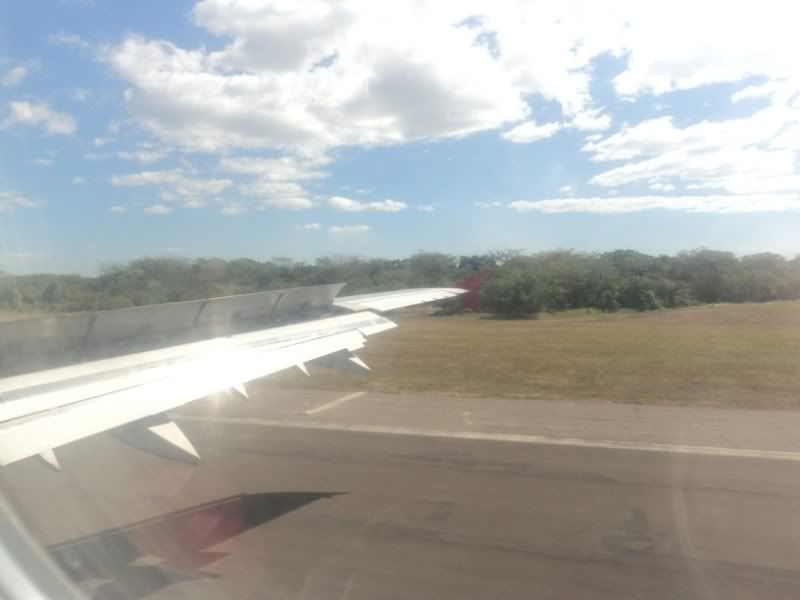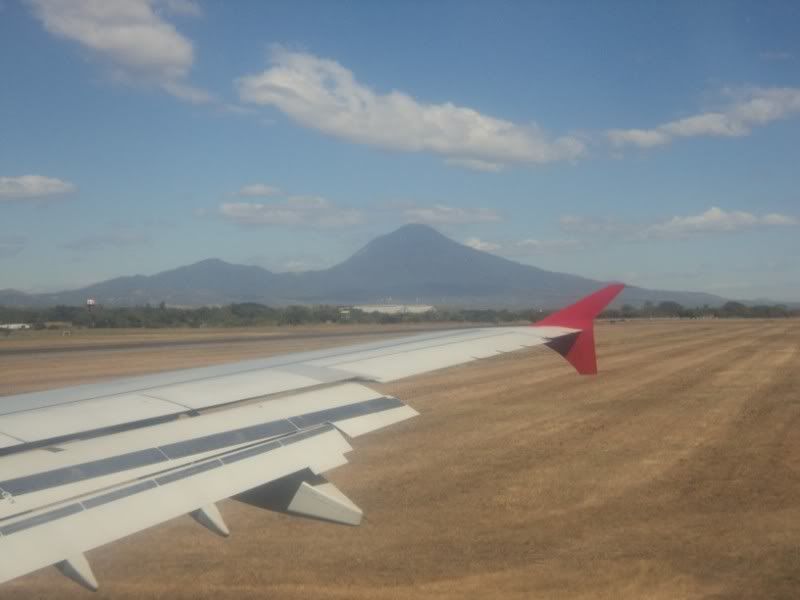 El Salvador: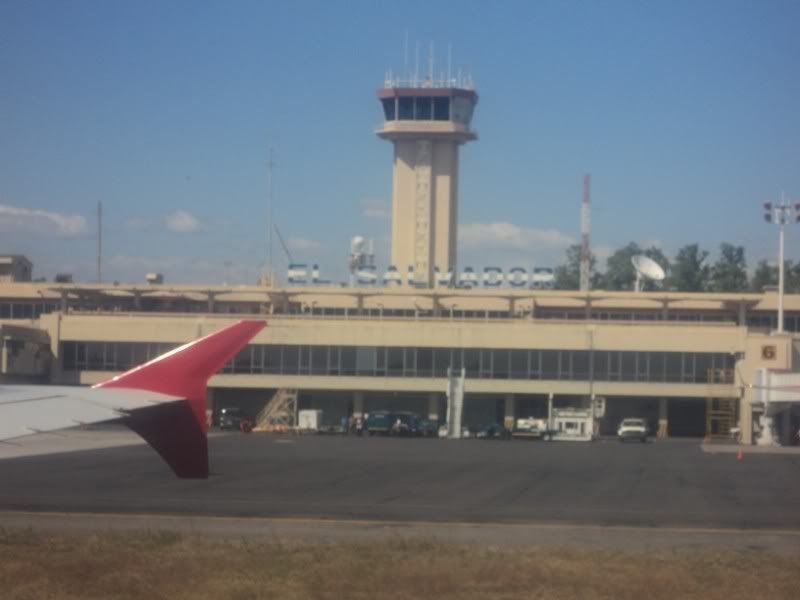 We parked aside a TA A320 that was bound to Cancun: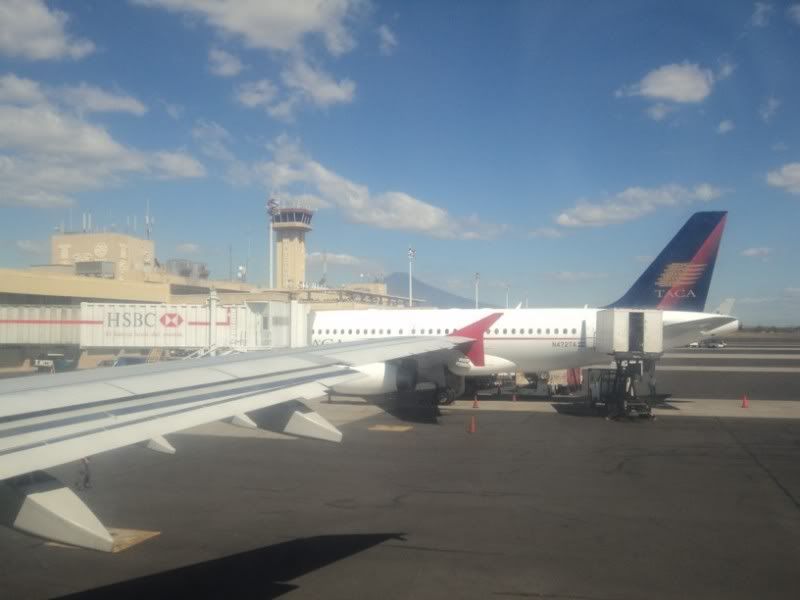 Copa from PTY:
SAL: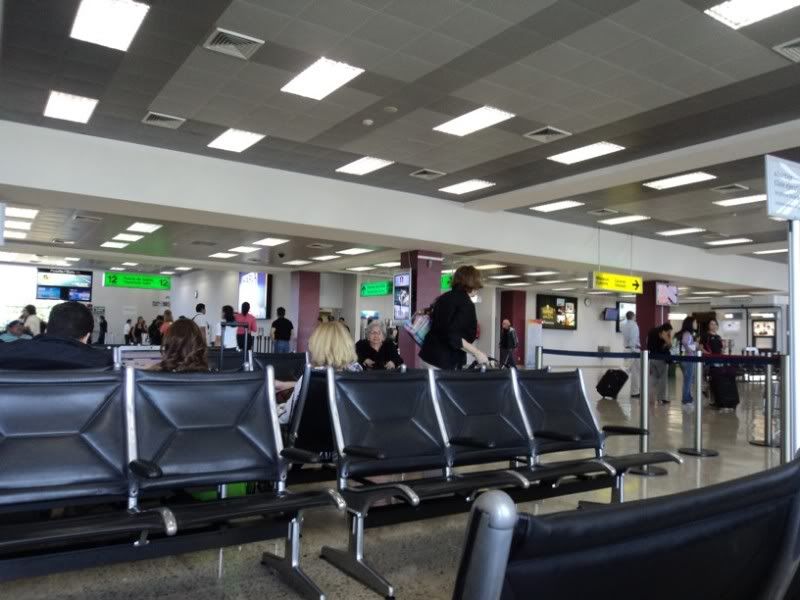 San Salvador is a nice airport, but from the four I traveled though, the worst. It had a little worn down look, but on the other hand, it is nothing scary.
I had only about a hour and a half, so I bought a bag of Salvadoran coffee and charged my laptop and soon it was time to board my LIM flight.
13/01/2011
San Salvador, El Salvador to Lima, Peru
TACA Airlines flight TA 041
Airbus A320
Scheduled Departure: 03:08pm
Scheduled Arrival: 08:23pm
Flight time: 4hrs 15min
Gate: 13
Seat: 7A
Again, boarding was quick, but this time, I was among the last to board. I don´t like that very much, since there was almost no space left in the overhead bins. That is why I prefer to sit in the back of the plane.
Again and for the forth time, we left on time. This time, the flight was totally full.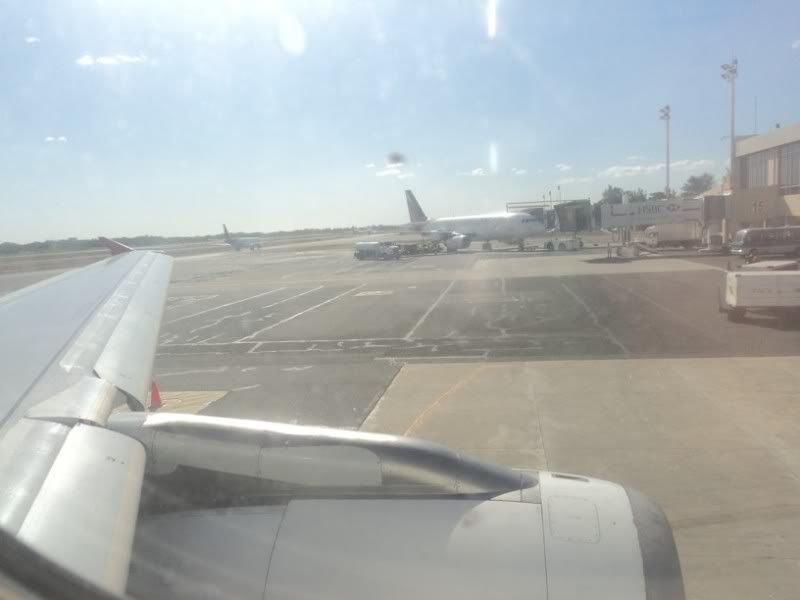 Engine: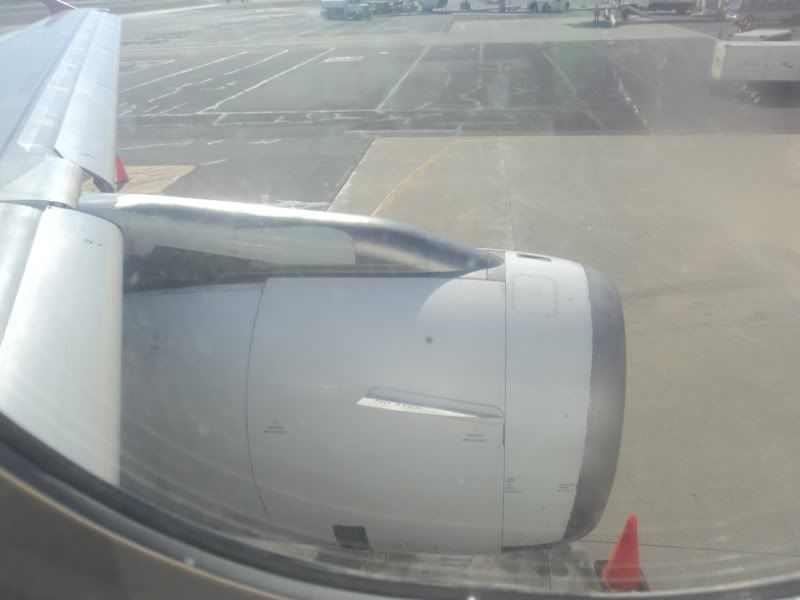 Runway 07 today for us: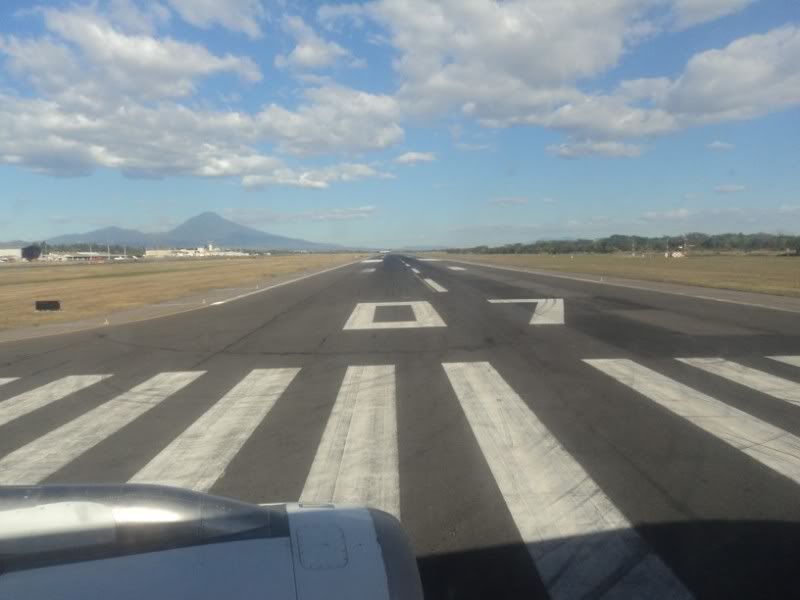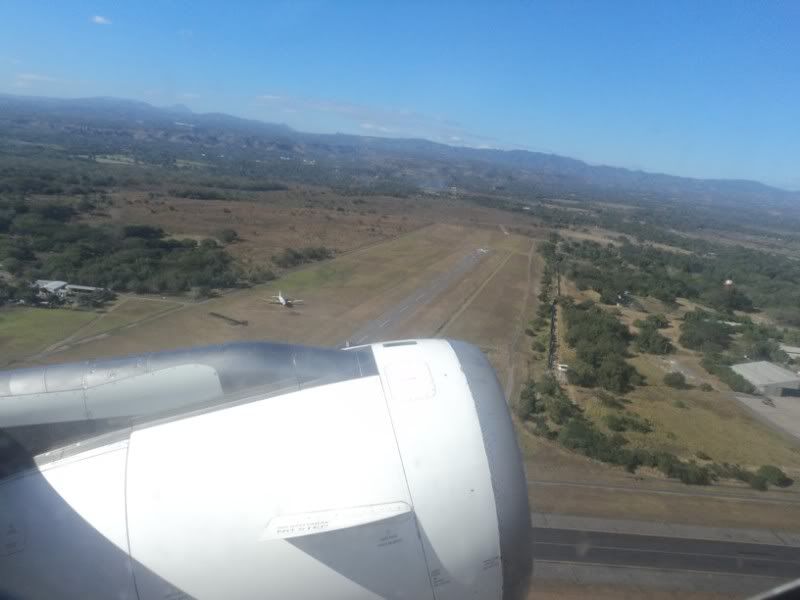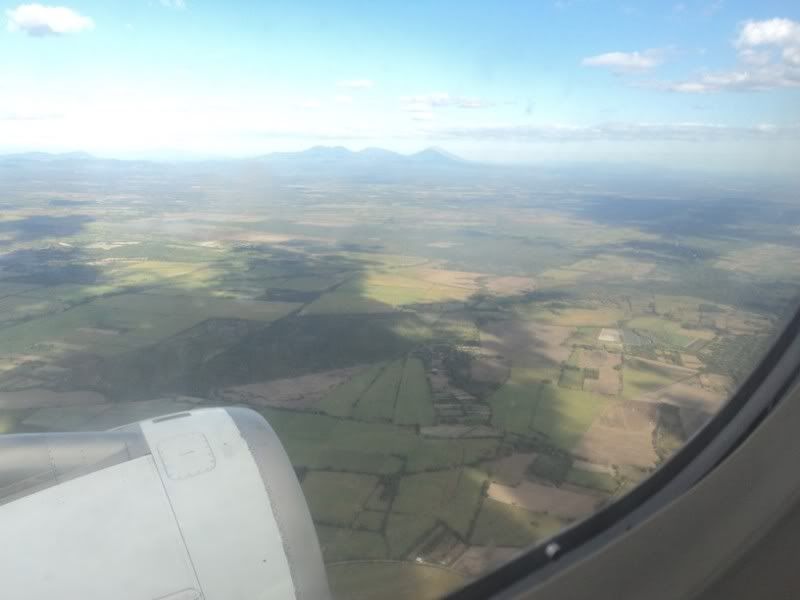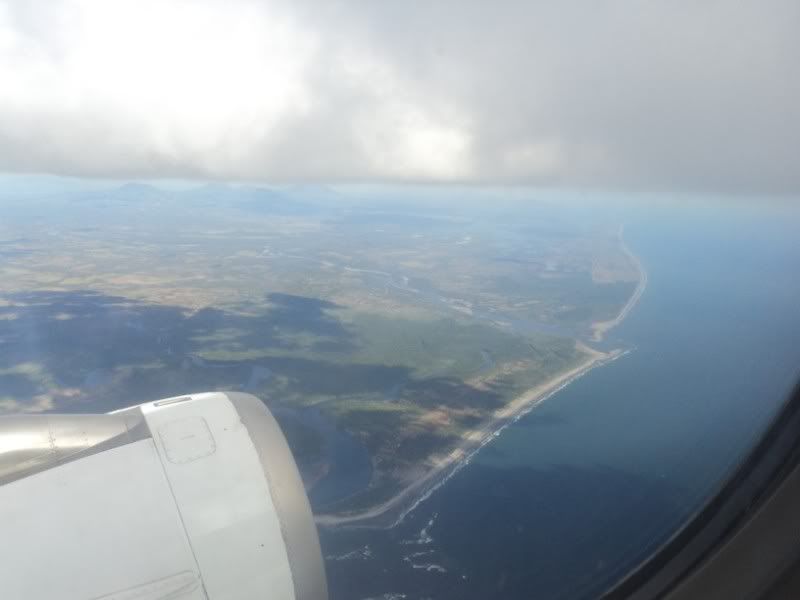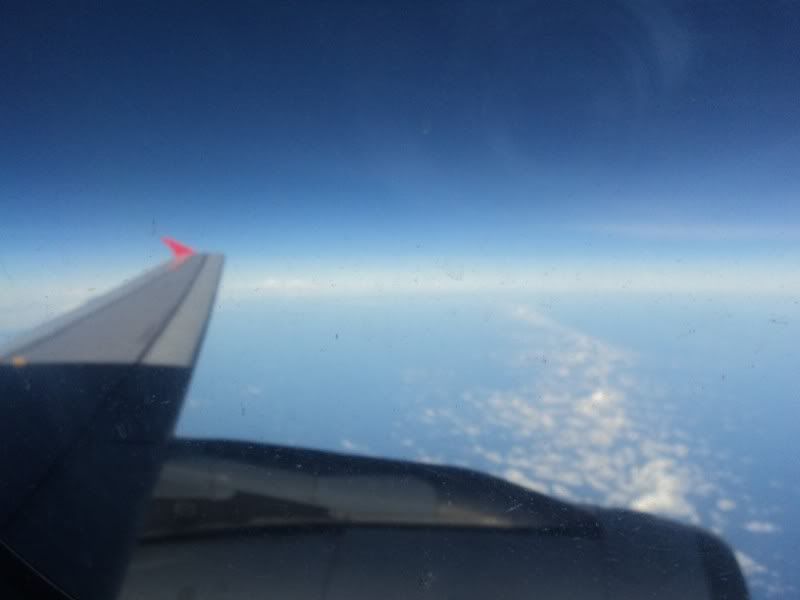 After take off, meals were served and the crew was very nice in explaining the choices, it was either meat with beans or pasta in white sauce. I had the pasta.
Meal: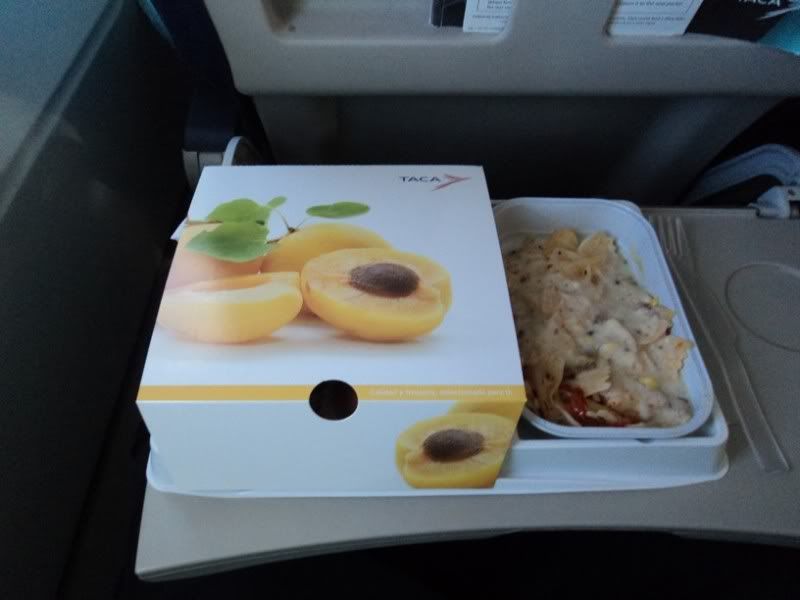 I had a Brahma beer (Brazilian):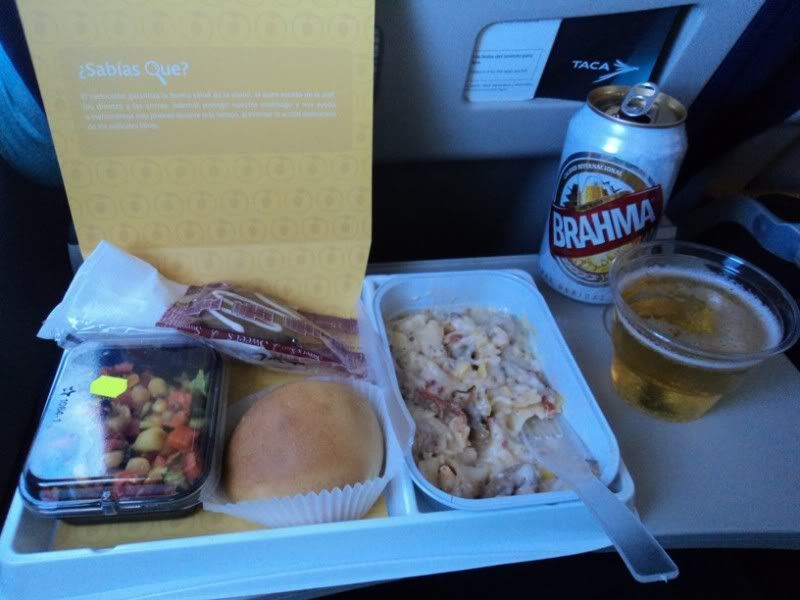 After that, the crew perfomed two more drink rounds, which was very nice. IFE consisted of Johan Hex movie and an episode of The Mentalist. However, I watched the Big Bang Theory on my laptop.
I was getting dark: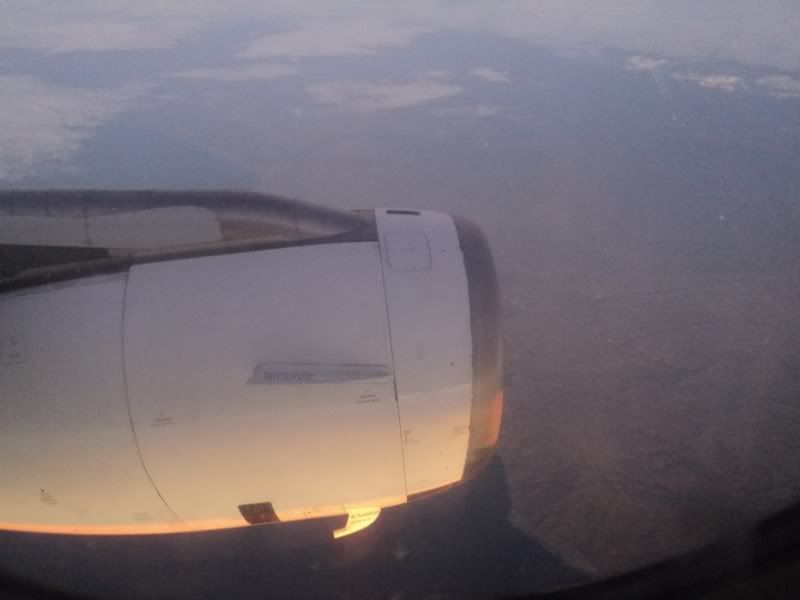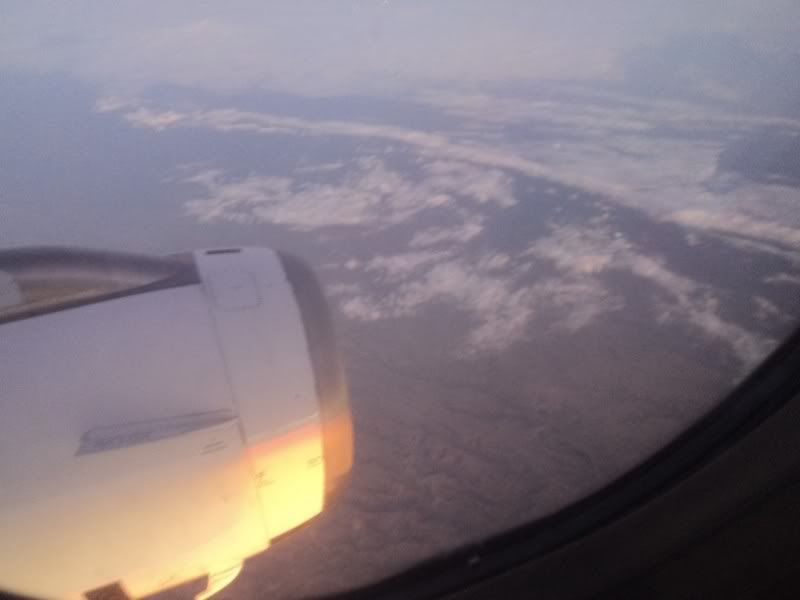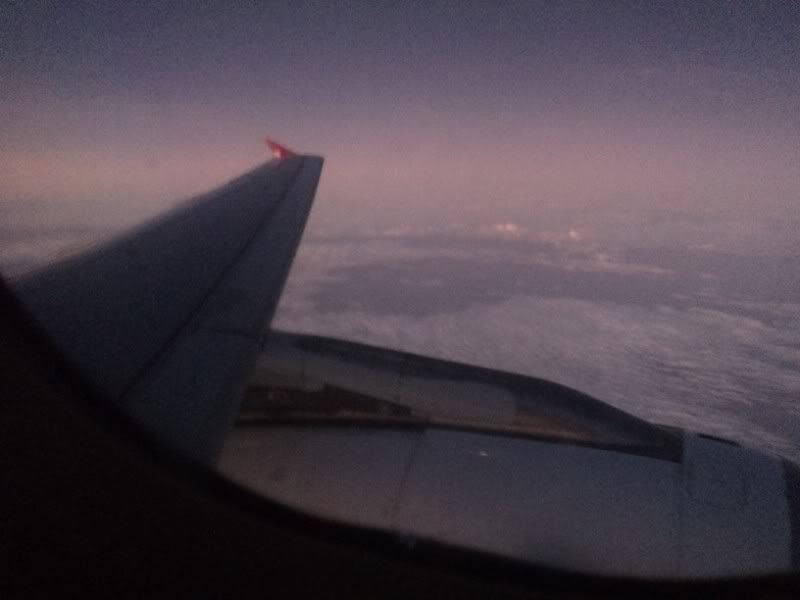 Later on we started our descend into LIM, the crew was very attentive to make sure all trash was collected and cabin was properly prepared for landing.
Lima (sorry for the blurrines):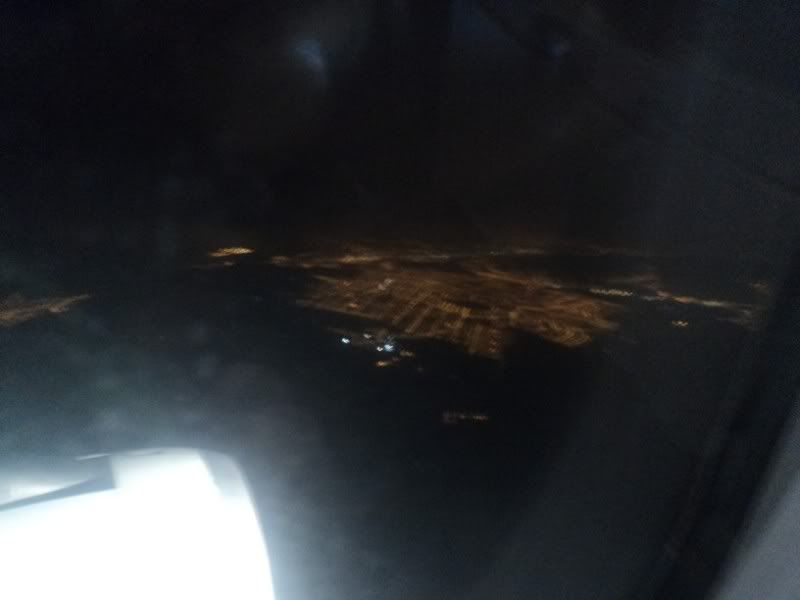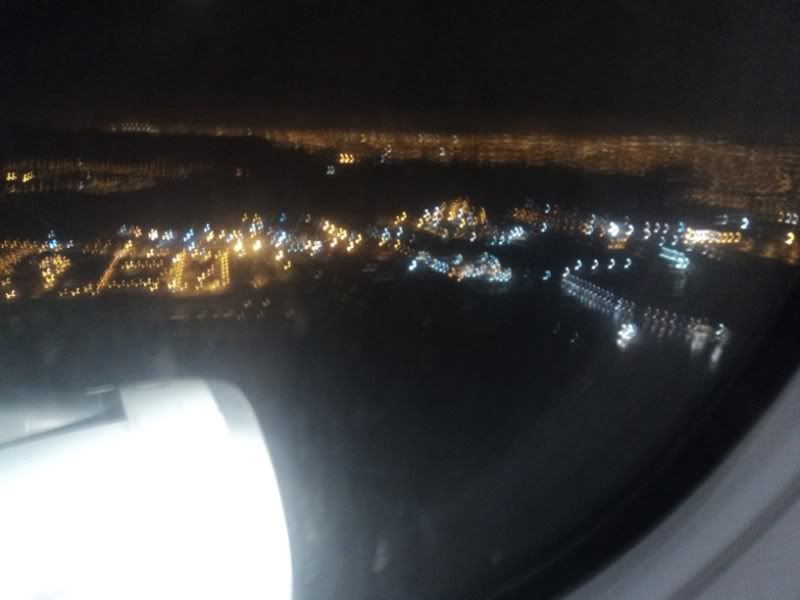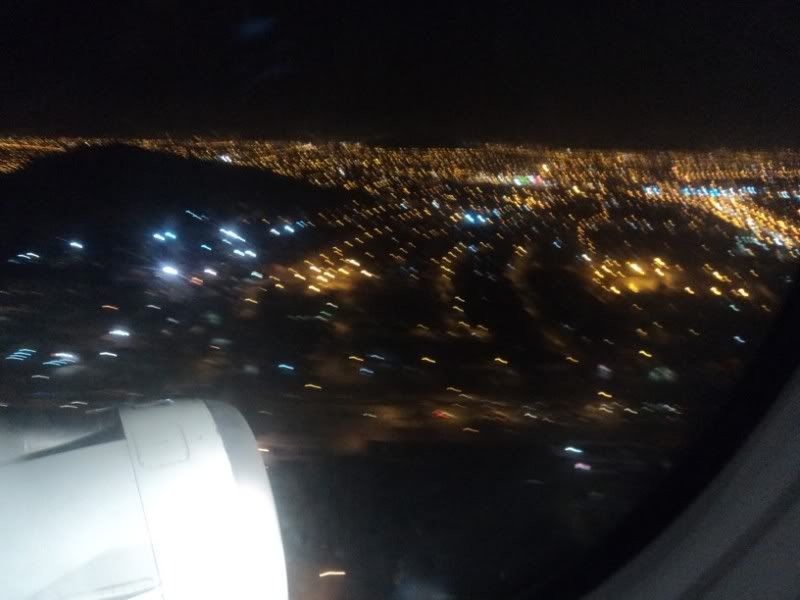 We landed just a little earilier than scheduled and parked aside a KLM 772 which was ready to fly to AMS. Aside the KLM, was an IB A340 ready to board for its flight to MAD. The day, the KL flight was operated by PH-BQF "Ferrara City".
Conclusion:
TACA is a wonderful airline!!! I love them! The crew was always excelent and incredible, planes were well mantained and nice. Service was above average. And also, I haven´t experience this kind of extreme punctuality in any airline (all 4 flights departed and landed on time). The only pity is their fares are very overpriced, so one needs to wait for these kind of sales to buy reasonable priced tickets.
I would give TACA a 10 out of 10!!!
Please, if you have any questions, don´t hesitate to ask me! All comments are welcome!
Have a great day,
Adam