Toulouse and "Vol annule" on Regional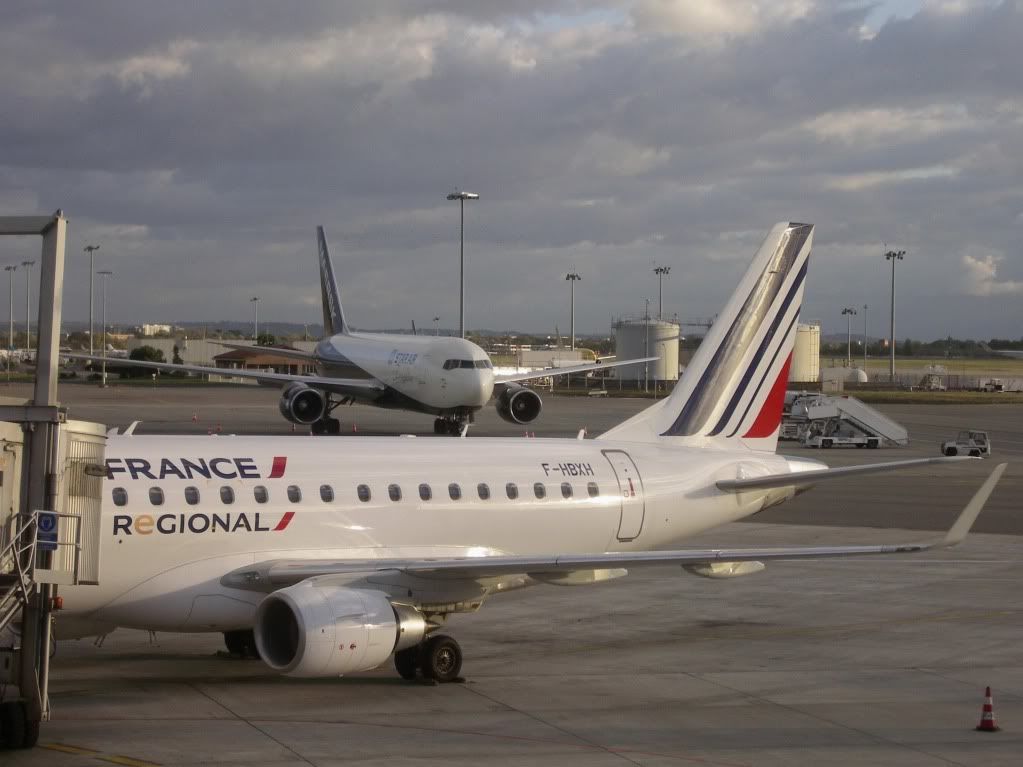 Bonjour, dear readers,
seeking for new airports and routes it´s always a point of interest for me.
Toulouse is showing up, passed the airport for a couple of times on the way to and from Spain, but never been there before.
Collecting some domestic flights in France seems also interesting. During scheduling there is no sign of todays strike action around, so booking is done in July.
Here´s the link to my previous story from Italy
Like A Private Biz Flight: The Darwin Saab 2000
(by
FLIEGER67
Jan 6 2011 in Trip Reports)
and further on with three flights a la francais!.
Monday, 25.10.2010
.
.
.
.
Service Air France AF 7303 operated by Brit Air
Scheduled: 06.50 // 07.50
The KL website is as always my preference with OLCI for AF,
easy and quick, seat selection is possible there.
The fare for this flight is 50.00 Euro´s, booking is fixed by Exp.de.
The scheduled Fokker 100 on the seatmap, 20A is open, the two seater close to the engine with a good view behind the wing, so the place for me.
Boarding at 06.20 am shows me once more the hard reality of early morning flights, just for fun as we already know. Departure from SXB, much cheaper this way and a better timetable than flying from Germany.
The system shows me 2.00 hours to drive, the cell phone calls me at 03.00 am, on the road at exactly 4.00 am.
Well, dear readers, I promise now and finally that I will go earlier the next time. This was as tight as it could be.
It seems with the upcoming economy all available trucks are back on Germanys motorways and this together with the construction site called "Rheintalautobahn" between Karlsruhe and Strassbourg let me reach the airport at 06.15 am.
Ten minutes at a, so it feels like, pretty slow security,
the agent calls boarding will start soon, when I´am at the gate, a short step to the restroom, some pictures and boarding from gate 30,
not a minute lost this way.
Amsterdam cancelled, Bordeaux delayed, not the best signs here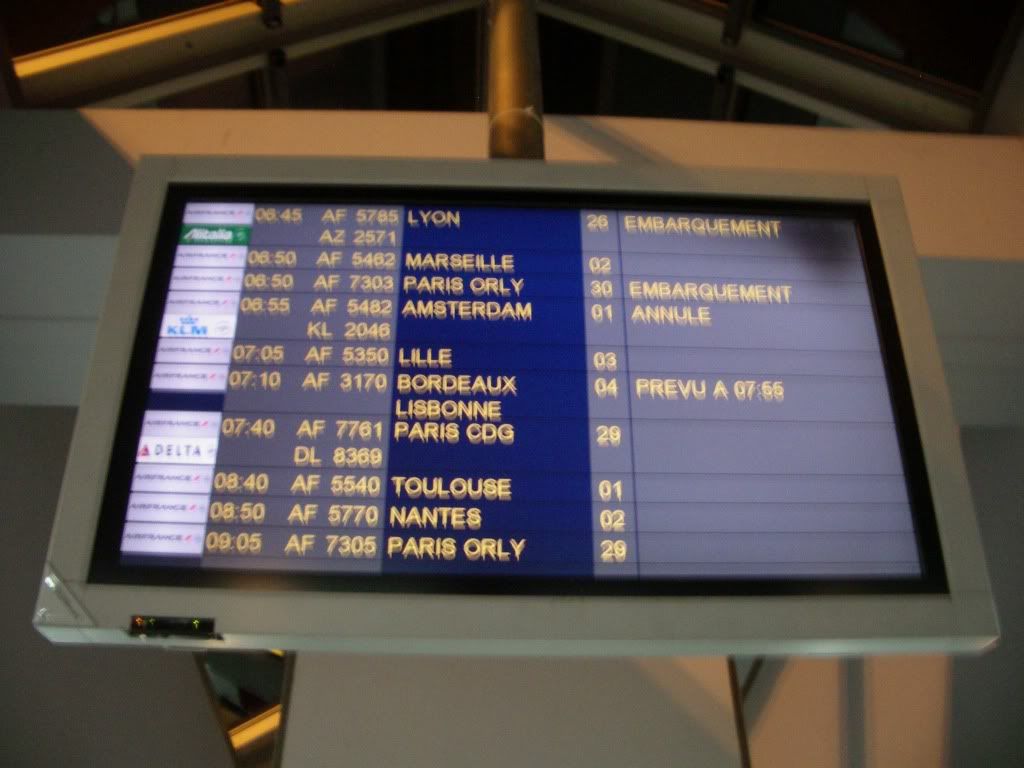 This is the clean, but with these metall seaters not that really up to date looking upstairs gate area for the finger boardings
Cockpit crew is from France, the captain with a short welcome during boarding and the information that we´re looking for some lost passengers.
Generous legroom here in eco. Boarding as the last pax, so it seems, seat 20B is taken, 19A/B is open, so no question to take 19A.
An elderly french female joining us short after me taking the seat and finally catch 19B. So I get my original seatmate a
free seat beside him. The load is good, 90% this monday morning
A dark apron and wing view from the scheduled F100
The cabin crew is one, nice middle aged female and one young pretty bored young male.
Dark grey leather seats here, well used, recline is possible and the safety demo is manual
The safety card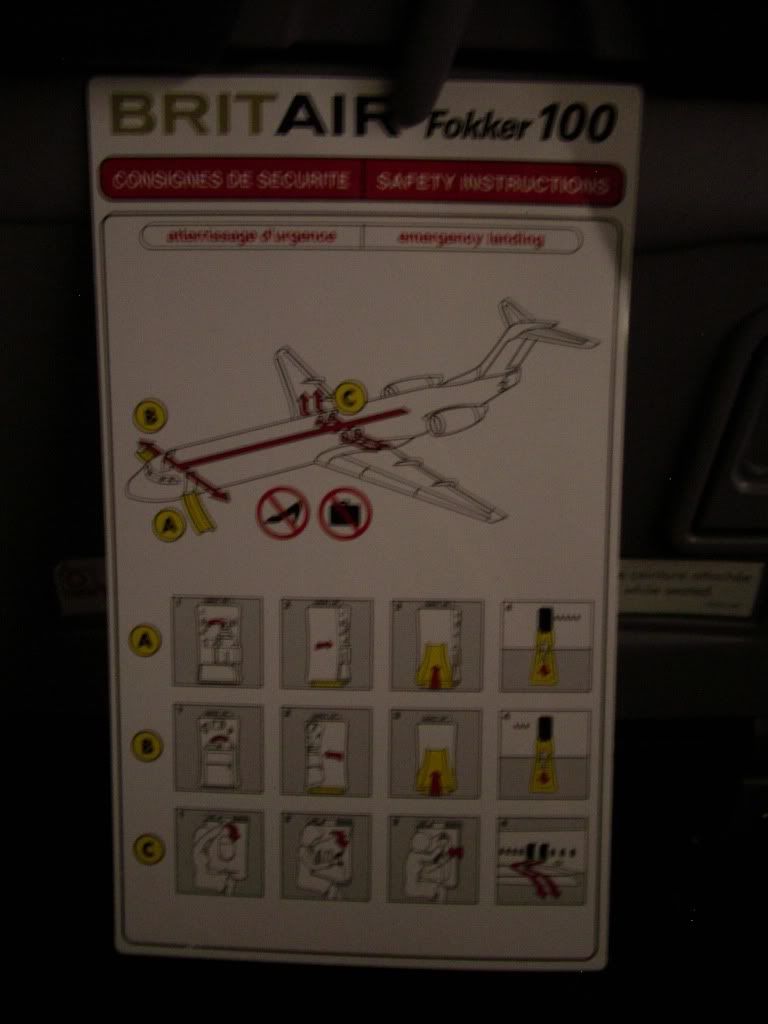 Departure from the 2400 meters runway 23, it is 07.10 am, 20 minutes delayed, maybe something more later in the day?.
The temperature is 5 degrees only and its cloudy here in Strassbourg. 50 minutes to go for Paris-Orly.
The actual magazine, well it seems the weather is not that really welcoming these days for beach action around Hamburg
in October
Turning with the first sunbeams around the corner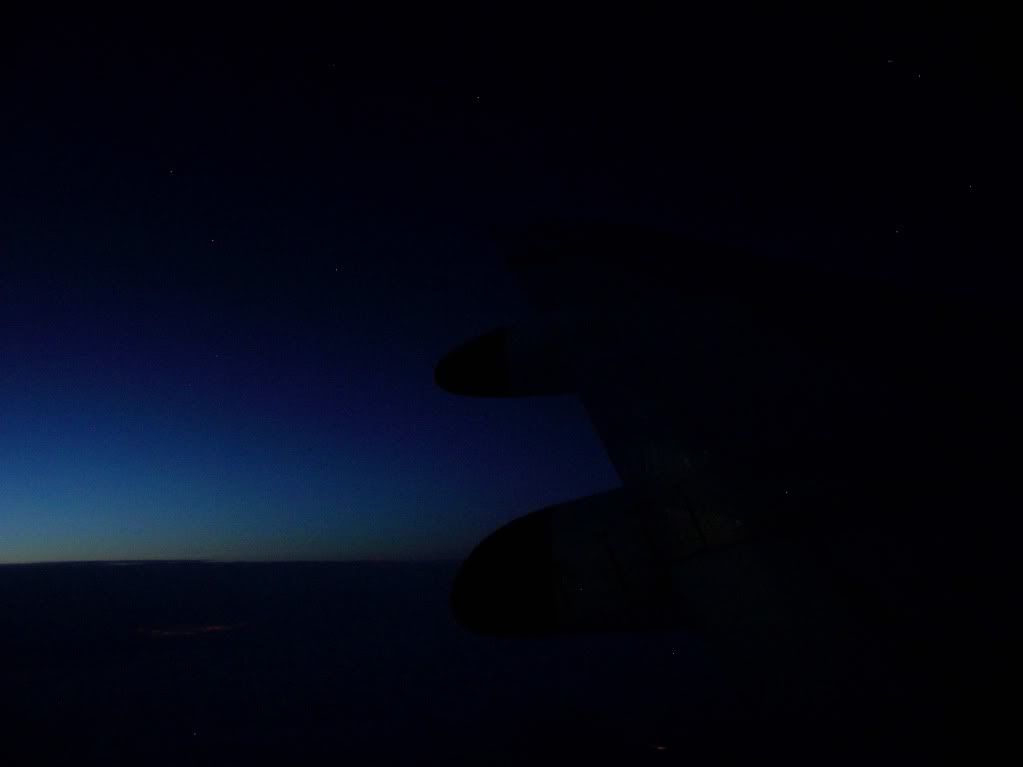 Service is a brioche, coffee and water for free.
No route or flightlevel informations.
A nightly engine view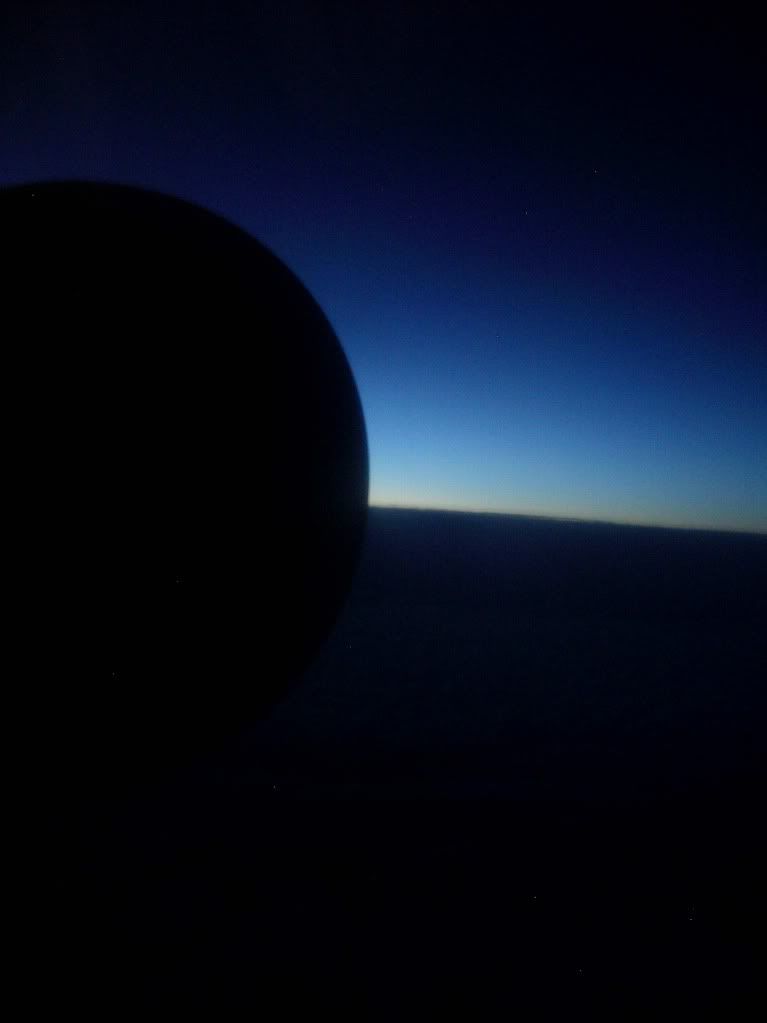 Approaching Orly
Finals with the city in the distance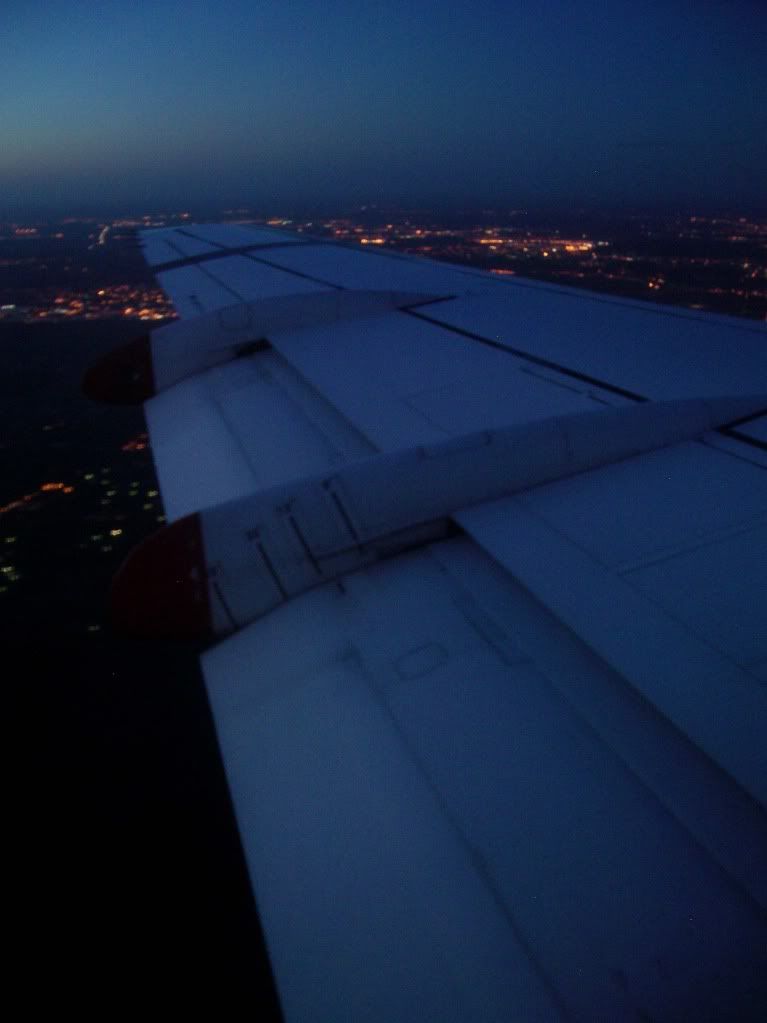 Touchdown on the 3320 meters runway 26, it is 08.00 am, ten minutes late, clear sky here in Paris and 4 degrees centigrade only.
Airlinair closeby on the apron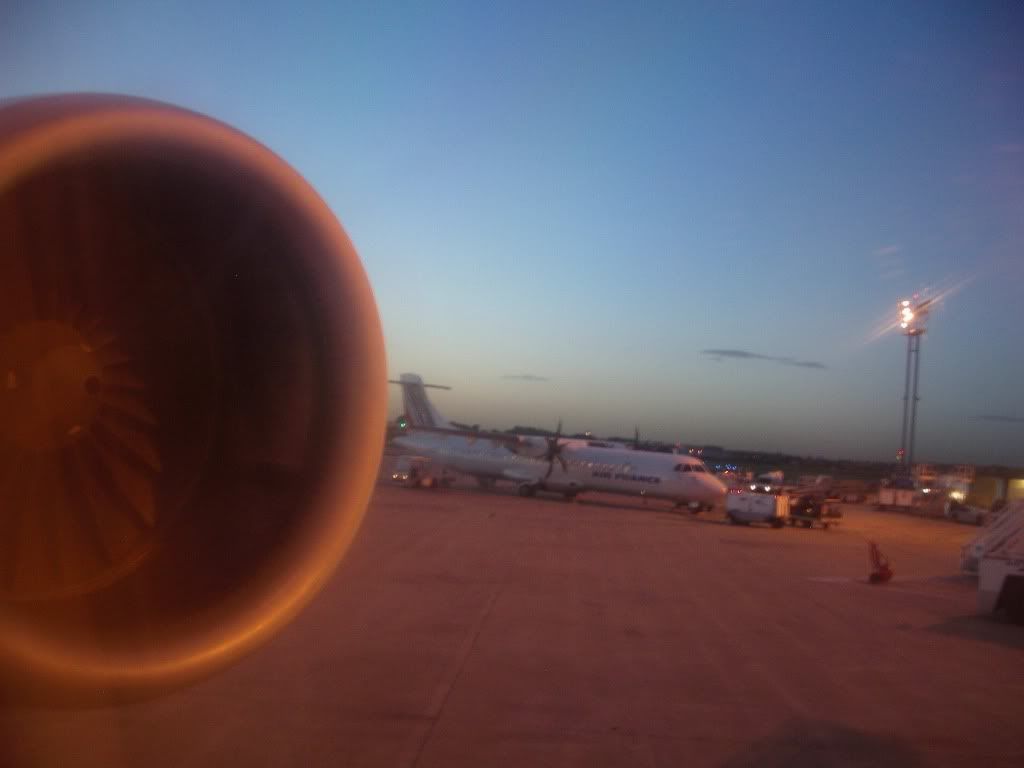 Disembarking and to the waiting bus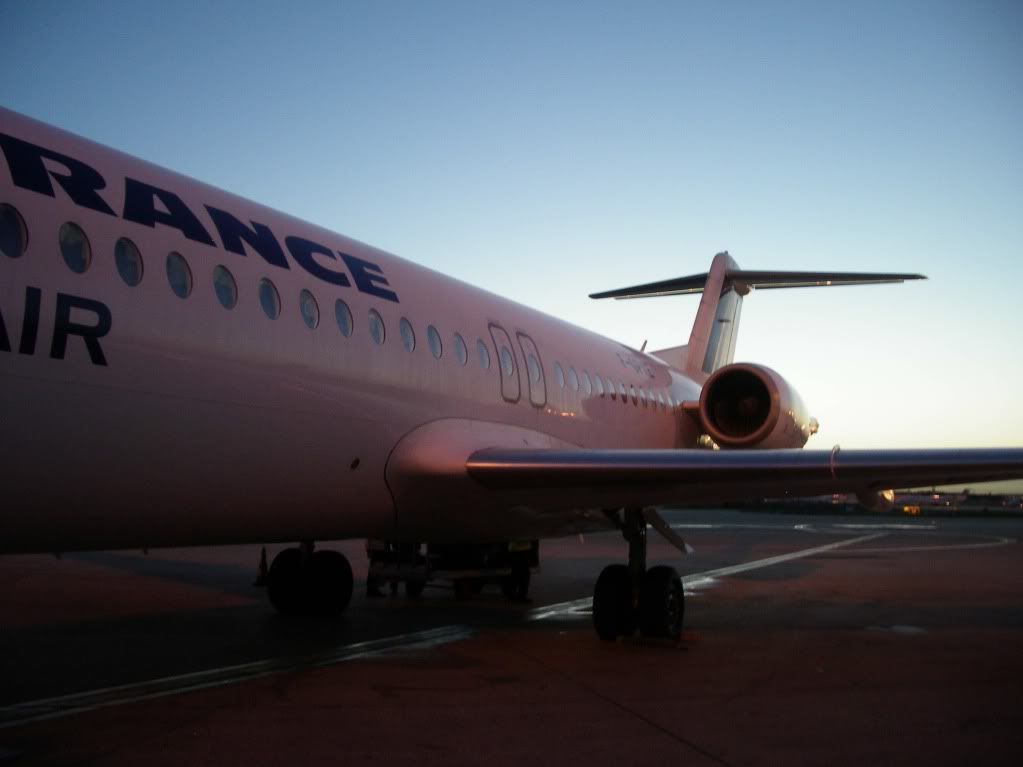 Registration shot, my second flight on F-GPXE and leg no. 19 on the F100.
This plane is in service with Air Inter from 20.09.1995, with Air France from 12.09.1997 and to Brit Air at 25.03.1999.
One of actually 9 in the fleet, the newest example.
It seems Britair is scaling down it´s F100 fleet more and more.
F-GPXJ, done in February is sold during the summer months to Iran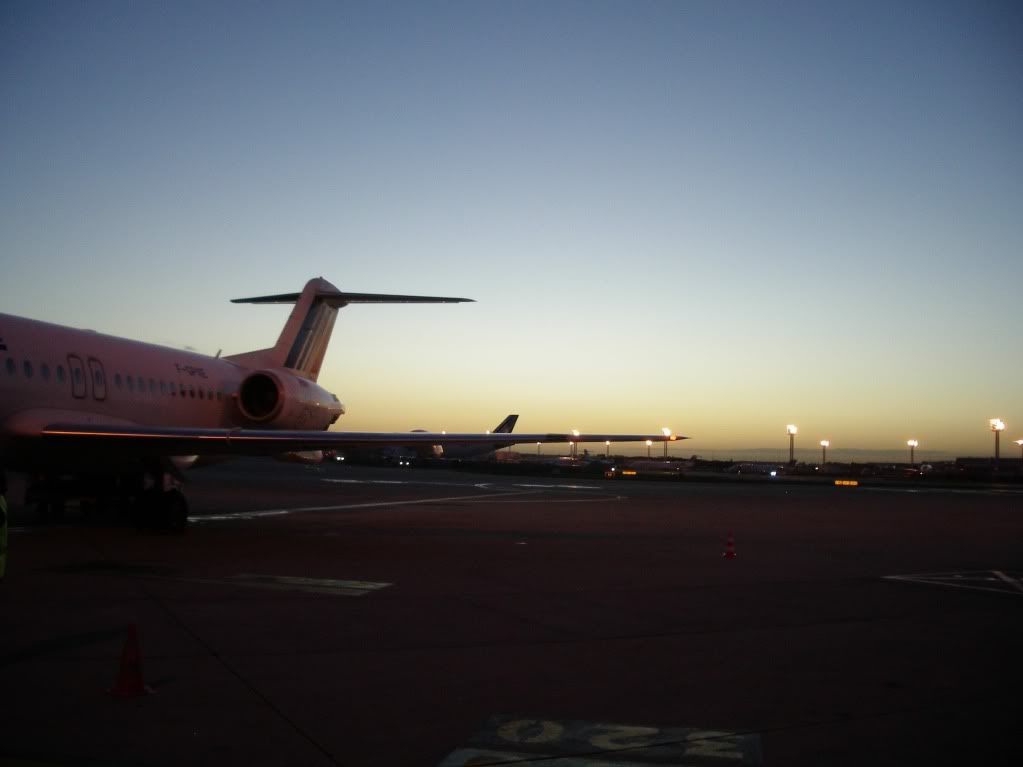 Full view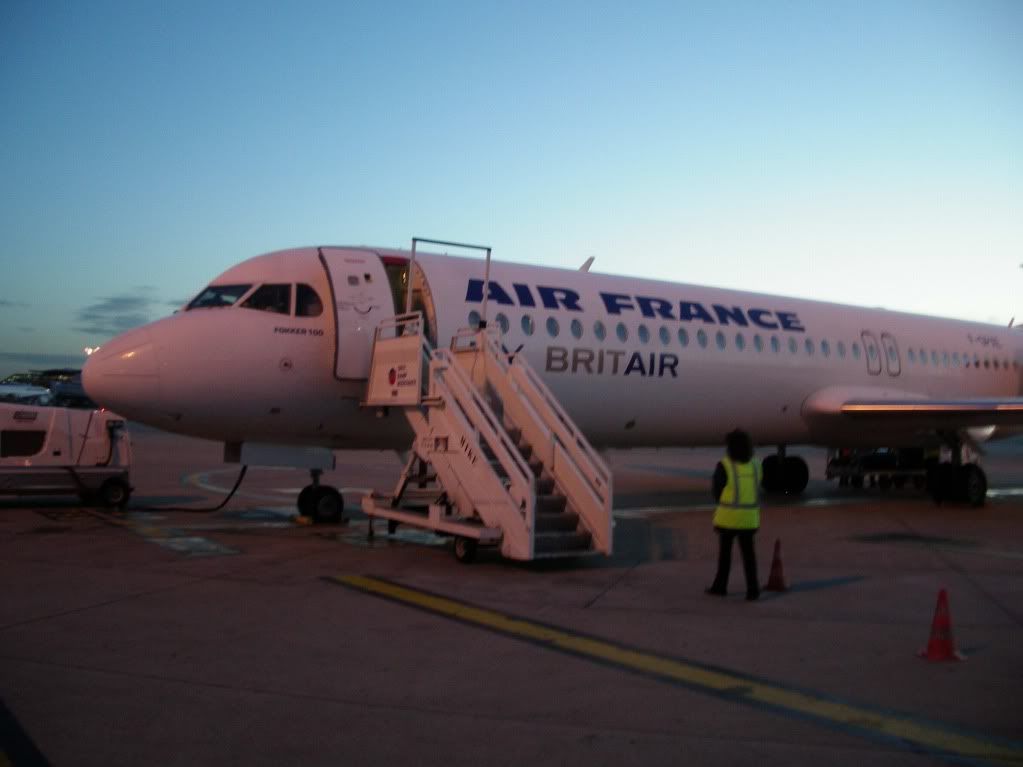 Another ATR coming in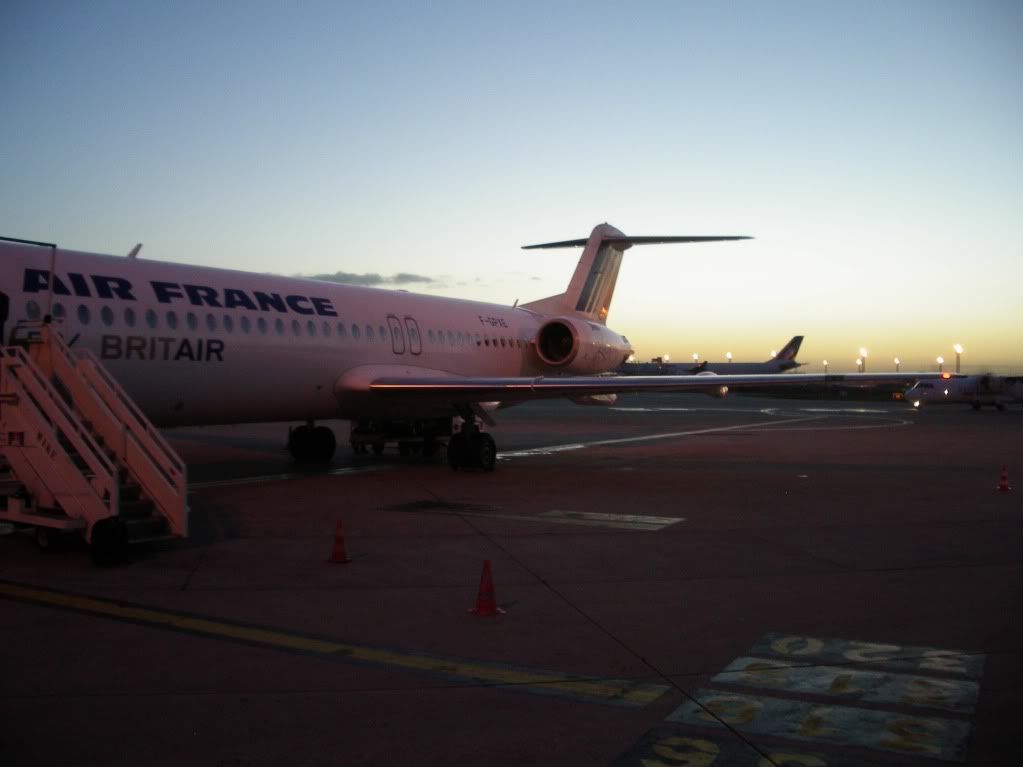 ......................