There are many reasons people travel the world. Some are heading out for a nice vacation and a much needed break, others are heading out for business with the possibility of never ending meetings at the other end. There are also those who just want to travel and see the world with no real plan in sight. Then there are a handful of people that fly due to circumstances beyond their control. The latter is the reason I was standing at the Lufthansa check in counter this rather warm summer evening.
On short notice I had to buy a ticket to Mumbai from the United States. Pricewise the only real choices I had were between Jet Airways via Brussels, Air India non-stop or Lufthansa via Munich. Being that I have heard some rather mixed comments as of late regarding the Jet Airways economy product, I decided Lufthansa would be the lesser of two evils. It also helps that I am Star Alliance Elite, and would be able to access lounges throughout the trip – something that would make the long arduous trip in economy a little more bearable.

Lufthansa 411
New York JFK – Munich
Airbus A340-642 (D-AIHZ)
Seat: 12A
Scheduled Departure Time: 17:30
Actual Departure Time: 17:37
Scheduled Arrival Time: 8:05
Actual Arrival Time: 8:10
Check In:
Ticket in hand I approached a rather deserted Lufthansa Business Class/Star Alliance Elite line. Almost instantly an agent motioned me over to his counter. I handed him my passport and tickets.
"You are flying economy no?"
"I am sorry, I thought as an elite I could access this line?"
"Can I see your card please."
I handed him my card and he asked me to place my bags on the conveyer belt.
"Here are your baggage tag receipts. Both your bags have been checked in through to Mumbai. Here are your boarding passes for both flights as well. Take your bags over to the x-ray machine located there." I thanked him as he was motioning over the next passenger.
After dropping off the bags at TSA, I proceeded for security check. While the security line was long, it did not take more than ten minutes for me to get through that afternoon.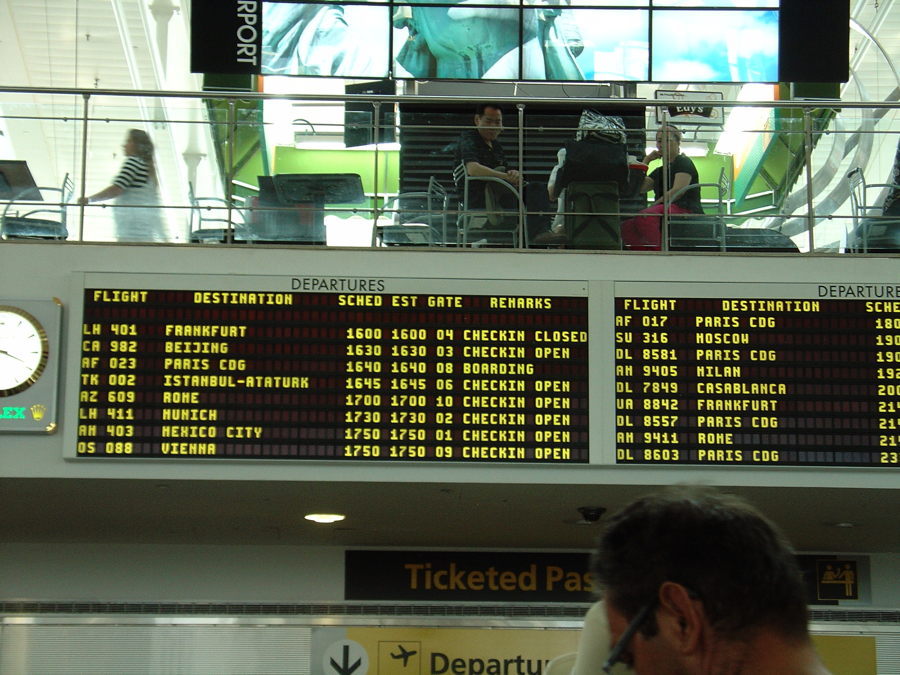 Lounge:
By 16:00 I was entering the Lufthansa Business Class Lounge which is conveniently located right next to the x-ray machines. I approached the podium where a cheery smiling agent was waiting. She took my documents and proceeded to scan my lounge access card as well as my boarding pass.
"Mr. SR 103, I have some good news for you today. You shall be flying with us in Business Class."
"Oh wow, thank you very much. Would that be for both flights?" I said cheekly.
"Oh now, now, don't be greedy" she laughed back.
"I know, sorry. Can't blame me for trying right?"
"I can't. I would have done the same thing if I were you. Please enjoy the lounge."
I smiled and thanked her profusely for the upgrade.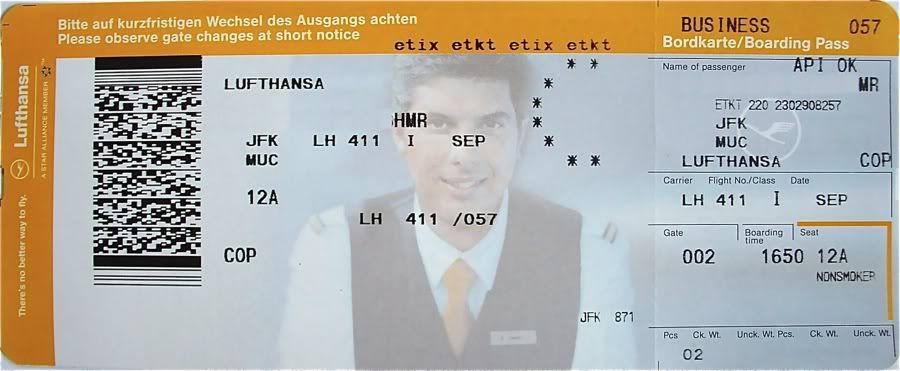 With my new boarding pass in hand, I found a table by the window where the earlier Lufthansa 747 flight to Frankfurt was being pushed back. First thing I did was look at what was on offer at the snack bar.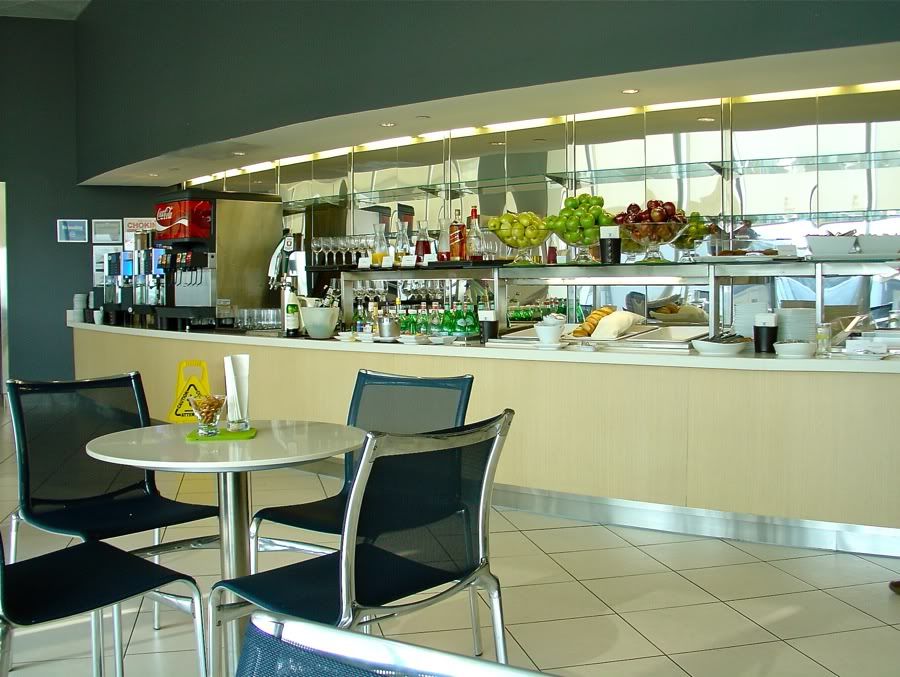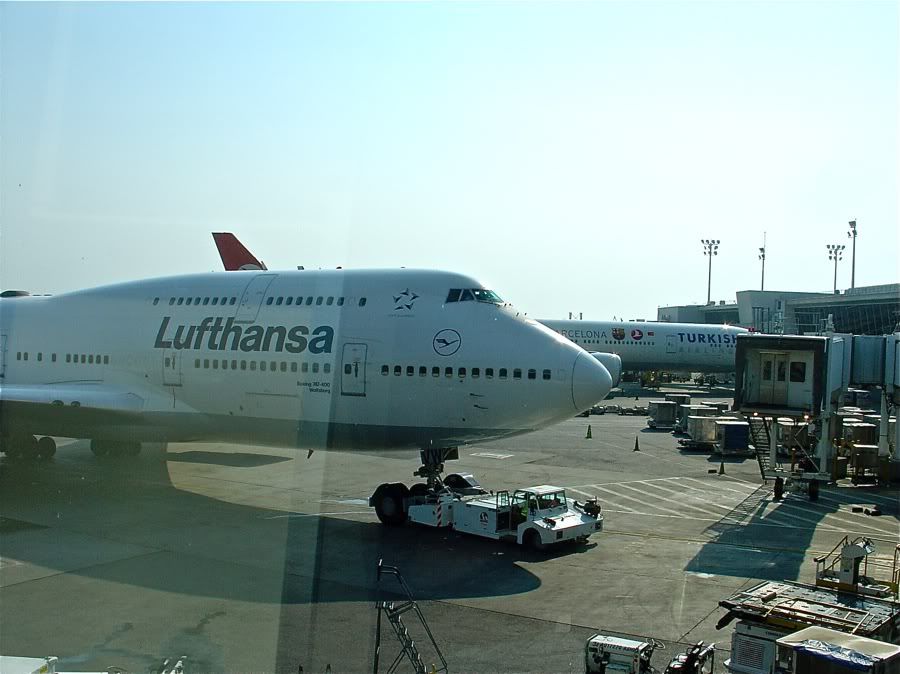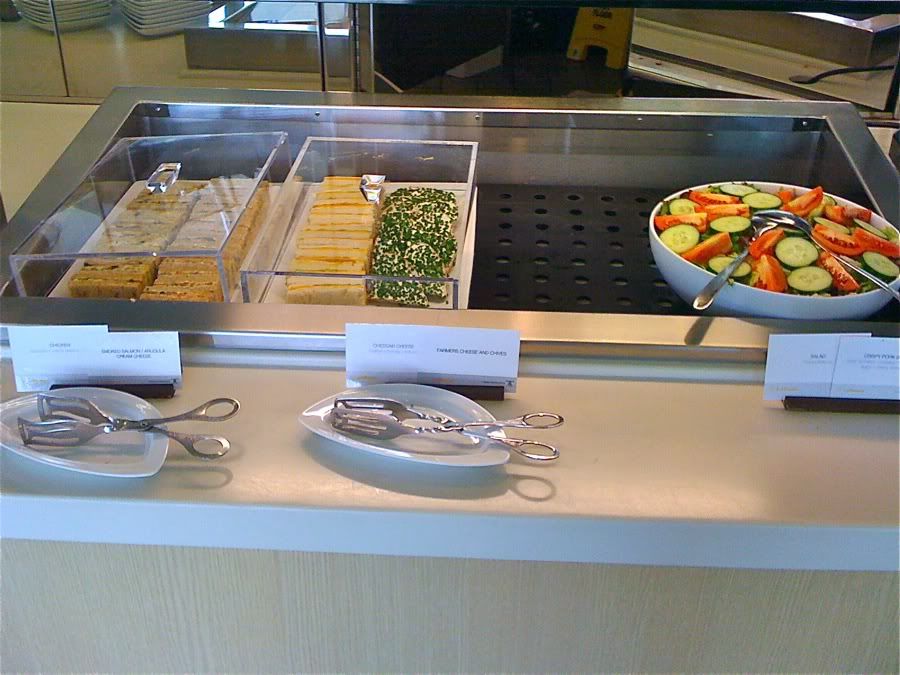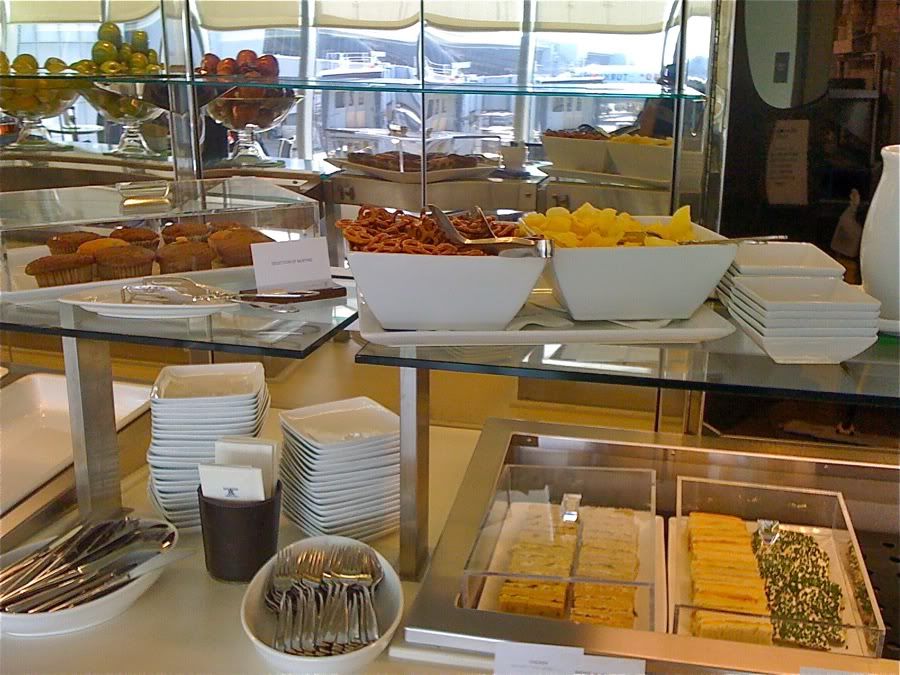 - Chicken Avocado sandwiches
- Salmon Cream cheese sandwiches
- Cheddar Cheese sandwiches
- Bread with Farmers Cheese and Chives
- Crispy pork salad
- Various muffins
- Warm bread and butter
- Creamy yellow pepper soup
- Pretzels
- Chips
- Apples (Green, yellow and red)
I grabbed a couple sandwiches to go along with my glass of sprite and sat down. The diversity of traffic at JFK always amazes me and for an airline spotter such as myself, it really is a Mecca. Once the Lufthansa 747-400 was clear of the taxiway, a rather shiny and new Alitalia A330 was towed into the first gate. Hopefully someday soon the airline restarts Mumbai and I get a chance to fly their newly revamped Magnifica Class on this gorgeous bird. Thanks to the free wi fi in the lounge, I was kept entertained during my stay.
As boarding was scheduled for 16:50, I left the lounge with five minutes to spare. The walk to Gate 2 was quick and rather uneventful. Having used Terminal One not too long ago during my Skyteam Elite days, I was familiar with the area. Gate 2 is actually sandwiched between the Alitalia and Air France lounge (
Air France: The Best Place on Earth?
).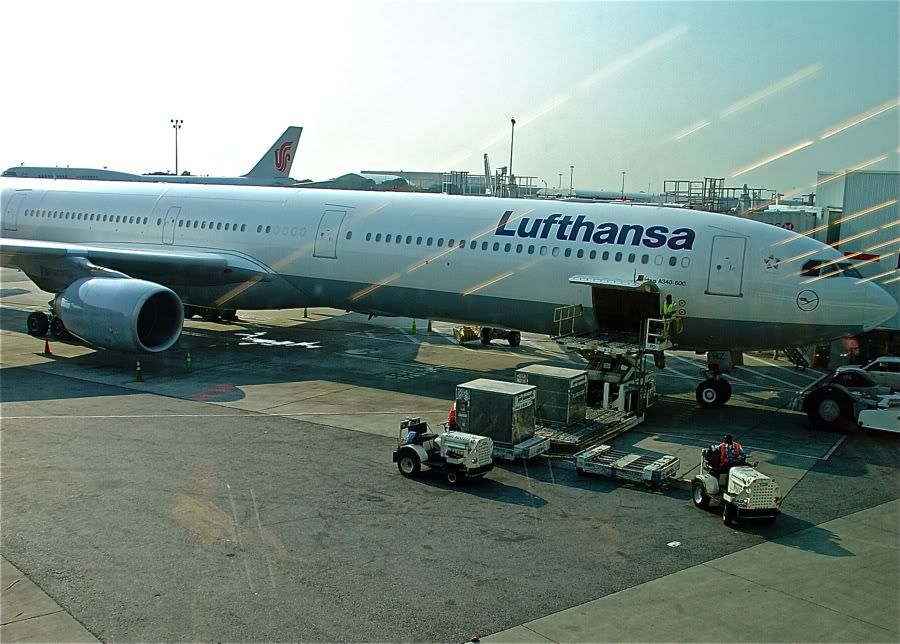 Boarding: Just as I got the gate the agents at the podium were getting ready to make an announcement for First Class and Star Gold passengers. This was followed a few seconds later with an announcement for Business Class passengers and Star Silver members. My boarding pass was scanned and I was on my way down the jetway towards the extra long Airbus.
Standing at the door was the middle aged chief purser (Stefan) and a young brunette (Juliana) were welcoming passengers onboard with a smile.
"Hallo Herr SR 103. Welkommen an board."
12A was in the third row out of four in this mini Business Class cabin located between doors 2 and 3 on the A340-600.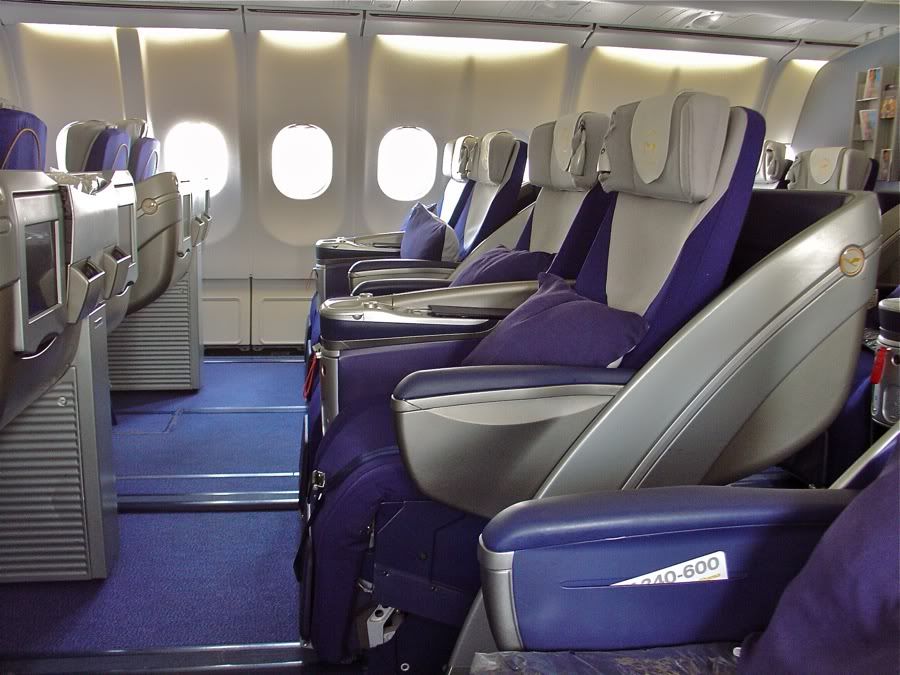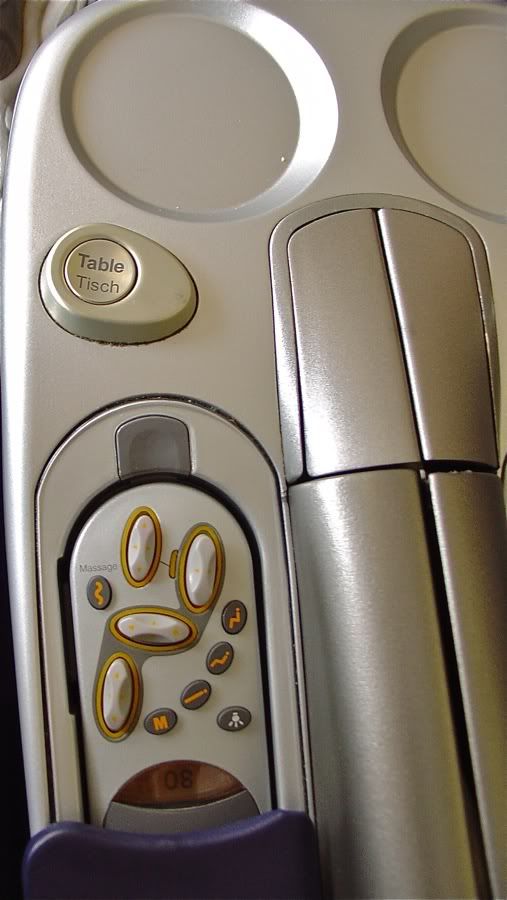 A blanket and pillow had already been placed on every seat along with an amenity kit and water bottle in the little holder behind the seat. A very cute young blonde F/A named Sabine was in the cabin helping passengers stow their belongings and hanging up coats.
Once the boarding process started to slow down, a smiling Sabine came around with a tray of glasses full of champagne, orange juice and water.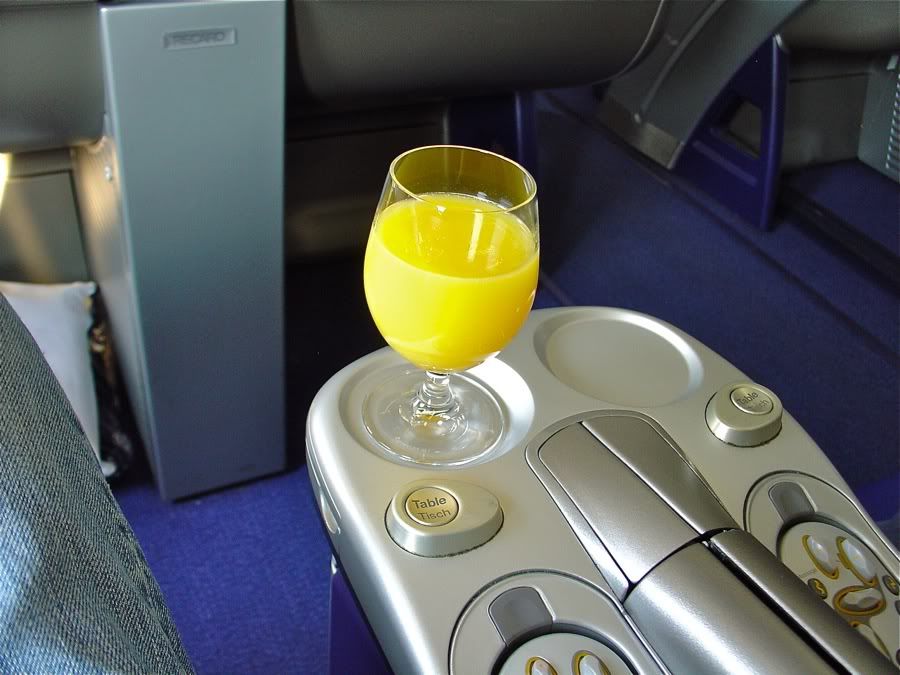 I pulled out my amenity kit and placed the ear bud covers on the Sennheiser noise reducing headsets. I was slightly disappointed to see that Lufthansa uses the same cheap and rather useless headsets that Air France uses. It is not unheard of for European airlines to use good noise canceling headsets, just look at KLM! The "boarding complete" announcement was made around a quarter past five, and I was ecstatic to see that the seat next to me was empty. The safety video was shown as we began our pushback from the gate.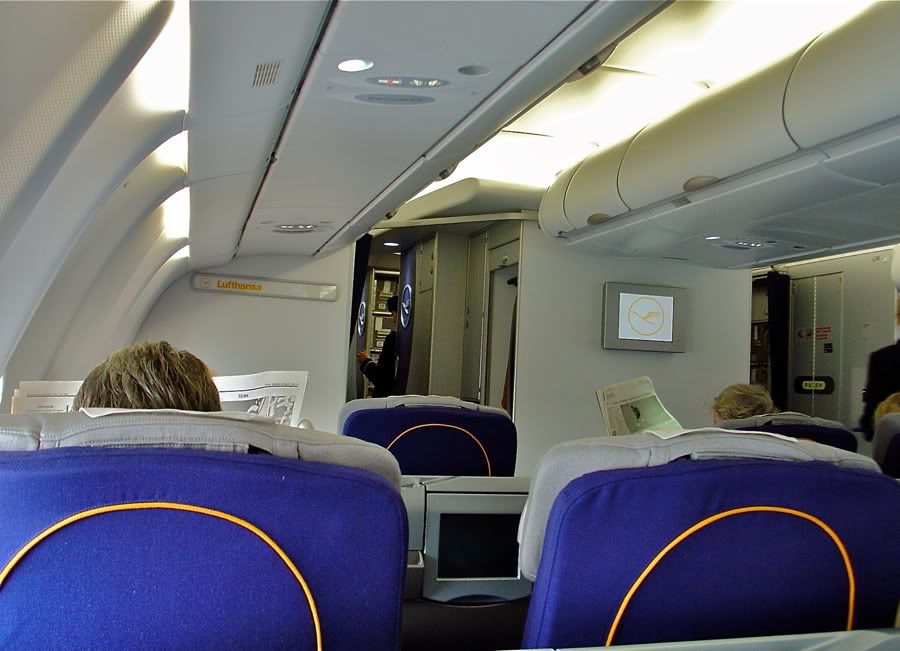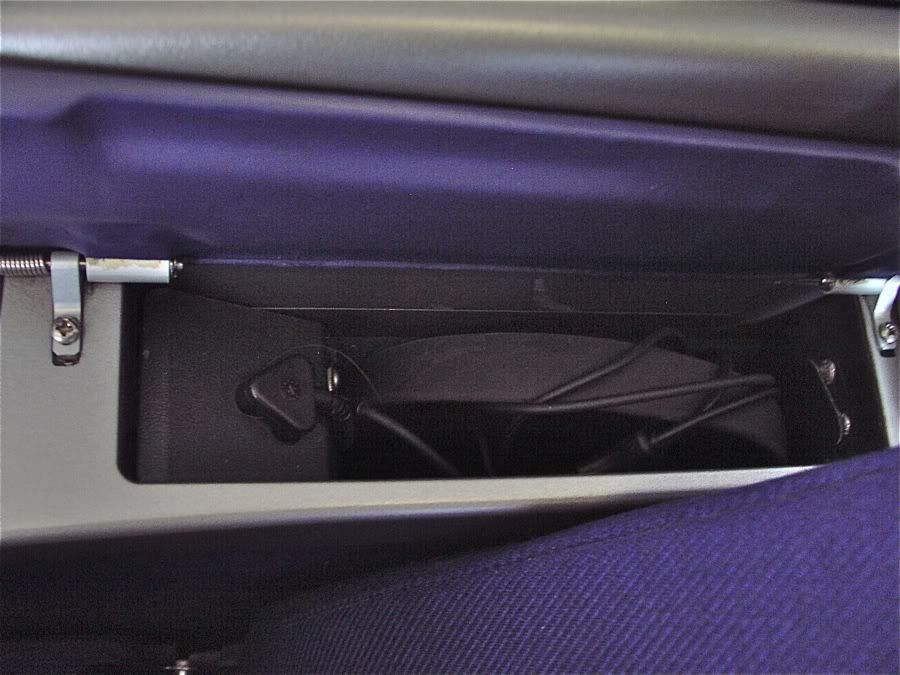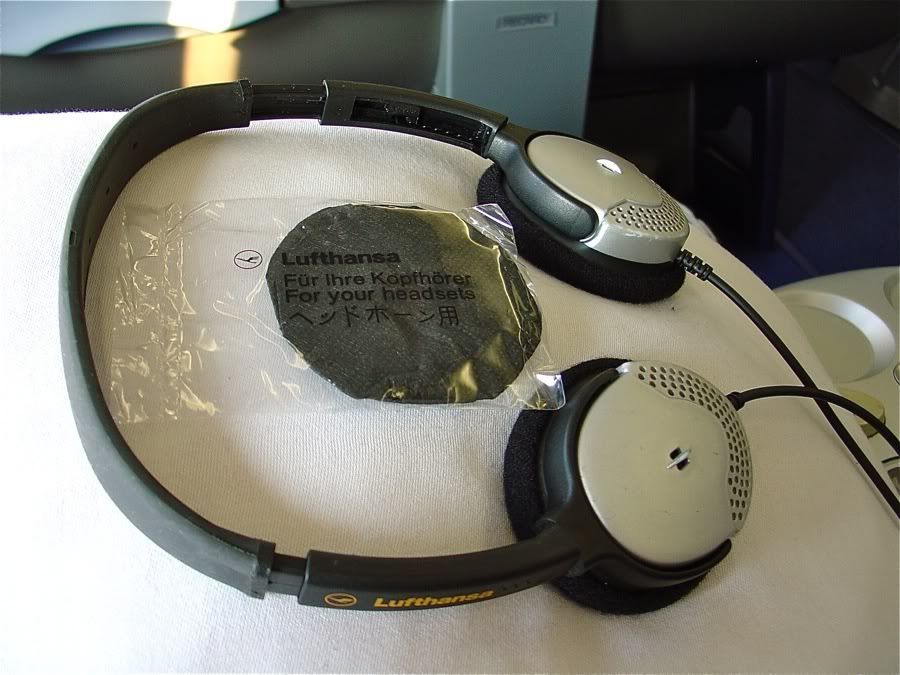 The Captain came on to tell us that our flying time today would be seven hours and 25 minutes. He also informed us that while we still left the gate on time, this is JFK, which means there are a few aircraft in front of us so it would be quite a while before we actually took off.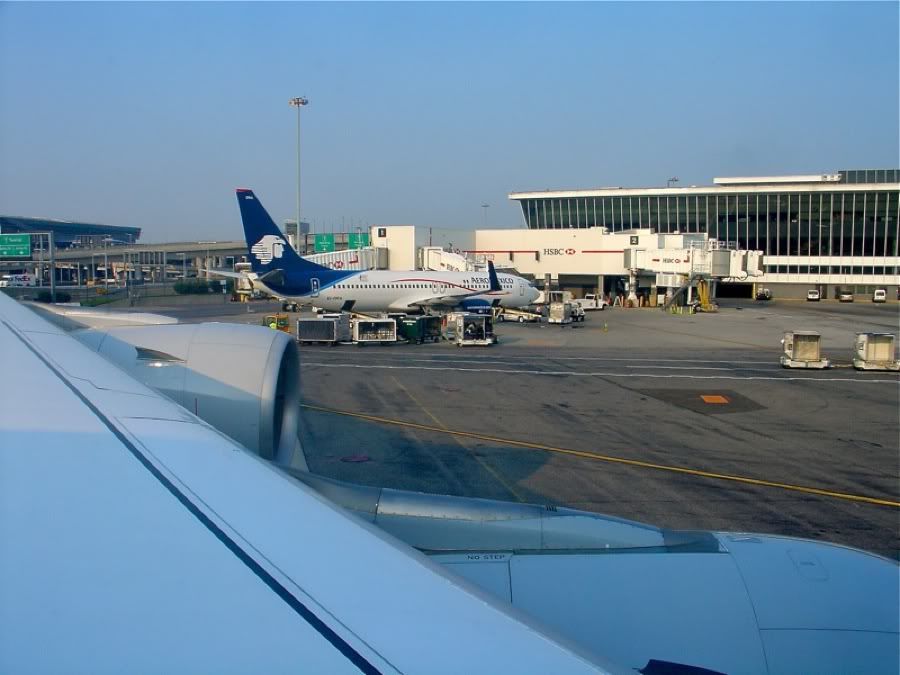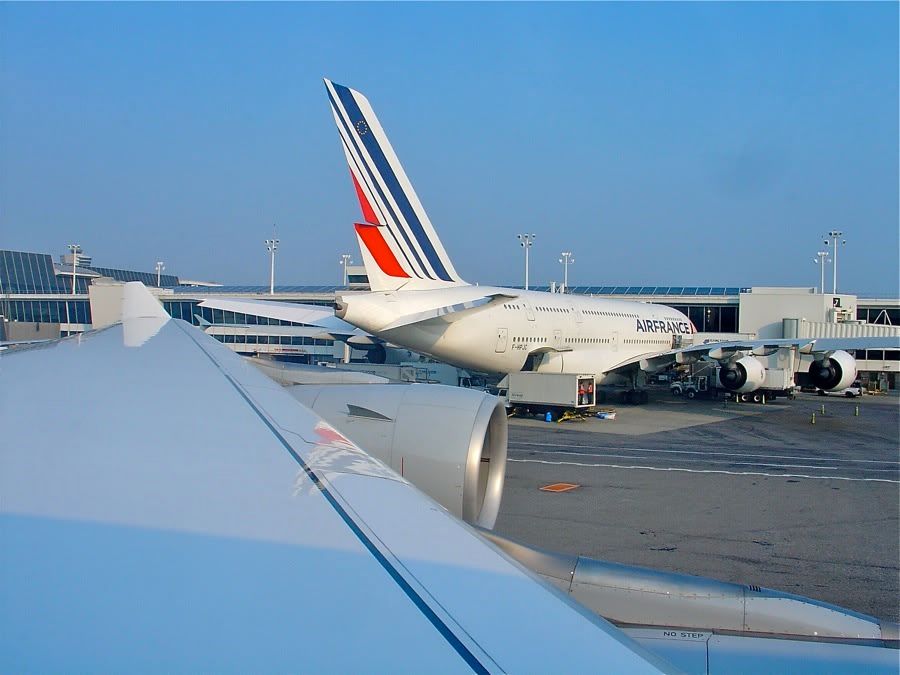 The Flight:
After what seemed like an endless parade of "the world's largest airline" and their flying widgets, it was finally our turn to roar down the runway. I was really quite amazed at how silent the A340-600 was, definitely more so that the 777-300ER.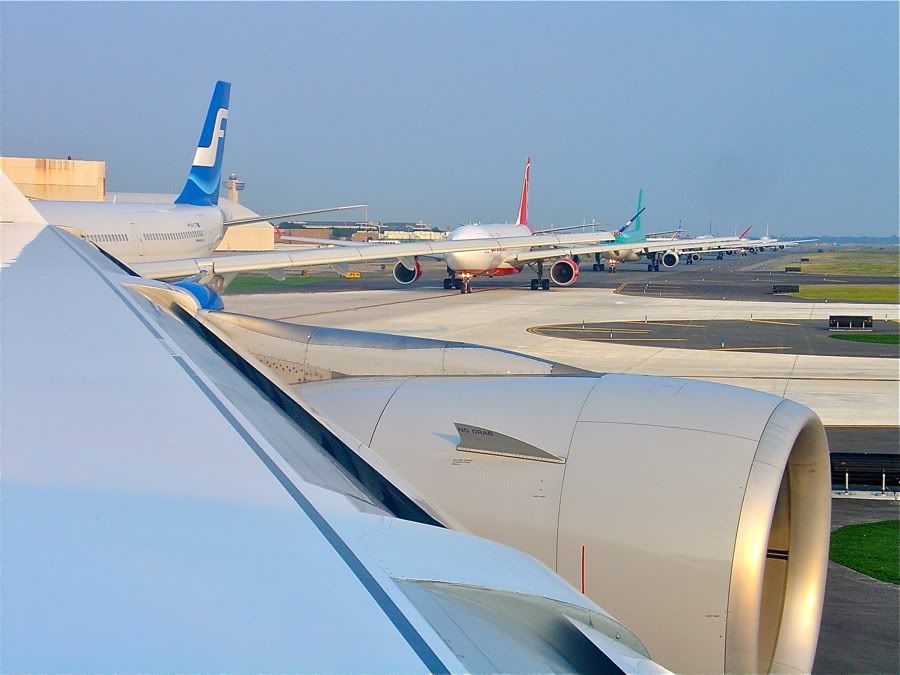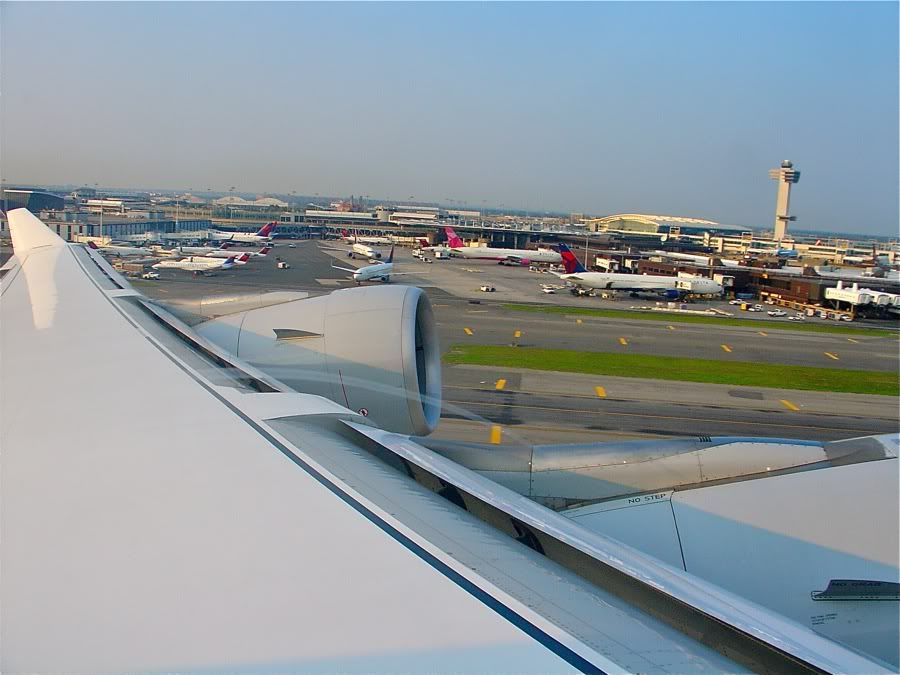 A few minutes after the seatbelt sign was switched off Sabine was in the cabin handing out menus, followed by a round of steaming hot towels.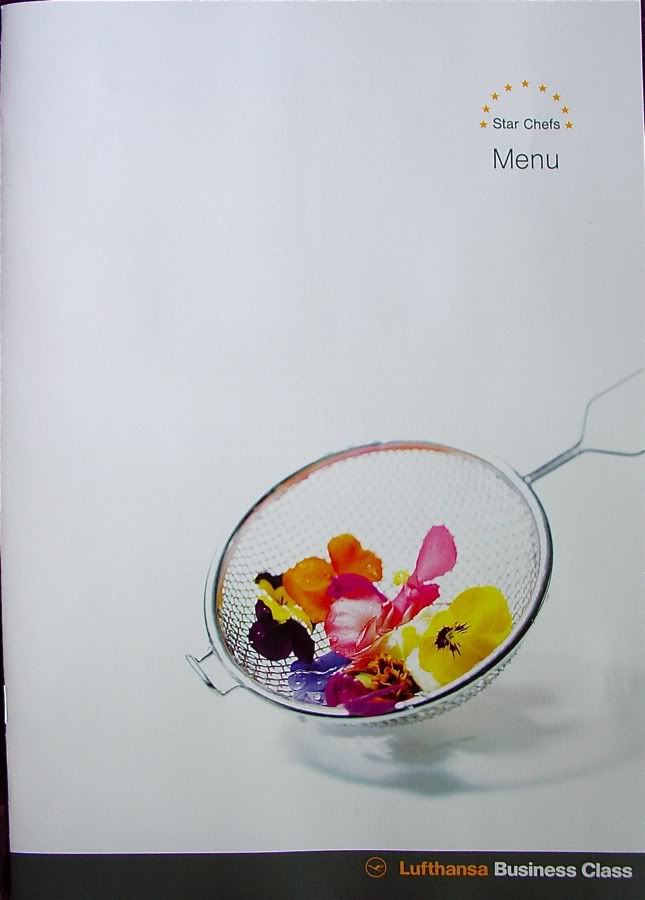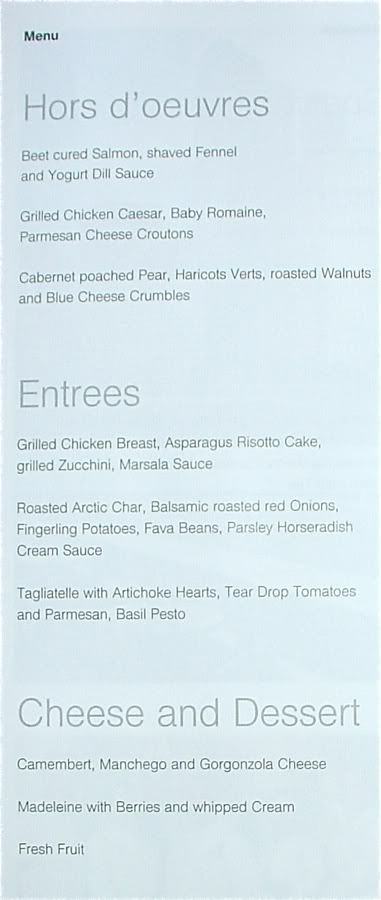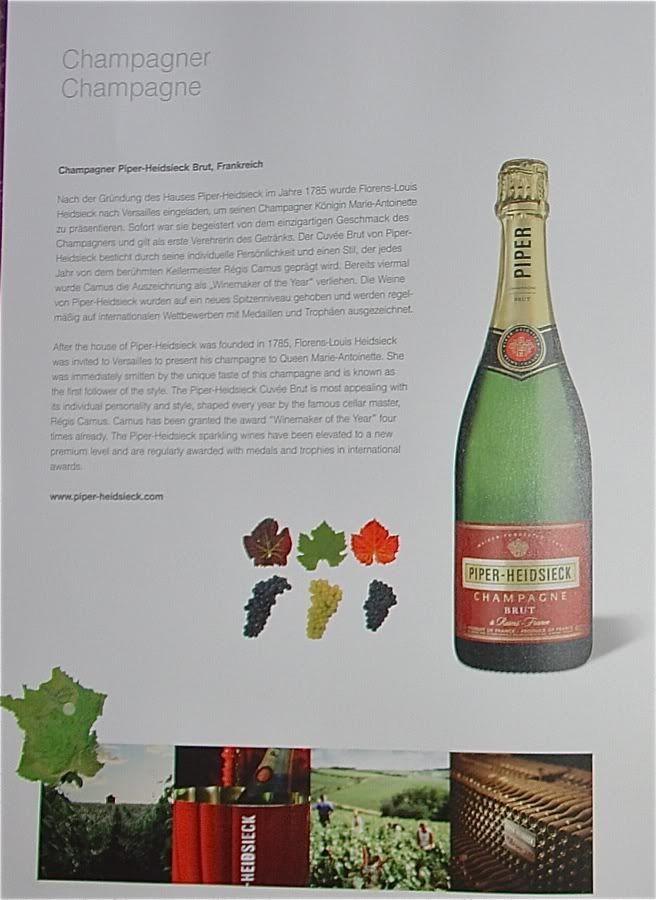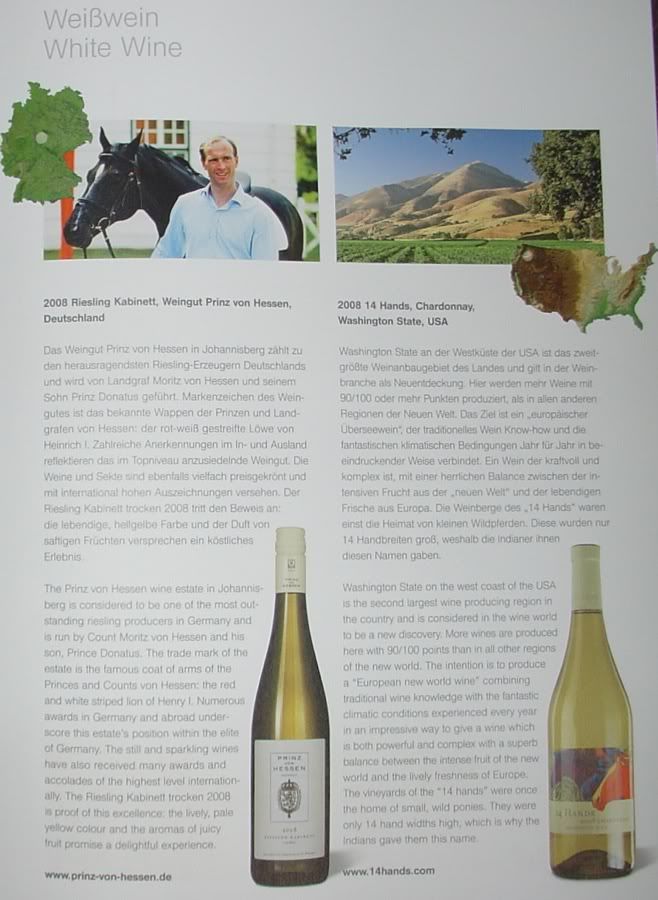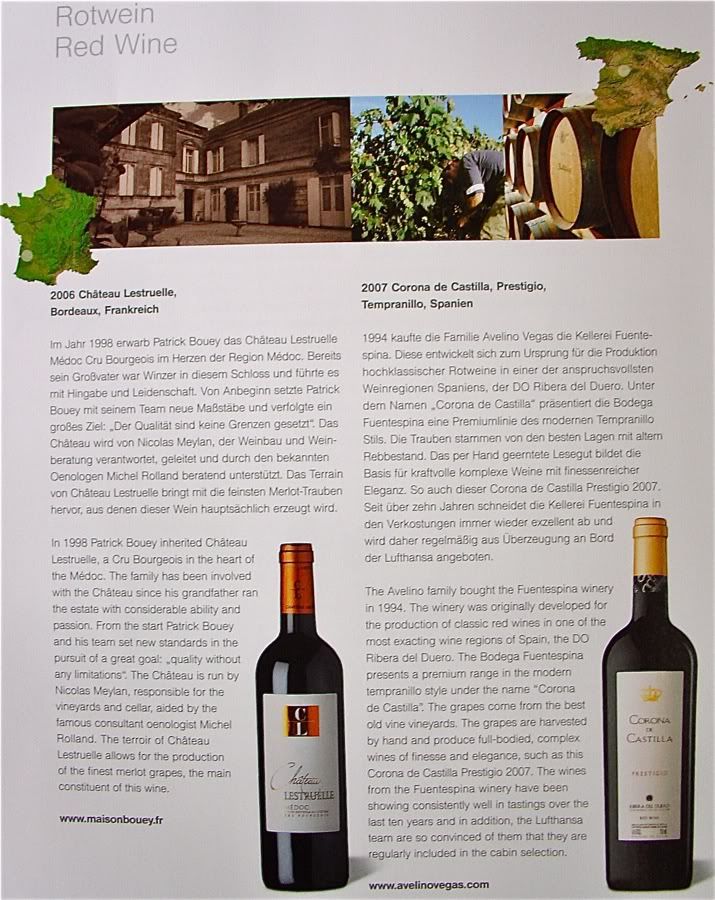 I powered up the IFE to see what was on offer today. While there were around 18 to 20 movies, none of them really were of much interest to me. I decided to watch Alice in Wonderland, as I had not seen it yet.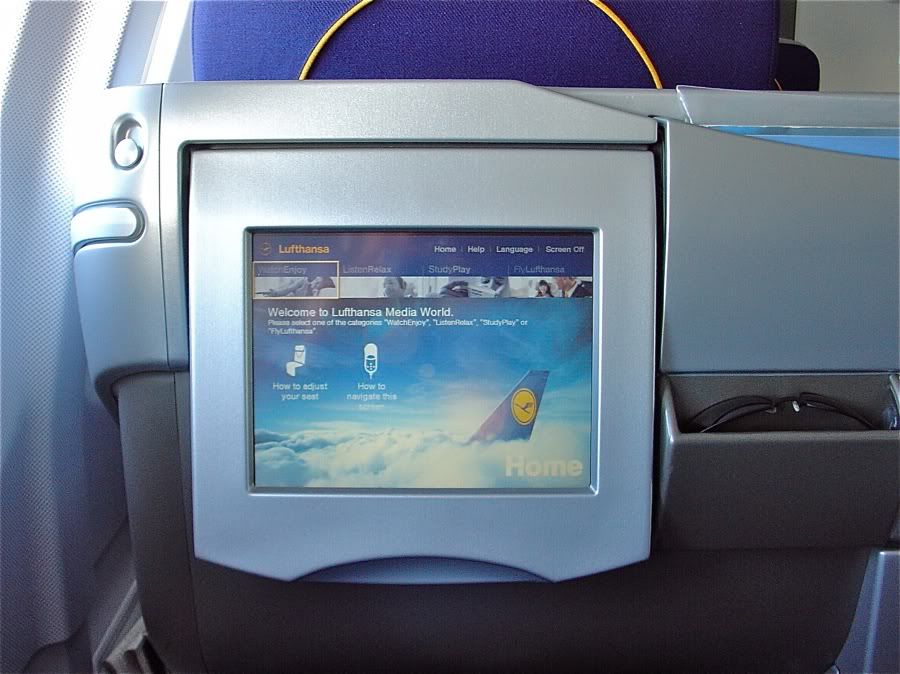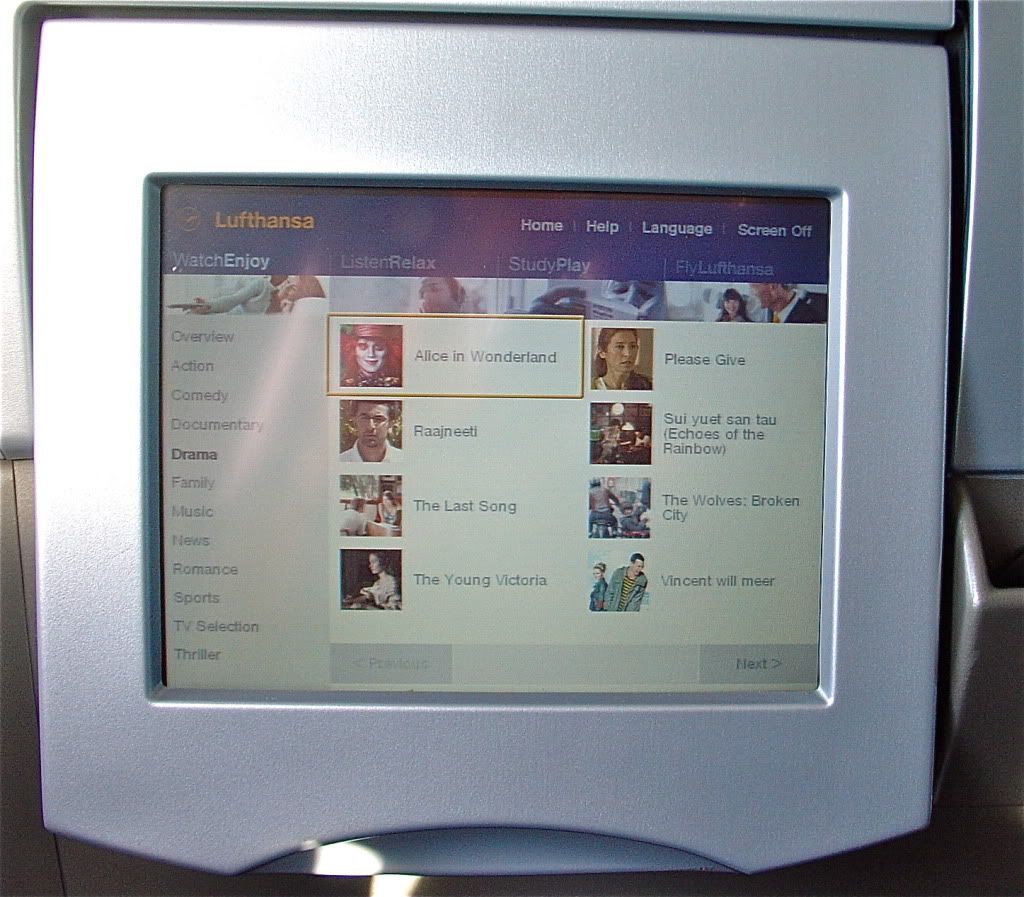 Sabine was by my side a few moments later with a pile of white table clothes draped around her arm.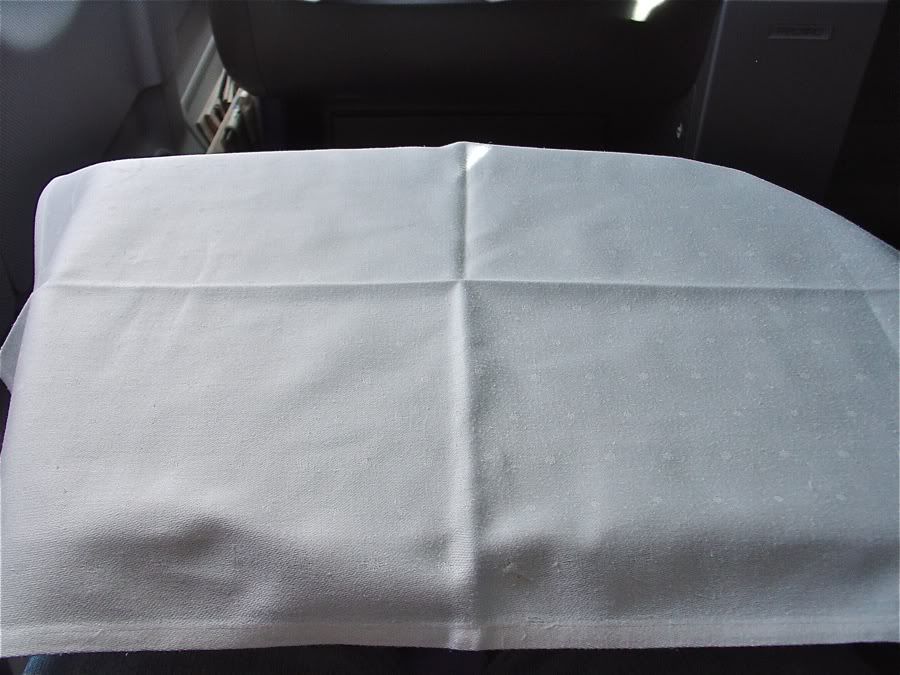 Juliana rolled the drink cart down the aisle not long after.
"Herr SR 103, was möchten sie trinken?"
"Kann ich habe die Riesling bitte?"
"Yes Mr. SR 103. Would you also like a glass of water with that?"
"That would be perfect."
"Sparkling or still?"
"Still bitte."
I guess my German is still pretty rusty as Juliana kept answering me in English despite my efforts to speak with her in my rather lackluster German. A packet of cashews was placed on my tray table along with a glass of the Riesling.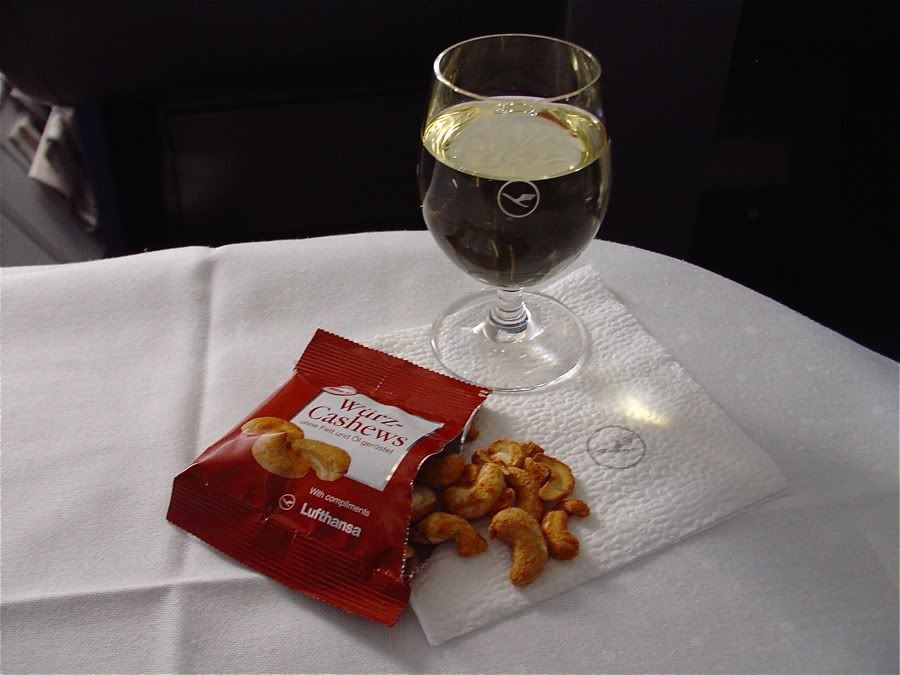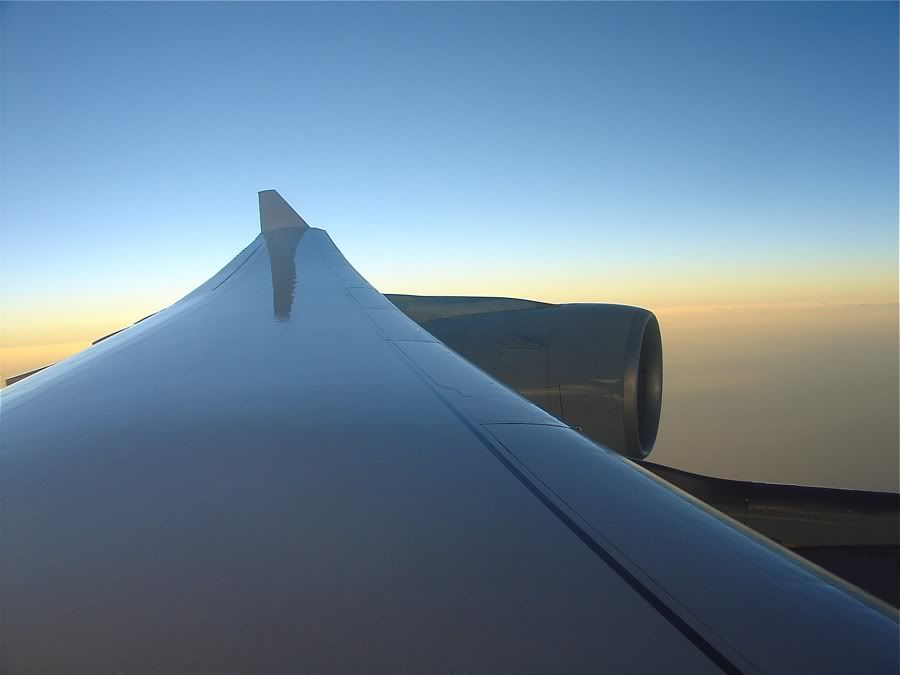 The empty packets of nuts was collected and my Riesling was topped off before a smiling Sabine was back out in the aisle ready to serve dinner.
"Herr SR. 103, what would you like to start with? We have salmon and Cesar salad."
"The salmon please."
"Sure."
"Danke."
"Bitte."
After the tray had been placed on my table, a basket of bread was offered and I picked a nice warm pretzel roll. Before I could dig into my appetizer, Juliana was right behind Sabine with the drink cart.
"More Riesling sir?"
"Bitte."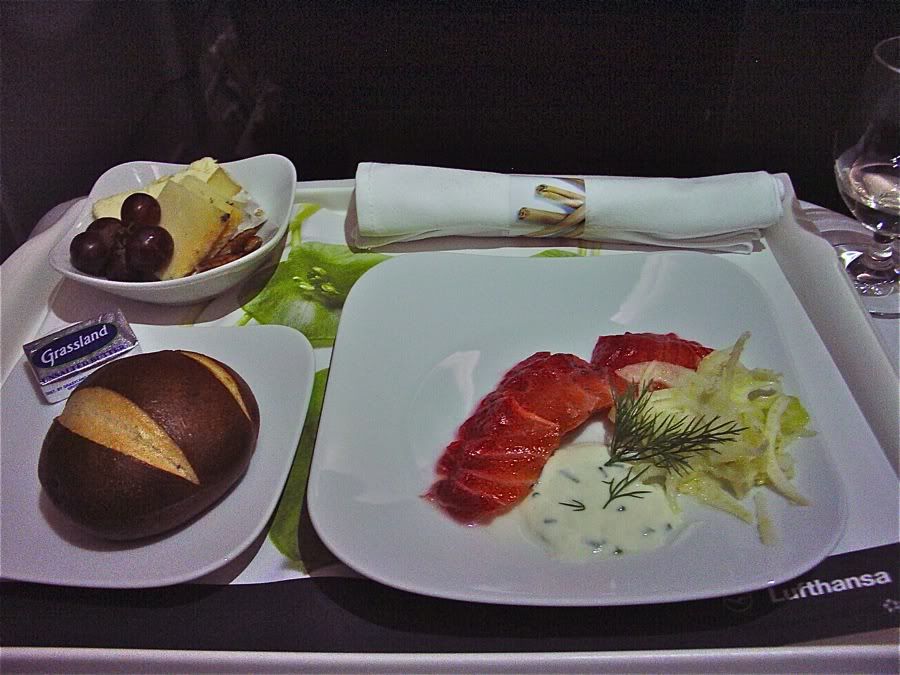 The pretzel roll was absolutely great, warm and soft from the middle with a slightly hard outer skin. It went very well with the soft butter. The beet-cured salmon was shockingly red, but absolutely delicious when accompanied by the yogurt dill sauce. I only wish there had been more than one piece of salmon, as it really was quite exquisite. The shaved fennel accompanying it was decent but I am not a large fennel fan to begin with. I quite happily took another pretzel roll when Sabine came around with the bread basket once again.
Once the plates had been collected, the smiling Sabine rolled out the cart once more.
"Herr SR 103, what would you like to eat?"
"The fish please."
Juliana was right behind her with a drink cart. I decided to switch to coke at this point, as three glasses of Riesling were more than enough for me if I wanted to keep my sanity on such a long journey.
While the presentation of the Arctic Char was not much to look at, it was absolutely amazing! The fish itself was not overcooked to the point of falling apart, nor was it dry or soggy. The horseradish cream sauce accompanied it perfectly. The vegetables were cooked perfectly as well, which filled me up quite nicely. Sometimes it not about quantity but rather quality, Lufthansa certainly excelled in this area. Plus I was not left feeling overstuffed with this portion, which made the flight enjoyable. I wish more airlines served modestly portioned meals such as this.
Sabine was by my side once I had finished.
"Did you enjoy sir?"
"Yes, I did, very much."
"Can I take your tray please?"
"Yes."
Sabine was back in the aisle once everyone's trays had been collected.
"Sir, today we have fruit and a berry dessert. Which would you like?"
"The berry dessert please."
The tray was placed on my tray table with a smile, and just like before Juliana was behind Sabine with the drink cart.
"What would you like to drink Herr SR 103?"
"Can I get a glass of port wine please?"
"Yes. Would you like some coffee or tea as well?"
"Tea please."
"With cream and sugar?"
"Both please."
Both were delivered with a smile and a "gutten appetit".
The Madeleine with cream was pretty good, but then again I am a sucker for anything sweet. The berries were fresh and ripe which is about all I can ask of fruit. The port wine was excellent as well. My only complaint would have to be that I was expecting more substantial such as chocolate mousse or some sort of kuche.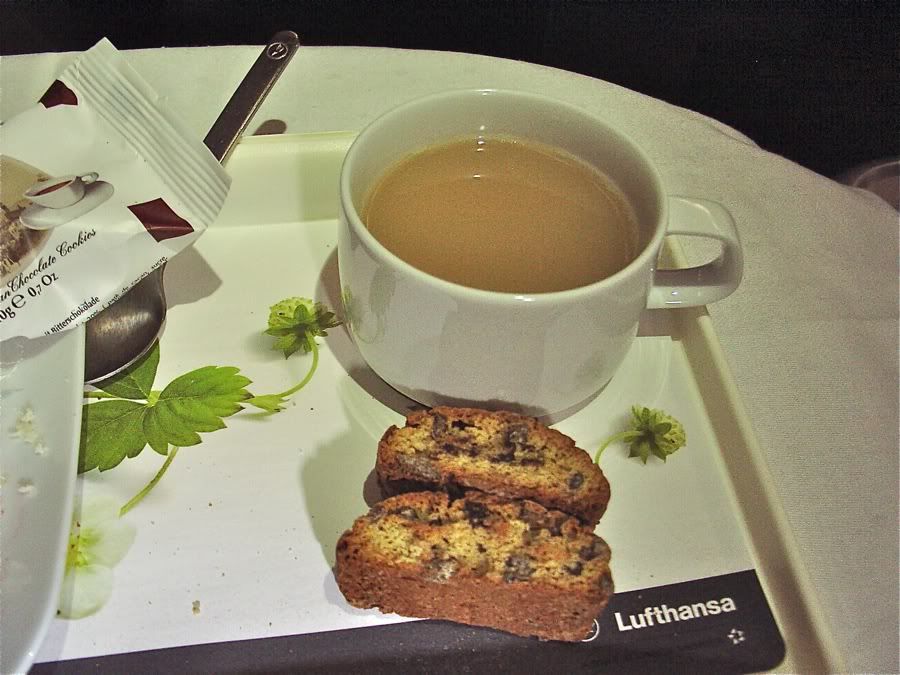 On the tray there was also a small packet of chocolate chip biscotti, which went down nicely with my rather insipid tea. Once I was done Stefan was in the aisle to collect my tray.
"I hope you enjoyed it sir."
A quick visit to lavatory revealed nothing out of the ordinary. There were a few bottles of cream and mouthwash located in each, which was nice as they were both missing from the amenity kit.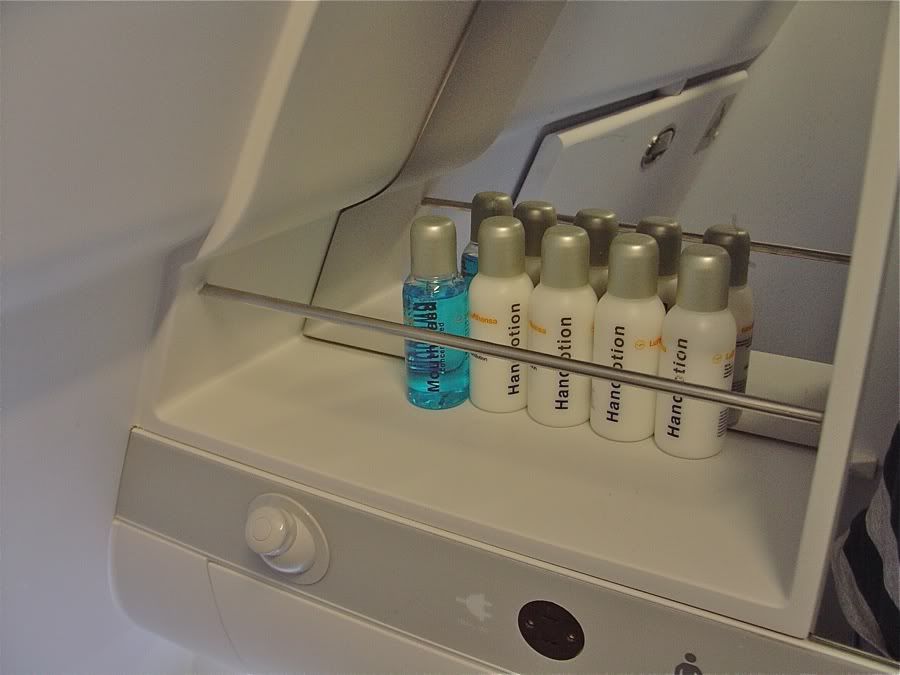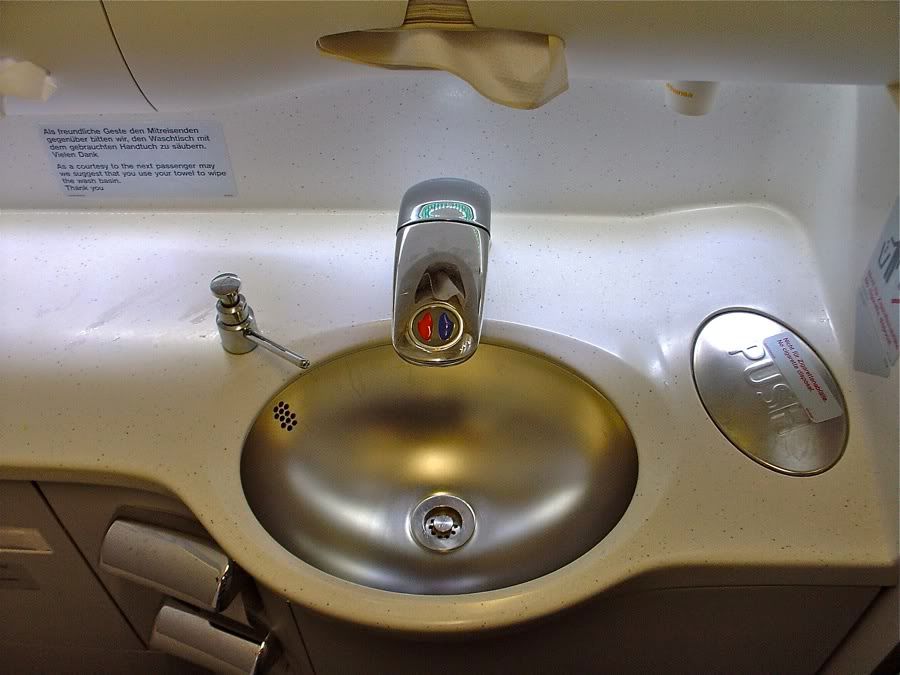 I put the seat into sleep mode and tried not to slide down and I went in and out of consciousness. I did notice that the crew were making rounds throughout the night ever so often checking on the passengers that were awake. Lufthansa 1, Air France 0.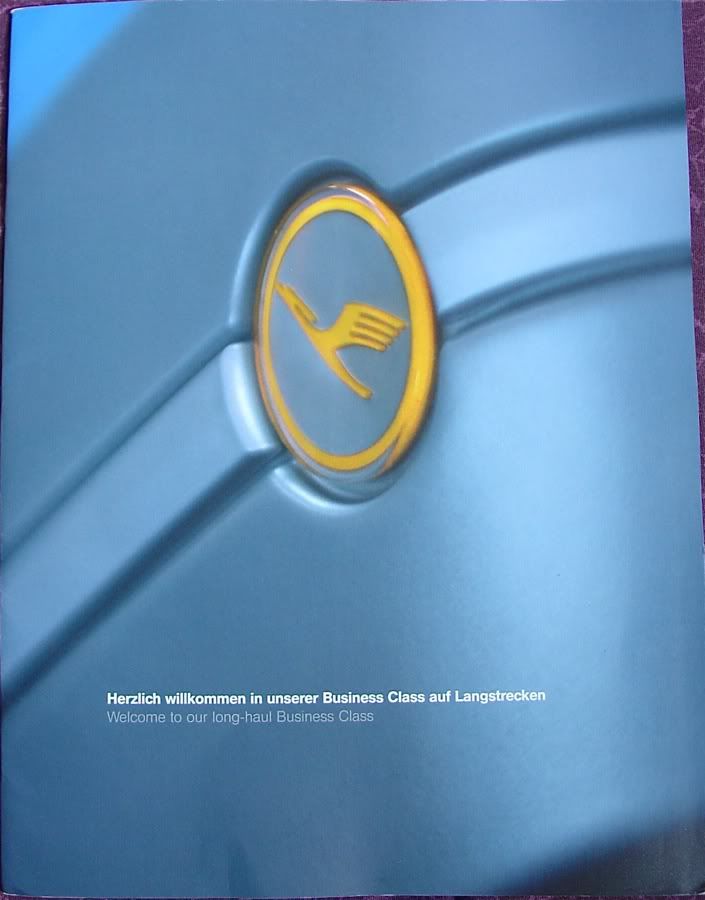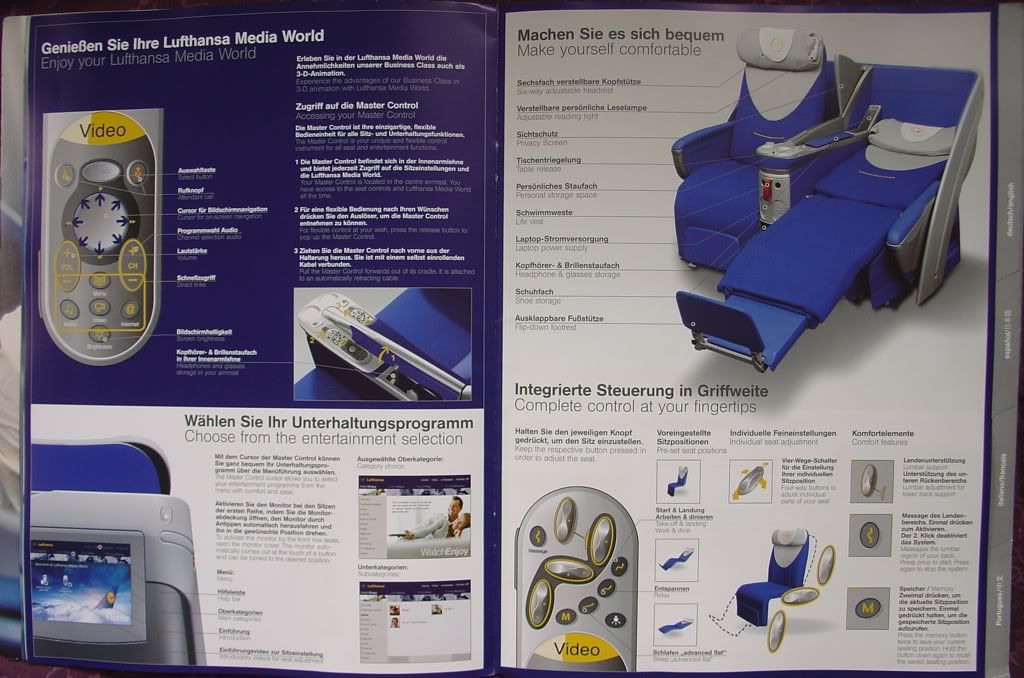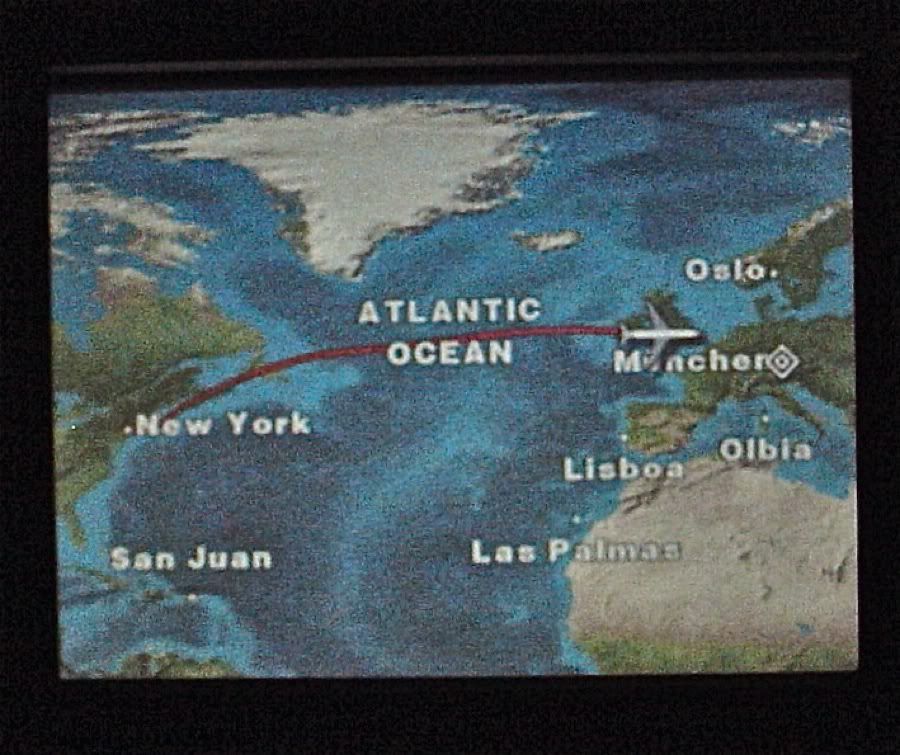 I gave up on the sleeping somewhere near Ireland and decided to check what comedies were available. Stefan saw I was awake and very kindly brought over a tray full of orange juice, apple juice, and water.
"I can get you anything else like tomato juice if you wish."
30 minutes later the cabin lights were turned on and Sabine was in the aisle handing out hot towels. Juliana followed moments later with the trademark white tablecloths,
"Gutten Morgan Herr SR 103."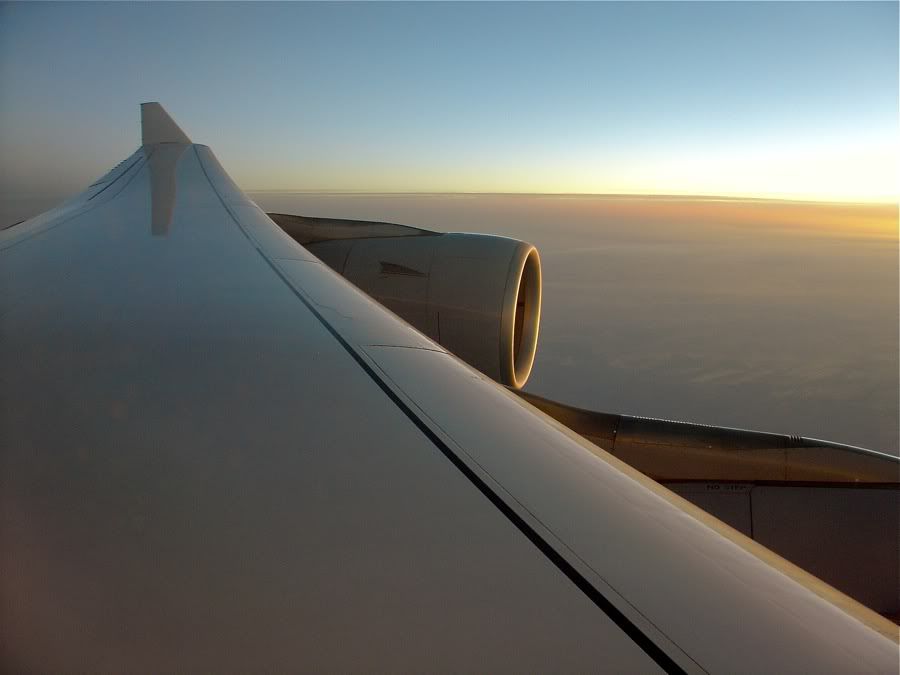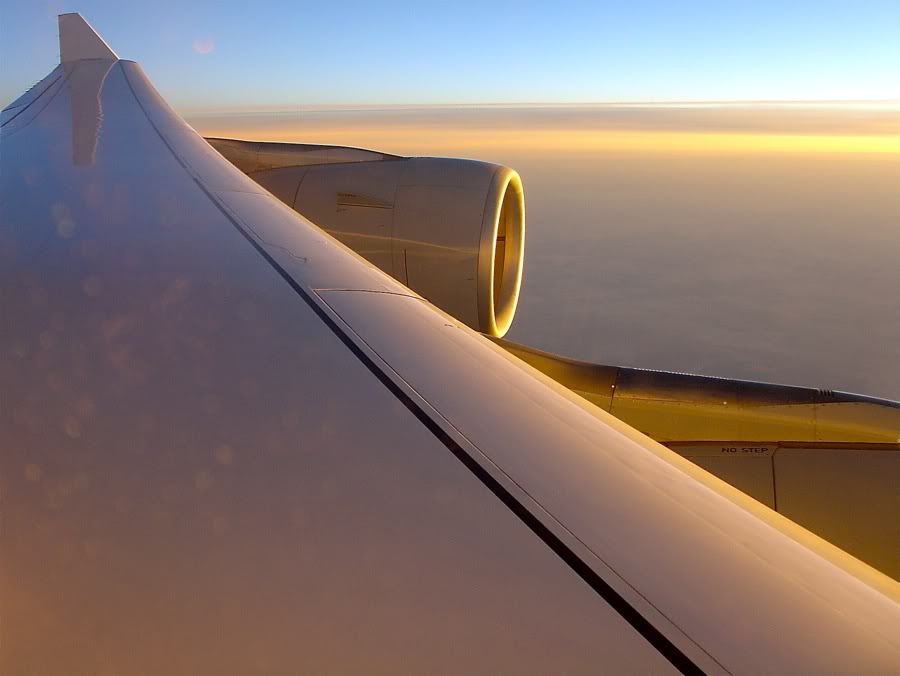 Just like before, Juliana came out with her cart first followed by Sabine. Sabine placed the breakfast tray down and offered me a roll from the large breadbasket. I picked a croissant and was offered a tray of various jams and marmalade from which I selected strawberry. Juliana followed,
"What would you like to drink Herr SR 103?"
"Tea please."
"Any juice?"
"No thank you, tea is just fine."
"With cream and sugar yes?"
"That's right!"
A quick glance at breakfast revealed something rather simple and light, which was all that was needed at this early hour. The turkey breast and salami were nice, as were the cheeses and cucumber. The fruit bowl consisted of a strawberry, a slice of orange and a few grapes. Everything was fresh and chilled which made it quite enjoyable and refreshing. The croissant was a little overheated but not bad by any means. Sabine was back around once more offering me seconds on the breadbasket, which I dutifully accepted. Juliana also came and refilled my cup of tea with a smile while handing me an extra packet of sugar.
Once breakfast was cleared, a Munich arrival video was shown on the main screen. I decided it might not be a bad idea to view it so I went to the "FlyLufthansa" section on my PTV and pulled up the arrival video section.
All in all, the transit looked like it would not be as exciting as at Paris CDG, which was much appreciated. The captain came on the P/A to announce that we had already begun out descent into Munich and that the weather was not so nice with lots of fog surrounding the city. Chief Purser Stefan came around to check on all the passengers today,
"Mr. SR 103, will you be making a connection in Munich?"
"Yes, I'll be flying to Mumbai."
"Ah yes, Mumbai does not leave till 11:30. So you should have a nice relaxing three hours in Munich. Please enjoy."
"Thank you, I will."
"I hope your flight was good with us today?"
"It most certainly was, thank you."
"You are very welcome."
He went on to passengers in the row behind to confirm their connections. Overall I thought this was a very nice gesture on his part to personally check up on everyone's connections.
Eventually the chime rang for the crew to take their seats as we began our final approach to the airport. The weather started deteriorating relatively fast and we went through a solid patch of low-lying fog. I peered out my window wondering if I would be able to see the ground or would I feel the wheels hit the concrete first.
All of a sudden in mid thought the four Rolls Royce beasts leapt to life and kept getting louder. This was no ordinary speed adjustment; this was a go around. A couple of seconds later we were out of the fog layer roaring towards the blue sky.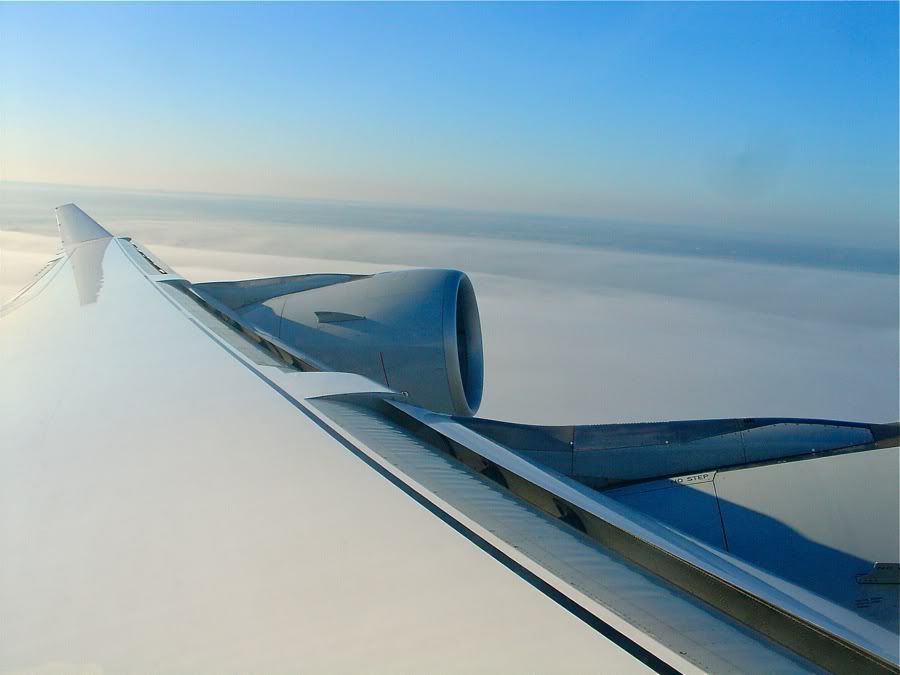 Stefan came on the P/A.
"Ladies and Gentlemen, it looks like we have done something called a 'go-around.' It is quite normal and I am sure the flight deck will let us know what is going on when they find a moment. So please just sit back and relax while we circle around."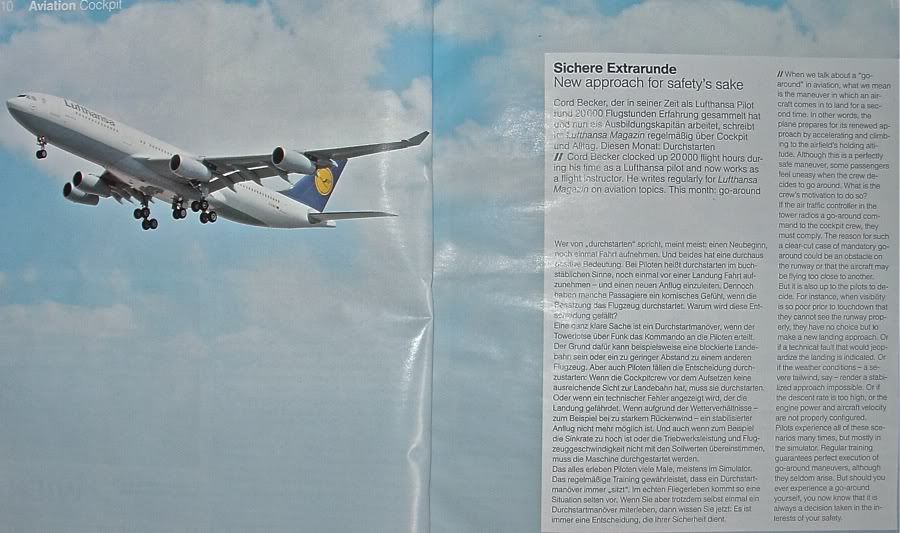 Interestingly enough, this was on page 10 in the Lufthansa magazine. This months "From the Cockpit" article in Lufthansa's in flight magazine was about go-arounds.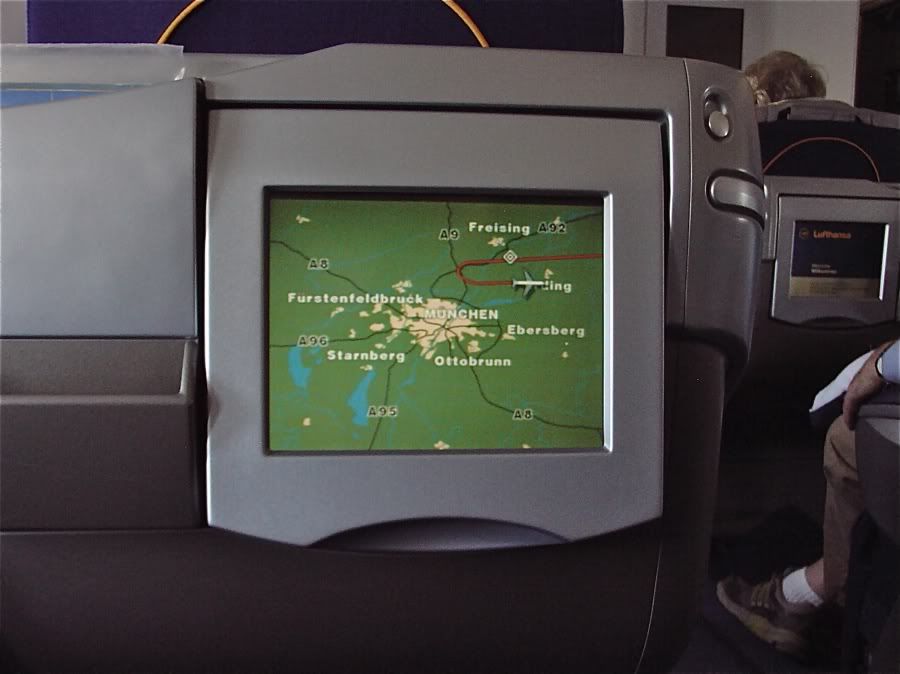 Eventually the Captain came on the P/A to let us know what was going on.
"Ladies and Gentlemen, as you can tell we commenced a go around. This was due to the fact that our dispatch office advised us that our visibility minimums had been reached as we were approaching the airport. The fog will lift in a bit and we will attempt another landing. Unfortunately this now means we are no longer 30 minutes early, but rather on time. Please accept our apologies for the inconvenience"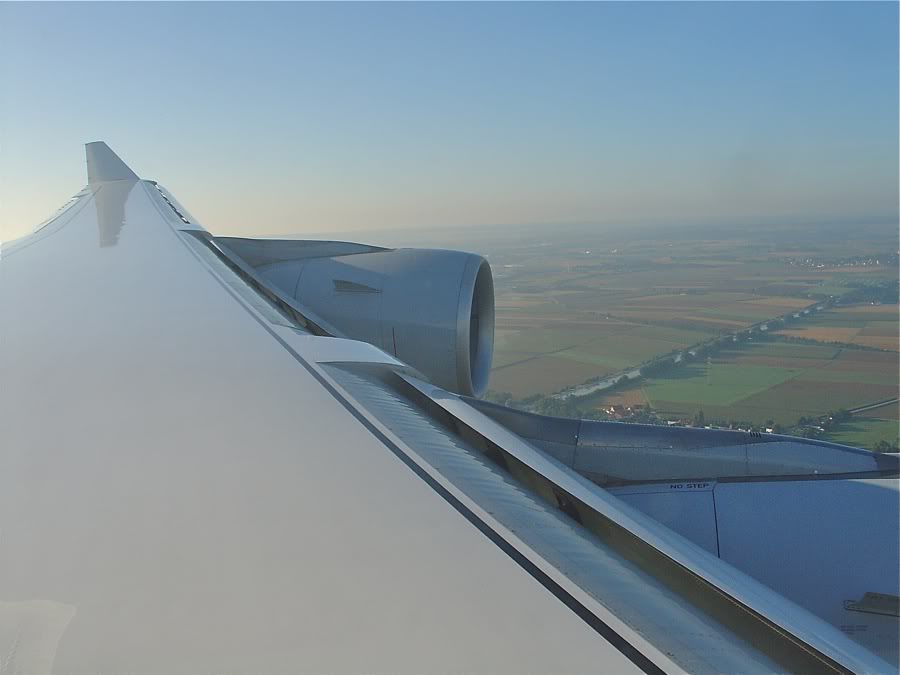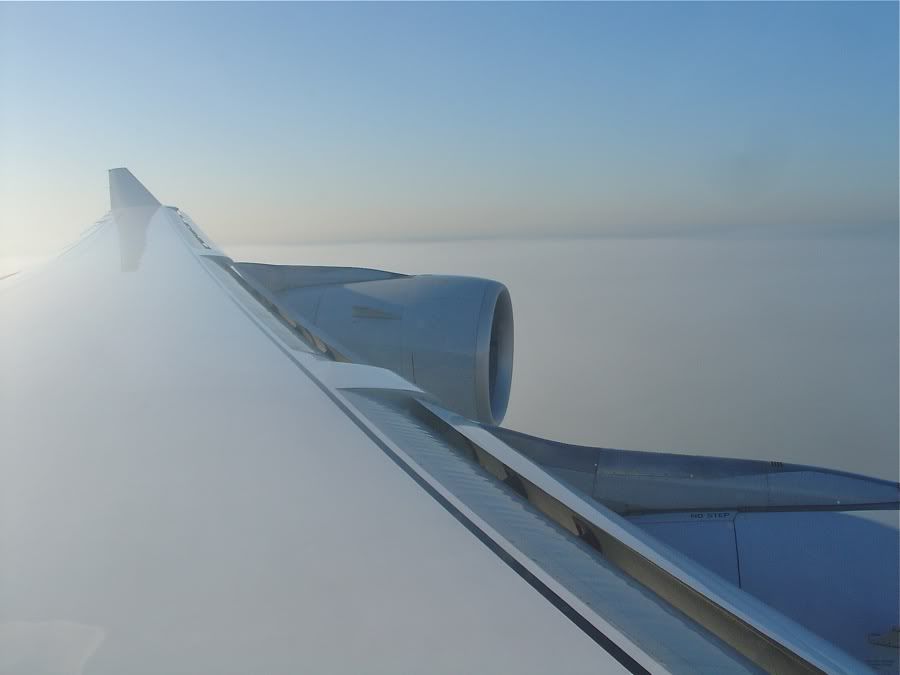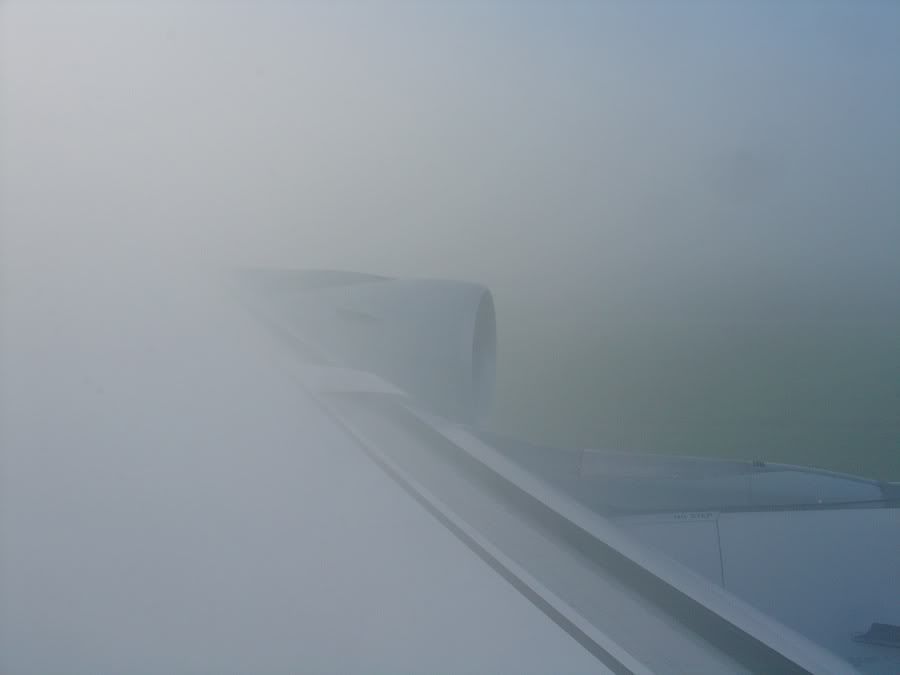 Arrival:
True to the captains word, we made a second approach to the runway a short while later. Just as before we descended from a blue sky into thick fog. I felt a thud which indicated we had touched down despite not being able to see much out of the window.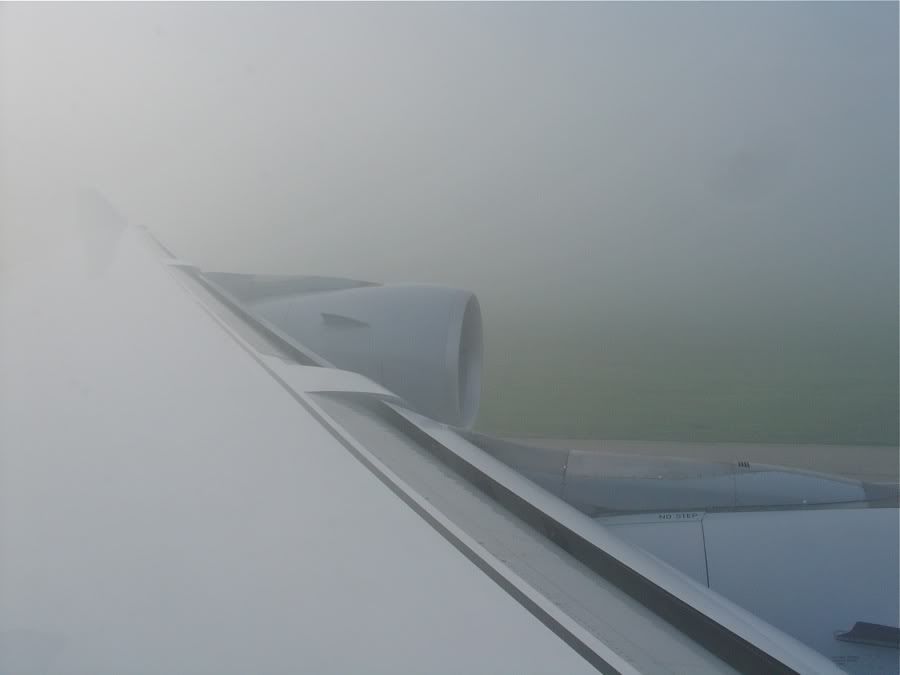 After exiting the runway we taxied for what seemed like ten minutes going rather slowly around each turn. I cannot even begin to imagine how difficult of a task it must be to taxi such a large aircraft through thick fog.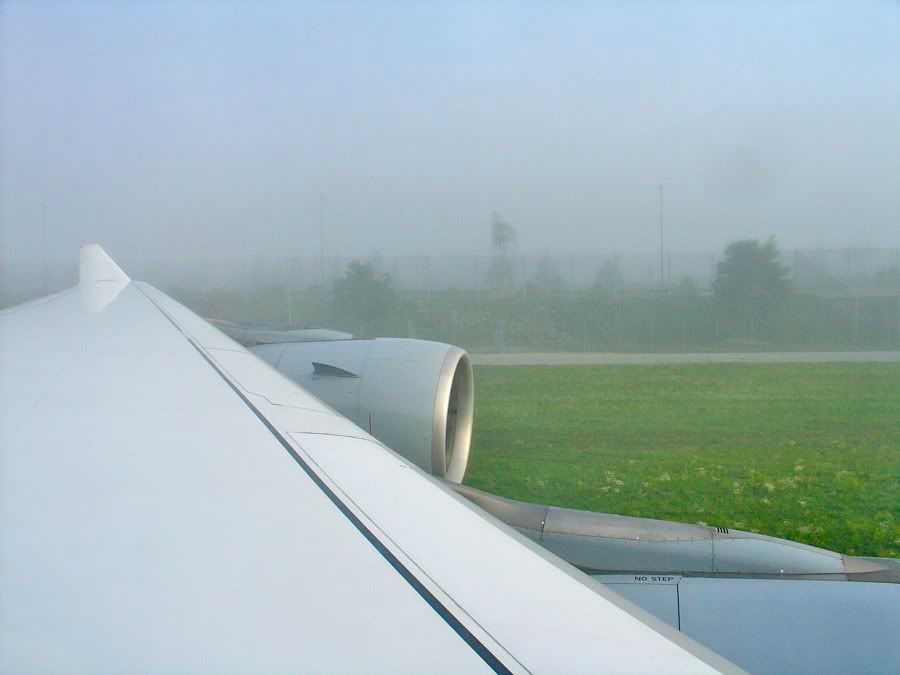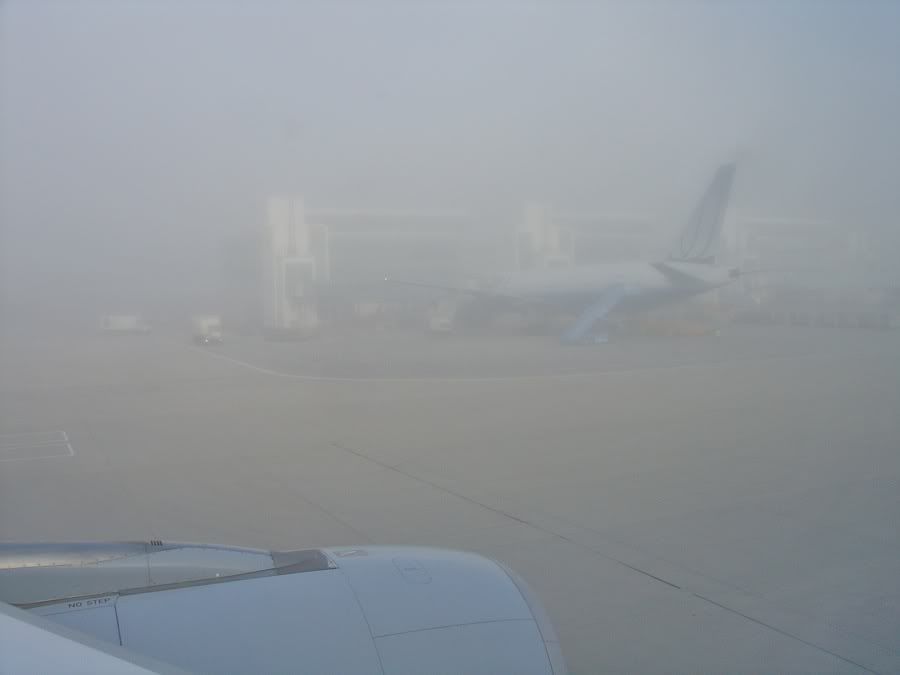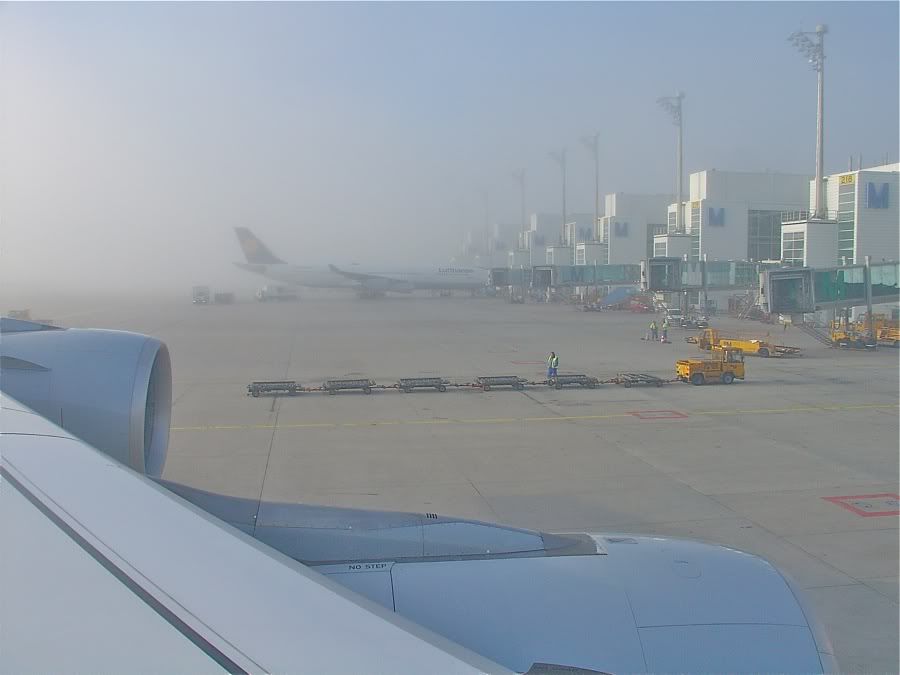 We eventually docked at our gate and the doors were opened. Sabine was standing in the cabin wishing everyone "auf wiedersen," with Juliana and Stefan at door 2L wishing everyone the same,
"Have a good flight to Mumbai Mr. SR 103. Auf widersen."
I thanked him for a great flight and walked onto the jetway.