P E R S O N A L - I N T R O
I used a good point and shoot camera for most of the photos instead of my mobile phone. I hope the quality of the photos reflects this change!
This is my fourth trip report but my first featuring USAirways. Many years ago I flew USAirways as my primary carrier, but the merger with AmericaWest created a lot of problems and I looked for alternatives. I recently flew to Frankfurt and much to my surprise I was able to us my USAirways miles for an award ticket. Not only did the routing feature convenient flights, but as a Continental Platinum I have Star Alliance Gold membership which gave me access to Star Gold lounges. The icing on the cake was that January is the off-peak season for USAirways redemption so the entire trip in coach was only 35K miles! Having gotten used to Delta's program, with its useless SkyPesos, getting an award ticket to Europe for only 35K miles felt like hitting the jackpot!
As I was to find out...USAirways was full of surprises on this trip and has got me seriously reconsidering my airline of choice!
P R E - F L I G H T
I booked the award ticket through USAirways website. Compared to the dis-functional Delta award calendar, the USAirways website was a marvel of simplicity and efficiency. It was simple to search for flights and to find all the options and to pick the combination of flights that best suited my needs. Flying from BUF in winter I knew I wanted to have a long layover in PHL in case there were weather delays. A long layover would also enable me to enjoy the Envoy lounge in PHL, rumored to be not only the best USAirways lounges, but one of the best airline lounges in the U.S. period.
When making the reservation it allowed me to enter my Continental OnePass account number, despite using my USAirways Divident miles to book the ticket. Subsequently when I checked the reservation I could see my Continental number, but no indication that it recognized me as Star Alliance Gold. The website also did not allow the selection of a special meal and instead directs passengers to call reservations at least 24 hours before the flight to make a request.
The website did allow seat selection so I checked periodically and moved around to ensure an aisle seat with the window seat next to me empty. The transatlantic flights appeared pretty empty, but the CRJ-200 flight from BUF to PHL soon filled up with the exception of the exit row, which was reserved for USAirways' own elite fliers only.
Exactly 24 hours before my first segment, BUF to PHL, I received an email with a web check-in reminder. I took a look and it appeared that passport information could be entered for international web check-in, but I decided I would speak with a ticket agent at BUF so web check-in wouldn't be necessary. However the email was a good reminder to call reservations to request my MOML (Muslim) special meal.
I called the 800 number and after navigating the menu system was asked if I would be willing to take a survey when the call was completed, however the phone went dead. It could have been my mobile phone signal fading out and dropping the call. In any case it was not a good start to my trip!
I dialed again and got through to Patrick who sounded clear and friendly. He confirmed that my Star Alliance Gold status was showing on the reservation and unprompted said I would have lounge access in PHL before the flight. I then asked about lounge access in BUF as the BUF to PHL flight was part of an international itinerary. Much to my surprise Patrick answered with...
"Of course you can use the lounge in Buffalo too. We value you as a Star Gold member and you should enjoy all the privileges of being a Star Gold member while flying with us!"
Wait?! WHAT?! Which airline did I just call?! This surely couldn't be a USAirways representative!
I then asked about ordering a MOML meal to which Patrick replied...
"I'd be happy to check into that for you...[sounds of typing] yes Mr. BURJ that meal is available from Philadelphia and it is also available from Frankfurt. Would you like to request it for your flight there and for the return?"
At this point I looked around my apartment for the hidden camera because SURELY this had to be a candid camera skit...a polite and proactive USAirways agent, just didn't seem possible!
The day of departure arrived and it started snowing so I left early to allow plenty of time for the drive. Right before leaving I checked my reservation on-line to make sure there were no delays or cancellations. I was pleasantly surprised to see that the exit row of the BUF to PHL flight was now selectable and I was able to get an exit row aisle seat with the rest of the exit row completely empty!
Fortunately the drive was uneventful and I made it to Economy Lot B at BUF, which is a good distance from the terminal entrance, but offered a view of the tower in the distance. Unfortunately the lot has not been thoroughly plowed and cars were parked pretty haphazardly. The only available spots seemed to have about 6 inches of snow on them. I made my way to the nearest shelter and waited only 5 minutes before a shuttle bus pulled up.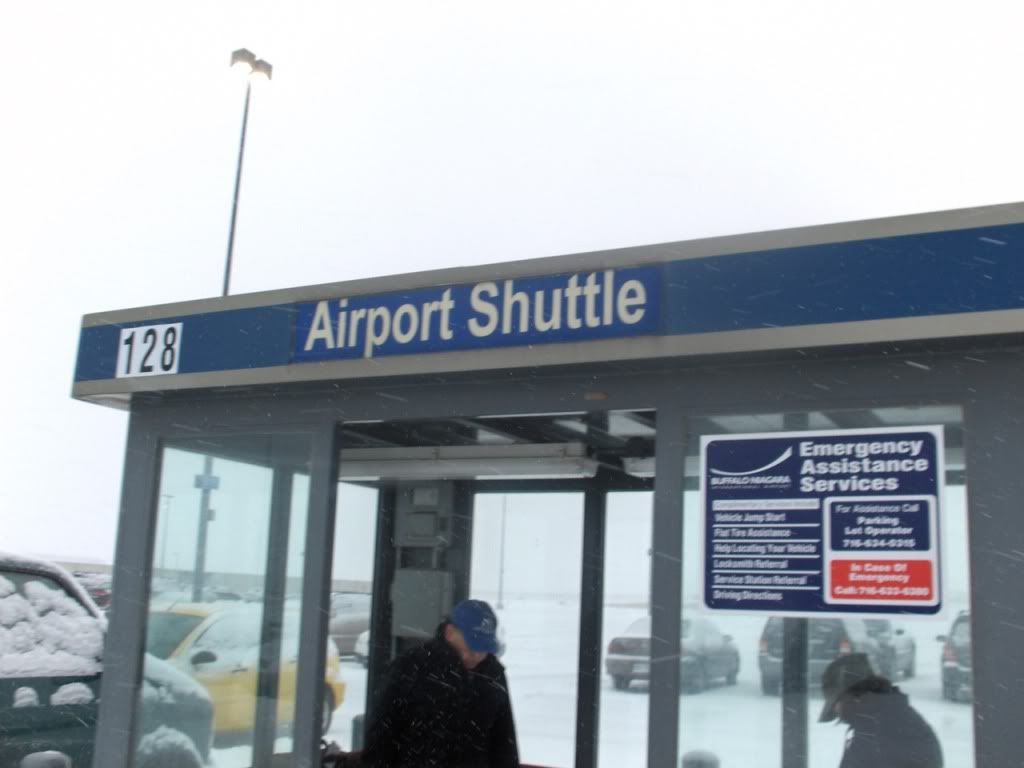 The bus shelter waiting for the free shuttle.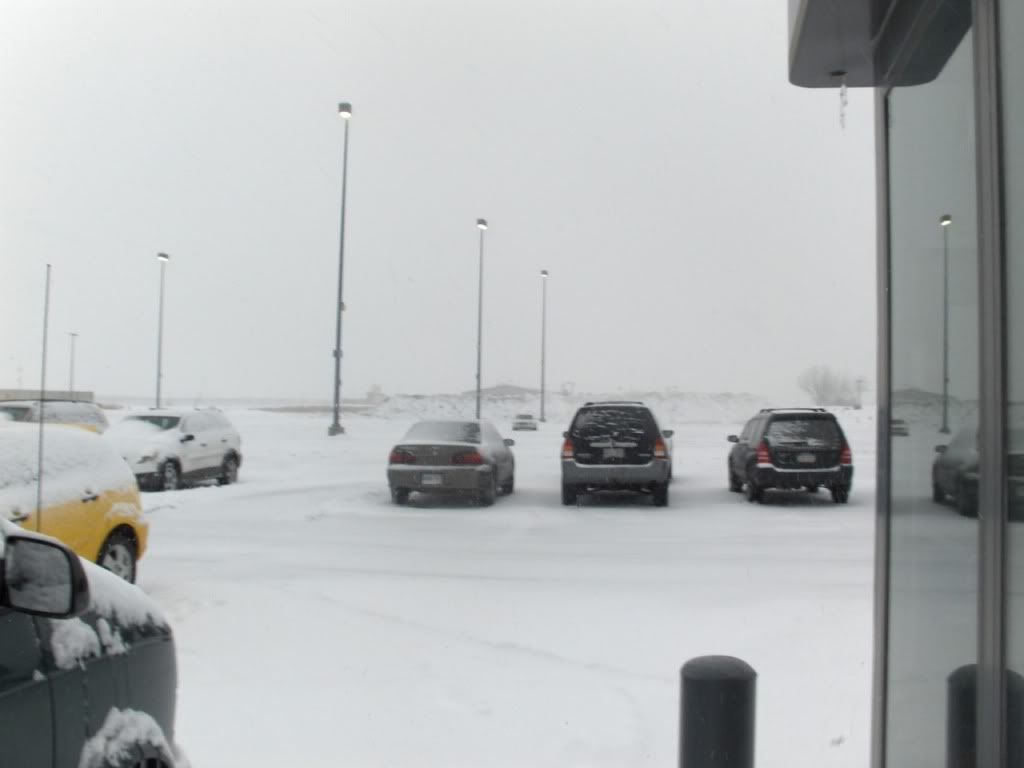 View of the distant airport from the Economy B lot at BUF.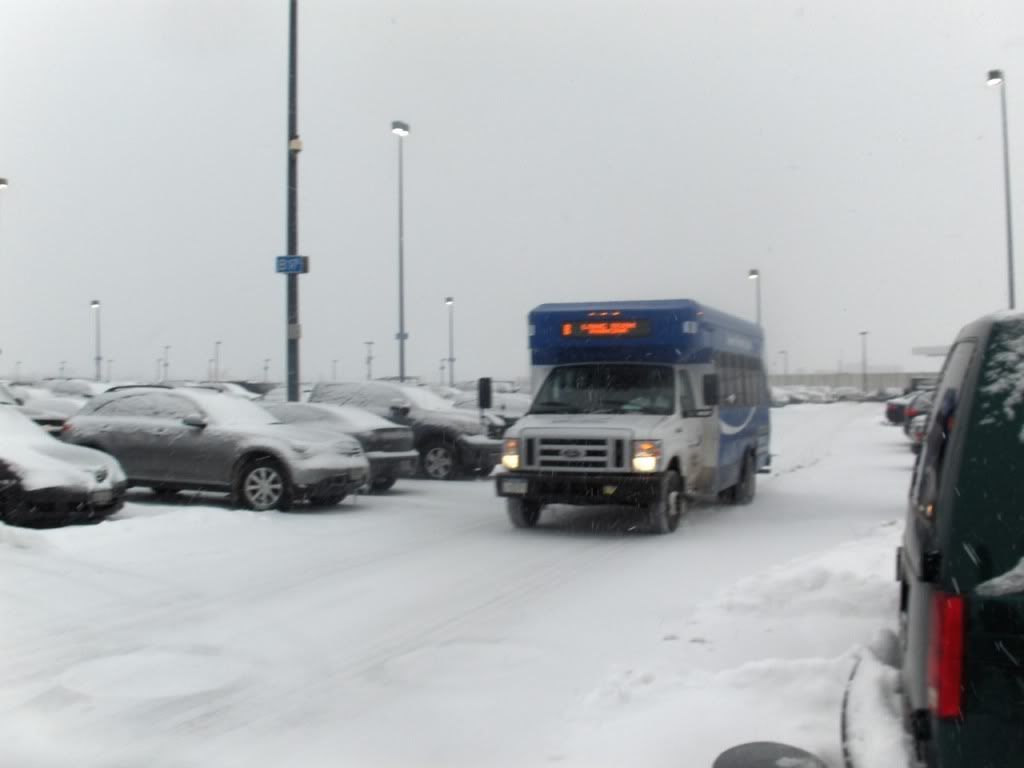 Airport Shuttle, on the right of the photo some unplowed parking spots are visible.
The bus ride was short and I was soon at the departures level of the terminal.
C H E C K I N G I N
The Buffalo airport has a simple design with one terminal.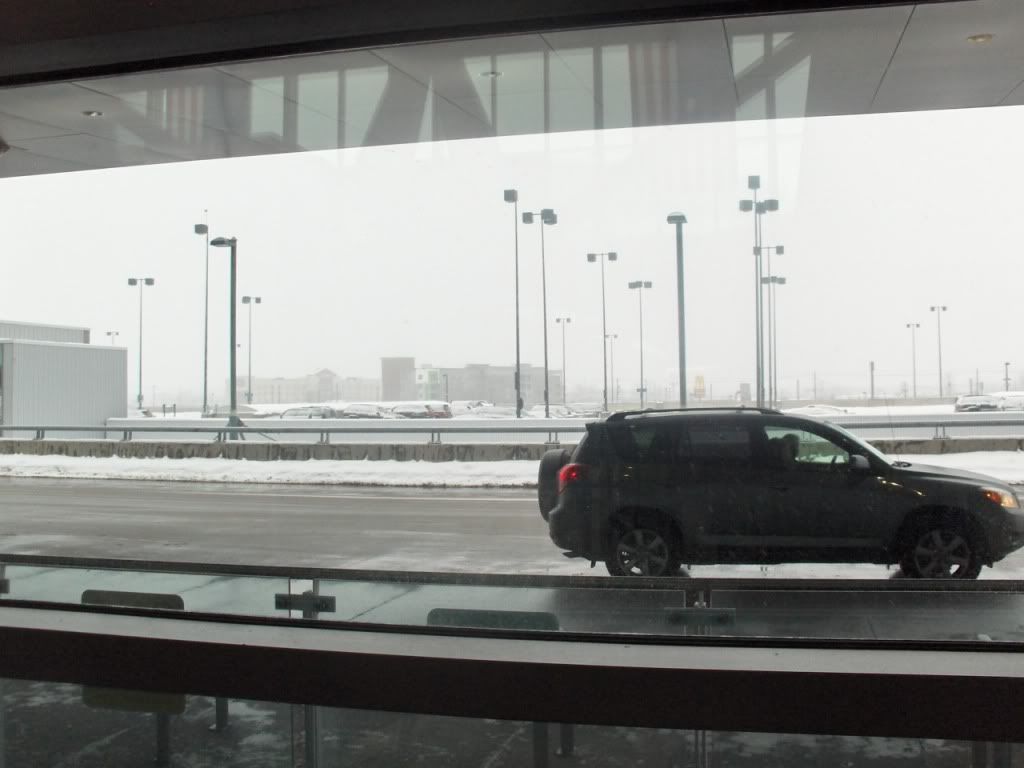 View from the departures level looking out.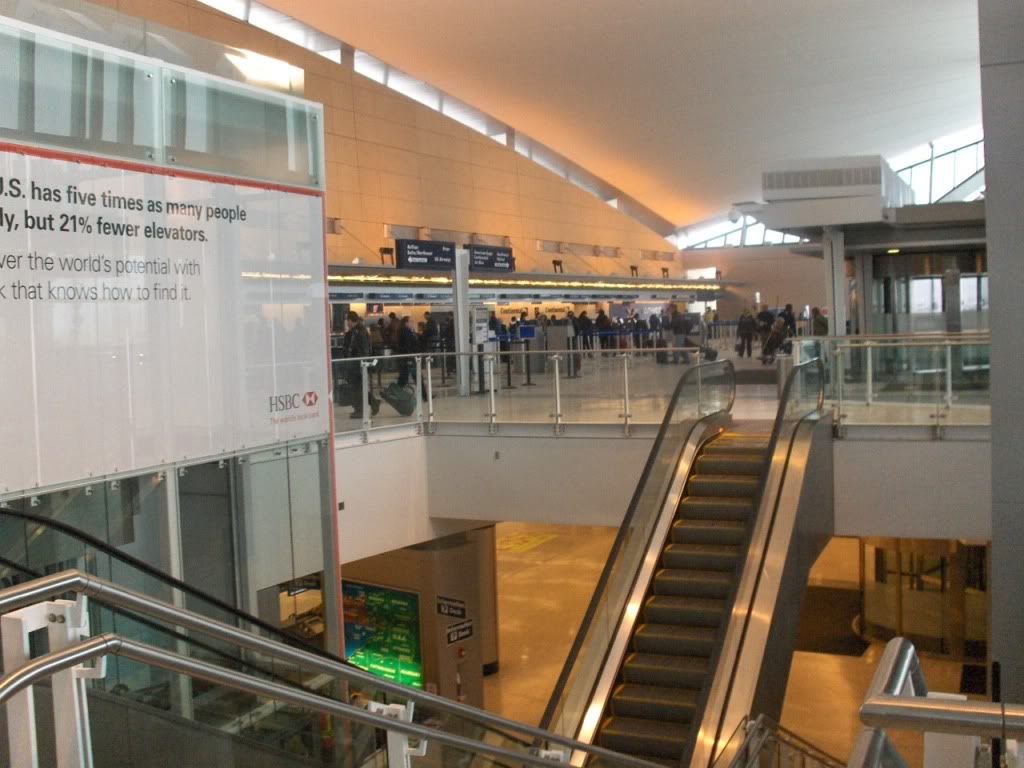 Departure level with the escalators and elevator down to the arrivals/luggage claim level.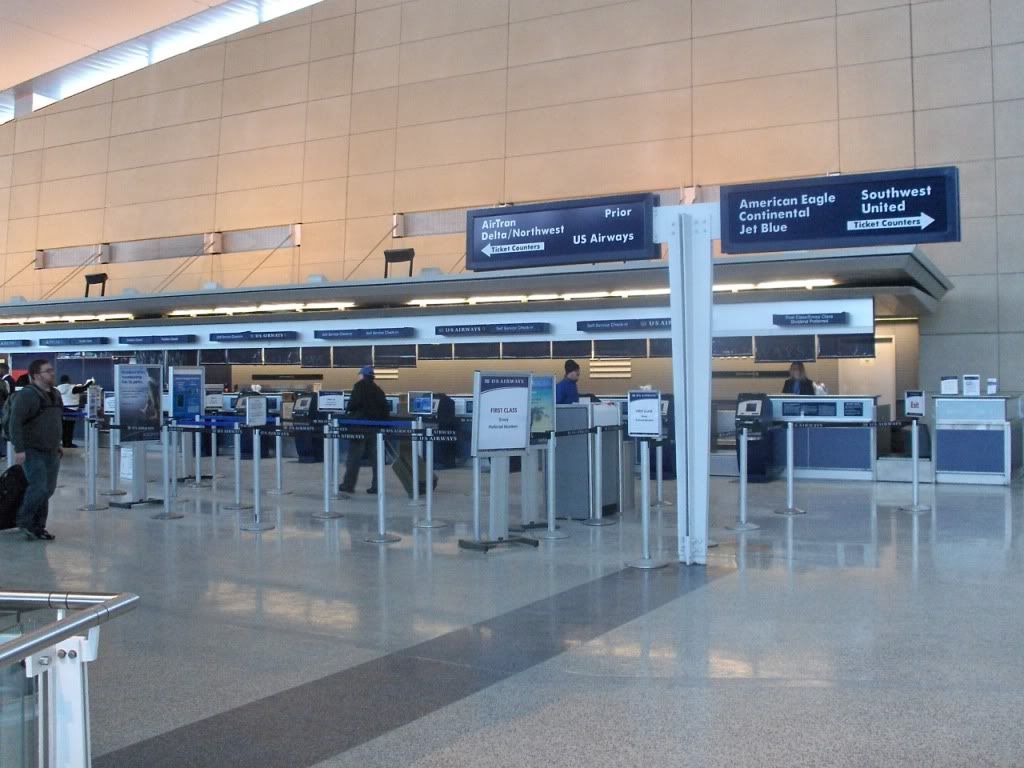 USAirways check in desks located in the center right near the entrance to security.
The airport was not very crowded as I had a late morning departure and the busy time is early in the morning when there are numerous flights from BUF to various hubs operated by planes that spend the night parked at BUF.
I approached the desk for Envoy, Dividend Preferred, and Star Gold members and was immediately greeted by the ticketing agent who took my passport and started entering my information. I then asked about the nearest restroom. She pointed the direction and explained it was right before the entrance to the security check. She then said the unthinkable....
"If you'd like, feel free to go use it while I finish checking you in. Come right back to this desk when you are done."
My first gut response was to say "O.K. What airline is this and WHAT did you do with USAirways?!" but instead I thanked her and headed to the men's room!
When I returned she handed me my boarding passes and wished me a pleasant journey.
S E C U R I T Y and L O U N G E
Security at BUF has one entrance but then splits up into different lanes that you can choose from. At the front of each lane is a TSA checker and then there are more lanes to choose from for the actual security check. This setup allows for one to quickly see which security lanes are using the Nude-O-Scopes and choose accordingly!
I thought I had chosen wisely avoiding the lane with the large family and instead choosing the lane with the middle aged professional looking Canadian South Asian couple in front of me. Unfortunately, despite appearances, they had no clue how to prepare to go through the security check. Interestingly enough a Delta Connection flight crew arrived at our lane. The captain had no qualms cutting to the front of the line but the rest of the crew joined the back of the line.
I asked the first officer if he'd like to cut to the front but he seemed reluctant until I nodded to the couple in front of me and said "They will need a while to get ready anyways..." and he just smiled and said thanks and carried his bins to the front.
As I collected my items on the other side of the metal detector I looked around and didn't see anyone getting a "Freedom Grope"
USAirways has the only lounge at BUF and it is located directly after security in the middle of the one long terminal that composes BUF.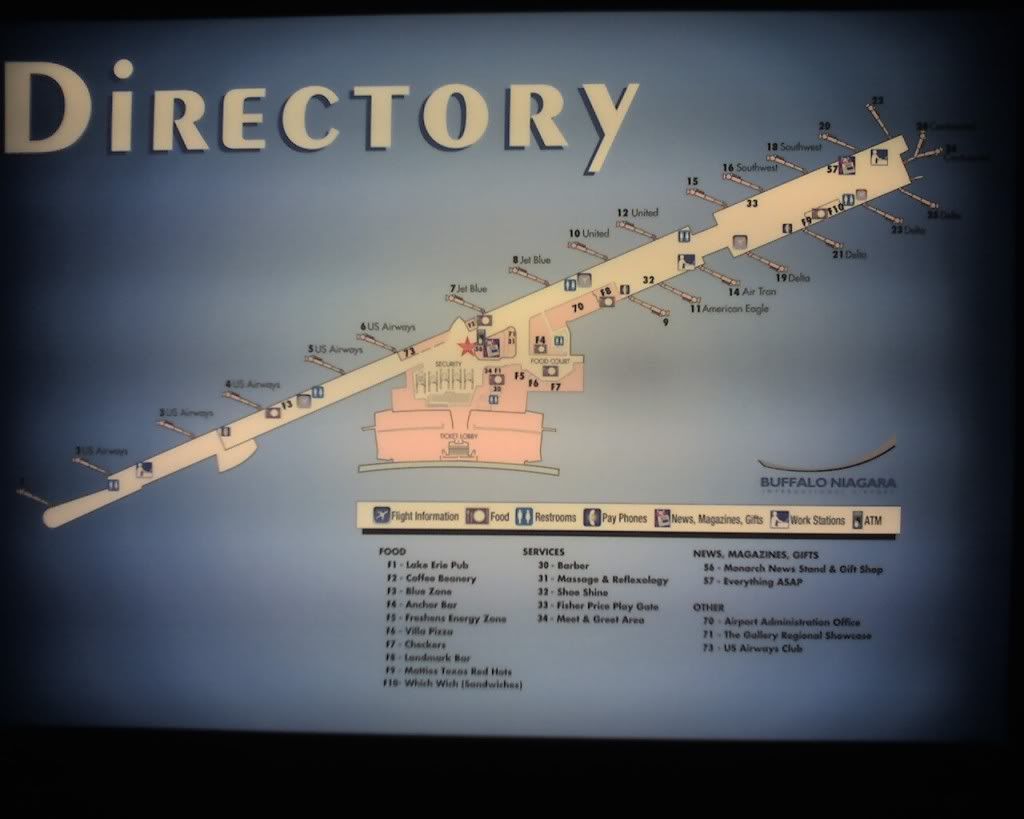 Map of BUF terminal taken with my mobile phone on my return to BUF. Note it is just one long terminal.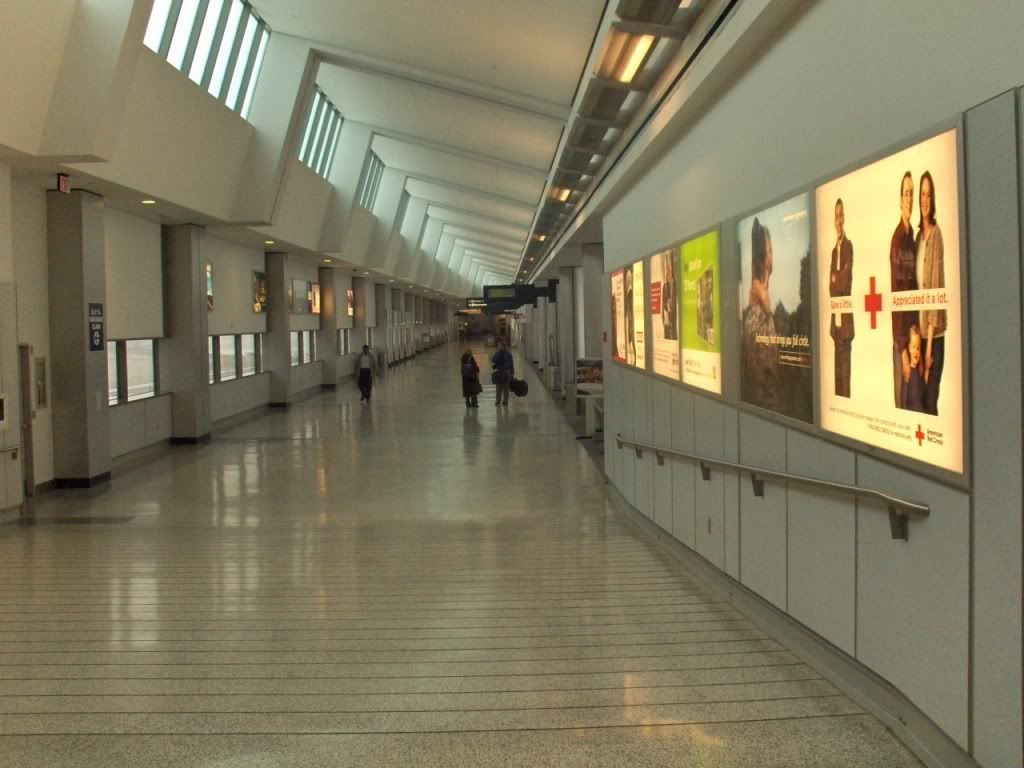 View down one half of the terminal from the front of the USAirways lounge entrance.
I entered the lounge which looked small but uncrowded and gave my boarding passes to the lounge attendant (or lounge dragon as they are sometimes called!). She then started typing away at her computer and I was starting to get nervous that I'd be turned away despite what Patrick had said on the phone.
The dragon then looked up, passed me my boarding passes back and said....
"Here you go Mr. BURJ. Both your flights are scheduled for on-time departures today. You'll be arriving at the F terminal at PHL, are you familiar with the airport and how to transfer between terminals?"
Finding myself again surprised by the level of customer service it took me a second to reply with "Yes, I've taken the shuttle bus before, thanks! Do I need a password for the wifi?" She then gave me a T-mobile card and pointed out where the food and drinks were located.
I claimed a table with my stuff and setup my computer and then got some coffee and a muffin for breakfast.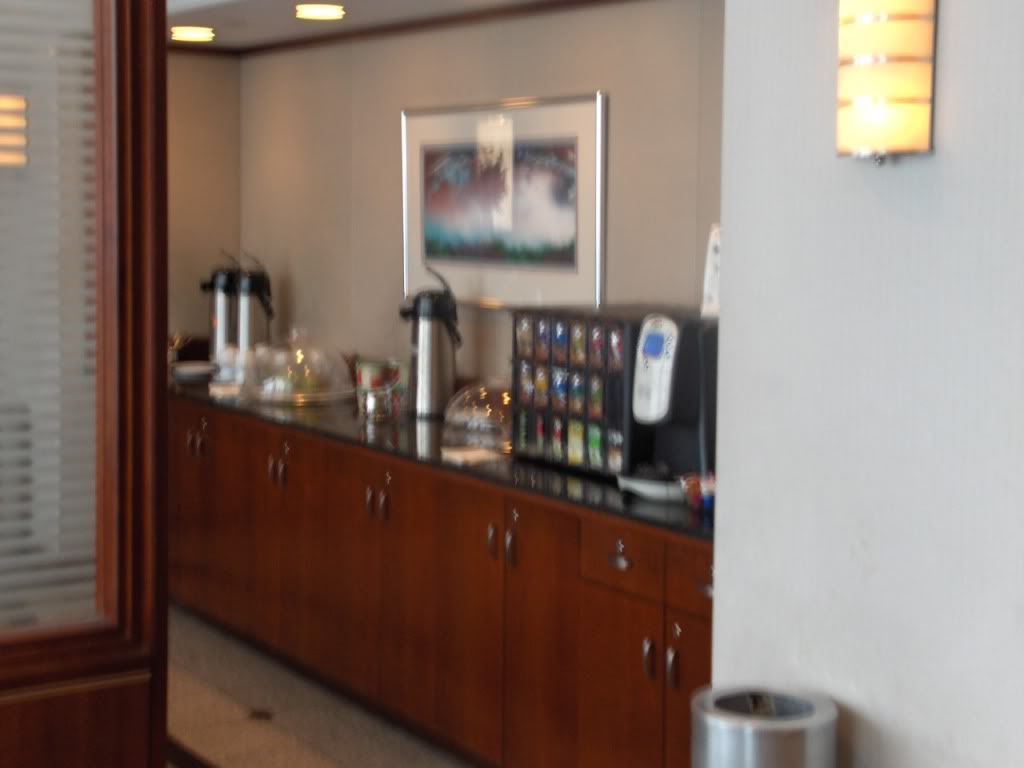 Coffee and food station. There were fruit, muffins, and instant oatmeal for breakfast.
Bar with self sever water and O.J.
One sitting area.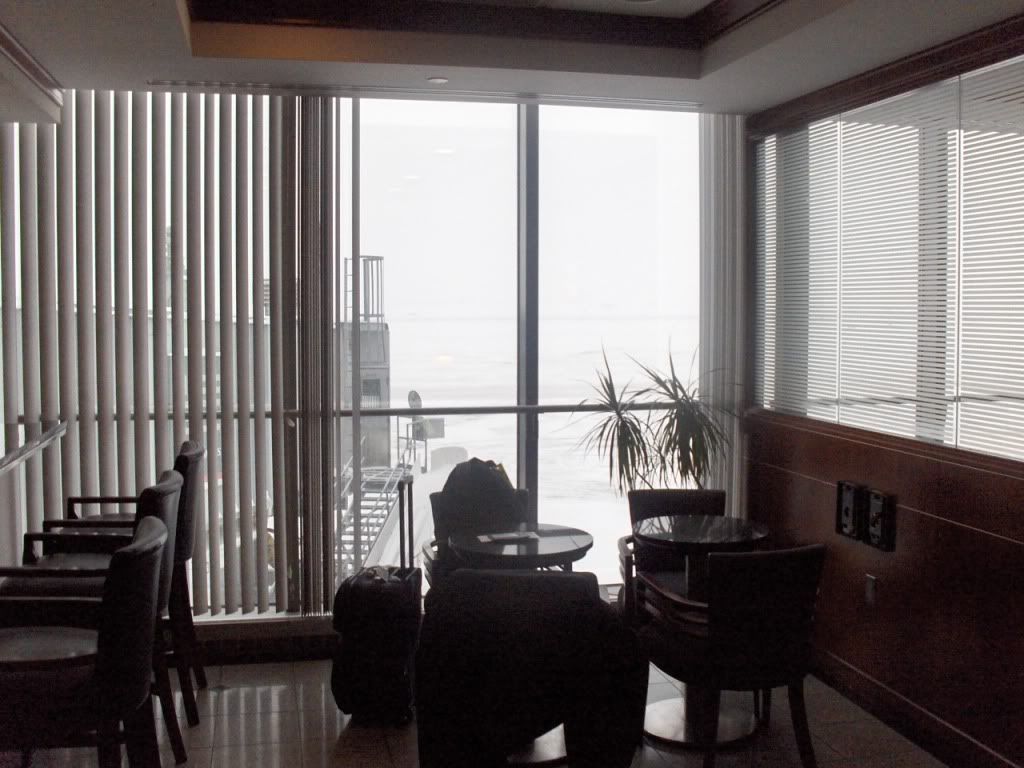 Table near electrical outlet and window.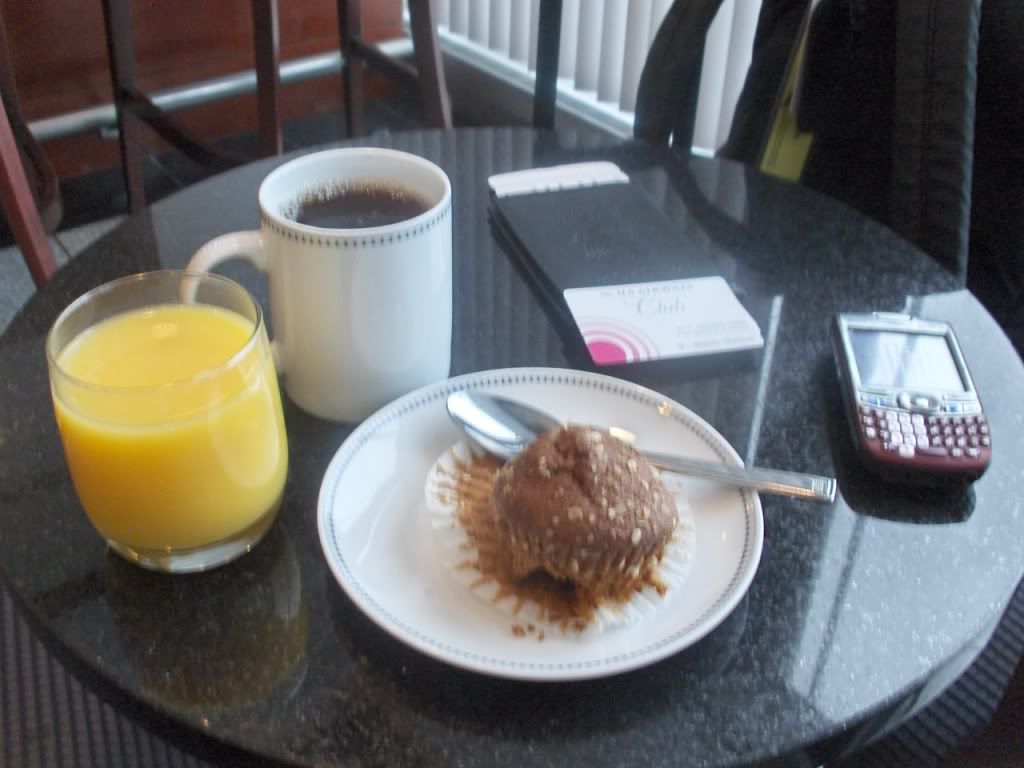 Lounge breakfast! I did have some oatmeal just to be healthy!
After a little while I noticed the snow was only getting worse and started to worry. I asked the lounge dragon if my flight was still on time and she assured me it was and that "Buffalo knows how to handle snow!"
Sure enough looking out the window I saw the snow, but BUF was operating as normal.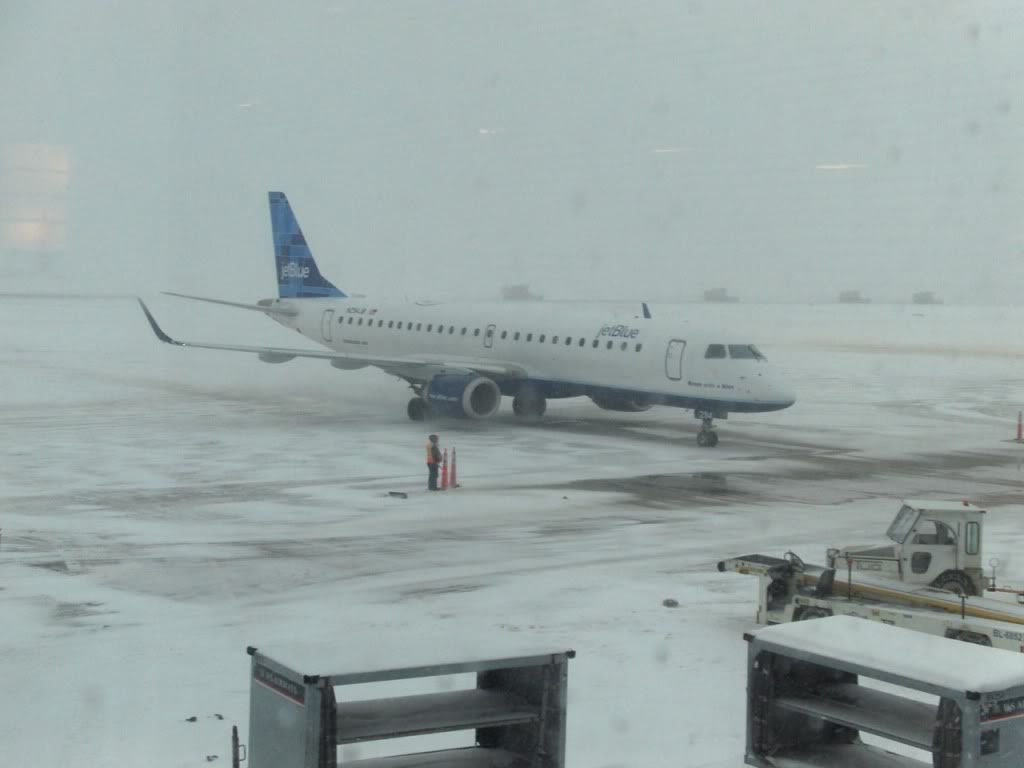 JetBlue jungle jet.
Not my CRJ, but a similar one enjoying the snow covered apron!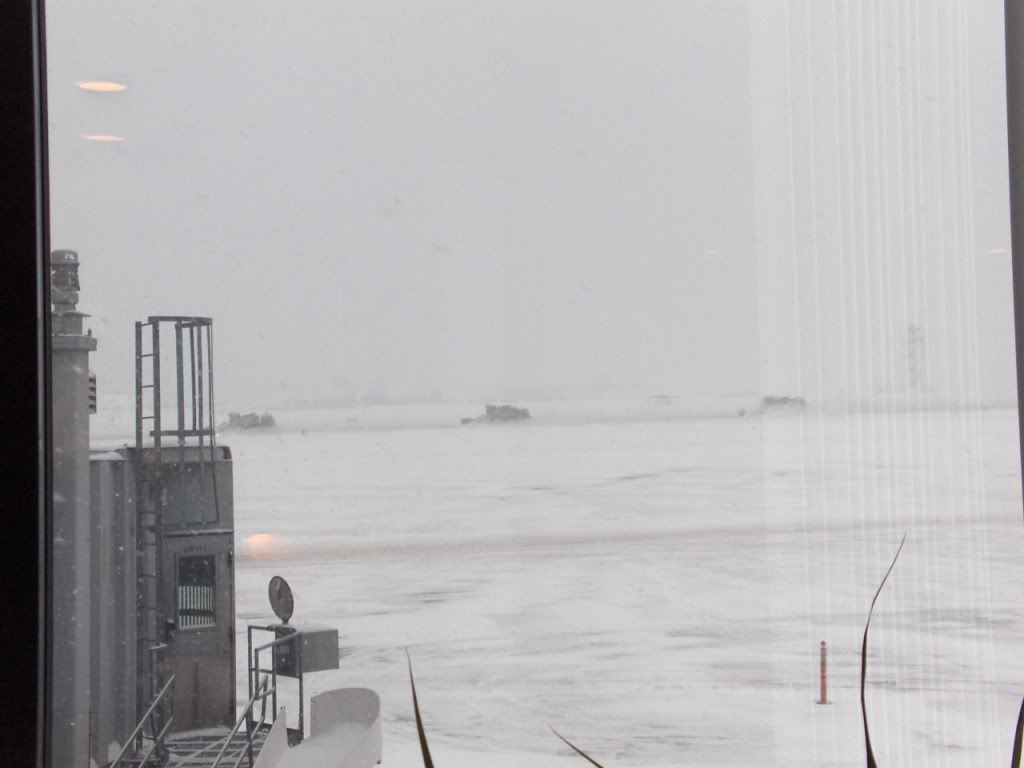 The caravan of snow plows keeping the runways clear! Maybe ATL and LHR should invest in some of these and hire BUF ground staff to teach them a thing or two about dealing with the snow and ice!
While I was waiting a few middle aged women approached the bar and a lounge dragon went behind the bar and they had a short conversation about free booze. Apparently the lounge now follows the United and Continental lounge model, where some booze is free but the good stuff has to be purchased. The women were surprised and were pleased to be able to get free booze at 10:30 am.
[Edited 2011-01-24 01:32:08]
[Edited 2011-01-24 01:33:04]
[Edited 2011-01-24 01:40:20]