The "new" Aerolíneas Argentinas logo:
And the farse that is the "Austral" logo, given that for all intents and purposes as regards to the consumer, AR and Austral are one and the same they have the same lousy service, the same lousy cabin crews and the same fares. Oh yes, Austral has newer ERJ-190 planes with a red cheatline.
Date: Wednesday, December the 1st. 2010
Flight: Aerolineas Argentinas 1420 EZE-MDZ Fare Y, seat 3D
Scheduled Dep: 17:35
Departed: 18:00
Wheels up: 1810
Plane: Boeing 737-700W LV-BZA
Top of descent 19:20 local
Touchdown: 19:45 local
Time en route 1 hr. 35 mins.
I descended the stairs from the upper deck of D-ABVB, LH 510 to get off at EZE and something interesting I noticed was that there were two LH FAs holding passengers on each side of the aisles in the C cabins I could see, which were essentially the three. The one in the nose, the one that follows and the small, last one. These LH FAs did not let them out of the door until every F passenger had left the aircraft.
I´m not sure how I feel about that. On the one hand, if you are travelling F, as I was, it does feel kind of exclusive and great, but what right does the the flight crew have to hold you up until the mink wearing crowd decides to enter the aribridge from upstairs? Specially if you have arrived at your destnation after flying for 14 hours, the door is open and no one can hold it against your will. It does sound dramatic, but I think it is a point to consider. Is the FRA-EZE 510 passengers be held up so us, the exclusive upper deck 16 can get out first legal practice and done everywhere?
In my opinion, on airports where there are two bridges there is no issue. But in other airports where there is only one bridge for everybody to get off, this practice borders on discrimination and can lead rarely, of course, to scuffles on board.
Pic ,once off my lovely D-ABVA
I was the last off the stairs, as I was taking pictures on the upper deck, and I was shocked when I came down the stairs to see everybody waiting for me to please get the fuck off .
By 09:45 I was able to get into the migration lane. The migration agent, an old man with a mustache was extremely nice, only smlied (SMILED FOR GOD´S SAKE) and did not ask a single question (where are you staying?, why are you coming to Argentina? Why are you going to Mendoza? Where are you planning to stay there?) None of that. Nothing. Zero, Nada. He just grabbed my Mexican passport and stamped it for a 90 day tourist stay. He returned it to me and wished me a pleasant style in Argentina with a wide smile.
So after that I went to pick up my luggage which in my case did come up early, among the first, and I consider that a total acomplishment on LH´s part, considering it was coming "prioritized" all the way from MEX.
From then on it was on to customs and again, a marvel. They made me put my luggage through their X-ray machine and pick it up the other side, without a word being said. Not even the customs form was required or taken. And then I exited to EZE Inernational terminal.
Wow. What a difficult arrivals hall. Probably among the worst in LATAM. There´s no order, it´s chaos. People crowding like in a store with a Thanksgiving sale, screaming, yelling, wouldn´t letting you pass with your luggage and tens of drivers with white squares witht the name of someone important, plus the other drivers that come close to you and offer "a good deal" to wherever you are going But the unpleasant thing is that if you don´t yell. or kick your way, or elbow your way around, you get stuck, and me, I was in trouble because:
The AR flight I had booked from EZE to MDZ was the AR 1420, leaving at 17:35, but I needed to reach the 11:35 one.
Now, that flight for some reason does not apppear anymore on the schedules. I checked yesterday but that AR 11:35 AM flight EZE-MDZ is gone.
There was an 11:35AM flight leaving from EZE to MDZ. The reason I did not purchase that flight was because it was almost $350 USD more than the one leaving at 17:35. I called AR in Mexico and spoke with Amanda Medina and she told me that there was no problem. "The flight is wide open, just not on the fare you want" Just show yourself wherever (she did not even know) and tell the counter agent you are in Lista de Espera Viva, it would put you on the 11:35 for free without any trouble"
Ok. I trusted her. After all she was AR staff office in Mexico, but no. It was not to be.
Pictures from EZE international departure, only place in the EZE complex worth staying.
So by 09:55 I was literally running ( and I´ll talk later about what it was to go from EZE´s international arrivals to its domestic departures at Terminal C) Let´s just say that at 35 degrees C it´s not pleasant. So I ran and ran, tagging my luggage along.
Finally, after 45 hrs in the air I reached EZE´s Terminal C where I see basically a shack and with some imagination, I could have seen hens, chickens, roosters bird feed, shrimp peels ont eh ground and the occassional rat. By the time I reached an AR agent it was 10:10AM
Agent: Hello, DNI and ticke, please
Me: Here ismy pssport and ticket.
Agent: You have a confimred ticket for AR 1420 leavinh at 17:35
Me: Can you please see I you can put me on the 11:35 to MDZ? "Lista de espera viva, you know?
Agent: No, flights close one hour before departure, that flight is closed
Me: Now, please, it´s 10:15, flight departs at 11:35, I´ve been travelling for 48 hours
Agent: ¿Y? (So)
Me: ¿Y? The flight is still open for the next 20mins, according to you, and if you don´t put me on it, I´m stuck here for the next 8 hrs, I´ve been travelling for the past 48 hours, please try to be understanding, help me, and put me on the 11:35, please Mam, just as as Aerolineas Argentinas in México told me it could be done.
Agent: Whatever Aerolineas Argentinas outside Argentina says nos importa "UNA MIERDA a los que nos la bancamos acá". And as I said, the flight is closed, we closed one hour before departure. You can come back at 15:35 to get your boarding pass but sorry, until then , we can´t check your luggage in either.
Me: So, basically you are telling me that until 15:35 I have to haul my baggage around through wherever, and that even that there are still 15 mins. for check in to be open you are denying me boarding?
Agent: At that, she rolled her eyes and mtioned for the customer behind memto come forward.
And that was it. I decided to stop arguing or getting out the Mexico long hour flight card. My blood sugar level at that point was starting to react and I needed to be careful with that too. My insuline had gone bad on the LH 510 (Maria froze it) and once insuline is frozen it´s gone. Shen didn´t do it on purpose, poor thing , she was mortified, she just put a packet of frozen CO2 on top of it. and It froze, crystallyzing, and destroying it.
So, I did not want to end up in a Bs As hospital because of trouble with a company with no seriousness at all, Aerolineas Argetninas. In hindsight, I should have pullled the diabetic card. It could have gotten me on board the 11:35 flight or at least some type of compensation, and I don´t mean a first classs MIA trip but at least the possibility of letting me leave my luggage with them untl 15:35
What really pissed me off was that while they were telling me the 11:35 flight was closed they were checking in a gentleman for the the 11:35 AM AR MDZ flight inn the next counter. I asked about it, and the lady agent said it was "None of your business" "Y a usted qué le importa?"
So. What to do? Yell? Scream? In my experience that does not work when the employee is behaving like that. Call the manager?.
The manager was occupied in another shouting match with another AR passenger who apparently had been denied his seat since the night before to somewhere and was at the end of his tether and both were screaming at the end of Terminal C to the point that security had already arrived with HUGE guns. Of course, the typical Latin ball of curious people had joined, the screams kept coming from both sides, I was wondering at that point wether I was in Lagos or In Buenos AIres.
So I exited Termnal C (to a definitely more higyienic setting: the sidewalk) and proceeded with all my luggage back to EZE´s international terminal. By now it was close to 11:00 and the temp outside was nearing 30C You´d be surprised, but in a country where the closure of an airport is announced 8 months before and the next three days the moving to the airport that will hold the ops of the closed airport for the month the closure lasts, things are chaos and you think, well, they couold have planned it better, One month later, still, there is no bus, or tram or whatever mechanized wheeled thing that takes you between EZE´s international terminal and Terminal C, which for the month AEP was closed every domestic flight in Argentina to anywhere and from anywhere departed from and arrived into. Just amazing.
Finally I am back at the chaos of the entrance that EZE International is and I start looking for a place with free WI FI to seat and spend the time. The local pharmacy had no insuline so I could do nothing but drink water and move around periodically unless I wanted to get into ketoacedosis and that would have screwed things really bad. There is a "locutorio" on the first floor but they charge you outrageously for Internet use so I had no choice but to keep walking around.
On the first floor there are the check in counters on one side and on the center of the termnal there are 3 or 4 machines distributed throughout manned by 2 or 3 boys that will offer to wrapp your luggage with plastic. I never understood the purpose of that, but they are crowded, usually by people on the flights to FCO and MAD mummyfying their luggage in plastic like crazy.
Thankfully, on the second floor of the terminal there is a café and and I really wish I could remember the name. It´s the only cafeteria at the first end of the terminal on the second floor. They have free WI FI as long as you consume something, so I ordered water, but they said no, it had to be some soda, beer, wine, whatever. So I had a beer. $28 pesos (7 USD) for a 500ml Quilmes. Outrageous. But I was able to finally get myself on the web. That´s Landside, of course, on the second floor. Aside from that, there is nothing. Apart from that Café, there are 3 more, 2 more on the other side, the other place in the terminal where you can get WI FI. All those three places could be clones, and in fact, two of them, one on each side, are owned by the same person.
There is also a couple of newstands, useless in my opinion as the copies of Newsweek, The Economist, Le Monde or even Der Spiegel are two weeks old. Only Caras! and Gente! great magazines if you really need to know what is going on in Mar del Plata and Carlos Paz. There is also a beautiful store of Argentine handicrafts, that among its wares includes chocolates wines, dulce de leche and other stuff whose prices would probably make you laugh out loud and exit the store still laughing. A shame. Because they do have nice things. If they wre not greedy, in my opinion they coul male more money.
This is the side where you can see the tails of the bigger planes arriving. The amont of TAM A330s was huge. Almost one every 2 hours. I suppose the closure of Aeroparque explains part of that.
Anyway I sat there until 15:00 hrs, drinking outrgeously expensive beer, chatting, surfing, reading until I go up and started the walk towards Terminal C, the hen house. I glanced out of curiosity and I saw the MH 744 tail.
When I got there to Terminal C, the hen house, they took my luggage and gave me my boarding pass, which of course was a problem because I had been assigned in the morning, and from Mexico, the Emergency exit window, which I always ask for on nanrrow bodies. Basicallly for survival, no for comfort. Of course they had no record of that, so in my state of tiredness I asked for any fucking wndow they had available. No windows. Fine, any fucking aisle. "Yes sir, I can give you an aisle on row 3" Whatever I answered.
This is the original boarding pass I got inn the morning with the "assurance" that that was the Emergency Exit.
And the one I ended up with:
By 15:35, I was finally airside of Terminal C and I have to admit that the difference is significant. They have nice chairs, nice colors, the AC works, which is the only place in all of EZE where it does work and the gates are clearly numbered and for the first time since I landed in EZE I felt relaxed. I can´t understand why the the hen house that is landside Terminal C can´t be the same as airside. After all, they are only separated by a security checkpoint. Probably they ran out of money and time as is usual in that part of the world
A few planes I was able to spot at EZE from Terminal C airside:
The BA bound for GRU. Literally, minutes frorm pushback. 15 mins. later it took off.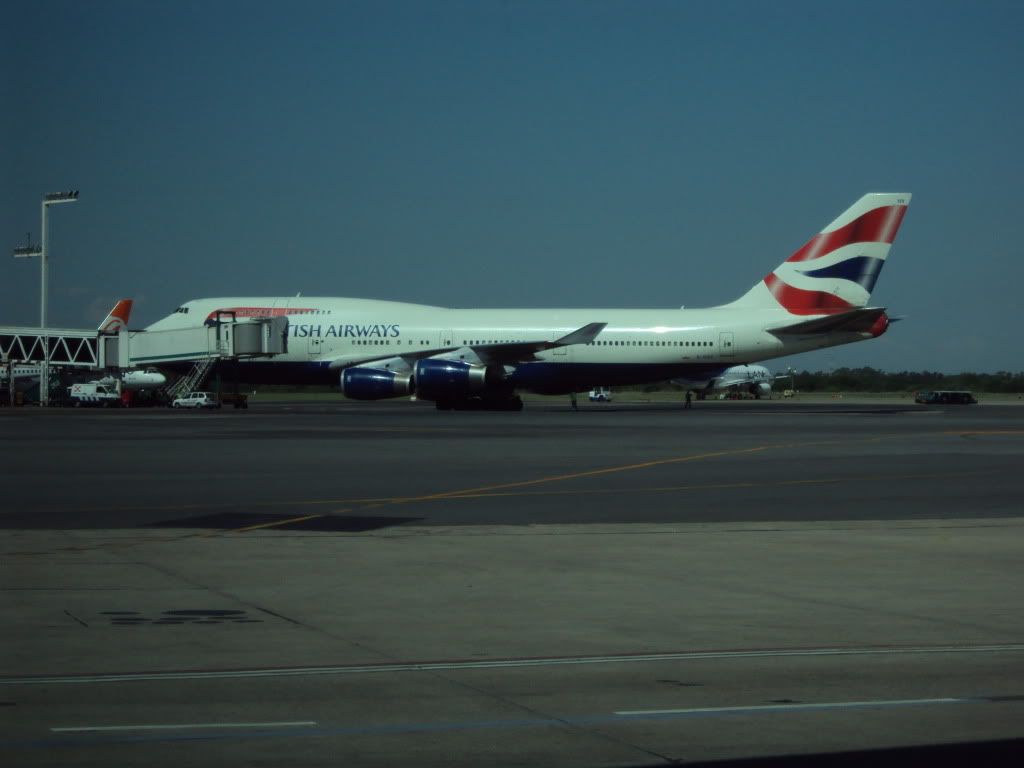 My LH lovely D-ABVB being towed to the gate for its 17:55 departure. It is going to occupy the gate the BA 744 was occupying previously. I hope it´s a premonition of the next carrier I willl fly in F
This AF plane was being towed to another part of the terminal. Apparently, all European flights leave EZE between 17:00 and 18:00
This AR plane arrived from somewhere as it went to the decrepit AR terminal.
That´s the LAN Argentina plane I saw in the morning arriving from somewhere. It spent the rest of the day there. I suppose it was waiting for an evening departure or had some sort of tech failure.
Now, at 16:40:
Morning: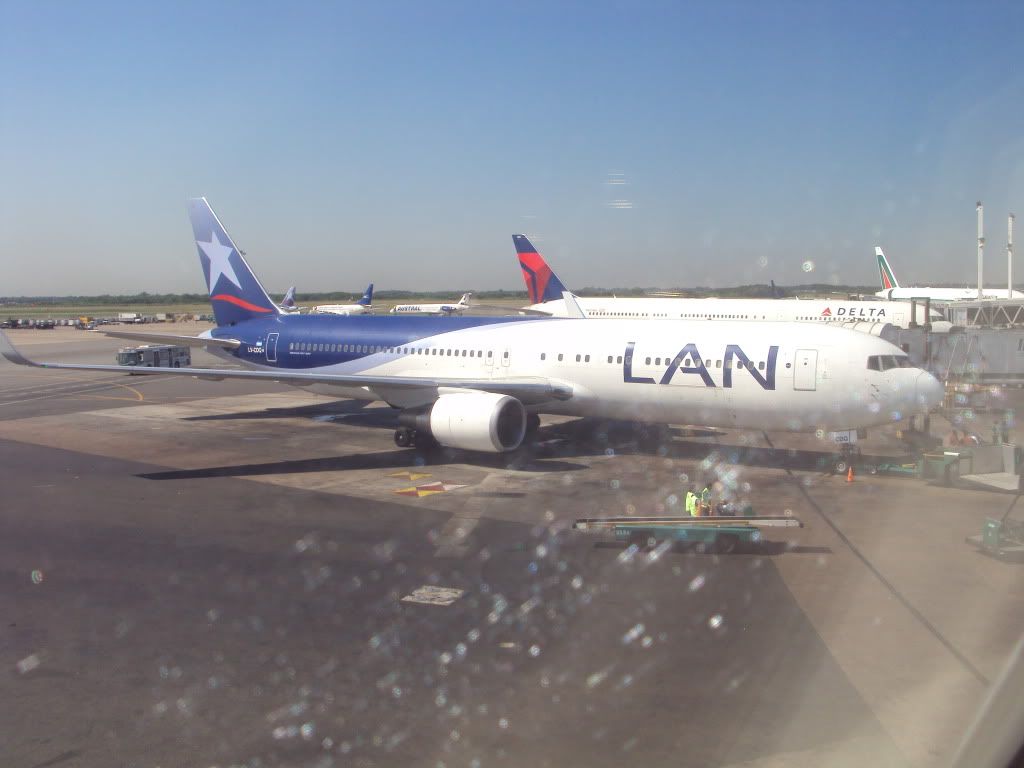 My plane to MDZ
By 16:40, no announcement was made, but I saw a Mendocino next to me from some vine yard yelling in his cell phone aboun his great deal on wine sales to an American company so I followed him. Effectively, the bus bound for the the 737W that was flight 1420 was already filling with people. Thank goodness I was one of the first to travel to the plane in the bus. More on that soon.
According to AR, this is the accommodation for their 737-700W
http://www.aerolineas.com.ar/Arg/mai...?idSitio=MX&idPagina=3&idIdioma=es
Futher, a graphic:

And friends, sorry, that is it for pictures. My camera batteries died and it was impossible to get up to the the overnhead to get new ones. If you wish to continue reading, this will become very interesting, if not, well, I understand. But, from now on, now pictures, I warn you.
So what happens? I arrived in the aircraft, find my crummy seat 3D that I´m not kidding, those planes must have arrived from some airline like Ryanair. My head went beyond the head rest, and I had to turn my knees sideways in order to be seated comfortably. Fine, no problem, it´s a 1:20 min flight, but the fun started soon.
See from my graphics, AR apparently had sold this flight as having first class. So many customers, 8, entered the aircraft expecting a first clas seat. At the same time, other customers who had not bought the first class option showed up with the same number of seat. I mean, 2A in first class is the same as 2A in coach. I don´t know and I don´t care who screwed up but there were now, First class passengers in a plane with no first class and coach class passengers for seat numbers for those coach class seats that were not supposed to exist. They were First Classs after all.
The FAs were three staff. 2 ladies and 1 guy that we will talk about him later. But they had no idea what to do. The F passengers had the same seat assignements that the coach passengers and neither was budging. The head flight attendant first called the captain. The Captain opened the cockpit door, took a cursory look and then said "call ground, this is a ground screw up, but whatever happens I´m keeping my schedule, even if I have to take off with the plane empty" And promptly returned to the cockpit and shut the door.
Me, watching everything from my aisle seat, discovered my seatmates were a rock group! They were flying to MDZ for a rock festival there I had no idea it was talking place but it was important in Argentina.
So the incompetent FAs called ground which to their credit came on board pretty quickly but they could do nothing because the flight was FULL. So the usual routine starts. Please? anyone wants to deplane for a voucher to somewhere? please? And yesl enough did, and we took off.
But, I can´t imagine how I would have felt if I had purchased an F ticket and then arrived at the plane an not only there is no F, but there are coach passengers with the same number of my seat seatin IN MY SEAT Appartently, AR screwed up because they made a last minute plane change. Fine. But if you do that, you at least take care of your high yielding passengers first and foremost.
As I said before, there were three FAs on board, two pretty ladies and one young man. The flight is usually scheduled at 1 hour 45 mins but it usually is more like 1hour and 10-15. I wish I had a picture of the snack box but I don´t. It was 30cms long and 10cms wide. inside there was a nice ham and cheese sandwich, an alfajor (google is your friend) and a kit kat, plus a drinks run. They could have done two, considering the duration of the flight. For the time of the day, though, I think it was a perfect meal.
All nice and dandy? The male FA discovered he was a major fan of the rock band sitting next to me, so he spent the entire flight talking to them. The two poor FAs were left with the onboard service and every other duty to themselves. I was surprised they didn´t come to get him or at least made nasty faces to him but no, that didn´t happen. The entire onboard servive ona FULL economy configured 737-700W was done by two FAs while the third one spent the entire time with his crotch close to my nose exchanging band stories. And you could tell the band was embarrassed. But it´s up to Recalde to do something about it.
The rest of the flight was uneventful. Lots of turbulence but that is expected in MDZ at that time of the year and day and I enjoy turbulence.
We landede normally, got out of the plane, picked up my luggage and for the first time in 5 years I saw my favorite cousin. I´ll spare you the emotional part of that but I had finally made it. I was in Mendoza.
P.S.
I wonder what went through the head of the Skyteam members to invite and accept AR into the alliance. AR is an airline I will avoid in he future and try not to interline with. Fine, keep accepting airlines like AR and in a few years, SkyTeam will be the first airline alliance to disappear. As it is, I only fly Air France, AM, KE and maybe SU in that alliance I travel with. AR? Come on.
[Edited 2011-01-25 01:22:52]