Little late in posting my October holiday flight.
02October2010
LHR – EWR BA First Class. Mileage reward flight.
I felt it was time to pamper myself and get some late summer sunshine in Florida, I was unable to get a flight to Miami for my fixed dates so picked Newark with a connecting flight to Orlando using up my BA&CO miles as well, the round trip in First on both airlines cost me just over £600 in taxes, ahhhh!
The chauffeur picked me up at 0730 and I arrived at T5 at 0820 on a cool grey morning.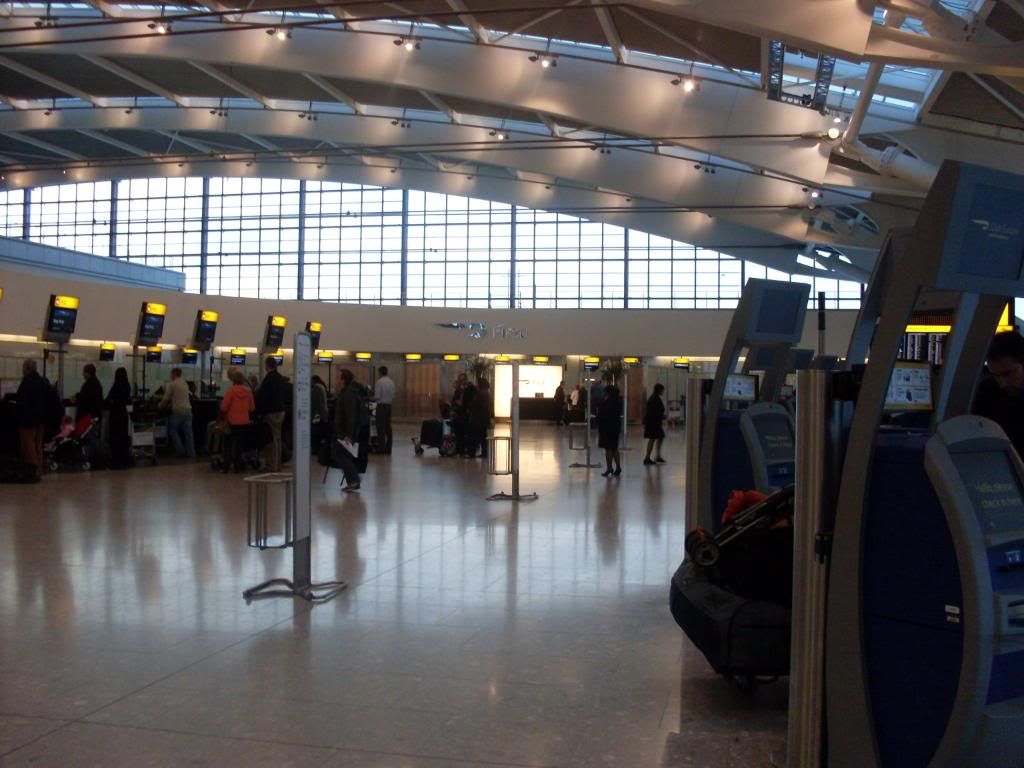 Check-in was a breeze and then off to the Concorde Lounge.
The lounge was about half full and seemed to stay that way for the next 90 minutes, I was greeted by a young lady and asked if I would like breakfast, I declined and found a comfortable seat and got a newspaper and then ordered toast coffee and jam. This was brought to my seat within 10 minutes.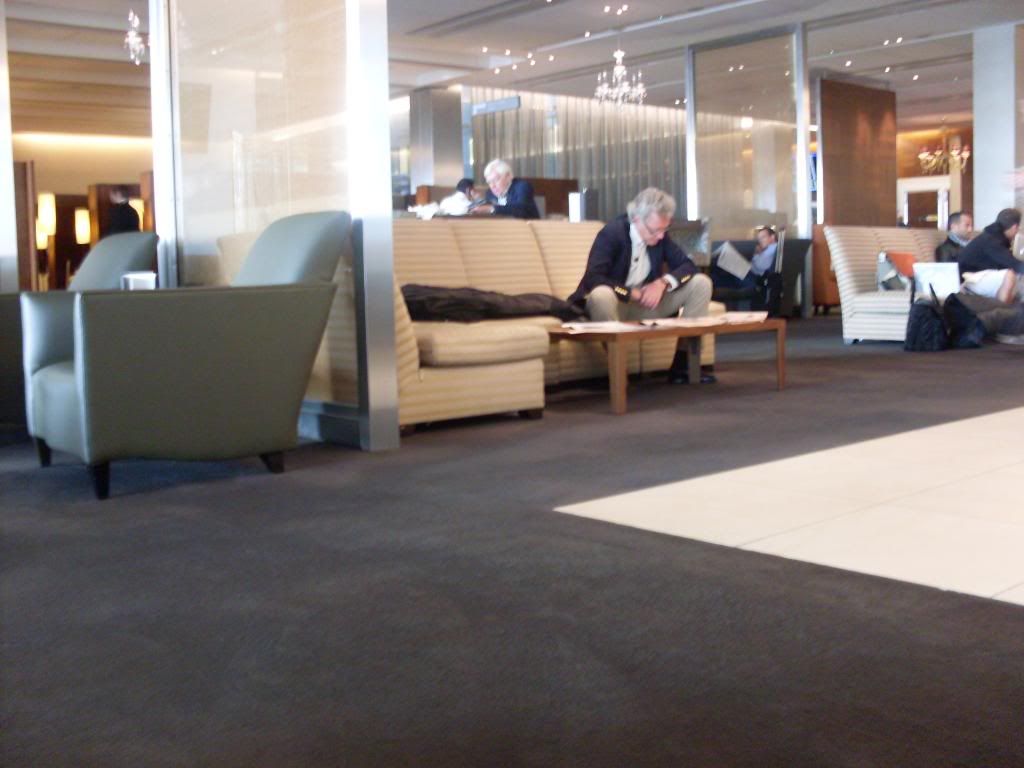 This being a Saturday there did not appear to be many suits on show and chatter was very background. After about 40 minutes I ordered another coffee and toast from the lady behind the bar, my order was taken with a smile and was delivered to my seat in 5 minutes, however it was clear something was going wrong with orders. I overheard one lady who came to the bar say she had been waiting 20 minutes for her breakfast, shortly followed by a man who said his order was all wrong.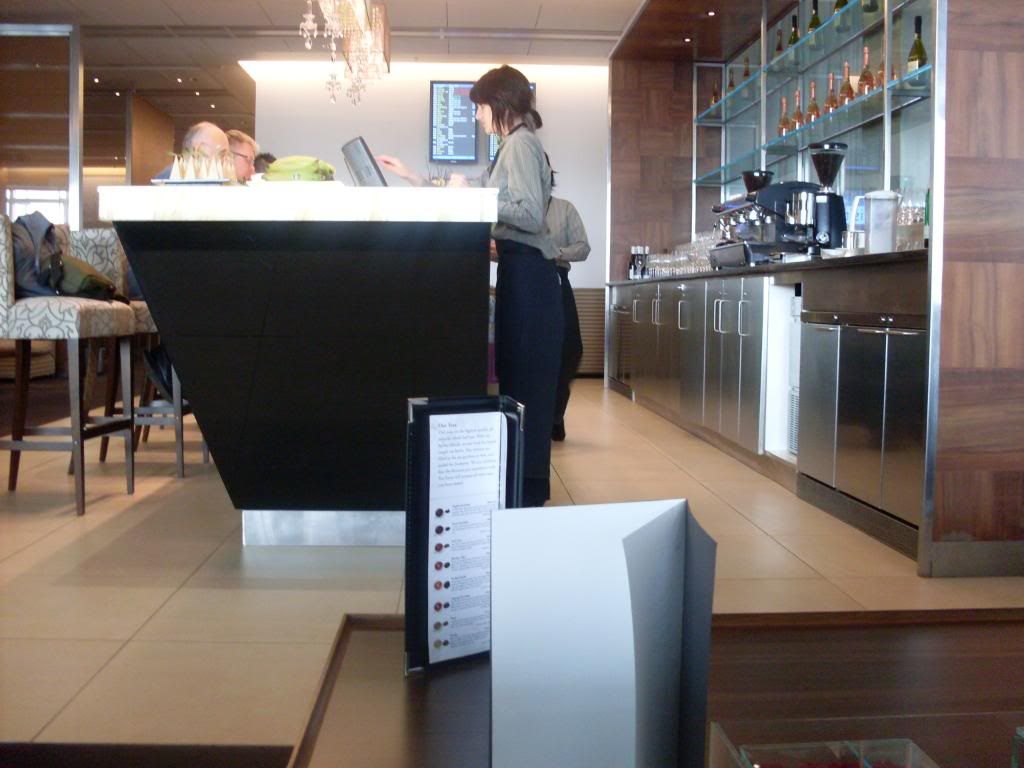 At all times this young lady kept her cool, was very polished, apologised and set about resolving the problems while continuing to take new orders. She was being let down by fellow crew members but it was not going to stop her giving a First Class service. She would have made a great PA.
Last call flashed up on my flight and as I left the lounge I had to stop and congratulate this young lady on her good service, she seemed very surprised and blushed a little.
The departure gate was at the other end of the terminal but no problem, I was there in less than 5 minutes, however was not prepared for the fact we were going to be bussed out to the stand.
This really is not a First Class experience, we were directed onto a waiting bus, standing room only, and then 10 minutes later arrived at the steps of the aircraft. The ride was terrible, sudden stops which sent us rocking forward and back and swaying as we went around corners. Once at the top of the stairs I was greeted with a smile, addressed by name and shown to my seat.
The cabin was already full; I was the last passenger to arrive in First. My jacket was taken and a glass of champagne offered, okay it's just 10am but it's 5 o'clock somewhere in the world.
The champagne arrived along with wash bag pyjamas menus and any newspaper sir?
One more coach party arrived and then they closed the doors and we set off to taxi to the other end of Heathrow for a 27R departure. We passed the ongoing taxiway replacement program on the way out, heck of a big job that is, won't be finished anytime soon. We appeared to jump a few places in the long queue and a quick rolling takeoff had us in the air just 20 minutes late, this was going to prove a problem for the connecting flight at EWR, never mind I thought, 7 hours of bliss to enjoy.
Leg room
Cabin service began after about 20 minutes flying with drinks and nibbles, the Cabin Service director came around and introduced herself, gave a warm welcome and insisted that anything, yes anything she could do to make the trip better then please ask. I was now enjoying a glass of Chablis Premier Cru 2008 and asked for a top up, it was immediately. As we passed over Cork another member of crew, Jill, appeared from behind the curtain, knelt down and asked if I would like to order Lunch and at what time I would like it served?
The Menu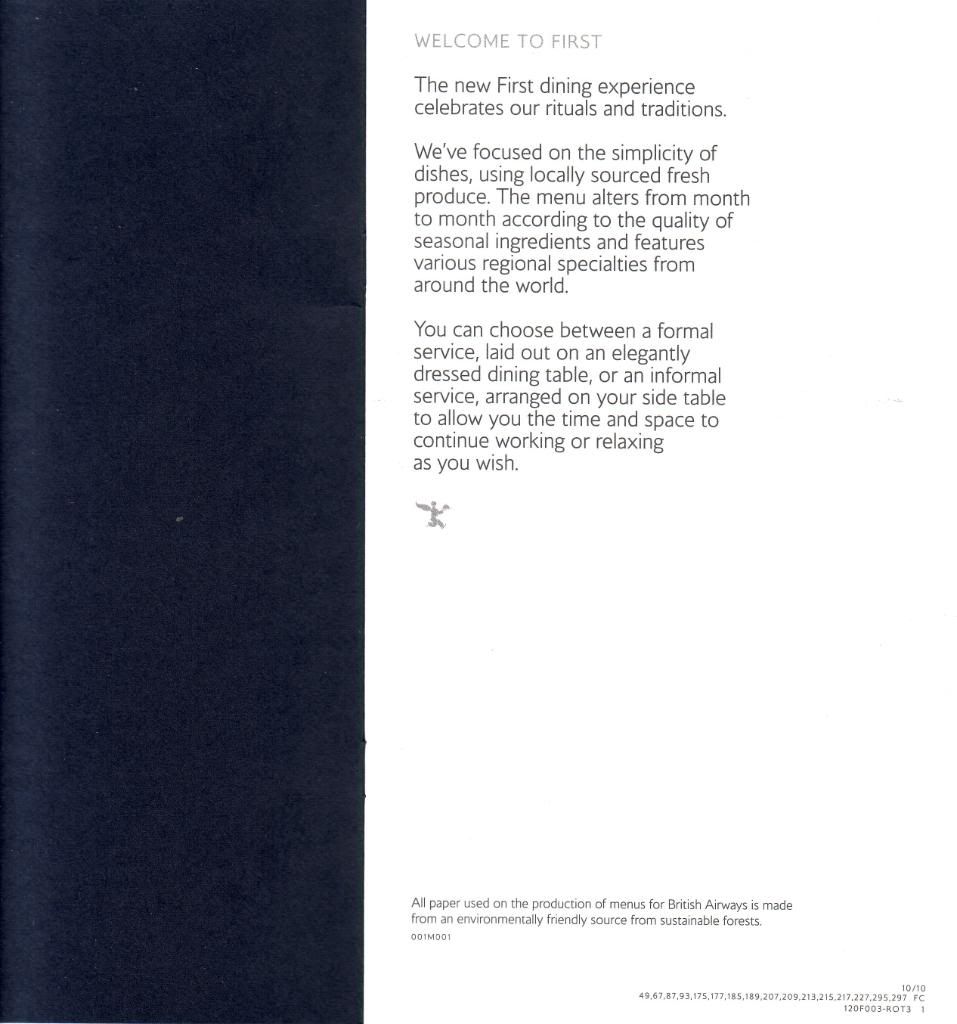 The Wine List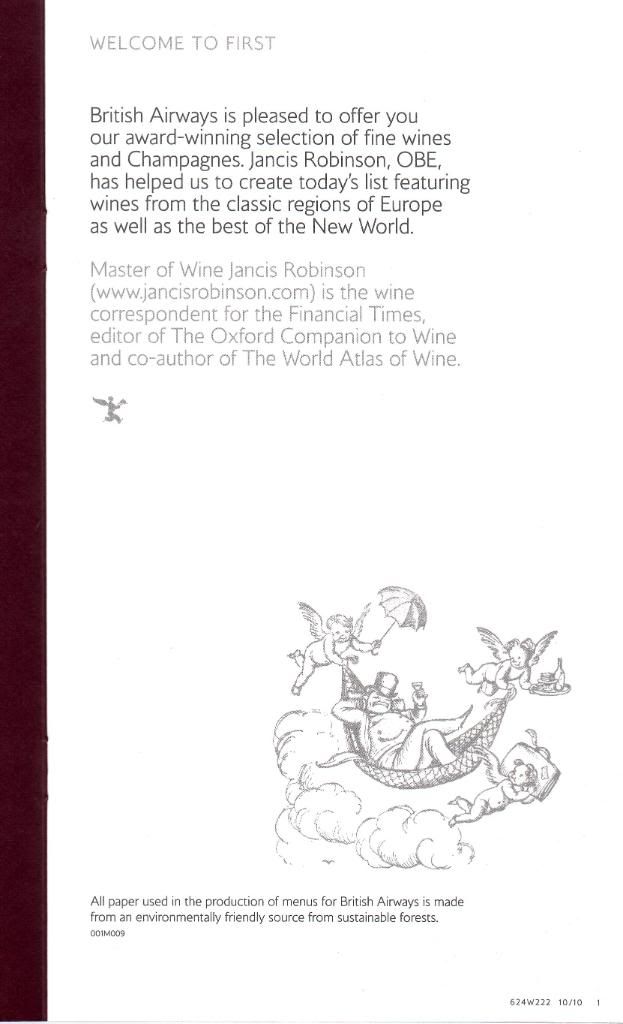 I choose the marbled Chicken followed by the Beef Wellington and said I would eat in 1 hour and continued with the excellent Chablis.
The IFE was fired up by now and I picked a movie to watch. This is the only criticism I have of the current First cabin on 777's, the tiny screen. I know they are coming to the end of their life soon but it does not compare to what is on offer in Club, never mind.
At the appointed hour Jill returned to set up my table. Asked if I would stay with the Chablis for lunch, I changed to the Chardonnay, and a fresh glass was produced, it was a great drink.
Look at all that woodwork.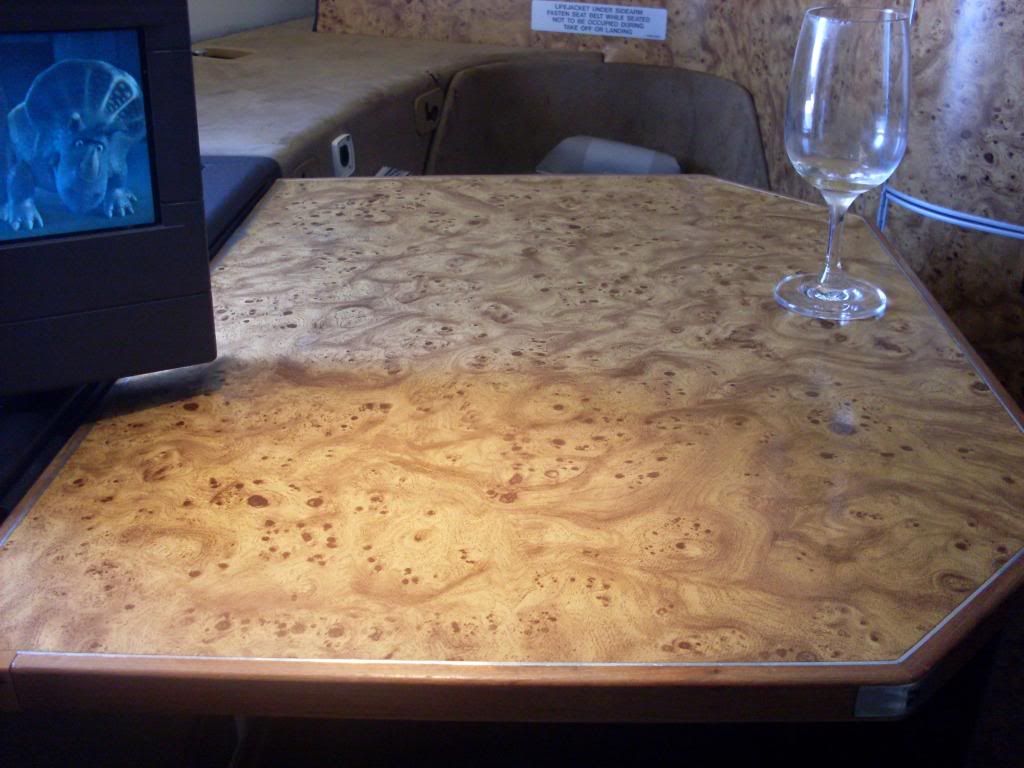 I scoffed down the chicken starter before remembering I should have taken a photo,sorry.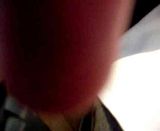 The Beef Wellington had the appearance of being hand made, cracking main course.
For dessert I picked the warm Jaffa sponge with chocolate sauce that was a great pud!
I enjoyed a little cheese, Brie and some grapes and then settled down for an afternoon nap, wonderful.
When I woke we were just north of Boston.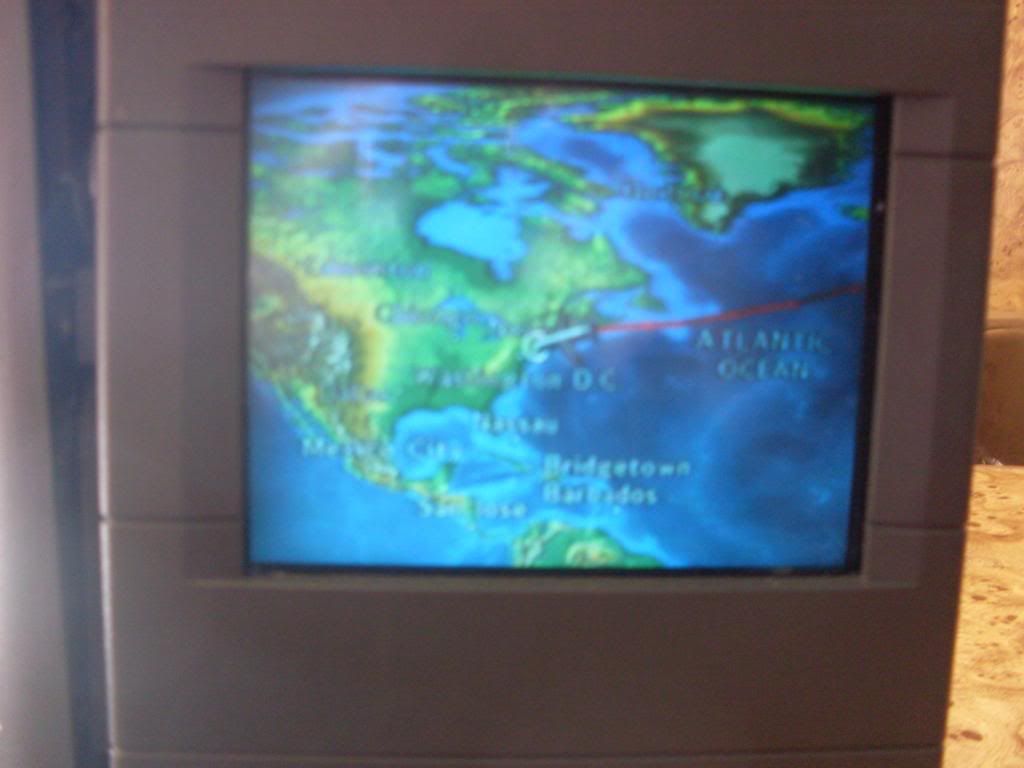 I went to the bathroom and as I made my way back Jill asked if I would like afternoon tea? Yes please and the table was soon set up, I had some wonderful sandwiches followed by my BA favourite, warm scones and cream, Jill said they were small, how about 2? BA you must promise never to take these off the Menu, ever.
As we entered New Jersey we went into a holding pattern for 15 minutes due to traffic and cloud we were told, this, plus the late departure from LHR left me just 40 minutes to clear immigration and change terminals, it was going to be tight.
Bruce Springsteen has a ranch somewhere down there I am told.
After touchdown and parked at the stand, the cabin crew held back the other passengers to allow First to disembark and this certainly helped me. A lunch time arrival at Newark is always busy and you are in the lap of the gods as to how long the line will be, it was long, sigh!
I cleared Terminal B and headed to terminal C with 15 minutes before wheels up. At terminal C the security line was short and made it onto the concourse with just 5 minutes to go, mad rush to gate 94 and I arrive puffing at the gate to find a long line, ahhhh there is a God.
As a First I went to the front and walked on, sat down and vowed never to do that again.
Orlando and sunshine here I come.
The return journey.
Like all holidays it was over too soon and I said goodbye to the warm sunshine and arrived at Newark on a flight with CO using up the last of my miles.
I had to change Terminals at EWR to Terminal B. I could see my aircraft waiting.
This was painless; however, I found limited signage to direct me to the BA check-in area. After a helpful word with a security person I was pointed in the right direction. First Class was empty, the guy on the desk gave me a friendly smile and checked me in, only hand luggage, so very quick. He asked if I knew where the lounge was after security which I did not, his directions were great, very clear and unrushed. I set off in the direction offered, security was a breeze with my Fast Pass sticker on the boarding card and then onto the lounge in minutes, so far so good.
I was not greeted at the lounge when I arrived, the lady, about 50yrs old, sat at the desk was clearly having a bad evening and passing it on. I presented my boarding card which she glanced at and then gestured to the lounge entrance, not a word was spoken between us. Okay, perhaps it is a NJ thing.
On entering the lounge I was struck by how small it is, enough to hold the First Class cabin of a 777 but no more really. There were 6 other travellers in the lounge and it was very peaceful. To one side was a small but very well stocked bar area,a tray with chips and cookies and a very sorry looking dish with a single sandwich covered by a glass top. Okay I thought, it will soon be refreshed, wrong.
I helped myself to a really great glass of Chablis, sat down with a newspaper and waited. Well after 20 minutes and a second glass of wine I went outside to the front desk and pointed out the lack of refreshments in the lounge. I was greeted again by a blank face and equally blank remark, "Really?"
A pause on both sides, "okay" and that was it, I went back into the lounge wondering how someone like this could be employed in such a position. Less than 5 minutes later a tray of sandwiches arrived fresh and well filled.
Boarding card.
No flight announcements were made and 30 minutes before departure I made my way to the gate leaving behind our uninterested BA rep. Boarding was quick and I was greeted at the cabin door with a great smile and walked to my seat. A cabin crew member, Peter, approached and asks to take my jacket and offered a welcome drink and newspaper. I took a glass of Champagne
and a Times newspaper. A big pillow and pyjamas were waiting at my seat and I settled back to enjoy the trip home.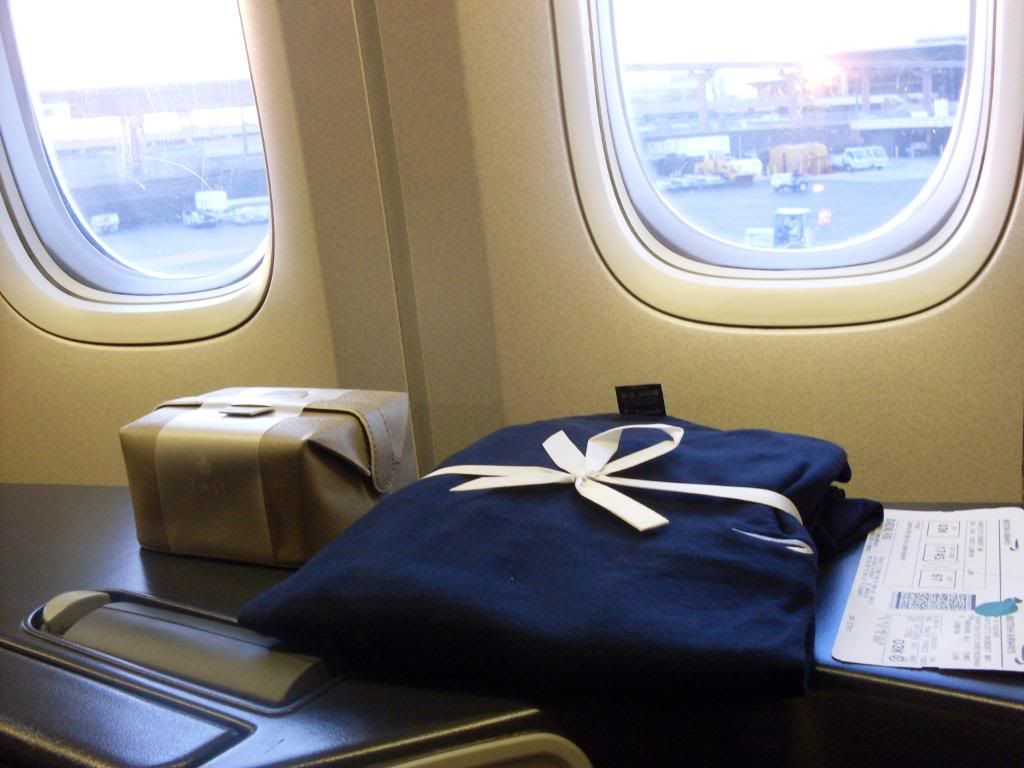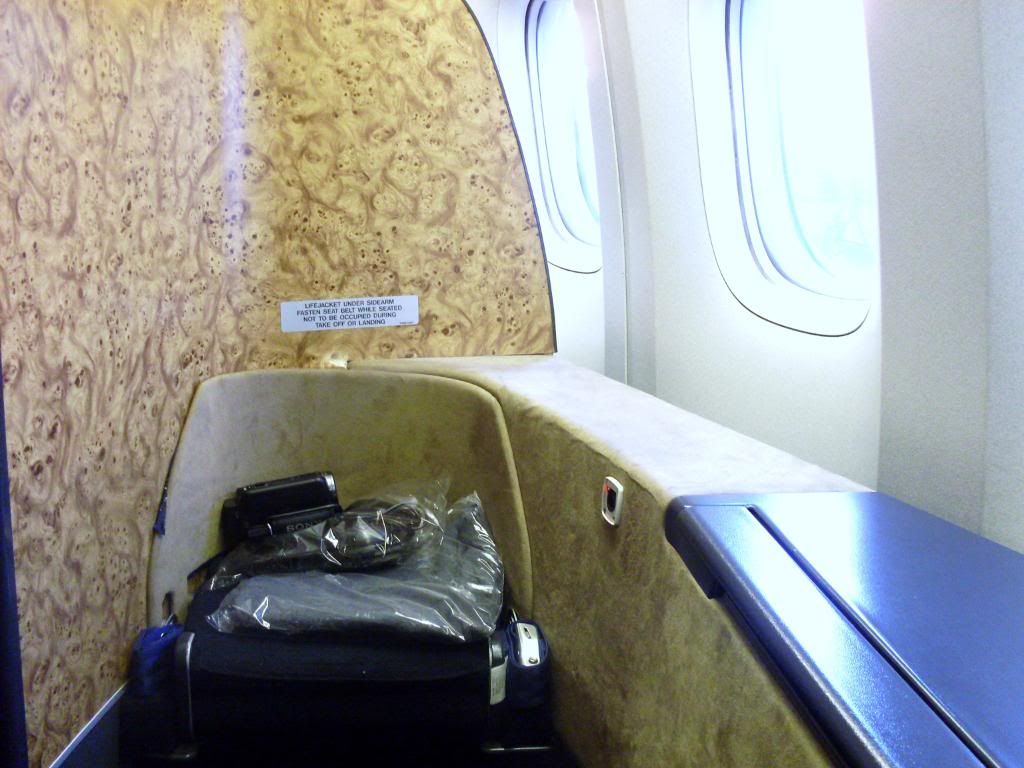 Empty seat next to me.
The cabin door was closed and push back happened after about 25minutes and another glass refill, taxi time was short and we passed several aircraft who were holding short and became No.1.
The captain had advised a short flight of just over 6 hours and smooth flying, it was. We soon climbed to 20,000ft and the seat belt sign turned off, cabin service began, the crew moved about offering the evening Menu, it became clear as the cabin settled down that I was going to be the only person eating on this short overnight flight.
On the 777 a First Class seat has the benefit of 3 windows to look out of, and I enjoy the view of the
New York skyline on an early evening departure as we head north. Imagine my surprise as I lent forward to pick something up from my buddy seat to find my window blind drawn down and a hand sliding back to the seat behind me. I was really stunned by this, the cabin was fully lit and people moving about. I stood up and turned to face this person only to find that he was now under a blanket and had eye shades on. I am aware of night time etiquette in a cabin but found this rude, needless to say the blind went up straight away. (fbgdavidson that ever happen to you?)
Peter came back to my seat, knelt down and asked what I would like to order and at what time I would like to dine?
I picked the Roast Tomato & Pepper bisque followed by the Veal Chop and said I would eat anytime they were ready. He smiled warmly took the order and left after asking if I would like another glass of the excellent Champagne?
Table set up
A few moments later a young lady arrived with my wine and asked if I would like to try a little Lobster starter? Why not?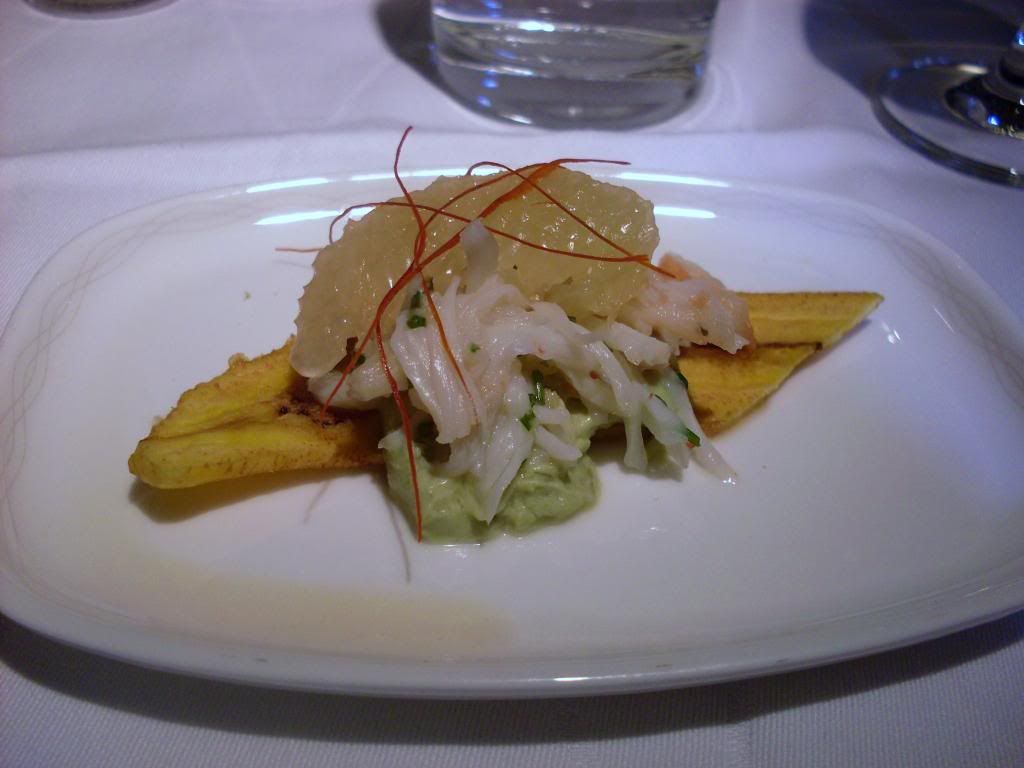 It was really really good. A thin slice of Banana fried, topped with fresh avocado some Lobster and a slice of pink grapefruit, yum yum.
Next up was the soup, well this was outstanding, and I know that taste buds are not supposed to work well in aircraft and by now we had climbed to 37,000ft but this was tremendous. I asked and got a second plateful, could almost have been "homemade".
The timing between courses was very good, not rushed or slow and wine topped up without asking.
The main course was the Veal chops and it was also very good, not overcooked and the caramelised
gravy was excellent.
After dinner was cleared away Peter came back to ask if I would like to wait a moment before dessert to which I agreed and he offered to change my wine glass for a fresh one, nice.
I decided on some cheese and grapes and a few crackers.
As I said, I was the only person dining in the cabin and I was spoilt by the crew, all types of cheese arrived and grapes and a great tray of crackers, wonderful.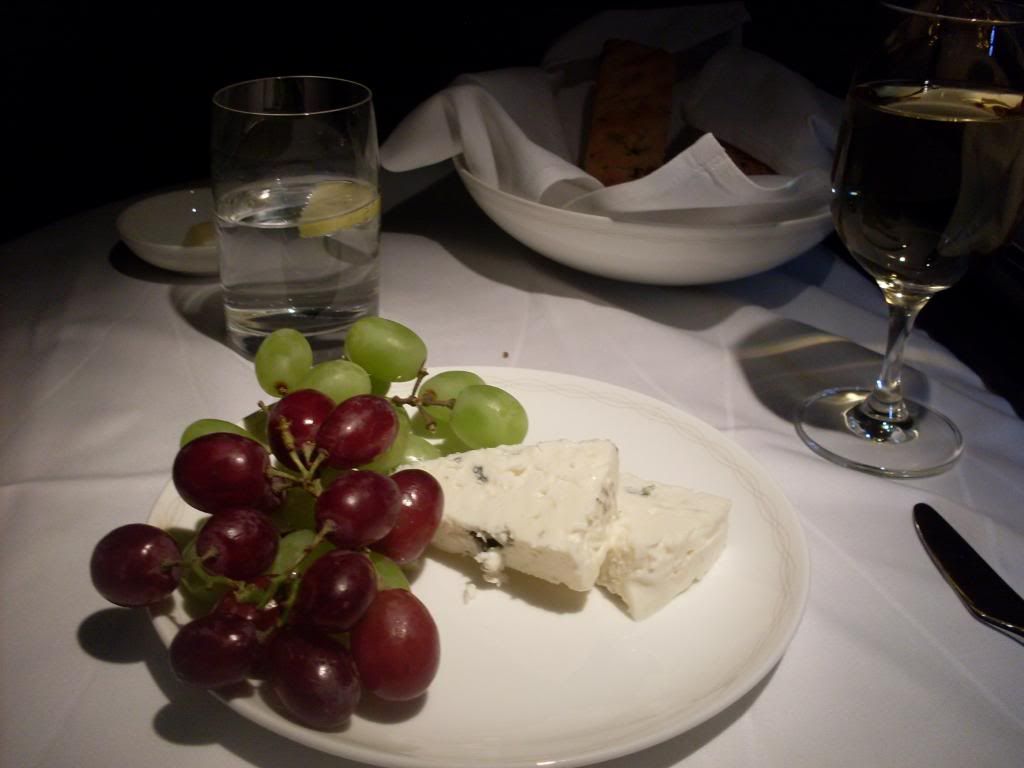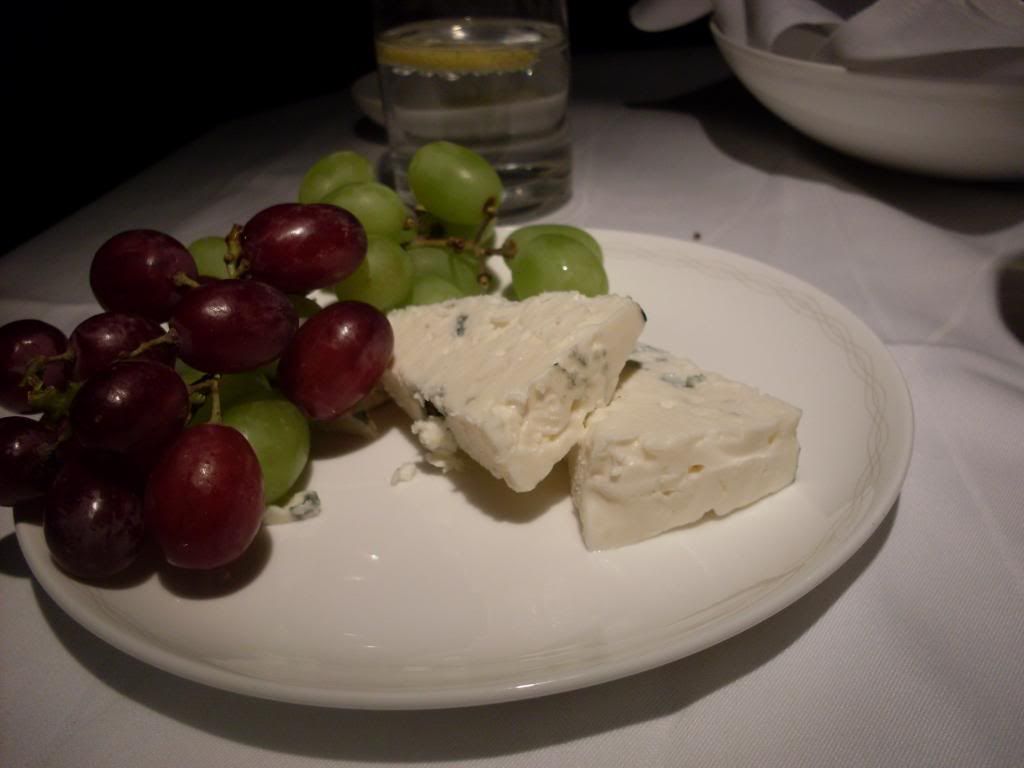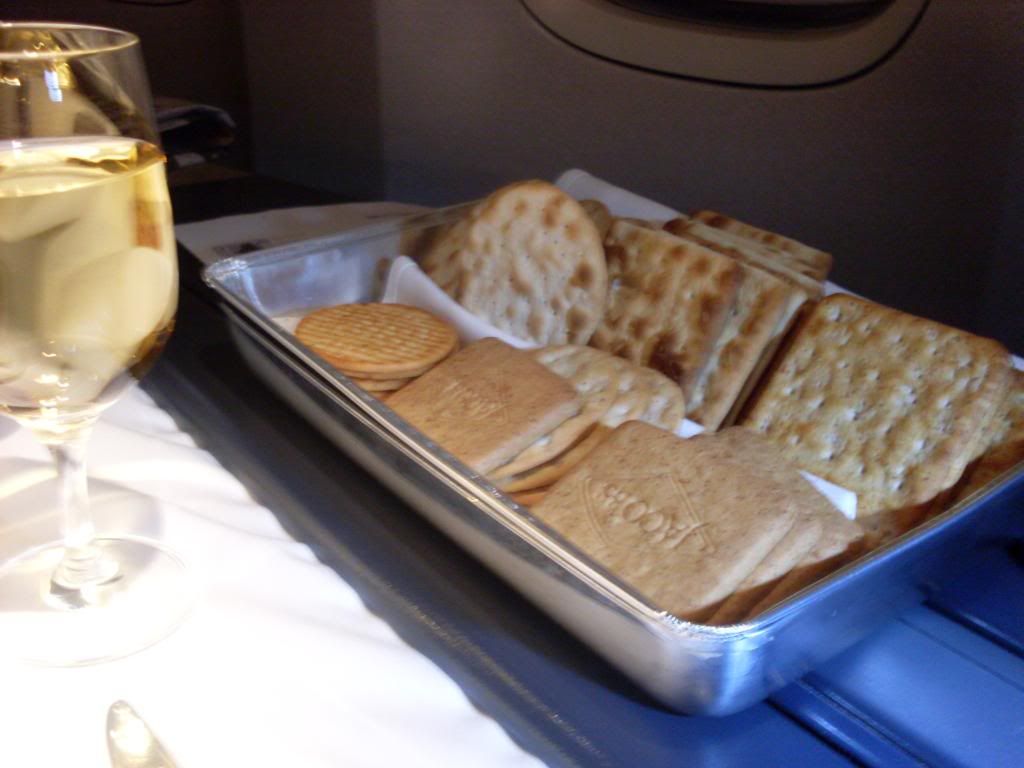 I had asked for a personal DVD player loaded with "The Wolfman" to watch before I slept for a short time, in the end we had to give it up as a bad idea.
Peter arrived at my seat with the player, we plugged it in and nothing happened, he was very sorry and went and got another one, and another, and another one. We changed the power lead, we shook it, we spoke to it sternly but it would not work. I felt sorry for them, try as they may it was not going to happen. We decided to call it a night on that film. After I had eaten my full of the cheese the plate was cleared away and an offer to make-up my bed.
I went to the bathroom to change into the great BA jim jams and came back to find the bed ready and a great night's sleep ahead, or be it only 4 hours long.
I had told Peter no breakfast, just coffee, I would eat once we landed.
The next thing I remember was Peter was placing a great cup of coffee before me and reminding me that he had put the Duty-free I had ordered in the overhead, I had forgotten, thanks.
Just 20 minutes to landing and then a short taxi to our stand.
There was a shuttle bus waiting for passengers at the bottom of the stairs, we were to be "bussed" to the terminal. The First Class passengers were allowed off first as the crew blocked the aisle from Club, it was standing room only and we were well packed before the doors closed and we moved off for the 4-5 minute drive to the terminal, as I clung to the hand rail going round the corners and swaying with the other passengers I thought that BA was missing a trick here with their high end customers. LH provides a Limo service for First from the terminal to the plane.
I used the "new" passport self scan at T5 which had a very short line and then went in search of the Arrivals Lounge.
It was well sign posted but imagine my horror when I found that the "meet & greet" lady must have been the sister of the one I left at EWR ! There was no greeting as I presented my boarding card, she pointed to some seats behind me, "Have a seat I will call you". I walked over to the seat and sat down, immediately she called my name. "Mr Robert, Red6" and pointed to her left. I duly went in search of my shower cubicle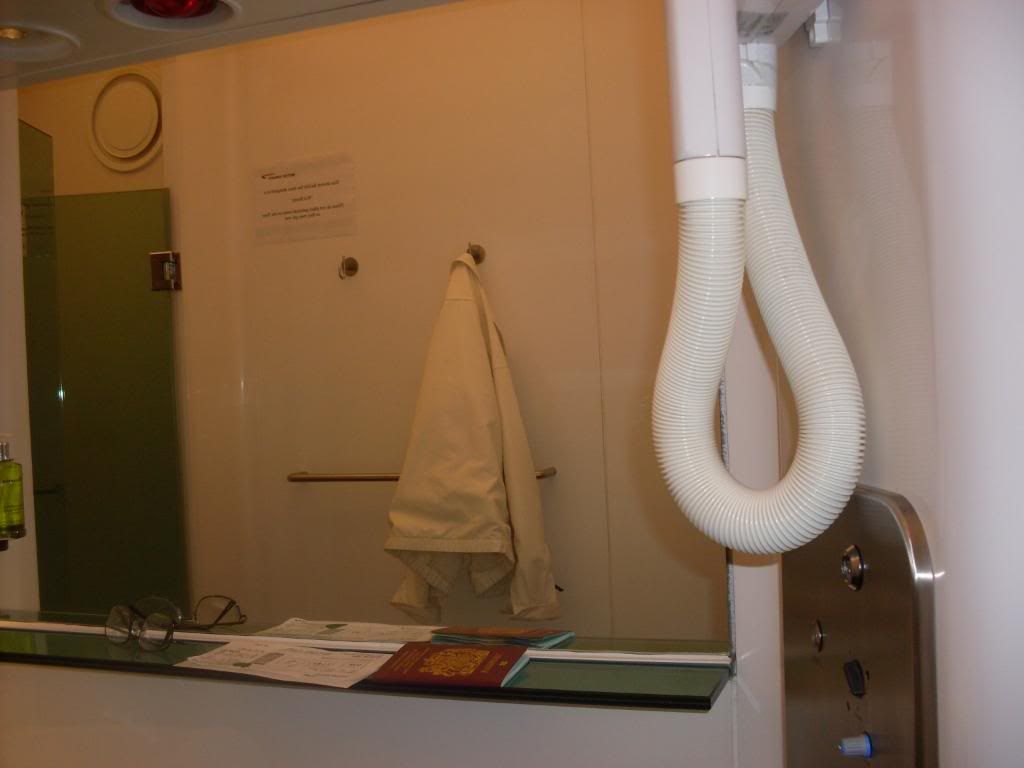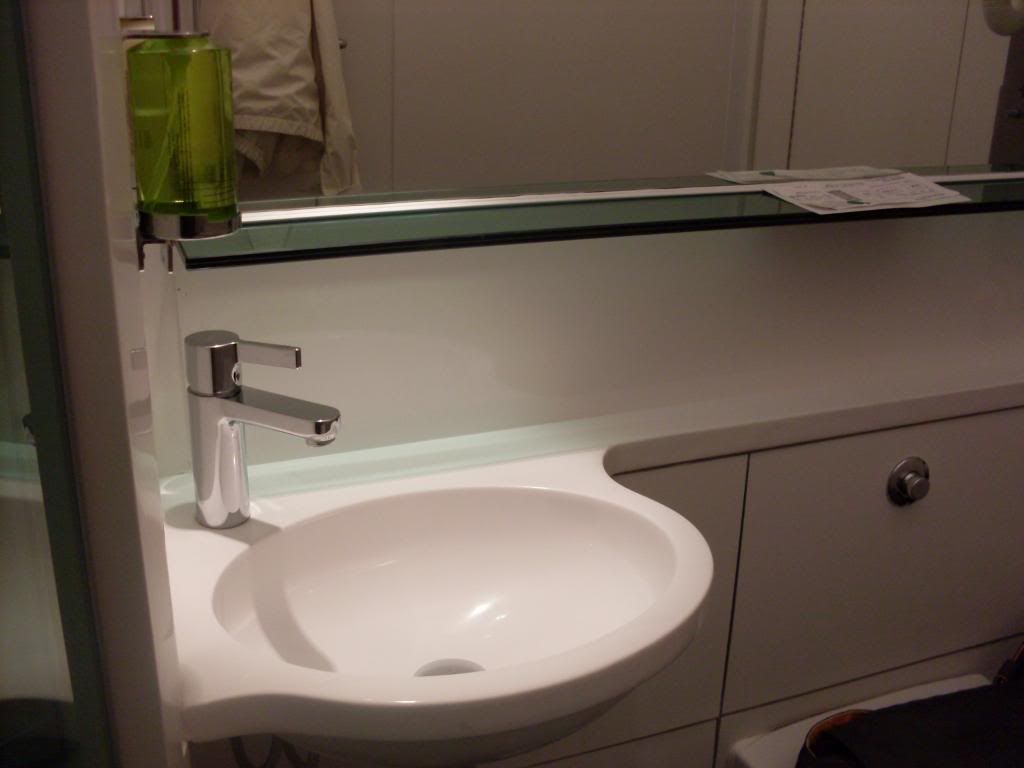 Once inside everything that I would need was at hand and the room did have a fresh feel to it and very clean. Lots of soap and towels and some music I recall.
The shower was powerful and once the temperature had been set it stayed that way
Some 25 minutes later I left the room and went in search of breakfast. The Concorde dining area was clearly marked and I entered a very quiet room and selected a table and sat down. There were not many other First Class passengers having breakfast at 07:15, perhaps 8, my order was promptly taken and quickly delivered. I had asked for scrambled eggs but got two fried instead, not a big deal. The waiter spotted this and asked if I would like it replaced, I replied no, it was okay. The breakfast was big and hearty and set me up for the cab ride home in the rush hour which would last about 40 minutes.
My overall impression of the trip was very good, the product is sound and tested, you are always going to get the odd glitch, staff and machines. The current very small video screen on the aircraft is by far the biggest problem in this day and age but BA is slowly addressing this in First.
I feel that there is still a big gap between ground crew and cabin crew in terms of service levels but
perhaps that is the same for other airlines worldwide.
Thanks for reading, all comments most welcome.