I always enjoy reading the trip reports here in this form. Now it is time for me to contribute to this great forum. I take many trips and I vowed to write more often starting 2011.
So here we go....
TRIP REPORT: Dornier 328 Jet - 14Jan11

Introduction
Sometime in autumn 2010, Sky Work Airlines (SX/SKW) from Bern (BRN/LSZB) announced that they will start scheduled flight from BRN to Brussels (BRU/EBBR) and from there onwards to Angers (ANE/LFJR). Indeed, soon the BRN-BRU and BRU-ANE flights appeared in SX's booking engine. Always keen to fly on odd routes, I was starting to think about how to include BRU-ANE into one of my trips. After a while, the BRN-BRU flights disappeared from the booking engine, but BRU-ANE was still there. Of course this seemed odd - would they base an aircraft in BRU? I wanted to find out more and went to find out more on the ANE website, which still said that SX would fly this route from January 2011. A couple of days later, when checking the SX website again, the flights were still there but the prices were ridiculously high and there was a remark that the flights would be operated by Air Vallée (DO/RVL). This prompted me to go the ANE website once more, to find out what was going on, but there was no new information there (it still said SX would operate). I also went to the DO website. There I saw that DO indeed would operate schedules from ANE to BRU, Barcelona (BCN/LEBL), Munich (MUC/EDDM) via Dôle (DLE/LFGJ), Aosta (AOT/LIMW) and Nice (NCE/LFMN). Now that was interesting, such a big range of destinations from a rather obscure location. Initially, the segment ANE-DLE on the way to MUC was not bookable. I wanted to know more and went to find information about DLE and there it was said that there will be flights to MUC and NCE. I was now keen to build a trip around the MUC-DLE-ANE flight. As I had only one day available, it was not possible to fly MUC-DLE-ANE, as there would not be enough time to get from ANE to any other airport, for example Paris-Charles de Gaulle (CDG/LFPG), to catch a flight home the same evening. So I settled on MUC-DLE. The first flight would take place on 10Jan11 and there would be three weekly flights on Monday, Wednesday and Friday. The fare was EUR 79 for both MUC-DLE and MUC-ANE. Of course it was a pity I could not buy two sectors for the price of one, but that's how it goes.... A friend of mine who did not yet have the Dornier 328 Jet (FRJ) in his log decided to join me on this trip.
So we went ahead and booked DO from MUC to DLE on Friday, 14Jan11 for EUR 79.00 each (incl. taxes and fees), which was quite good for this new and interesting route. I would add a new carrier and a new airport to my log. To get home back to ZRH from DLE we took a combination of train and bus along the following route: Dôle - Vallorbe (by French TGV train, about 1 hour), Vallorbe - Yverdon (by a Swiss regional bus company, about 45 minutes) and Yverdon - Zurich-Airport (by Swiss train, about 2:15). To get to MUC we planned on flying Zurich (ZRH/LSZH) - MUC with Swiss International Air Lines (LX/SWR) operated by an Avro RJ100 (AR1) of Swiss European Air Lines (--/SWU). As my friend and I are both airline staff, we could take a standby ticket for this flight. We also took a back-up ticket for Lufthansa (LH/DLH) just in case anything would go wrong with the LX flight. There were still two LH flights after that LX flight that we could take, as departure from MUC to DLE was at 12:05 local time.
When booking the DO flight back in November 2010, I was not really sure if this flight would really ever operate. The route seemed so strange and these were the first scheduled flights for a long time to operate from DLE. I assumed that the whole ANE and DLE network of DO would only operate thanks to subsidies from either those two airports or the local governments. Anyway, in November it seemed not so clear to me whether this flight would ever operate as everything looked really strange. Also sometime during the time from November to January, on the DO website the routing was not ANE-DLE-MUC with one single flight number all the way through, but both portions ANE-DLE and DLE-MUC became separate flight numbers and now the ANE-DLE sector was also bookable.
On 10Jan11, the date of the first flight on the ANE-DLE-MUC route, I anxiously checked the MUC airport website to see whether this flight would really operate. I was half expecting to get bad news and indeed, both flights, inbound form DLE and outbound to DLE were shown as cancelled! However I later found out that the inbound did not come from DLE but directly from ANE with a different flight number. There was no outbound flight from MUC. So there probably were passengers from ANE to MUC but none on either ANE-DLE and DLE-MUC. And my guess is that there were no passengers to either DLE and ANE from MUC. On 12Jan, the date of the second flight, everything was normal, so we decided to go ahead with our trip and go to MUC.
Flights

Date: 14Jan11
Route: Zurich (ZRH/LSZH) - Munich (MUC/EDDM)
Flight number: LX 1100 (cancelled)
Schedule (local times): ZRH 0705 - MUC 0805
Scheduled block time: 1:00
Airline/Operator: Swiss European Air Lines (--/SWU) for Swiss International Air Lines (LX/SWR)
Aircraft type: British Aerospace/Avro RJ100
Registration: HB-IXT
81st flight on subtype AR1/143, 145th flight on ARJ/146 family, 7th flight on HB-IXT (but it was not to be)
Check-in was done the day before at the check-in 3 area. There were no queues and since I was listed on the flight I took just a minute. Because check-in was too early the system did not assign a seat number. I would have to sort that out at the gate. I did not worry as the flight was wide open.
I got up around 5:00 and was at the airport at 5:45. There were no queues for security and we were at the A01-10 gate area quickly. Nowadays, stand-by passengers can just board together with the normal passengers even if they don't have a seat assigned yet. A printer at the gate will then issue a "seat change" which is printed on a supermarket receipt type of paper and the gate agents will keep the boarding pass. To avoid this and to be able to keep a proper boarding pass for my collection, I approached the gate agent shortly after she arrived to ask her nicely if she could print me a new boarding pass as soon as I was allocated a seat. She said she's not allowed to do it but that she will make an exception. Due to the low number of passengers - maybe around 30 - boarding the bus was accomplished quickly and we were driven to the aircraft, which turned out to be HB-IXT. My friend and me both had windows seats in the same row with no other passengers sitting between us. After the baggage was loaded nothing happened for a while. It seemed we were waiting for the start-up clearance. After a while the flight attendant went through the cabin and gave out the "Swiss" chocolates, which I thought was odd because they normally do this before arrival. Maybe we needed to wait a bit longer for the clearance? Soon the cargo doors were opened again and they unloaded the baggage. I told my friend that I thought that the flight would be cancelled. Indeed that's what was announced by the pilot just a moment later. He said it was due to a technical problem and he advised us that we will be rebooked onto a LH flight departing at 0845 and that we should contact the transfer desk to get the new boarding passes. The passengers - mainly businesspeople - reacted calmly. After 5 minutes a bus arrived, we said good by to the flight attendant and left the aircraft. My friend and my were a bit worried whether there was enough space on the next flight as we were stand-by only as we knew it was operated by a Bombardier Regional Jet 900 (CR9) with 84 physical seats (but less saleable seats because LH doesn't sell the aisle seats in business class).
After disembarking from the bus at the arrivals entrance, we were guided upstairs to the transfer desks by a handling person. There were no queues and several agents just opened counters as our group arrived. All in all it looked very efficient. We were transferred to the next flight on LH without any problems even though we had stand-by tickets. As could be expected, we did not yet get seat numbers at this stage. We asked about the load and the helpful agent checked the numbers - we should be fine.
Date: 14Jan11
Route: Zurich (ZRH/LSZH) - Munich (MUC/EDDM)
Flight number: LH 2365
Schedule (local times): ZRH 0845 - MUC 0940
Scheduled block time: 0:55
Airline/Operator: Lufthansa Cityline (CL/CLH) for Lufthansa (LH/DLH)
Aircraft type: Bombardier Regional Jet 900ER
Registration: D-ACKD
2nd flight on CR9, 5th flight on CR7/CR9/CRK family, 1st flight on D-ACKD
After only a short wait, boarding commenced in the gate A01-10 area. This time we waited until the majority of passengers had boarded the bus and then approached the gate agent. She confirmed that we now had seats. The gate reader issued our "seat change" supermarket slips, but we could keep the original boarding passes for our collection.
D-ACKD wing and tail view
Our aircraft was parked next to the pier B construction area. Business class seemed full and my seat, an emergency exit window, was occupied by another passenger. So I took this passenger's seat instead, which turned out to be a window seat without a window.... fortunately there was just a little bit of window from the seat row ahead of me. Taxiing and take-off from runway 28 were uneventful. The flight was very short and sitting near the wing in the middle of the airplane I was served drinks - I chose a water. By then descent into MUC had already begun. The approach to runway 26L we flew parallel to a LH Airbus 340-300 (343) approaching runway 26R which was quite impressive and something you don't see every day. After landing, we taxied to an open stand near terminal 2, from where a bus took us to the building.
disembarking D-ACKD in MUC
We then went upstairs to the departure gates to spend some time there, watching aircraft and people. After a while, we exited the gate area and walked over to terminal 1. The two terminals are not directly connected, but the Munich Airport Center plaza is covered by a roof. We found the DO check in counter after searching for a while. There was just one counter assigned to our flight and the check-in agent had us checked in quickly. According to him, our flight would be operated "by a very small plane". We asked how many passengers were booked and the answer was 6. We requested and received a window seat. The check-in agent also wrote down our reservation number, apparently it wasn't in the system. "Everything is new with this airline", he said. We proceeded through the thorough security - in Germany they always want to look through my DSLR camera. We had a quick and expensive bite to eat in the gate area. We did not see our aircraft and I speculated that it might be something smaller than the FRJ because the check-in agent mumbled something about that "very small aircraft with only 16 seats". My friend said this was nonsense and that he saw on the agent's screen that the aircraft had 31 seats.
Date: 14Jan11
Route: Munich (MUC/EDDM) - Dôle (DLE/LFGJ)
Flight number: DO 5404
Schedule (local times): MUC 1205 - DLE 1325
Scheduled block time: 1:20
Airline/Operator: Air Vallée (DO/RVL)
Aircraft type: Dornier 328Jet-310
Registration: I-AIRJ
4th flight on FRJ, 15th flight on D38/FRJ family, 1st flight on I-AIRJ
Boarding was called about 15 minutes before departure and indeed we were 6 passengers - the two of us, a group of three and a single person, all of them French. It was funny how the gate agent pronounced Dôle - it sounded more like Dolé....
the airline logo still missing from the screen
Boarding was by bus which was way too big for the 6 passengers. I heard the group of 3 passengers say "wow, there are now 6 passengers, that's double what we had on the way here". So they must have flown DLE-MUC two days before, just the three of them. I was glad to finally see our aircraft parked at a remote stand. We took a couple of pictures after exiting the bus and then boarded.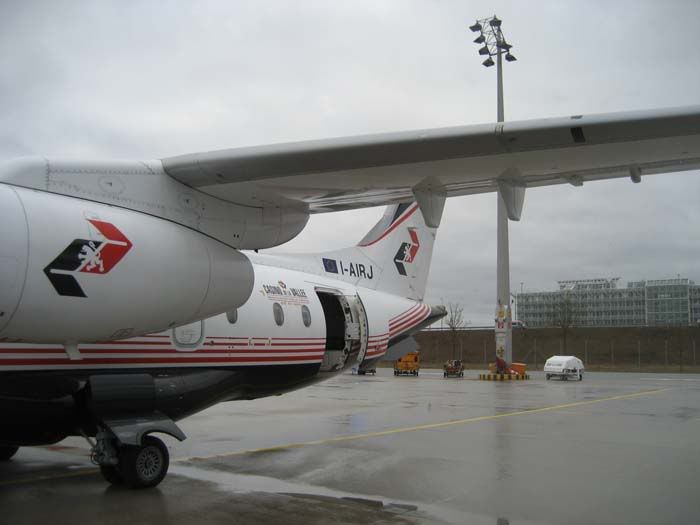 I-AIRJ tail section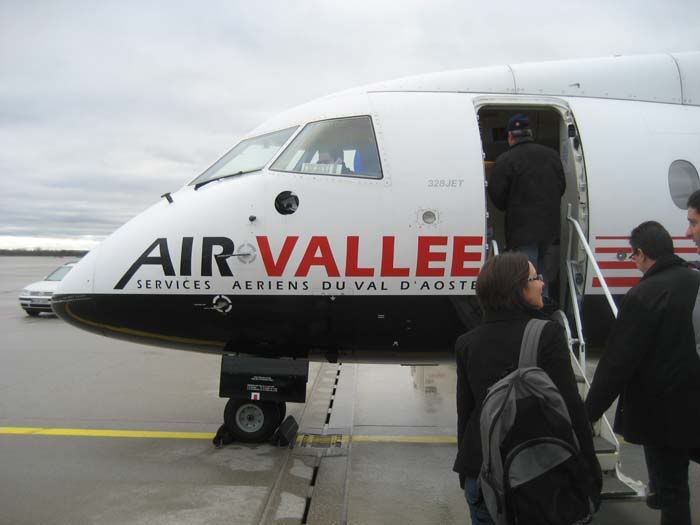 boarding an unusual aircraft type on an unusal routing....
nice little jet engine!
The flight attendant was speaking French and English with an Italian accent. All announcements were made in Italian, French and English. I thought it was funny to have Italian announcements on a flight from Germany to France, but obviously there must be Italian announcements on a flight operated by an Italian airline. I took an empty seat on the left in front of the engine and my friend chose the last row on the right side. We taxied to runway 26L. Take-off was quite powerful and the aircraft seemed to climb effortlessly.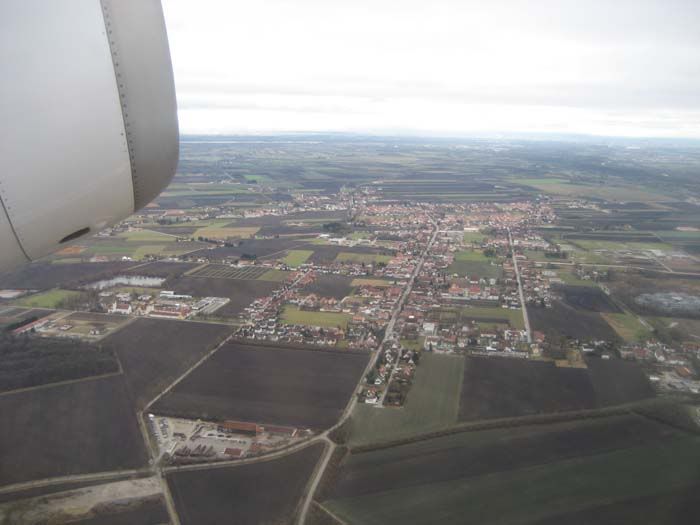 climbing out of MUC
The captain announced that our route would take us over Switzerland to near Lausanne, from where our descent to DLE would begin. The flight attendant started service, consisting of coffee/tea, juices and soft drinks and two snacks such as chips or salty cookies.
where are the passengers?
Over Germany up to Lake Constance there were some breaks in the cloud cover and we could see through to the ground sometimes. Over Switzerland the clouds were compact and nothing could be seen.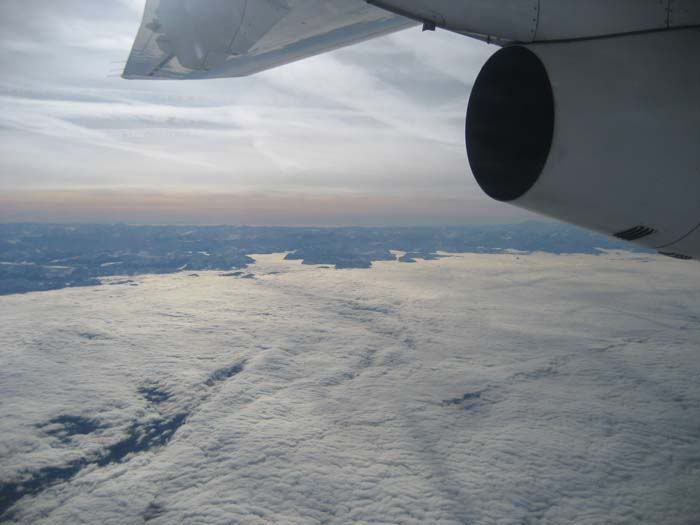 starting descent over Switzerland with a view of the Alpine scenery
Once through the clouds, our aircraft descended quickly and we made some impressively steep turns to lose height.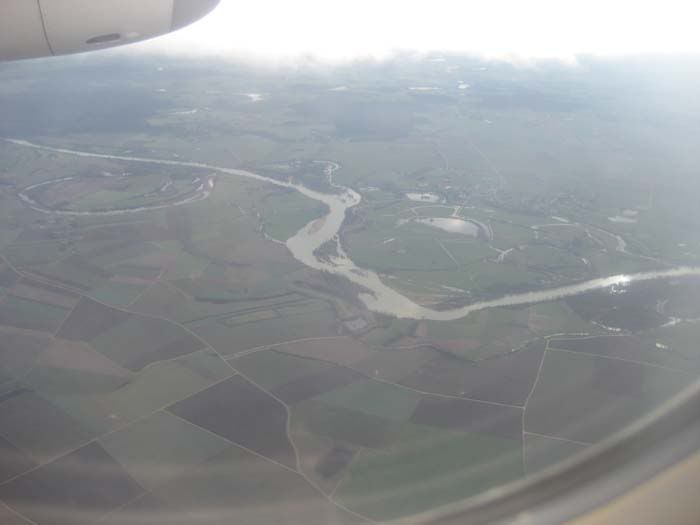 after breaking through the clouds
circling over the Doubs river
on final approach
We landed smoothly on runway 06 which itself was not so smooth. We taxied right in front of the terminal. The time was around 13:00, 25 minutes early. It seemed that the fire department doubled up as handling agent for our flight.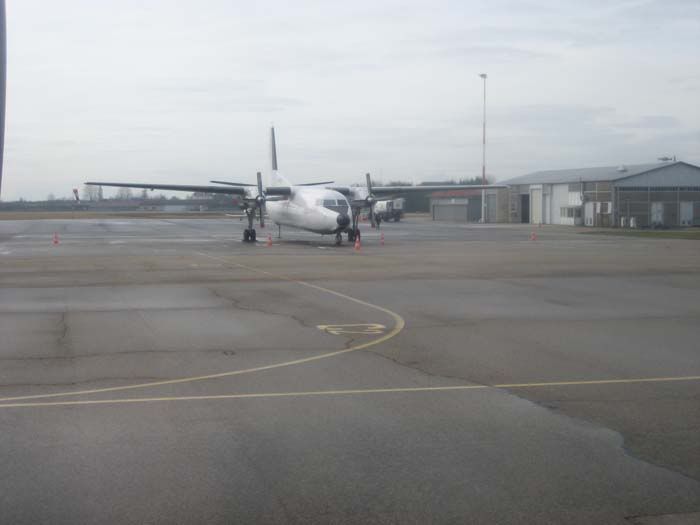 Fokker F27 I-MLTT of Miniliner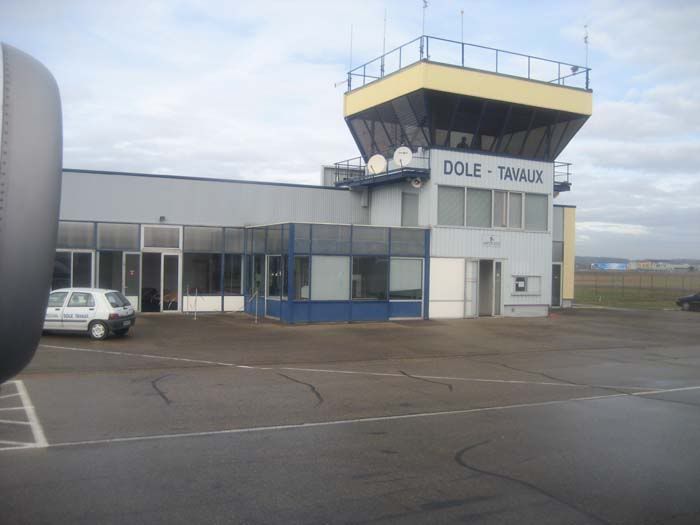 terminal builing and control tower
good-bye Dornier 328Jet
We could walk to the terminal over the apron, from where we could take a couple of pictures. All 6 passengers disembarked with us and a few new passengers going to ANE were visible in the departure area. The only other larger aircraft around was a cargo Fokker F27 (I-MLTT) of Italian operator Miniliner.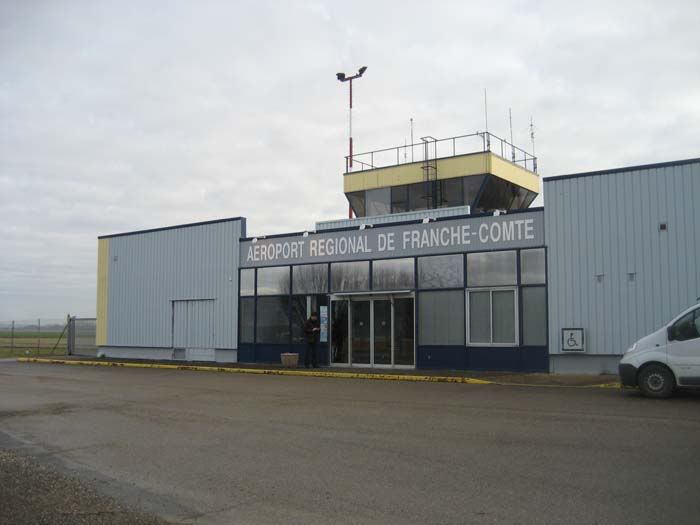 landside terminal view
From the airport, we walked a couple of minutes to the nearest bus station in the town of Tavaux, from where a bus departing at 13:31 took us to the DLE city center. Thanks to the early arrival which allowed us to take the bus, we could save a taxi fare. DLE seems a quiet town with a decidedly small-town feeling.
impressions from Dôle, now connected to the world through MUC...
Dôle railway station
The TGV train from Paris to Lausanne stops in DLE and we took this train to the Swiss frontier station of Vallorbe in the Jura mountains.
Swiss frontier town of Vallorbe
From there we took a double decker scheduled bus to Yverdon on Lake Neuchâtel. The drive and view was quite enjoyable from the front seat on the upper deck. We then were able to take the ICN train directly to ZRH airport.
Conclusion
It was a very enjoyable day, adding one new carrier and an obscure new route to my log. I wonder how long this route will last. Flying on a FRJ is also not something you can do every day. I was once again impressed by the jet version of the Dornier 328.
The cancellation from ZRH to MUC added some excitement and it was great to have logged one more CR9 flight instead of an AR1.
Next Trip
BSL-MAN/GLO-IOM-BLK/MAN-ZRH at the End of March, trying to catch 2 new aircraft types, the Dornier 228 and the Let 410.
Previous Trip Reports
You will find my older trip reports here:
AY To Japan & Domestic Flts & Visiting Santa Claus
Cubana Il-62, Yak-42, An-24 & Belize & Guatemala
Thanks for reading, feedback is appreciated,
LXM83