I thought that in the last trip report of these series I did not include pictures of some imoortant parts. So I want to include some pics of Mendoza City here, which is a beautiful city and the place I want to go when I retire. If anbody feels bored, just scroll down to the REAL pics and the report on this wonderful LAN flight that had nothing to do with the inbound AR 1420.
LAN Argentina is light years away from their counterpart AR and I hope you can see this from this report. Fight data will come after the Mendoza city pictures which I hope you enjoy. Again, if that is not your thing you can always scroll down to the real deal.
The following picture is The Plaza de San Martín or San Martín square. The statue of José de San Martiín, as you can see is pointing West, to the Andes,which he was able to cross to get to to Chile and get the Spanish out. Every single statue of San Martín in Argentina points to the same direction. Which is nifty because you know wherever you are just ask for the San Martin square and wherever he´s statue is pointing, that is WEST he is pointing West, and it´s then hard to keep being lost.
Another view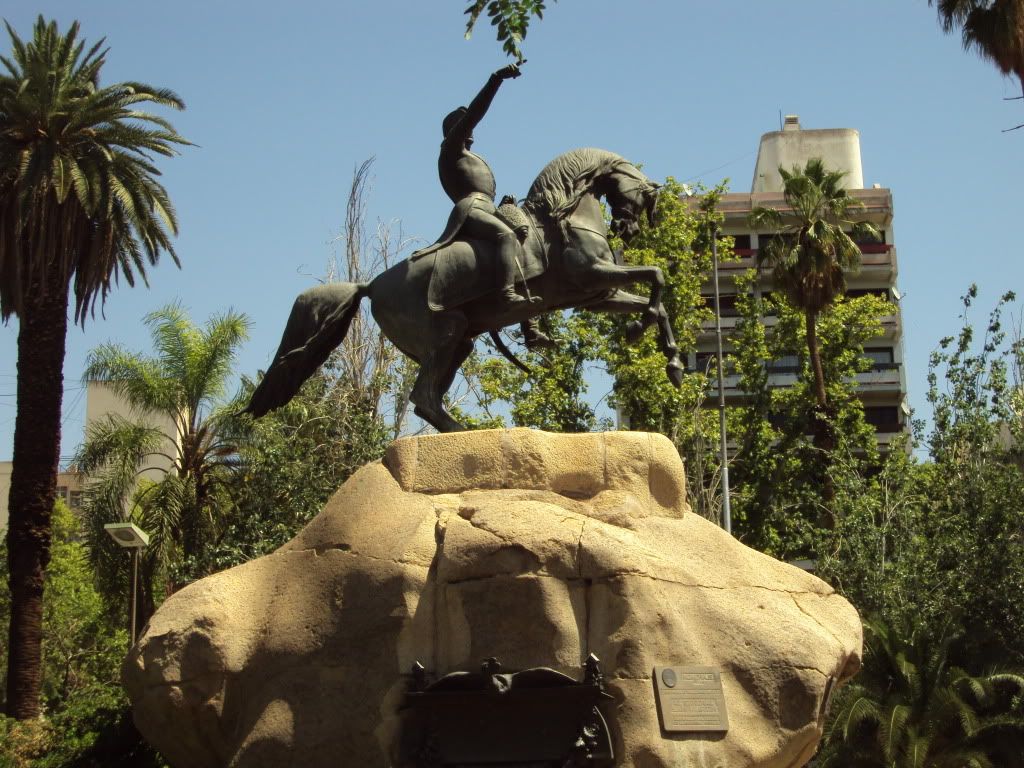 This one really, really moves me. Think about it. Crossing the Andes in the 1800´s? And he did it and went on to liberate Chile and Perú. It´s at the same level at what Sir Ernest Shachkleton did to rescue his men 110 years later.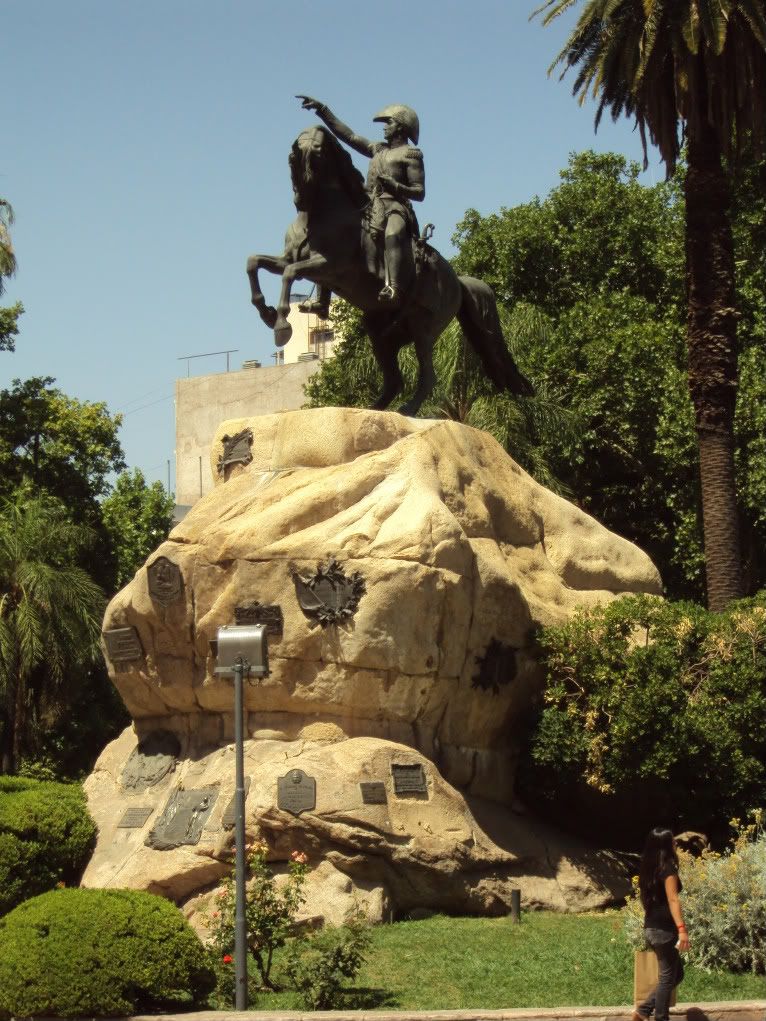 I added the following two pictures so readers could get an idea about the impotance of the San Martin square
So that´s it for San Martín. Whoever wants to know more about him and his campaigns PM me or E-mail me.
I had a tough time at night in Mendoza since it´s a quite city. So I walked and walked and walked at night. Here are some picures of Avenida 9 de Julio. Everybody told me to be careful. "It´s dangerous, you can´t walk like that at night, you are going to get muuuuuugged!!!! Nothing ever happened.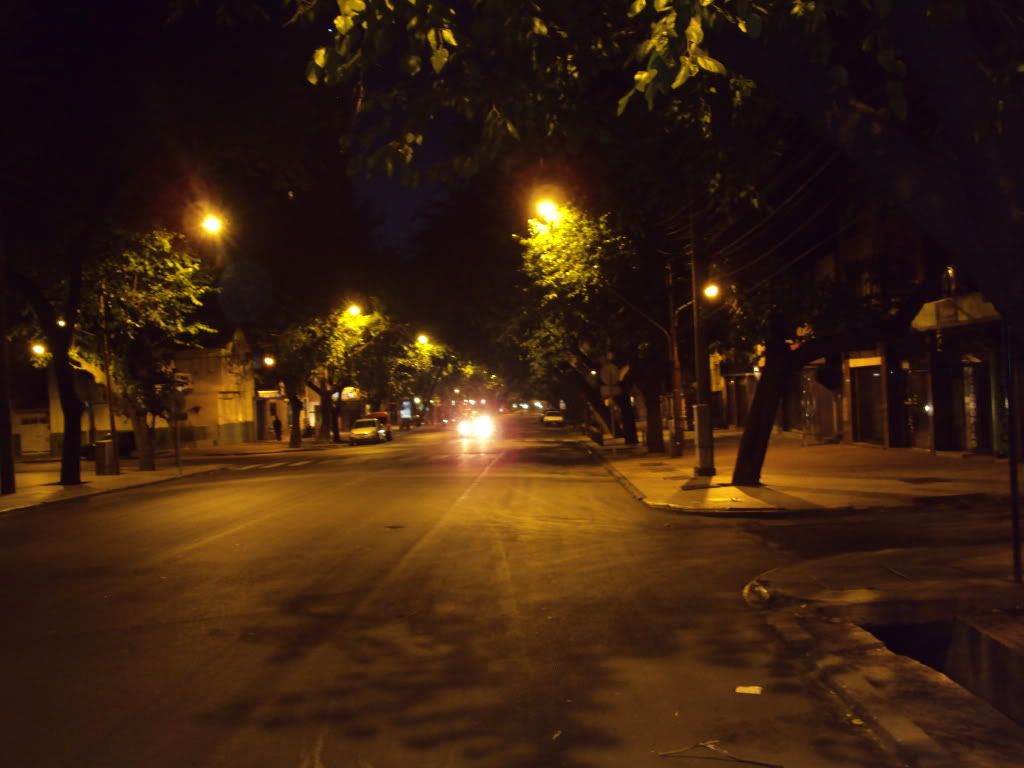 Bonus: The new Sheraton Mendoza Hotel. A ripp off. There are tons of hostels in MDZ, as well as 3 star hotels taht are very good. I got my apartment (not a hostel) for 250 USD for 4 weeks, ona perfectly central location. But The Sheraton ihas a casino and it is also centrally located. Although I wonder how one of the usual Mendoza earthquakes feels in the upper floors though. Good luck toyou if you get caught in one of those.
But if you want to go to Mendoza, There are much better and cheaper places you can stay. PM me.
My view from my apartment. You can see the precordillera.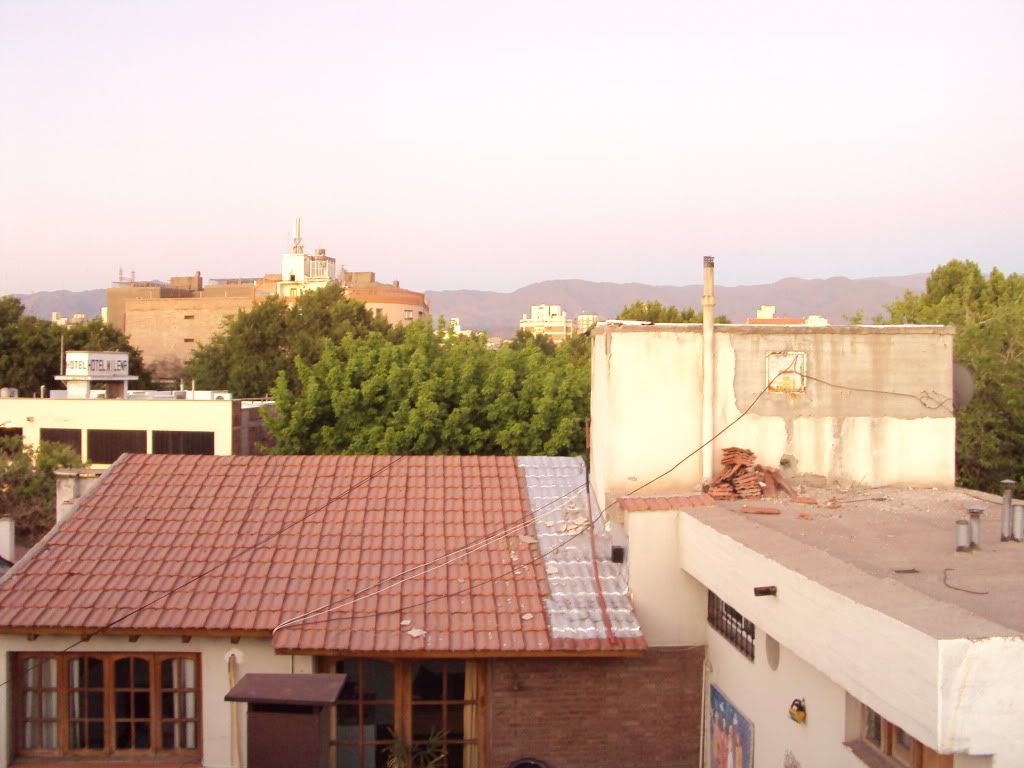 And another little bonus. AR stopped operating its 727-287s in 1995, if I recall correctly, except for that crappy 727-23 that lasted until 1996.
View Large
View Medium


Photo © Robert M. Campbell
And what´s it doing at MEX, anyway?
So I give you this picture: It´s in the main Aerolineas Argentinas office in Mendoza, still in the Iberia blue Vincha colors.
1) I don´t know if it´s there as a protest against IB, which was responsible for the 727-287 leaving the fleet.
2) The staff have foogtotten about it.
3) Thay have no idea they actaully have displays. Frankly, by how clean they are, that could be a possibillity
4) they don´t know it´s an aircraft they don´t have in their fleet anymore
5) They think we just entered the jetn age and they NEED to let passersby see a jet in the display
6) Thy don´t give a shit.
Wanna take a guess at the real reason?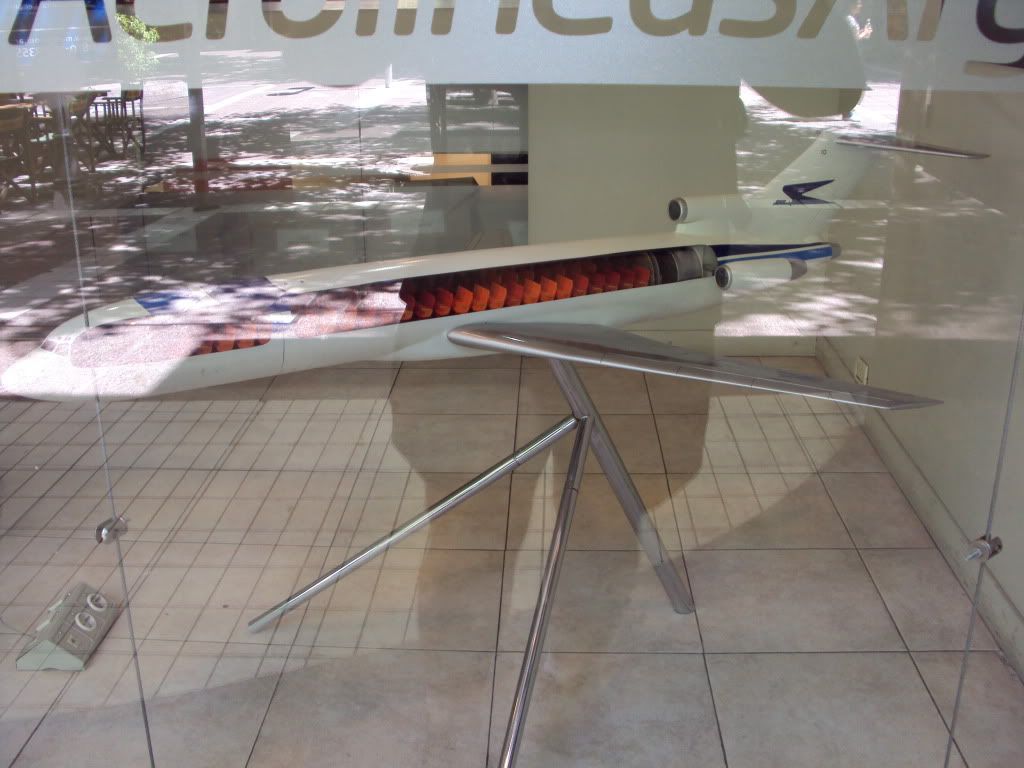 Now for the real report:
Date: Wednesday, December the 15ht. 2010
Flight: LAN Argentina 4241 MDZ-AEP Fare Y, seat 11L (originally)
Scheduled Dep: 10:05 AM local
Departed 10:15 AM local
Wheels up: 10:25 AM local
Plane: Boeing Airbus A320, I was unable to get the registration, apologies
Top of descent 11:25 AM local
Touchdown: 11:55 AM local
Time en route 1 hr. 35 mins.
My LAN 4241 Electronic ticket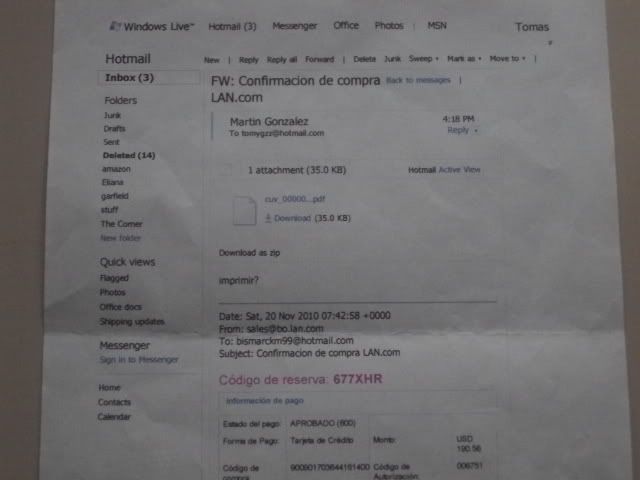 My cousin, picked me up at 8:45. You have to understand, in MDZ, the airport is at most a 7 mins. drive from the city center and Mendocinos consider it "outside the city" .I had the idea of having BREAKFAST WITH MY COUSIN IN 15 OR 20 MINS.
Turns out he came to pick me up with my younguer nephew, Fernando, who wanted to see me off before school so there was no time for breakfast, just a drive to the ariport and a quick, tearful, (yeah, I now, embarrasing but this is people I see only once every 5 or 6 years) This nephew, for example, that adores me is 11. Next time I see him he´ll be 16. You think he´ll see the same way?
Fernando, sullen, on the way to the airport.
I arrived at the airport which is small but nifty and smart and proceeded to do my check in, but my cousin left. He coudn´t stay, and I did not eat any breakfast.
The following counter really strikes me. TACA was so sure they were going to get their authoriztion for their flights that they had this. And this must not be cheap:
Here´s the one from our newest Skyteam Member.
It still makes no sense to me why AR and AU are a separate entity with crews that don´t talk to each other. And even get into fist fights that result in one day strikes. Oh well. Welcome AR/AU to SkyTeam.
And finally, my counter, frankly, a haven and LAN Argentina is an operation that resembles the best in the world. I´m surprised Cristina has not kicked them out yet. As much as I resent them because they are a good and respectable rival to AM I have to admit that LAN Argentina is an airline I´ll fly again and again without thinking about it twice. Specially after what happened to me in the flight later on.
My BP and related documents. This time they respected my window emergency exit without so much as a peep. The whole check in process took 4 mins and I was ready to go.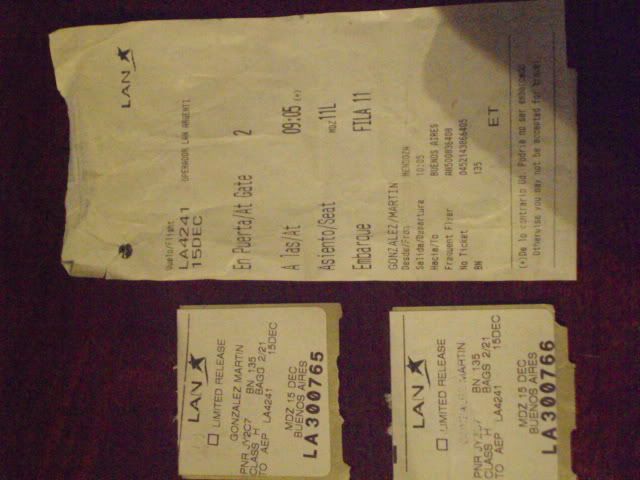 Once I got my BP I went airside to have nice views of the MDZ runway which is a partiicularly good airport.
Here you can see my plane has just arrived from Bs As in the two pics and passengers are still disembarking. I can´t give you an exact time but by know I believe it was 09:25 AM
I saw this airline from the window of the airside waiting room. I have no idea about it. Nice SAAB 340 though, "Sol" anybody knows anything?
By the way, the above is the only air bridge MDZ has. Kind of surreal. But I guess they don´t need more. I´ve only used it once on a flight on LAN from SCL. It seems that in Argentina, to get the nice things you need to come as a foreigner.
At 09:50 AM time came to board and we walked to the aircraft. By then it had been close to 2 hours after my breakfast time and I was feeling kind of not very well. But I did not want to get dropped off the flight. So I proceeded and got on board the aircraft into my seat.
Getting closer
Almost in
The cabin. You have no idea. I wish I could have taken picures of the inbound AR 737-700W Y cabin just for comparison. If you are ever in Argentina. Fly LAN.
This is my seat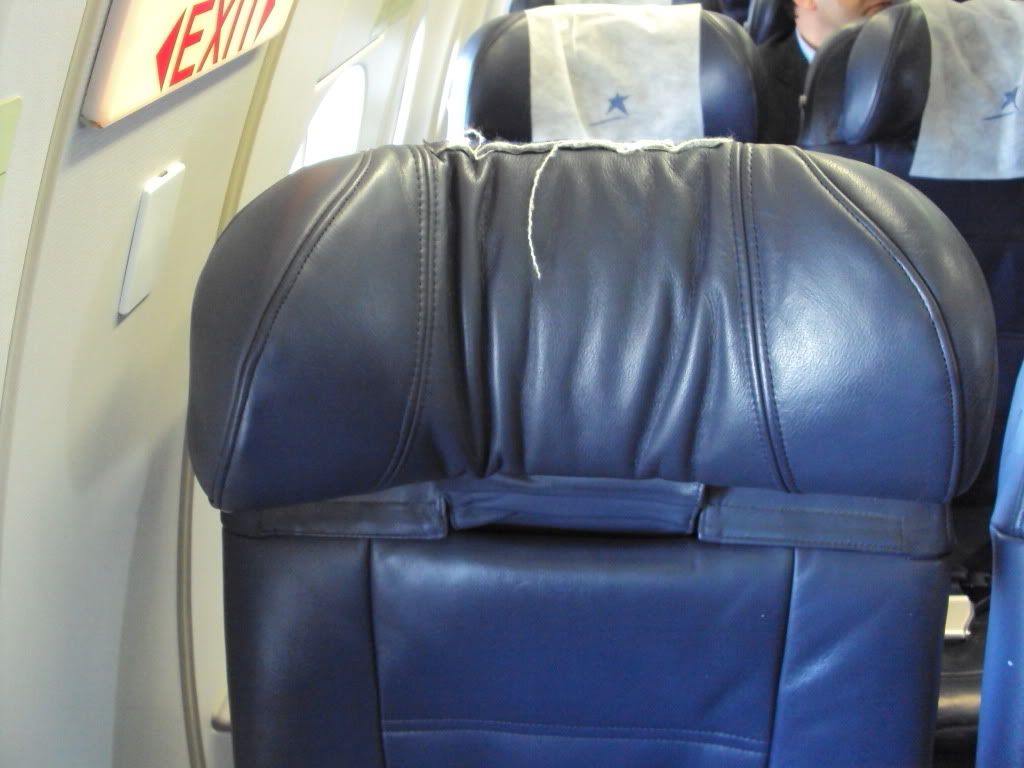 Cabin view from my seat
Nice, blue, comfortable leather. The problem was that by that time I was feeling hypoglicemia coming and it would have been irresponsible of me to sit in the emergency exit especially through takeoff. So I rang the call button before boardingn was over and the purser came and I have to admit that I lied,.
Again I did not want to be left behind, and I don´t now protocols for hypoglycemia but I knew I could not in good conscience occupy that seat. I just asked to be moved to another window and she moved me, but she must have seen my face because she asked if I was all right. I responded by saying that yes, I was fine.
Obligatory shot from my emergency exit window seat. I still had not changed.
By this time, I was begging for takeoff so some sort of meal with some quantity of sugar could be given to me. Otherwise, with the amount of insuline I had gotten earlier, I was minutes from passing out. By then I was dizzy, nauseous, and white as a sheet.
Views from Mendoza airport while taxiing to takeoff. In the following picture we had just pushed back and turned. In this picture you can basically see all of MDZ aiport (the civilian part, the rest, which is huge is still a major FAA air force)
It´s neat, nifty, and has a beautiful airbridge ready to receive the Americans coming on AA on a not too distant future. You can be sure they won´t use it for the Argentines coming on AR from domestic flights.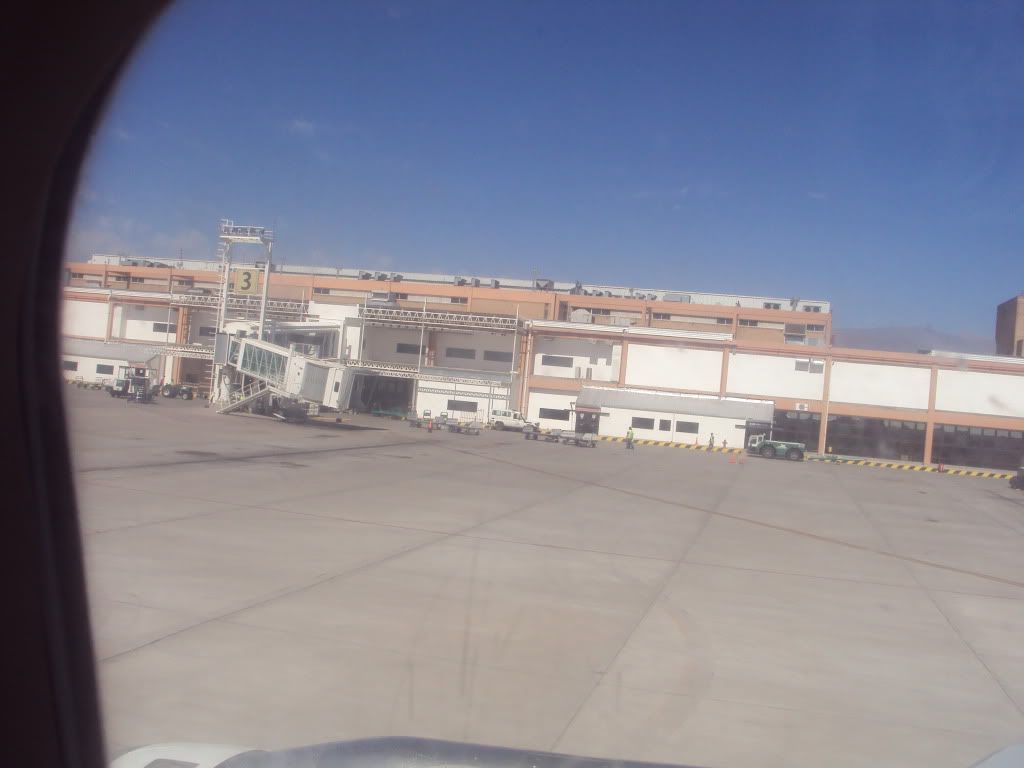 This is part of the military complex. If you look closely, you can see an IA-63 PAMPA taxiing. I´m not into military planes, but this miilitary bird IS pretty
We did finally took off and they gave us an adequate meal as soon as the 10,000 ft chime sounded. Nothinng great, but I´d say enough. In reality, the same as AR´s.
I´d like to point out here that there were 4 young but competent FAs aboard, as opposed to the three laughable AR FA´s.
No. This 4 LAN FA´s meant business and were serious and professional, although young.
The meal
Unfortunately the meal came too late. By then I tried to eat it but I only wanted to throw up so I got up and went to the back bathroom explaining my probelm to the the FA I saw in the back galley. I entered the toilette, sat down on it and while i´m sure I did not pass out the FA who saw me enter opened the door soon after and helped me out and sat me in one of the crew seats they have in the back galley. She told me to stay there and then went to get the purser.
The purser came and I really had no humor to do it but I could not help a smile. She was so young, but had such a SERIOUS attitutde and a pair of glasses that was just surreal. Between the purser and the other FA they sat me in an aisle seat with a female passenger in thewindow and explained the situation to her. They IN NO uncertain terms asked if she was willing and able to take care of me for the rest of the flight. She said no problem, she was very nice about it and smiled throughout.
Pic from my new aisle seat, in the window is my nice appointed "nurse" I guess that is the real legroom. Still, miles away from that AR where you have to twist your knees.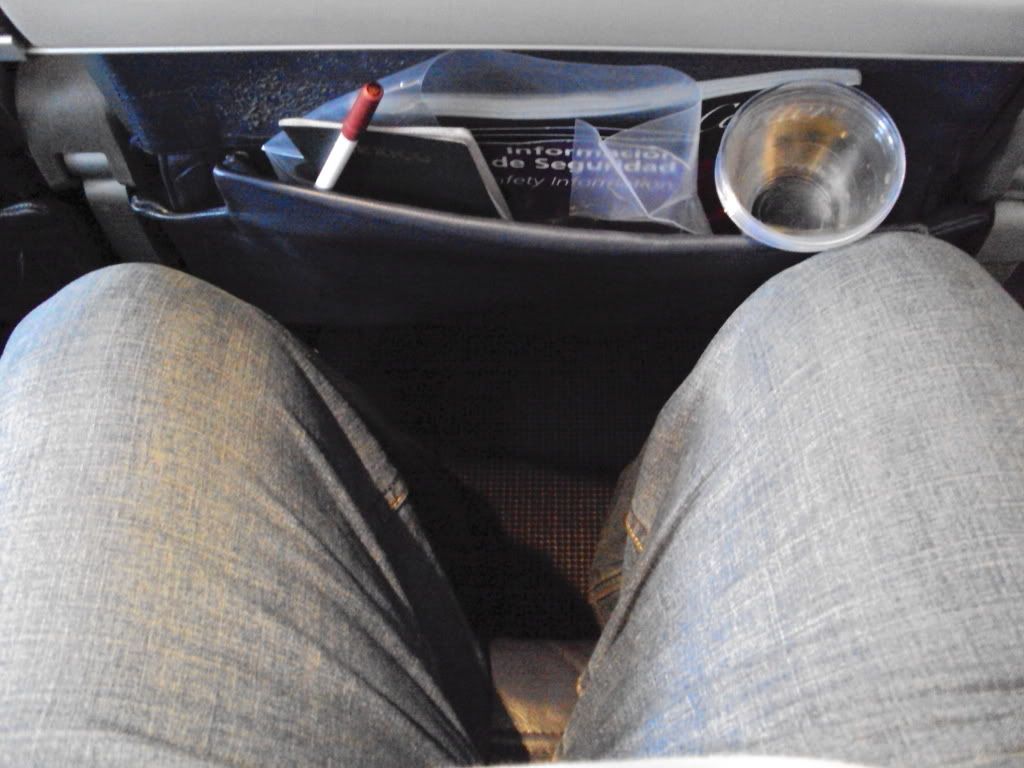 A random cabin pick
Another cabin pick from my nurse´s station seat
This is LAN´s Magazine. I don´t know if they have different versions. This one has two or three pieces worth reading
And this is where things turn funny. I was sitll dizzy, but I had forced myself to eat the meal provided by LAN so I was feeling a lot better.
But at that point, the purser came to my seat, we must have been 45 mins, out of Bs As and she told me that the Captain was aware of my situation and he wanted to know how I was feeling.
She said the Captain was ready to ask for an expedited arrival and for AEP emergency services to meet us at the gate. She was so serious it was scary. To be honest I was amazingly impressed at such professionalism on both the cabin and flight crew but I just told her that as long as she kept bringing me alfajores and cokes things would be fine. She insisted: The Captain has told me we can be in the ground in the next 20 mins. I said thank you again, but that by then I was feeling fine, and please keep the cokes coming. Boy, did they never stopped.
My seat mate nurse was really nice, kept asking me questions and making converstation, and boy, what a pain it must be to be travelling on a row to yourself and suddenly have a sick passenger dropped on the aisle seat and be asked by the crew to watch him. I´m very grateful to that woman and I would never forget her. I have her busness card.
Nor will I ever forget the professionalism of the crew. Amazing those 4 FAs. My opinion of LAN was not very good until this flight but after this experience, my respects. They really know how to train their crew.
And that´s it for this report.
Here´s a Schyzophrenic AR plane taxiing by in AEP
Be expectant of my next report. LH EZE-FRA in F. IT should be very interesting
Regards.