Firefly Trip Report
A slightly change of tone… Going from a luxury boutique airline to a low coast airline offshoot of a major airline in the same trip! Firefly is promoted as your "community" airline, which is a full subsidiary of Malaysia Airlines and has been running mainly short haul and point-to-point routes using ATR-72-500s. It has been using Kuala Lumpur Subang airport for years, and late last year, it has announced a major expansion plan using Boeing 737-800s and started to fly out from Kuala Lumpur International Airport. I see it as a clone of Air Asia using Boeing planes and using KLIA main terminal, instead of the tired looking low cost carrier terminal (LCCT). It promotes the fact that they use the KLIA main terminal and aerobridge for boarding and deplaning. It has just started the KLIA operation on January 15, 2011 and currently flew from KLIA to Kuching and Kota Kinabalu using two Boeing 737-800s. I have read much about the ATR72-500s operation and decided to give this new operation a try. From what I read, this 737 operation is very different from the ATR-72-500 operation. It is leaning towards a low cost model, but I am wiling to say that much have to be done in terms of the actual operation and the schedule is really tight. Turnaround time is still not good enough. There is much to learn and this report will explain a bit why some work needs to be done. However, I definitely prefer Firefly to Air Asia just because of two reasons – no need to deal with LCCT and using aerobridge for boarding and deplaning especially in tropical regions, even though Air Asia A320s are more smartly designed and comfortable. Actually the pure avoidance of LCCT at KLIA is enough reason for me.
Despite I flew RT, the report will focus mostly on the return segment because it is a daytime return flight and I am able to shoot more pictures of Kuching International airport, which is not a common airport discussed here and more aviation friendly than KLIA.
Flight information:
January 25, 2011
FY 630 KUL-KCH Lv2045 Arr2230 Boeing 737-800 Winglet 9M-FFB
January 26, 2011
FY 607 KCH-KUL Lv1400 Arr1540 Boeing 737-800 Winglet 9M-FFB
Booking:
Firefly has a pretty easy to use website and I am able to pick seats and order meals in advance. It is user friendly. I have not tested the "change" function though since I don't need to do so on this flight. I also like the fact that it offers a Premium package for additional 98 MYR one way, which include a free hot meal, bottled water, extra legroom seats, baggage allowance and priority baggage delivery, which is a big plus on my book. It will be nicer if it can include priority boarding. I booked my ticket easily and got an e-ticket soon. But please remember to print out your ticket or have your confirmation number ready, as the check-in agents need this information.
Check-in:
I find this experience to be the most disappointed part of the whole firefly experience. Firefly hires its own agents at KLIA or somehow wears firefly uniform, and at Kuching, MH agents conduct the check-in and boarding, except there was a manager type wearing firefly uniform. It is very obvious a MH related operation. In KLIA, Firefly uses Aisle A and there are about five to six agents handling all the check-ins, and in Kuching, only two counters are used for check-in. Due to the late night nature of outbound flight, there was no wait for check-in at KLIA, but the agent could not check me in just typing my name. I had to read him my confirmation number, which I found it unusual. The agent was not particularly friendly or polite. I actually did not feel the "communal" love here. The return check-in from Kuching was even more disappointing as the two MH agents were really slow in processing the check-in especially with bags. They had to manually write down the data, which consumed much time. It was just very un-low fare airline and inefficient operation. The wait was quite long given that there was not really a major line forming. It just took an agent five minutes to process one single passenger with check-in baggage. The current system is definitely inefficient, and the lack of use of technology is also a bit shocking especially in today's LCC world. Where are the kiosks? How about on line check in or mobile check in? FY needs to develop those features before further expansion!
Check-in at Kuching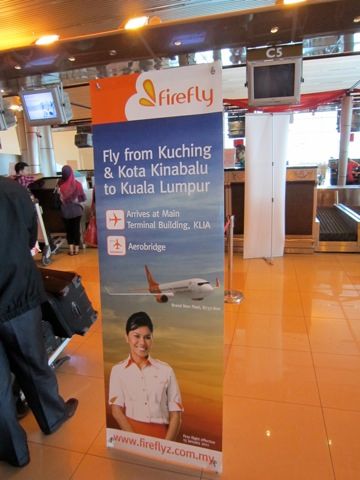 Firefly ticketing counter at KCH