*First off, I want to apologize for not getting this one out sooner. I wanted to post a picture of the boarding passes, but after a while I figured, what's the difference?*
Sometimes I can't believe how fast time passes by. It's like a breeze, it's brief and it's gone. I had an amazing week in Seattle. The bitter cold to which I'm not accustomed to; the gathering of weather freaks like me, the many landmarks I saw in Seattle. I am just in awe and feel just terrible for having to leave it all behind. Unfortunately, my 2nd semester already started and I need to go back. Plus, the American Meteorological Society Convention has also ended so I don't have any need to be around anymore.
During the past week, I stayed at the Seattle Sheraton. It wasn't a bad hotel, but some details of it weren't quite what I was expecting. There was a neat feature in the lobby called the Microsoft Surface, which lets you interact with certain interfaces and games. Internet was a bit limited, though, admittedly, not missed since the convention center itself had free wifi. As a guest I would have to pay $10.95 per day for internet service. In the lobby, however, I would have free connectivity. Nevertheless, as I said, I preferred the convention's internet.
Here are some pictures of me at Seattle with the city's famous landmark:
The famous Space Needle
Yes, this is me, and though I look a bit chubby, it's the coat. I'm a bit thinner than the picture shows
By day. I escaped from the convention wearing my long-sleeved shirt and trousers. What a way to be a tourist.
Conference after conference about different meteorological topics, January 27th arrived: time to head home. I spent the day just hanging out with the friends that would take a Delta red-eye to ATL. After stuffing ourselves at The Cheesecake Factory, our shuttle took us to SEA. Now, since I didn't want to brag about me flying in A, I kept a low profile about my seat. Only small details like, "window seat" and "my flight is full" were all I uttered. It's not so much about me actually bragging (since one in the group is Medallion at Delta and I'm slowly making my way towards Silver Preferred with US), it's the difference in travel class: they ALL booked economy. This technique seemed to be working all right, until later.
I was kinda sad that my perk of using a priority check-in desk was not all that different from regular check-in. Let me explain, there was a special line for first class, Star Alliance level, and Preferred passengers, but the regular line was empty, so instead of being able to cut in line, I WAS the next in line. No matter. Even so, the employee was VERY nice, addressing me by my last name. I already felt I was getting special treatment.
The group with whom I would arrive at the airport had already gone to the Delta check-in desks. As they finished, we waited in front of the counter until everyone was ready. Taking out our laptops, we headed off to security. SEA also has the full body scanner, but tonight, they were turned off. Instead, the regular metal detector was being used. Surprisingly, only Delta has a priority line for its customers through security. I had to use the regular line which was pretty quick too.
I got to gate A2 about one hour before departure and our airplane had not arrived (quite miraculously, it was still on-time). Kudos to US for being able to turn around an A321 so quickly. The rest of the group went to terminal S to await their red-eye to ATL (in the end, I would depart first, but they arrived at SJU about 1.5 hours before me).
US FLT 1544
Airbus A321-200
N508AY
View Large
View Medium


Photo © Josh Akbar
First class boarded first. There were only 8 people aboard and already the overhead bins were mostly occupied. The flight was full so I saw my seatmate already seated. I thought a bin in the galley gave away the fact that this A321 is an ex-HP bird, but it turns out that this bird is barely 2 years old and delivered to US, and that HP never operated the A321. Next: coach passengers. Now, remember how I wanted to keep this a secret? Well, the secret may come out as one of the professors of the UPR Mayaguez campus was on this flight and saw me. What's a bit worse is that I have class with him this semester. Though I know I'm making a big deal out of this, I'm just hoping he forgets this. The last thing I want or need is looks from faculty because I could fly first class and he could afford economy. By the way, US has really won me over with its pricing. My first class ticket, from SEA-CLT-SJU, cost only $419. Flights to EWR, JFK, ATL, IAD, ORD, and other hubs with other airlines from SJU cost even more than that.
Anyway, as we pushed back, the FA attending first class came by to take our drink order. Everyone ordered either wine or water. I was looking for something sweet, so I asked for some OJ. After we taxied to runway 19L, we were the first for takeoff and we continued off to CLT. I was a bit disappointed since after takeoff, the FA gave everyone else their order and I was left behind. Not good. Still, being asked for a departure drink when coach passengers weren't even given an option so early in the flight is enough for me to forgive and forget this little incident. After asking for my drink, I drank my OJ and I took out my US Airways power-nap sack (there was really no need since we were given a pillow and a blanket, but I liked the feel of that one even more…plus it made a $7 hole in my wallet) and dozed off. I had some sleep pills, but I felt I didn't really need them…not for this flight at least.
Ahh, sweet legroom. Notice the VERY casual tennis shoes and jeans. I was the only one like that in First. Everyone else, trousers or skirts.
I actually slept comfortably in the first class seat. I apologize for not being able to take any pictures of the seat itself, since it's the Envoy seat I'm looking forward to, but there's a reason this flight is called a red-eye flight. For about three hours I had dozed off and managed to get a decent sleep, though not really enough to call it a good one. After the pilot announced we would have some turbulence ahead of us, I couldn't sleep as well, so I ordered some water…they gave me the whole bottle. Sweet.
We landed at 5:50am at runway 23 in what was a fairly long landing. I felt the force of the brakes as that A321 tried to stop down the runway. Nevertheless, we went to gate B12 where I then disembarked after having a little taste of what first class travel is like.
CLT Layover: 4:00 hours
After getting off from gate B12, I proceeded immediately to the restroom. Afterwards, breakfast at Burger King was the deal. A big plate of eggs, sausage, hashbrowns, and pancakes awaited me. Done with the most important meal of the day, it was time to explore a bit. I went to Terminal B to check my A321's registration. Too dark to see. Next, I went to Terminal D where my next flight would depart from. I hate gangways in the middle so no picture of my 767. I had more time to kill so I went back to Terminal B where it was clearing up and I could finally see the registration of the A321 that brought me there. At that time, the tarmac went into full mode as flights started to depart. Seeing that it was getting close to boarding time, went back to gate D11.
Some pictures of spotting at CLT: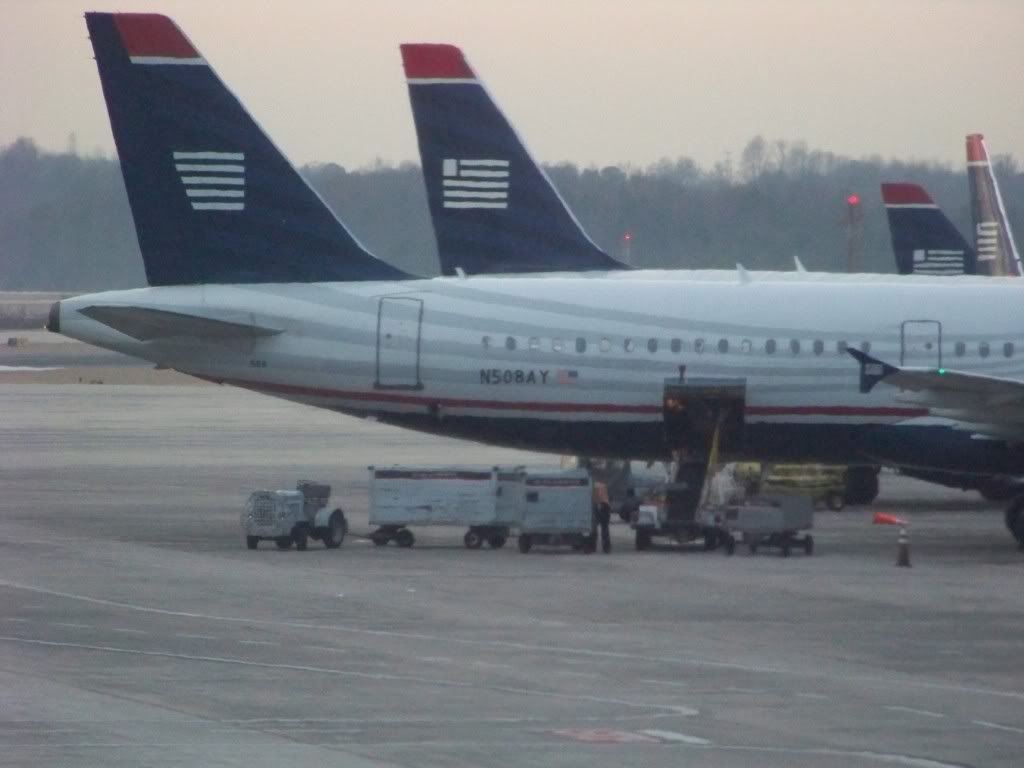 The A321 that brought me to CLT
Terminal C is full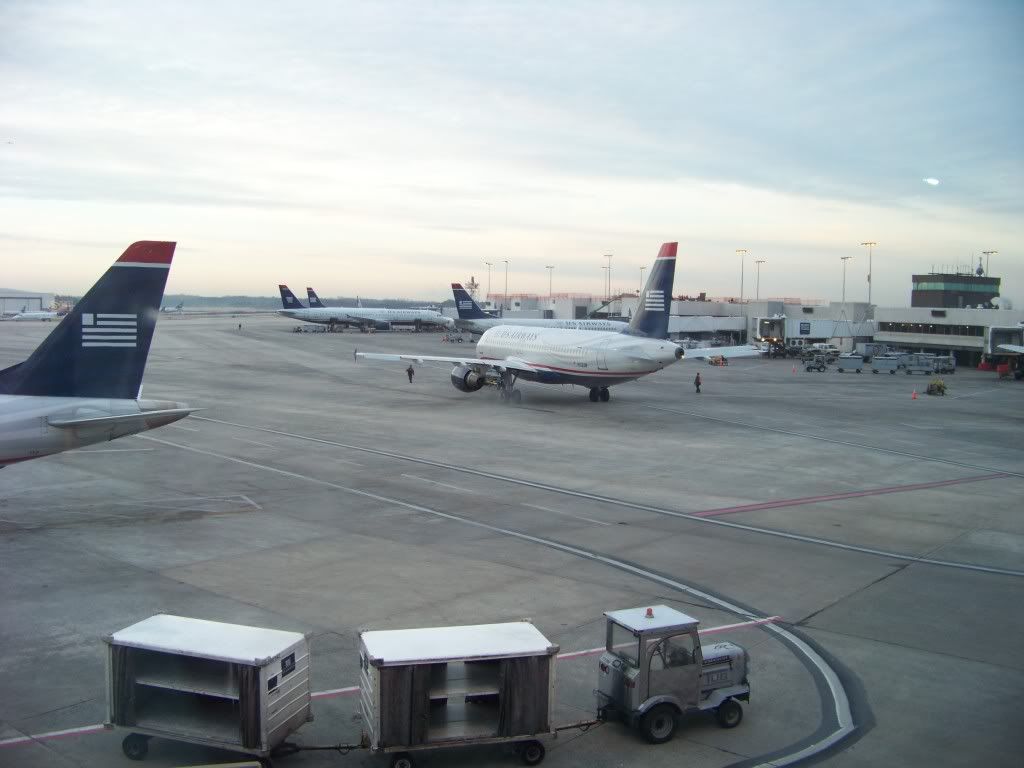 An A319 starting engines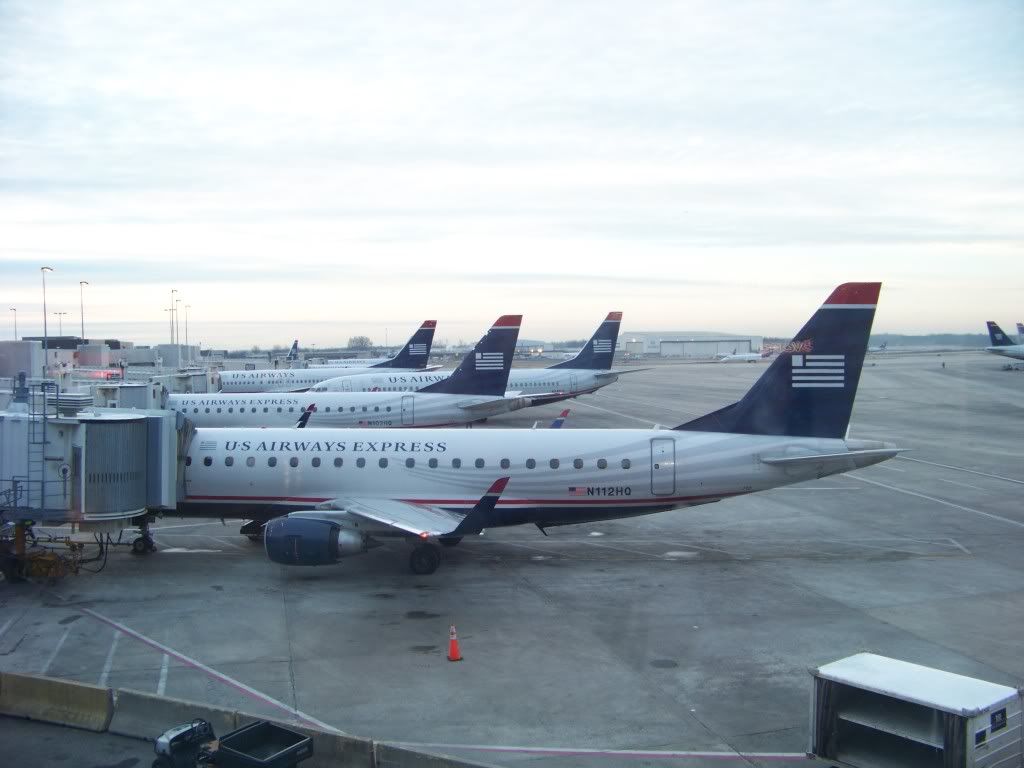 A 737 pushing back
The A321 again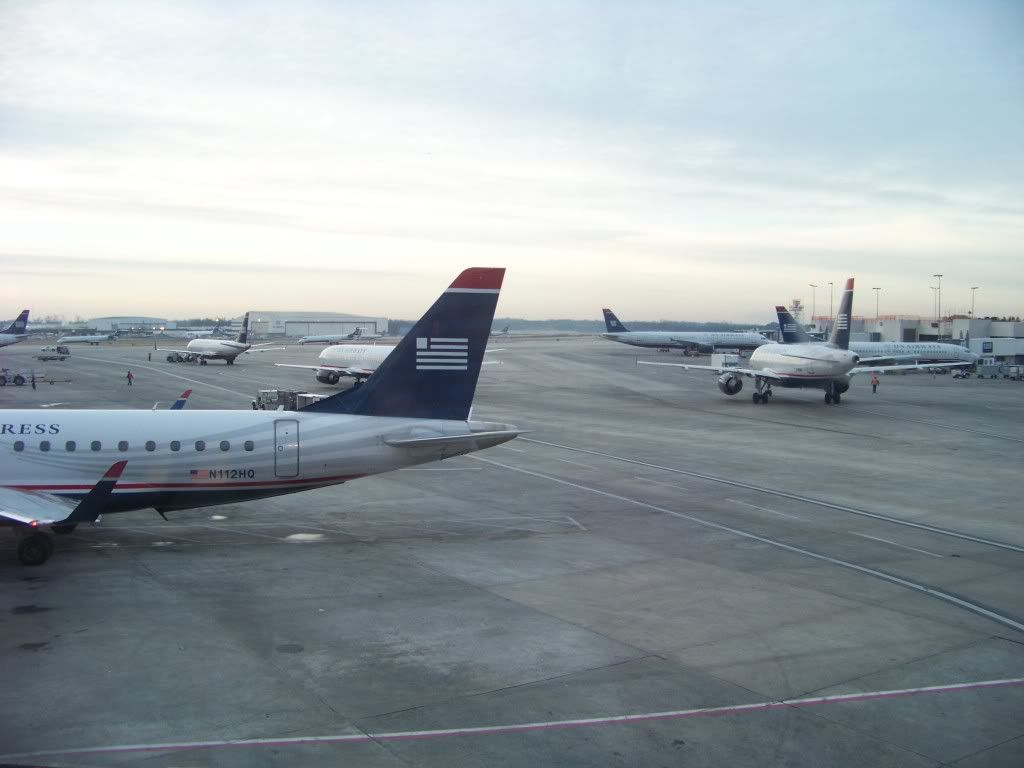 The ramp is active today
US FLT 1032
Boeing 767-200ER
N253AY
View Large
View Medium


Photo © Carlos Aleman - SJU Aviation Photography
First class boarded. As I did, a man was sitting in 3B while I was a 3A. His wife asked me to switch to 3E so they could be together. Pained by losing the privacy of a nice window seat, I accepted. Not five minutes had passed when the gentleman sitting in 3C asked me to switch with his wife sitting in 1C. Bulkhead seat…I couldn't refuse.
This is after the first switch, from seat 3A to 3E
Before making this super switch, a pre-departure service was offered. Not fond of alcohol, I went with some nice apple juice. Meal order was then taken while in the queue for takeoff. I ordered the reuben turkey sandwich, though I kinda regretted it since I don't like cheese. But it was either that or the three cheese quiche, triple the cheese! Oh well. Lined up, we powered down runway 18L and climbed to FL380. Those seats are like cushions: I did not feel the force of takeoff upon me.
A hot towel service was provided. The airline had started to lose points with me since their seats did not work, but just before reaching cruise altitude, the Envoy experience began. Now remember, this flight is a domestic flight so many of the amenities given with the Envoy seat are not included.
Reuben turkey sandwich, with fruit and chips.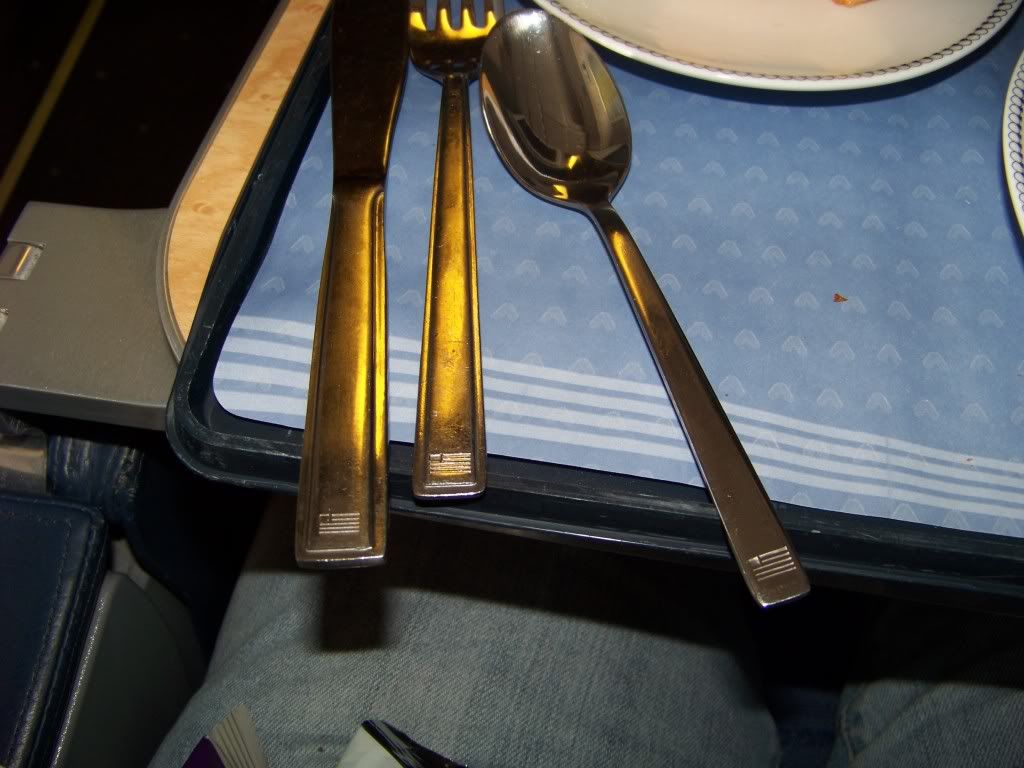 Wow…utensils
I asked to be given my reuben turkey sandwich later since I wanted to write this report and not forget any details. When it did arrive, I was kinda surprised: cold and a bit tasteless though it worked to my advantage since I could remove the cheese without a problem. Along with it came some chips and some fruit. After deciding I could not eat any more of the sandwich, I took a bite of the strawberry and tried some of the melon. I had to stop…nausea crept up on me. So after my tray was removed, it was time to play with the seat. I first settled into a position comfortable enough to read. After just one chapter from Harry Potter 7, I decided to try the seat out to its fullest: a lie flat. The 170° bed was too much for me and I slept for about an hour, give or take a few minutes. Everyone else in the first cabin was already settled into their sleeping position and who was I to stand against that? It wasn't until I used the lavatory that I noticed that 2E was empty, so while coach was packed full, first class was missing a person.
Seat controls which I will play with after eating
Almost at maximum inclination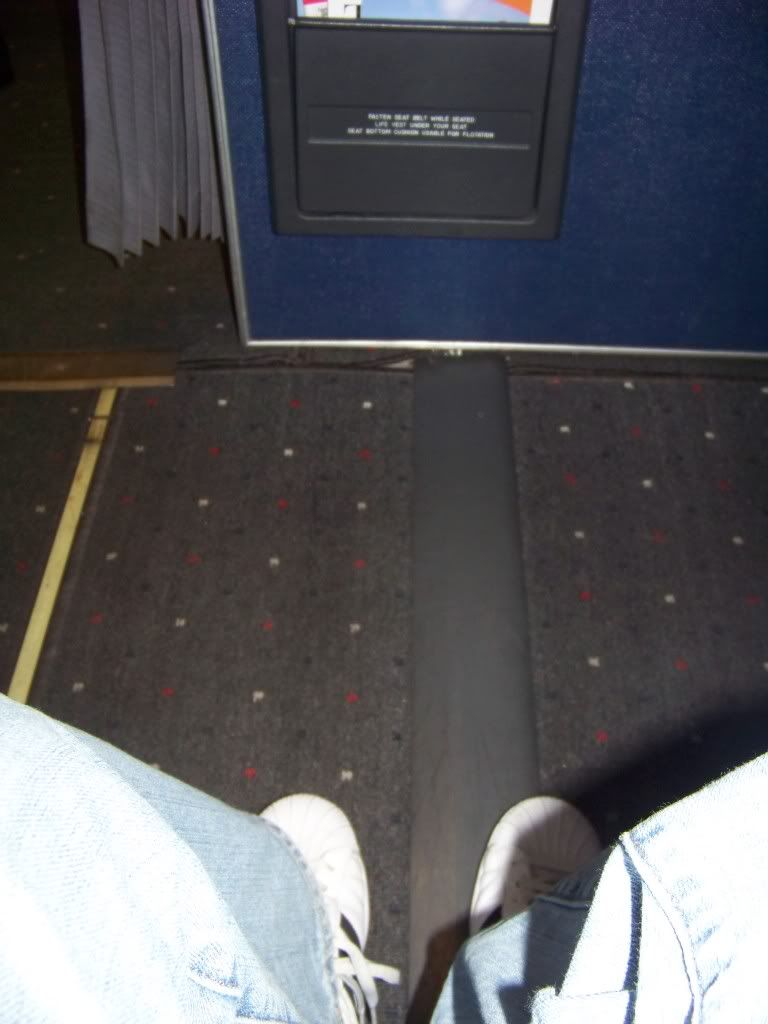 Bulkead seat=lots of leg space
Service was impeccable. They kept refilling our drinks and kept offering us snacks. I regret missing out on the hot towel service, but then again, you don't fly first class to get a hot, wet towel…do you?
So after ± 3 hours in a little cocoon, reality set and we began our descent. I wanted to sit by 3A because the tendency in SJU is for aircraft to land at runway 10. Nevertheless, I had a good view from 1C so that didn't bother me. We landed at around 2:00pm (apparently US is a very punctual airline, ahead of schedule), and after a very loud engine reverse, we parked at gate 37 and I proceeded to baggage claim immediately.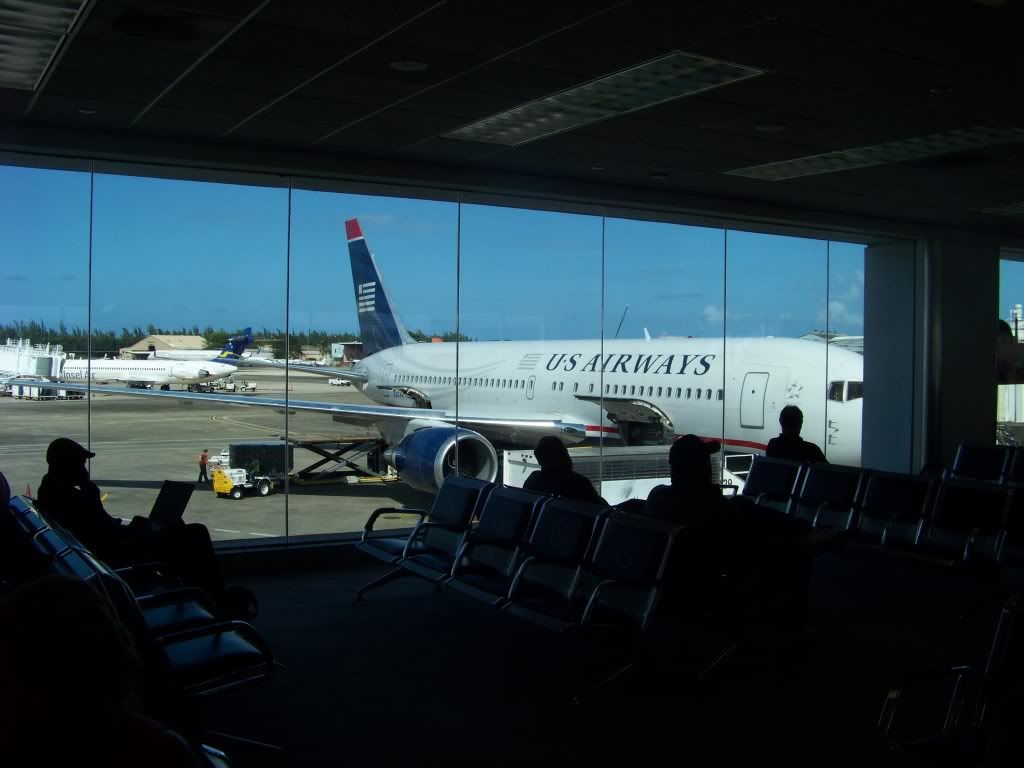 The 767
Seen from Terminal B-C connecting hall
Now, I don't know how other airlines do it, but I assumed that one perk of flying first class is that, in addition of being allowed two bags free of charge, a priority sticker would be placed so you could pick up your luggage quicker. Even if the sticker had been placed, it wouldn't have made any difference since after my two bags came out, other bags with priority stickers were still coming out. And besides, my parents being SO punctual that when I told them I arrived at 2:00pm, they interpret that as the time to get dressed and head out, not the time to actually BE at the airport. Try doing that if it's their flight we're talking about.
Verdict
To me, US delivered yet again. This is my first time flying first class and I was not disappointed. Of course, there are many other airlines out there with superior product (even in coach…*coughemiratescough*). The first class seats found in the A32X, E190, and 737 fleet I would recommend for a red-eye flight. I had a nice sleep and with a flight as full as mine was, I'm sure it will be worth it. Snacks and drinks were available at all times, a plus.
As for the Envoy product, I again remind that this was not an international flight so the full extent of being in the Envoy seat is not clear here. The course was just a first class meal (and honestly, I would not call that a first class meal since that sandwich is offered to coach passengers for $8), so US needs to work on that. The lie flat was superb; the crew was flawless, definitely worth the money I spent, even if it was just A. And as much as I liked it, I don't think I'll take another trip in first for a while. The saying is true: once you travel in first, you never go back. As I put on the finishing touches on this report, I look forward to the day when I can return to Seattle and maybe live there, knowing that a trip like this is once in a lifetime and one which I intend to make twice, thrice, even more, in a lifetime.
Thanks for reading. Comments are welcomed!