Introduction
One day last autumn I was browsing the web, feeling a bit bored and checking out some airfares on various routes. I found some very cheap fares on the recently opened LAN Airlines fifth freedom route between MAD and CDG. I did the famous MAD-FRA flight last year (see here:
Tight Connection For A340: HEL-CDG-BCN-MAD-FRA-HEL
(by
FlyingFinn76
May 31 2010 in Trip Reports) ), but quite fancied doing this route as well, widebodies and fifth freedom flights are always fun. Too bad it was operated by another A340, would've really liked to try one of their 767s with winglets! MAD-CDG was available for around 40 EUR, which is a bargain in any sense. The opposite direction was 20 or so Euros more expensive, due to the asymmetric airport fees. Too bad the service isn't operated on Saturdays which would've been my preferred travel day. Instead I booked a Friday flight in late January.
Next step was getting to Madrid. There of course are plenty of options, but I wanted something which would allow me to have an (almost) full workday on Thursday. After a bit of searching I finally found a perfect combination: HEL-LHR on Thursday night on BA for around 100 EUR, an overnight in London and LCY-MAD on BA Citiflyer the next mid-morning for around 60 GBP. This itinerary sounded very good to me, it had me leaving HEL only after 17.00, gave me a chance to try to fix up an a.net meeting in London, had me flying BA Citiflyer and their new E-jets for the first time, had more than three hours of connection time to my LA flight and most importantly arrived at the very same T4S terminal the LA flight departed from - something which I now value very dearly after the adventures and near catastrophe I had there when flying to FRA (read the report for more information).
Then I got into work trying to figure out what to do from CDG onwards. As I was arriving there on Friday night, I had the whole weekend ahead of me to use for something exciting. Having been to Paris far too many times, spending the weekend there was out of the question. More airfare searches followed, and then I found another great fare, this time on Aegean Airlines to ATH. A new carrier for my log and a new place I've been wanting to visit for a long time sounded an unbeatable combination, so that was quickly booked for around 69 EUR.
Oh well, apart from the fact that it wasn't! The A3 website refused to accept my credit card - tried it twice - so in the end I booked the very same flight using expedia.co.uk, it was even a couple of EUR cheaper, probably due to exchange rates. As usual, the booking process there worked flawlessly.
To get back from Athens, I of course wanted to give Olympic Air (or whatever it is called nowadays) a try. They were far more expensive than Aegean on any routes they both operated, which is quite interesting considered that they are supposed to be merged someday. Anyway I narrowed down my options to either AMS or LHR - both destinations were available for around 100 EUR and provided plenty of options for onward travel to HEL. In the end I decided to book LHR, as it had three flights that day and the noon flight was far more attractive than a departure before eight in the morning - the airport is a bit of a way from the city where I planned on staying and a departure time like that would have me leaving at OMG o'clock...
To close the circuit, BA once again won my business by having the evening flight available for under 75 Pounds. I wouldn't have minded another ride on a KF 717 but the prices were far steeper, almost 150 EUR which I most definitely didn't want to pay!
Here's what the routing for the trip ended up looking like: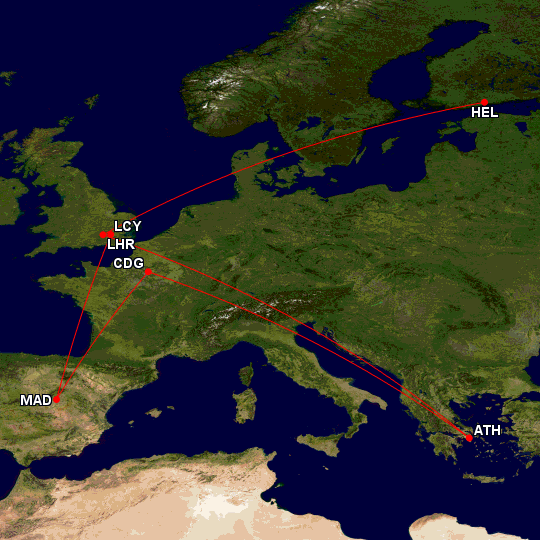 Now the inevitable surprise: a couple of weeks after booking I was checking my credit card statement online and what do I see? Apart from the charge from Expedia in Sterling for the A3 flight there were TWO charges from Aegean Airlines in Euros, matching the originally quoted price on their website, despite the site insisting that my credit card was no good and I should make amends for that. Bugger, this is what I hate about these countries you don't usually associate with things like e-commerce, credit cards or anything like that...
Anyway I called the Aegean call centre in Greece, got an agent who spoke surprisingly good English with a genuine British note to it who after lots of typing delightfully informed me that she found three tickets in the system on my name for the same flight and asked which one of those would I like to keep? Well, since I was unaware of the other two bastard tickets I quoted the Expedia ticket number and asked that one to be retained and the other two to be canceled and refunded, which she promised would be done and I would see the refund "within 2-3 weeks, a month at the longest". Foolishly I believed her, thanked and hung up.
Well, I guess you already know what comes next: currently it's been more than three months since that call and so far no refund. I filed a dispute with my bank after waiting for a bit over a month, but even that thing seems to be taking forever and only the previous day before leaving for the trip did I get a letter back from my bank, stating that "the investigation has been prolonged, but for the time being we are refunding your account with the disputed charges"... Yippee.
Anyway enough of the complaining - let's focus on the nicer things like getting and being on the road, shall we?
Thursday 27.1.2011
As the departure is quite conveniently timed I don't have to leave the office too early. A quick drive home, last minute packing and by bus to the airport, getting to T2 at around 1h15mins before departure. The security setup has been changed since the last time I was here - now they have a separate area for putting your stuff on the tray and it seems to work quite nicely actually.
Airside they have introduced more construction and barriers, blocking the main part of the T2 departure area which makes the narrow corridors quite cramped and annoying: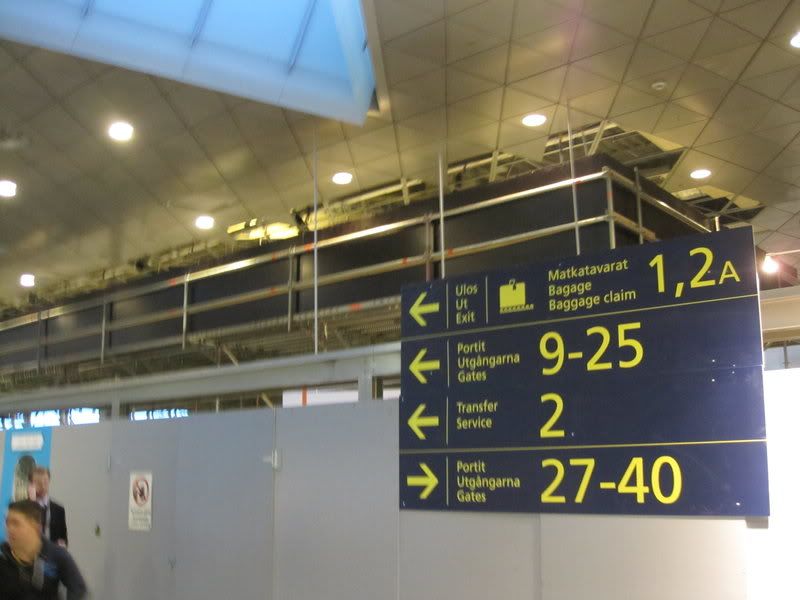 The whole T2 Schengen area is completely packed, there are masses of people everywhere so I decide to head to the non-Schengen part right away, hopefully things are calmer there. The passport control setup has been changed as well - I see they have now introduced automatic e-gates, not that those are any use to me with my ID card instead of a passport.
Well, things aren't any calmer on the other side of the border, the main departure bank of AY's Asian flights is between 17.00 and 18.00 and the whole place is very full of people, most of them Asians of various nationalities. More changes - a set of new shops which I guess are welcome, the shopping facilities here haven't been that good: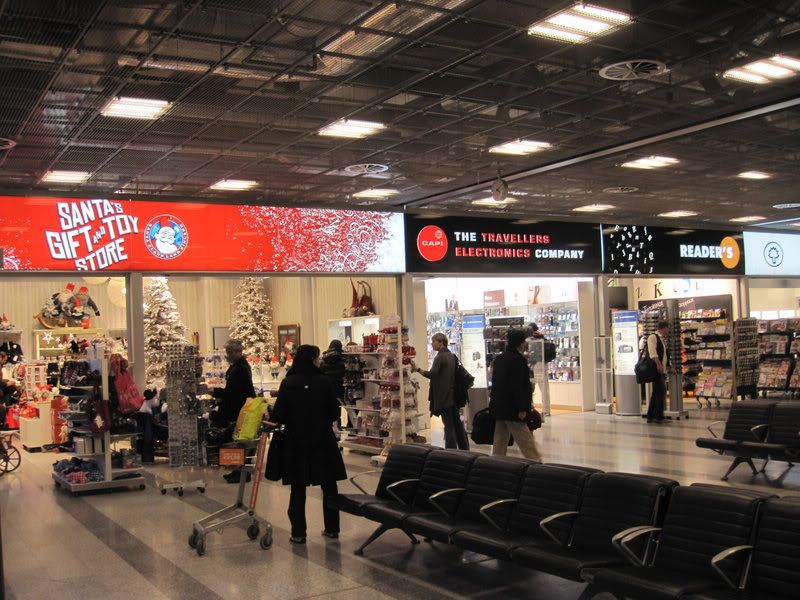 The new AY livery - butt ugly if you ask me: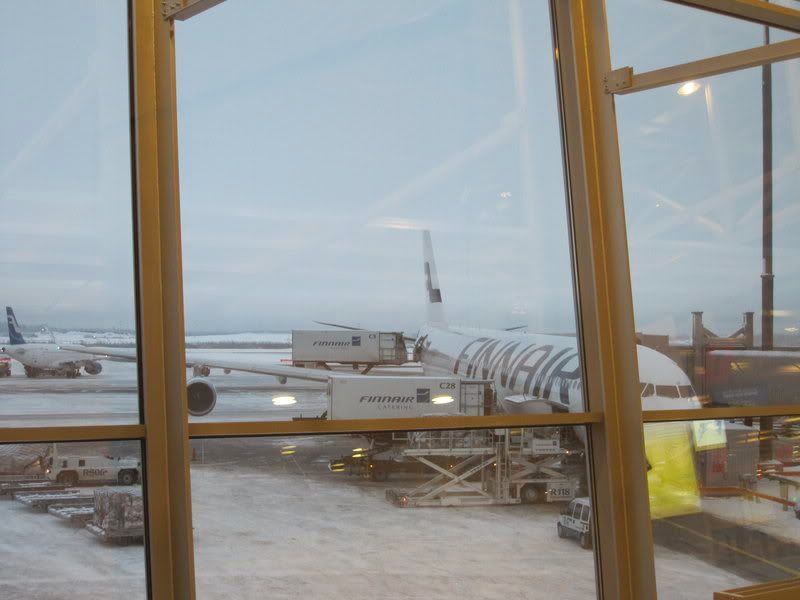 I spot our plane arriving a few minutes early while taking the above photo, to my surprise it stops at an apron stand. A quick check at the FIDS confirms this - all the jetways are occupied by various AY widebodies and we indeed have a bus gate downstairs.
I grab an adult beverage at the MyCity Helsinki restaurant which I've pretty much learned to hate - overpriced, usually packed and service tends to be slow. Of course I express my normal complaints about their lack of any decent beers on draft - come on, Lapin Kulta is not a beer for crying out loud!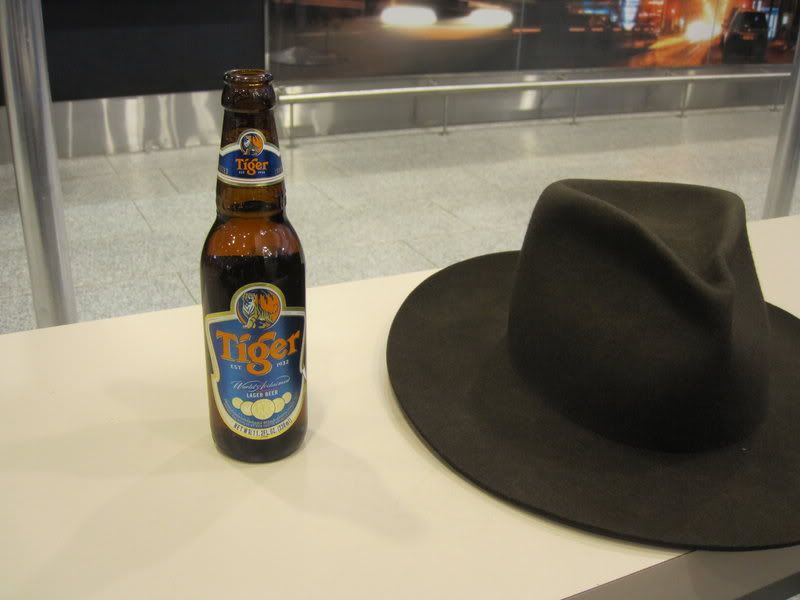 I've never actually departed (or arrived) with a bus from the new terminal so am quite positively surprised by the bus boarding area downstairs: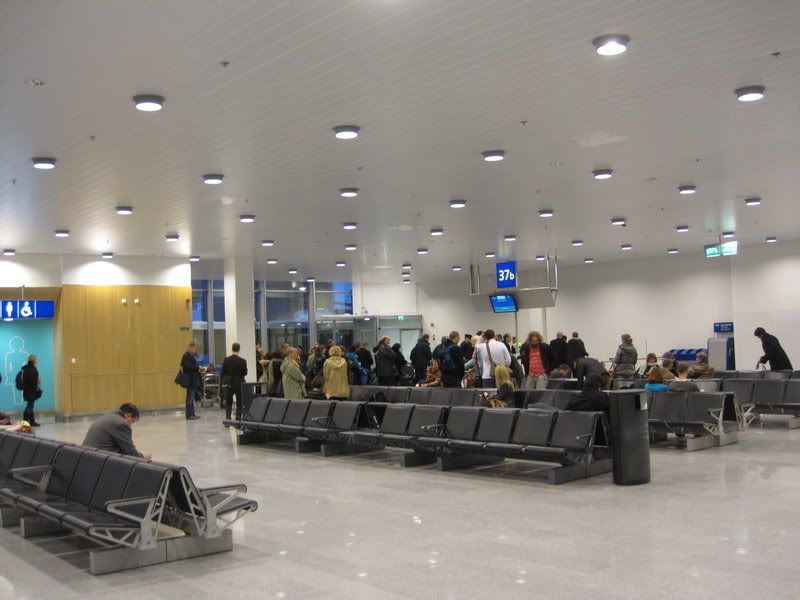 Boarding has just commenced when I get to the gate so it's just a matter of joining the queue and getting to the annoyingly full bus. Of course as always with bus boardings we first wait an eternity at the gate, then drive to our plane and wait another eternity in front of it while the cleaners are still doing their business and a crew change is taking place.
I notice an Augsburg E195 taxiing for departure past the bus - I had now idea LH used them on the MUC route. I think I will look into possibilities for logging one...
To my disappointment I notice that the bird is Yankee India, a new A320 delivered to BA last June, but one which I've flown once previously from LHR to HEL.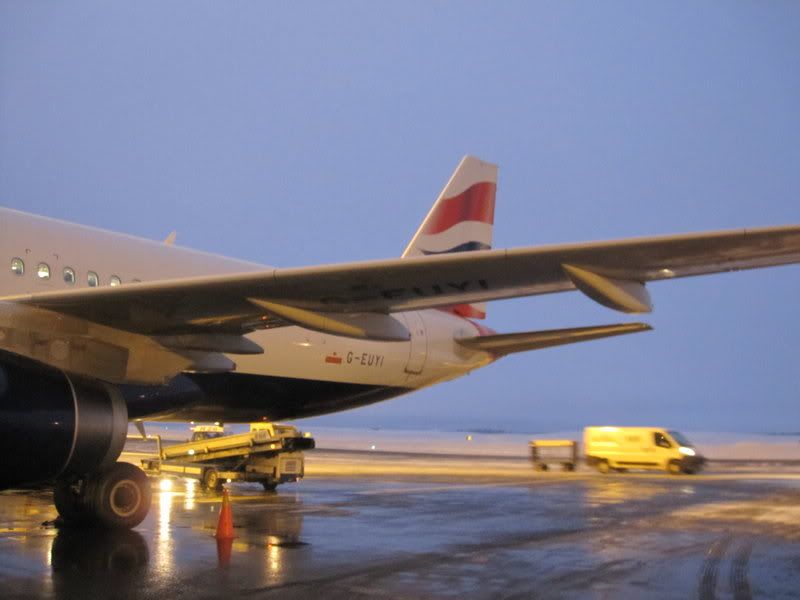 HEL - LHR
BA799
A320 G-EUYI
Seat 27F
17.19 - 18.08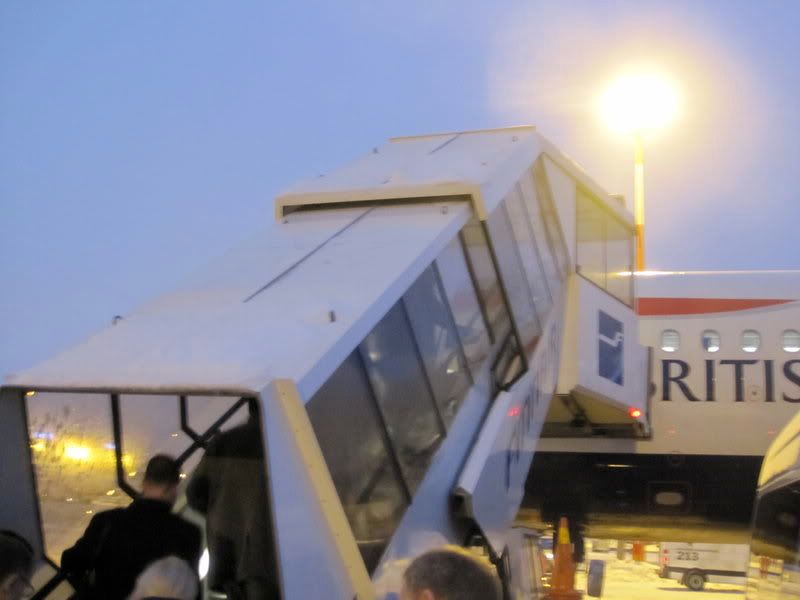 We are finally released around fifteen minutes before the departure time. Interesting: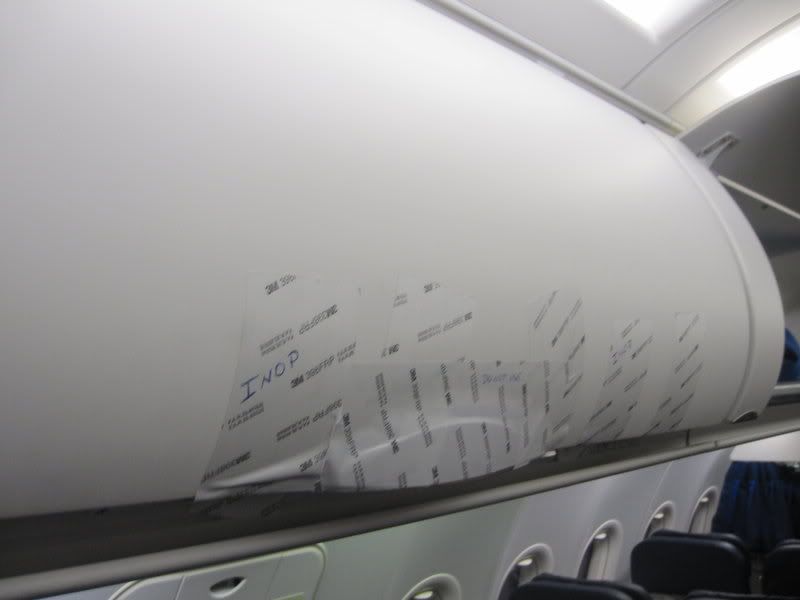 I grab my window seat in the last row (gee, where did I learn to do that?) and exchange some chit chat with the friendly older FA in the back galley. The load is good, but like magic I end up getting one of the few vacant seats next to me - on the aisle seat there's a Chinese girl whose English is not really up to the "having a chat" level.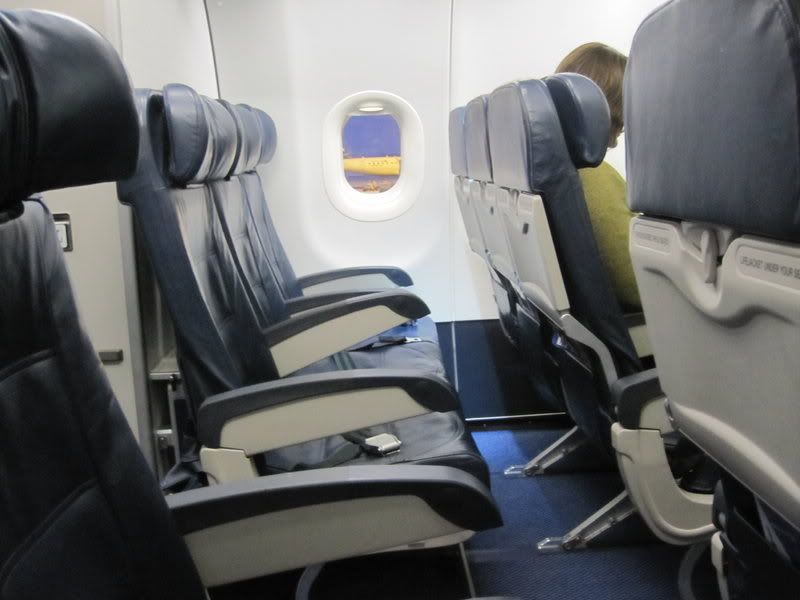 The ugly livery sticking out like a sore thumb: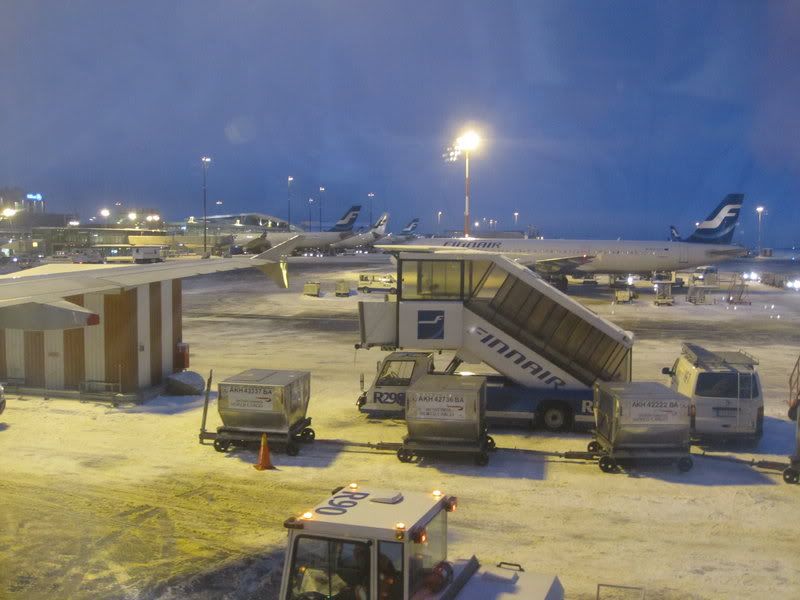 The captain mentions something about "a short delay as things took a bit of time with us on the remote stand and boarding by buses" compensated by "a short taxi time of only ten minutes" (well, ten minutes may be short for Heathrow, but for Helsinki it's a lot!) and made even better by us "having a strong tailwind speeding us for a flight time of 2h30mins.".
Departure is finally nine minutes late. While taxiing to 22R we tail a Transaero 737, definitely not something you see every day at HEL - I'm really wondering what it is doing here (and please tell me it's not another dodgy carrier operating for KF!)? Sorry, this is the best I could do: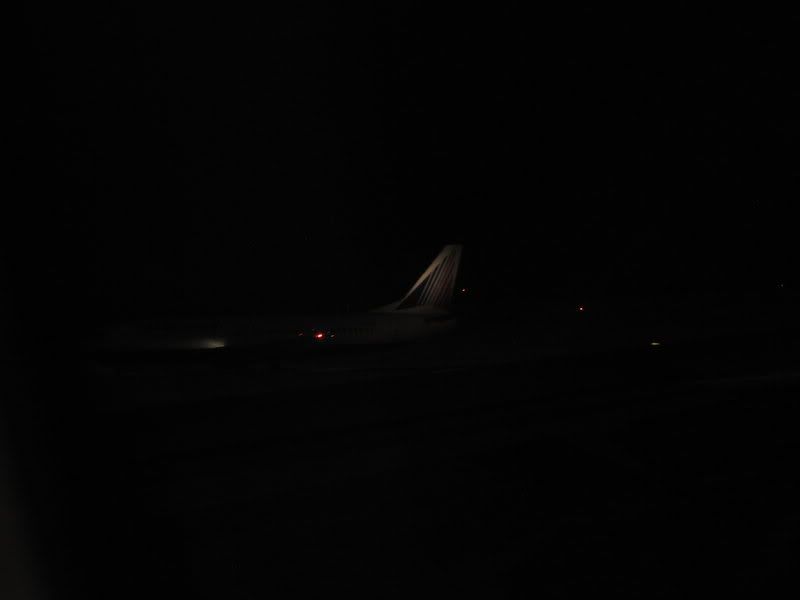 We start our take off run twelve minutes after leaving the stand.
Not many views of the ground due to the low clouds and dark skies, but as a nice bonus we get a very pretty red sky following us on the right hand side all throughout the flight, thanks to flying southwest during the sunset hour: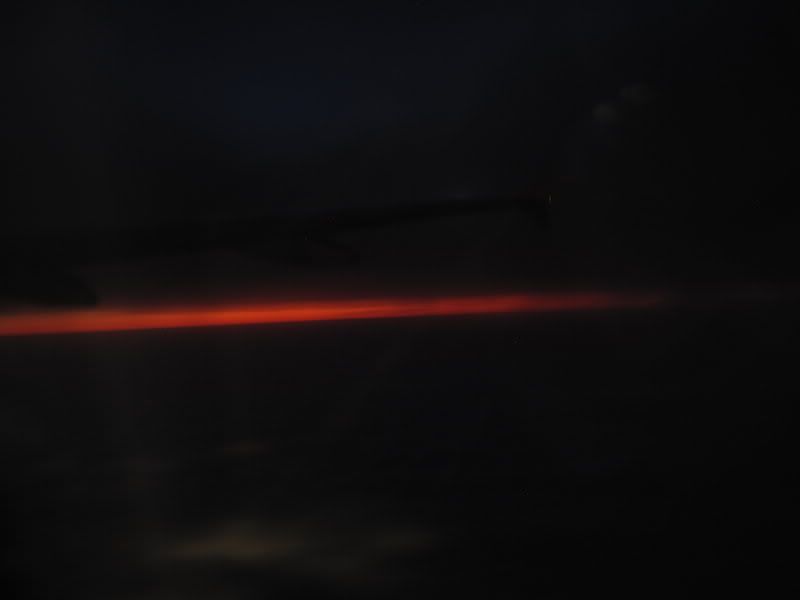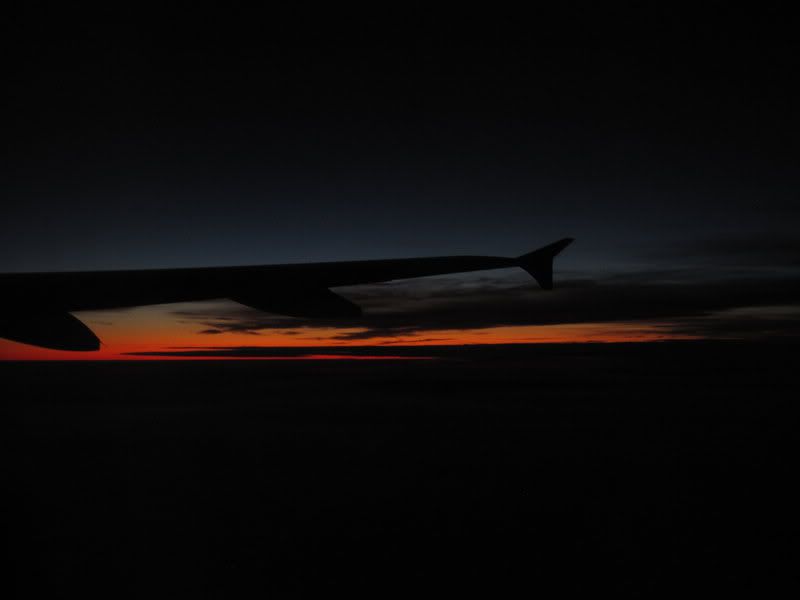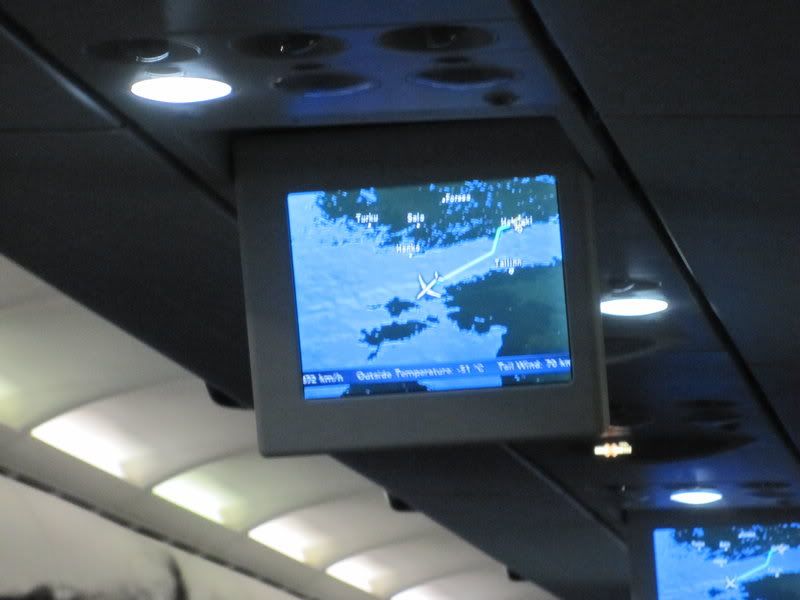 The route is quite a bit more southern than usually, following basically HEL-URE-VBY-KLR-RNB-MMX-CPH-KEL-GRQ-AMS and across the North Sea to London.
Over the Baltic Sea the skies clear up and as the night is cold and clear the visibility is extremely good. I can clearly see the lights of the Stockholm are, for instance, despite it being more than hundred miles away.
Service is another standard BA sandwich - chicken salad this time, nice and fresh as almost always:
I hadn't noticed before that the glasses have the Speedbird logo embossed on them: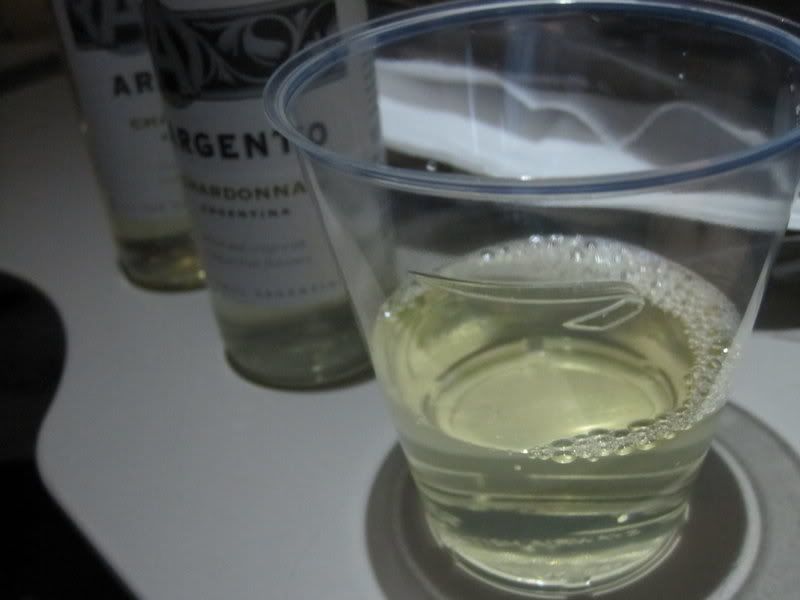 Over Southern Sweden: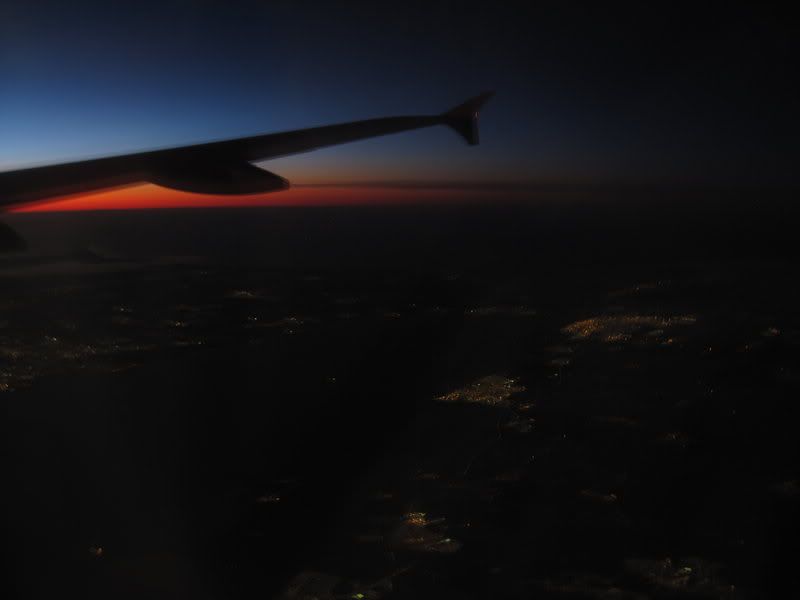 Copenhagen, Kastrup Airport is the brightly lit area on the lower right corner: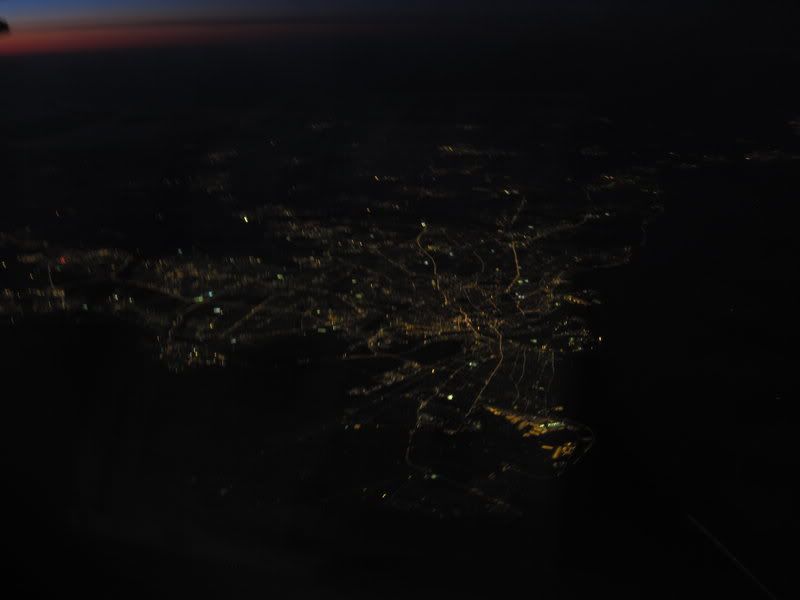 During a toilet run I ask if I could have another drink - the FA answers: "Of course - what would you like to have?" - that's what I love about BA and their crews, always ready to serve and very friendly. Well, this seems appropriate for a flight to London: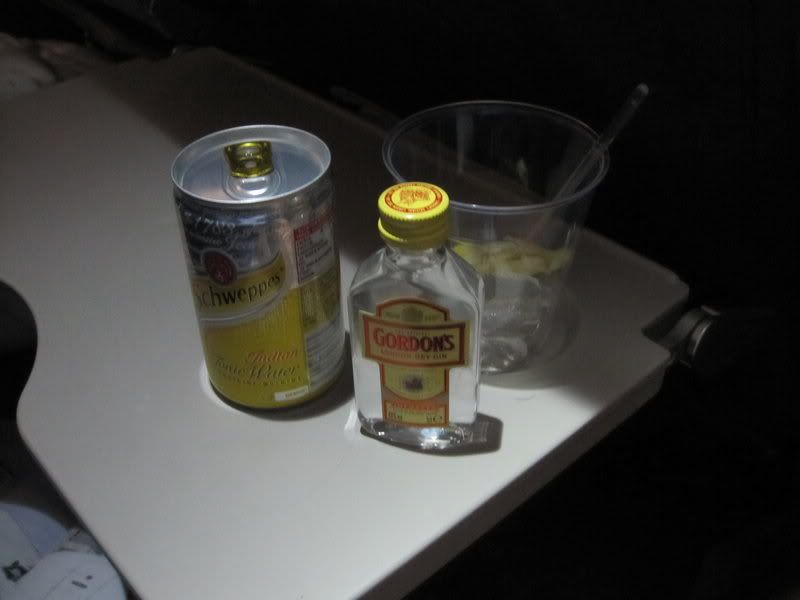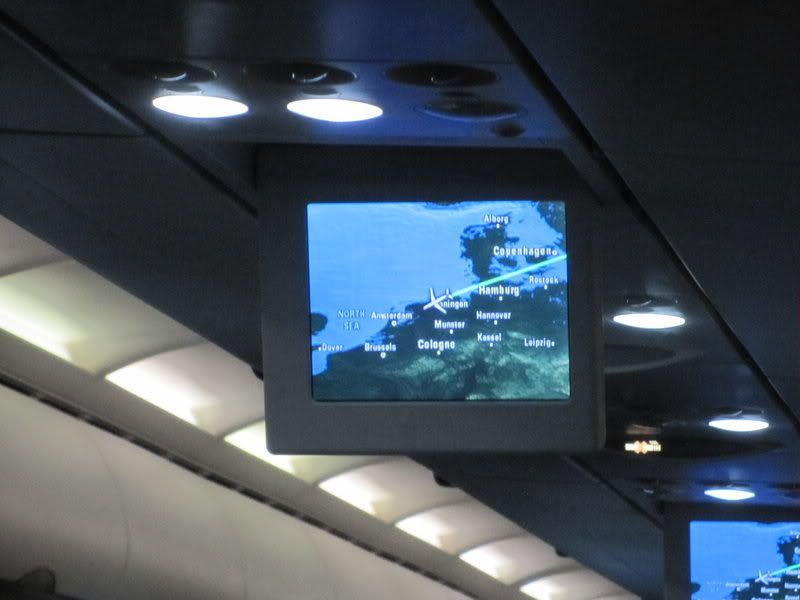 Descent starts over the North Sea at 1h55mins into the flight. Well, it wouldn't be Heathrow if we didn't spend some time in a holding stack over East London: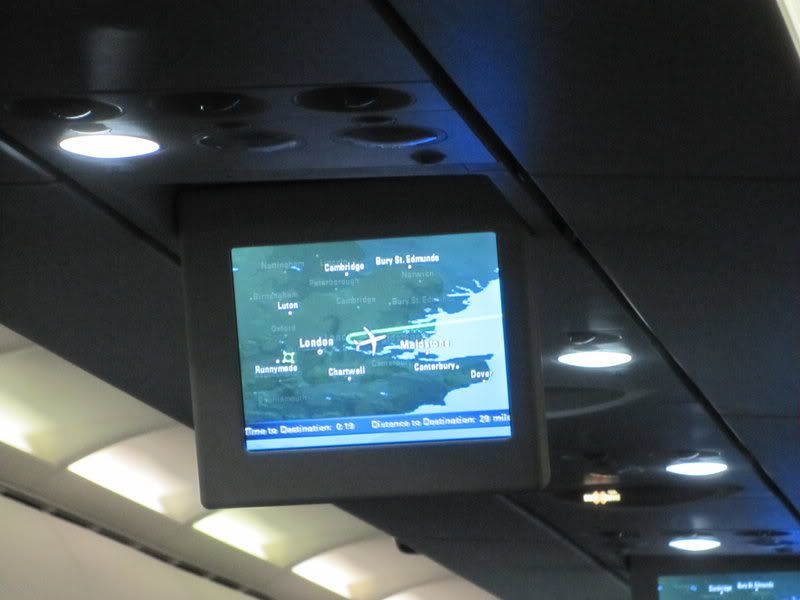 At least there are plenty of other planes around us to watch. After two complete circles we head westwards, passing Heathrow - making it obvious that we are landing on the 09s.
Touchdown is on 09L after 2h37mins of flight time, 12 minutes early. Luckily the T3 BA stands are just next to the runway exits so no epic taxies for us today. Getting out of the plane does take some time, though, with the good load and the fact that they are only using the front door for deboarding. I pass time chatting with a Danish guy living in Australia in front of me - he is facing quite a journey to MEL with BA via BKK, but at least is traveling in WT+.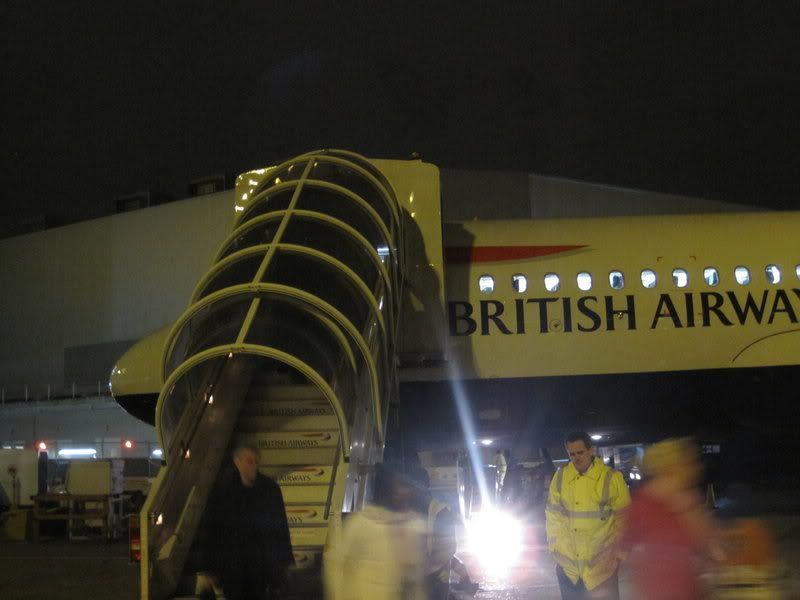 London
Once we get out it's a short bus ride and relatively short walk to the UK border - despite flying out of T3 plenty of times this is actually first time I'm arriving here - then a bit longer walk through the tunnels to the tube station and onto a Piccadilly Line Train.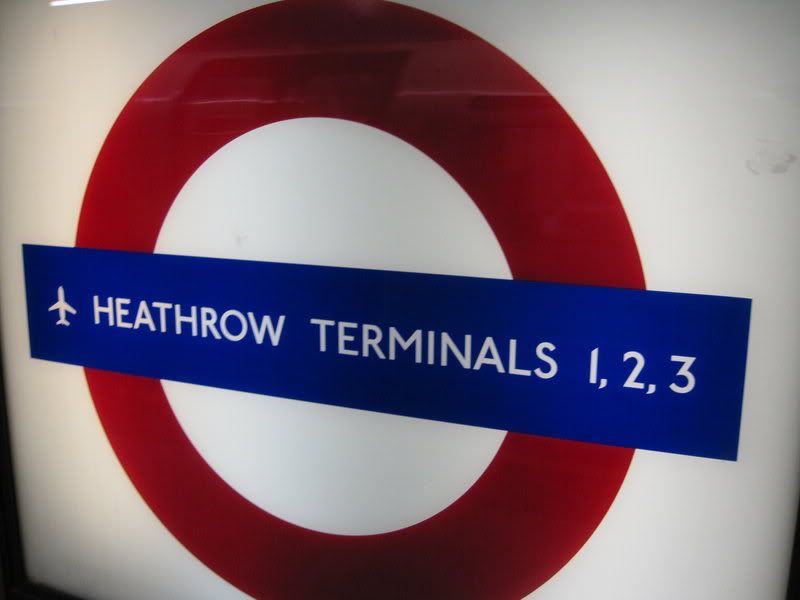 A tedious ride to Green Park, followed by a short hop on the Jubilee Line to Southwark station - total travel time from Heathrow an hour: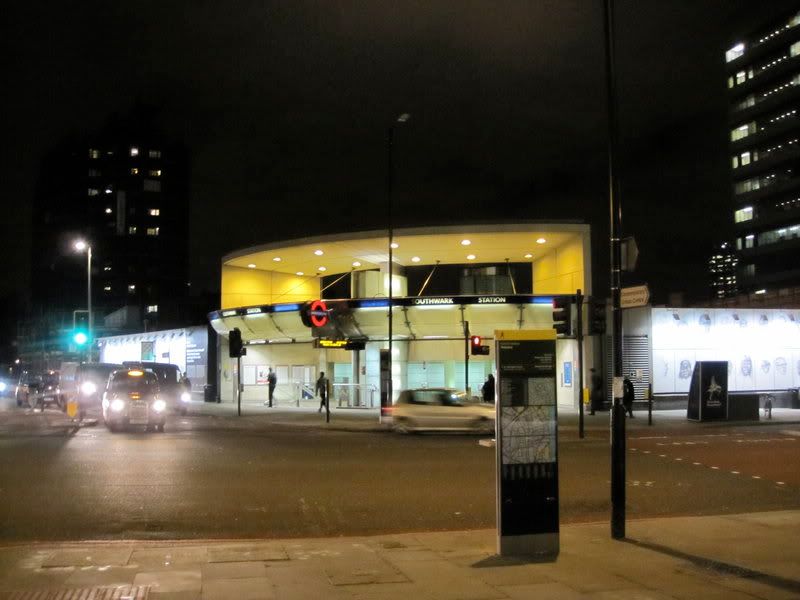 My hotel, the Southwark Travelodge is just half a block away from the tube station and offered me a room for 35 quids, not bad at all for London and it will be a very easy commute to LCY the next morning. It's not much, but then again with Travelodge you know what you get: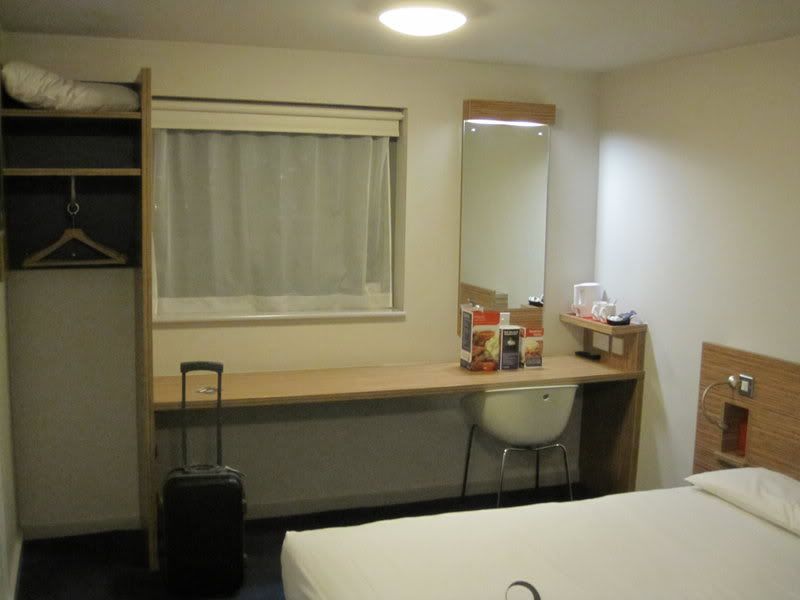 I meet fellow a.net member Gabriel (gabrielchew around here) in the reception, and after dropping my stuff in the room we head out for some Japanese food: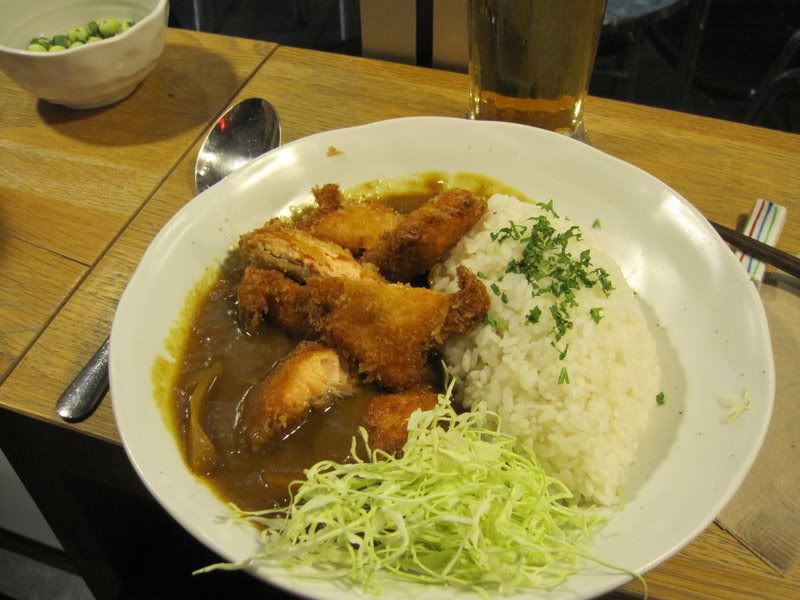 Followed by liquid forms of entertainment and of course lots of chat. The bank of the Thames offers nice views of the City across, although the wind is bitterly cold even for a Finn: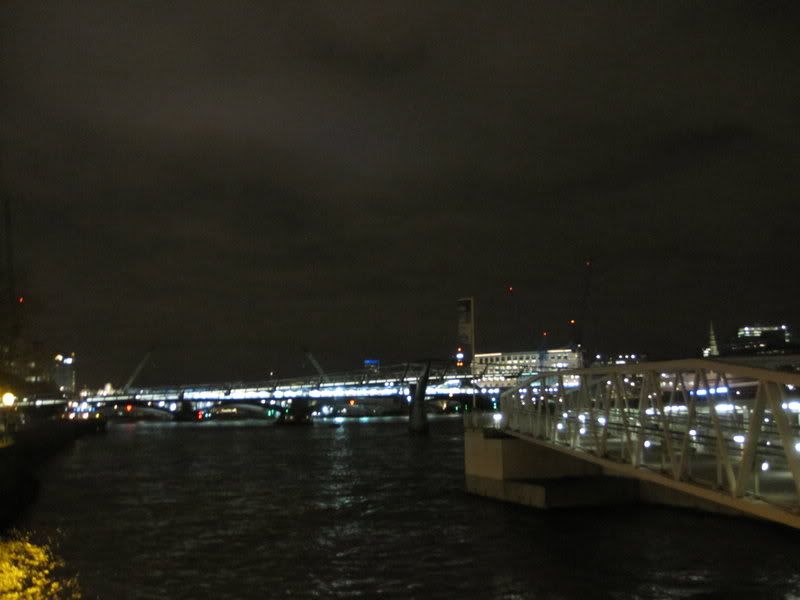 Some time closer to midnight it is time to part ways at the London Bridge station and I spend a few unnerving moments not being sure which way the hotel is, but finally make it and crash for the night.
Friday 28.1.2011
Up around seven thirty or so. Despite the hotel being right next to some train tracks into Waterloo, you can't hear any noise in the room so it looks like they really did their job right with the soundproofing, something which can't be said for all hotels I will spend nights on this trip! Lovely view from the window: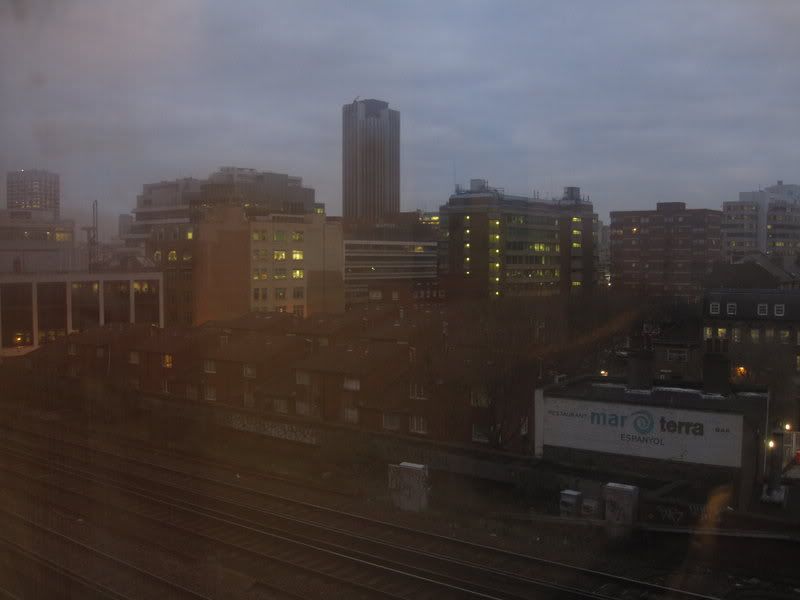 After getting ready I leave the hotel and head back to the tube - quite appropriately a BA Cityflyer E-jet is just landing overhead: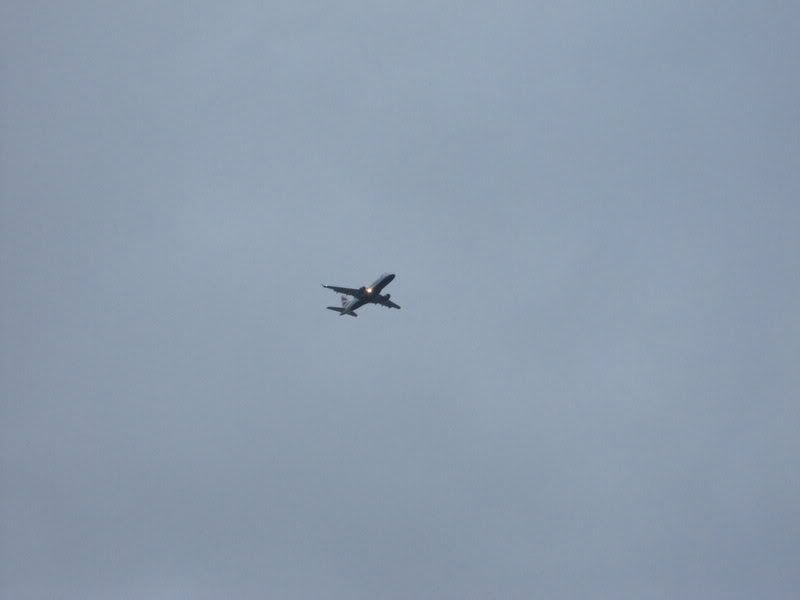 Tube to Canning Town is always funny at this hour - as usual it is standing room only up to Canary Wharf and completely empty afterwards after all the suits leave for their work. Easy connection to DLR and soon enough I'm at LCY: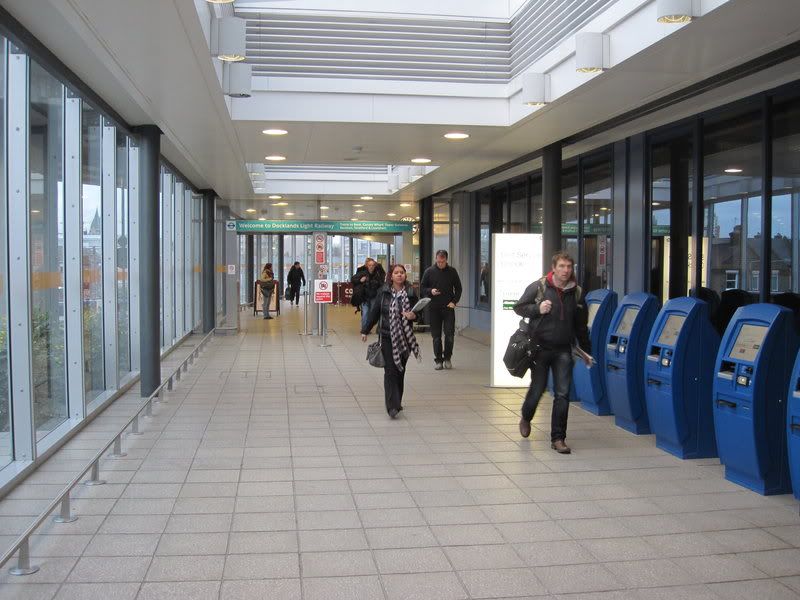 Some breakfast at Pret follows, then an almost pleasant progress through security - too bad that at the last moment the girl tells me that my bag has been selected for "random" scrutiny and proceeds to pull everything out from there, leaving a mess.
Lots of people in the departure area, but no problem finding a seat to wait. This turned out to be my ride, arriving some 45 minutes before from another flight: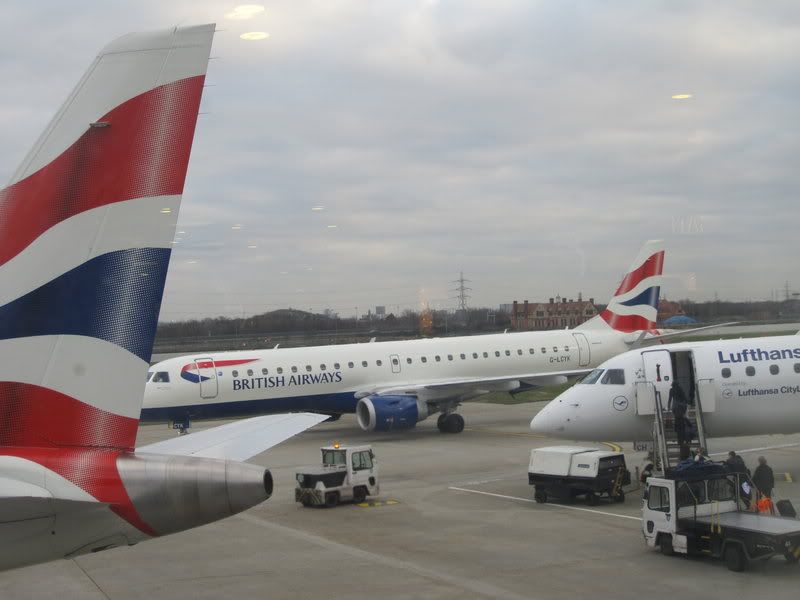 Boarding is called at T-30, a bit of a queue to get to the holding pen downstairs - a Columbian woman is heatedly discussing her and her family's (husband and a very lively, cute girl) travel plans with one of the gate agents. From what I can gather from her rapid fire Spanglish is that the agents are unsure whether they have the proper documentation to be let on the flight, even though they are connecting to BOG on IB and are already holding boarding passes on that flight. Anyway after a while of discussions things seem to be settled down and they are given the option of boarding first - that's the only child on this flight.
The funny older gate agent comes back in, asks me "Gold card, sir?" - "No, just dreaming about one" - after this he yells out "The one passenger with Executive Club Gold, you can board now!". Nobody dares to announce themselves so he just shrugs and calls general boarding - since I am right next to the door I become the first person to walk to the apron.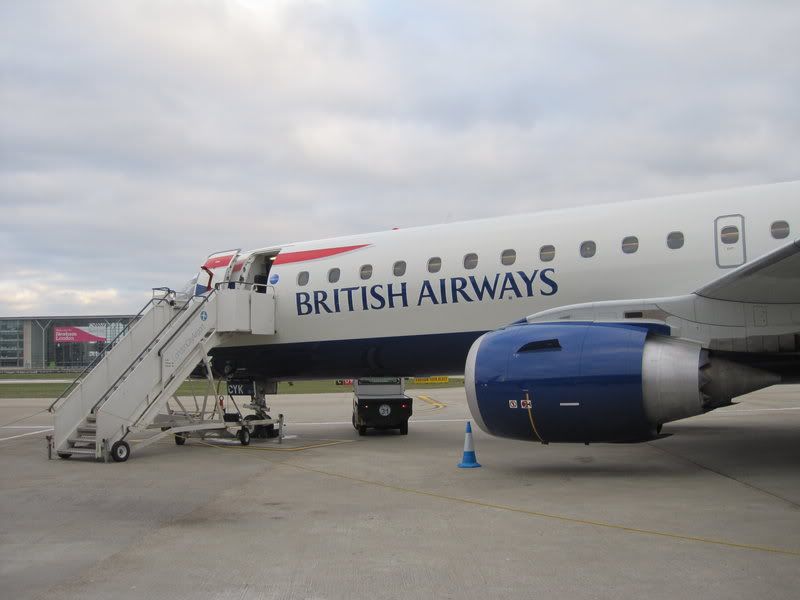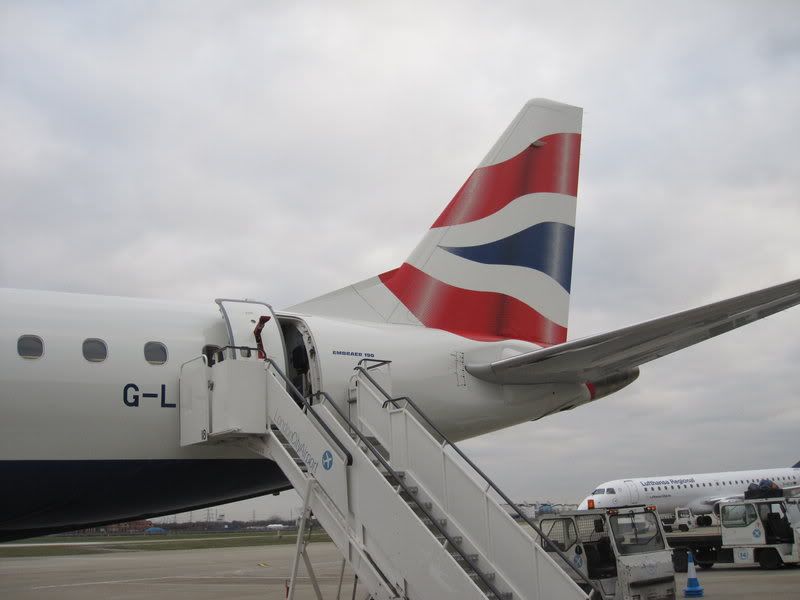 LCY - MAD
BA8753
E190 G-LCYK
Seat 25A
9.36 - 12.38
A very friendly, young FA greets me on the back stairs - she seems to be fluent in Spanish as well with the mostly Spanish pax, a nice touch. Last row window seat again. The small holding pen made the load look much better than it actually is - I think there are less than 30 pax in economy, not quite sure about Club Europe. Comfortable Recaro seats with okayish legroom: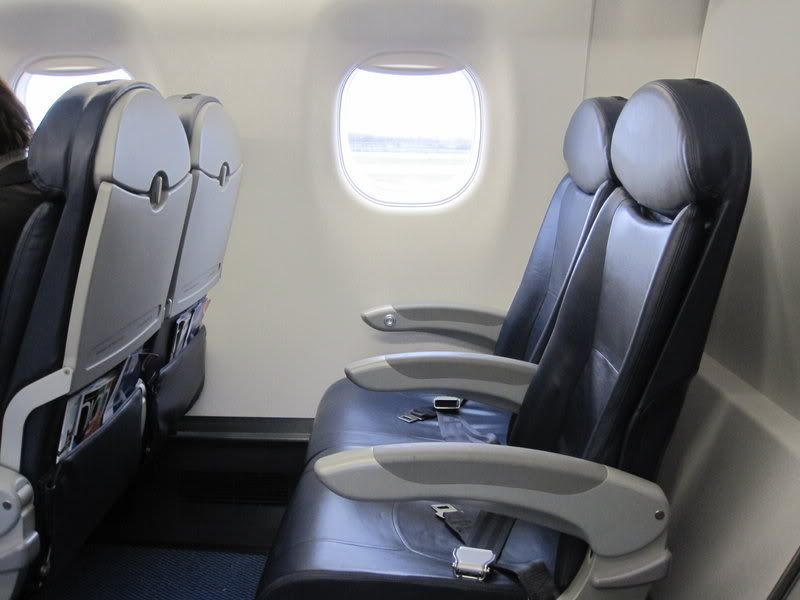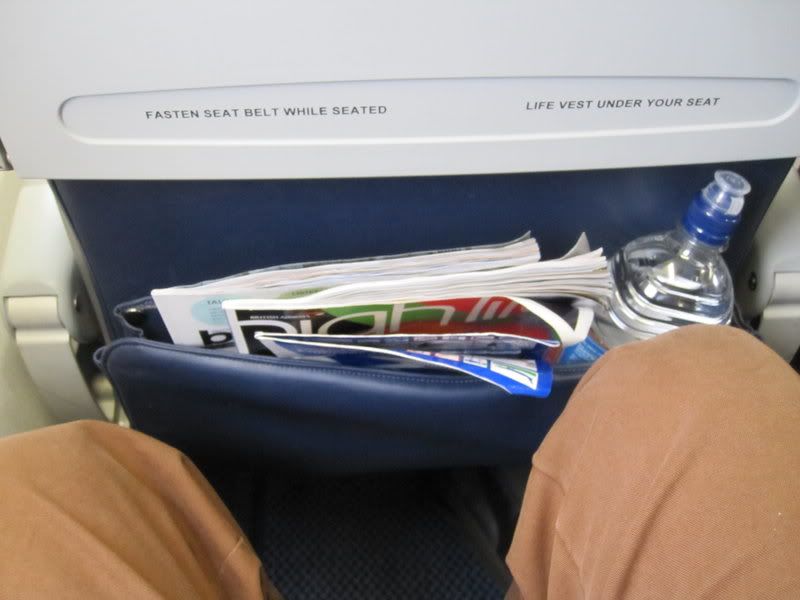 The low load is apparent in this picture: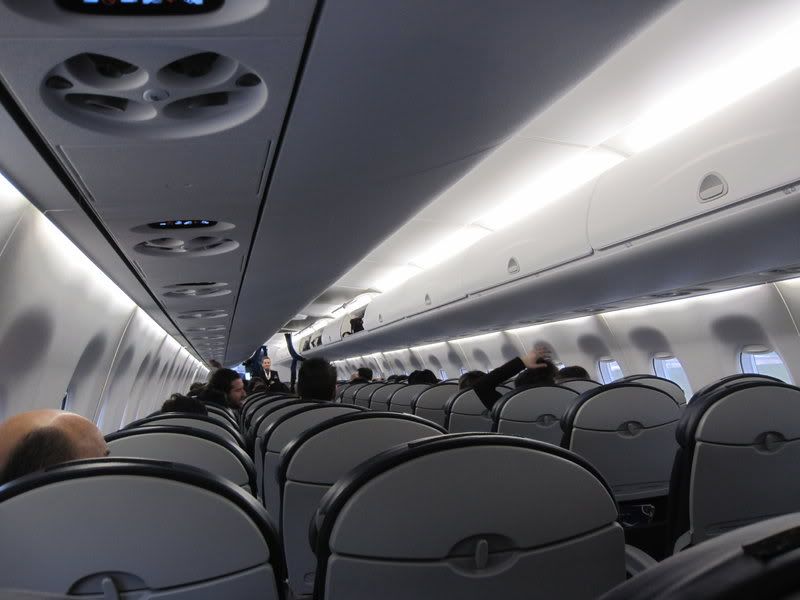 The cockpit crew stays mostly silent during the whole flight - quite atypical for BA flights, actually. No announcements about flight time, routings or just about anything.
Pushback is a minute late - CityLine E195 to FRA starting its take off run: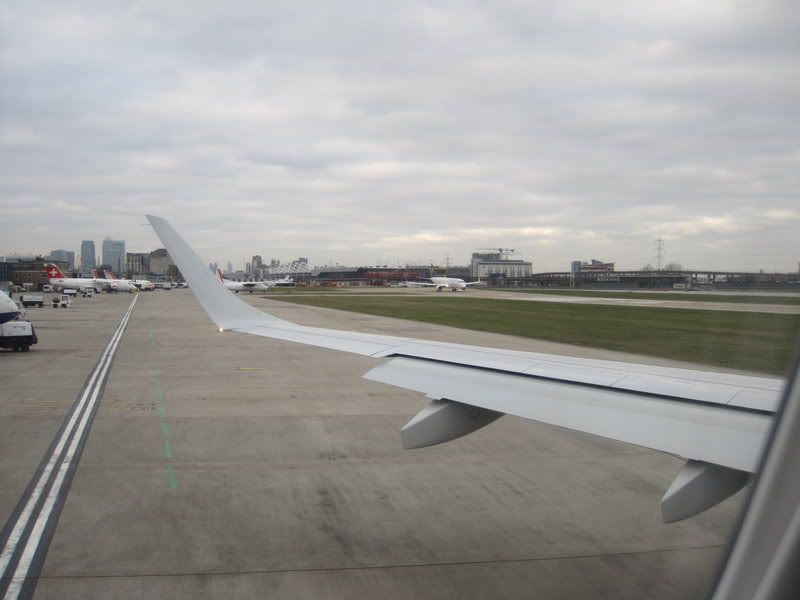 Take off is towards the east from 09 after a taxi and hold time of seven minutes.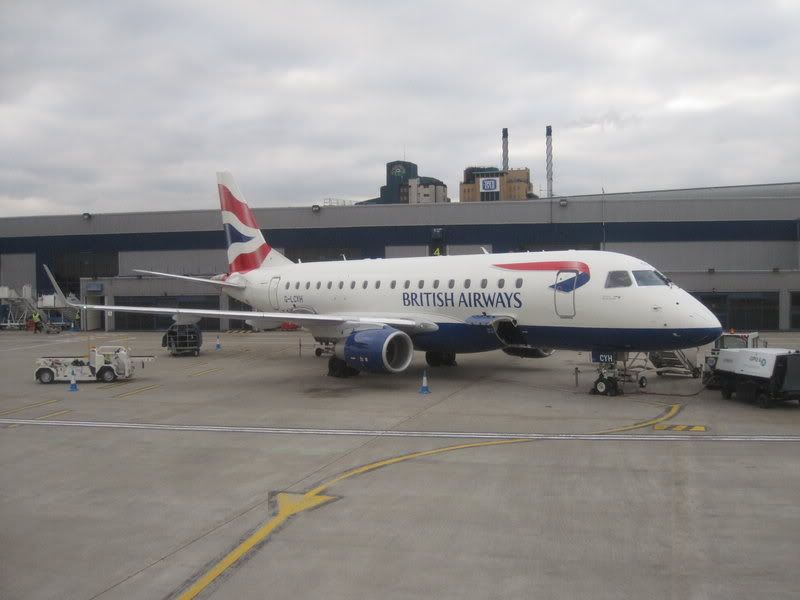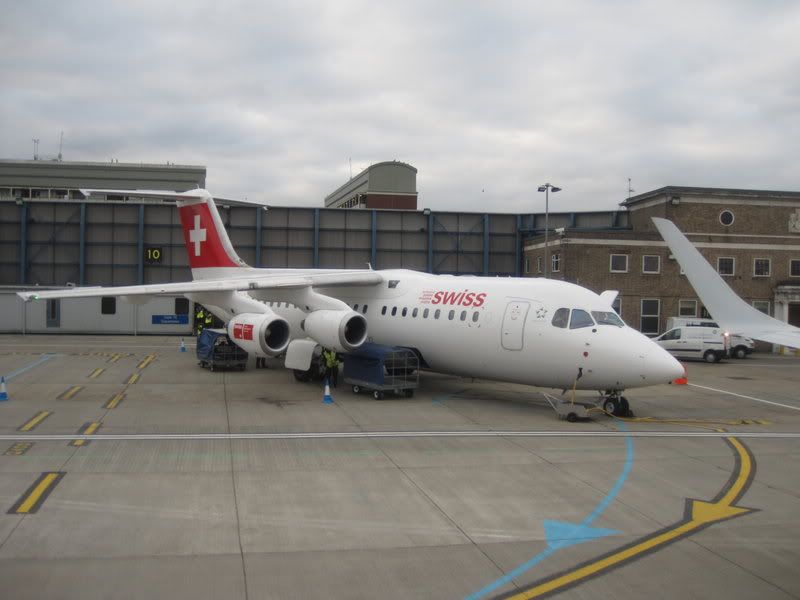 VLM and CityJet: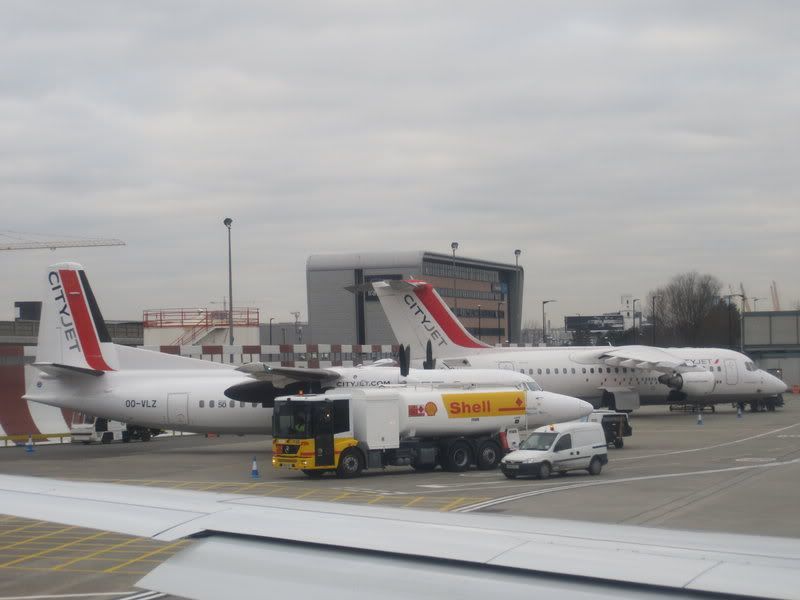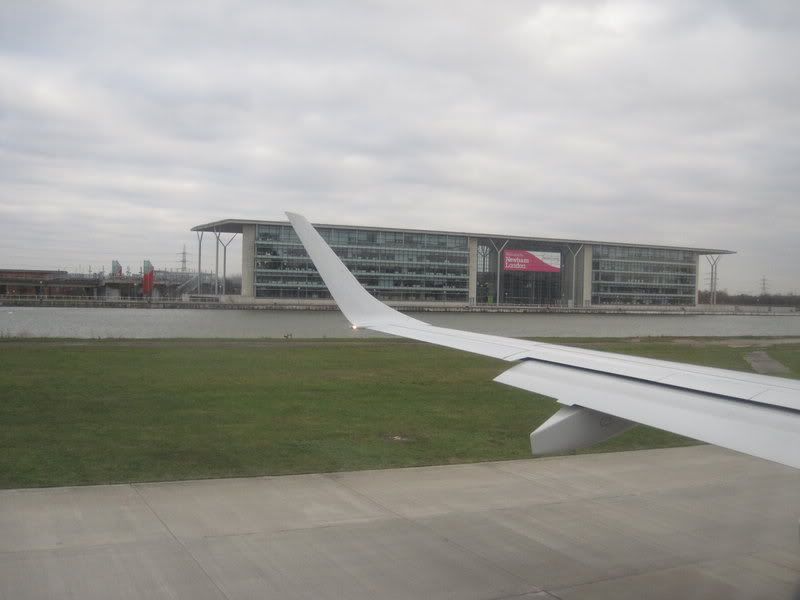 Very powerful take off and a nice angle of attack on this lightly loaded bird: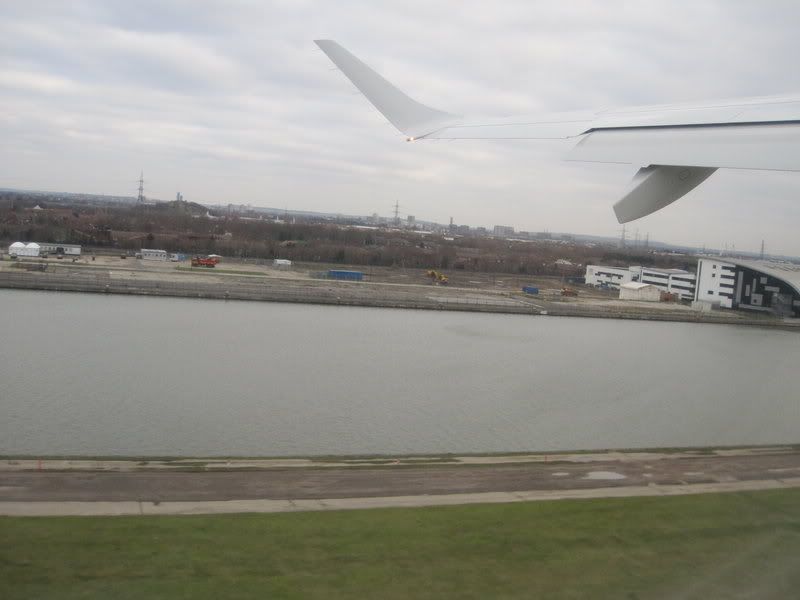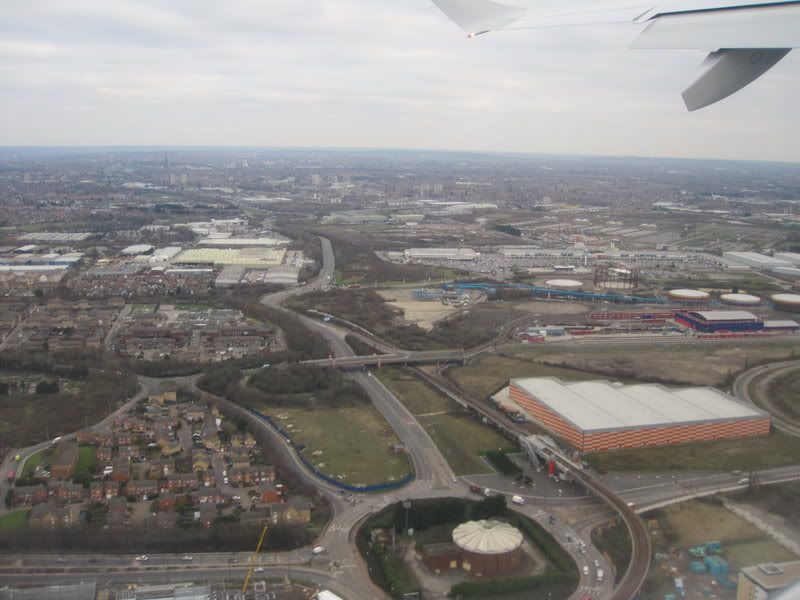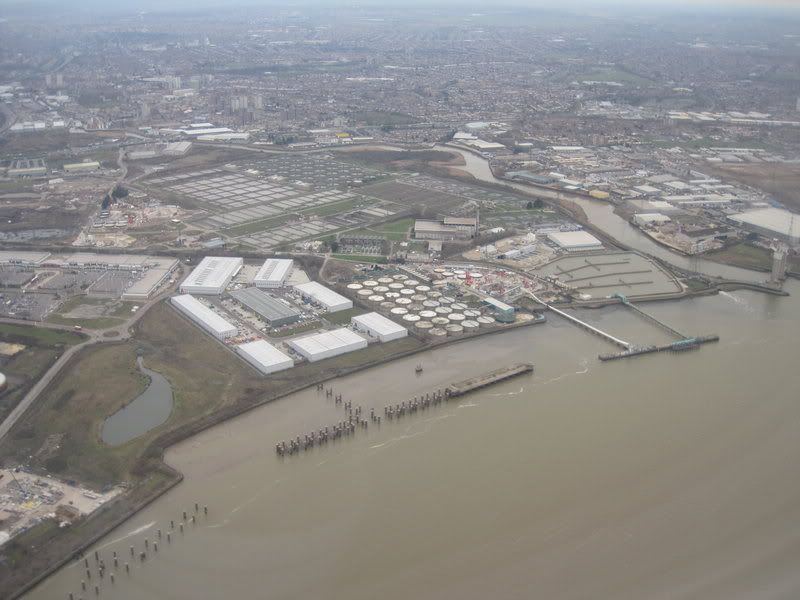 LCY behind us: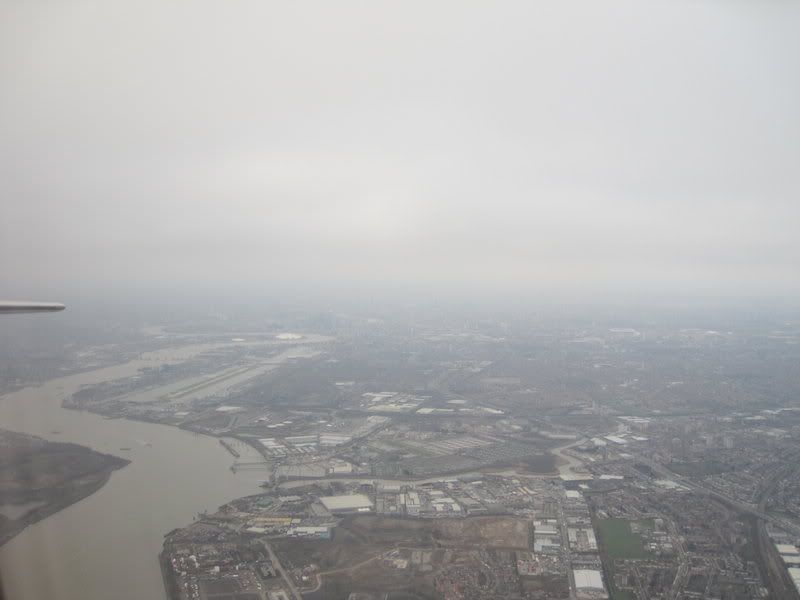 We fly quite a bit towards the Thames mouth before finally turning right and heading for the Channel. Sunshine glimmering from the water - quite pretty views: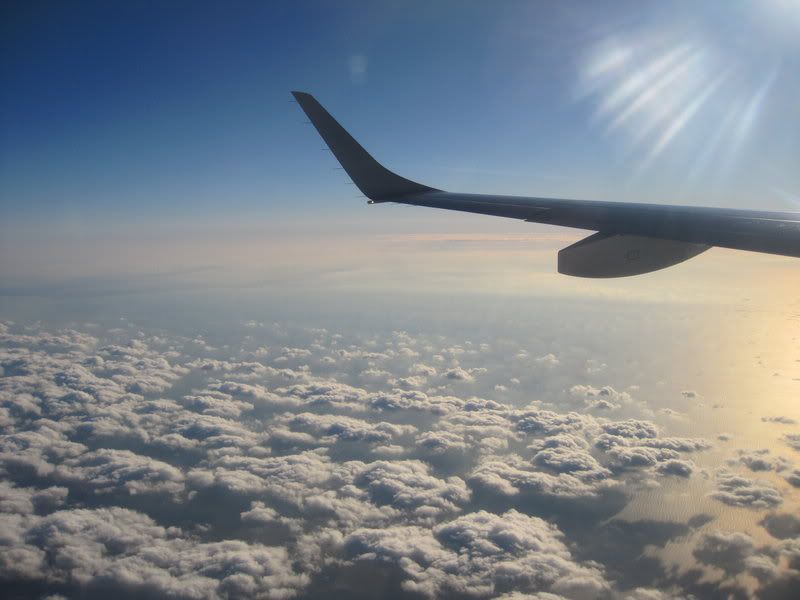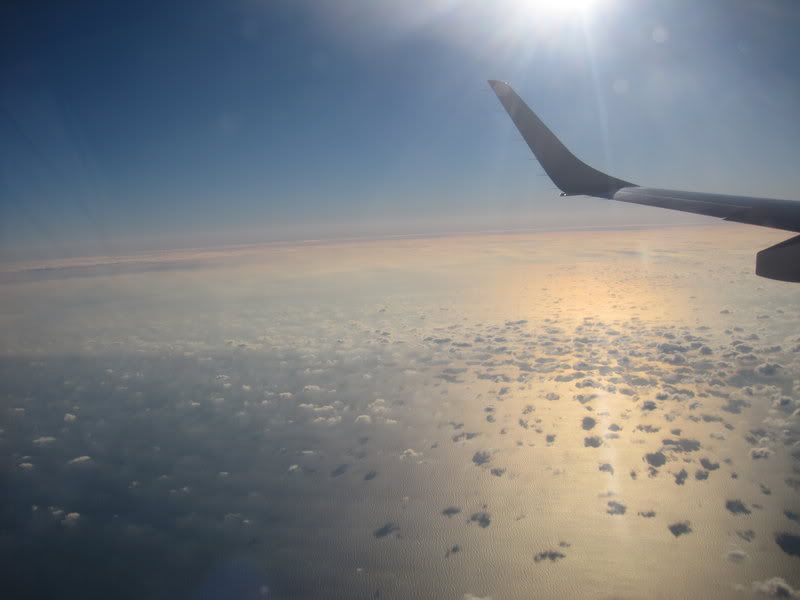 Hello, France, hold on for a few hours, will ya: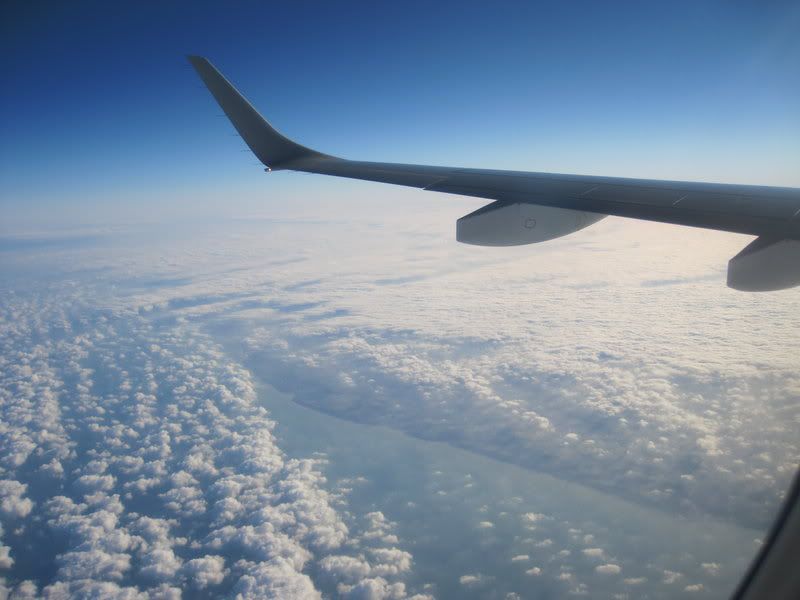 I was expecting some sort of sandwich on this flight, but am actually a bit surprised to get a hot breakfast instead - I think it is a bit late for a breakfast: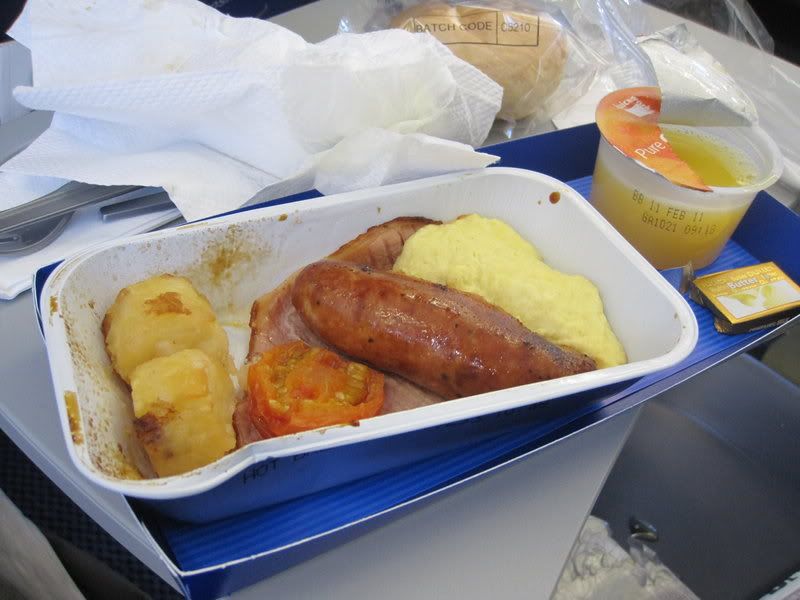 The crew take their time to serve the pax, with the low load there's no need to rush. They are a great pair of gals, speaking with the passengers, holding the cute girl in their lap etc. At some point when clearing my trash the older purser tells me: "My colleague saw you taking pictures of the cabin earlier (busted!). If there's anything you'd like to know about the flight or the plane just ask us!" - well my Finnish nature wins over and I shyly retreat from the chance by saying "Thanks for the offer, I really appreciate it but I'm fine like this.". Well, I could've always asked for a flight deck visit...
During the first drinks run I ask the younger gal "Is it too early to have some wine?" - "Oh, absolutely not! Any time is fine, would it be white or red, sir?" - The good old BA attitude here again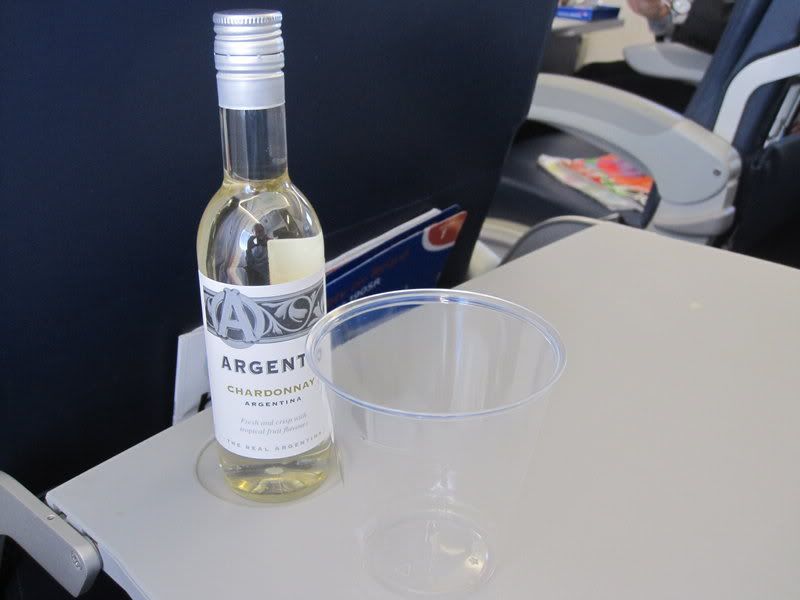 Not many views during the flight, but from what I can see from the openings in the clouds we seem to be routing mostly over land instead of the direct routing across the Bay of Biscay.
While clearing the (empty) wine bottle I'm asked if I would like to have another wine. I'm not quite sure how far we still have to go so I ask the FA - she says that she doesn't actually know but will call the cockpit to ask. Whoa, in my books that's going the extra mile. I can actually overhear her talking over the phone right behind me and she comes back with the info that there are still 40 minutes to go - so plenty of time for another wine
. I do thank her and tell that I really didn't expect that kind of treatment - she short of beams hearing this and says "No problem sir, we like to keep ourselves busy!".
The only announcement during the flight comes around 1h30mins into the flight when the captain says that there's some congestion at MAD and we'll be holding for a while but should be on the ground in 20 minutes. Some very pretty clouds during the descent: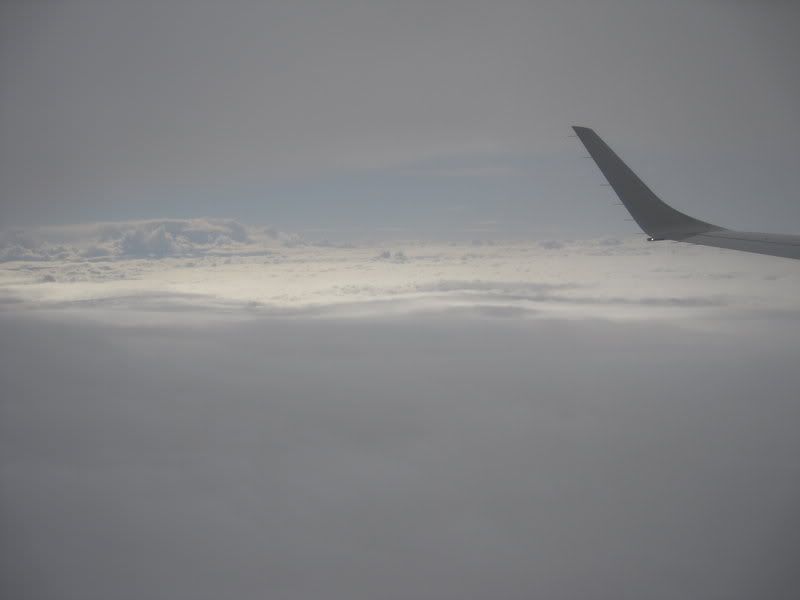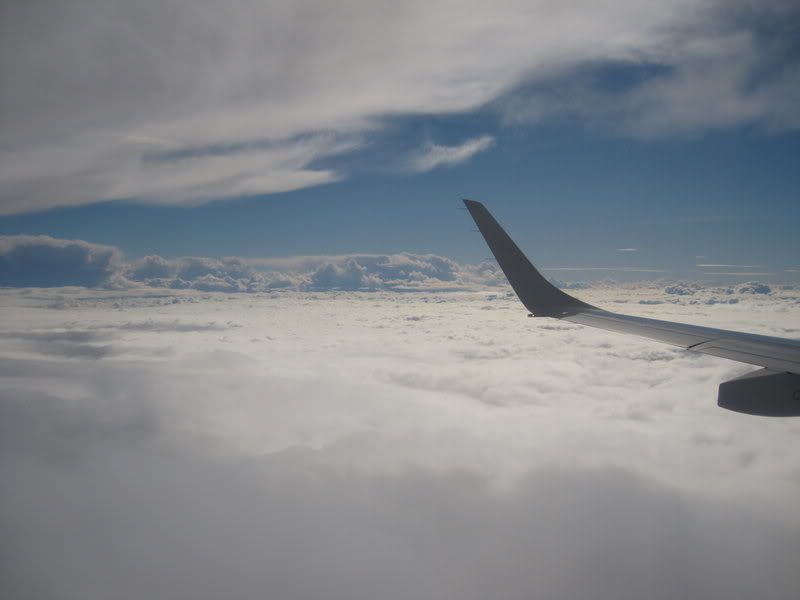 By the time we break the clouds it's apparent we are landing on the 18s, nice as that means a short taxi to T4S.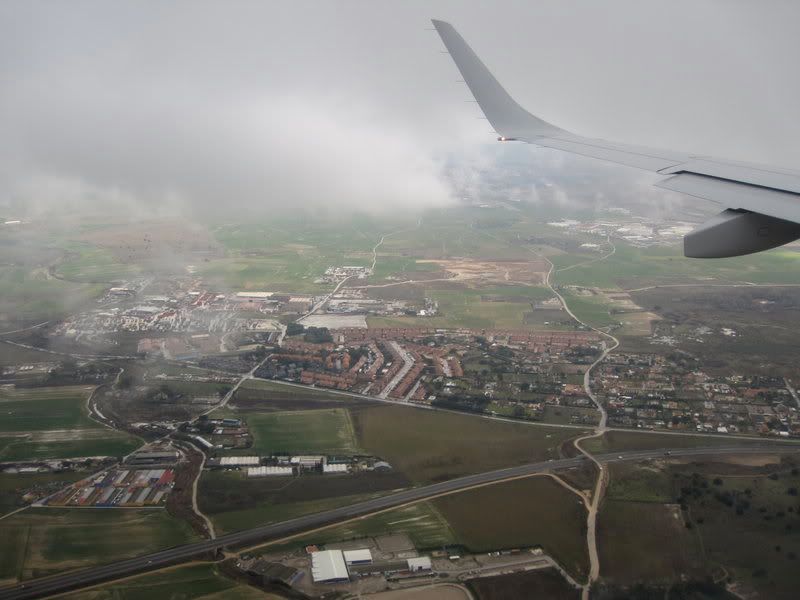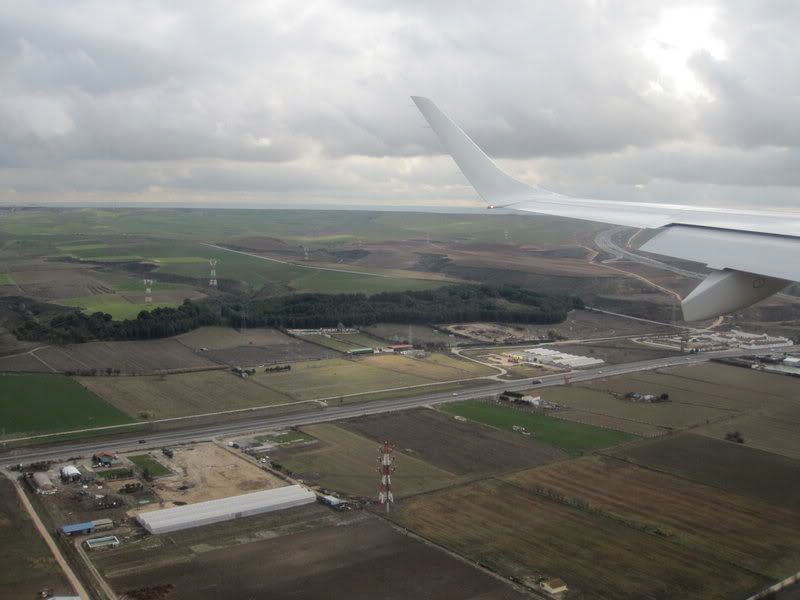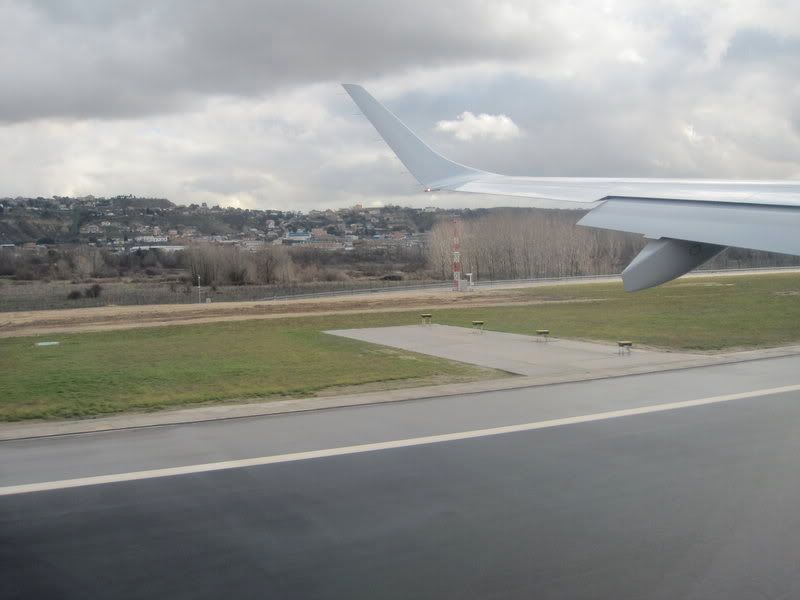 Landing is on 18L, after exactly 1h55mins in the air. Looks like it has rained recently: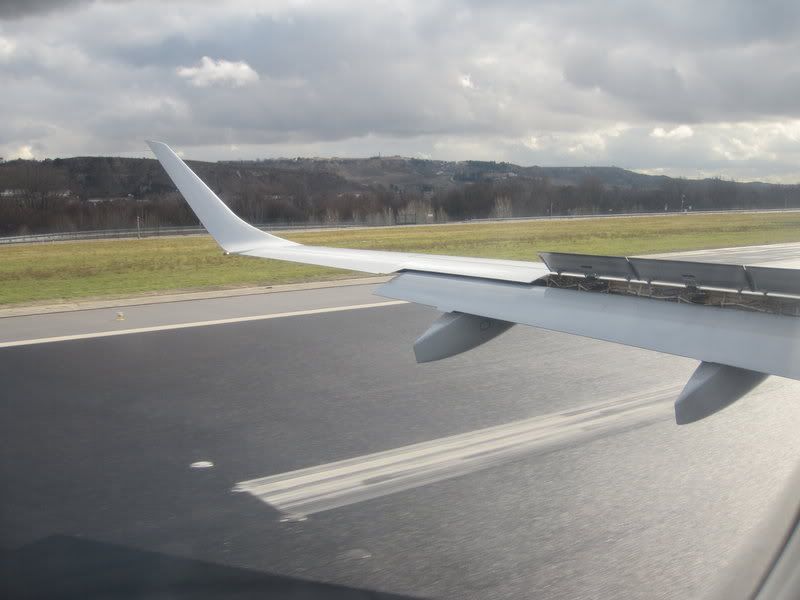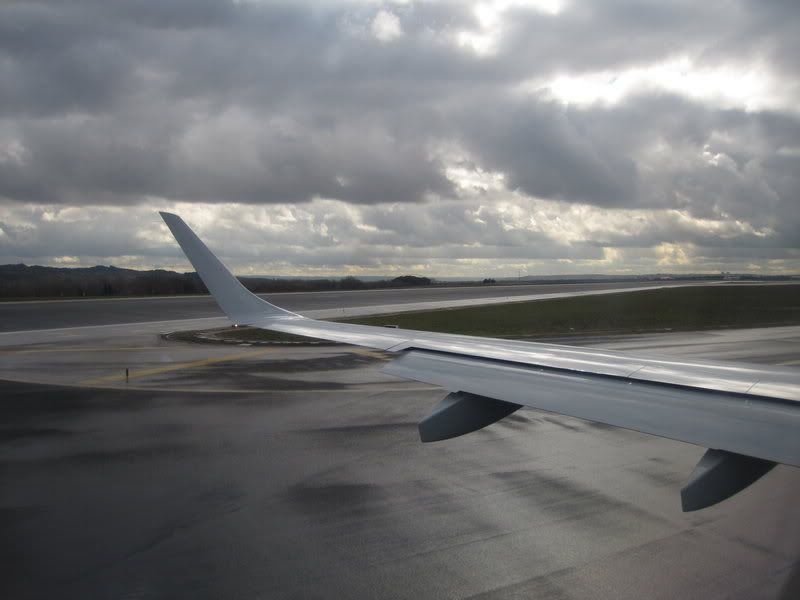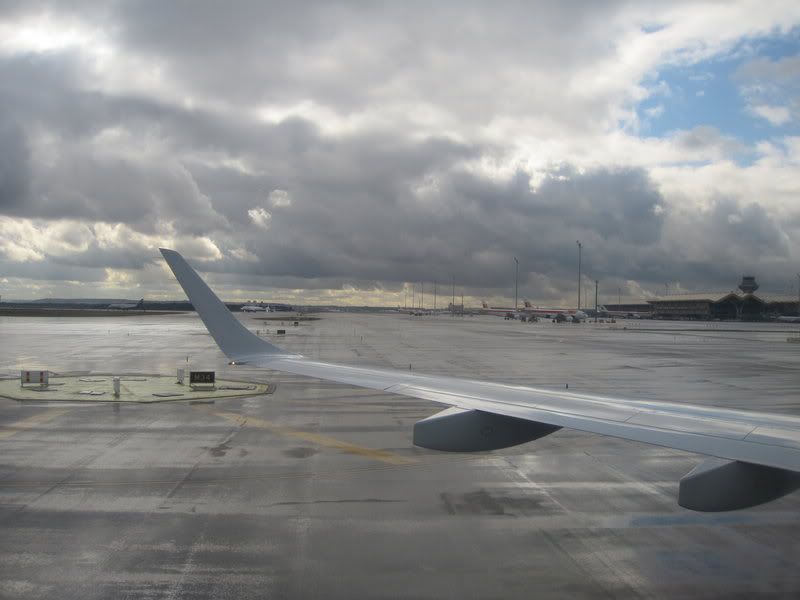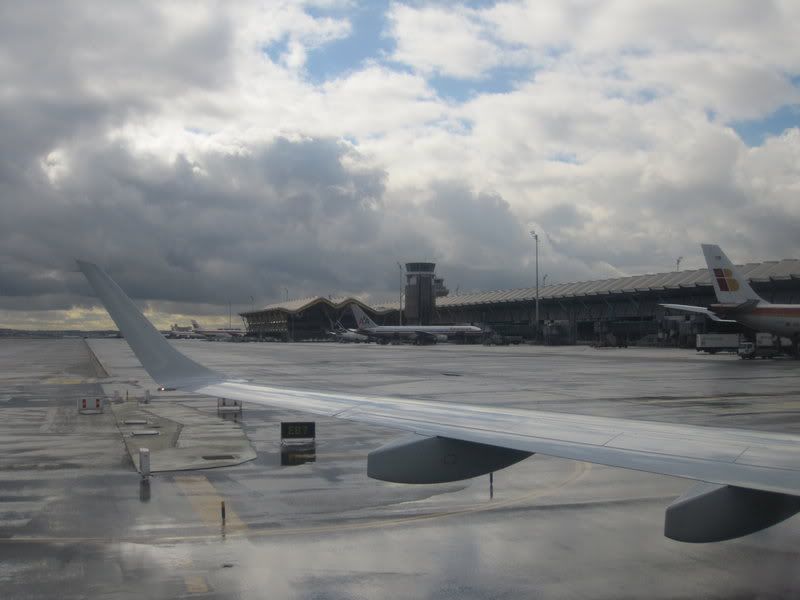 Departure queue for 15L: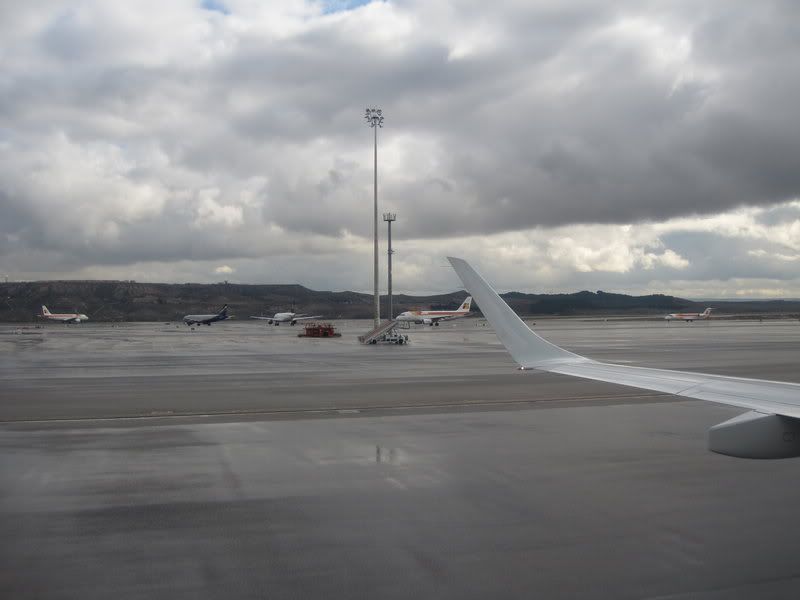 A couple of minutes later we dock to a jetway at T4S - no LAN birds are yet to be seen. I really like this picture, with the "Jesus ray" touching the big bird's tail: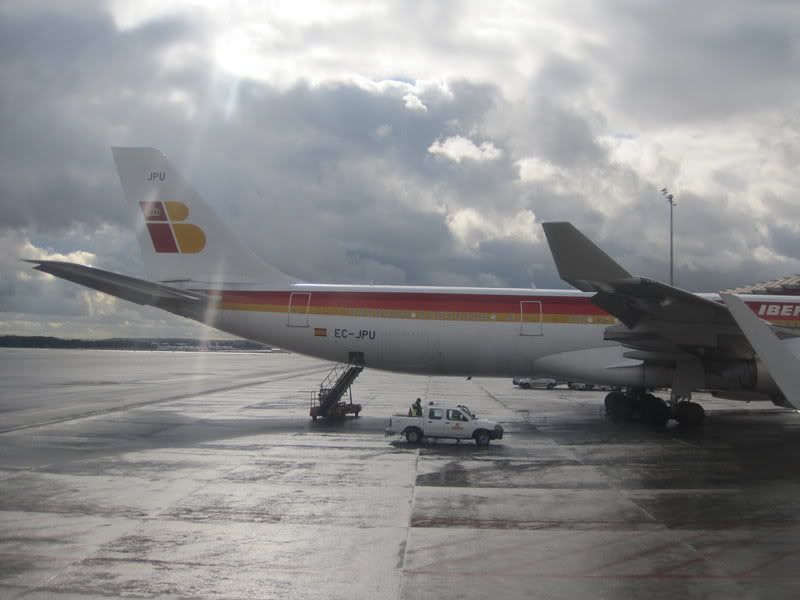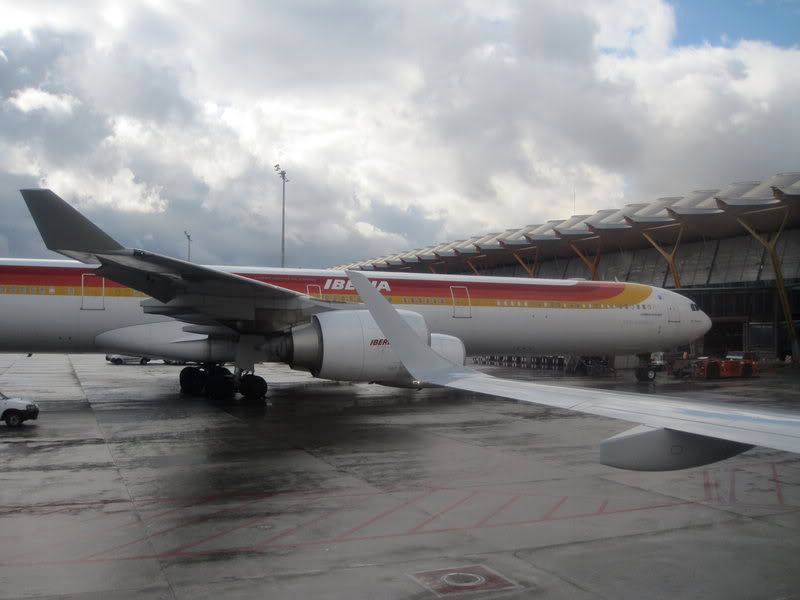 While waiting to get out I have a short chat with the younger FA - I'm a bit surprised to learn that they will be overnighting here and returning on the early morning flight tomorrow. Besides the plane will sit here for almost four hours before the return afternoon service to LCY - quite a bit lower utilization rate than with the Low costs! She also doesn't really grasp the concept of flying from London to Paris via Madrid, even though I try to explain the point with the LAN flight... oh well.
While taking a final look at the cockpit through the glass jetway the captain meets my eyes and gives me a wave and a big smile - putting this very pleasant flight to an equally pleasant end. Bye, I had a blast: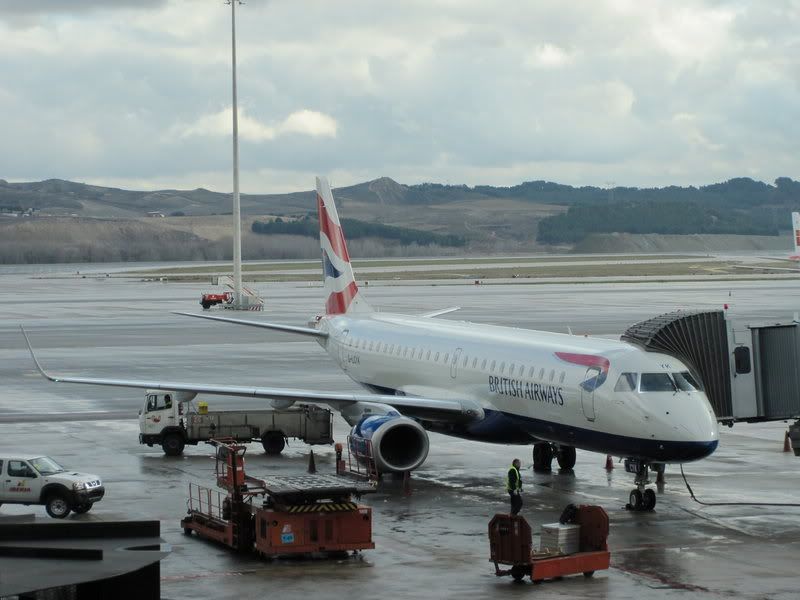 Madrid Barajas Airport, T4S
First order of day is to find a transfer desk - I did OLCI but it didn't really check me in, instead it just produced a "pre check-in voucher" with the flight details and my name which should be exchanged for a proper boarding pass. Interesting as the last time I was able to do the regular kind of OLCI just fine. The satellite terminal is deserted at this hour: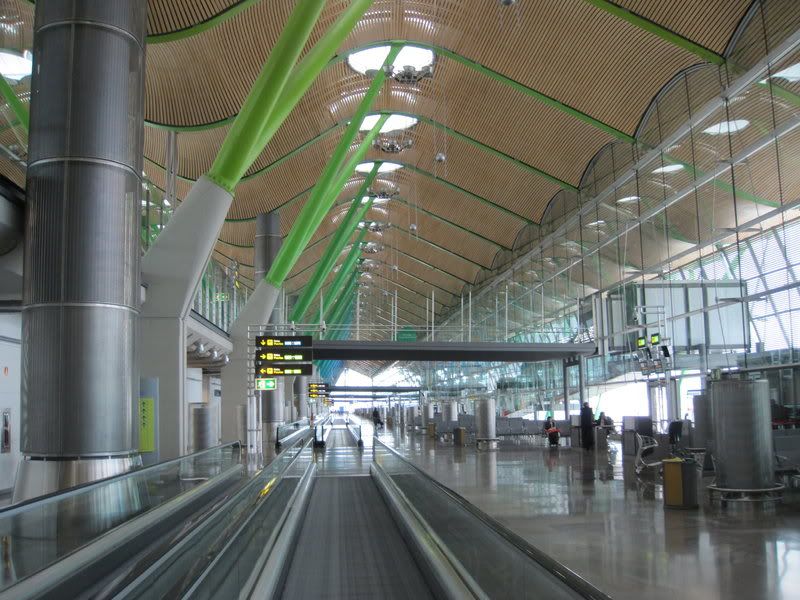 I love this picture - the dark skies and the bright Iberia colors basking in the rare sunshine make for a really pretty view: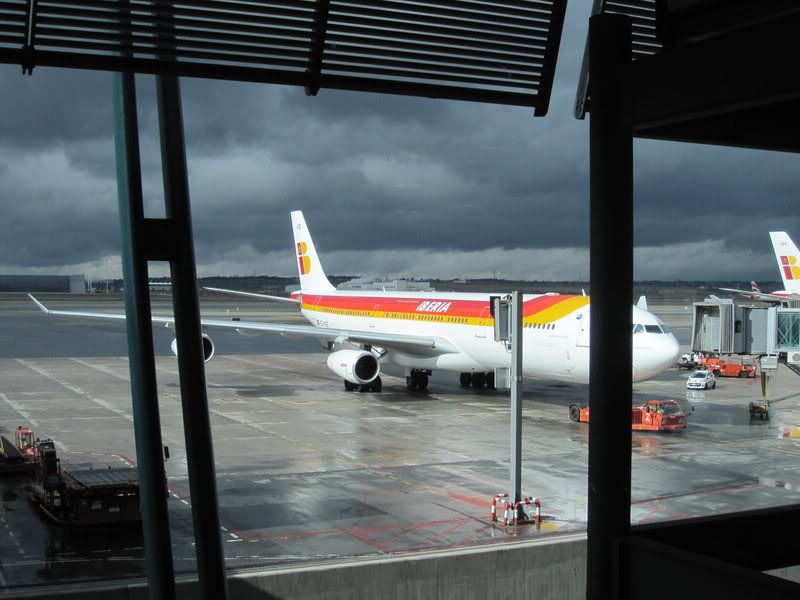 From the infodesk I'm directed to somewhere that seems to be at least a kilometer away - it turns out to be an Iberia transfer desk where the agent is surprised to learn that LAN now operates MAD-CDG... Well, she can't help me, instead giving directions to "the LAN desk". Well, I retreat back to where I came from and there turn out to be two transfer desks, the other for AA which is just closing down and another labeled as "El Al Special Security Checkpoint" - bugger. They have this sign next to the AA desk, but the LAN Arrow points right back to the Iberia desk: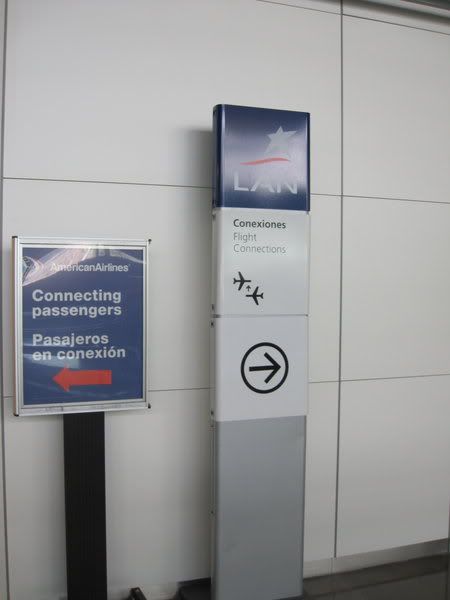 Luckily I notice the first one of the LAN South American arrivals pulling in to a gate just opposite and an agent working to set up the gate so I trundle there. It turns out to be my plane to CDG and he issues me a hand written boarding pass, explaining something about the computers being down (gee, how many times have I heard that one before?). I thank him and he asks me to be back for boarding in about one and half hours.
Off to the lounge upstairs - unfortunately not the nice IB one but the poorer generic one