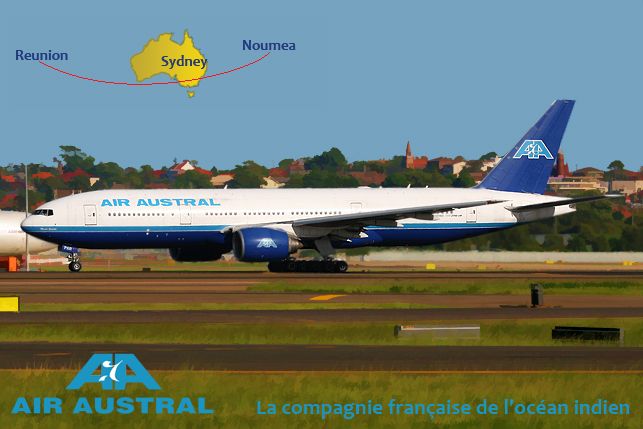 "We're here this early to catch the Air Austral arrival"
"Right, aren't they from Reunion? I was asked to look into them at work"
"Yea, recently launched flights here"
"Didn't know that. Where is it coming from? Bangkok or something?"
"No from Reunion. It makes a stop in Sydney and continues to *@%$#@"
"I'm Sorry, to WHERE?"
"*@%$# It's in *&^%$##"
"Where the hell is THAT?"
I N T R O D U C T I O N
And in two shakes of a lamb's tail, one spotting trip in Sydney back in early 2009 had pretty much formed the foundation of my very last trip in 2010…
It was only a few months before then when I was recently acquainted with Air Austral, only to ensure that their prospect for work was very minimal, if anything at all. But however, the fact that such a small island somewhere, with an airline that had (at the time) announced an order for a few B777-300ER's was nothing short of intriguing. Where the hell will they fly them to? And does the 77W even fit on the island?
I still had no idea where Nouméa was, when I was only just concluding my acquaintance with the whereabouts of Réunion. But knowing of the existence of an Air Austral same-plane service to the Islands of New Caledonia on a two stop milk-run was just what I needed to know; eventually it was going to happen.
Simply put and as its slogan says, Air Austral is the French airline of the Indian Ocean. It provides an ultra-boutique network of scheduled services from its home base in Réunion, to destinations across the Indo-Pacific African region, Bangkok, Sydney, Nouméa, and has an extensive reach to destinations in France such as Paris, Lyon, Toulouse, and Marsielle. And since the island of Réunion is technically part of France -as opposed to a colony- I think it is also safe to assume that Air Austral has some of the world's longest domestic flights!
Air Austral's stongest point -and for obvious reasons- is to connect Réunion Island to its flesh & blood in France, and while doing so, the airline can also boast some minimal -and rather unique- networking of traffic between France and Australia, and neighboring Indo-Islands such as Mauritius, Seychelles, and Madagascar, to places like South Africa and even as far as New Caledonia. Connect who to where and what to why???
When looking at the global map, none of these islands are visible on a typical view. Yet, there exists an entire world of airlines down south, plying the hell out of the Indian Ocean doing just about what any other airline would normally do, only unobstructed by today's competition that seems to take center stage further up north on planet Earth!
Not much attention is normally drawn towards Air Austral, and frankly, I really don't think the airline cares. They are proud enough to maintain their legacy mandate of connecting to France and its overseas colonies, and will do anything to keep this ball rolling -even if it involves the purchase of all Economy Class A380's and fully decked out B777-200LR's to do so.
They may not care, but I am here to shed some light on this airline as I embark on one of their flagship routes.
Join me!
Loisirs avec Air Austral: Réunion - Sydney - Nouméa
CONTINUED BELOW