Introduction
Welcome to the second trip report of my MTY-MDZ journey. Here the MEX-FRA flight is covered. Please enjoy and feedback is appreciated.
Date: Tuesday, November the 30th, 2010
Flight: Lufthansa 499 MEX-FRA
Fare: C, seat 3A
Scheduled Dep: 21:20
Departed: 00:20
Wheels up: 00:35
Plane: Boeing 744, D-ABVA first LH 744. Didn´t get the name.
Top of descent 17:51 FRA local
Touchdown: 18:16 FRA local
Time en route 10hrs. 41.mins. (According to FlightAware) I would have swore it was 11:00 hrs
At MEX
After I exited baggage claim ( see Journey: MTY-MDZ; Part 1 MTY-MEX On Interjet (by AR385 Nov 30 2010 in Trip Reports)) I found myself at one end of MEX´s Terminal A. I would not have worried about that, if MEX was at sea level and my physical state was of the more athletic persuasion. But it is not, MEX is at around 2,240 mts above sea level and in recent years I´ve neglected exercising as I should. That walk, from National Arrivals to International Departures (check in desks) can be brutal. They need to either install walk ways or little carts.
I was in no hurry, as that morning a nice fellow a.netter, Oly720man, had informed me that the inbound LH 498 flight had departed FRA with a 3.5 hour delay. I already assumed then, that instead of the 21:30 MEX-FRA departure of the return LH 499, it would leave at least at 00:50 So it was a nice stroll to the second floor Star Alliance check in counters where LH is located. On my way there I passed by the recently arrived Avianca flight crew. Their red uniform looks great and it is very elegant.
Check In
There was not much of a line and I went to the Business Class Counters where a Mexican cheery check in agent took my passport and my E-ticket. I decided to confess that my final destination was EZE, so she could check my baggage all the way through. This is the first of many times (aside from my family) where I encountered this "What the Fuck? " stare. "You are going to EZE? WHY VIA FRA"- She looked at me with wide eyes. I told her I had to be in FRA at the same time I had this trip to EZE.
E-ticket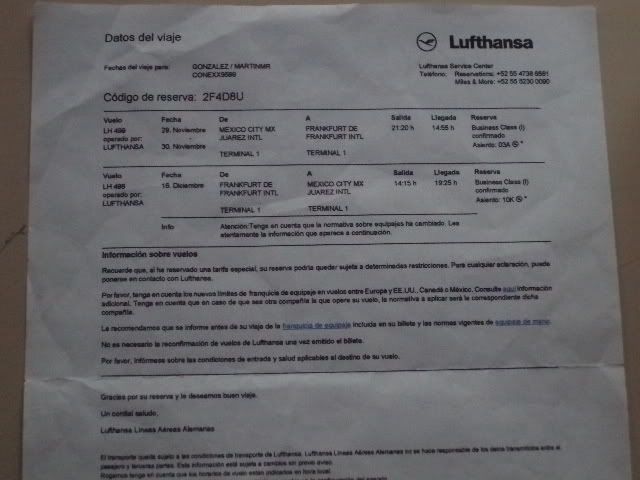 She was unable to give me the boarding pass for the FRA-EZE flight, as it was a separate ticket but she did send the luggage through to EZE. At the moment she handed me the boarding pass she gave me the Delay Speech. "The flight will be arriving at MEX at 22:30 (They were able to cut some flight time en route) We are expecting to depart MEX at 00:00 and we apologize for the delay. It is due to this Winter weather they are having in Germany". She then gave me a pass for the United Red Carpet Lounge. I took it, thanked her, and proceeded on to the airside area.
Luggage tag
Airside
The gate assigned for departure was MEX gate 31 at Terminal A. By the time I left the LH check in it was 19:05 I then proceeded airside, since I had no interest staying landside and had no trouble passing security. They did not ask me to take off my boots. After passing security, I got confused. I arrived in this huge mall of Duty Free shops where I really had no clue where to go. The way to the gates was clearly signaled, but signs for the way to the United club was non-existent. So I decided to walk towards gate 31 in the hope that I would find it on the way.
Big mistake. I decided to ask when I got there (completely winded) the way to the United club in some Information booth and basically it was exactly the opposite way I had come and further behind, as a matter of fact. I ought to have turned right, instead of left at the Duty Free mall area. So I started to head back. On my way back I passed a group of the recently arrived BA flight crew. They were all sipping Starbuck´s coffe and from what I heard in passing, they were planning their night out. I also, at gate 31, got to see the BA 744. I have to say it is one of the smartest looking liveries on the jumbo.
The walk at MEX once airside. It does give you an idea though of the immensity of the mall you find yourself in at MEX.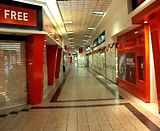 Panting, I finally got there. It has to be one of the lousiest Star Alliance clubs out there. They´ve got Wi-Fi, sure, but it works on certain parts of the club. The seating looks old, they do have a good selection of alcohol but foodwise they only had some sad, sad looking sandwiches, a few cookies and some cold cuts that I wouldn´t touch with a ten-foot pole. It was full of Germans and a few Americans going to LAX.
One of the two food stations of the red Carpet Club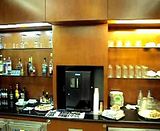 Since I am an Insuline dependent diabetic, I was carrying my Insuline with me in a specialized medical cooler for such substances with frozen gel packs. After all the walking and the hours, the gel-packs were starting to melt. I went to the Club entrance and asked the lady if she could please put the gel in the freezer and the Insuline in the refrigerator. She was really smart about it and promptly took both the gel packs and the Insuline and took them to the counter. The reality is that toward that issue I found people to be very understanding throughout the trip. More on that later.
Second time getting to gate 31, see the boarding line in the distance
Boarding
At around 23:10, I decided to leave the united Red Carpet Club or Lounge and head for Gate 31. This time I decided to take my time so as not to arrive all drenched in sweat and panting. The walkways were working. Apparently they only turn them on when they know people are headed to the other end of the terminal (gate 31 for example) within a certain amount of a flight´s departure time. Nice surprise. I arrived at the gate and I found two lines already formed. One for Business/First passengers and one for THE REST. I debated whether to sit down or join the first line. I decided to join in and 10 mins. later they called both C and F passengers to proceed on to the plane.
Although I was travelling C I am of the opinion that there ought to have been a distinction between C and F passengers and what I mean by this is that F passengers must have been called to board first. Maybe even only 5 minutes before. After all, if the F cabin is full, they would only be 16 passengers but I do find it rather unacceptable that C and F passengers have to join the same line, and be called to board at the same time. The difference in fare is, after all, pretty significant on LH. I do not even know if F LH passengers get to occupy a different lounge at MEX other than the lousy United Club we got.
A significant detail is that gate 31 has two bridges. One for C and F passengers, that joins the gate with L1 door and another bridge that joins the gate with L2 door for the THE REST. Maybe this is not new. But the last time I boarded a long haul flight at MEX was a LAN 763 to SCL and I did not notice this type of gate. An excellent concept to be used at MEX.
At both the UA Club and at the gate I was unable to do any spotting, although I had my camera with me. From the Club, even on the side that faces the runways the glass seemed impenetrable and although I was able to hear the planes it was impossible to see them. I apologize for not posting any pictures but I found out that MEX is notoriously impossible from a spotter´s perspective at night in the international departures gate area.
My BP, the start of my LH travels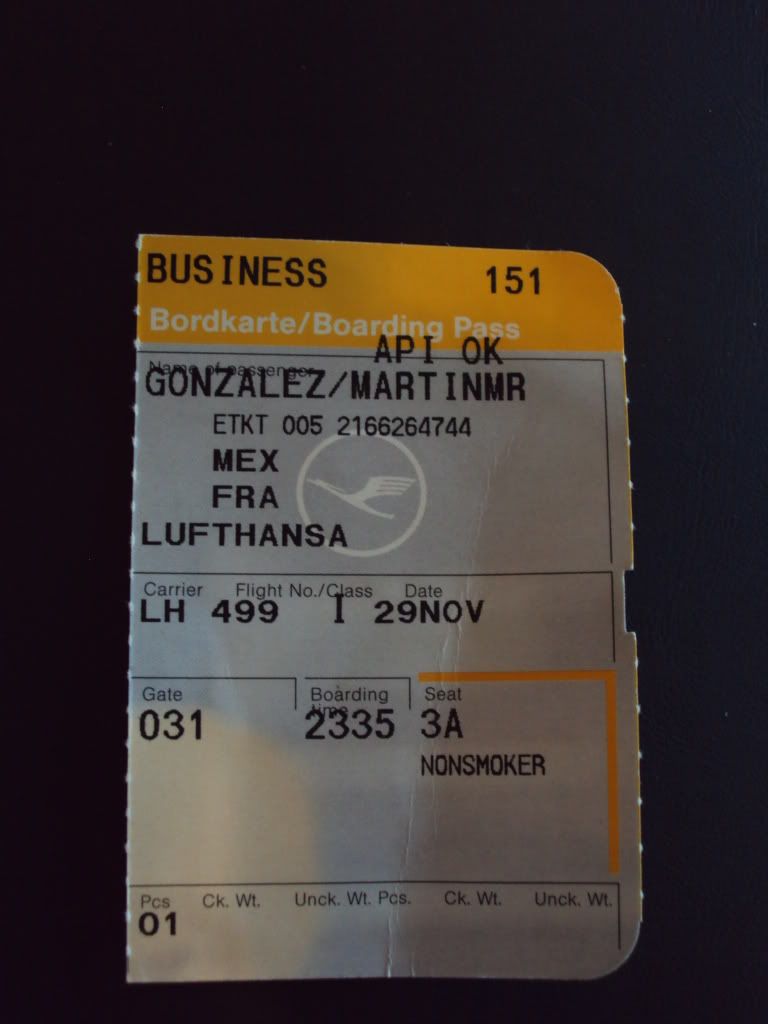 The 744
I proceeded down the bridge and entered the 744. My feelings at that point were pretty good. I was, for the first time in five years, joining a long haul flight that was to deliver me to a much needed and cherished vacation. On a plane I loved, that I had never had the privilege of experiencing, on a great airline I had never travelled on. I joined the cabin, headed left and found 3A. Sat down and savored the moment.
I had a nice, travelling companion sitting on 3B. A mature Swiss lady heading to Zurich. I did not see any FA, except for the one on the door that pointed me to my seat. Although I did see them while seated, periodically heading for the closet beyond row 1 to hang an assortment of jackets.
Doors were closed and before we left the gate, two FAs came forward with a tray each with Sparkling wine, orange juice and some cocktail with scratched salt on the glass rim that I did not catch the name of. It looked good though, but I took the sparkling wine.
We push backed and the security announcement started on the PTV´s and the screen located in the screen area. It did seem confusing. It was showed first in German, and then it was played again in Spanish with English subtitles. No FA stood by the screen while it played. By this time we were taxiing towards the runway and were probably half-way there. After the video ended, lights were turned off and we continued on to the runway. We passed 5L and waited for an AM 763 to depart on runway 5R.
Take Off
We then joined 5R and waited, seeing the 763 lights disappear in the distance. Then the engines started rumbling.
I would have thought the pilots would have applied power more softly. But no. The brakes were held and the engines were ramped up a bit, stabilized and then pushed all the way (at least it seemed all the way) I felt pushed against my seat and we launched forward. I can only describe the engine sound as: WaaaaaAAAAiiiiIIIIIIIIIIIIIIIIi and after 50 sec. we rotated. I have come to the conclusion that the 747 in all its variations will never disappoint the airplane enthusiast. In my opinion it's the best airplane out there to experience a takeoff inside. Although I have to say that in terms of the way it feels, the 742, pratt powered, still beats the 744 at takeoff.
Menu
Hors d´oeuvres
Trilogy of Smoked Fish with green Apple Horseradish
Smoked Duck with Shiitake and Vegetable Japanese Style
Entrees
Beef Roulade with Red Cabbage and Sliced Bread Dumplings
Schuhbeck´s Fish Curry with Rice
Ricotta and Spinach Cannelloni with Roasted Tomato Sauce
Cheese and Dessert
Roquefort and Chihuahua Cheese with Pecan nuts
Ginger Bread Mousse with Plums and Caramelized Nuts
Fresh Fruit
Brunch
Entrees
Fruit Salad
Bresaola Meat, Black Forest Ham, Manchego and Panela Cheese
Or
Scrambled Eggs with Chorizo Sausage, Oaxaca Cheese, fried beans and Tomato Concassée Sauce
The wines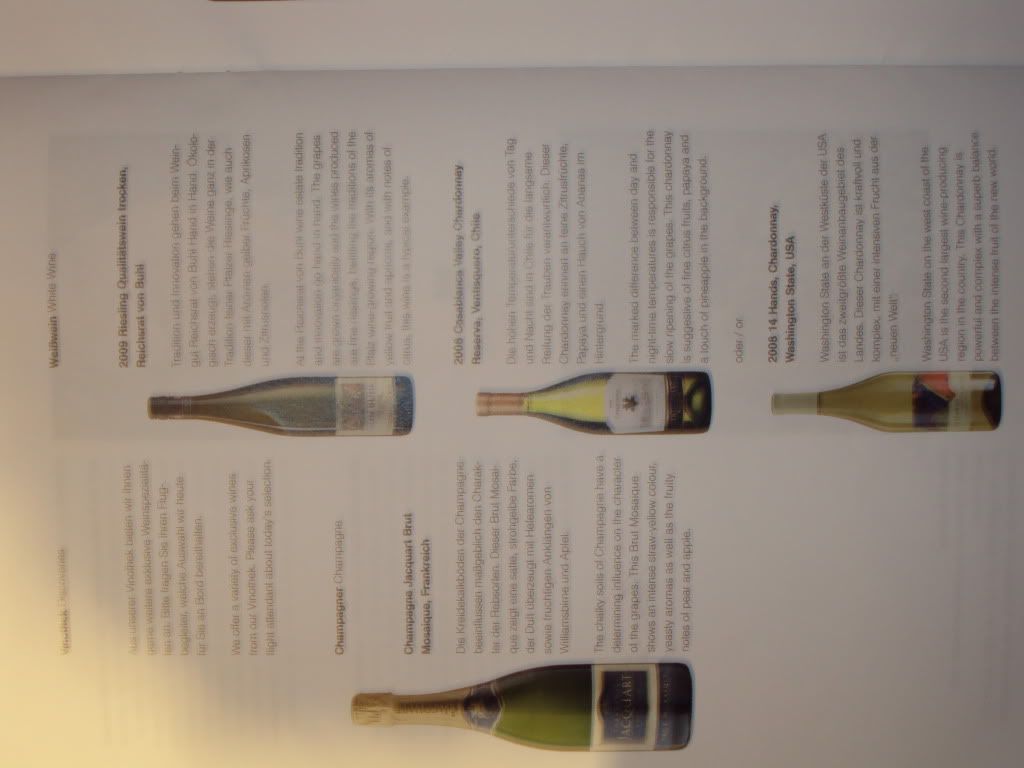 Dinner
After we reached 10,000 ft. the FAs came forward, handing the passengers the dinner menu. I chose the duck for a starter and the curried fish for main. The FA came and set the table, putting a white mantel. Then a tray came with a pepper and salt shaker as well as a plate with Rochefort and Chihuahua cheese. The rest of the dishes were brought individually on a plate and set on the tray. Different types of bread were offered. They were warm and excellent in texture. They seemed as if they had just gotten off the oven.
First I had the smoled duck. It was rather fatty and heavy. It was too cold also and frankly it felt like I was eating a piece of raw bacon. So much for the bird.
Then the curried fish was brought along. It was excellent in temperature and excellent in texture, and also had a few random shrimp floating there in the sauce. The taste was ok, but rather bland, not the strong curry I am used to.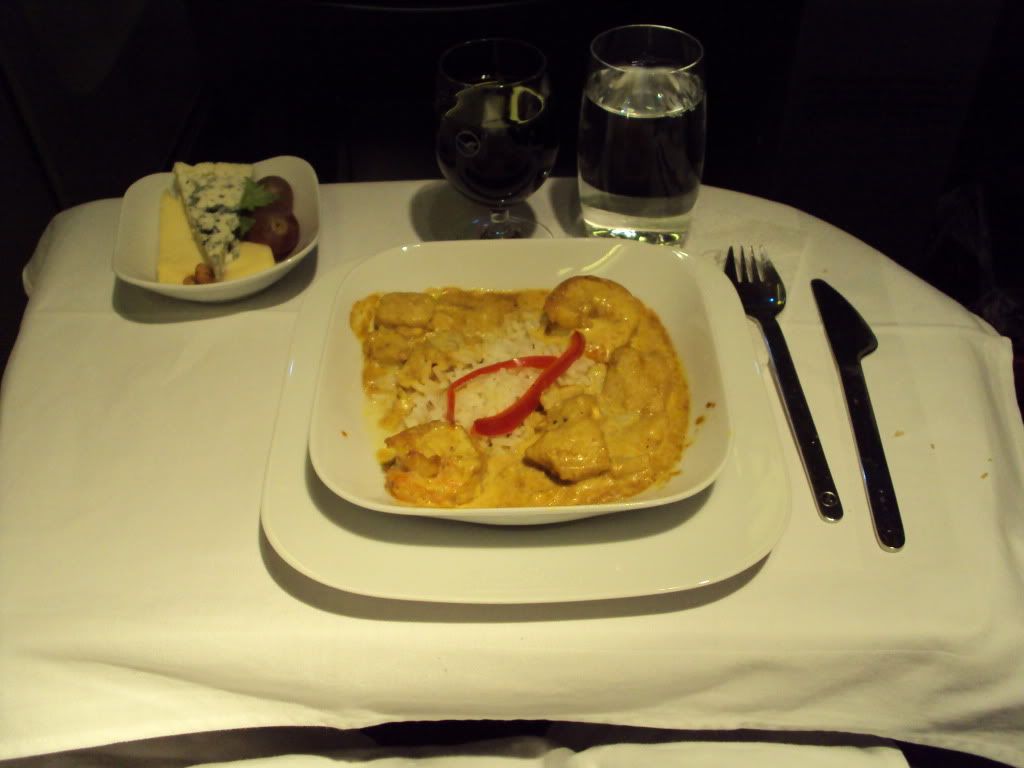 Dessert was Ginger cake or fruit. I took the fruit. Melon, some random, tasteless black berries, and grapes as well as some pieces of orange.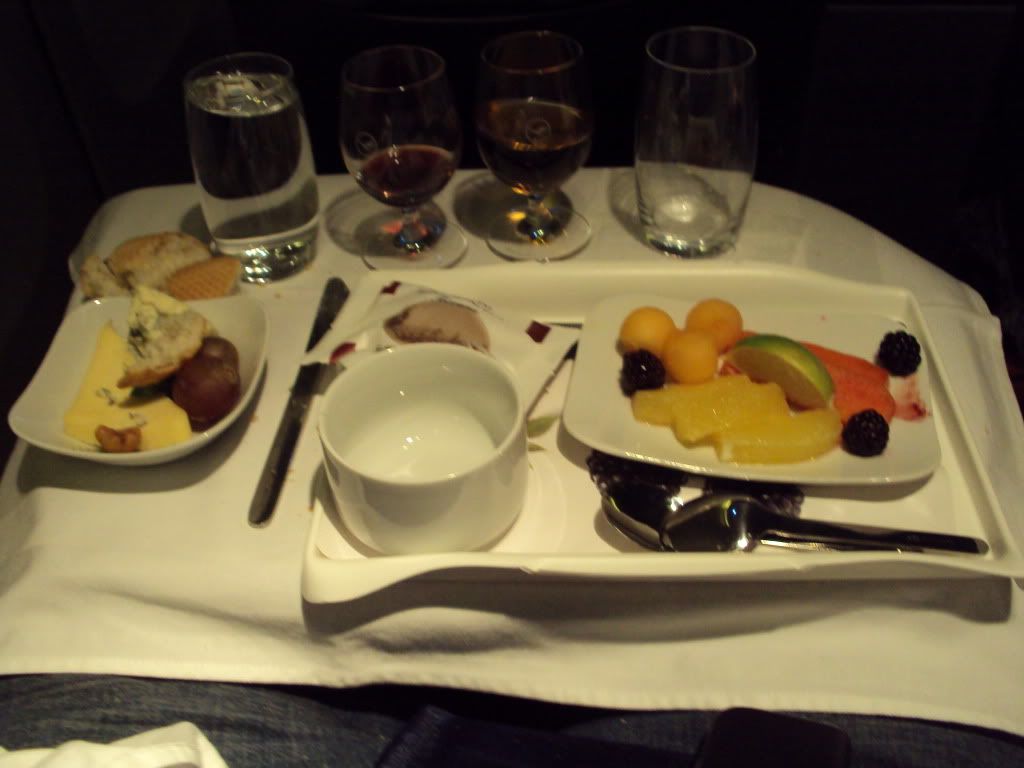 In the drinks department, I started with the sparkling wine, and then asked for a red wine shown on the wine list given to us, but unfortunately it had not been loaded. The FA profusely apologized and offered me another red wine which was pretty good. For a digestiff I asked for a Cognac. I do not remember the exact type, but it was one of the upper VSOP Remy´s. Tasted excellent.
Before dinner it was time for my evening Insuline shot. So I headed to the bathroom and realized that I no syringe with me. I felt pretty stupid because I was sure I had packed some. Well, nothing left to do but ask the FA. She told me that they had some, but to open that kit, only the Purser could make that decision. She went and talked to him and less than five minutes later the purser came over to my seat and addressed me by name. "Mr. Gonzalez, my name is XXX and I am the Purser for this flight. I understand you have a small problem?" I explained the situation to him and apologized for my oversight. He said not to worry it was no trouble at all and he left and came 3 min. later with two insulin syringes. So that was solved, and very professionally I think.
After dinner was over and the plates were taken away the FA on my section came over and told everybody in our side of the plane that f we wanted to be more comfortable to sleep, there were seats available in other sections of the C cabin. The C cabin by the way, is big on this aircraft. It starts at the nose area and goes all the way to door #3. Since there were no window seats available on the other two C sections I chose to remain in my seat, but alas, that was not to be.
The IFE, Lufthansa Media World
I watched a few TV shows on Lufthansa´s Media World. I´m not really interested in those IFE´s that have thousands of movies. After all, there´s so much you can do on an 10:30 hr. flight. You will eat, you will sleep. Myself, I read a lot too. So in terms of quantity I find LH´s IFE more than adequate. However, I do believe that the quality of the programming can be improved. In particular the TV shows. Some are rather out of date and not because they could be considered "classics." The screen is not huge, but big enough. The IFE control is intuitive and easy to use.
Screen
The Recaro seat
The seat is another story. That Recaro contraption has to be among the most uncomfortable C class seats out there. While in the seated position it passes ok, even in the cradle position it is so-so. When in the lie flat position, however, it´s just terrible. And by the way, my seat could not recline, so I had to call the FA. She came over and tried to reset it by doing something at the base of the seat row.
After trying for a few minutes, turning redder everytime she knelt, she told me I would have to move to another seat because this one was not working. I had no trouble with that as most of the two other C cabins were empty and it was dark outside. But I wondered what would have happened if the plane were full, as was the case with my FRA-EZE flight? Would I have had to travel all the way to FRA on a red eye with a non-working seat, being in the upright position the entire time? The way I see it is that these electronic seats are very nice and dandy, but if they malfunction inflight you (and the airline) are screwed. The likelihood of these happening with the other, older mechanical seats is less, I suppose. So something has to be said for more mechanics and less electronics.
The seat does have some space for stuff. The magazine storage is minuscule, though and any medium sized book will have to go in the floor. Upon boarding, there was a blanket and a pillow on top of the seat. On the armerest, towards the back and pretty difficult to reach, were the amenity kit and a water bottle. The headphones, were located inside the armrest. Apologies for not taking a pic of the amenity kit. It was a little gray puch, and very basic.
The tray table is a pain to control, and a pain to store back. Until we got the hang of it, me and my seatmate had to asked for the help of the FA.
When I woke up I returned to my seat and the FA told me that they had fixed it, but that she did not want to wake me. This is something I love about Germany. If something is not acceptable, they´ll fix it. Even though I was already at another seat. For the rest of the flight it worked fine.
My seat, 3A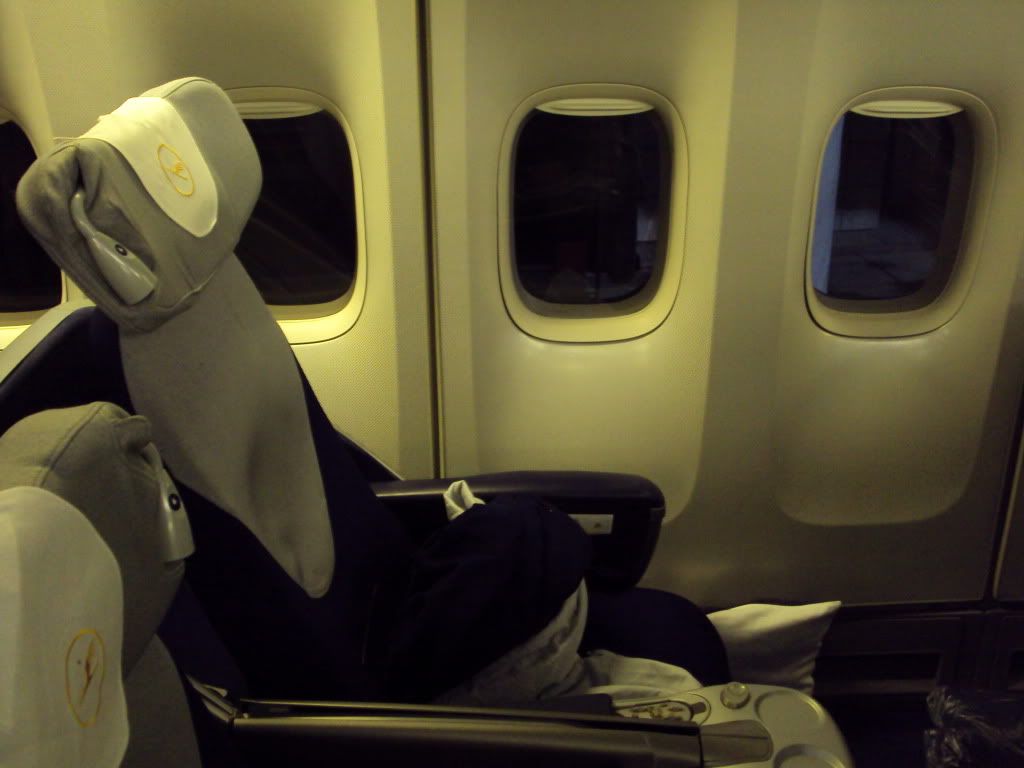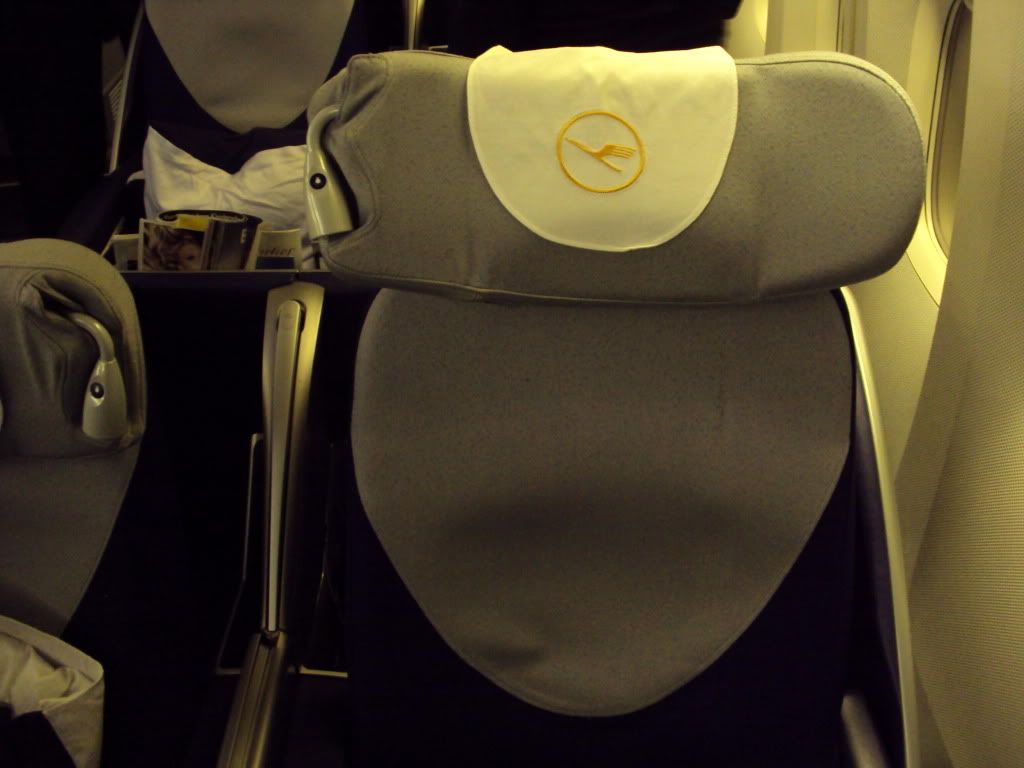 View from L1, forward after dinner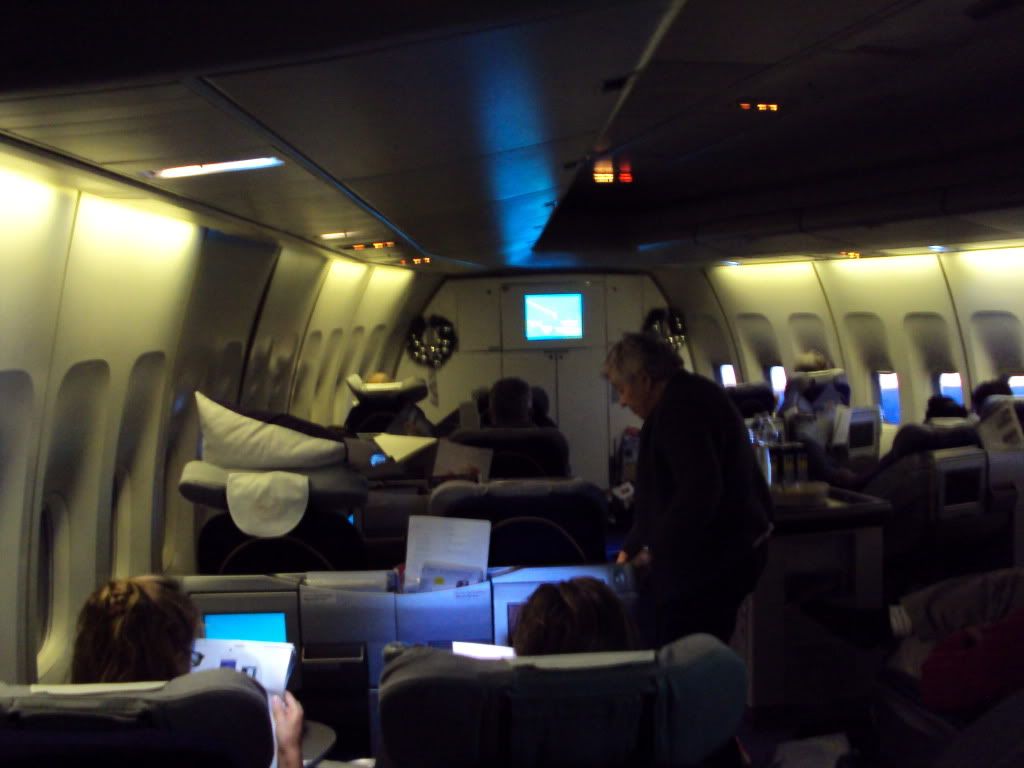 The other cabins, I believe this is section B, behind L1 door, taken upon disembarkation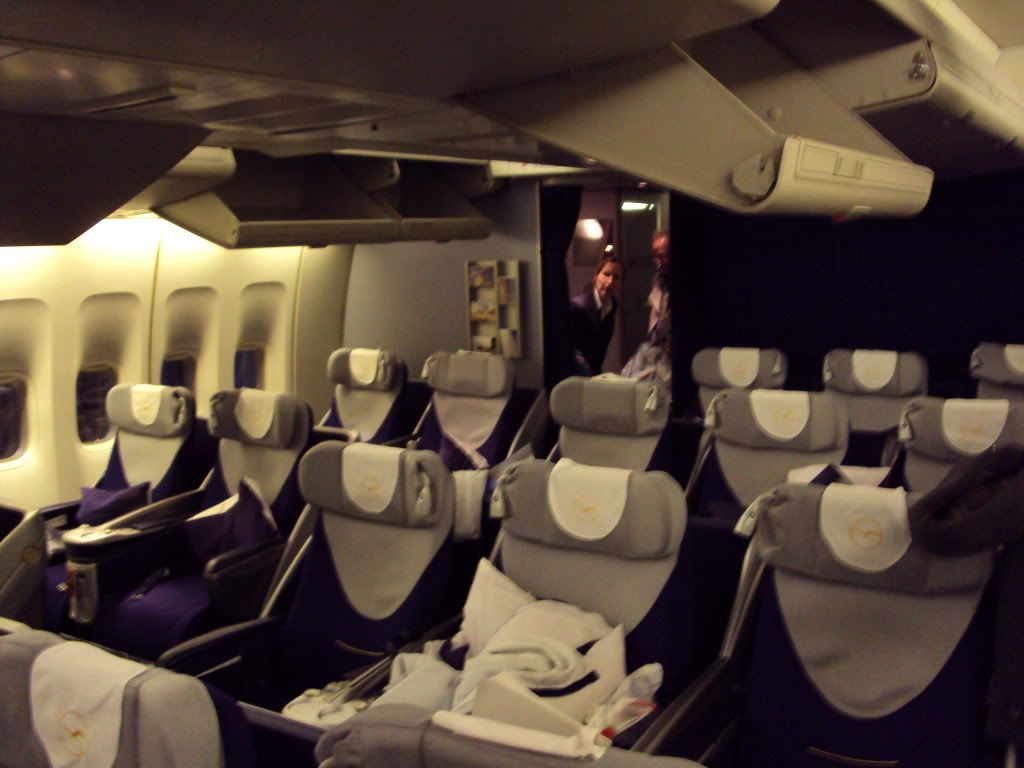 Four hrs. into the flight I moved to another seat and put it in the lie flat position and tried to sleep. As I said before, very uncomfortable and at some point I thought sleep was a loosing proposition. In te extended position, my legs, from my knee down were flotating, since the down angle of the seat makes it necessary for your hip to be as flexible as that of a cat, if you want your legs to embrace the seat all the time. And then, you start to slowly slide down. I finally got around 4 hours of wakeful sleep, because every 35 minutes I had to wake up to return to my original position.
The Route.
We took a more northernly route than usual. After departing MEX we flew to Pachuca, then passed above Tampico, McAllen, passed between DTW and ORD, above Sudbury, Ontario, North of Quebec, crossed all the Labrador Peninsula, made landfall over Greenland, at Nuuk and headed on to the North of the UK. Not the usual routing. I suppose winds had something to do with it. Initial altitude was 31,000 ft, then we climbed at 2,000 ft increments until we reached 39,000 ft as final. I never noticed our climbs and I usually do.
Northernly route, past Pachuca, TAM headed to McAllen (MFE)
Past Corpus Christy and above IAH
Somewhere East of Ireland. At that point breakfast was in its last stages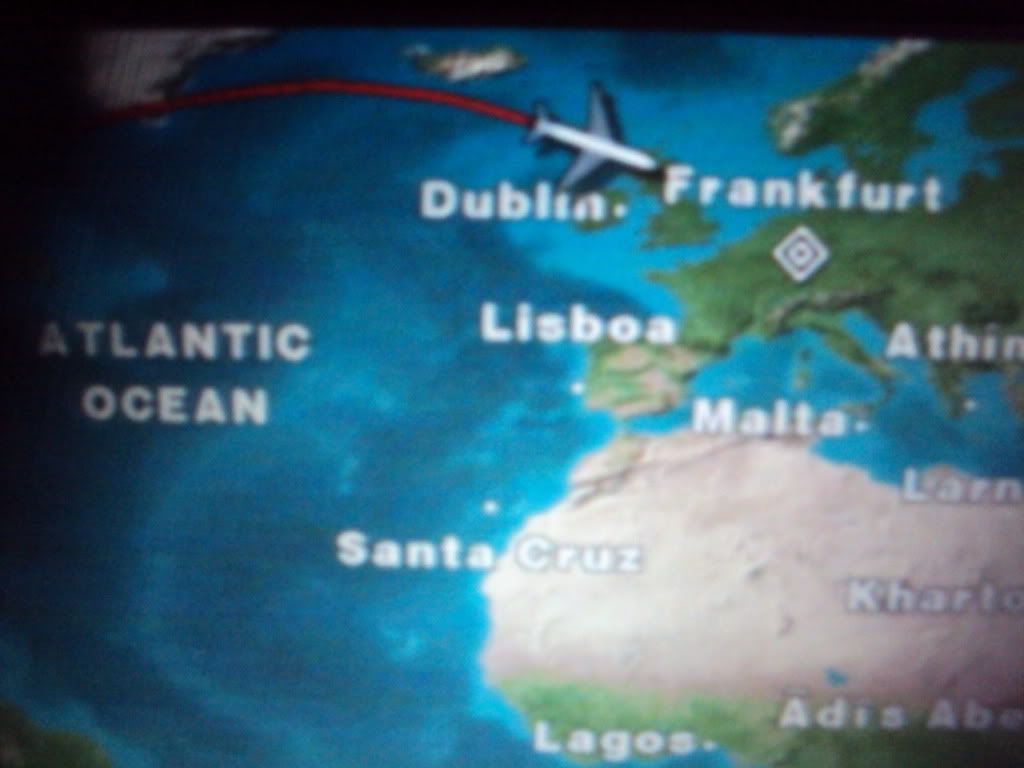 As per Great Circle Mapper,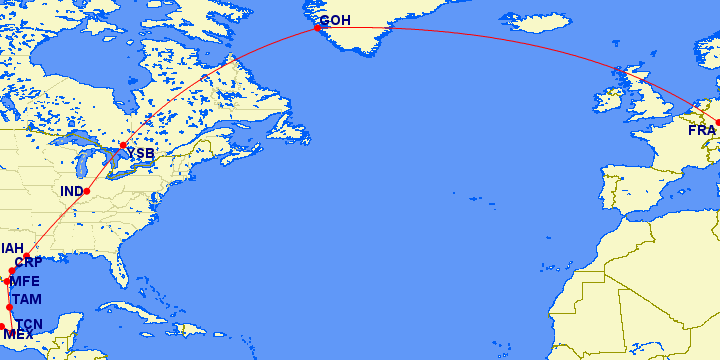 I´m surprised we avoided the Gulf of Mexico. Usually we always cross t and make landfall in New Orleans.
This is somewhere over the Northern UK. I had never seen the ground covered with so much snow. Impressive.
Breakfast
One and a half hours before landing the breakfast service started. I had some juice, and the fruit plate. For the main, I had the "Huevos con chorizo and frijoles refritos". I applaud LH for giving its catering a regional touch, but I do not know if many people would go for a regional specialty as the only hot dish for breakfast. The temperature and the consistency of the eggs were excellent, as well as the flavor. The frijoles refritos were excellent too. Good job there, LH!
Not too many minutes later we started our descent into FRA and I was astounded at seeing so much snow. The ground was all covered in white.
The Ethnic Hot Breakfast Dish. I forgot to take the pic of the fruit plate. My apologies, but, it was just fruit after all.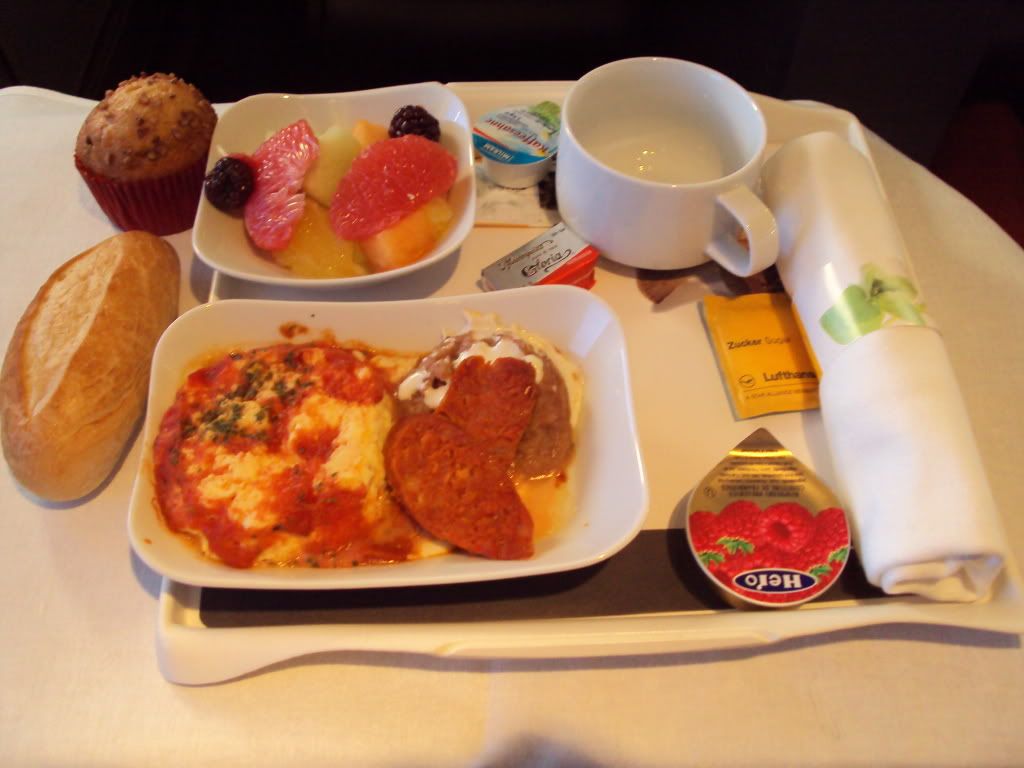 Arriving into FRA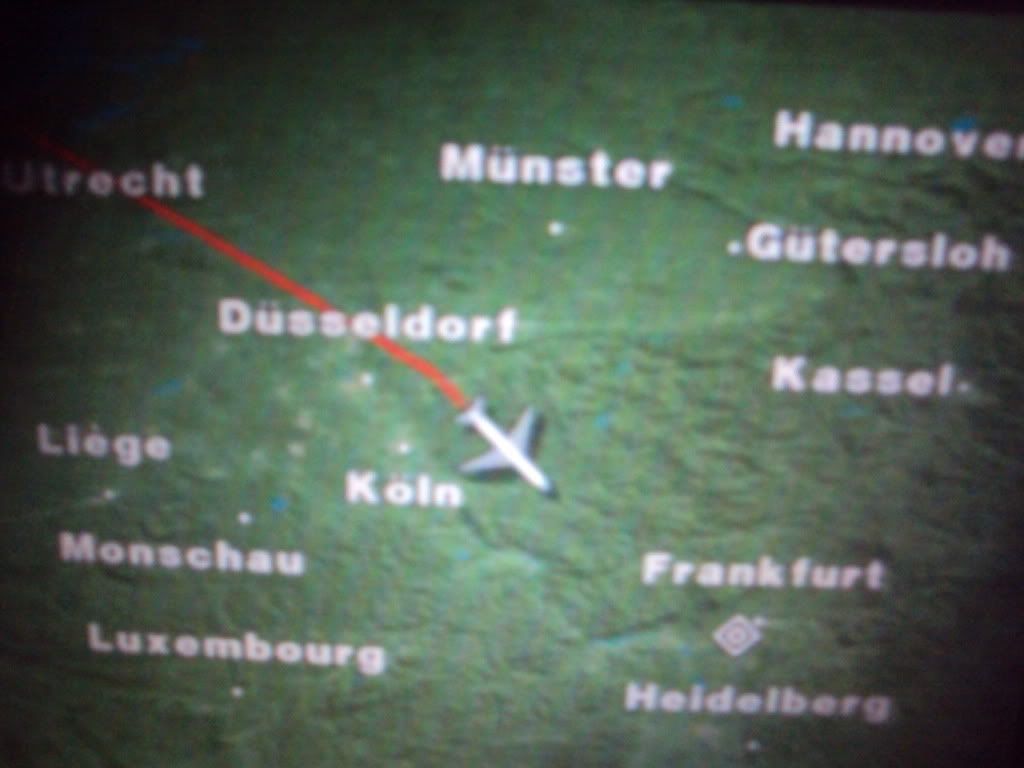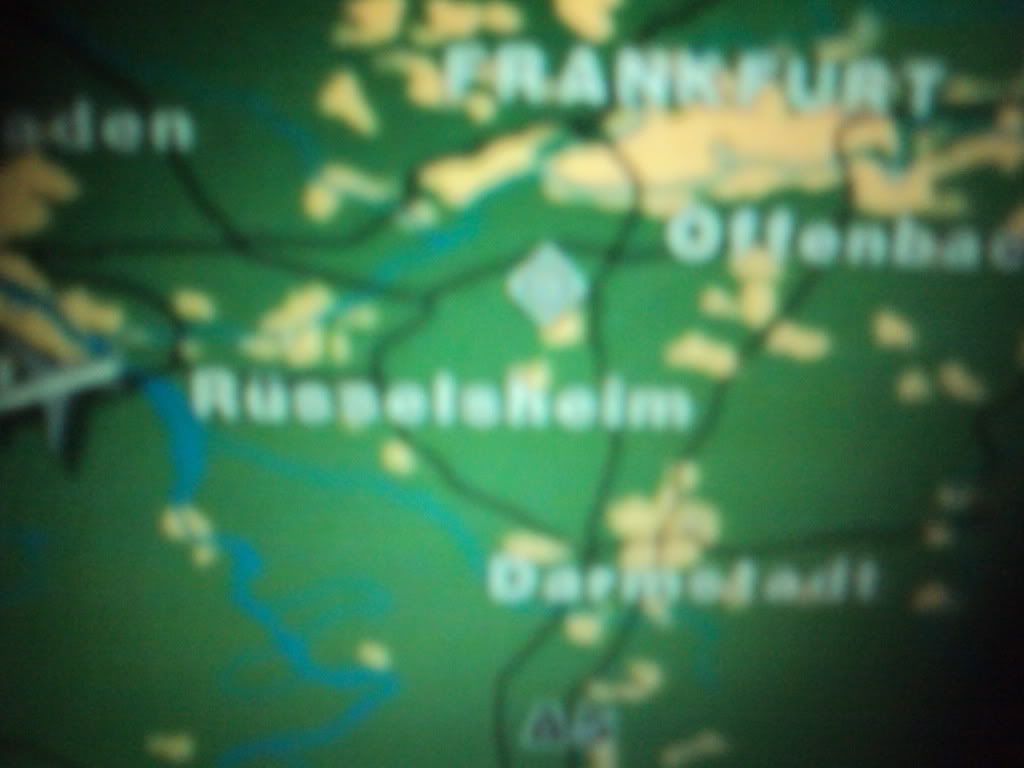 Landing
It was not a greaser but it was not hard either. Something that I felt strange was that when the nose wheel was going to touchdown, it seemed it stopped and floated for a while, then it finally contacted the ground.
First glimpse of FRA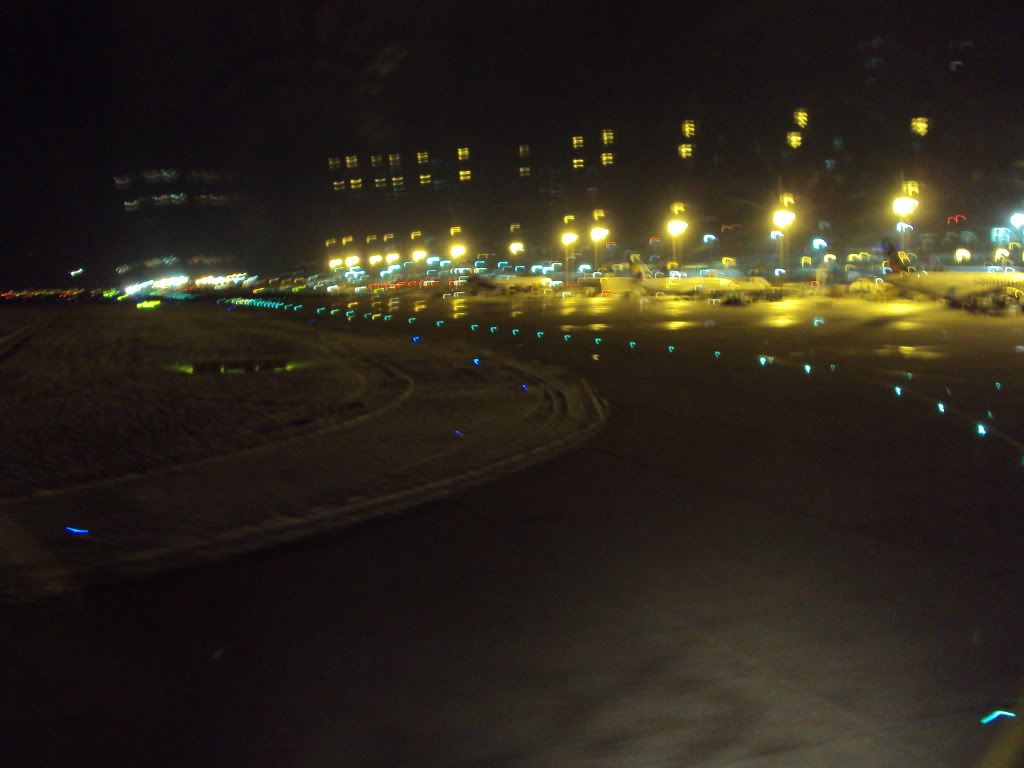 There was not much to see during the taxi, as it was night. A shame, because I was looking forward to do some spotting from the plane. We arrived at the gate, picked up my stuff from the overhead and left via L1. I entered the bridge, and finally realized this adventure had started.
There are a few points I´d like to stress:
1) The professionalism, courtesy and attentiveness of the crew. They were simply outstanding. From the Purser that gave me the two syringes, to the FA that eventually fixed my seat. They never disappeared and every twenty mins. throughout the entire flight you would see and FA walking down the aisle from the front down, seeing attentively if there was a passenger that needed anything. If you were awake, she would approach you to see if you wanted anything, even though they had left a tray in the little bar at the center of the aisle with water and orange juice.
However, the important thing is that there´s a sense you get when you are in the hands of these LH crews, and I experiemented the same on the FRA-EZE leg, that they REALLY know what they are doing and the level of professionalism they display is something you only see with few carriers out there. I think about the C service on AM for example, or even LAN and sadly I have to say they are ages behing their LH counterparts. That no-nonsense but courteous attitude is something I really appreciate.
2) MEX airport is the lousiest airport where I´ve had to connect from a domestic arrival to an international departure. Those walks the airport makes you take are not easy, and for someone out of shape, ill or an older person, they can be brutal. As I said before, they really need to install either walkways or carts, like in some US terminals. Unless they do that, I will avoid MEX in the future, specially for connections where I am travelling for work. Better signage would help, too, although I found the police there, with their orange hats pretty helpful and knowledgeable. I did not find MEX that dead though, as I had read it was due to MX´s death.
3) LH really needs to change their C seats. They are really uncomfortable and can be a downer for the trip. In fact, I would say they are the only sore spot for this LH 499 flight.
Bonus pic, cool Germans. This pic is from the FRA-EZE flight, but I thought to include it here. We were about 35 mins. out of EZE, amazing how fresh the two flight crew look.
Now, I assume that in such a long trip there must be at least 4 crew and the take turns resting flying, landing and taking off. But frankly, I was able to take pic at their bunks and they are just covered by a curtain and there is light all around. How do they rest? I did see the crew meals by accident and boy do they eat good.
Thank you for taking the time to read this and I sincerely hope you enjoyed it. A few of the pictures are not of the best quality. I apologize for that. I was still, at that point, getting the hang of the camera. The people that appear on this report whose faces can be clearly seen, their permission was asked. I did not enter the flight deck, the First Class FA, Mrs.M, was kind enough to take the pic.
The next report will feature the FRA-EZE leg, LH 510 on F
Regards.
MG
**I apologize for the temporary disappearance of the pictures. I understand reading this trip report without the pics must be a mighty dry endeavor. Thankfully that has been fixed, with the understanding and the support of the moderating crew. They have been an outstanding help.
[Edited 2011-02-07 01:03:54 by SA7700]