Flight: EI104
Route: New York-JFK- Dublin
Date: December 6, 2010
Aircraft: Airbus A330-300 EI-DUZ "St. Aoife"
Seat Number: 4C
Departure Time: 1740 (Scheduled), 1830 (Actual)
Arrival Time: 0520+1 (Scheduled), 0555+1 (Actual)
We flew out in Economy Class, and the report is here -
http://www.airliners.net/aviation-fo...ums/trip_reports/read.main/184265/
Check-In
After a nice weekend in New York, it was time to leave. The return flight was a bit of a treat, and I had used 110,000 of my Qantas Frequent Flyer points to get the two seats, as Qantas and Aer Lingus still have a relationship together despite Aer Lingus no longer being a part of the oneworld alliance.
We arrived on the Air Train from Jamaica into Terminal 4 at JFK and proceeded to the Aer Lingus check-in area.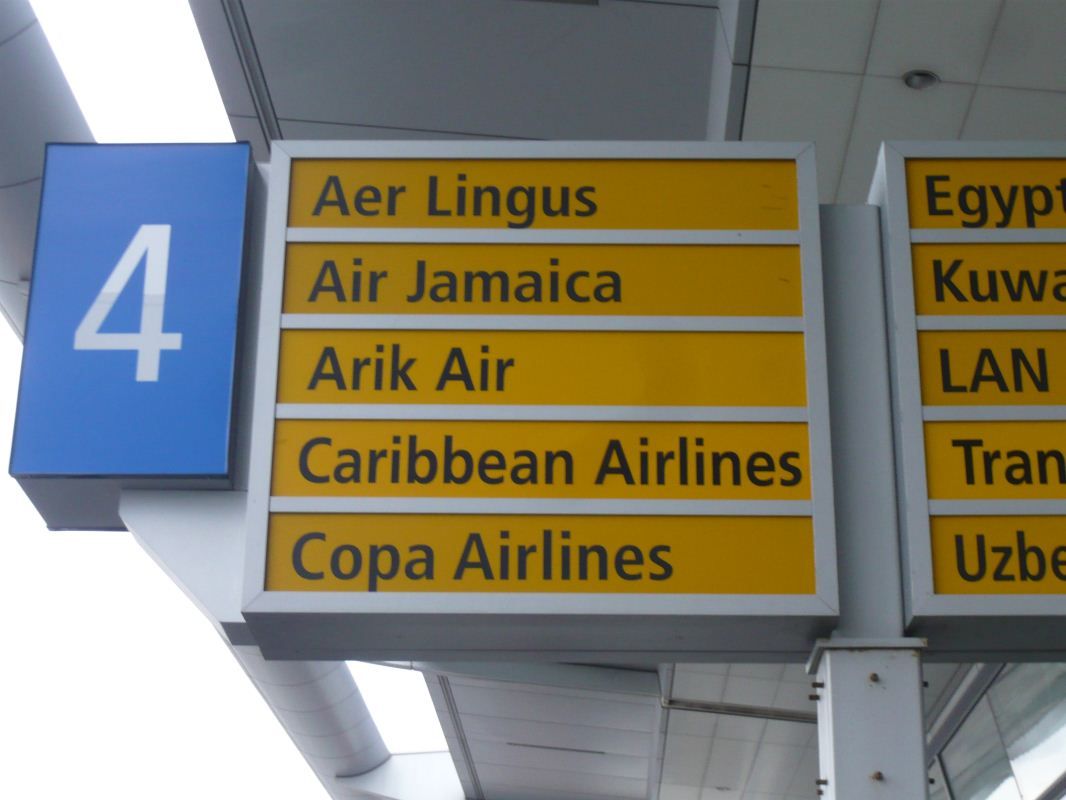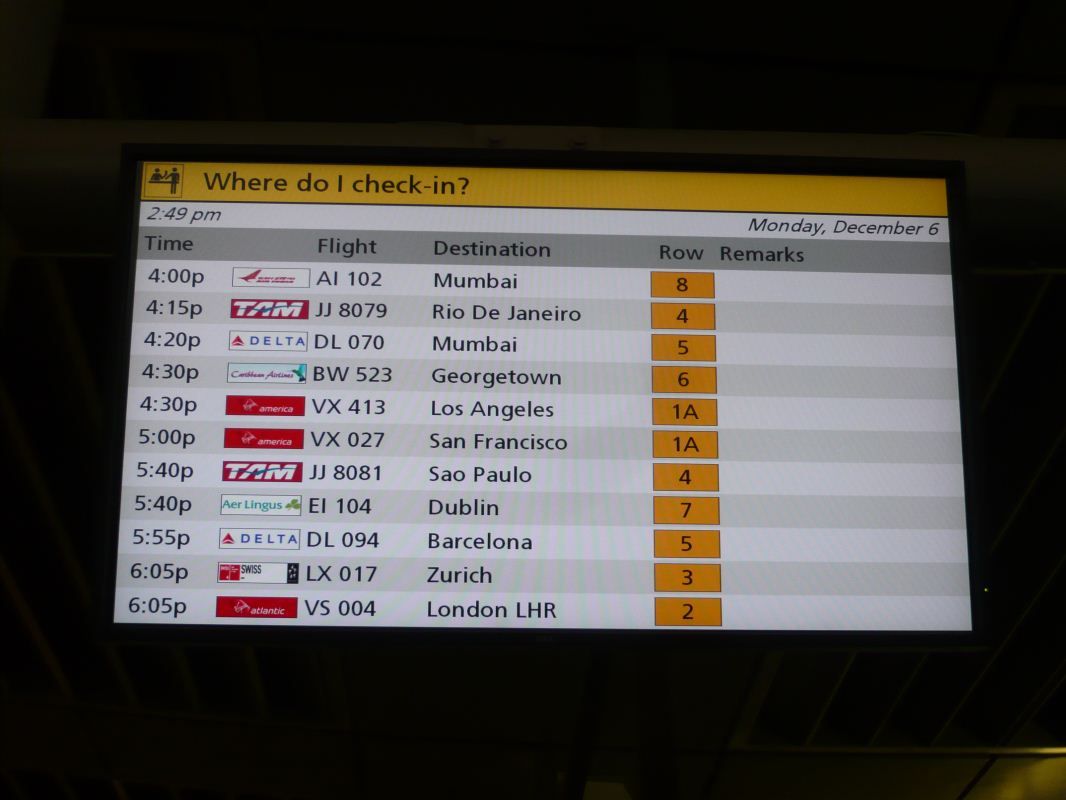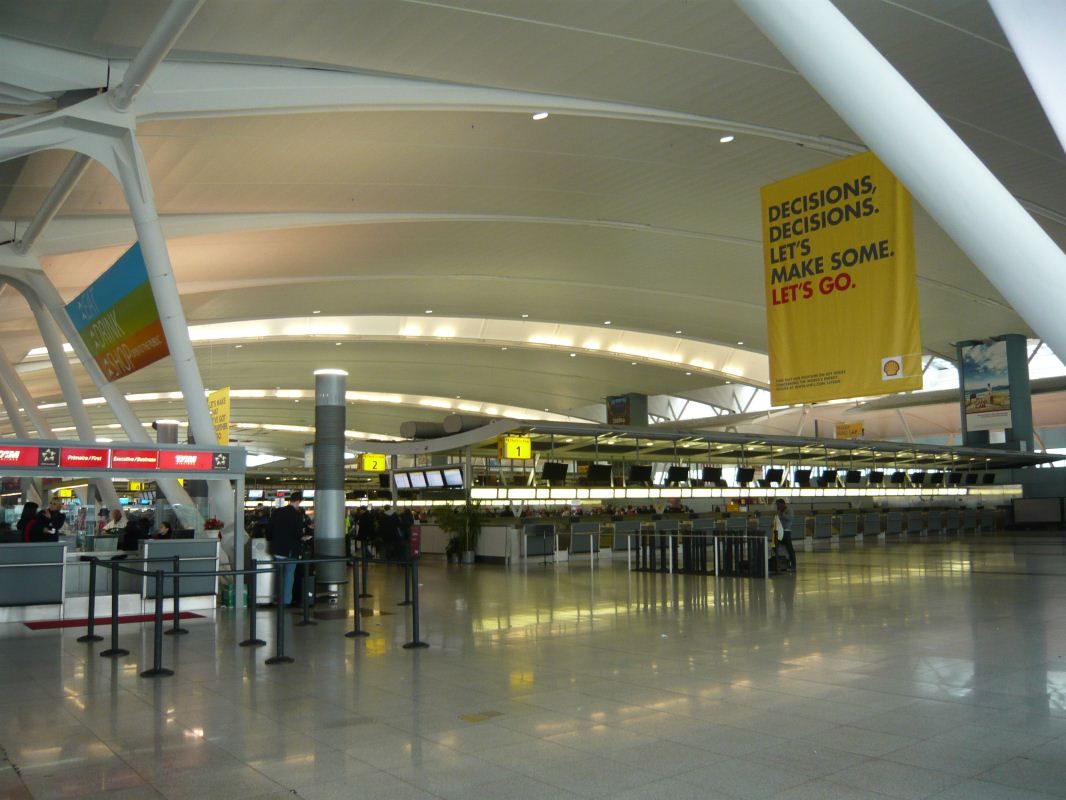 Business Class and Gold Circle Frequent Flyers have their own desk separate from the main check-in and when we arrived we were the only passengers there. The agent was on the phone when we arrived, but she immediately finished her call and we checked in for the flight.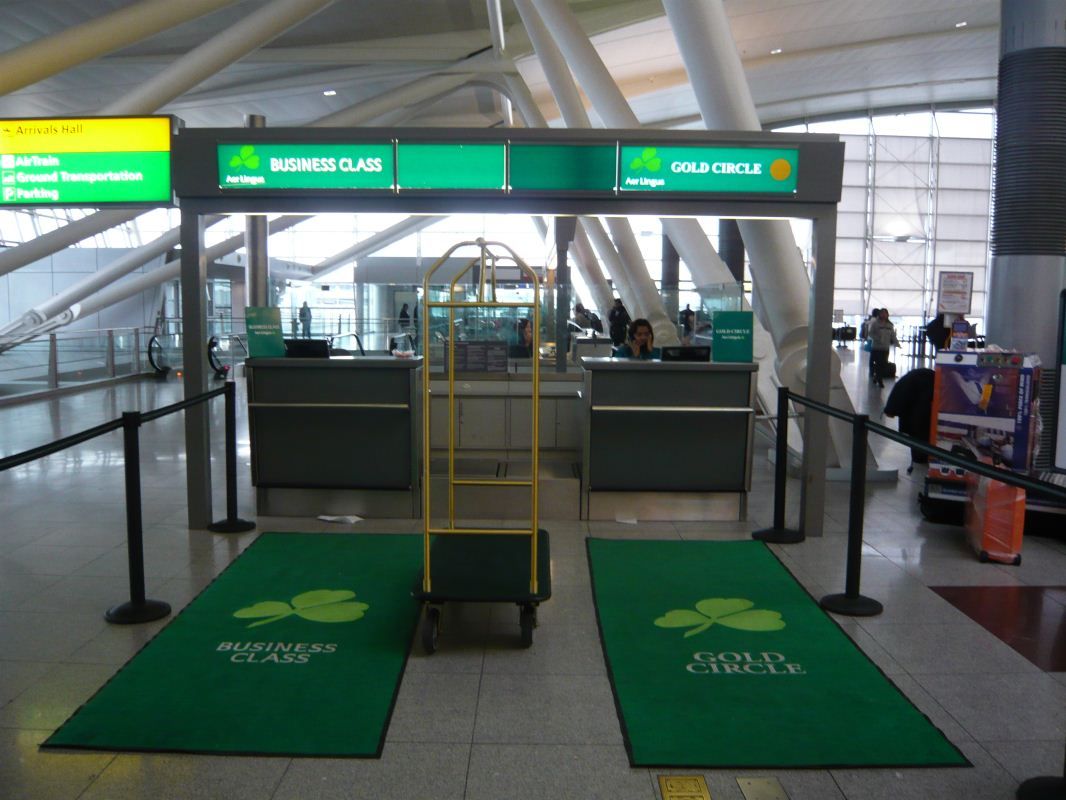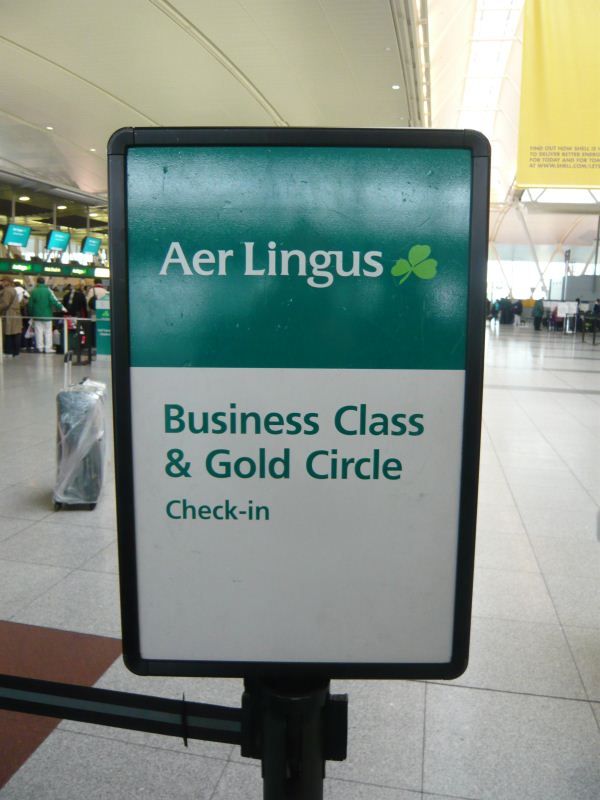 Our bags were weighed, and then we were directed to place them on an ornate trolley in front of the desks for collection.
We asked about the load in Business Class and were told 5 seats were free out of the 24 in the cabin.
Our Boarding Passes were given to us and we also received an invitation to the Oasis Lounge. As we had plenty of time to kill, we went on the Air Train and visited a couple of the other terminals before returning and visiting the lounge.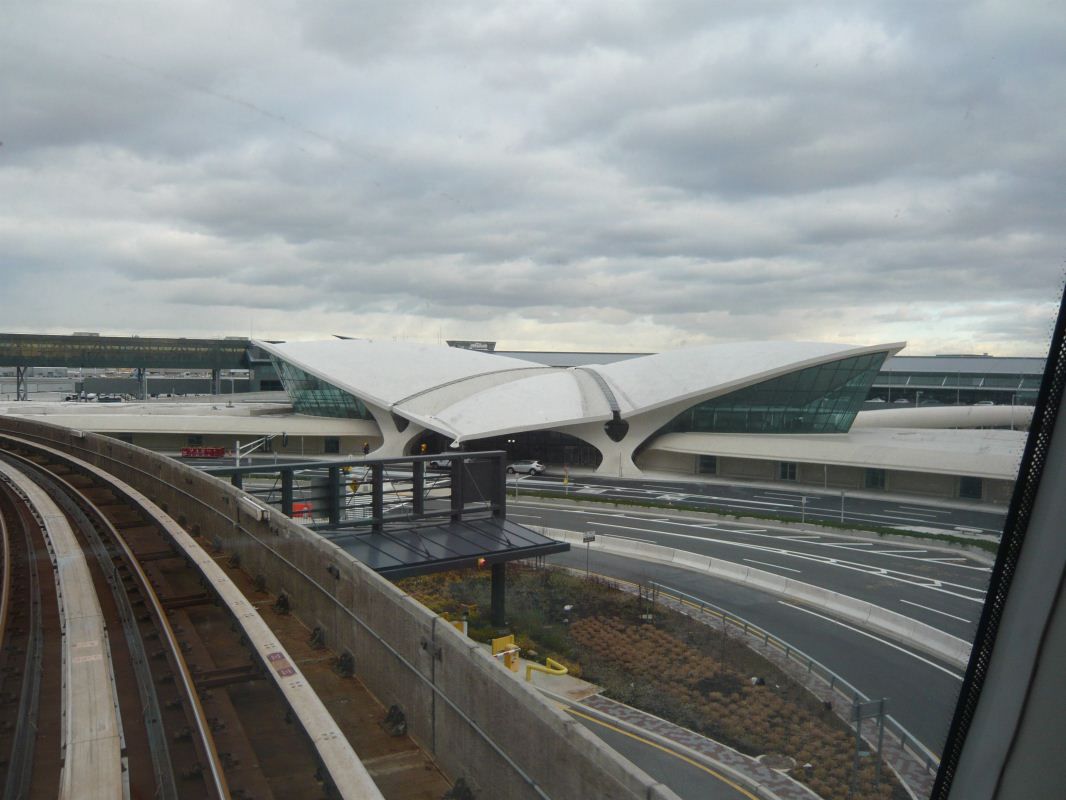 Oasis Lounge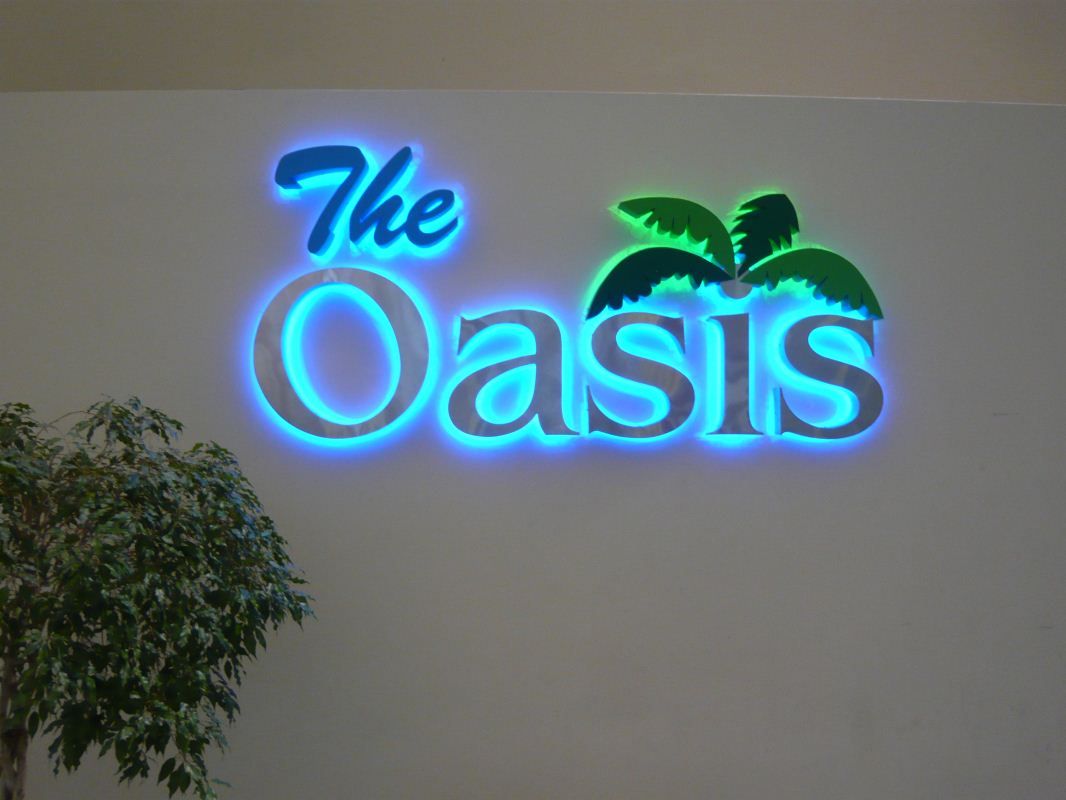 We entered and handed over our lounge pass, and were advised that a boarding announcement would be made in the lounge. In the entrance are cabinets full of china and such, topped with model aircraft from the various airlines that use the lounge.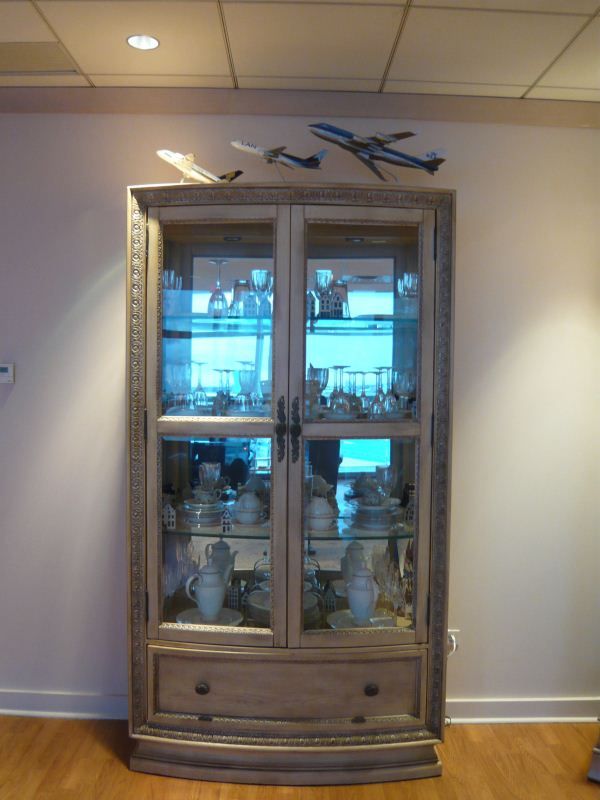 Once inside, the first thing we did was to secure a couple of PCs in the Internet Cafe area to check our e-mails and so on. Access is complimentary (as it should be), so we spent some time there before getting some drinks.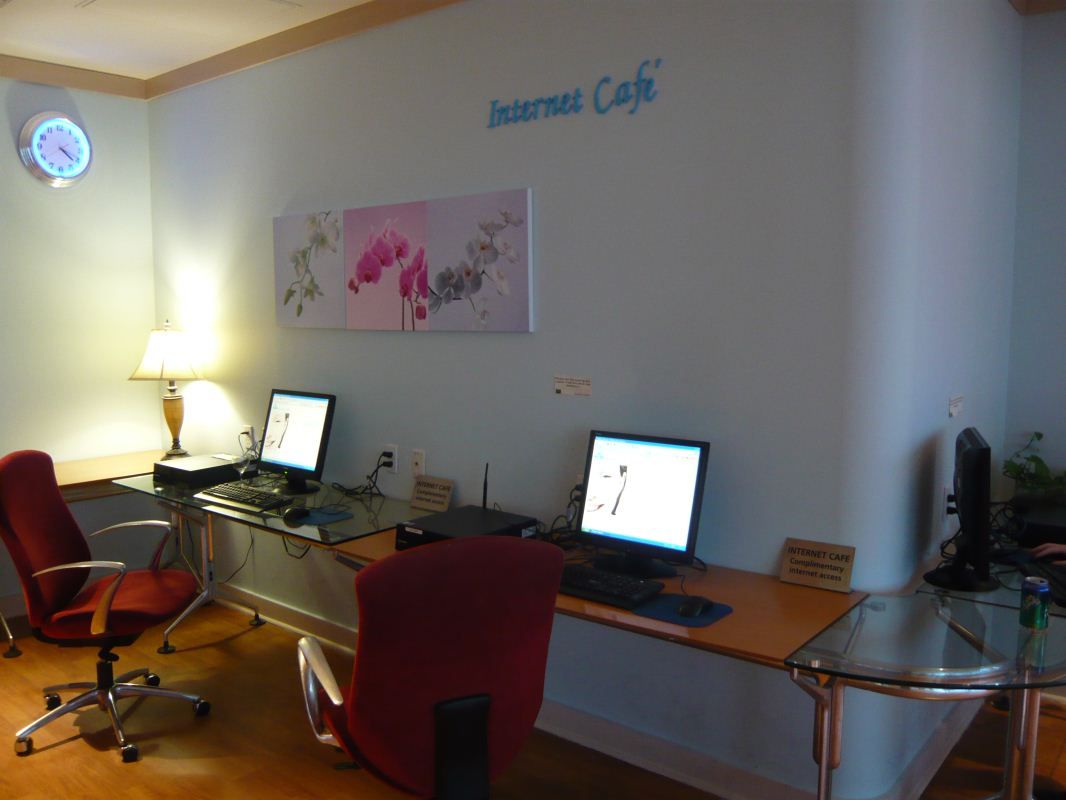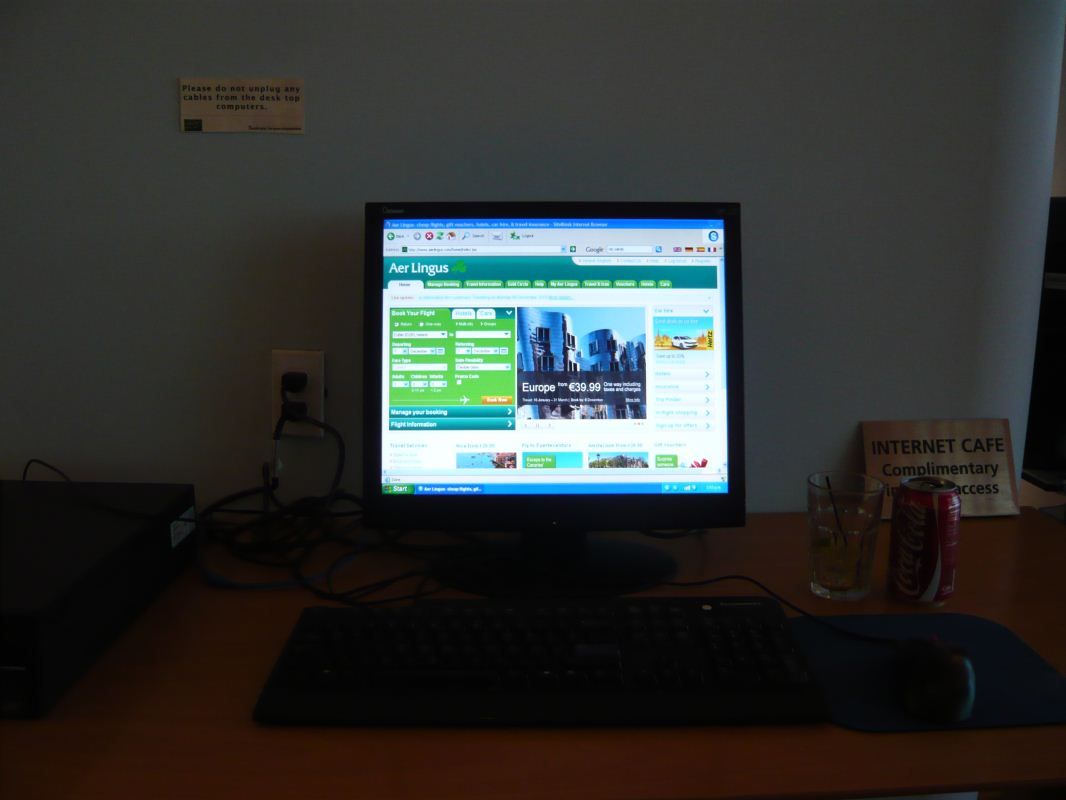 The bar is self service and although there was a sign up that people under 21 were not allowed to get drinks, there was no-one policing this, so Jordan was able to get whatever he wanted. In addition to the bar, there is a television area, and a selection of hot food, as well as other snacks such as rolls, cheese, crackers, crisps and so on.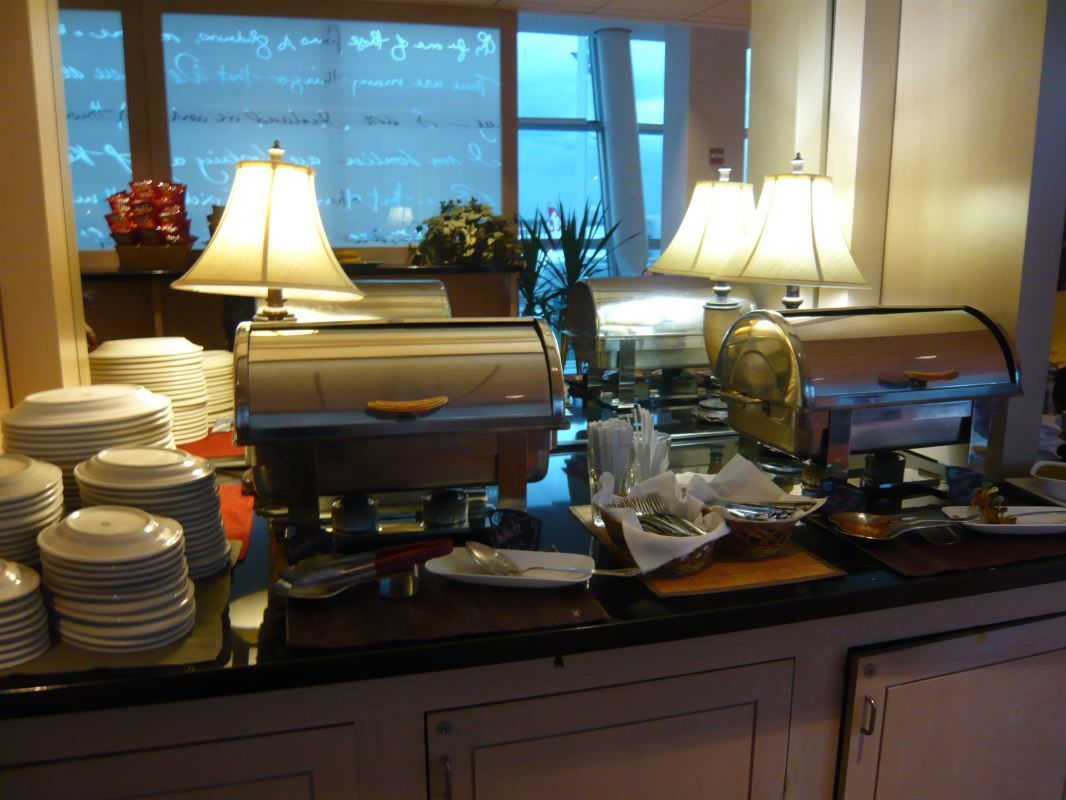 Also in the lounge is a library with books lining the walls, which was an interesting touch.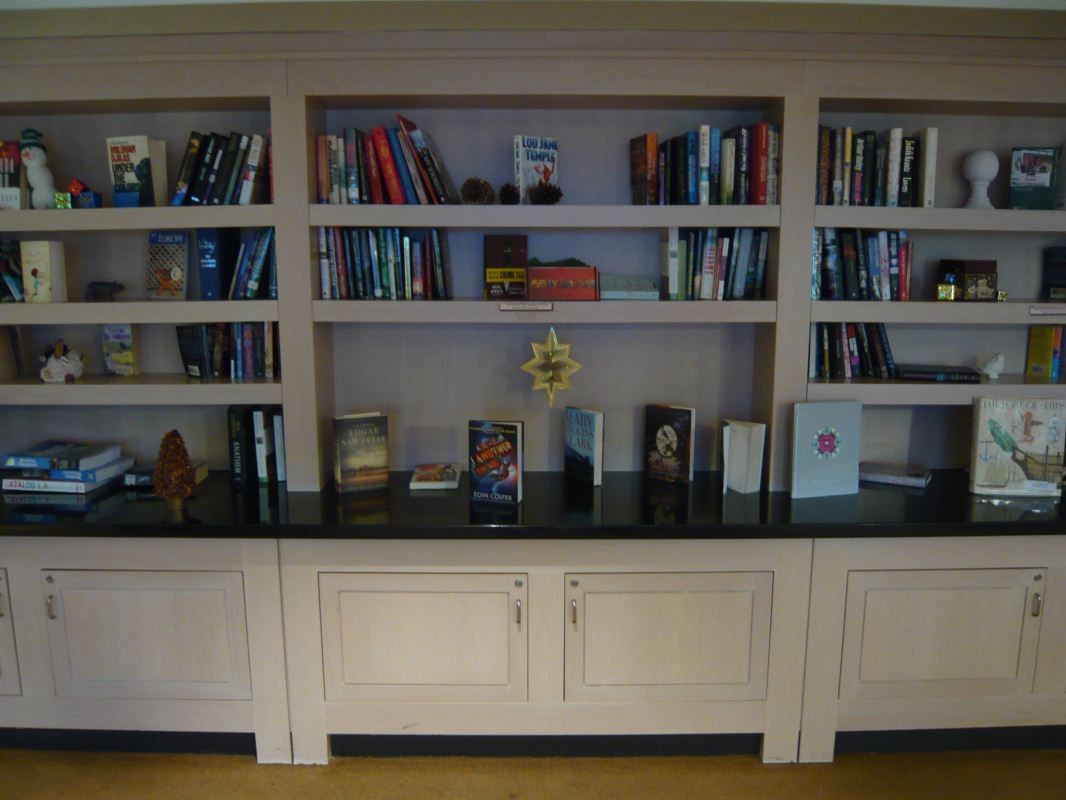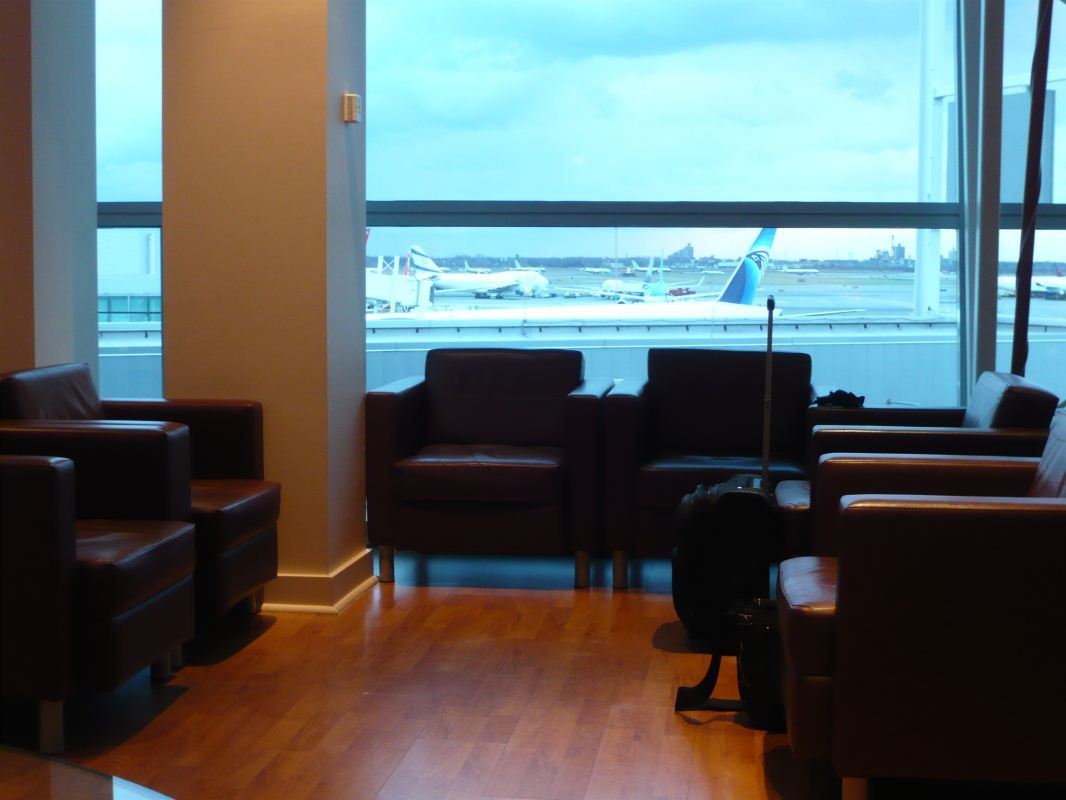 The whole lounge offered a view over the apron, with our Aer Lingus aircraft parked directly in front of us.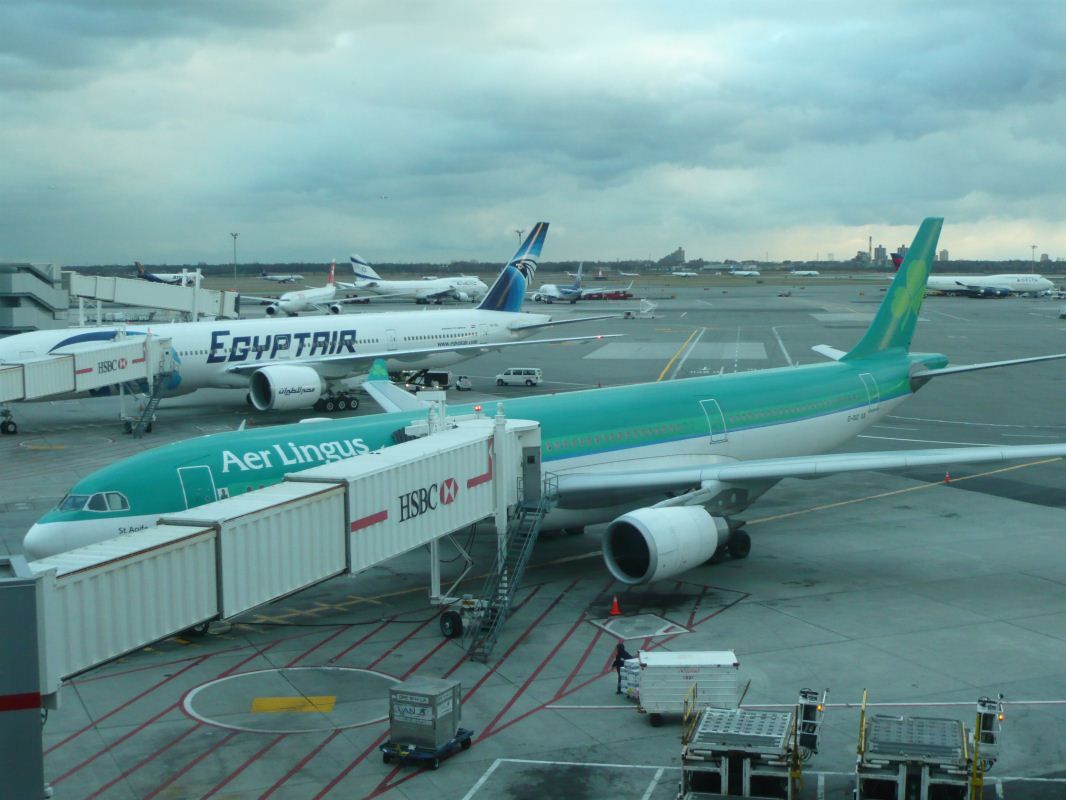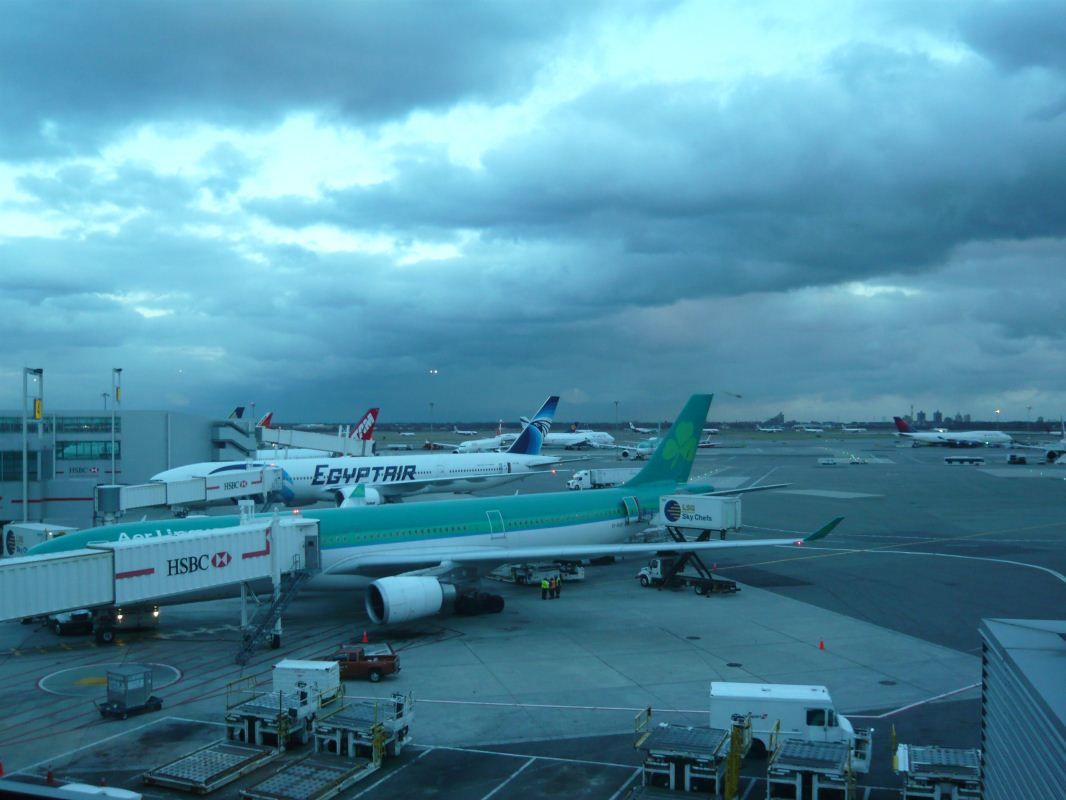 The bathrooms were quite nicely fitted out.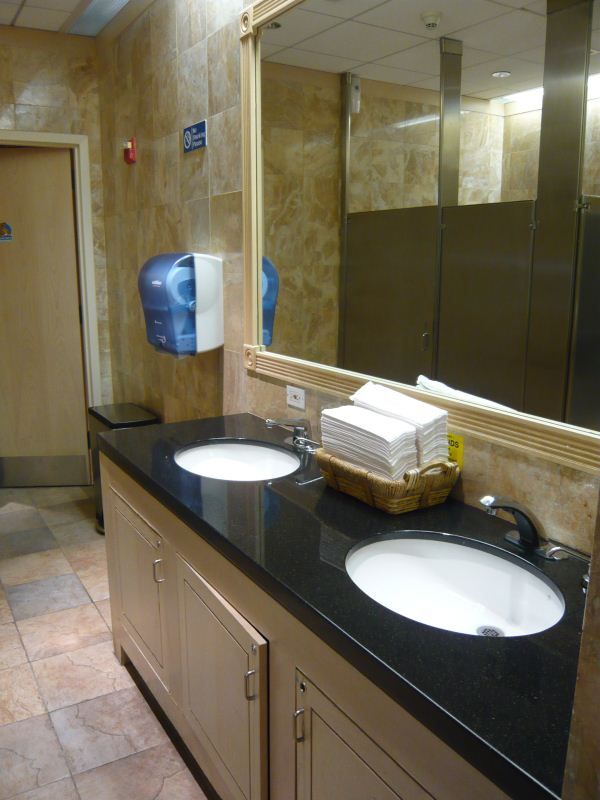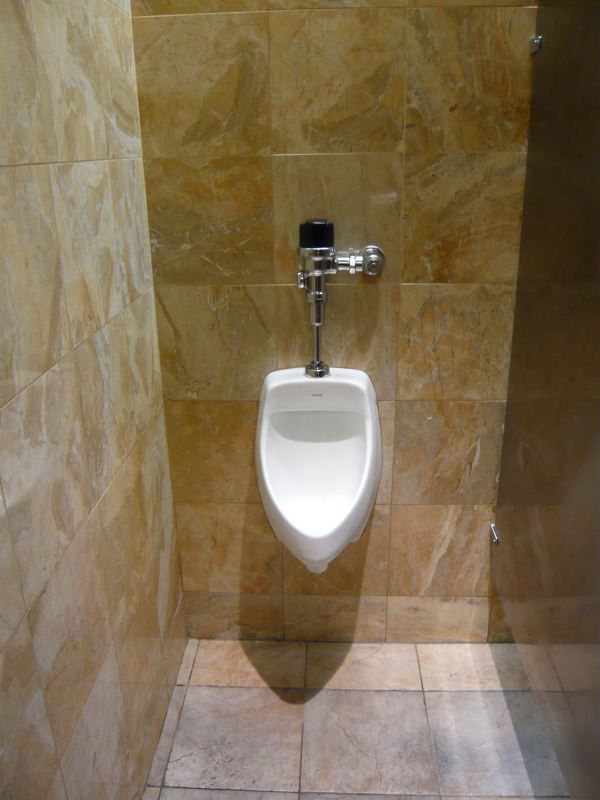 After a few drinks and a little snack, boarding was announced and we proceeded out of the lounge and down to gate A2.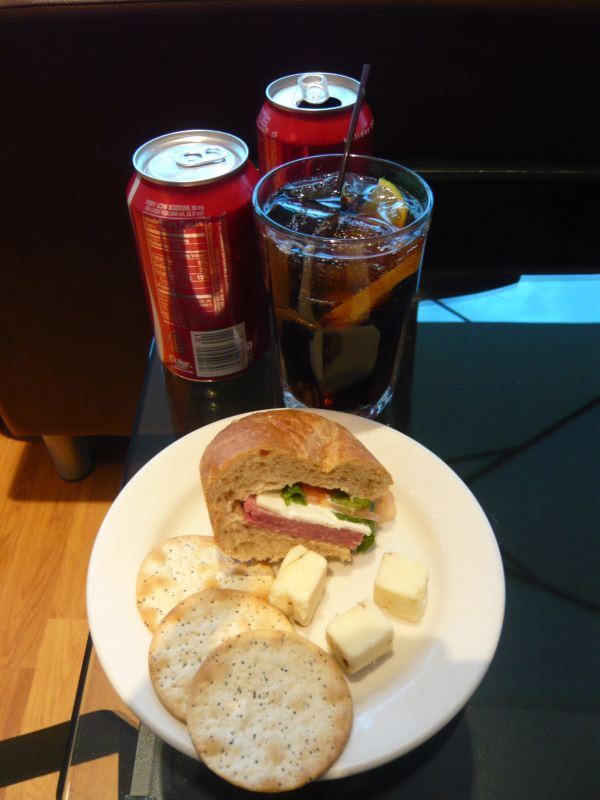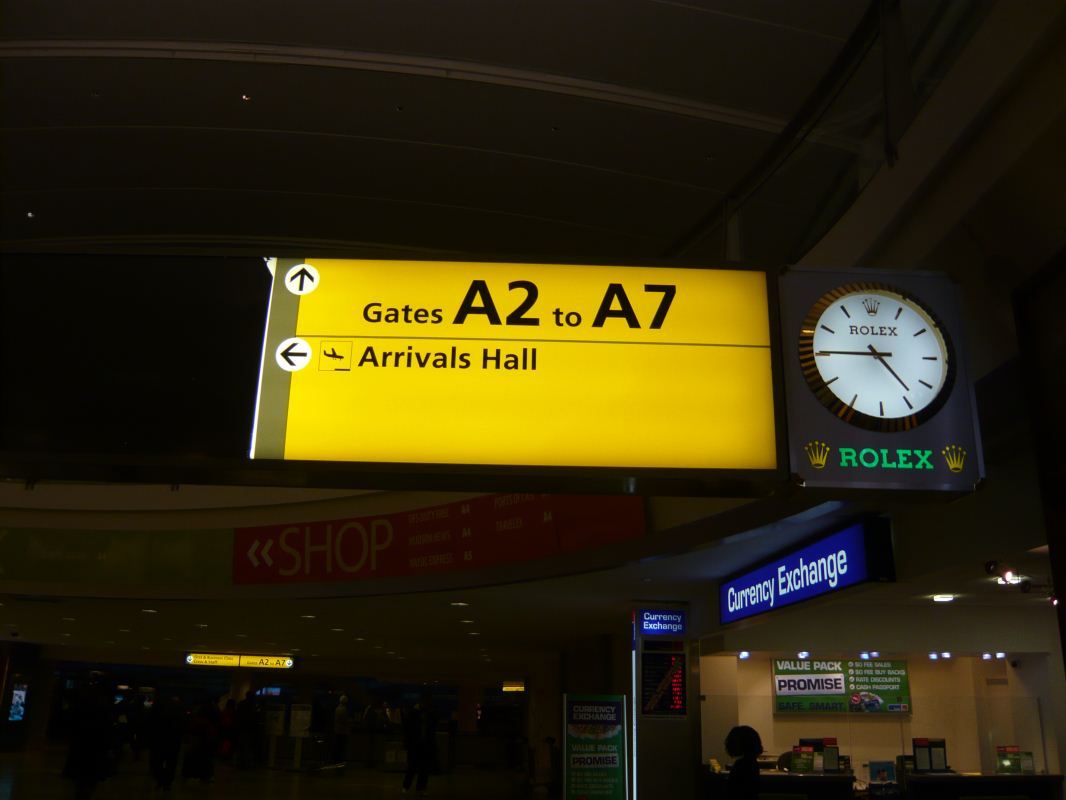 Boarding
Once near the gate, we had to pass through immigration which was quick and painless, and then through security which took somewhat longer as there was a queue. Also, they had run out of plastic trays, so we had to retrieve some from another line for the people in our line to use. We arrived at the boarding area and stationed ourselves beside the side reserved for Business Class and Gold Circle passengers.
Boarding was called very soon afterwards, and we were first on board the aircraft. Our boarding passes were checked and we turned left, proceeded past the three rows of Economy Class into the Business Class cabin.
Cabin
The Aer Lingus Business Class seats are the Recaro angled lie flat seats that are the off the shelf ones used by other airlines. The seat fabric is green, and each one had a snow white pillow on it ready for the passengers to use.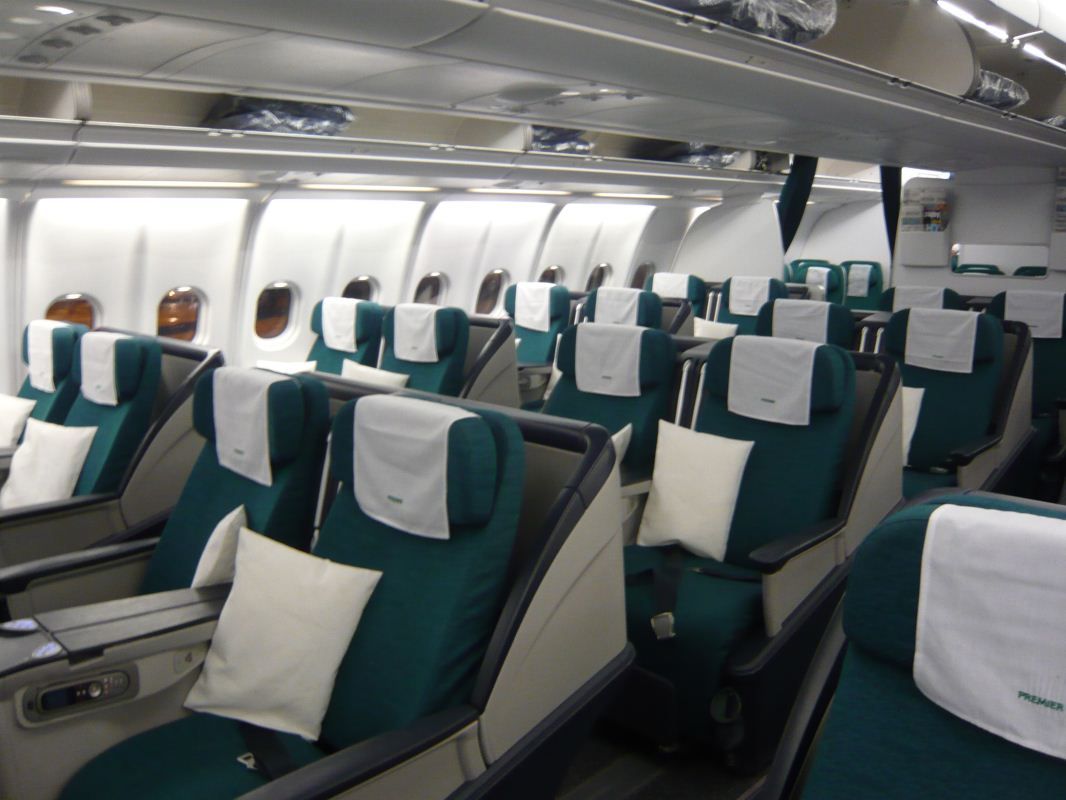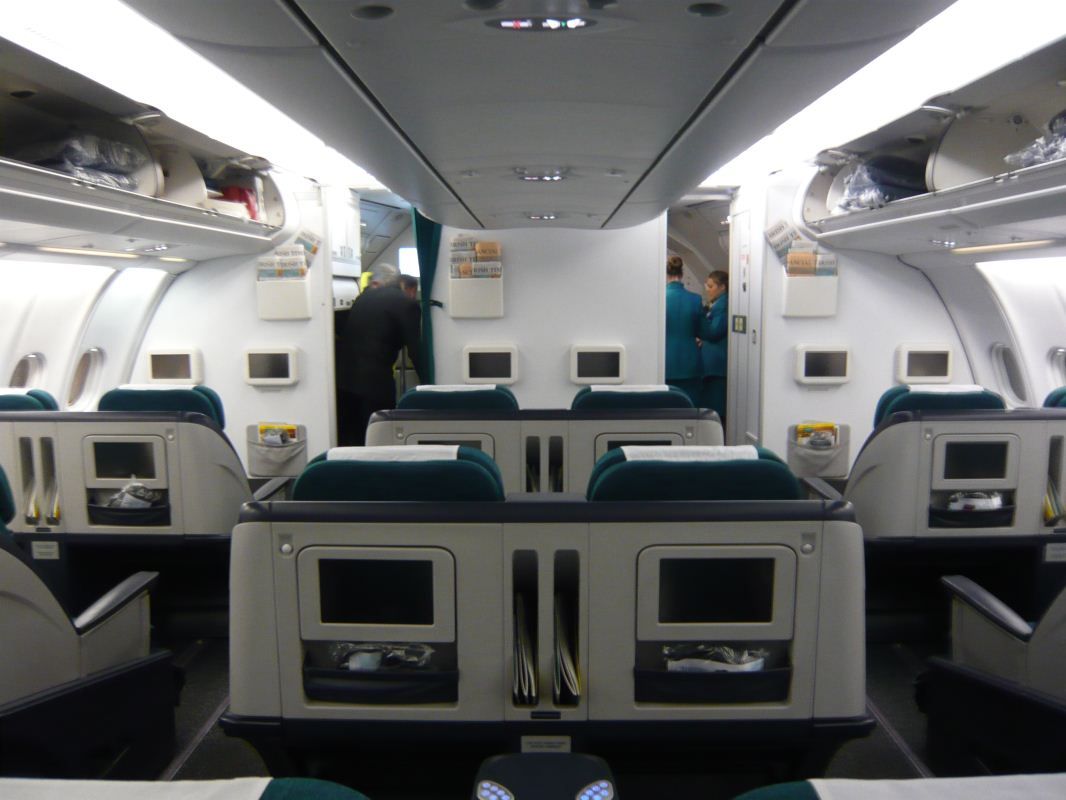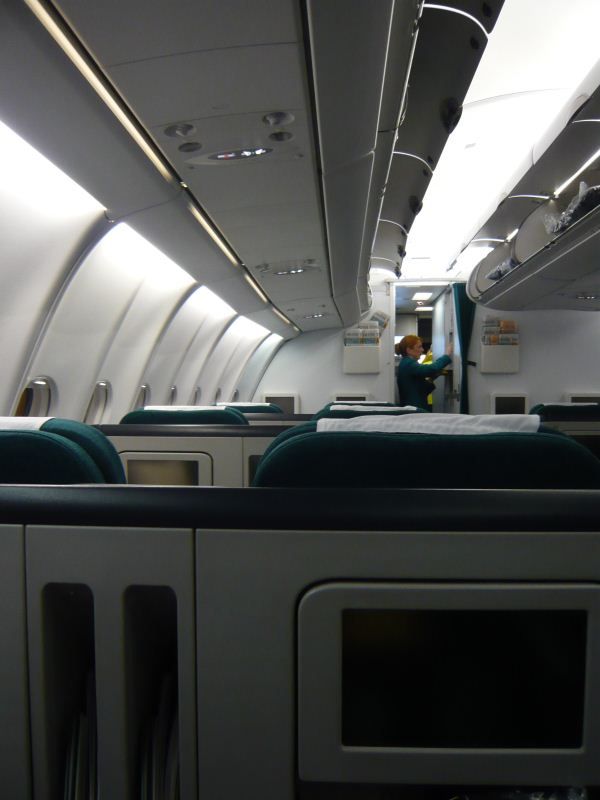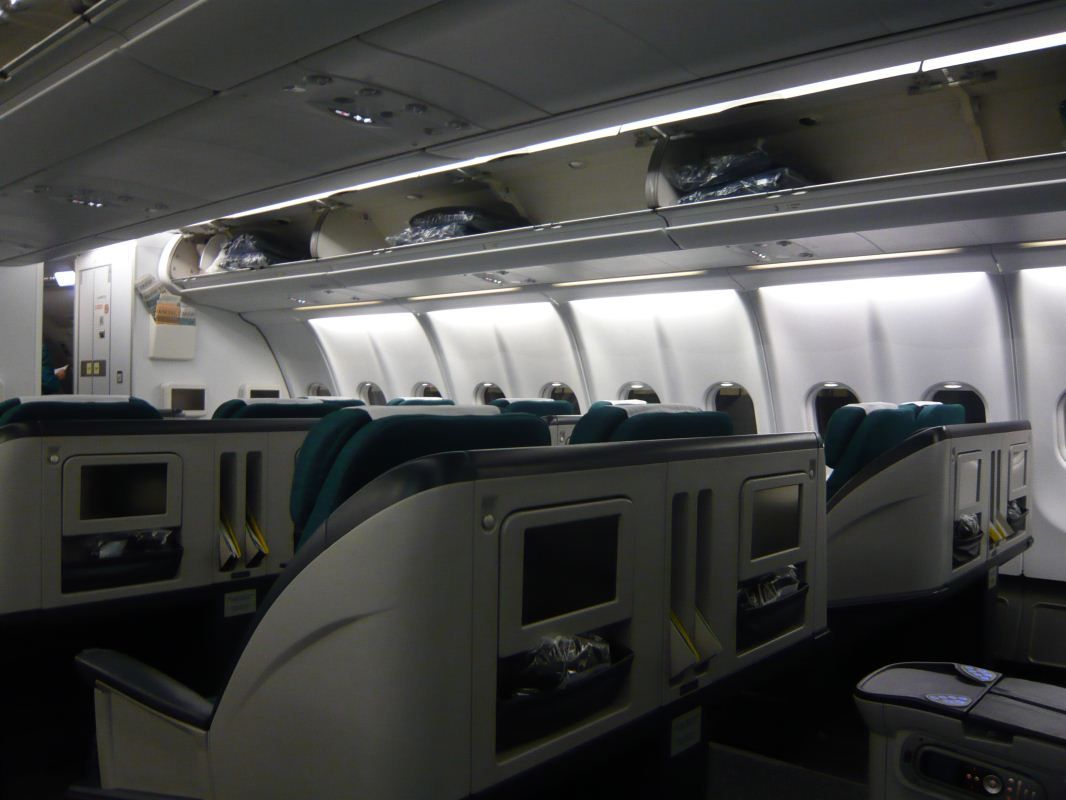 In the overhead locker, there were two blue duvets and we popped our cabin baggage up beside them.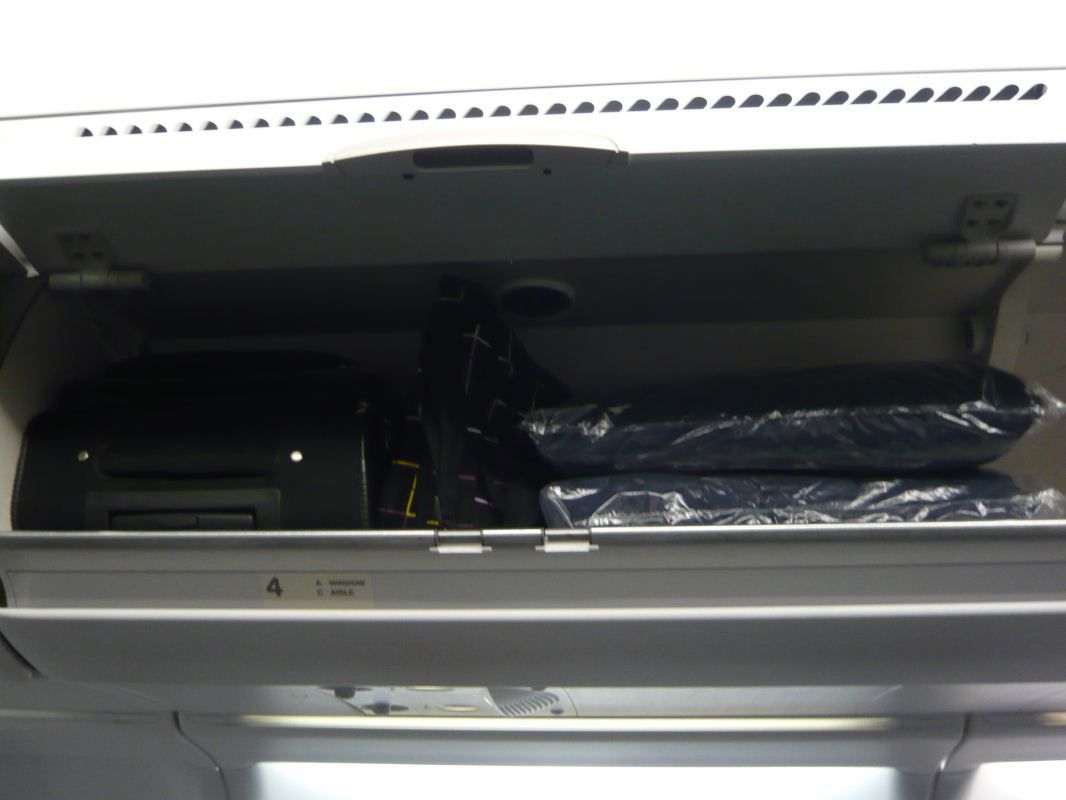 Once seated, there was plenty of room, with the PTV in the back of the seat in front of us. The seat pocket is located directly under the PTV, and this contained noise cancelling headphones packaged with a Unicef Change for Good envelope – a charity that many airlines seem to work with.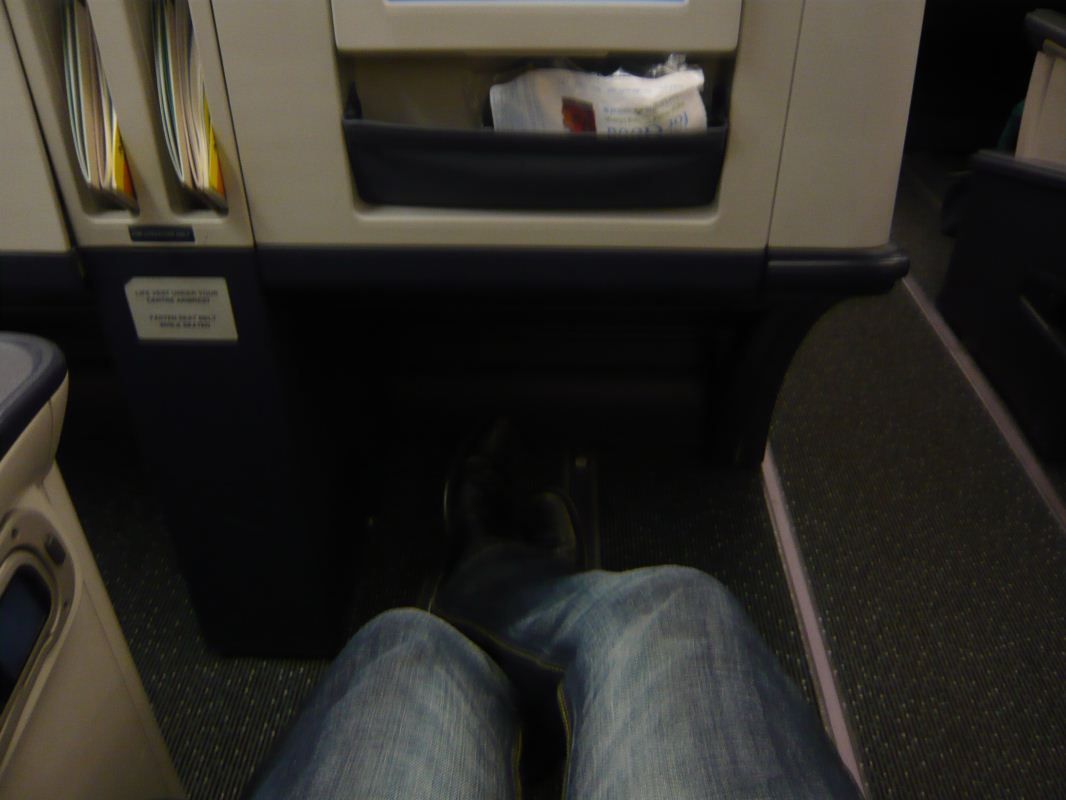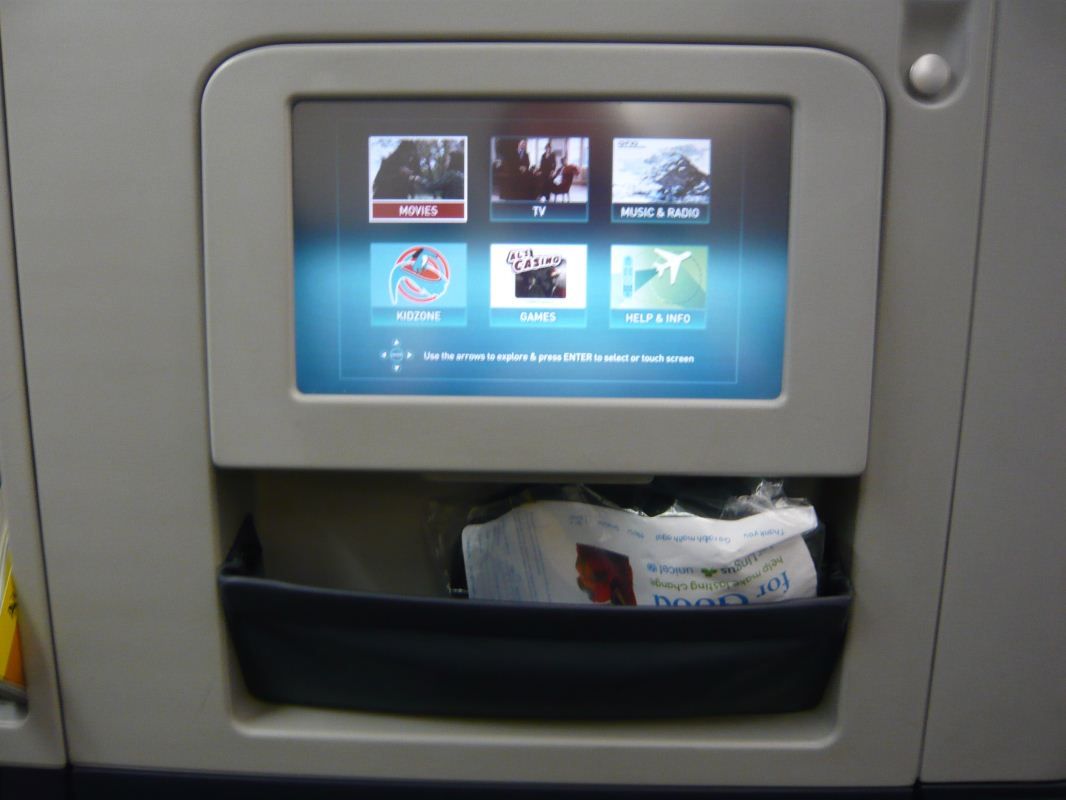 A literature holder is beside the PTV and this contained the Safety Card, Inflight Magazine, Duty Free Catalogue and the Menu.
An interesting feature which I hadn't seen before was the water bottle holder, which was down on the right hand side of the seat near the floor so it would be reachable with the seat in the sleeping position.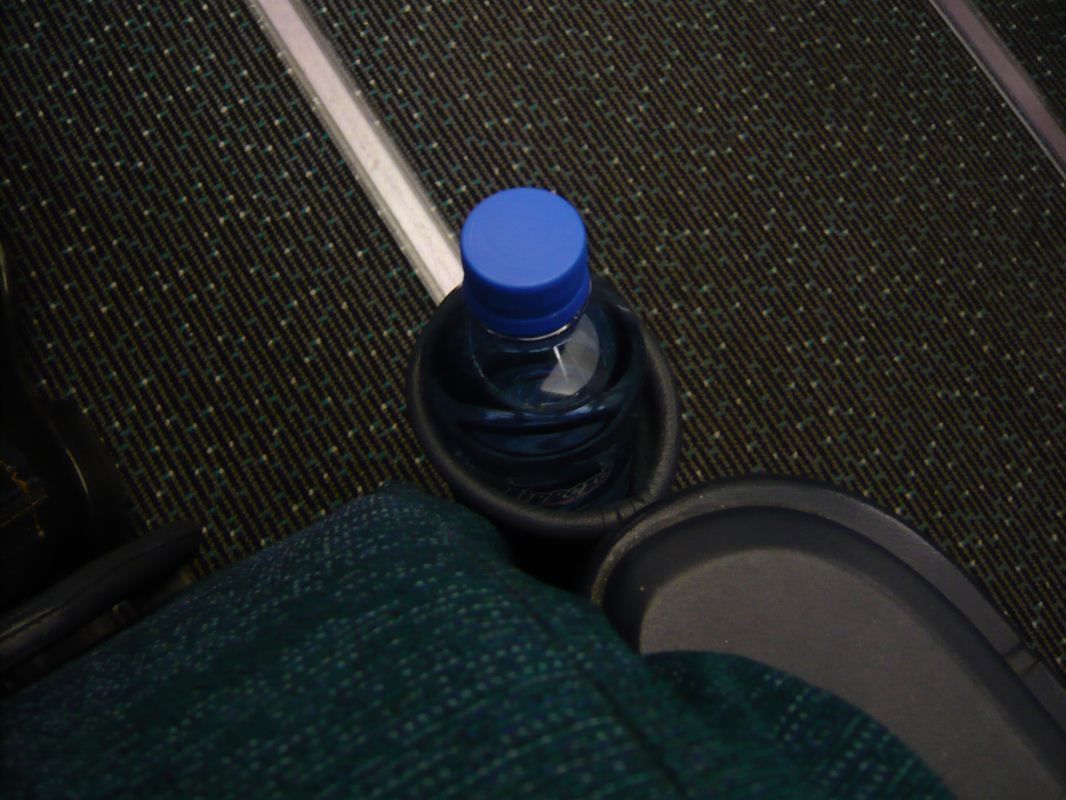 The seat was very comfortable and we relaxed while other passengers boarded, checking out all of the different seat controls. The seats also have adjustable headrests.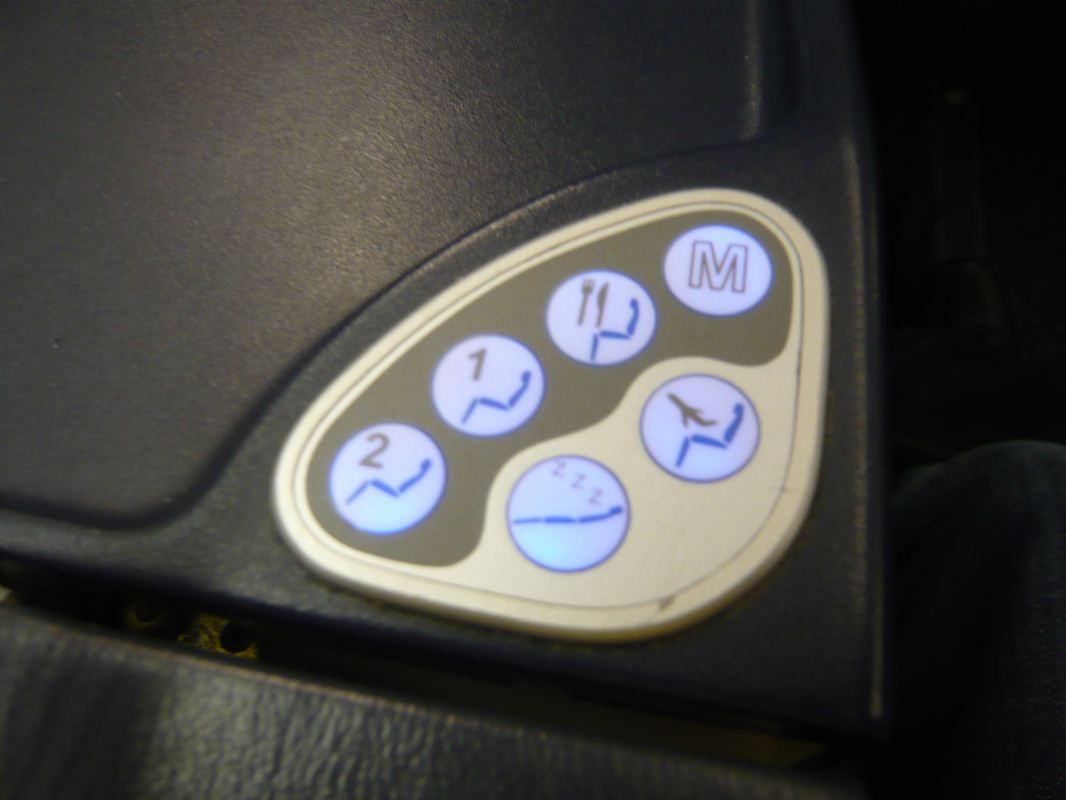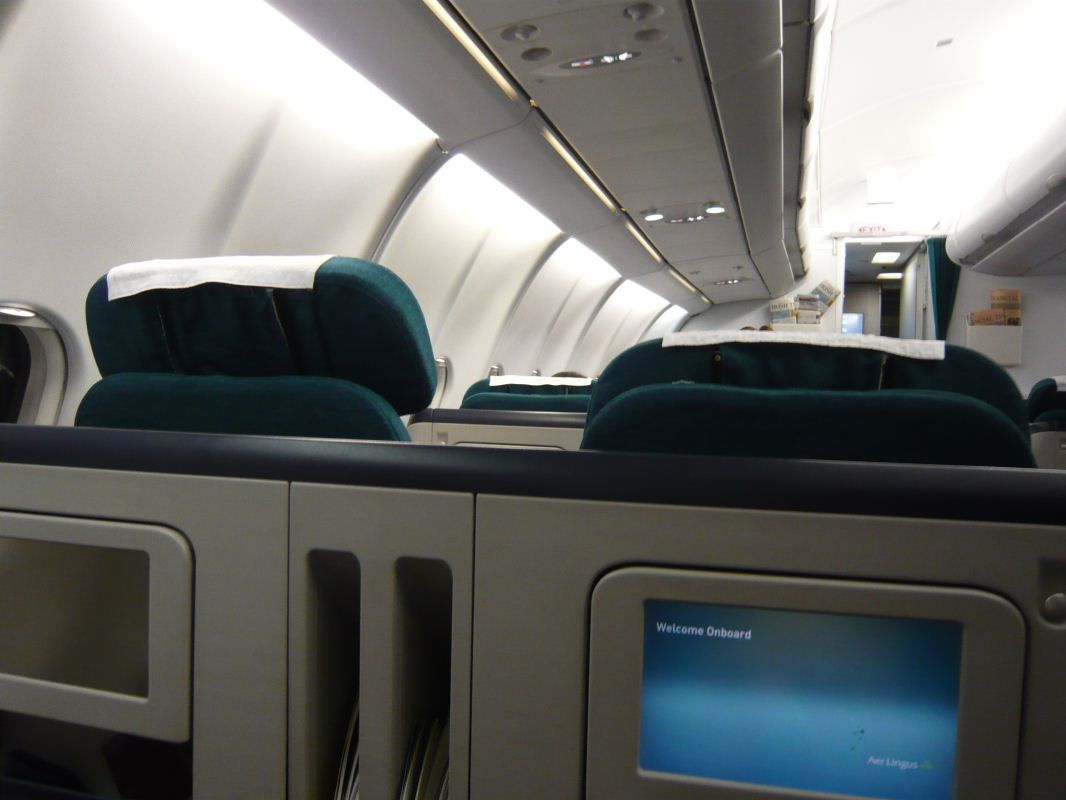 There was also a selection of Irish newspapers available for passengers to read.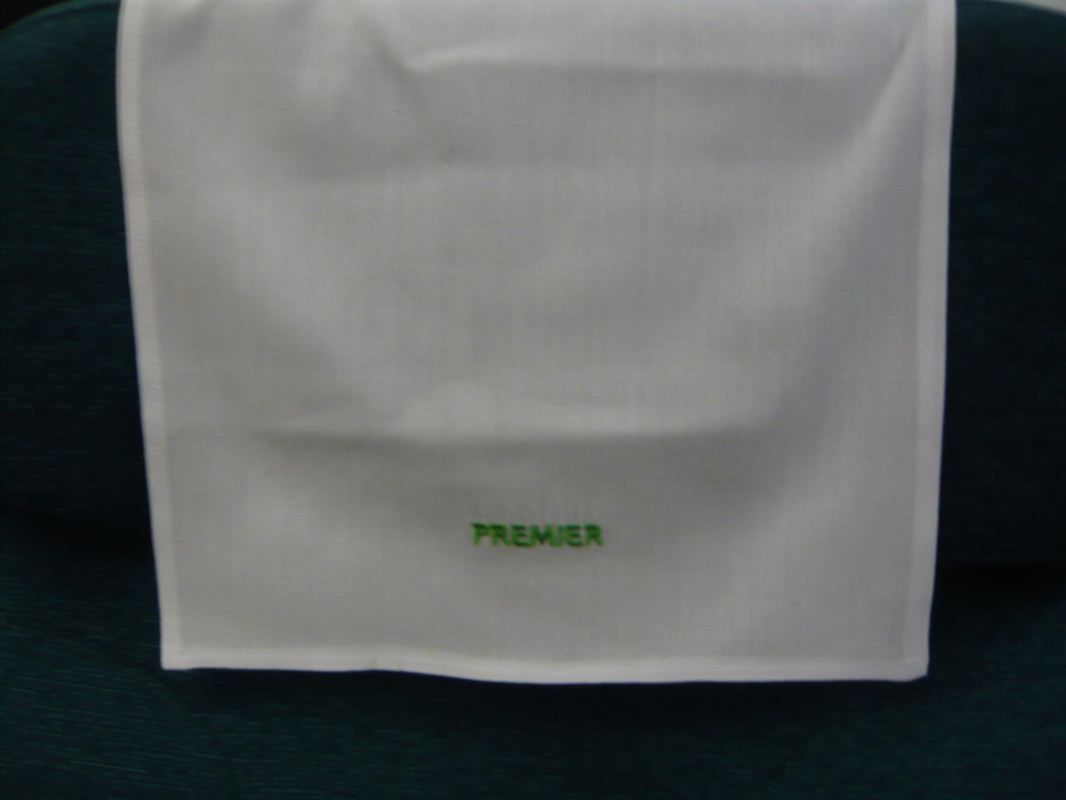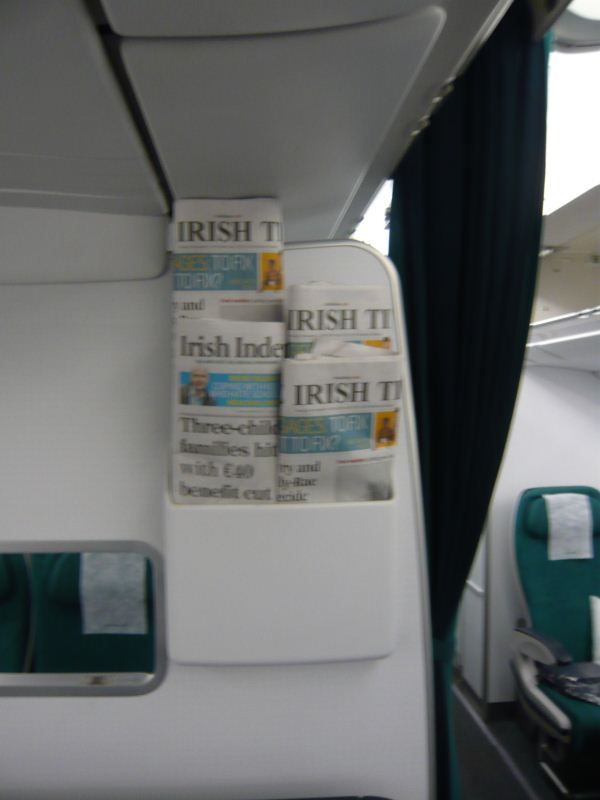 The crew came around with the pre-takeoff drinks and we selected champagne (Jean Purnet Cuvee Tradition N.V.) over the water or fresh orange juice. This came in a weighty Waterford Crystal glass, with the word "Premier" written on it.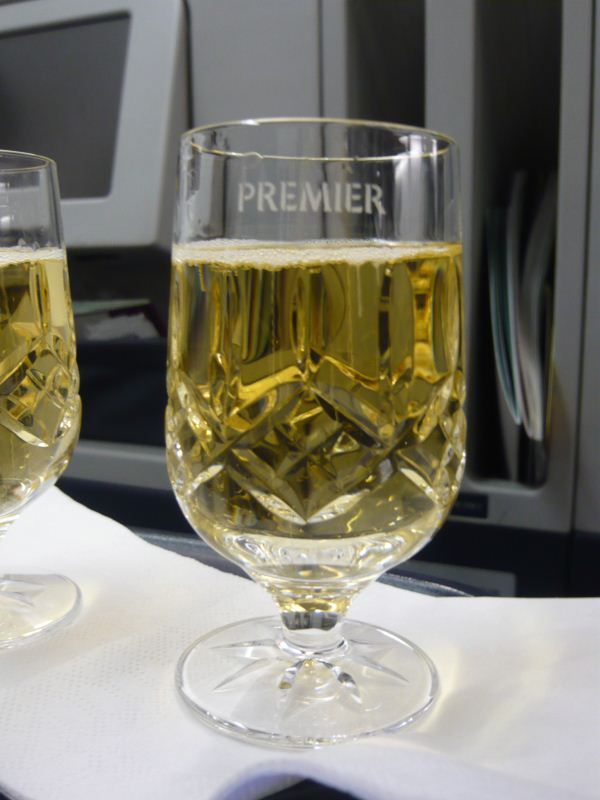 Aer Lingus have rebranded their Business Class from "Premier Class", however everything in the cabin is still branded Premier. One of our crew was a bit of a celebrity as she is the lady who has been featured in the in-flight magazine "Cara" for a couple of years.
A two hour ATC delay was announced by one of the pilots, so we decided to watch a movie on the in-flight entertainment. The headphones are noise cancelling, as they should be.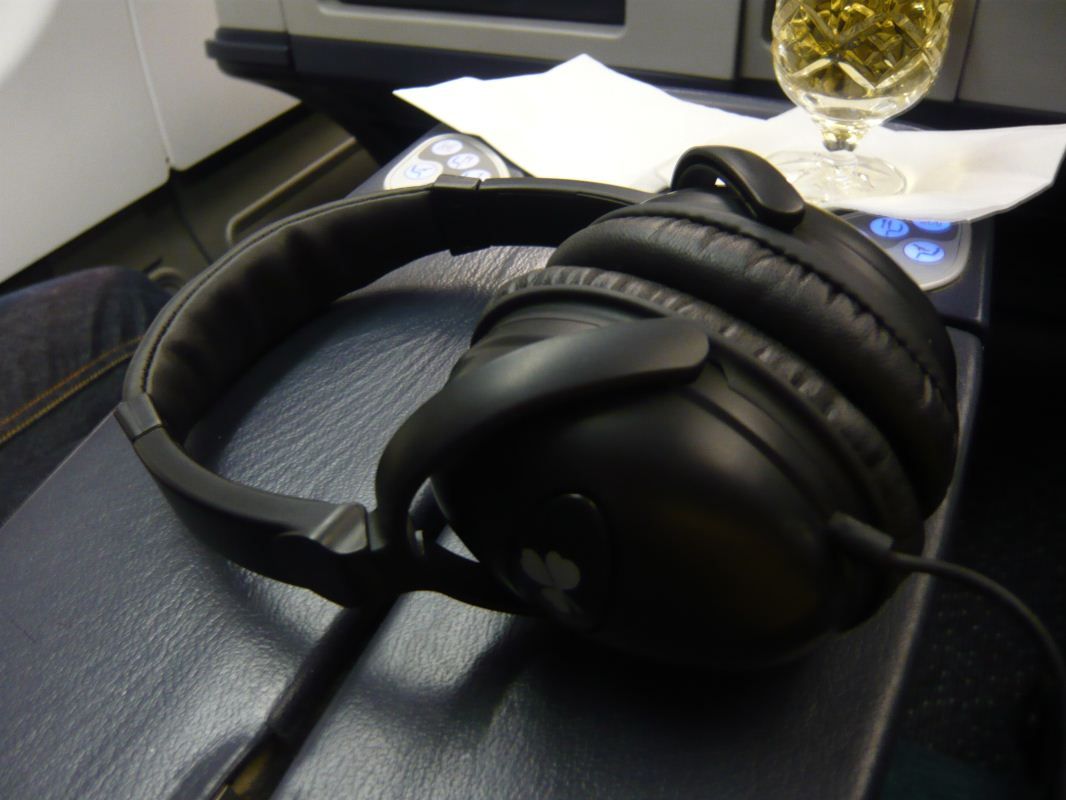 Jordan had an orange juice while we waited, which also came in a Waterford Crystal glass, and was served with a smile.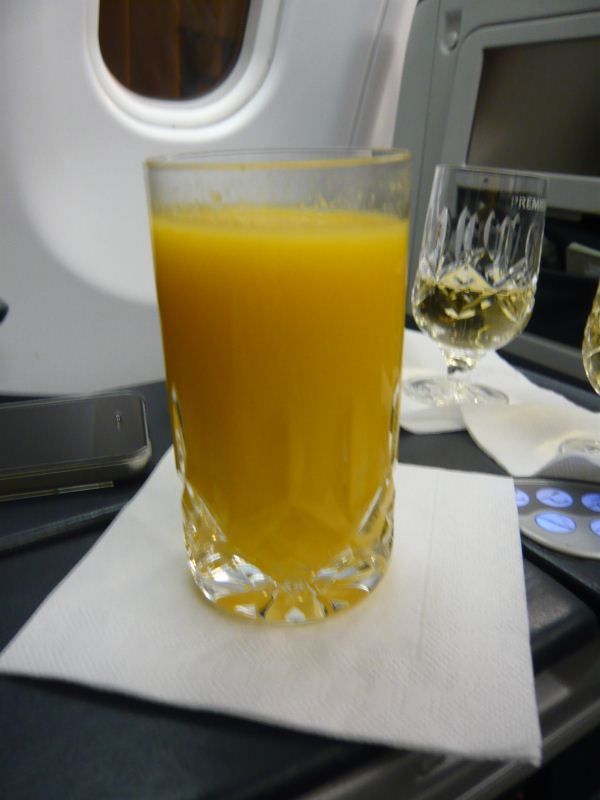 However, this didn't happen for long as the delay ended up being only 50 minutes or so. We watched the Aer Lingus animated Safety Demonstration video, the cabin lights were dimmed for take-off and we were soon in the air.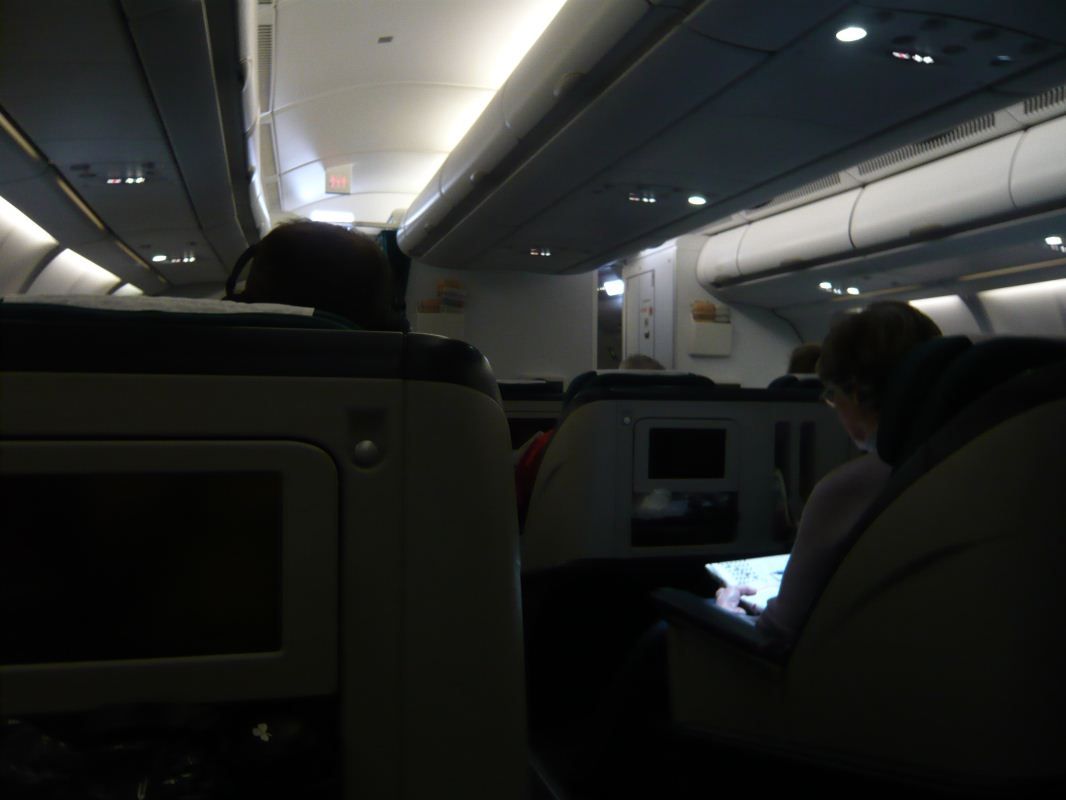 In-Flight
Once we were in the air, water bottles and amenity kits were handed out and I immediately put my water bottle in the holder next to the seat. I retrieved our duvets from the overhead locker, removed the plastic and settled it around myself. It's dark blue like the Economy Class blankets, very warm, thick and comfortable. This is a really nice touch over the standard airline blanket, and I was quite impressed. Some modelling of the duvet and seat just for you guys...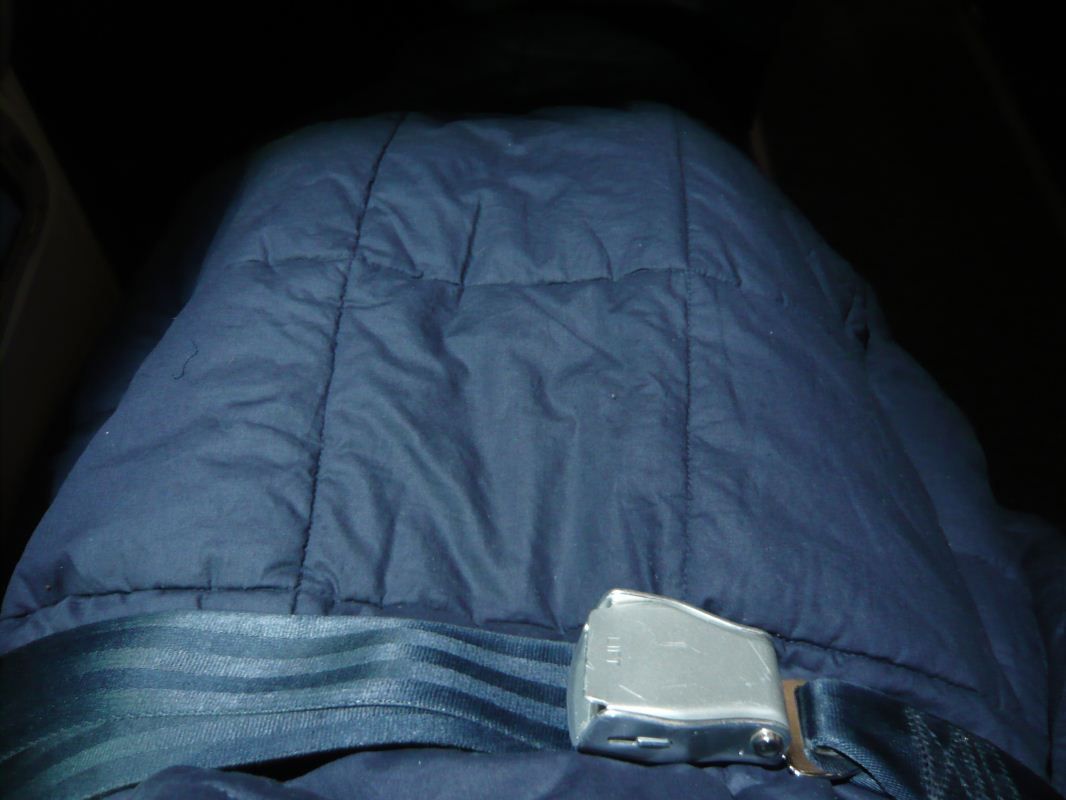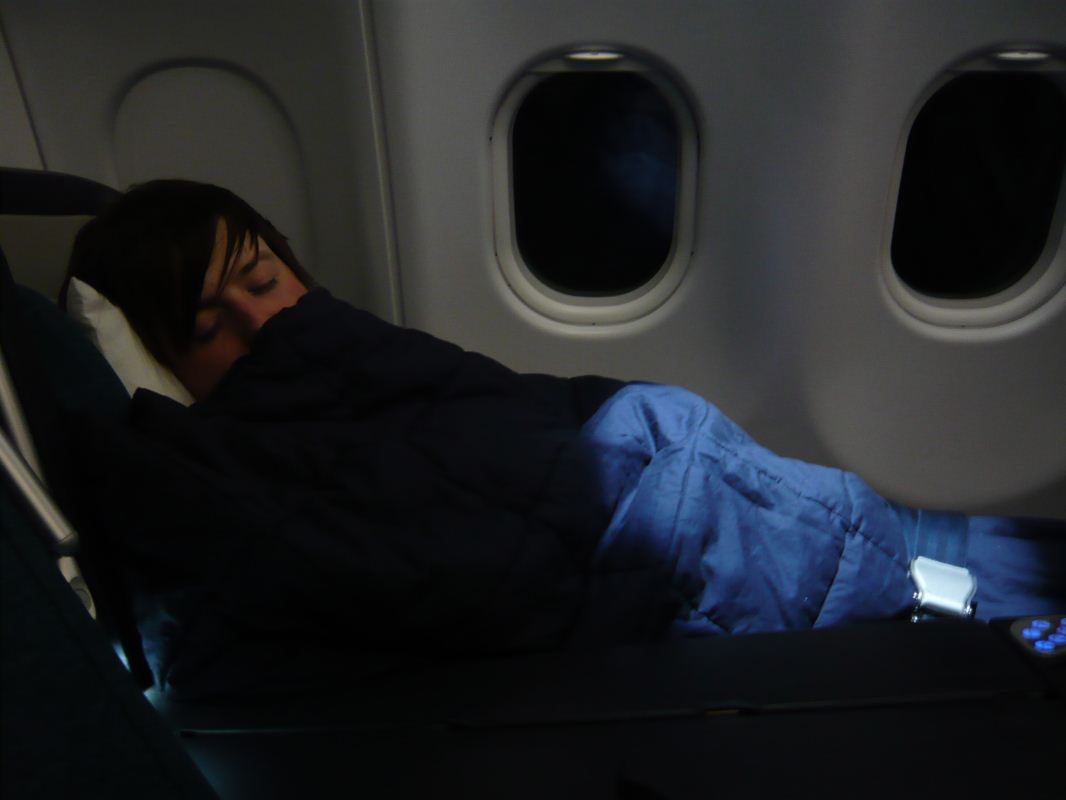 A different picture showing the difference in colour depending on the lighting. It's more this colour, really.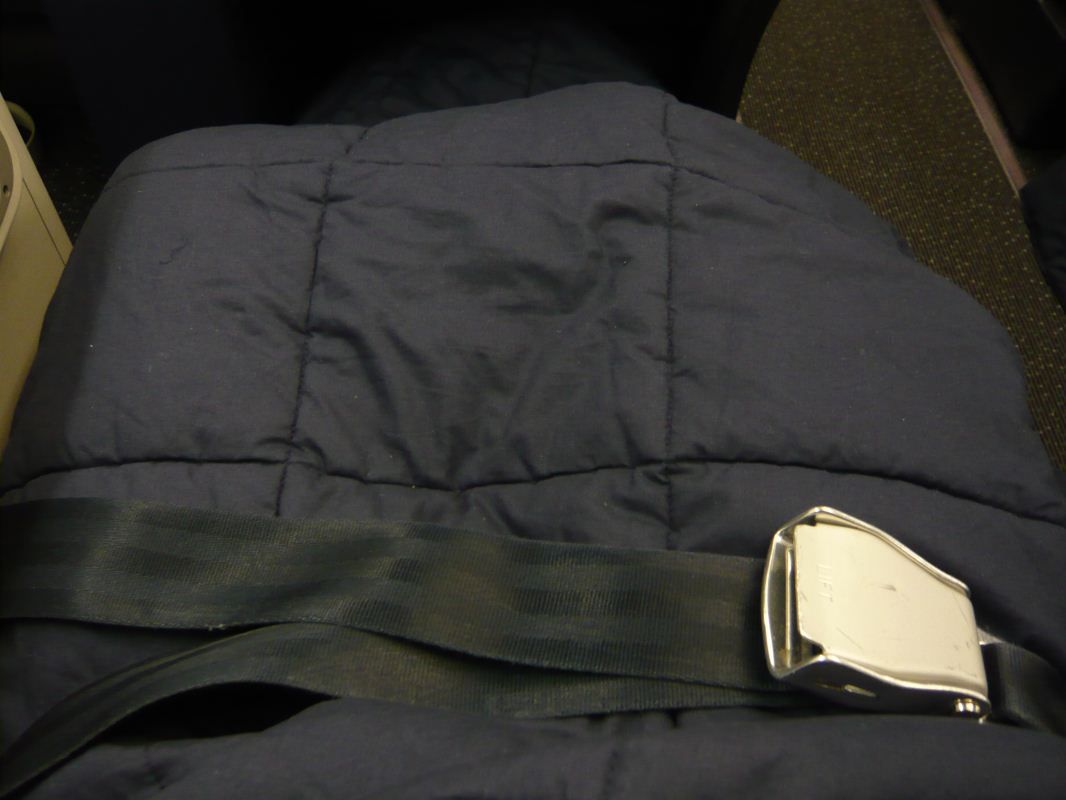 Next, we were offered Canapes and drinks, and we stuck to the Champagne. There were four items on the plate – Lemon dill shrimp, stuffed cherry tomato with fig and goat cheese, beef tenderloin topped with caramelised onion, and Coponata on a toast square. These were polished off in short order and were delicious!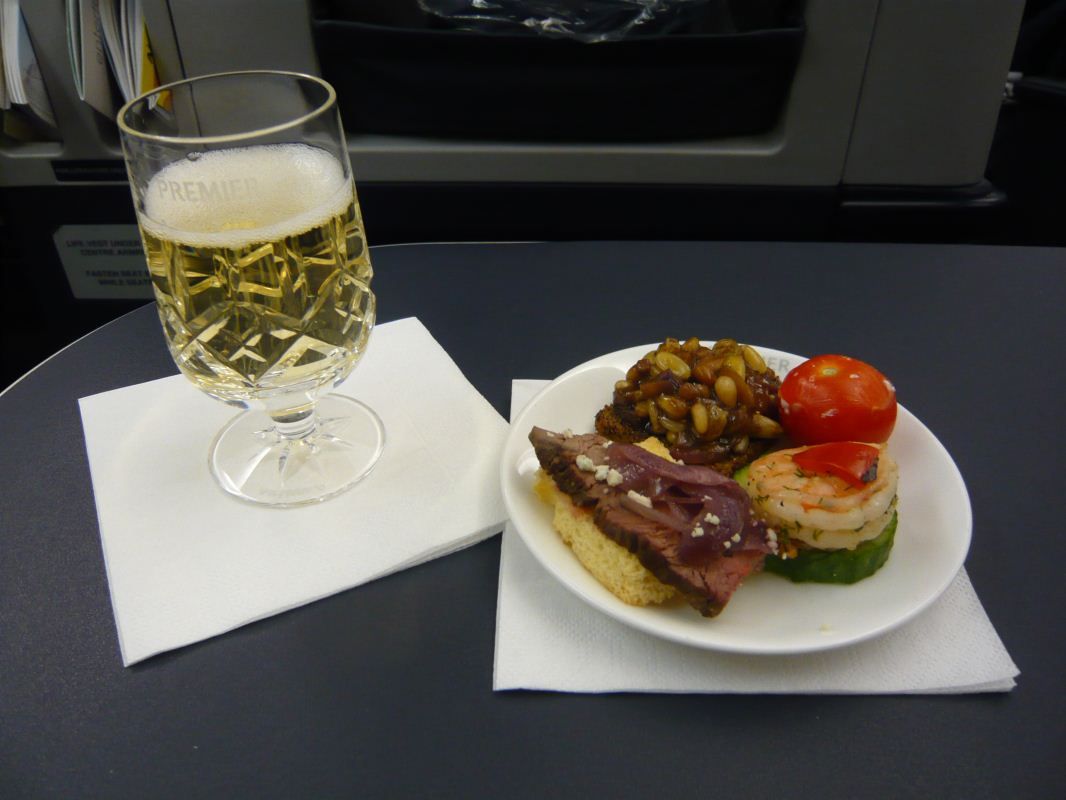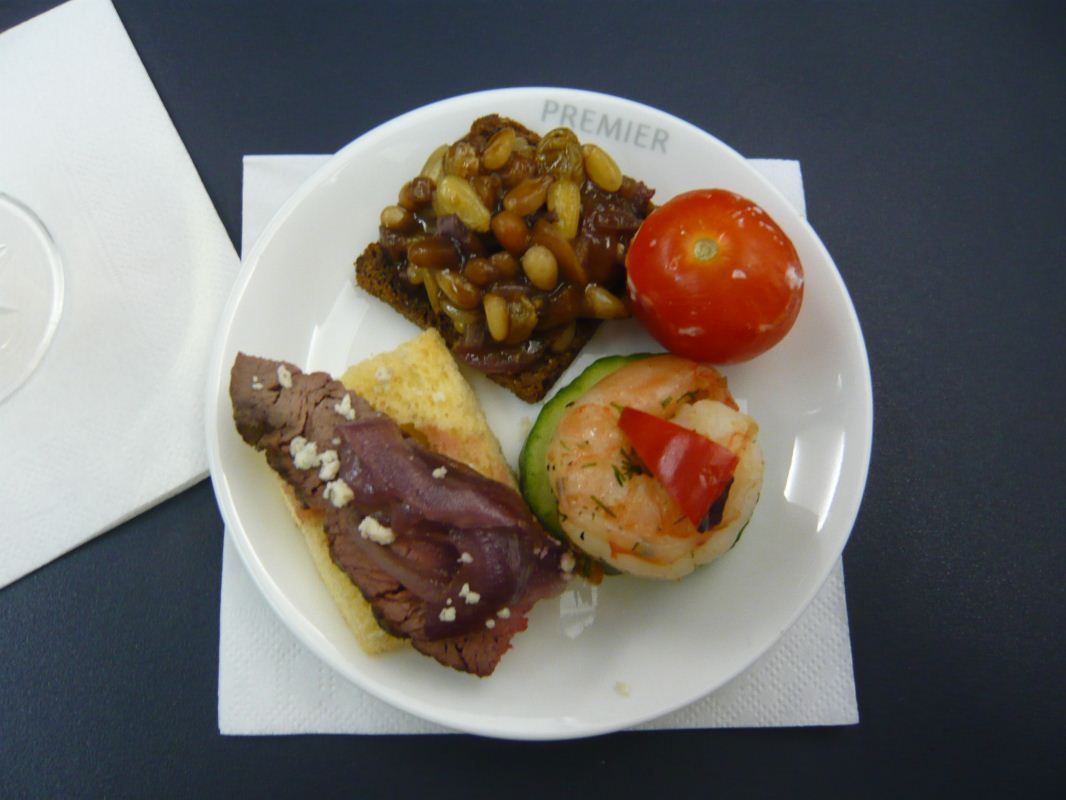 Hot towels were given out after this, and we refreshed our faces and hands prior to ordering some more drinks – Vodka and Lemonade this time. These were also presented in Waterford Crystal glasses, which look quite glamourous compared to the usual airline glasses.
Our meal order was taken, and there were four choices – Lamb and Morel Stew, Citrus Chicken, Crab Cakes or Spinach Gnocchi. We both opted for the lamb, which is described as "A slow cooked stew with tender lamb, peas, onions, carrots, and morel mushrooms; topped with gratin potatoes."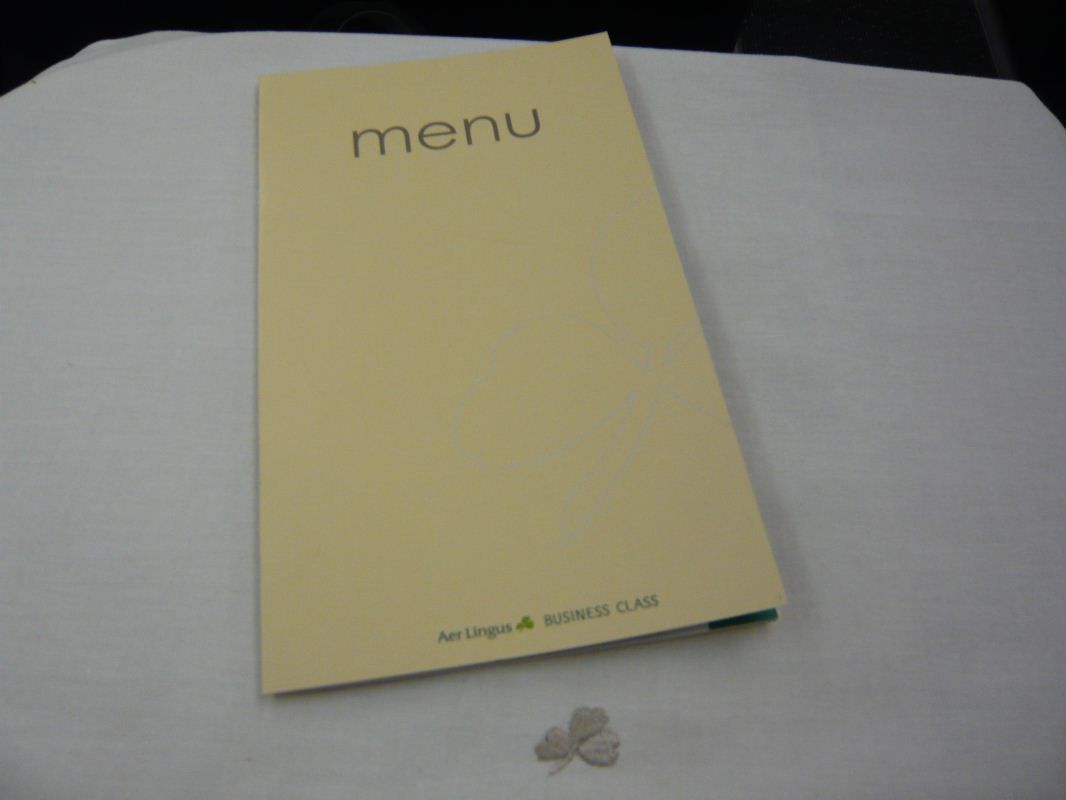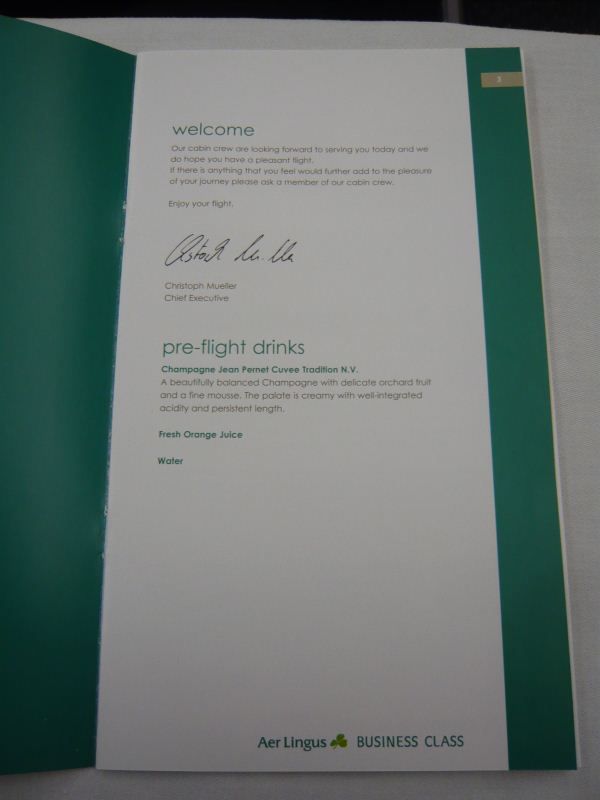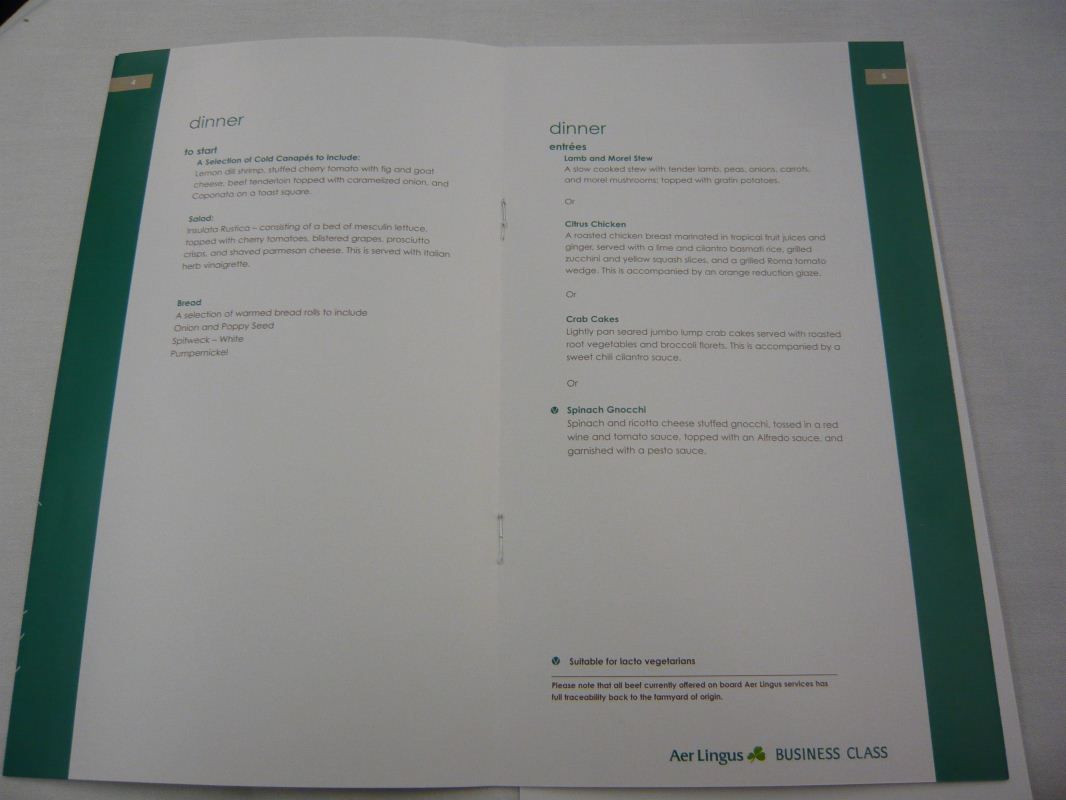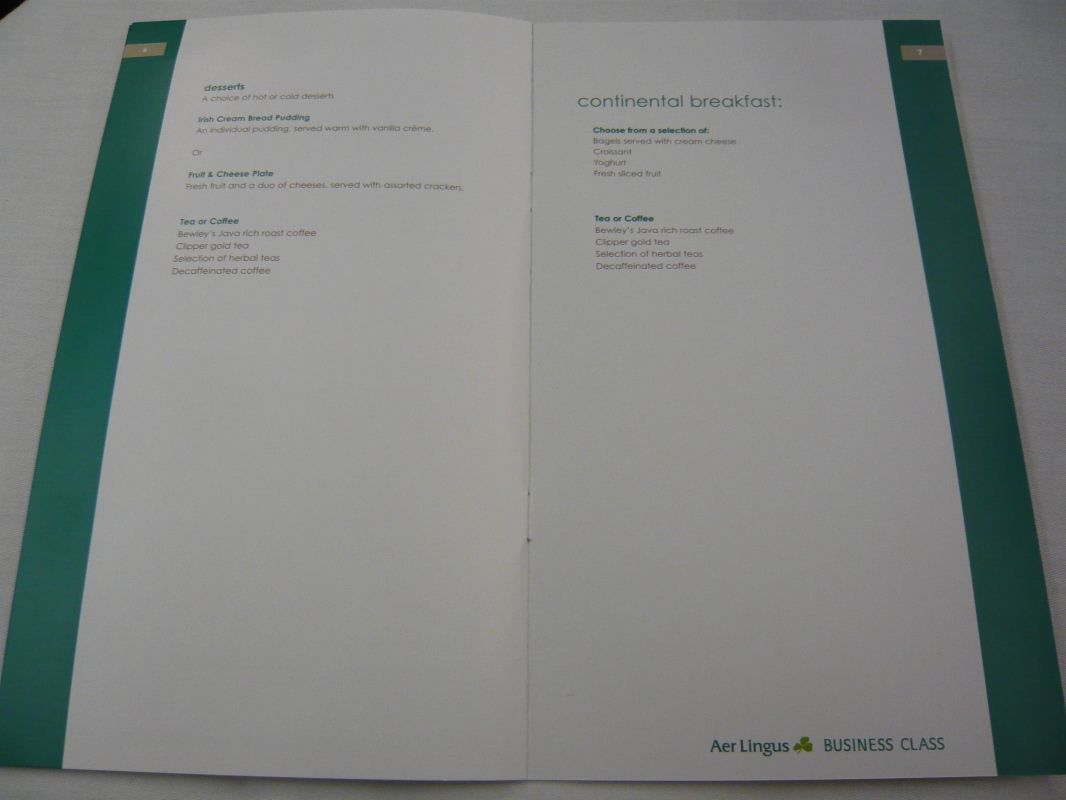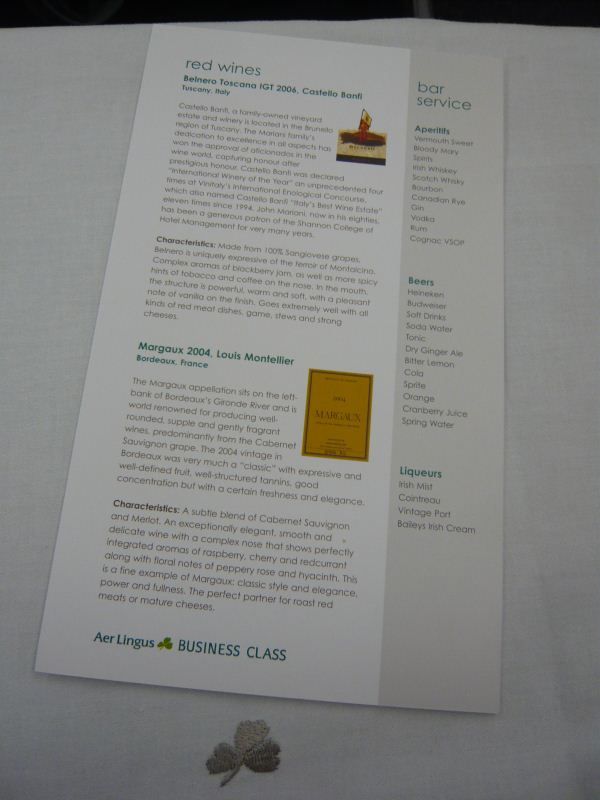 The tray arrived containing the main meal and in addition was a salad which is described in the menu as, "Insulata Rustica – consisting of a bed of mesculin lettuce, topped with cherry tomatoes, blistered grapes, prosciutto crisps, and shaved parmesan cheese. This is served with Italian her vinaigrette." The crew also came by with a basket of bread and we chose what we liked from that also.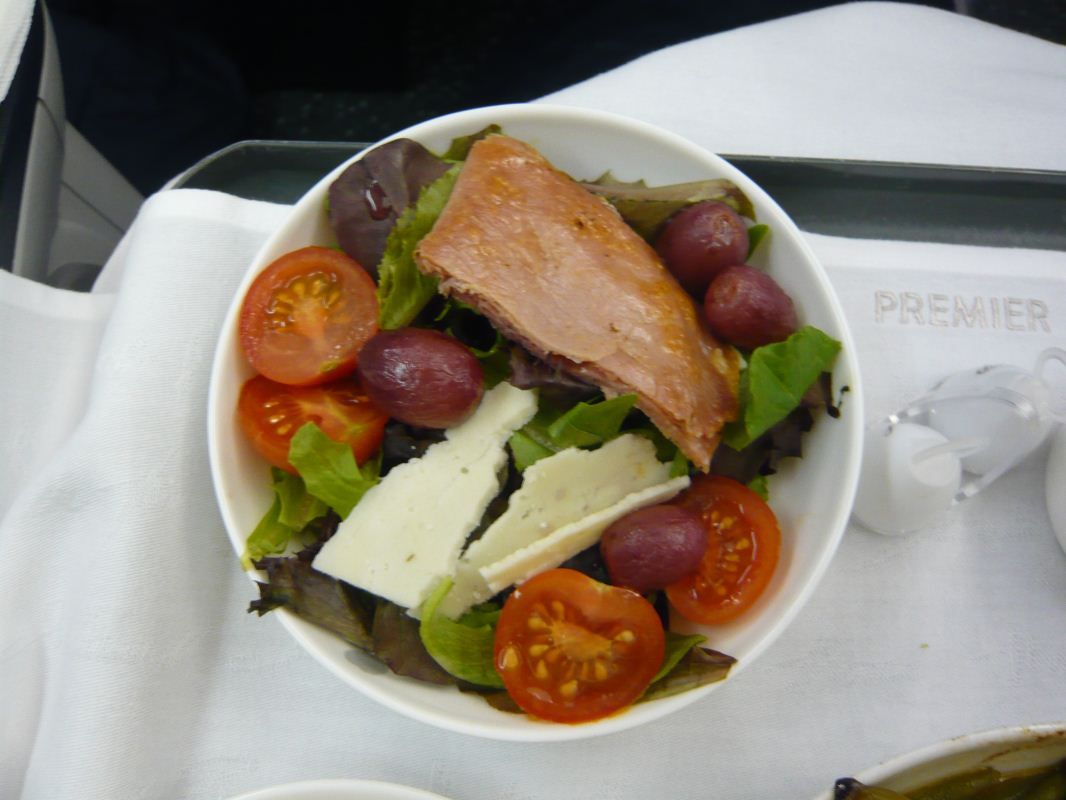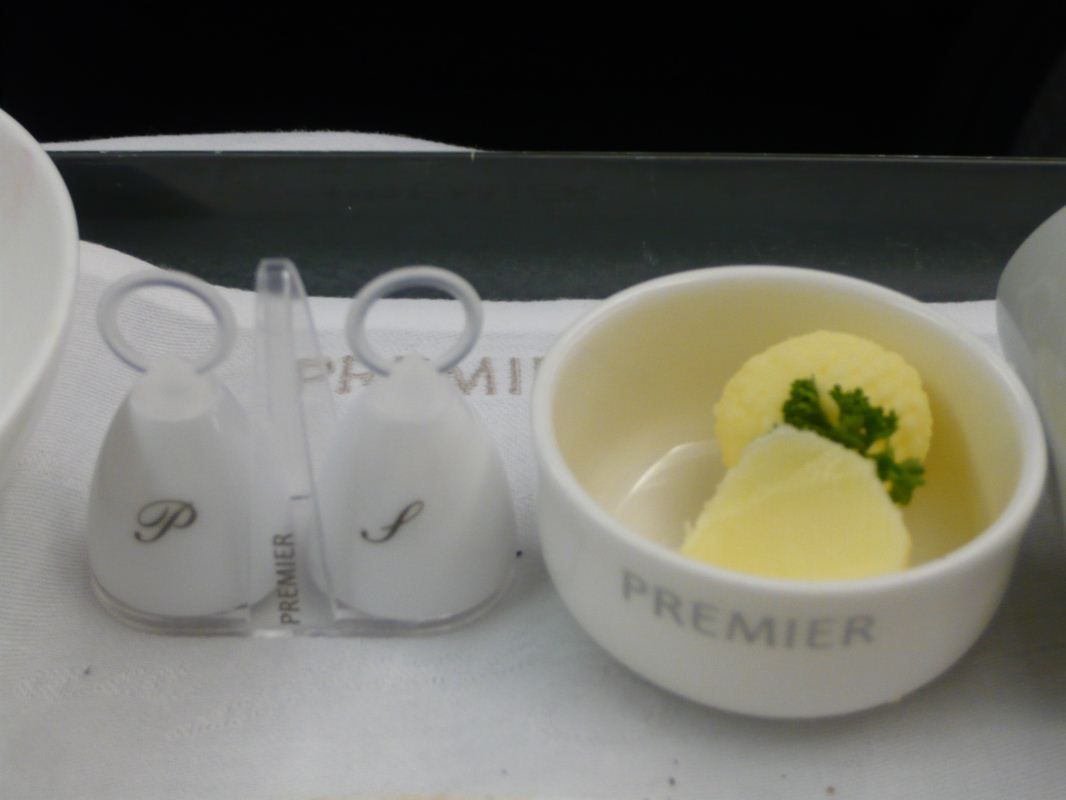 The meal was nothing short of superb – great portion sizes, very tasty and it was pretty much faultless. The "Premier" branding was in abundance yet again, with every plate, glass, bowl, the serviette and even the salt and pepper shakers holder branded in this way. I imagine this is in case you forget you're flying in an angled flat bed seat across the Atlantic and think you're in European Economy Class!
Once dinner was cleared away, it was time for dessert – a choice between a Fruit & Cheese Plate or Irish Cream Bread Pudding. We chose the pudding and our tray was set out with a mug, sugar bowl and milk (all Premier branded, of course!) and our dessert. It was served warm with vanilla crème and again was a delight for the tastebuds. Aer Lingus have very good tea as well, so we were quite impressed!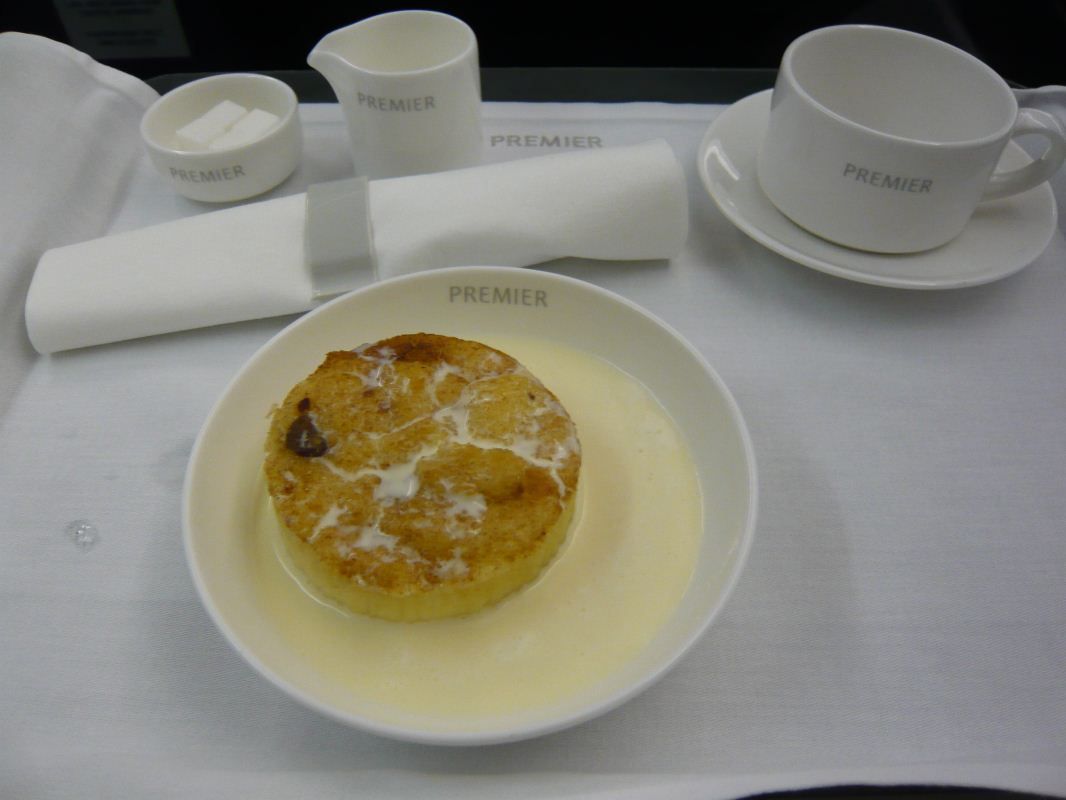 After dinner, I indulged in a Bailey's over ice and the cabin lights were dimmed so that people could get some sleep.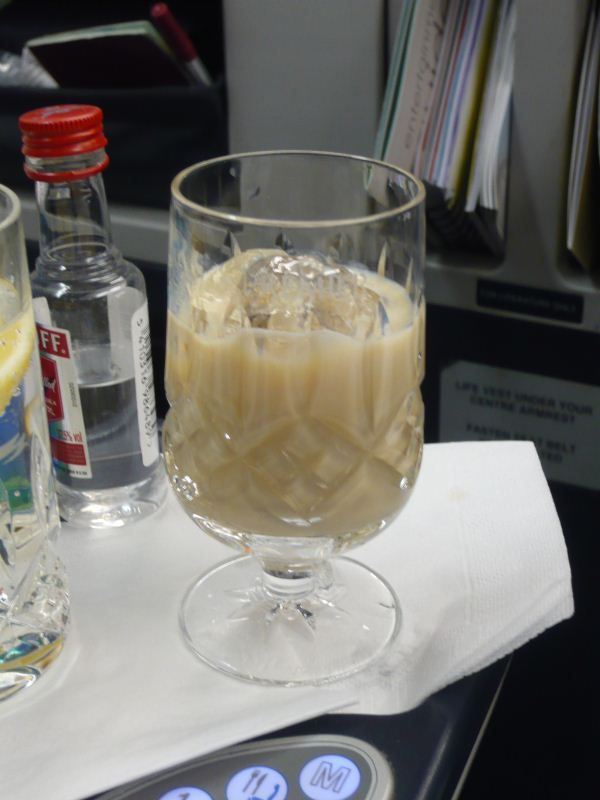 In the flat position, the seats are angled, but you don't really feel like you're going to slip down the seat or anything like that. It's not perfect for sleep as it's not completely flat, but it's close enough to have a nice rest – especially snuggled up under the duvet.
I visited the bathroom later on in the flight, and it's the same size as the Economy Class ones, just with two or three extra products such as moisturiser for the Business Class passengers.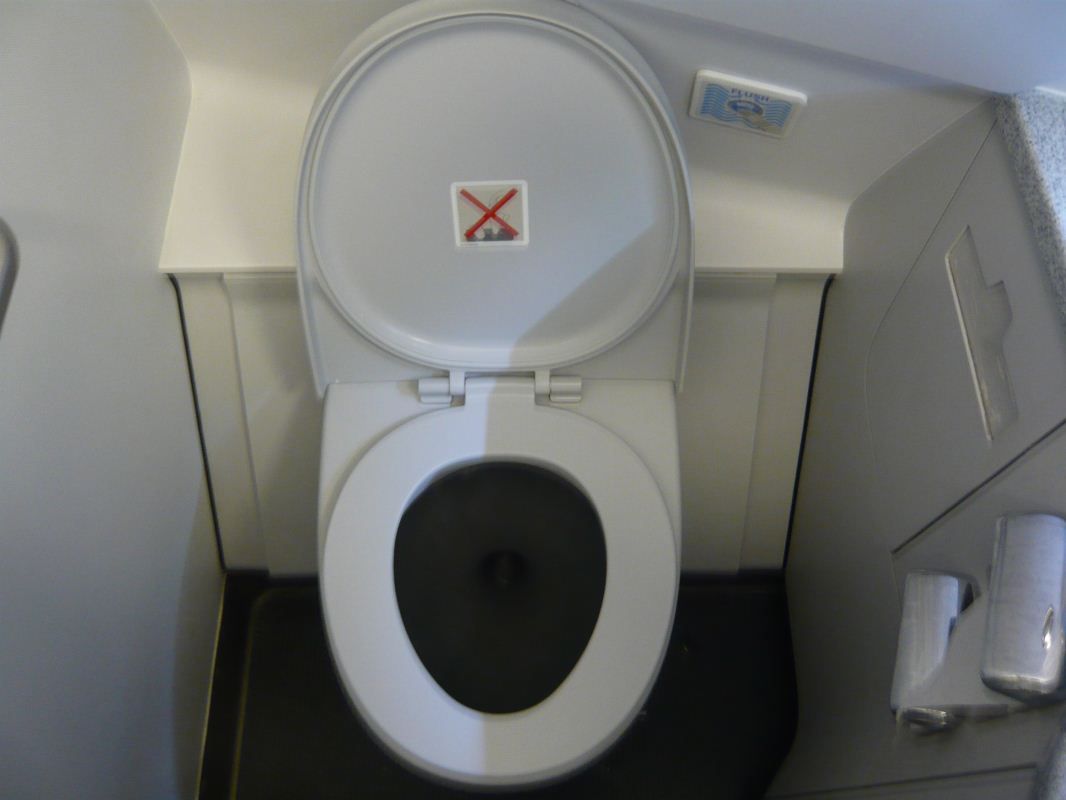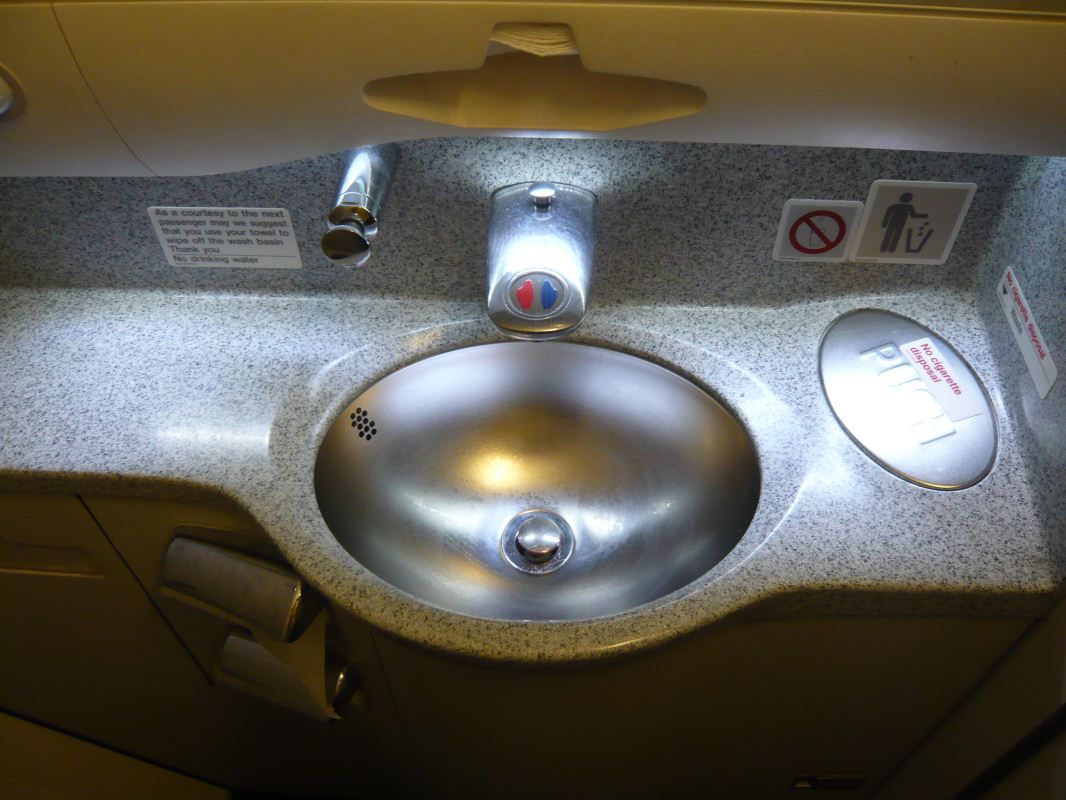 After a fitful doze, it was time for the breakfast service in the cabin. I was quite groggy at this point and wasn't given enough time to actually consider what I wanted, so I just chose a bagel which came with cream cheese and jam as well as an orange juice and my morning coffee.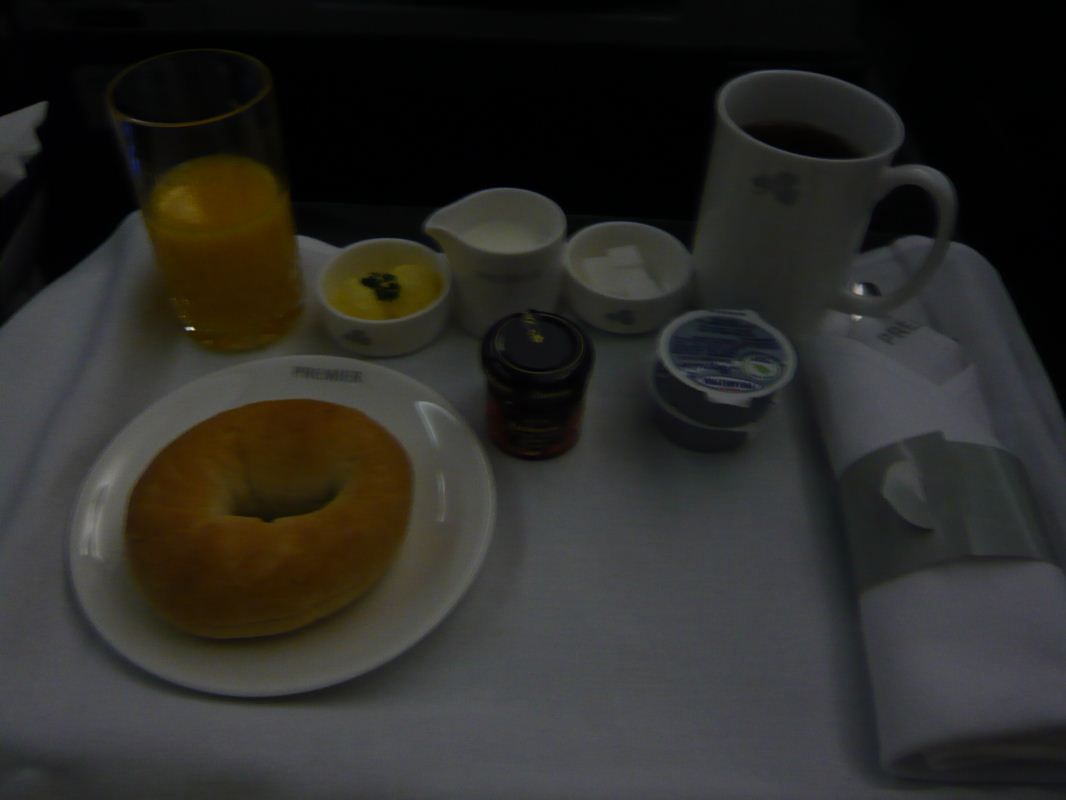 The bagel was cold and very dry, so it wasn't great, but after a bit the crew member came back again and gave us strawberry banana yoghurt which was good as I was looking for something else to have.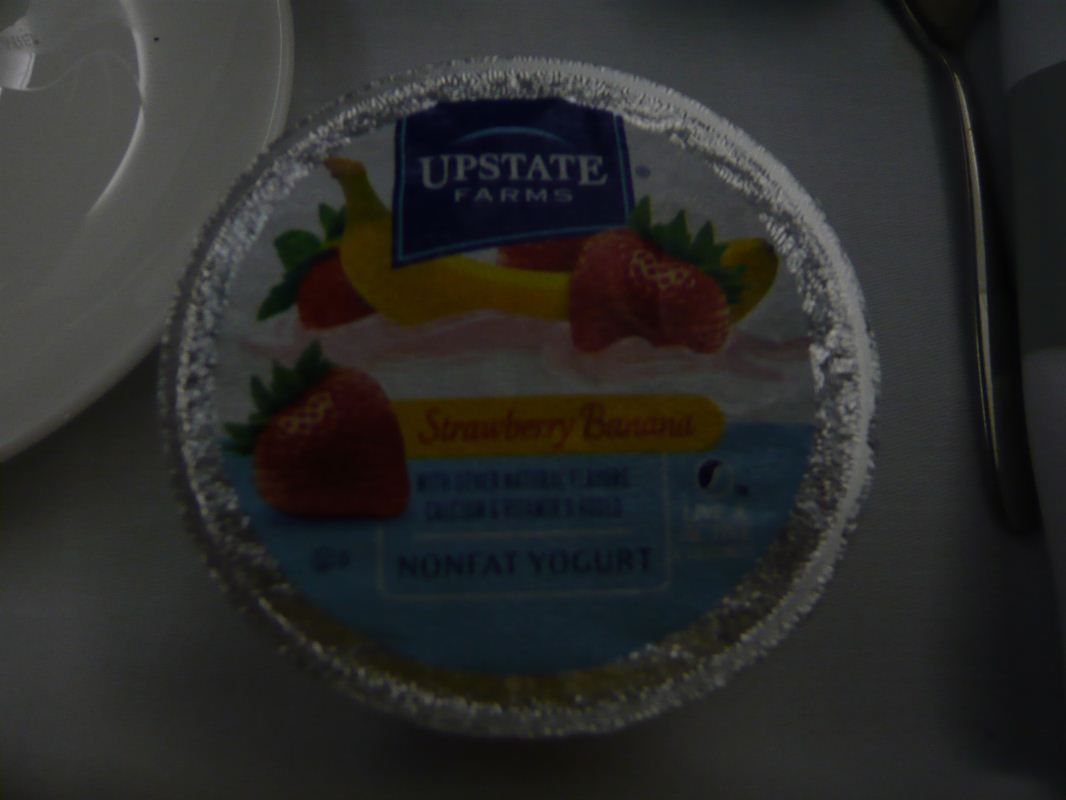 This was all cleared away, and we were on our descent to an early morning arrival in Dublin. Business Class passengers were first off the aircraft, and were quickly processed by Irish immigration. In Terminal 1 in Dublin, there is a separate carousel (number 1) marked "Business Class Priority Baggage Delivery".
This meant our bags came out separately from everyone else, and they came out very quickly – the perfect end to a good flight.
Overall Impression
The Aer Lingus Business Class experience is very good. The cabin crew were efficient, helpful, and were always there to offer you something when required. During the night portion of the flight when the cabin lights were down, they were unobtrusive and quiet when passing through the cabin, which maximised people's opportunities for sleep. The food portion size was perfect so that you were full and yet not too full – and the crew were not stingy with handing out the free booze. Check-in was a breeze, the Oasis Lounge was very good, and overall the service was what I would have expected. I'd recommend it as a good way to get to and from Europe - even more so now since the price has been reduced to accurately reflect what it's worth!
[Edited 2011-02-06 05:55:20]
[Edited 2011-02-06 05:57:56]