Flight: EI105
Route: Dublin – New York-JFK
Date: December 3, 2010
Aircraft: Airbus A330-300 EI-ELA "St. Patrick"
Seat Number: 33H
Departure Time: 1045 (Scheduled), 1155 (Actual)
Arrival Time: 1315 (On Schedule)
Check-In
On arrival at Dublin Airport, I proceeded to the arrivals hall as Jordan was flying in from London Luton to connect to the flight to New York. The original plan had been for him to fly in from London Gatwick the night before, but due to the adverse weather (snow), London Gatwick had been closed. He came through around 8:45am and we proceeded immediately upstairs to departures.
Checking in was swift and efficient, and our bags were tagged and sent on their way. We also picked up our Customs Declaration forms and Immigration forms at the desk, and we filled them in at an empty check-in desk before heading for security. Security at Dublin was efficient as usual, and shortly we were airside. Boarding time was listed as 0900 (for a 1045 departure) on our boarding passes, so we skipped a visit to the Gold Circle Lounge and proceeded to the 200 series gates (the former Pier B) to go through US Immigration. We had heard varying reports on how long this would take, hence skipping the lounge visit.
US Immigration
The US immigration area is downstairs underneath the main pair, and a relatively short queue greeted us once downstairs and soon we arrived at an immigration desk. The officer was slightly confused as to why we were both coming up to him together, as we were supposed to go separately, however he was very pleasant. As Jordan hadn't been to the US in several years, he had to have his fingerprints taken on both hands as well as a photo, whereas I'd been earlier in the year so didn't require a photo and only had to confirm my left and right index fingers.
Once through, there is a departure lounge holding area where passengers wait for boarding. It was very busy this morning, and despite the amount of people around, it was quite cold. There was one small coffee shop which was doing a roaring trade and we bought a drink and a snack and waited for boarding to be called.
Boarding
Boarding commenced on time, with Business Class passengers and passengers requiring assistance boarding first. After that, boarding was by seat rows and being in the rear section of the aircraft meant we were next on board. We showed our boarding passes on entry and were directed across the aircraft and from there proceeded to our seats. Boarding in Dublin is usually very efficient, as Irish passengers have been trained by flying Ryanair to get on fairly swiftly and without fuss.
Cabin
The green and white interior is surprisingly pleasant, and we were soon settled in to our seats. Leg room in Economy is fine for shorter people at 31" pitch...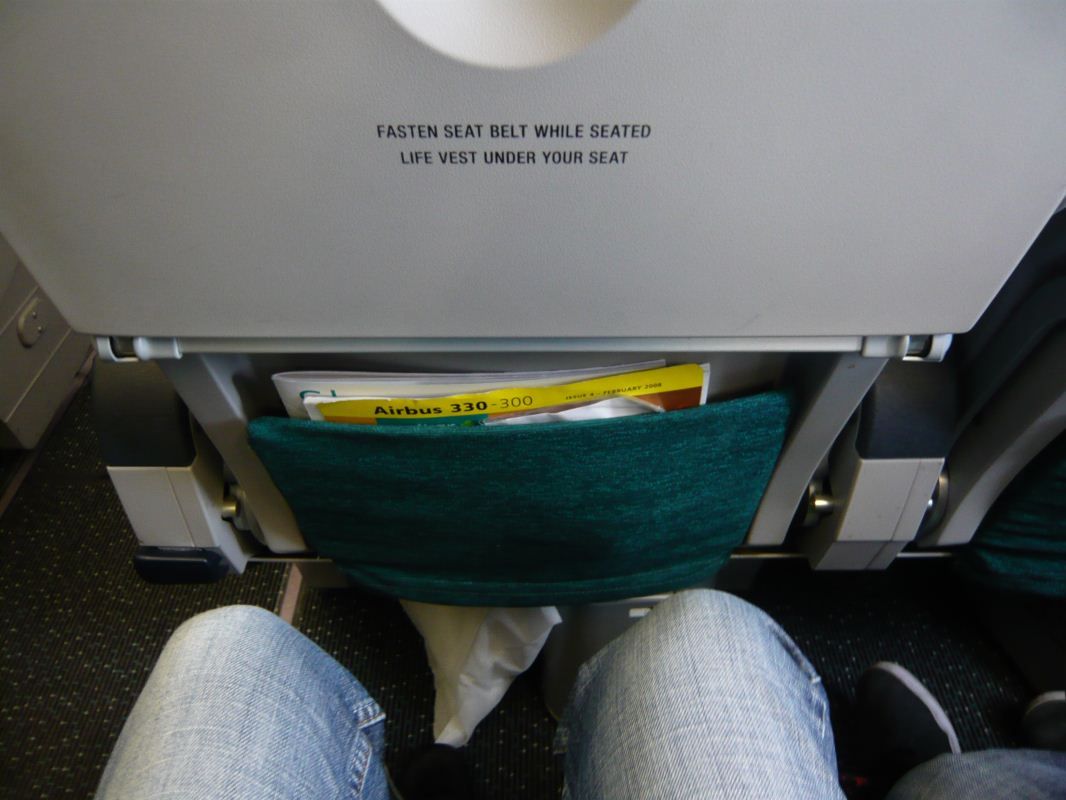 ...however the AVOD boxes underneath the seat are quite bulky meaning that when stretching your legs they are over to one side. Snow white pillows were also situated on each seat for use during the flight.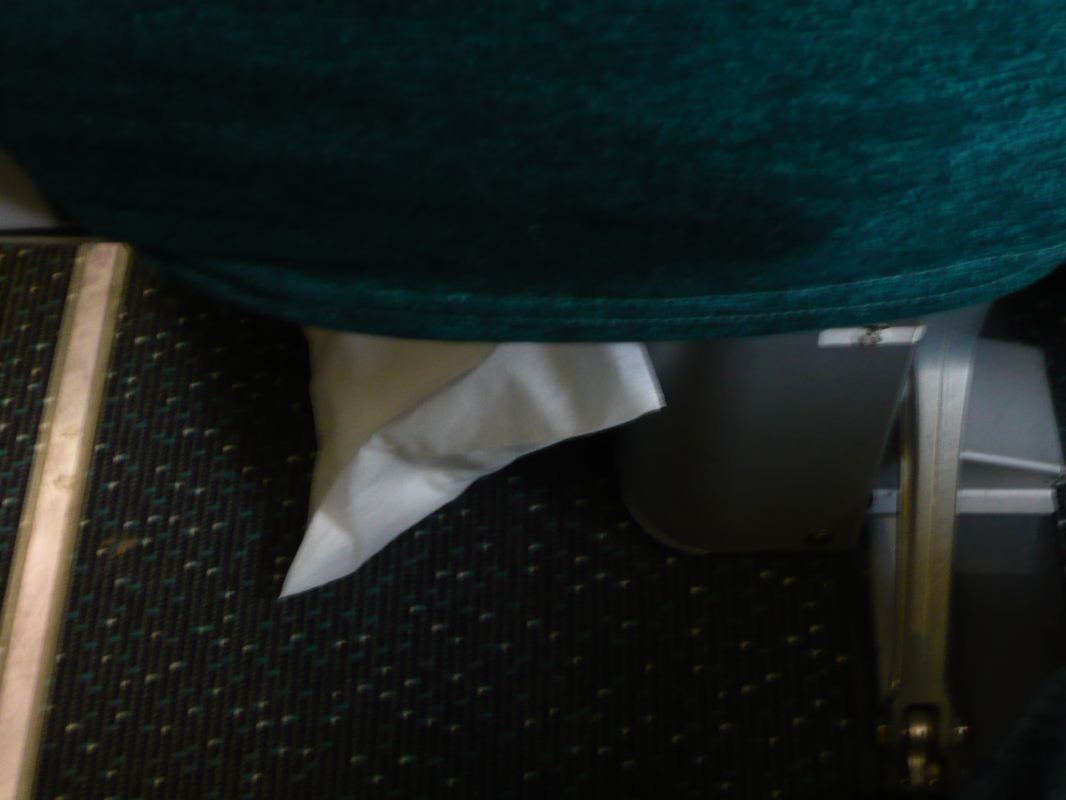 The bulkhead with the baby bassinet areas in the closed position.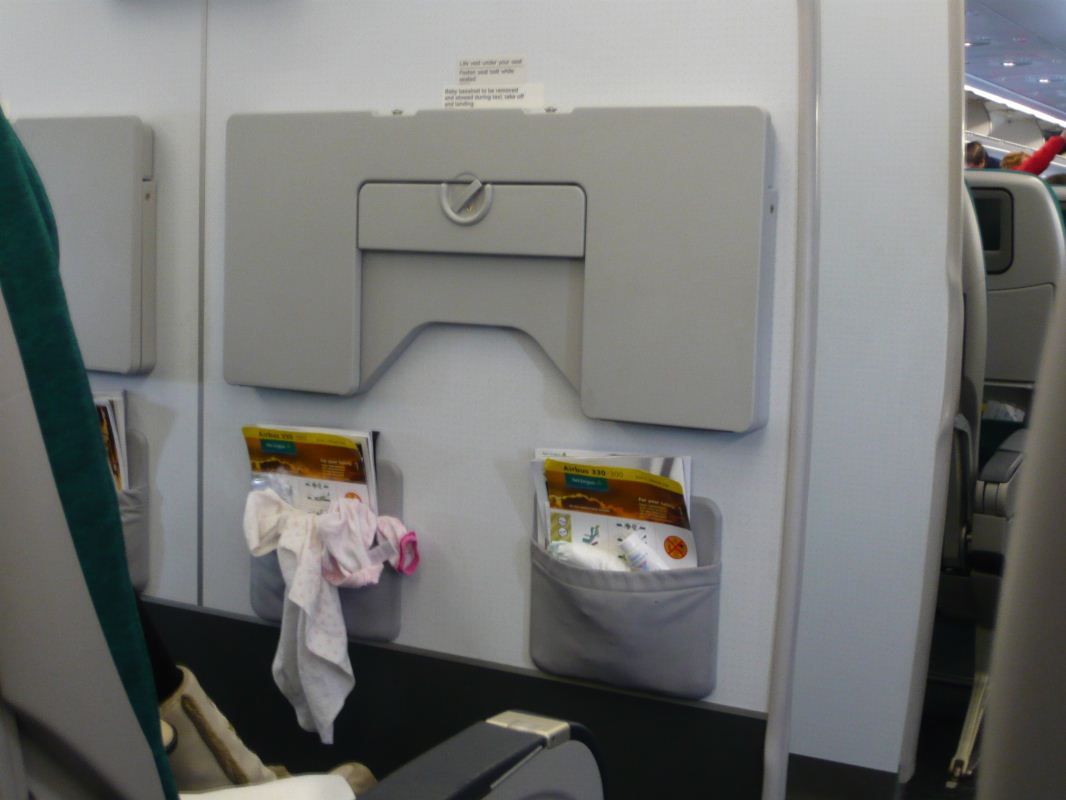 There's also a coat holder on the back of the seat in front of you.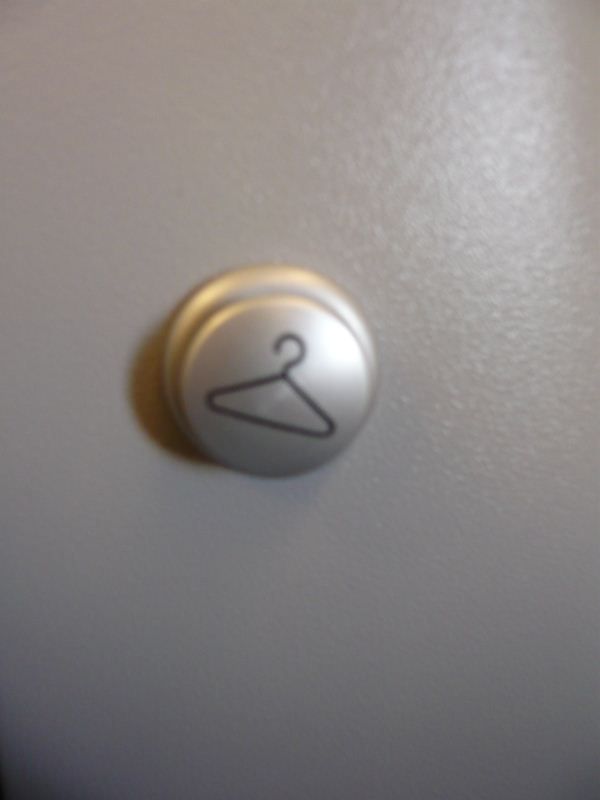 The Captain came on the PA and announced that we would have tailwinds across the Atlantic today and as a result we would be landing an hour earlier than scheduled. Unfortunately this wasn't to be. There was a group of Spanish passengers on board who were up and down to the Cabin Crew throughout boarding as they wanted to move to sit together, however they were repeatedly advised to wait as boarding hadn't finished. While this was happening, the de-icing truck came by and de-iced the wings.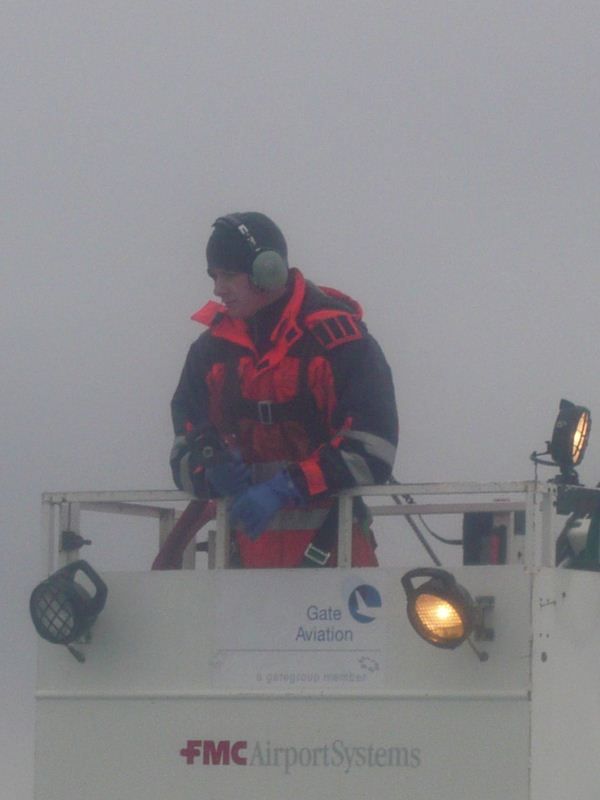 Eventually it was announced that our flight was delayed as we were waiting for over 20 connecting passengers who were coming from Glasgow. Due to weather their inbound flight had not yet arrived, and so we would wait on the ground in Dublin for them. During the delay, the very pleasant cabin crew were sharing a laugh with a large group of passengers across the aircraft from us, and the atmosphere was quite festive on board. This is the Aer Lingus uniform from behind.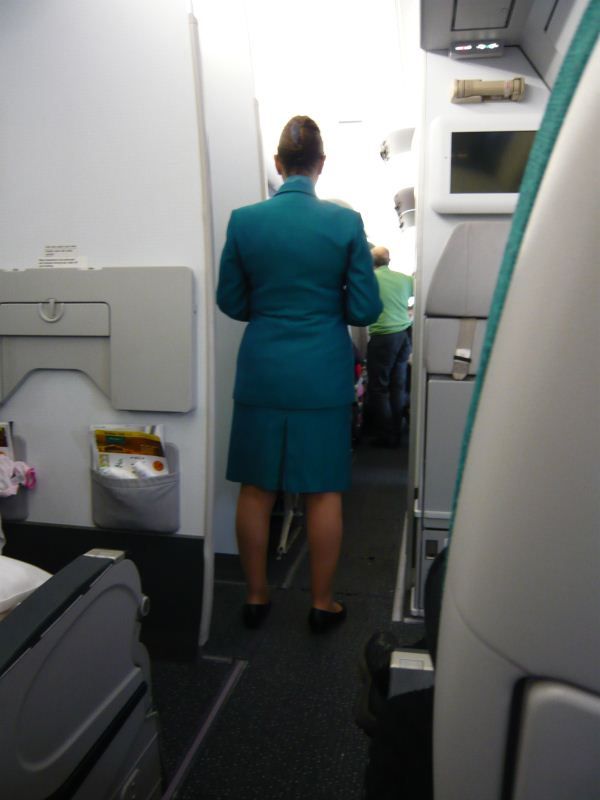 After 45 minutes or so, the Scottish passengers arrived, and shortly after one of the ground staff came by and opened door 3R to check the wings for ice and snow contamination, followed by door 3L.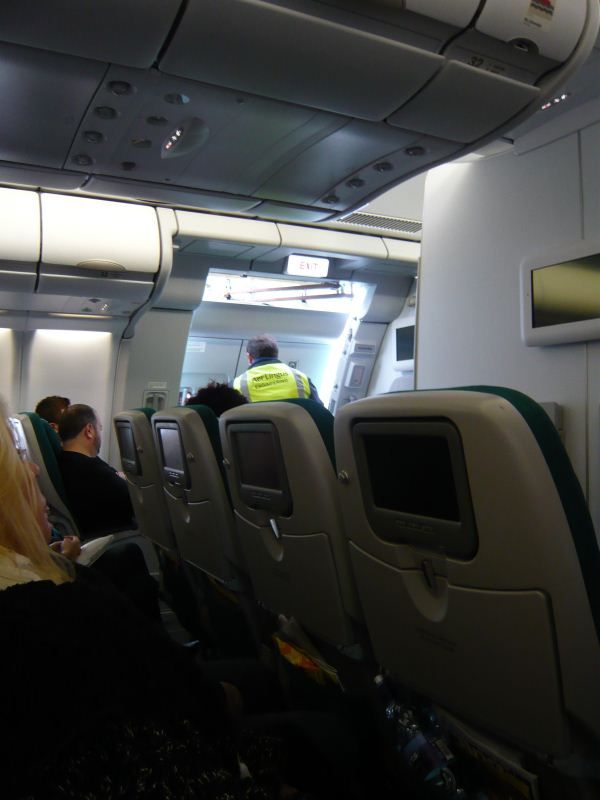 We buttoned up around 11:45am, watched the animated Aer Lingus safety video on our PTVs and taxied to the runway and were in the air around midday, Dublin time.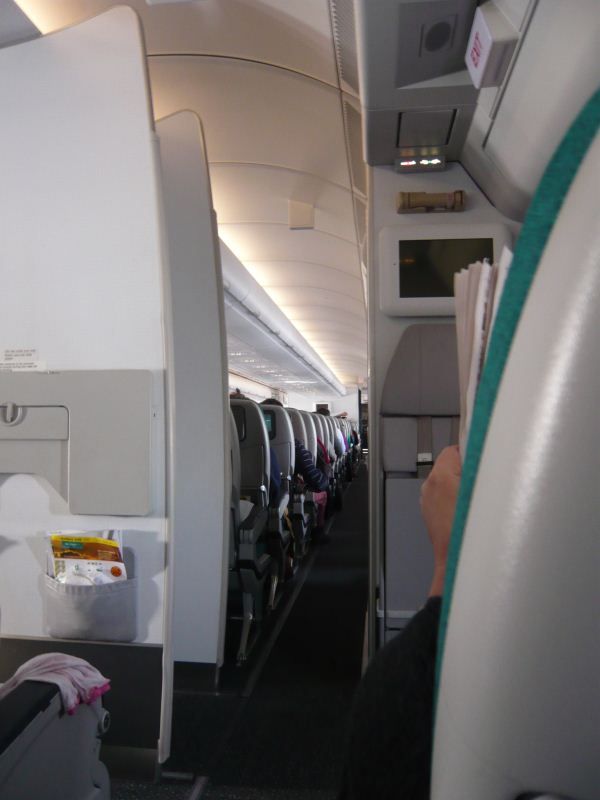 In-Flight
Once the Cabin Crew had been released, the first thing that happened was the delivery of an Aer Lingus Baby Cot to the passenger in the bulkhead seats in row 31. The baby cot is essentially a cardboard box to put on top of the bulkhead bassinet station, which is then secured by straps to prevent it from moving during the flight. I refer to it as the Aer Lingus "Baby in a Box". It's obviously easily disposable and it appeared that the baby fit in quite well.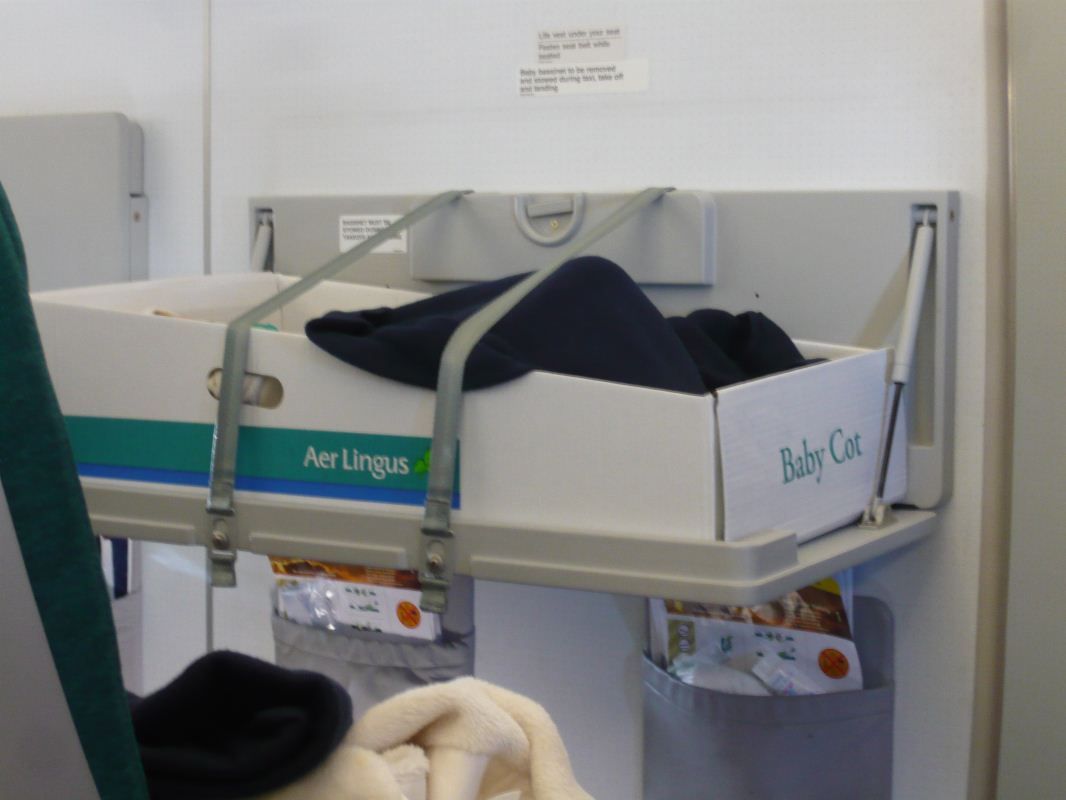 A bag of blankets was stationed at each doorway, and old hands on the flight immediately got up to claim a blanket despite the seat belt signs still being on. Many people did this - including us, once we realised the crew didn't have a problem with people getting up – leading me to believe this is standard procedure on Aer Lingus. The flight was very full in Economy, so there were quite a lot of people running back and forth to claim their blankets for a good ten minutes or so. Here is some of the Economy Class fashion.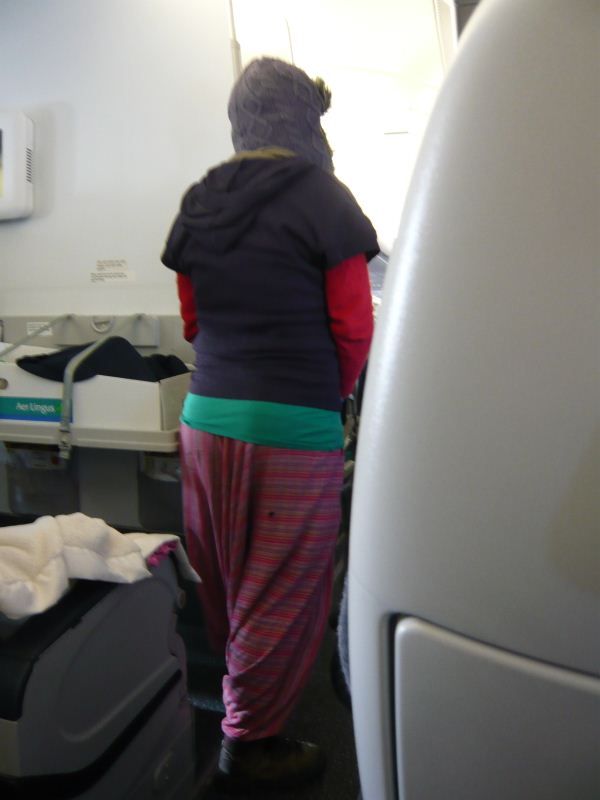 The drinks service followed and on Aer Lingus you are required to pay for alcoholic beverages in Economy Class so we decided not to have a drink and instead opted for Coke's and water. When we asked for water in addition to the coke, the crew member gave us a long suffering look and got it for us without a word or a smile. A bag of pretzels was also given out to accompany the drinks. Once this service was finished, it was time for the lunch service.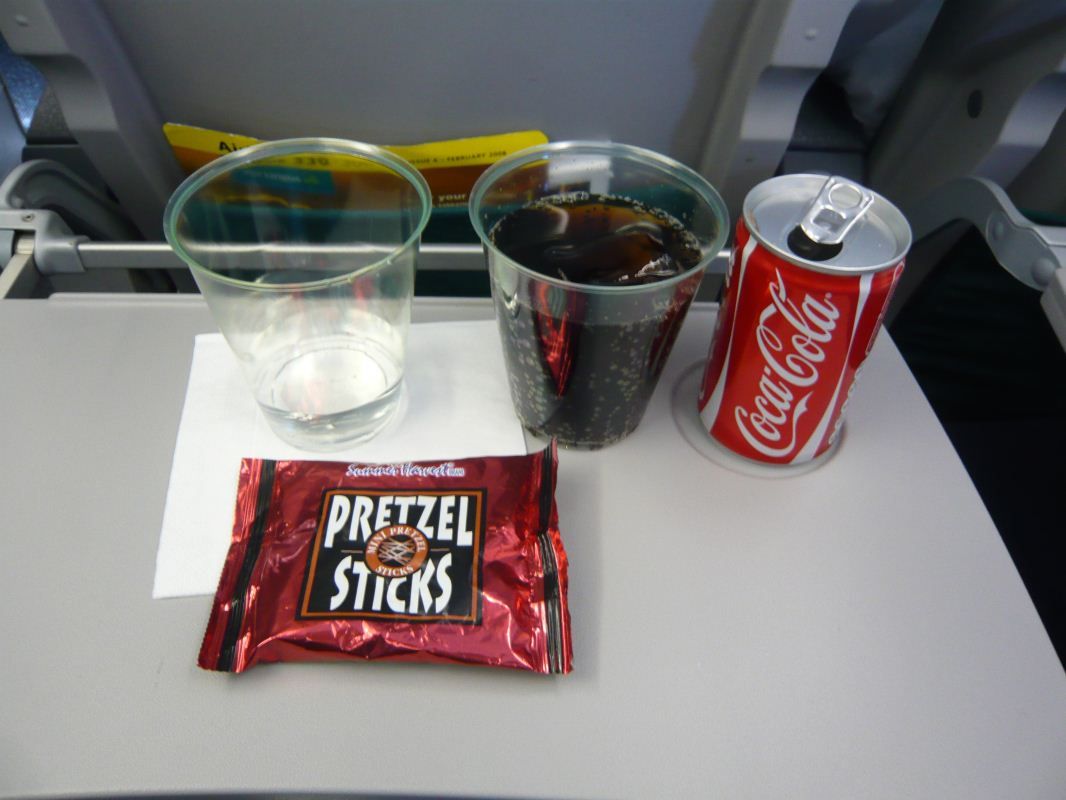 The choice was Beef Bolognaise & Pasta or Chicken and we chose the beef. The tray was delivered, and it had a Honey Mustard Pasta Salad, a bread roll, butter, water, the beef meal and Viennese Finger Cookies (shortbread) to have with your Tea or Coffee later on. The pasta salad was quite tasty as was the beef dish, so there was no problem whatsoever with the meal. It was perfect for lunch, but not quite as filling as it could have been for someone who had skipped breakfast!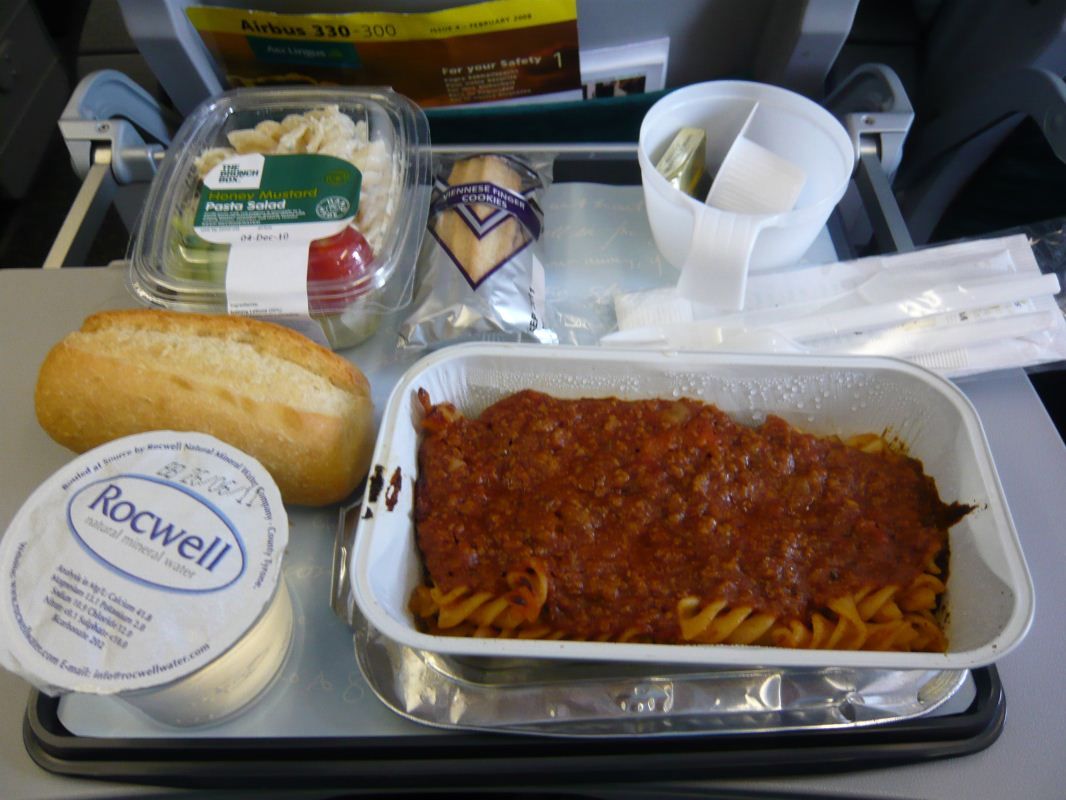 The bubbly flight attendant who had been chatting to the passengers earlier, Karen Waters, was also most gracious throughout the flight. She was happy to talk to the passengers while doing her service and was nothing less than a credit to the airline. We asked her if we could have a second meal and she said that was no problem at all – but she only had the beef left. We said this wasn't a problem and she came back very quickly with two more meals for us. After we'd finished those, we were definitely full and it was time to settle in and check out the in-flight entertainment.
There were "18 movies and over 60 hours of TV" according to the airline, but the choices on offer weren't great in my opinion.
I flicked through the listings and nothing really grabbed my attention, so I just chatted with my friend and relaxed with my pillow behind me and my navy blue blanket keeping me warm. I made a visit to the bathroom later in the flight, and it was clean and in a good condition, so there were no nasty surprises there!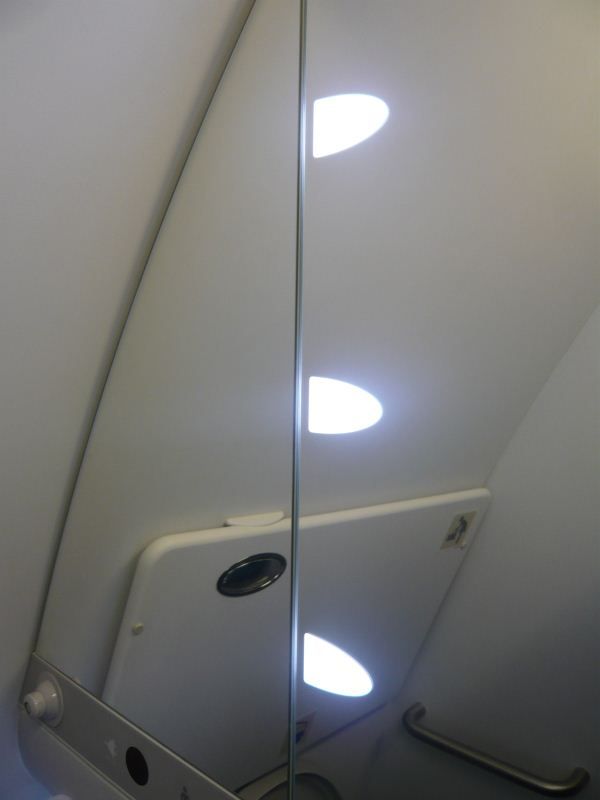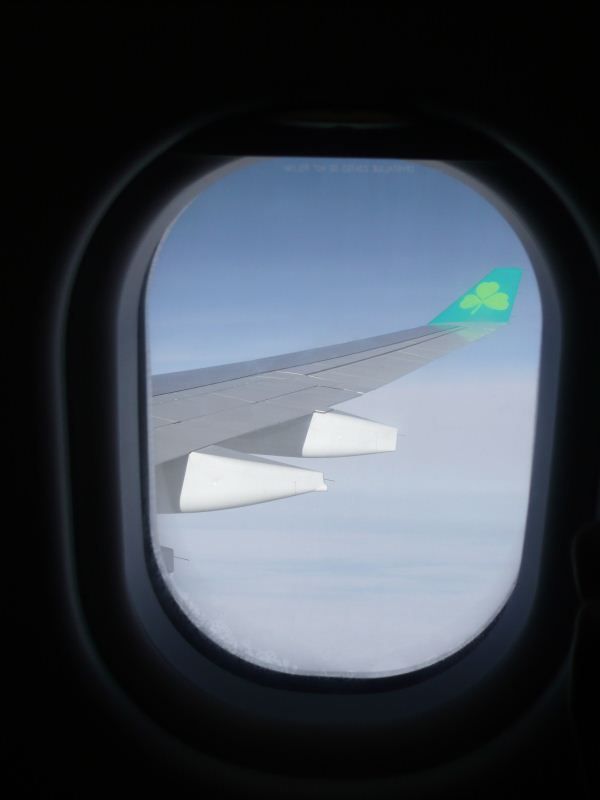 Soon we saw that we were approaching US airspace on the moving map, and the cabin crew came through with an afternoon tea service.
This was a Scone with Jam and tea or coffee. Unfortunately, the scone was very cold as though it had been refrigerated, so it wasn't great. It would have been better at room temperature or even better warmed. We were still very full from our two lunch pastas, so we really only picked at it.
After this, I decided I wanted a picture of the cabin from the rear, so I went down the back and got a photo of the cabin and while there I also noticed the rear galley was empty so I got a shot of that also.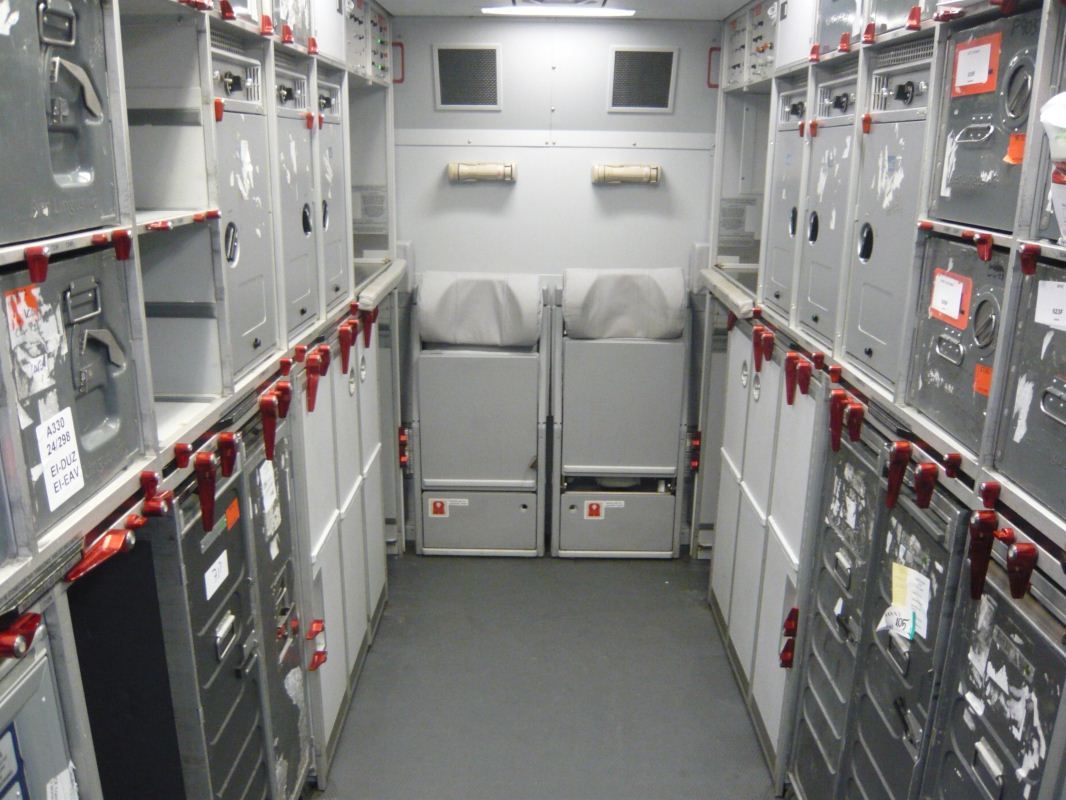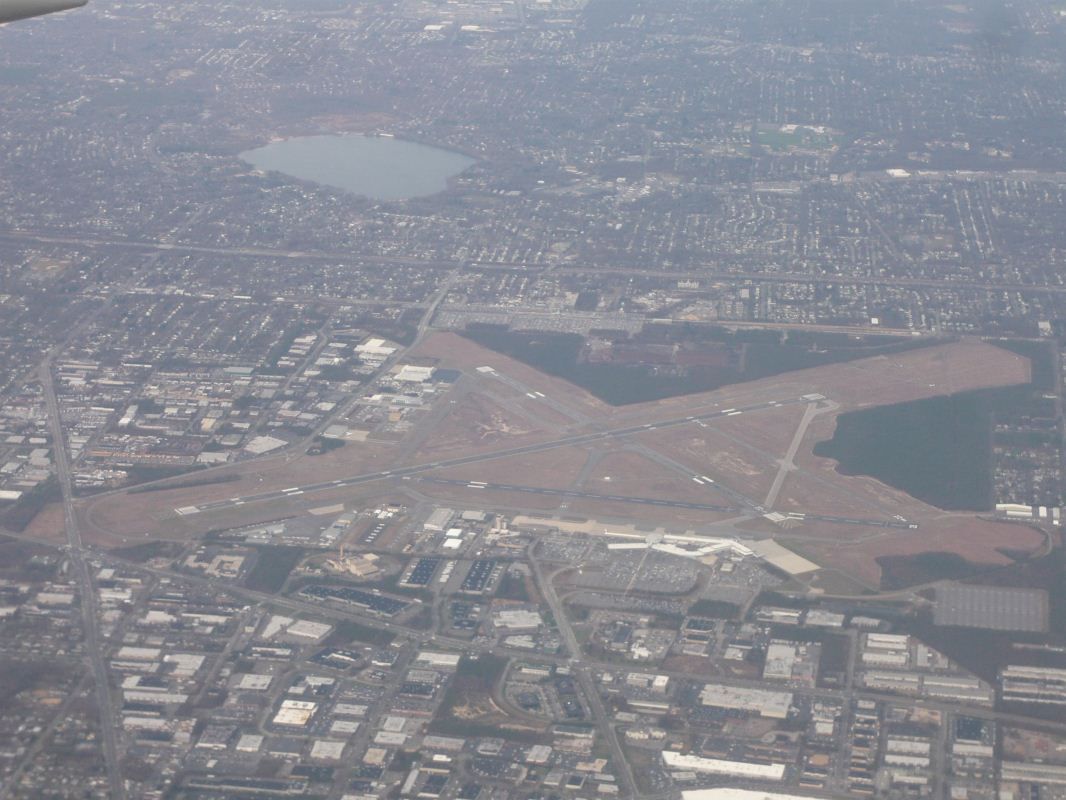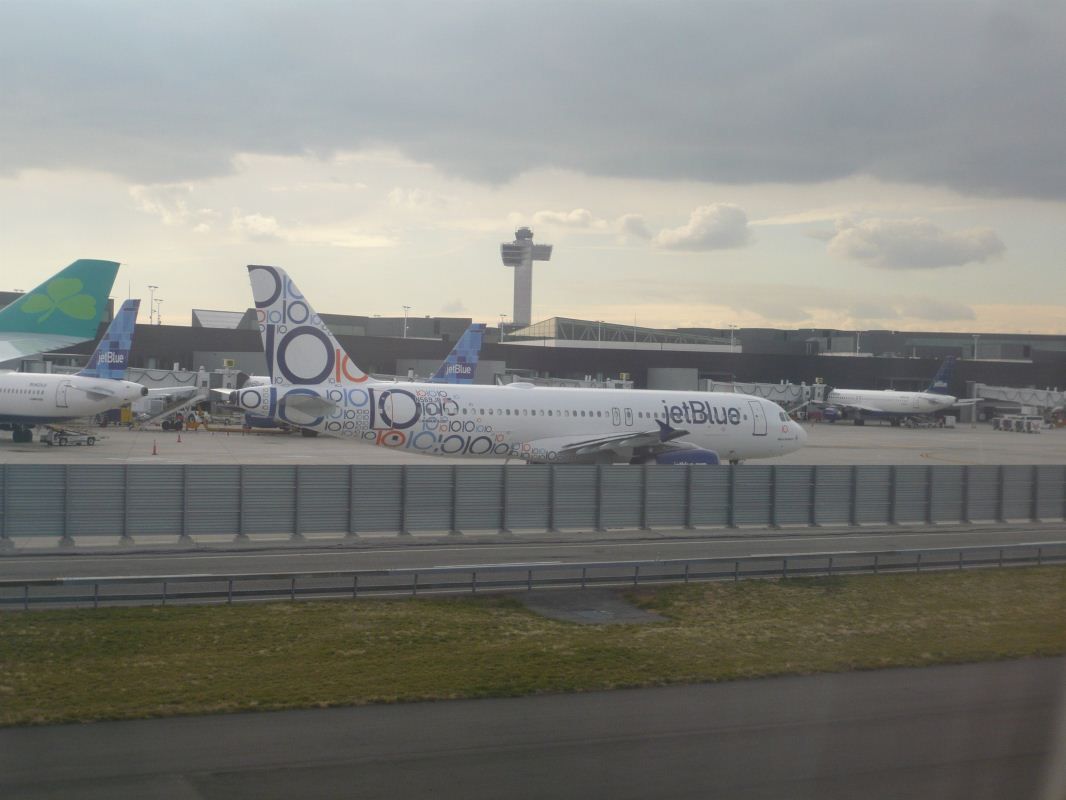 We descended into New York and landed on schedule. Once we deplaned, we got directed past the immigration desks as we'd already been through this in Dublin, and then waited at Baggage Claim for our bags. They came through fairly promptly, and we walked through Customs with no problem after handing in our declaration forms.
Overall Impression
The Aer Lingus long-haul Economy Class product is good product for travelling across the Atlantic. The cabin crew varied from extremely personable, friendly and efficient, to one in particular who didn't seem at all happy to be there and could barely crack a smile. The food was certainly tasty and good for the time of day, but I think paying for drinks in Economy is a little bit much, especially with the prices they charge. The AVOD in-flight entertainment was fine, there just wasn't anything that grabbed by attention, but I do think a bigger selection wouldn't go astray. All in all, the flight was good value for money, comfortable and was all I was expecting for the flight.
The return flight was in Business Class and the report is here -
http://www.airliners.net/aviation-fo...ums/trip_reports/read.main/184264/