Hello!
Welcome to my TR! This time I´m headed for Düsseldorf, Germany were a friend of mine lives. I started planning in early December to visit him and looking for available flights. I find two options of directflights from ARN to DUS. Lufthansa op by Eurowings on the CRJ200 and SK on the 737-600. Actually it´s a third "option" also, flying from Stockholm-Skavsta to Düsseldorf-Weeze on FR but that was not too tempting
Anyway I decided quickly to catch LH since I had never flew on the CRJ200 before and that´s a A/C I wanted to fly with for long. Unlike the rest of the A-netters I dont find the 737-600 a rare A/C,I have quit many -600 flight´s in my log, mostly on SK.
I booked quickly afraid of raising fares and I ended up paying 1800SEK(170Euro) for my return ticket which is quit cheap for being LH and a typical Business route.
The route: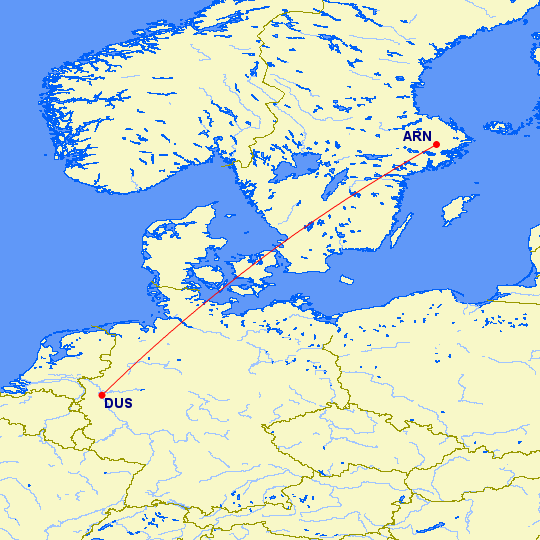 The date for my outbound flight was the 24th of January and I traveled by train the day before to Stockholm to visit some relatives living there. Rather late in the evning I took the Arlanda express train to the airport and stayed the night on one of the airport hotels.
The 24th of January 2011 Outbound flight:
My flight departed in early afternoon so I didn´t have to get up early which is always nice. I actually stayed in my room untill 12.00. Took the shuttlebus to terminal 5 which was done in five minutes arriving in the terminal at 14.15.
Check-in with self-service machine, and choose seat 11F, a window seat just behind the wing.
Terminal 5: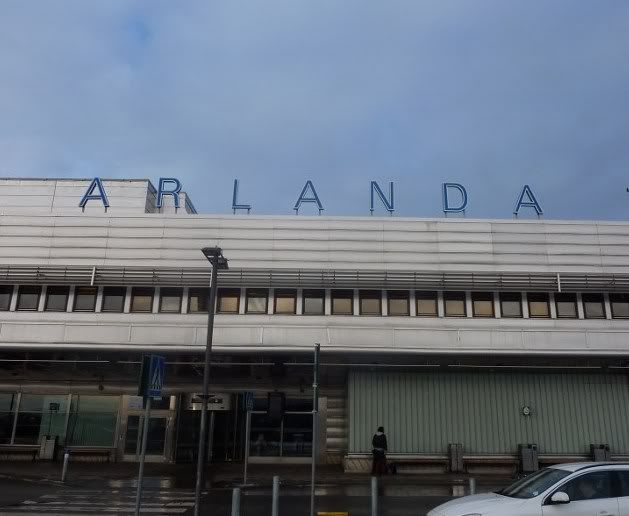 and again:
Control Tower: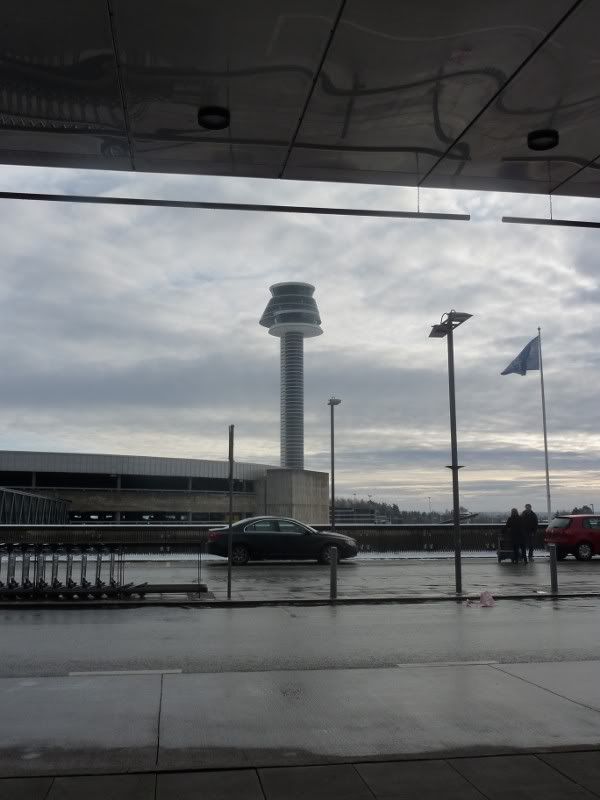 BA ad for its newly opened LCY service: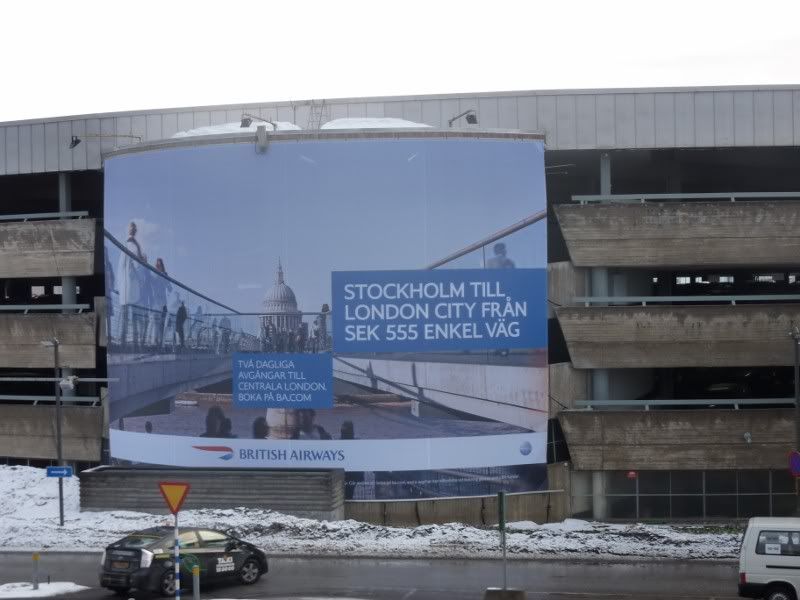 Before heading for security I had some lunch in Skycity between terminal 4 and 5. Of course I chosed a restaurant with some spotting-opportunities
Delta´s 757 to JFK:
SK MD and 737´s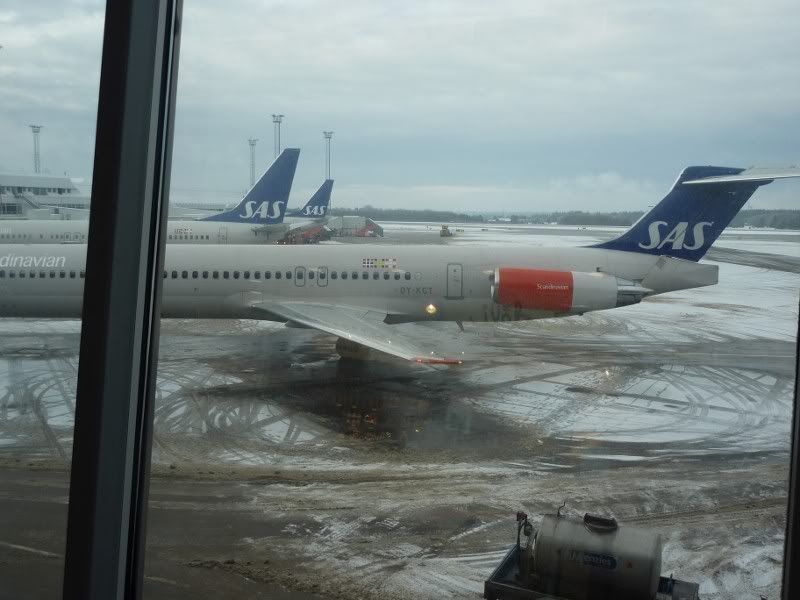 Traffic was quit low at this time and I decided to go to security which was done in no time.
Some views from the departure-area:
SK 737´s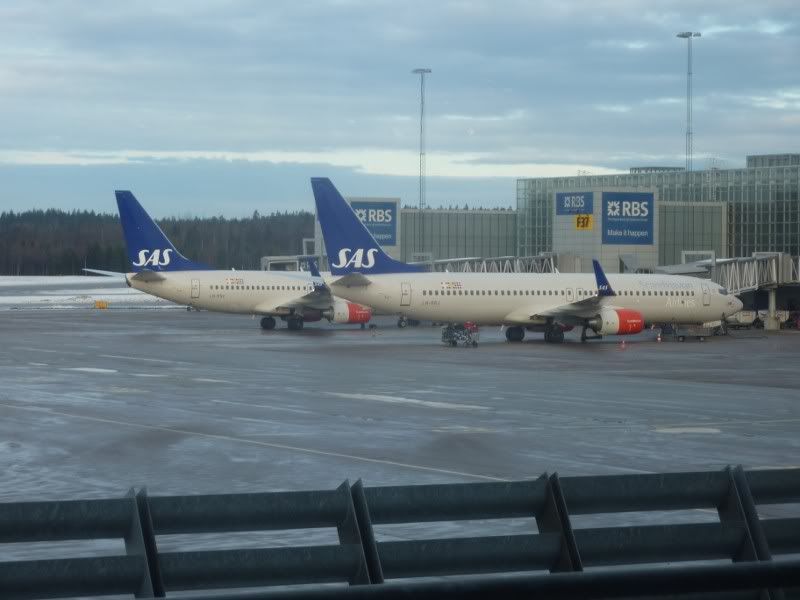 Air Baltic Fokker 50 to Riga: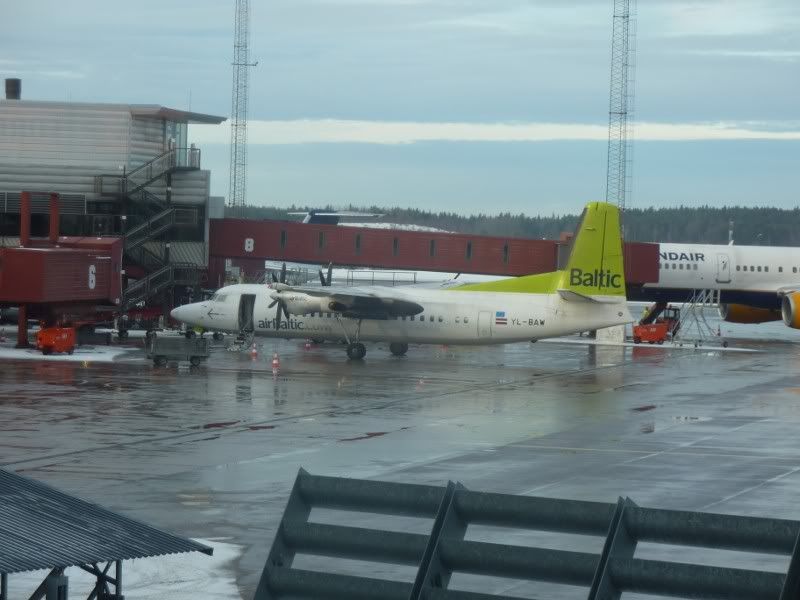 Icelandair 757 to KEF:
AF, SK and TG:
KLM´s 737 to AMS:
I took a glass of wine and a smoke in one of the bars and then walked to my gate, 05B.
No A/C at the gate get, some 30 min before departure so I took some coffee on Starbucks just next to the gate and sat down and waited for my A/C to arrive.
Just five minutes late it arrived from DUS: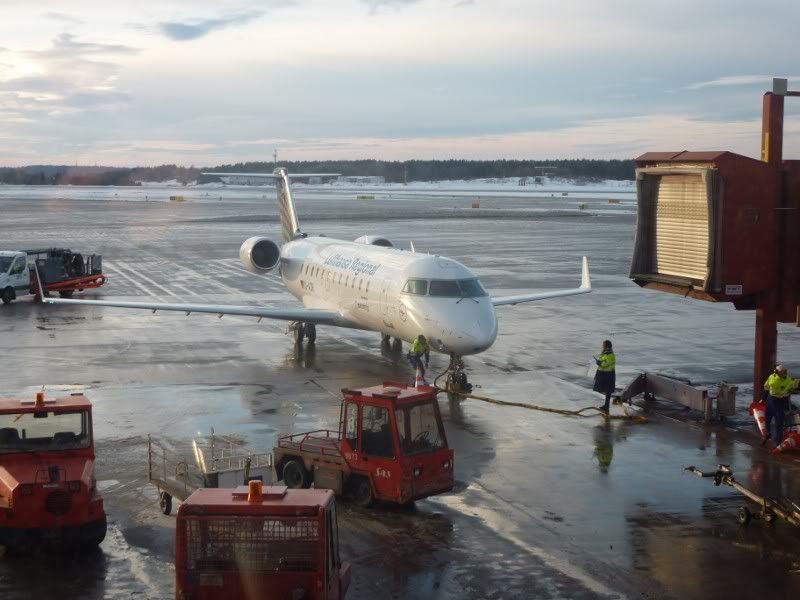 My A/C, D-ACRI:
I went to the smoking area for one last smoke before boarding and arrived at the gate around 10 min before annonced boarding-time. I could see the gate from the smoking-area and there was around 15 pax there waiting. I thought it will be a light load today but after a while more and more started to show up and finally when I return from my smoke there was 39 pax there, 40 with me included so a good load on today's flight.
Finally five minutes after announced boarding time they started boarding. The A/C was not connected to the gate so we had to use the stairs down to the tarmac and then a short walk to our A/C: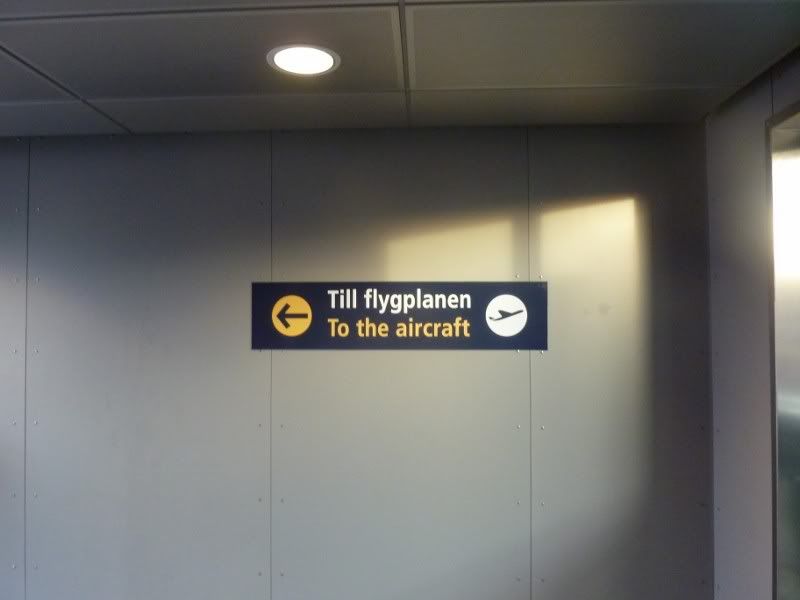 LH Regional CRJ-700 arriving from HAM: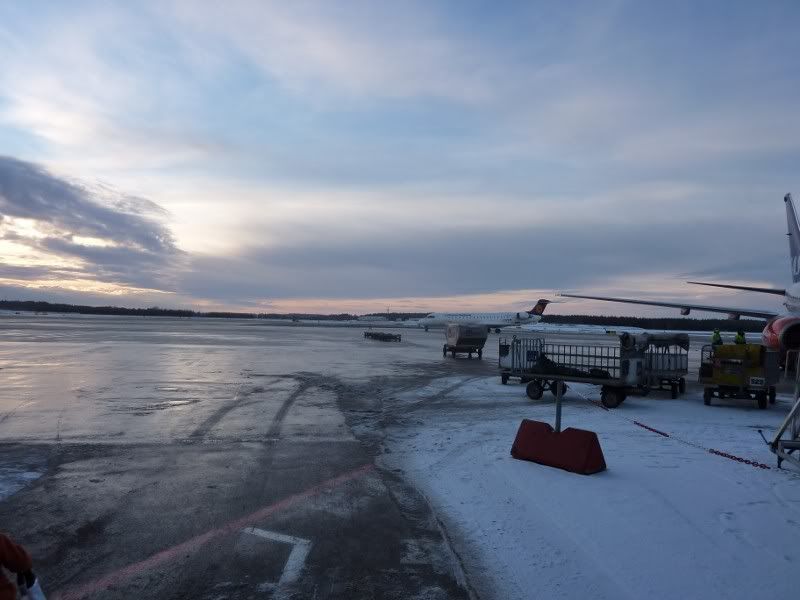 Boarding: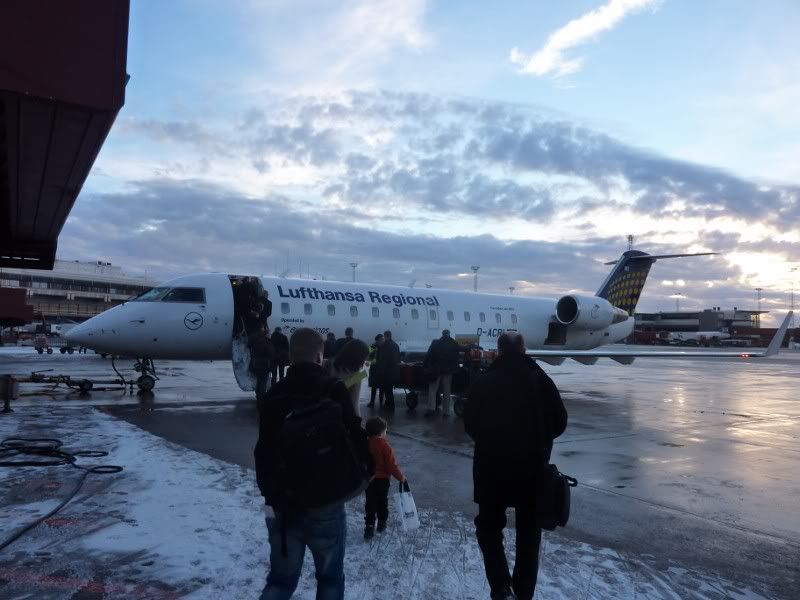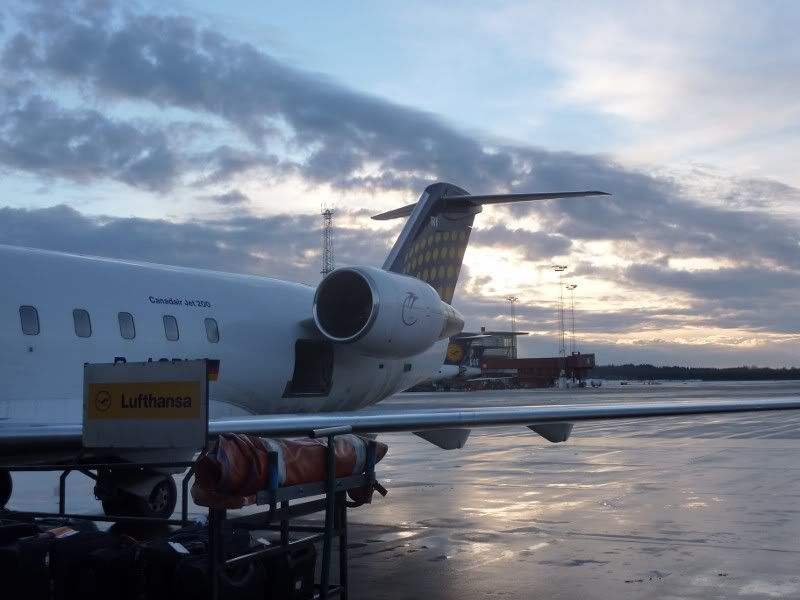 Op by Eurowings:
View from my seat 11F:
Flight details:
ARN-DUS
Flight:LH2923 op by Eurowings
Dep time: 15.10
Arr time: 17.10
Load 40 of 48
The seat next to me remained free but when everyone was seated the ramp-agent step onboard started to talk with a guy seated in the front. After some discussion he stand up and walked back taking the seat next to me! Really don't know why!
Two female F/A´s onboard, both in their mid 30´s. One very friendly and one less friendly:D
Soon the door was closed and the F/A´s started the safetydemo. No recorded one here on EW. One of the F/A's demonstrates and the other one reads the instructions over the PA. In the meanwhile the engines was started and we started our taxi.
We took off ten minutes late, at 15.10 from runway 19R in a southernly direction. Shortly after a slight turn to the west towards DUS.
Shortly after take-off: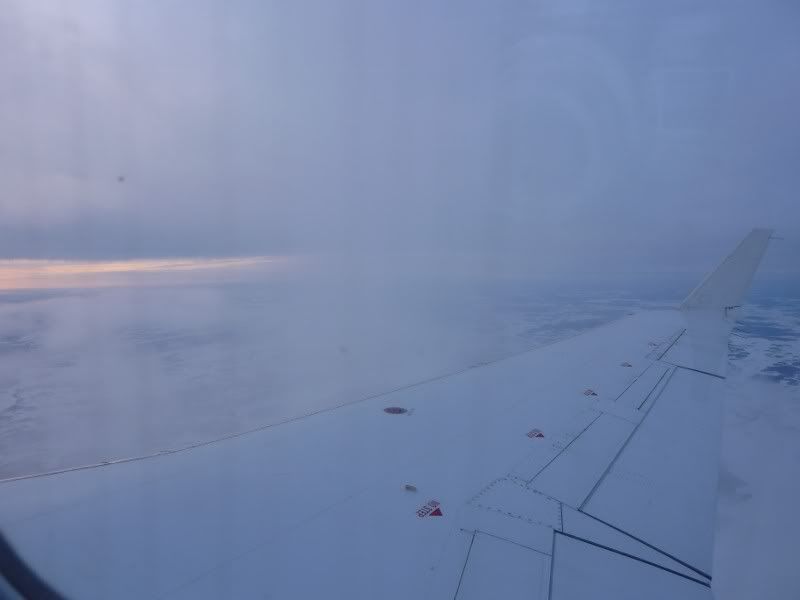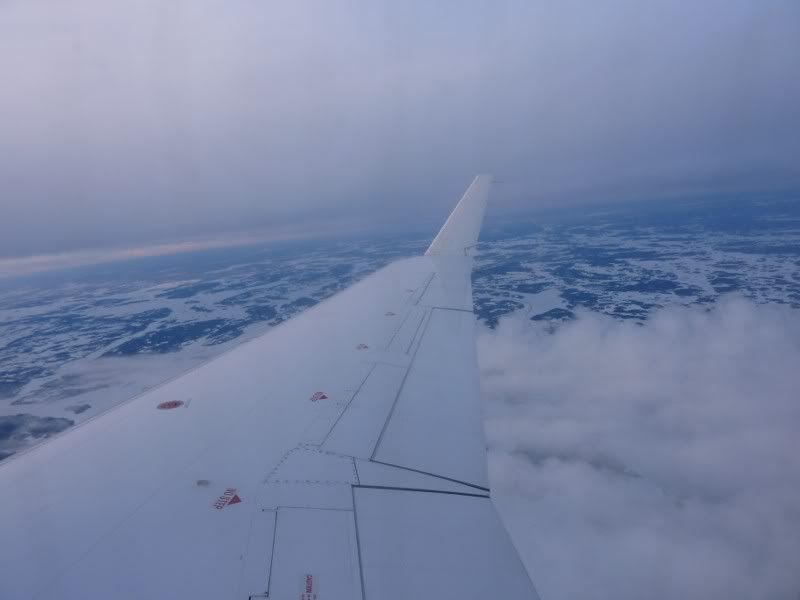 A couple of minutes into flight the setbelt-sign was turned off and the F/A's started their service. It took some time for them to reach us in the back. We were served some sort of warm bread-roll filled with cheese and herbs. Quit tasty but very small
With this I took a glass of white wine and coffe. We also get a second-round of drinks later on in-flight. What impressed me on LH is that if you want beer you get a large glass-bottle and not a little can
When in cruise the elderly female Captain came over the PA and welcomed us onboard. I din´t recall our crusing-altitude or speed but the routing was as follows:Stockholm, Norrköping, Jönköping, Copenhagen, Hamburg, Dortmund, Düsseldorf.
After the service finished I visited the lavatory which was suprisely big on this little CRJ. Even bigger than on the larger jets like the 737 and A320.
A picture of the cabin: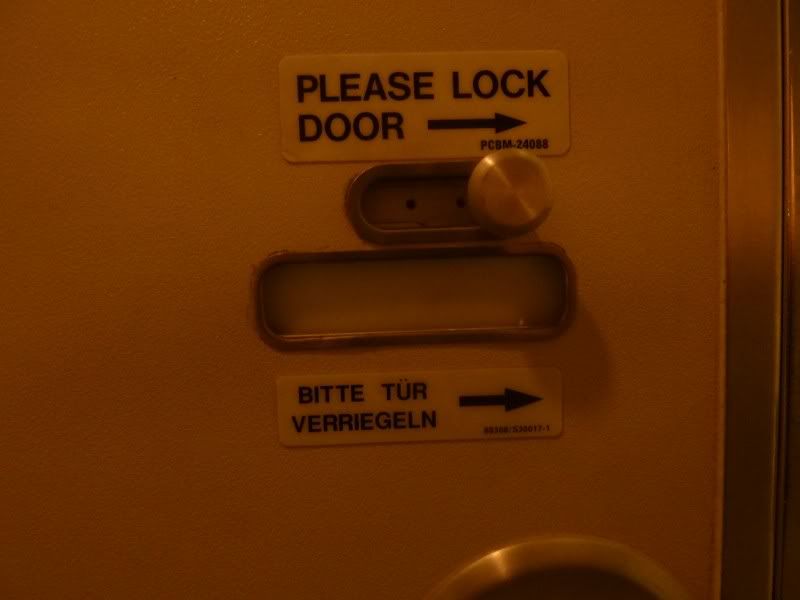 Cloudly over northen Europe: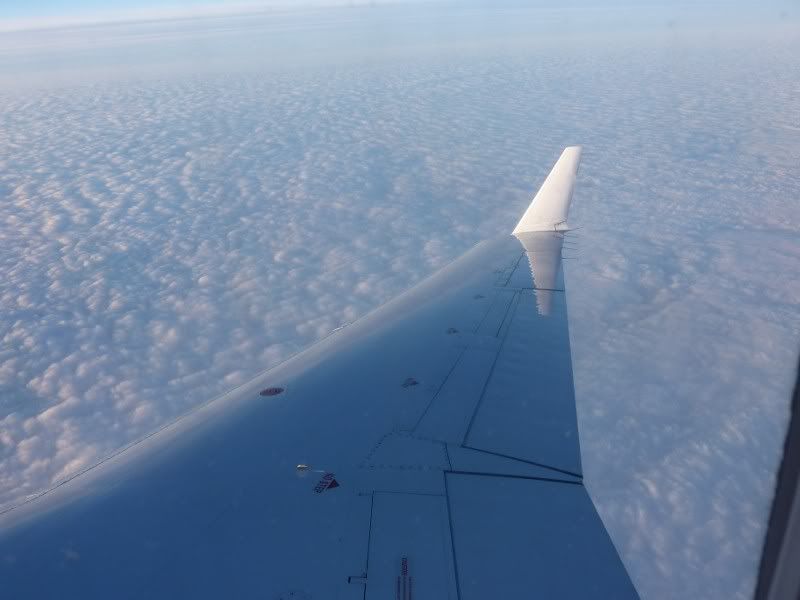 About one hour and 40 min into flight we started our descent towards DUS:
The speed-brakes was deployed from time to time: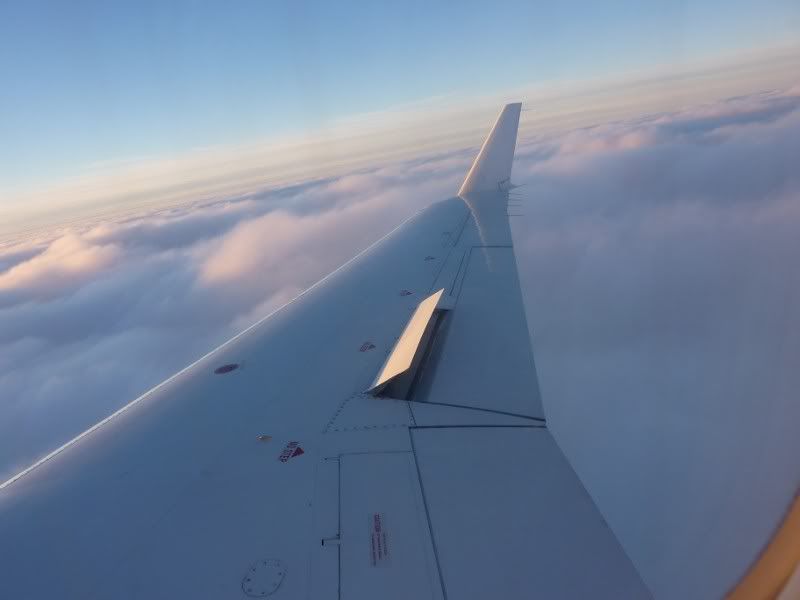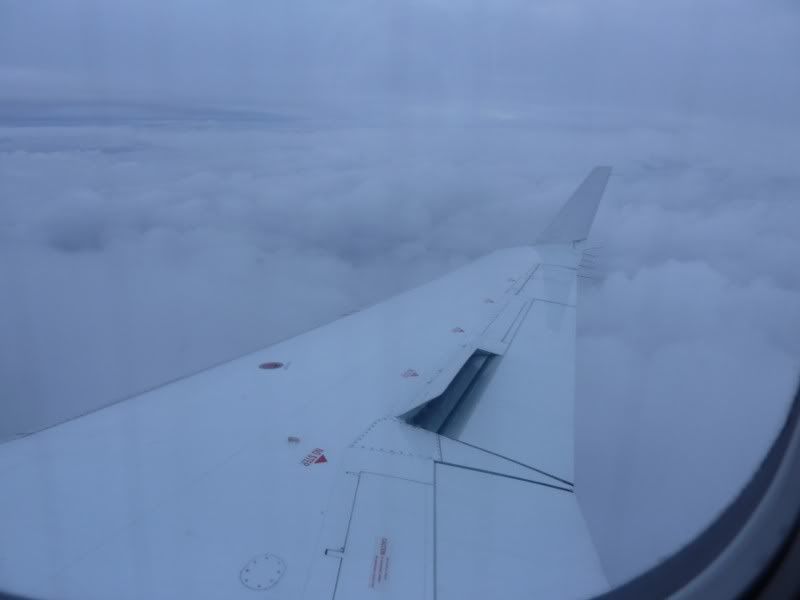 Into the clouds: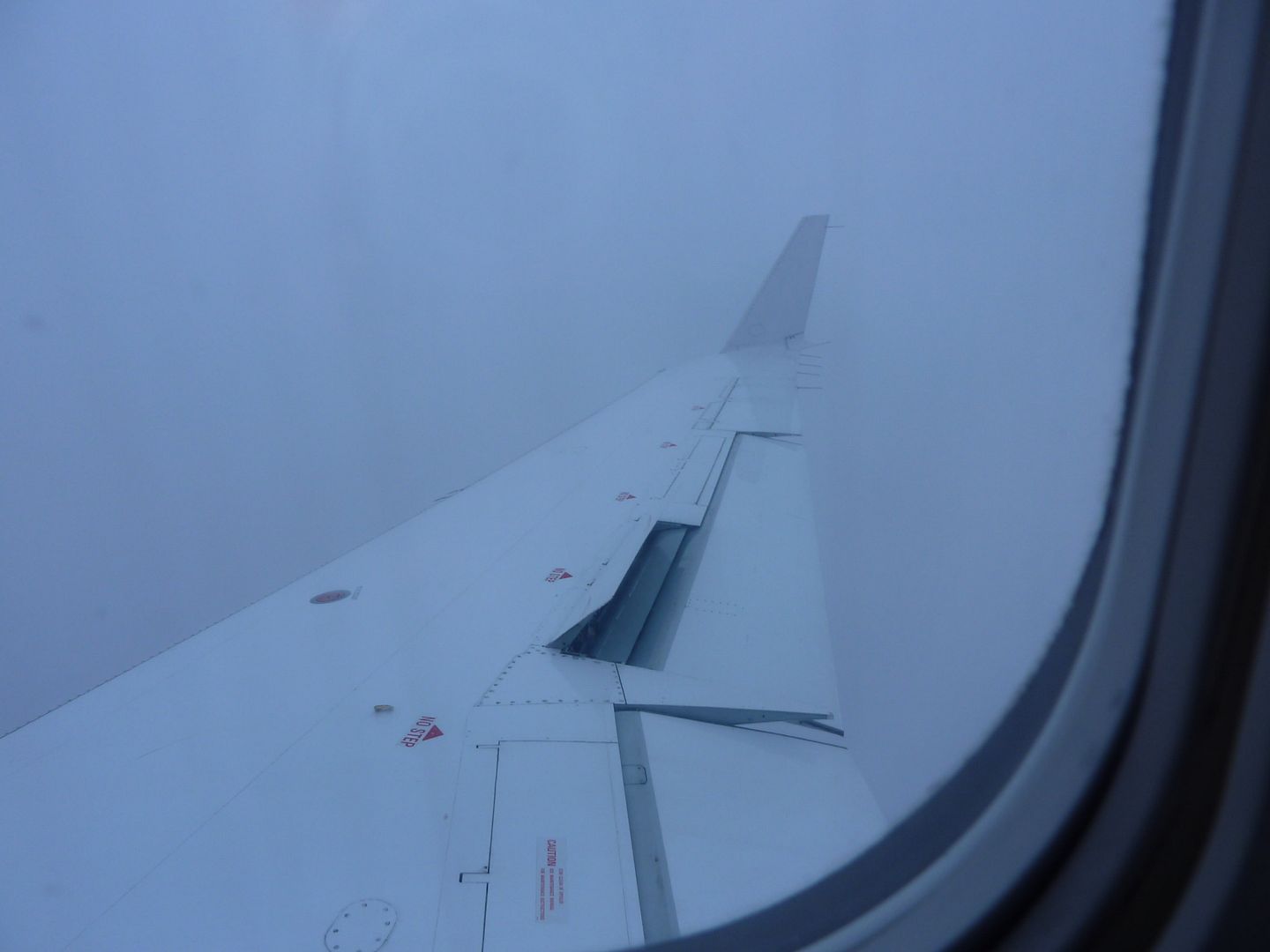 There was no views on the ground until just a few seconds before touch-down but I was unable to take any pictures since my seatmate was leaned over me to see out. get a window-seat next time mate!
We landed at 17.10 on DUS runway 05L after two hours in-flight. After that a very long taxi to a remote stand. A fellow pax sitting in front of me with a very bad humor sad loudy to his seatmate that we probaly landed in Berlin and was now driving on the autobahn (highway) to Düsseldorf!
leaving the runway: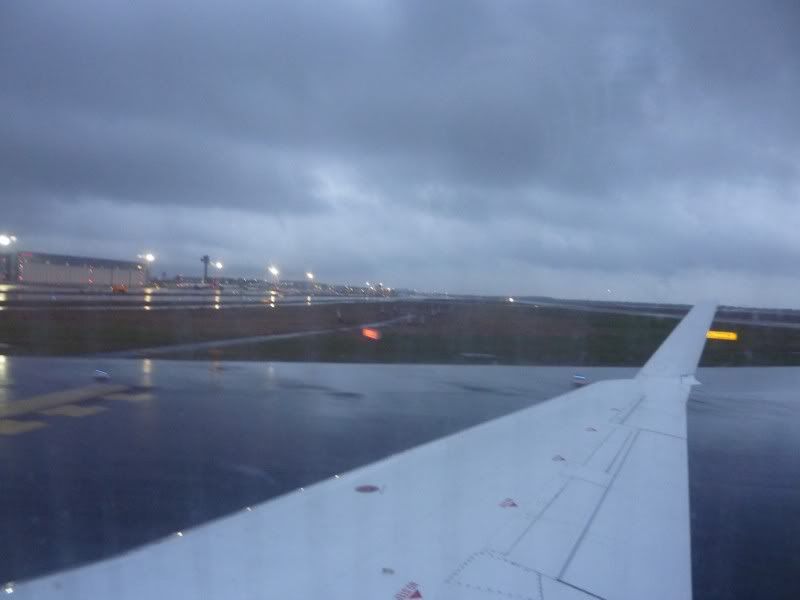 Passing some AB and LH´s Airbuses:
parked next to another CRJ200: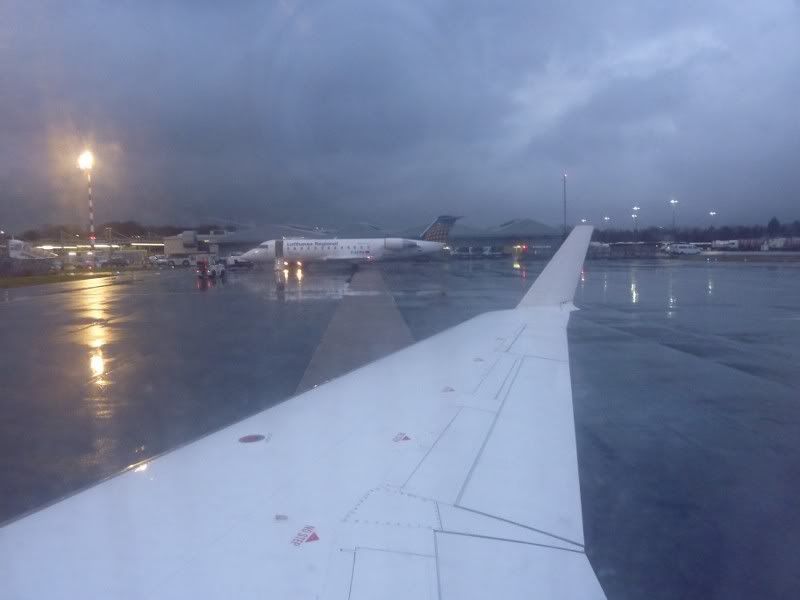 Leaving the A/C: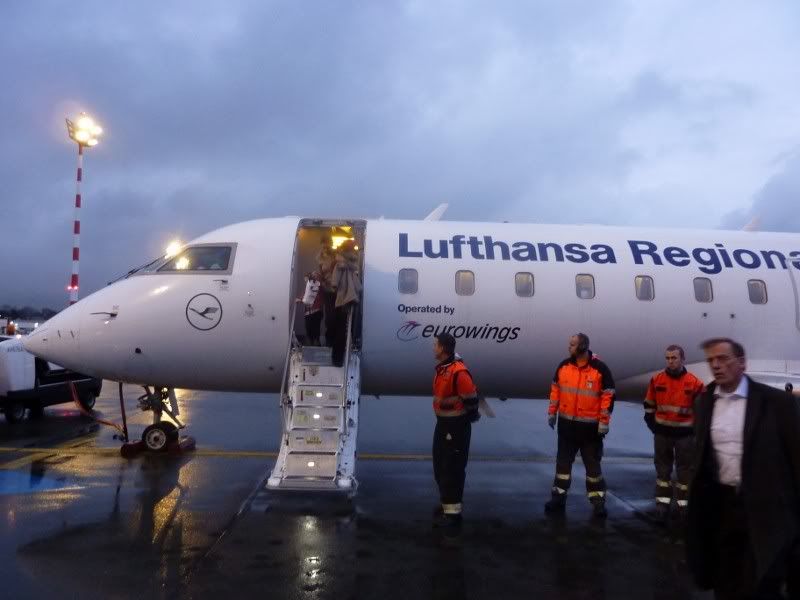 When leaving the A/C the elderly female Captain was by the door. Never seen a female pilot with a skirt and high-heels before
After a quit long taxing it was time for a long busride across the airport to the arrival-hall.
I recived my bags in 5 min and meet up with my friend.
Here some pictures from Düsseldorf:
The Hotel I stayed in:
The room, very nice: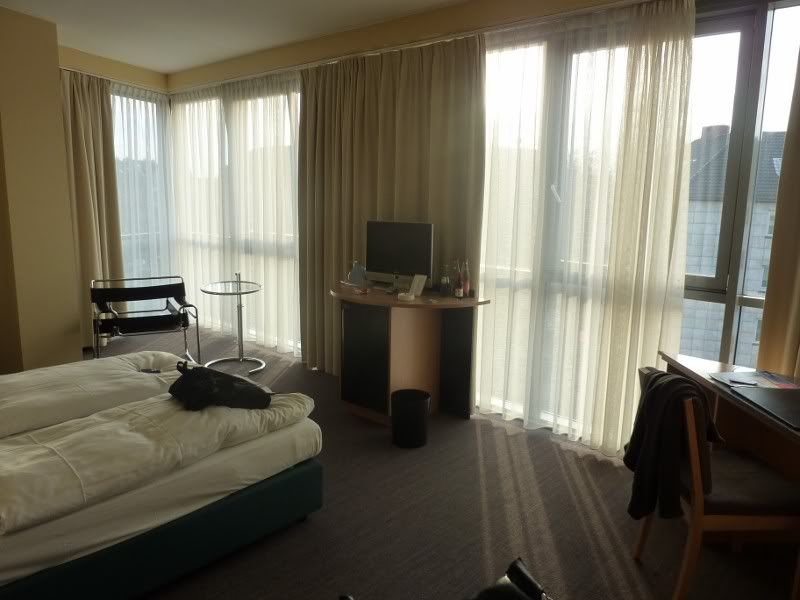 By the riverside: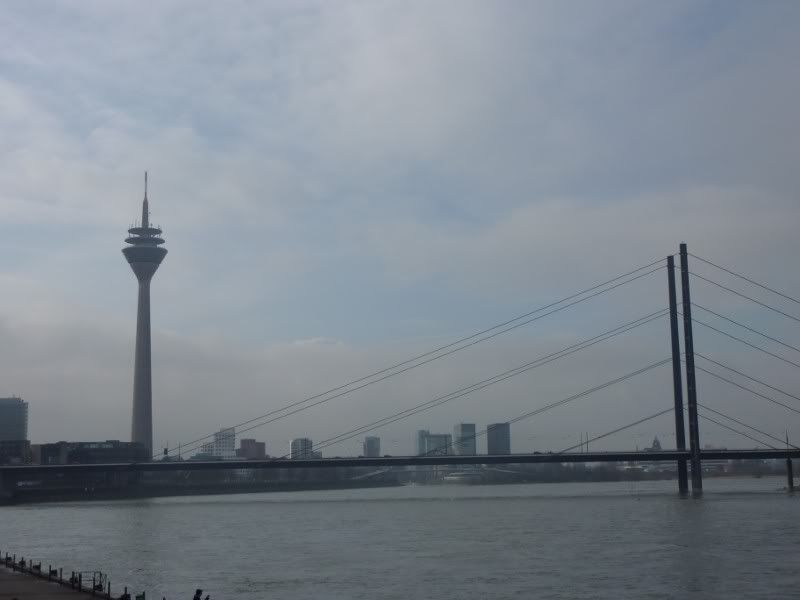 The Rheinturm: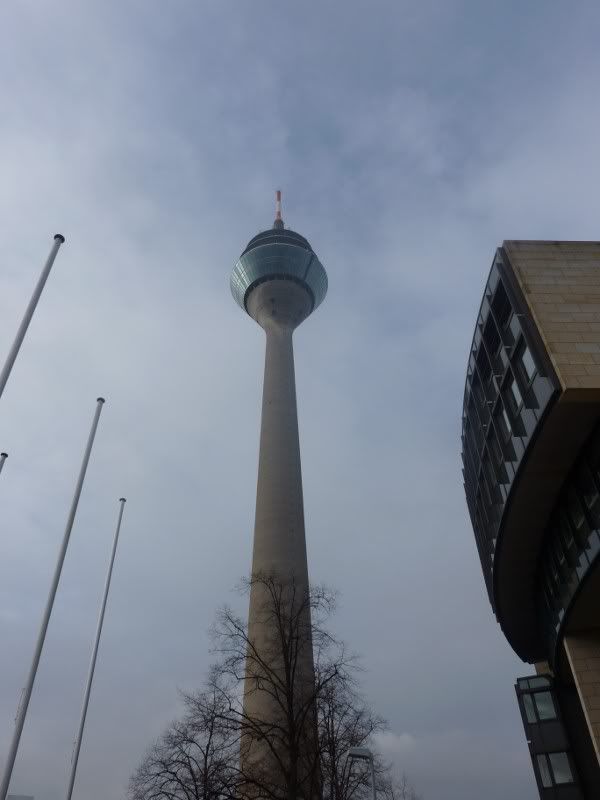 Funny houses: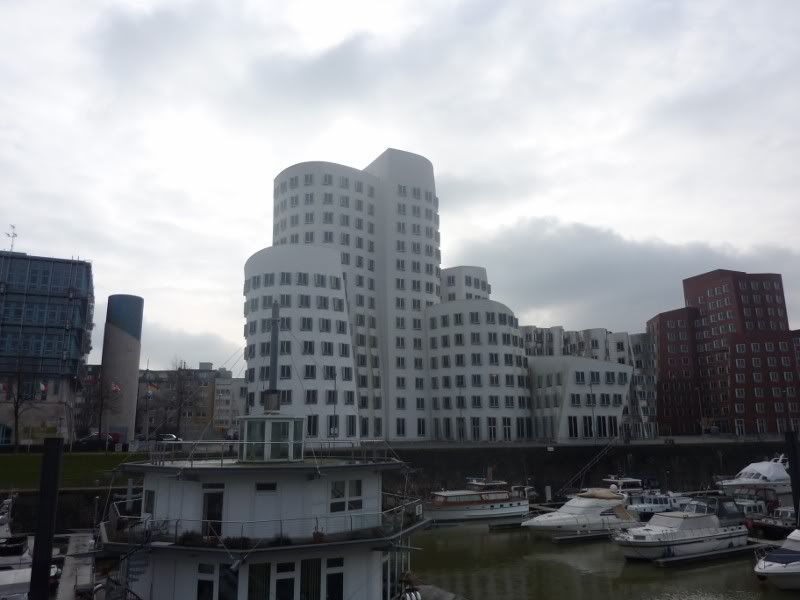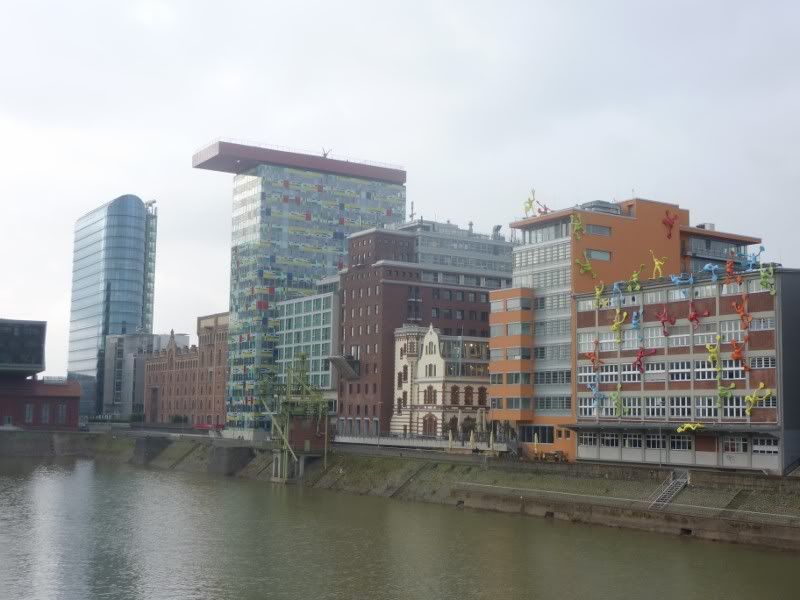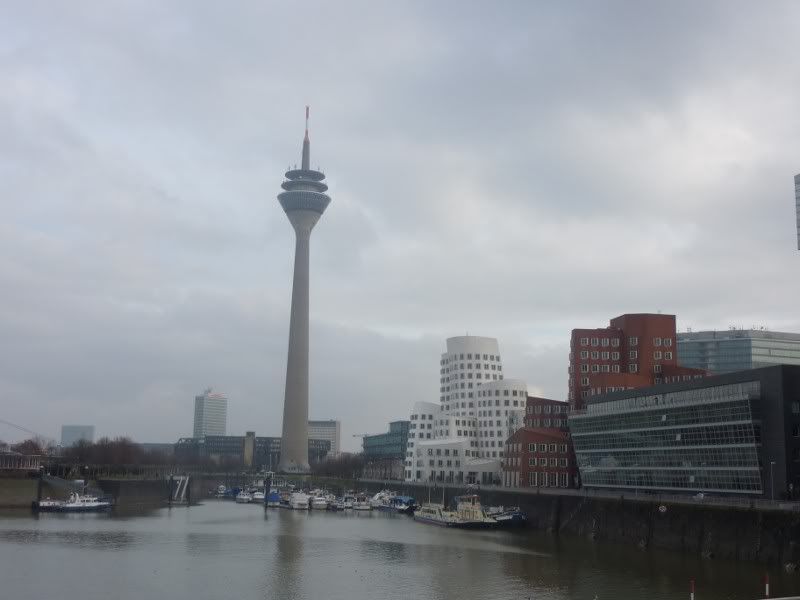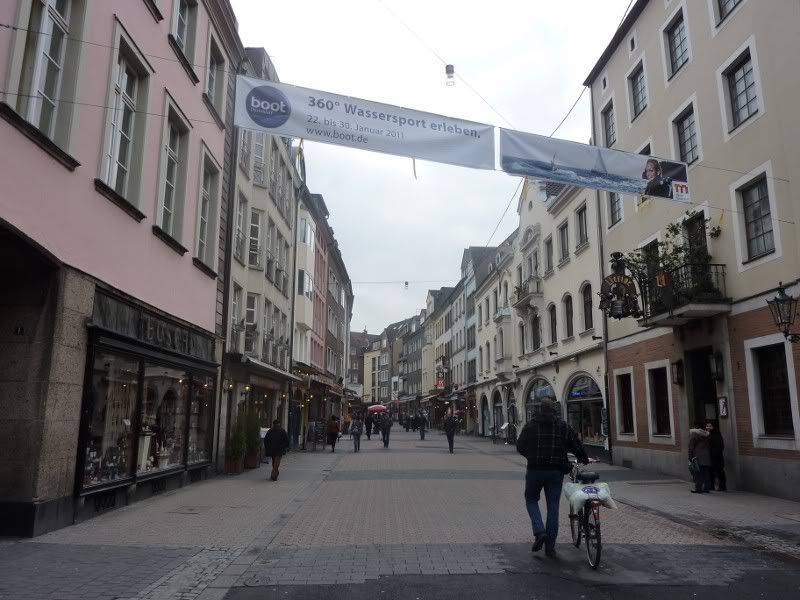 Continued below: