Introduction
Back in October 2010 Blue1 announced a very weird route - between Helsinki and Tallinn twice a day on weekdays and once on weekends. Flights were to be operated by the couple of Golden Air ATR 72-500s that are based at HEL, operating various domestic rotations for KF. This was really quite a bizarre route where AY (nowadays operated by FC apart from a sole weekly jet flight on Sundays) basically dominates. It has something close to ten daily flights on the route, so for any would-be competition the setup is very unfair from the beginning. Estonian Air Regional most recently operated the route for a couple of years with their Saab 340s, but have since withdrawn - a shame as I took those flights quite a few times, usually quite affordable and nice short hops. Anyway KF is now codesharing with OV, so maybe, just maybe they will find enough connecting traffic - this is a route where OD passengers and especially yields are very thin, due to the heavy competition from the ferry companies offering cut throat fares especially during the peak summer season.
I never really had a big desire to fly this route as I've done it so many times with AY, FC and OV, but then I noticed that KF was actually operating the inaugural flight with a B717! Now that sounded much more interesting - inaugural flights are always fun and crossing the Gulf of Finland on a 717 would be a novel experience (so far I've done it wih A319, ATR-42 and 72s, Saab 340 and ERJ-145). So of course I ended up booking a ticket on the inaugural flight for around 47 EUR.
From Tallinn, I had the option of catching the same flight back, but like PH puts it, "never fly the same reg twice" (well, I've broken that rule quite a bit...), so I decided to do something else. First I had my sights at OV to ARN and SK home, OV would've been on a 733, never flown one on their colors yet, but the price was a bit too steep and it featured the notorious last flight of the day on SK, no thanks this time. In the end I just settled for good old airBaltic via RIX for under 70 EUR. I chose the later RIX-HEL flight in order to enjoy a little bit more lounge time there and due to the fact that it was operated by a 737. At the time of booking the earlier flight was showing as a Dash, but I knew better than to trust BT on this, and of course it eventually got changed to a Fokker...
Here's the simple route for the day: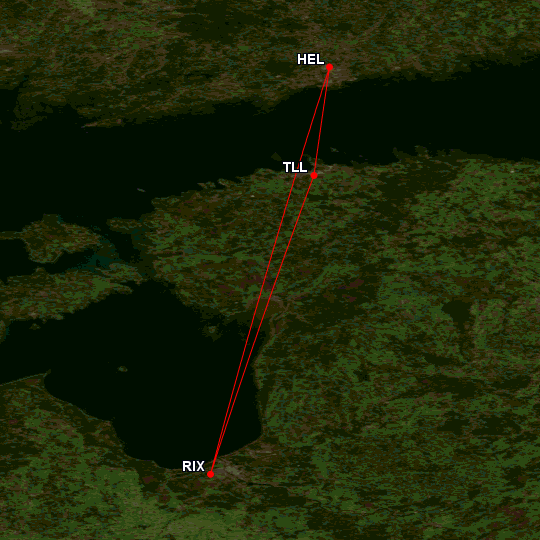 The background story does not end here, however. Firstly sometime before the flight I found out that a good number of regulars from a Finnish aviation forum were also taking part on this flight. In the end there were six of us taking the flight - two of them were actually taking the same route as me, albeit they were lured by the false promise of the Dash and booked the earlier flight home...
And now the big bomb: A while ago a Finnish TV channel was looking for volunteers for an upcoming reality TV show dubbed "Lentokenttä" (or quite simply "Airport" in English) - I think I was temporally insane when I decided to apply, with my rationale being that they'd probably get most applications from your average pax on their way to a citybreak or a beach holiday, and a freak like me would make for some entertaining contrasts - after all people love the insane!
A couple of weeks before the flight I actually got a call from the production company, they asked some questions and finally told me that yes, they do want to film me and actually will accompany me to the flight as well (this was made possible by KF being the main co-operation partner of the TV show - well I knew it and that's why I proposed this particular flight - the cunning person that I am
). Quite surprisingly there were no real preparations done - they called me a couple of times and finally told me that somebody will call me a few hours before the flight to discuss the logistics (which did happen, of course).
Monday 31.1.2011
I'm at HEL T1 a bit more than an hour before departure and meet the first camera crew - they have two, the first one at the check-in area and the other one airside. Some basic chat and hatching of plans follows, and then I exit the terminal to stage another entrance, this time for the camera. A fake check-in follows - I did OLCI, but they want to film it anyway. At least I get a genuine cardboard boarding pass this way, always nice.
We do a bit more interviewing midway through the stairs to the security checkpoint upstairs - some basic questions as can be expected, stuff like "Why do you do this?" - "What's the most memorable flight you've ever taken?" etc. Another faked scene has me going up the escalator, after which the guys remove my mike and bid me farewell. Quickly through security to meet the second, main camera team. The first order of things is to sign a permission form for them to actually film me (hmm, isn't that a bit late?!), hatch another plan and then go.
So I walk to the gate, where a number of people are already waiting. Not too hard to spot some of the fellow aviation geeks - large cameras and certain websites open on their laptops are a good giveaway! So some introductions and warm up chat follows - most of this filmed, of course
.
The filming crew asks quite a few questions from me and the other guys about aviation as the hobby and everything related to it and of course want to take some "action shots" of people shooting photos etc.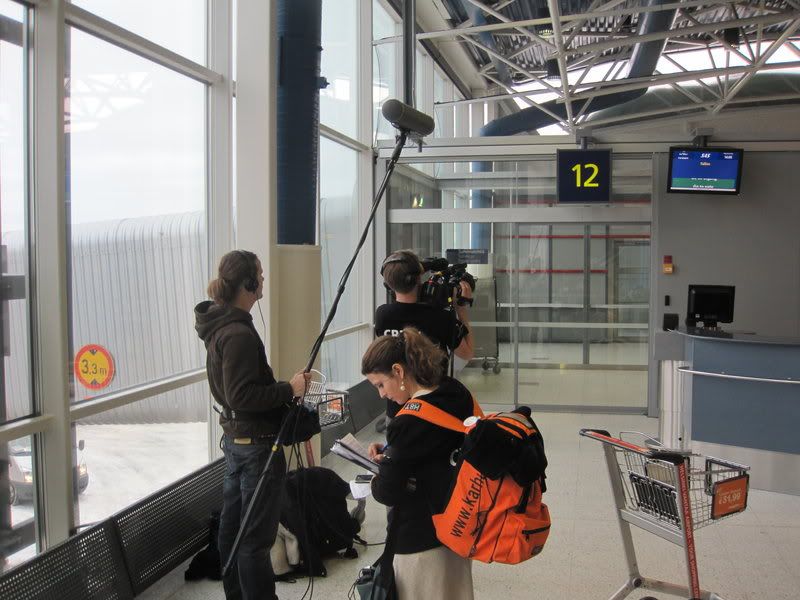 The inbound from LHR arrives a bit early - I'm glad to see it is OH-BLI as I desperately need more than OH-BLM for my log!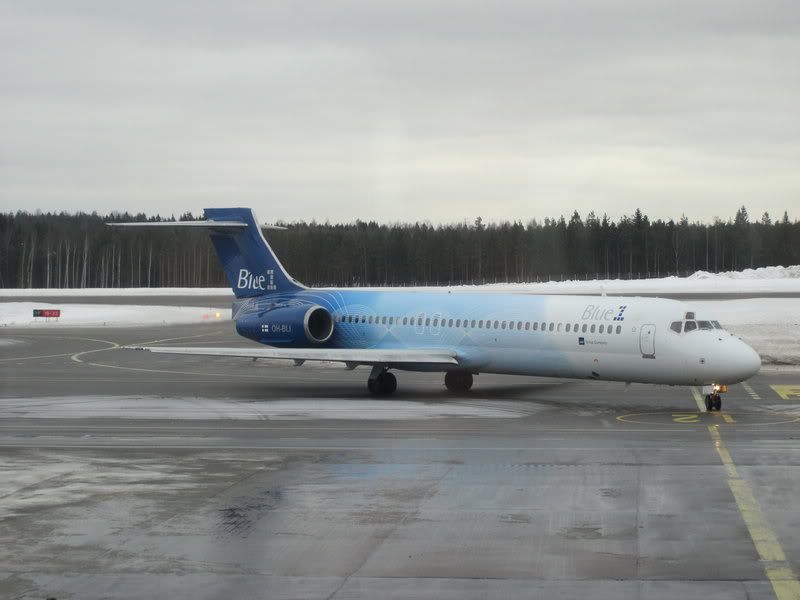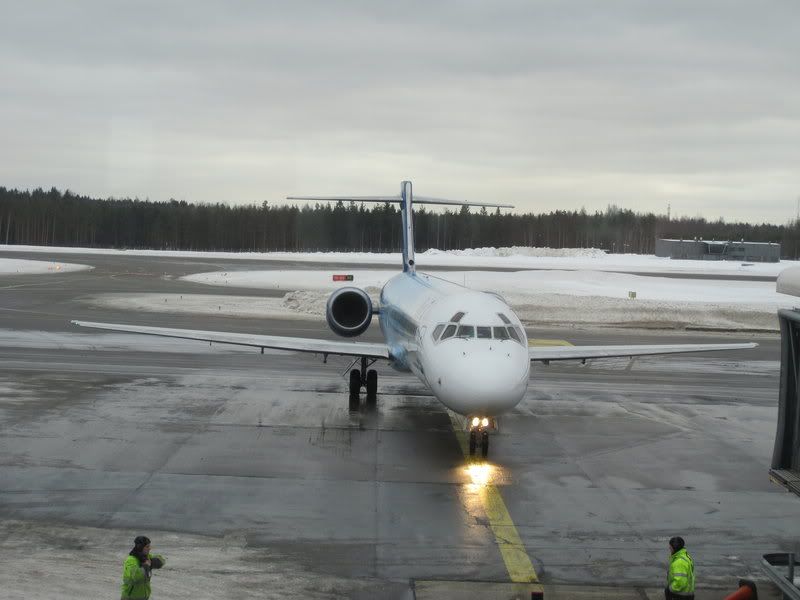 Not too much later boarding is called. No mention about the special status of the flight, but at least I spot a few Blue1 officials among the pax. I ask the gate agent about celebrations (just like I did with the check-in agent), but she doesn't seem to know anything.
HEL-TLL
KF607
B717 OH-BLI "Taivaan puro / Sky Trickle"
Seat 5A
14.05 - 14.35
This shot is for PH: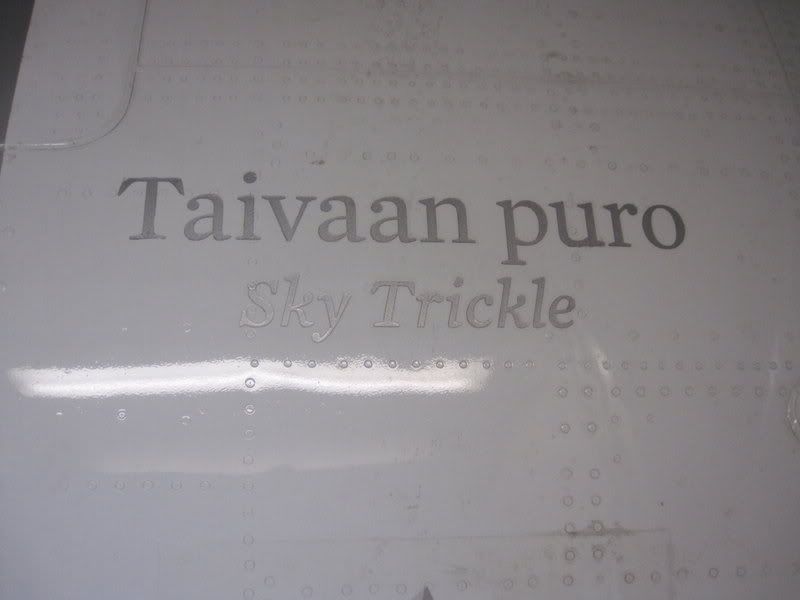 Cabin view: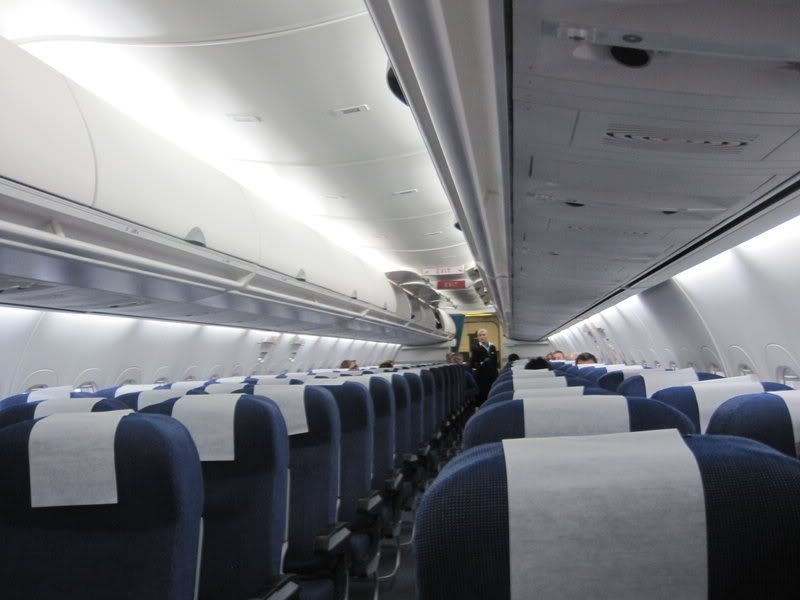 I recognize the purser on this flight - I've flown with him many times, I think he is quite up in the seniority ranks. My seat 5A is on the first row of economy - this time they even got the cabin divider right:
The camera crew settles on the three seater next to me: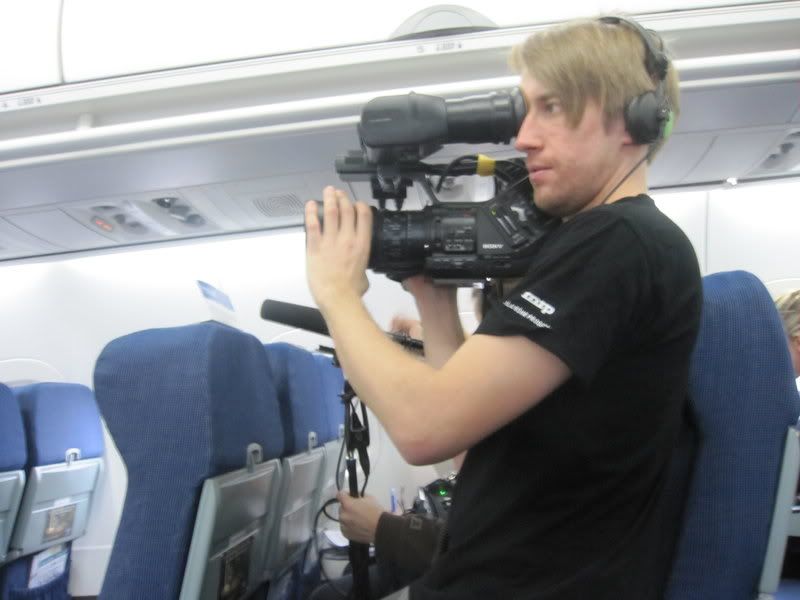 The load is quite abysmal, maybe 20 pax in economy, if you count the three persons from the TV crew. In the four rows of economy extra there are three passengers - all of them Blue1 staff on their way to the celebrations.
An announcement is made about a TV crew being on board and that they are only feeling a certain "special" passenger (whoa, that makes me feel all warm and fuzzy inside!) and that anybody who didn't give their prior consent will not appear in the show (they did ask the frequent flier guys for permissions, though).
The flight time is announced as 30 minutes with push back being bang on time. When asked what am I feeling or thinking, I tell the camera "I'm actually wondering whether we will take off from the far runway - and if we do and land from the wrong direction at TLL we will spend at least as much time taxiing as actually airborne". Lots of other questions follow, including one about my carbon footprint - which I dodge quite professionally. I think I could become a politician with these skills - too bad I'm far too honest for that job!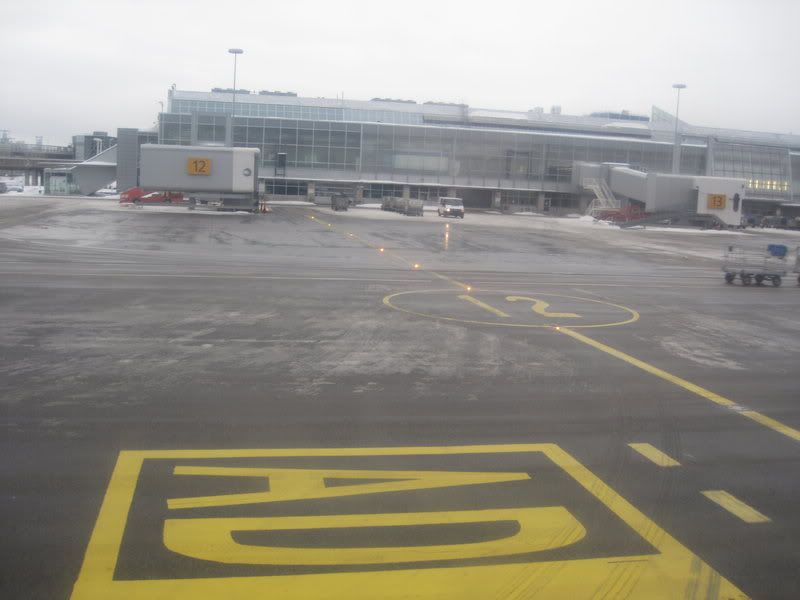 Anyway I was right - we do take off from 22R nine minutes after push back: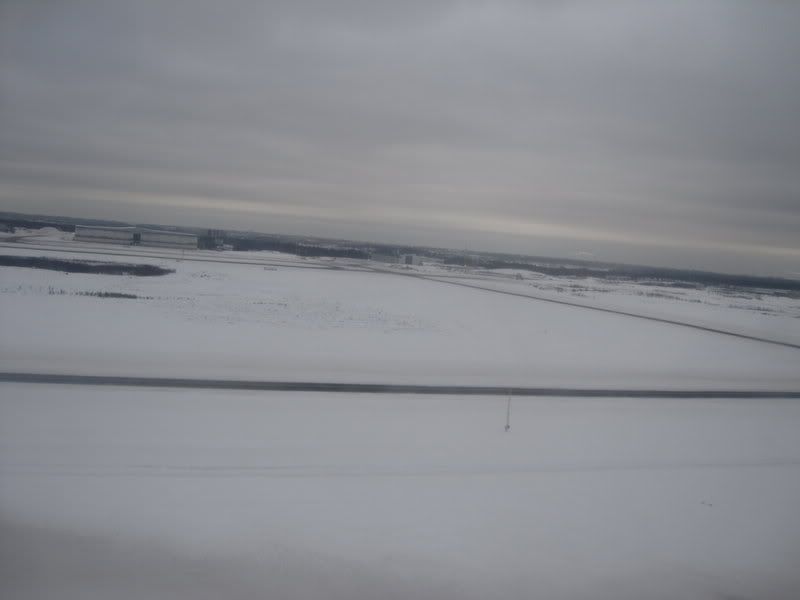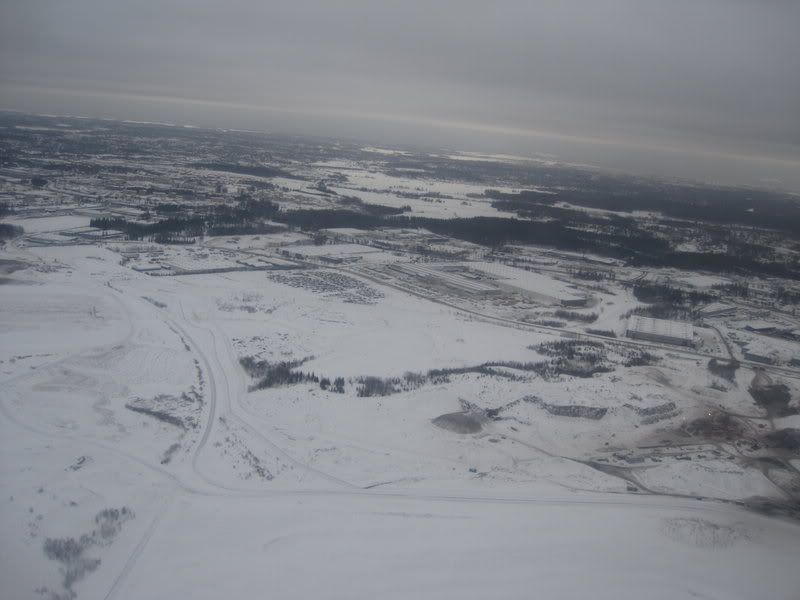 I tell the camera again that this is another reason I love flying - the sun is always shining somewhere up there (well, apart from the night time, that is!):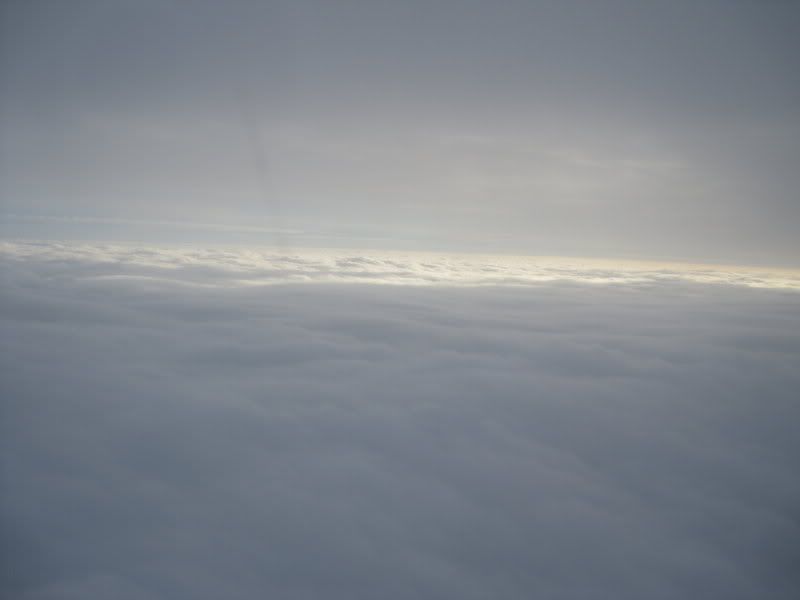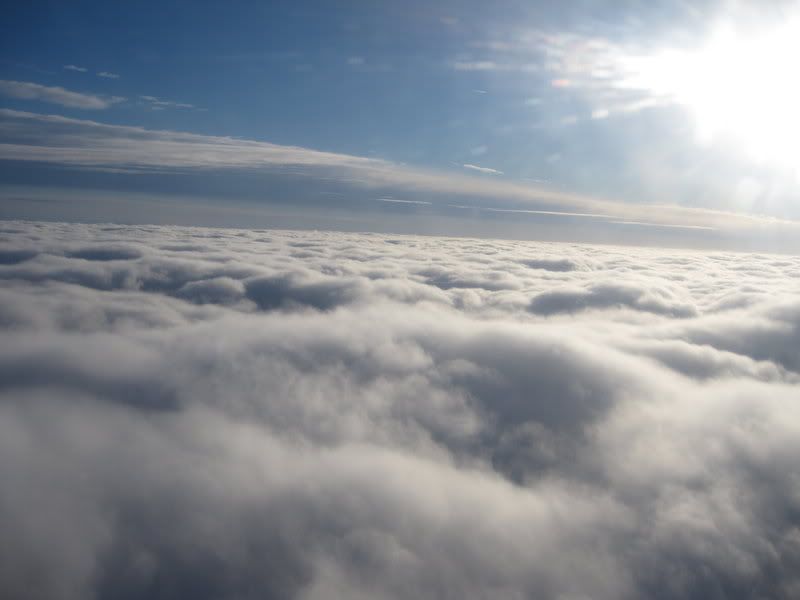 Inflight service soon commences - in economy extra they hand out a tiny snack bag (later at TLL I asked the purser what was inside - a cookie and a small carton of orange juice!), back in the main cabin we get a tiny piece of Toblerone chocolate. Whee.
More filming follows, this time the crew goes around the plane and interviews the purser a bit as well.
After exactly eleven minutes our descent is announced. Tallinn is covered in thick clouds, so no good views until on short finals - it becomes apparent that we are landing on 08, which means a not too long taxi time, so in the end our flight time just barely exceeds our taxi time
.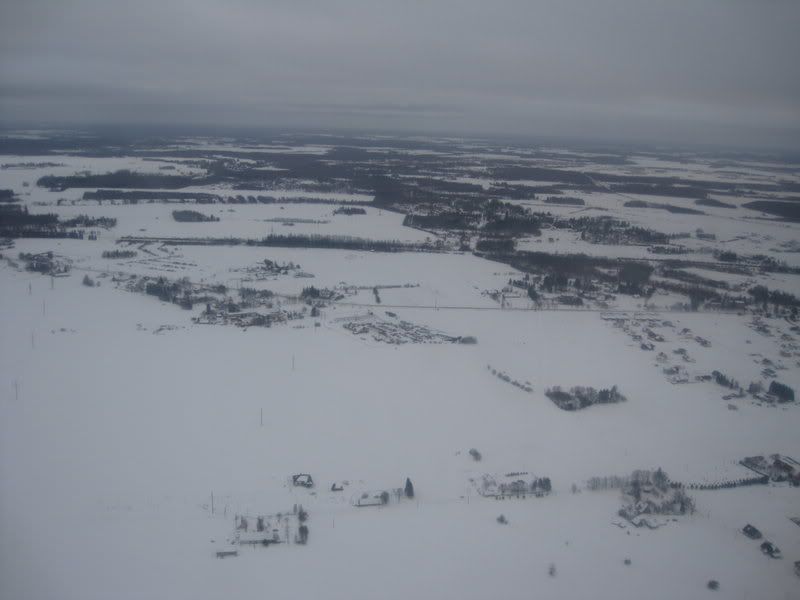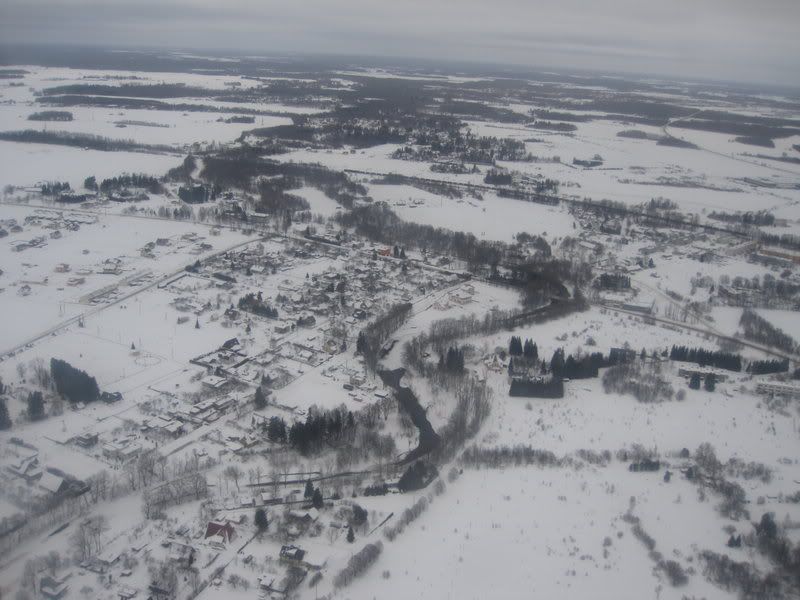 During descent I'm starting to get a bit annoyed by the camera crew filming me, so I tell one of them: "You might want to shoot the view on the other side - you will get quite nice shots of some of Tallinn's finest Soviet-era architecture, including the concrete blocks at Lasnamäe!". This works, and they point the camera there instead.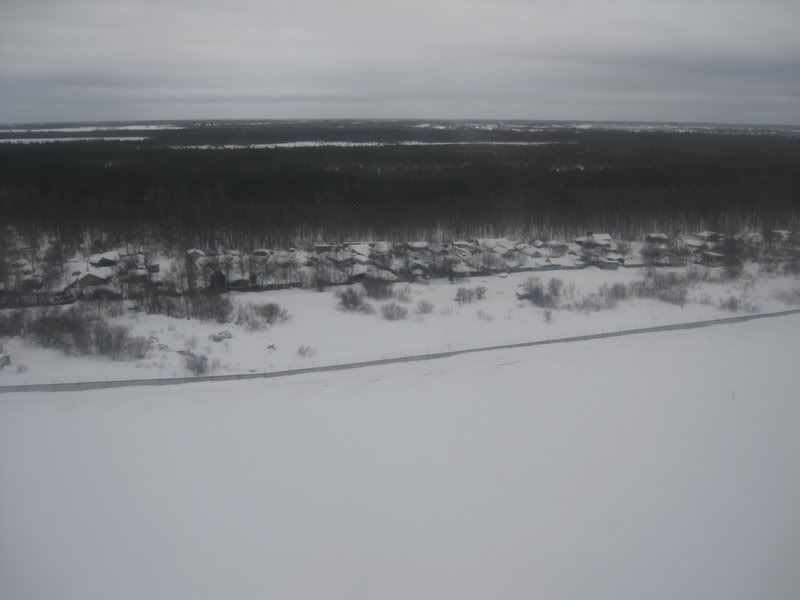 Landing is on 08 after 21 minutes of flight. A couple of minutes later we dock to a jetway. No water cannon salute, though - maybe it is too cold for that.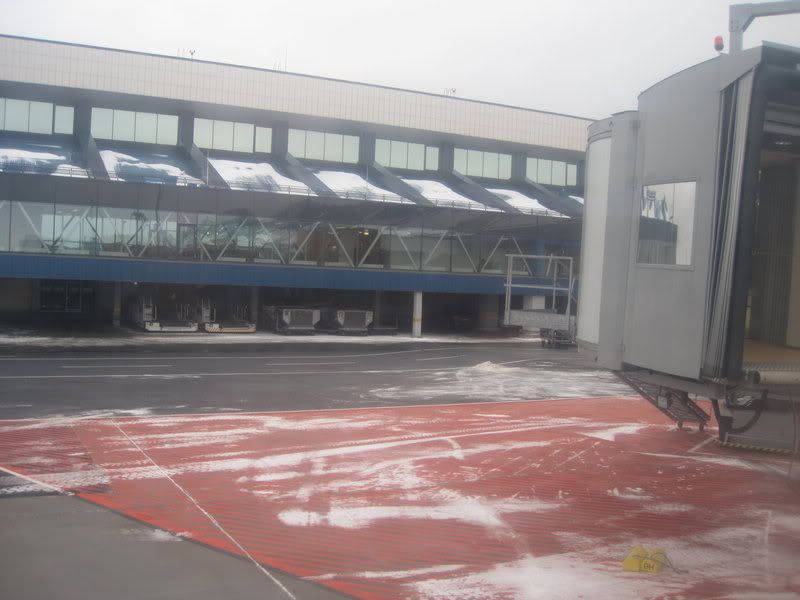 Tallinn Lennart Meri Airport
I'm the first one to deboard after the KF officials from eco extra. I was given some instructions by the camera crew, so I follow them. Inside the terminal I'm surprised at the media event that seems to be taking place - there are lots and lots of reporters, TV crews (hey, maybe I also appeared on Estonian TV!?) etc., and some nice food and beverages as well - sparkling wine, some small nibbles and a nice Blue1 branded cake: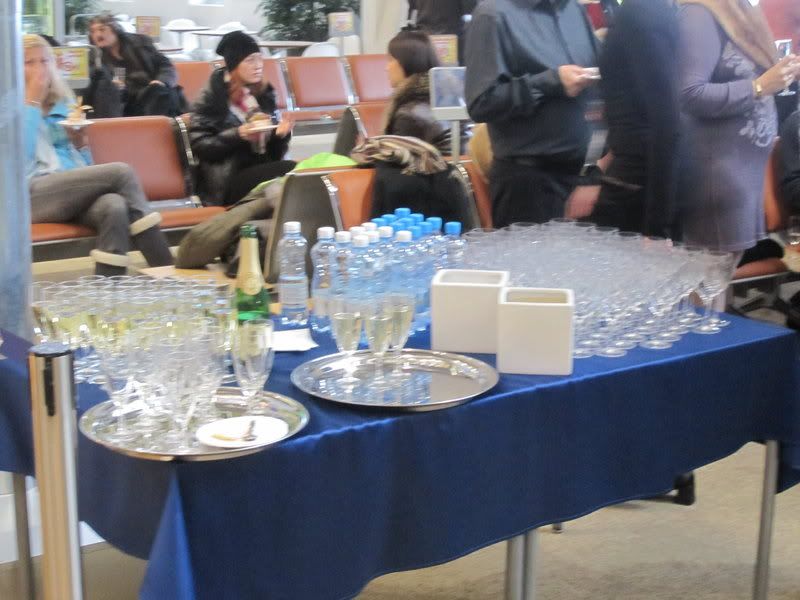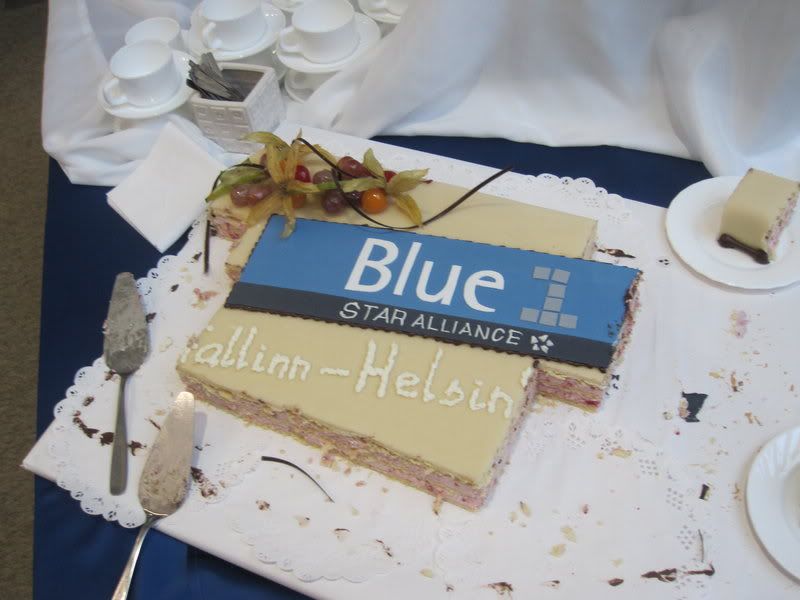 Juha Järvinen, the Commercial Director at Blue1 who was on our flight and Tom Christides, the Director of Communications at Blue1, who was waiting in Tallinn: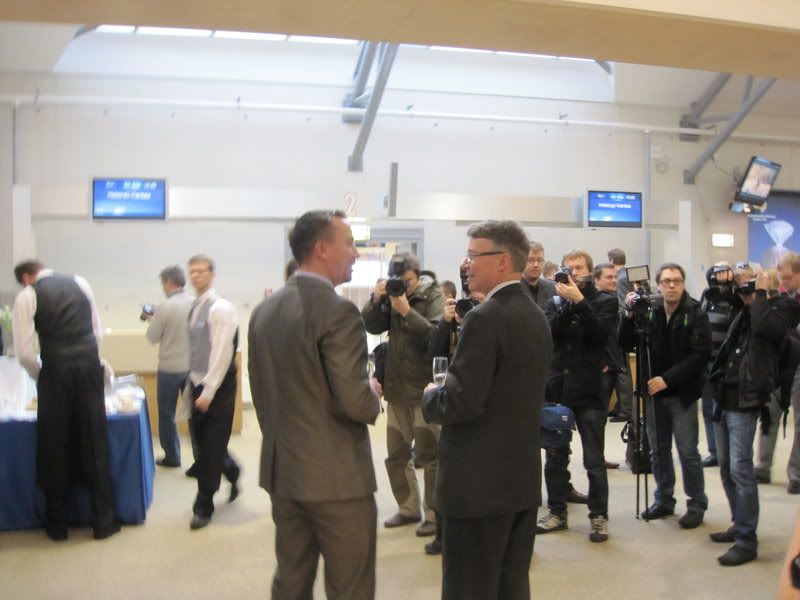 The guy with the orange tie is the representative for TLL airport: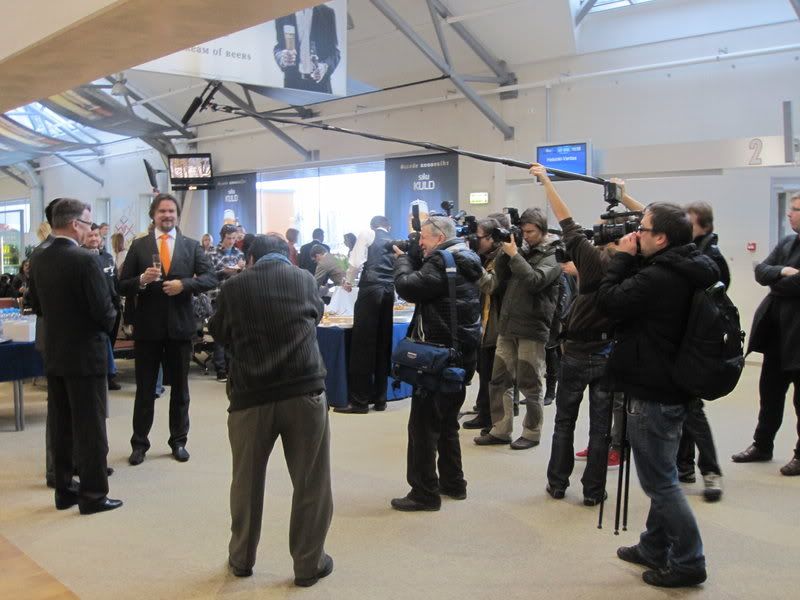 The ceremonial ribbon cutting will take place and I'm asked to make my way somewhere near it so that they can get some nice footage of me and the thing happening. Somehow I end up next to Mr. Christides, who is demonstrating the official Air Botnia/Blue1 ribbon cutting kit: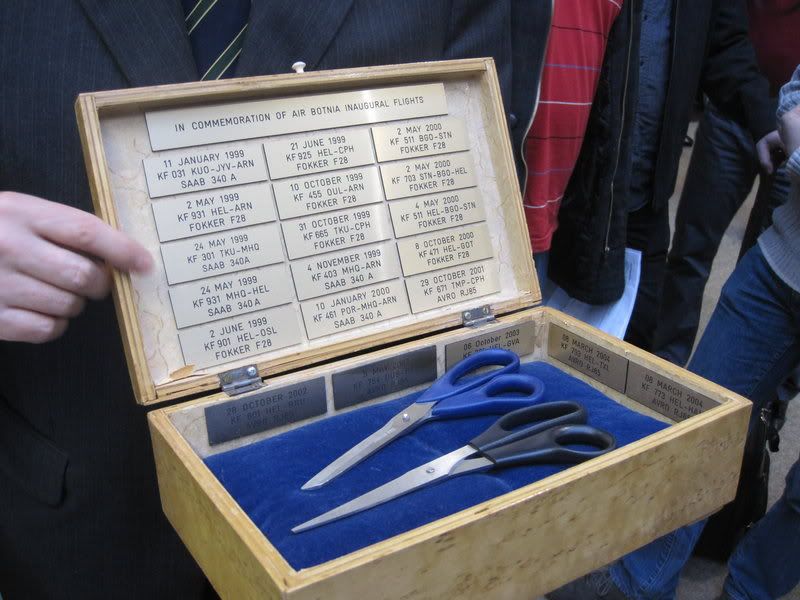 Too bad most of these routes are no more - heck most of those planes operating them are no more...
I ask him about the (re-)opening of the AMS route that was supposed to take place this very same day and he says that it has been pushed back to March due to the lack of planes. I can't help but tease him a bit about the weird assortment of planes that have recently been seen operating for KF, these include Estonian Air, City Airline, Jettime, DAT and heck, even the arch enemy AY is operating an A320 from time to time for KF! He manages to dodge the question and turn it into a joke - yeah, that's the way these smooth director types are!
Soon the ribbon is cut: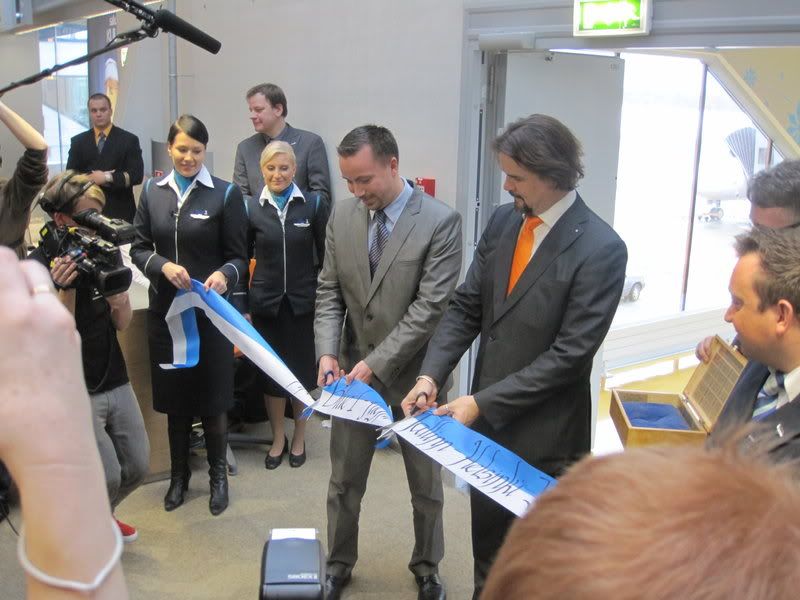 We are asked to raise a toast with the cheap and nasty wine in front of the camera, and finally I'm relieved of my duty as a reality TV star. The crew thanks us, I thank them and offer a final piece of advice: sit again on the right hand side since the take off from 08 will have an excellent view of the city centre and the pretty old town on that side.
All of this ate up a bit too much of time - I decide to skip my planned shopping spree (hey, this is my first visit to Estonia after they migrated to the Euro and I'd love to get my hands on some of them) since I'll be here again in three weeks anyway and head to the lounge instead for a quick drink and some nibbles - the BT flight is already parked on the apron and will board in less than half an hour.
I won't bother reporting the journey home on BT - I've covered that far too many times and there really wasn't anything special, apart from the fact that I spotted some additional Dashes at RIX, the deliveries are finally happening (I guess some mysterious money somehow surfaced to actually pay for them!).
Here are a couple of bonus pictures of the flights home.
First time I see FR at TLL - they only started flying here in Deceber:
OV's first CRJ-900 parked at the TLL apron as seen from the air after our take off: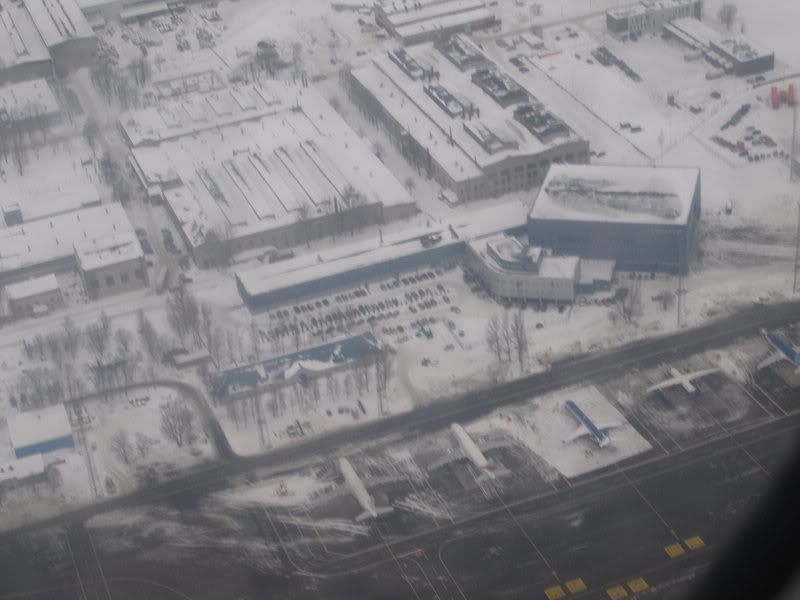 A very pretty sunset over the Gulf of Riga during our approach into RIX: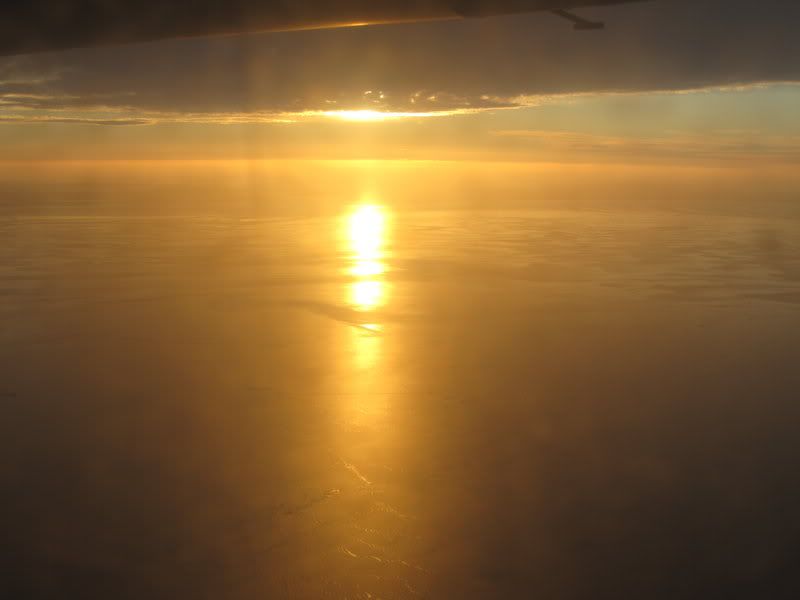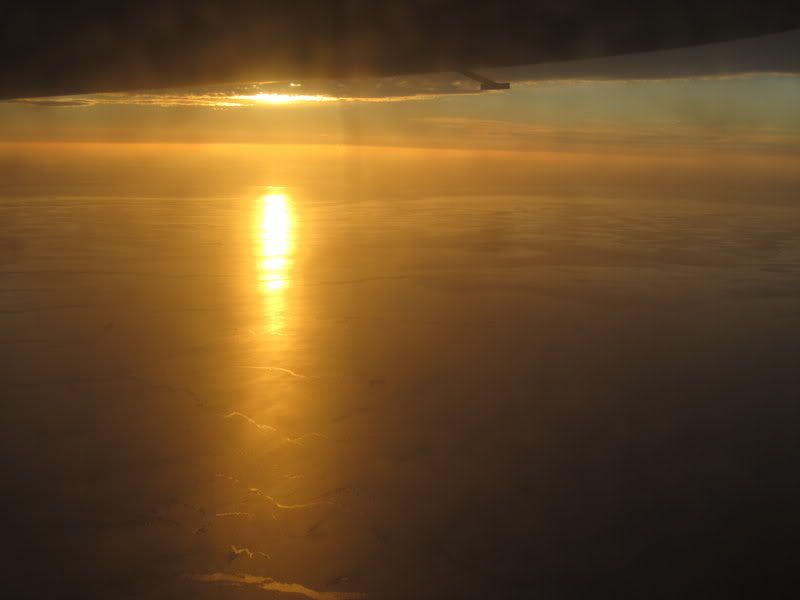 My ride home to HEL: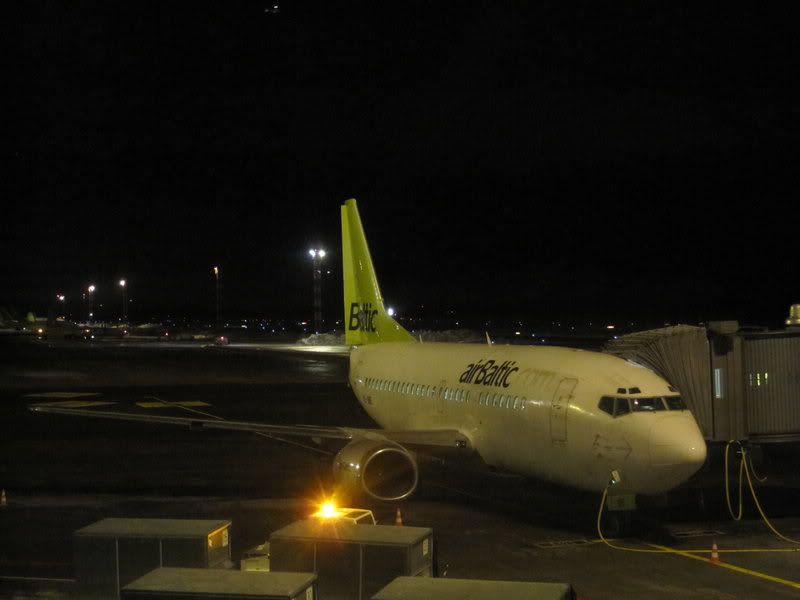 Conclusions
A nice short hop on fortunately a different KF 717 this time. Not much can really be said about a 21-minute flight, but nice nevertheless. I'm really hoping that KF can make this route last - the two daily frequencies are too little if you ask me - the schedules make it possible to have a full working day somewhere else if you depart ex-TLL, but it just doesn't work the other way. But more competition is always good, so let's hope for the best. As mentioned I'm doing another one of these flights soon, albeit in another direction and with the DC ATR. There are some excellent fares available ex-TLL, so it's good for segment runs.
And then the other interesting part of this report - appearing in a reality TV show! I did have lots and lots of second thoughts about this whole thing and wondering what the heck was I thinking - but then again I'm crazy so it was sort of fun at the same time. Let's see what kind of show they make out of it after it's been edited and post produced. The show is not scheduled to be in the TV for another half a year, so I have plenty of time to emigrate away from Finland if I feel too ashamed - Anybody in the UK, US or Australia want to offer me a decent job?
Not too long to go til the next trip, which is mainly just collecting some SK group flight segments, hopefully an SK A319 and spending a few hours in one of my favorite cities in Europe: HEL-CPH-AMS-OSL-RIX-HEL. Stay tuned!
Happy contrails!