I travel between the US (Chicago) and Europe quite frequently and a good deal of times my destination lies within the Balkans, either for business-related reasons or to see my family. Often, instead of flying into Bulgaria (SOF) I choose to fly into SKG (in Greece) which happens to be just an hour and half from the Greek-Bulgarian border and the Bulgarian town of Petrich where I sometimes need to be.
In late December I had to do my SKG run once more and having this weird fetish of wanting to try as many different carriers as I can, I chose IB who I had never flown with before. I booked my flight sometime in spring and at the time my itinerary involved stopovers at MAD and FRA before getting to SKG with A3. In June I got notified that my itinerary had changed and that I was to fly via MAD and DUS instead of FRA. Finally, in late Fall I get another notification that I had to fly via MAD and FRA again, but at slightly different times compared to the original itinerary. I was a bit disappointed because I liked the idea of flying via DUS (a new airport for me). However, my main worry now was the short layover at MAD (just over an hour). Knowing IB's reputation for delays I was convinced that I was in for a missed connection...
My suspicions did not take long to be confirmed as upon my arrival at ORD I see that the incoming flight from MAD is delayed by an hour. Knowing that this kind of delay can often be compensated for in the air (at least to some degree), I tried to remain hopeful. Unlike the vast majority of non-US carriers at ORD which arrive at and depart from T5 , IB arrives at T5 but departs from T3. As a result, the aircraft has to make a trip from T5 to T3 which adds a considerable amount of time to the turnaround.
I'll skip much of the details regarding parts of the trip that were unremarkable. My main focus will be on the events that took place at the airports I found myself in (mainly MAD) and less on the flights themselves, which were nothing to write home about. Due to the course of events, I did not shoot as many photos as I would normally do. However, at the end of this TR I do offer a few bonus photos of my final destination(s).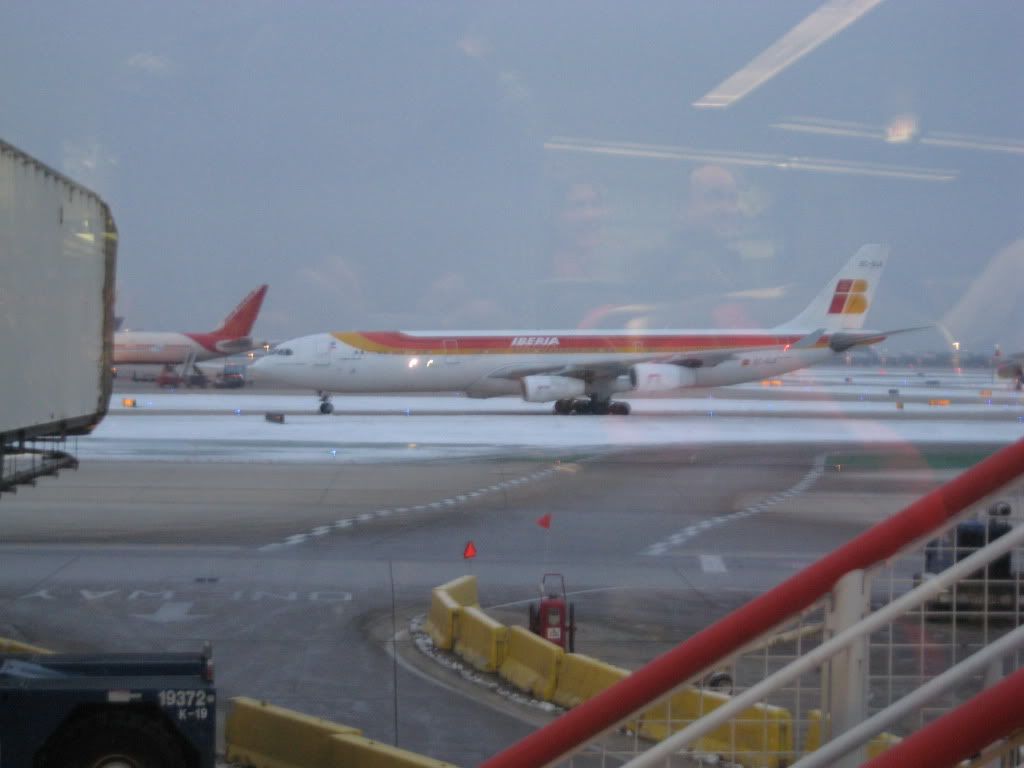 Here's our delayed bad boy
The flight was to be operated by an A340. Somehow I managed to get myself a bulkhead window seat for which I was very excited about as it would guarantee me a comfortable flight and potentially some sleep. Or so I thought. Once I get on the plane I see a couple and their few-months-old baby sitting where my seat should be. I informed them that the window seat was mine but they told me, in broken english (they were Spanish), that the crew had allowed them to sit here and next to each other so that they can both be next to the baby who had to use the bulkhead bassinet. Instead they offer me the seat right next to them on the isle side of the middle rows where one of them was originally assigned. No problem, I guess, I understand that it would be more convenient for them. Once I took my new seat I realize that the person sitting next to me is the grandma of the baby. She would bend over my lap and talk to the couple at frequent intervals so after a while I decide to offer her my seat so that she can be right next to them. So now instead of a bulkhead window seat I end up in the middle of the aircraft's width, with a person on each side. I happen to be 6'3'' so even this is better than most seats on the plane, at least in terms of legspace, so I shouldn't complain. I understand that travelling with a toddler is not easy and one should make any travelling parents' lives easy when possible. What bothered me however was that neither the parents nor the grandma even bothered to thank me. Lack of politeness bothers me.
Fast forward several hours later in MAD. We arrive at T4 of MAD with just about enough delay to miss my connection so once in the terminal I head straight for a transfer counter. I find one right away but so have 70-80 others who have formed a snaking line.
What followed I have chosen to describe in the form of bullet-point notes which I started taking once I realized that I was in for a long day.
9:35am: Been in the line for over half an hour and I swear that it hasn't moved at all. There are only 2 people on this desk and they are clearly dealing with some tough transfer cases, or possibly some tough-to-please passengers.
10:20: Still here. I can count about 10 people ahead of me now.
10:35: They just announced that the counter will be closing in 10 mins so everyone should go past the luggage reclaim and into the main terminal if they wish to find another transfer desk. What do I do? Do I stay here in hope that I will be helped in the next 10 mins (I am now 3rd in line) or do I make a move to make sure that all these people behind me don't beat me to those other desks?). I stick around for a bit longer and when it's clear that there is not enough time I make a move and head for the main terminal. Why would a transfer desk with so many people close? Is Iberia short staffed or something? This is terrible.
11:42: In my confusion, I waste 5 mins waiting in the lost luggage line thinking it was a transfer desk. OK, I am stupid I admit, but why is there no sign above the desk?
11:45: Oh boy. Each and every one of the 5 transfer desks I can see has at least 30+ people.
12:15: Still here
12:35: Everything is moving very slowly.
1:15: I can see the people behind the counter.
1:30: I am next in line. I hope they give me an exciting alternative route...
1:45: I am told that I will be flying with AZ to Rome. They give me a piece of paper with which I am supposed to go to T2 and check in for the next flight to FCO. I'm also told I need to go back to baggage claim and either find my suitcase or file to have it re-routed to SKG. I explain to the counter lady that I cannot go back there as there is a security checkpoint that prevents passengers from re-entering the area. She gives me another piece of paper to give to the security guy to let me through.
11:50: I went through. I am having a look for my luggage in the sea of lost suitcases. In a similar scenario a few years back in FCO I managed to find my bag.
12:10: No luck here though. I will report it lost and have it sent to SKG. I join the line for lost luggage.
12:50: Finally. Got it done. I can now leave for T2
13:00: I need to take a bus to go there. T2 is kinda far away.
13:15: Finally here. That was a longer drive than I thought. The line for checking in to my flight is huge and the space is minimal. The fact that the place is full of loud, line-skipping, Italians is not very encouraging.
But who am I to complain, I grew up in the Balkans, I should be used to this.
3:15: I just realized that I have not eaten or been in the bathroom since around 8am. It doesn't matter. There is no way I will leave this line right now.
3:25: The check-in counter lady laughs at my face when I give her the paper I was issued. She tells me that IB had put me on a waiting list for this flight and that there was no chance I could fly with AZ as their flights are fully booked for the next 2 days. She tells me to go back to T4 and ask IB to find me an alternative route.
3:35: Back on the bus to T4. Not looking forward to this. I know I have several more minutes (hours?) of waiting ahead of me.
3:50: The lines at the transfer desks are as long as they were this morning. I join the crowd. It seems that lots of people got stranded in MAD. I wonder what triggered this.
4:45: I am now very close to the counter. I see two people helping, a friendly-looking lady and a scary rude dude. I hope I get the lady.
5:05: I am next in line. It seems like I'm gonna get the guy. After waiting in several lines for 8 hours or so, I don't really care even if I have to deal with Bill O'Reilly.
5:12: The guy prints me out a list of all of AZ's flights for the next 2 days and asks me to go to T2 and basically camp there until I get on one of them. I try to explain that this is ludicrous and that AZ already told me that this was a lost cause. Surely, you can put me on a flight to ATH or elsewhere where I can connect to SKG, right? The guy doesn't even listen to me.
5:40. Back in T2. I skip the line and ask an AZ lady about my case. She tells me that I should not even bother and that I should ask IB to find me a route other than that through FCO. I ask her if she can do that on my behalf since I'm being ignored by IB. She says she can't do that. I understand.
6:00: Back in T4. I try a different transfer desk this time, just to make sure that I don't end up dealing with the same guy as earlier.
6:40: 40 mins! That was a quick one. I am next in line.
4:45: The guy refuses my request and tells me that he cannot undo what the previous guy did (that is, put me in AZ's waiting list) and that I should go back to the transfer desk he was. You gotta be kidding me. I can't say that I know how these things work, but I refuse to believe that I need to go to a specific transfer desk for my case to be taken care of. He won't listen.
4:47: Back to the original transfer desk. I am furious now. I wish I was given a flight to anywhere, even back to the US. This is ridiculous.
4:55: I cannot control my nerves anymore. Exhaustion has taken over and I'm afraid that I will snap at someone. I am seriously considering vandalizing something just for the sake of calming myself down.
5:05: This line is slower than any other all day. I will be here all night.
5:35: I give up on the line. I just need to rest my body somewhere. I have not eaten anything but I am so furious I don't even feel hunger.
6:25: I realize that one of the (somewhat remote) transfer desks has only 10 people waiting. I decide to join. More people join in after me.
7:25: Someone in the line behind me points out that this is a Business class transfer desk and asks whether we are all Business class customers. I am next in line so I pretend I'm not listening.
7:45: Finally I get to speak with someone that seems to be willing to help.
8:15: After much back and forth she tells me that there is nothing that can be done for today and that she has no flights for me. She tells me that I should go and talk to Aegean in T2 and ask them to put me to a flight to ATH the next day. I tell her that this is ridiculous, I shouldn't be the one to negotiate flights. They have the responsibility to allocate me to a new route. Besides A3 had no part in this, how on earth could they offer me a flight out of MAD? She tells me that there is nothing she can do and that I can wait until the next day. I ask her whether I will be accommodated for tonight. She reluctantly tells me that she can try and do something.
8:30: I'll be staying at the Tryp Hotel tonight. I have been provided with one night's stay and with dinner and breakfast vouchers. I'm now waiting for the bus to take me there.
8:50: I'm the first off the bus and I check in with the reception. In theory I can stay here and sleep until tomorrow noon but I'll be up and going as soon as I can so I can try to get me on a flight.
Looking outside my room window at Tryp Diana Hotel
I shower, go to the hotel restaurant where I have some veggie soup and a nasty steak and head to my room for some much needed sleep.
The next day I get up early, shower again (who knows when I'll get the chance to shower again), eat breakfast at the buffet and jump onto the first shuttle bus to the airport. The bus is supposed to stop at T2 first. We get near T2 but there is a traffic jam due to a demonstration of some kind. The bus is stuck and there is nowhere to go. I decide to get off the bus and walk to T2. Maybe I can try talking to A3 while I'm there even though I know it's a lost cause.
I get to the A3 counter and of course I am met with the expected response: A3 cannot do anything. IB is the only one that can get me out of this.
The traffic standstill is still in effect so I cannot leave T2 yet. After a few minutes the traffic gets moving to some degree and a bus takes me to T4. Once there I join a line and hope for the best. I have now stopped taking notes as I am overtaken by a feeling of hopelessness. After waiting for about 45 mins I get to talk to a nice lady at the IB counter who seems very understanding of my situation. I spend about half an hour with her as she is trying to find me something. She seems to have trouble but she eventually agrees to put me to one of IB's own flights to ATH. I am starting to get excited! What about from ATH to SKG though? She tells me that given that IB does not fly between ATH and SKG there is nothing they can do. I'm starting to think that this whole thing is a prank. The reason I am not already in SKG is because of IB and their initial delay (which was not due to weather by the way). IB should reroute me to my ORIGINAL destination. You cannot dump me in ATH and ask me to find my way to SKG. Eventually after much deliberation she books me a flight with OA from ATH to SKG but for the next day, as my arrival in ATH would be near midnight. I ask her if she could arrange for my accommodation in ATH and she tells me that she sent a wire to ATH so that once I get there I would be taken care of. I believe it and I leave happy. The lady also gave me some lunch vouchers which I waste no time using since my appetite had returned.
Here are some shots from Barajas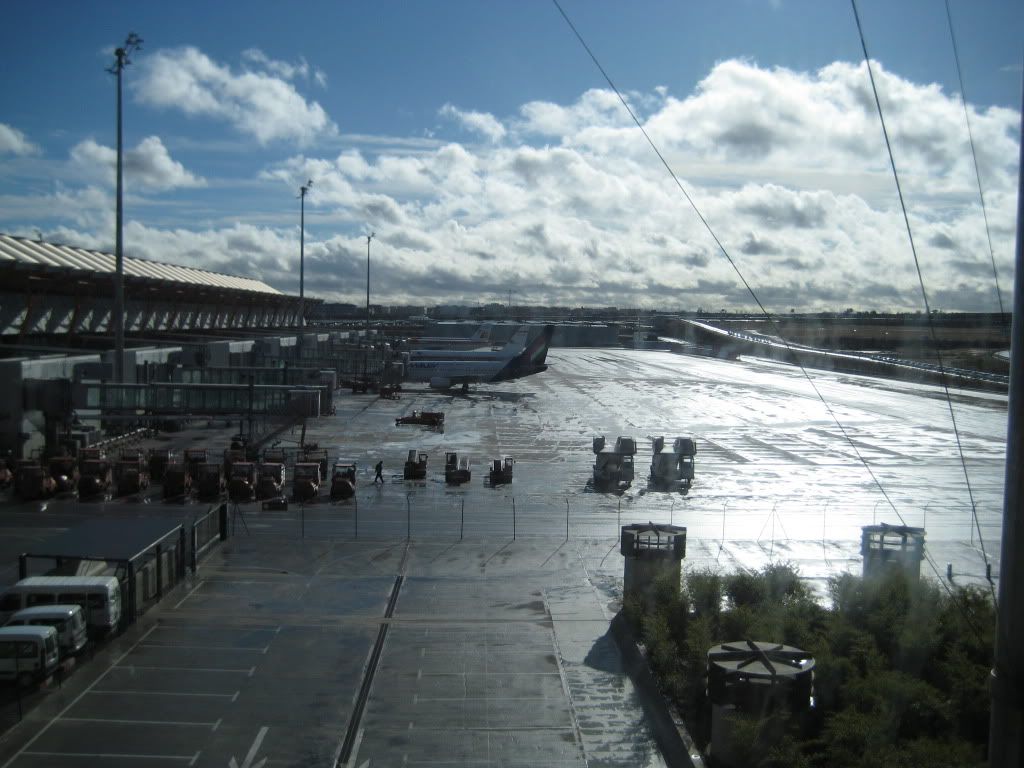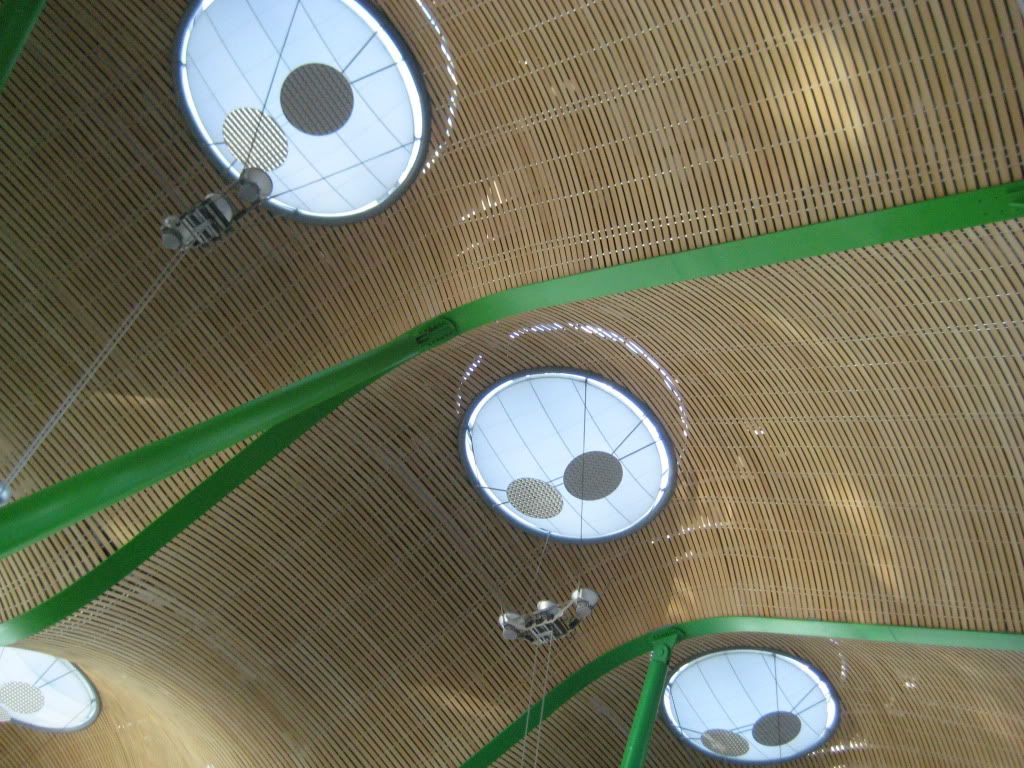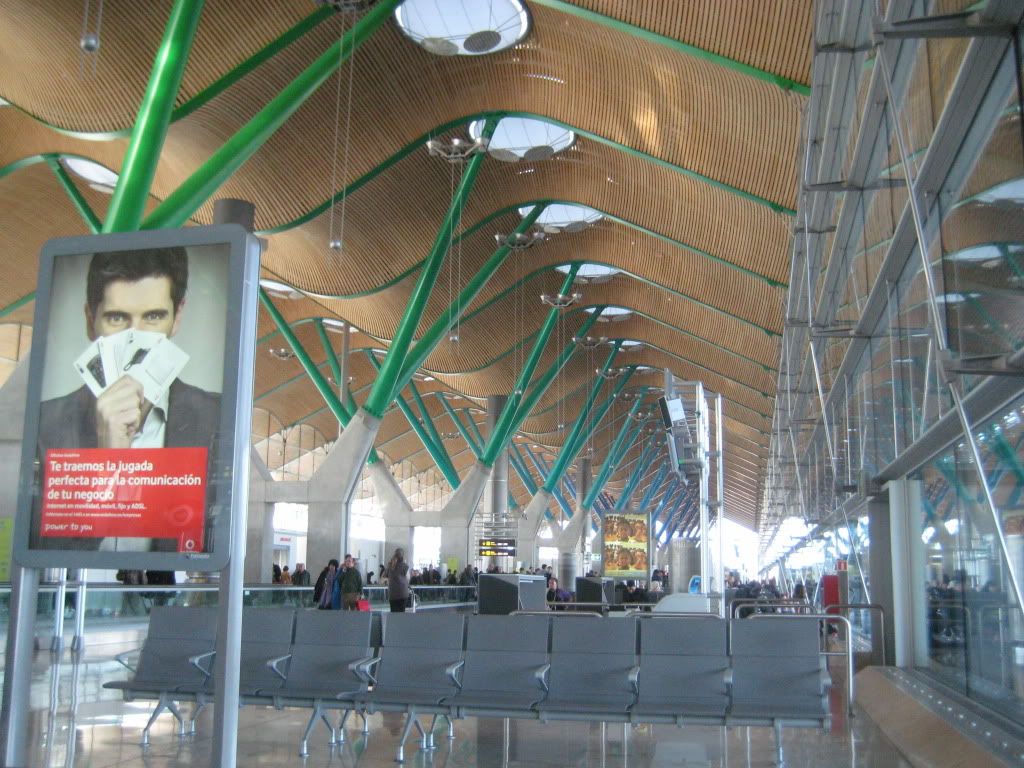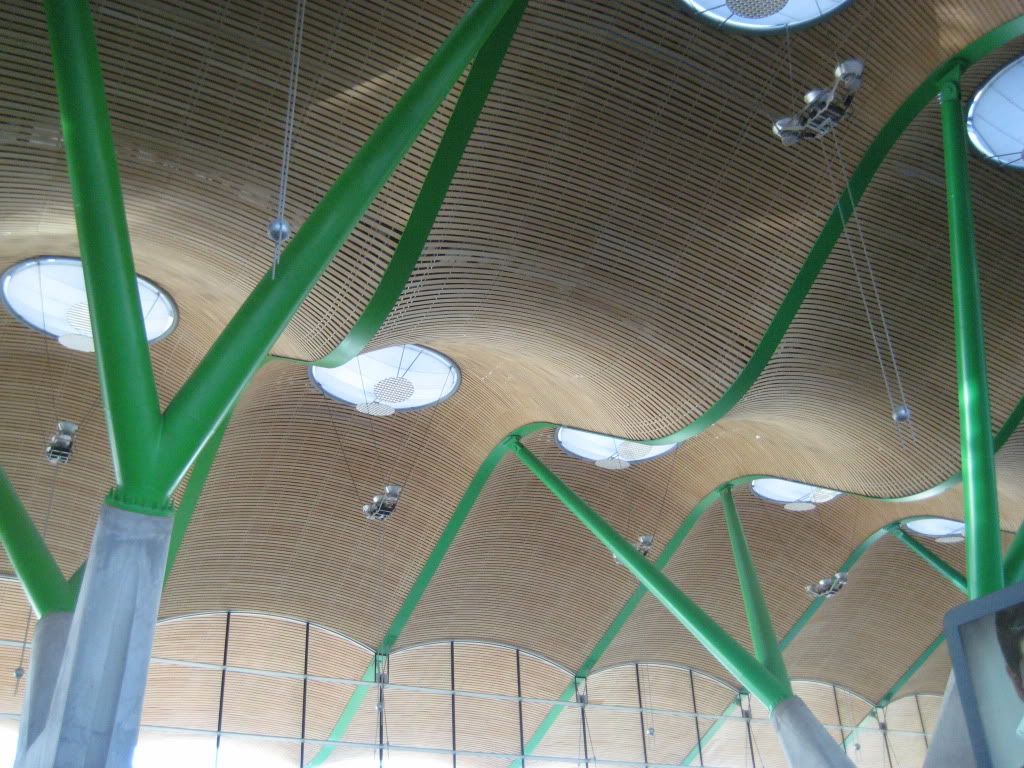 Fast Forward to several hours later in the evening. I board the flight which has a load factor of no more than 35-40%... I find it difficult to believe that this flight was full the day before and I wonder why IB did not put me on it instead of insisting that I fly with AZ.
I arrive in ATH soon before midnight and I head to the OA counter to get my boarding pass for the next morning's flight and also ask about my accommodation. They tell me that they have not received any wire and that if anyone should have received it should be ATH's IB desk which was by now closed. The OA lady tells me that she'll ask her supervisor to see if anything can be done about me. She comes back and apologetically tells me that OA cannot help me. She tells me that if I want a nice place to sleep, there is a quiet area with some couches near the McDonalds restaurant. For a moment I am considering checking into a hotel but then I decide to stick around and wait the few hours to my flight. This made ATH the 5th airport for me to have spent a night on, after MAN, EDI, LGW and OTP. I find an area with some TVs and watch a couple of documentaries until 3am, then I sleep for a couple of hours and once I woke up I got ready for my flight.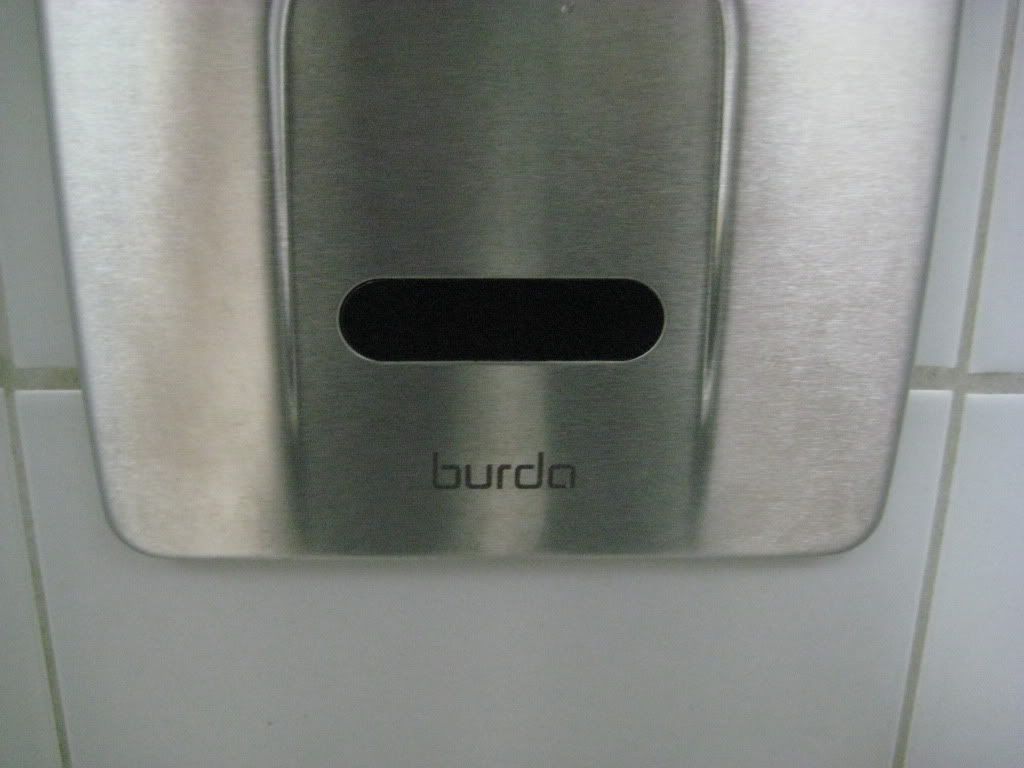 Many Greeks will find the name of this toilet's brand funny. It's interesting that this is actually in ATH.
Much of the rest of the morning goes by in a haze as I am now exhausted. I don't remember much of the OA flight, other than the christmas-tree shaped cookies that we got and the lovely pink sunrise over Mount Olympus and the Pierian Mountains.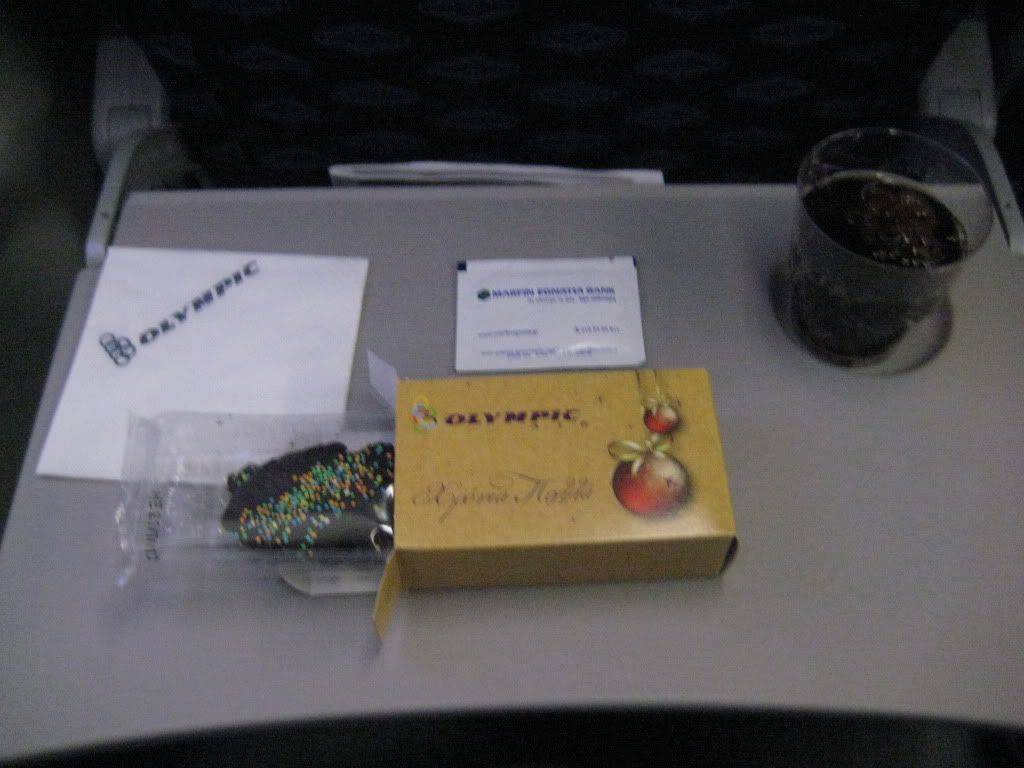 Christmas tree-shaped cookies, courtesy of OA
A few photos of the magnificent skies over the Pieria Mountains as we are approaching SKG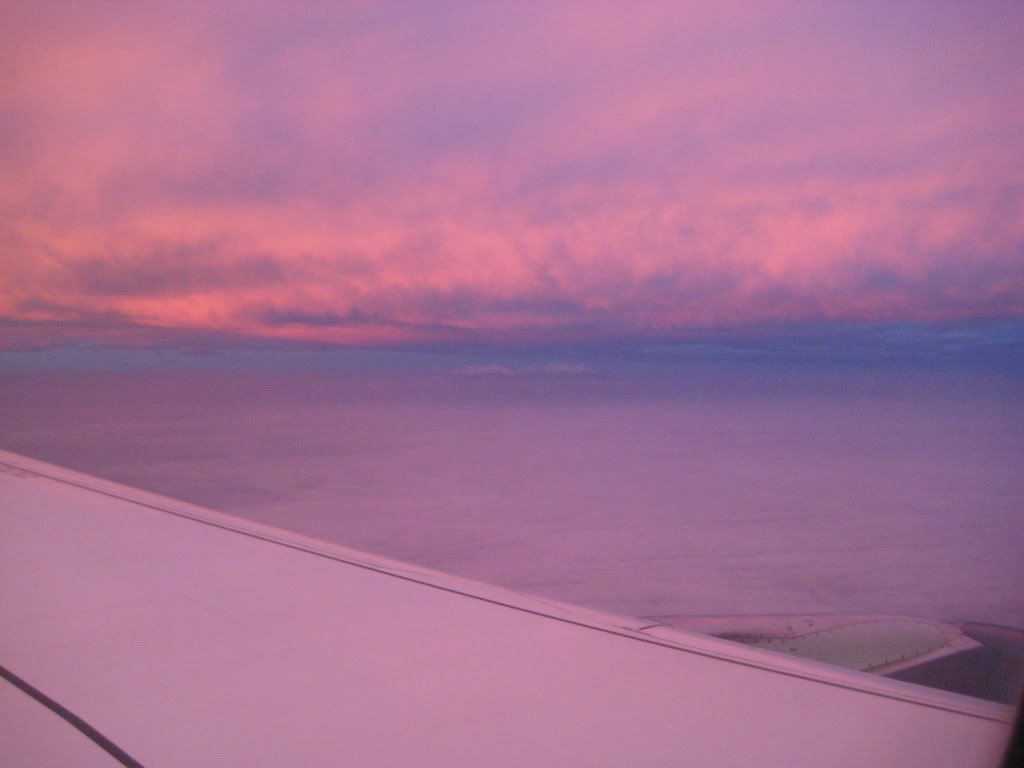 Once in SKG, I inquire about my luggage and whether it had made its way to SKG yet but of course I was met with a negative reply. Only 2 days later did I receive a phone call informing me of my bag's arrival. I hadn't left for Bulgaria yet so I went to the airport and collected it. The condition of the bag was hard to describe. While it used to be light gray, it was now definitely a very dark gray with black patches at places, while its pulling handle had been broken. At least nothing had broken inside the bag...
As promised at the beginning of this TR, and given that most of it was in text, I have decided to include a few photos from in and around Thessaloniki and Bulgaria.
Some incoming traffic over SKG
Driving away from the airport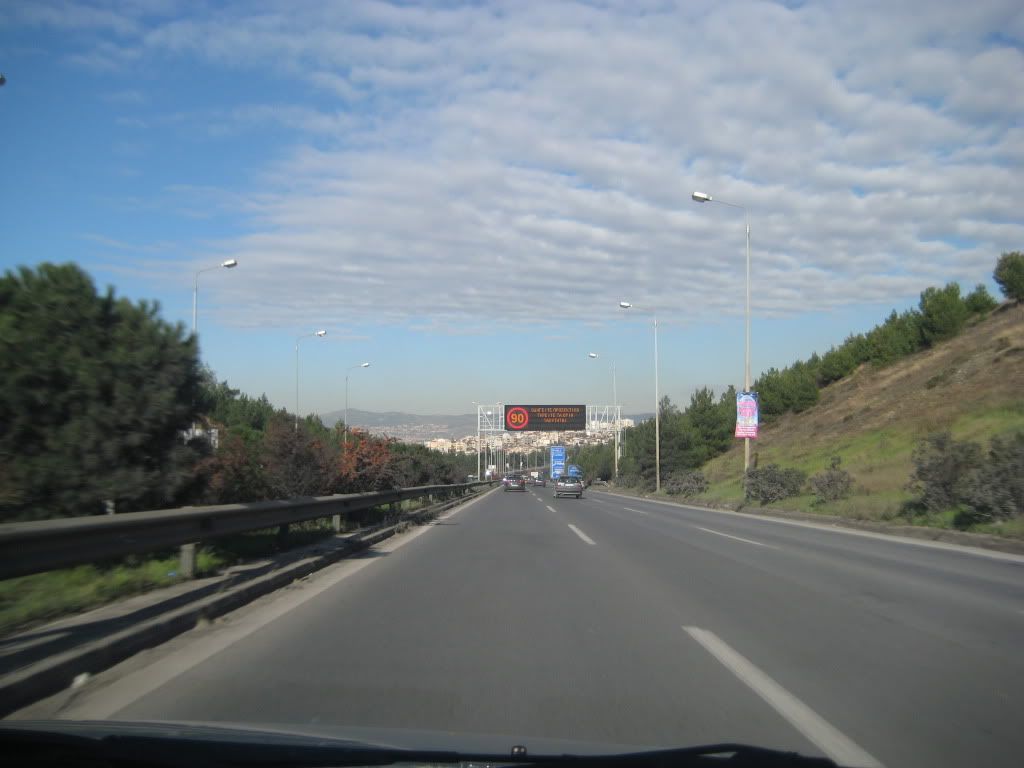 During the second day in Thessaloniki I took a walk up the Oraiokastro forest where one can see a distant panoramic view of the Thessaloniki bay
Thessaloniki and Thermaikos Bay as seen from the Oraiokastro hills
Looking east you can see the Hortiatis Mountain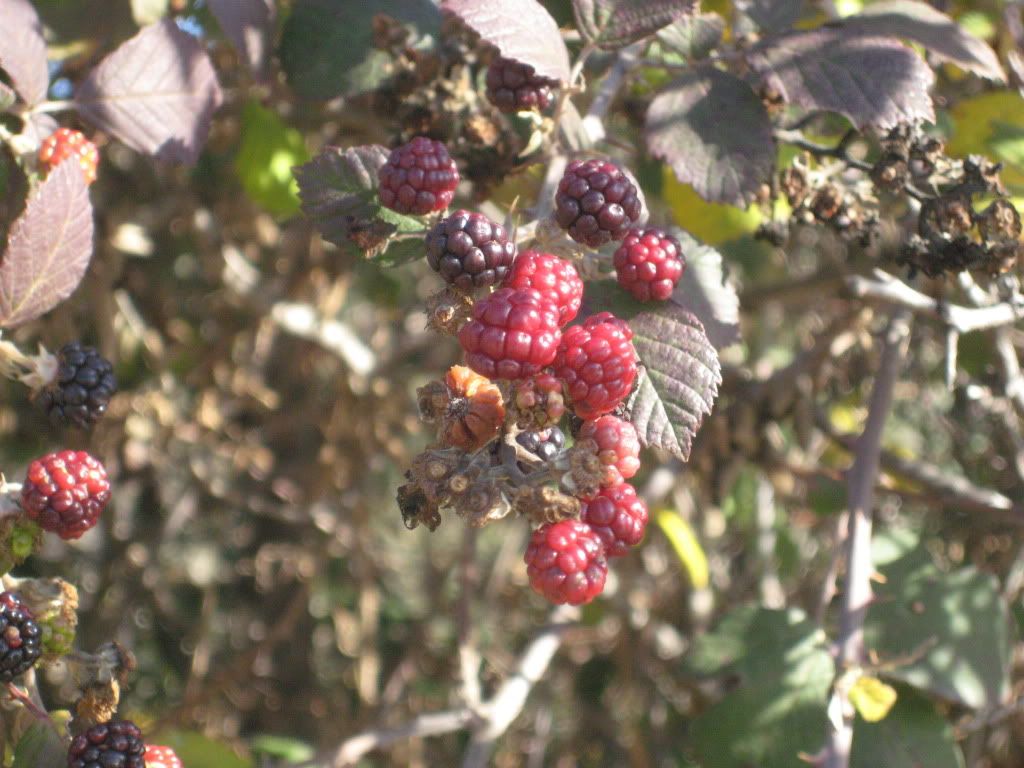 Wild raspberries!
People in Greece really have no respect for traffic rules and signs...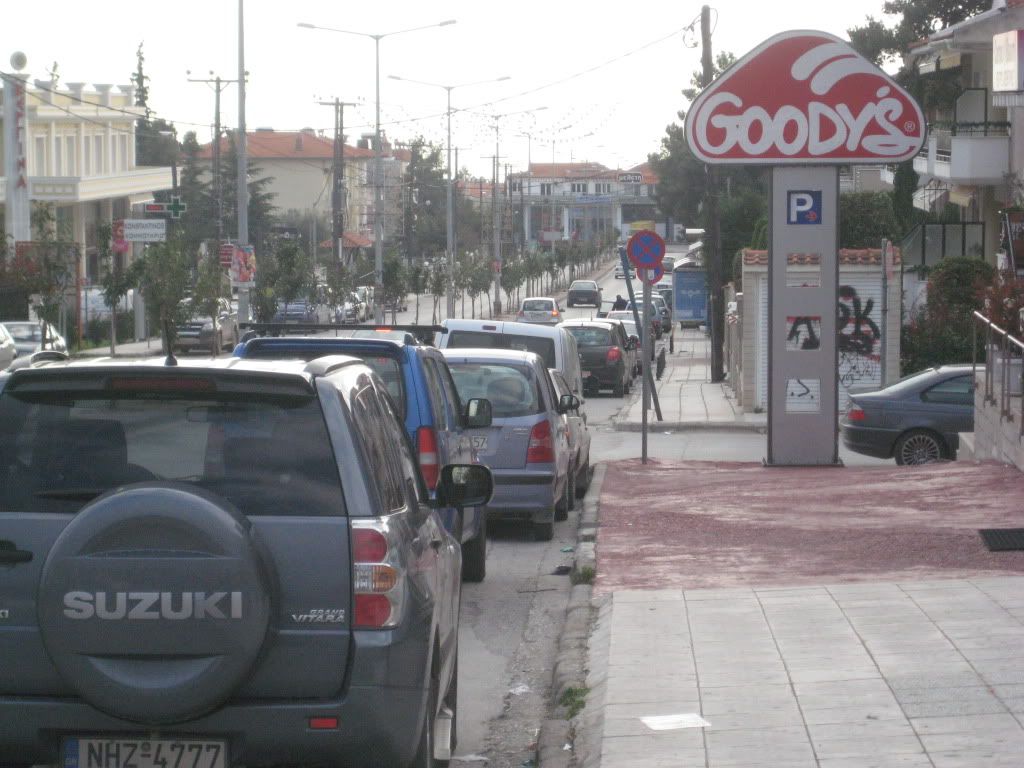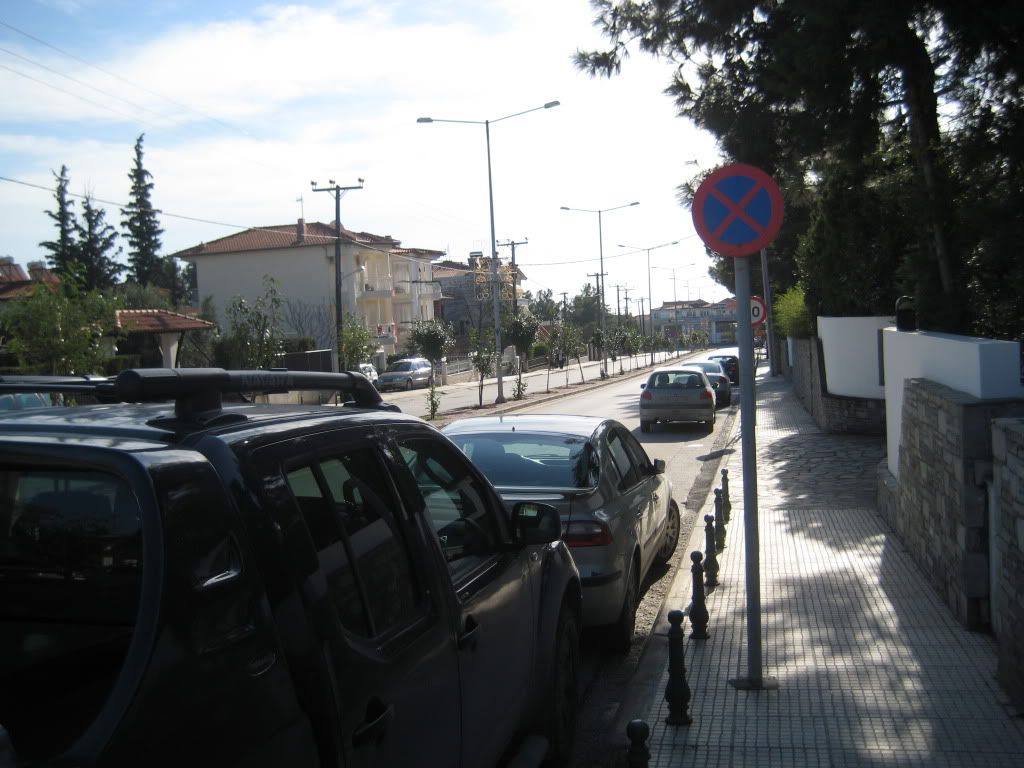 A nice look at the bay from the old fortified town. At the far distance you can see Mount Olympus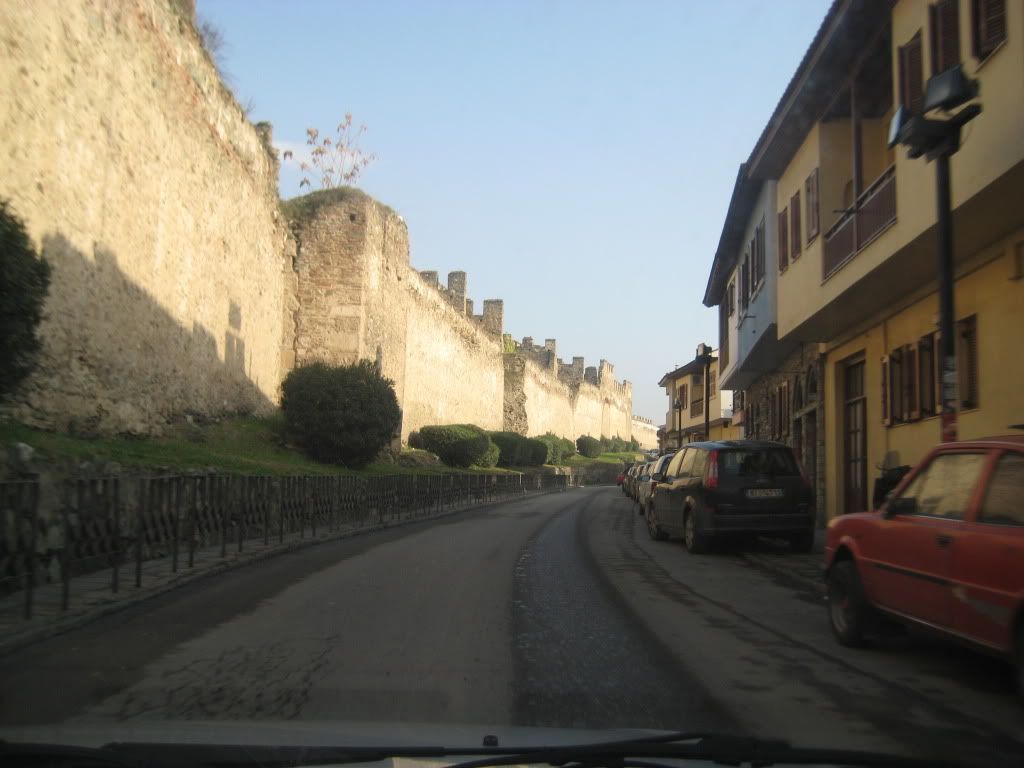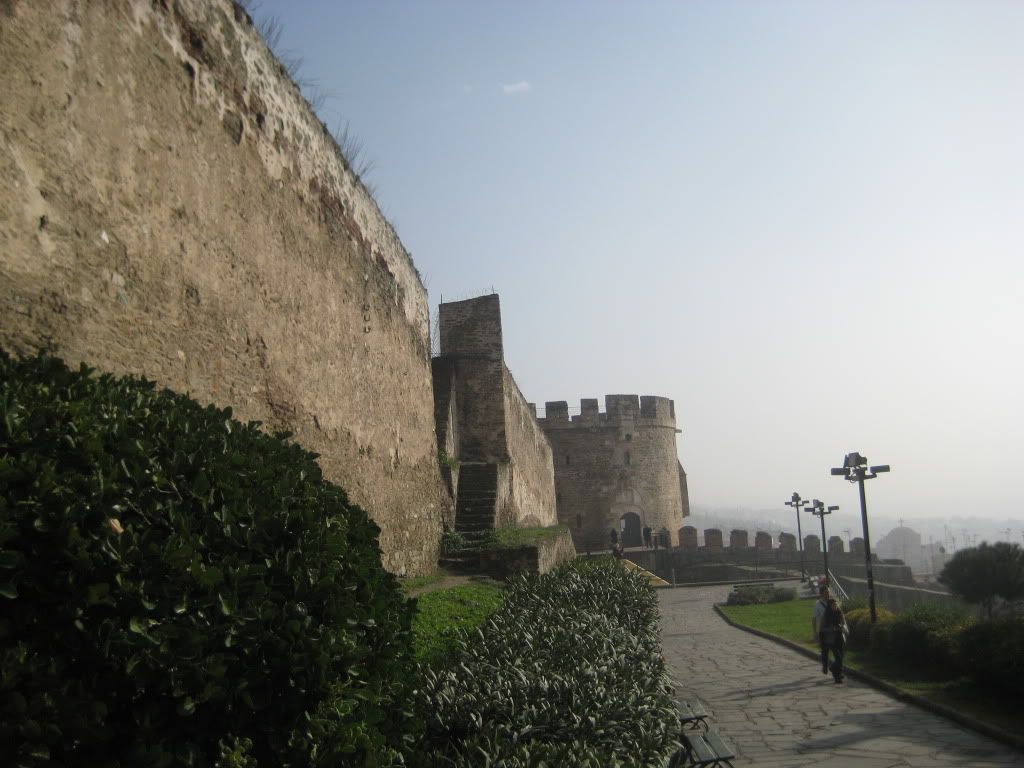 More of the old town streets
...and of course, the symbol of the city, the White Tower.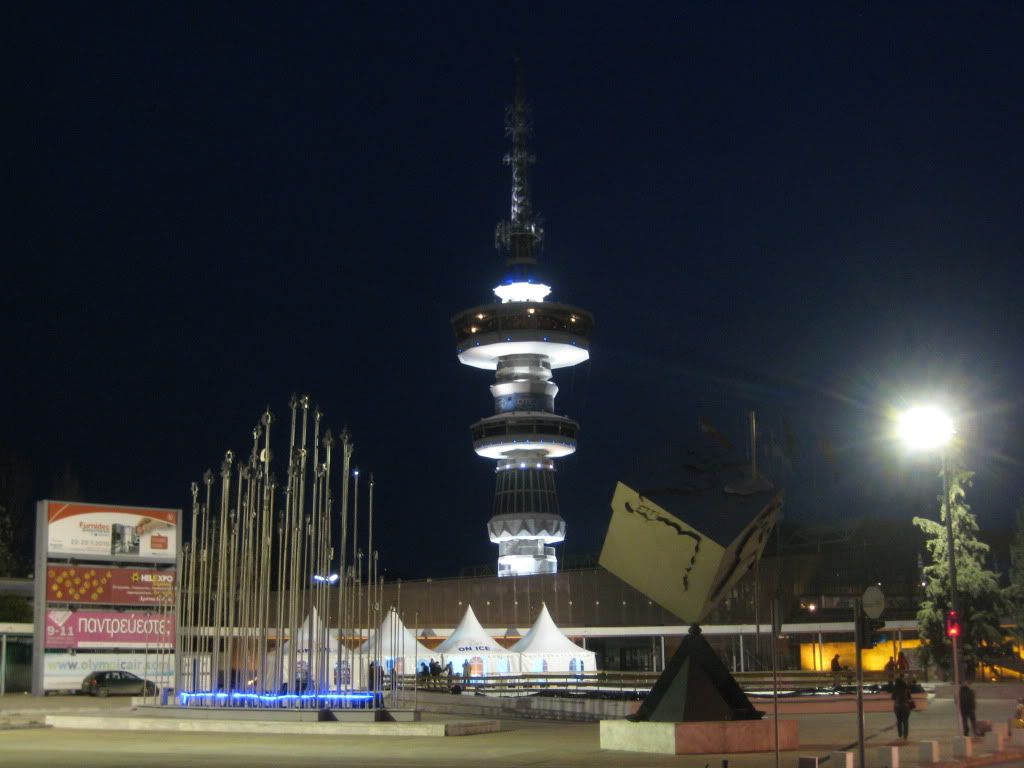 The OTE tower
Some modern architecture in the downtown area
What I like about Greece in the winter is the full of orange/tangerine trees that line pretty much every street
By the time I was ready to go to Bulgaria it was already snowing. Here are some shots of the drive there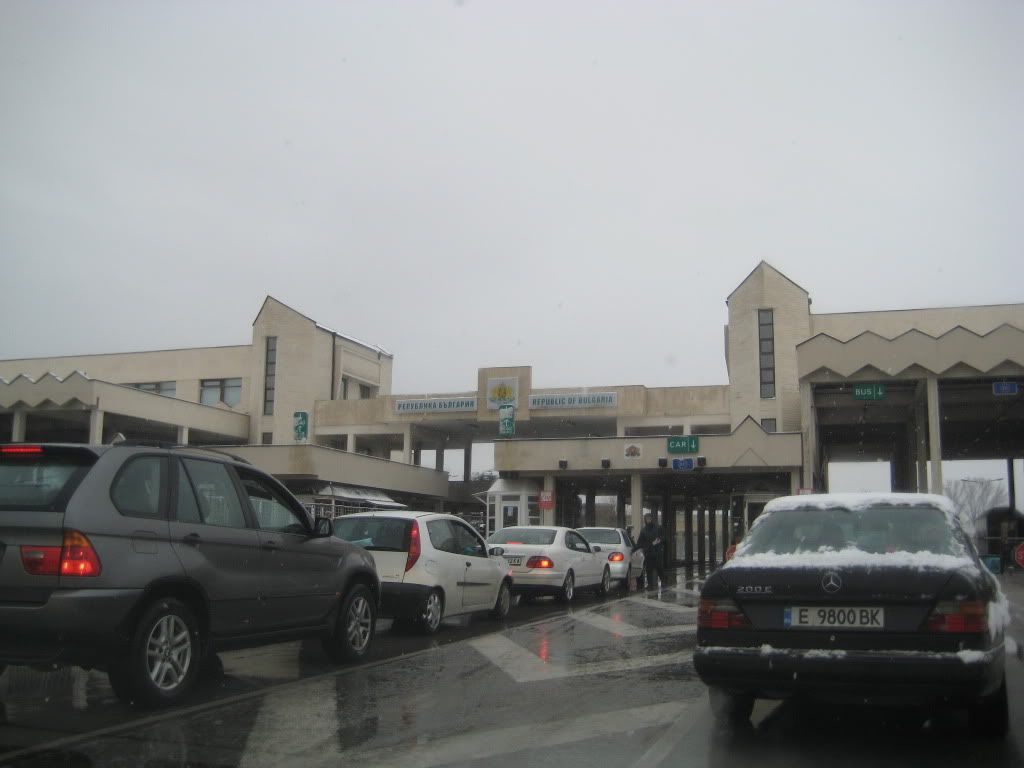 The border crossing at Promahonas-Kulata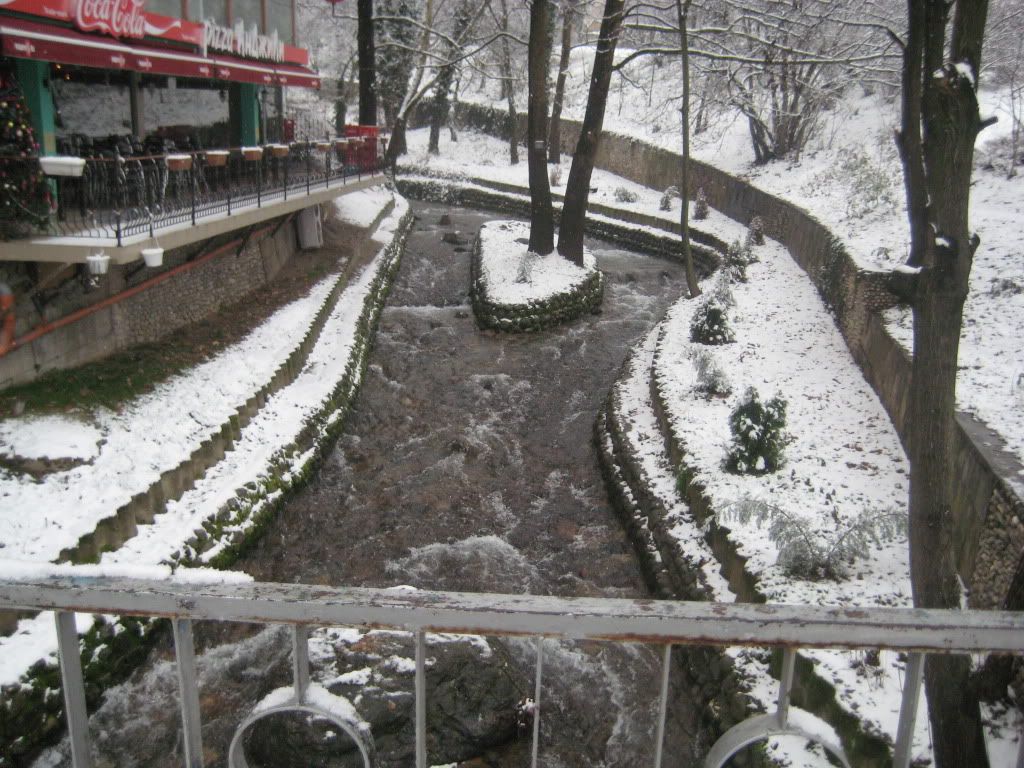 Snowy Petrich
So in summary, here are my impressions of my first experience with IB:
Positives:
-The food, which I have not spoken about, but it was pretty decent in both quality and quantity. This was the case for both the transatlantic and the MAD-ATH legs.
-The new Terminal 4 of Barajas is a very nice building and all of its facilities were well taken care of. Too bad I did not get the chance to enjoy them in the way I wanted.
Negatives:
-Well, pretty much everything else. IB, for most part was extremely unhelpful, and it all came down to what individual you had the (mis)fortune to deal with. Again, I understand that they had a great deal of people to deal with, but their attitude and methods only made things worse both for themselves and their customers. Another negative that I did not discuss was the attitude of IB's flight crew (especially on the transatlantic leg) which was pretty poor to say the least, mainly regarding their attitude which at times reached the point of rudeness.
Overall this was an extremely exhausting and frustrating experience. I understand that sometimes things can get hectic, especially during the holiday season or immediately before it, but I feel that IB handled the whole situation extremely poorly. Of course I appreciate the accommodation and the food vouchers, but I feel that this is the least IB could have done following the ordeal that I (and I suspect many others) had to go through.
At this point I must say that the return leg went much more smoothly, even though IB's service was again average at best.
Thank you for reading. Any comments would be appreciated.