Introduction
This trip is basically all about logging some SAS Group flight segments since I still need quite a few for Eurobonus Gold (Star Gold as well) status. I was browsing for some decent fares which would allow me to spend a day someplace nice, and stumbled upon a 120 EUR fare to AMS via CPH. That sounded good to me as Amsterdam is very nice city and it's been three or so years since I was last there (outside Schiphol, that is). As an added bonus the CPH-AMS segment was to be operated by an A319 - I've never flown an SK example before so was eager to catch one, so I ended up booking these two flights.
I really wanted to do just a daytrip, so focused my search for onward flights for the afternoon or evening. I soon found a decent fare of 75 EUR for a nicely timed SK flight to OSL and booked it - a new route for my log (the only one on this trip, actually) and another segment bagged!
Finally Saturday night doesn't exactly offer too many options for getting to HEL from OSL - neither KF or DY do operate the evening flights to HEL on that particular weekday. Luckily good ole' BT came to the rescue with a late departure to RIX and onwards to HEL with the notorious "Midnight Fokker" (luckily the next day would be Sunday and I was planning a very lazy day anyway so no biggie this time) for under 70 EUR. Lounge access at OSL would come handy - I've spent more money on expensive beer at that particular airport that I care to remember - so booking the airBaltic flights was really a no-brainer.
Here's the itinerary for the (long) day: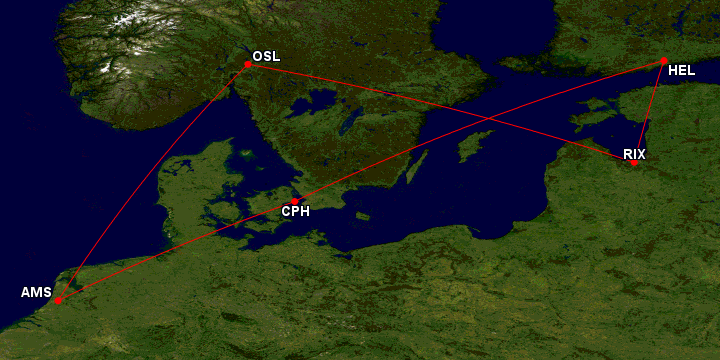 Saturday 12.2.2011
Another Saturday, another far too early wake up call at five o'clock - things aren't exactly helped by the fact that I was out enjoying a show far too late the previous night. Bleary eyed I do my thing and manage to catch the bus to the airport 40 minutes later. At T1 around T-45mins, plenty of time to go through security and even grab a cup of coffee in a failed attempt to wake me up. The staff at the Seasons restaurant are downright rude - must be the early hour. At least the coffee cup is nice Finnish design:
Not a good day to be going to Gran Ganaria: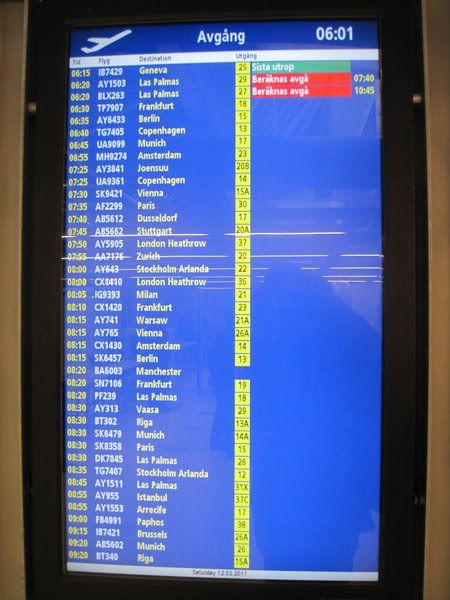 The plane parked at gate 13 - Avro RJ-85 OH-SAL "Orivesi", my 9th flight on this particular bird: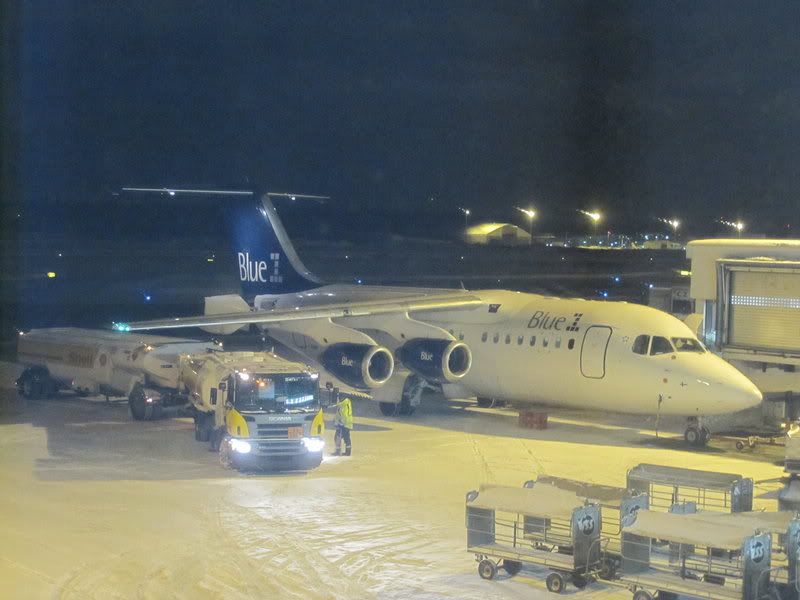 Boarding is called right at the indicated boarding time of 6.15, by the time I get there a minute or two later there's nobody there anymore - I ask "where's everybody?" - "Oh, we have a very light load this morning.".
HEL - CPH
KF639
ARJ-85 OH-SAL "Orivesi"
Seat 18A
6.35 - 7.05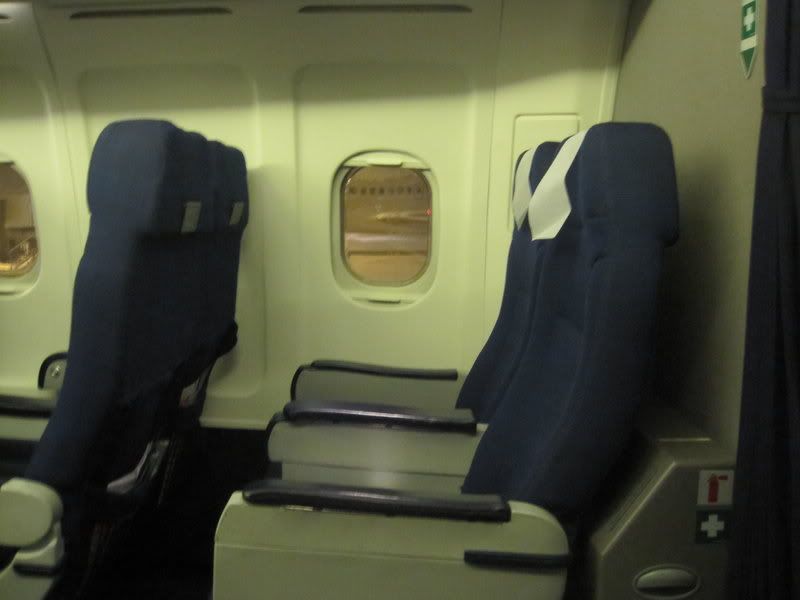 I settle to the last row - indeed the load is very low, under 20 passengers in total, all in economy. Unfortunately the few rows in front of me are all occupied by a rather annoying and loud entourage of middle aged man, the loudest of them first asks the back galley FA "Will you be serving any food on this flight?" - "Yes, you can buy sandwiches and the like." - "What about BEER?" (with the emphasis being on the word "beer") - "Yes, you can buy that too." - The guy smiles like million bucks - oh dear. Mind you that it isn't even half past six in the morning yet!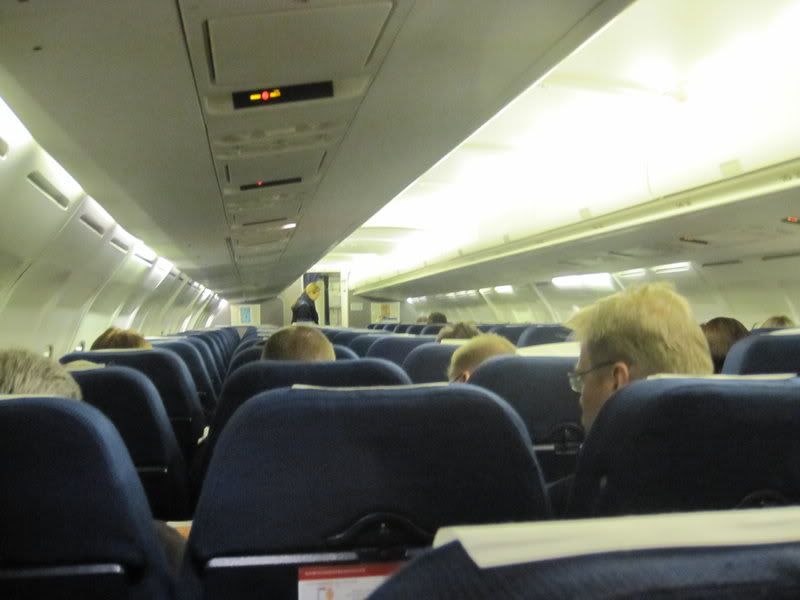 A quick sprout of decing fluid is done at the gate - not a fully fledged deicing by any means, despite it being around minus fifteen outside. Flight time is announced as 1h25mins with a somewhat warmer weather in Copenhagen.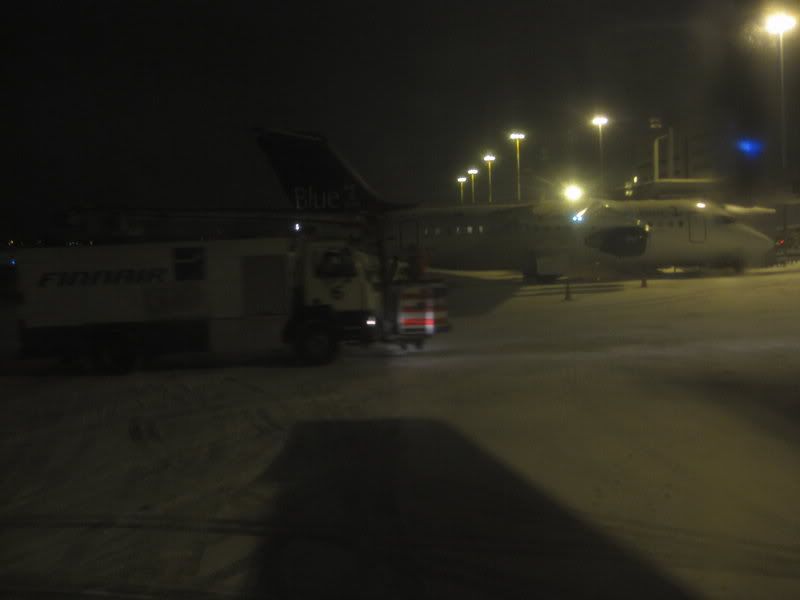 Pushback is five minutes ahead of schedule, and take off from 04R seven minutes later.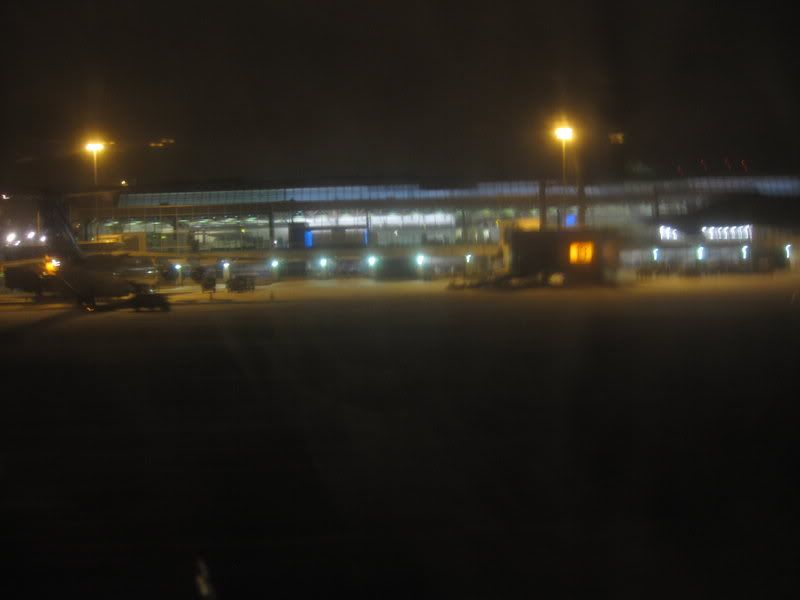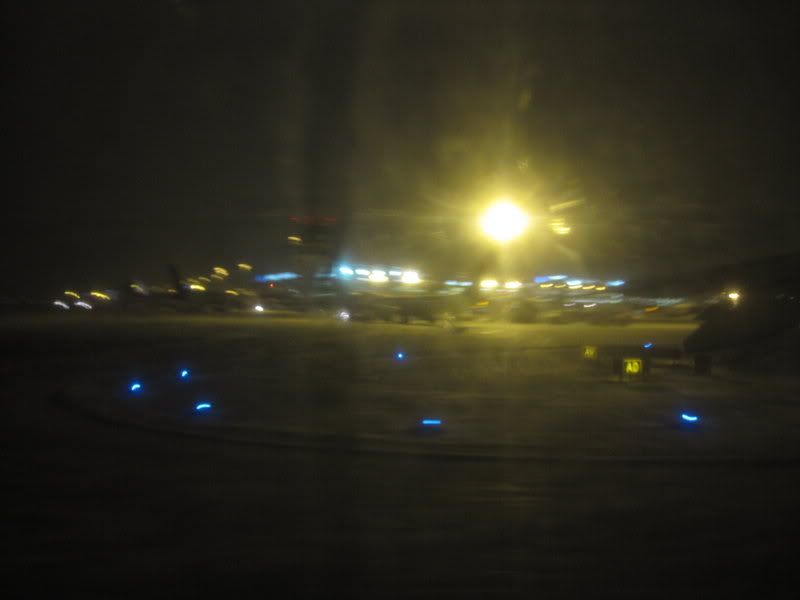 Nice lit-up views of the Capital Region right after take off:
I sleep through most of this flight, the previous night was a bit too short for me... Through my sleep I hear the guys in front of me indulging in malted beverages - this only makes their stupid jokes and stories even more stupid.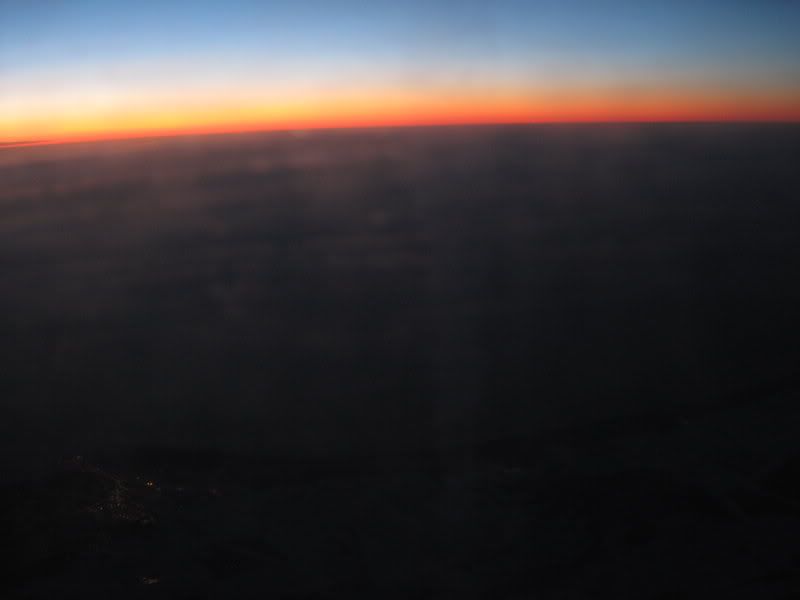 I wake up by the start of our descent - we are passing Malmö/Styrup airport (MMX) by the time - the brighly lit spot in this photo is the terminal building: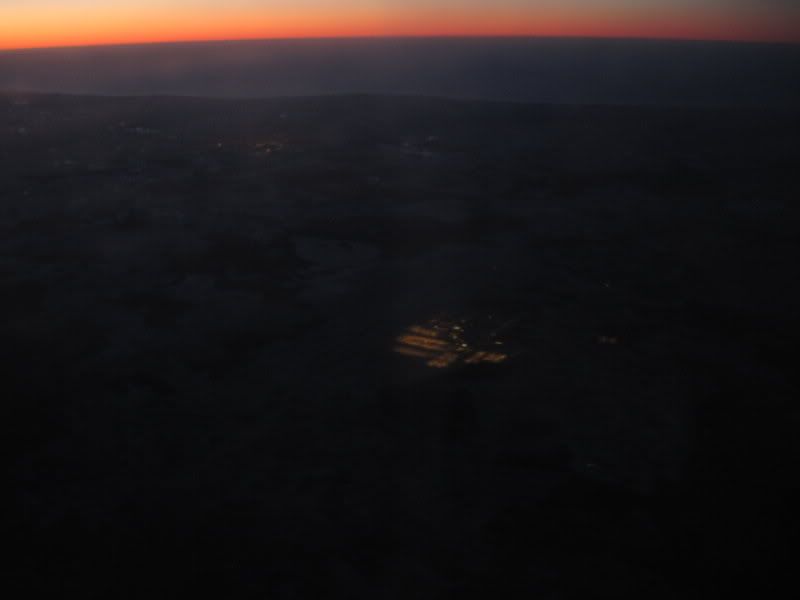 Descent takes us south of the city of Malmö (the captain announces that it is visible on the right hand side, but I can't be bothered the move there for a view), over the Öresund where a right hand turn lines us up with the 04 runways at Kastrup.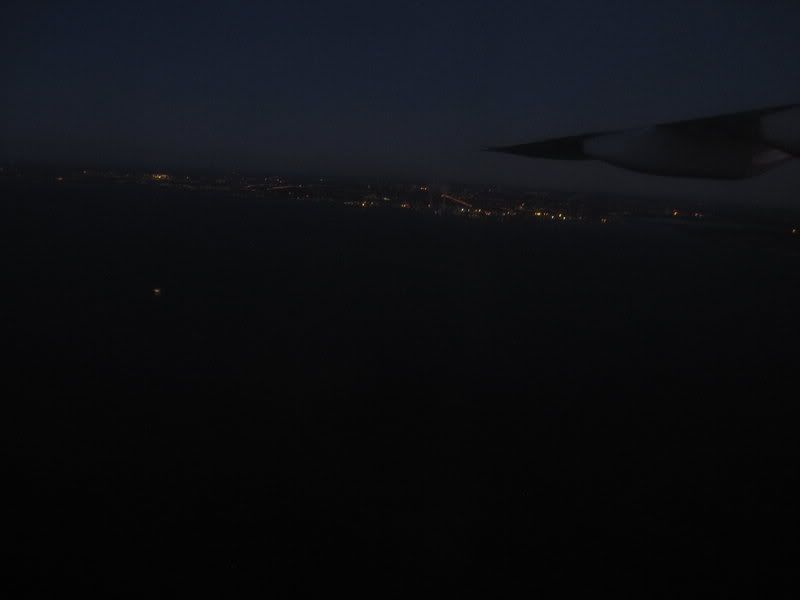 Touchdown is on 04L after around 1h20mins of flight time some 15 minutes ahead of schedule: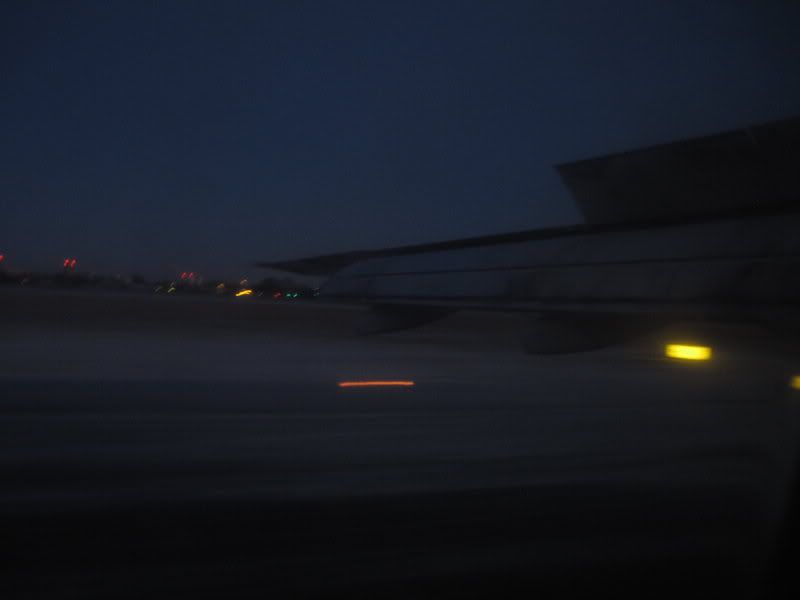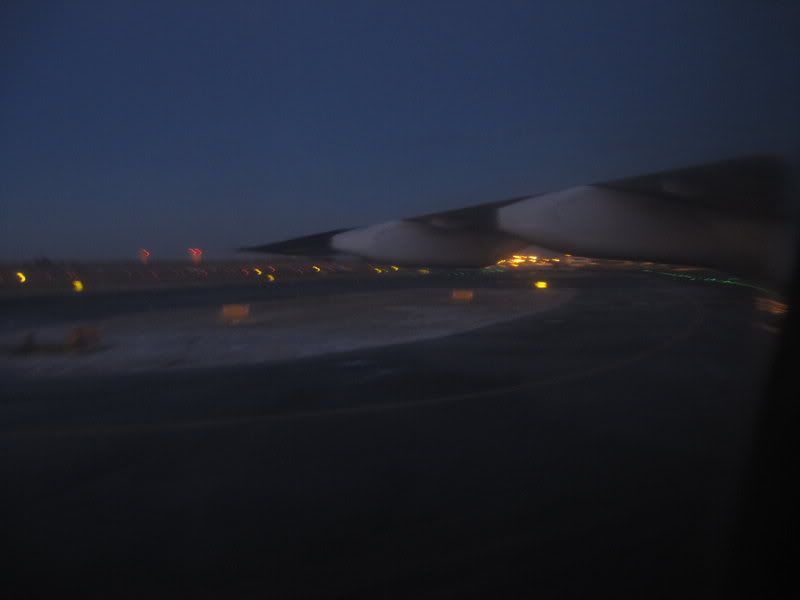 Star Alliance sisters: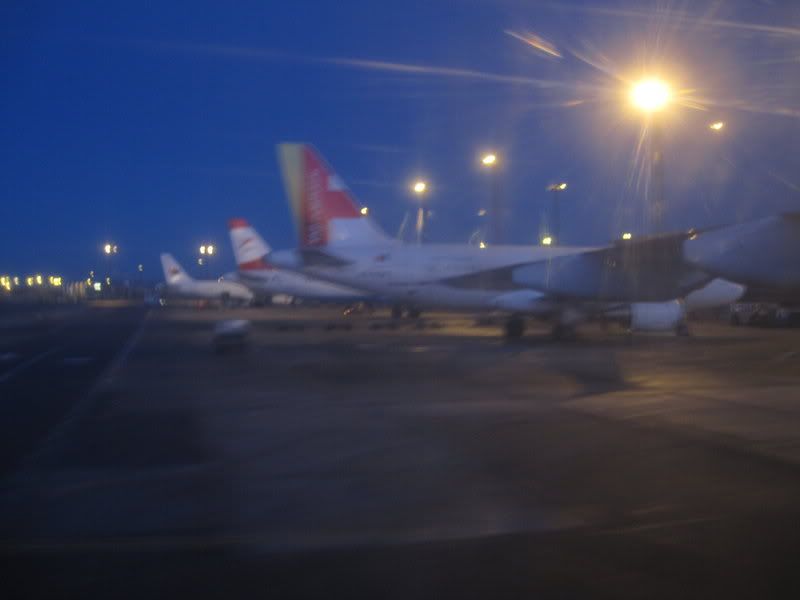 Some minutes later we dock to the A pier usually used by KF here.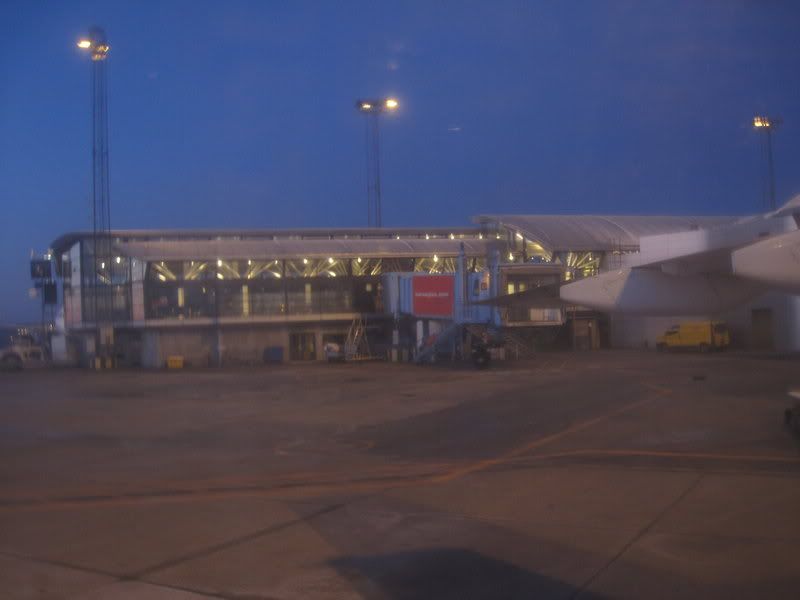 While waiting for deboarding I ask the FA in the back galley where the gentlemen are going as I saw her going through the passengers individually with connecting gate information (she ignored me as I looked like being asleep and mostly was...) - "Amsterdam" is the reply, to which I roll my eyes and say "Bloody hell, so am I!". She seems to be a bit sympathetic about this and tells me it'll be gate B14 for us. Bye: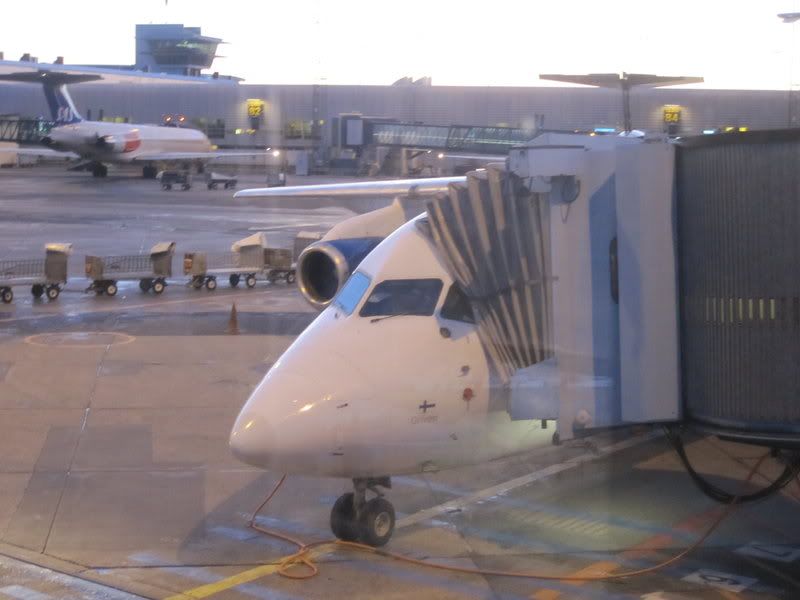 Copenhagen Kastrup Airport
I head to the lounge for some basic breakfast:
Not too long to spend here before my flight is showing as boarding, so I trundle towards the packed B pier. The first thing I notice approaching the gate is this: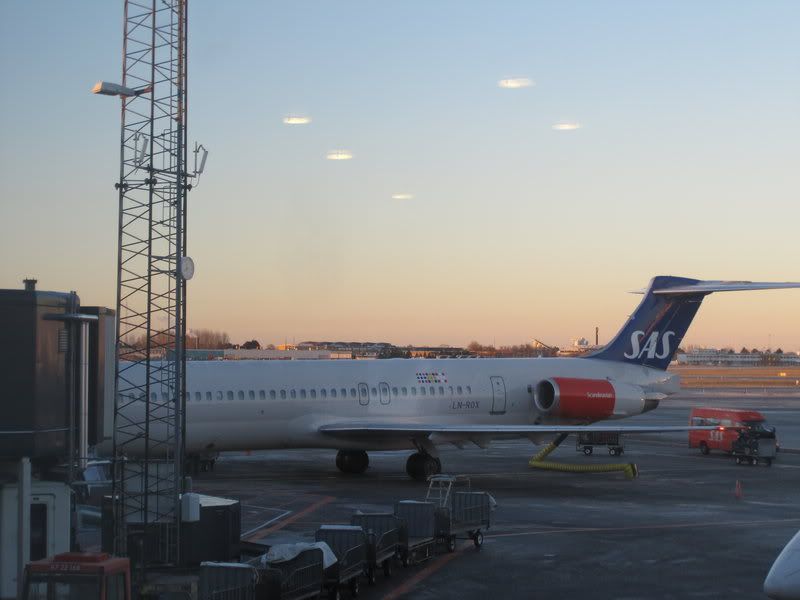 Yep, as I was fearing (and as suggested by Eric as well!) there had been an equipment change - the OLCI seatmap a day earlier was still showing an A319 but here we go with LN-ROX "Ulvrik Viking", an MD-82 instead. At least it's a new plane for me, despite not being a new plane at all, having been delivered back in 1988!
I kinda like the registration though, it rocks!
Looks like it's going to be a clear and very pretty day: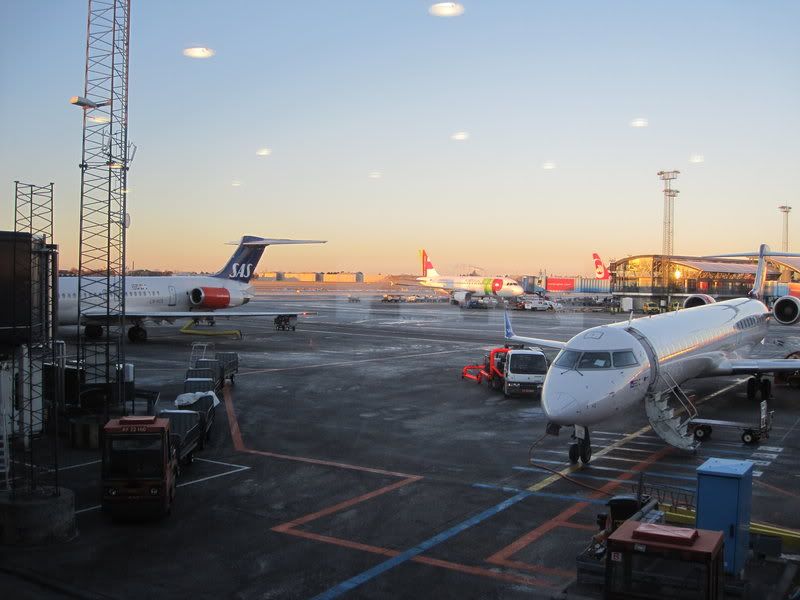 The gate area has tons of people - apparently quite a few people are getting new seat assignments (must be the equipment change) and with only a single gate agent this is slowing down the process. Oh, and I also notice the gentlemen from the previous flight...
By the time I get to the gate agent I'm surprised to have retained my original seating assignment - of course row 25 is nowhere near the last row on these Mad Dogs but at least it is still a window seat. I ask the agent about the plane switch, but she just kinda shrugs and says "I don't know, I have no information!"
CPH - AMS
SK2551
MD-82 LN-ROX "Ulvrik Viking"
Seat 25F
8.17 - 9.35
The good old SAS cloth seats are very comfortable as they always have been. You'd have a hard time guessing the plane's age, as always with SAS the cabin is in very good condition. Row 25 is just behind the wing - not a bad view at all: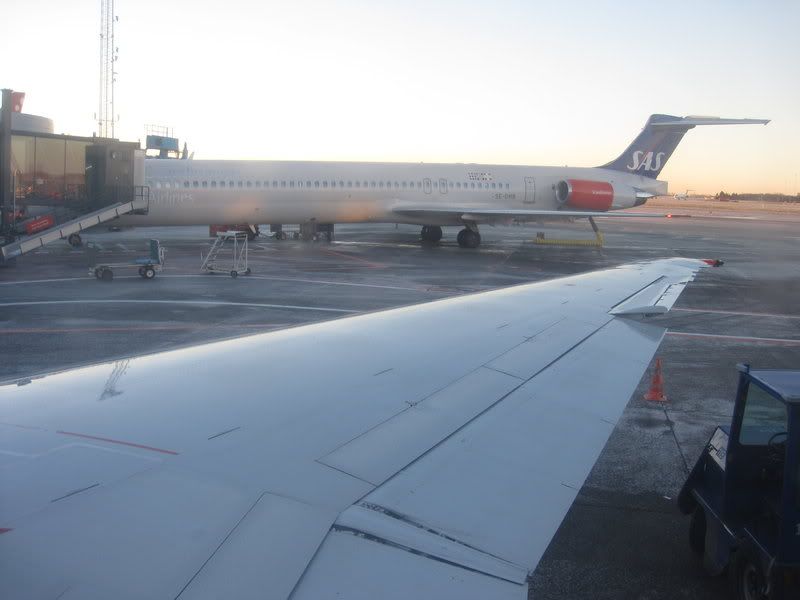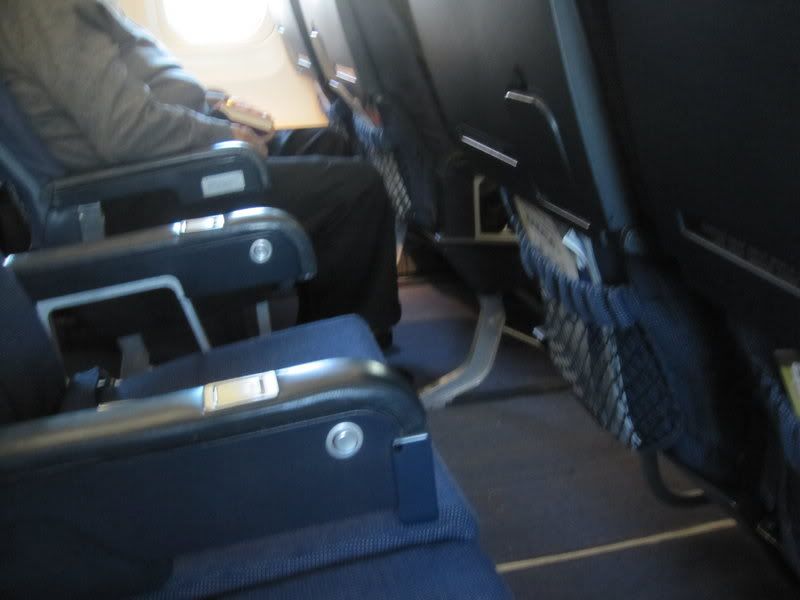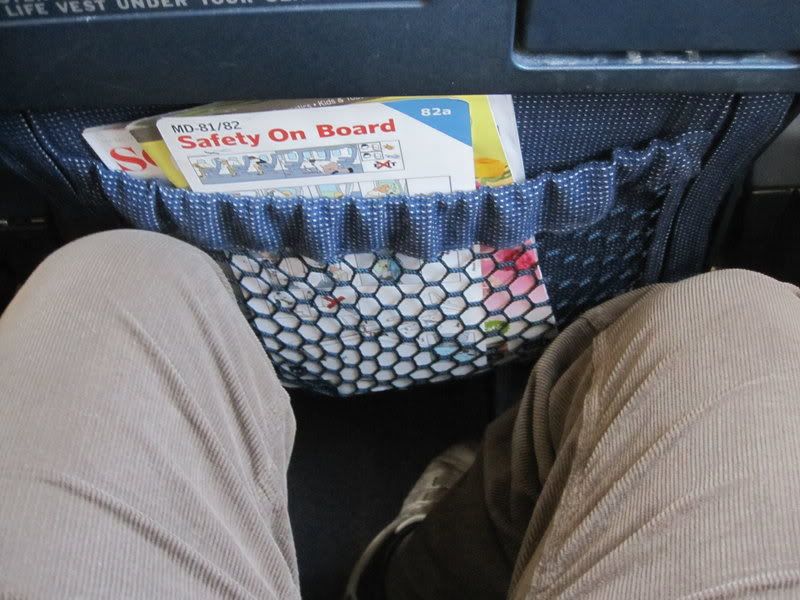 Unfortunately I get a family with a small kid next to me - but fortunately the kid is very well behaved, doesn't cry at all and is very happy throughout the flight. The mother is very pleasant to chat with as well.
Speaking of passengers, at least economy is completely full, can't tell about the few rows of economy extra and business class. The beer guy from the previous flight is sitting on the other side of the aisle, looking like he had a few during the short stopover.
The flight time announced as 1h5mins, with push back a couple of minutes late.
What's that:
Oh, I think I should really log a flight on this Estonian beauty now that they finally managed to scrape together enough money to pay for a few: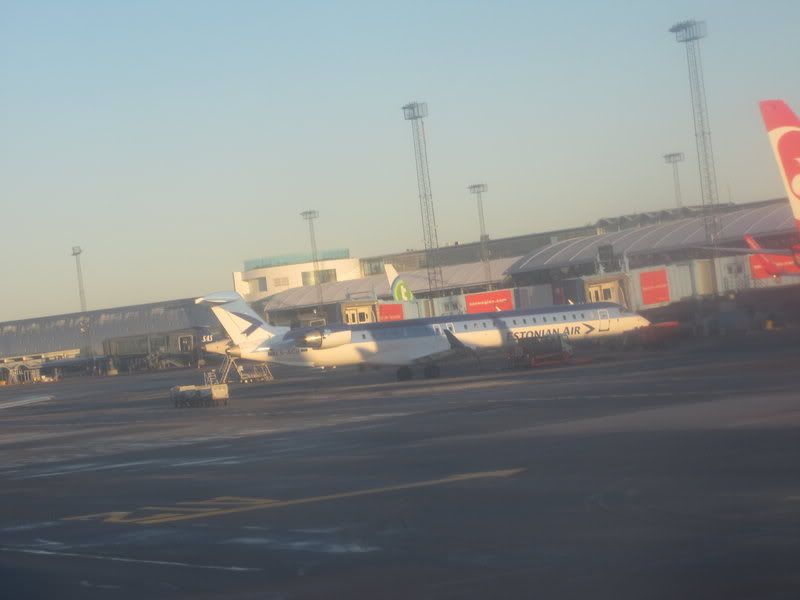 I wonder what Transavia is still doing here - I thought the DK operation is long gone.
Long-haul visitors: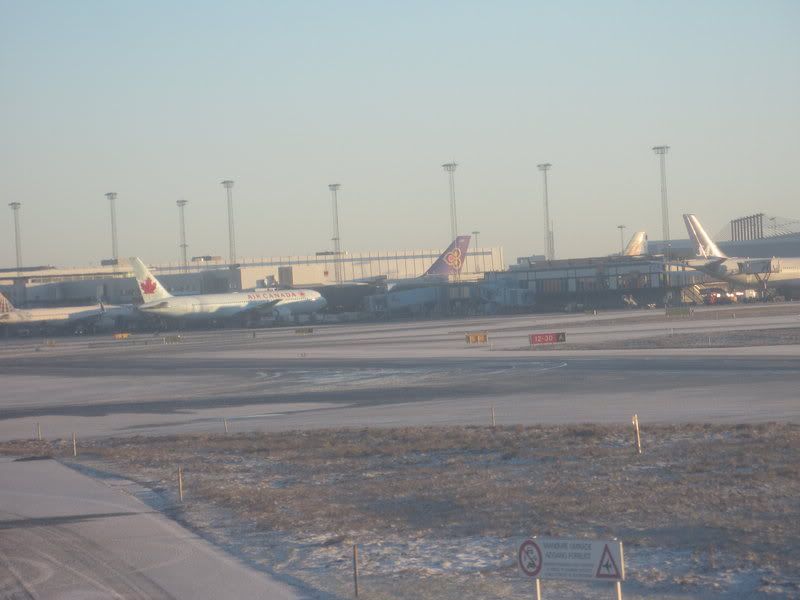 We end up at the deicing area, with the captain explaining that a bit of frost had accumulated on top of the wings during the night and it needs to be taken care of, which promptly happens with two praying mantises giving the wings a healthy dose of piping hot glycol: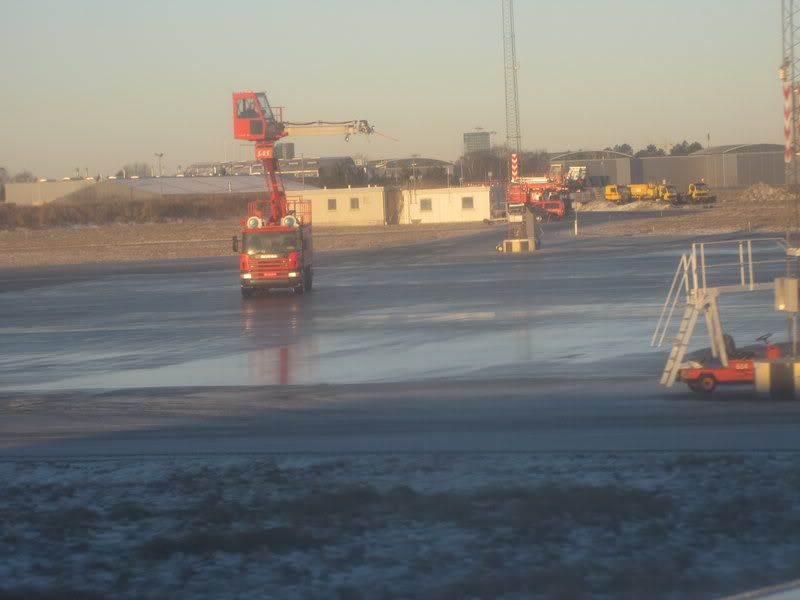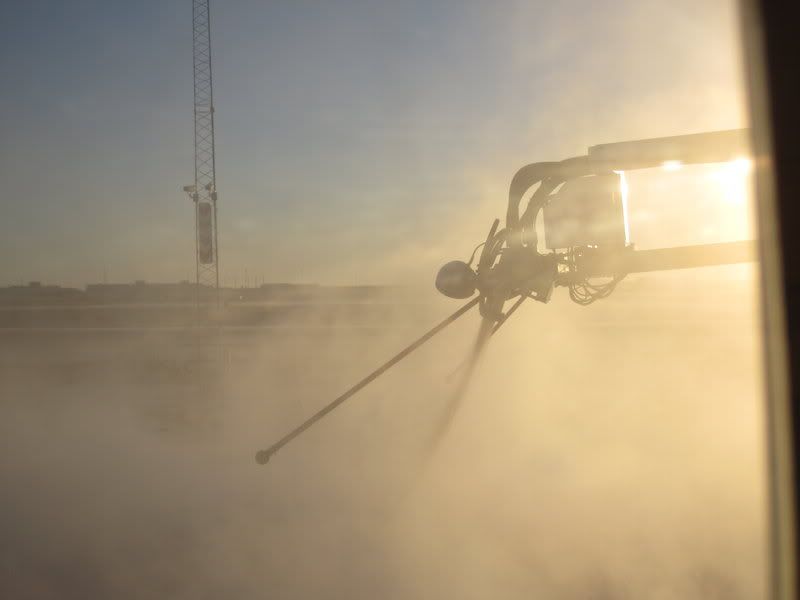 The operation doesn't take too long, and the next surprise comes with the take off runway - all the other traffic is using 04R but we take off from 22R, even though it is being used for landings on the other direction. Actually this Norwegian 737 just landed on 04L before us: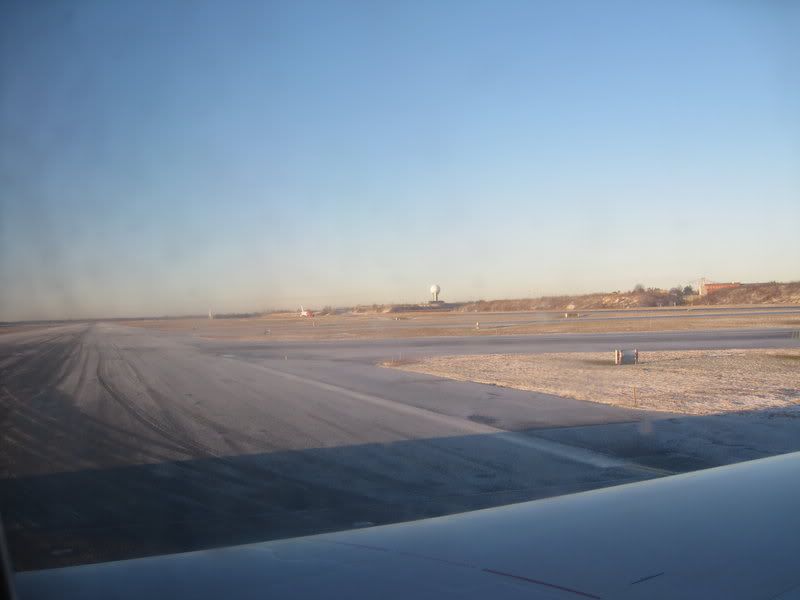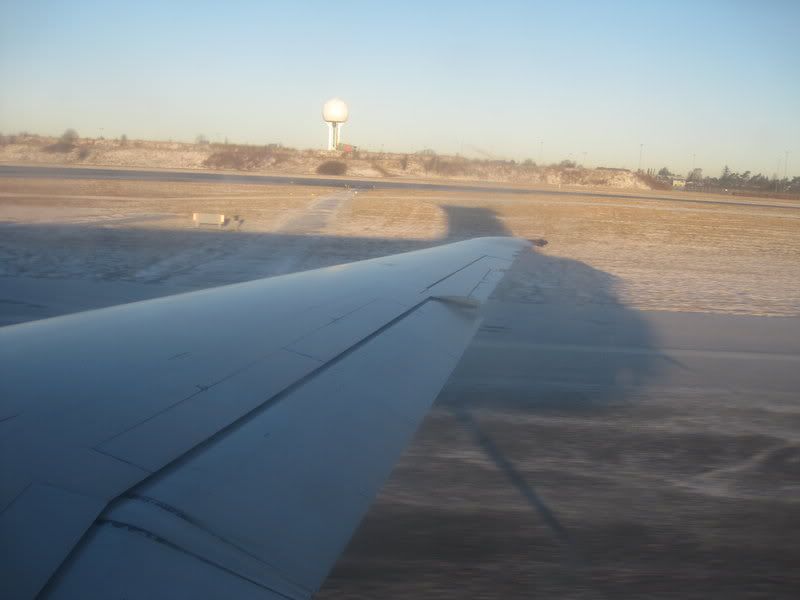 These Mad Dogs are capable of some amazingly powerful take offs, but today the captain seems to be in an economic mood, wanting to save the old engines and gas (or maybe we just need to stay underneath the approach path of inbound landing traffic) as our climb rate is less than stellar: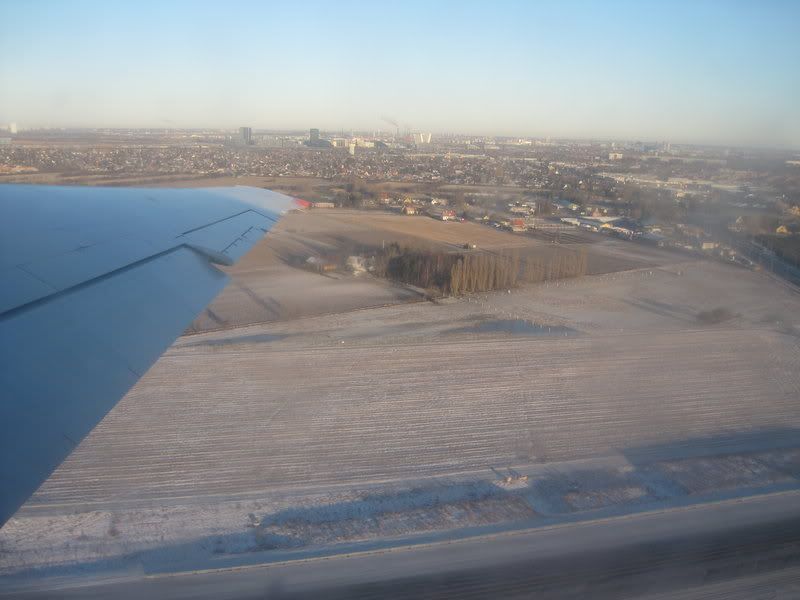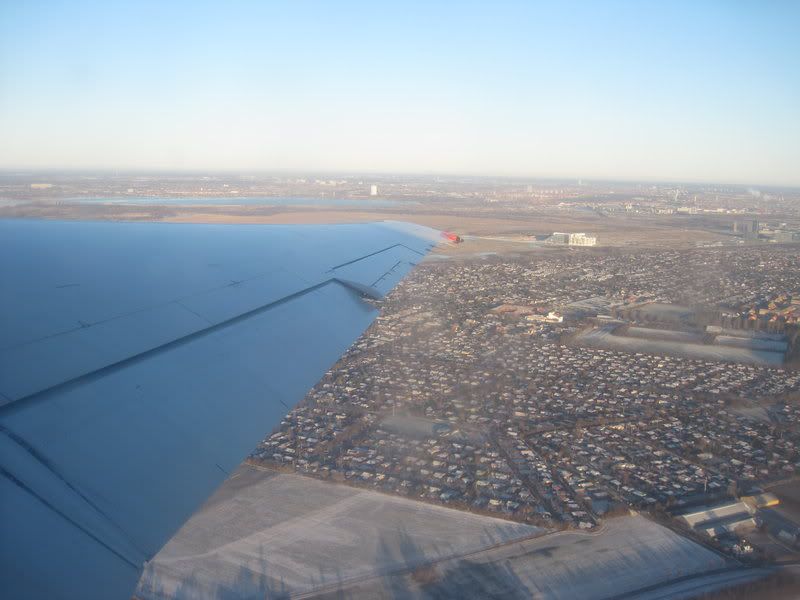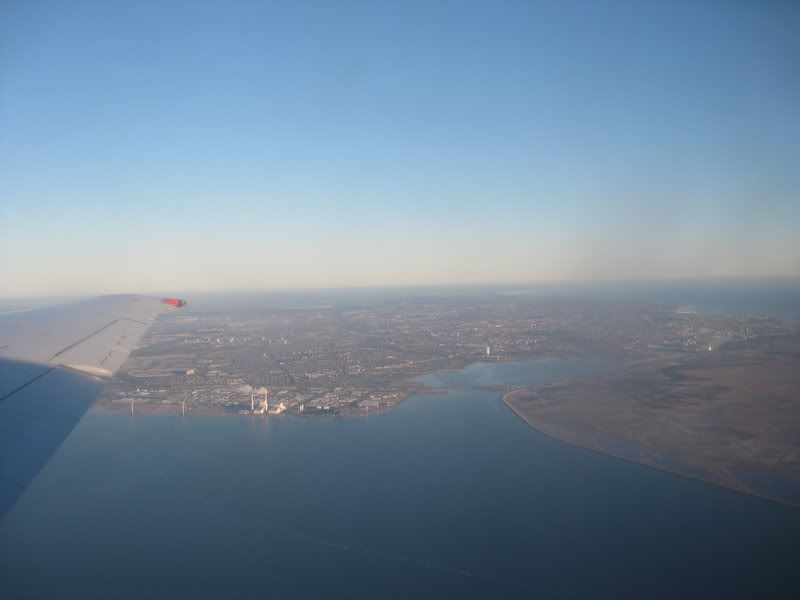 It stays clear all through the Danish airspace, but somewhere near to Germany the skies get more and more overcast.
An oil terminal near Skælskør: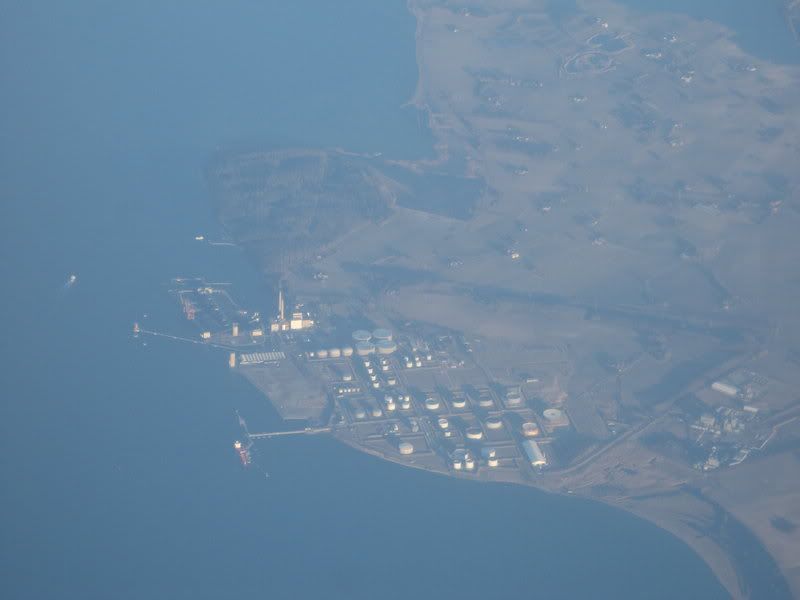 The Big Belt bridge: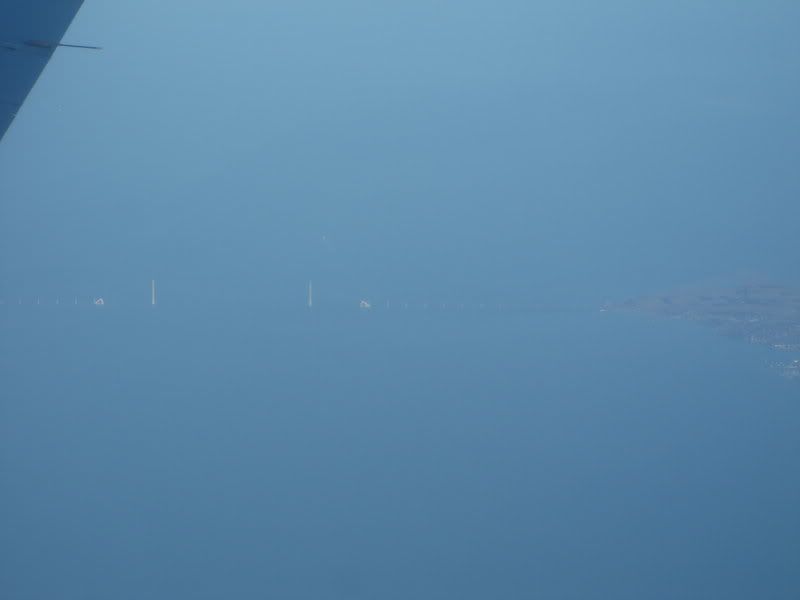 An unrecognized airfield: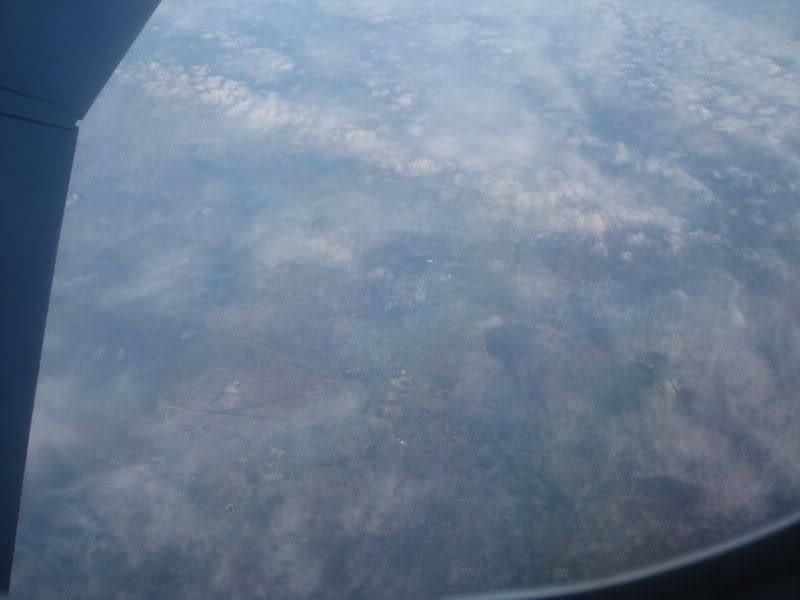 We start our descent around 40 minutes into the flight, heading into the thick and dense cloudbase.
The land becomes visible only a few seconds before touchdown - the weather doesn't look too good here: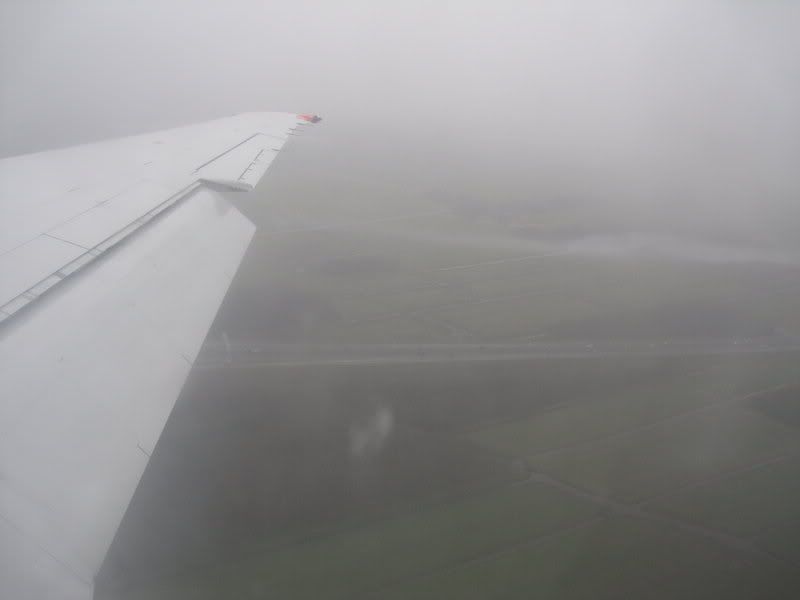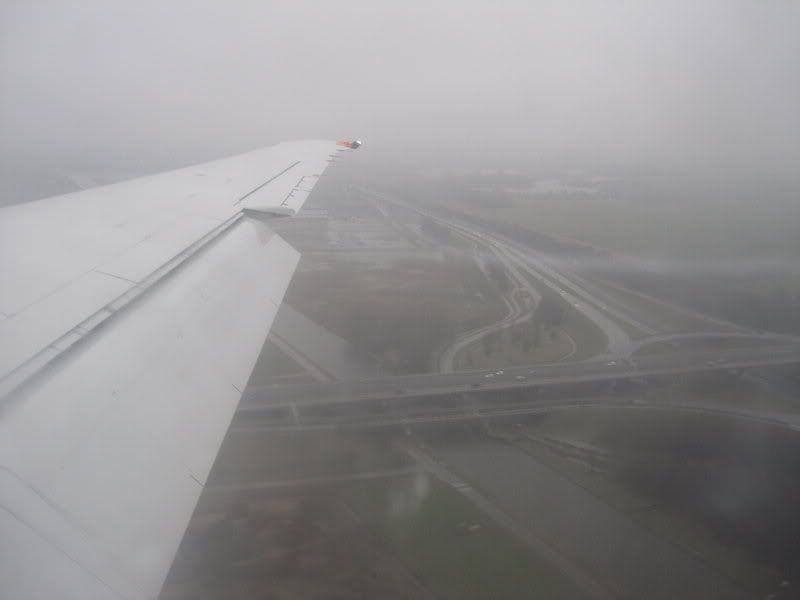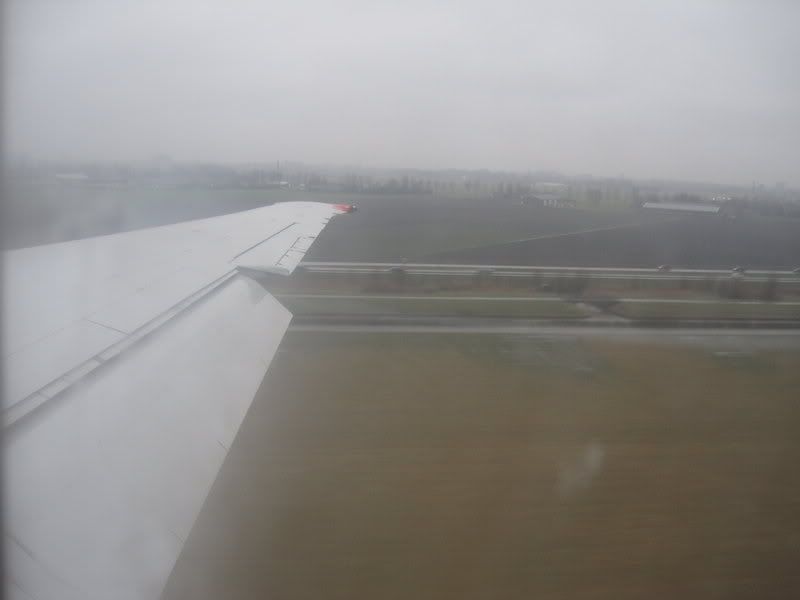 Landing at Haarlem International Airport (sorry, Freudian slip, meant 18R or the infamous "Polderbaan") after exactly the promised 1h5mins in the air.
Of course landing here means that it is another 15 minutes before we finally dock to the C pier of the terminal.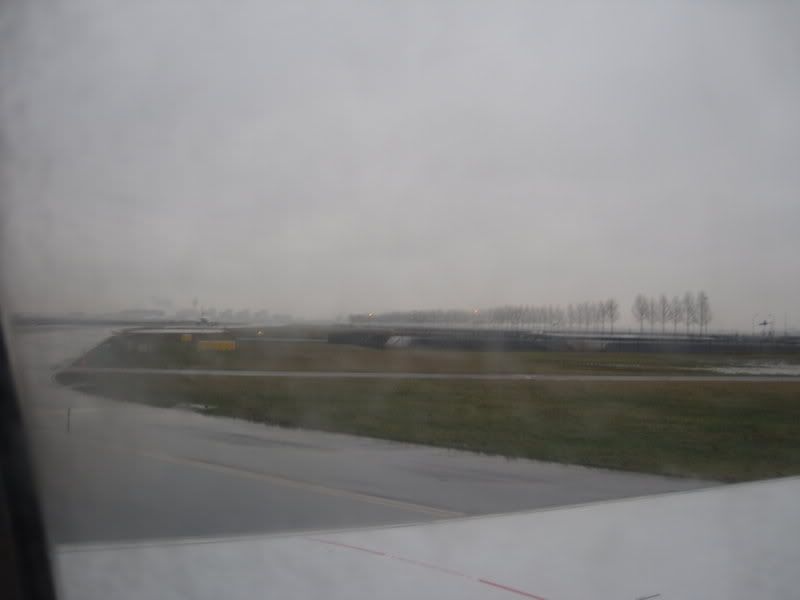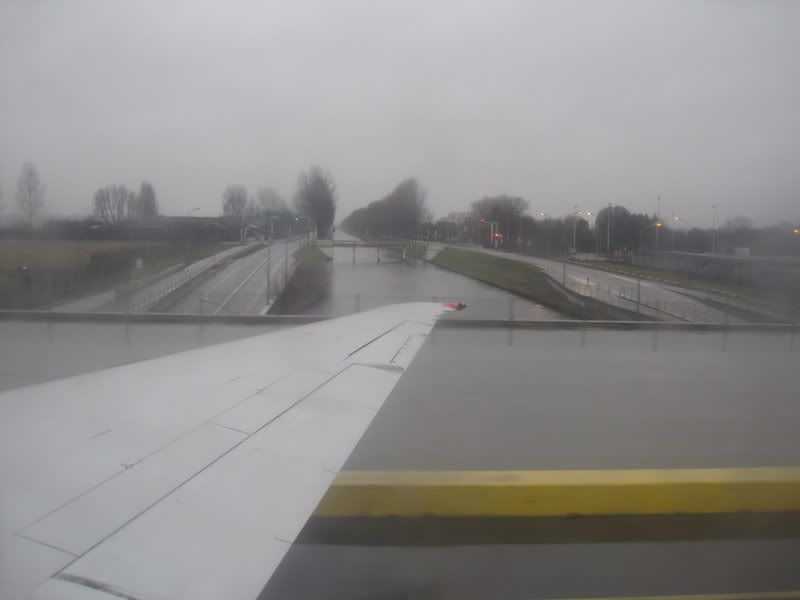 On the way we taxi past Eric's favorite airline: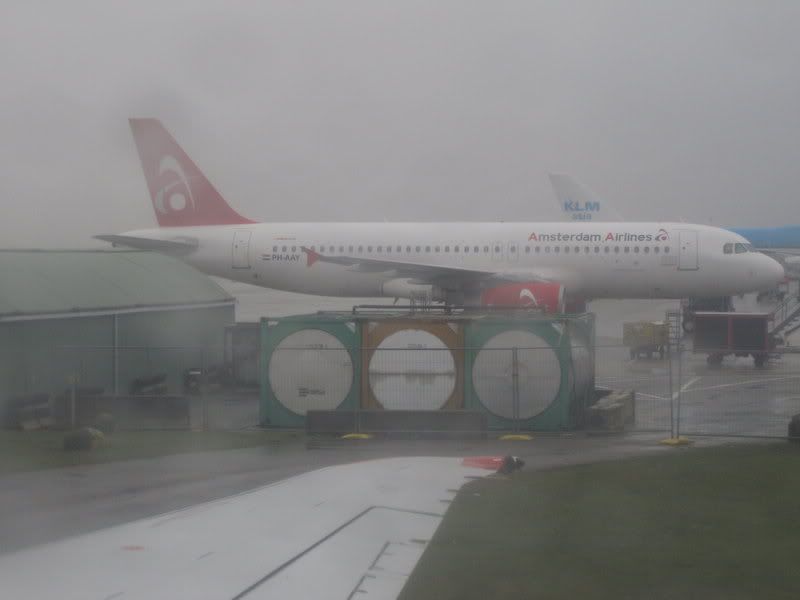 Nice to see another mighty triholer: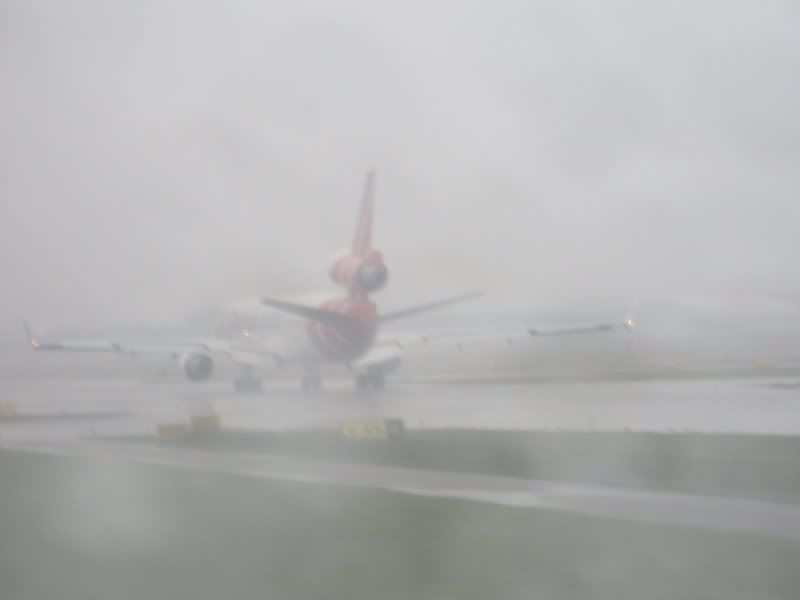 During our taxi to the gate I get quite embarrassed by who else than the beer guy trying to strike up a slurry conversation in pigdin English with his seatmate, a Dutch granpa who is at least seventy years old - seriously, not all Finns are like that!
The captain is standing at the cockpit door wishing all the pax a good day - while passing by I say to him "You gotta love the Polderbaan!" - he seems to agree with me.
Bye: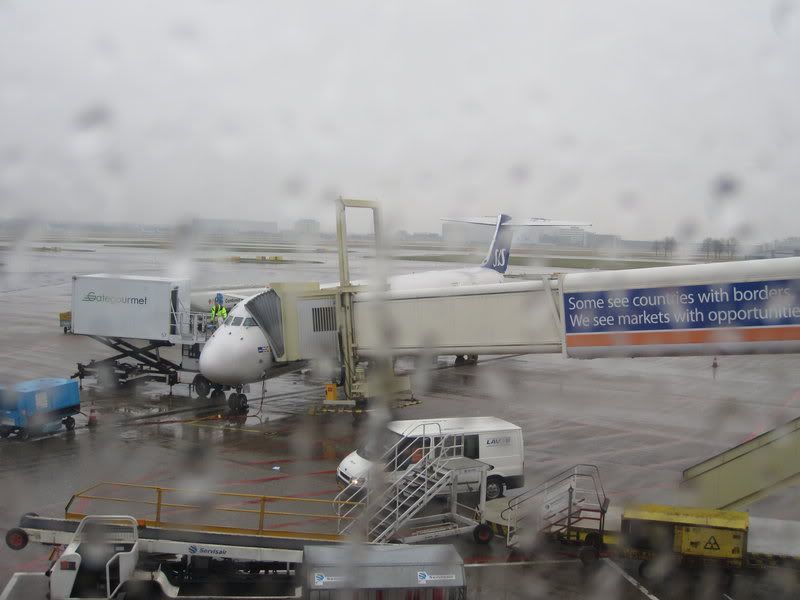 Amsterdam
In no time at all I'm boarding a train bound for Amsterdam Centraal (as a side note why an earth do the ticket machines want to charge your an EUR extra for paying with a credit card?! I tried with my debit card but it was refused). Fifteen minutes later I alight from the station into the wet weather: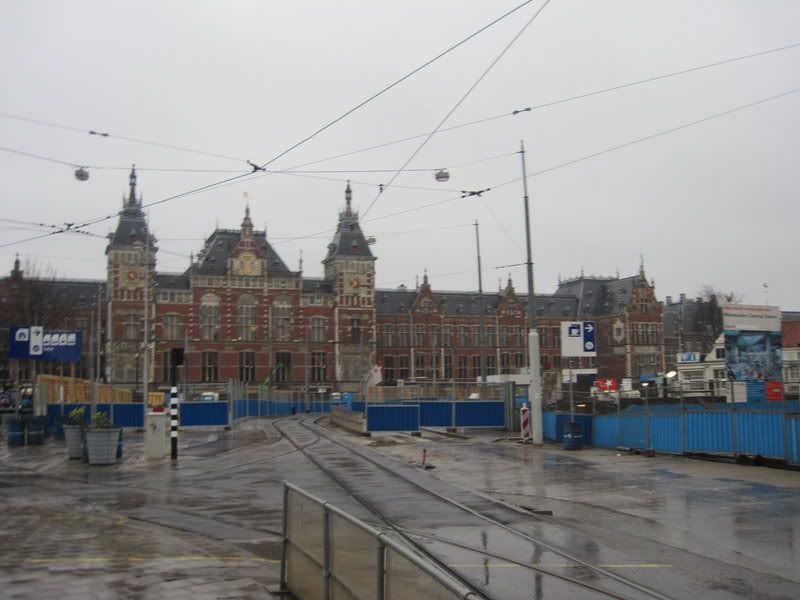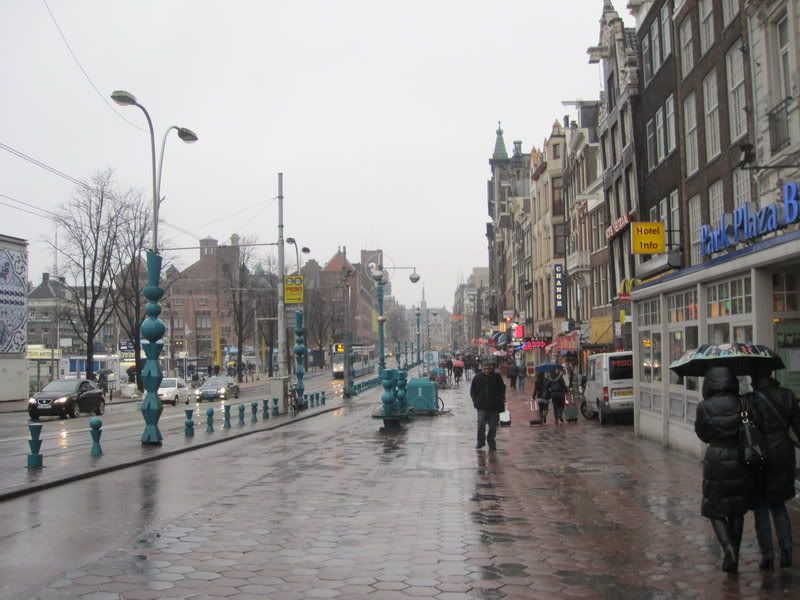 Amsterdam is the perfect city for aimless wondering around - distances are short, there are usually lots of surprises around every corner and the canals and narrow streets mean that car traffic isn't usually a big problem. Shame about the weather, it rains on and off and the streets are quite wet so I of course end up soaking my shoes quite thoroughly.
Hmm - nice touch with the Russian subtitles: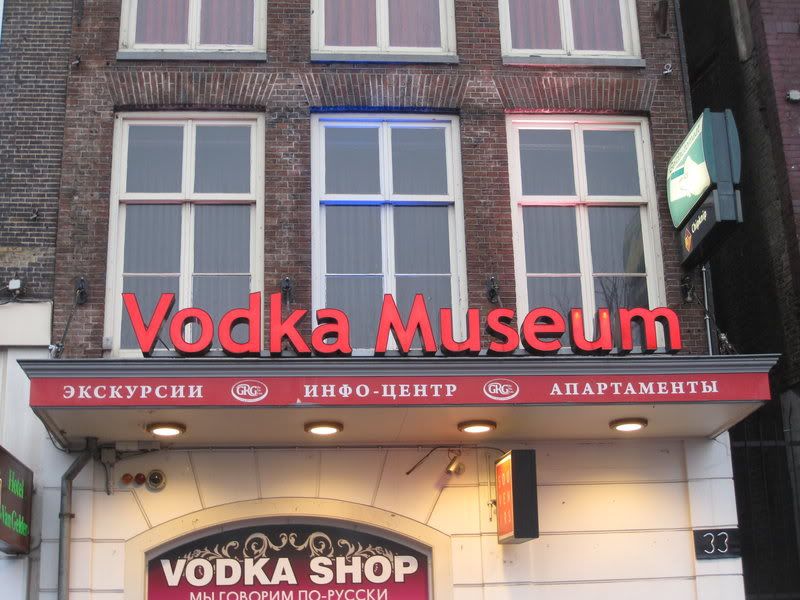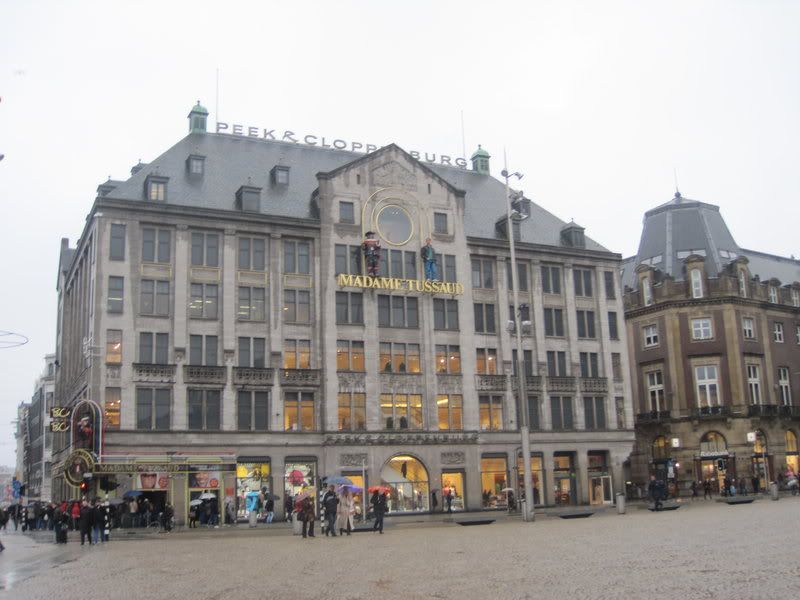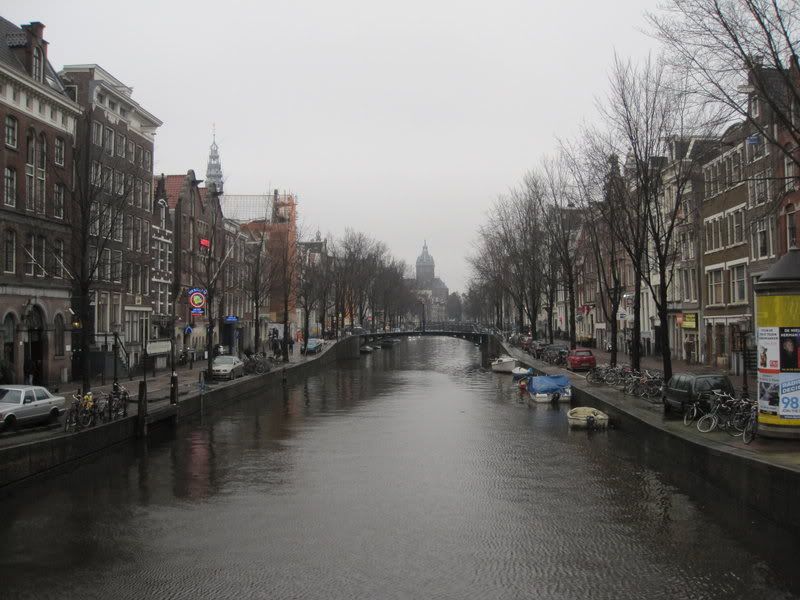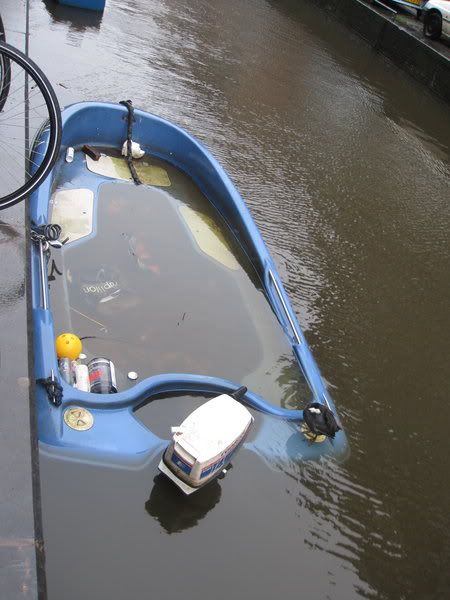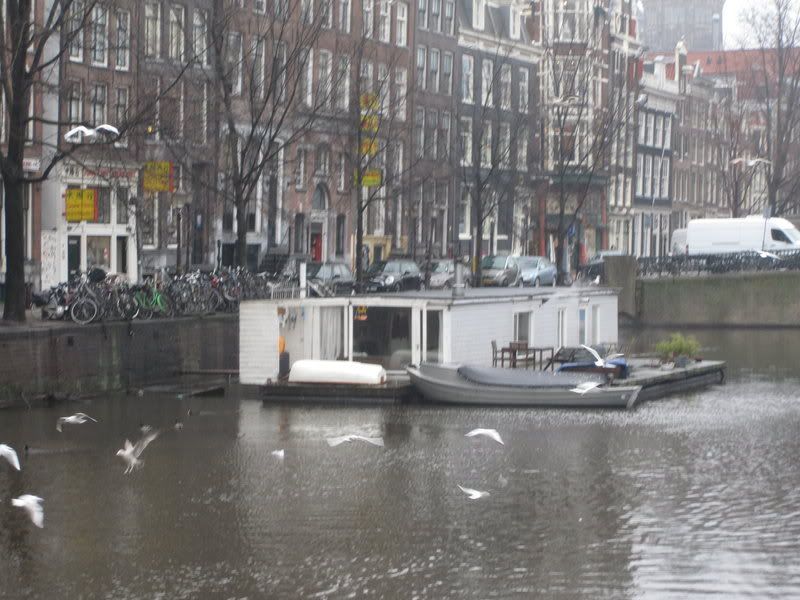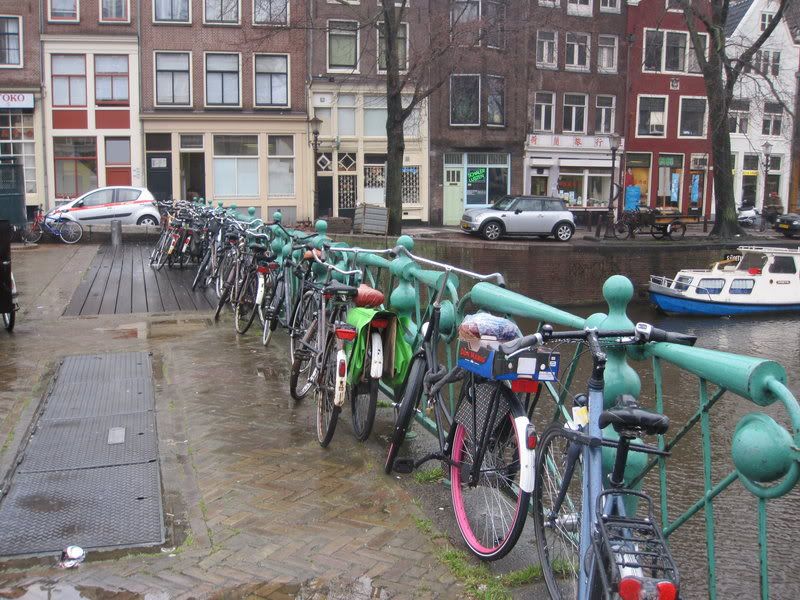 Quite a Chinatown has sprung up just east of the main Red Light District: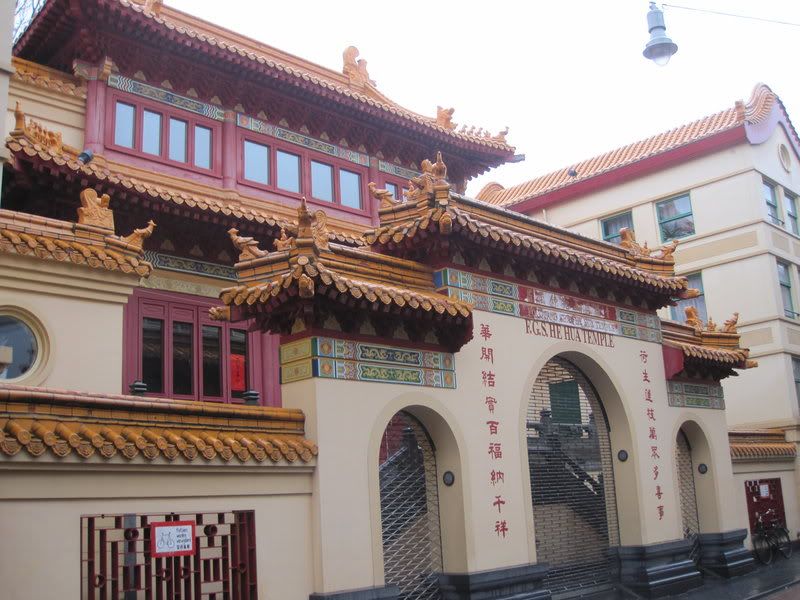 Mr. Dredd?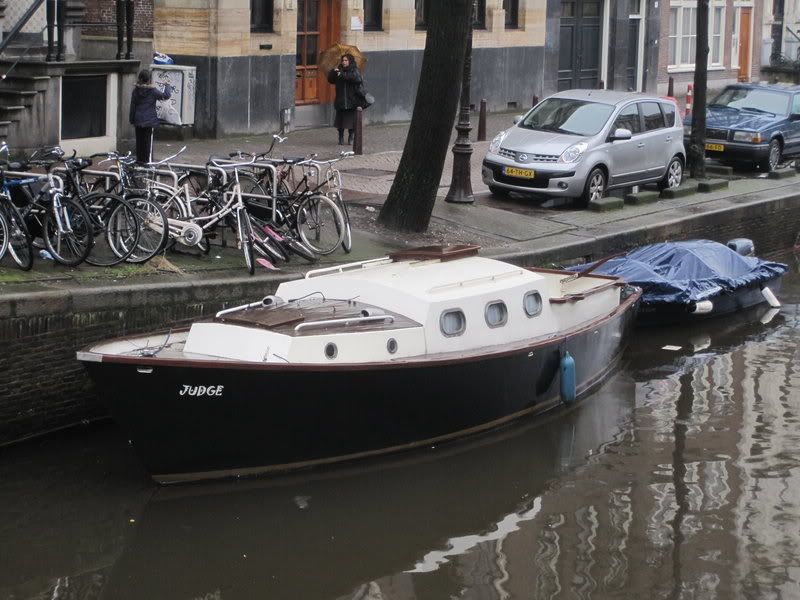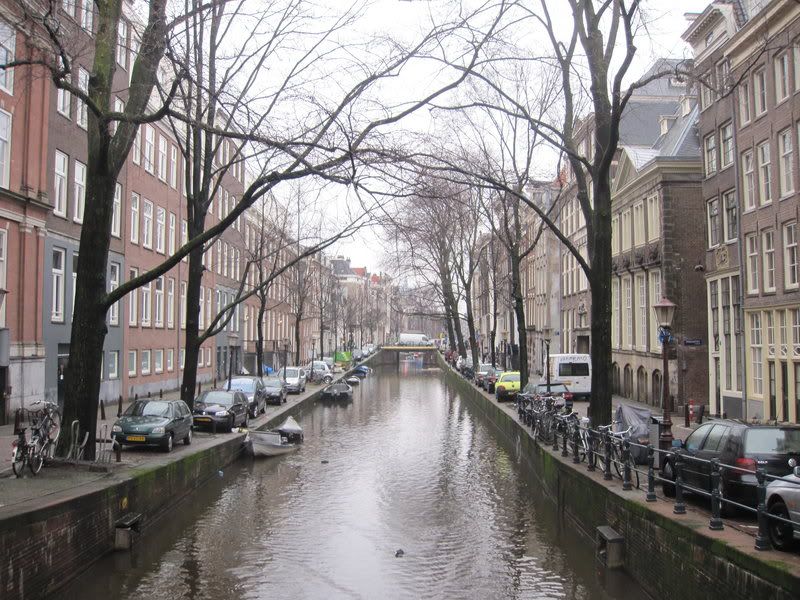 Say "cheese":
Does the resident here fly KL long haul in Business often?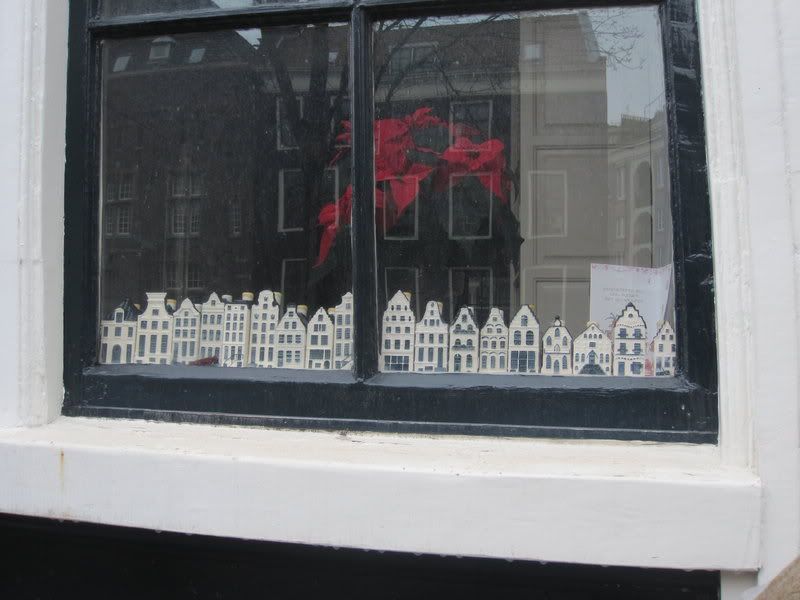 A couple of hours before the next flight I head back to Schiphol, this time onboard an Intercity train bound for Brussels: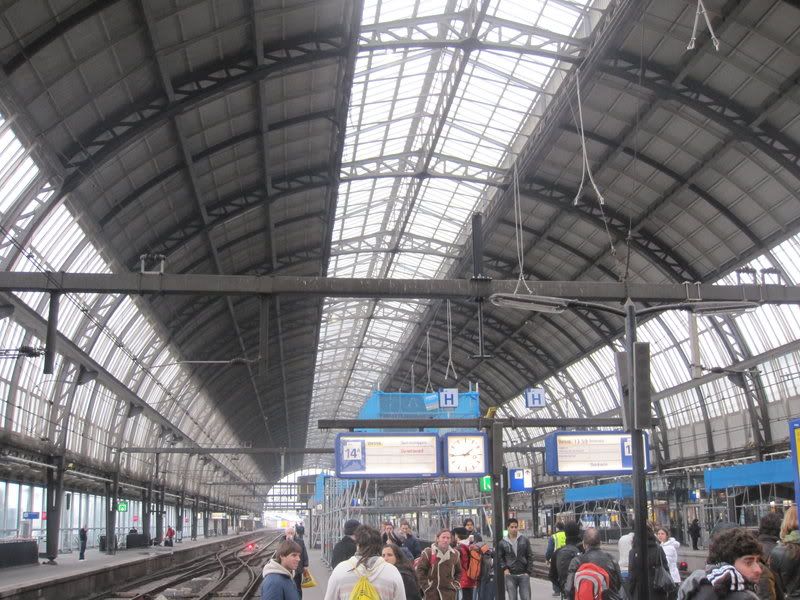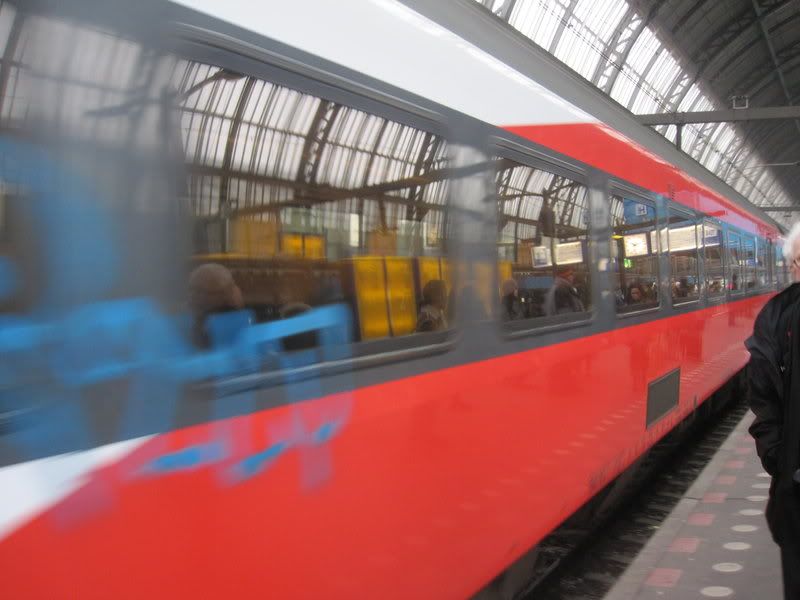 Amsterdam Schiphol Airport
The security checkpoint is completely deserted, so in no time at all I'm through. I don't really know what Eric means by constantly having problems here - every single time I've gone through security at AMS it's always been if not a pleasant, then at least a normal experience. Never had any problems.
Airside is very empty as well - Saturday afternoons definitely aren't peak periods around here. Some shopping follows - IMHO Schiphol is pretty much the best airport for that in Europe.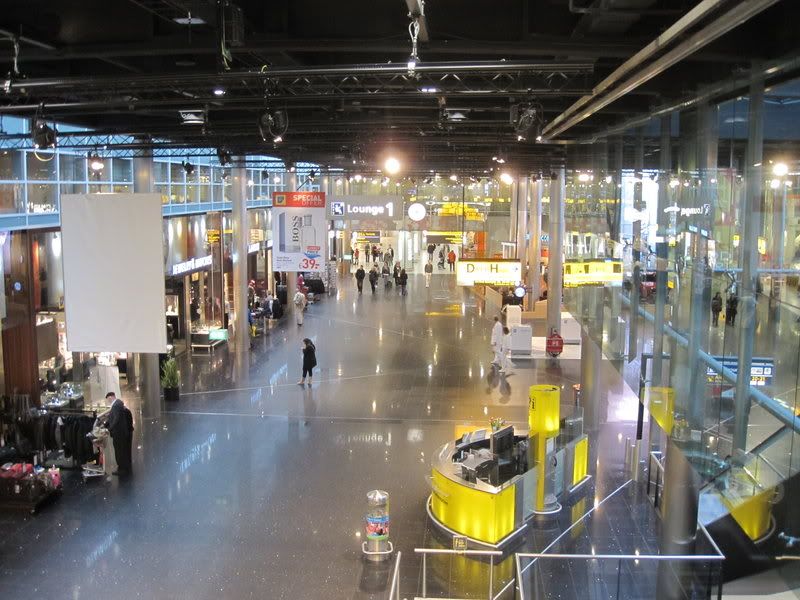 Having pleased the Gods of commerce I head upstairs to the Menzies lounge, where a very pleasant elder agent welcomes me in.
There's an annoyingly loud and happy (as only Swedes can be!) Swedish entourage here, but they leave almost right after I get there as their flight to ARN appears to be boarding, leaving the lounge to just me and a very sleepy Spanish guy (this lounge is used by IB as well):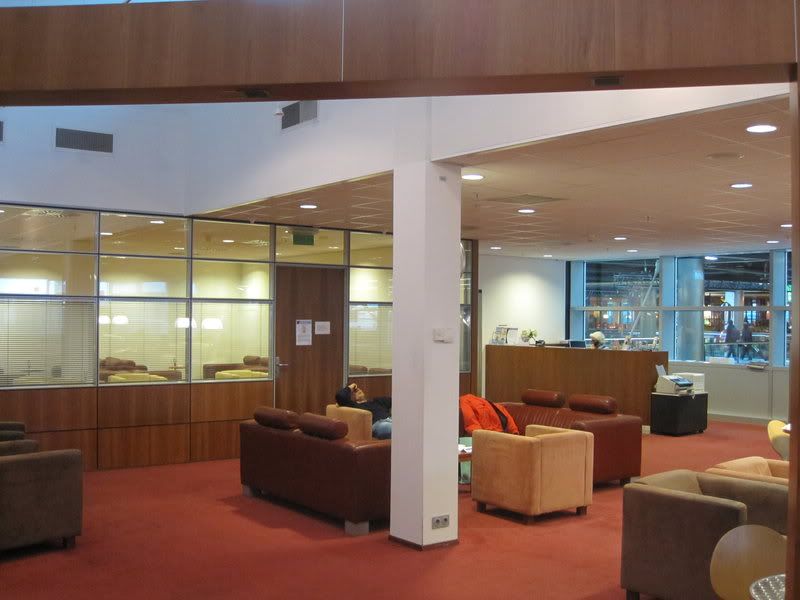 I've spent quite a few hours in this lounge back in the days and it looks like it hasn't changed at all from the years past. The drink selection is okay, but food is very limited. Not that I'm particularly hungry after my great Chinese meal back in the city...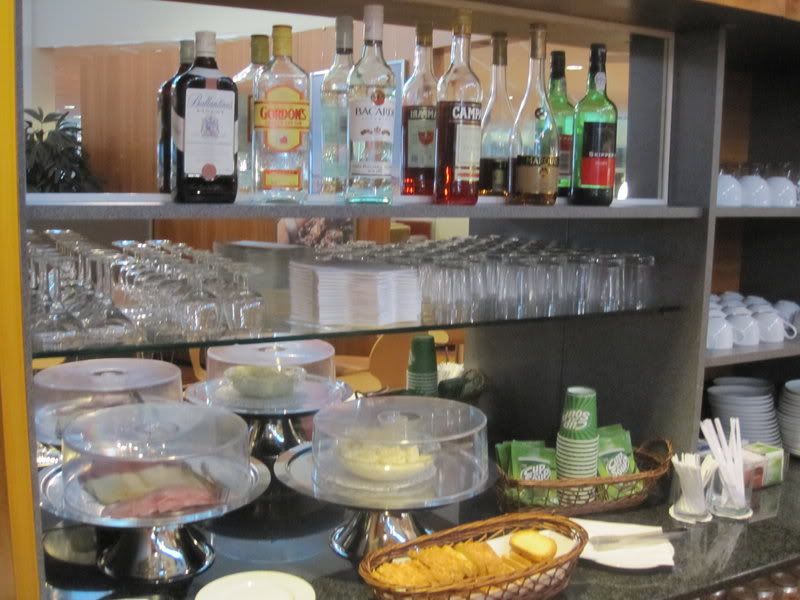 Wifi (interestingly there's no free wifi from the lounge, just the 2x30mins free provided by KPN to everyone at this airport), my book and some adult beverages make time fly, especially since the lazy chairs there are very very comfortable.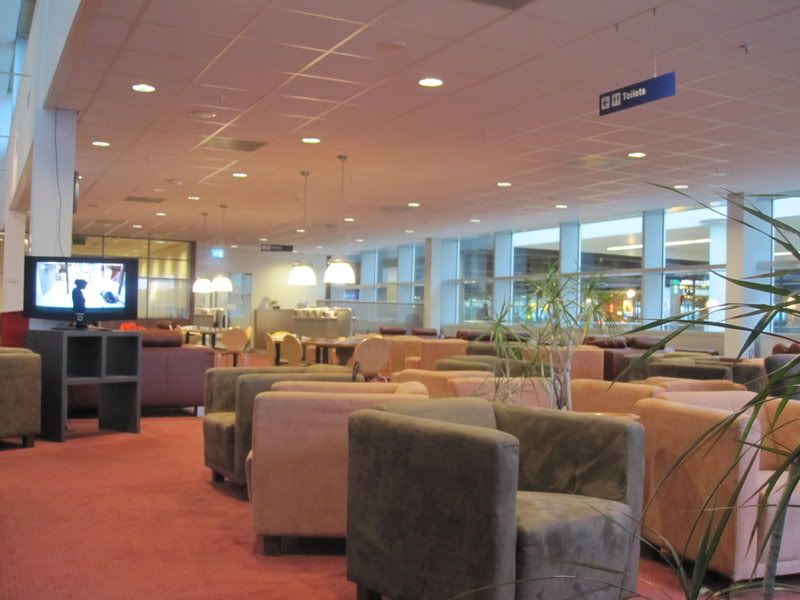 The inbound lands early, so I head to the gate some half an hour before departure. On the way I spot the plane - the expected 736, LN-RRY, "Signe Viking" - my second flight on this particular bird, although the previous time was way back in 2003.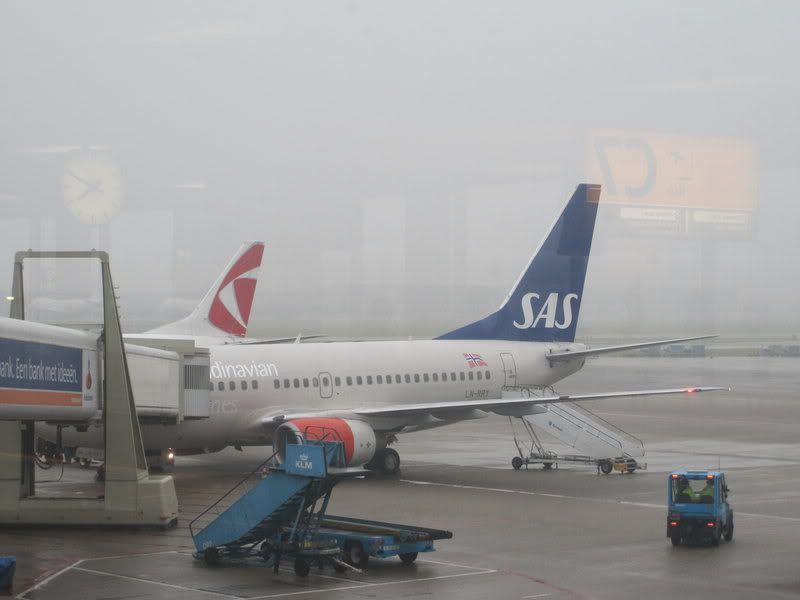 By the time I get to the gate at the C pier they are already displaying "closing" - I ask if they are trying to make a new record here to which the funny male agent says "You know those Scandinavians - always so punctual so we are trying to send them on their way as soon as possible! And today the load is very light, so it'll be easy." and wishes me a good flight. I inquire about the load - "Oh, 25-30 pax only!" - "Am I the last one to board?" - "No, we are still missing 4 more persons after you."
AMS - OSL
SK822
B737-600 LN-RRY "Signe Viking"
Seat 22F
16.35 - 18.10
Again another last row window for me, I kinda like the two-seater on this row with the internationally configured SK 736s, I think it has some additional legroom: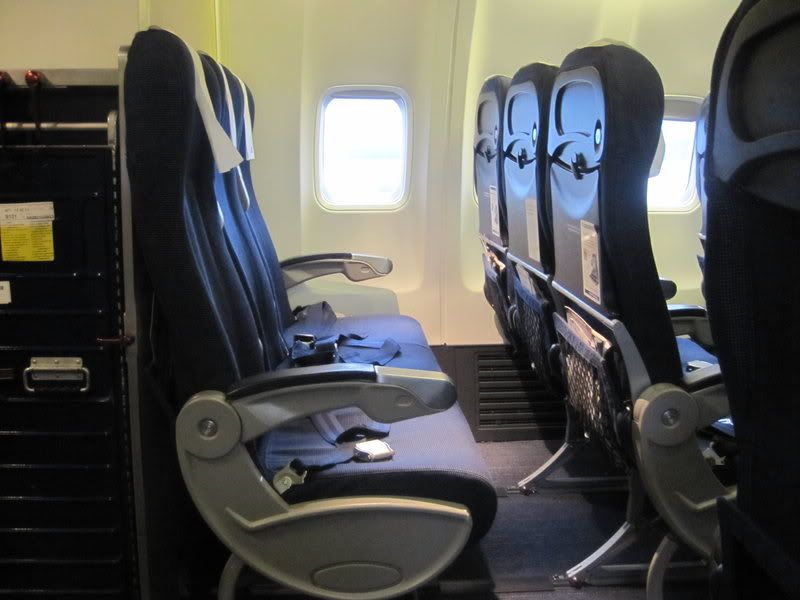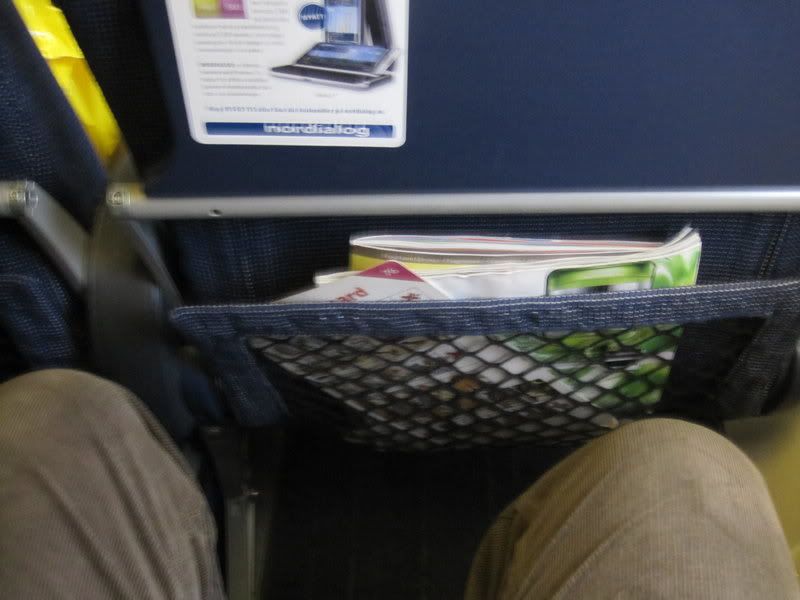 Boarding is completed soon. The load indeed is low. I think there are 2 pax in economy extra, nobody in the single row of business class and the rest, around 25 pax in economy.
The captain makes a welcome speech, announcing our flight time as 1h30mins and Oslo reporting "nice weather, with a temperature of -10 degrees" (brrr!). We are "expected to depart ahead of schedule, and also arrive ahead of schedule!". Everything is ready around 15 minutes ahead of the scheduled departure time, but we wait for pushback clearance another ten minutes and finally push back just five minutes early.
In the meanwhile the weather has turned uglier: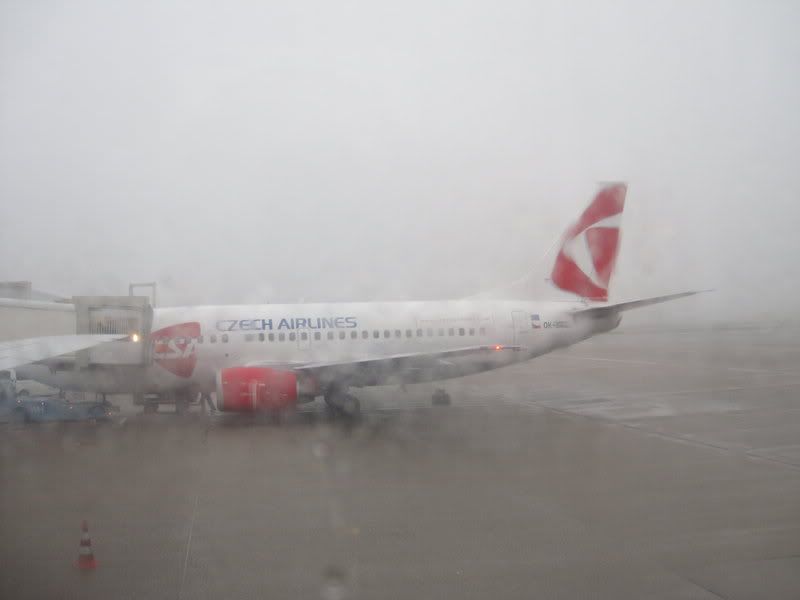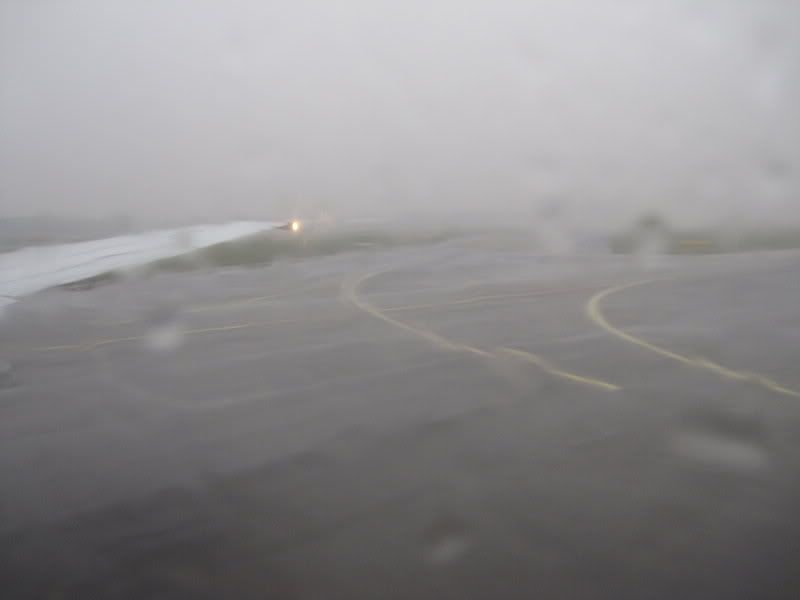 18L is in use for departures today, five planes in the queue before us, including a HV 737, three KLC Fokker 70s and a KL 738: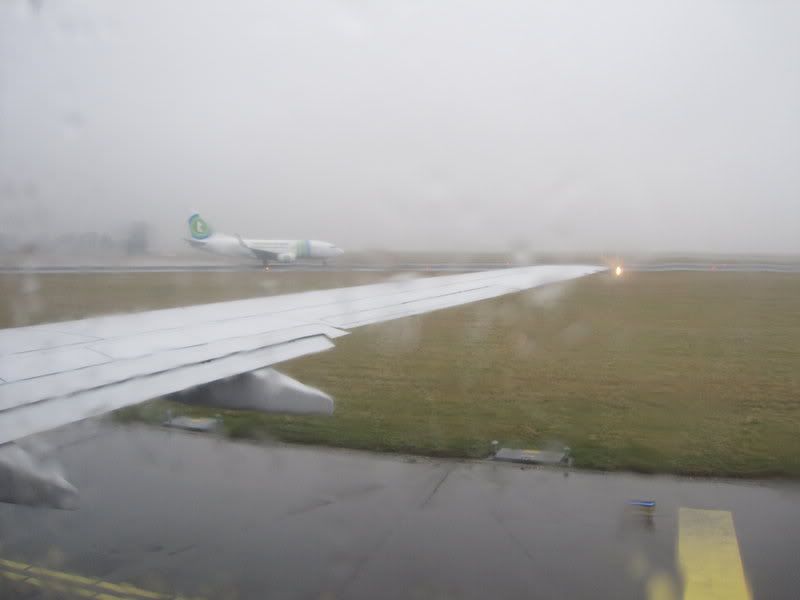 Take off is 12 minutes after push back: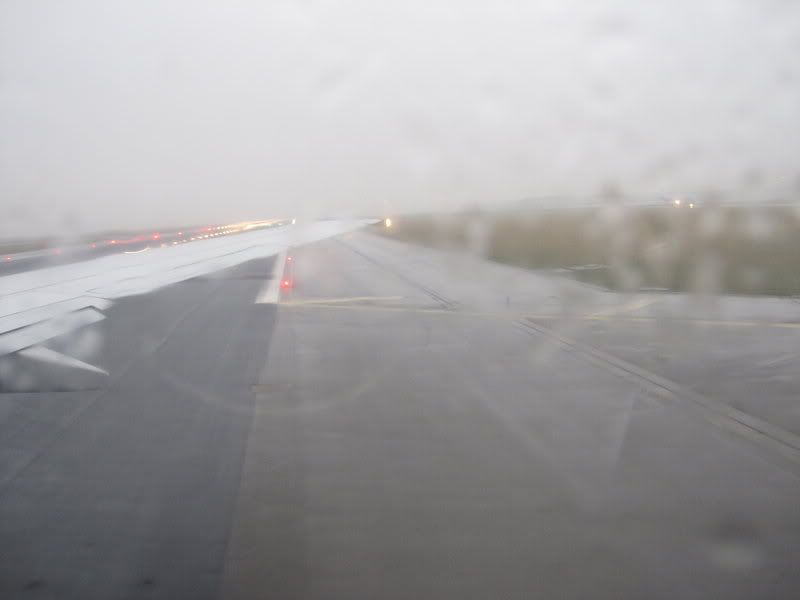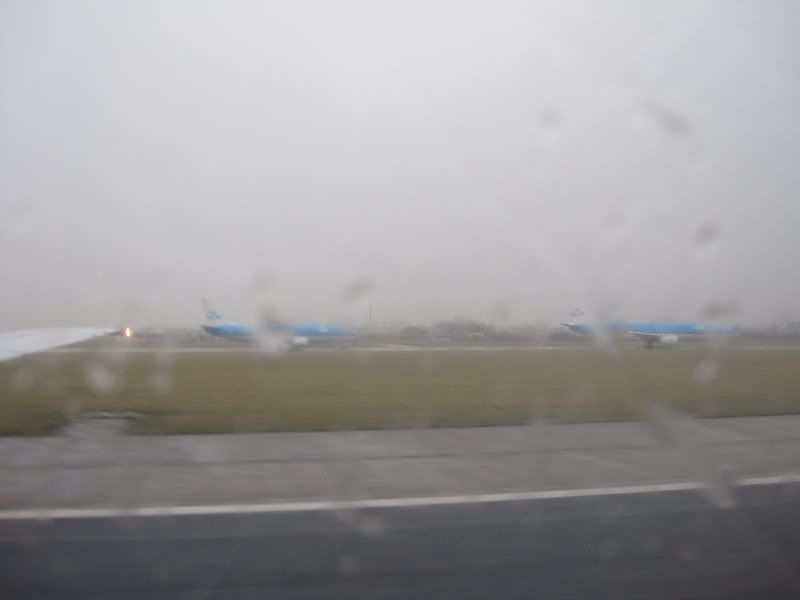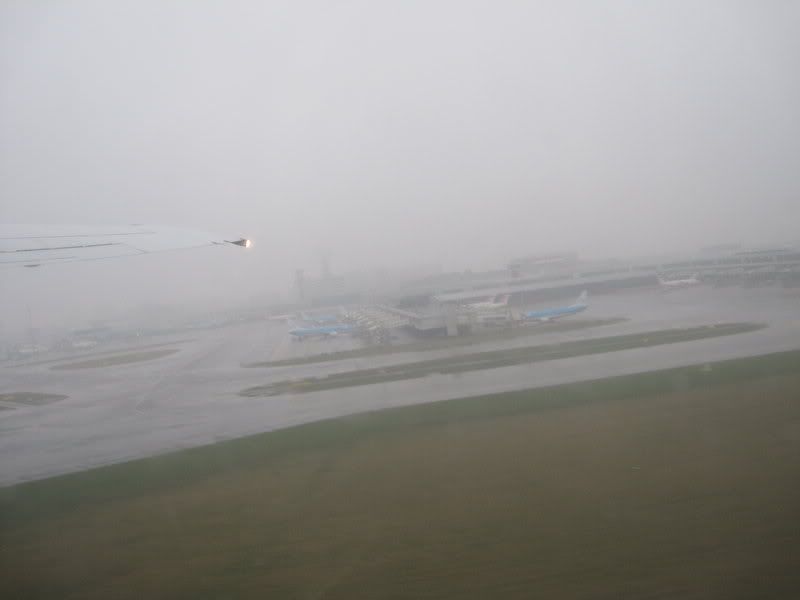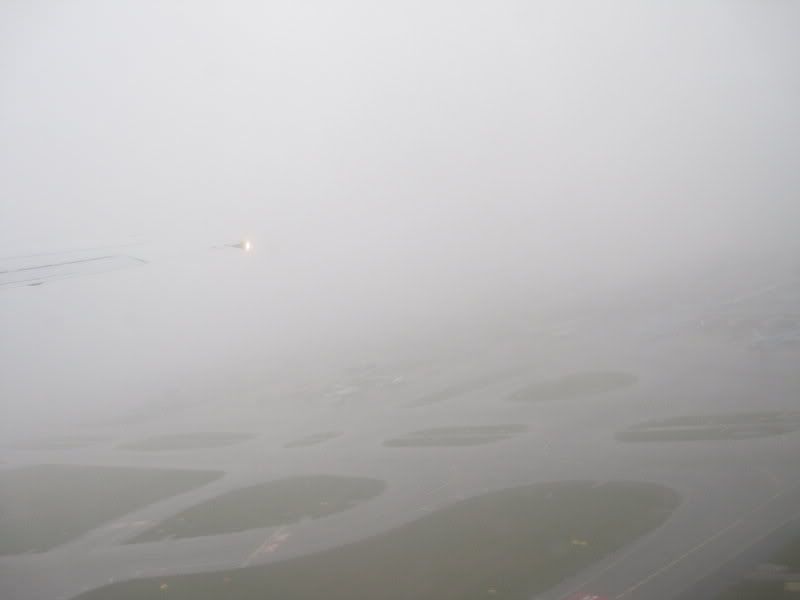 Right away we disappear into the murkiness, only to emerge into bright sunlight a couple of minutes later: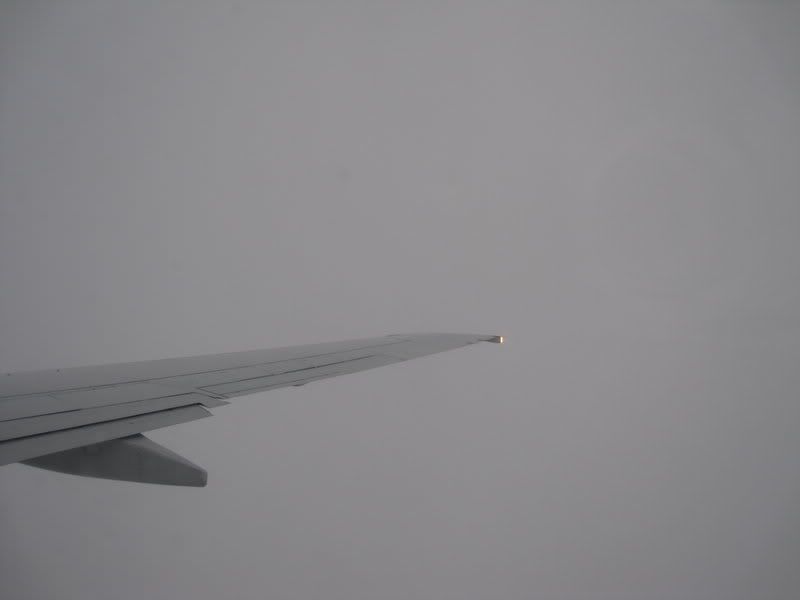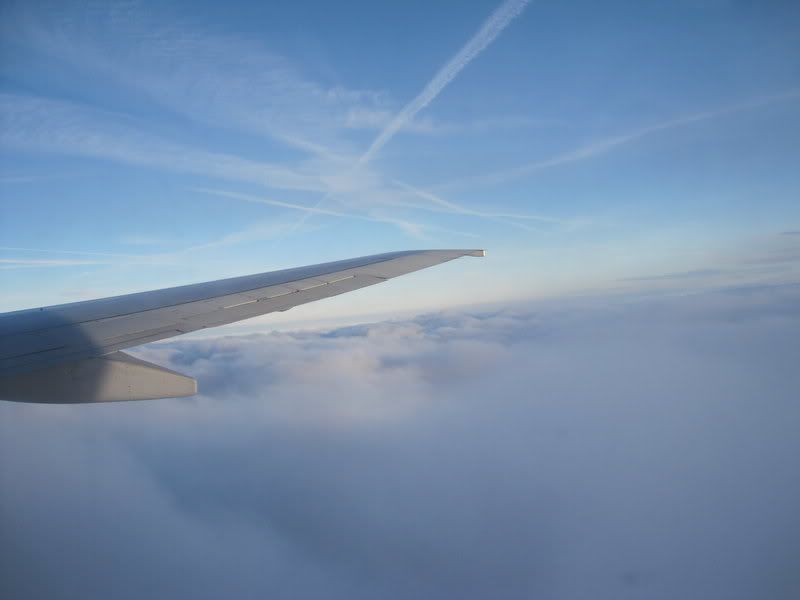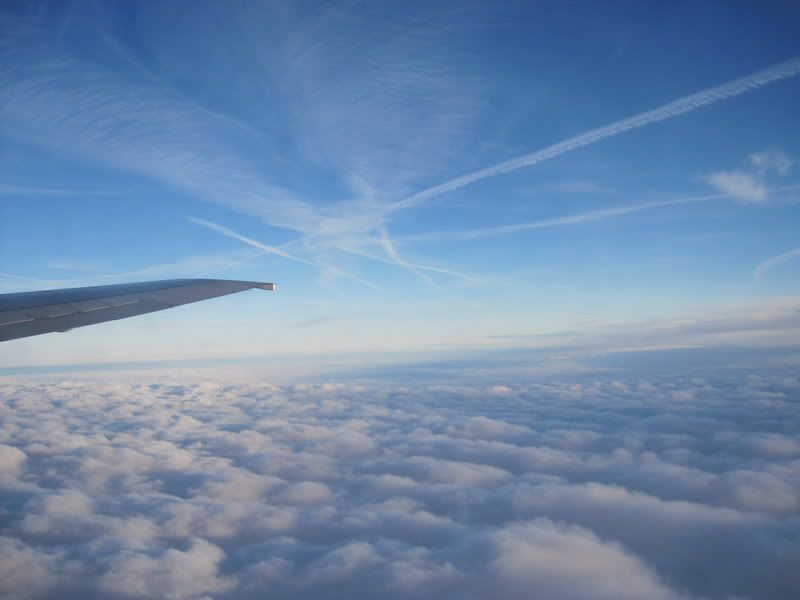 I notice some nasty looking stains and a napkin in the ceiling: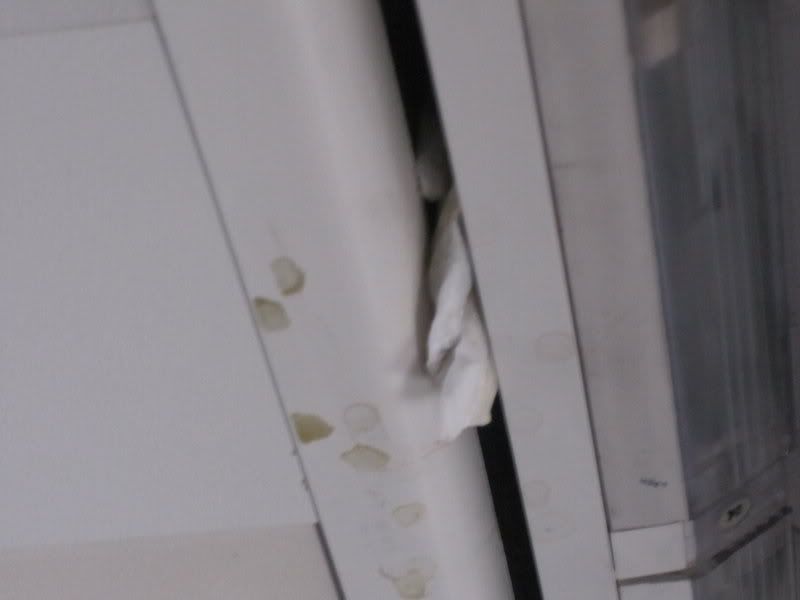 I decide to splurge on some champers - at around 10 EUR it's not too expensive: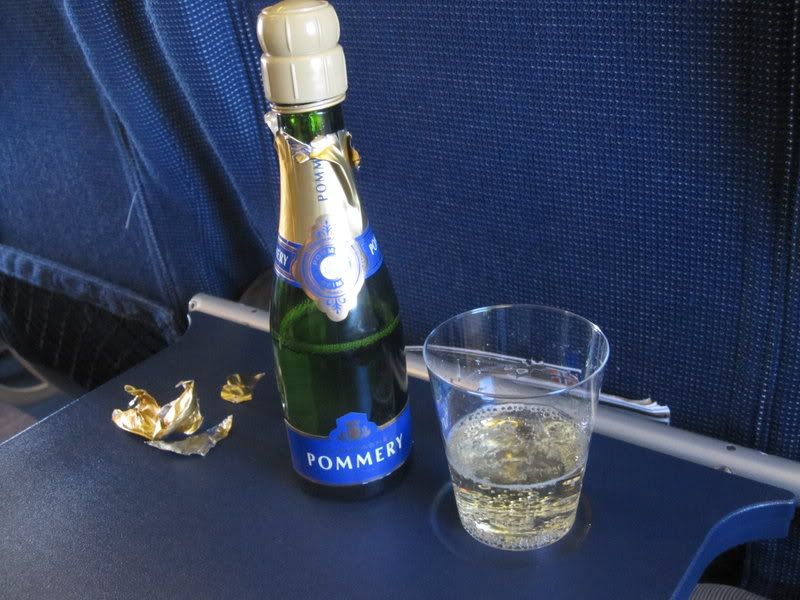 The sun sets during this flight, making for some interesting lighting effects: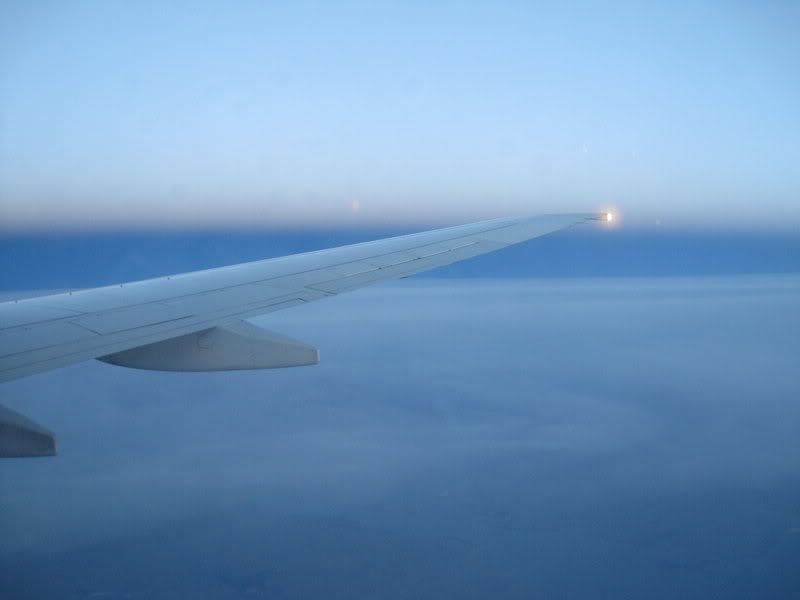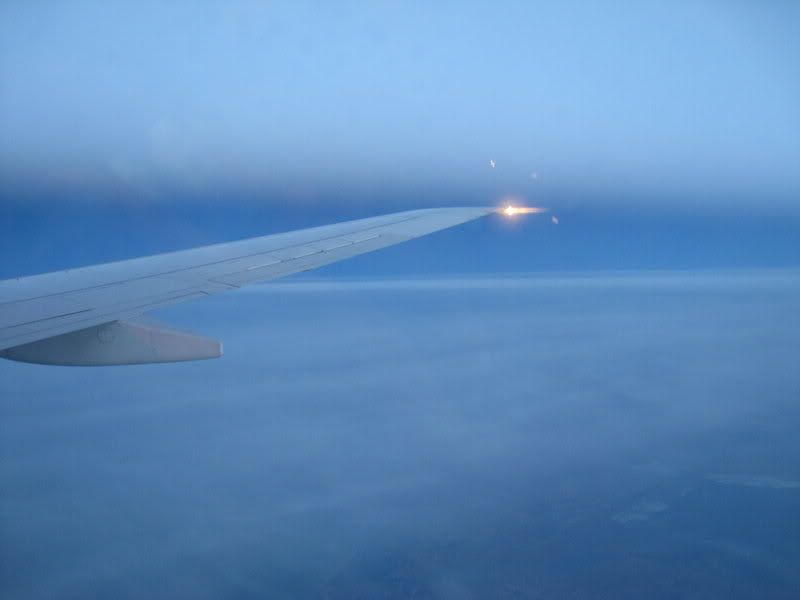 By the time we start our approach it is again completely black, but as it is a clear night the views of the lit up communities below are again very impressive: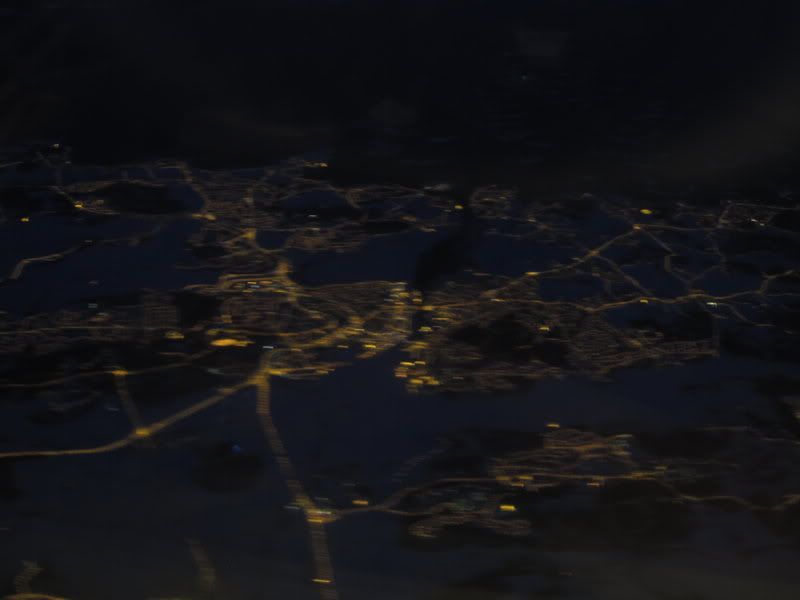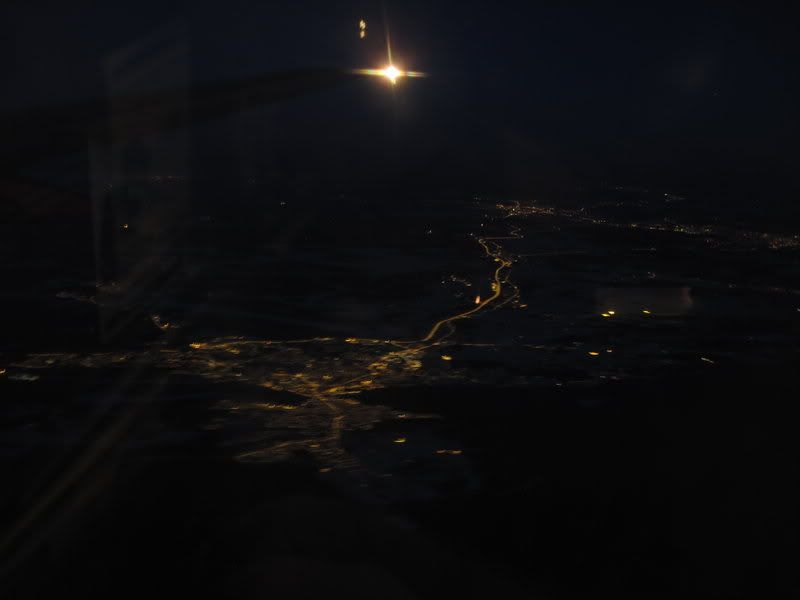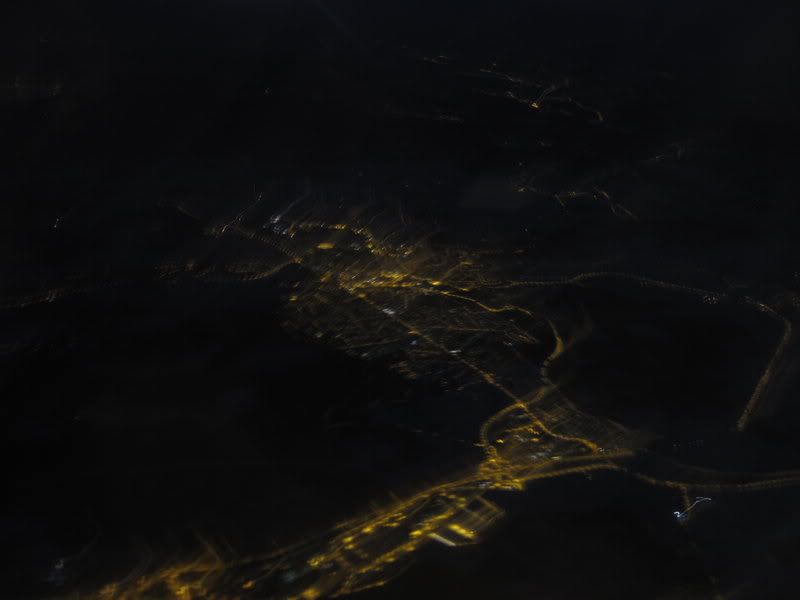 Landing is on 01R after a flight time of 1h23mins. We get a dual use domestic/international gate this time: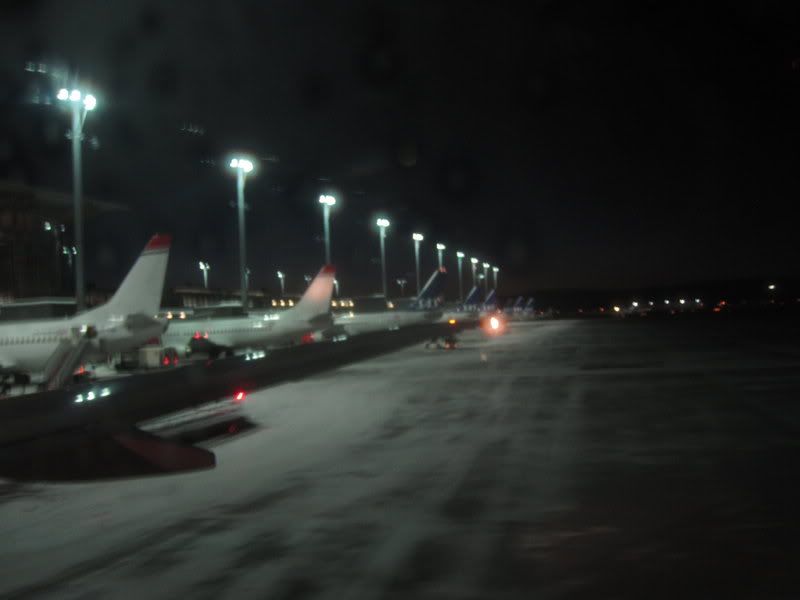 Top