Please note: this is a very long and thoroughly descriptive report, with many pictures to accompany it. I do hope however that you will find it an enjoyable read.
Introduction:
As you probably realise by now, it's been a while since I produced a trip report. I will admit that even though I have done a couple of foreign trips since my last write up on here, I have not felt the need to produce anything - how many more trip reports about US Airways do you guys want to read anyway? Yes, I flew them again in Nov 2010. It was an enjoyable experience, but maybe I will write about them another day.
Back to today's presentation and I will make a point of mentioning that I wrote this report 'live' on an iPad as I was experiencing each flight, so as to keep the experience and atmosphere in memory. I will make a point of commenting that while some airlines are worthy of being written about, others just aren't - or as in certain cases, you say that you will write about them but then decide not to! It was not to be the case on this trip however.
Background:
Etihad Airways is one airline that I was told many great things about, and indeed I have read a few trip reports about them as well. They have won many awards, including "World's Leading Airline" and "World's Leading First Class", plus they have one of the youngest fleets of aircraft in the world and as I found out, some of the most beautiful cabin crew in the skies today.
Today it is my turn to write about this amazing and young airline, having decided to try them for my latest "voyage" across the globe.
The Trip to Heathrow:
My long day of travelling started at 00:15 on the Sunday when my cab arrived to take me the 1.5 miles (it was raining heavily!) to the city bus station in Sheffield, ready for my National Express service 240 to Heathrow Airport - central bus station. The bus was only 2 weeks old and was fitted to the latest NX specifications - leather reclining seats, mood lighting, floor level emergency path lighting, etc.
We departed on time at 00:55 and on the way south stopped off at Chesterfield, East Midlands Airport, Coventry and arrived into LHR at 05:30. There were 4 people on board when we departed my home city, and a grand total of 8 people on board by the time we arrived into LHR. I was the only passenger leaving the bus at this location - the rest were headed to LGW - the final destination of the bus. As we approached the central area of LHR, we passed a huge advertisement which read "Welcome to Heathrow Airport - home of British Midland International" - a nice sight!
I jumped onto the Heathrow Connect "Siemens desiro" train for the quick 5 minute trip to Terminal 4. Today was the first time I'd ever visited T4 so I had no idea what to expect regarding it's state or the atmosphere of the place. I was pleasantly surprised, it looked fairly modern and very clean, which was a good start. It was also marketed as the 'Skyteam' hub, with many posters dotted about the place.
Today was to be my first ever flight on Etihad Airways (I have flown Qatar Airways before) and as an added double bonus, it would also be the first time I had flown on both the 346 and the 77W aircraft types. Needless to say I was very excited, in an aviation geek sort of way!
Leg 1:
Date: Sun 6 Feb 2011
Flight: EY 12
Route: London Heathrow (LHR) - Abu Dhabi (AUH)
Scheduled Timings: LHR depart 0915 - AUH arrive 2015 (actual times below)
Class: Economy
Aircraft: Airbus A340-600 A6-EFH
Seat: 22A (window)
Having already checked in online earlier, I proceeded to zone C in Terminal 4 and dropped my luggage at the Etihad check in counter. I then received 2 new boarding passes for my trip from the ever cheerful staff member manning the desk. I was the only person at economy check in at the time so I was served immediately.
T4 Check in
Boarding Passes
I made my way to security to find it empty (6am) and it took literally 5 minutes to pass through with no problems at all. I then made my way to the '4 Deck' premium lounge, which I had reserved the day before - it cost me £18, so I did rather hope it would at least be on par with a normal airline premium lounge!
The 4 Deck Lounge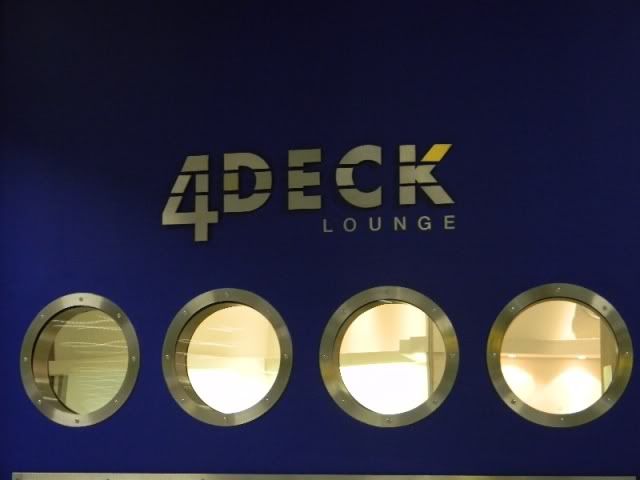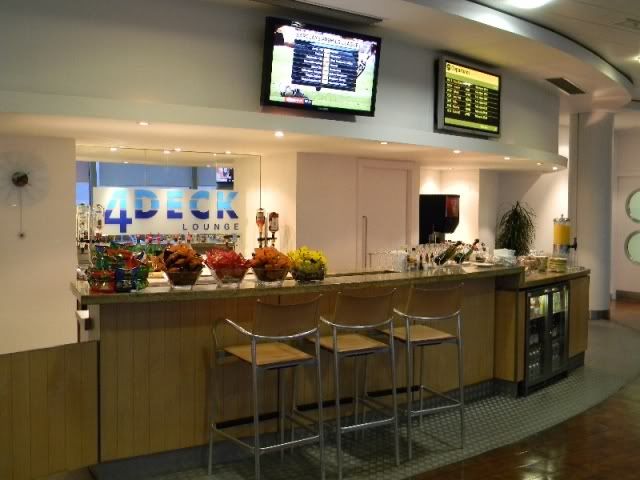 I spent a few hours relaxing, eating snacks and watching the ramp activity. I then went upstairs to the 3rd floor viewing deck (sky deck) and took a few photos with no issues (no one bothered me saying I was a security risk). The viewing area is glass enclosed so depending on the angle you can get reflections in the picture but I tried to minimise those as best I could.
Pictures from the "Sky Deck"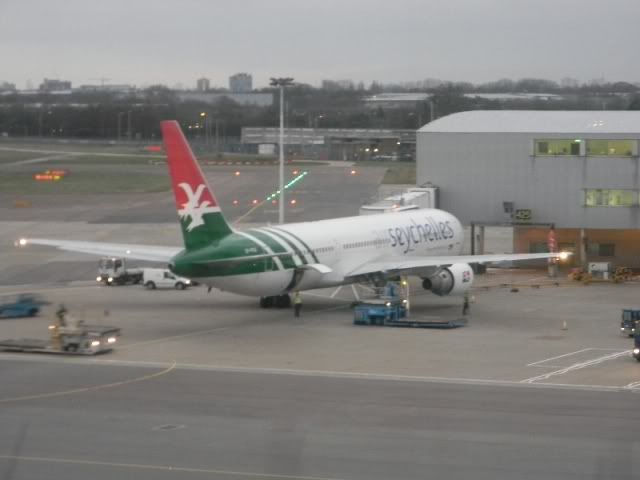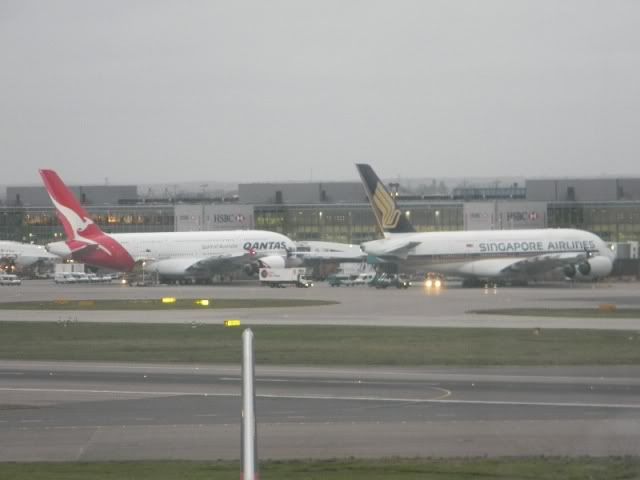 At 08:10 I made my way to the allocated gate for todays flight and awaited the boarding announcement. For todays flight our boarding was due to commence at 08:25.
Gate area views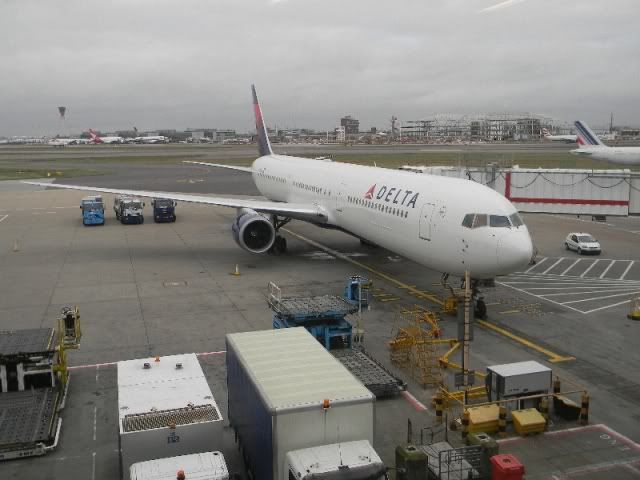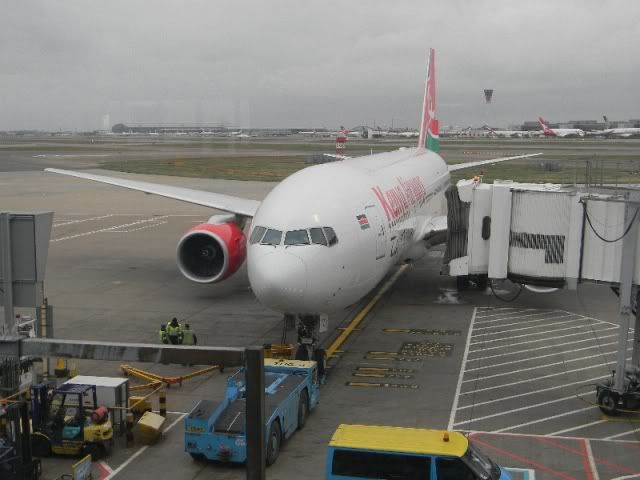 Boarding commenced slightly early and was completed at 09:00. An announcement was made for doors to be closed and we pushed back on time. A brief taxi to runway 27L was followed by a 15 minute wait for other traffic before we took off.
It's at this point I should remark on the legroom in economy class on this A340-600. Let's just say it was nothing short of amazing! There was also a foot rest built into the seat in front which was available for use, and there was enough room at the side of my seat to fit my fully loaded man bag (messenger bag) with no problems. This gave me plenty of legroom under the seat in front for me to stretch out.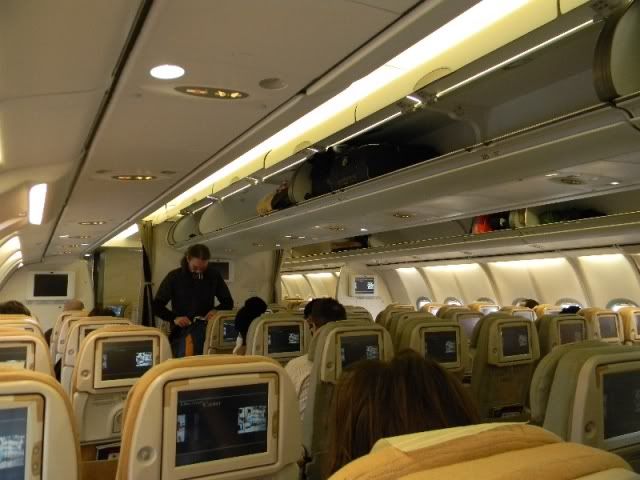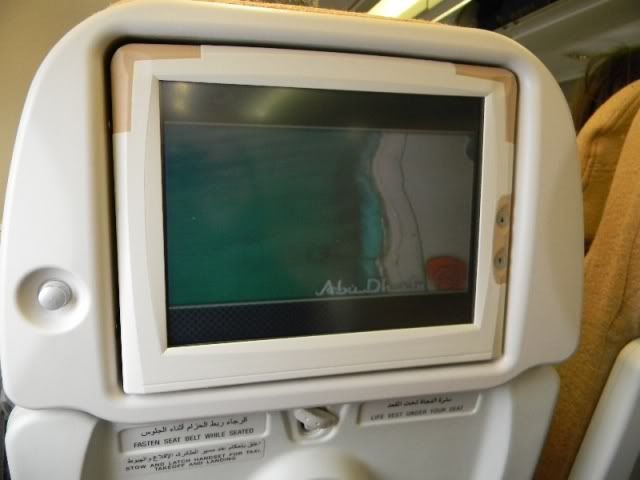 Our flight today was commanded by an American Captain and a we had a British First Officer. The head flight attendant was a gorgeous Australian female (loved the accent too!) and she was ultra professional. An announcement was made that today's crew could speak a combination of English, Arabic, Afrikaans, Swahili and Thai, which I thought was a pretty good combo.
The flight plan for today had our aircraft cruising between 35000 and 39000 ft during the flight. Our routing was over The Netherlands, Germany, Poland, Ukraine, Turkey, Iraq and the Arabian Gulf, giving us an en route time of 5h 55 in total.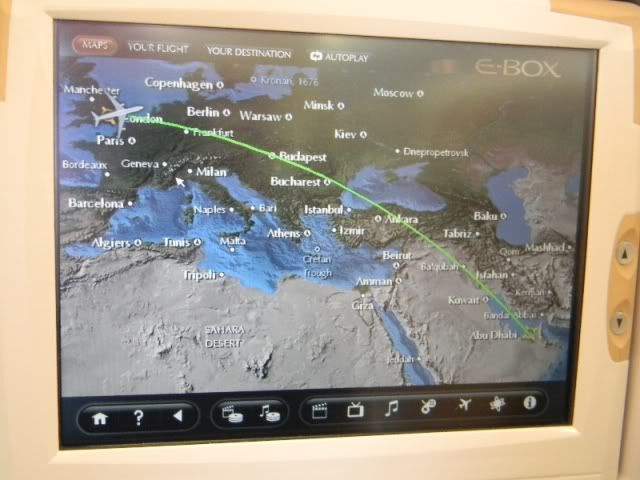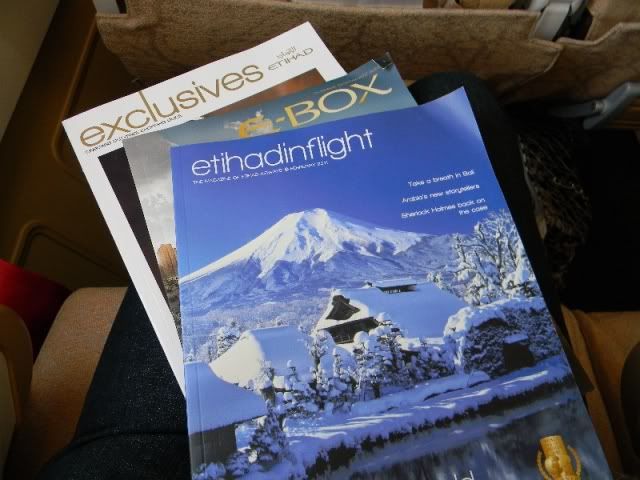 Headsets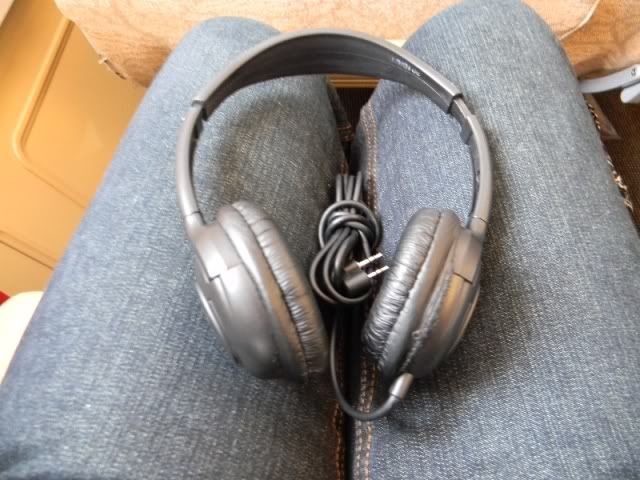 After take off, a brief cold refreshment service was offered before lunch.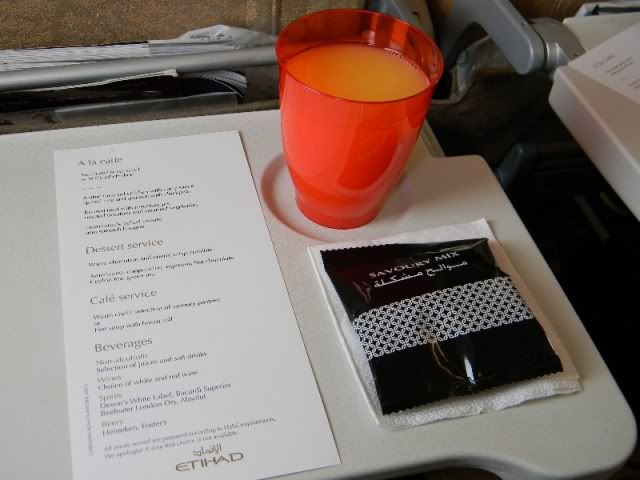 Today's menu in economy was as follows:
A la carte:
- Marinated past salad with sliced chicken.
Choice of:
- Arabic mustard chicken with curry sauce, spiced rice and spinach with chickpeas.
- Braised beef with Rosemary jus roasted potatoes and steamed vegetables.
- Home made baked tomato and spinach lasagne
Dessert:
Warm chocolate and cherry crisp crumble, served with a choice of hot drink (americano, cappuccino, espresso, hot chocolate, Ceylon tea, green tea).
I chose the braised beef by the way, in case you wonder! The meal was nice and the interesting feature was that the cutlery was steel, not plastic like on many western airlines. A very nice touch I thought.
Lunch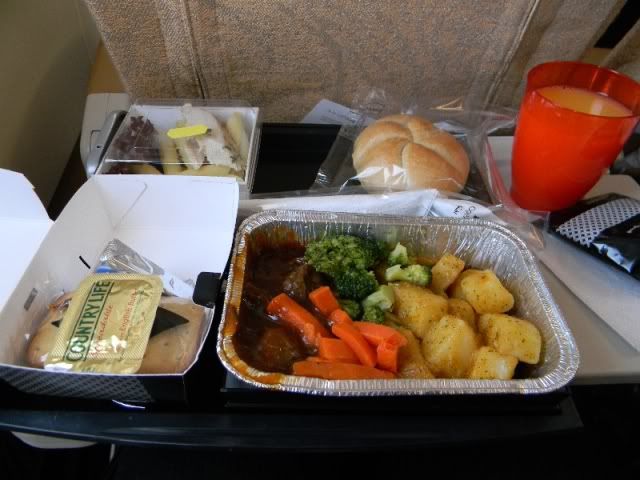 To continue:
While eating lunch I chose my entertainment from the excellent AVOD system that was installed on the aircraft. The system is called 'E-Box' and has to be the best IFE system I have had the pleasure of using so far in all my 11 years of flying across the globe. The choice of movies, music, programs and other entertainment options is truly staggering!
I settled down to watch "Unstoppable" which I thoroughly enjoyed, and being a railway man myself I understood all of what was going on in the movie and I did have a few laughs about a few of the crazy movie moments too. After the movie had finished, I brought up the air show feature and saw that we were flying just to the north of Ankara. We had less than 3 hours of flight time to go, and our ground speed was exactly 1000km/h at that point - 621mph for those who prefer the 'other' measurements! During this look I then noticed that our arrival into the U.A.E had been brought forward by about 40 minutes due to tail winds, which would now mean I was to have over 2 hours on the ground at AUH, instead of 1hr 30 minutes.
Woo!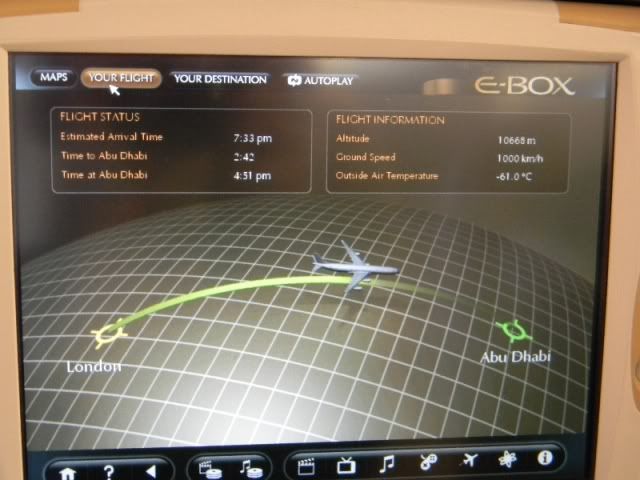 I decided to listen to an assortment of tunes for the remainder of the flight and indeed I was entertained by the likes of Britney Spears and Kelly Clarkson (who is gorgeous I should add) to name but a few.
At 1330 UK time (1738 AUH) we hit some moderate turbulence as we passed over the snow covered mountain ranges of Turkey, which despite the choppy air, looked incredible from 35000 feet above. I switched the aircrafts external camera view on and had a look for myself at the cockpit view of the terrain - amazing! The seatbelt sign lit up followed by an automated IFE interruption asking everyone to please be seated with seat belts fastened. There was then an announcement from the cockpit for the flight attendants to take their seats.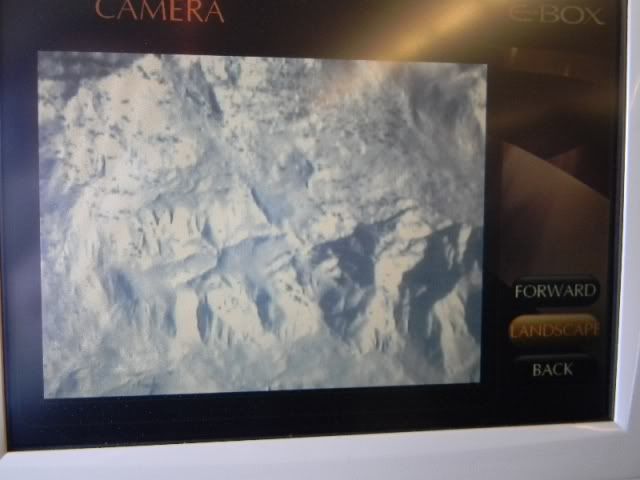 The turbulence lasted over half an hour, gradually becoming worse, despite continuous course changes of the aircraft which I would guess as being the result of the cockpit crew trying to get us out of the chop as quickly as possible. Nevertheless we all seemed to cope with it, although I did develop a headache after a while of being wobbled about in my seat.
Approximately 2 hrs prior to landing, the cabin lights in Y class were turned off, and replaced with some soothing mood lighting (blue) which was a nice touch. Not that it mattered however because everyone on the left side of the aircraft had opened the window shades to take photos of those mountains I mentioned earlier. It seems most of the guests (as EY call it's customers) had a camera with them!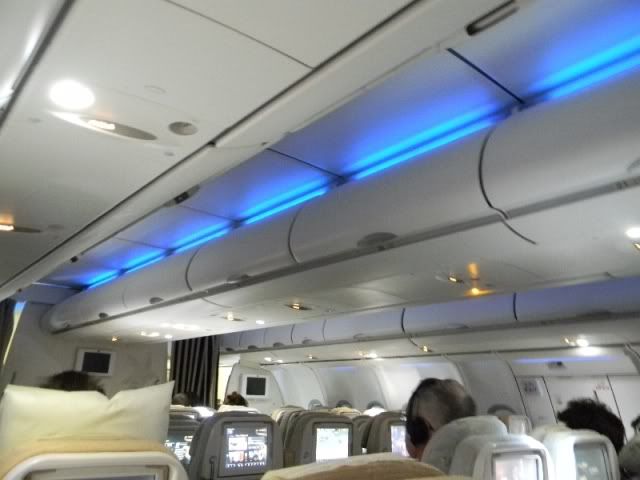 One thing I have to add is that this flight was not anywhere near full in any of the classes that I could see when boarding. There were about 20 seats in my section of Y empty, plus roughly the same amount in the rear Y cabin. The C class cabin was about half full on this flight too. What about the F cabin? I have no idea.
This is how I will now write all my reports - as they happen!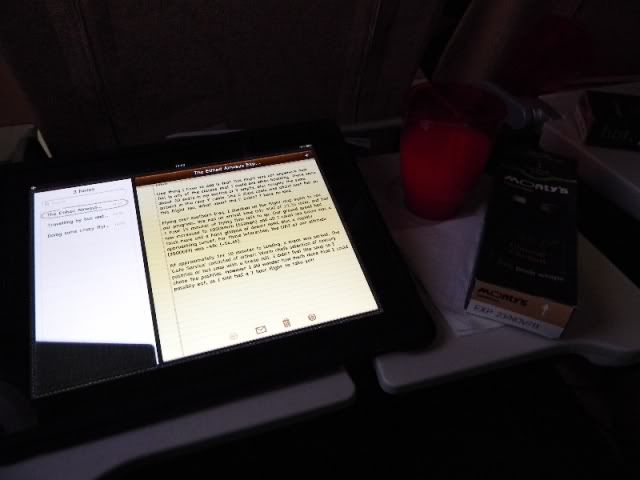 Flying over southern Iraq, I checked on the flight map again to see our progress. We had an arrival time into AUH of 19:36 local, and had 1 hour 15 minutes of flying time left to go. Our ground speed had now increased to 1050km/h (652mph) and all I could see below was a thick haze and a faint glimpse of desert sand, plus a rapidly approaching sunset. For those interested, the OAT at our altitude (35000ft) was -48c (-54.4F).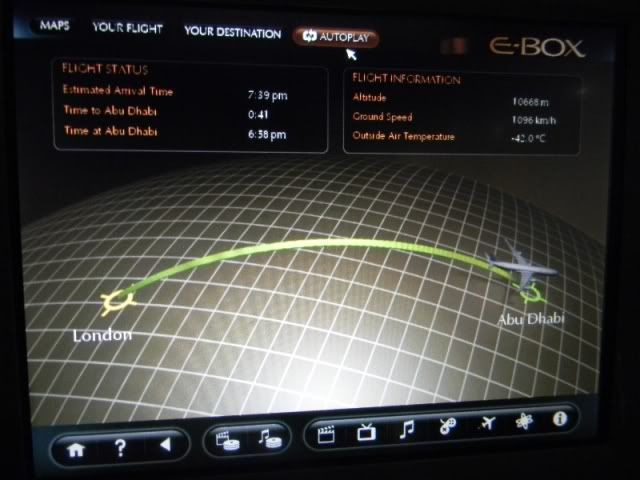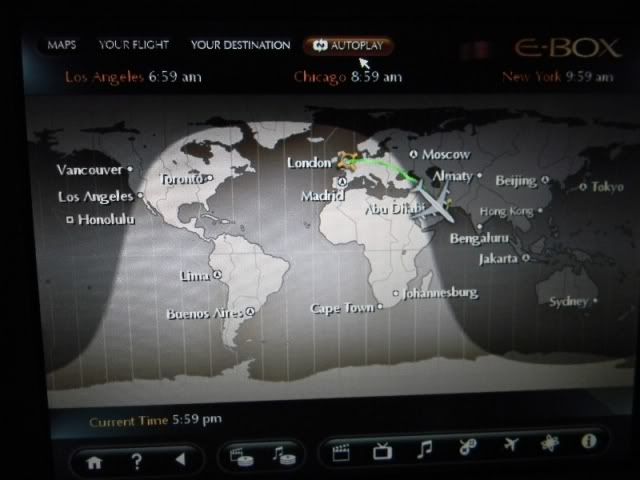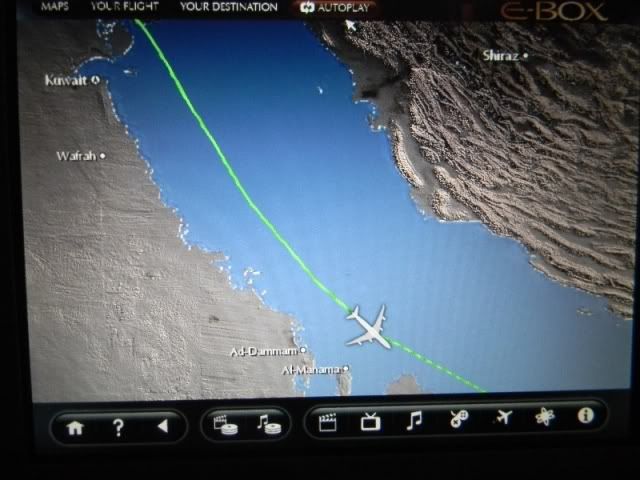 At approximately 1hr 10 minutes to landing, a snack was served. The 'Cafe Service' consisted of either: Warm chefs selection of savoury pastries or hot soup with a bread roll. I didn't feel like soup so I chose the pastries (Chinese chicken). However I did wonder how much more food I could possibly eat, as I still had a near 6 hour flight to take yet!
The flight eventually landed at 1936 local, just as predicted and within 30 minutes I had cleared security and made my way to the gate for my connecting flight. Upon arrival at gate 28, I found it empty and with the flight due to leave 1 hour 10 minutes later, I wondered where the aircraft was!
A few views of AUH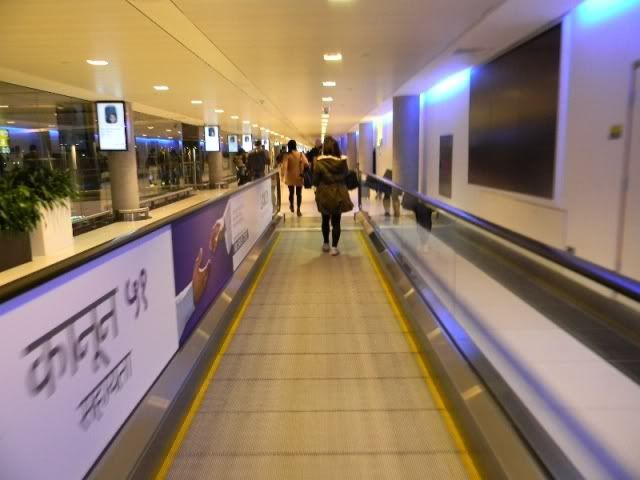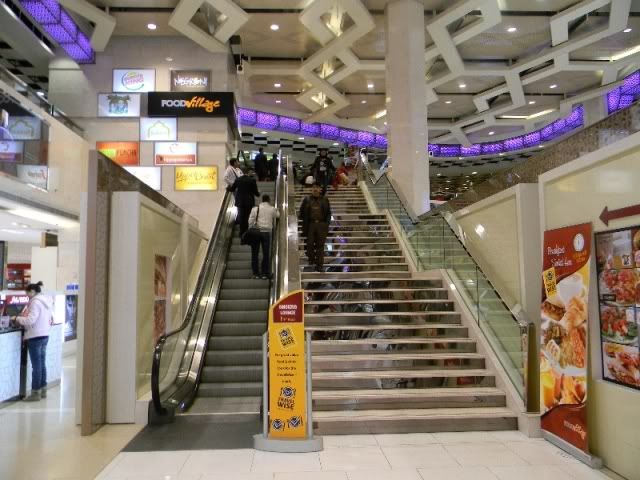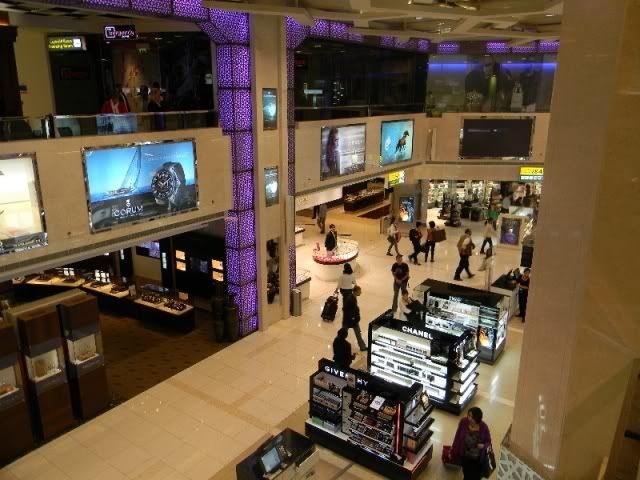 To be continued.....