Introduction:
After my flights to Bangkok earlier in the week on Etihad Airways - see
The Etihad Airways Y Class Experience (with Pics)
(by
BMIFlyer
Feb 17 2011 in Trip Reports) - it was time to do something different.
After a somewhat crazy taxi ride (Thai driving is questionable regards to the rules of the road!) to the old Bangkok airport at Don Mueang (DMK) it was time for me to fly an airline that personally I never thought I would ever travel on. The truth in fact was that I was too tempted by the very cheap ticket prices they had advertised and therefore I couldn't resist! I purchased the ticket less that a week before departure and the flights cost me about £75 round trip including taxes.
The Experience:
Arriving at the airport I noted that it hasn't really changed much since I was last here in 2005 - except that its just gotten a more dirty look and feel to it! It was not long after my trip during that year that this airport was in fact "closed", and replaced by the new BKK airport south of the city.
Check-In Area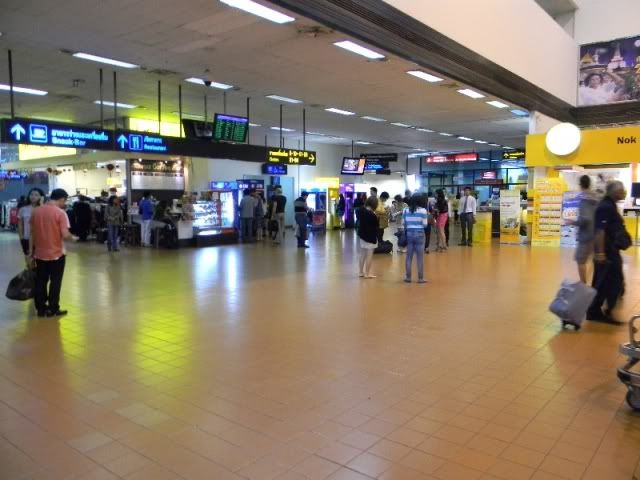 My Flight is up there somewhere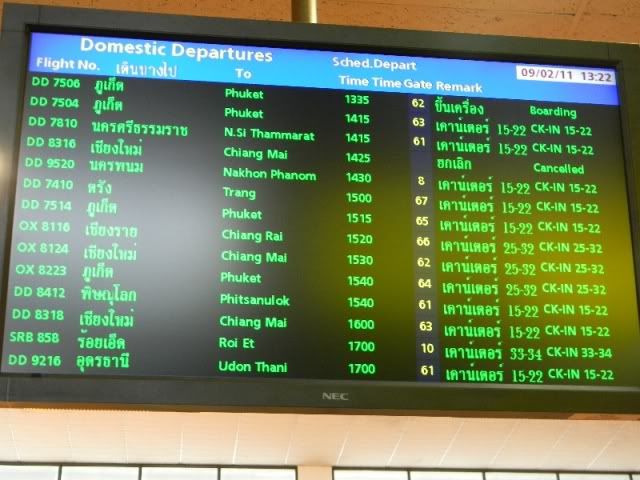 The airport has since reopened for domestic flights only. The carriers that serve the airport are primarily 'Nok Air' and 'Orient Thai Airlines' who both compete with each other for business.
Leg 1:
Date: Wed 9 Feb 2011
Flight: OX 8223
Route: Bangkok / Don Mueang (DMK) - Phuket (HKT)
Scheduled Timings: DMK depart 1540 - HKT arrive 1700
Class: Economy
Aircraft: McDonnell Douglas MD82 HS-OME
Seat: 7C (aisle)
After entering the airport building, I had my backpack x-rayed before proceeding to check in. The very young (cute too!) female check in agent was helpful and smiled a lot during the check in process. I checked in my backpack, received my boarding pass and then said a cheerful thank you before proceeding to security. The body scan took under a minute and I was allowed through with no problems.
Boarding Pass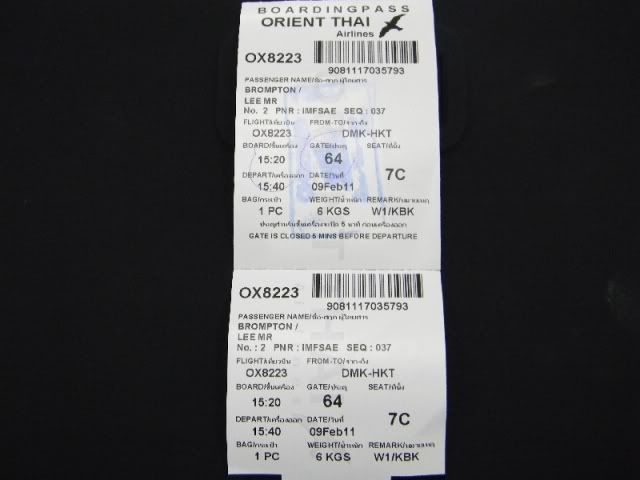 I made my way to gate 64 and waited for an aircraft to arrive. The ramp view yielded quite a few classic aircraft, most without engines. There were assorted MD80's (including HS-OMB, HS-OMC) a couple of 747-100s and an all white 767-200 (N570JH - no engines - with EL AL markings removed). Beyond the 747s I could see the tails of 2 tri-jets which I could tell by the no2 engine location (and logo on the tail) were in fact L1011 aircraft, of Thai Sky Airlines.
Domestic Departures Area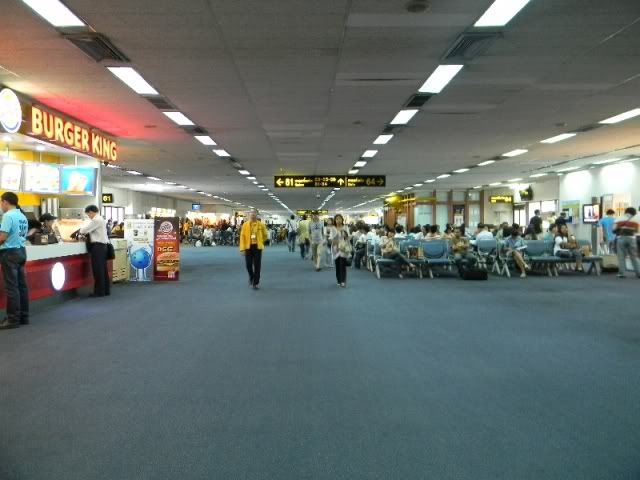 On the other side of the pier I was on, the ramp was filled with assorted aircraft from Nok Air (737s and ATR42s). All in all, you could say that this place was "spotter heaven", especially to those persons who like the sight, sound and smell of classic aircraft!
Spotter Heaven!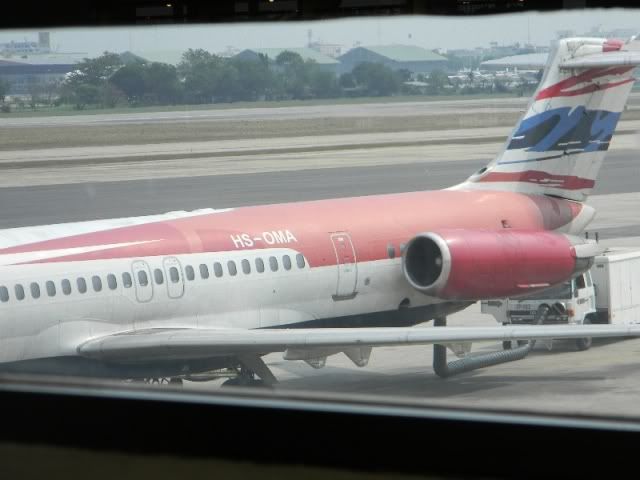 My aircraft arrived onto the stand at 1455. I haven't flown an MD80 series aircraft since my trip on SAS to Copenhagen a few years ago, so I was rather looking forward to this trip. The new crew were waiting to board and they did so as soon as the inbound passengers and crew had left the jet bridge. The captain of the flight appeared to be a westerner (with quite a sun tan) who appeared to be a very laid back chap - he wore a baseball cap with his uniform - while the first officer was Thai, and didn't seem to speak much conversation with anyone. The cabin crew were a mix of male and female Thai nationals.
My Aircraft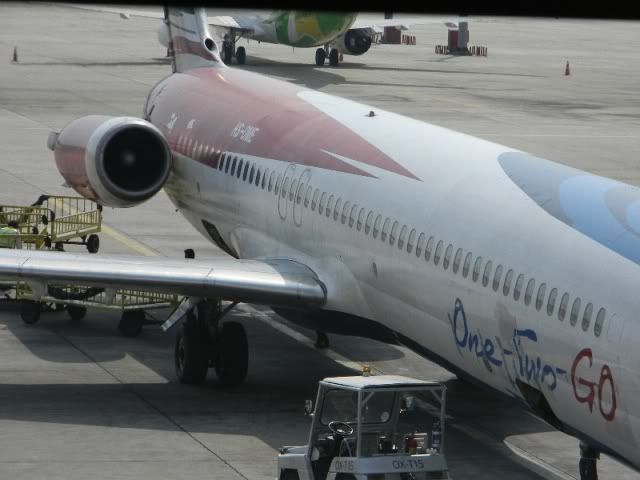 It seems that I wasn't the only person interested in seeing what aircraft I was flying on - no fewer than 8 of us moved swiftly to the window with our cameras to snap some photos. The only problem was that we had to look through 2 sets of windows in order to do this, and that meant we all had to zoom in to get pictures without the window frames of the terminal showing in the shot - not easy to do.
Returning to the flight, boarding was started at 1520 for our 1540 departure. I was one of the first to board and was greeted by the cheerful cabin crew at the door. I took my seat and waited patiently for the rest of the passengers to board. We pushed back at 1536 and took off from runway 21R. Our climb out consisted of an immediate right turn as soon as the landing gear was retracted, and then a slight left turn not long afterwards. The fasten seat belt sign was switched off only 5 minutes after take off.
After we reached our cruising altitude, I had a quick look down the aisle and noticed that it appeared the flight was completely full. The seat covers suggested to me that this was a former American Airlines aircraft, although someone please correct me if I'm wrong.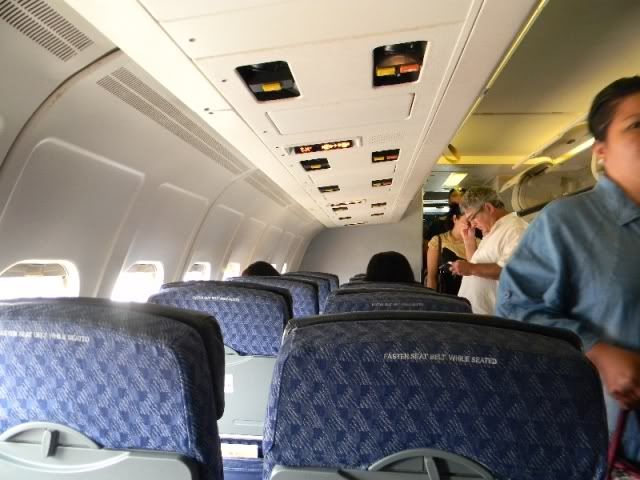 Shortly after departure, the cabin crew came through the cabin with the complimentary snack and drink service. The airline is pretty unique for a low cost carrier in that it offers the following free extras....
Free seat selection
Free snack and beverages
Free 20kg checked baggae allowance
Free checked sports equipment
Plus
No credit card booking fees
No call centre booking fees
So, Ryanair please take note!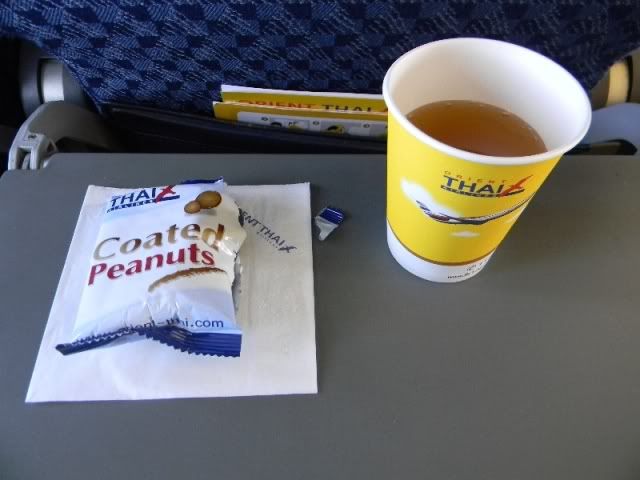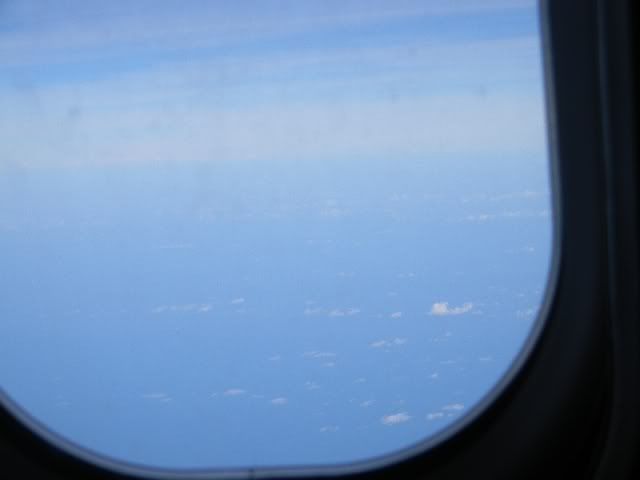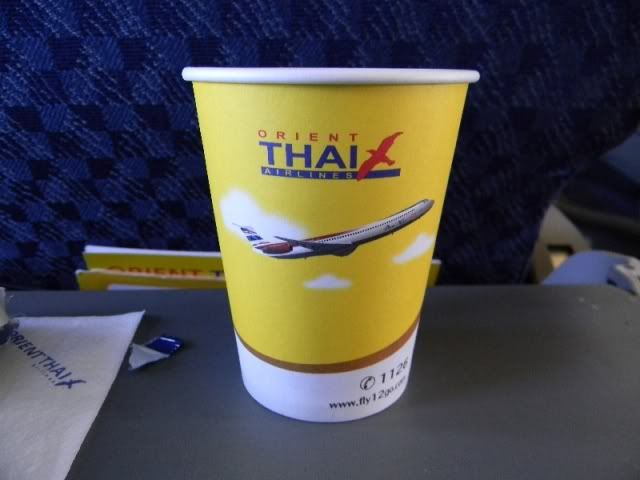 The flight was uneventful, and we landed on time, but from the east. As we landed I spotted a Thomson 767-300ER with winglets waiting to depart. We boarded a bus to the terminal building, and must have driven for only 1 minute before the bus stopped and we got off . With that in mind I'm sure it would have been better for us to walk!
The baggage arrived within a reasonable timescale and I left the terminal building and set off to explore the area by foot.
For my return flight to Bangkok, please see below.....