Introduction
This trip started as some of my non-flying plans changed and I found myself having an unexpected weekend free. Initially I just wanted to fly some more SK/KF segments, and had my sights at doing some cheap flights on KF (or actually DC) on the HEL-TLL route. However the schedule for the weekends is not very suitable for this. I did notice, though, that KF was offering some dirt cheap fares for TLL-HEL-ARN and OSL - two segments for 67 EUR! I quickly settled for Arlanda as getting back from Oslo was a bit troublesome - I could do a same plane turnaround or book the DY flight an hour later, but as OSL isn't exactly set up to handle international connections very well I thought it was too risky. At Arlanda, this of course is no problem.
I decided to spend the night at Tallinn, and booked a Saturday noon ferry ticket there for 32 EUR on Tallink this time. The KF/DC flight does not operate on Saturdays to TLL so that was not an option and I wasn't too keen on the early bird BT connection either.
The initial idea to get back from ARN was to book the same plane back - it was available for 65 EUR. But then I realized that I actually had more travel departing the next day, albeit from TMP. So in the end I decided to save myself the hassle of train travel up to Tampere and stretch this trip into a three-day, two-nights-away-from-home one by booking the KF evening flight ARN-TMP (again operated by DC, albeit with a Saab 2000) for 80 EUR.
The travel next day? Oh yes, I have this personal pet project of mine of flying every single commercial domestic route operated in Finland. This year Finncomm announced another seasonal ski route ex-TMP (they started KTT a couple of years ago, and are operating it again this winter, apparently with quite a lot of success. Flew that route back in 2009) to KAO, not exactly in Lapland, but far north nevertheless with some ski resorts nearby. So in order to keep my status quo I had booked that flight already way back in October for 67 EUR.
And finally also KF operates to KAO from HEL seasonally, and they had another 717 flight, departing an hour after the arrival of the FC flight which would bring me home nicely - so I booked that for 79 EUR.
In the end this ended up being another weekend and some more full of traveling - here's the flying part of the itinerary:
Saturday 19.2.2011
Just after midday I catch a local train down to Helsinki.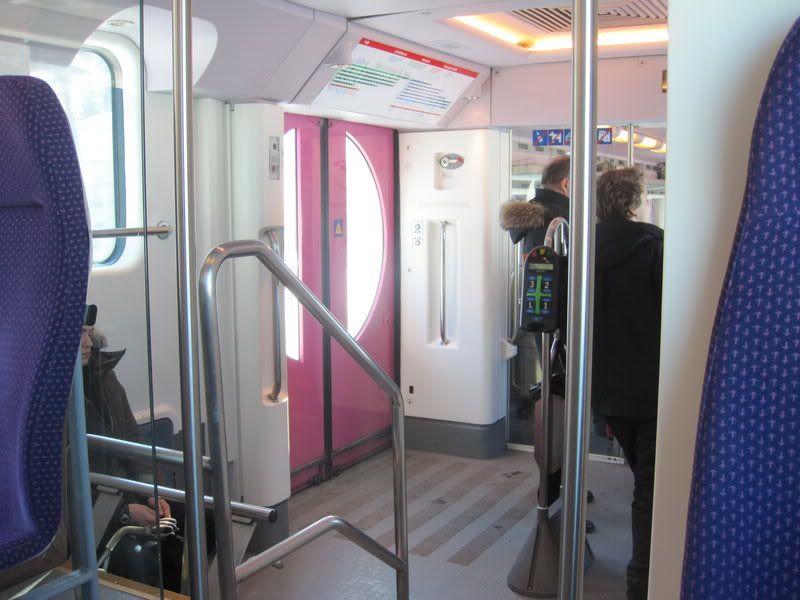 Not too many passengers on Saturday early afternoon - legroom is of course great: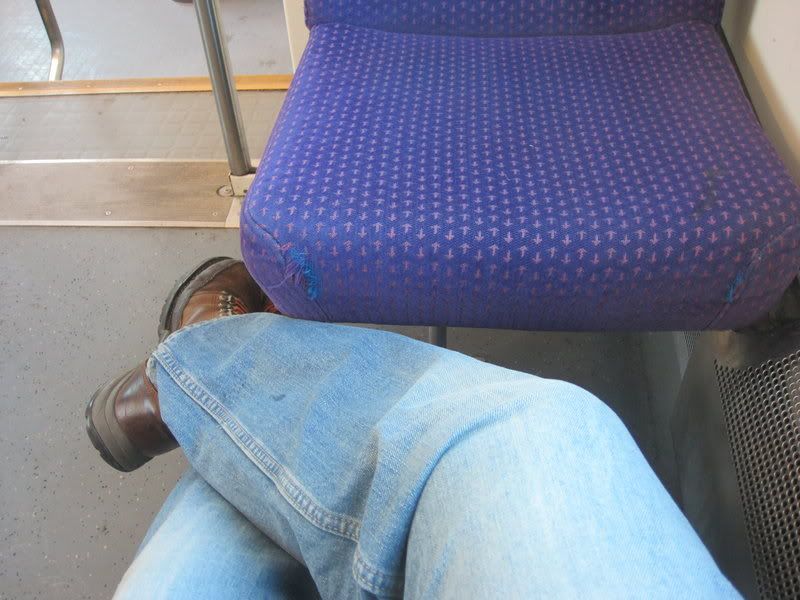 Arriving at Helsinki Railway Station: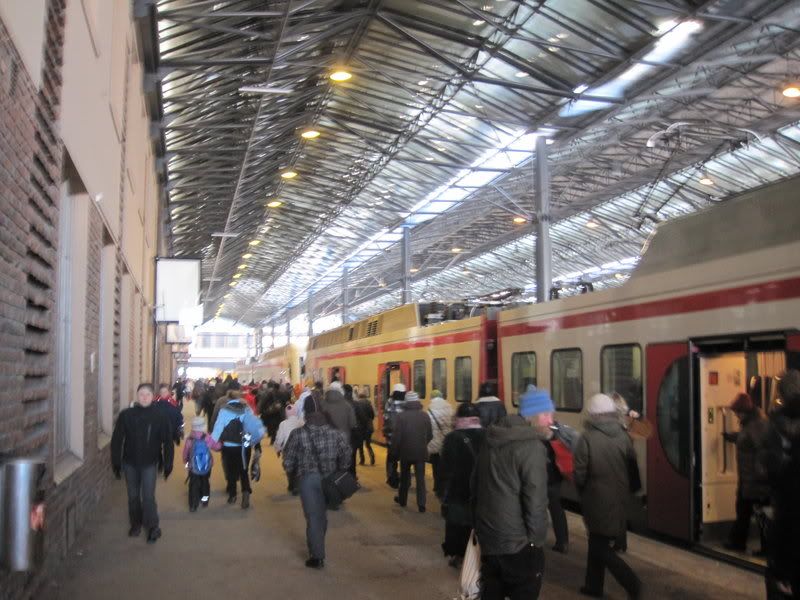 From the station I catch a bus to the ferry terminal in the so-called Western Port: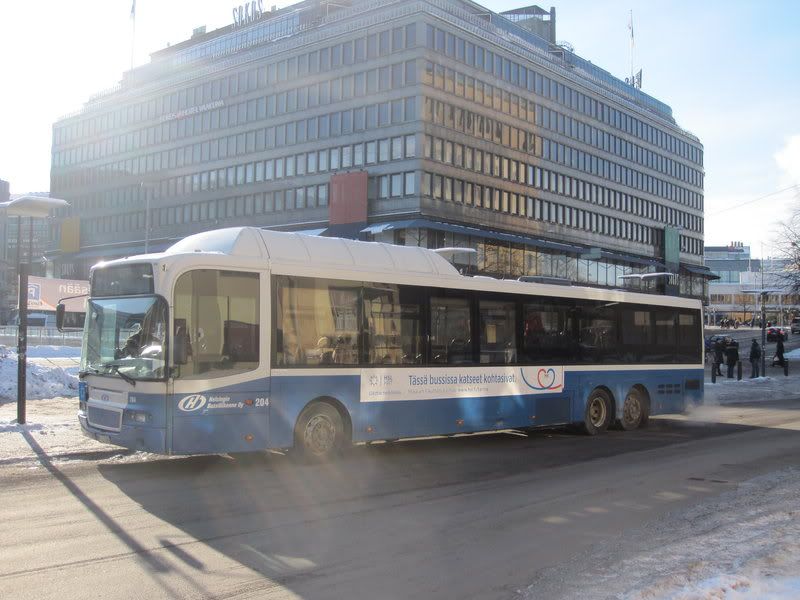 Not too many people inside the ferry terminal either - quite surprising actually considering that it is the beginning of the winter holiday week in the southern part of the country. I check in using one of the self service machines and head to the waiting area (hmm, in an airport this would be called "airside" - so I wonder if this is "seaside" then).
The inbound ship hasn't yet arrived so what else to kick the trip to a good start than a nice pint: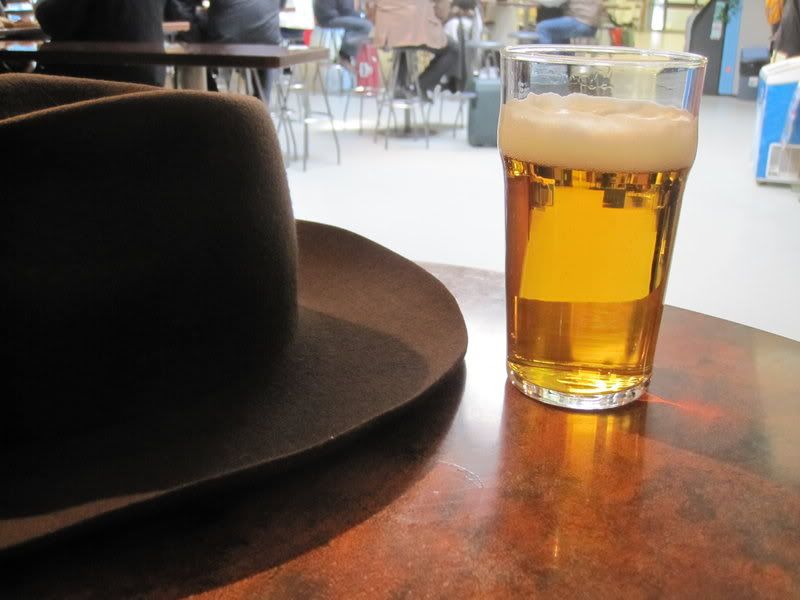 Boarding starts around 14.00, half an hour before the scheduled departure. It's quite a walk to the ship's entrance through the walkways, a sign claims that the distance is 500 meters which I can agree with.
Boarding m/s Superstar: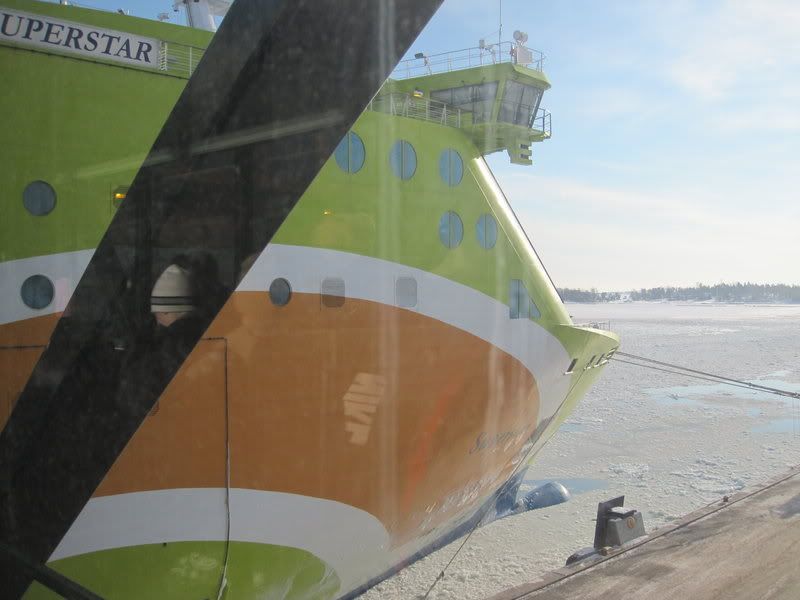 I head to the cafeteria to have some lunch. The passenger load is indeed quite light and there's no problem getting a table and almost no queues at all - something which definitely is not true on peak departure times. The boat ends up departing a good ten minutes ahead of schedule - well done, Tallink!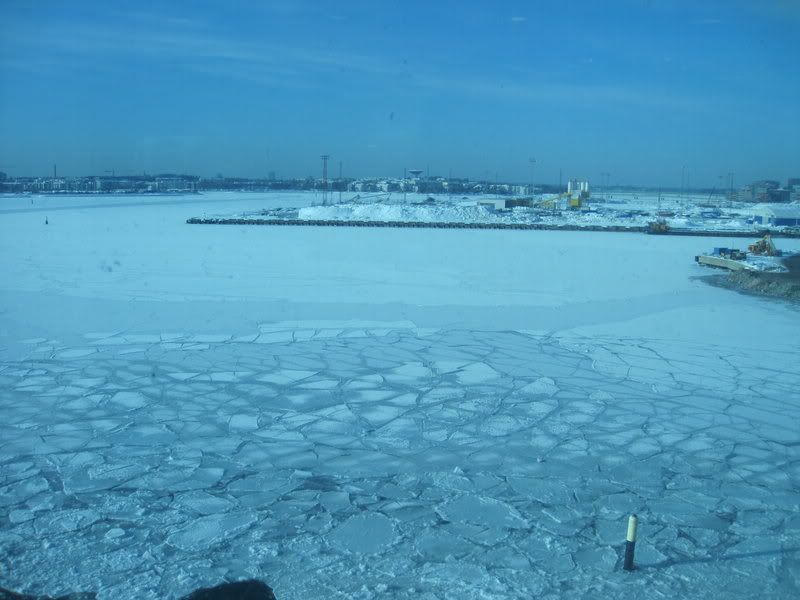 Very icy: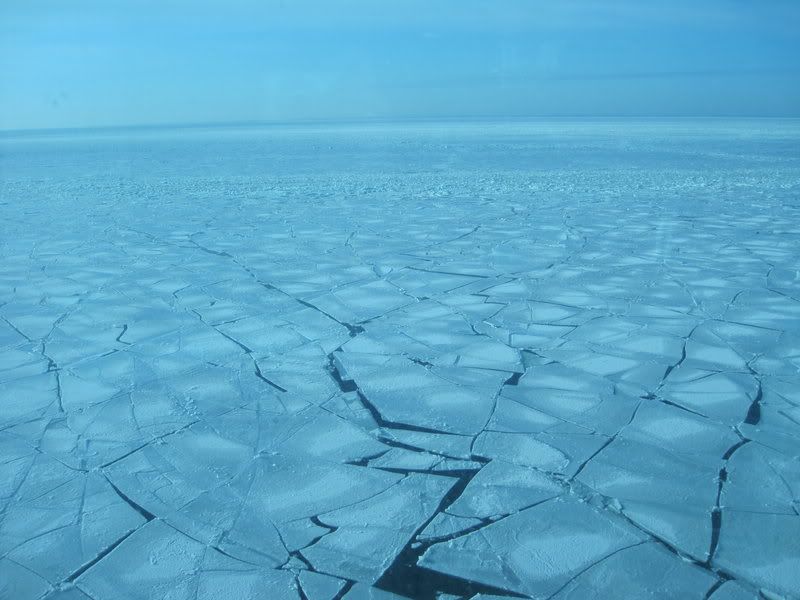 I try unsuccessfully to get the free wifi connection working - it finally starts working when more than half of the 2 hours travel time has already passed.
I spend the rest of the journey in the bar at the front of the ship: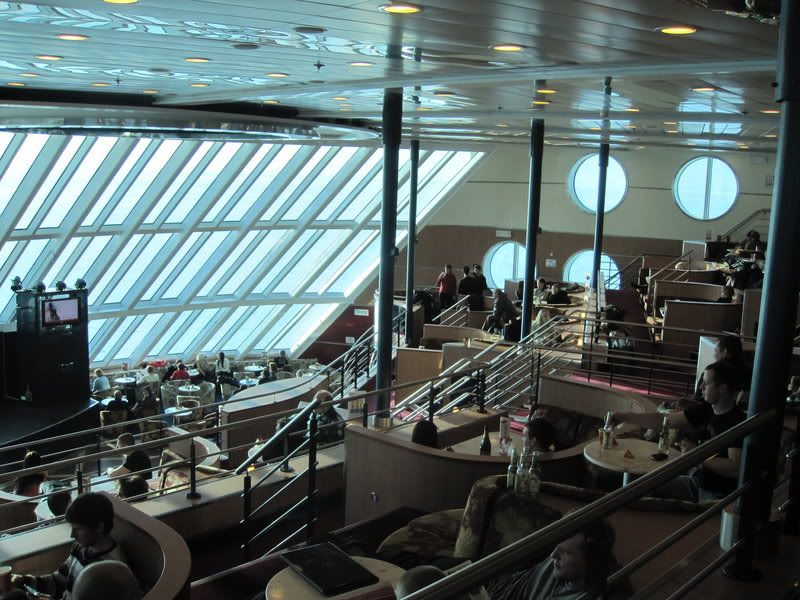 Sistership heading the other way: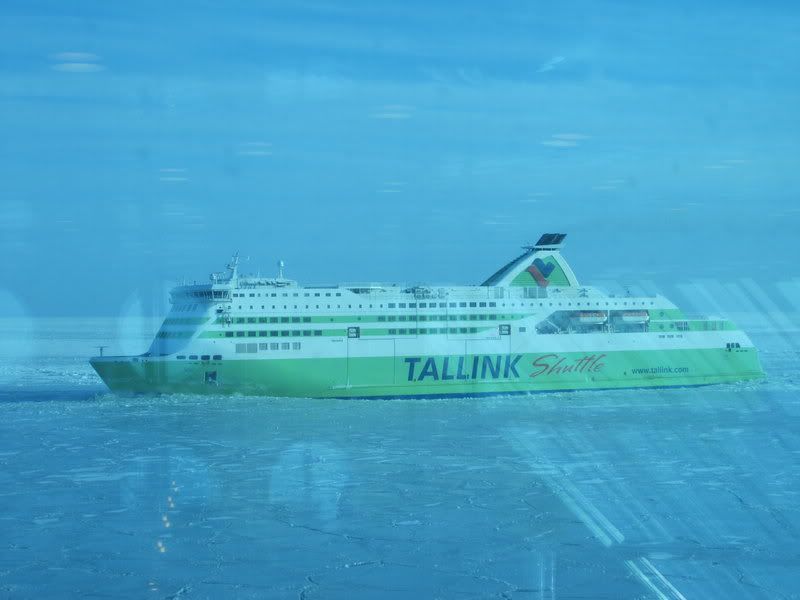 Yep, it's Tallinn: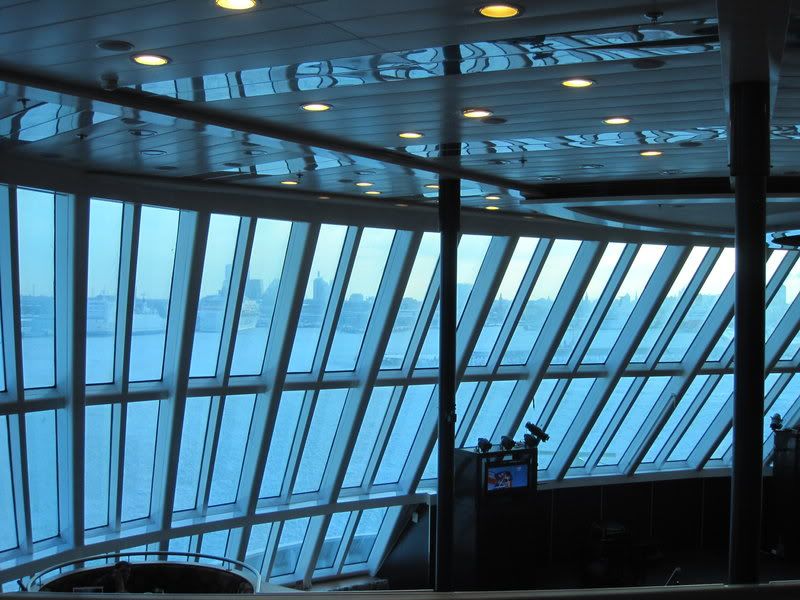 Arrival in Tallinn is ten minutes ahead of time. The walk here to the terminal is almost as long as in Helsinki. Here's a shot of one of the terminal shops to give an idea of what these boats are all about: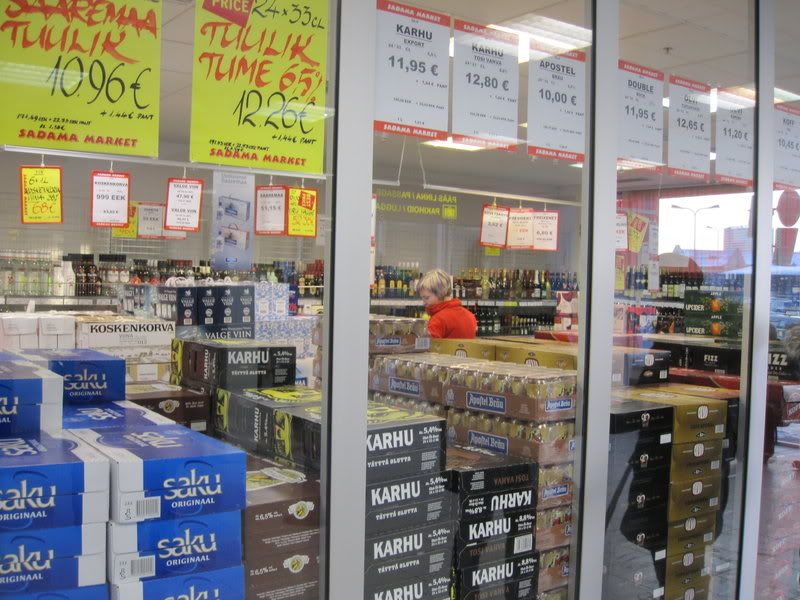 Tallinn
Outside it is quite cold, around minus twenty I reckon. Luckily my hotel is just a short walk away from the port. This time I'm staying at the Park Inn Central Hotel - this used to be a Reval Hotel but after Rezidor bought the chain they changed all the nicer ones into Radisson Blus and these mid-range ones into Park Inns. The hotel is a bit basic - but the location is good, there's free wifi (this is E-stonia after all, there's free wifi everywhere!) and the rate at 49 EUR including breakfast (and some BalticMiles) is good so no complaints really: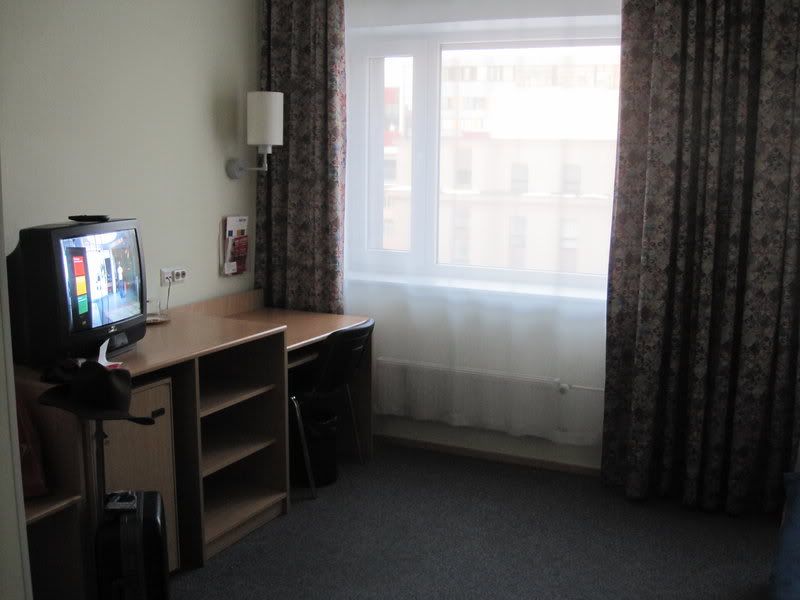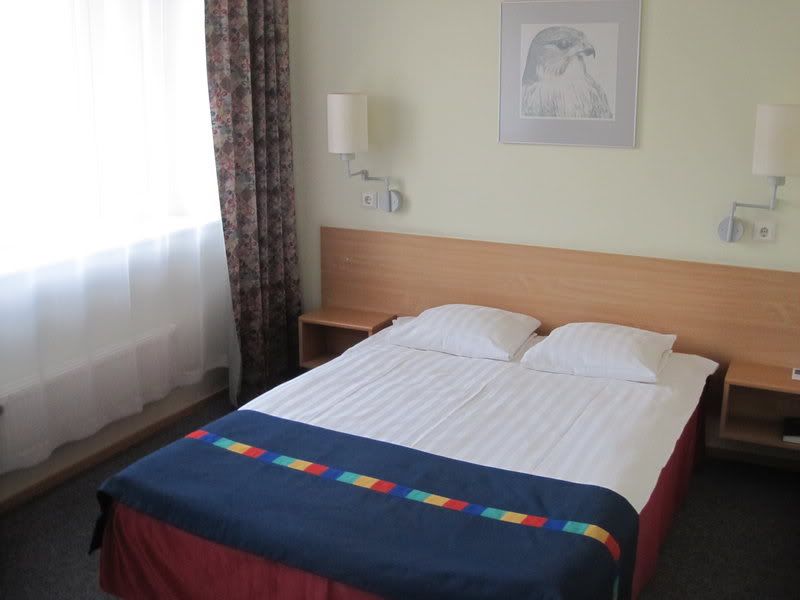 Tallinn is always good for some interesting restaurants that are far from their conservative, boring Finnish counterparts. This time my culinary adventures include some fried frog legs at a Chinese restaurant: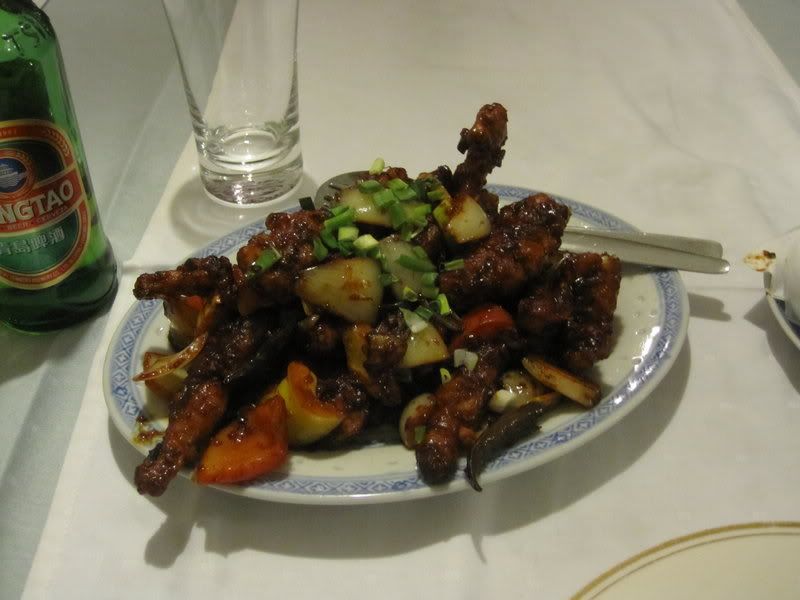 A couple of night shots from the Old Town: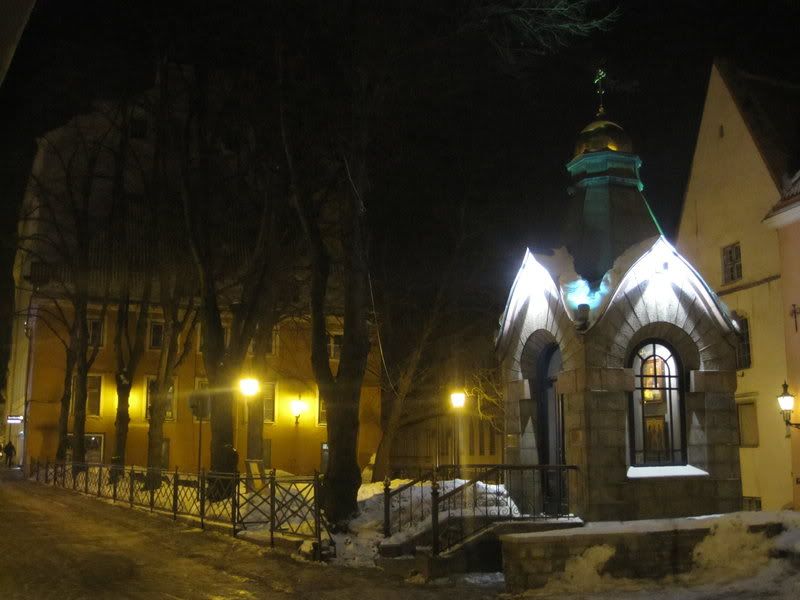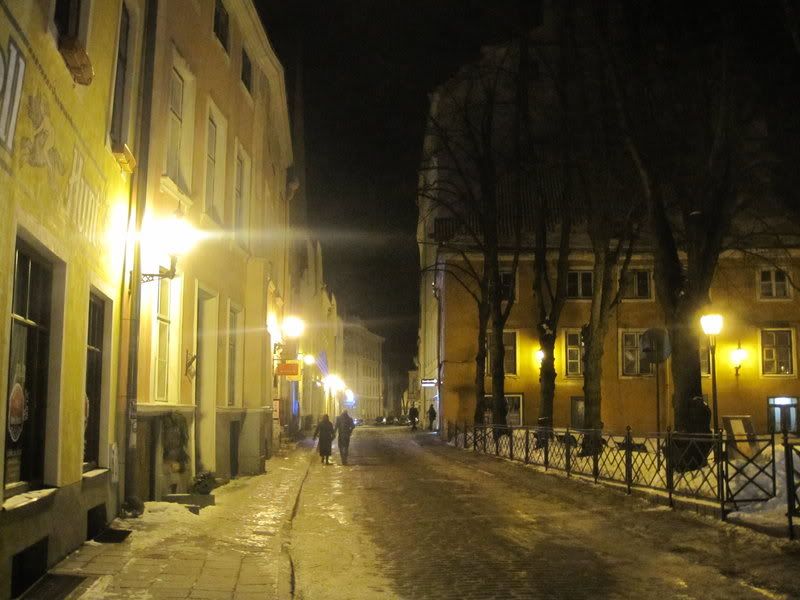 Nope, it's still Estonia: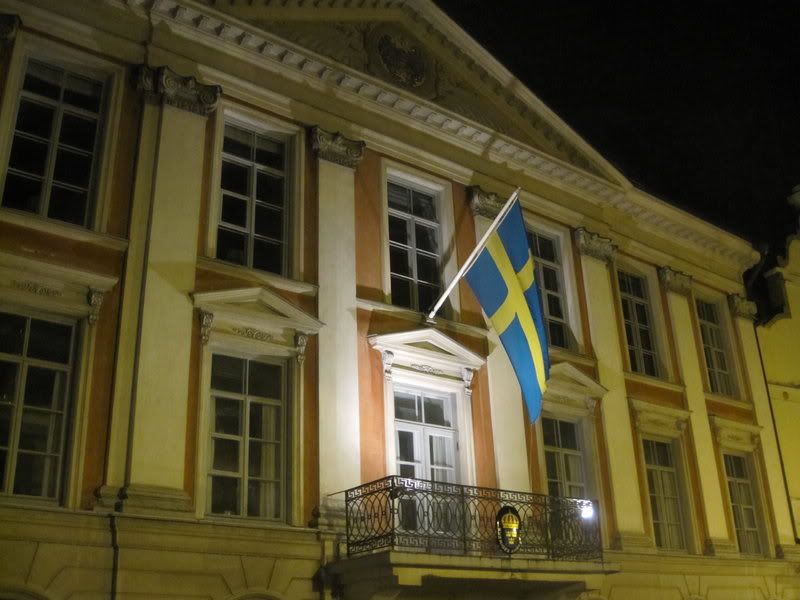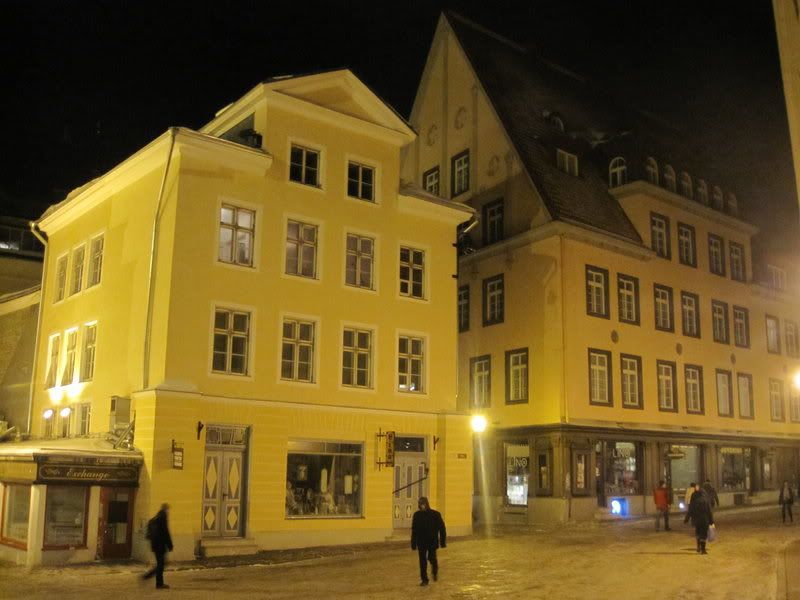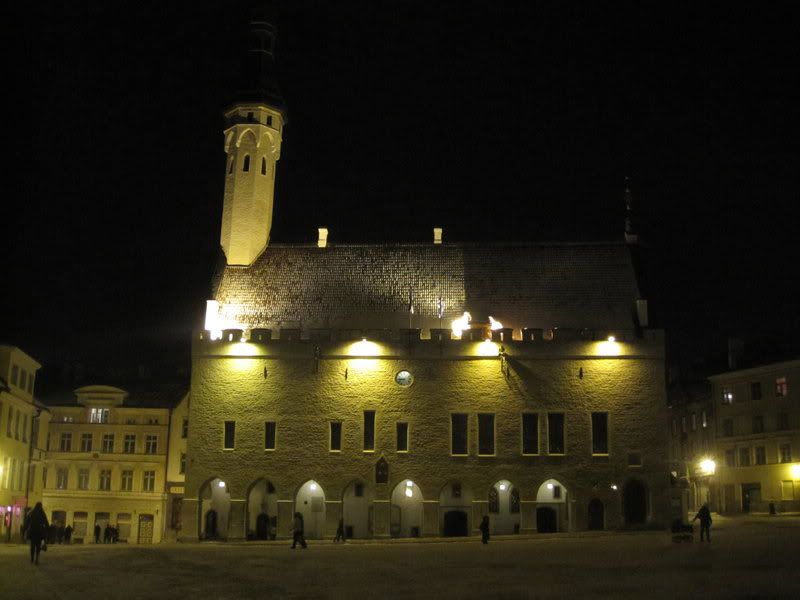 So here are my first Estonian Euros - mission partly accomplished: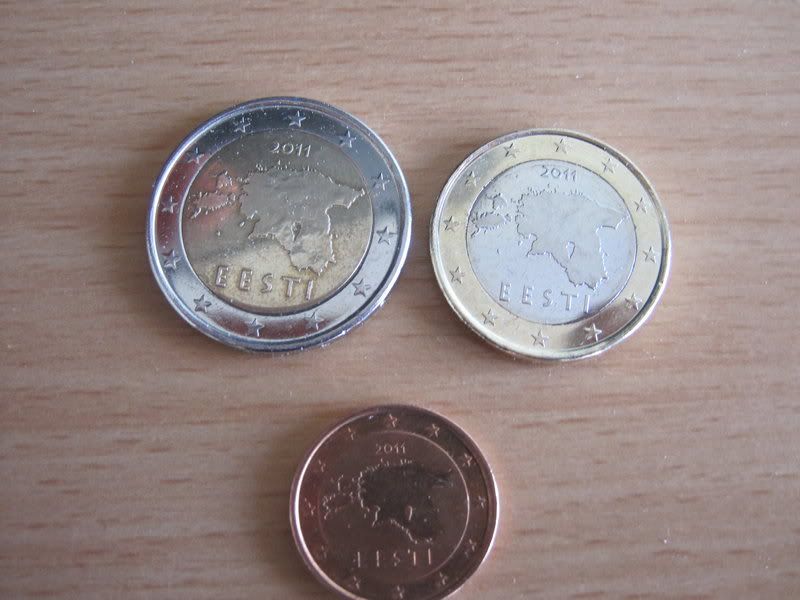 Sunday 20.2.2011
Next morning I laze in my room after having a mediocre but filling breakfast and check out nearer to midday. The weather is very pretty - sunny and crisp as February usually is, but quite bitterly cold at the same time: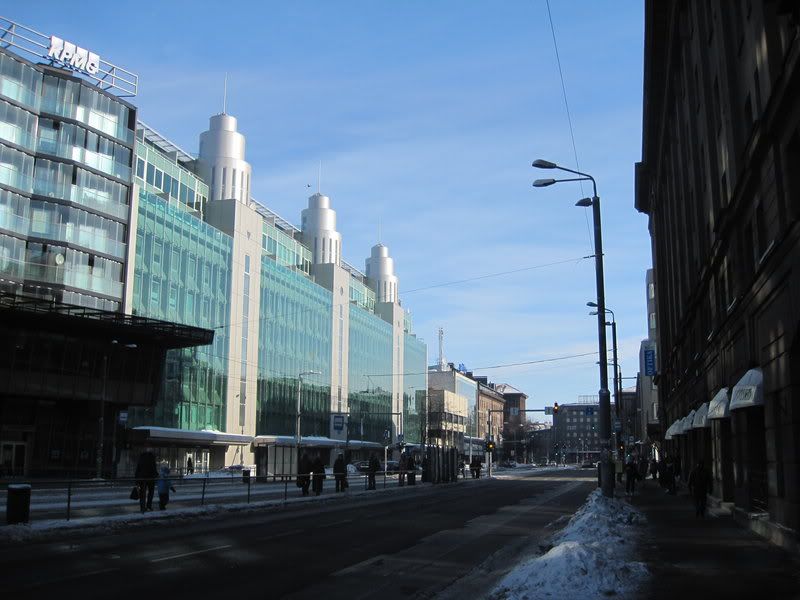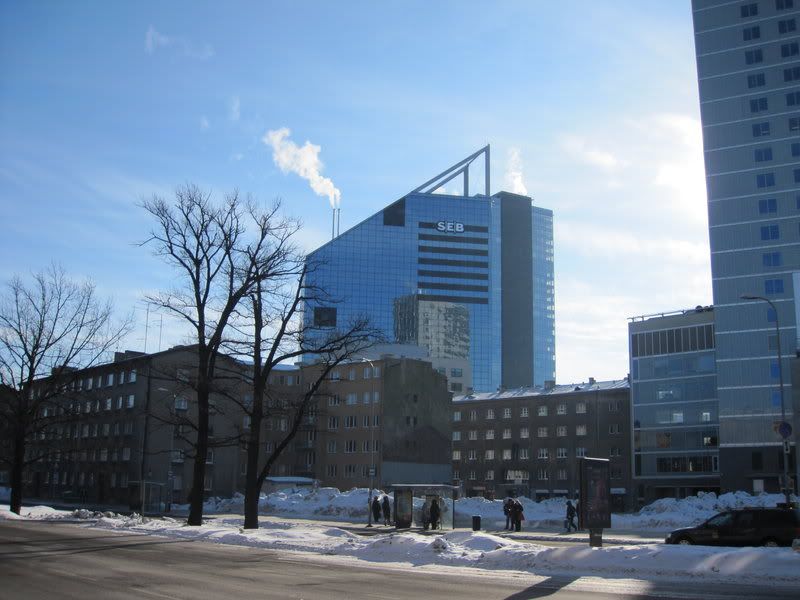 After a disappointing lunch it is time to catch the bus to the airport. Looks like the bus tickets are still priced in Krooni - I guess they have quite a stock to get rid of!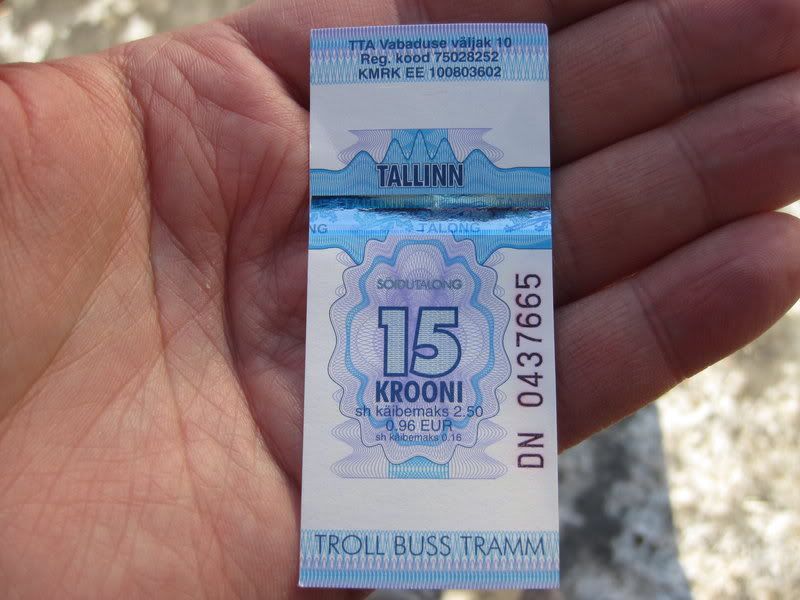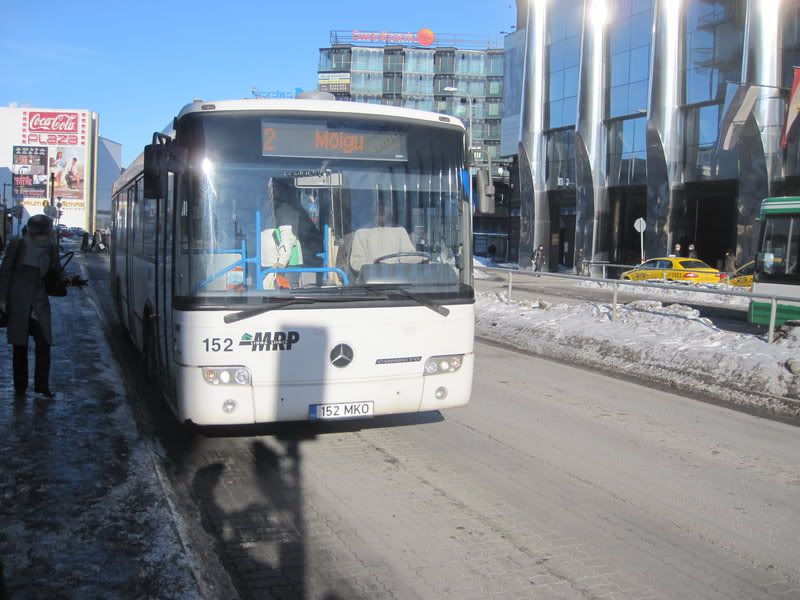 Tallinn Lennart Meri Airport
A nice lineup of tails: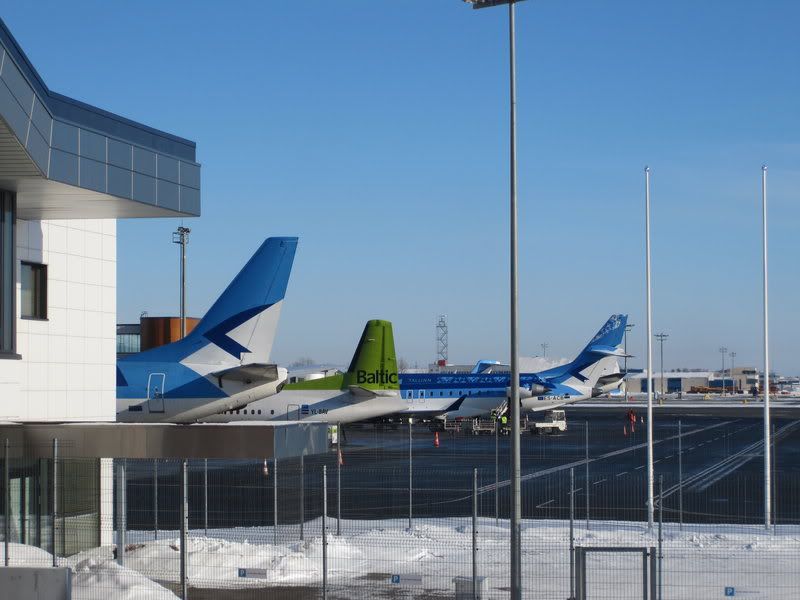 No OLCI or self-service check in for KF here and a mediocre queue at the counters already. There are only two counters open, and the first one is blocked by a pair of problem pax whose tickets are taking a lot of typing and phone calls to fix. The second counter is staffed by a trainee who takes her time with every passenger. In due time I get my two boarding passes and proceed to security...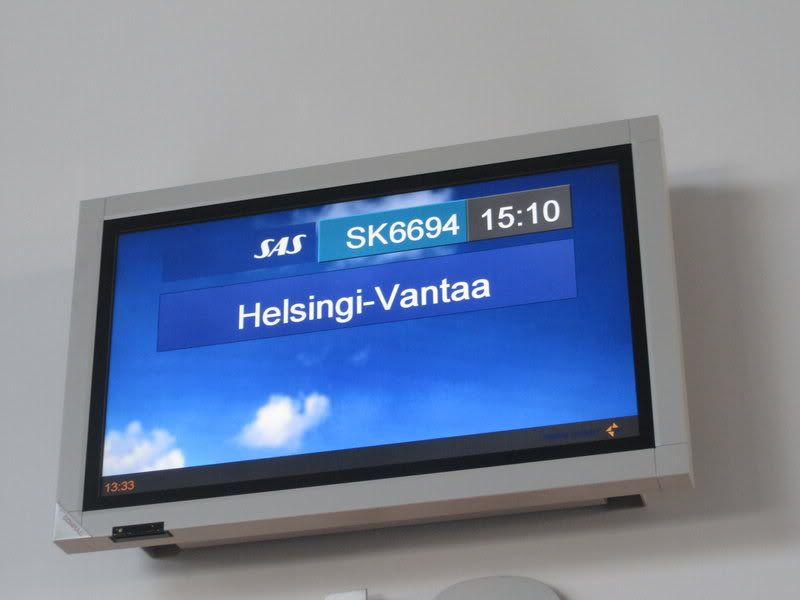 … which is something I don't like here at all. Pretty much every time I've gone through here it's always been incredibly slow with some rude agents and lots and lots of confused passengers who have no idea what should be screened separately or what can one bring through. Today is no different - I joke with the Dutch business traveler guy behind me how I miss traveling on weekdays with businessmen who all know the drill and are oh so efficient... This time they want to screen all the chargers in my bag (and there are quite a few) separately and despite almost stripping naked I still beep and get the pat down treatment...
Notice that both the last and first flights of the day are to RIX: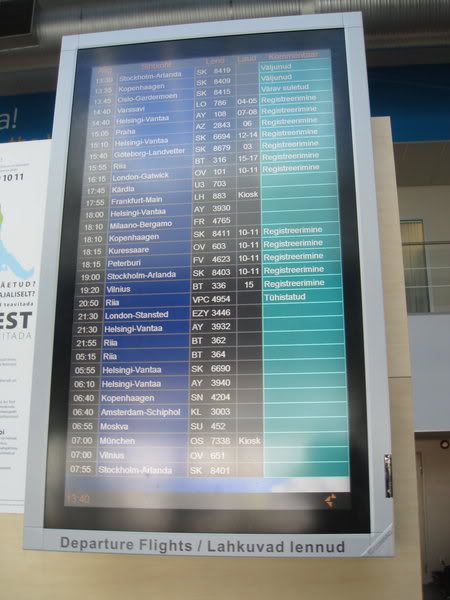 Finally through I do a quick bit of shopping - interesting prepackaged booze packs are available (just so you don't forget what travel to Estonia is all about):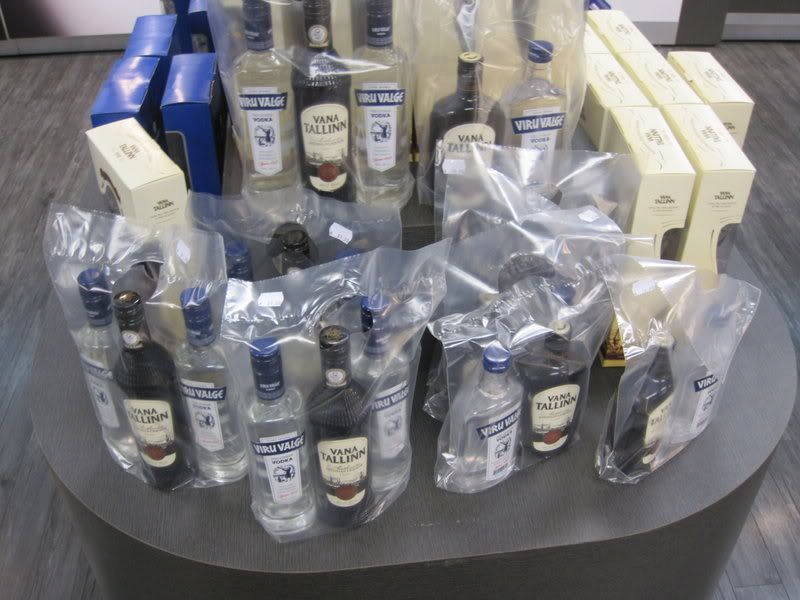 One of the new CRJ-900s departing: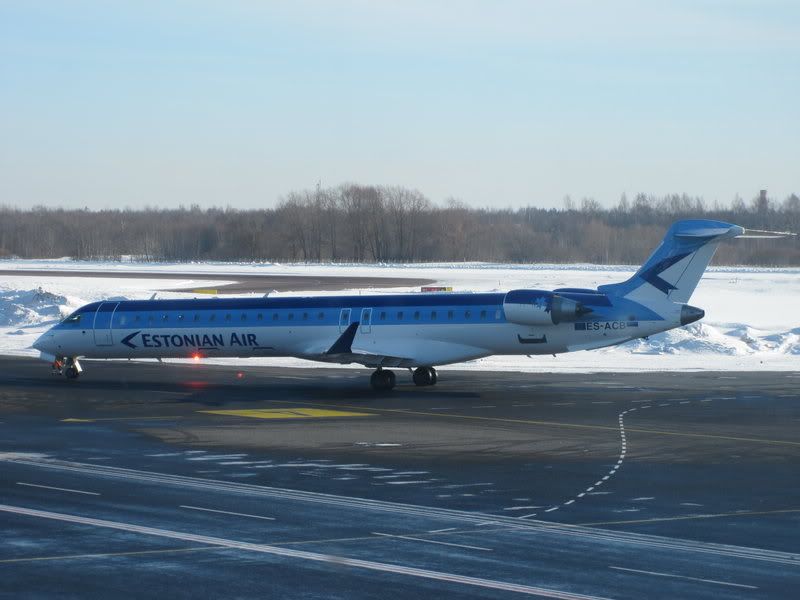 The new terminal extension is starting to look more cosy - they have been doing some interior redecoration: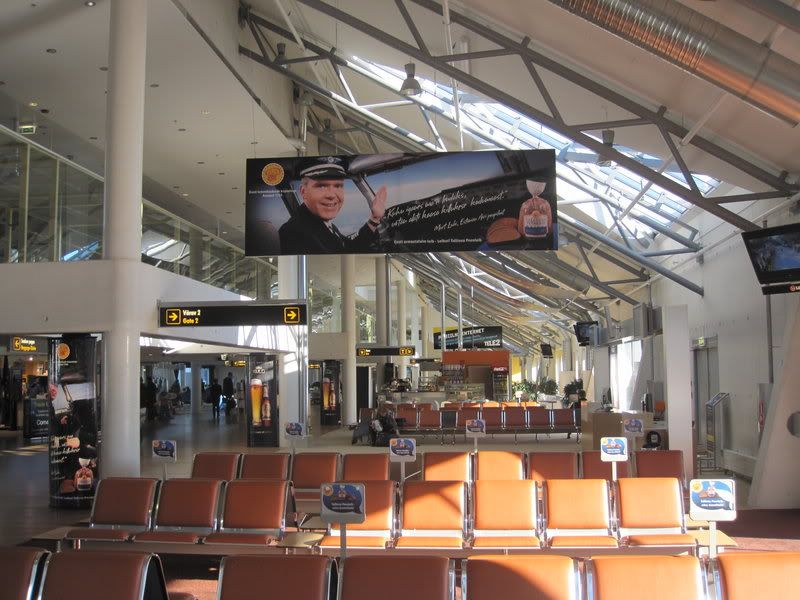 But I don't really like these ads (for bread!) on the benches: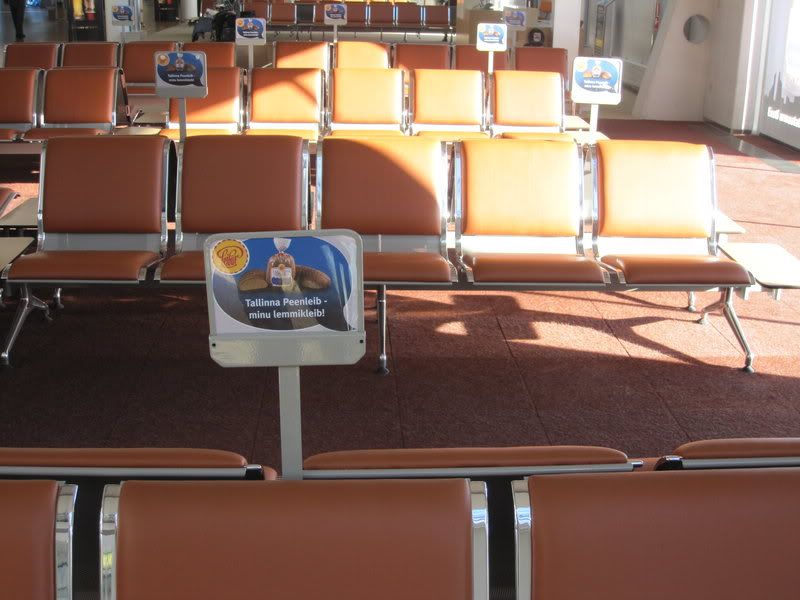 I hit a bar for a pint and some more wifi fix - noticing that the inbound plane left HEL almost ten minutes early.
AY still operates one weekly flight on Sundays with mainline equipment - I guess they have a lucrative cargo contract. Before the E-jets joined the fleet it used to be an A319 - took that flight once: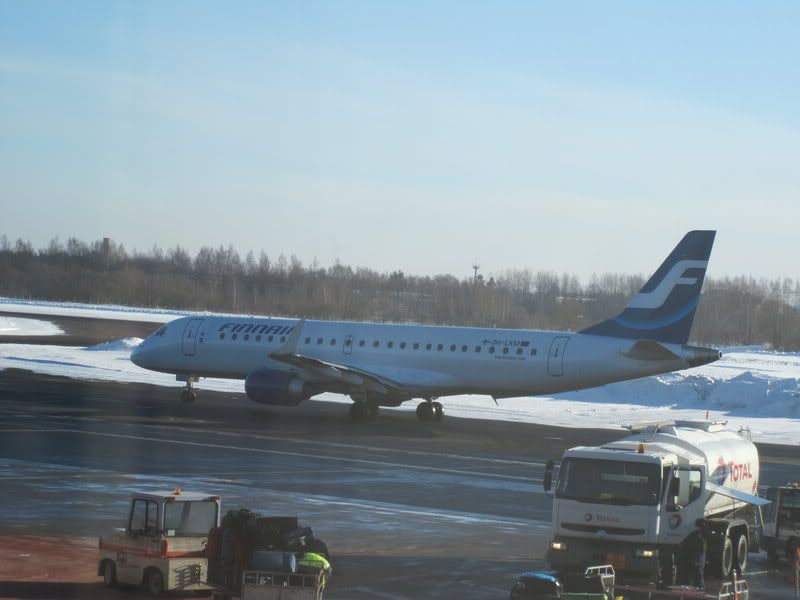 CSA: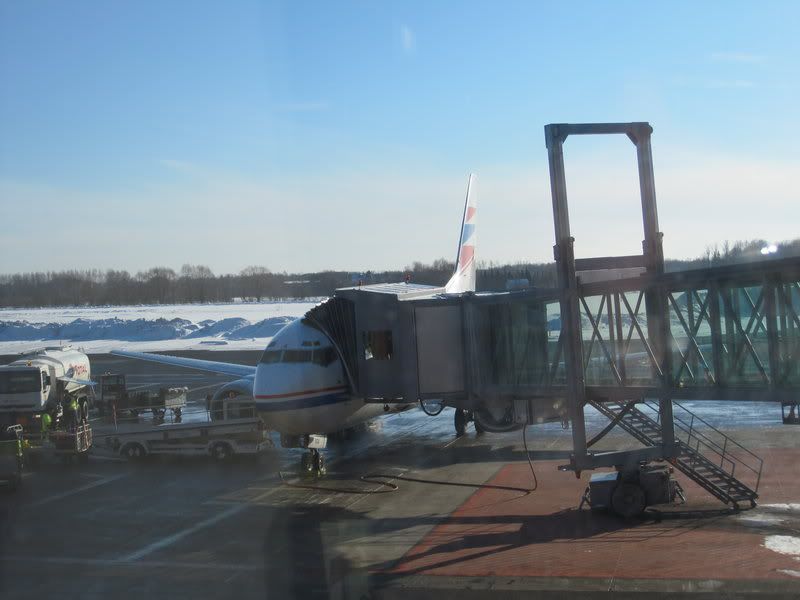 The inbound indeed arrives quite early - the expected ATR 72-500, SE-MDH which I've flown once before.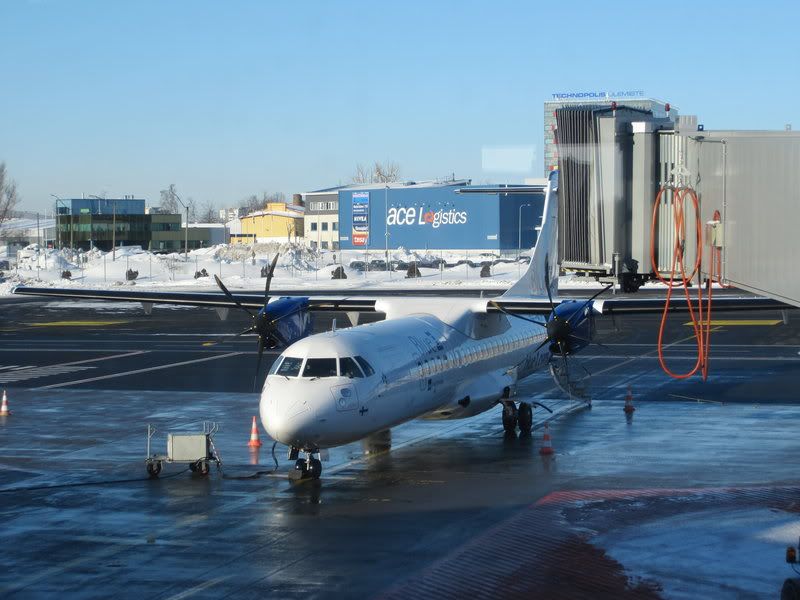 Boarding is called half an hour before departure. The guy in front of me is boasting a passport with gray covers and this is causing some confusion with the gate agent who negotiates something with the guy in rapid fire Estonian - but finally he is allowed to board. I've never seen that kind of passport before - maybe that's one of the Russian alien passports that all the Baltics have to a certain degree?
I'm not sure what justifies the Finnish flag on the nose as the plane is in Swedish register, operated by a Swedish company holding a Swedish AOC: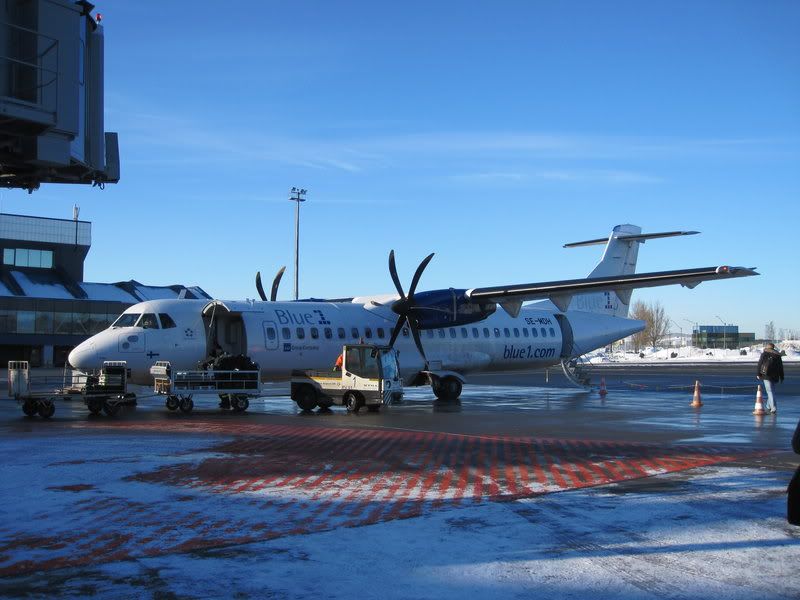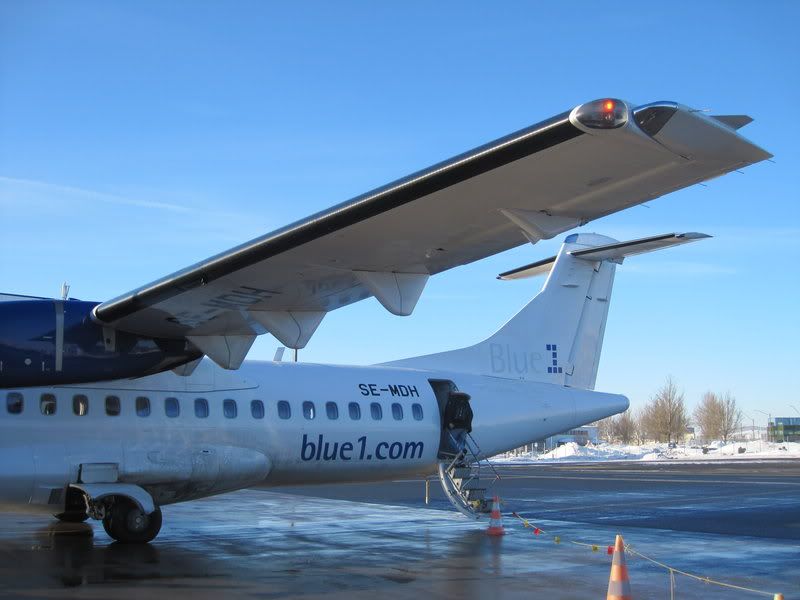 TLL - HEL
KF608 Operated by Golden Air
ATR 72-500 SE-MDH
Seat 11F
15.05 - 15.32
Premium class is on the back on these ATRs - well it is quieter there and the entrance is closer so I guess it's logical. Two rows today reserved for it - the other one is holding newspapers so I grab the Sunday paper - being such a newspaper addict as me being abroad is always a bit of a a pain!
The seat pitch is quite bad: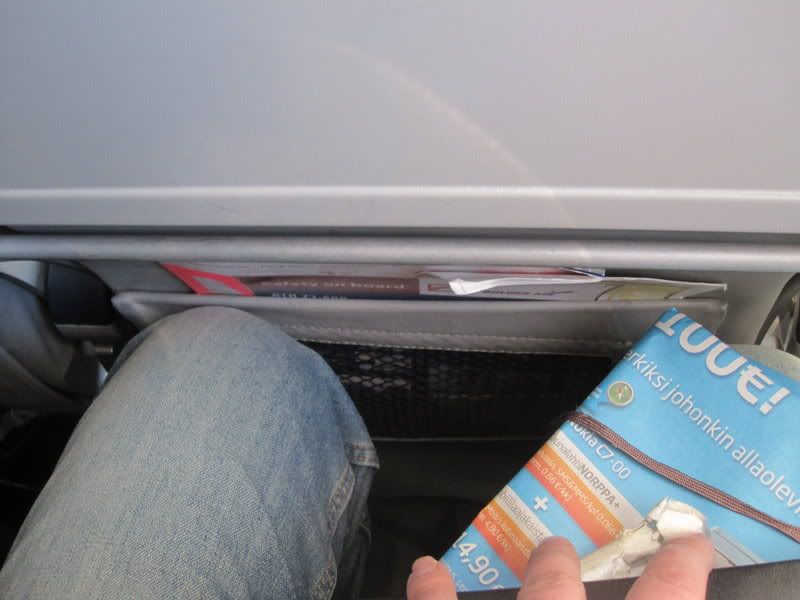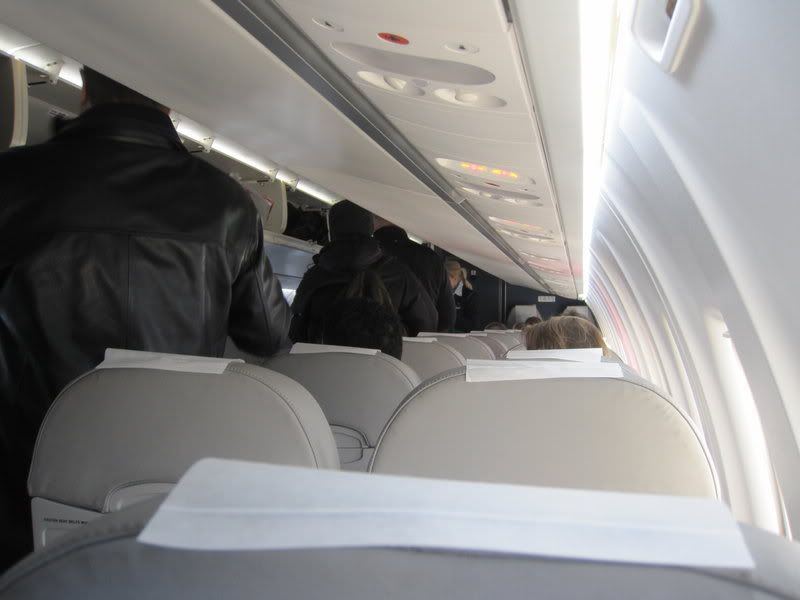 It's not made any better by the fact that I also have a seat mate. The captain announces the passenger load over the PA to be 49 pax with "please seat the special pax at 15D" or something like that. I'm not sure what constitutes a special pax as quite a normal youngish lad is sitting there - maybe he was standing by and the seat assignment was done this way for the usual balancing reasons.
Most of the passengers appear to be either Swedish or Norwegian, some Finns and Estonians and a Dutch couple. I guess the cheap fares KF is offering for connecting flights (including also their domestic destinations in Finland) are luring quite a few transfer pax.
The cockpit crew is Finnish, an older male captain and a female FO - looks like Golden Air has plans to stay around the Finnish market for a while and has (re-)hired their own crew. Two women as cabin crew - the older if Finnish but judging from her Swedish and English the younger one is Swedish, although she speaks excellent Finnish as well.
Flight time is announced as 25 minutes by the captain, who proceeds to give a more detailed then usual description of our flight: "Straight across the gulf to Finland, east of Helsinki to land on runway 22L". Helsinki weather is the same as here, sunny and minus twelve degrees. All announcements refer to the flight as "Blue1 flight operated by Golden Air".
Pushback is five minutes ahead of schedule - on the way we pass the other OV CRJ: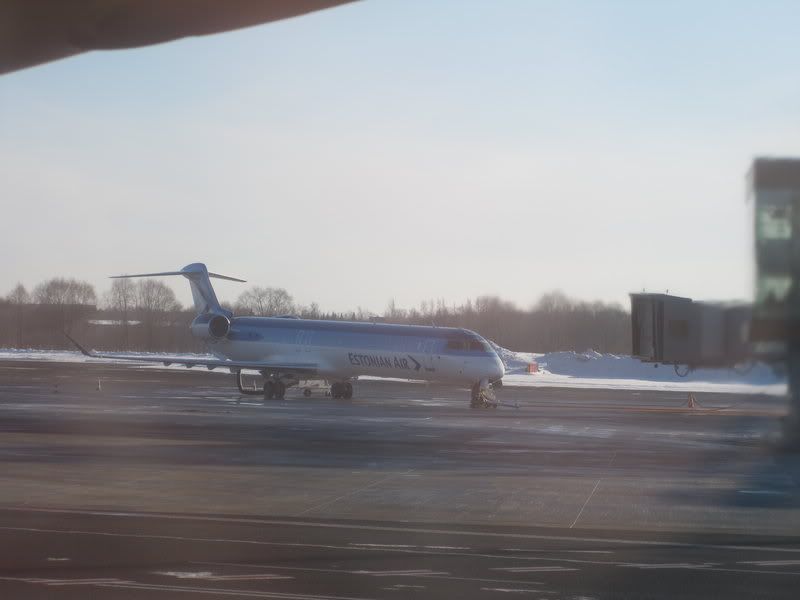 Take off is three minutes later, unfortunately on 08 which means we don't get the pretty views over the old town my side would've otherwise featured. Oh well, I've seen it plenty of times before.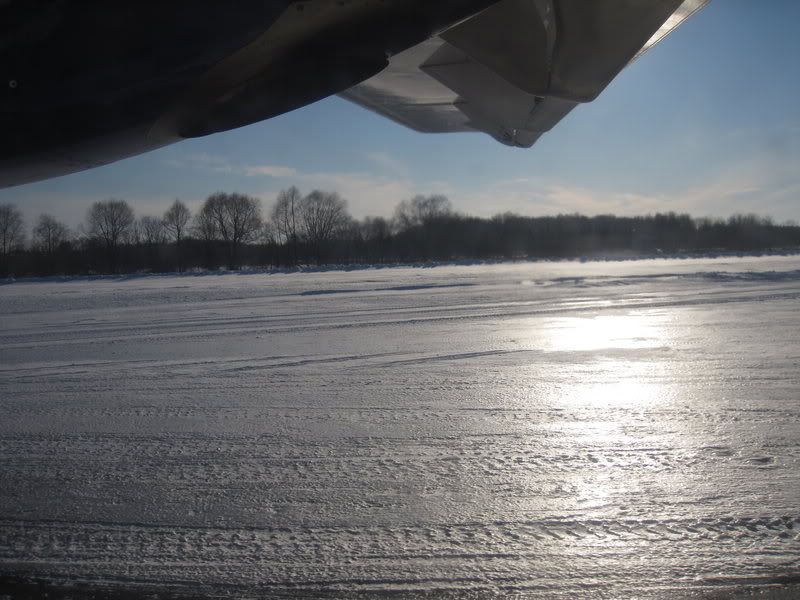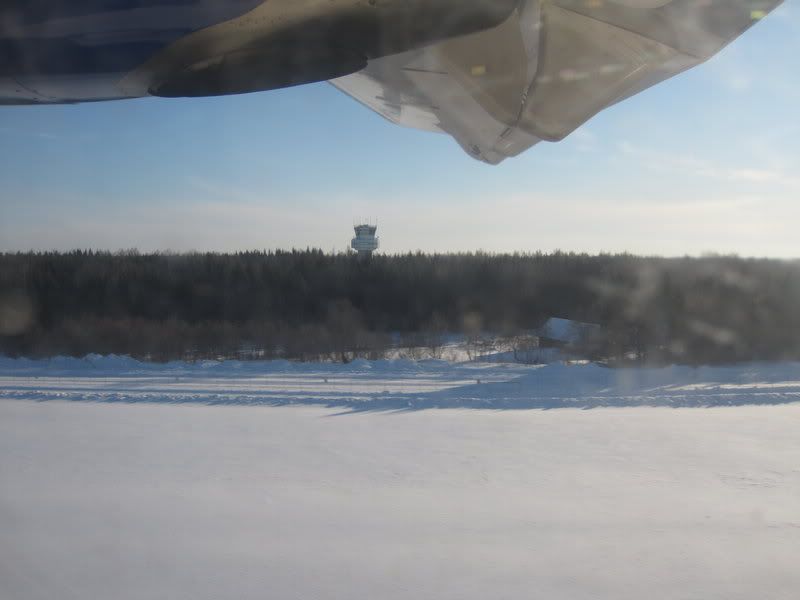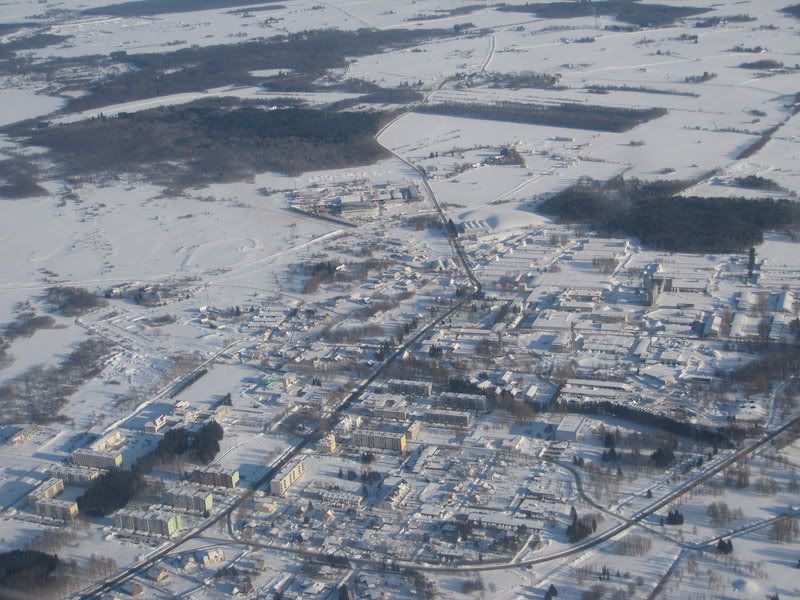 Right after take off we turn left towards Finland. Crossing the Gulf of Finland provides some very scenic views of the frozen sea - we never climb that high and the weather and visibility is excellent: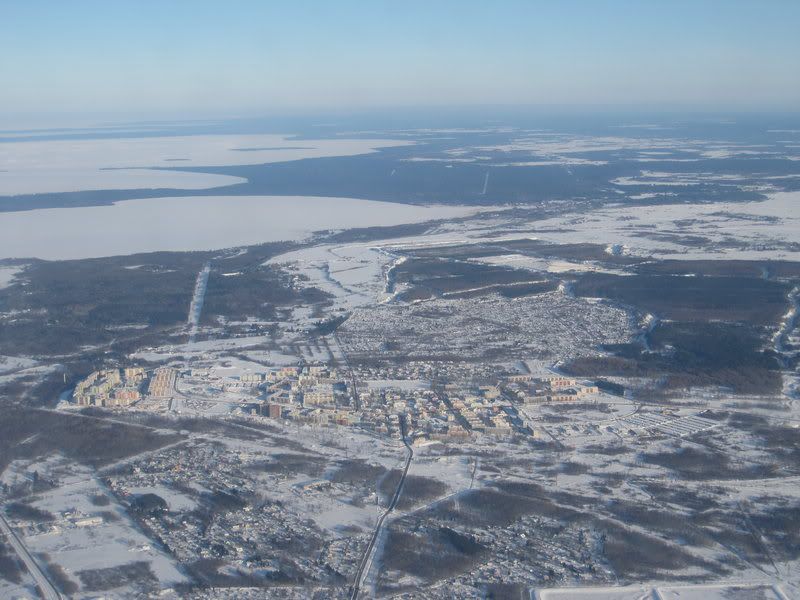 Leaving Estonia over Muuga harbour: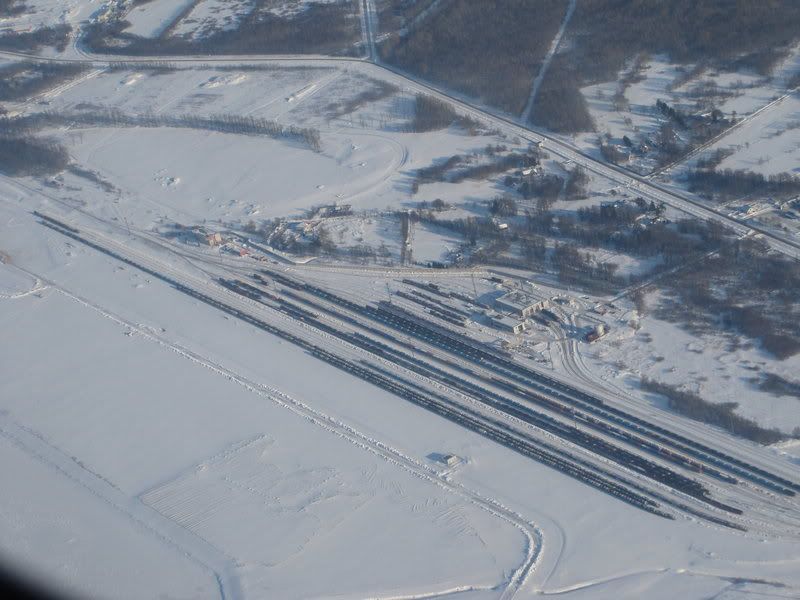 A cargo vessel making its way through the ice heading for the harbour: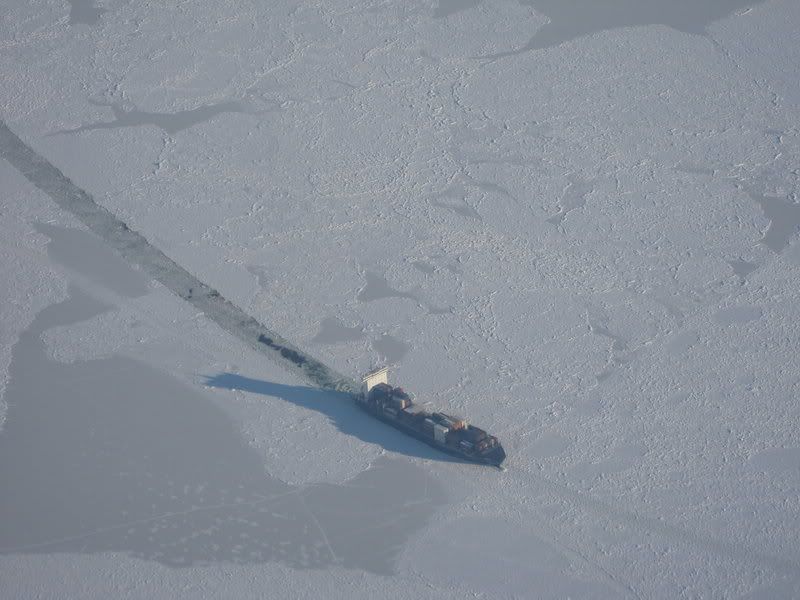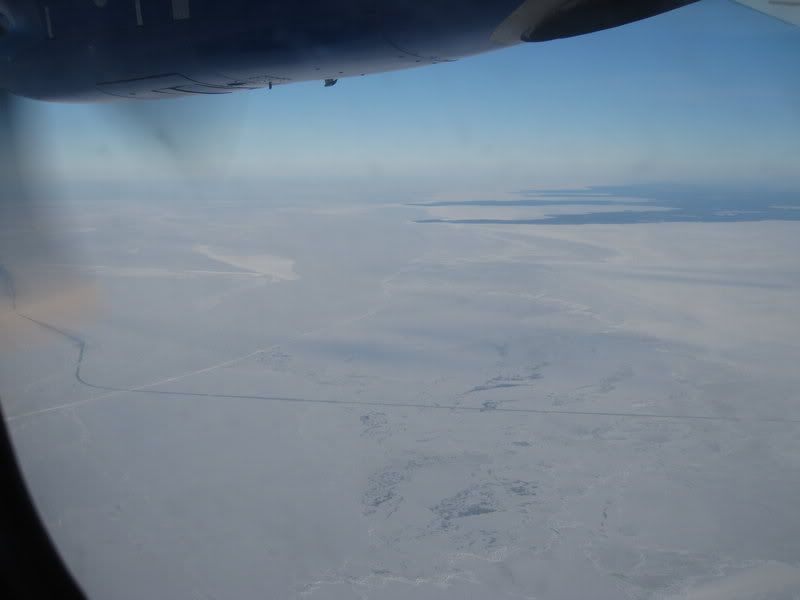 Service consists of a mini Toblerone choc: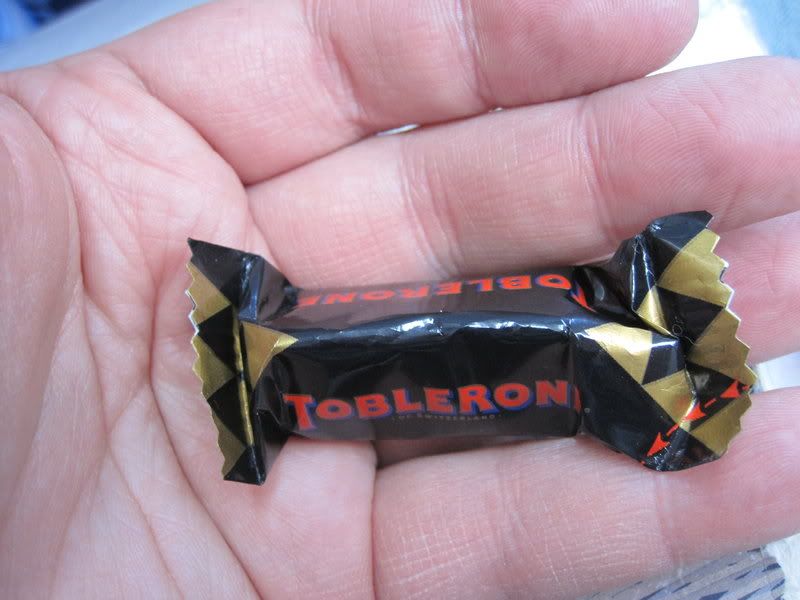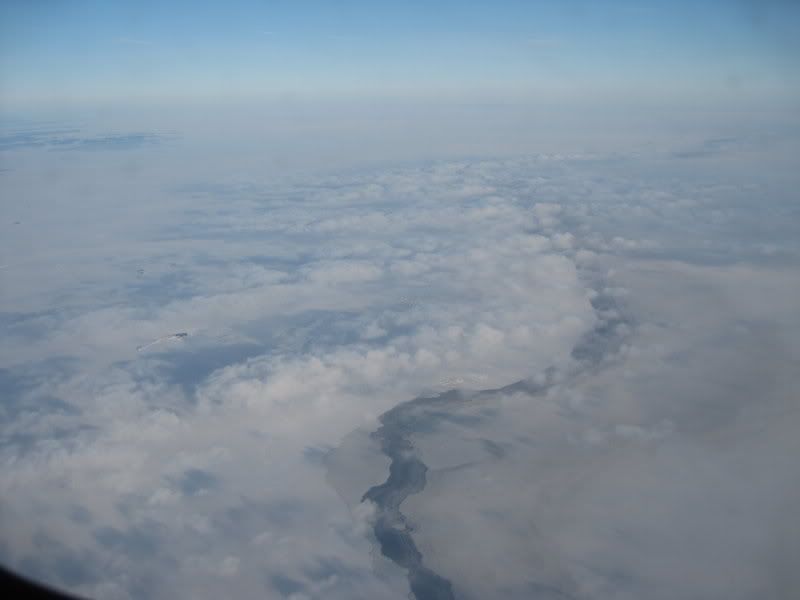 Hello, homeland: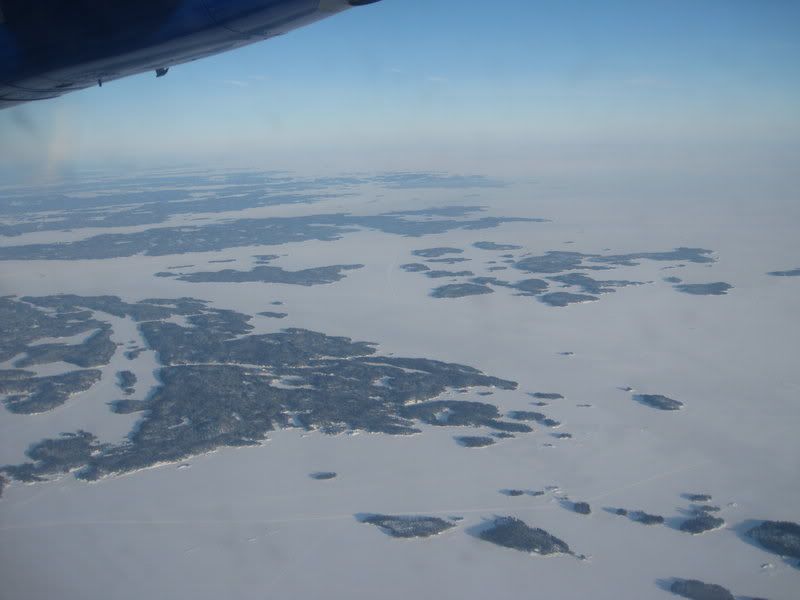 Making landfall to Finland over Kalkkiranta, Sipoo. The facility in the picture is an old Limestone quarry - "Kalkki" being Finnish for (burnt) lime: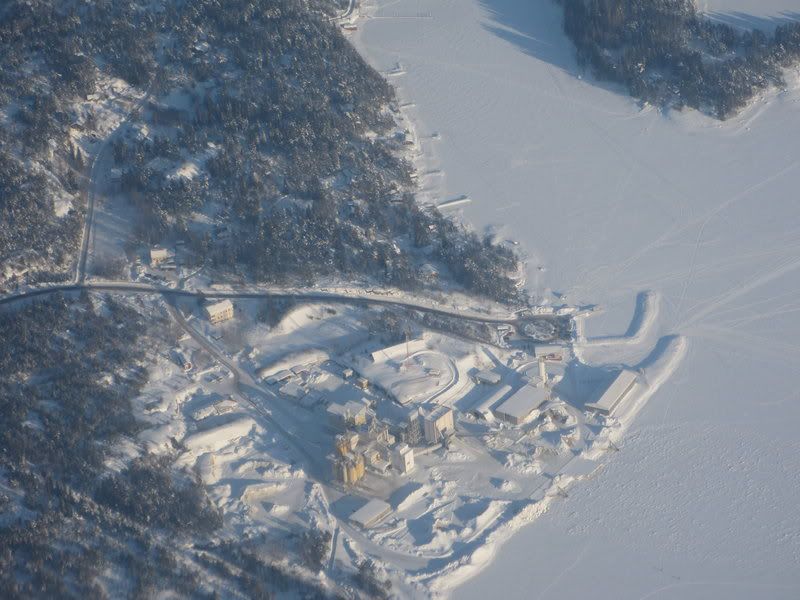 The Neste Oil refinery in Kilpilahti, the biggest one in Finland: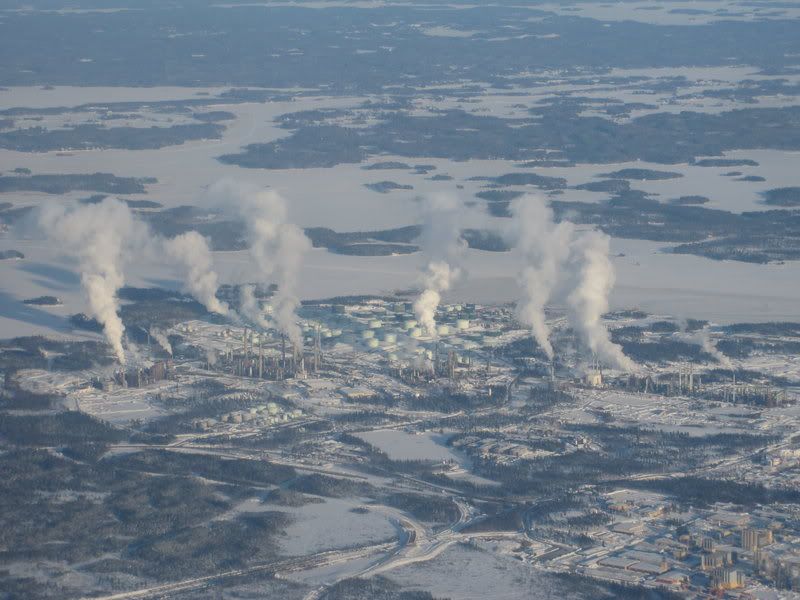 Helsinki-Porvoo motorway: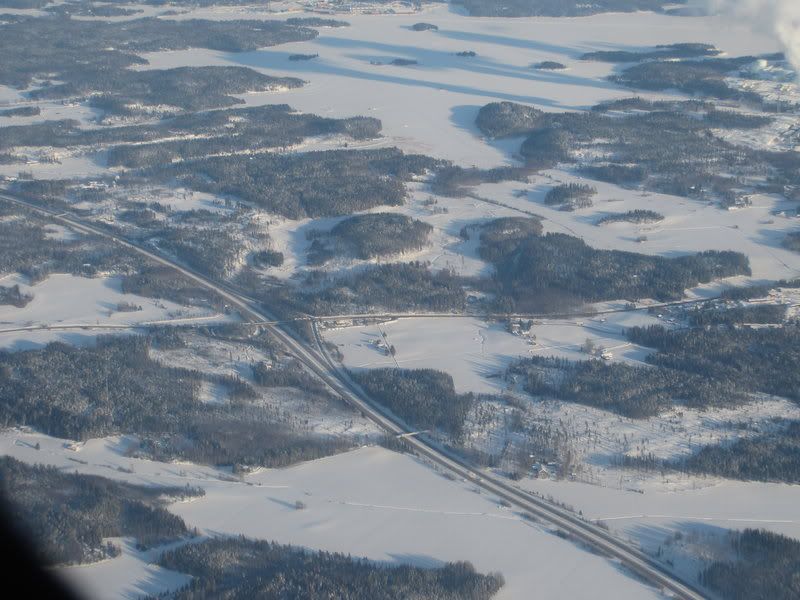 The town of Porvoo in the distance: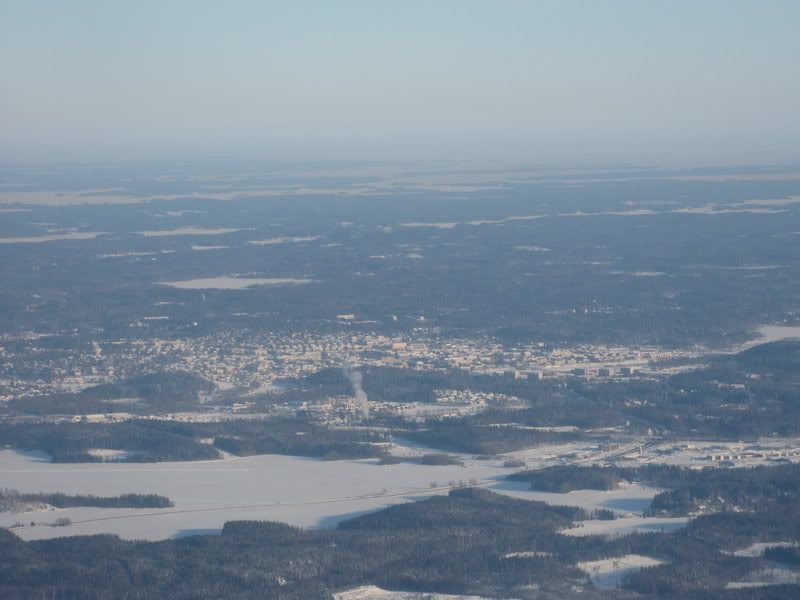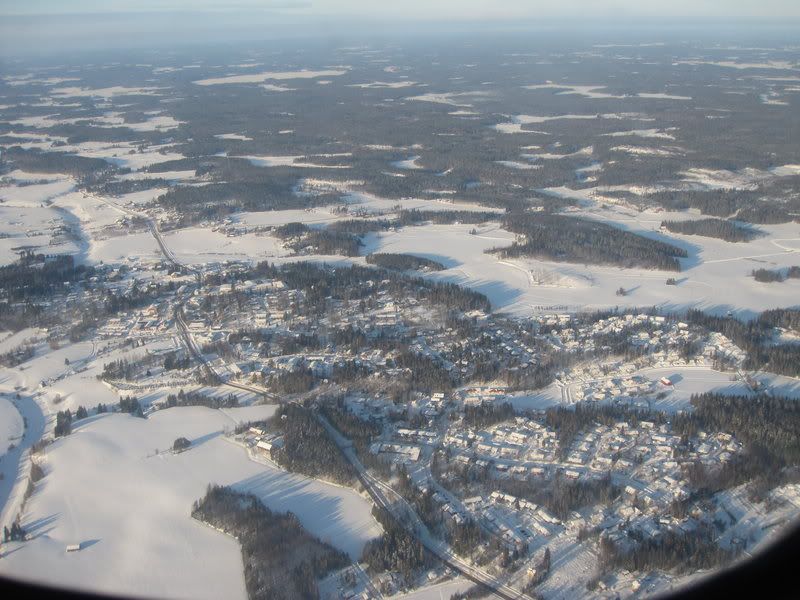 The main trunk railway in Finland splitting in two near Haarajoki: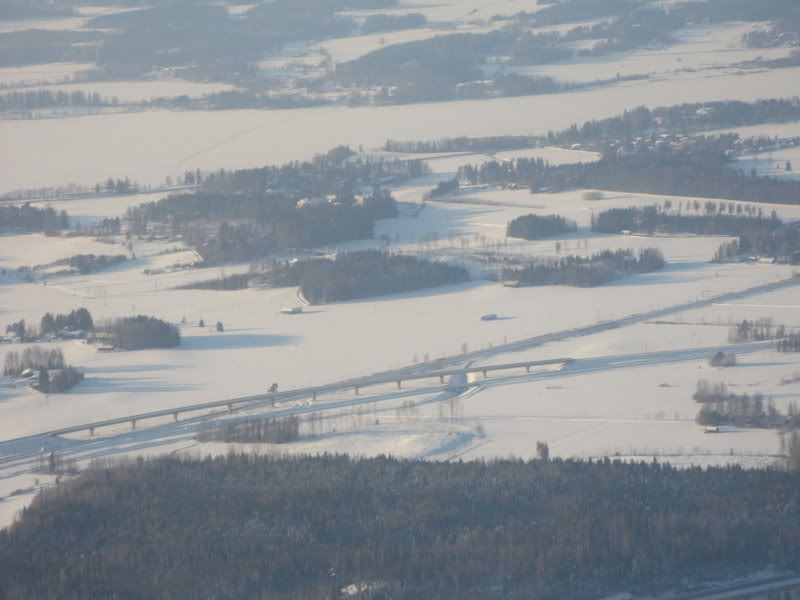 Kerava, the Croydon of Finland: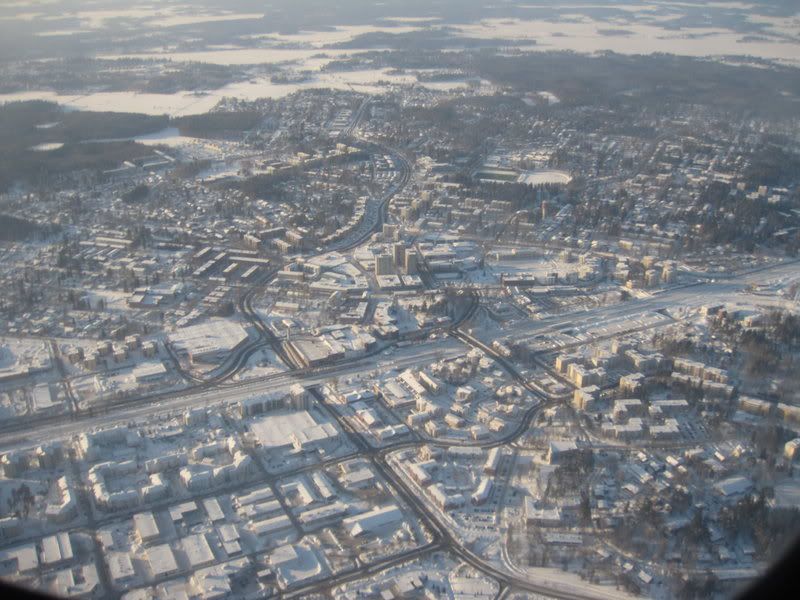 Notice the gear doors: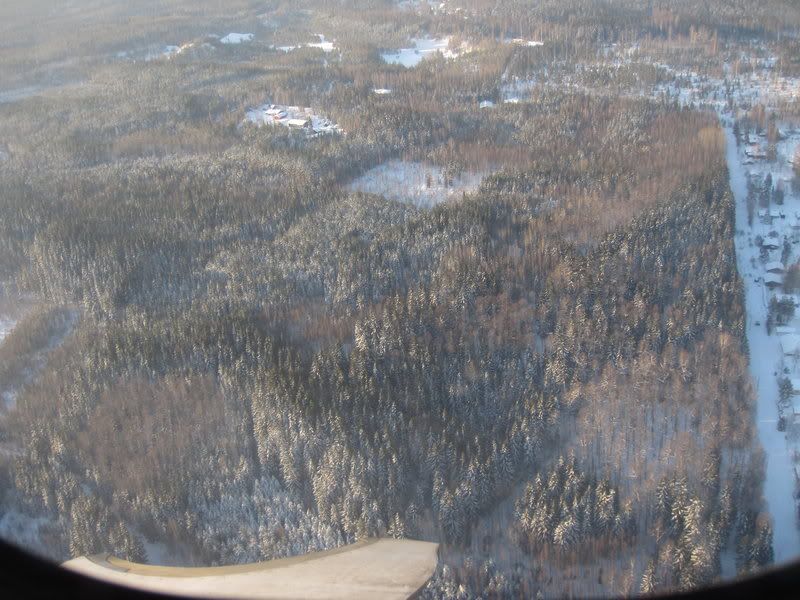 The Helsinki-Tuusula motorway:
Landing is on the promised runway 22L after 24 minutes in the air.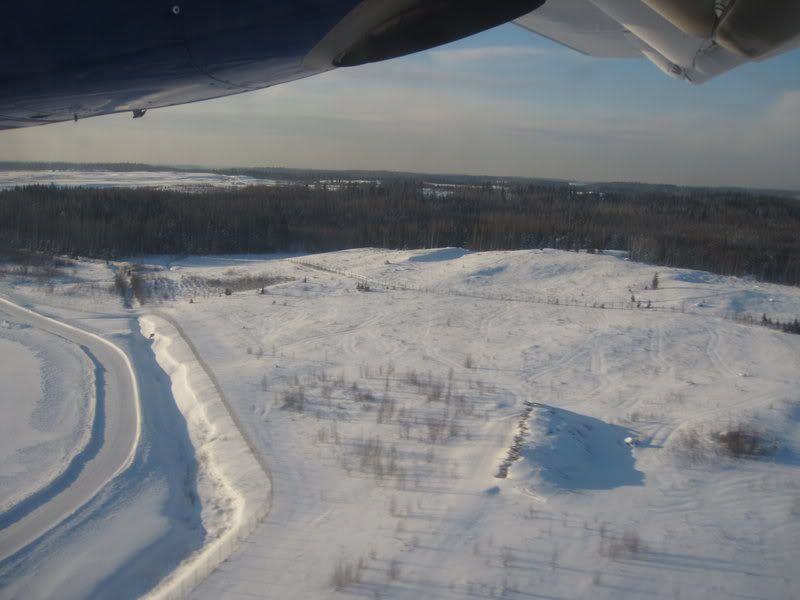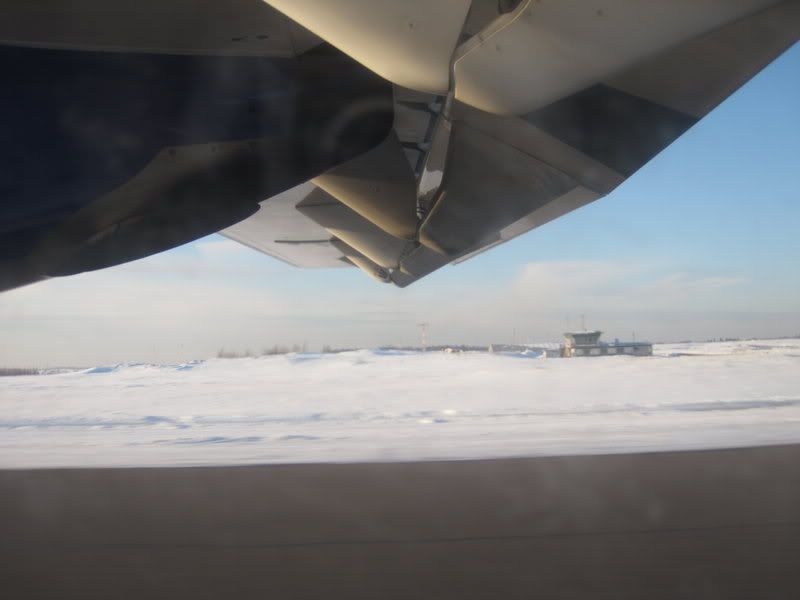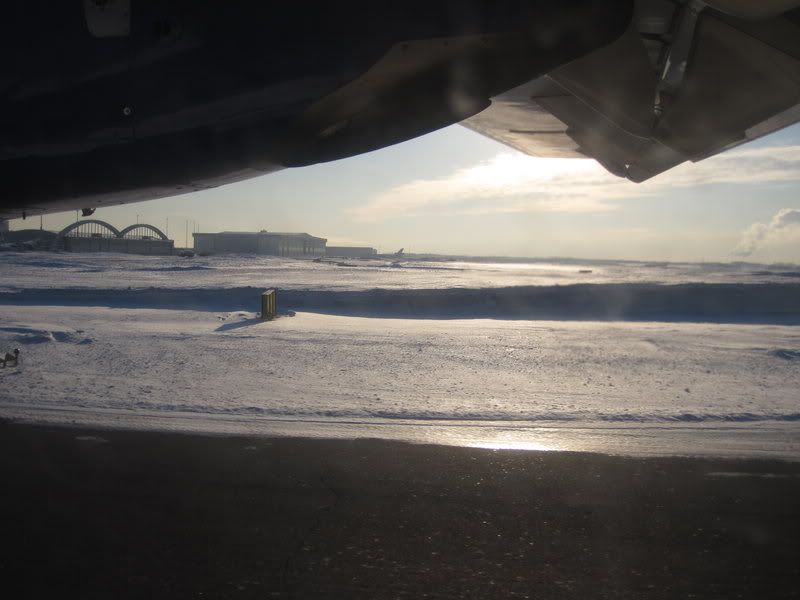 A familiar shape: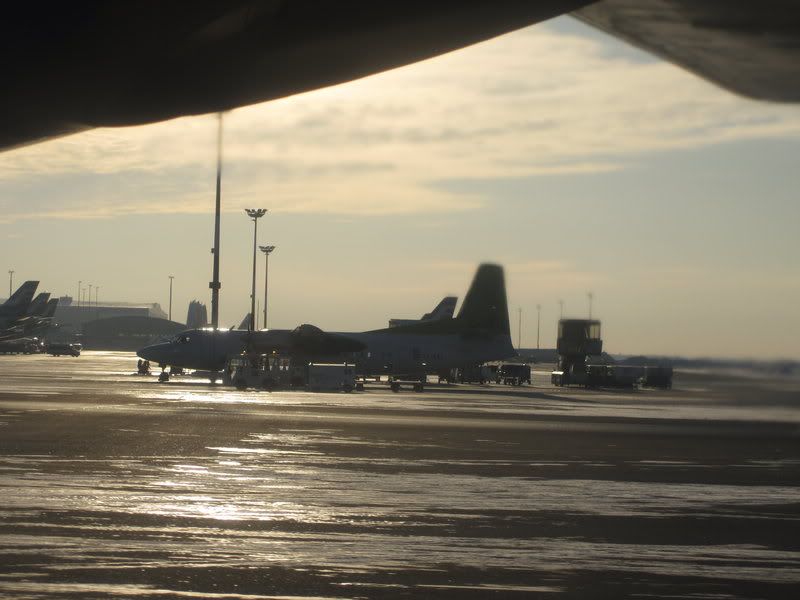 These props park quite far from the main terminal building - today is no exception:
A short bus ride, and for once I'm actually taking the stairs marked "Transfer" instead of taking the exit - it feels a bit weird connecting at your own airport. At least 80% of the other passengers do the same, so yes, this route is definitely working as a feeder flight.
Helsinki-Vantaa Airport
From the bus I saw OH-BLM parked at a gate: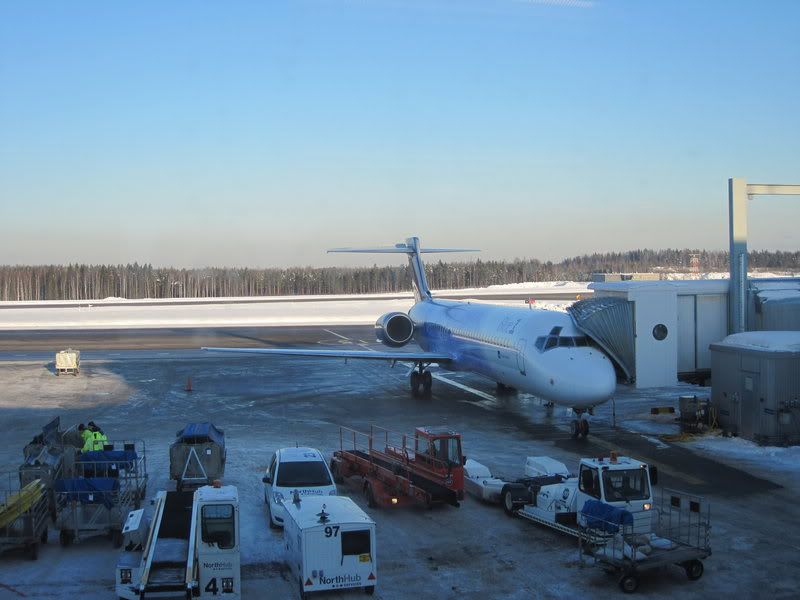 For a while I'm afraid it will be my ride to ARN but from the terminal I see it is departing for OSL instead so at least I won't get that old bird again this time!
T1 is heaving with people - there are tons and tons of Scandinavians and to a lesser extent Finns and other nationalities around. I hit the Seasons restaurant for a beer and fight for a while with the wifi but it seems to be inop of perhaps just overloaded.
By the time I get to the gate this shows up - well, it is KF after all and their less than stellar on time record!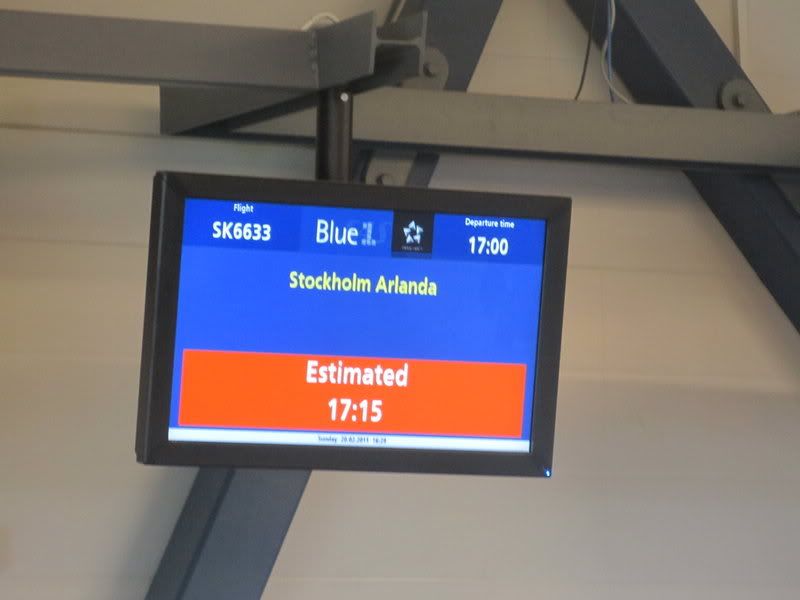 Quite a lot of people in the gate area already. Around 20 minutes before the original departure time I spot the sight of another 717 landing on runway 15 - and figure out this will most probably be my ride: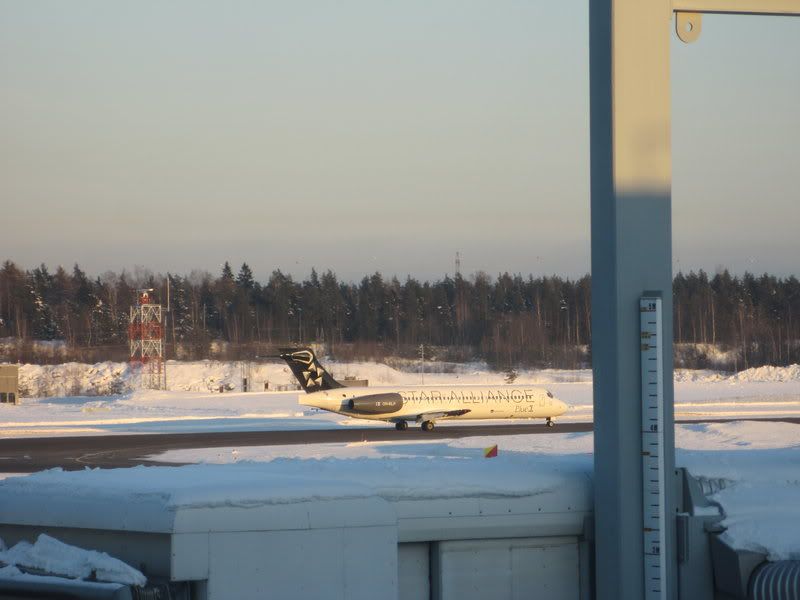 Yes, indeed it is. OH-BLP in Star Alliance colors - no name on this bird. A new one for my log, nice.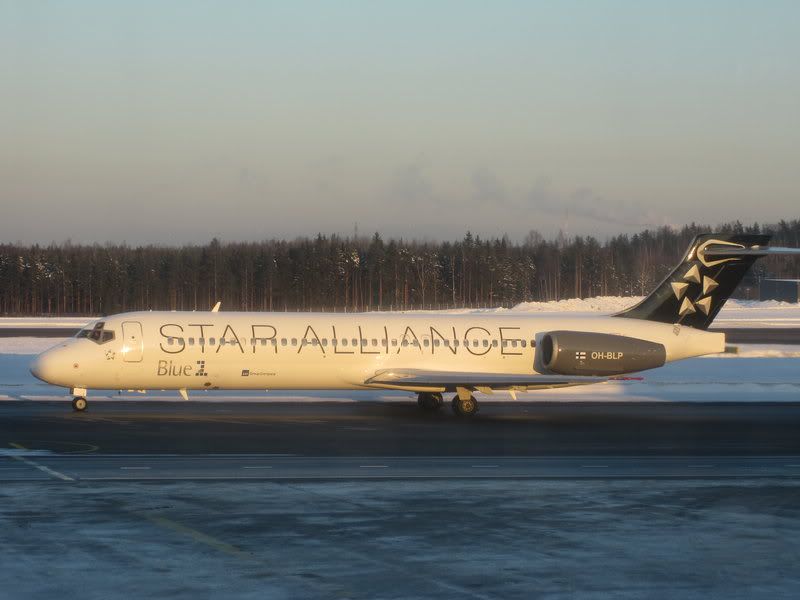 Flying Dutchman passing by: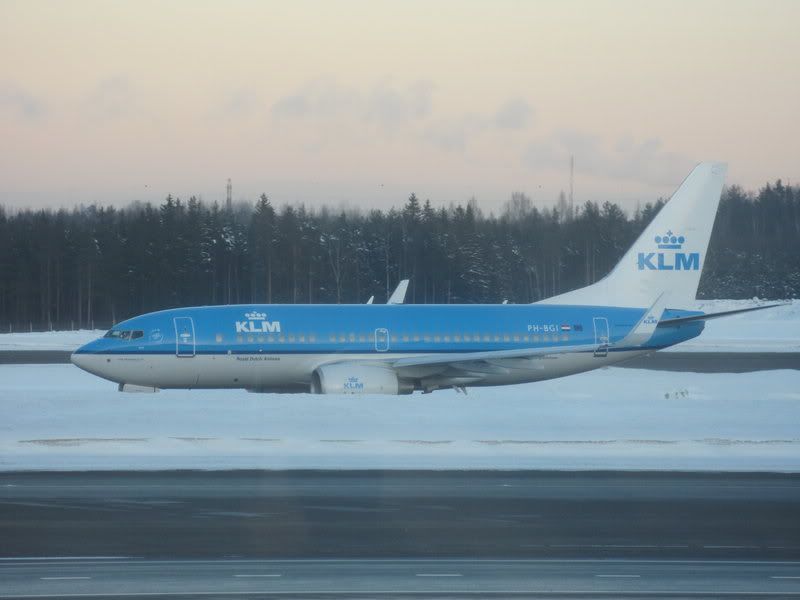 HEL - ARN
KF445
B717 OH-BLP
Seat 19F
17.10 - 16.56
Boarding is called just twenty minutes after the plane arrived. Everybody boards in very good order and quite speedily. The legroom on the back rows is tight: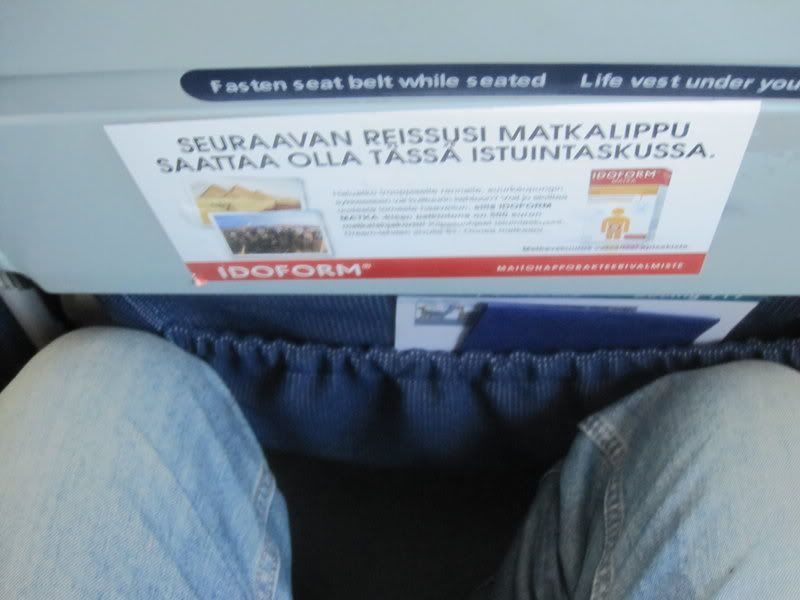 The plane appears to be completely full, so unfortunately I get a large businessman type next to me - a jolly guy though and we agree that we'll survive the 45 minute hop.
Inspecting the wings - apparently there was no frost as they skipped deicing: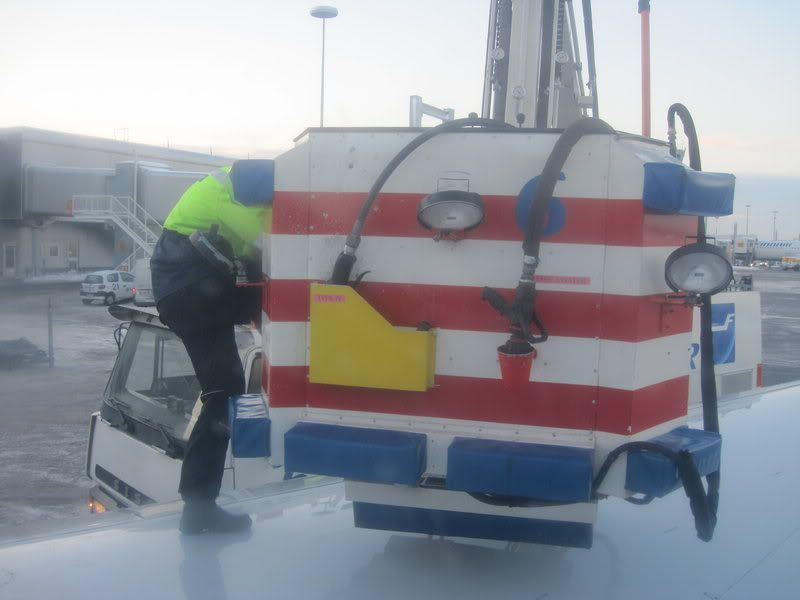 Pushback is only ten minutes late, quite an efficient turnaround I must say.
My previous ride departing again, I guess this time to VAA:
Racing a company Avro: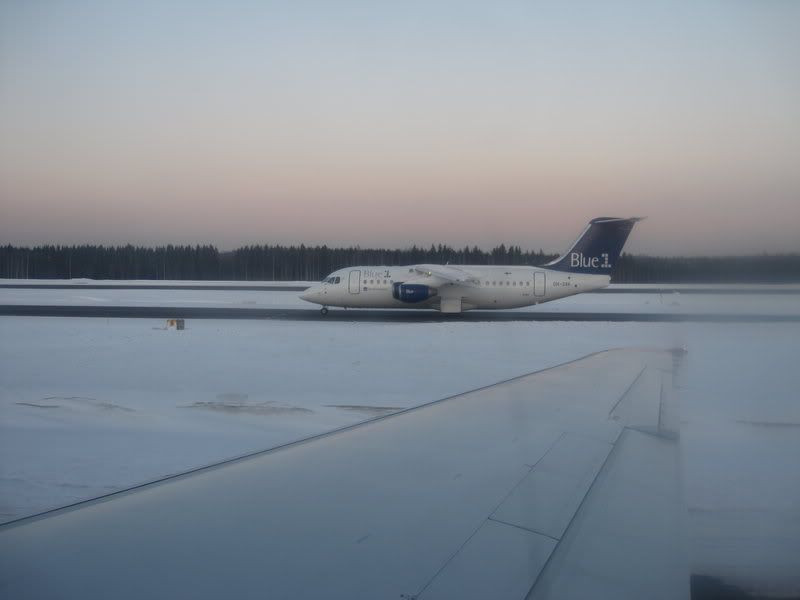 Sorry, mate, we won: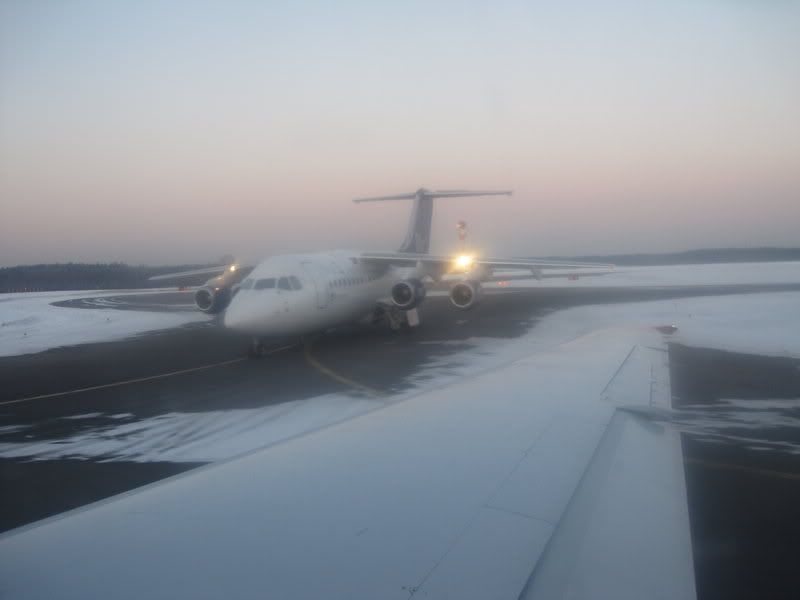 Take off is from 22R nine minutes after pushback: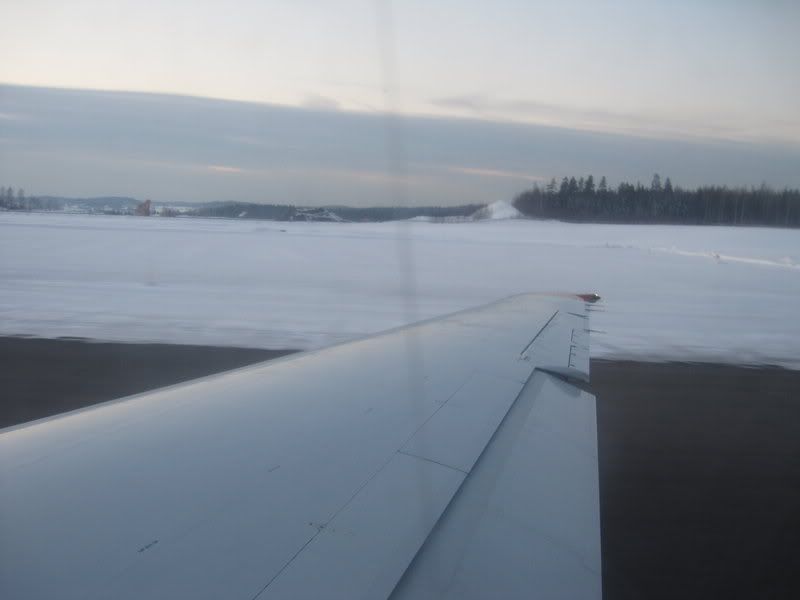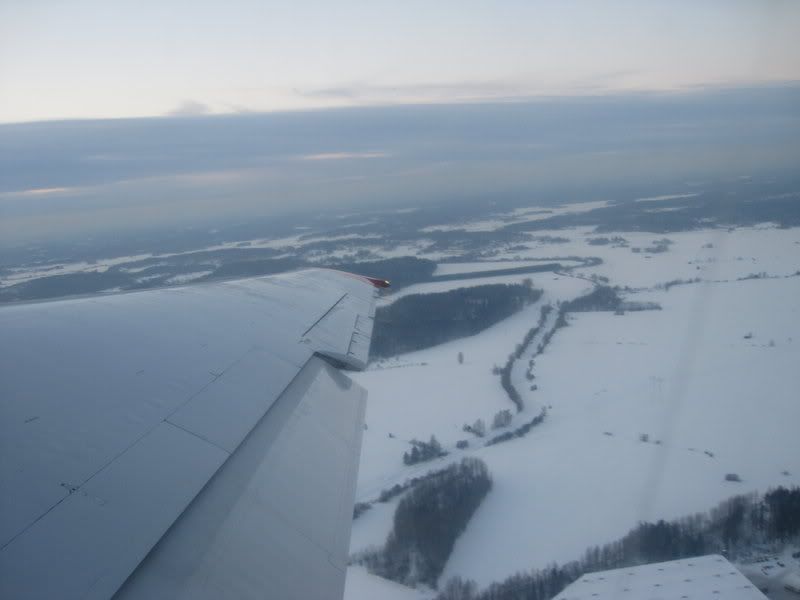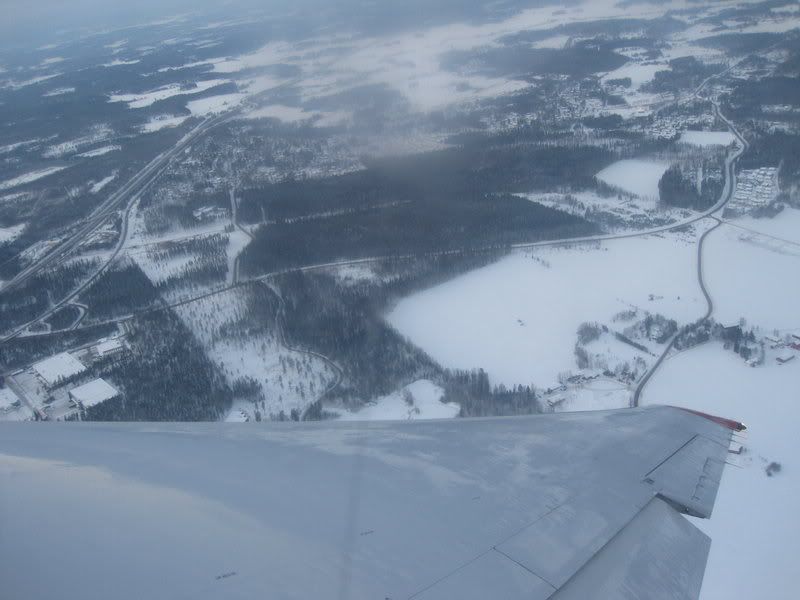 Quite noisy back here with the engine just a few rows behind me: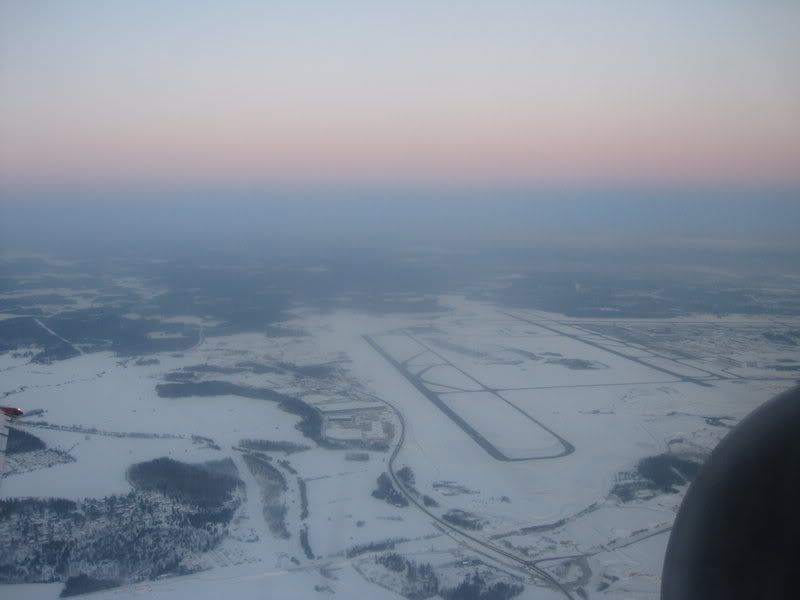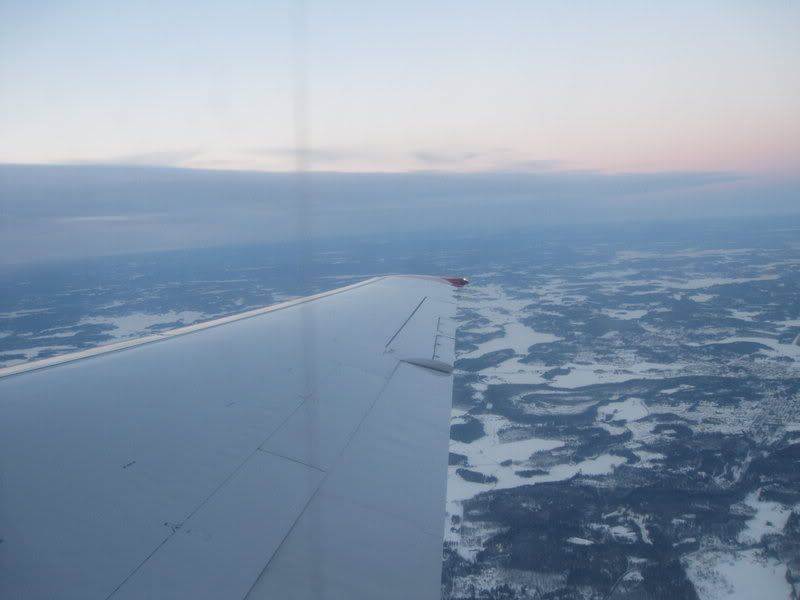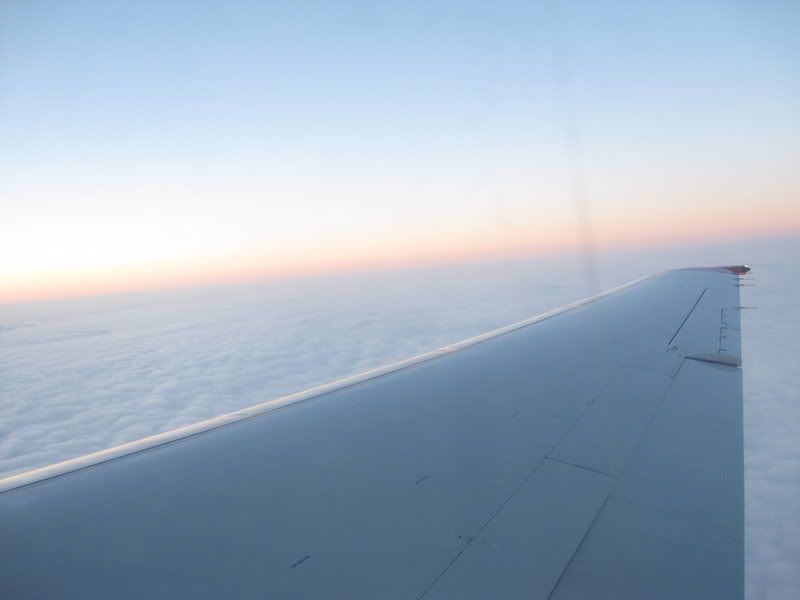 I could really use some coffee, but unfortunately they announce that the water heater is kaputt and only juice and water will be served, so some apple juice it is: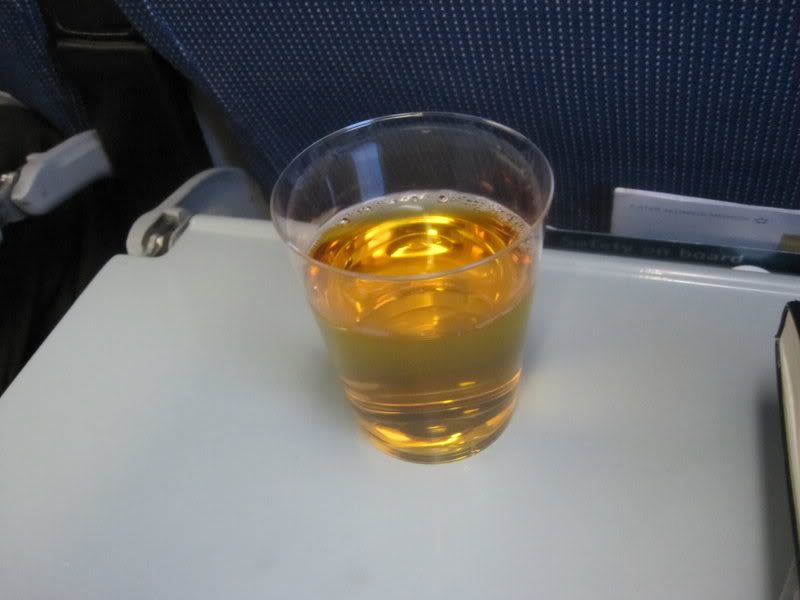 We get a straight in approach and the sun setting ahead of us seems to indicate we are landing on 26 so flight time is a very quick 37 minutes.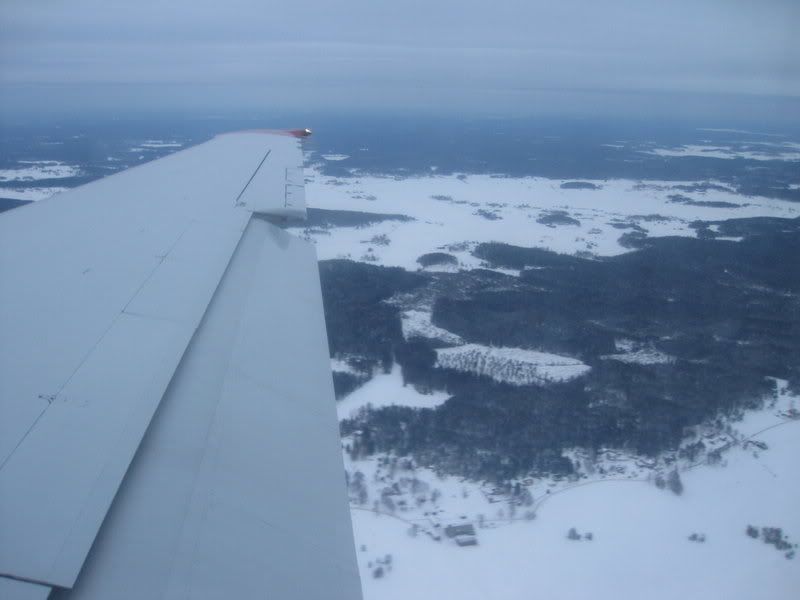 Top