Hi everyone.
This is a TR about a trip to San Diego that took place last November.
The purpose of the trip was for my wife and I to attend a scientific conference taking place in San Diego. Our choices out of Chicago were plentiful. Logic would have suggested to fly with DL (in order to pack up the miles on my SkyMiles account) but their prices were steep and their itineraries were either too boring or too complicated (I wouldn't mind the latter; for example an ORD-CVG-MSP-SAN itinerary would have been superb, but I felt sorry for my poor wife). Eventually, I found a deal with UA which would take us directly to SAN from ORD (and thus make my wife happy) but would involve a stopover at LAX on the way back. This made me particularly happy, as I had never been to LAX before, and in addition I was going to experience a short commuter hop (which I love). This segment was also going to break my previous record for shortest flight (EDI-BHD and JTR-ATH being the shortest flights until then).
The flights were to be operated by UA but they were booked through CO's website in early July. I tried to choose our seats through both CO's and UA's online systems but, even though seat allocation seemed to work at first, every time I went back to check, the seats had been defaulted. After 3 or 4 tries, over a number of days, I gave up. I still have no idea why this didn't work.
The day before the flight (exactly 1 minute after on-line check-in had became available) I tried to get our boarding passes but I was met with a surprise when I found out that instead of boarding passes, we were issued a thing called "Departure Management Card". I tried to look it up at United's website but surprisingly no results came up. Then I tried to look it up on google and I was met with a variety of answers ranging from
"it's nothing, you'll get your guaranteed boarding card at the gate"
to
"you have been put on standby so you can only pray to get on the plane"
. I knew that the truth probably lied somewhere in between but I thought I should call United for clarification. The guy I spoke to on the phone, however, told me to just go to the gate (the DMC allows you to go through security, just like a boarding card does) and that I was going to get a boarding pass there. When I asked him whether we had guaranteed seats, he did not answer directly but told me something along the lines of "a certain percentage of passengers have to be issued DMC for such and such reasons". My inability to understand what he was saying through his thick south asian accent did not allow me to get a full grasp of the situation.
Once at ORD my wife and I headed to a United counter (just in case) in hope that we would perhaps manage to get a boarding pass there. We were concerned that if we were to get our seats at the very last minute at the gate it was very likely that we would be seating separately. Once we reached the check-in desk the guy at the counter said that he could not issue us boarding passes and that we had to be patient and get them at the gate.
We had no luggage to check in so we went ahead and passed through security. Our gate was still largely empty so we sat next to the counter. On a video display above the gate one could see info about our flight and also the names of those under DMC-status, standby status and those waiting for upgrades. 45 mins before scheduled departure no one from United had shown up yet. I decided to leave the gate to buy some food and when I got back I saw my wife talking to one of the United guys who were now at the gate. She managed to get us seats together (bulkhead seats even!) which made us happy.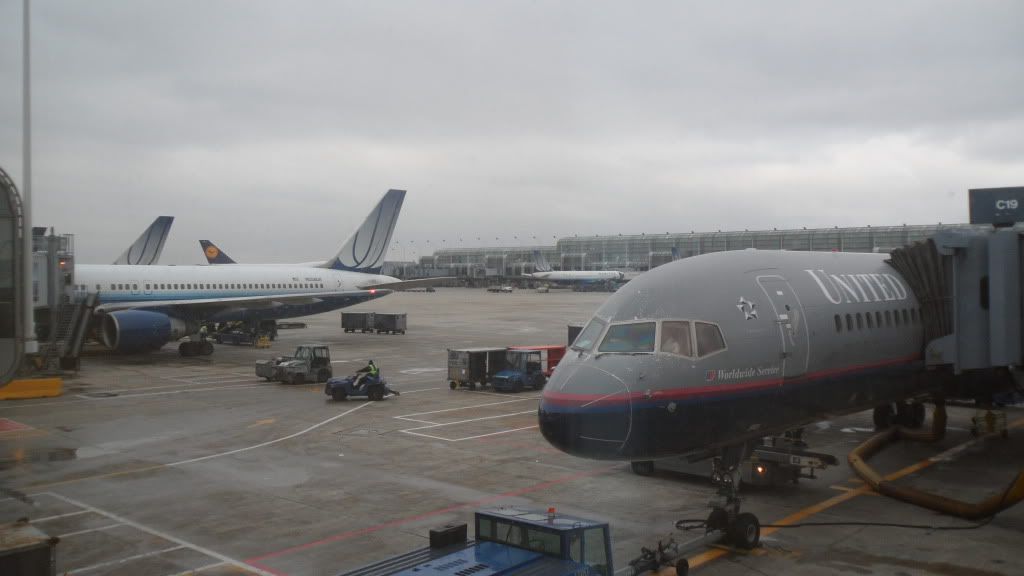 Our 757 aircraft at ORD
Then, soon before we were about to board, we were announced that we should look at our boarding passes and find a number (1-4) which was to determine not only the order in which we will enter the aircraft but also the number of hand-luggage items we would be allowed to take with us. More specifically those with number 4 (i.e. those boarding last)
HAD
to surrender their carry-ons, which I thought was ridiculous. I saw people with priority numbers 1, 2 and 3 taking as many as 3 items with them, or sometimes 2 clearly oversize ones, yet I (having been assigned a boarding card with number 4) had to surrender my relatively small carry-on which contained items that I could not separate from. I had bought my ticket 5 months in advance, I was one of the very first to try check in online the day before, yet I end up with a No4 boarding pass and a crappy deal. Not the end of the world, but sure kind of annoying. As everyone here is aware, the decision by most airlines to charge for checked-in luggage has created this new culture of cut-throat passengers who can single-handedly take up huge amounts of space in overhead compartments and thus cause stress and discomfort to all the rest who are considerate and pack according to the rules. I gave my wife some of the important items to put in her bag (she had a No3 boarding pass and could therefore take them with her) and I surrendered my carry on at the gate.
The flight was nothing to write home about, I would not have included it in the TR if it wasn't for the DMC and the peculiar carry-on situation. Snacks and drinks were served shortly after take off and a movie was shown on the overhead monitors but I decided to not watch it. Instead, and due to the lack of a normal-sized window, I spent most of the time reading my book or talking to my wife.
Plenty of room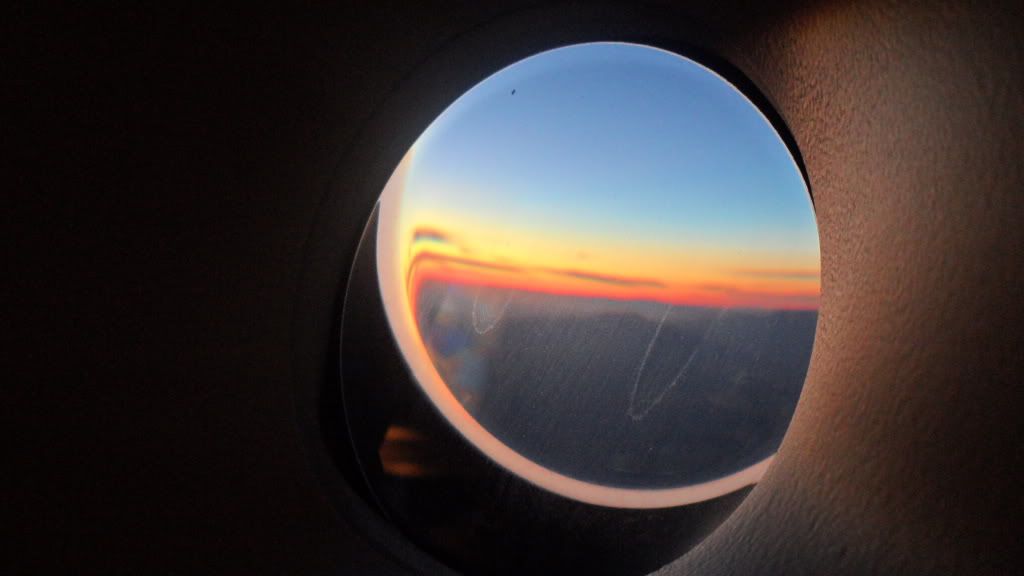 My tiny window
The overhead monitor
Once at SAN we waited to pick up the luggage that I had to surrender at ORD and then headed out to grab a taxi. We stayed at the Gaslamp District Marriott in the historic Gaslamp area of downtown.
Views from our hotel room: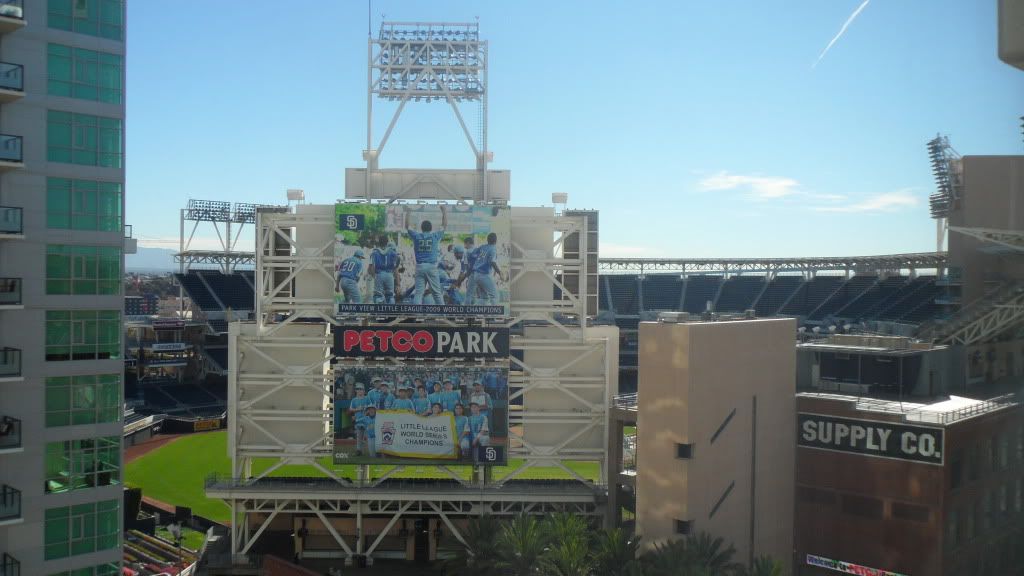 on one side the PETCO Park, home of the San Diego Padres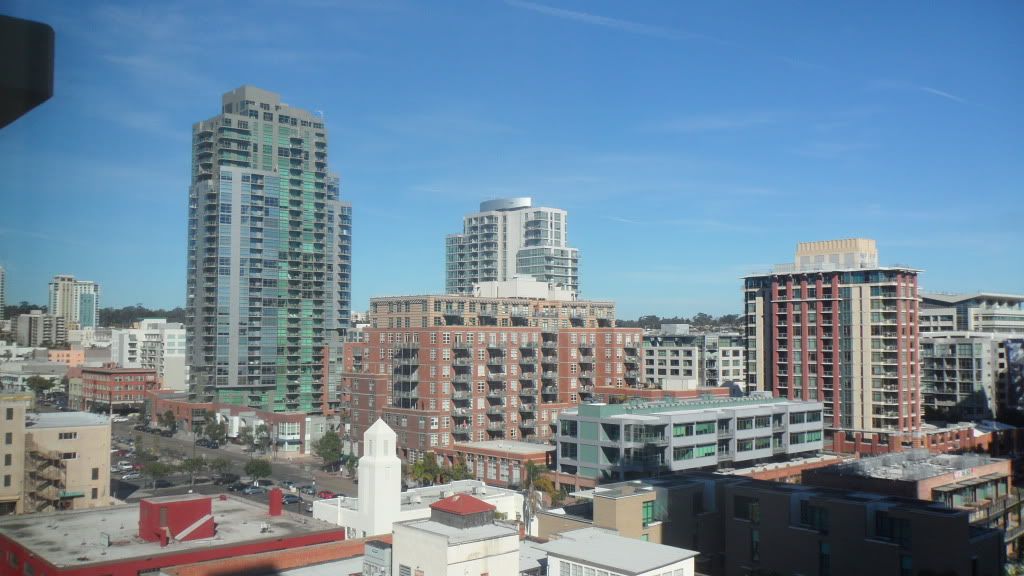 and on the other side, the east part of the Gaslamp District
The 5 days at San Diego went by pretty fast. In our time away from the conference (which was taking place at the San Diego Convention Center) we explored the town (Gaslamp, Balboa Park, the harbor) and on one occasion decided to take the boat and go across the bay to Coronado. To go there we used the water taxi that leaves right in front of the Convention Center but on the way back we hoped onto the bigger boat that arrives at W.Braodway street downtown.
Some photos of San Diego and Coronado.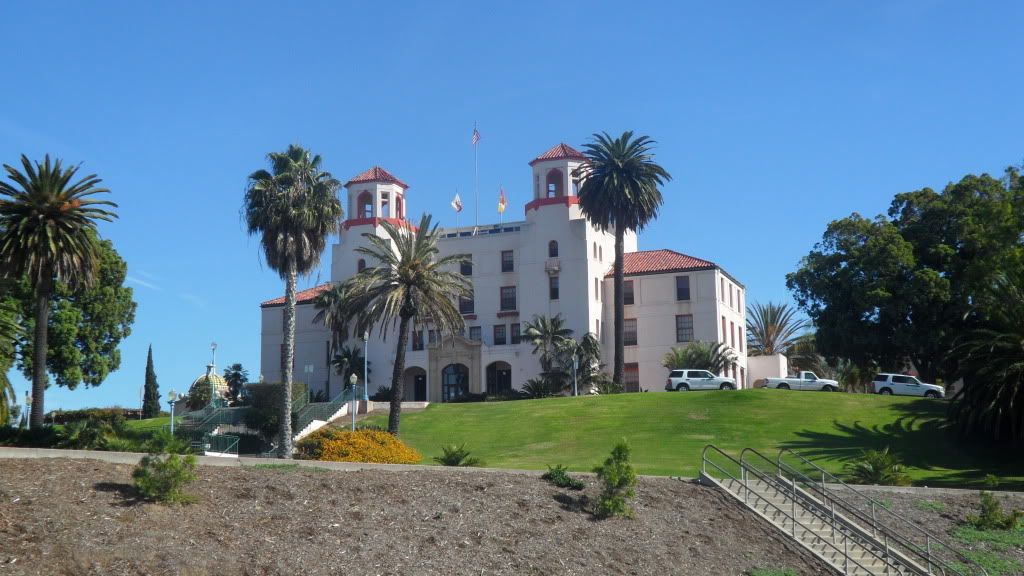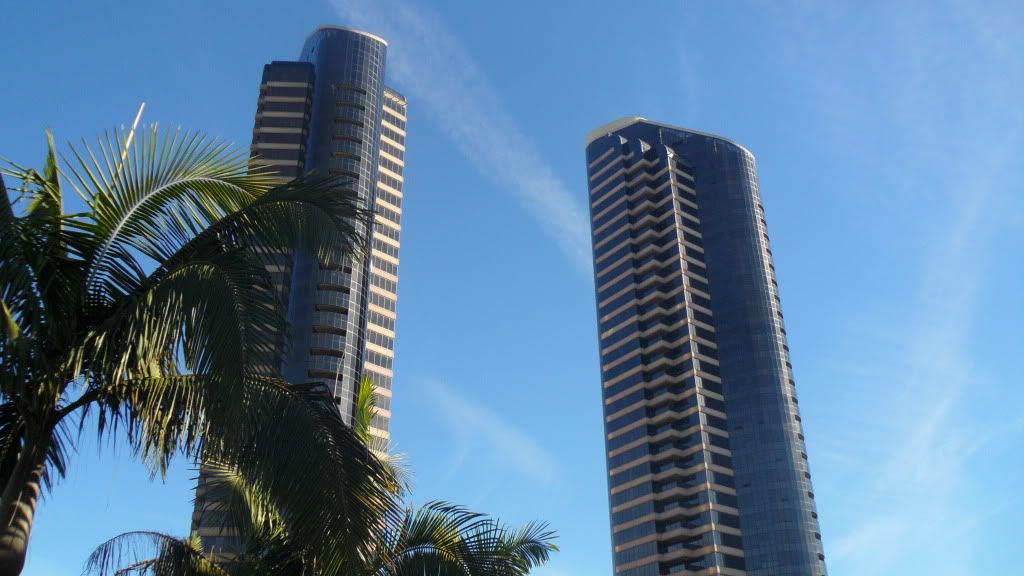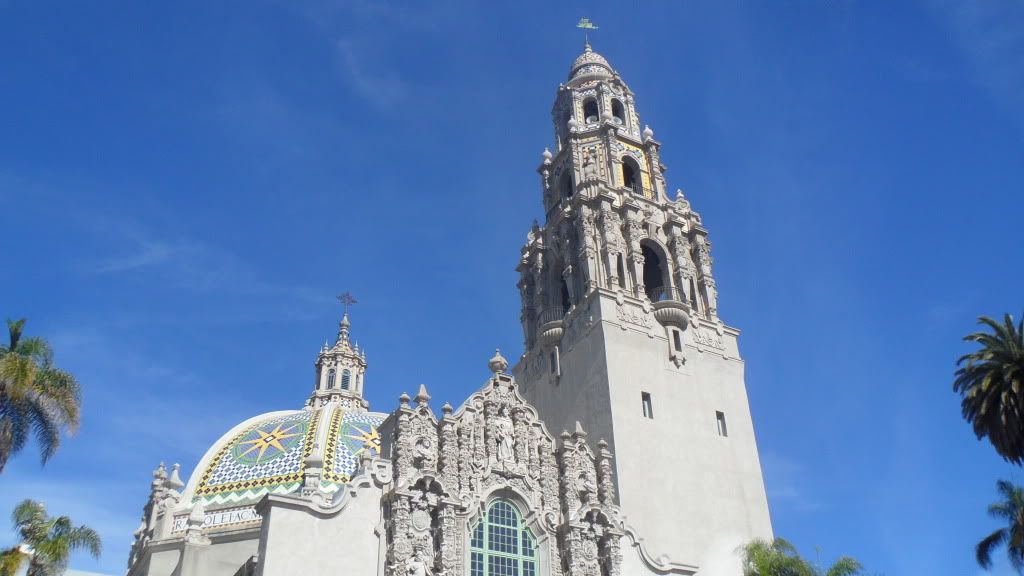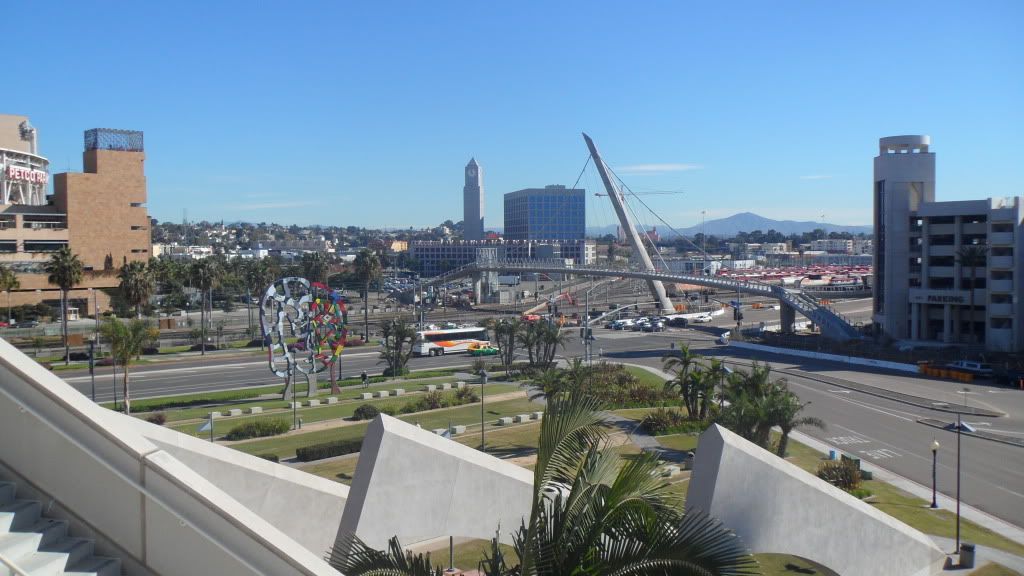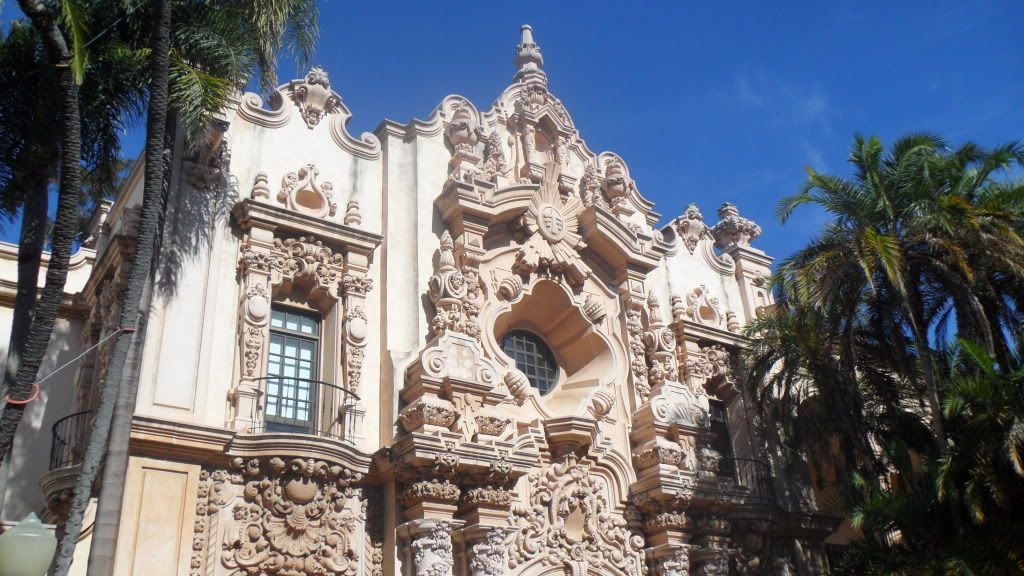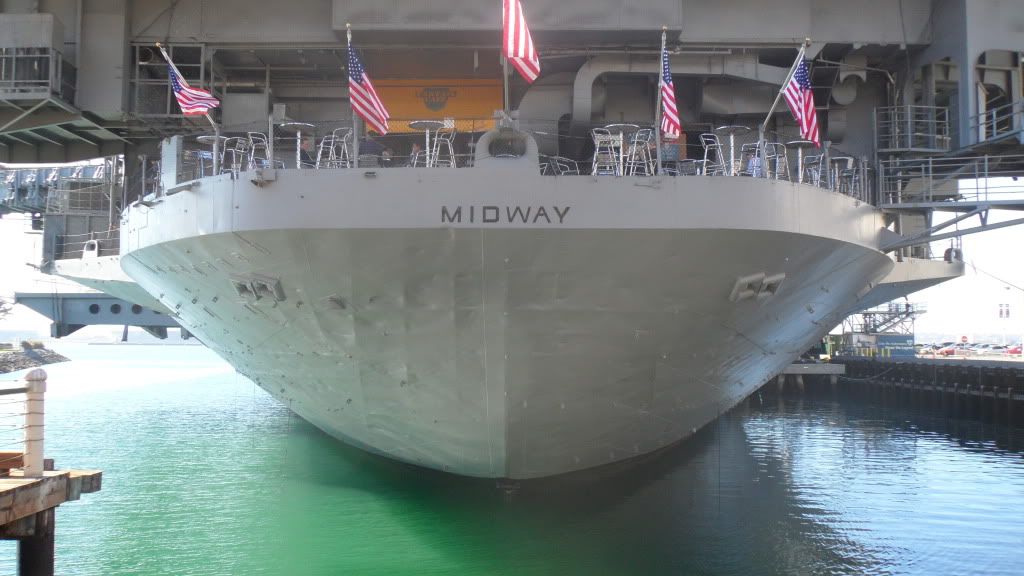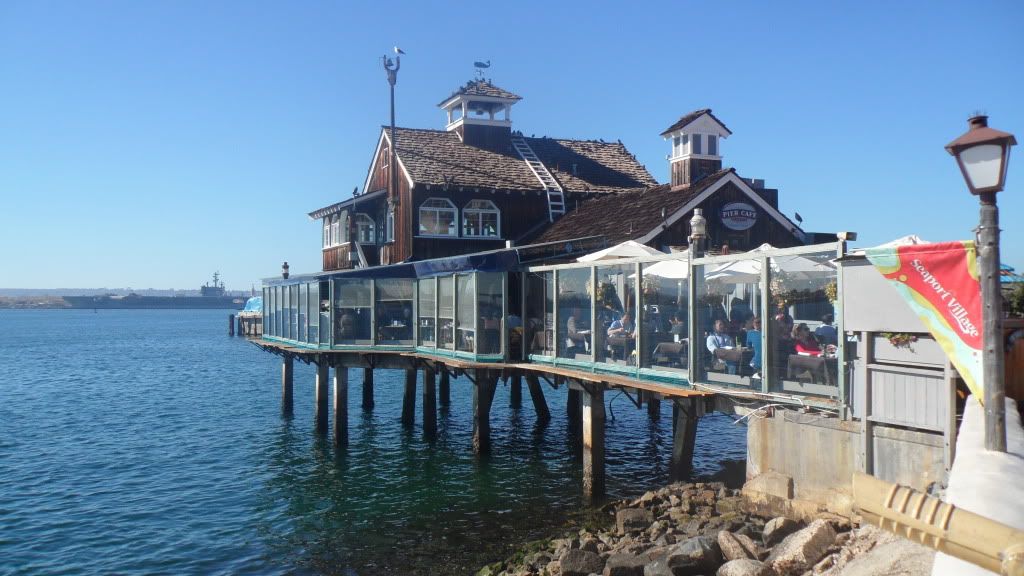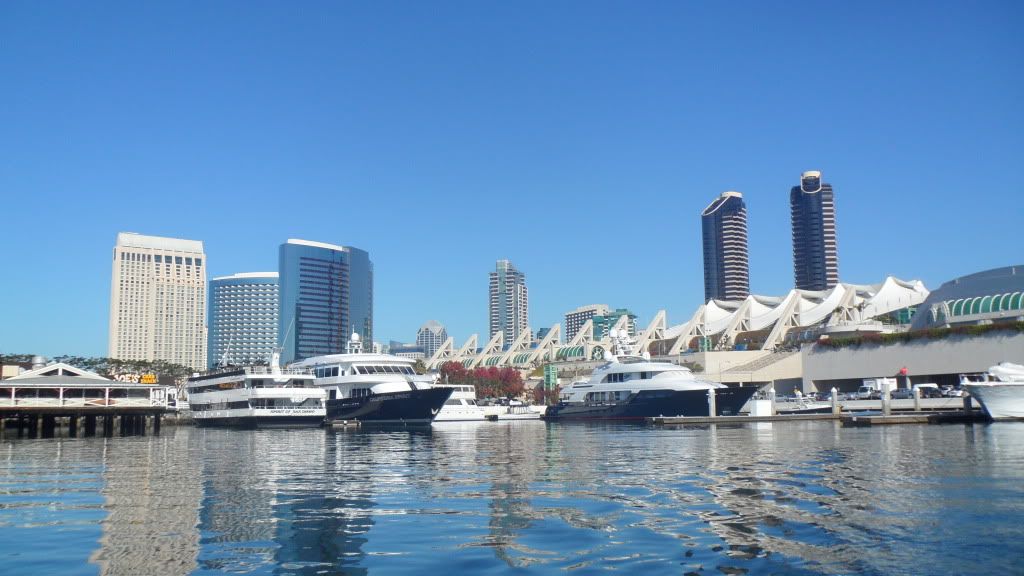 View of downtown from inside the water taxi en-route to Coronado
Downtown as seen from Coronado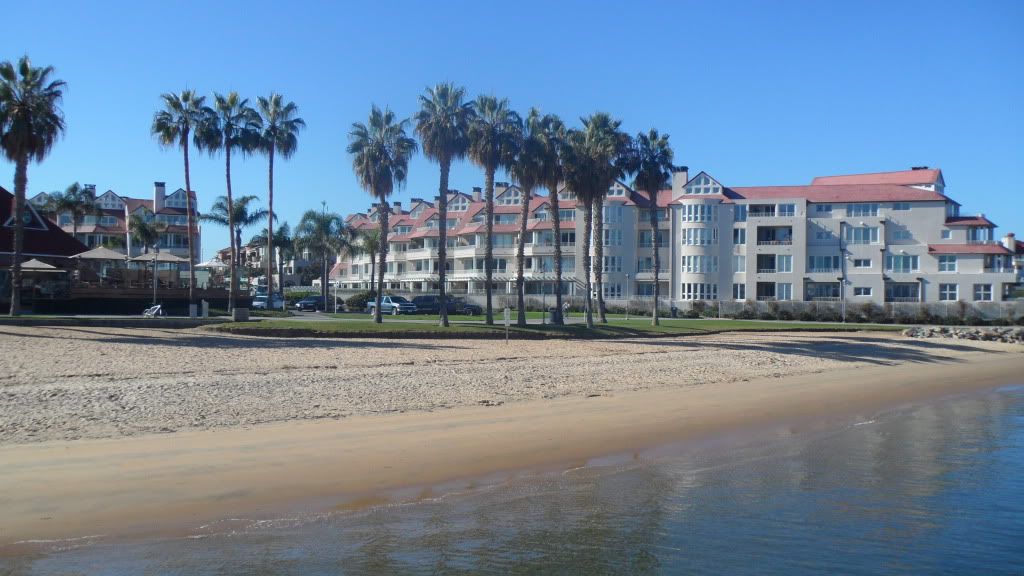 Arriving at Coronado
The famous Hotel Del Coronado as seen from the beach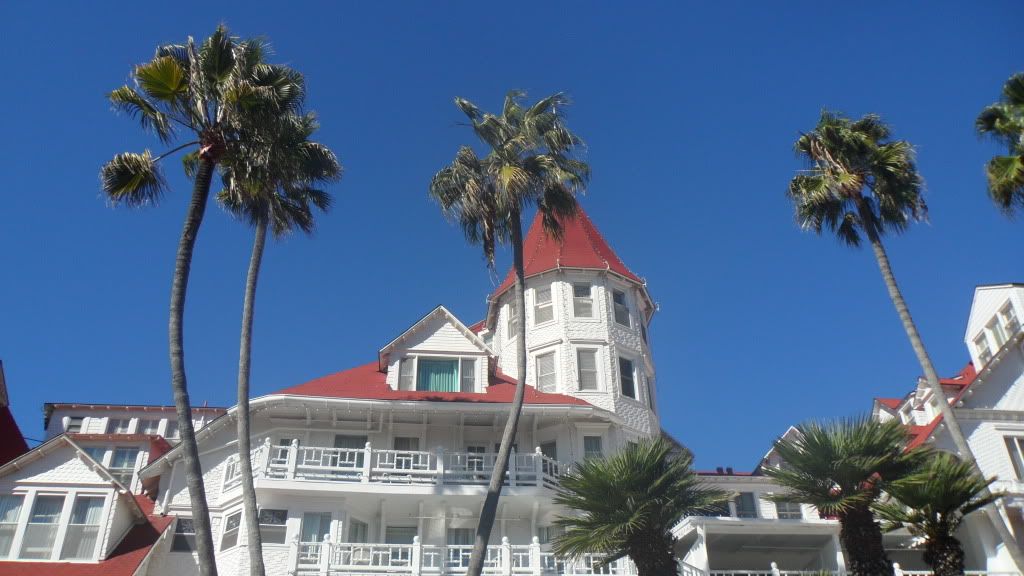 ...and from up and close
Inside the boat taking us back to San Diego
An interesting thing about San Diego is the very low final approaches that incoming aircraft have to make over downtown before landing at SAN. Because of this, SAN is often included in the list of the top 10 most challenging airports for pilots alongside the likes of SXM, SBH, TGU and GIB.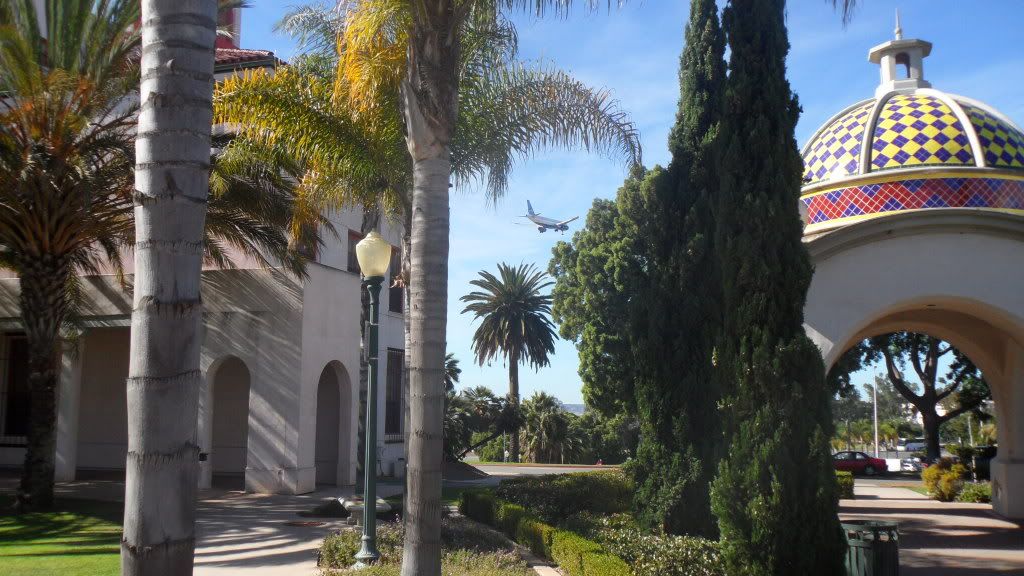 A spectacular approach over Balboa Park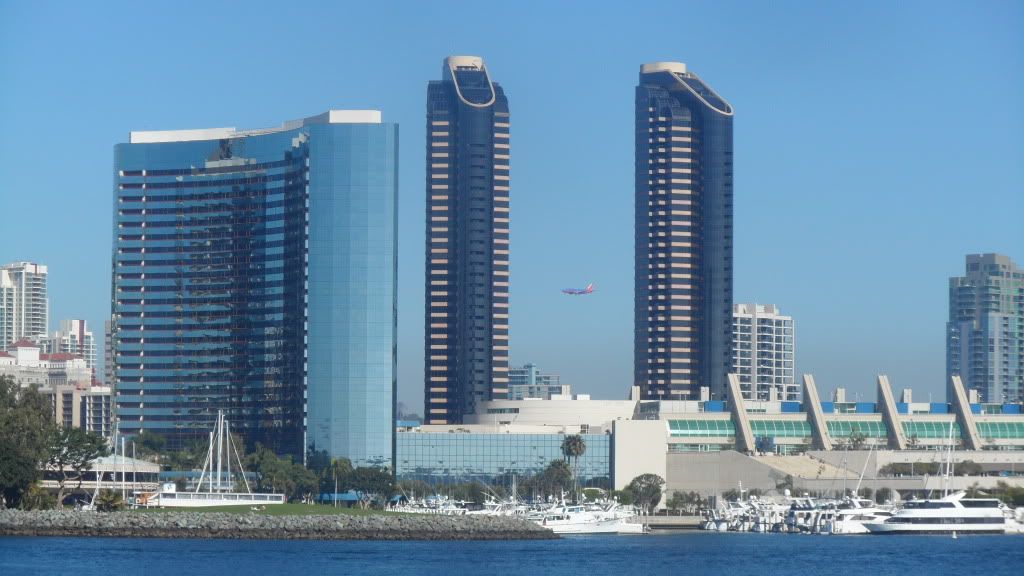 Another spectacular low approach over downtown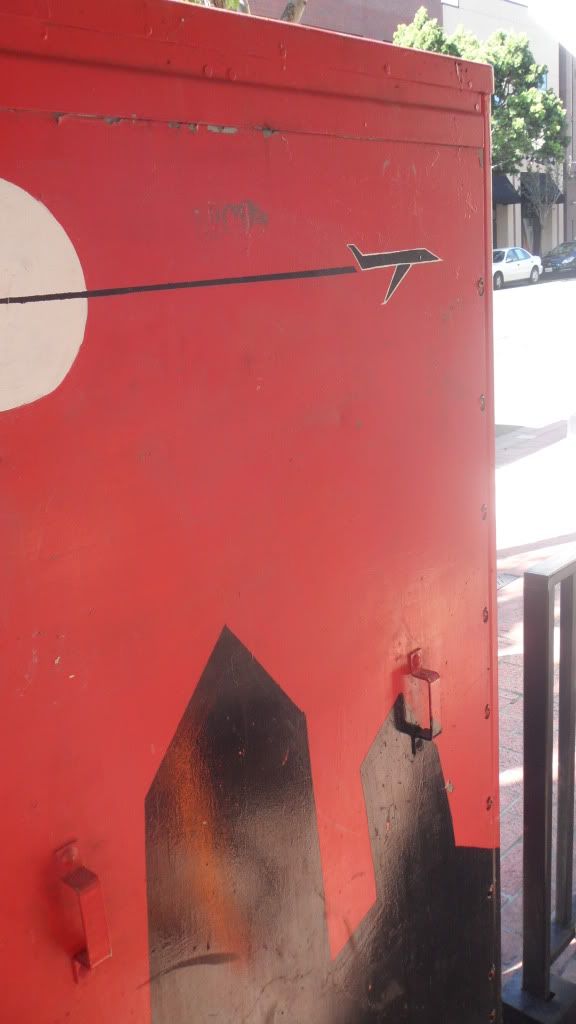 An interesting aviation-related graffiti next to my seat at a sushi restaurant. It is no doubt inspired by SAN's reputation for low approaches over downtown.
As I mentioned earlier, the return leg involved a short stopover at LAX. My wife and I grabbed a cab and asked the driver to take us to the airport. Just before we were about to get there the taxi driver suddenly asks us whether we were flying to LA or not. When we said yes, the guy took a sharp turn and took us to a building right next to the main terminal, which I was informed was the commuter terminal where all the flights to LA were departing from. The building is rather small and has the feel of a small regional airport.
Once there we headed for the check-in counters where we were issued (yet again) a DMC, even though it was only 2 hours before departure time. I understand that airlines have to take measures such as these in order to deal with overbooked flights but I don't understand the need for DMCs when the passengers are clearly present at the airport and there's only a couple of hours left before departure. In any case, we took our DMCs, passed through security and waited at the gate. 10 mins before departure, our names were finally called and we were issued seats for both the SAN-LAX and the LAX-ORD segment. Unfortunately (and not surprisingly) we were not to seat together for the LAX-ORD flight.
The flight was to be operated by a CRJ-200, which arrived approximately 35 mins before our scheduled departure. Given the small size of the aircraft's overhead compartments, pax had to leave their carry-ons on a large luggage trolley waiting by the side of the aircraft (we had to walk to the aircraft in order to board). Given the small size of my bag, I held on to it as I knew it could fit under my seat. We sat on the right side of the aircraft which upon take-off gave us great views of the Marine Corps Recruit Depot, Mission Bay, La Jolla and all the coast of SoCal. Within a few minutes we were already above the greater LA area and started the maneuvering that would get us to LAX. This allowed to get a nice (yet smoggy) view of downtown LA and even the Hollywood sign up on the hills. Due to the extremely short duration of the flight, no service was provided.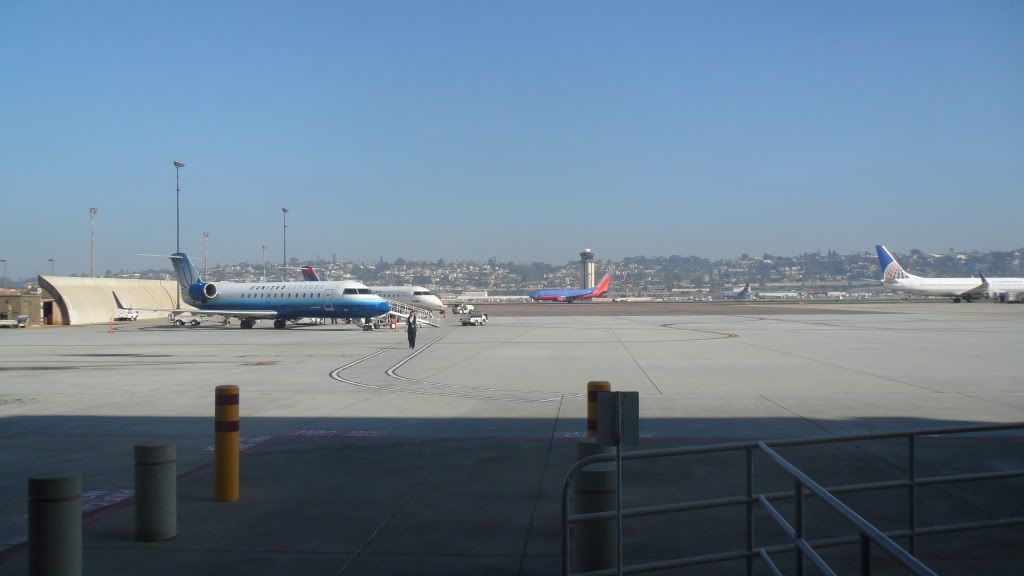 Looking at the tiny apron in front of the commuter terminal
Our gate
Our aircraft waiting
Walking up to the aircraft for boarding
Up the stairs
Legroom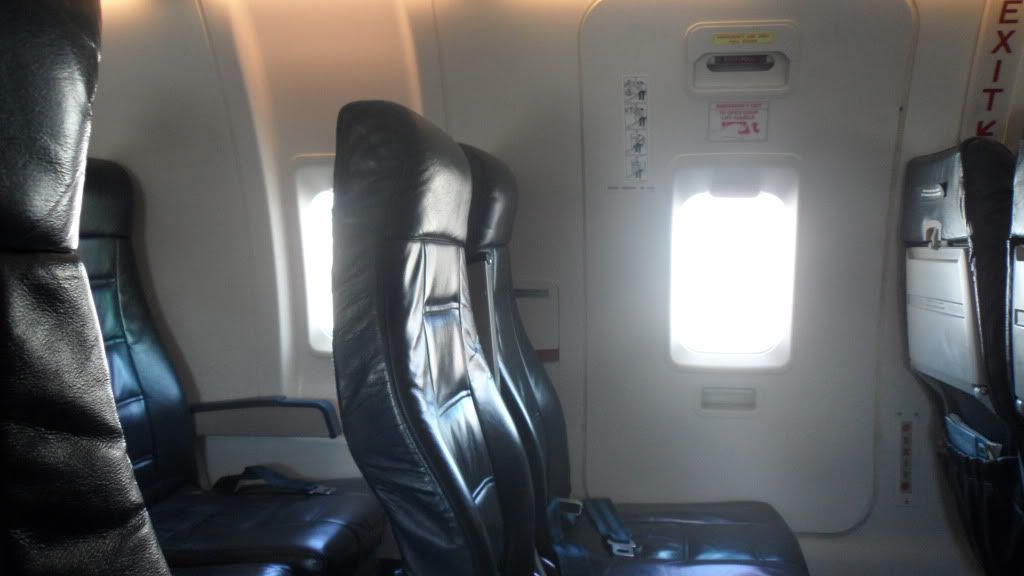 View of the cabin during boarding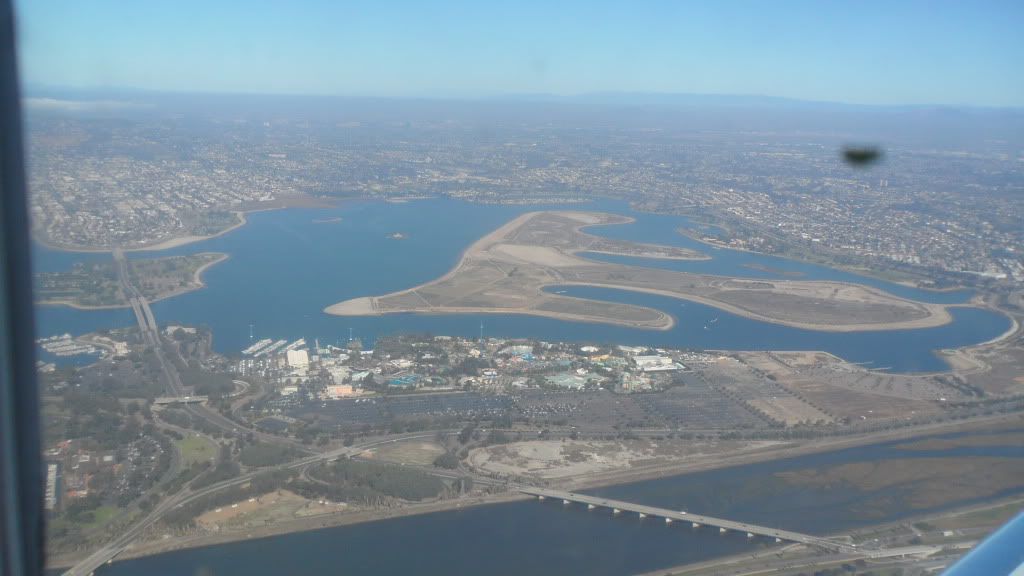 Views of Mission Bay during take-off
Approaching LA: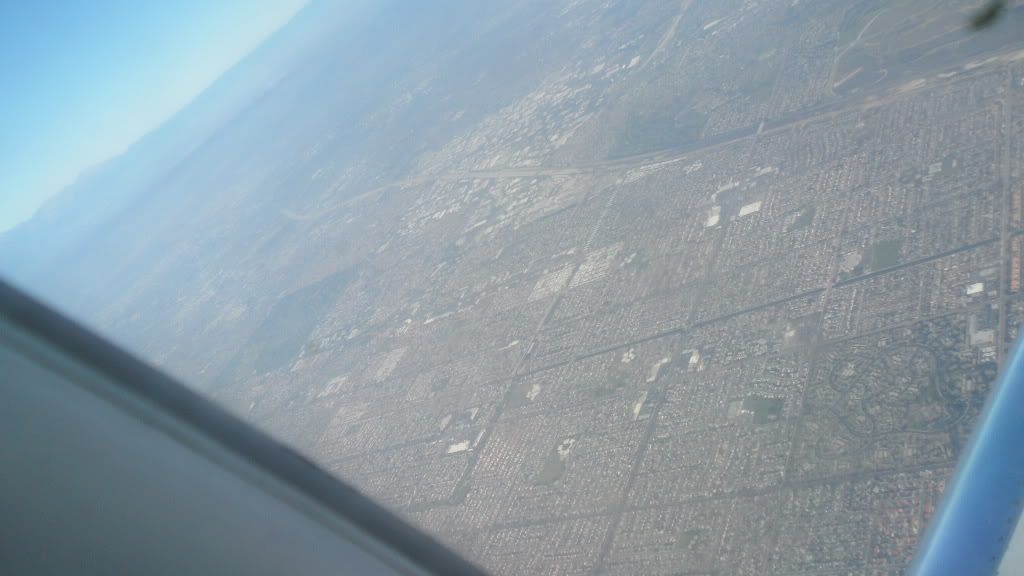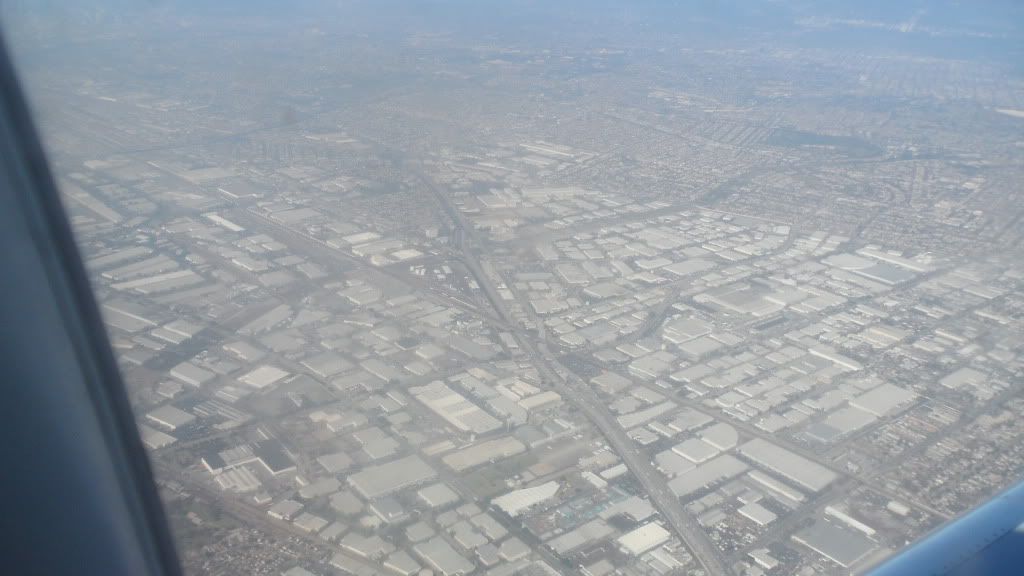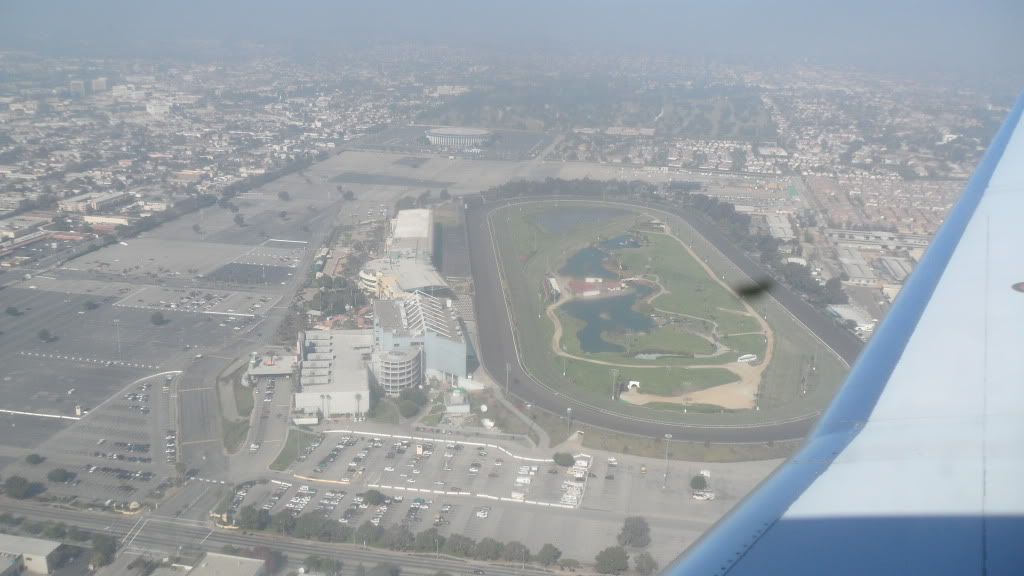 Downtown LA with Hollywood in the far distance
Landing at LAX:
Our layover at LAX was meant to be only 40mins and this was reduced even further by the slight delay of our arrival from SAN. As a result we had to rush to make it to our gate and I did not manage to shoot any photos. The flight was unremarkable, other than the guy I sat next to. The aircraft was an A319 and therefore had three seats on each side of the isle. I arrived first and sat in the middle seat, while my wife sat a couple of rows behind me. Then, my first seat-mate shows up; a somewhat sleazy guy in his late 40's. As he took his seat, he turned to me and said
"Darn, I was hoping I would be sitting next to some hot blonde chic"
. I laughed and said that I was sorry to disappoint him. Then, a couple of minutes later, my next seat-mate shows up, and sure enough is a young blonde female. So here I am, sitting between the girl and the guy who at frequent intervals would lean over and completely shamelessly check out the girl. Lovely, I thought, but I tried to ignore him. The girl was not even that attractive in my opinion (and no, I'm not saying this because my wife is next to me watching me write this TR)
. It made the flight a bit awkward but I focused on my book, which thankfully was interesting enough to distract me from the guy.
Impressions:
It's rare that I would have something to say about a US domestic service and this is no exception, save for the DMC and the carry-on situation. I'm not sure what is the purpose of the DMC (I am suspecting that it is a means of dealing with overbooked flights and/or a precaution for pax with missed connection etc) but it is one of those little things that can make flying more stressful of an experience that it needs to be. As for the carry-on situation, I found it unacceptable to assign pax (in what appeared to be a random fashion) a number, and then expect from those unfortunate enough to get No.4 to give their bags away when at the same time you allow other passengers multiple and oversize items. The airline has to either get stricter and ask from everyone to stick to the rules or go back to the old ways of free checked-in luggage. What I saw in my flight out of ORD was irrational and unacceptable in my opinion.
Thank you so much for reading. Any comments would be greatly appreciated.
My previous TRs:
The Barajas Purgatory. Iberia Being Iberia
Dirty Green And Red. Transatlantic AZ And FB
Porter's New Terminal At YTZ
Athens Airways' (ZF) First TR On A.net
ORD/ICN/NRT/HIJ With The Airline Of The Year
A Transatlantic Flash-trip To EDI
Flash Transatlantic No2
ORD-SEA-HNL On AA, NWA And Alaska
ORD-SKG Ordeal
BOS-PIT, PIT-ORD On US Airways And United
SKG-ZRH-MAN On Swiss/Helvetic
MDW-DTW-DCA And Back On NWA