INTRODUCTION
There are many myths running around about how dangerous and difficult it is to fly domestic within the Democratic Republic of the Congo. Although the situation is still difficult (as remind us the numerous crashes regularly reported on international headlines), things have improved (at least for the major airlines) and given the dangers and lack of road and rail infrastructures, flying remains by far the safest way to travel around the country.
Taking pictures was extremely difficult as it is still prohibited in the whole country (including and especially enforced at airports) , and the widespread presence of armed militaries and cops was not there to encourage me to get noticed. That's why I used a small, old and dirty cellphone camera (but you'll see later that despite those precautions I couldn't help being caught) and you will remark that several pics are of a very poor quality. Well I thought it was better than nothing so please bear with me.
BACKGROUND
It's now a bit more than one year I moved to DRC and, due to my work, I had several occasions to fly between the two main cities : Kinshasa (the capital) and Lubumbashi (the second largest city where our head office is located)
Although being a relatively high-traffic route, options to link the two cities are rather limited, unless one wants to live a truly exotic and dreadfull adventure with a local Antonov or B707.
The choice is actually between Hewa Bora Airways , the flagship airline of DRC operating its newly acquired MD-82, or Congo Express : a subsidiary of SA Express operating a CRJ100.
I had initially opted for Congo Express, being convinced by the aircraft and crew coming directly from the much more "civilized" South Africa, but I learned a few days before that they had experienced serious trouble to operate in the latest days, being because of light load, aircraft issue or political preassure from the giant Hewa Bora, well no one could exactly tell around me.
So I finally went for Hewa Bora and here I was on a Saturday morning, ready to go back home after a few days of intensive work in the Capital City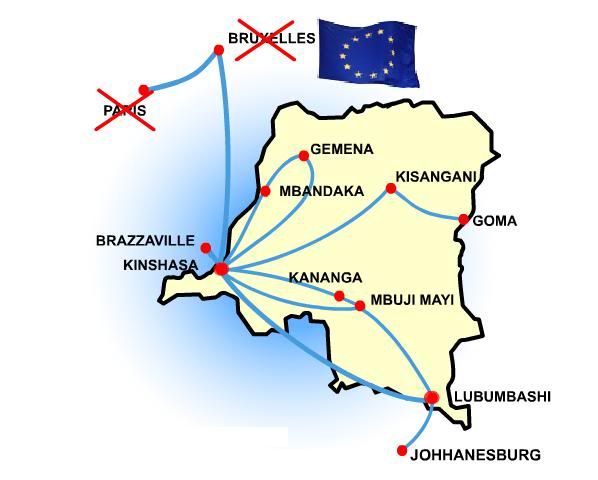 Hewa Bora network, note the red cross on BRU and CDG, due to the airline being currently blacklisted
TO THE AIRPORT
Reaching Ndjili airport from the Gombe (downtown Kinshasa) is not an easy task. You will have to cross the "cité" (suburbs of Kinshasa), find your way through the giant traffic jams, avoid the mad local busses, handcarts, donkeys, kids and god only knows what else.
Today was however a lucky day, as we left around 10.15 and we finally entered the airport parking area at 11.15, just 1h15 before the scheduled flight departure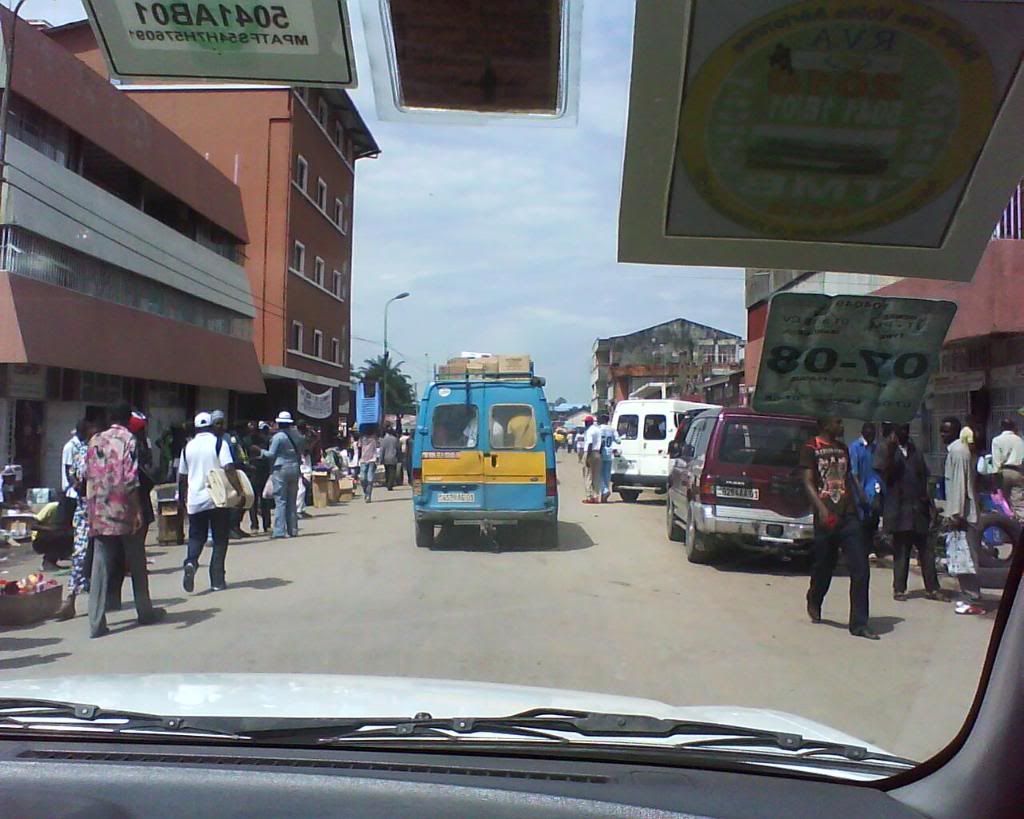 Leaving the Gombe behind a local bus
Along the "Boulevard Lumumba" with the Limete Tower in the distance
AT THE AIRPORT
After parking, me and my "protocole" (for those who wonder what/who is the "protocole" I strongly advise them to read my previous trip report), we walked to the domestic terminal.
N'djili airport is made of two terminals : one international and one domestic. Neither of them is in good condition but using the domestic one definitely gives you the best flavor of what would become an airport if you leave it unmaintained for 50 years.
From the parking lot to the terminal,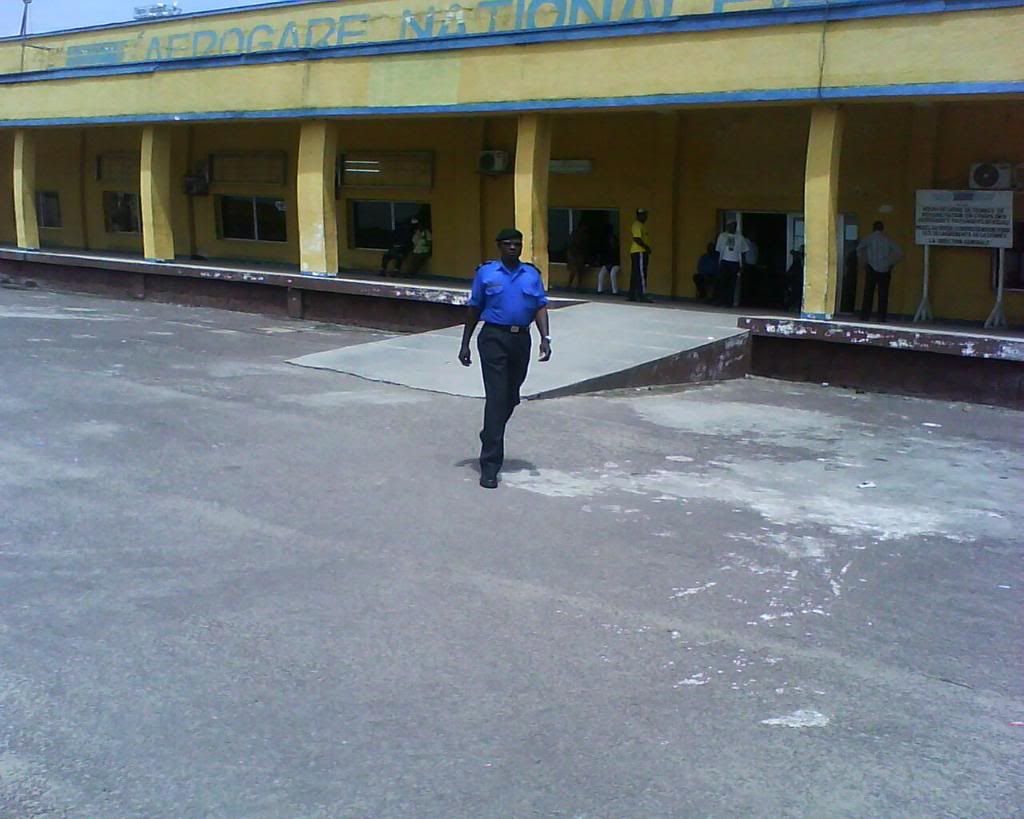 Domestic terminal entrance
The terminal itself is rather small with a "check-in area" which consists of 2 checkin desks and an old-style scale. After being checked, bags are dropped in a happy mess just behind the check-in agents.
Before I could check my luggage, I was requested to open it so that a security agent could make sure there was no forbidden item being stored in it. Then it was sealed with a sticker and I could proceed to check in. I was handed a carton boarding pass.
Boarding pass and baggage tag
While my "protocole" was checking me in, I sneaked a few shots of the interior of the terminal. As I said earlier I didn't want to get noticed and I didn't have any specific equipment, so images are terribly blurry. Sorry about this.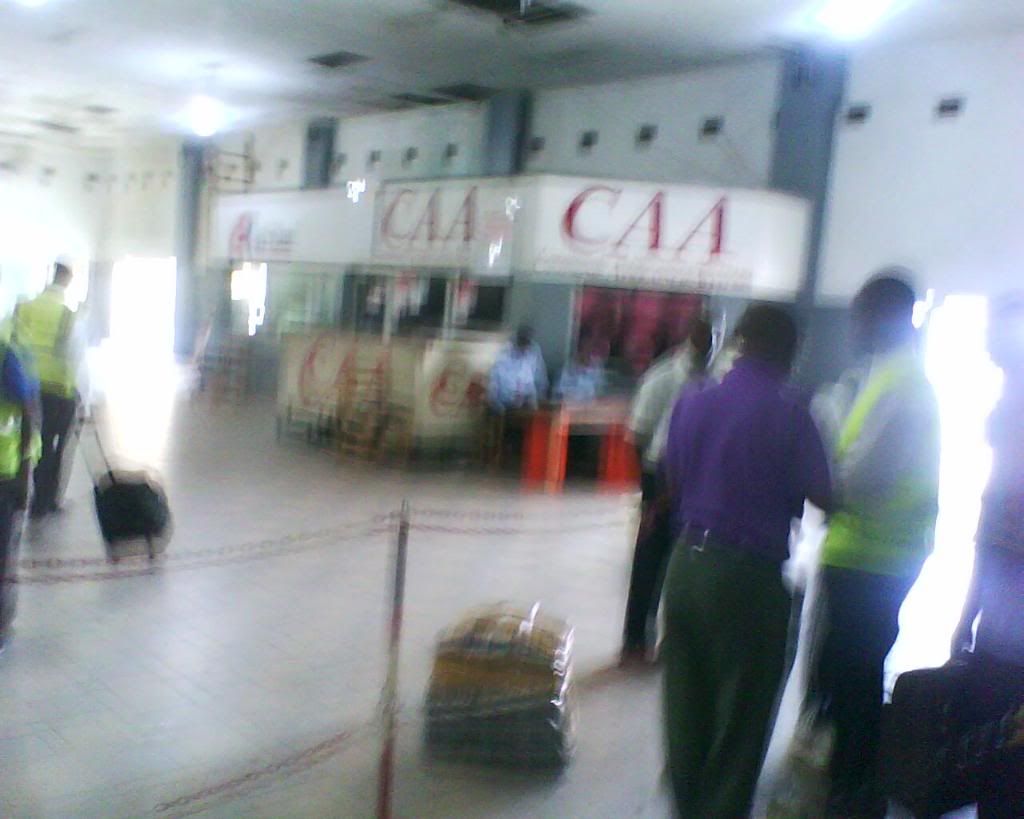 CAA (Compagnie Africaine d'Aviation) airport office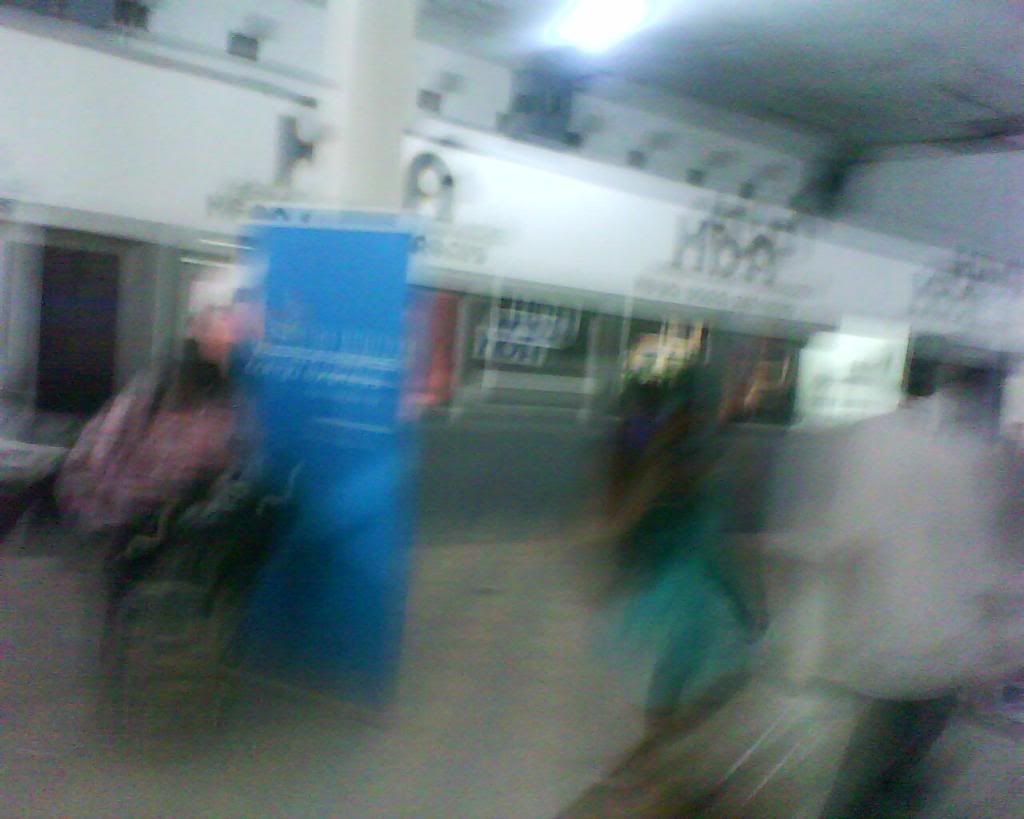 Hewa Bora airport office (still with the old logo)
No smoking sign, I wonder who is the lady whose photographs were pasted above the paper
After I was checked in, it was time to proceed to the gate. After showing my passport to the immigration officer (yes they check your documents even when leaving on a domestic flight), I head through security.
This consisted of a X-Ray machine which was apparently working (as they discovered the water bottle in my bag  ) and a metal detector which was not working (I crossed it with all keys and things without a beep)
Just after I left the security check, I was approach by one of the policeman who asked me if I could help him to "buy one coke as he was thirsty". After some hesitation I gave him 1000 congolese francs (approx 1 USD). I know this may be a bad behavior as it is encouraging corruption but the guy has been nice and smiling so I consider this as a "thanks and keep hope" gesture rather than as a bribe.
The gate area consisted in a set of chair rows, and a few magazines were on sale on a small stall. I took the chance to buy some of them (as it's difficult to get them in Lubumbashi) and boarding was called only a few minutes later. We would be on time, which is always a great news to hear.
Just after getting out of the building a long queue had formed for a second handbags check which was performed this time by the company crew. When my turn came, they merely open one pocket of my bag, looked at my gentle white face, and let me proceed to the bus with a smile.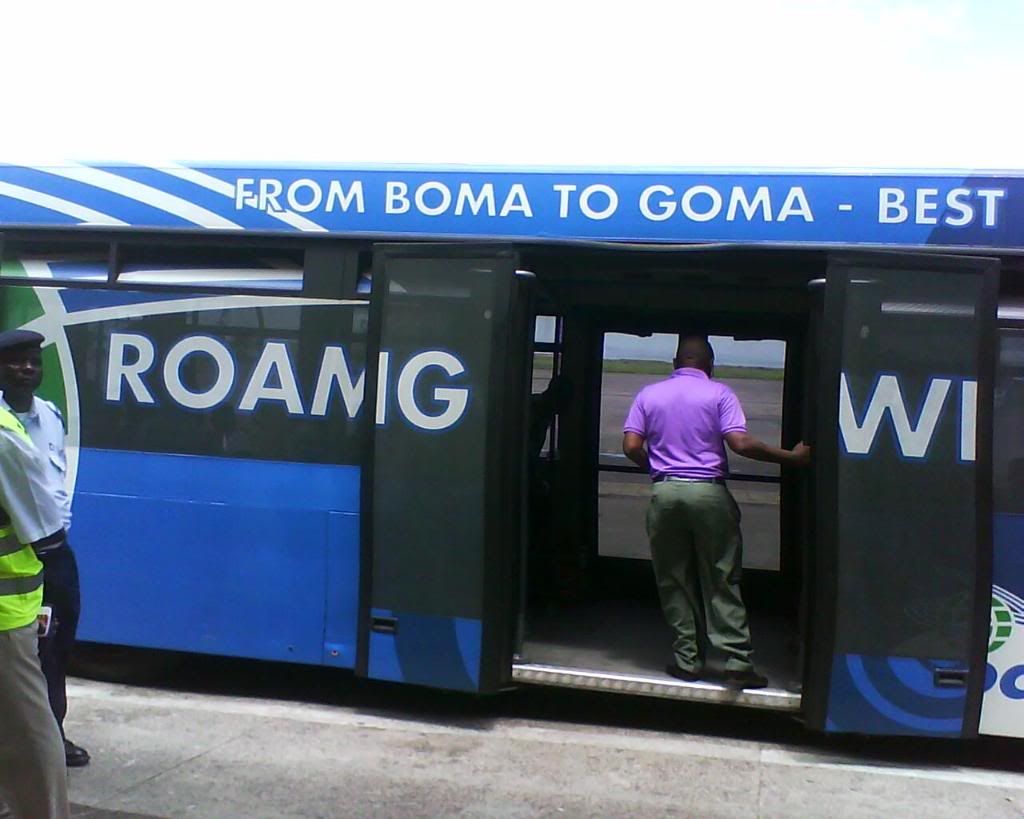 Airport bus with a nice ad from Vodacom, one of the local cellphone network providers.
The bus ride was no more than 3 minutes, as we just circled around an AF A330-200 to reach our MD-82.
Air France through the upper windows of the bus
After disembarking the bus, I reached the queue to, first provide the "Go Pass" (= proof of payment for the 10$ Departure Tax), then to have a lady check my boarding pass.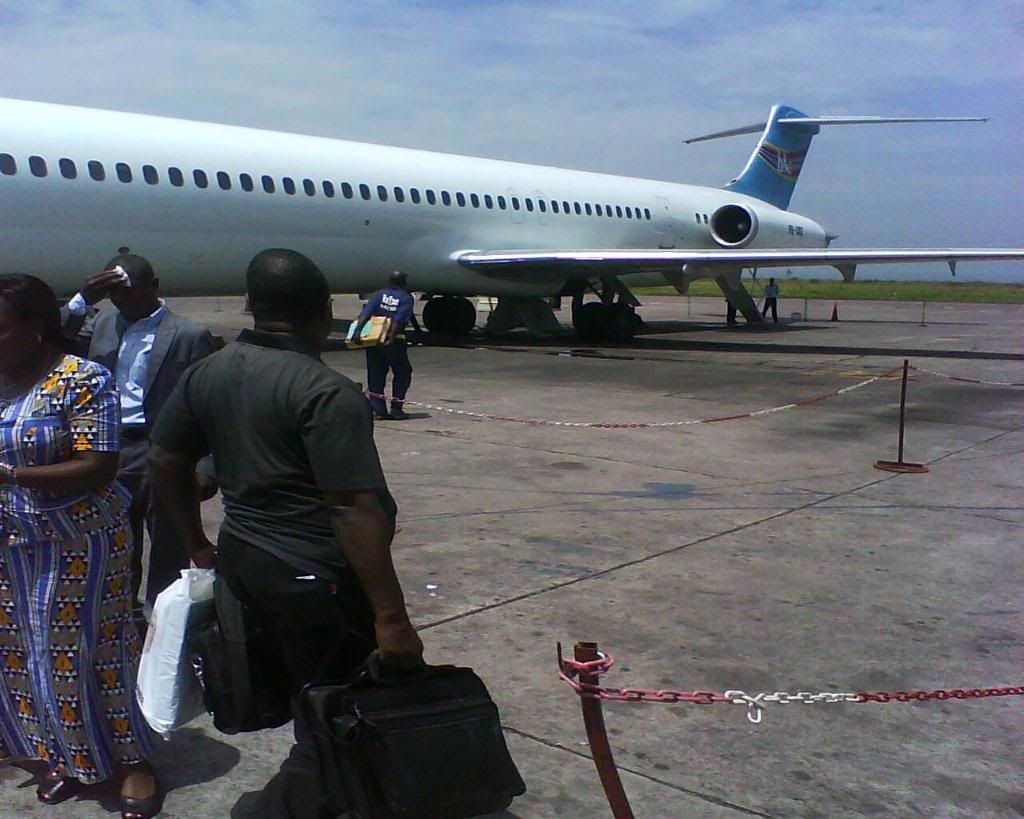 Lady checking boarding passes (note the nice colors of Hewa Bora uniform)
That lady somehow noticed I was taking pictures and forcefully (although in an amicable manner) reminded me it was forbidden and I could get in trouble if I wouldn't stop). Of course I didn't discuss and made my cellphone disappear until I would be seated inside the aircraft.
Boarding was done via the rear stairs, for who has ever boarded an MD82 this way, he will recognize the entrance is somehow spectacular.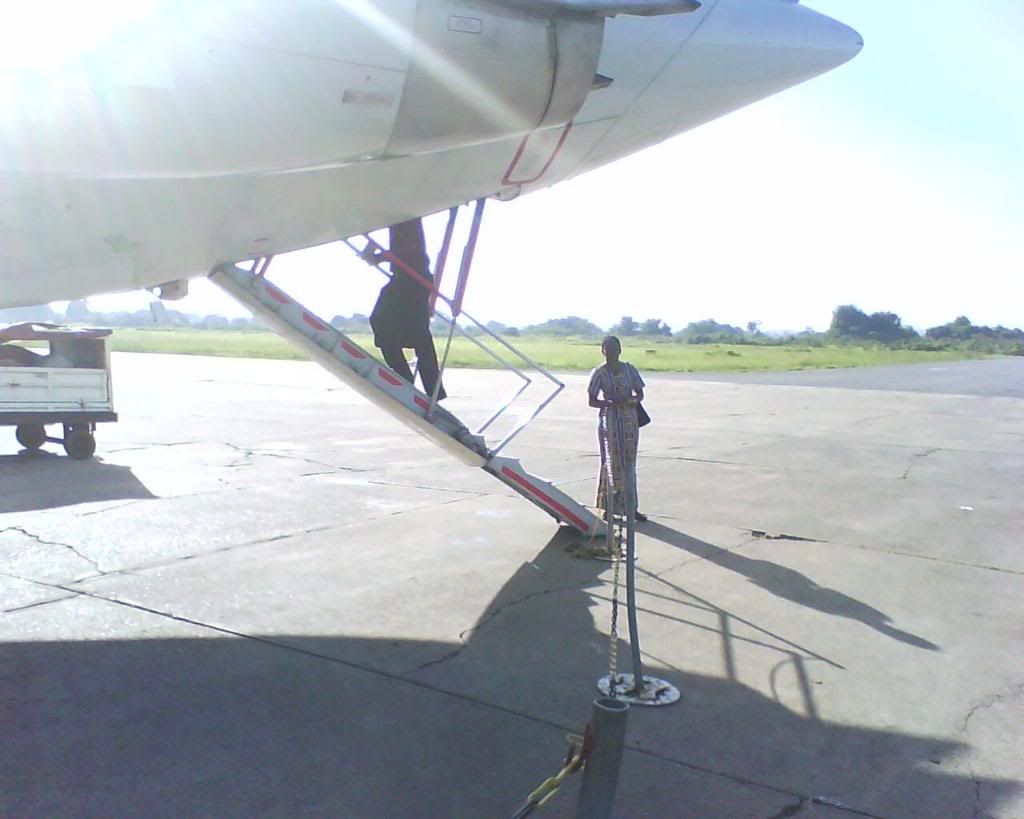 Boarding through rear entrance (picture taken on the FBM-FIH leg)
IN FLIGHT



EO762





12-FEB-2011
FIH
FBM
Scheduled
12:30
15:45
Actual
12:30
15:35
MD-82
9Q-COZ
The interior cabin was rather nice and classic with clothed blue seats in a 2-3 configuration. Load was approx 60%
I found out I had been assigned an exit row seat so I had plenty of legroom and I quickly made myself comfortable. (Funny to notice I was not given any safety briefing although my neighbor from next row ahead of me was)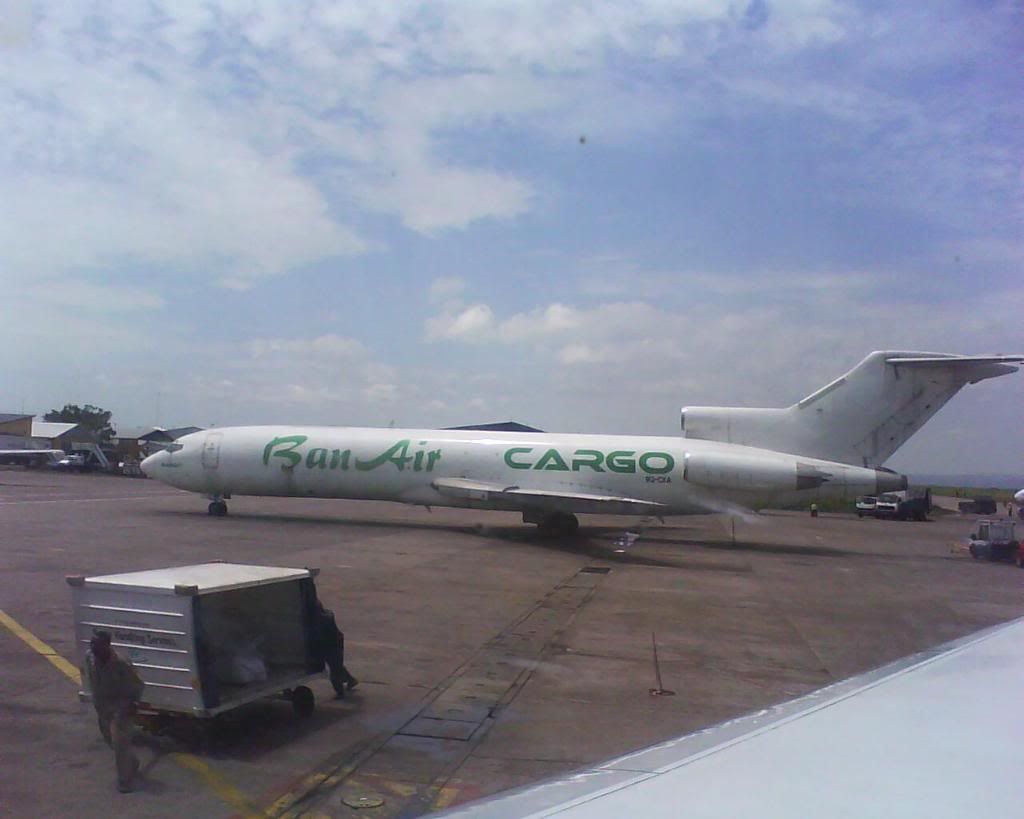 View from my seat. I don't think I would fly this B727 even if I would get paid millions.
Welcome announcements could be heard in French, English, Swahili and Lingala while the rest of the pax were gradually boarding.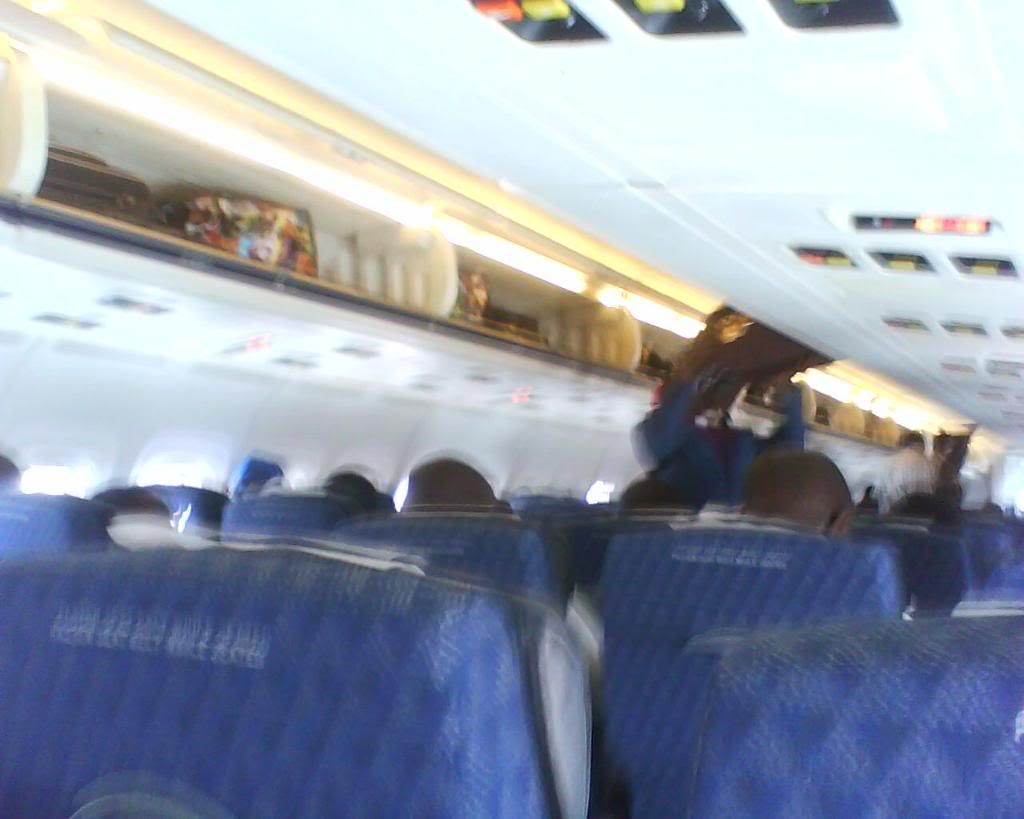 Boarding
Exit row legroom
Once boarding was completed, the crew proceed with a quick manual safety demonstration and soon we were heading to runway 06 for departure.
The takeoff was gentle as the runway is quite long at N'djili (it was apparently designed as an alternative landing site for NASA Space Shuttle !) and we were soon heading south-east for a 2:15 ride to Lubumbashi.
Safety Card for HBA's MD-82
Some 30 minutes after takeoff, the meal service started, which consisted of a choice between cheese, tuna or salami sandwich and a cold drink.
Although rather basic, the service was handled with lots of smiles and I got an extra beer without even asking (it's true that in Congo beers are usually served in huge 66cl bottles so I guess it was natural for the crew to offer 2x33cl can)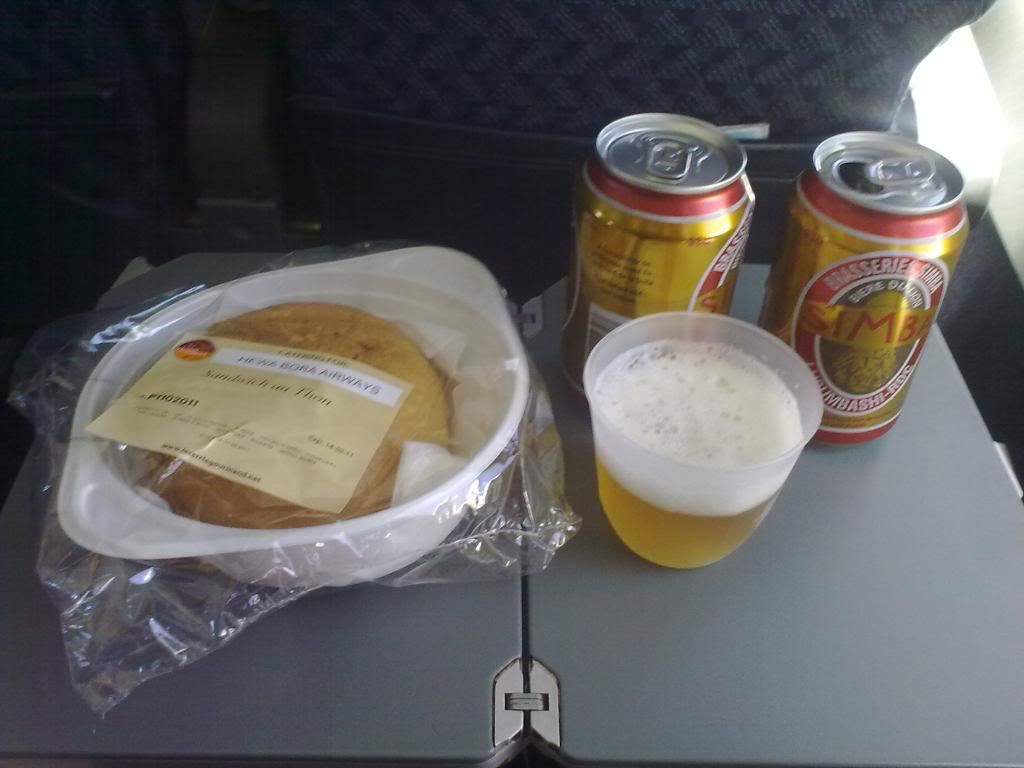 Tuna sandwich and a generous quantity of beer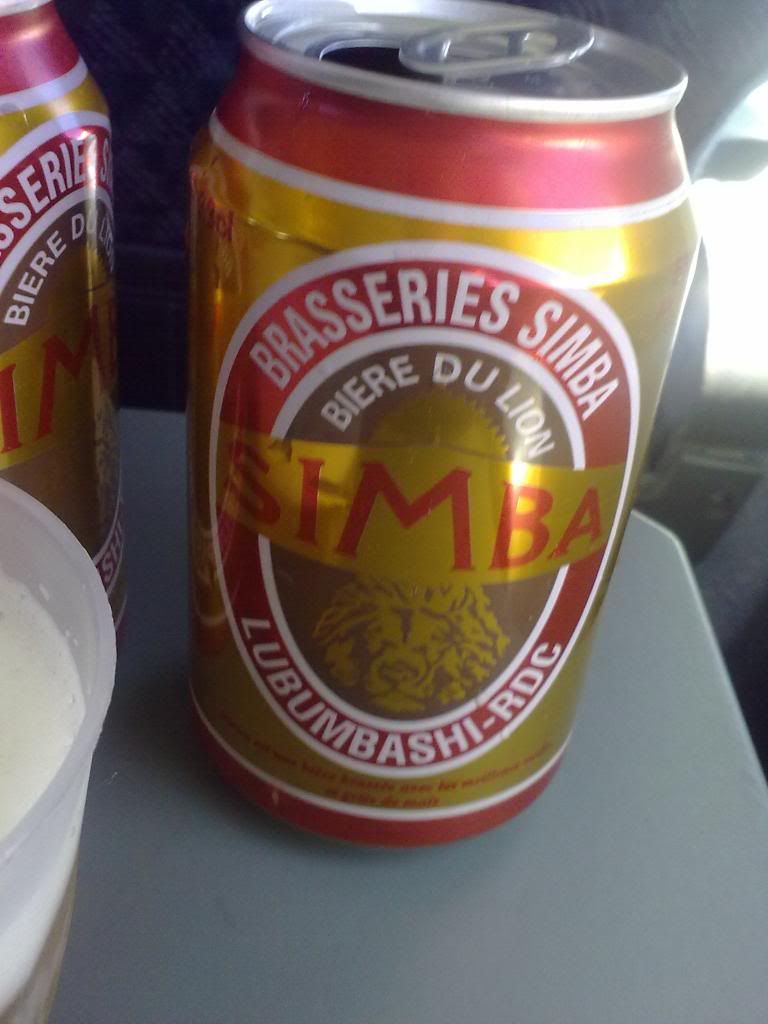 Simba (meaning "lion" in Swahili) is the local beer in Lubumbashi and a big institution (one of the many heritages left by the Belgians)
After lunch, it was time for the ritual visit to the toilets and a few cabin shots.
When I opened the toilet's door, a man was standing inside, I quickly shut it down. I guess he was not used to the system and was probably wondering why the hell the lights were off in the toilet
Bathroom was clean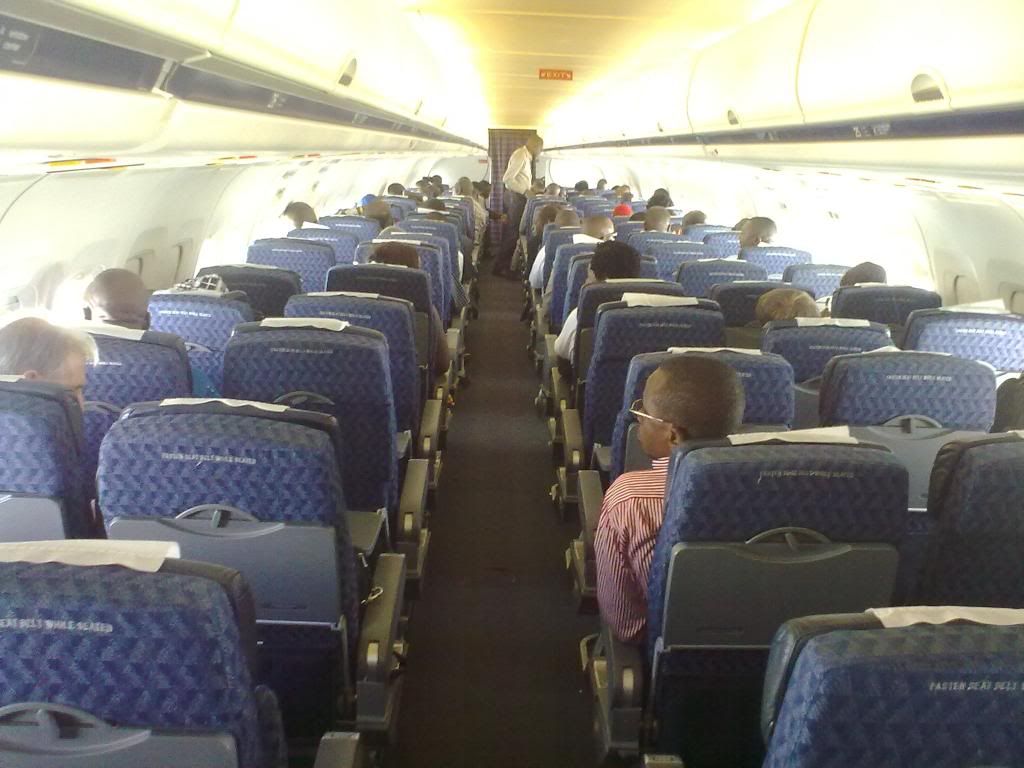 Cabin shot from the rear
We finally started our descent into Lubumbashi and landed on time via runway 25 as usual.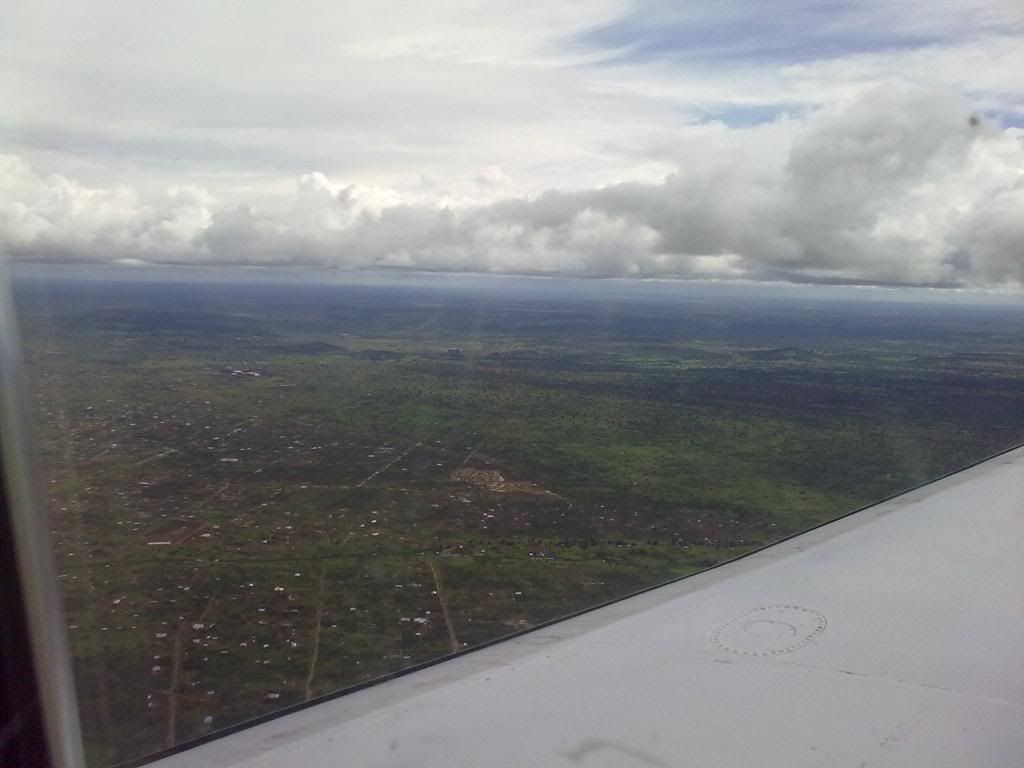 A few minutes before landing
After a short taxi we parked just next to a Trans Air Congo Service Cargo DC-8
Disemblarking was via the rear door again and I was heading to the Malabar lounge where my protocol was already waiting for me in a few minutes' walk.
CONCLUSION
All in all, once you get used to the big mess at Congolese airports and you know how to deal with the possible bribe requests, you will find flying here a rather relaxed and enjoyable experience.
Of course I can't assess what's going on for more underground companies flying to remote cities. When we drove from N'djili to downtown, we passed across N'dolo, the other Kinshasa airport, hosting many of the so-called "flying coffin" companies and, from the outside, the airport condition looked even more terrible than N'djili
The rule will be however to always make sure you have someone (the protocol) helping you on both departure and arrival airports, to guarantee you a hassle-free experience.
Happy flying to all !
Thomas