"Oman Air Business Class – New heights of Comfort"
My seat 10A for the flight to Muscat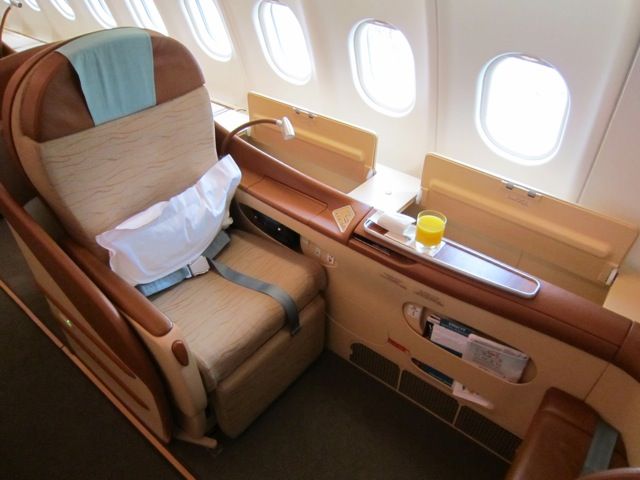 Another new airline in 2011 and this airline certainly earns its name as the truly boutique airline in the Middle East! Oman Air is one of the latest Middle Eastern full service airlines and really has to up its game if it wants to compete against Emirates, Etihad Airways, and Qatar Airways, which are known for their excellent service and luxurious cabin. Of course, Oman Air is not going for the giant mega airline status, but has chosen to concentrate on a few routes and provide luxurious service. It is definitely not kidding about being a boutique airline, and my business class experience is identical to first class service on many top airlines in the world. It is no doubt better than EK, EY and QR business class, and I will even say except the fancy suites, its catering, amenities and personalized service is comparable to Emirates first class. Oman Air used to have a poor and underwhelming lounge in its homebase at MCT, but the new premium lounge complex is wonderful and a good step towards a well-rounded airline. Oman Air provides some discounted business class fares, but not as much as EK or EY, and now I understand why. You really are getting a first class deal on a business class fare. I think this $1000USD I spent is well worth it. Of course, I still don't know if the mixed race cabin crew is working but it is a common issue for all Middle Eastern airlines, which rely on expatiates. Its wine list is a little bit underwhelming and F/As like to clear cabin early and served the second meal way too early. Anyway, Oman Air is an interesting experience and if WY chooses to join Skyteam or Oneworld alliance one day, or offered a super good fare, I will definitely fly it again.
February 16, 2011; Wednesday
WY 124 MXP-MUC-MCT Lv1035 Arr2200 Airbus A330-200 A4O-DC
Connect to
February 17, 2011; Thursday
WY 371 MCT-CMB Lv0020 Arr0540 Airbus A330-300 A4O-DC
Photo link:
WY 124
http://share.shutterfly.com/action/welcome?sid=8QbNHDNy5bqS-g
WY 371
http://share.shutterfly.com/action/welcome?sid=8QbNHDNy5bqTBA
Check-in:
Check-in at Milan Malpensa Terminal One was rather straightforward. I arrived the airport about an hour and forty-five minutes prior to departure, and the whole check-in area was already deserted. No surprise as I was the only J passenger, and the loading in Y was around sixty. Most passengers joined the flight in Munich, and I was sort of surprised that Oman Air has decided to split the flight in this coming summer. Hopefully loading will be better. I was in Milan a month ago checking in for my Etihad flight, and the Oman Air's loading seemed to be a bit better. Hopefully it was just an off day here in Italy. Two agents immediately tagged my bag and checked me all the way to Colombo. Things were sort of slow, but the agents were courteous and friendly. Personal escort service to the lounge and gate was available for all J passengers in Milan, but I declined, as I wanted a bit free time to roam around the airport. But the agent later arrived at the lounge to personally take me to the gate and allowed me to board first. I am impressed with this personal service offered in business class, and Oman Air already made a good impression. Yes, you can use the fast track line at MXP too!
Check in area at MXP: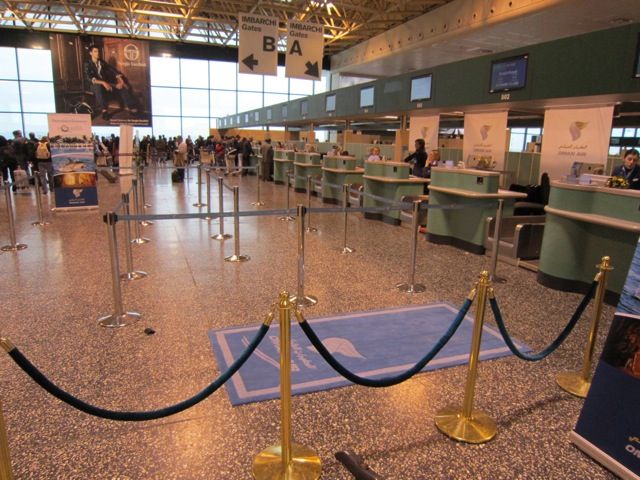 All the Muscat Holidays sign: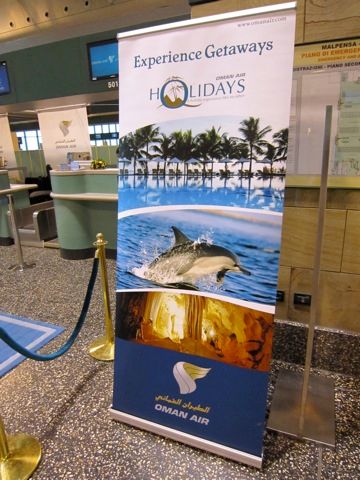 Carpet for Business class check-in:
Just a big fan of Novak Djokovic – so can't help to snap this giant poster of him!
Cathay Pacific's "Spirit of Hong Kong" was resting in MXP (Well I was originally booked on this flight!)
Lufthansa Italia and Lufthansa Airbus A320s here in MXP