Hello there,
In early February I had the pleasure to try out the airline that has finally brought some life to my home town airport in BRN. I figured I should do the first trip report of Skywork Airline to show you folks this little pearl that's connecting the Swiss capital with various European cities.
I had planned this trip in November. I soon pinned down the flight from Bern to Barcelona and added five domestic flights in Spain on Ryanair and a return flight to Switzerland on easyJet from Madrid to Geneva. Finally my itinerary looked like this
So on Tuesday February 8th I took the train to Bern and from there I connected to the airport bus. The bus ride to the airport of Belp (-->
http://www.alpar.ch/)
is about 20 minutes.
At this point I would like to tell you a bit about Berne Belp Airport. The airport served just over 100'000 passengers in 2010. It's main carriers are Cirrus with three daily flights to Munich (on LH code share), Air France with two daily flights to Paris and the home carrier Skywork which this winter serves Hamburg, Berlin, Rotterdam and Barcelona. In winter the airport also sees winter charter services by FlyBE from SOU, MAN and LGW.
The upcoming years promise to be flourishing for BRN as Skywork will add 4 aircraft and several new destinations (MXP, AMS, MAD, PMI, BUD, VIE, FCO, BEG just announced today) and Helvetic will base a Fokker 100 in BRN this summer to serve charter routes around the Mediterranean.
Here's a picture I took two days prior to my trip, you can see the terminal building with the marvelous Swiss alps (The Finsteraarhorn) in the back ground. The plane pictured is a Azerbaijan A319 flying for the President of Azerbaijan.
Enough talk... I had checked in online also reserving me a seat in the front of the plane. So I got off the airport bus and had some time left to take a photo of the small (but efficient) terminal. In the back ground you can see an old hangar built in 1928 (there is a foundation collecting money to preserve and eventually move the structure). The tower is the old atc tower now serving as a bar/restaurant.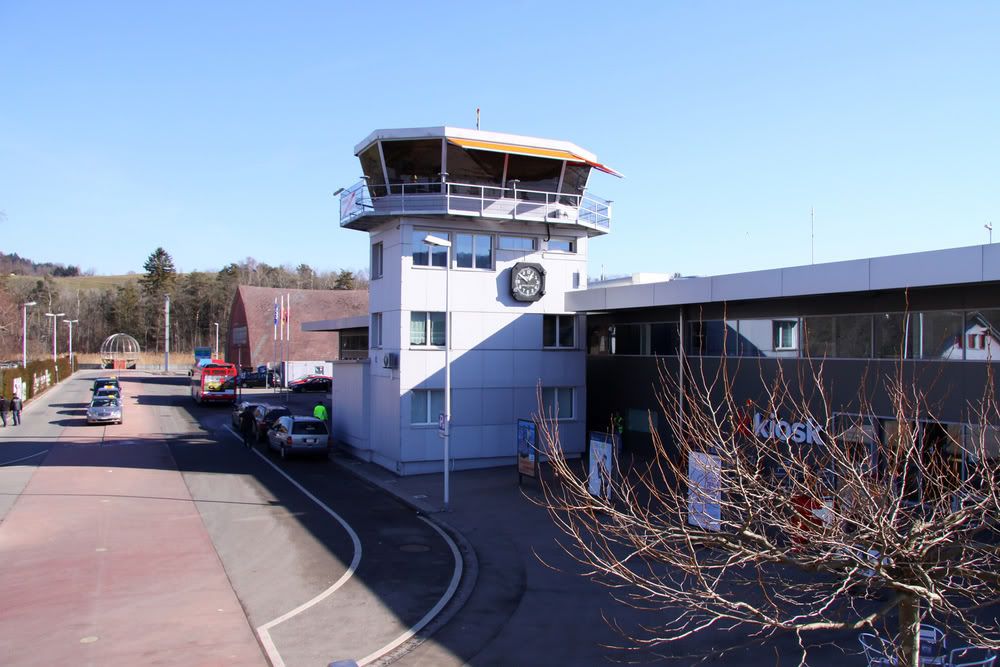 Part of the big advantage of using BRN instead of ZRH or GVA is the quick check in and security time needed. For this particular flight I stepped off the airport bus and was waiting in the gate area five minutes later. From there I could see my aircraft HB-JGA being prepared for the flight to BCN. In the back ground you can see the newer atc tower. In the gate area there were free news papers available which I found very nice and had not noticed on my previous flights from BRN.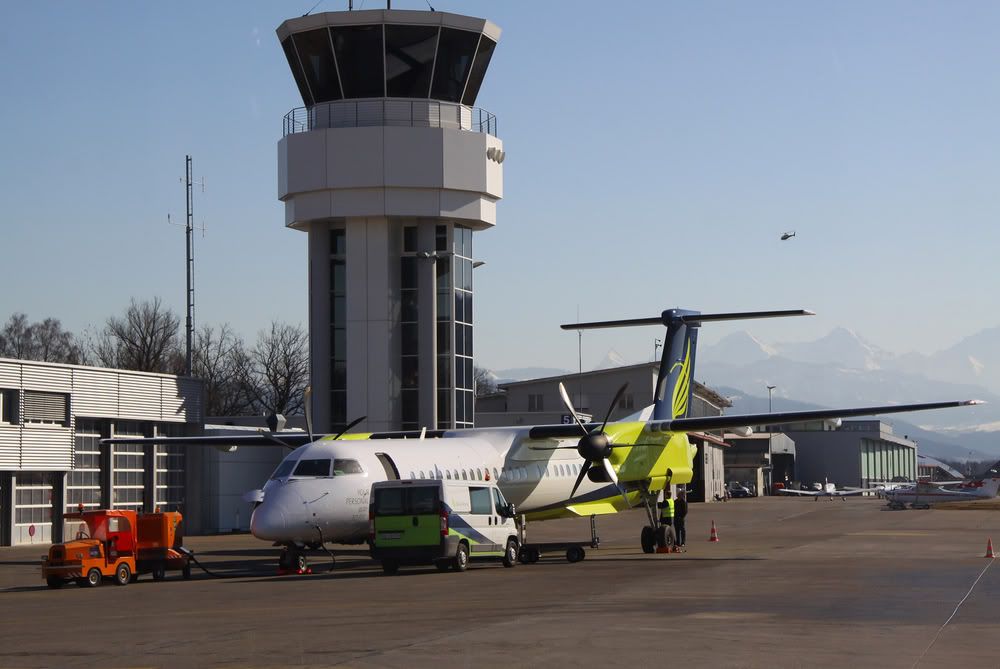 Tuesday February 8, 2011
Flight: Skywork SX 4021
From: Bern Belp BRN
To: Barcelona El Prat BCN
STD: 1330LT
ATD: 1335LT
STA: 1500
ATA: 1515
Boarding was called at 1320 and along with only 11 other passengers I walked the short distance to the aircraft. I was looking forward to this flight over the alps on this marvelous winter day.
View of the terminal building which has a capacity of about 400'000 passenger per year and was opened in 2003.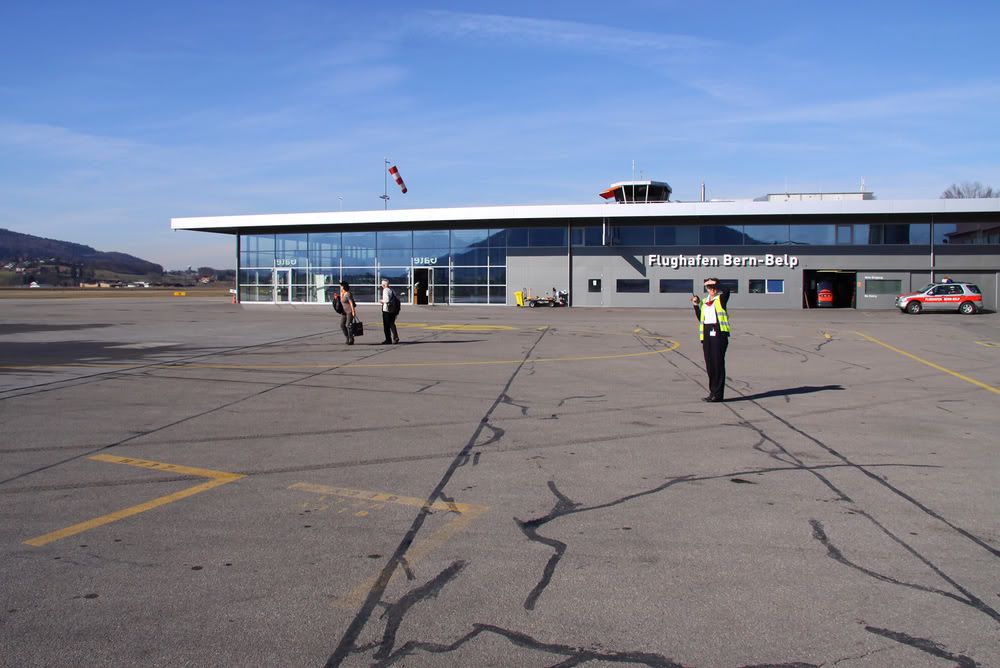 We were greeted by the two FAs (both of whom were not native Swiss) and the captain. I asked if I could change seats to the rear of the plane and it was perfectly fine. So soon the props began to roar and the aircraft turned on to runway 14 which is 5800ft long.
In the line up position just waiting for clearance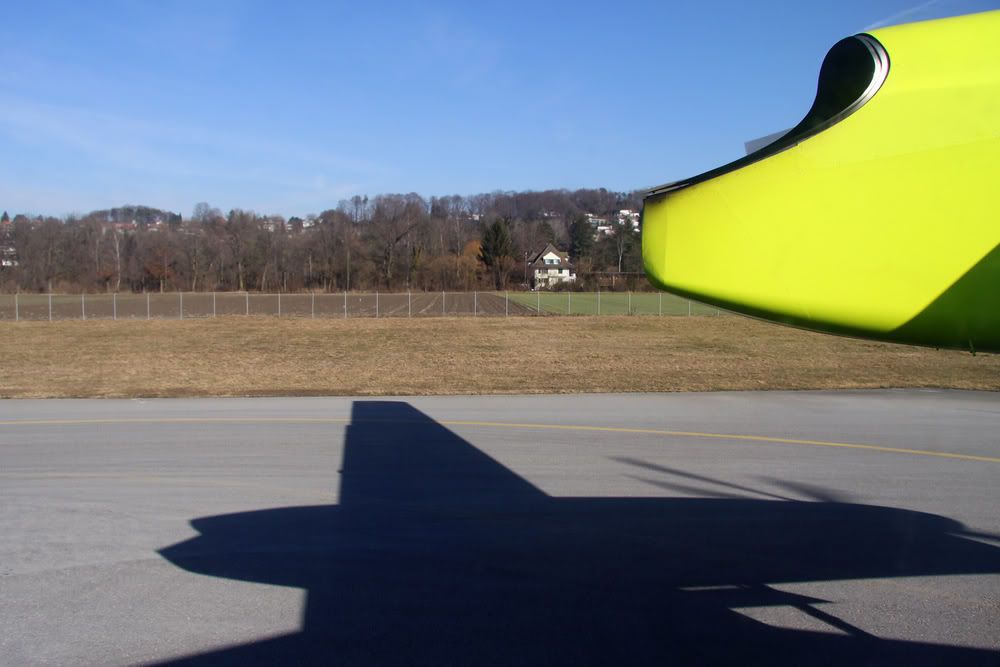 Just seconds after taking off direction south east
Following the take off was a 270 degree turn left and then we basically flew straight towards Marseille over the Mediterranean sea and into BCN. I tried to reconstruct the flight path using Google Earth
Overview of the Bernese country side shortly after take off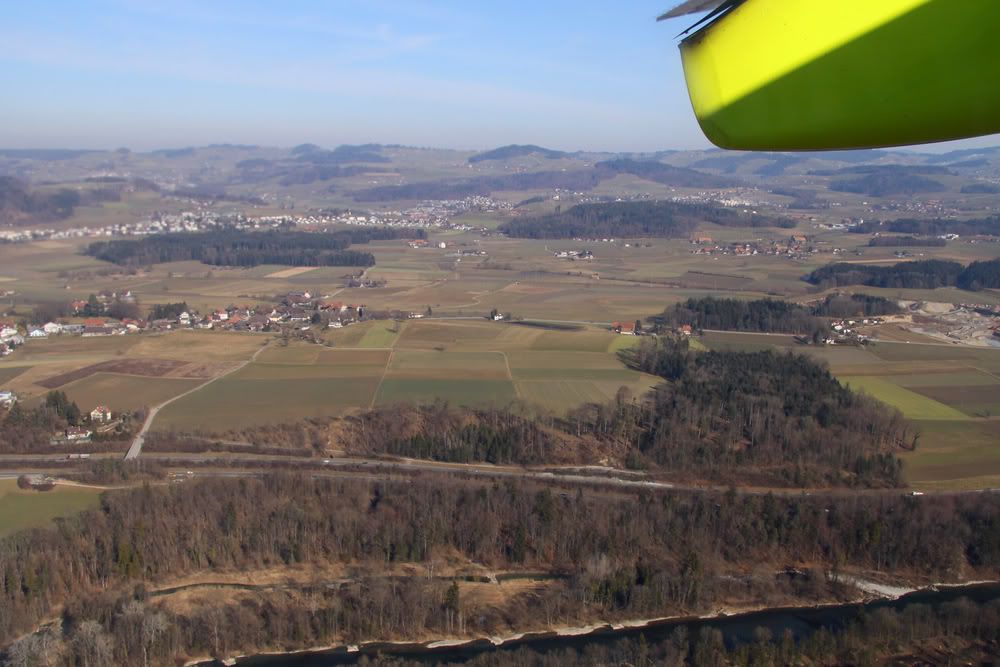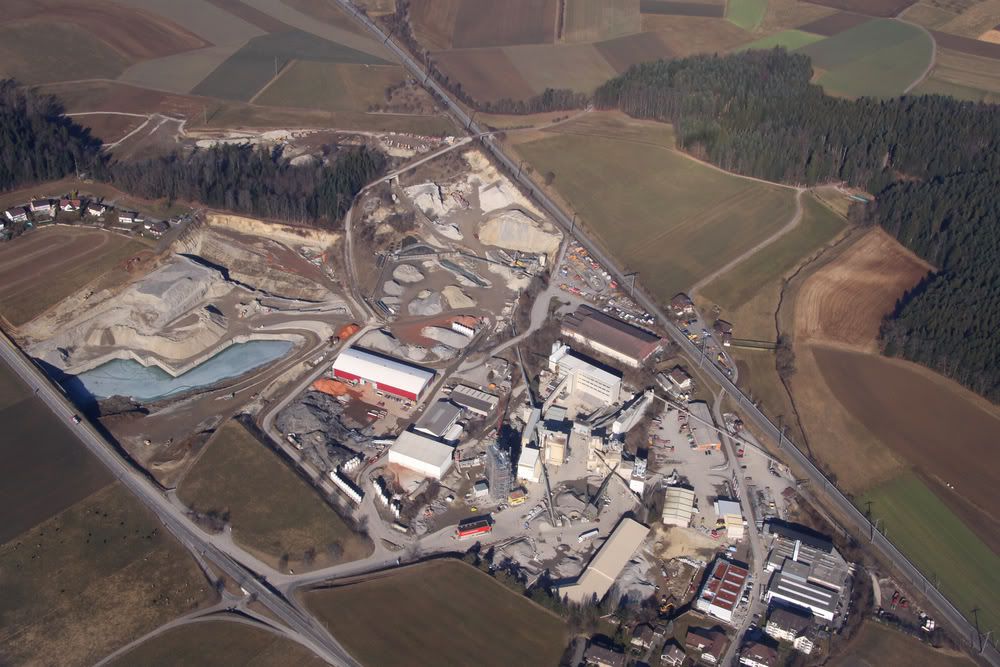 I occupied the last row on the left side but unfortunately the window was a bit dirty.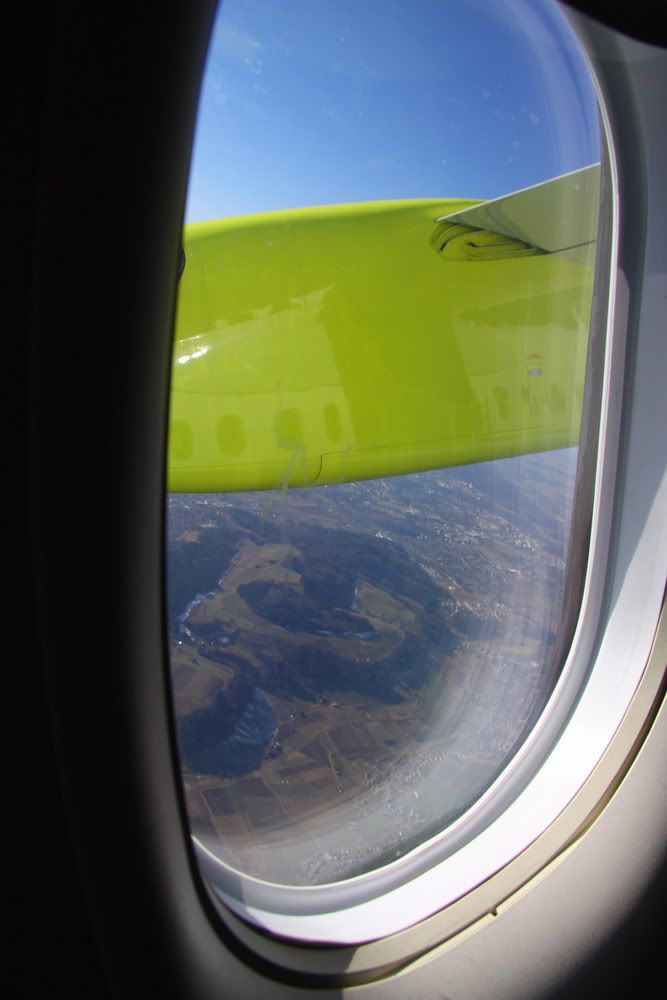 Great overview of BRN airport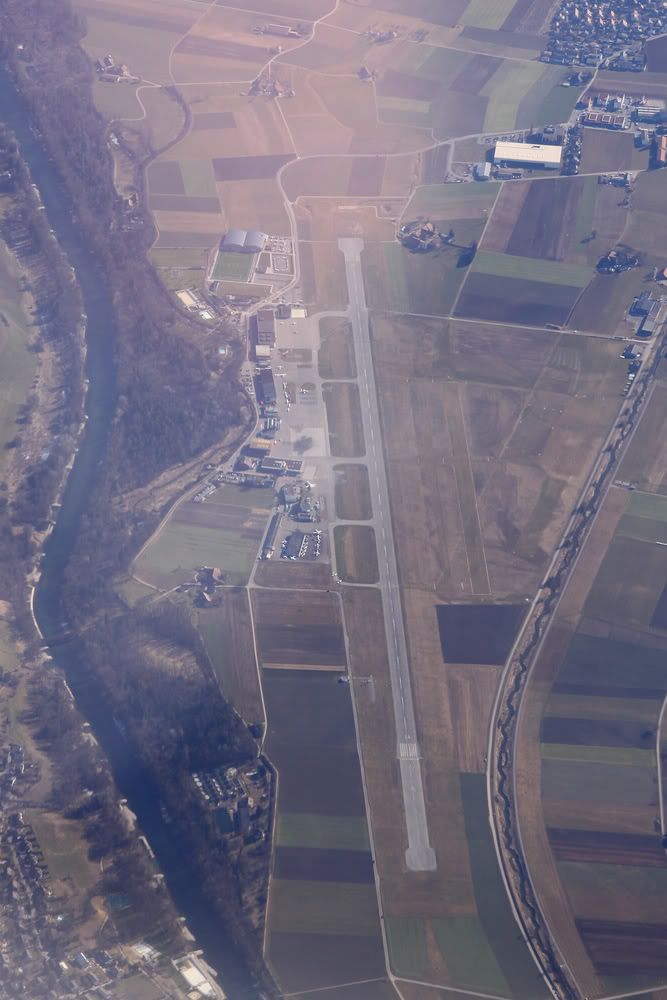 While the flight attendants were announcing that they would soon make the catering round I layed back and enjoyed the marvelous view of the Swiss alps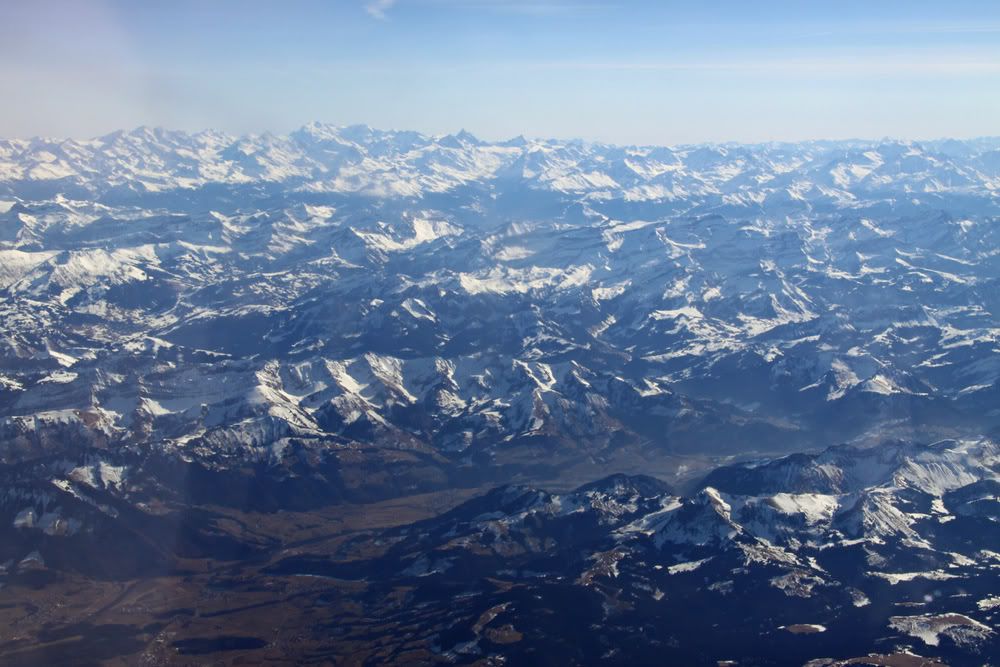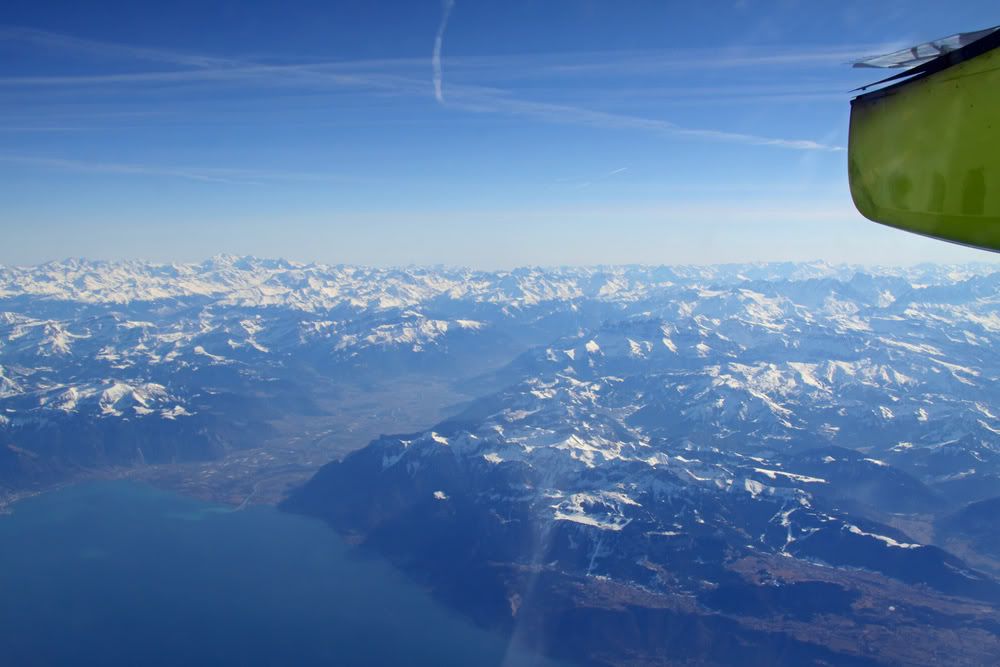 Then a little lunch was served consisting of two baguette slices, dried tomato, olive and chorizo sausage. Non-alcoholic beverages were free of charge, I paid 2 Euros for the beer which is a reasonable price. Overall I really liked the presentation of the food and I think the amount is just fine for this 90 minute flight. FYI Skywork serves different appetizers depending on the destination. On flights to BRN passengers will get served Swiss specialties.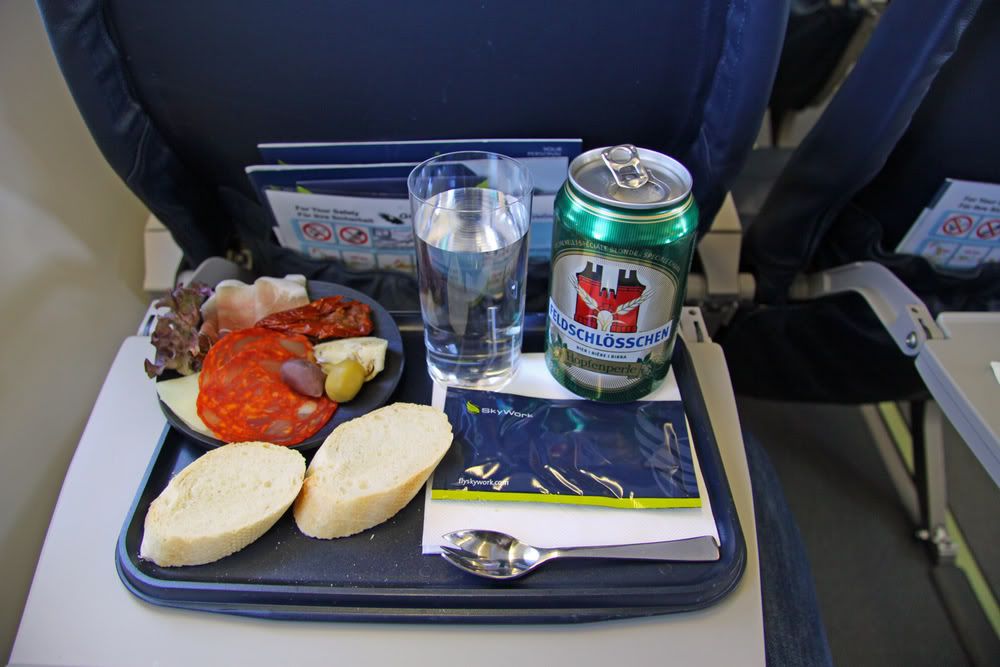 Some more mountain watching
Another unique feature of Skywork is that they provide some on board entertainment by carrying several iPads on board of their Q400. These devises contain some news apps as well as many games and destination guides. I hope they keep this feature and even expand it by uploading some movies or music programs.
Getting closer to the Mediterranean the snow was getting thinner on the mountains underneath us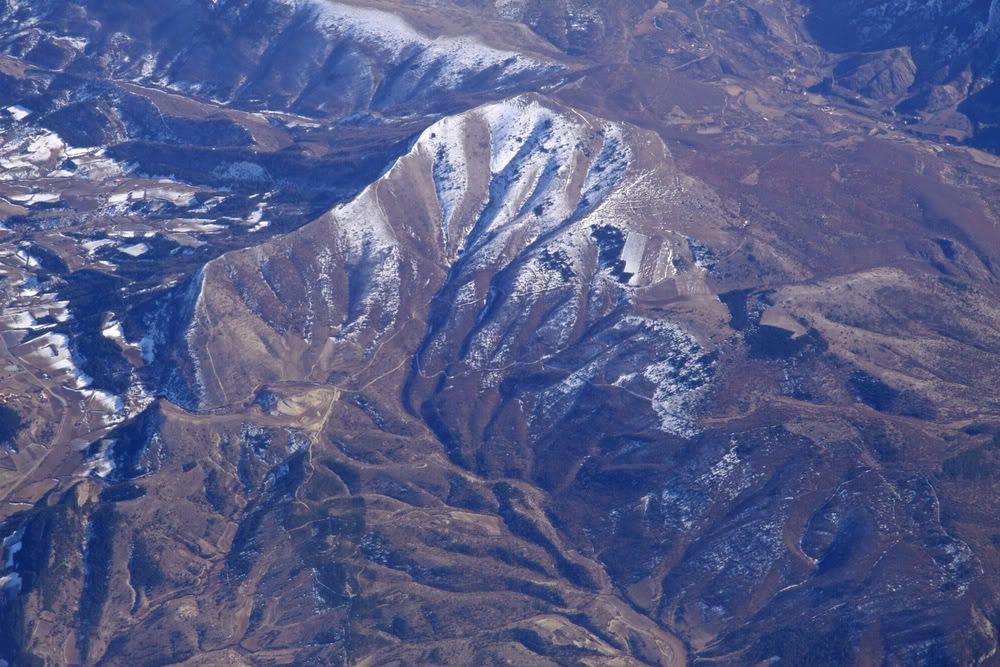 Midway through the flight one of the flight attendants (a German native) came up to me and said she was wondering why I took this many photos of the trip. I explained that I was doing trip reports for several aviation forums. She then explained how the employees were thrilled by the expansion going on in their company. She seemed very enthusiastic about flying and taking care of the passengers which you could clearly see by the dedicated service. I also asked her about the low load factor and she explained that while they previously had served BCN with just two weekly flights the addition of two frequencies has caused loads to decrease. She also added that in March, April loads will usually pick up to BCN (last year they had many flights sold out).
I then took some shots of what was in the pocket of the seat in front of me.
Sick bag and Q400 safety card
In flight meal, Swiss entertainment magazine, and a short but nicely done company magazine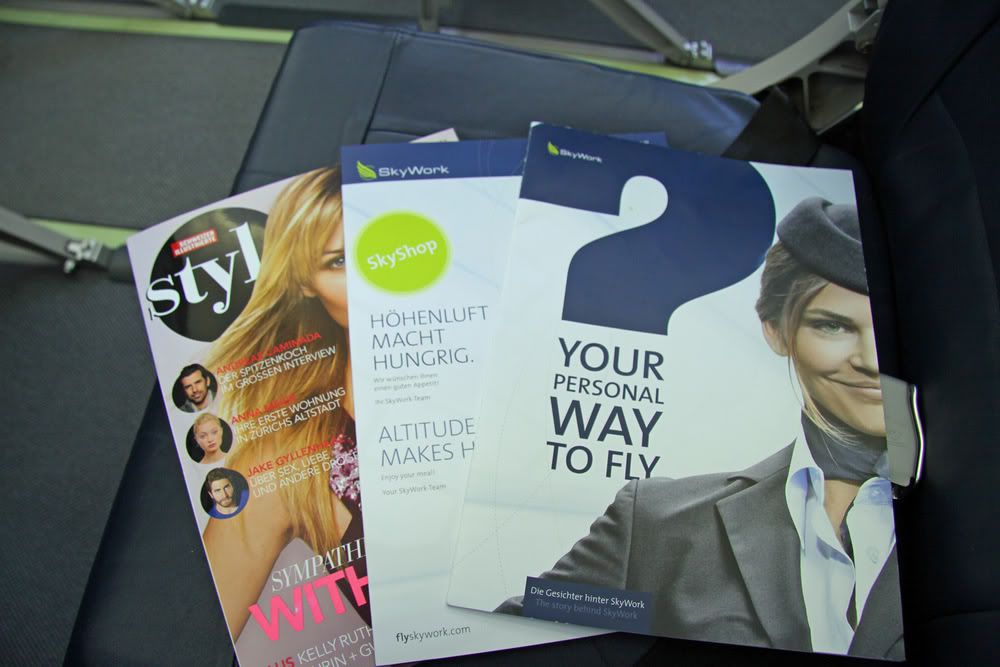 After overflying MRS we were quickly approaching BCN so I decided to take a seat on the right side of the plane since we were landing in BCN from the north.
The city of Barcelona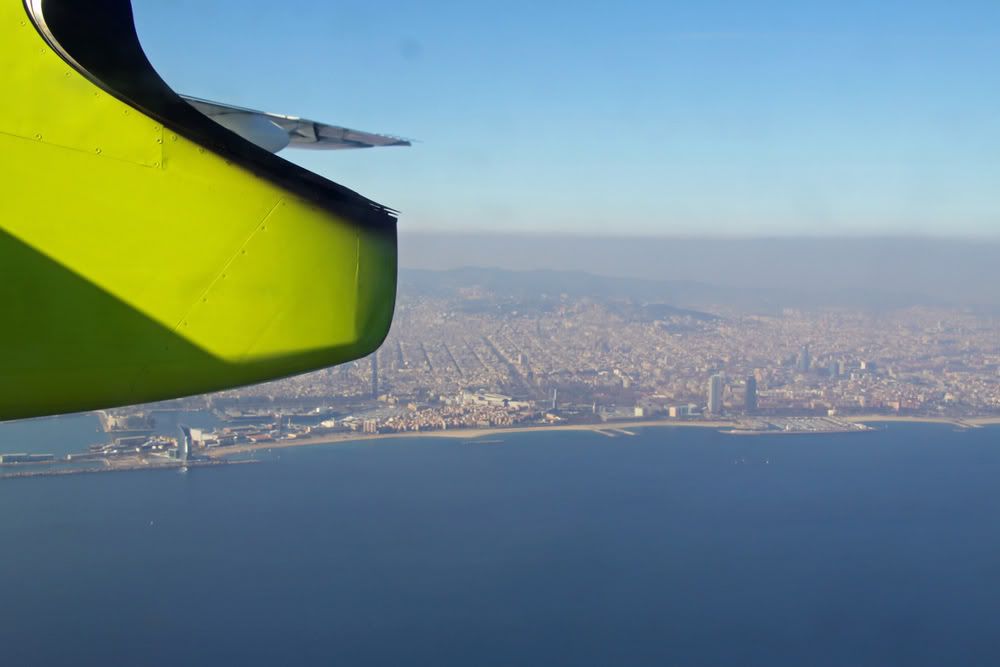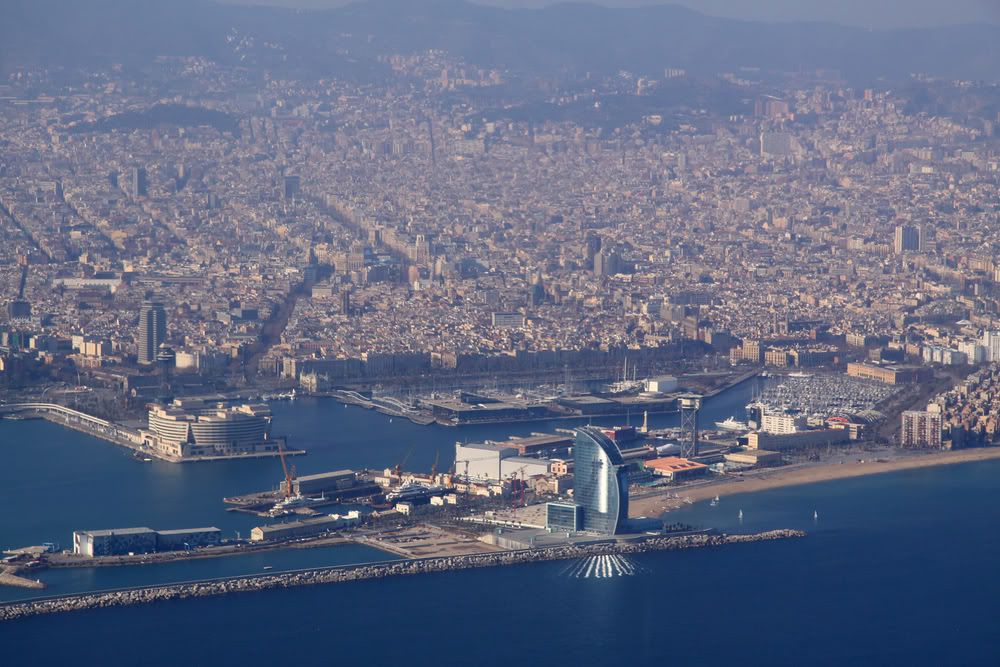 The port of Barcelona
Shortly before landing on runway 25R in Barcelona El Prat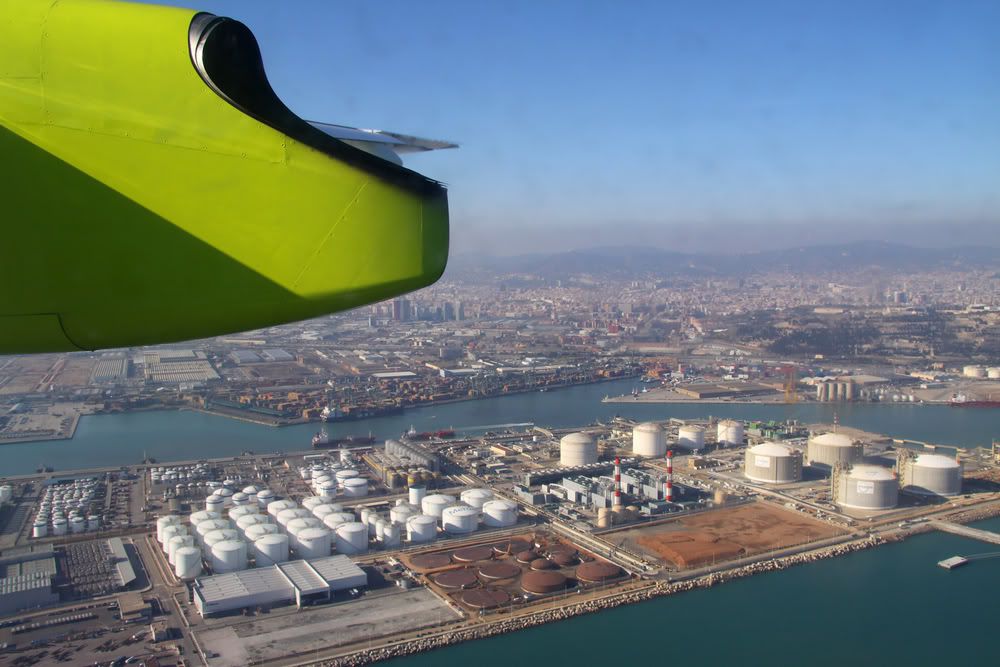 After a very smooth landing we taxied for about 5 minutes to some far away stands where I spotted a DHL 757 and we actually parked right next to a Pronair MD87. I said goodbye to the crew and reassured them to be on another Skywork flight soon. They also let me take a cabin picture and the other F/A was nice enough to put on a bright smile for me.
Me along with the other dozen passengers were then bussed to terminal 2. As I had only cabin luggage with me I headed straight to the exit and from there to the next security check point as I was getting on a Ryanair flight to Seville 2 hours later.
View of terminal 1 from the bus
Information screens in BCN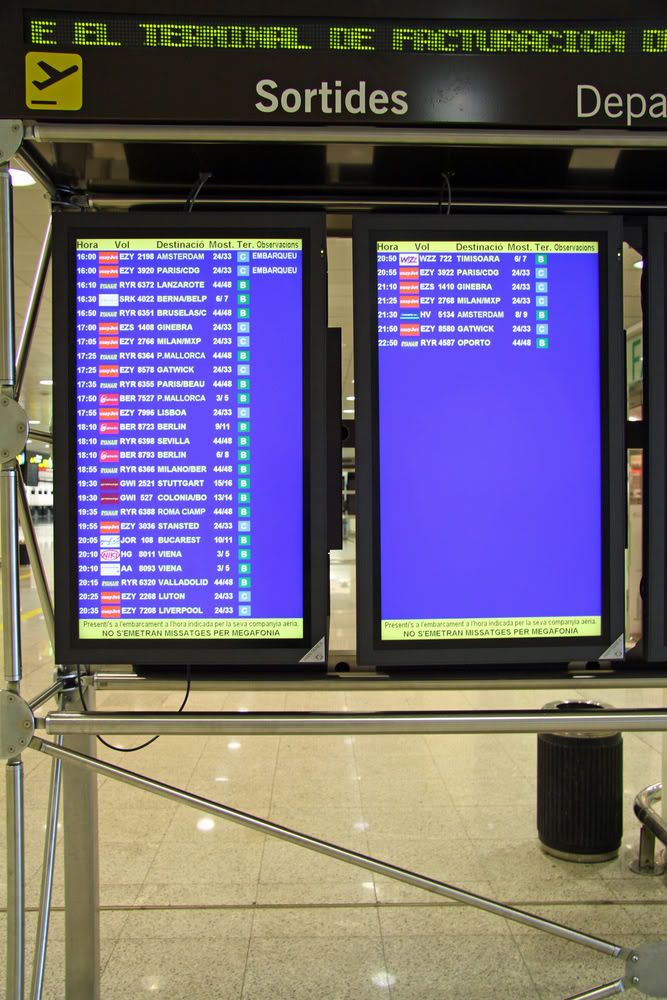 In the departure hall at terminal 1 I spotted a big billboard and some smaller billboards advertising the Skywork flights to BRN
As mentioned I then proceeded to the security point and on to the gate area used by Ryanair. I spent some time reading a book and enjoing the usual luggage drama at FR gates. There was a lady on a flight to Charleroi who was fighting loudly with the gate agent over paying the luggage tax since her belongings were to big to fit. Always a bit amusing since people still think they can argue with FR over these kind of things... better read the terms of carriage next time.
Tuesday February 8, 2011
Flight; FR6398
From: Barcelona BCN
To: Seville SVQ
Departure time: 1810LT
Arrival time: 1950LT
Aircraft: Boeing 737-8AS EI-EFN
Almost empty terminal 1
Ryanair just started flights to BCN last year but it seems they have already grown to a decent size
Jet bridge and atc tower of BCN airport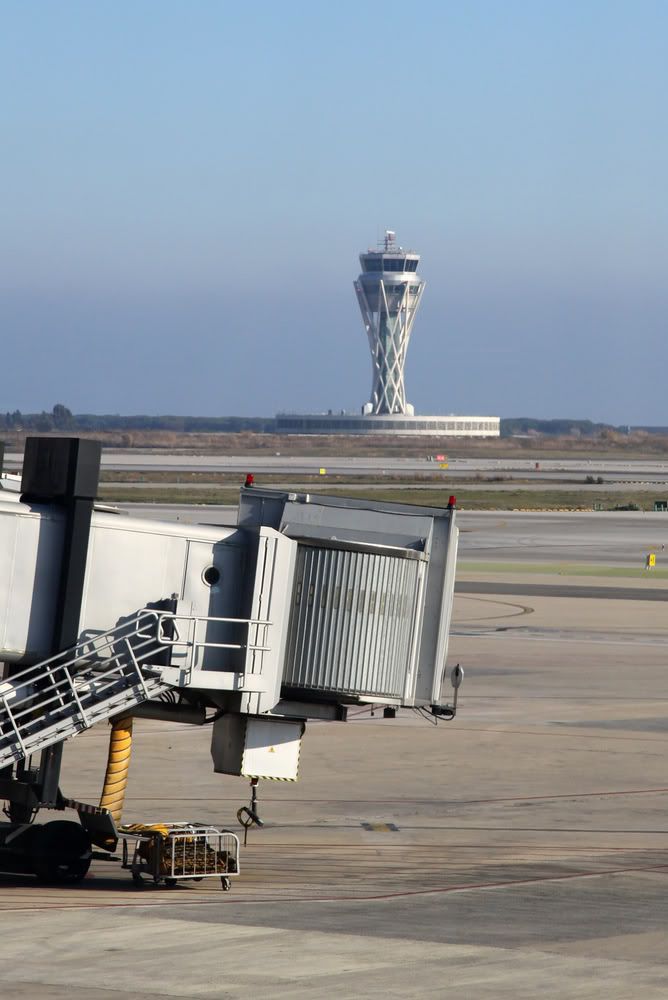 Heres a view of the waiting area while standing in the queue for the flight to Seville
The incoming aircraft was delayed by about 40 minutes and it was getting dark quickly. I just managed to get one shot before total darkness.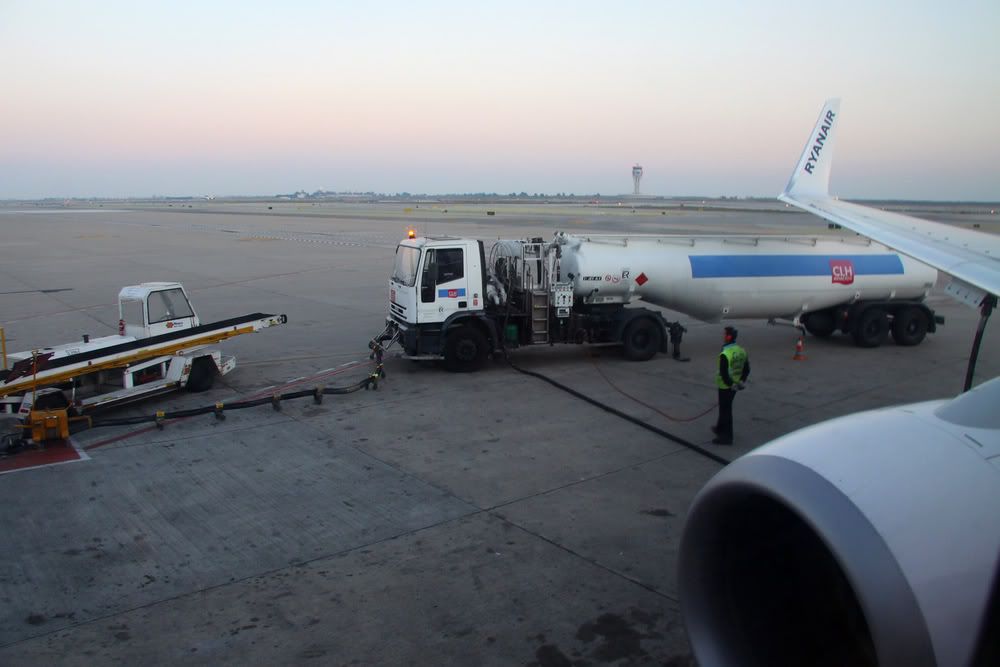 The flight was a regular FR flight with no incidents, the load was 100%. Nothing to complain for considering the fare of about 16 Euros. From Seville airport I took a bus to Prado de San Sebastian and from there another bus to my hostel where I spent the night. The next day I spent about 8 hours just walking through Seville, enjoing the warm weather and the splendid archictecture of Seville. Here are some pics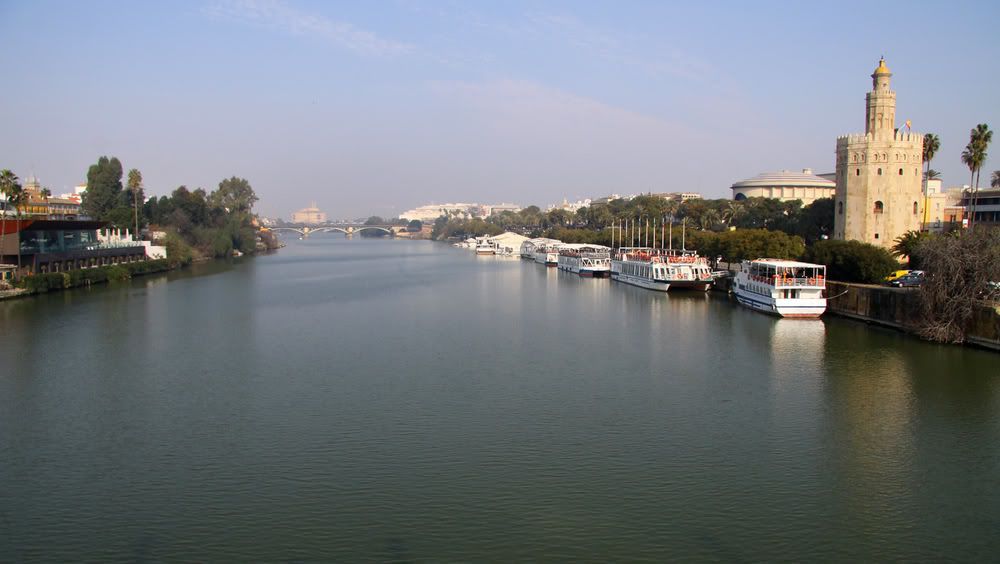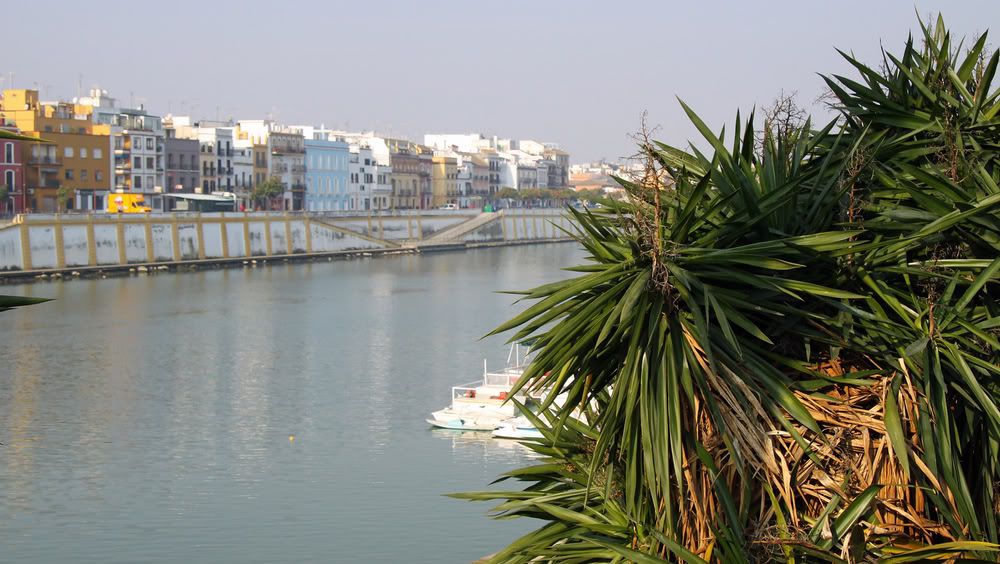 Bull fighting arena. I would highly recommend the tour and the bull fighting museum (if you understand some Spanish, but I think English is also available).
Plaza de Espana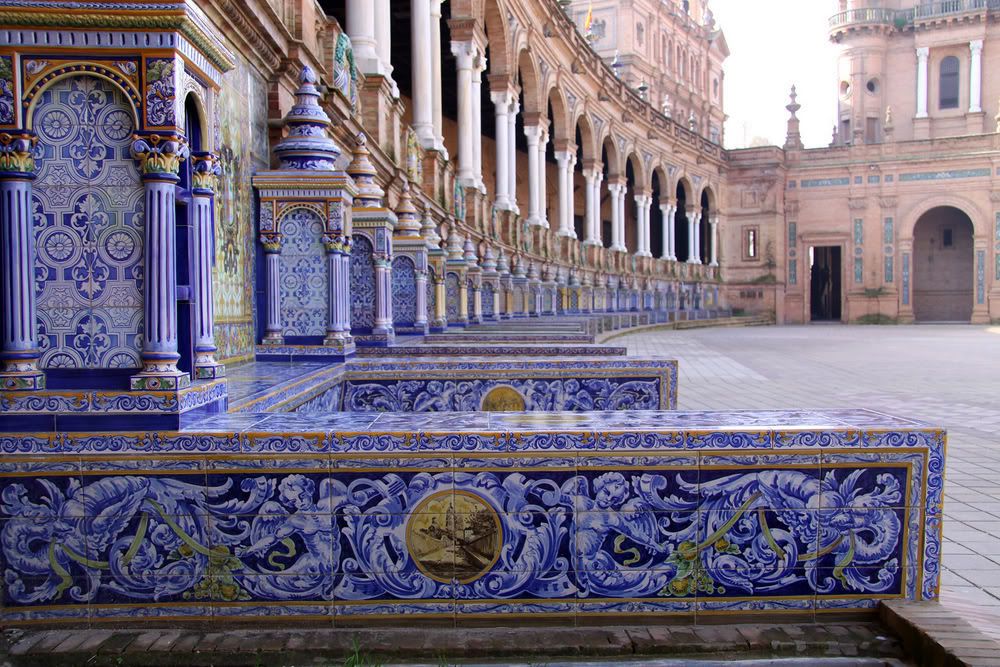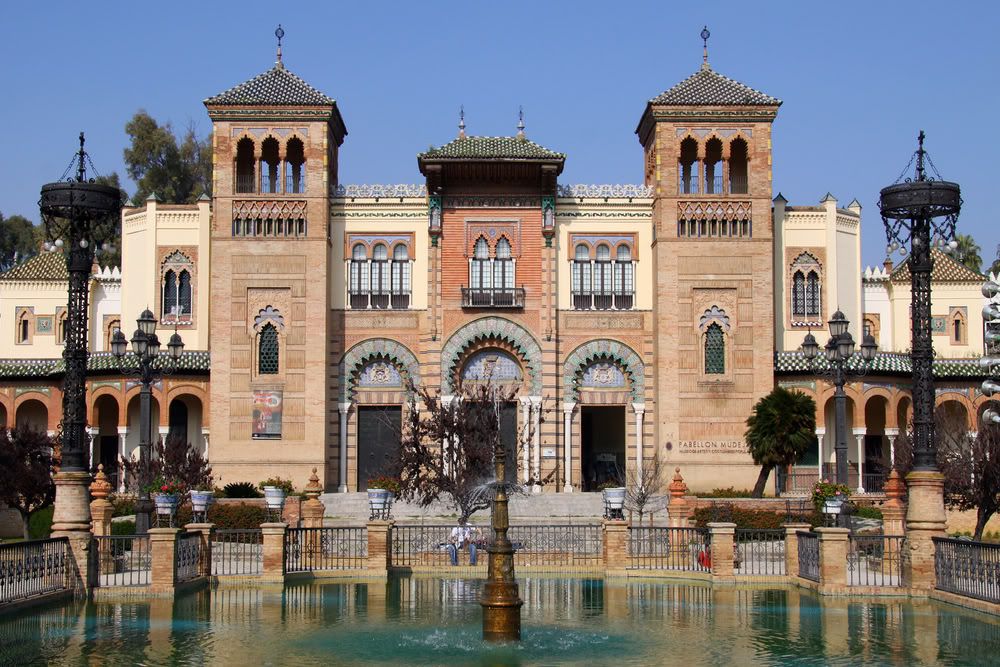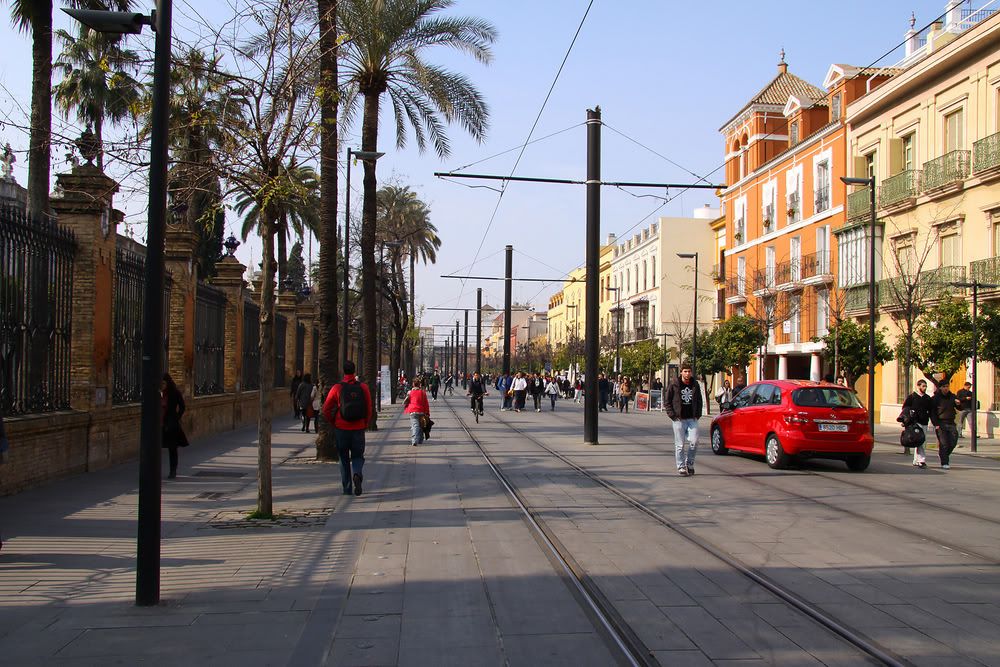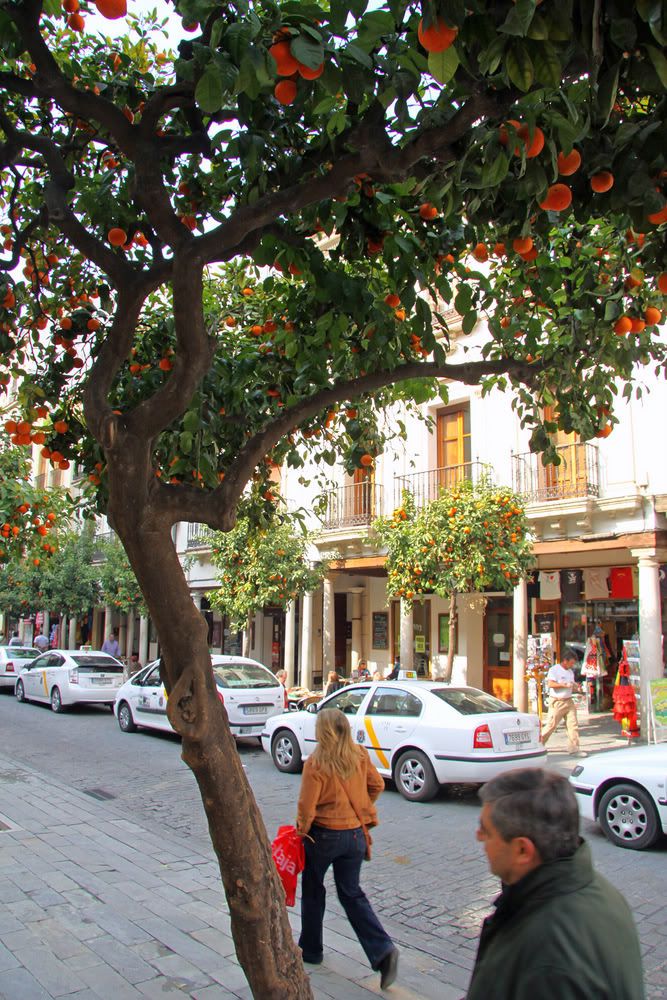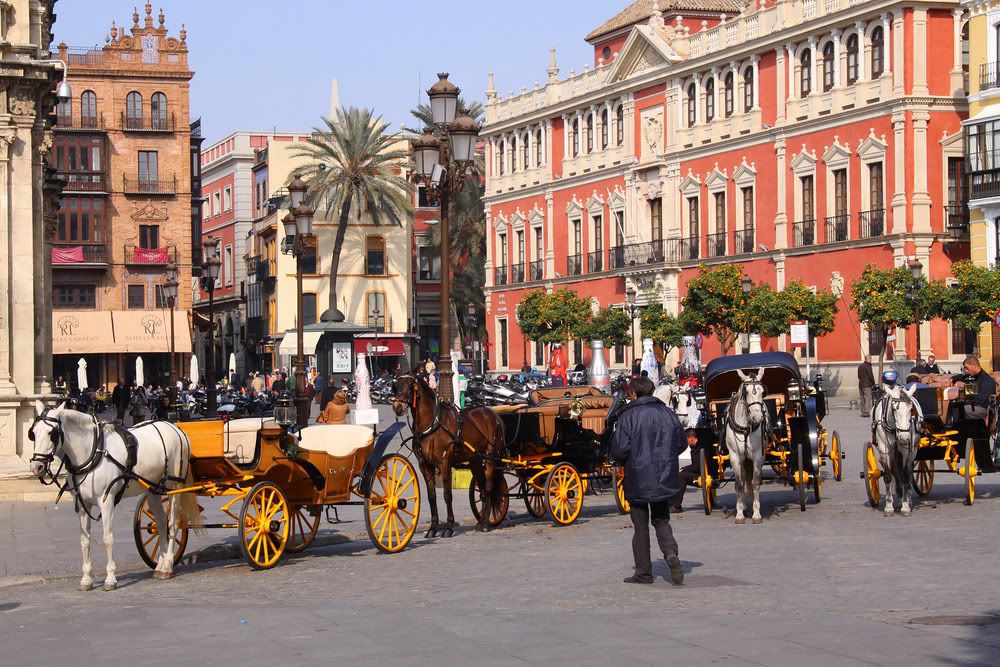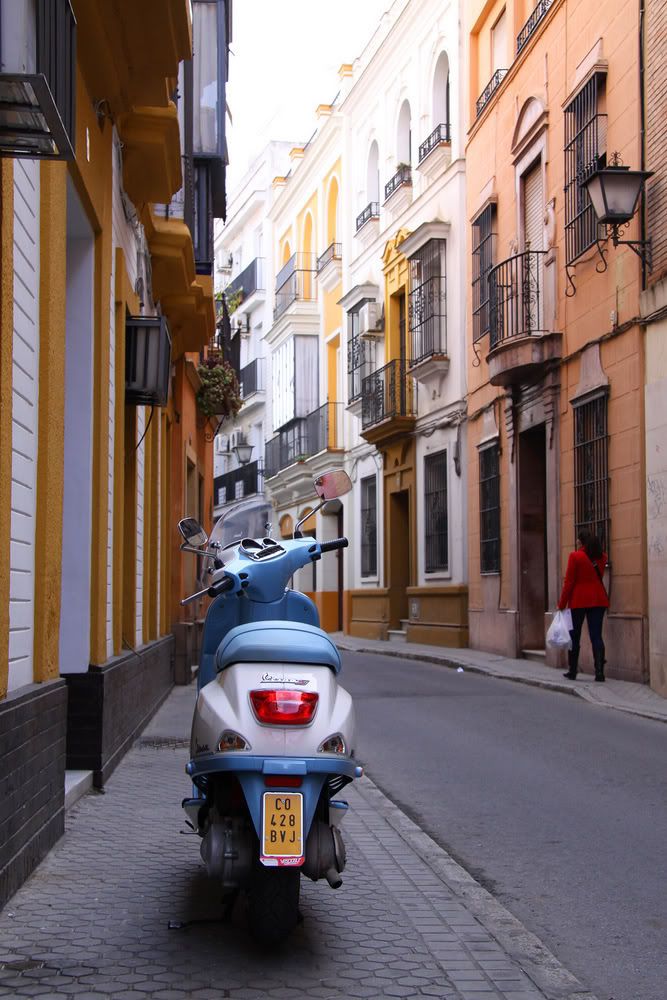 Plaza de Espana again during sun set just shortly before I took the bus to Seville airport for my next FR flight to PMI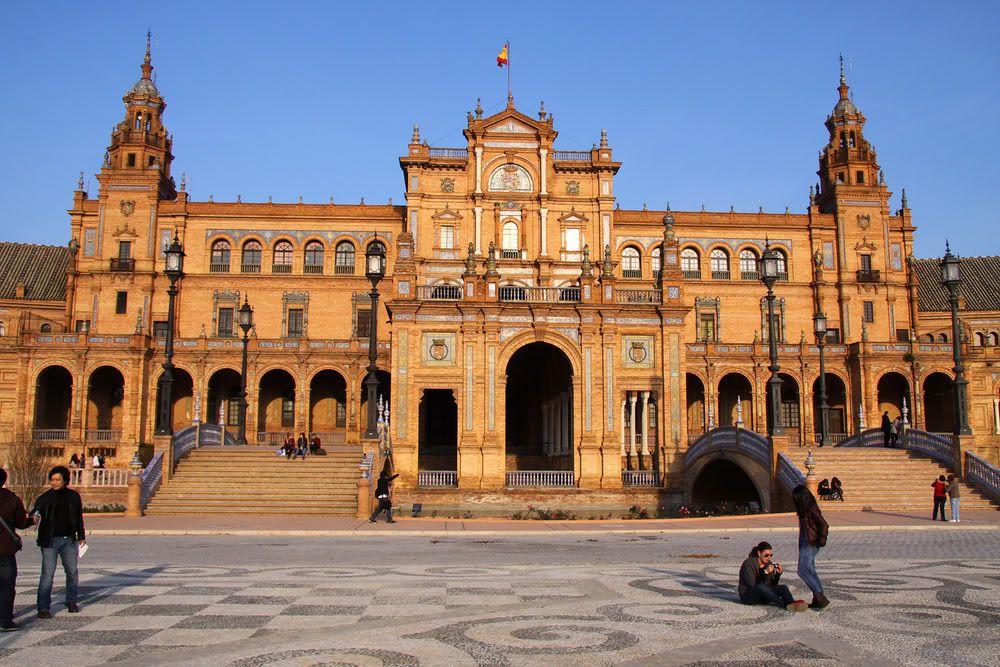 I arrived a bit early at Seville airport so I wandered around in the terminal and took a shot of the planes on the ramp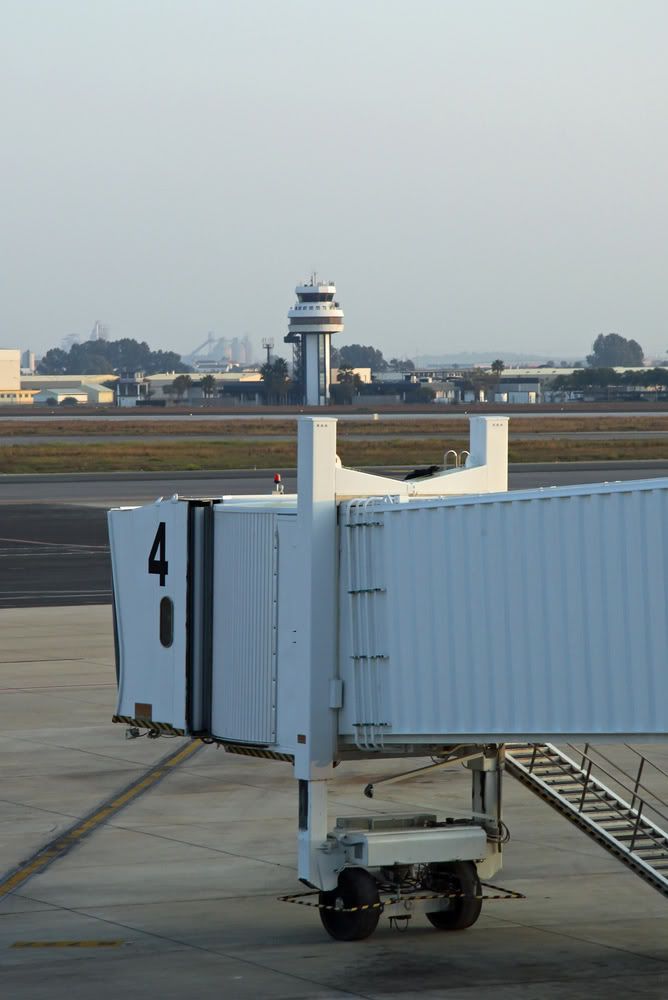 Overall I was really impressed by what the city of Seville offered. The airport didn't impress me much. I can't say it was a bad experience but certainly the food was way overpriced and options were very limited. The boarding of the FR flight however was smooth but mainly due to the fact that there were only about 50 passengers.
Wednesday February 9, 2011
Flight; FR5272
From: Seville SVQ
To: Palma de Mallorca PMI
Departure time: 2015LT
Arrival time: 2150LT
Aircraft: Boeing 737-8AS EI-EMI
Yet another flight in the dark. Unfortunately this was the only possibility enabling me to spend a lot of time in the cities visited. The flight landed in PMI on time and I took a local bus to Can Pastilla where I stayed at the Roc Leo hotel for about 20 Euro for a single room.
The next day I got up early to explore the old town of Palma. My flight to MAD would be in the afternoon so I wanted to make the most of my time on Mallorca.
I was welcomed on Mallorca by this beautiful sun rise
I made my way to the cathedral of Palma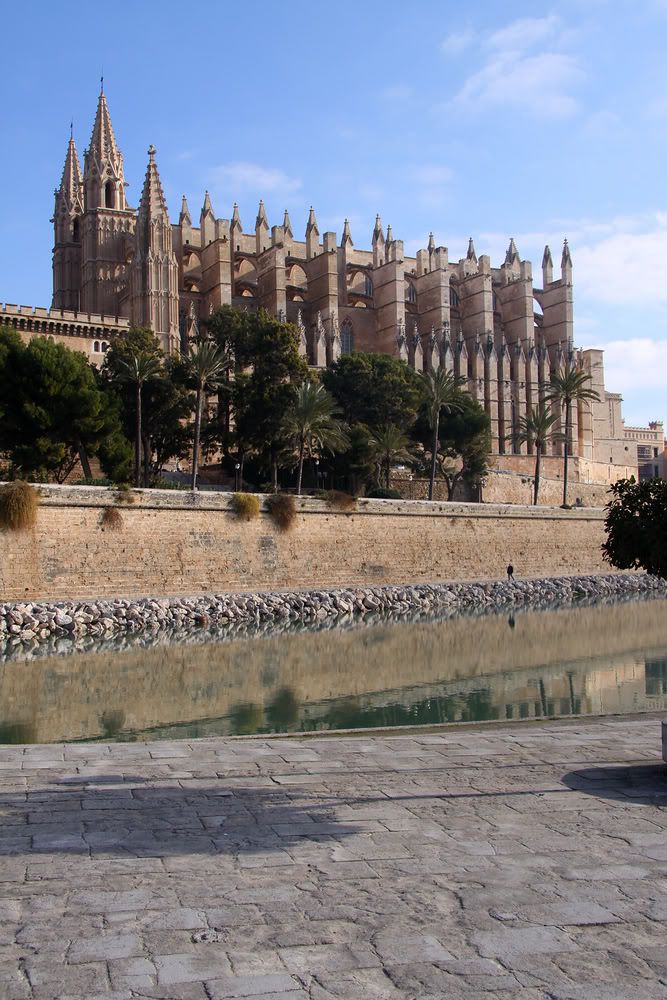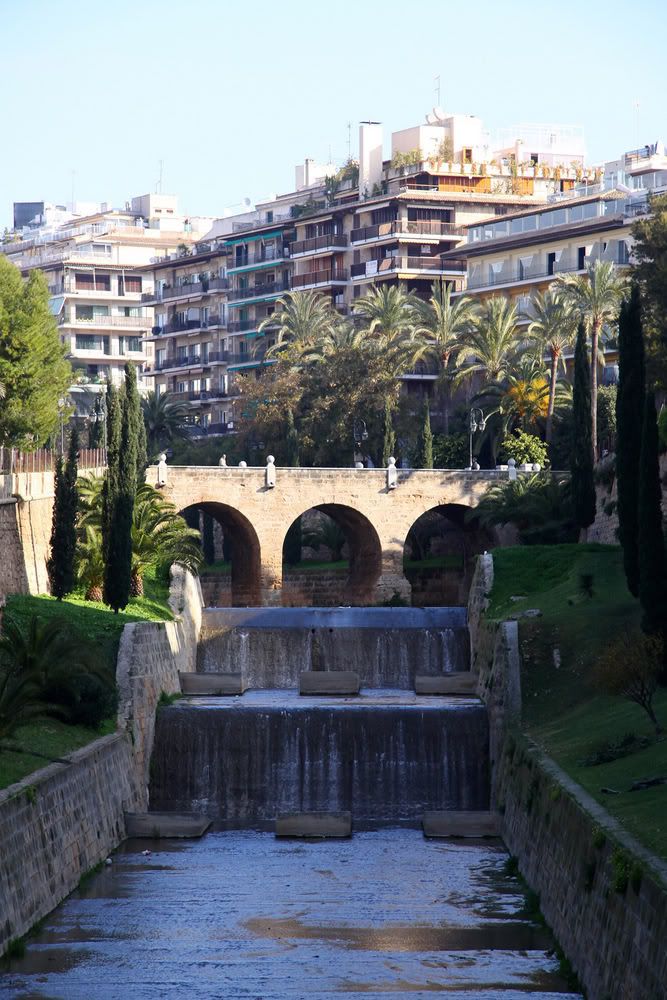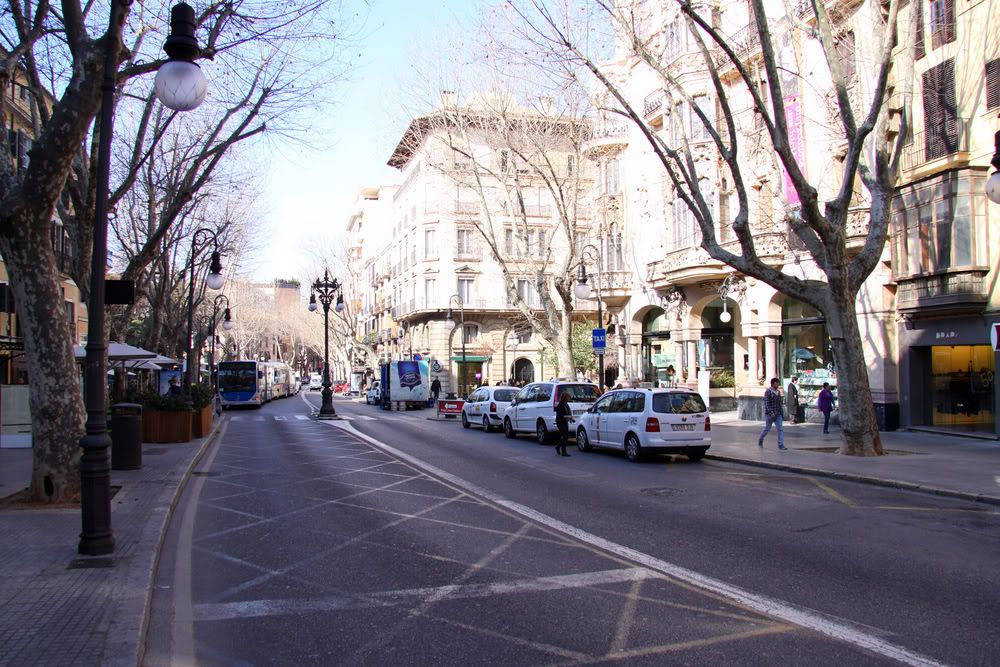 I spent the morning wandering around the old town of Palma just enjoying the weather and the lifestyle of the Islas Baleares...
At about 2PM I took local bus number 1 to the airport. The terminal building is very big as it's got to handle many passengers in summer months. During this time of the year it's a bit oversized I would say
My plane to MAD, EI-EFY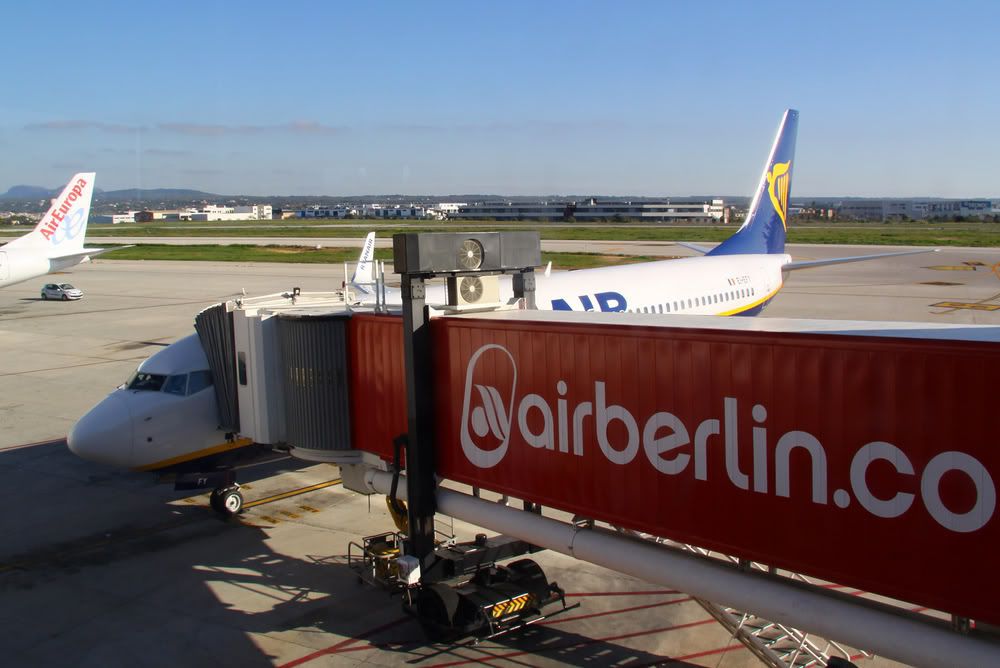 Thursday February 10, 2011
Flight; FR2056
From: Palma de Mallorca PMI
To: Madrid Barajas MAD
Departure time: 1640LT
Arrival time: 1800LT
Aircraft: Boeing 737-8AS EI-EFY
I grabbed yet another window seat on the right side in order to enjoy the view over the city of Palma and the rest of Mallorca after take off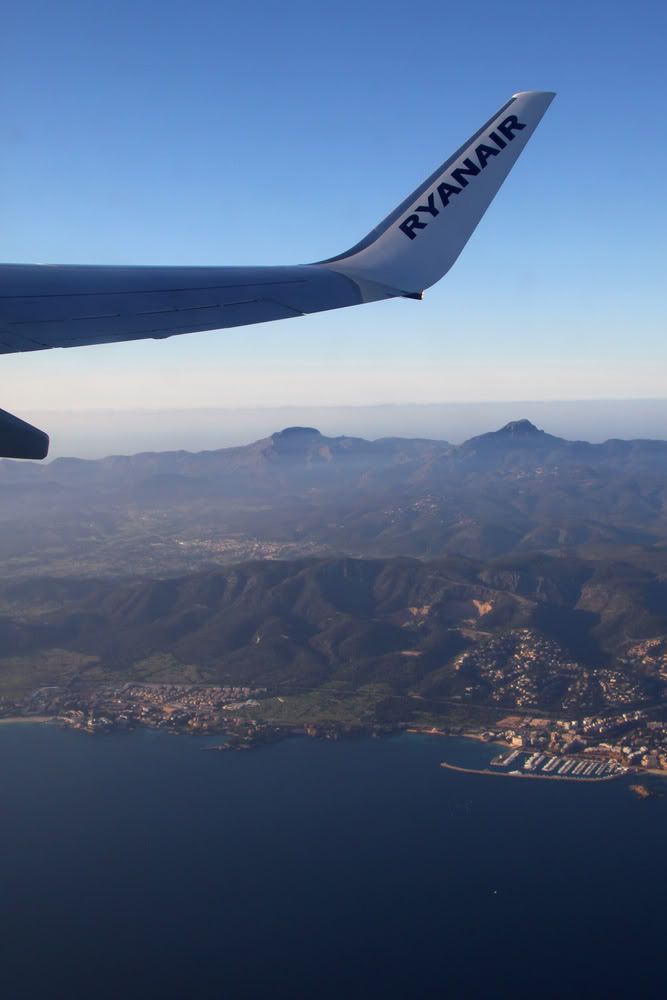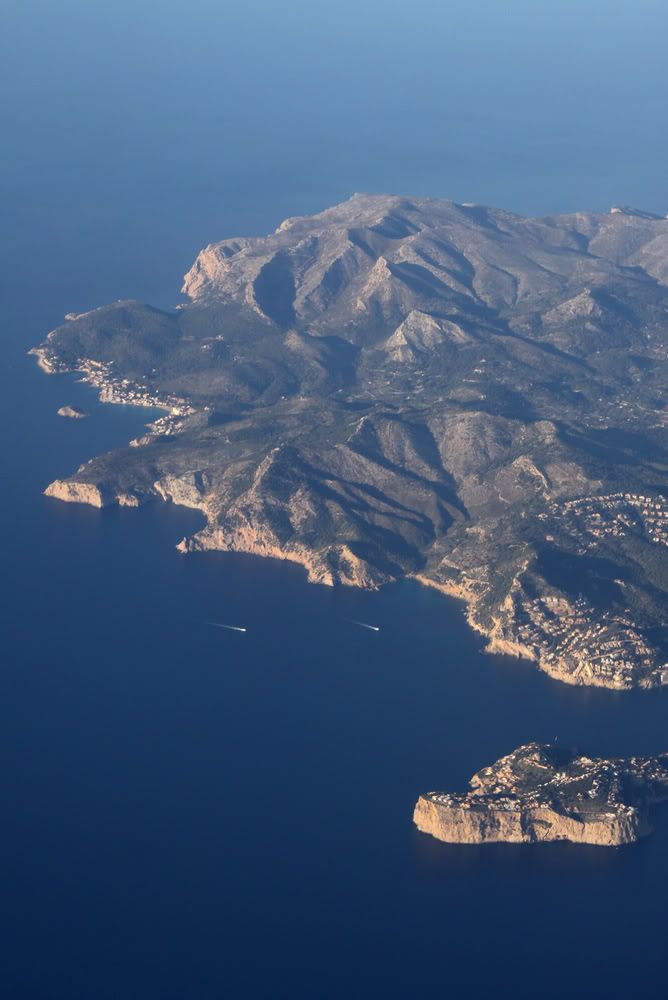 Some overview of the Spanish country side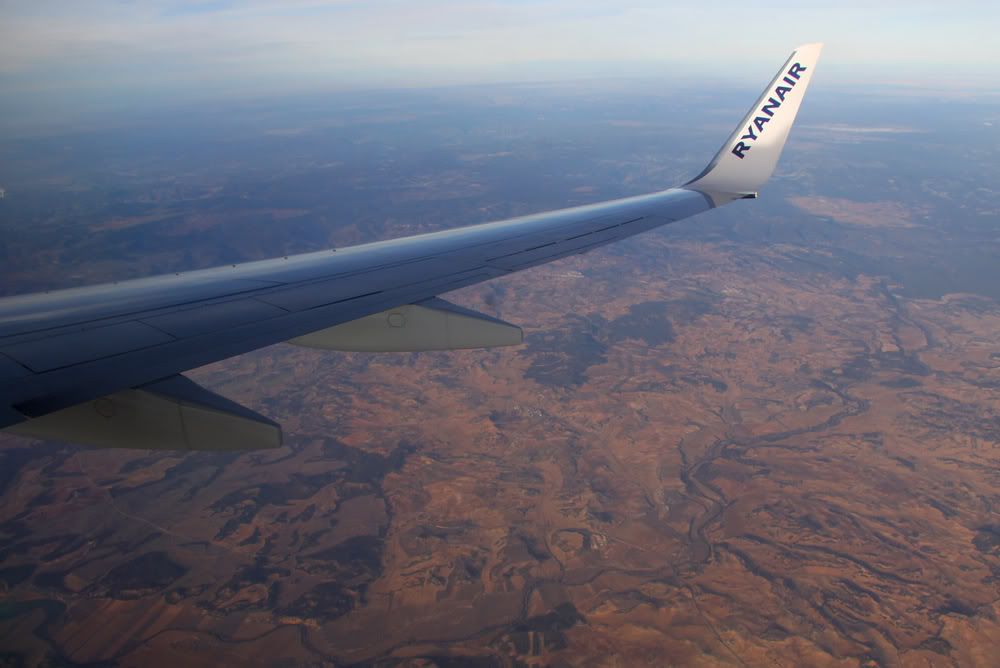 In Madrid I stayed in a hostel cold Hostal Las Fuentes near the Opera. Following are some impressions of Madrid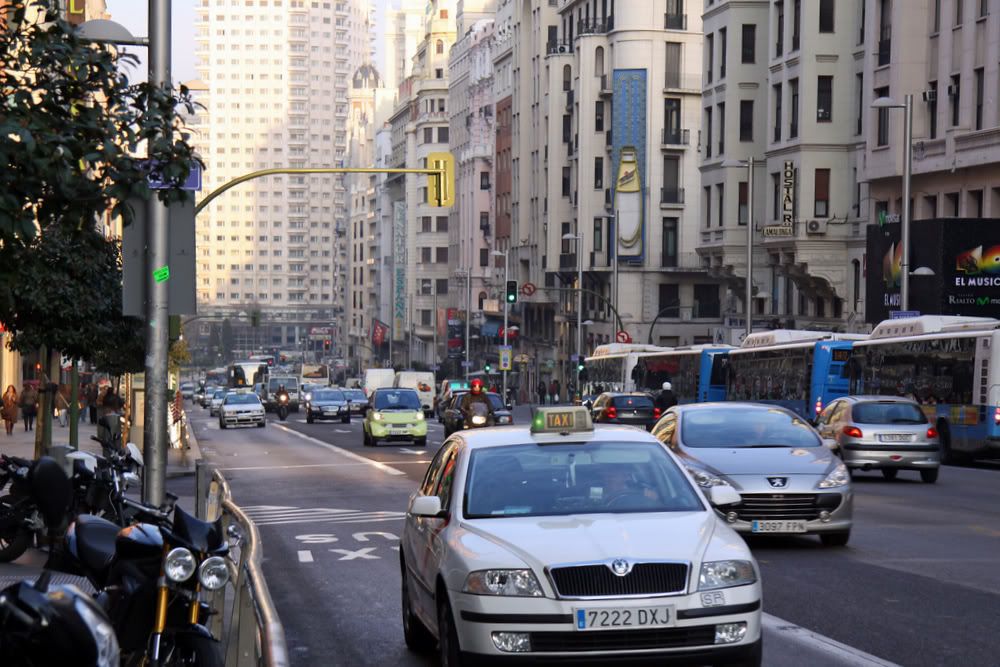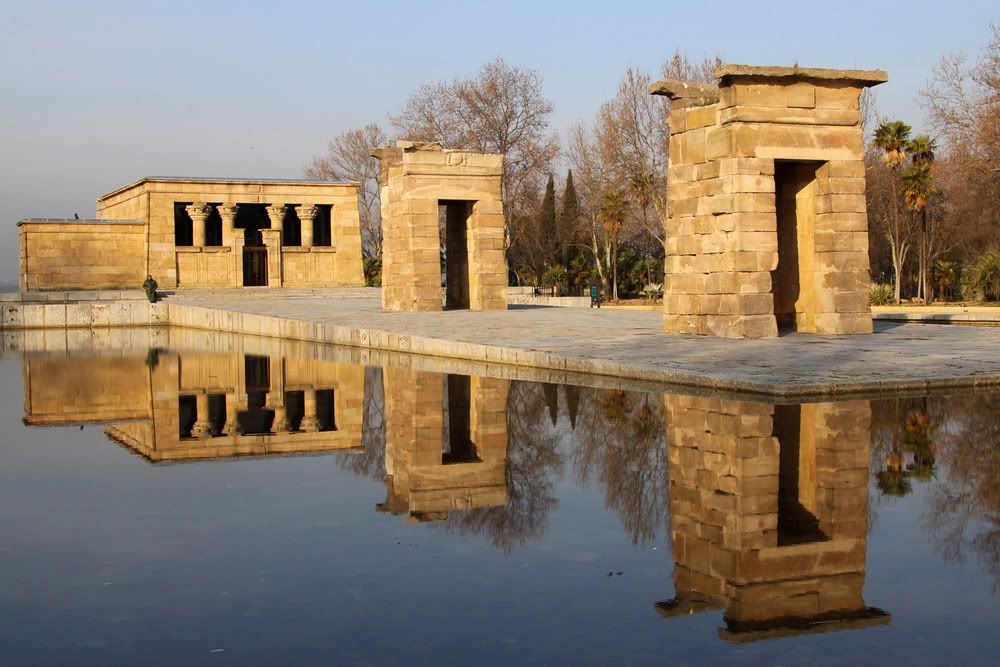 The Royal palace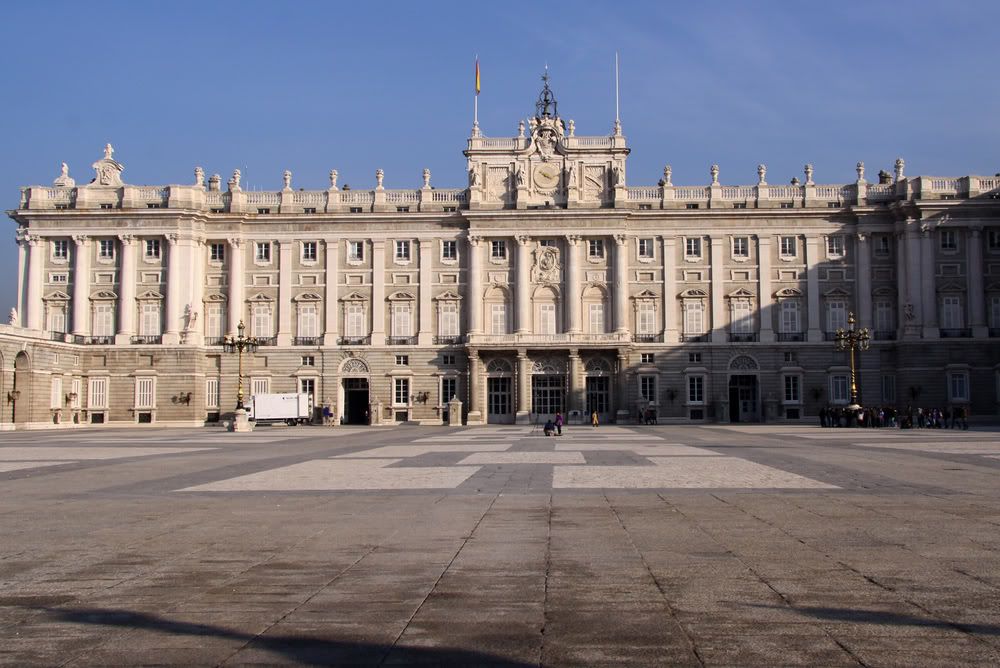 At Plaza Mayor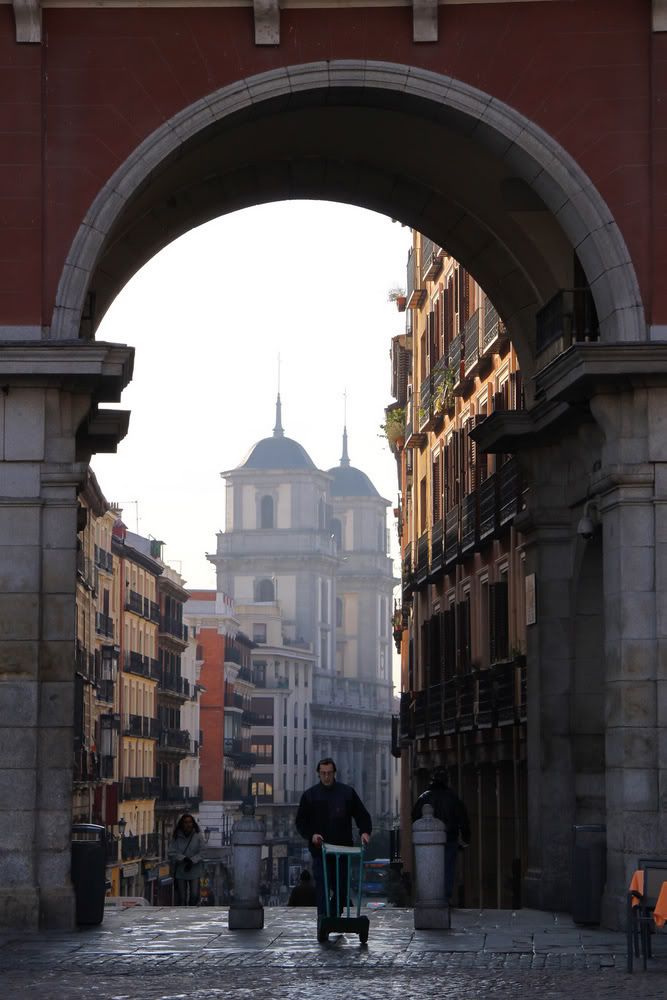 Overlooking Madrid roof tops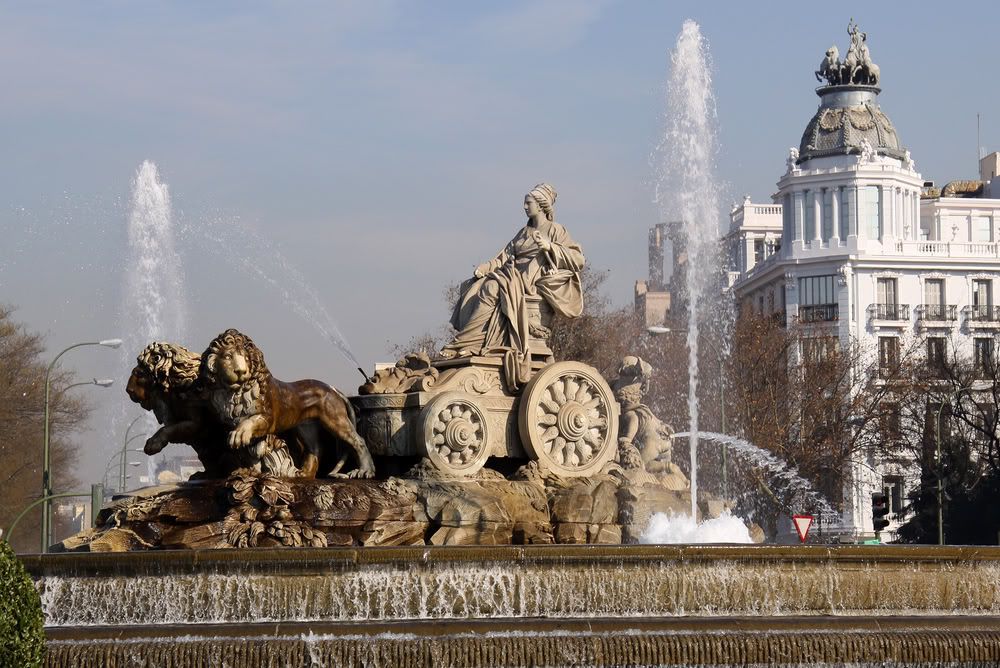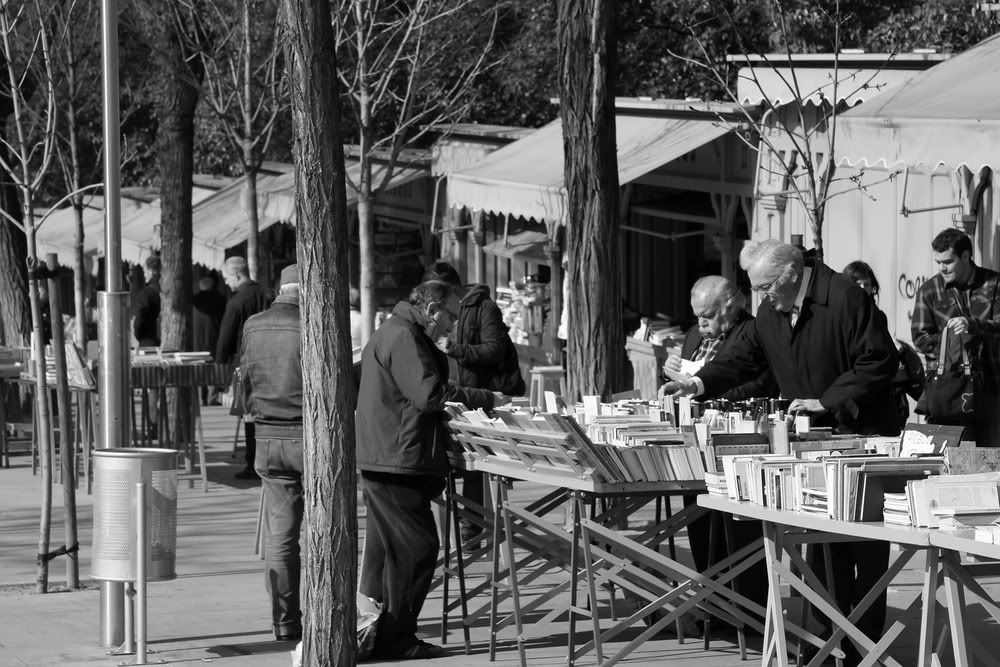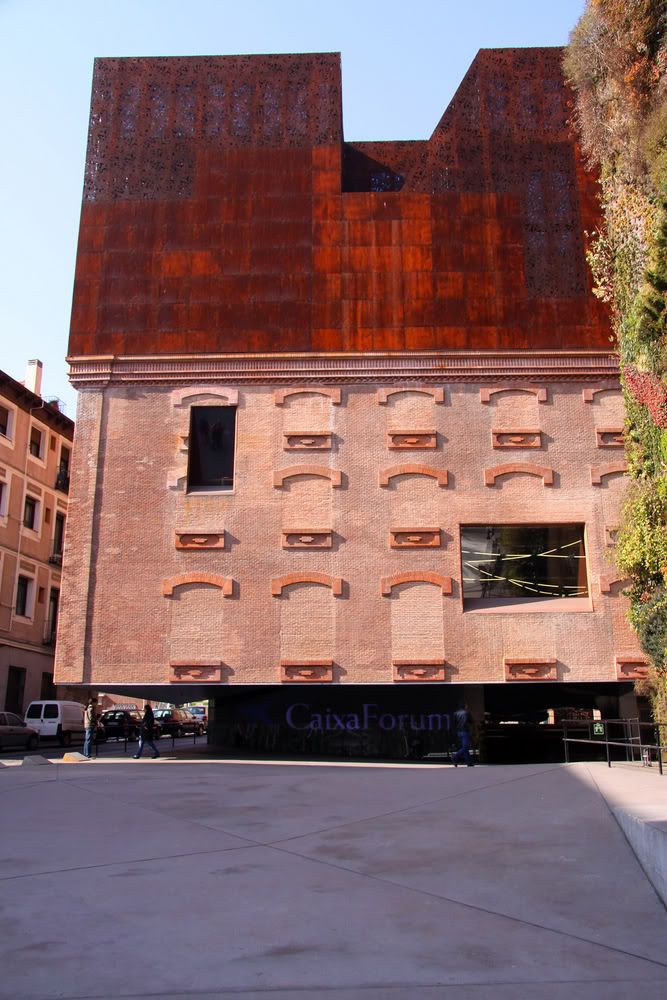 The afternoon of February 11 I had booked a flight to Santander on Ryanair again. I was early in Madrid Terminal 1 but luckily I spotted some interesting traffic while being there
Flight; FR5307
From: Madrid Barajas MAD
To: Santander SDR
Departure time: 1740LT
Arrival time: 1850LT
Aircraft: Boeing 737-8AS EI-DWT
Due to a late arrival of the aircraft this flight was delayed by about thirty minutes. Other than that another good FR service. As this was a Friday night flight, the flight was completely full and boarding therefore took longer. Luckily I was in the front of the boarding queue and could grab a window seat in the front of the plane. The fare for this flight was about 30 Euro.
The city of Madrid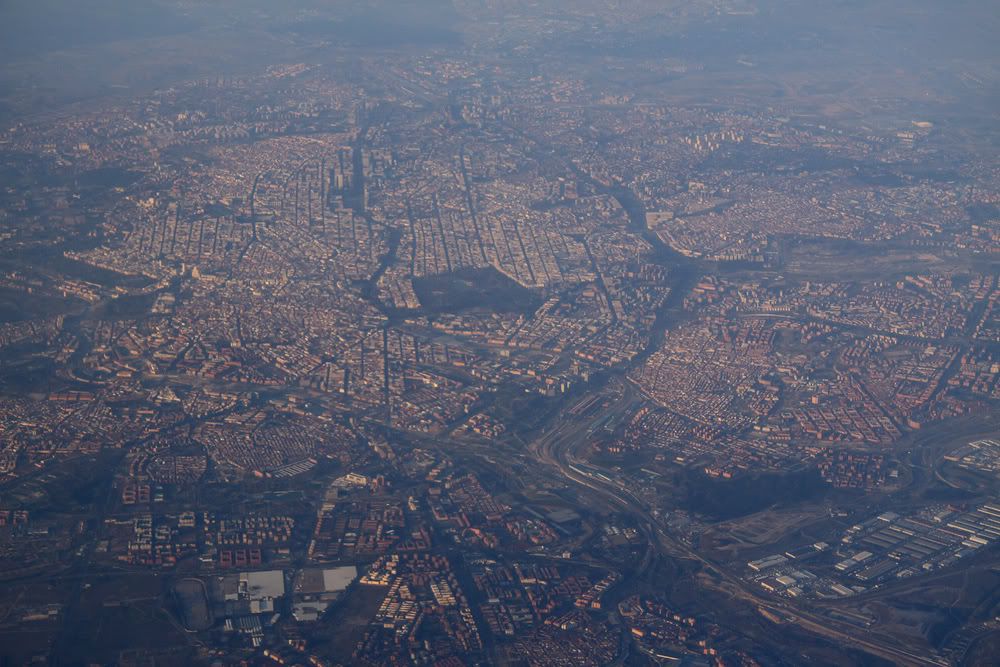 Overflying MAD terminal 4
I had not known that Spain is full of mountainesque areas
Wind generators
Beautiful sight during sun set
This was my first time flying to Santander but I was thrilled as the approach is usually a bit bumpy due to the heavy cross winds. I was not disappointed, the pilot was challenged by some strong gusts. For anyone interested, here is a video of this nice approach (not done by myself):
http://www.youtube.com/watch?v=HfIV9r-4xA4&feature=related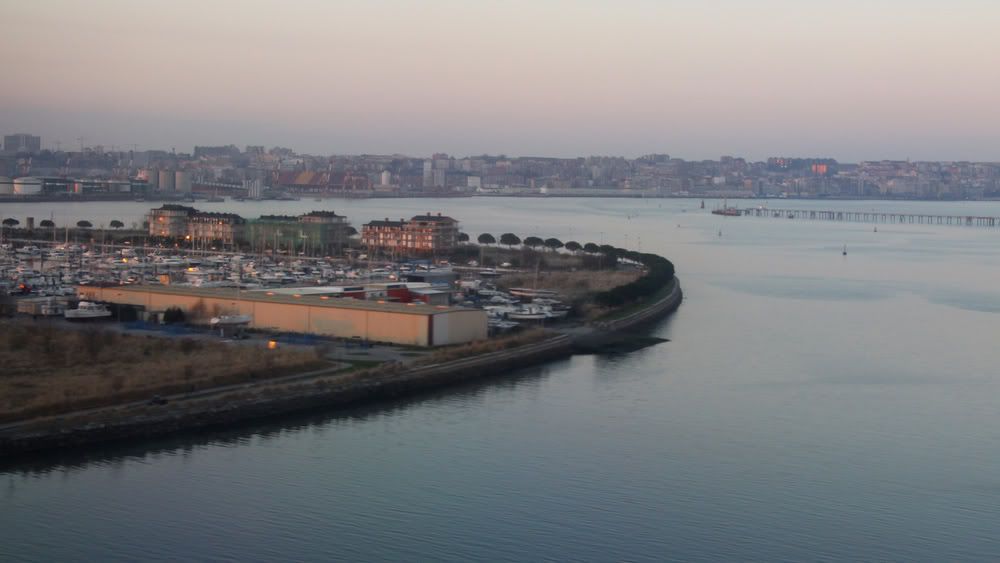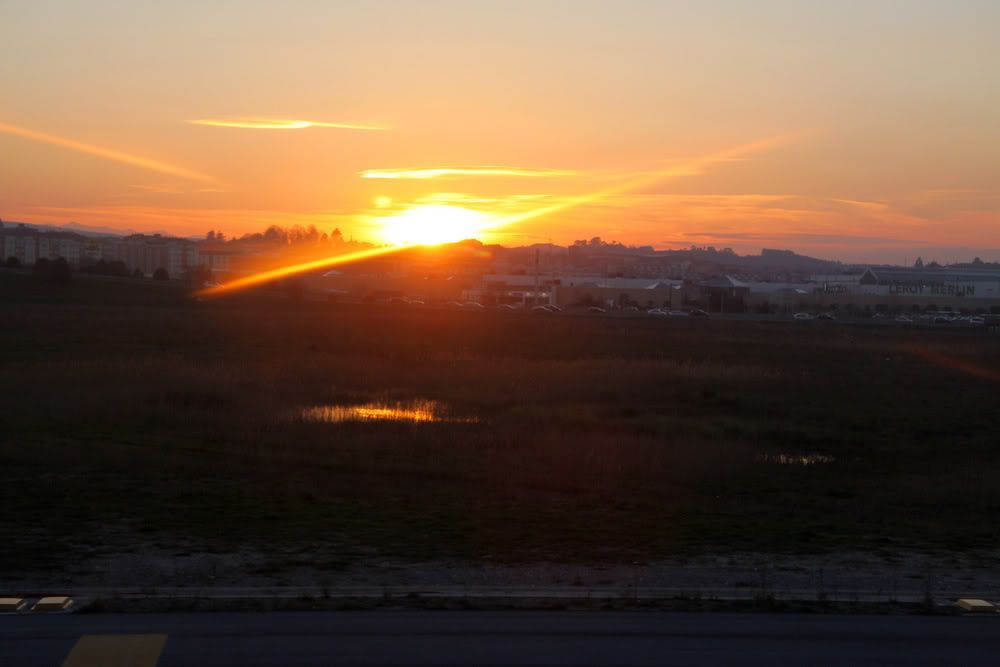 Here's a picture of my plane while walking toward the terminal of SDR
I had booked myself a room at a local hostel, Hospedaje Magallanes. It was centrally located and allowed me to get to every point in the city just by walking. I had not read anything about Santander before this visit so the next morning I got up and just kept walking toward the land's end of the Peninsula. It was not a bad idea at all since I reached the Palacio de Magdalena where the Spanish King used to have his vacation residence back in the days. Here are some pictures of my 24 hour stay in Santander: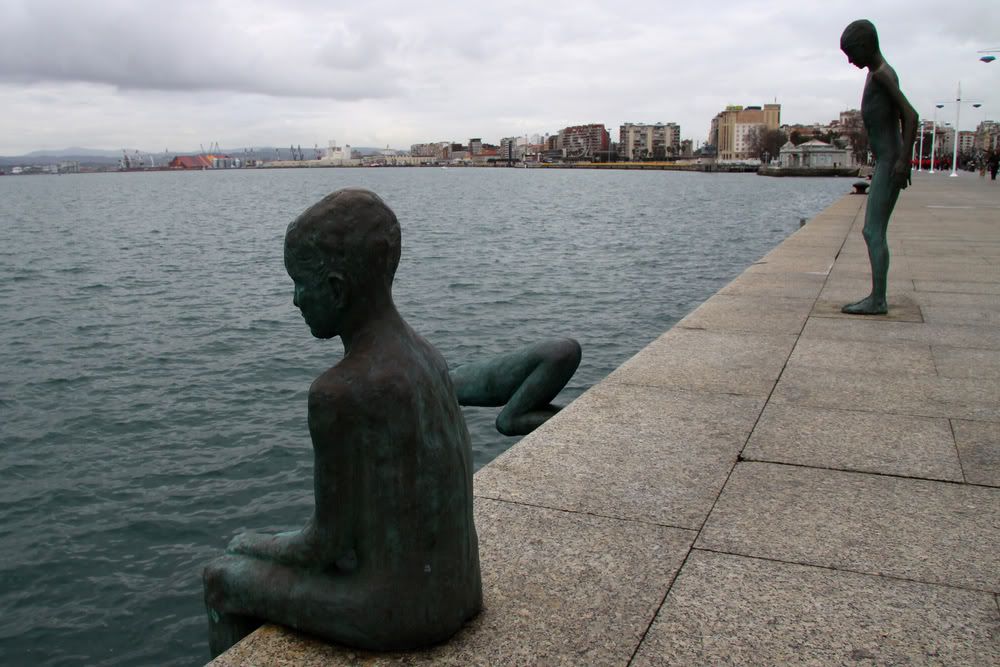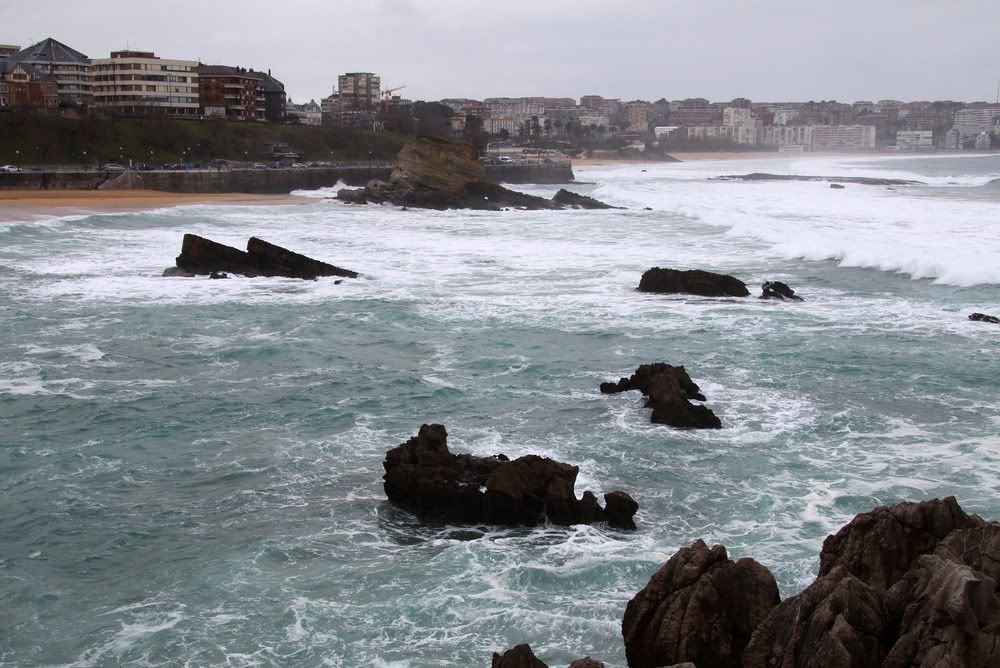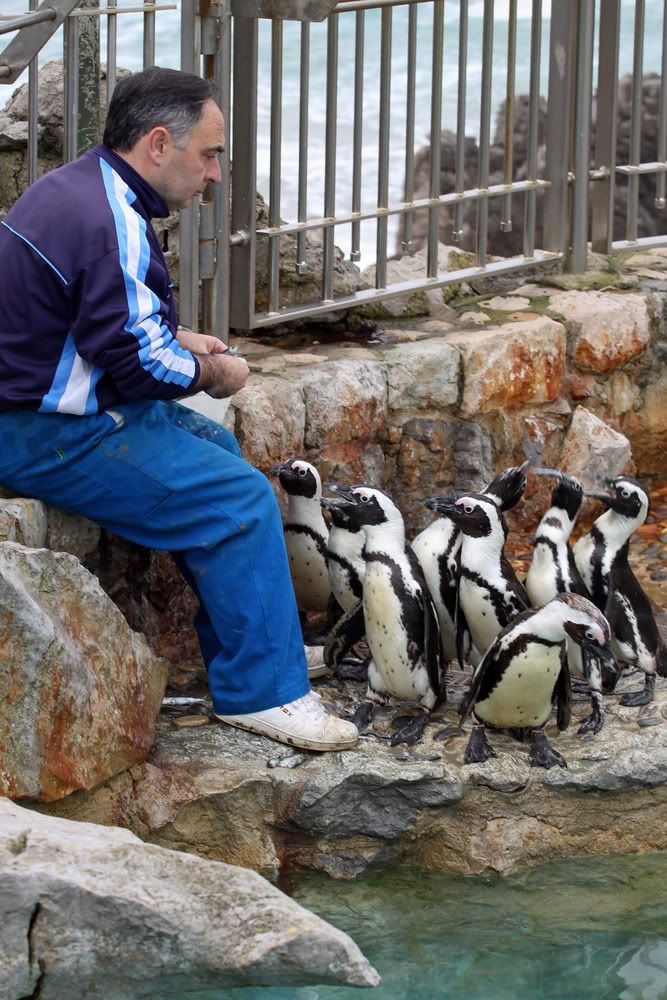 Palacio de Magdalena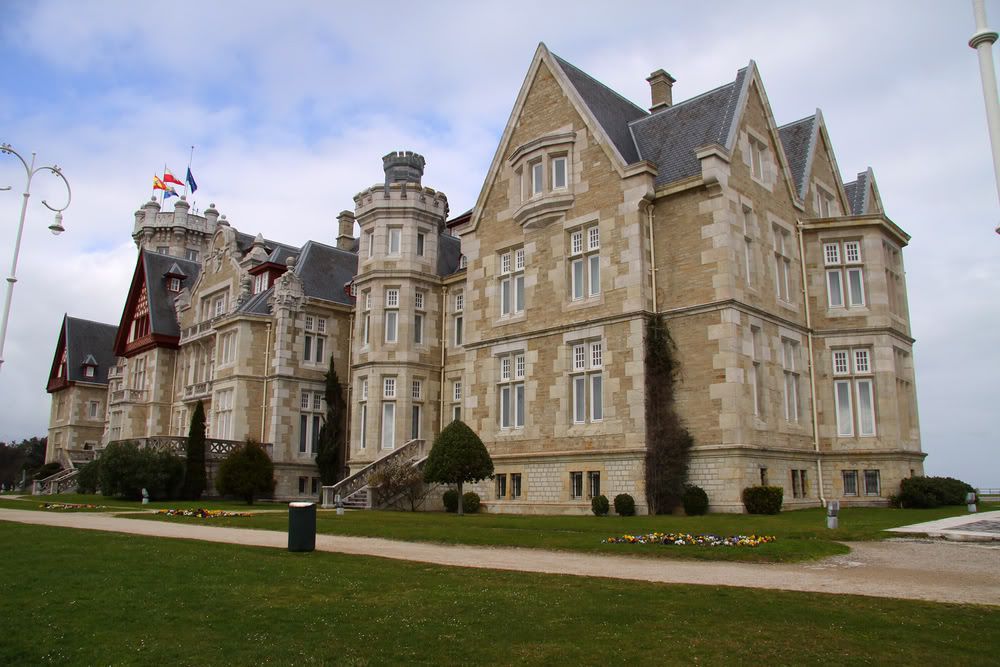 Late in the afternoon I took the bus to get to SDR. Here is a picture of the departure hall and the info screen.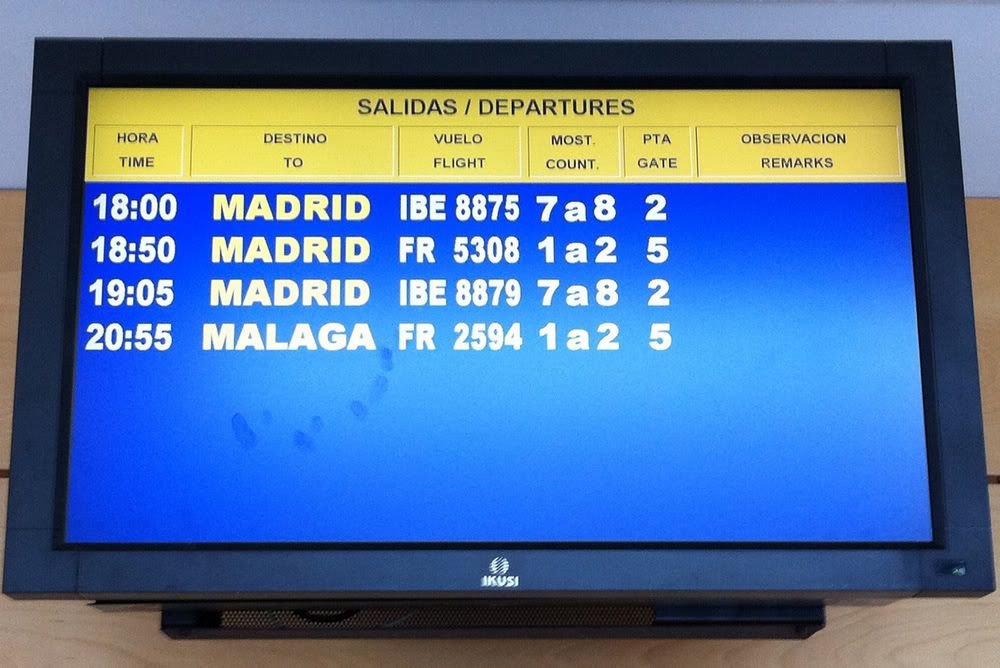 I then cleared security and entered the almost empty departure hall. I was very impressed by the efficiency and cleanliness of this regional airport
I then proceeded to the top floor where I got a nice view of the runway. I took some shots of the few movements that were going on at the time.
Ryanair to Brussels Charleroi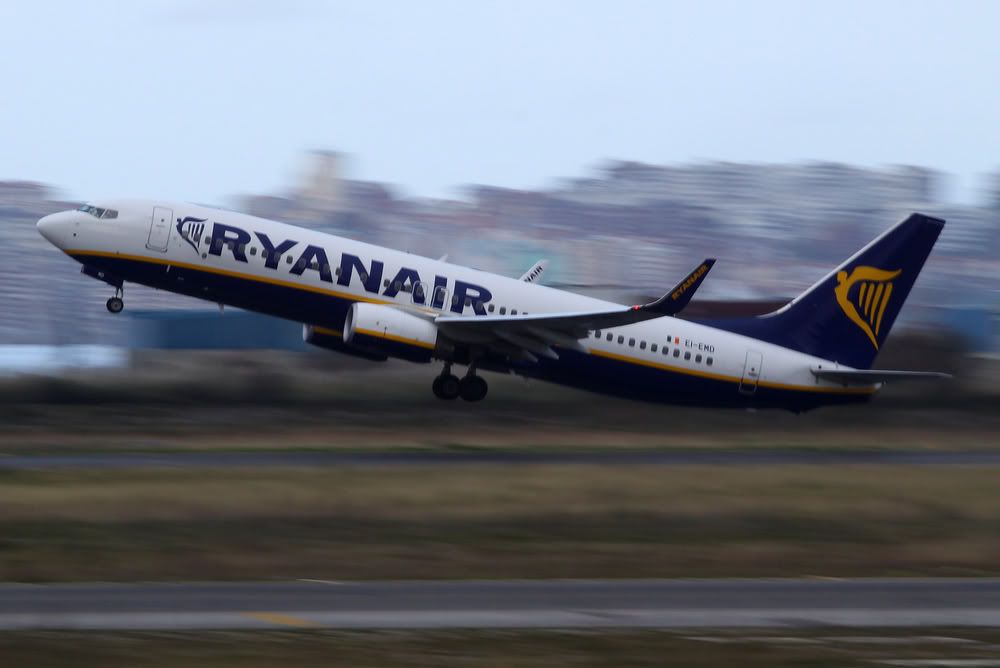 Iberia CRJ200 to Madrid
Saturday February 12, 2011
Flight; FR5308
From: Santander SDR
To: Madrid Barajas MAD
Departure time: 1900LT
Arrival time: 2005LT
Aircraft: Boeing 737-8AS EI-??
As it was already dark I decided to leave my camera in the suit case and instead went for a little nap on the short flight back to Madrid. The flight was operated by the same crew as on the previous day.
I spent the night at a hotel in Barajas as I was planning on doing some plane spotting the next day. In the morning I spent about 4 hours on the famous mound. Pictures are not editted yet but I got some good shots of Aeromexico 777, Qatar 77W, EI 330, Santa Barbara 767 etc.
I then took the metro to Barajas terminal 1 and boarded my easyJet Switzerland flight to Geneva aboard HB-JZS. I took a aisle seat and therefore did not take any pictures. I think I was satisfied enough with what I'd previously experienced. The flight was completely full and the EZS crew did a very good job servicing this flight.
Sunday February 19, 2011
Flight; EZS1418
From: Madrid Barajas MAD
To: Geneva Cointrin GVA
Departure time: 1450LT
Arrival time: 1655LT
Aircraft: Boeing Airbus 319 HB-JZS
We arrived in GVA with a slight delay which caused me to miss my train to Biel/Bienne so I had to get home through Bern main station on a inter city train. I got home satisfied but tired as well from the many impressions I had enjoyed over this five day round trip.
Looking back at the trip I'm still amazed by the start up company Skywork. Their service is very good for a European flight, the personnel is very caring and attentive. I hope they will succeed with their plans to expand the network dramatically over the next years. I can only recommend this airline for anyone who would like to try them and the nice airport of Bern.
As for the Ryanair flights I can say that FR was very reliable as in my previous experiences. You get what you pay for and I got exactly what I expected.
I hope you enjoyed this long trip report and I would be glad get some feedback be it positive or negative.
Cheers, Phil
[Edited 2011-02-28 14:48:27]
[Edited 2011-02-28 14:49:47]
[Edited 2011-02-28 14:50:29]
[Edited 2011-02-28 14:53:26]