Introduction
This trip was another one that got started by the desire to log more SK segments. Fares to Oslo were quite low, so I ended up booking a morning connection via CPH for around 90 EUR. Bonus points came from the fact that both segments should be operated by classic SK planes - a SAS Denmark Mad Dog and a SAS Norway 734.
Not having much desire to spend much time in Oslo in the middle of the coldest time of the year I was quickly searching for onward flights. Eager to add some more SK segments I was looking at ARN or flying back to CPH - but both were schedulewise a bit problematic, not too many flights are operated on Saturdays. However while searching for CPH I noticed that Cimber Sterling was offering a connection via BLL on a CRJ-100/200 (probably the same one for both legs) for 88 EUR. As these small birds are getting very rare around the European skies that looked like the perfect opportunity to still catch some flights on the type and I booked it.
Finally to get home I was planning on the late night BT connection via RIX. But then I noticed that the fare was the same 65 EUR from both CPH and ARN and that the timetables were perfect to introduce an additional SK flight to ARN in-between for 60 EUR, with another ride on a Mad Dog. That sounded like a good deal to me, so that's what I booked.
Here's what the itinerary ended up looking like: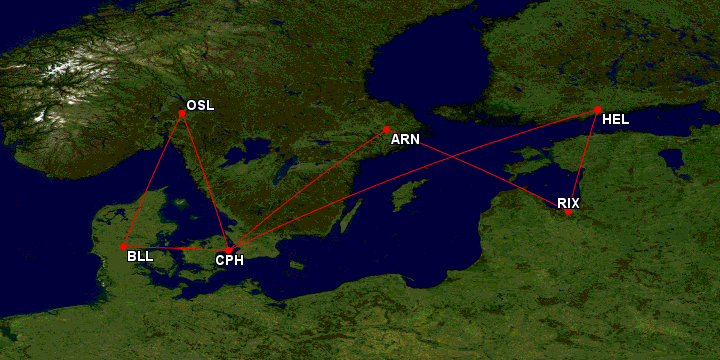 It was only after booking this whole thing I realized that I was actually trying to break a personal record here by flying seven segments in a day. I've done six a few times previously, but this would be the first time with seven!
Saturday 26.2.2011
Fortunately a bit later departure to CPH than two weeks ago, so I get up at almost my usual time of 5.30, do my stuff once again and hit the airport bus an hour later, getting to T1 at 6.50. The departure hall has lots of people - many with ski packs - looks like the winter holiday crowd is still going strong.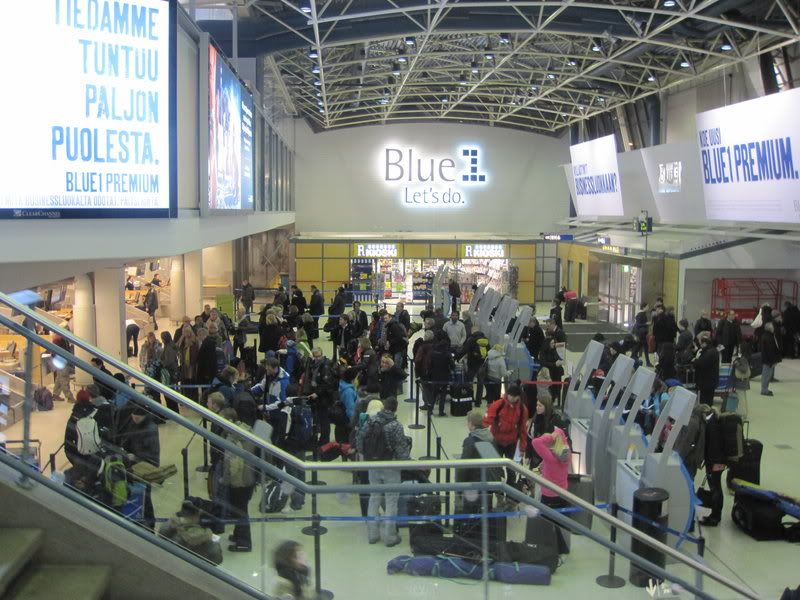 Luckily the masses haven't yet reached the security checkpoint, which is completely deserted and I'm through in no time at all - well apart from my hat getting stuck inside the X-ray machine and the staff having to perform some tricks to get it out from there. The guys are downright rude, no smiles and no responses to my attempts at joking about the situation - well good morning to you too!
My machine is parked at gate 15, the expected Mad Dog in Star Alliance colors, OY-KHE "Saxo Viking", my third flight with this particular plane: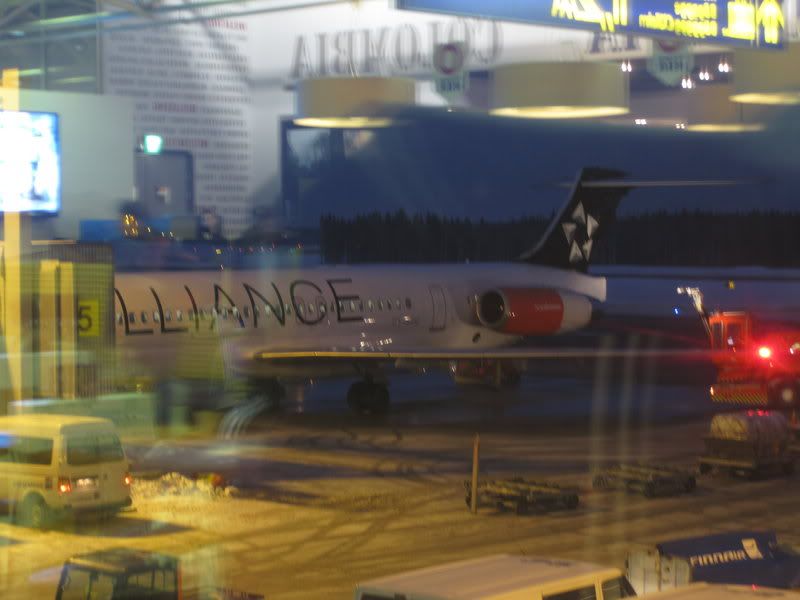 I grab a cappuccino and a bottle of water from the coffee bar next to the gate - as soon as I have a chance to sit down they call boarding 25 minutes before departure. There's quite a queue, so I drink my cuppa leisurely before heading there.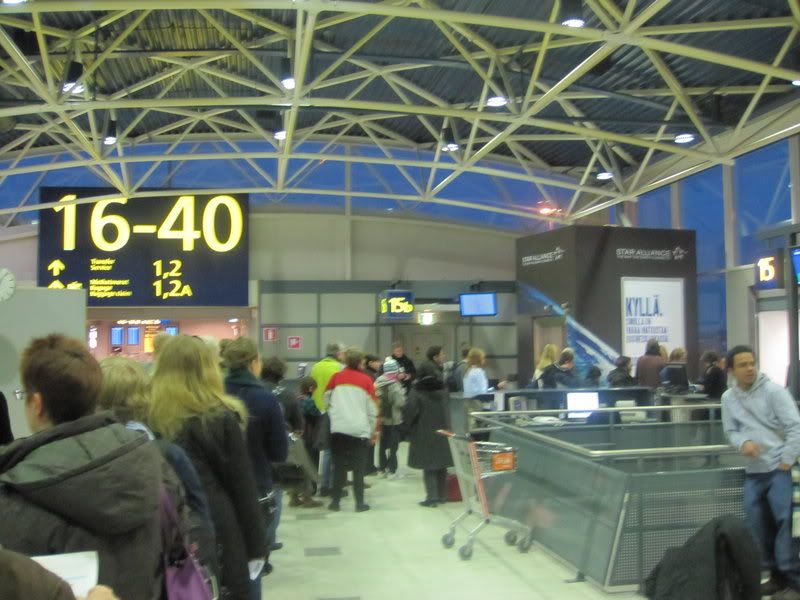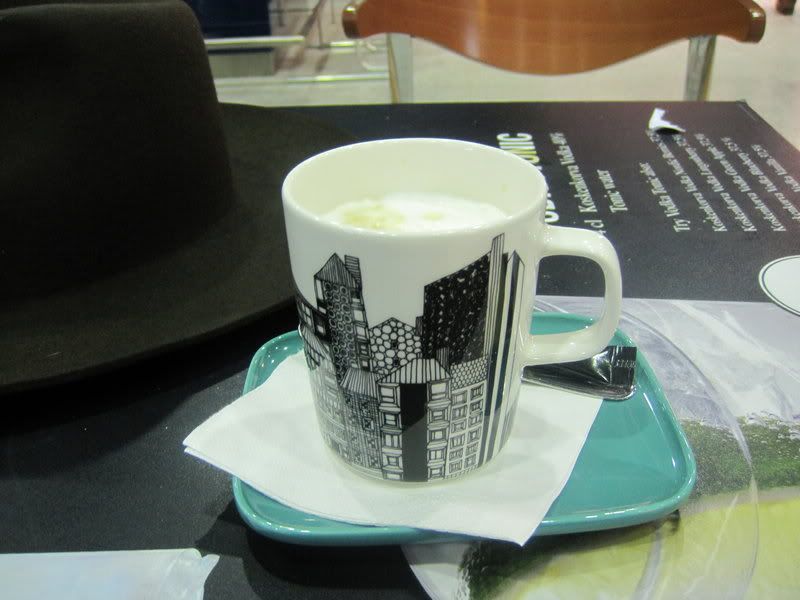 Some interesting passengers ahead of me - a family hasn't bothered checking in at all, so they get a bit of a scalding from the gate agent who does the check in there - they even have a connection at CPH so I dunno what they were thinking. Or actually how did they get through security without a proper boarding pass?
HEL - CPH
SK713
MD-82 OY-KHE "Saxo Viking"
Seat 6F
7.16 - 7.48
As usually is the case with SAS, the cabin crew today consists of two very senior (read: old) but friendly females and a younger male, all Danish.
Whoa - BT using a jetway: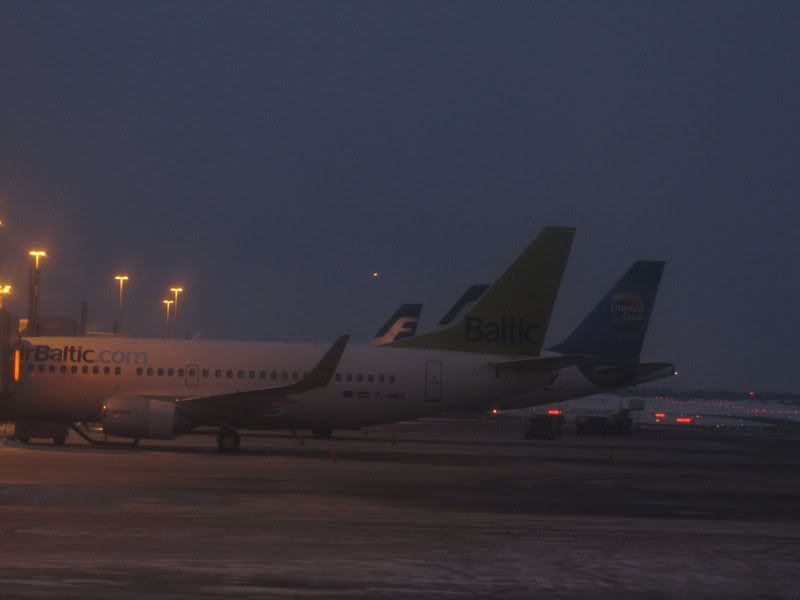 There are two rows of business class with one passenger there, three rows of economy extra with two passengers. I'm on the first row of economy, as usual with these planes, it's way too noisy in the last row! The economy load is good, I'd say around 90%. Luckily the middle seat next to me stays empty.
Yet another 717 arrives as we are waiting pushback - also notice the nice new Air Finland livery: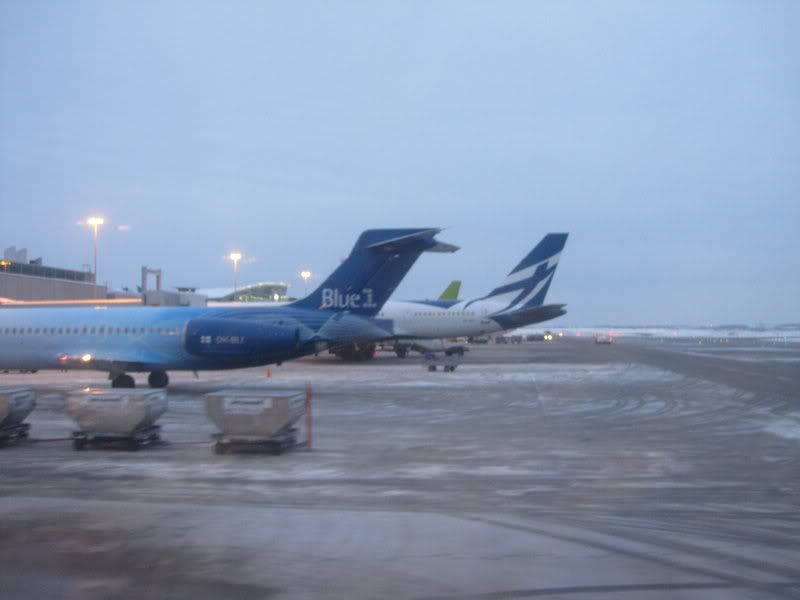 It's quite hot in the plane, but luckily things cool down to more manageable levels once the engines are started and the air conditioning kicks in. No deicing is needed.
Flight time is announced as 1h25mins, with pushback a good nine minutes ahead of schedule.
Bulgaria Air landing on 15, Saturdays are heavy charter days at HEL: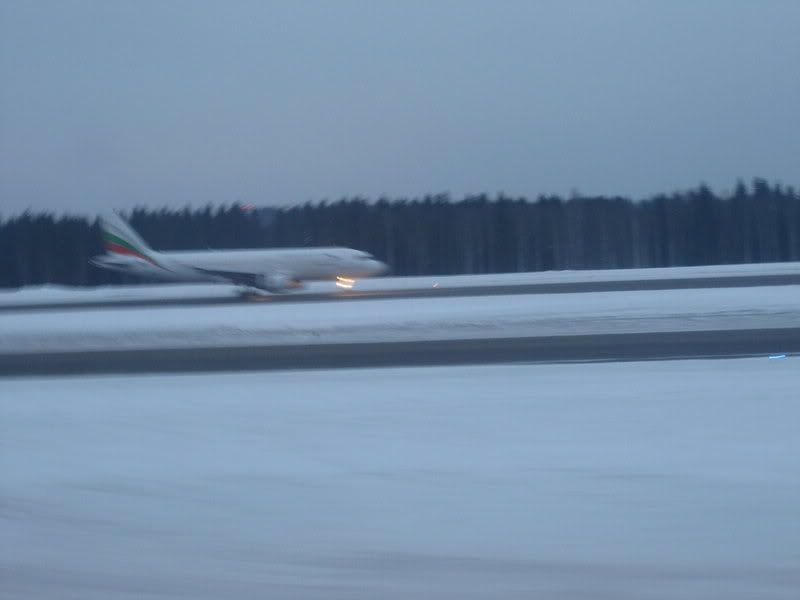 Take off from 22R is right at our scheduled departure time, so looks like we'll be early.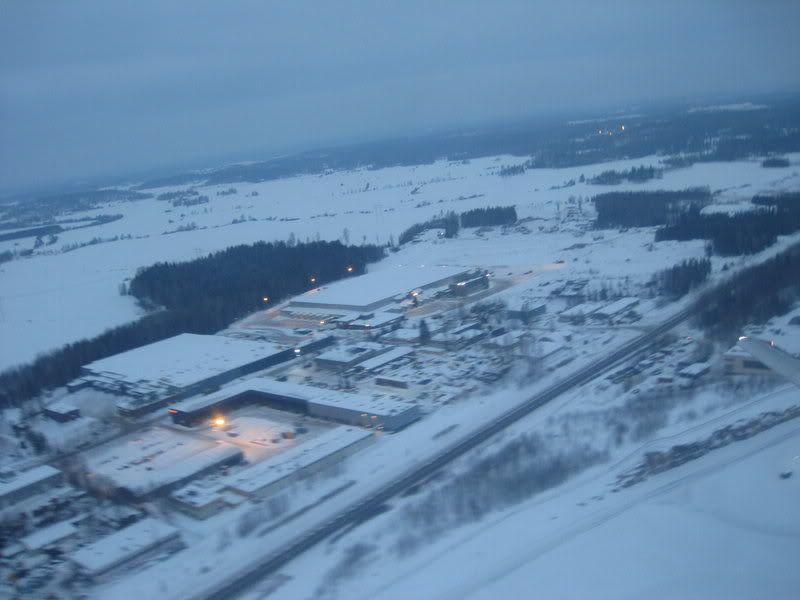 View back towards the wing and 22R/04L during the standard right turn right after take off: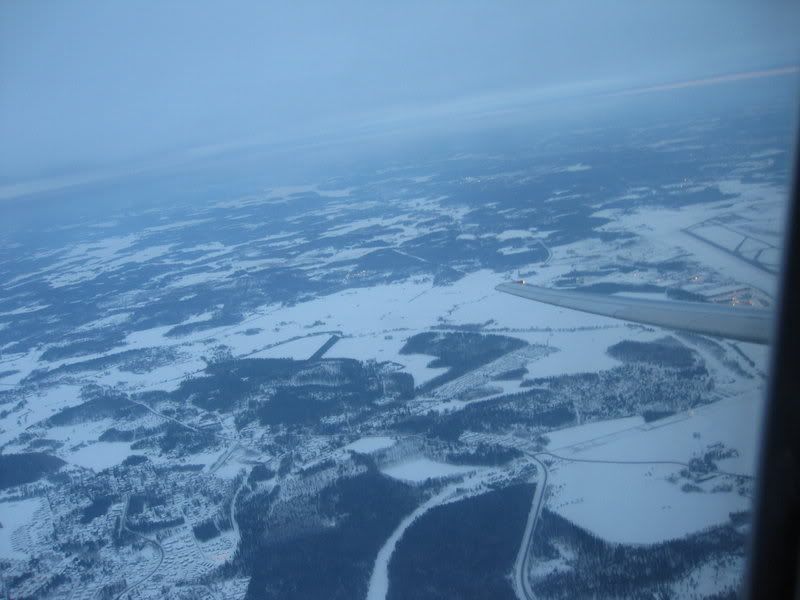 I doze off for a while but finally resort to reading the morning paper - can't be bothered to have anything from the BOB menu. The breakfast the lady on the aisle seat buys doesn't look too appetizing to me.
Those clouds look like a freshly plowed field to me: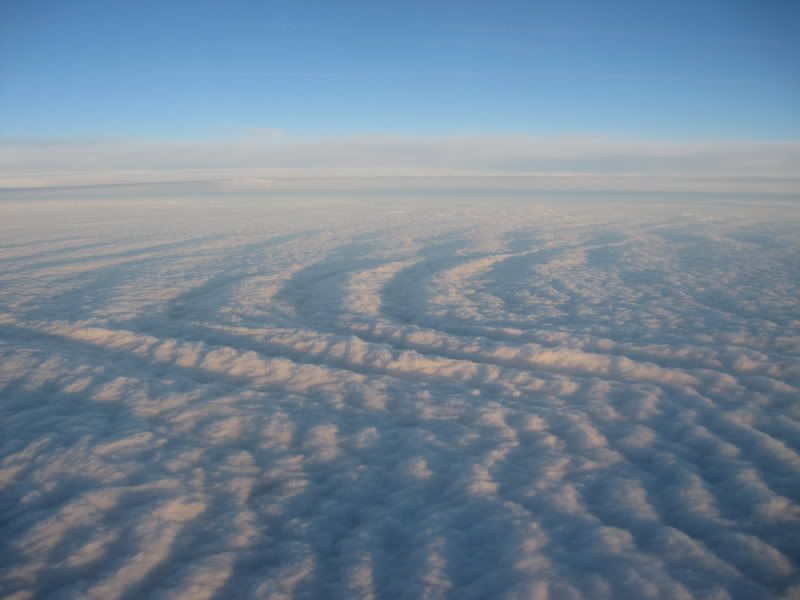 The Scandinavian skies are rather cloudy this morning, so no good views until our approach into CPH. The flight path is a bit more northernly than usual, we break the clouds somewhere just south of Helsingborg instead of Malmö as usual. This is the Swedish island of Ven in the Öresund: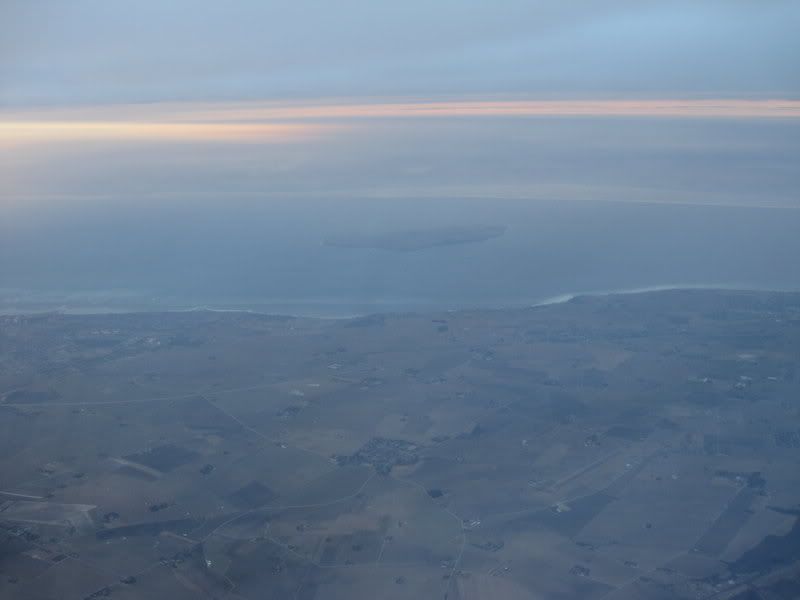 Almost no snow in Scania - this is Landskrona: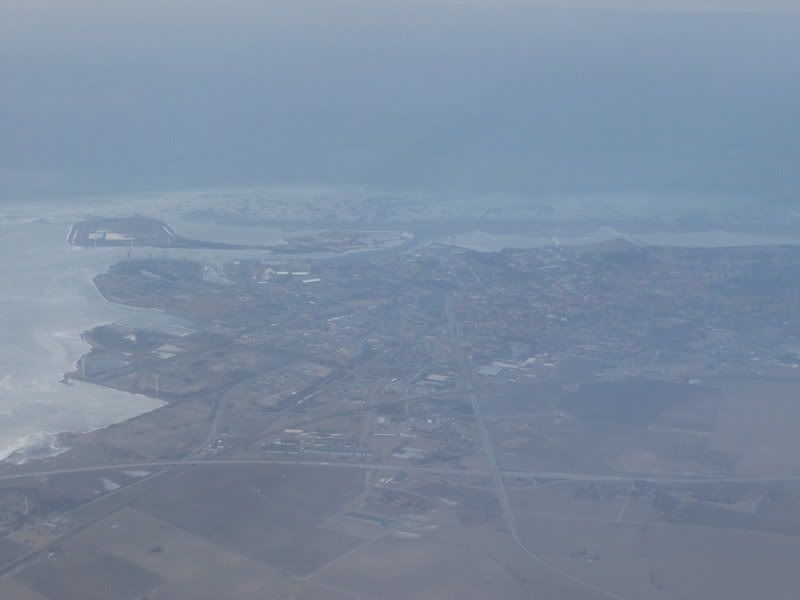 Some ice in the Öresund, though: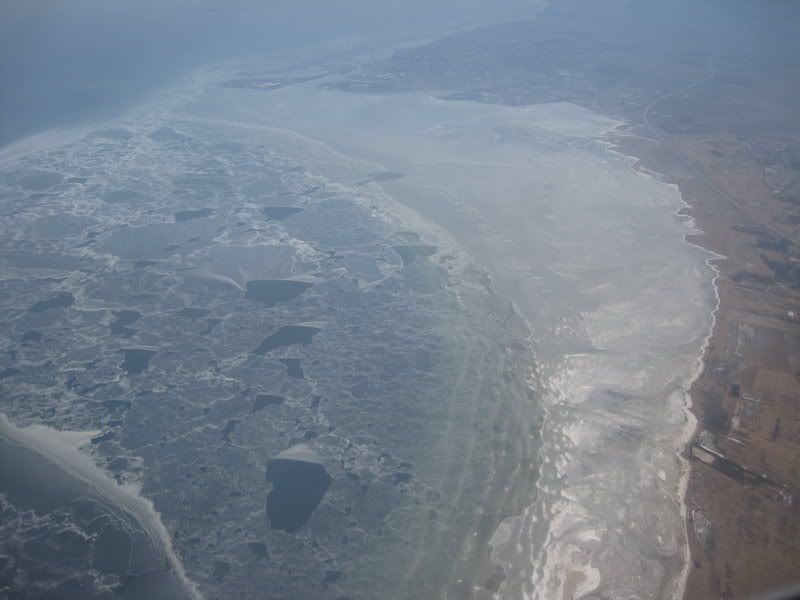 We get my favorite approach into CPH - landing on 22L and coming in over the Öresund - well, screw that, actually this is my second favorite approach, the absolute favorite is landing on 12 which takes you directly over the city centre. But then again that is an incredibly rare occasion, in almost 60 landings at Kastrup I've had it exactly once, during a particularly nasty snowstorm which was causing a hub meltdown at CPH. Coincidentally I actually flew this very same plane, OY-KHE to get the hell out of Dodge city that night, but well... I'm rambling again.
The Danish fortress Flakfortet in an artificial island: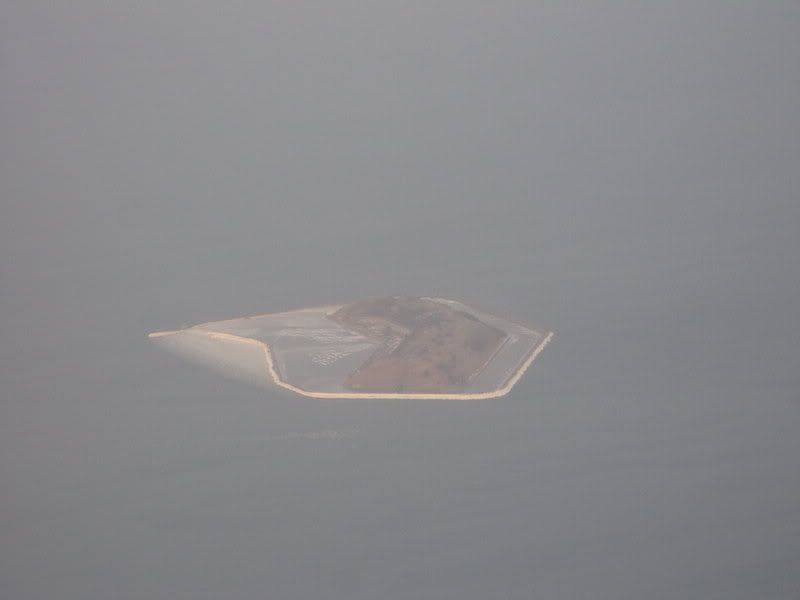 It's no Singapore, but there's always plenty of shipping traffic here as well: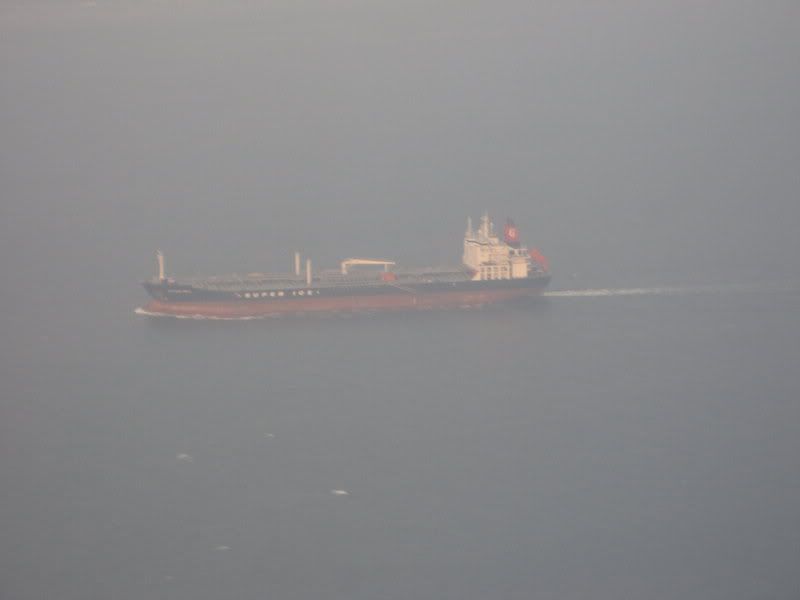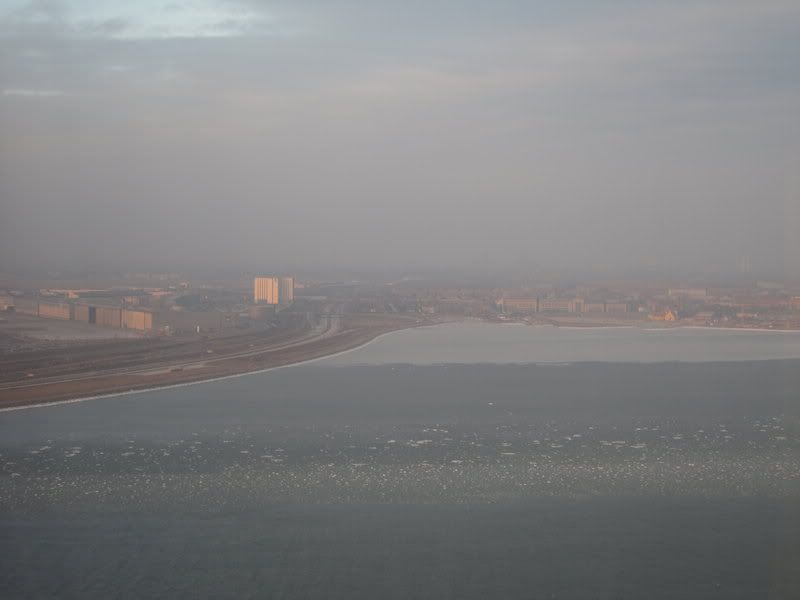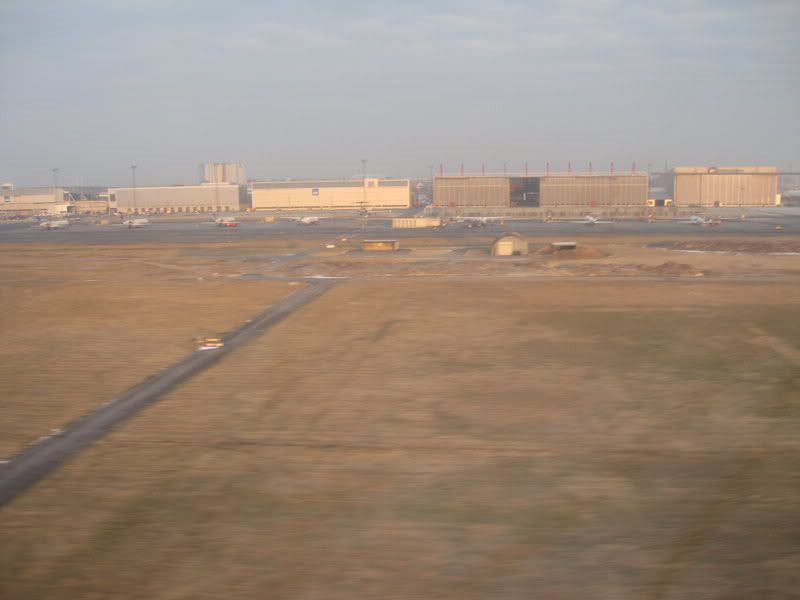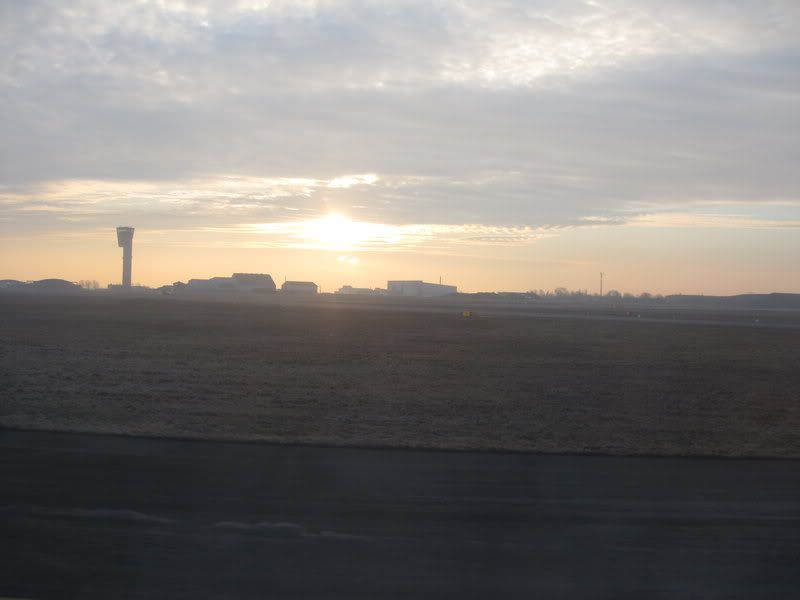 Landing is after a flight time of 1h23mins. Small Planet: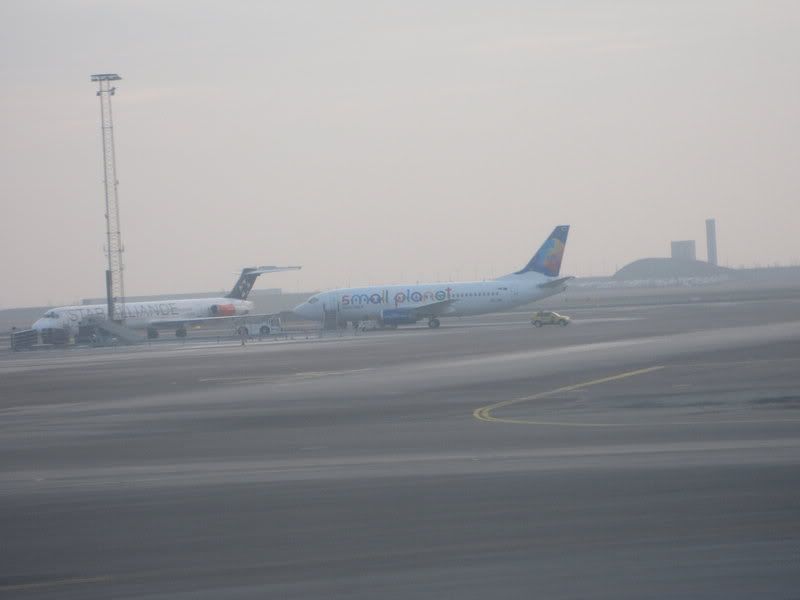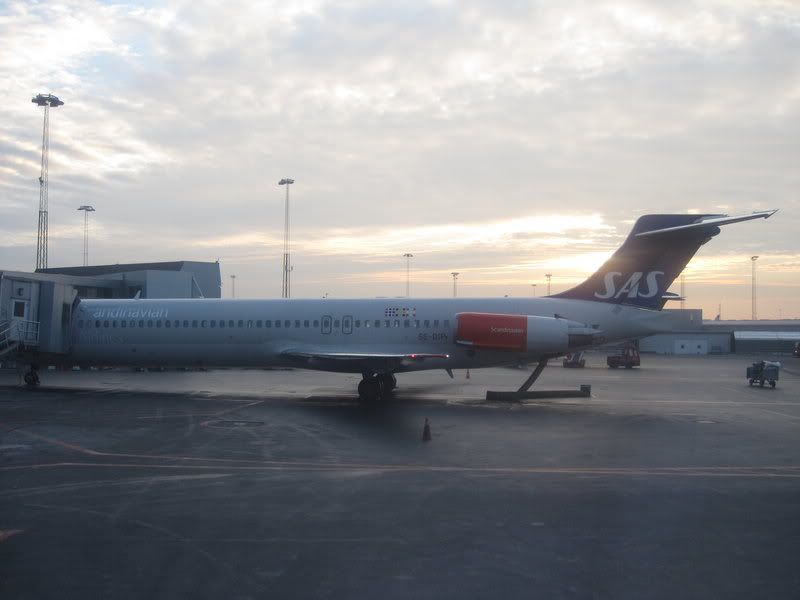 Unfortunately we get a jetway at the bloody D-gates - well the area is the nicest part of CPH but it's quite a hike to the main terminal area and the lounge. The captain is standing on the cockpit door while we deboard, I say "Great approach!" to him - I'm not sure if he understands what I meant but thanks me anyway.
Well, I don't mind the hike this morning as it affords some great views of far away visitors: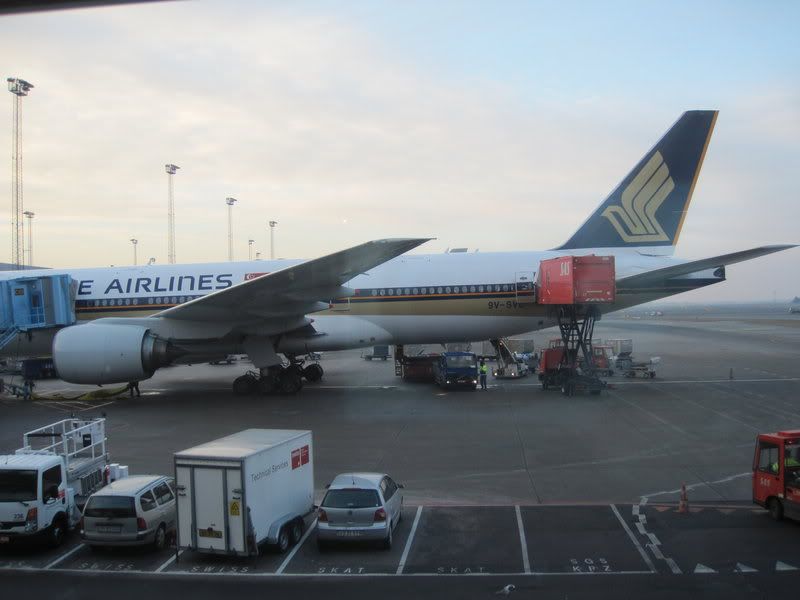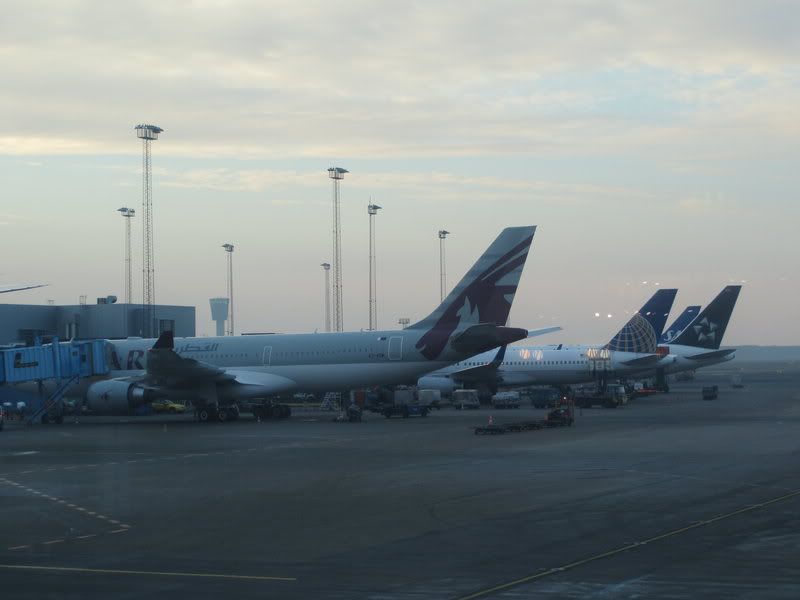 As well as some from not so far away: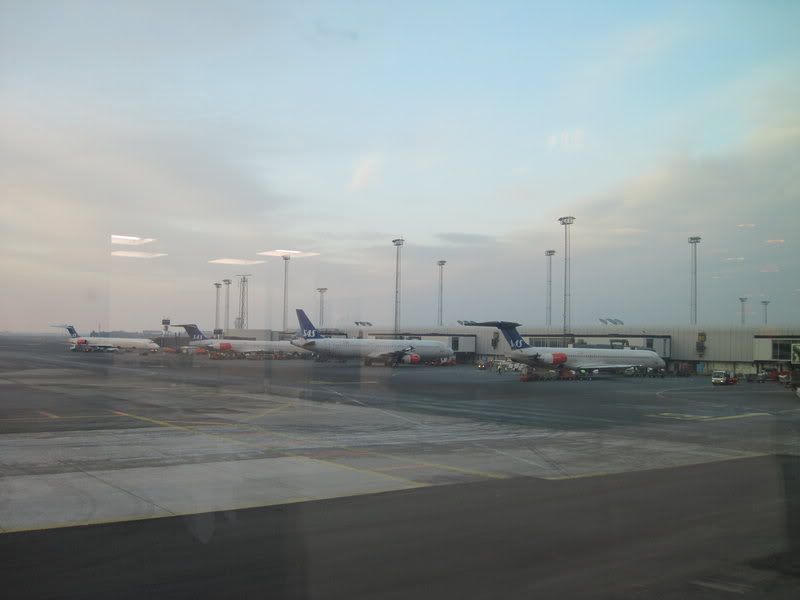 Copenhagen Kastrup Airport, Take 1
I head to the Servisair lounge for some breakfast: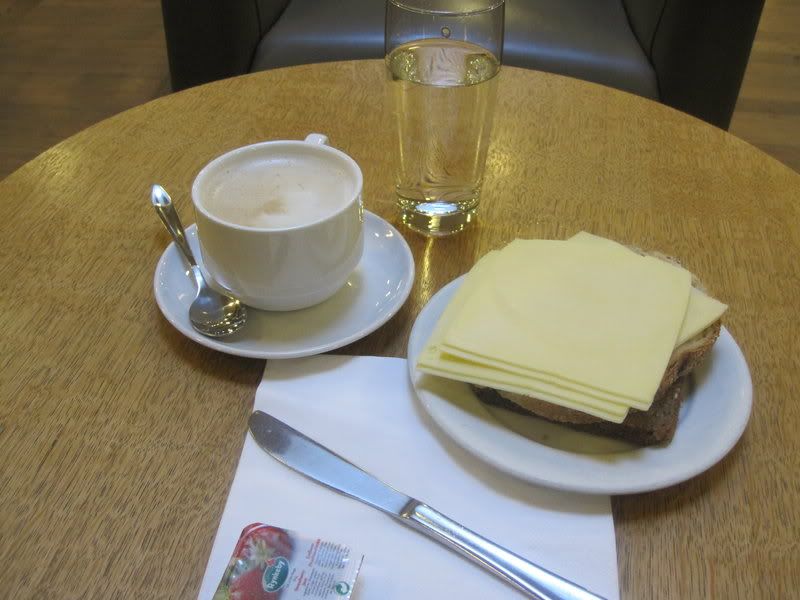 I seriously can't understand how the toilets in this lounge can be so horrible. They remind me of of third world countries - would probably fit in perfectly at Dar Es Salaam airport, but in rich Denmark where everything is always so cute - no way! Smelly and dirty - yuck. Today's highlights include lots of fresh blood on one of the wash basins - double yuck!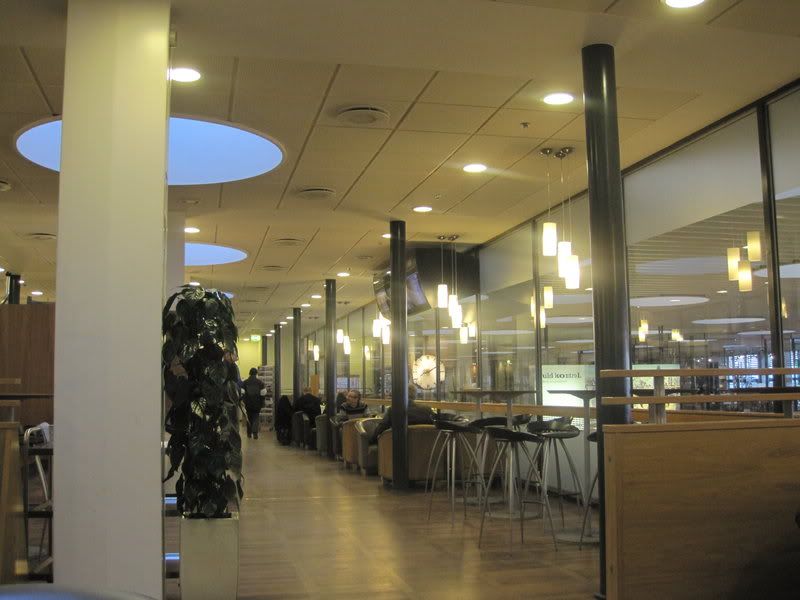 Unlike usually there aren't too many people in the lounge and even seating places are easy to come by!
A couple of hours fly past and at T-30 the flight status for my flight up to Gardermoen changes to "Go to gate" so I duly oblige. Yep, looks like the expected classic 734: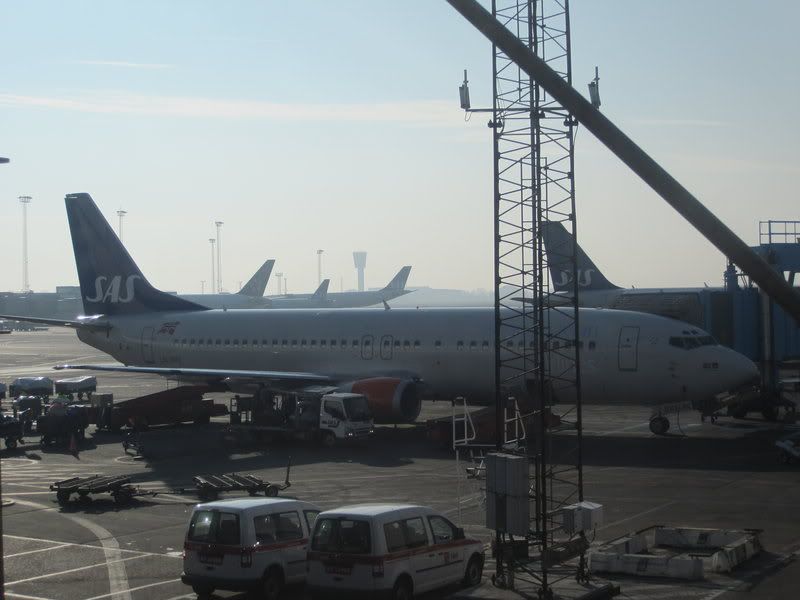 LN-BRE "Håkom V. Magnusson" - delivered new to Braathens 21 years ago, and in service with the company (and of course SAS Norway nowadays) ever since. A new entry for my log, nice.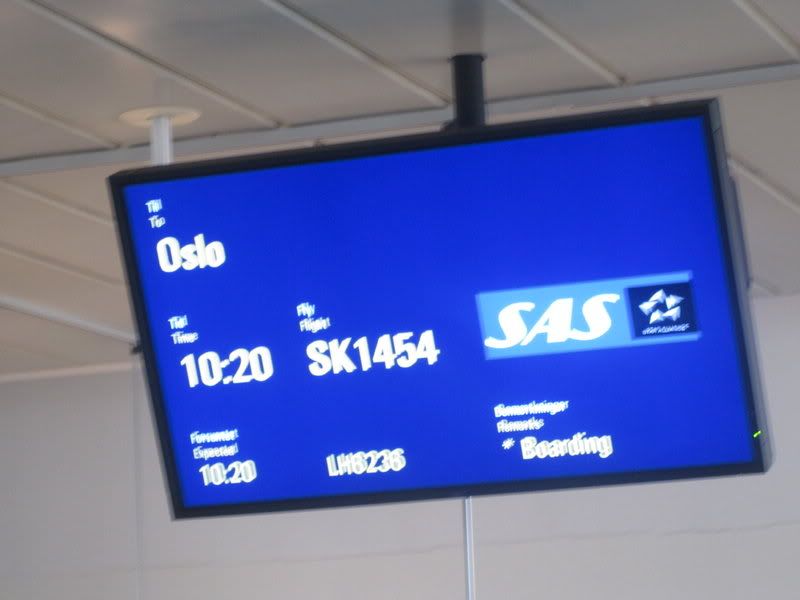 Boarding is going on once I get to the gate B3, so I join the queue.
CPH - OSL
SK1454
B737-400 LN-BRE "Håkom V. Magnusson"
Seat 24F
10.26 - 11.27
I picked up a window seat on the last row from the OLCI, so I make my way back there, commenting to the back galley FA about the seat and the odds that the adjacent once might stay empty.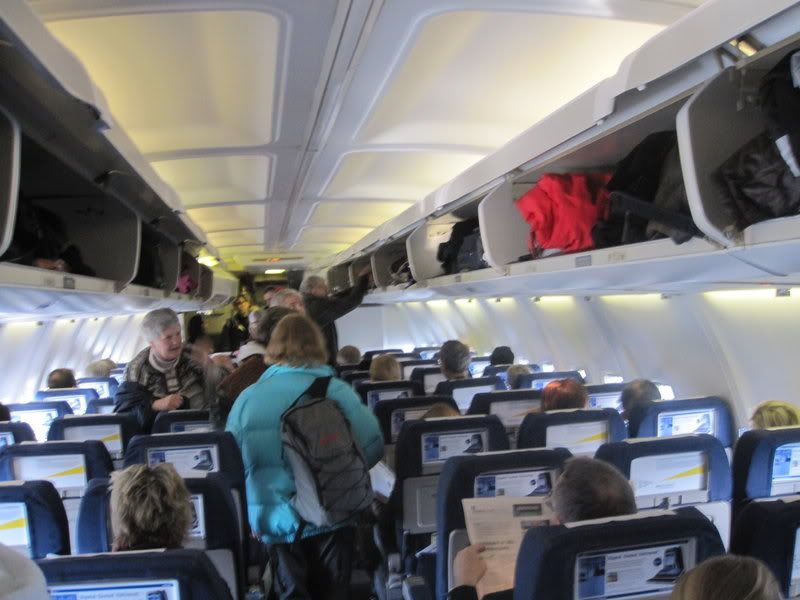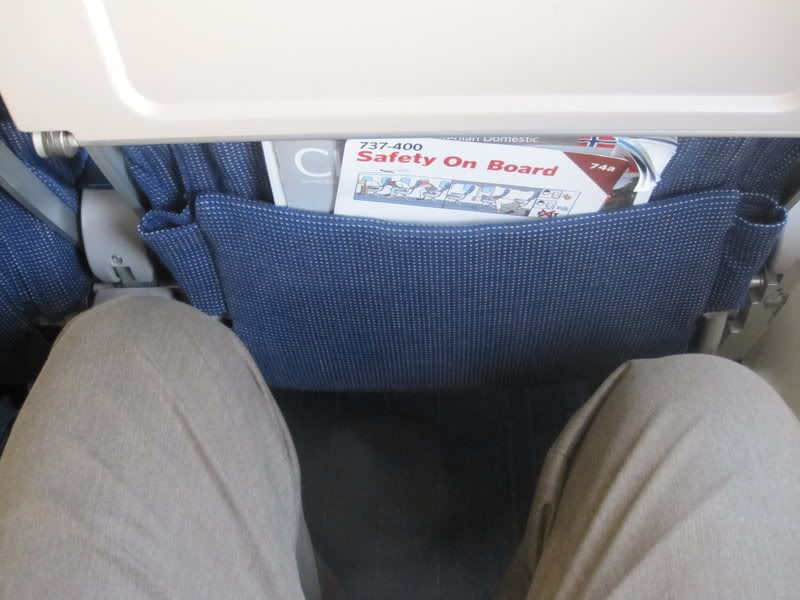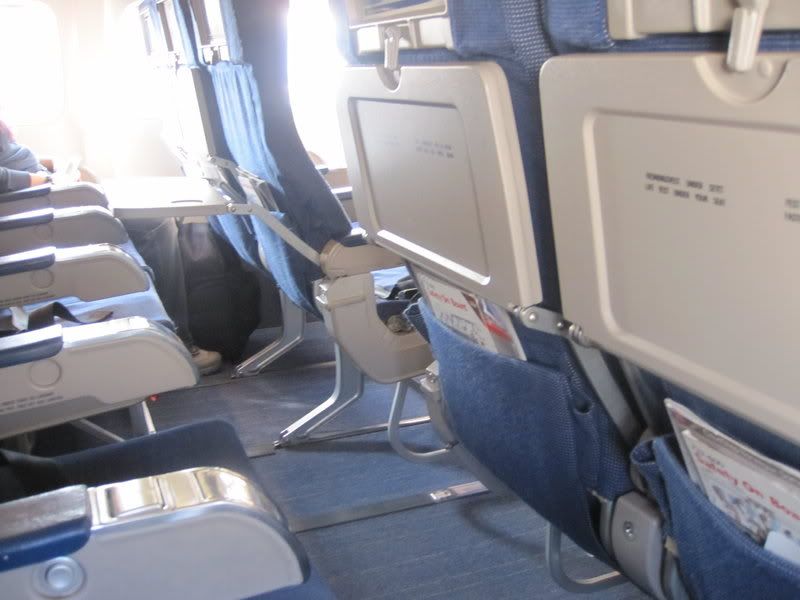 Classic controls: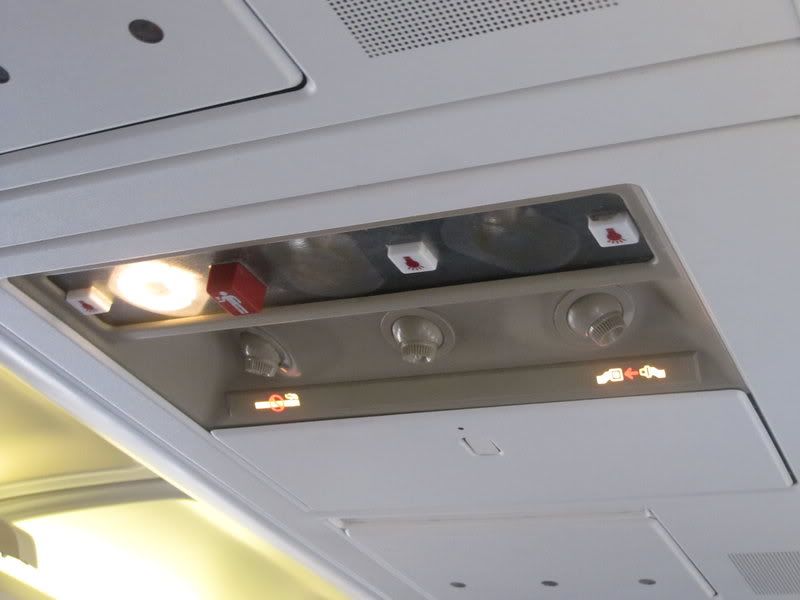 News for the people: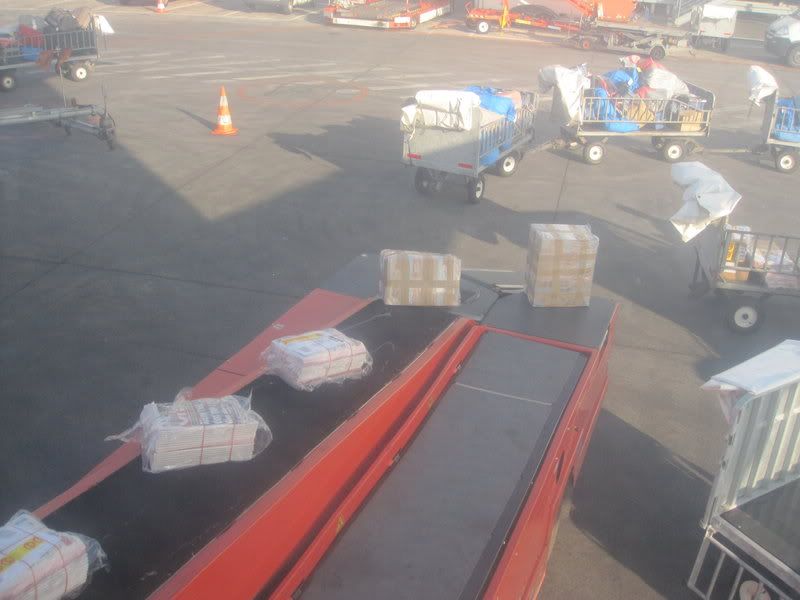 Hmm - are these spare parts for RR cars or the aircraft engines - somehow I suspect the latter: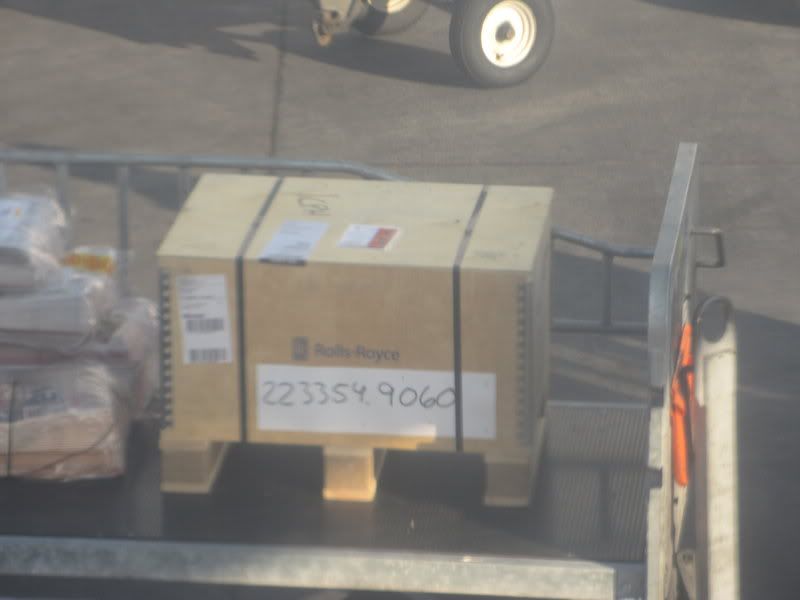 After a while the plane fills up and a Norwegian couple comes up to the last row, the lady pointing out that I'm in her seat. Well, she actually is right - the last row is 25 and not 24 like the OLCI seat map showed. Tail between my legs I apologise and switch up one row, next to a Chinese couple. I never bothered checking the row number, just assumed that "last row" is indeed "last row."...
In the end economy appears to be completely full, no free seats anywhere. Loading the luggage takes a while, so push back is finally six minutes late.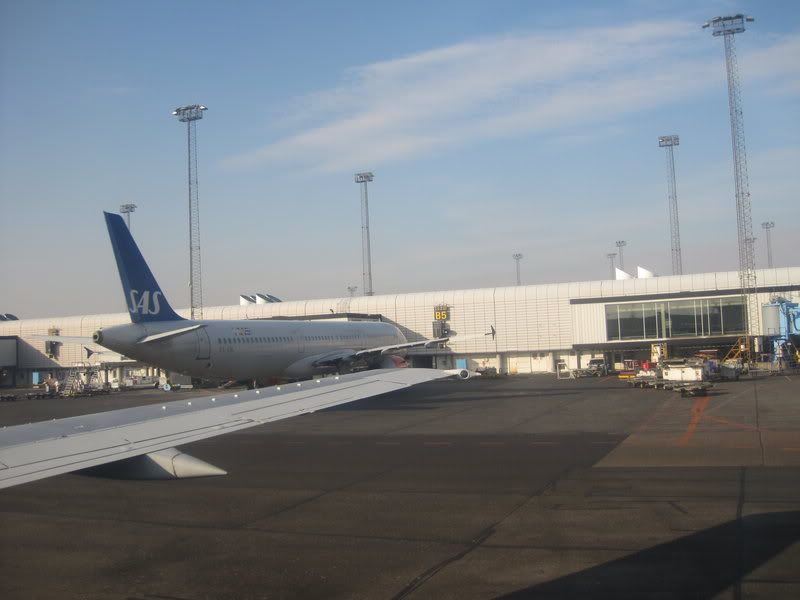 Not yet, but soon enough: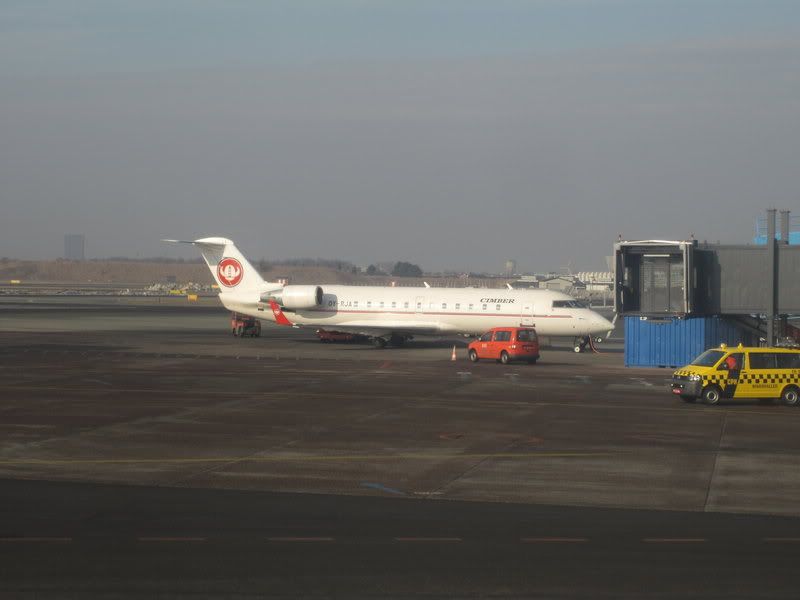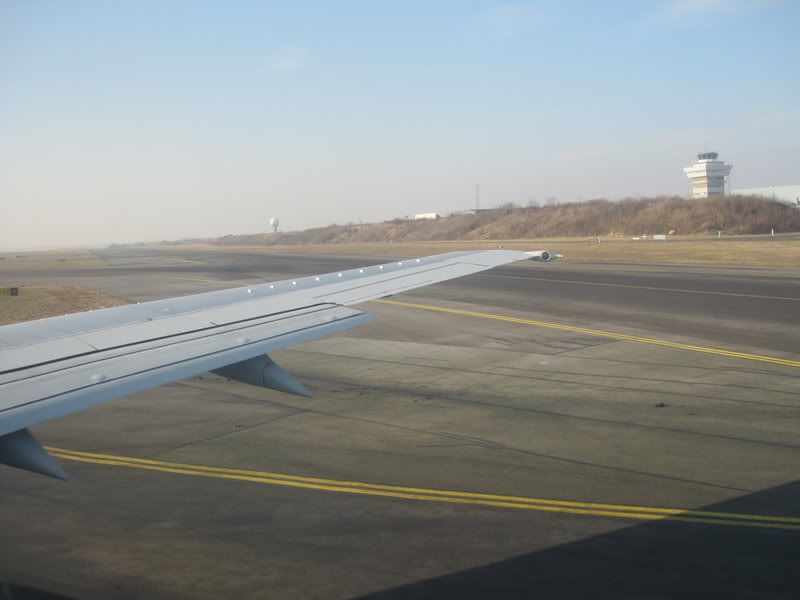 Take off is from 22R nine minutes later.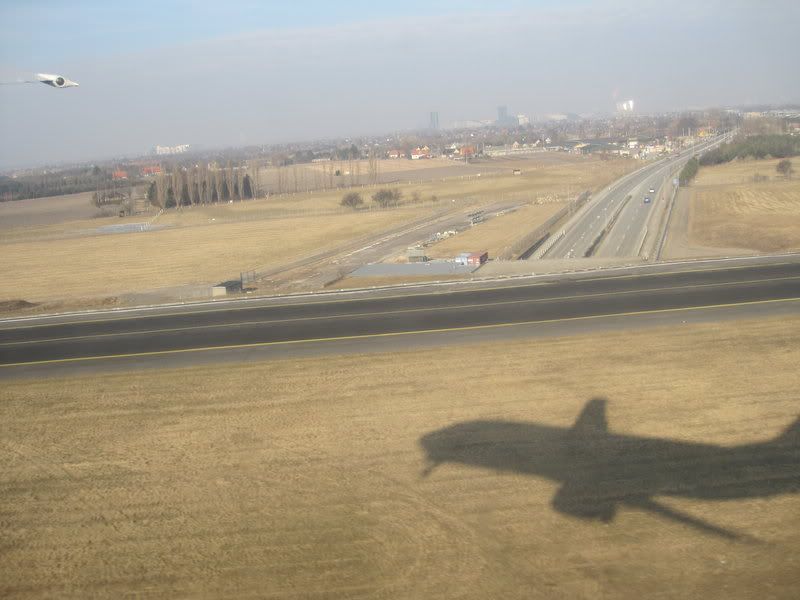 Urban sprawl, Danish style:
A right hand turn follows, pointing us north towards OSL and providing some very beautiful views of Copenhagen and further the Zealand island: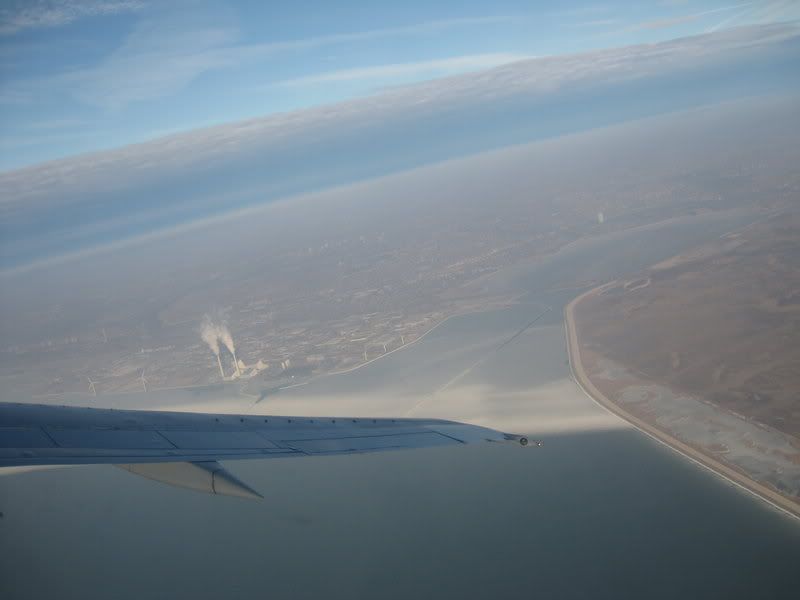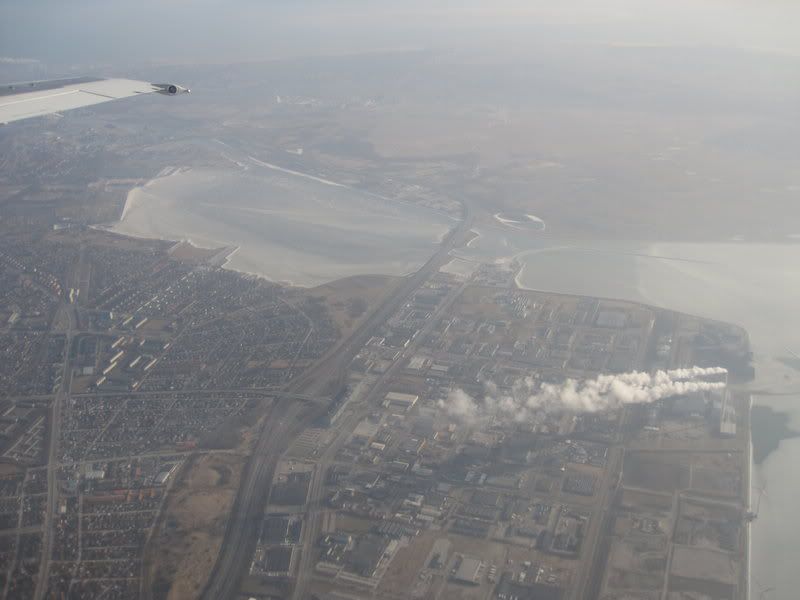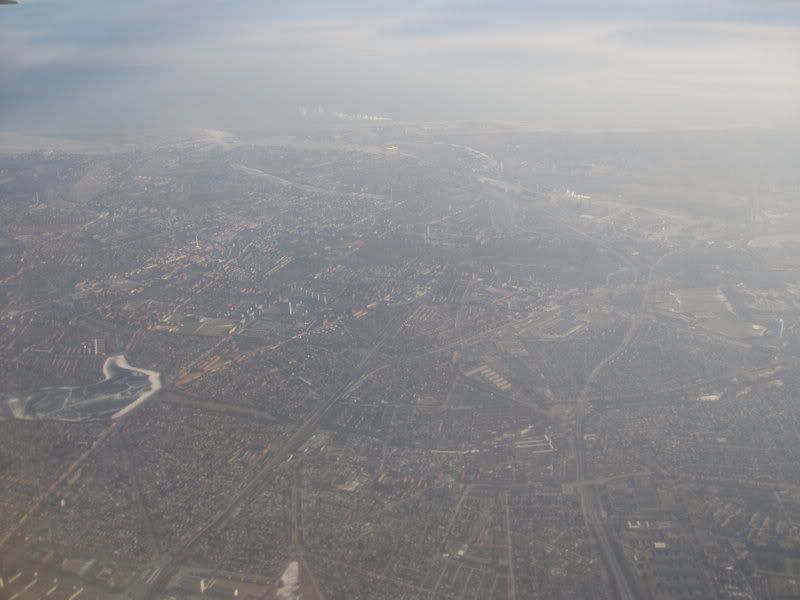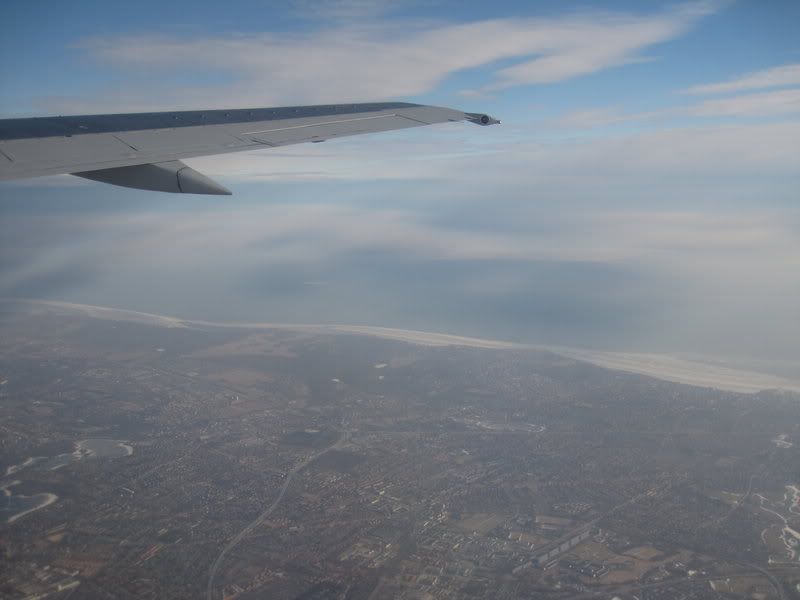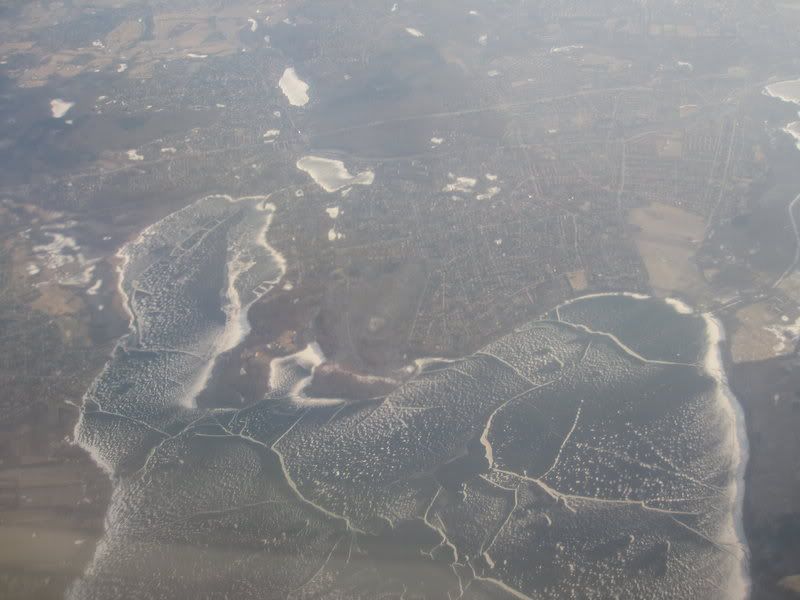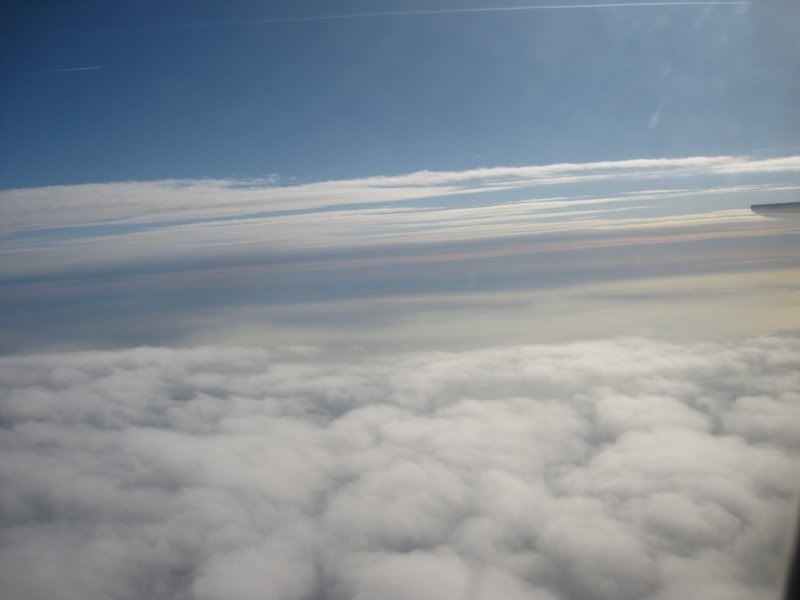 Soon we disappear into the clouds which stay around for the rest of the flight. There's no word from the cockpit until the captain announces landing in about ten to twelve minutes. Oslo weather doesn't sound too good - minus one degree and very hazy.
Oh, it indeed is hazy - the snowy ground comes into view only seconds before touchdown: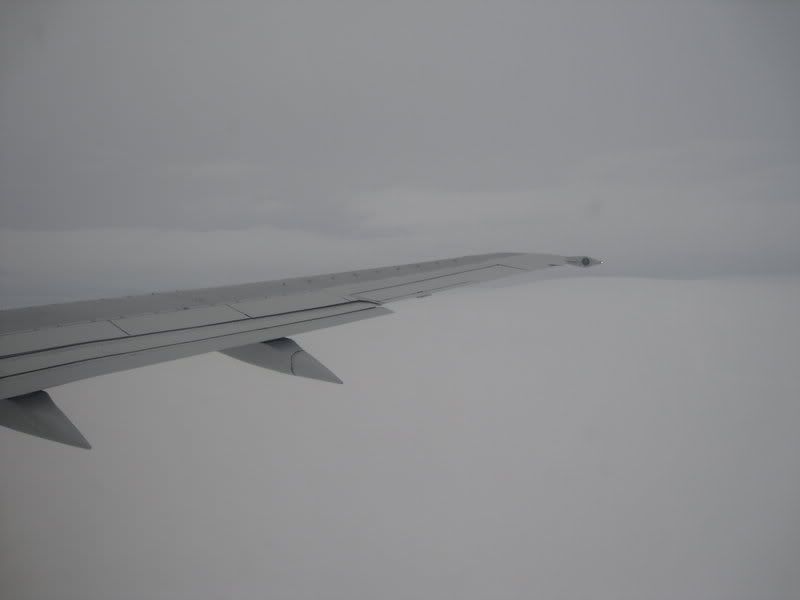 Landing is on runway 19R after a flight time of 52 minutes.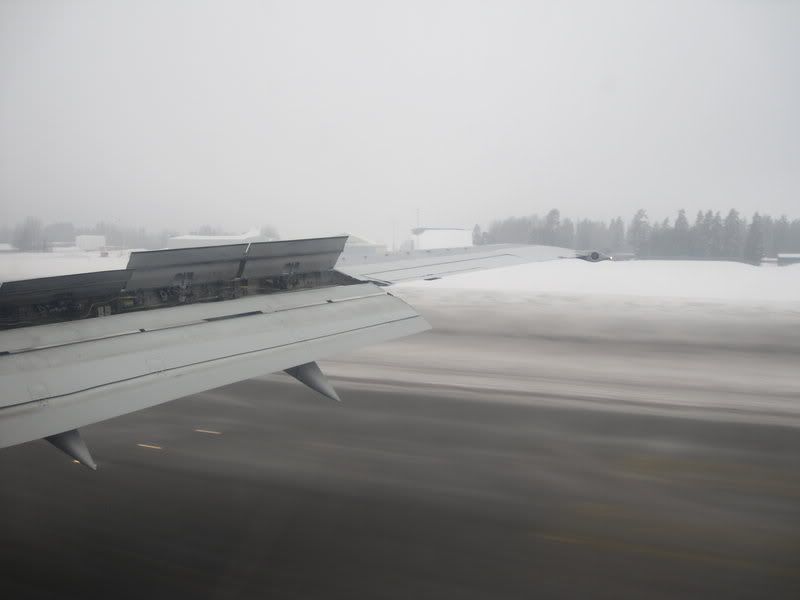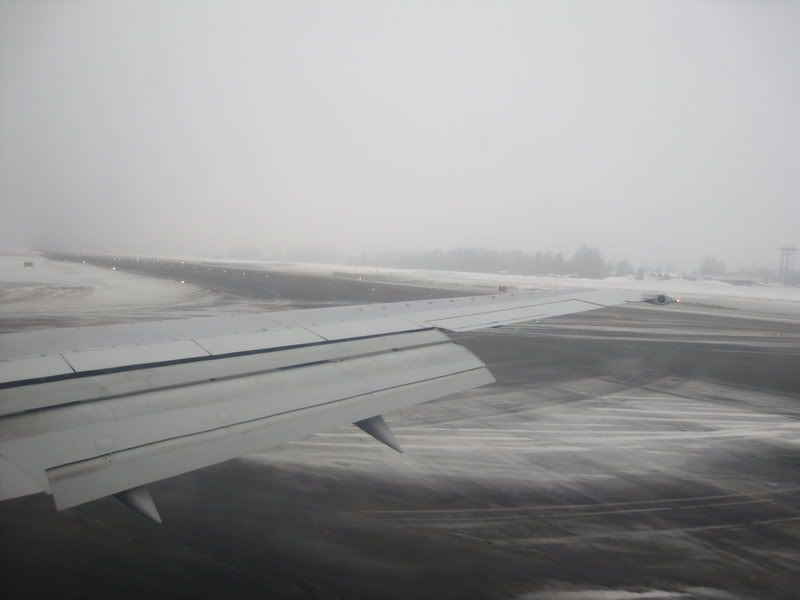 KAL Cargo 747: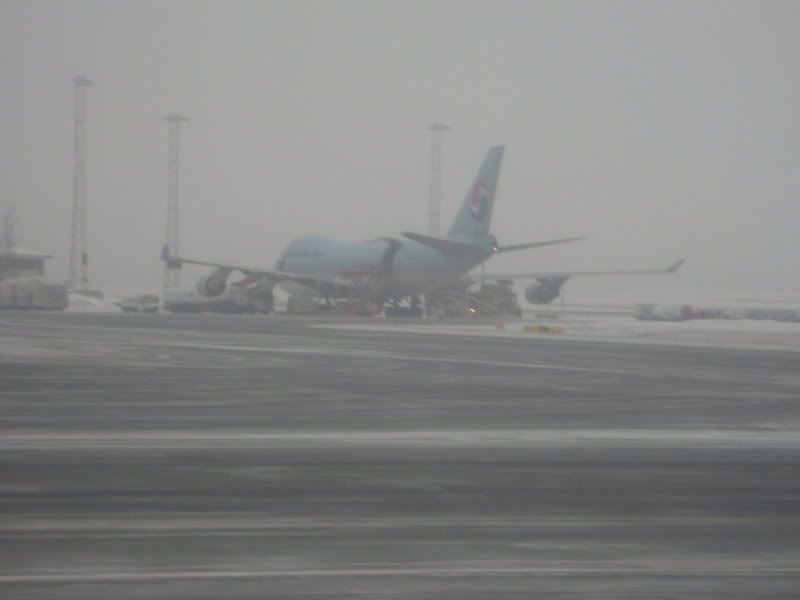 Hmm, if we can't see the ATC tower, can they see us?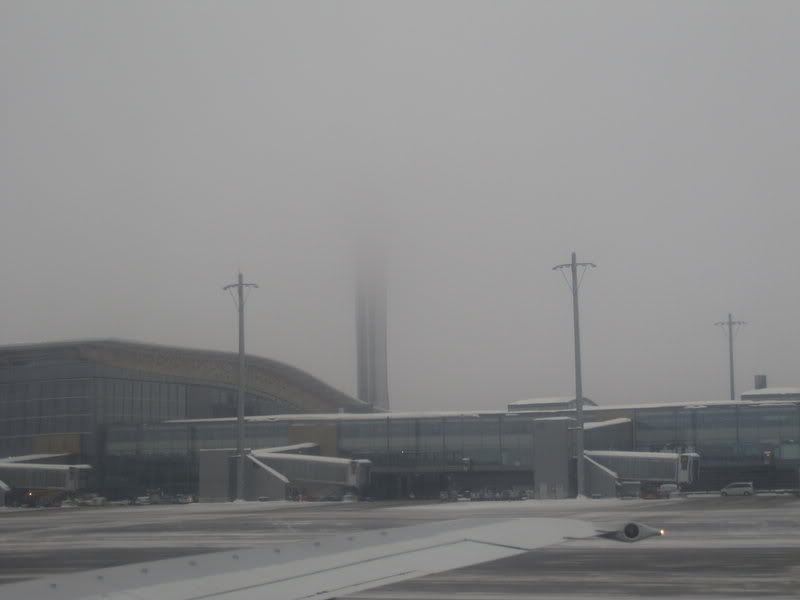 We get a jetway that's pretty much the furthest away from the runway - past the terminal building, around the non-Schengen end and back towards the main terminal area, so taxi takes a while. Thai: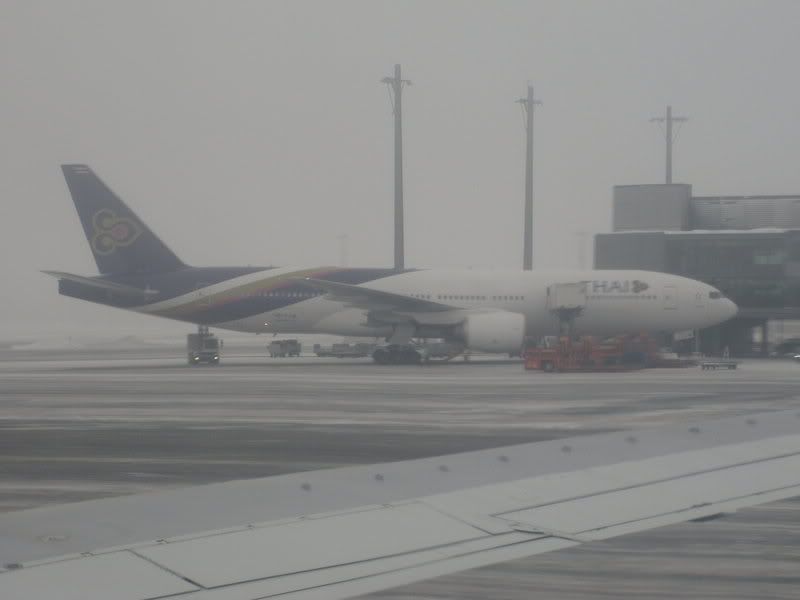 Thomas Cook heavy, undoubtedly heading to somewhere far warmer and nicer:
Another Cimber, presumably off to AAL: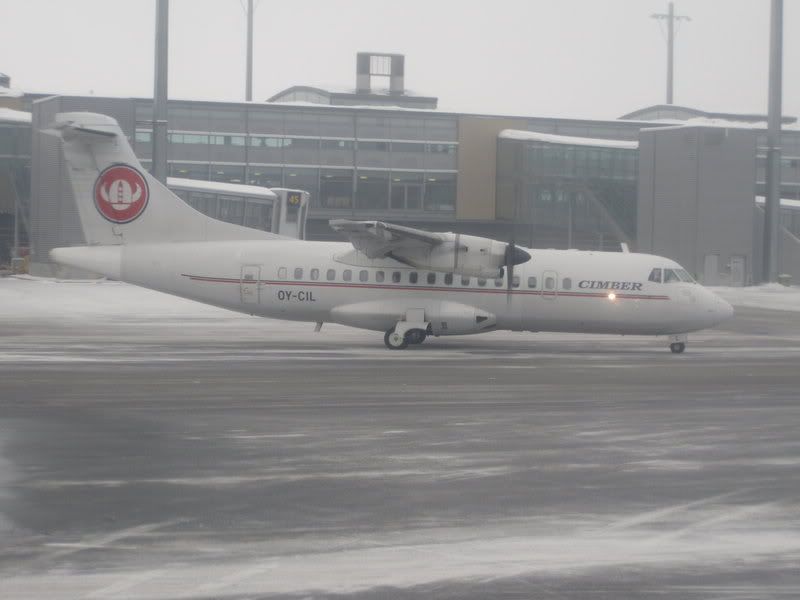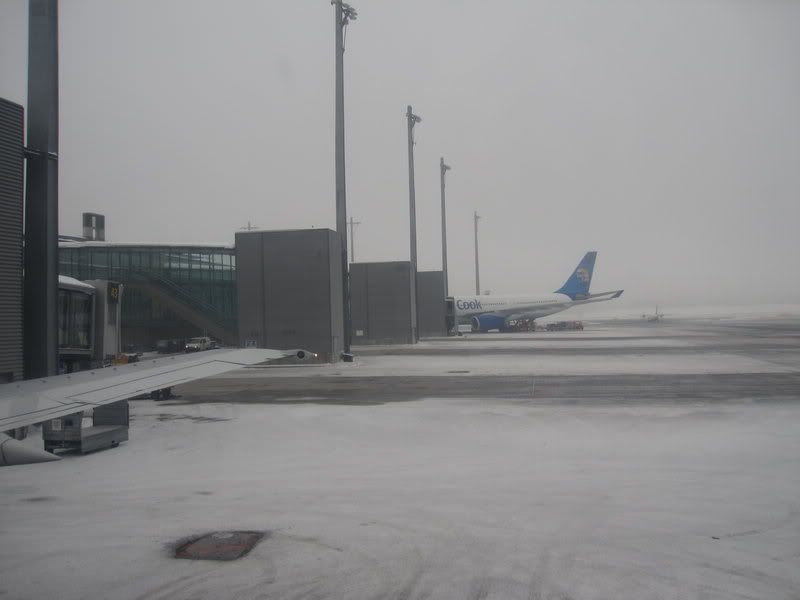 They use both the front and back doors for disembarkation which speeds things up nicely.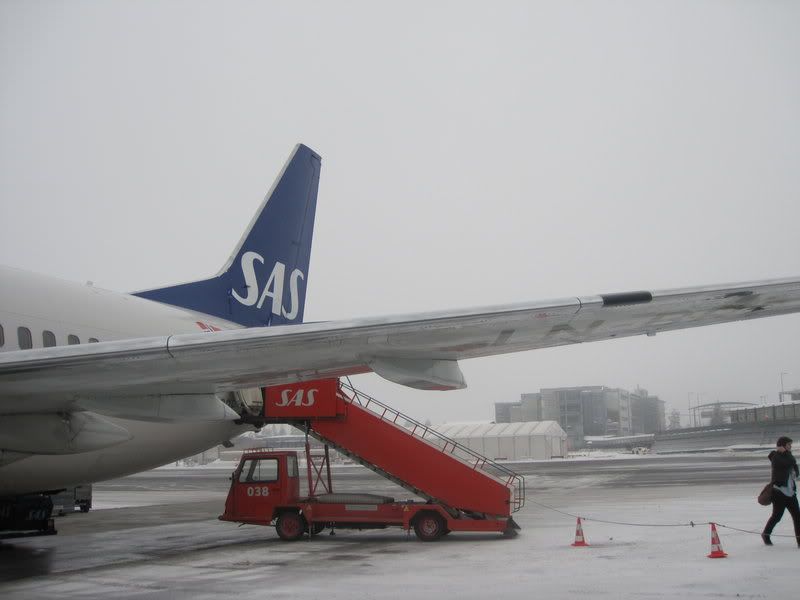 I like planes with names - the old Braathens birds are named after old Norwegian kings: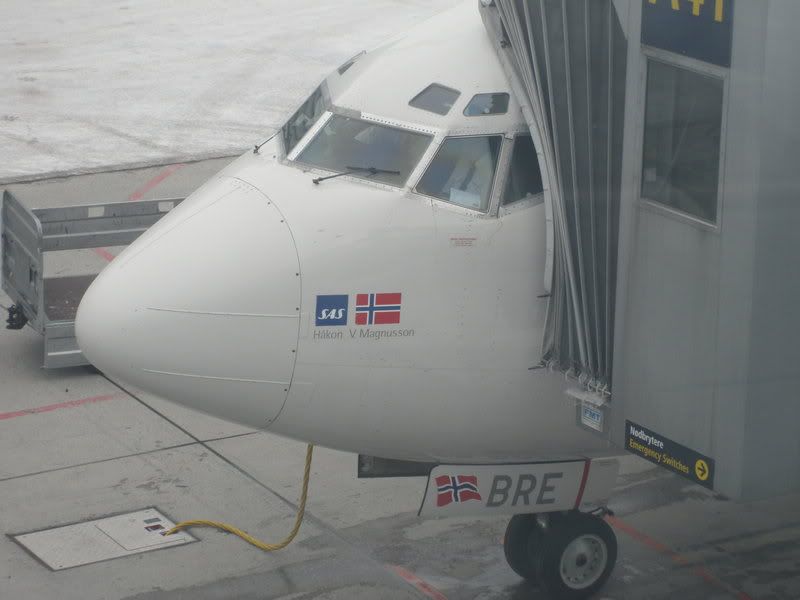 Oslo Gardermoen Airport
I'm surprised to see the international transfer security checkpoint open - it very seldom is - but decide to go landside anyway since I'm not in any particular hurry. Along the way I spot this interesting Primera bird with a KLM winglet: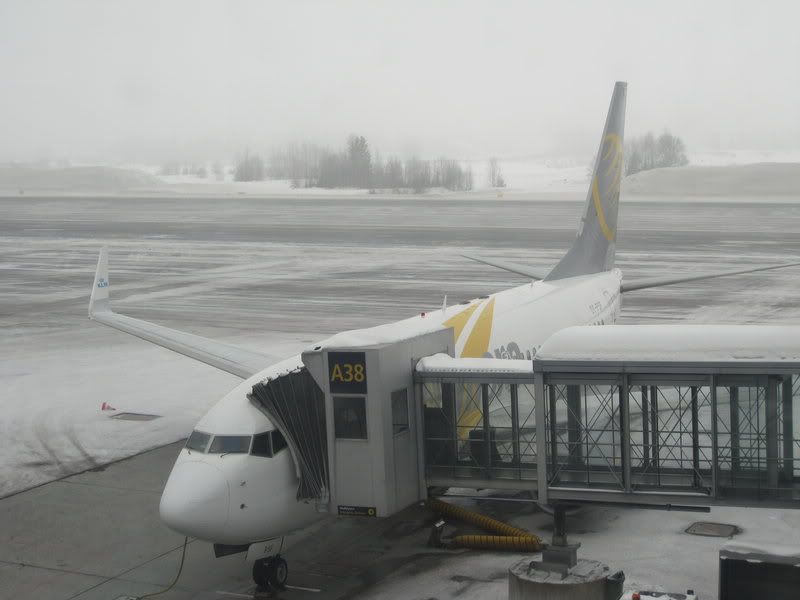 It being around lunchtime I grab a hotdog from ome of the many snack shops in the arrivals hall - I always wonder why these are so abundant in Norway, Denmark and Sweden but not in Finland. Heck every convenience store in Scandinavia always has sausages and fresh hot dogs available!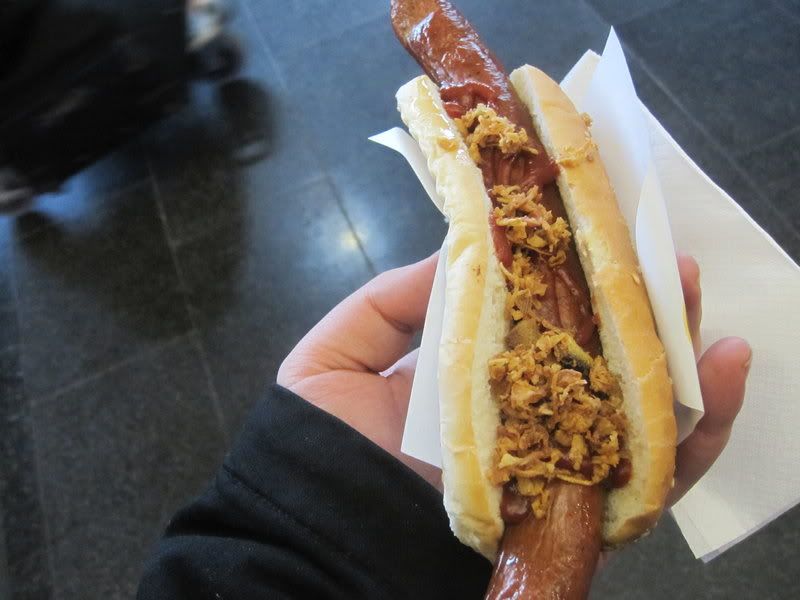 While heading upstairs for check in (for some reason the OLCI didn't want to work with me) a girl stops me and hands me something. I ask what is it and se answers that the World Ski Championships are going on in Oslo right now and they are promoting it by handing out a small booklet about it and a soft styrofoam type of thing to sit on top of: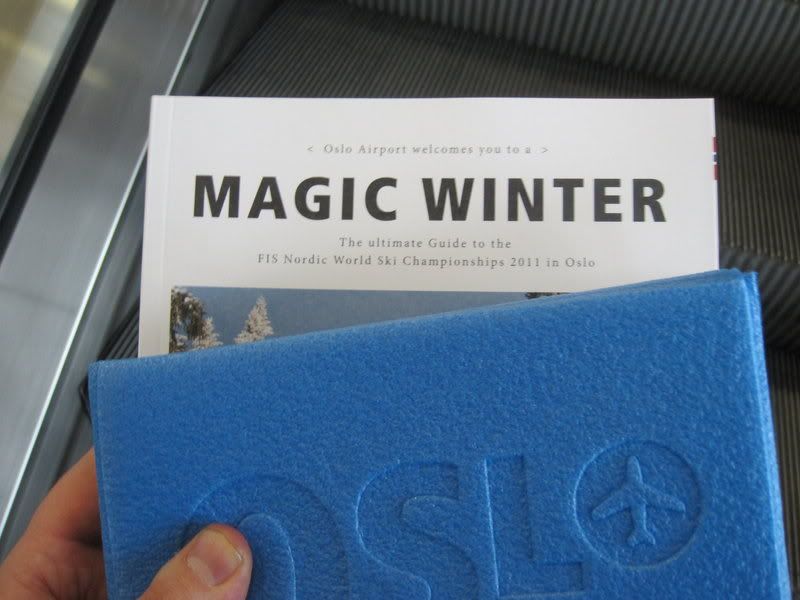 Well, I guess it'll come handy on all those Ryanair airport shacks when forced to sit on the floor by the inadequate seating!
The SAS self service kiosks work fine for checking me in and soon I join the security queue. OSL is busy as almost always, but the progress is still very efficient with many lanes open and I'm through in no time at all.
Heading abroad: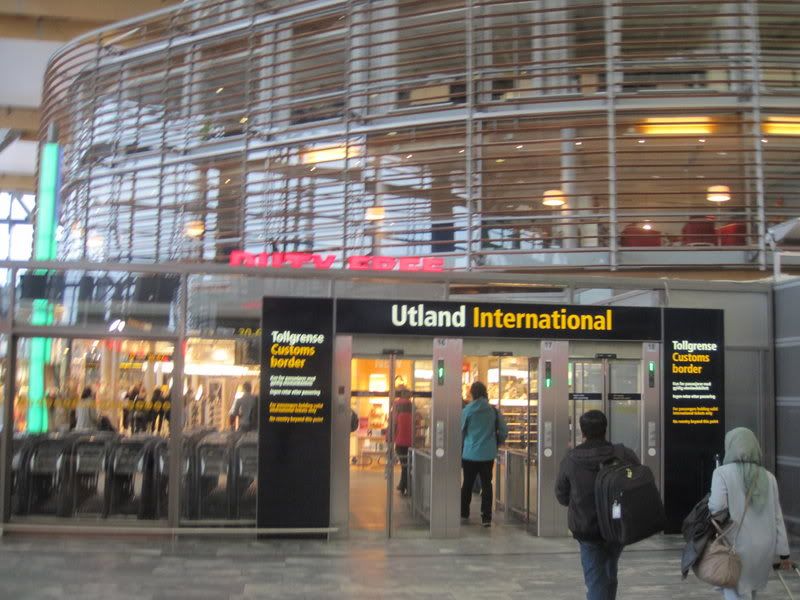 I buy some nice cologne from the duty free, stupidly forgetting to ask for it to be packed to those sealed plastic bags, more on this later. Next I try to leech off the SAS lounge wifi as it doesn't have a password, but despite trying a few different vantage points I am unable to get a signal and head to the gate instead.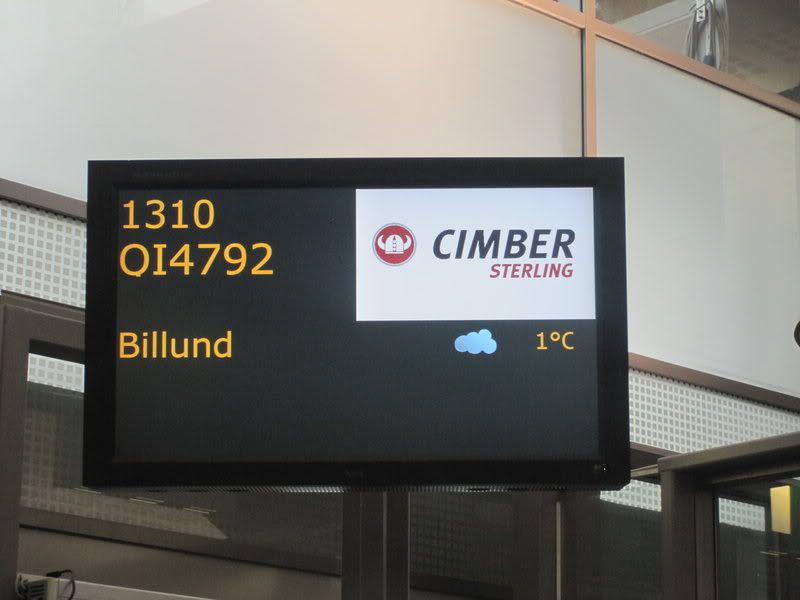 The inbound plane arrives around 12.25. OY-RJI, an ex-LH Cityline CRJ-100 (so not even a -200 model!) and unfortunately one that I've already flown once before on HEL-NRK when Cimber operated the service briefly back in 2008.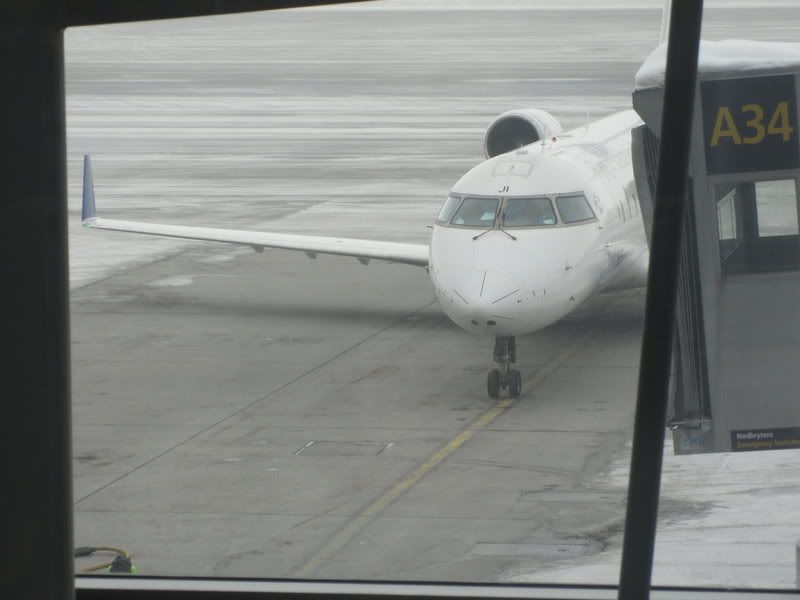 The bird is painted in the "Operated for SAS" livery, around half of the Cimber CRJ fleet is boasting this livery due to their partnership and half of them are in genuine Cimber livery.
While waiting I notice something interesting taxiing past - I try to shoot a photo but this is the best I manage: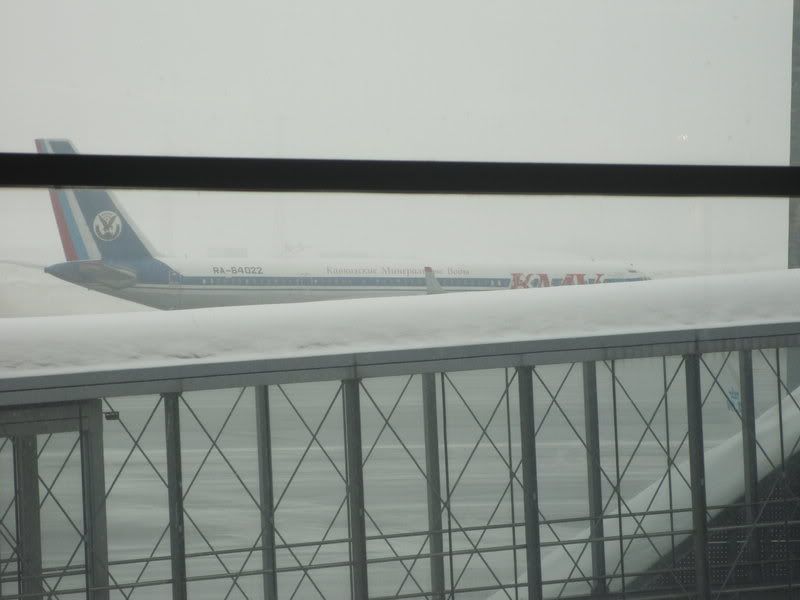 Yep, it is KMV or Kavminvodyavia TU-204. No idea what it is doing here apart from operating a charter flight. Might have something do to with the winter sports happening - I think this is the first time I've seen this type in real life!
OSL - BLL
QI4792
CRJ-100 OY-RJI
Seat 2F
13.08 - 14.15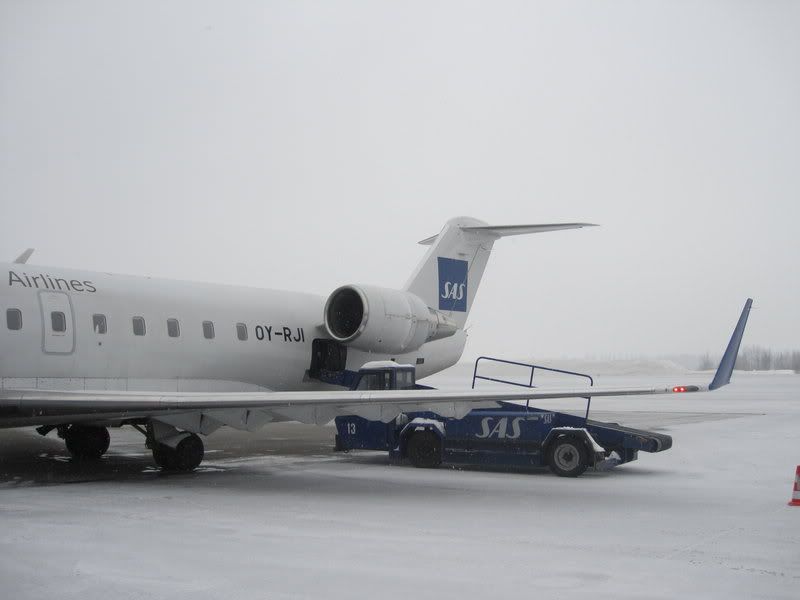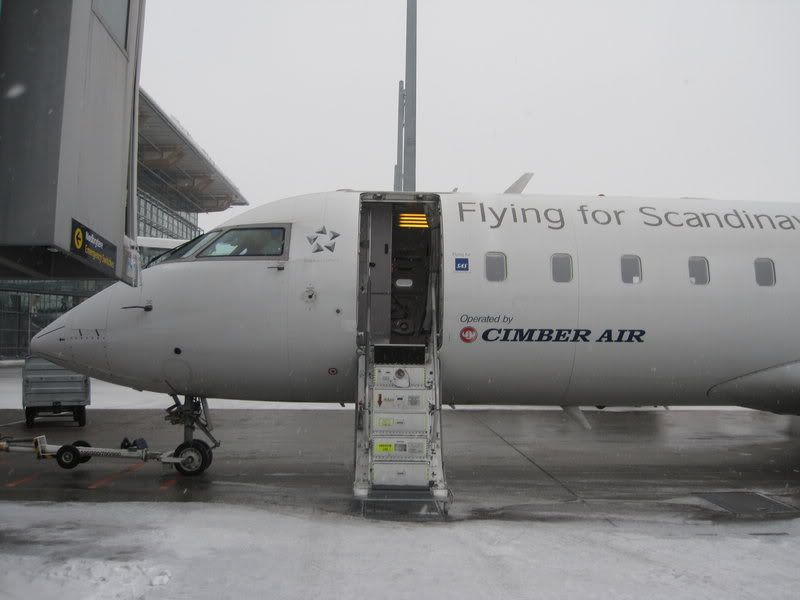 Boarding is called half an hour after the plane's arrival. It has started sleeting outside, so upon boarding I comment to the sole FA who looks like she could me my grandmother "Horrible weather" - she says it's at least a bit better in Billund, not this much snow.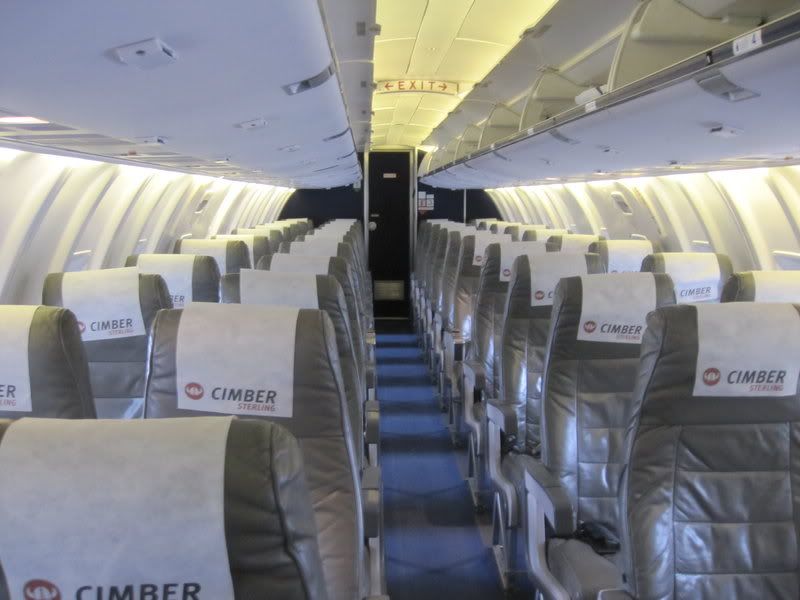 I picked the bulkhead seat for some extra legroom, quite comfortable: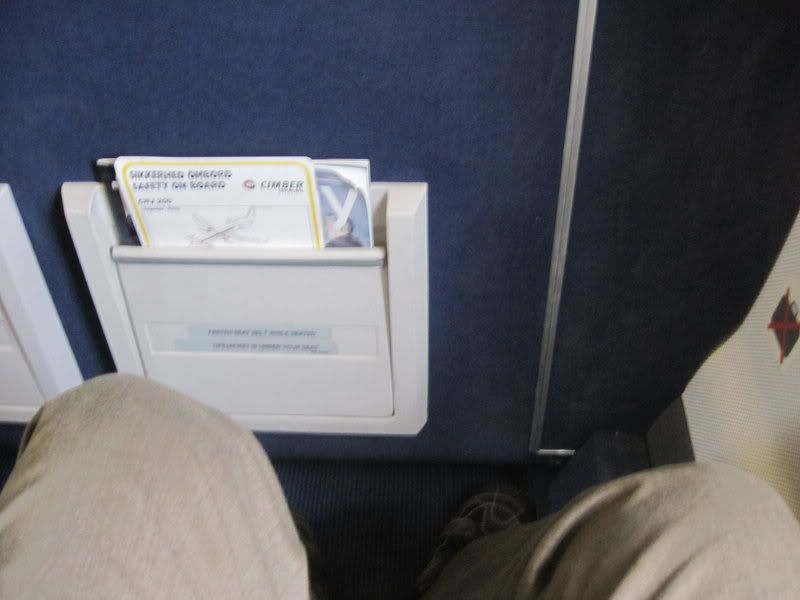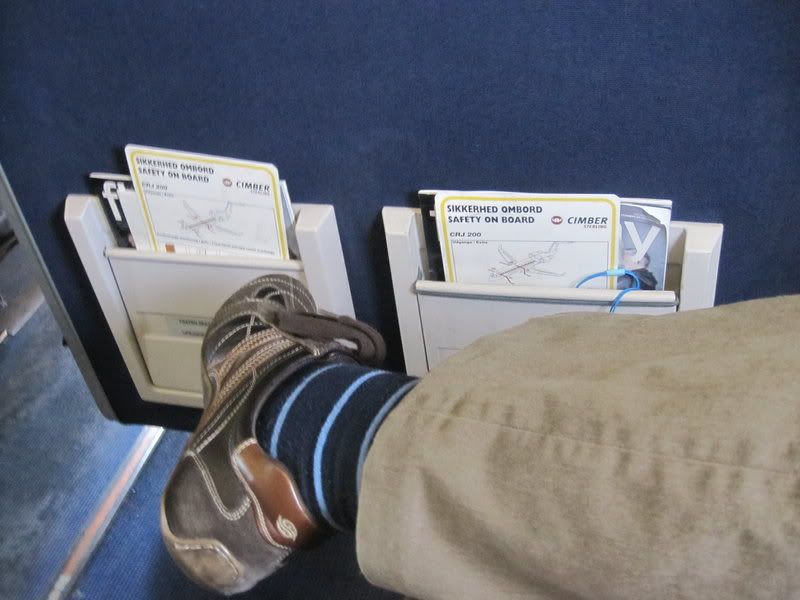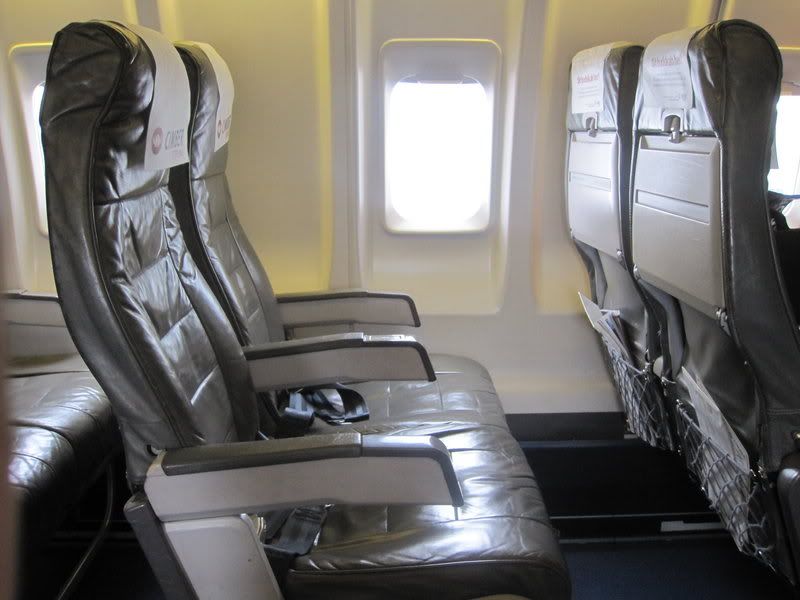 I don't like the CRJ-100/200 windows - they are far too low. This is my normal eye level: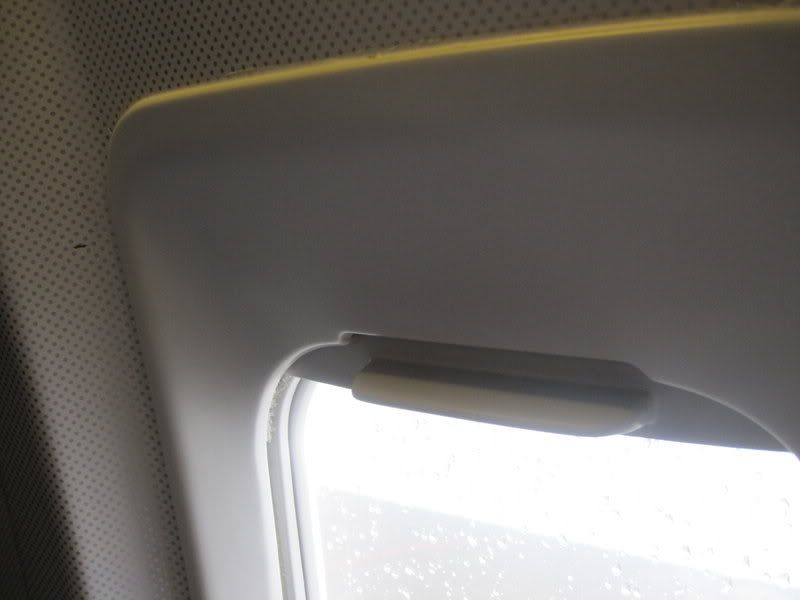 The plane is around half full and boarding is very fast. Flight time is announced as 50 minutes and we manage to depart two minutes early. The Primera chimera has been accompanied by a genuine KLM example - I half expected it to have a Primera winglet, but no: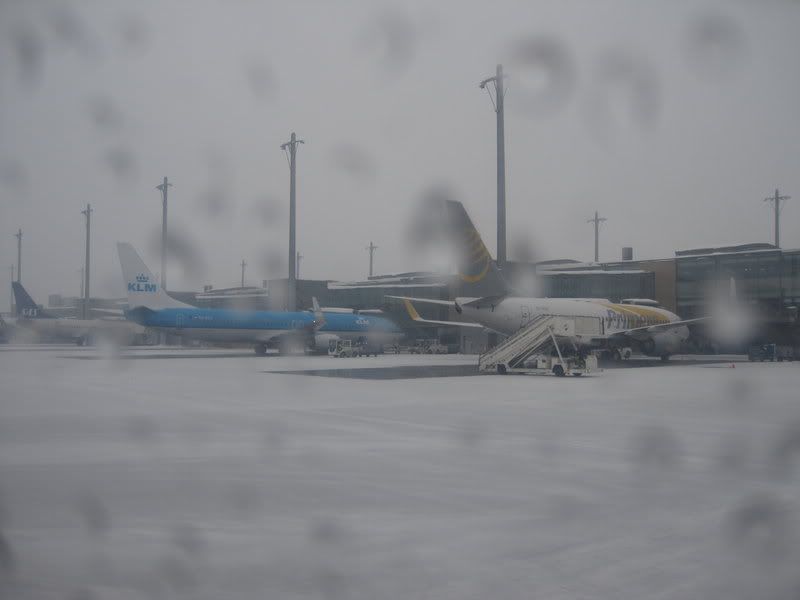 Here's a better look at that Russian rarity: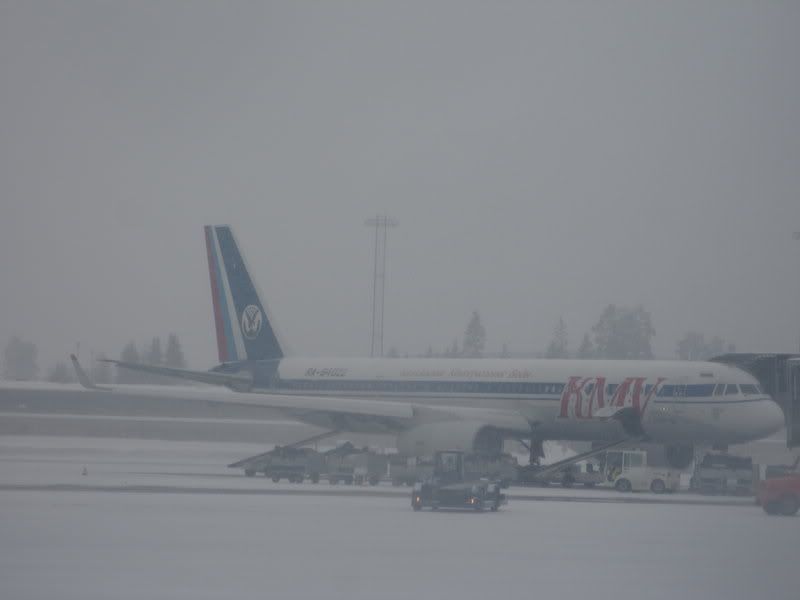 The cavalry returning from another runway sweep:
Oh, looks like we need to be deiced:
The procedure eats up some time, so take off from 19L is 15 minutes after pushback.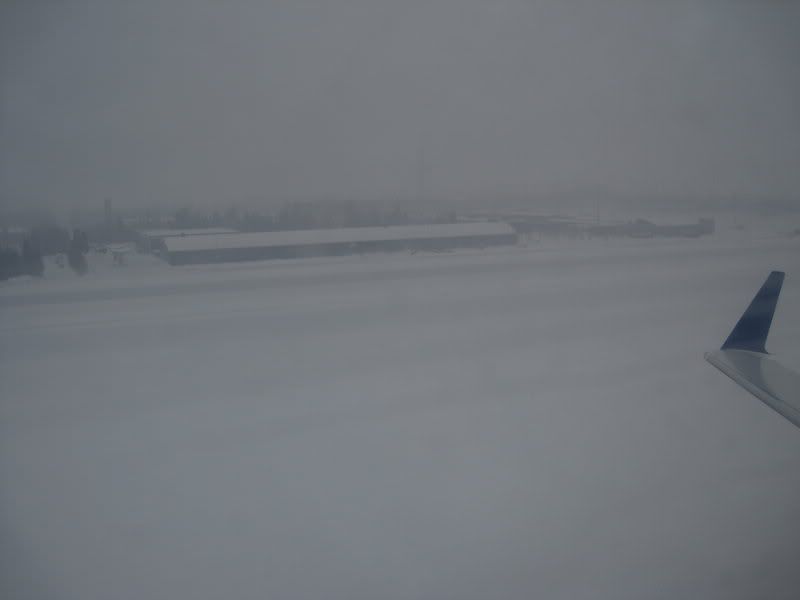 Right away we disappear into the thick clouds: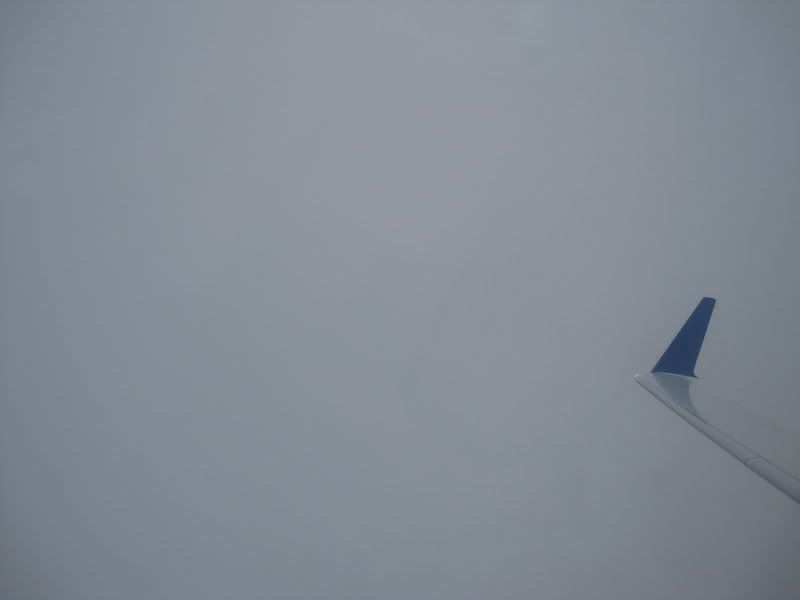 I decide to splurge 30 DKK for a beer from the BOB menu - quite many people buy something: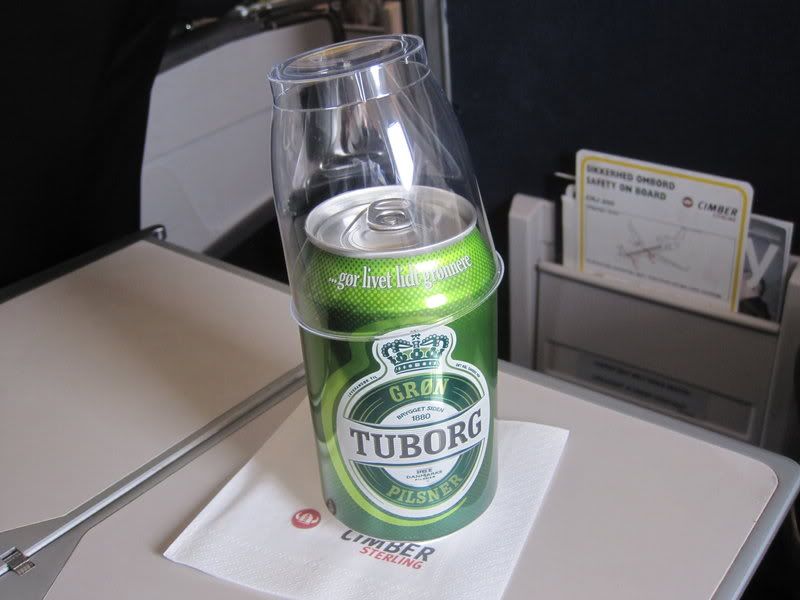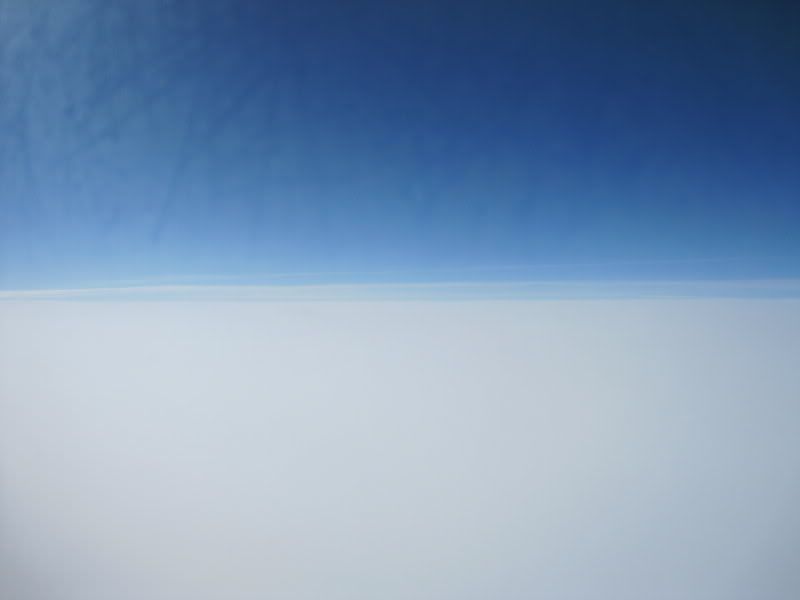 Just half an hour into the flight we start descending again. Thick clouds are hanging over Jutland as well, again views of the ground are limited to finals:
The Lego factory with the original Legoland next to it: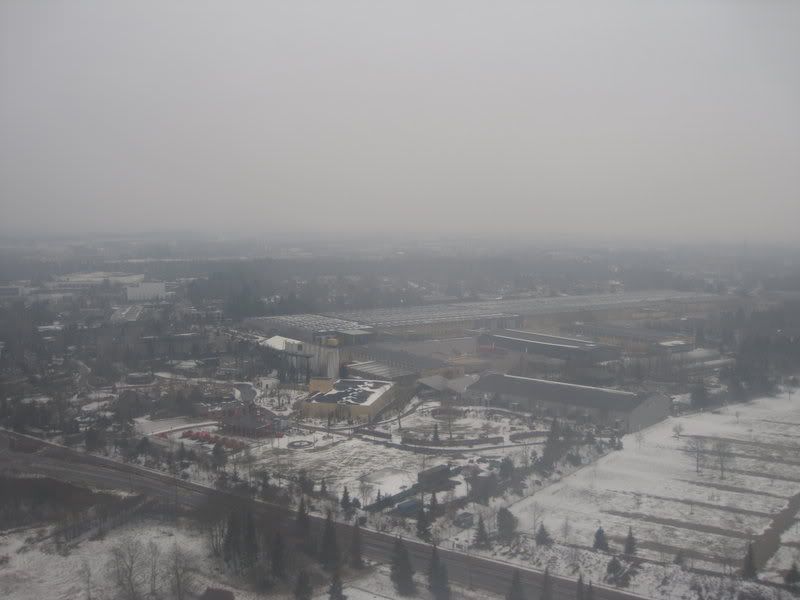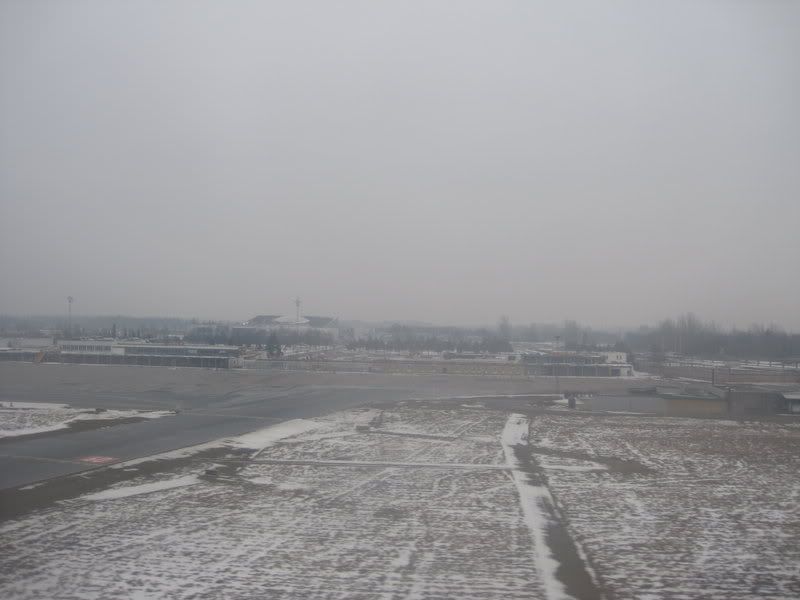 Landing is on runway 09 after a bit over 50 minutes in the air.