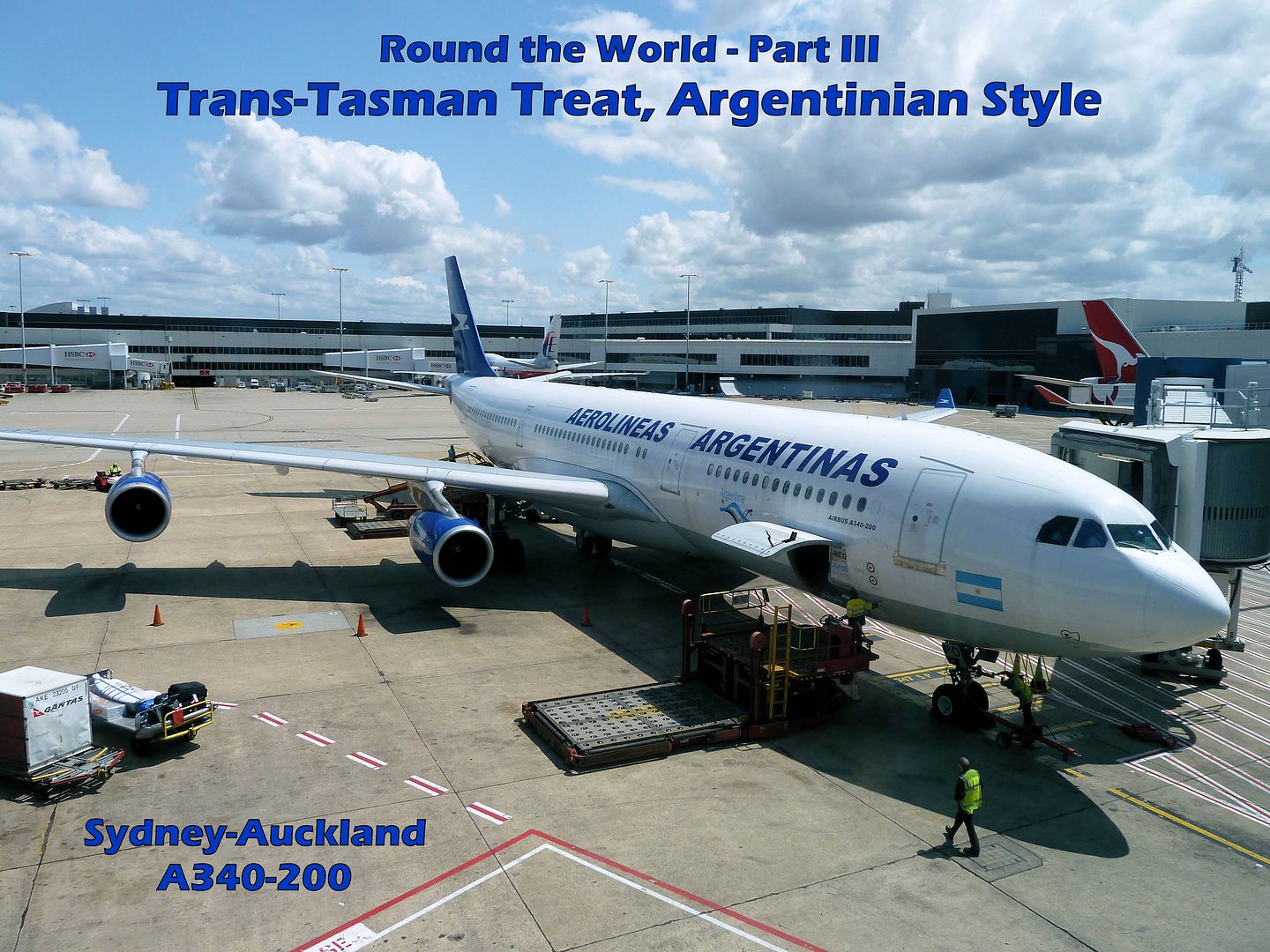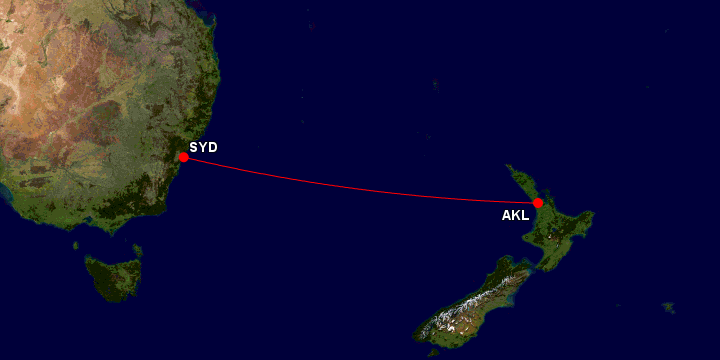 Map generated by the Great Circle Mapper - copyright © Karl L. Swartz
Background about the Round-the-World Trip
A round-the-world trip had been on my wish list for many years and last summer I finally decided to go. Originally, my plan for October 2010 was to visit a good friend in Brisbane again after a break of four years. While searching for flight options, I realized that a visit to Brisbane would be a great opportunity to create a round-the-world trip. RTW packages by the large alliances didn't attract me due to numerous restrictions and the limited choice of airlines. I found it much more interesting to combine all kinds of airlines without someone restricting anything.

As usual, my focus was on new carriers and new types - and my intensive searches turned out to be successful. First of all, I booked the long-haul flights, followed by a few connecting flights. Finally, I added some more side trip flights. Final routing: Munich-Bangkok-Brisbane-Melbourne-Albury-Sydney-Auckland-Christchurch-Dunedin-Wellington-Auckland-San Francisco-Munich. The itinerary included 12 flights, 7 new airlines, 5 new airports and 3 new types. I would leave on 2 October and return 11 days later, after flying 26345 miles (42398 kilometers).

Parts I and II can be found here:
Thai Fails To Impress: MUC-BKK-BNE On 744 & 777
Detours To Sydney: Wildlife, Tiger, REX & QFLink


Planning Details - Part III
The Airbus A340-200 is a very rare bird. Only 28 frames have been built, only 18 are currently (more or less) active with 5 commercial airlines (Aerolineas Argentinas, ConViasa, EgyptAir, Royal Jordanian and South African Airways). The planes mostly fly on long-haul routes which doesn't make the hunt easy for the enthusiast. However, you also find the A342 between Sydney and Auckland, as part of Aerolineas Argentinas' operations to/from Buenos Aires. I had kept an eye on these exciting Trans-Tasman services for a long time - and my plan had been to book such a flight during the next visit to Australia.

Last summer, the long-awaited day had come: After booking the long-haul flights to Australia and from New Zealand, I went to Aerolineas Argentinas' website to purchase a ticket for the Sydney-Auckland sector. Flying Auckland-Sydney would have been about a third cheaper, but I had to accept the relatively high fare due to the more favorable long-haul routing. Anyway, what I didn't like at all about AR's website was the fact that I couldn't conveniently pay the ticket online. AR wanted me to call them or to go to one of their offices. So I stopped the booking process and searched for alternative websites. Finally, I booked the flight on Travelocity (American version). Then I tried to choose a seat in advance on AR's website, but that wasn't possible either. Anyway, I was glad about having a reservation at all.

Well, then I started hoping that the A340-200 would indeed operate on that day. My itinerary just showed "A340" and I knew that it could be switched to an A340-300 under certain circumstances - pictures from AKL and SYD confirmed that it had indeed happened sometimes.

Sydney Airport Spotting
Early in the morning I left the Formule 1 hotel and took a (pre-ordered and pre-paid) shuttle to the International Terminal. First of all, I checked the arrivals and departures screens and was relieved to find out that my plane's delay hadn't become worse. My friend in Brisbane had already informed me on the evening before that the plane had left Buenos Aires more than two hours behind schedule. My other friend Nicholas alias
NZ107
would later also inform me about the plane's status at Auckland. Anyway, the check-in counters weren't open yet, so I went to the observation deck: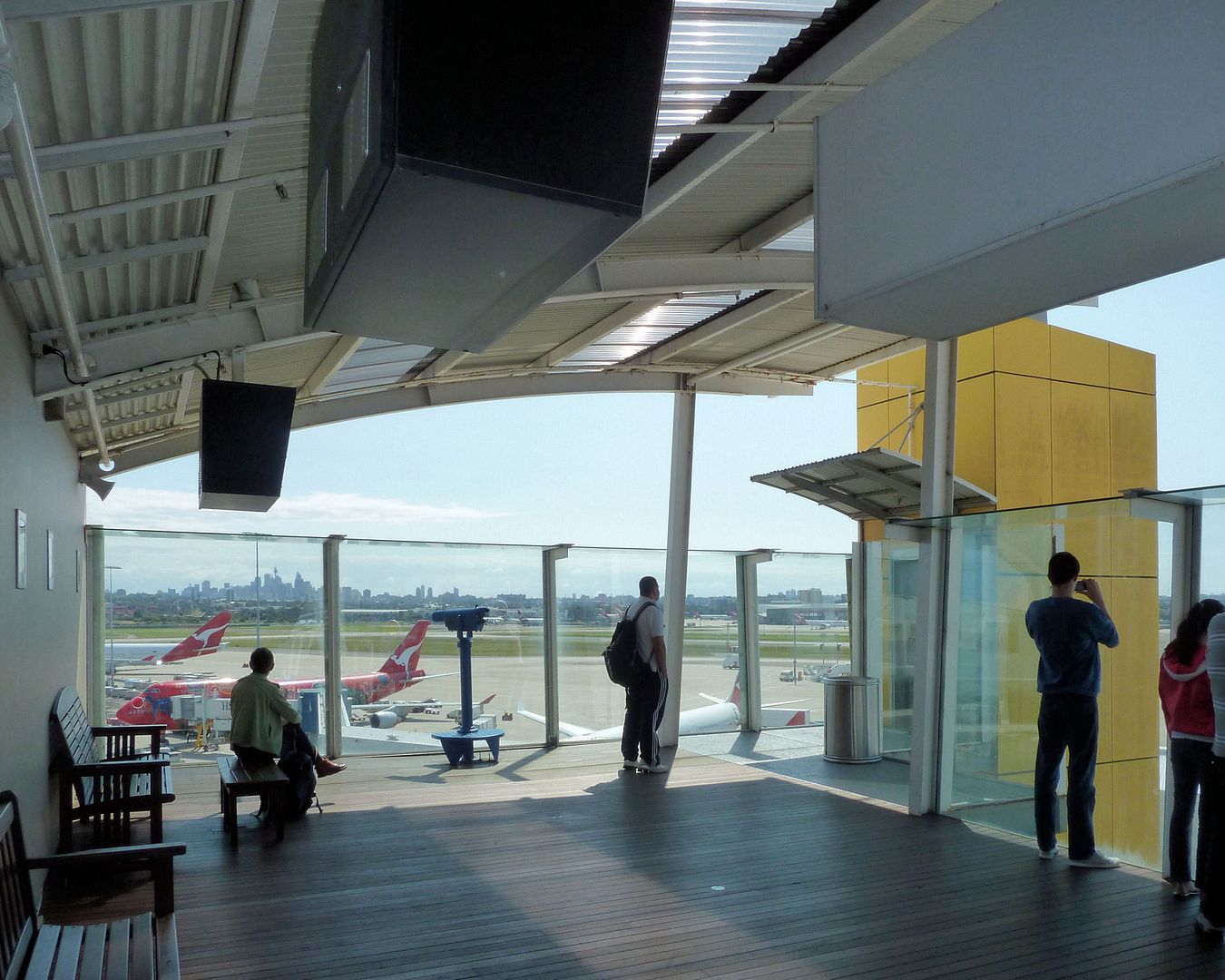 The famous
Wunala Dreaming
, two other Qantas 747-400s and an Emirates 777-300ER: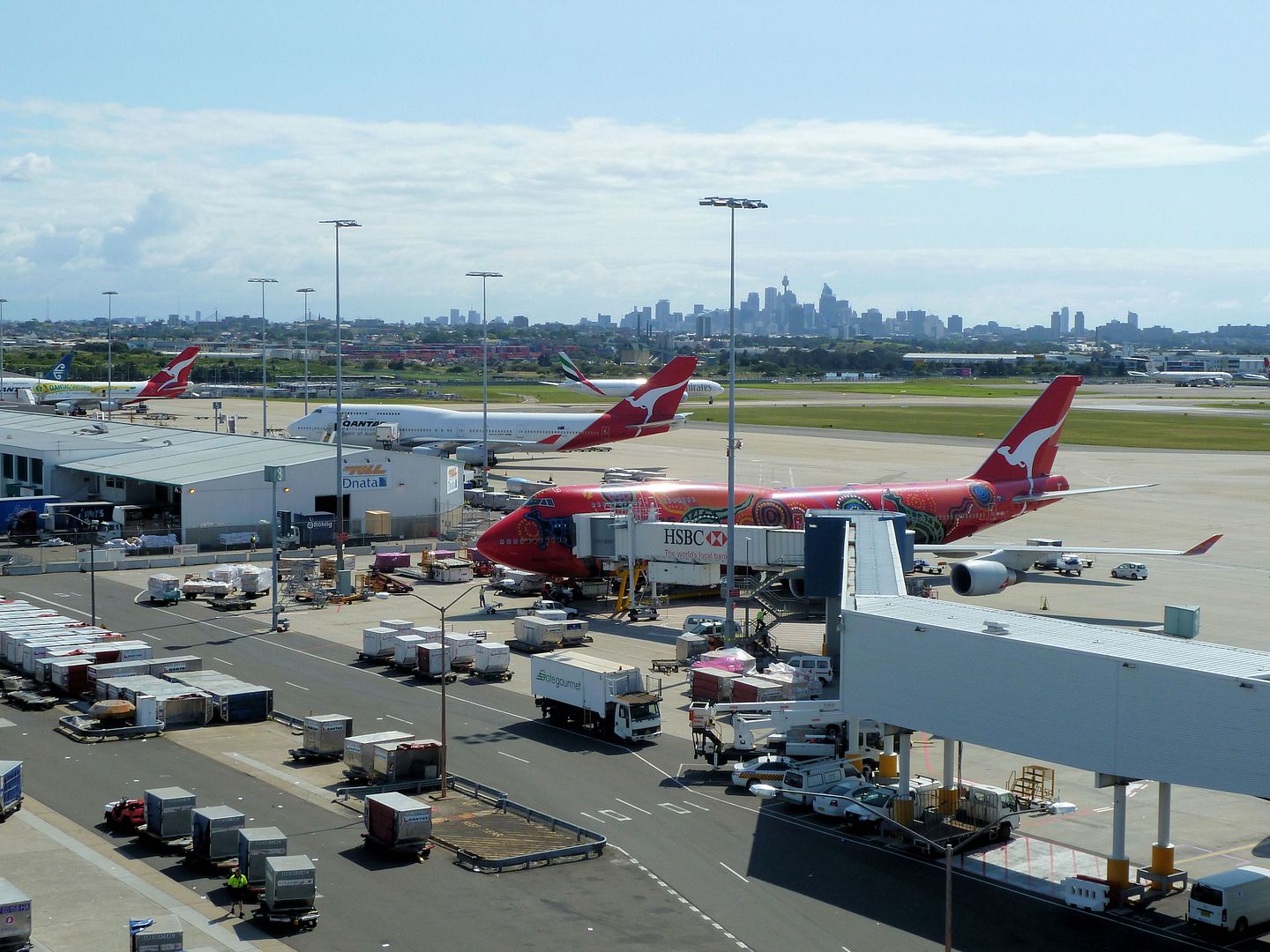 It's a nice facility, but not well-protected from the weather. Due to the cold wind I left again soon and killed the time by reading near the AR check-in counters.
Sunday, 10 October 2010
Sydney (SYD) - Auckland (AKL)
Aerolineas Argentinas AR1183
Scheduled times: 12:45-18:00
Actual times: 14:19-19:20
Flight duration: 02:41 (hrs)
Distance: 1345 miles
Economy Class, seat 20H

Airbus A340-211
LV-ZPO (MSN 063)
First delivered to Cathay Pacific as VR-HMR in 10/1994
1st flight on LV-ZPO
1st A340-200 flight
8th A340 flight
105th airline
Former appearance:
Former appearances as VR-HMR and F-OHPF:
Several dozens of people were already waiting in queue when the check-in agents started working. I had lined up quite early, so the remaining waiting time was low. The mid-aged female agent was friendly, but appeared awkward. It took her quite long to enter my data and check my reservation. She even had to ask her colleagues for advice. I guess she was new in her job. Anyway, I asked for a window seat in the rear section, but the one and only window seat the agent could offer was 20H. I wasn't amused, but what can you do? Finally, she handed out the boarding pass and told me that the new departure time would be 14:00 instead of 12:45.
After passing security, I went to a nice deserted gate area at the front end of the concourse where I had great views of runways 07 and 16R. I was able to log a total of 23 new registrations at SYD on that day. Btw - the new departure time didn't show up on the screens at the gate for a long time and delay announcements weren't made until shortly before the plane's arrival. An agent apologized twice for the delay and referred to the "late arrival of the aircraft". Surprise, surprise…
Finally, the desired Aerolineas Argentinas A340 came into view on the horizon. Final approach to runway 07: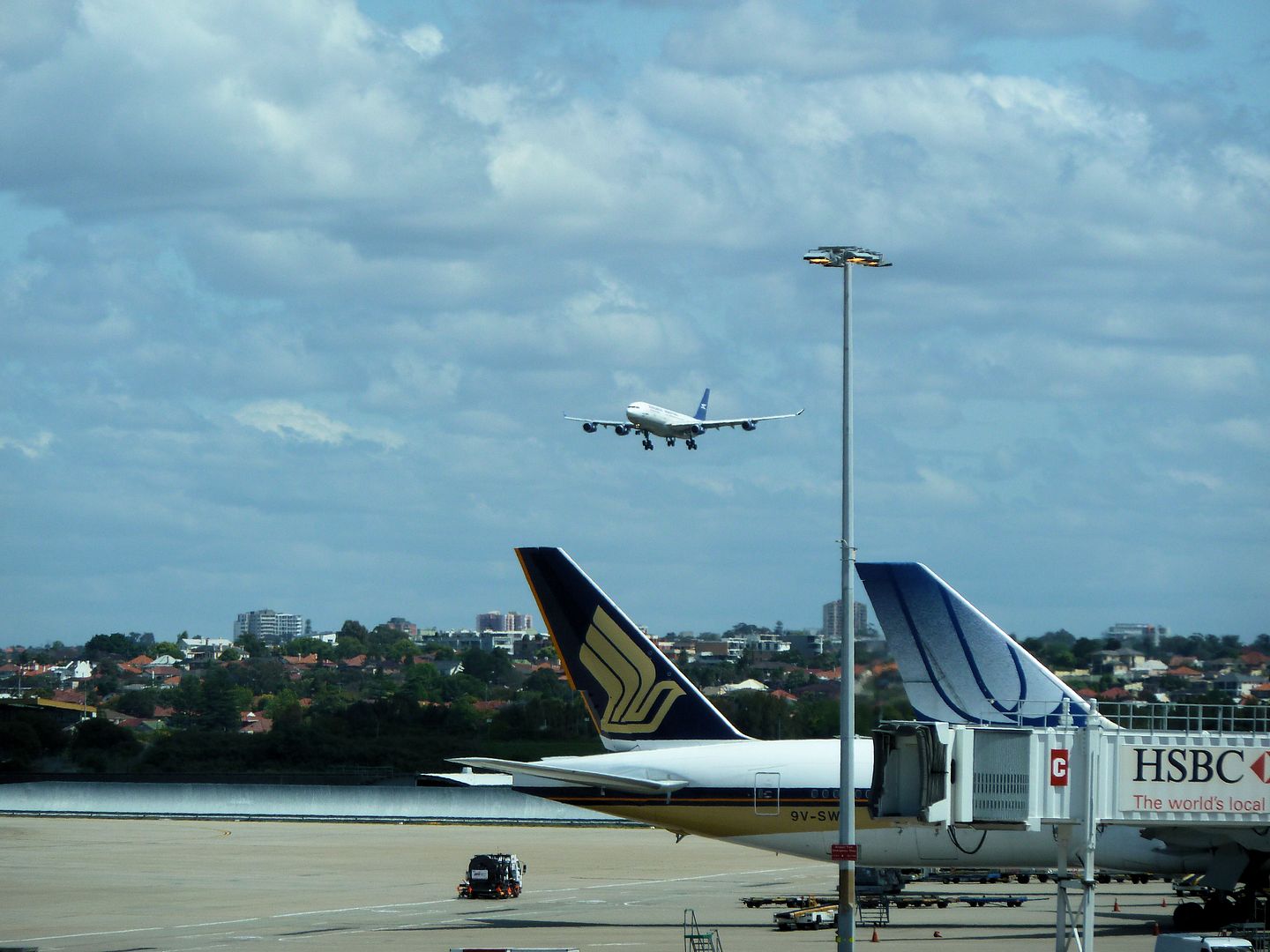 My excitement was growing during the plane's final descent due to concerns of a possible delay-related switch to an A340-300...but soon I realized that it was a short fuselage and almost simultaneously recognized the registration
LV-ZPO
.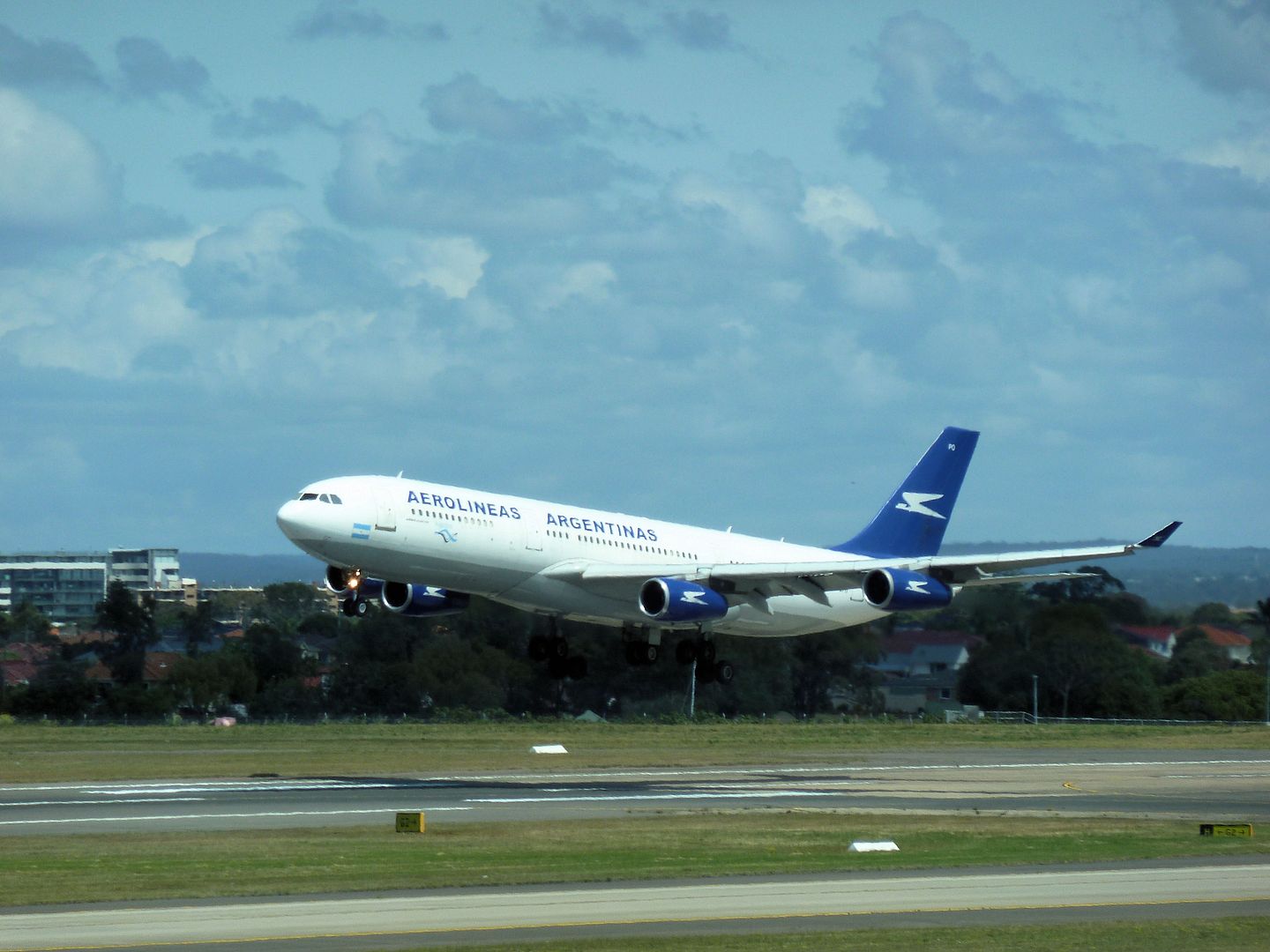 The 1994-built plane had been intended for Philippine Airlines, but the deal got cancelled. Cathay Pacific became its first operator, but only two years later the plane ended up with PAL after all. Finally, Aerolineas Argentinas added the plane to its fleet in June 1999: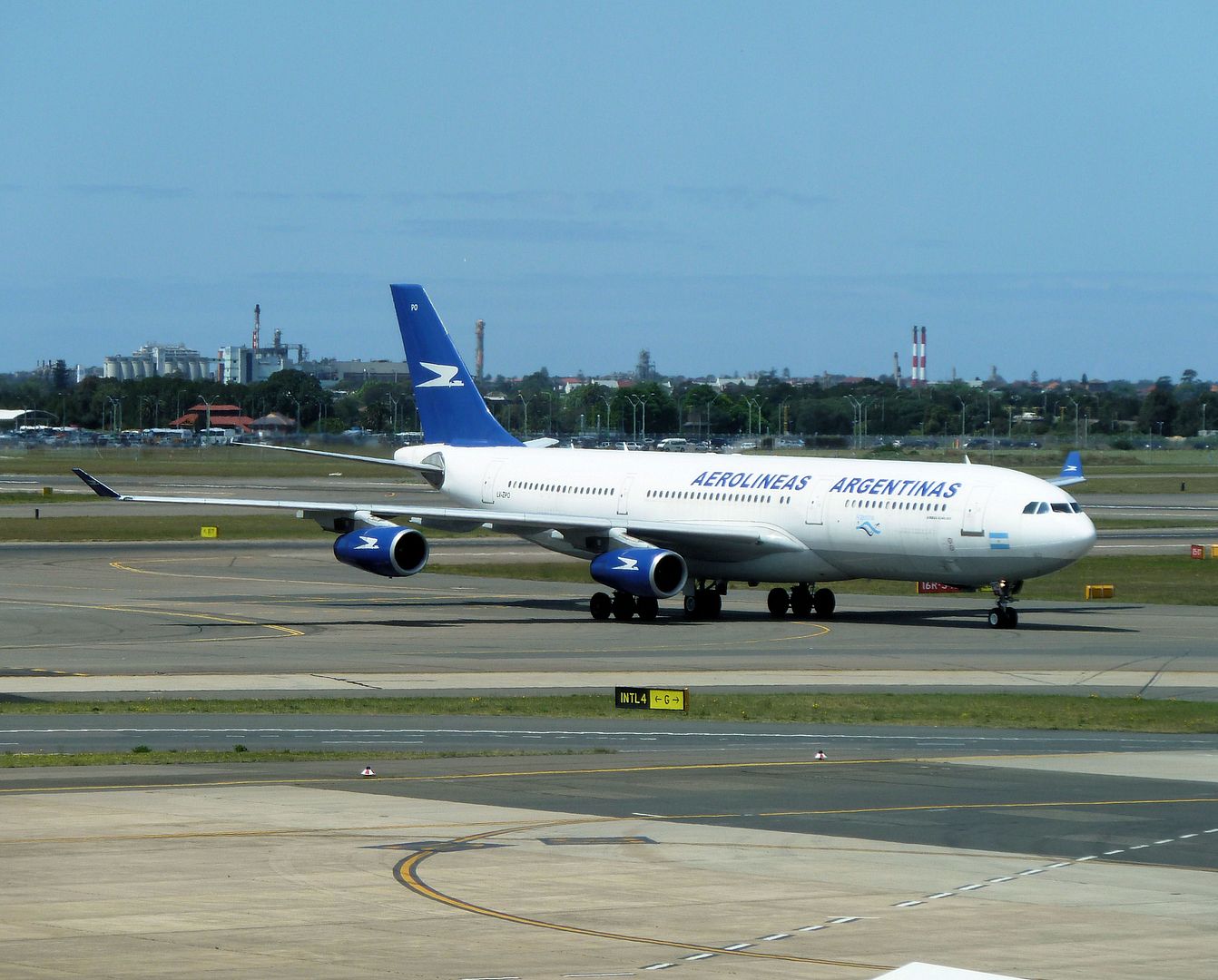 LV-ZPO
is one of four A340-200s operated by the Argentinian flag carrier.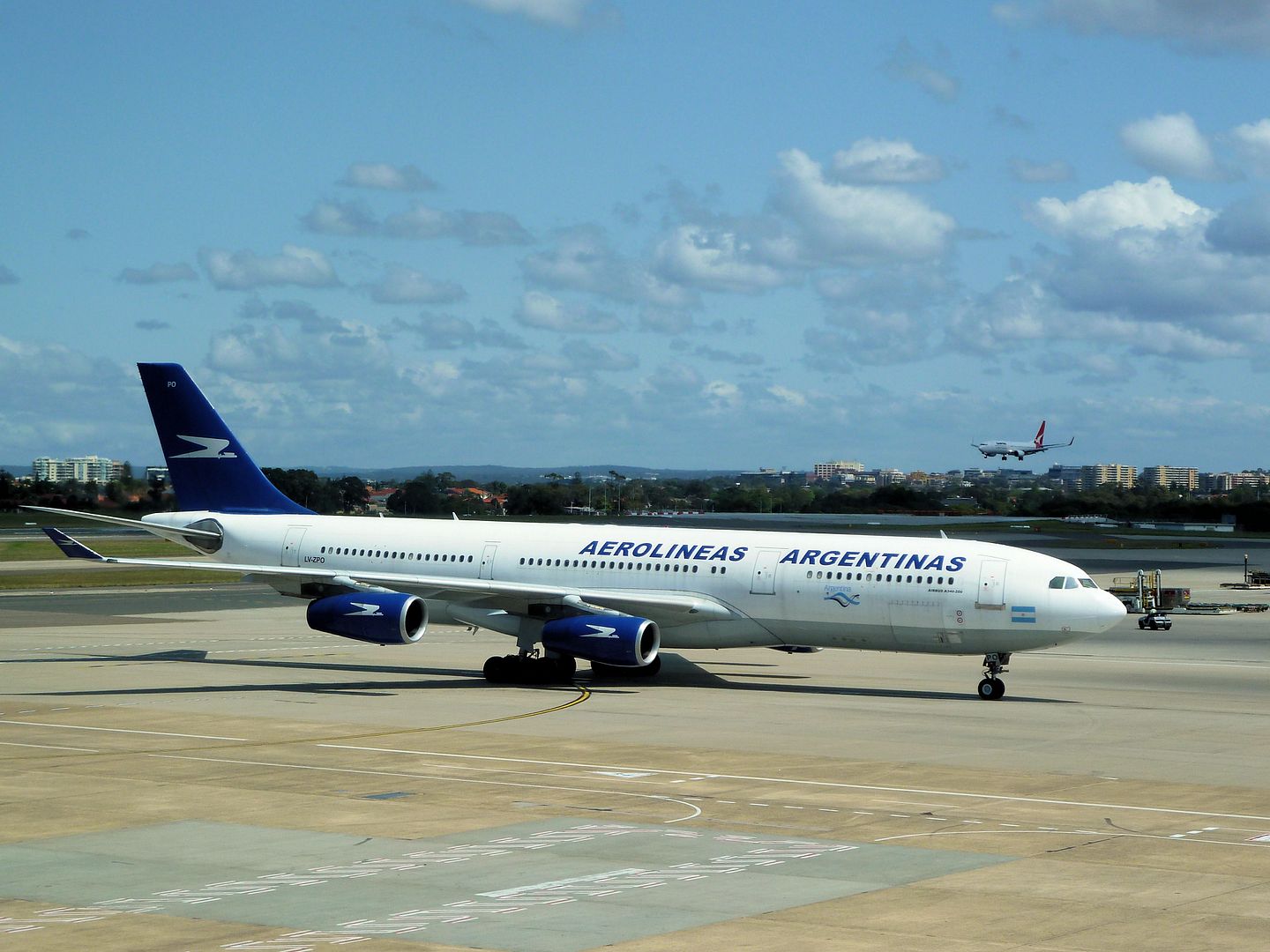 I really like this perspective: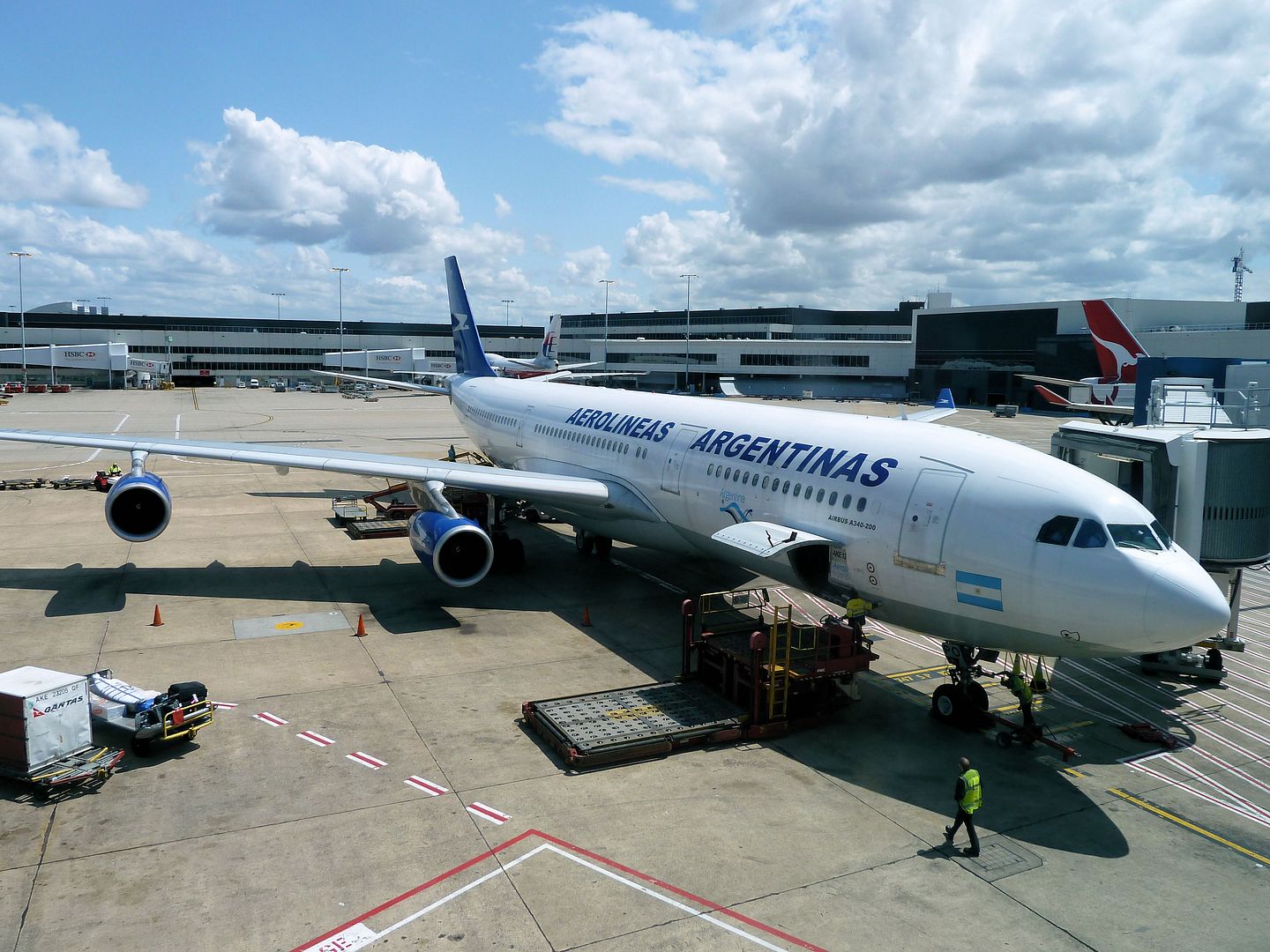 Nose close-up:
I continued spotting for a while and finally joined the long queue at the gate. After standing in line for more than 20 minutes, I could finally step on board. Warm welcome? Forget it! One flight attendant quickly checked my boarding pass, two others were chatting with each other and didn't even look at the passing passengers. Then I arrived at my row and found a young Latin American lady sitting in my window seat. I politely told her that she was occupying my seat and she immediately switched to 20G which was hers.
The (creaking) old-style seat was quite comfortable...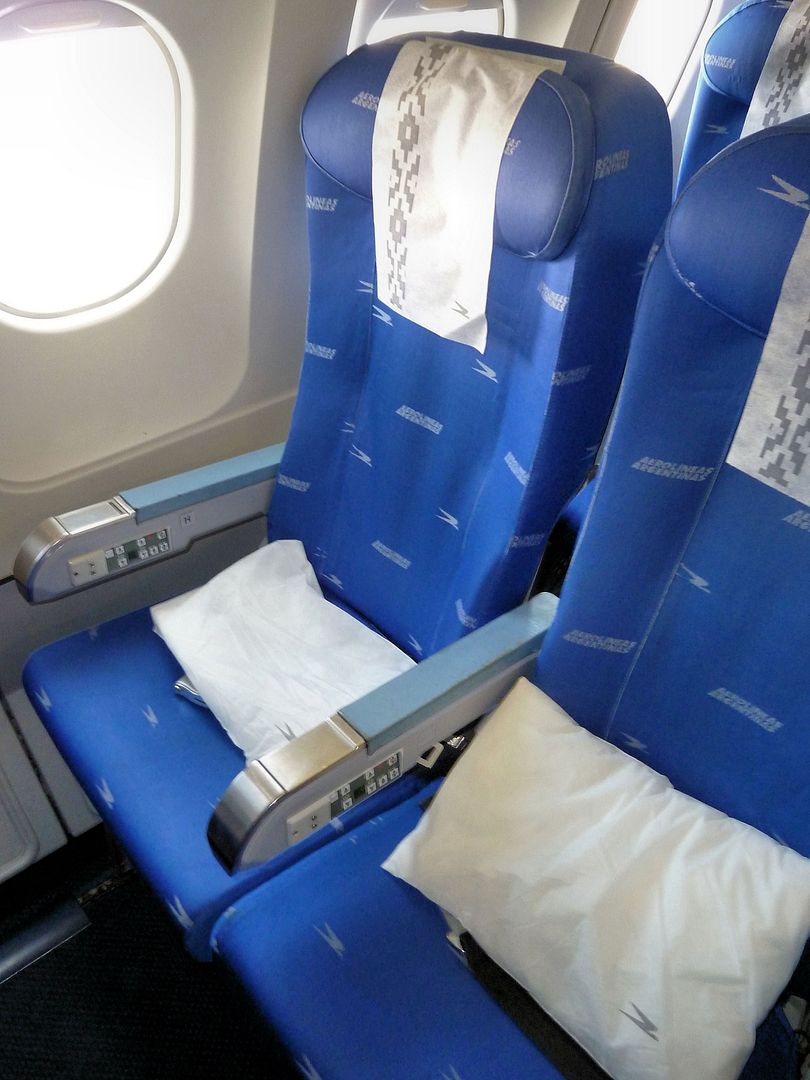 ...and legroom was generous, too:
However, the footrest was broken and didn't move upwards any more - and the seat cover above wasn't in right position either. The cabin looked quite worn in general and was dirty in certain areas - just have a look at the parts beneath the armrests on the picture above. Additionally, the safety card was in torn condition and I missed an inflight magazine in my seat pocket.
I don't like these over-wing seats with limited views, but at least I could partly see the A340's "hairdryer engines":
We finally left the gate 19 minutes behind the new official departure time. Any pieces of information from the flight deck about the delay or the flight in general? Nothing of this sort, at any time!
Qantas A380 to the right of the winglet: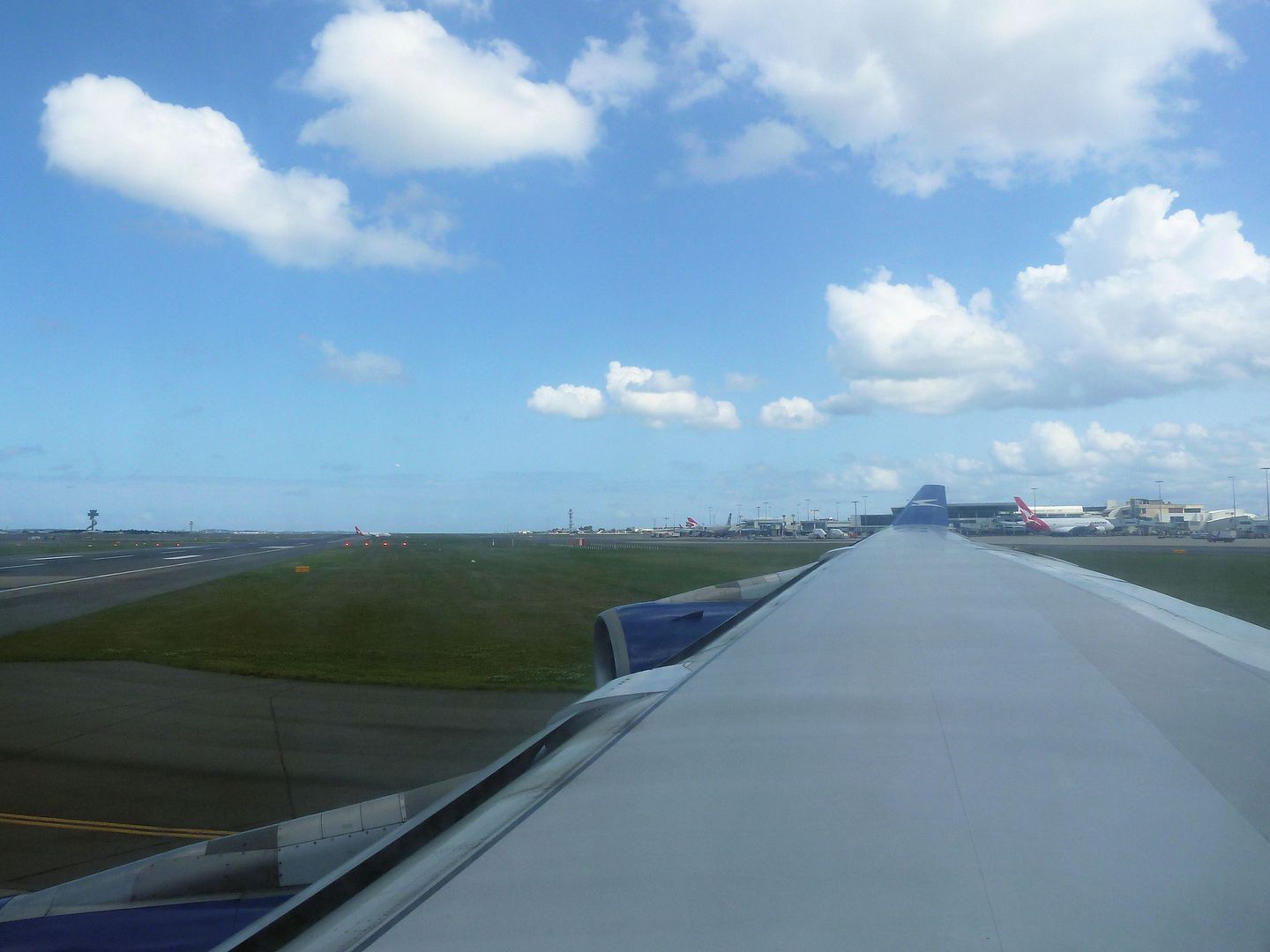 We rolled onto runway 16R and the "hairdryers" soon started howling...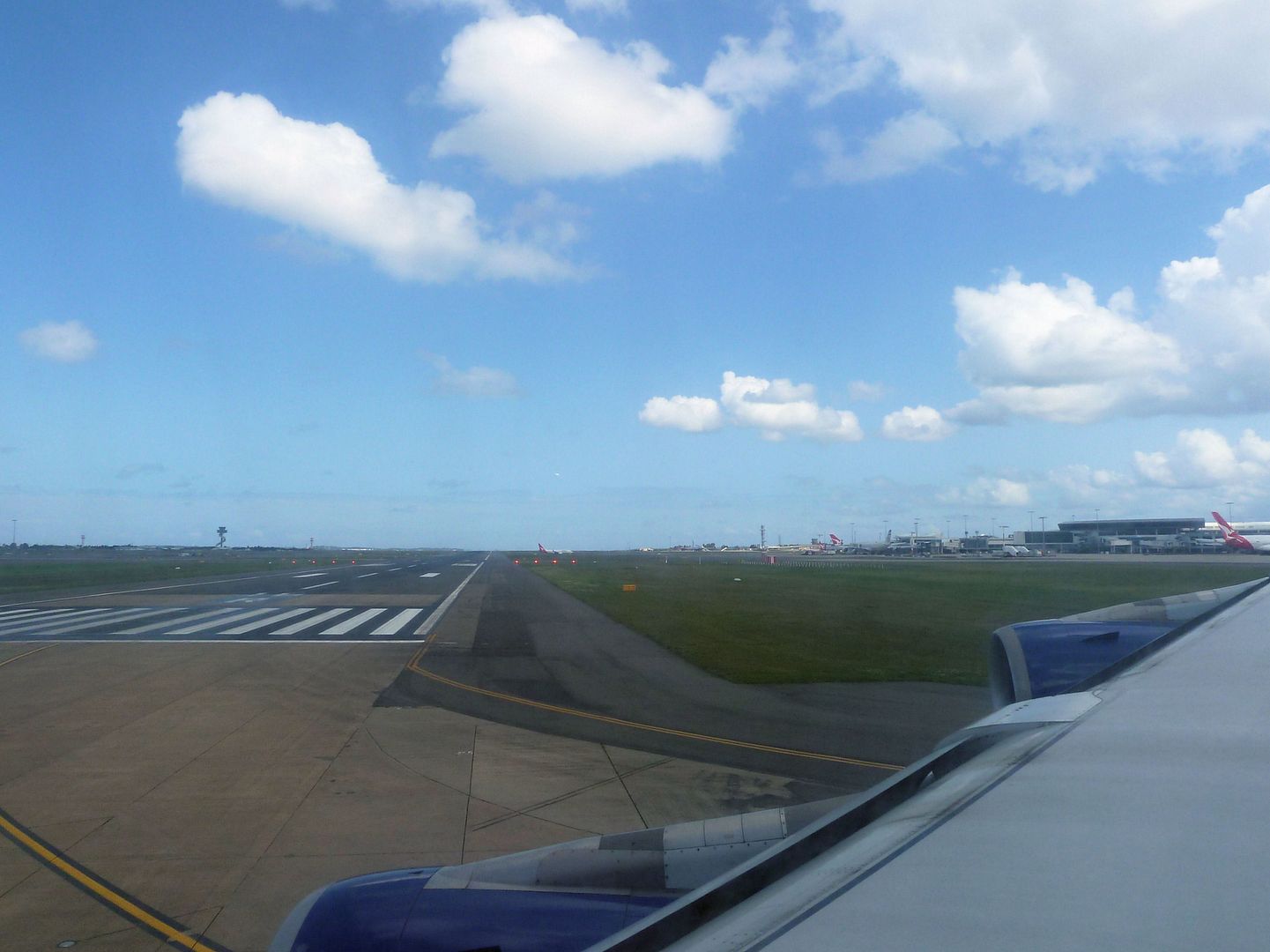 Acceleration was unspectacular as usual on the "classic" A340, but we lifted off earlier than expected: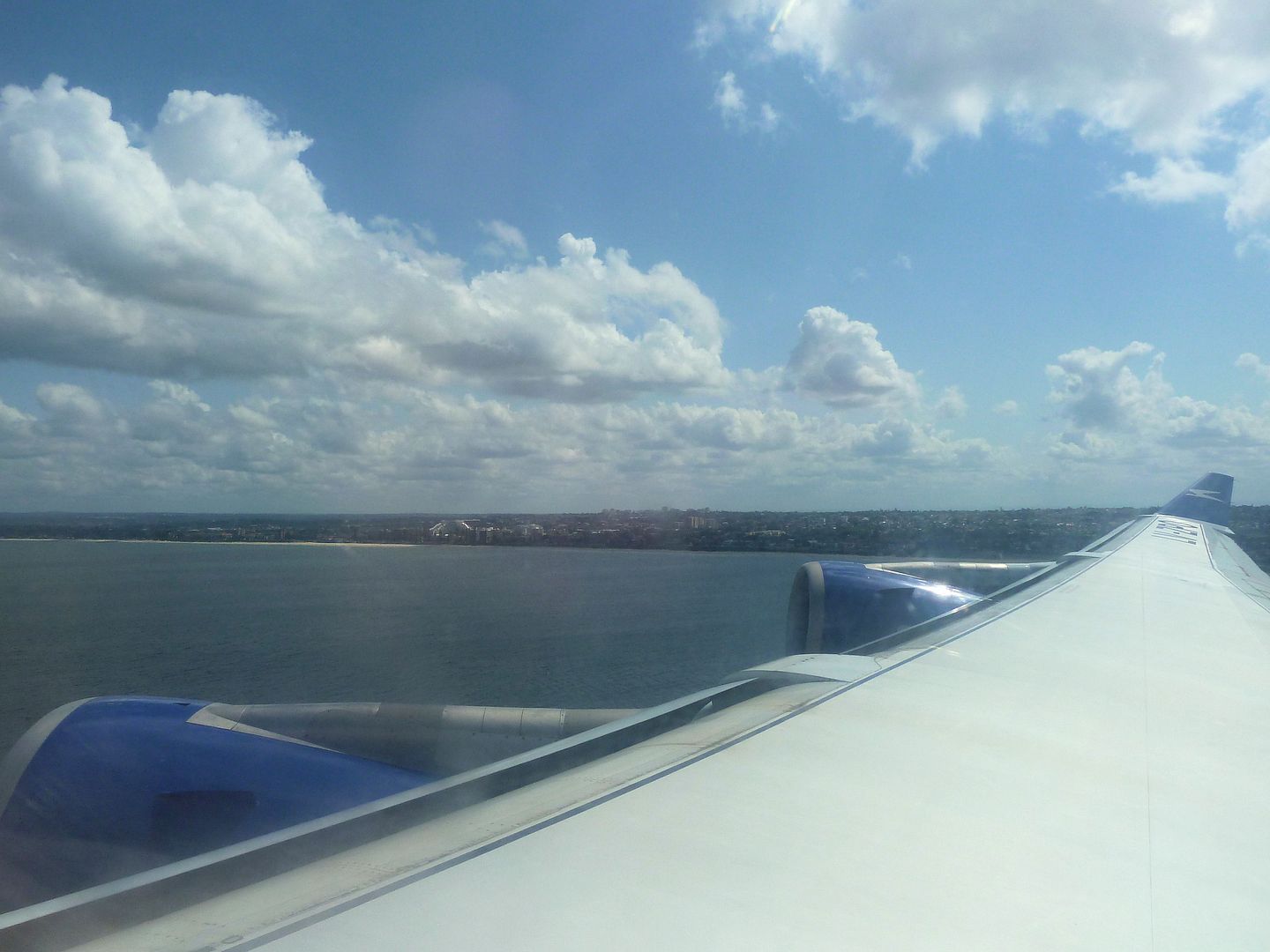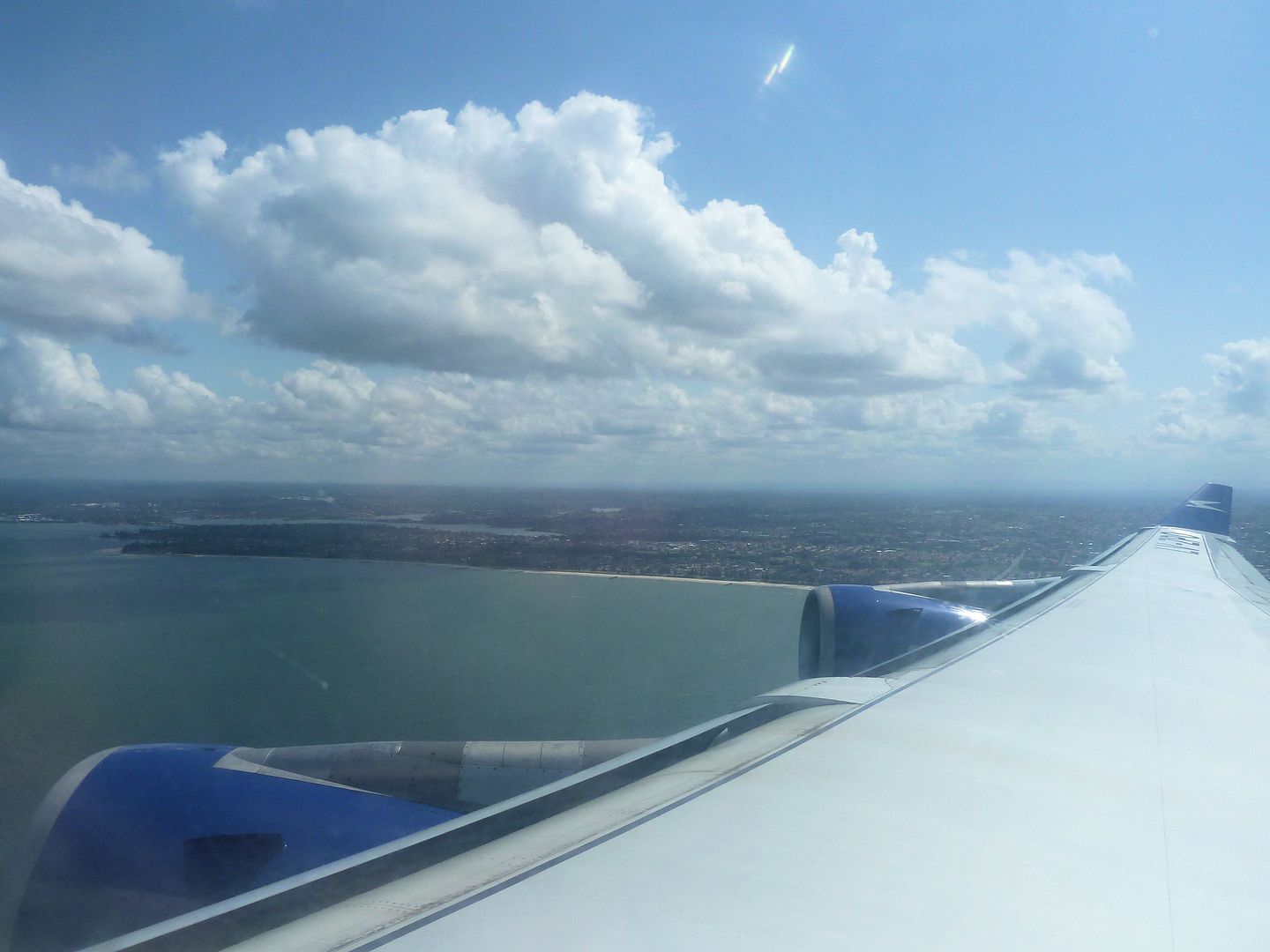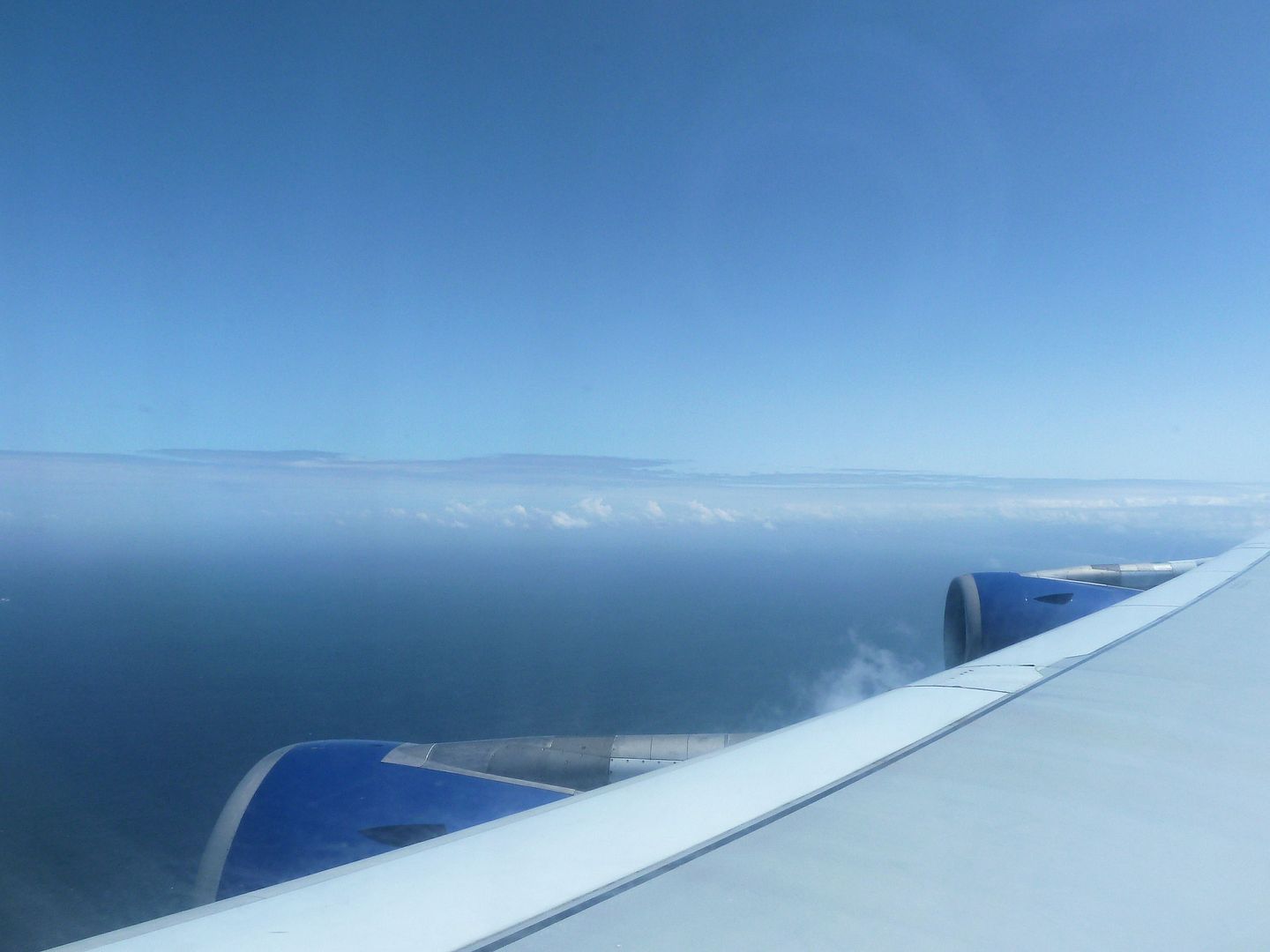 An old-style airshow appeared for a while after takeoff (followed by various TV features), but that's all I could see from my seat:
About 45 minutes after takeoff, drinks and a cold meal were served. The flight attendants didn't smile at all, but at least the tray looked quite nice:
The sandwich bread was dry, but the (New Zealand made) apricot frangipani cake and the baked oaty slice (raspberry and white chocolate) weren't bad. Well, many people may have argued that the cake was too sweet. The orange juice seemed to be diluted and tasted artificial, but the black tea was okay.
After relaxing for a while, I went for a walk. The cabin picture shows that Economy Class was packed:
Thick clouds over the Tasman Sea: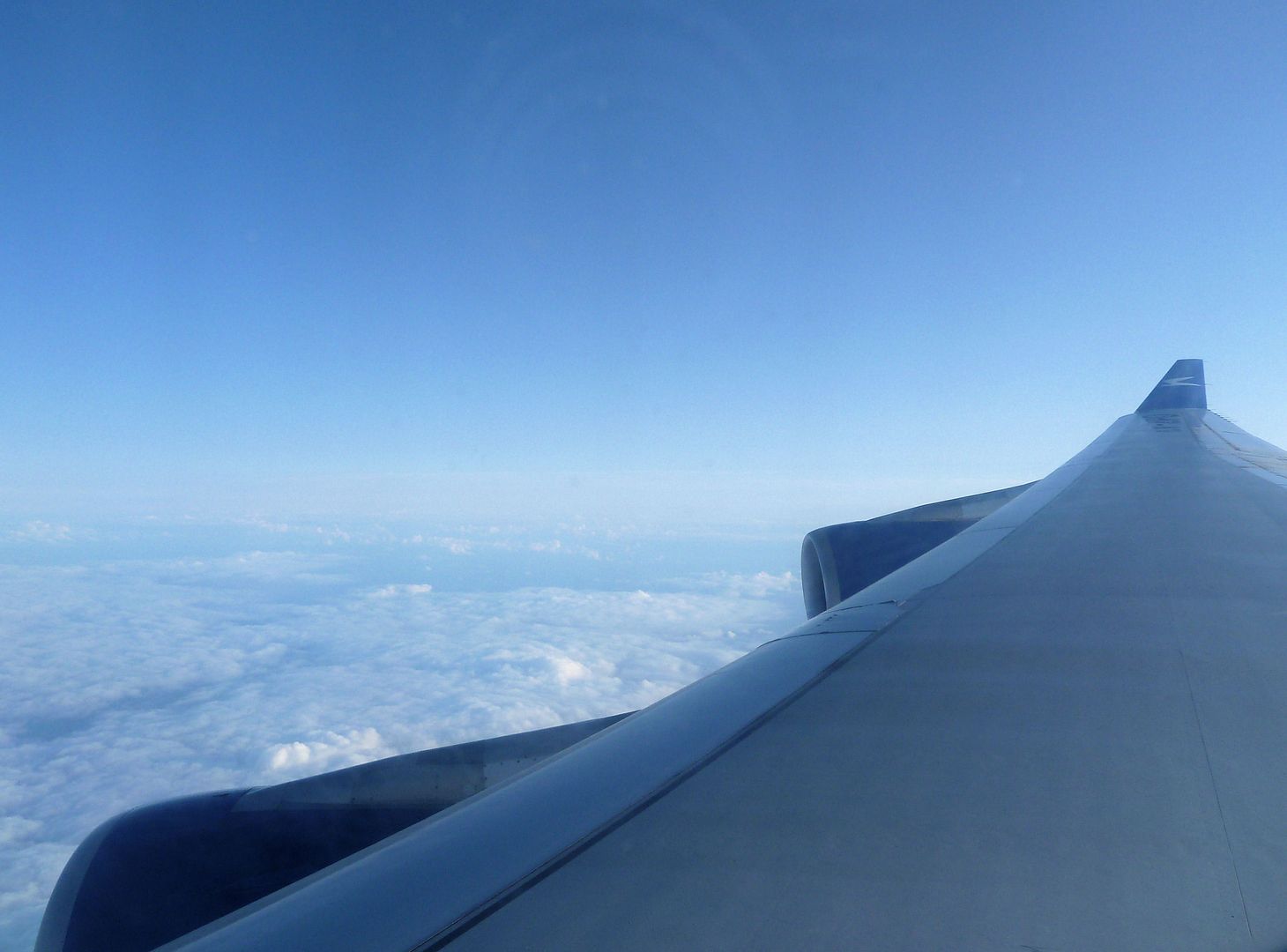 LV-ZPO
started descending about 20 minutes before landing:
The first sight of New Zealand: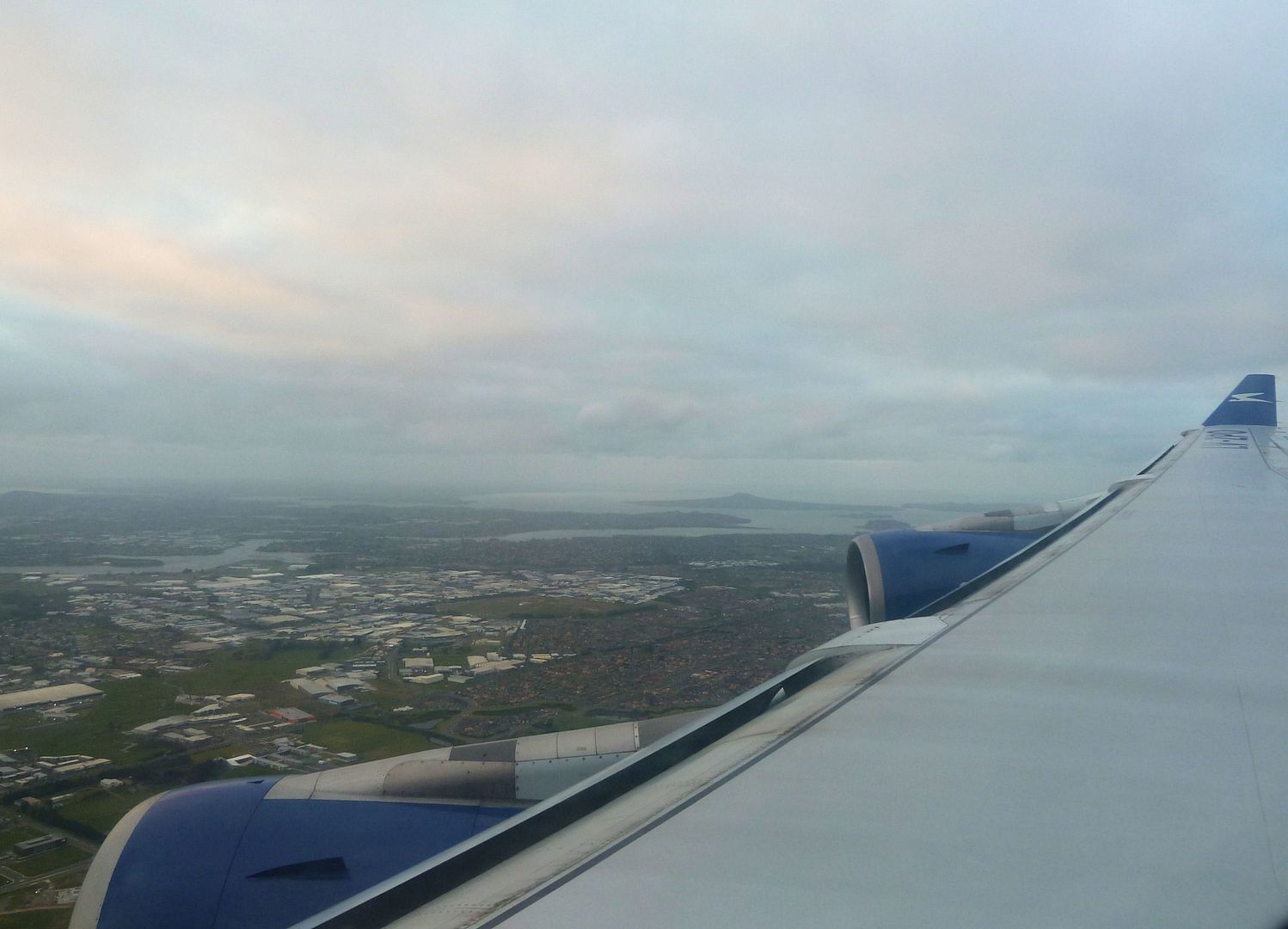 There's a small parking area for spotters just to the left of the outer engine: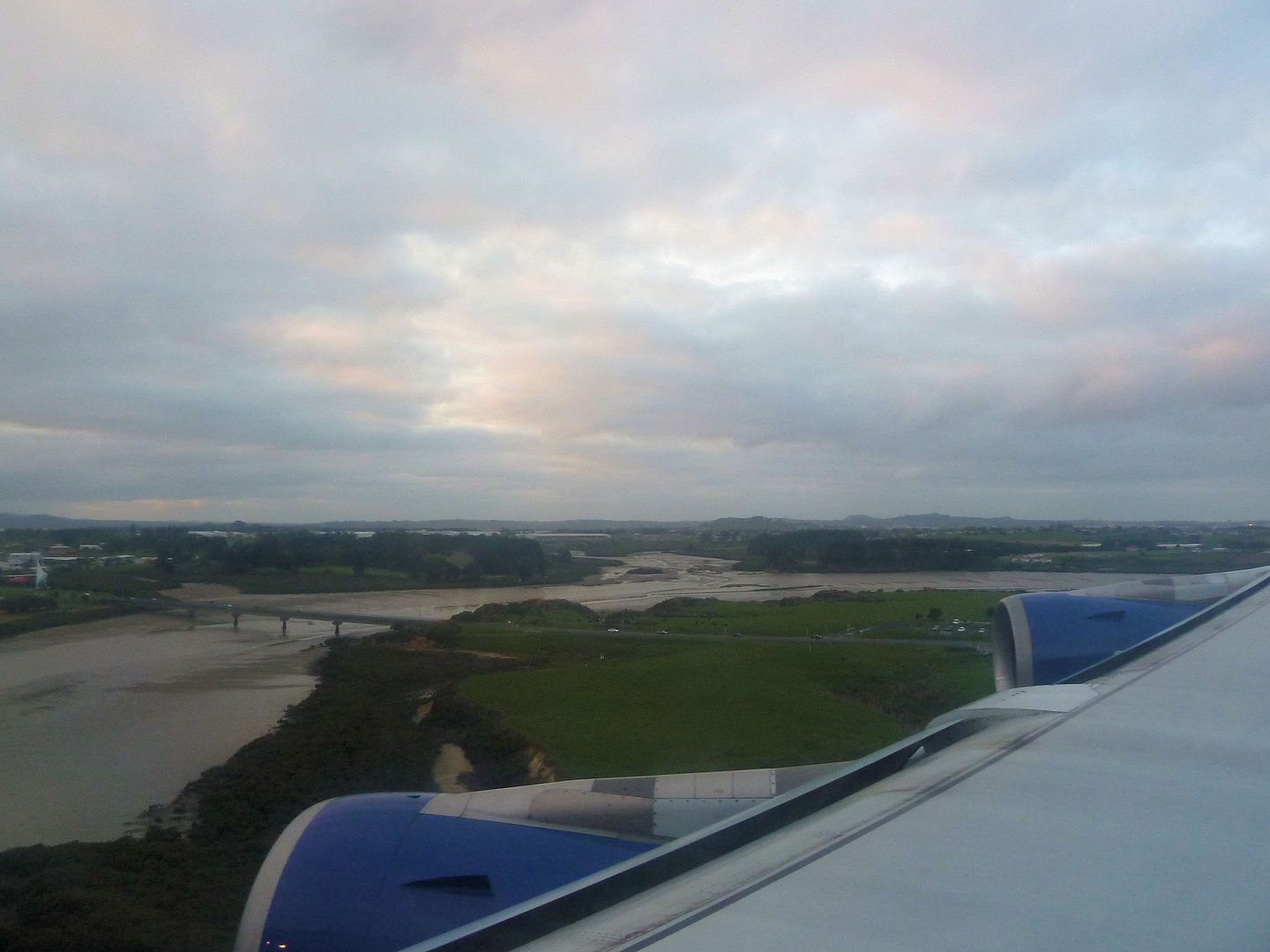 We touched down after 2 hours and 41 minutes...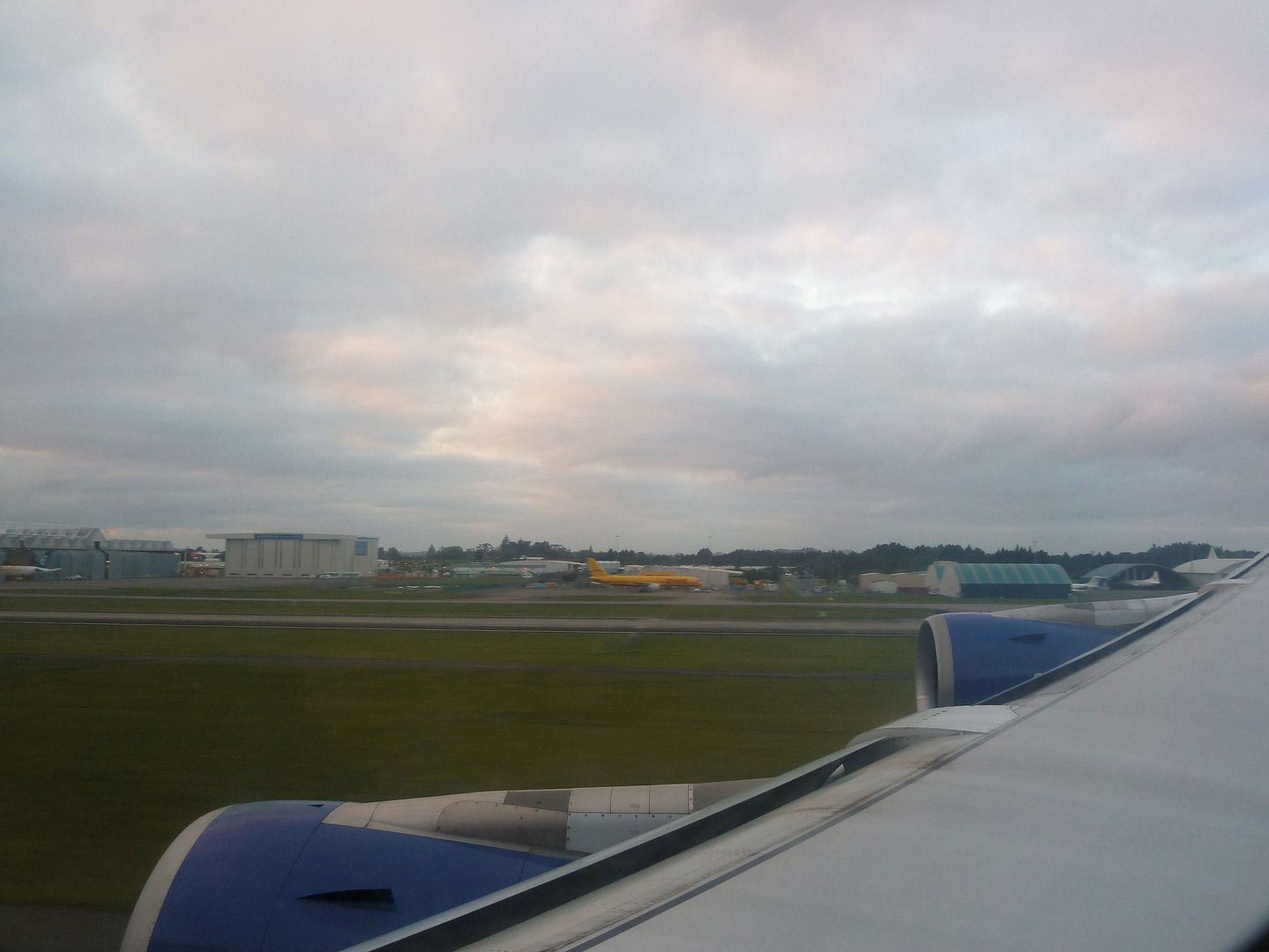 ...and arrived at the gate 1 hour and 20 minutes behind schedule. Parked nearby was Air New Zealand 777-200ER ZK-OKB - one of the candidates for my Pacific crossing two days later: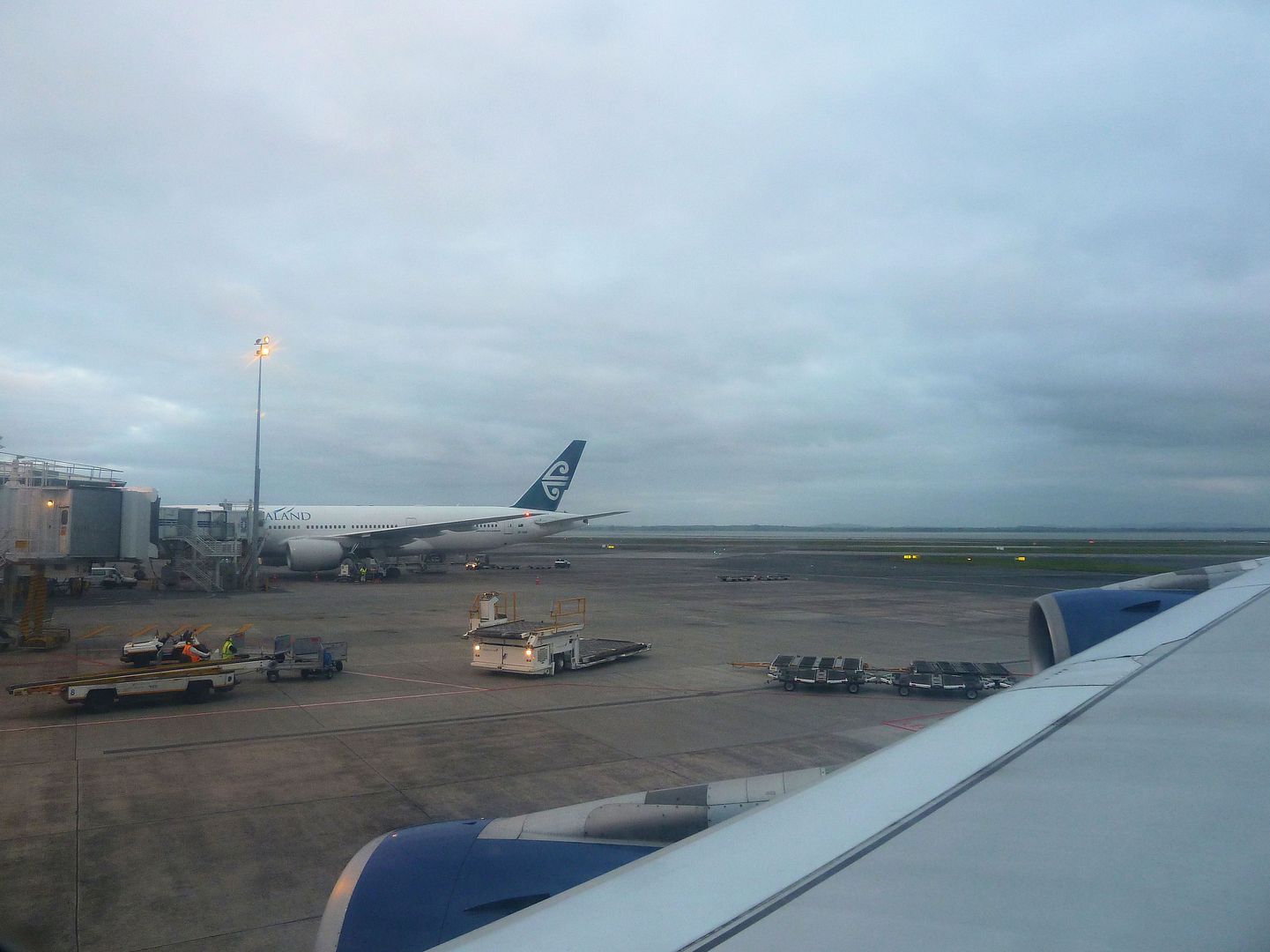 All passengers had to leave the aircraft which would continue to Buenos Aires later in the evening. I was very impressed by the modern international terminal and its nice facilities.
After quickly passing immigration, I grabbed my luggage, bought something to eat and took the shuttle bus to the
Jet Park Airport Hotel
in Mangere. On TripAdvisor, it ranks on first place among 20 hotels in Mangere - absolutely justifiably so, as I would soon find out: great staff, tasteful interiors, comfortable and well-equipped rooms, decent minibar prices. Yes, there are cheaper hotels in the area, but I can only recommend to invest a bit more and stay at the Jet Park. Some impressions: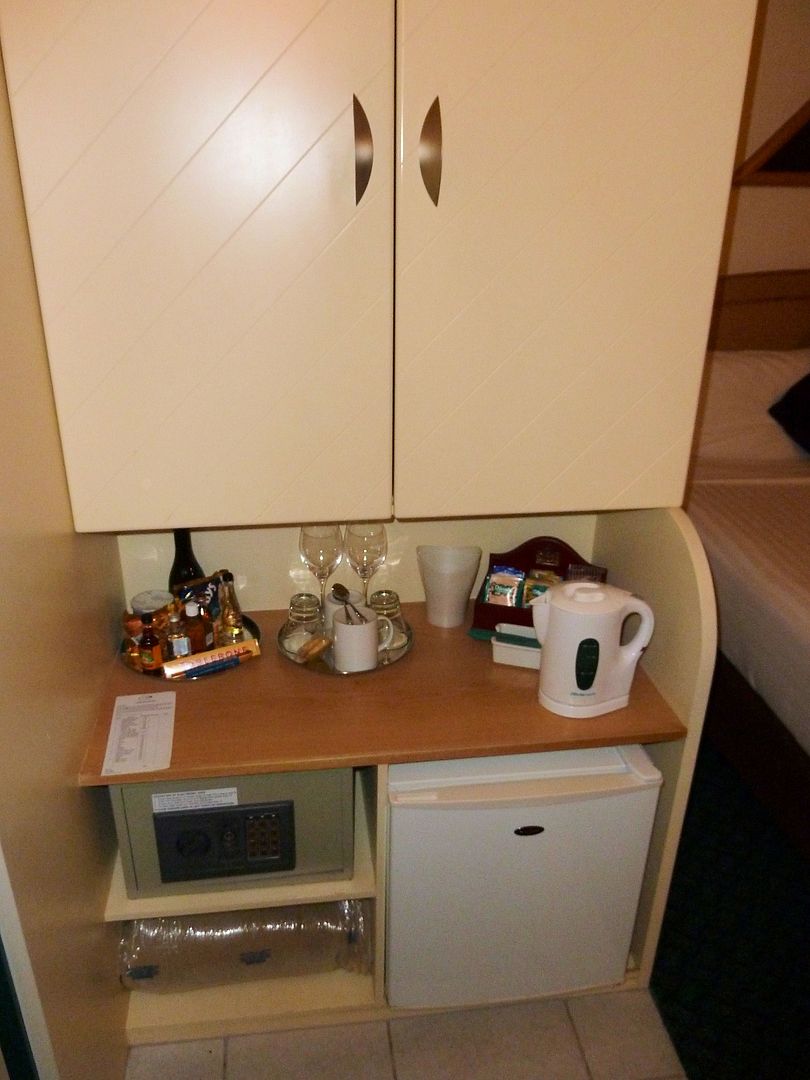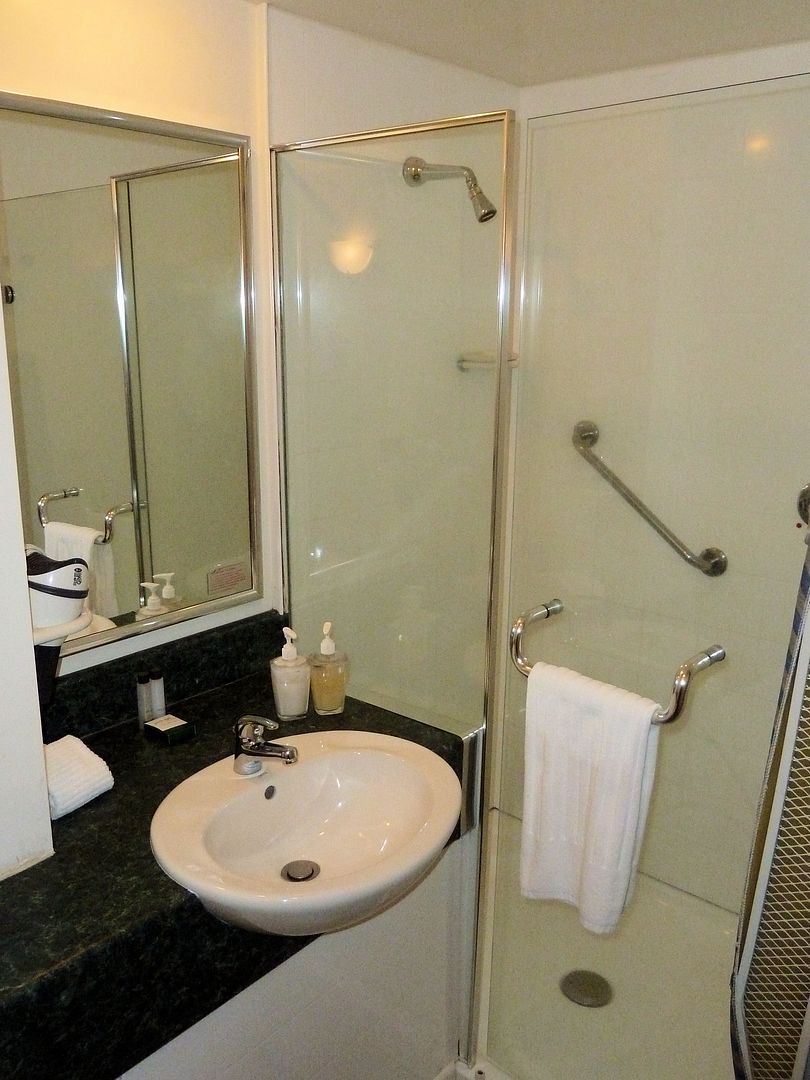 After a restful night, it was time for my domestic side trip. The plan was to fly four segments on three different airlines.
Story to be continued...
Conclusion
After week-long concerns about a possible heavy delay or cancellation, I was really glad about finally getting on the rare A340-200, the prime target of my RTW trip. Well, my flight was indeed delayed in the end, but it wasn't a big deal.
Aerolineas Argentinas'
Economy Class product didn't impress me at all, but my expectations hadn't been high anyway after reading numerous reports. Seating comfort and catering were mostly acceptable on that 2.5 hour flight. However, the cabin was quite worn, certain items were broken, the IFE on that long-haul bird was totally outdated and the flight attendants were neither friendly nor customer-orientated. I definitely wouldn't want to fly AR on a long-haul route.
Best Regards,
PlaneHunter
P.S.: Just in case you missed them - my previous trip reports:
Detours To Sydney: Wildlife, Tiger, REX & QFLink
Thai Fails To Impress: MUC-BKK-BNE On 744 & 777
Painful Delay & My 100th Airline: AF A380, VO F100
Fifth Freedom Tidbit: Kuwait Airways A300-600
Ship Vs. Plane: Porto Santo Line & Sata Air Açores
Awesome Approach, Splendid Scenery: LIS, FNC & TAP
Guernsey, Ash Cloud Alarm & Mostly Empty SQ 77Ws
Totally Thrilling: Scenic Flight On Lufthansa A380
Cirrus D38, Adria CRJ & Captain Niki Lauda On Duty
Monarch Hot Meal, E195 & More: PMI-ALC-MAN-MUC
Premium Meal & Palma Spotting: MUC-PMI, DE 757-300
The Dead Slow Transfer: PEK-MUC On Air China A332
Cancellation Brings Joy: HKG-PEK on Dragonair A330
A380 Cacophony, 777 Star Livery: DXB-SIN-HKG on SQ
The Next 5* Carrier? MUC-MCT-DXB, Oman Air A330
Turkey For 1.5 Hrs: Daytrip To AYT On Sky Airlines
CO Scores Again: ATL-IAH-EWR-FRA On ERJ, 752 & 764
Riding The Ultra Long-Haul Twin: Delta 777-200LR
Pacific Coast Jaunt: 3 Carriers, E120, E140 & Fog
The Ultimate 737: LHR-IAH-PDX On CO 777 & 739ER
Bye Bye, Hell! TRD-OSL-TXL-NUE - DY/AB/HE DH4
My Trip To Hell: NUE-CPH-OSL-TRD On Cimber & SAS
SFO-YUL-FRA: Map- & Sleepless On Air Canada's 77W
Sin City Gloss & Virgin America's Chic First Class
Seat Dilemma & Canyon Glamour: FRA To LAX, AC 763
On Par With Air France? DTW-AMS-MUC, KLM A330
Goodbye, Red Tails! DC-9-40/50 & Chicago Tour
Champagne & World Of Coke: Air France A340 To ATL
"Mission A380": Disappointing Legs On BA/BD/EI
Delights Of Doha, 773 & 77W: DOH-DXB-LHR On EK
A380 Really a Step Forward? LHR-DXB-DOH On EK
Quality & Style: HKG-LHR On Air New Zealand 744
Taiwan Trio: TransAsia, UNI Air And The Taipei 101
"The Wings Of Taiwan": EVA Air A332, 744 Combi
SHA-SZX, Shanghai 757: Delayed By The Military
PEK-SHA, China Eastern A330 & Shanghai At Night
Striking Newcomer: Berlin-Beijing On Hainan A330
Short & Splendid: MXP-MUC On Air Dolomiti's 146
3 Hours On Blue1: HEL-MXP On The MD-90
BCN-MAD-ZRH-MUC: UX Shuttle Meets Swiss Quality
MUC-MAD-BCN: Star MD-87 & The Pain Of Vueling
Low Fares, Lovely Island: AK & Best Of Langkawi
4 Stars Or 5 Stars? FRA-KUL-FRA, Malaysia 777s
First And Last Time? JFK-FCO-MUC, Alitalia 777
JFK For 1 Day: Transatlantic Hop On CSA's A310
Sardinian Sun, Shiny New 73Gs & Cramped Mad Dog
Top And Flop: KIX-HEL-MUC, Finnair A320 & MD-11
The 524-Seat Twin-jet: HND-ITM On ANA 777-300
Kobe For 1 Hour: 767-Quickie On ANA & Skymark
Rocketing To Tokyo: FUK-HND On JAL (ex-JAS) 777
Oddities & Okinawa: JTA 734 & JAL 744D(Domestic)
MUC To Nagoya: Finnair E170 & (Old) "New" A340
Mad Dog, A320 Tech Delay & Best Of Lanzarote
Canaries Prop-Hopping: Islas Airways & Naysa
Canaries And Confusion: LH CRJ900 & Spanair A321
Hubbing For 162 Miles: HOQ-FRA-STR Ret On IQ/EW/LH
BOS-JFK-AMS-MUC: SSSS-Check And KLM 777
ATL-PIT-JFK-BOS: FL B717, JetBlue E190 And Delays
MUC-AMS-MEM-ATL On NWA A332 And 40-year-old DC-9
FRA-BKK-FRA Via CMB: SriLankan A332 & A343
BNE-SIN-DXB-MUC On Emirates B772ER & B773
2 Hours In Paradise: Hamilton Island (JQ/DJ)
BNE-SYD-BNE: Domestic Run On QF's Oldest B747-400
Testing Qantas: SYD-MEL-SYD-BNE (B738, B763, A332)
Going Down Under: MUC-DXB-SYD On EK A332 & A345
9/11 Review: Failed Trip To LAX - Fuel Dump Pics
Surprised By NIKI's Newest A320 & Screw-up By AB
Leisure Vs. Full Service: Condor & SN Brussels
"betterFly" On LH: Business Class For 99 Euro
Weekend Transatlantic Trip (2): US A321 & B762
Transatlantic For A Weekend (1): MUC-DCA On US
[Edited 2011-03-05 08:00:04]