British Airways, Iberia & Binter to Tenerife and Gran Canaria
In early December, a friend and I were thinking of places to go to escape the worst of the British winter. She really wanted to go to Egypt, and I wanted to go to either Tunisia or Jordan. As we all now know, all three of those locations would have been awful, so it's lucky that in the end we both agreed on the Canary Islands.
After perusing what flights were available, I found that BA and Iberia (via Madrid) had return fare starting at £180, when the likes of easyJet, Ryanair and Monarch (all direct) were all over £450. Being BA Silver, the choice was easy. I selected LHR-MAD-LHR flight on BA (to avail ourselves of the free catering), whilst the MAD-TFN (Tenerife North)/LPA (Gran Canaria)-MAD sectors would be with IB. Linking the two would be with Binter, the "national" airline of the Canaries.
Our Route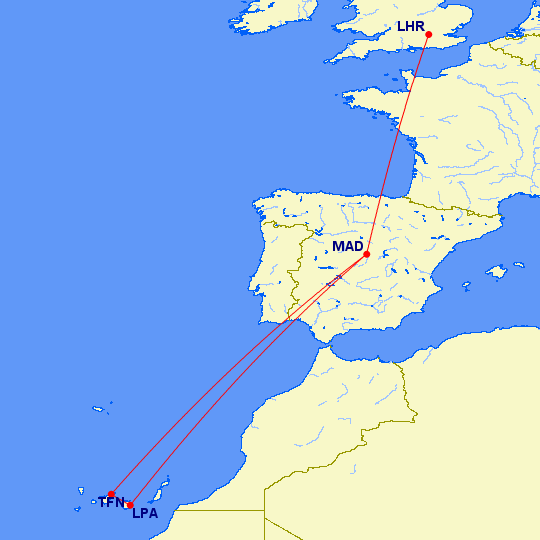 Checking at the Club Europe desk was an unsmiling affair, much like my trip last summer to Cuba – I think the T3 staff are much less friendly than their T5 counterparts. My bag was tagged (no priority tags), and the first boarding pass printed. I enquired about getting the IB pass for the MAD-TFN leg and was told that the computer couldn't print it. Not a great start. The IB desks are in the next section, so we went over there and a rather brusque guy on the Iberia Plus desk printed them for us.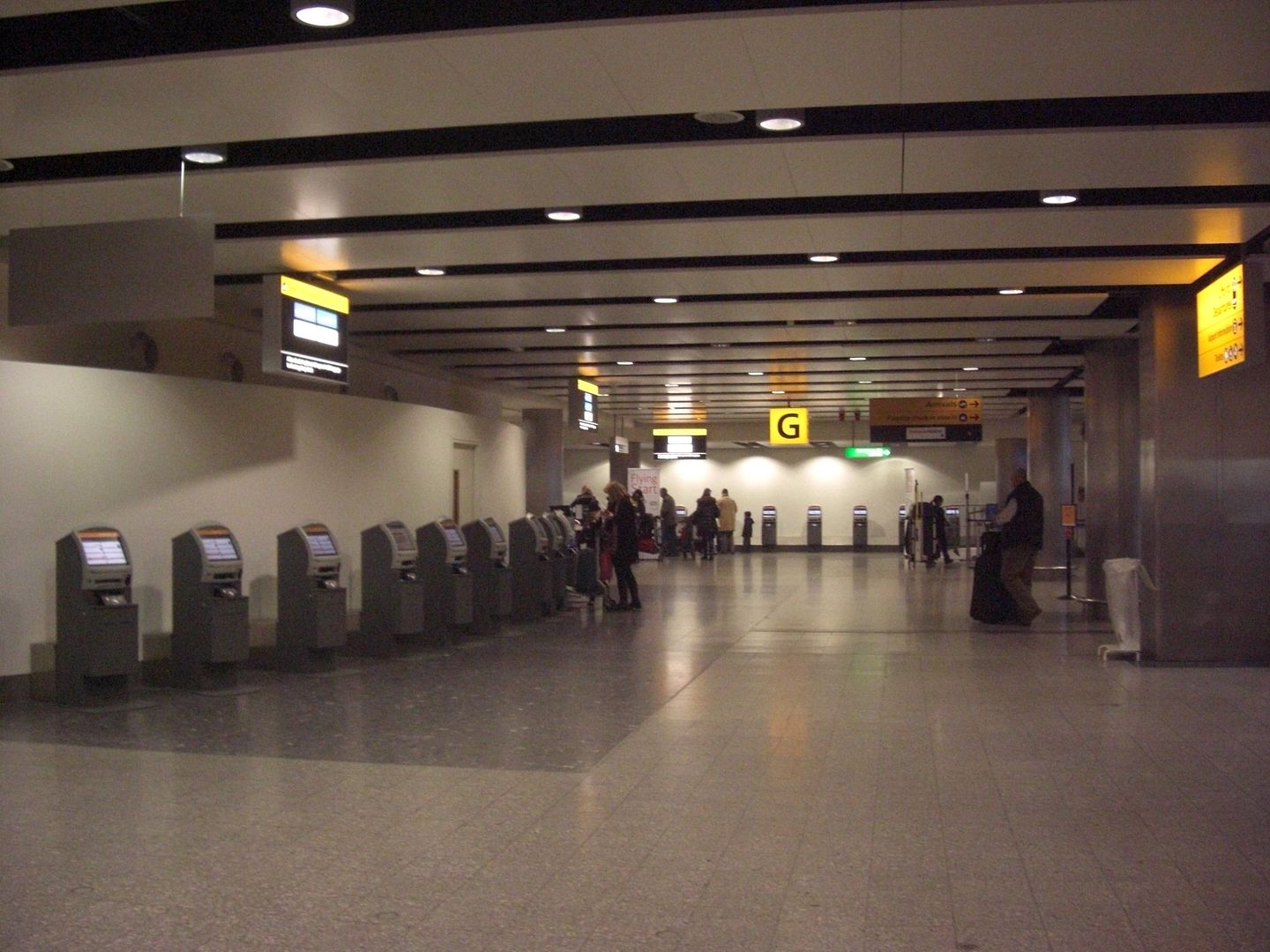 Security wasn't too busy, and before long we were in the Cathay Pacific lounge. CX have recently overhauled their LHR lounge to be more in line with their trademark HKG offerings. This includes a made-to-order noodle bar. The lounge was completely deserted lest one guy sitting in the far corner. The selection at the noodle bar was a bit minimalist, however, with just three choices. Both my friend and I went for the pork dumpling noodles, which were pretty tasty.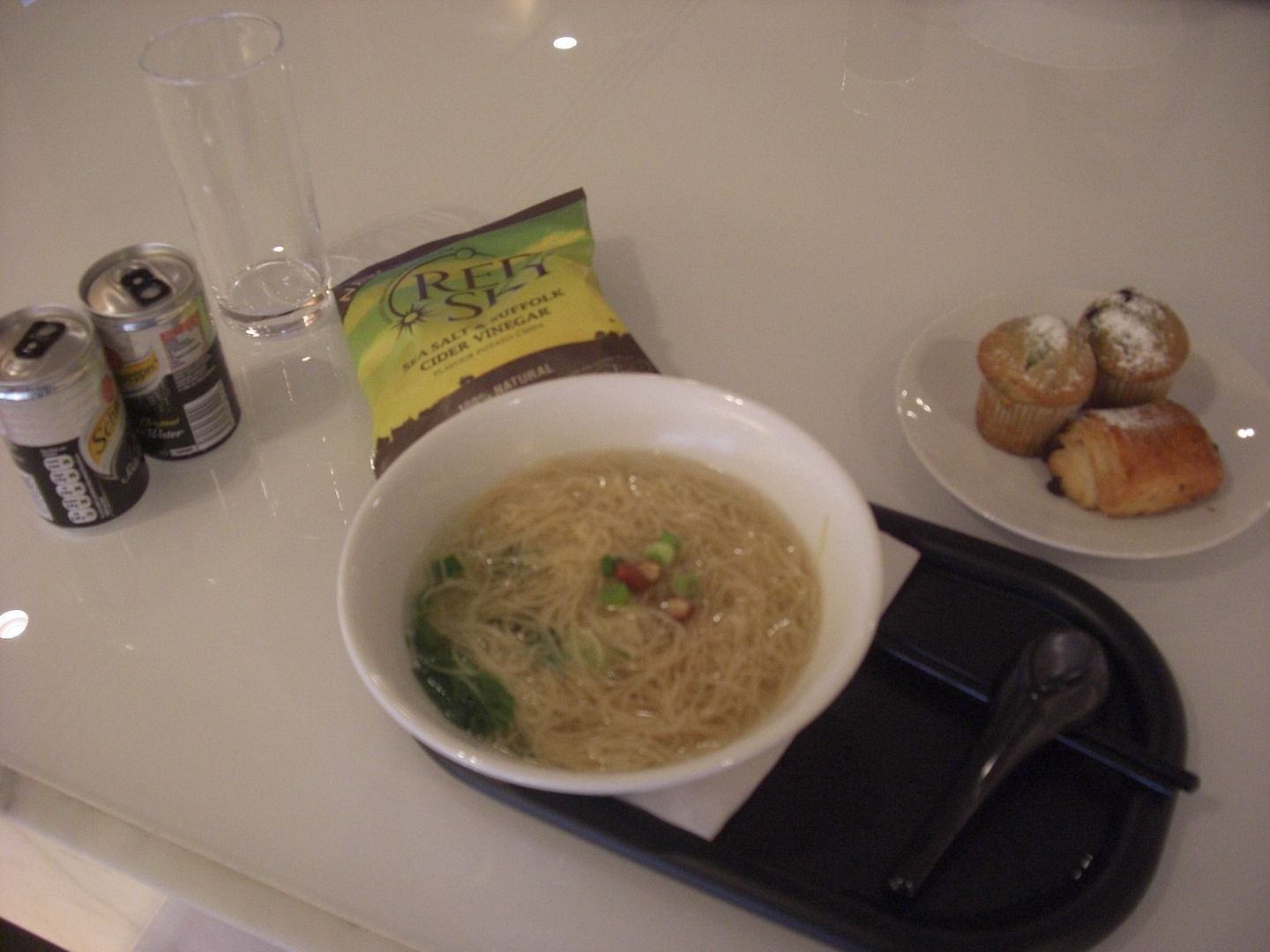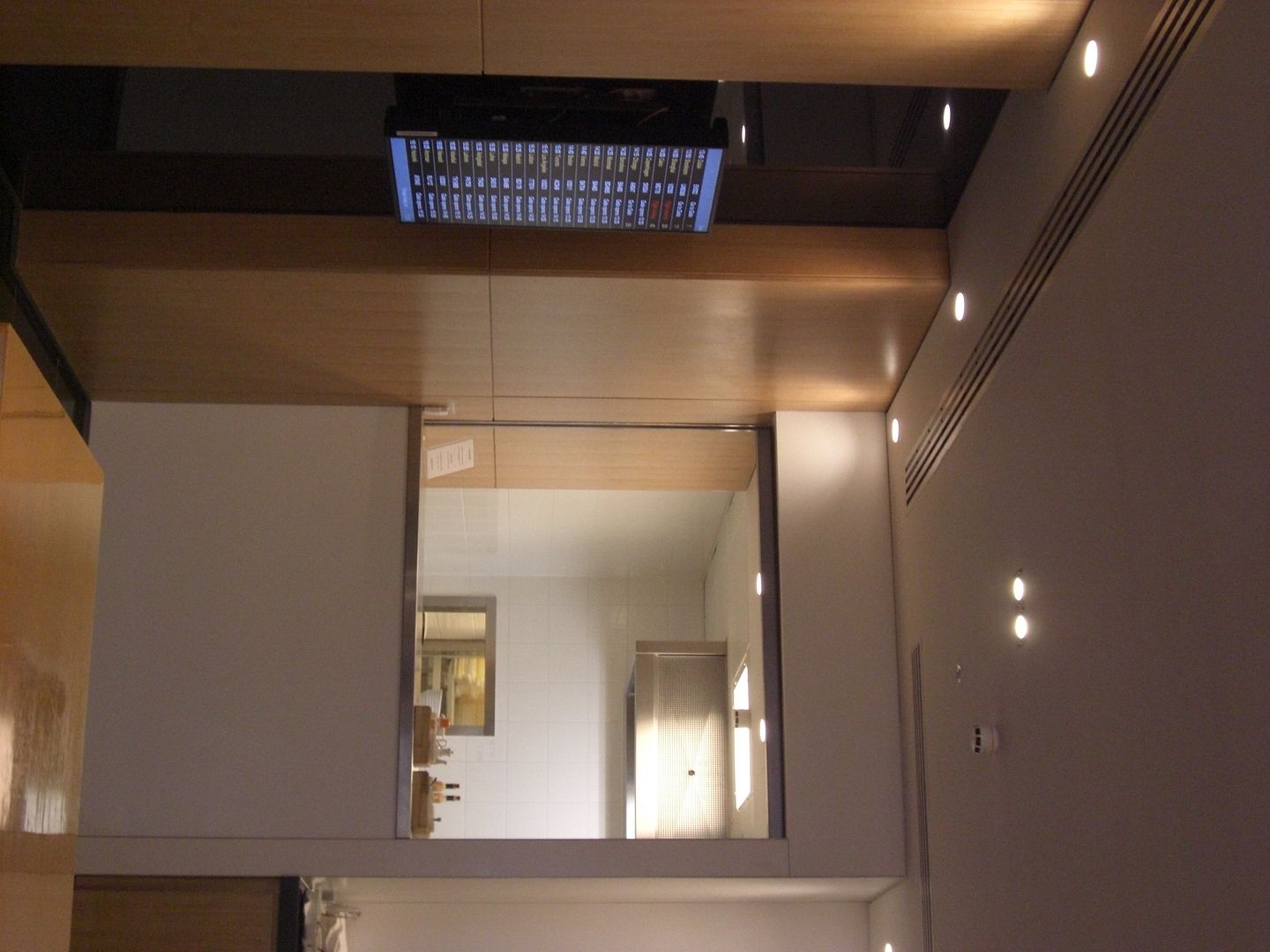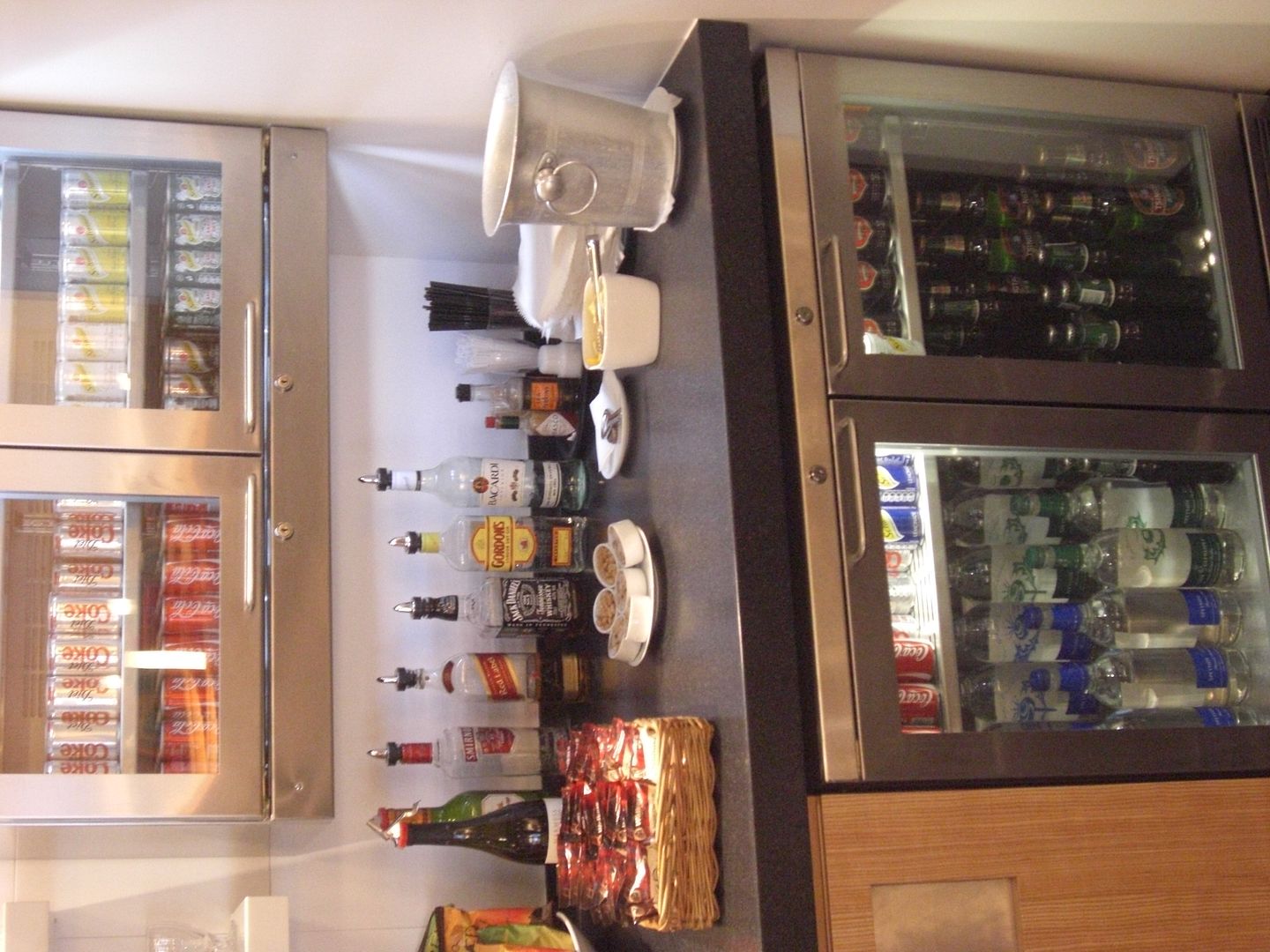 After our noodles, we went over to the BA lounge, where my friend filled up on curry. I went for the sandwiches. We also had a couple of their freshly baked cookies (thumbs up to BA for those!). After filling ourselves in the lounge, we headed down to the gate, where boarding was already underway.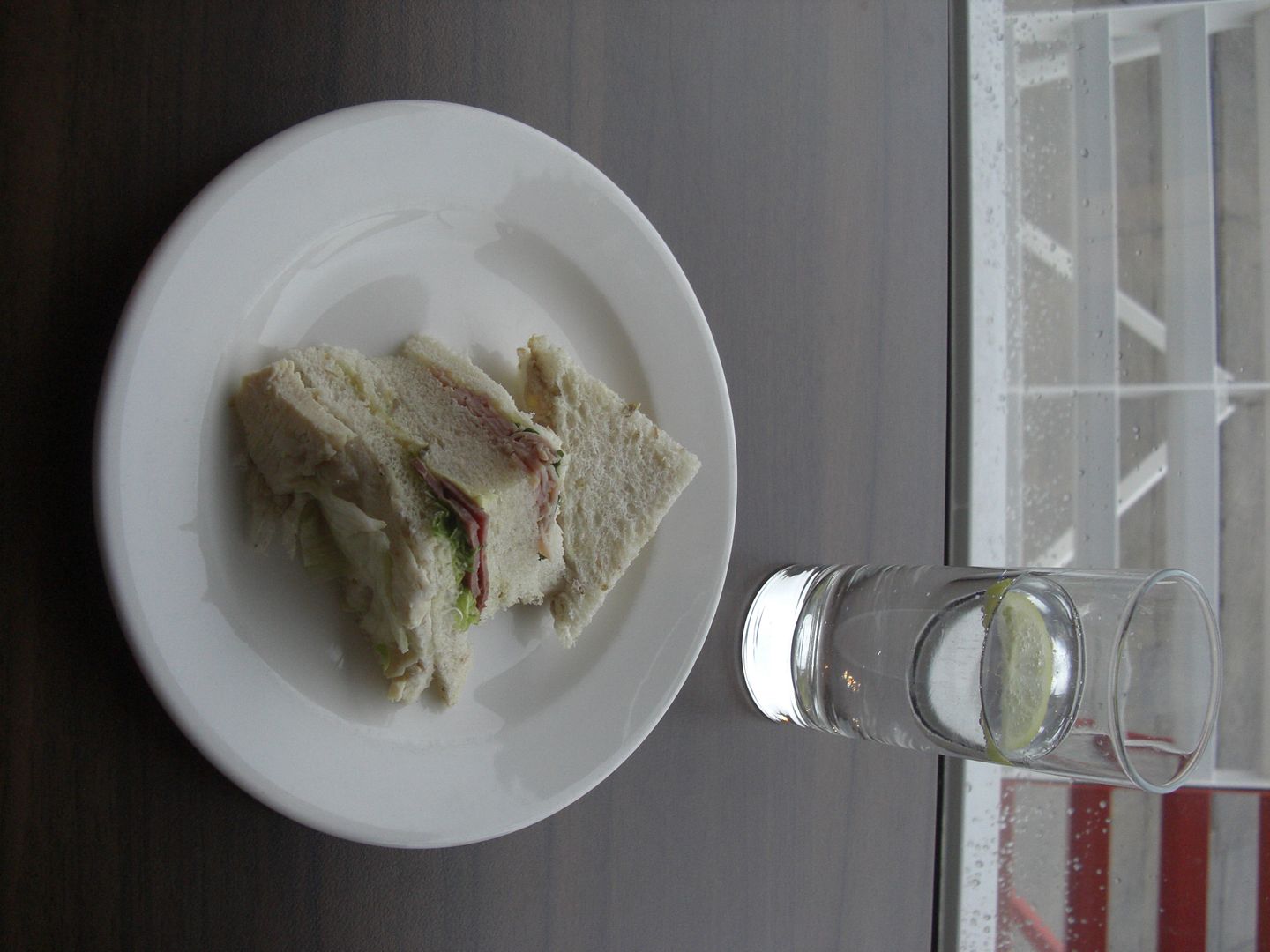 BA boards all their shorthaul flights (MAD, BCN, AGP, GIB, LIS & VIE) at remote stands, so we joined the queue for the bus out to the plane.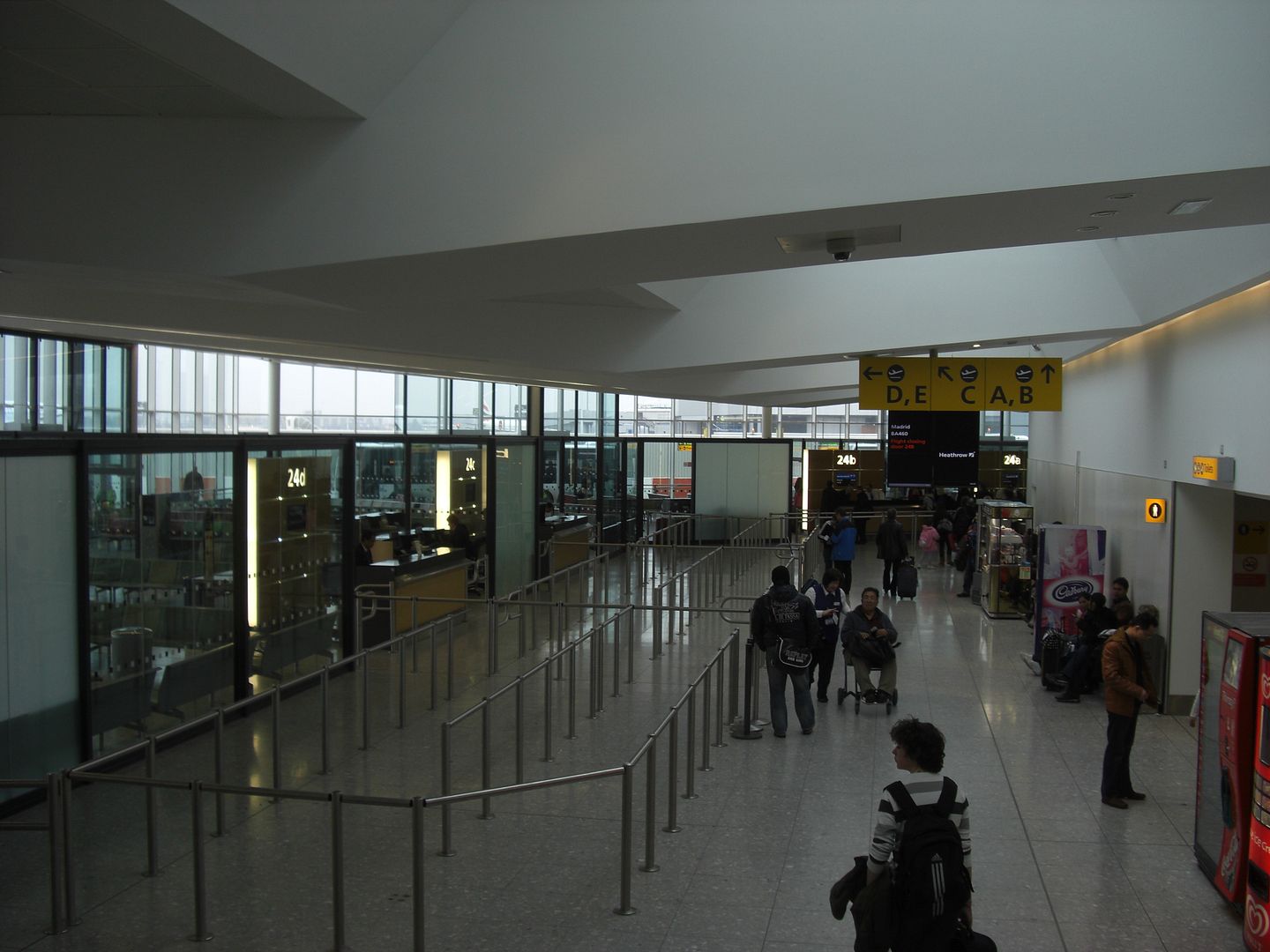 The first bus had already gone so we got on the second. Unfortunately my friend made it up the stairs first, so she got the window seat, and I was stuck in the aisle.
British Airways BA 460
London Heathrow (LHR) – Madrid Barjaras (MAD)
Scheduled: 1430-1750 (2h20m)
Actual: 1455-1744 (1h49m)
Airbus A320 G-EUUU
We pushed back a little late, and ended up taking off just under half an hour late. Being sat just behind the Club Europe cabin, we were the first to be served. Ever since my flight up to Glasogw in December, I've realised that BA crew don't seem perturbed by requesting "a couple" of G&Ts (in the past I'd always just ordered one), so I got 2 gins, and my friend a vodka. For those of you that are interested, on this flight BA served 50% Smirnoff Blue (produced in the States), however on the flight home they served 37.5% Smirnoff Red (from the UK).
I managed to swap seats towards the end of the flight, although there wasn't much to see other than a lot of clouds.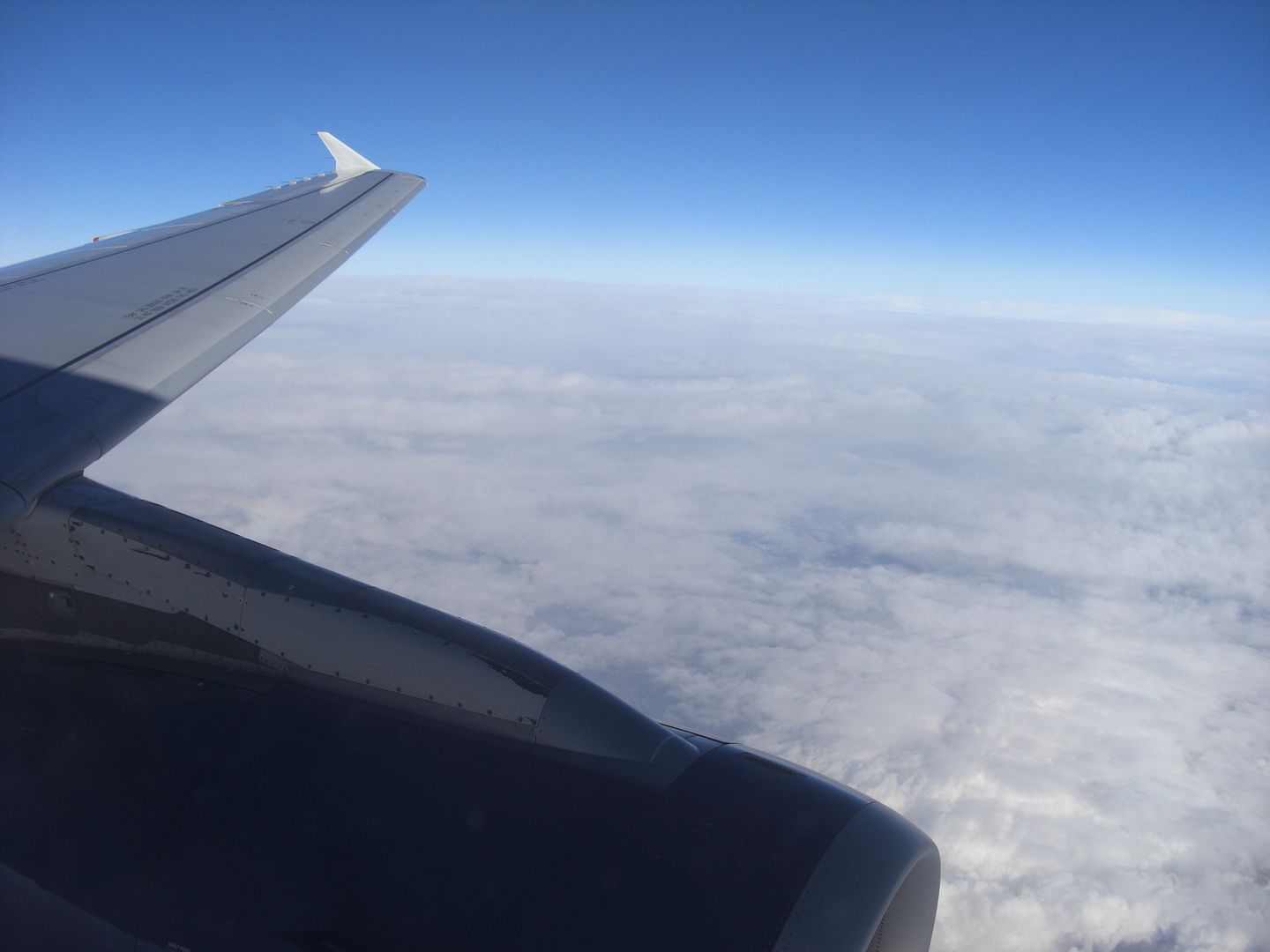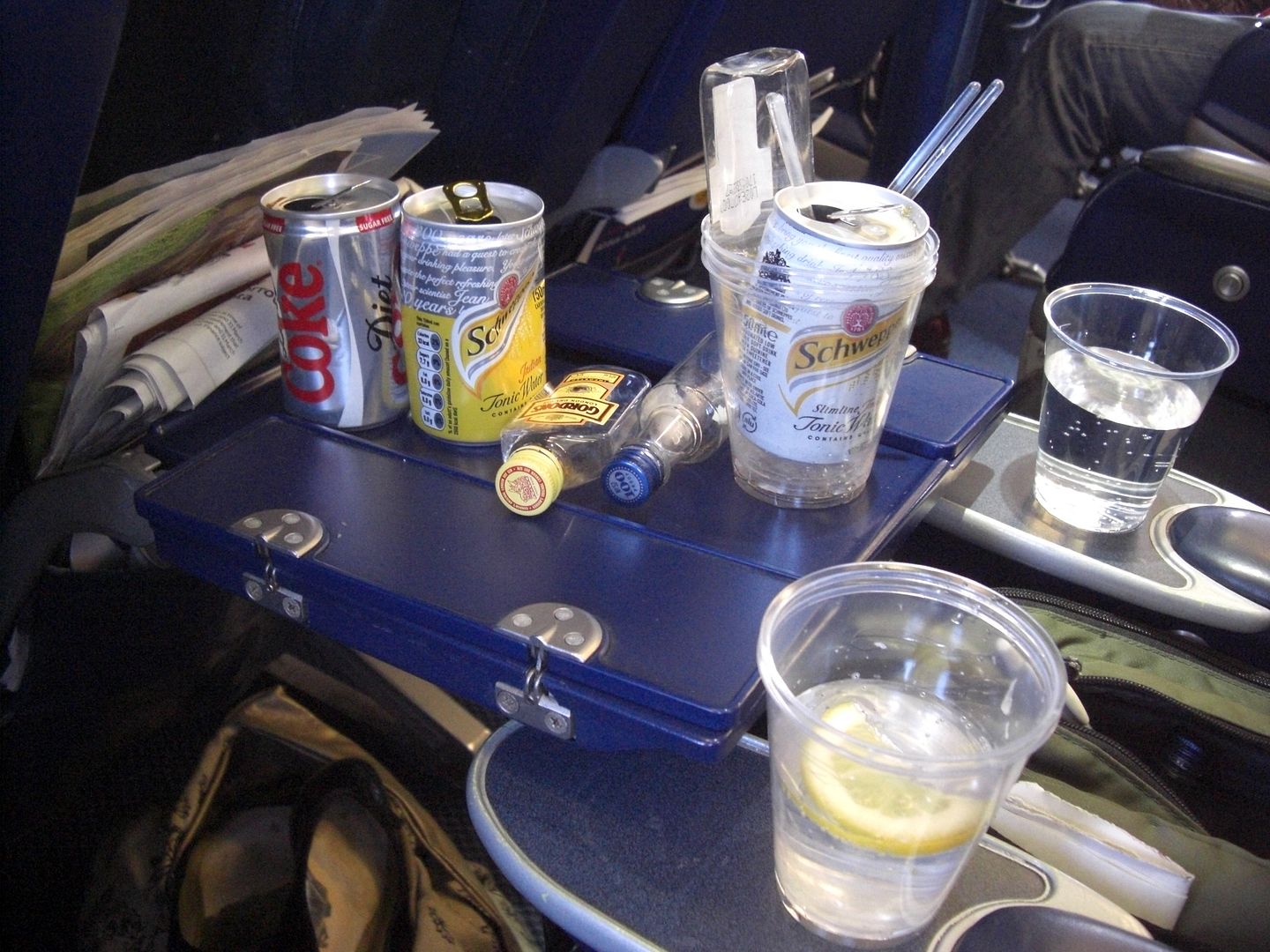 The approach into Madrid was very misty, with the ground only appearing a few moments before touch down.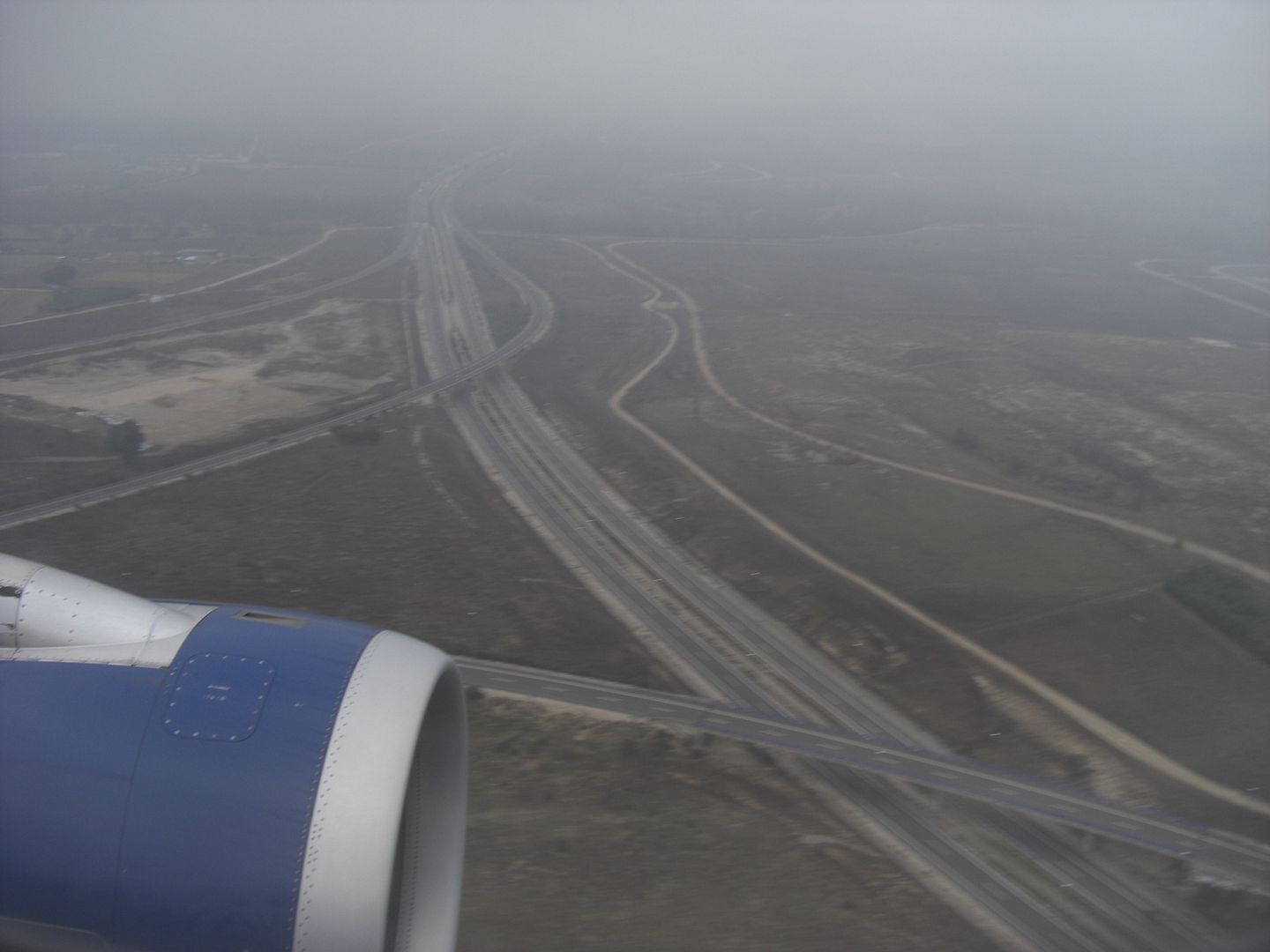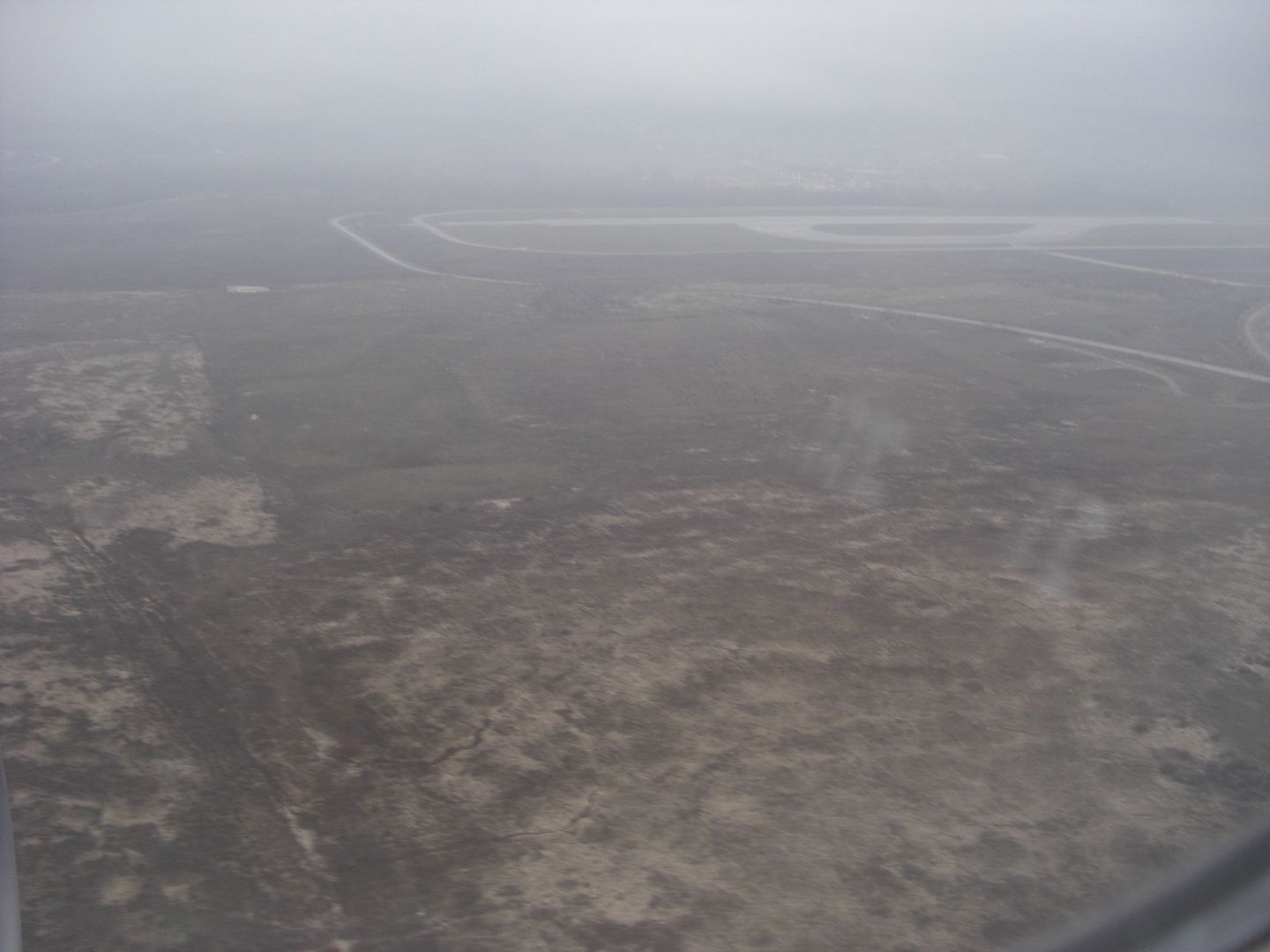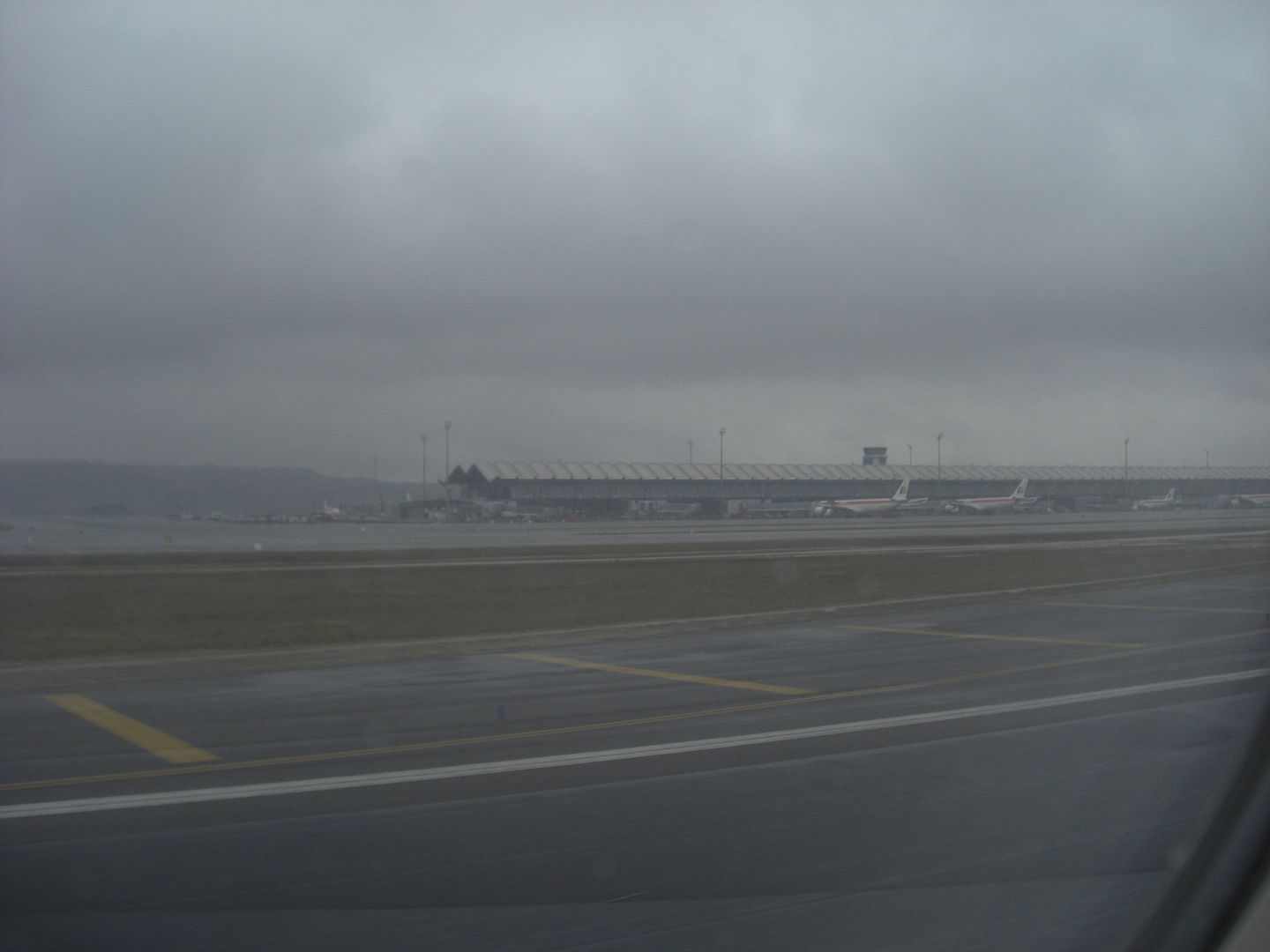 Madrid was cold and wet.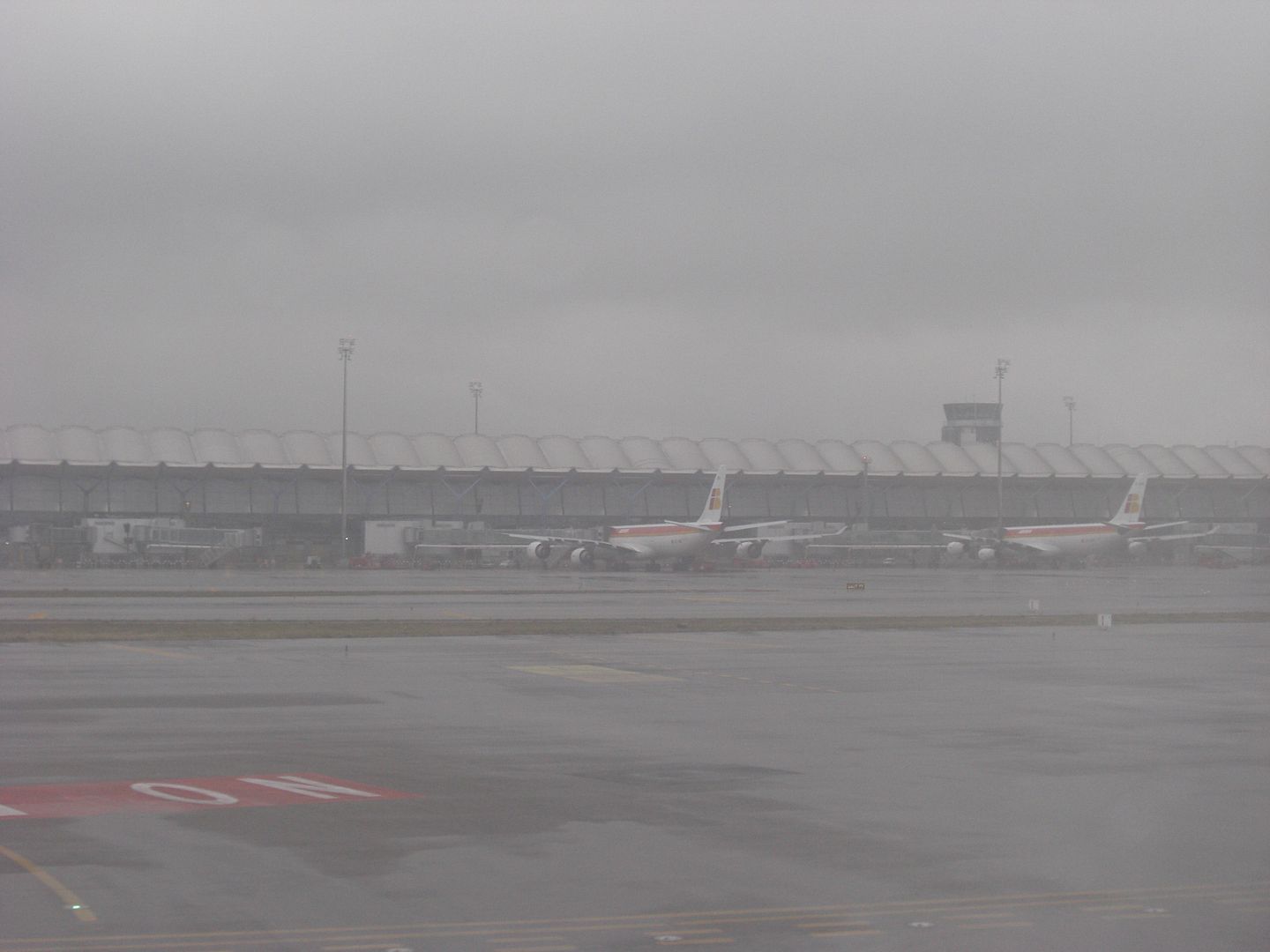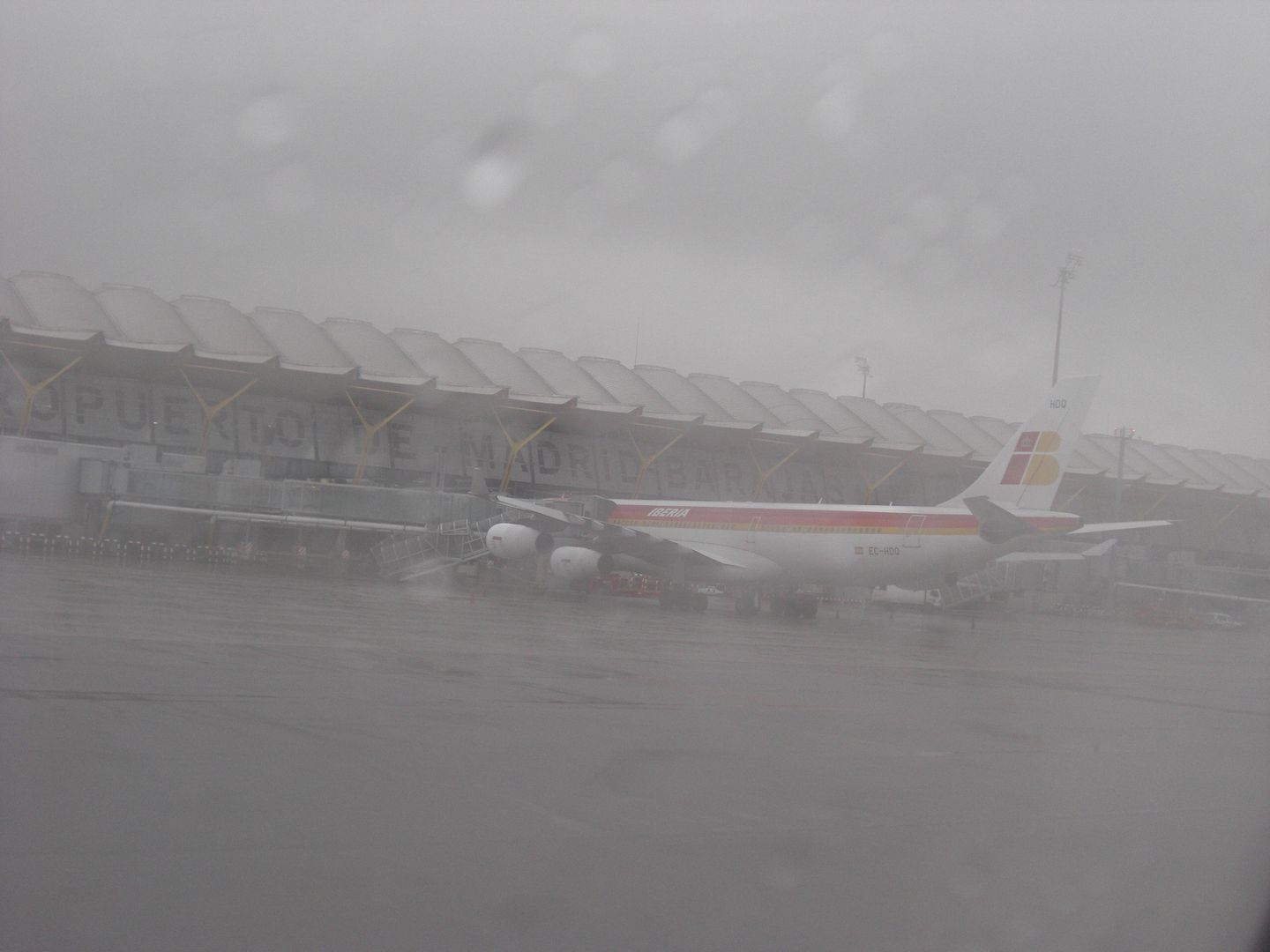 Madrid Bajaras Terminal 4S, home of IB longhual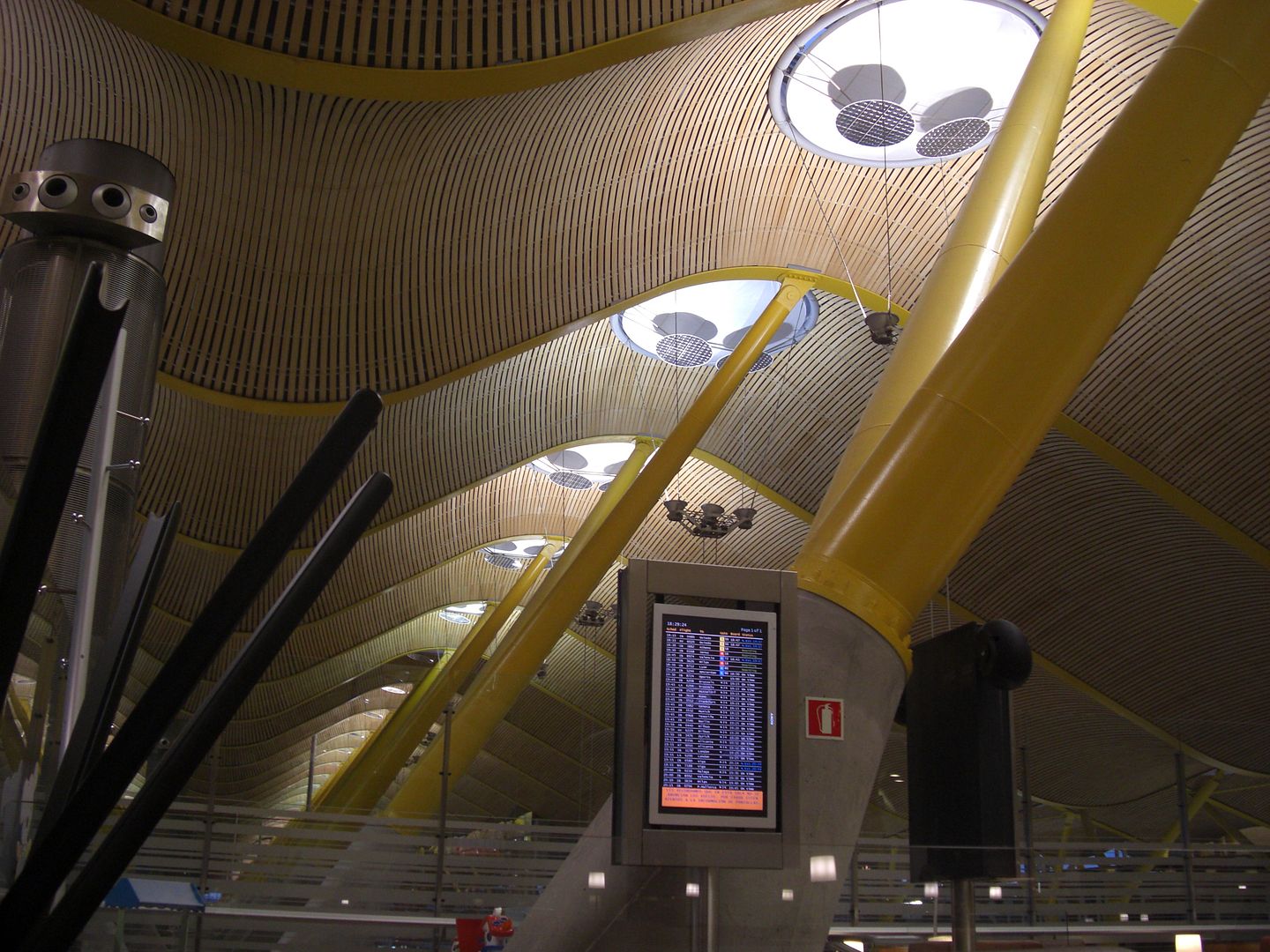 Being sat near the front, we managed to get to the head of the queue for passport control, and ended up getting a nearly probate train over to Terminal 4, where baggage claim and Iberia shorthaul flights leave from.
We made a beeline for the lounge, where we got a warm welcome for the lounge dragon.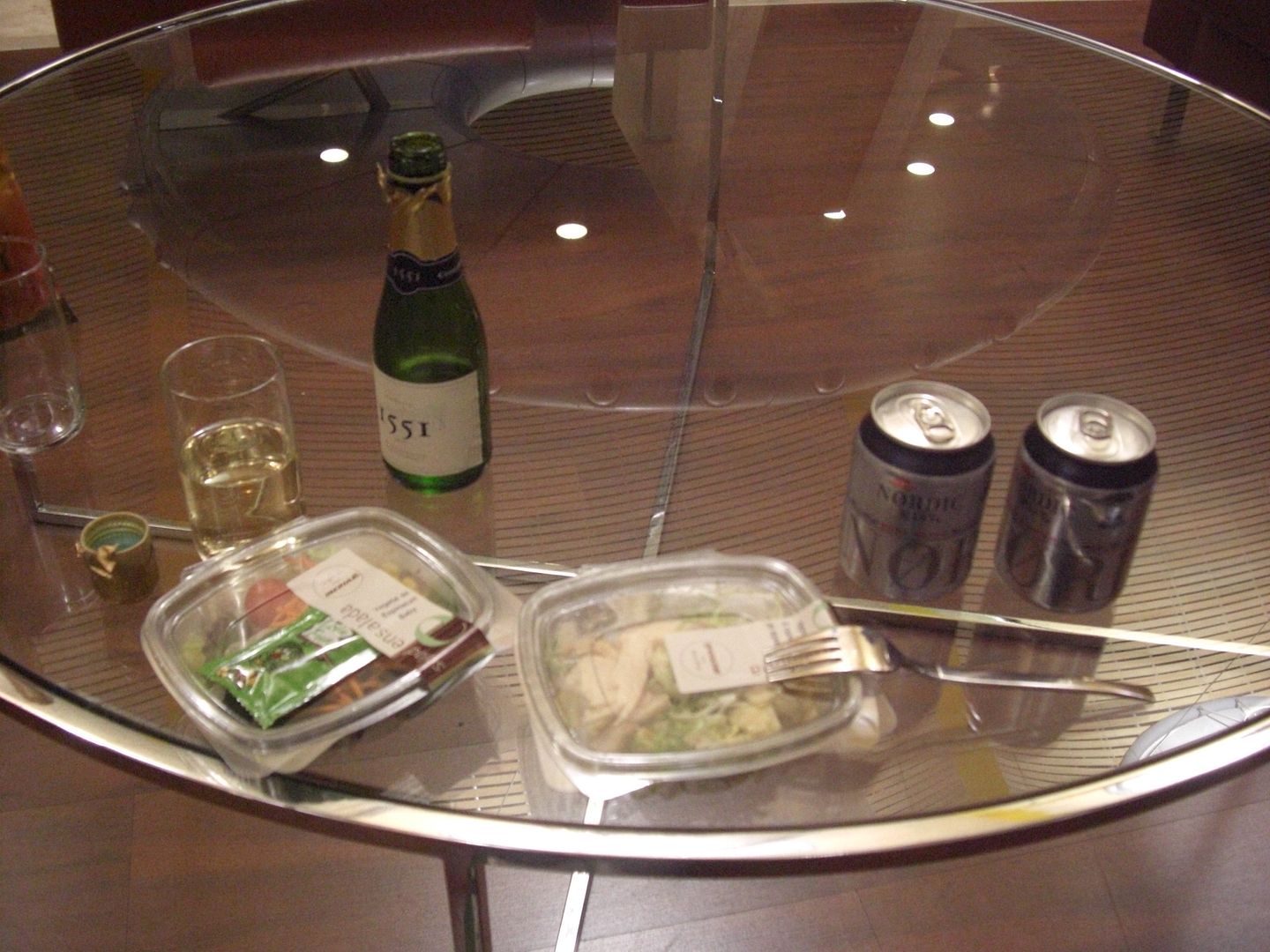 This lounge isn't as nice as the one over in T4S (there are no tarmac views), but the snack selection was good with lots of salads, sandwiches, wraps, crisps, ice cream and fruit. They also had mini bottles of cava (I know the brand isn't the best, but it's a nice idea).
About twenty five minutes before schedule departure, we made our way towards the gate which ended up being up in the very furthest corner of the terminal.
Iberia IB 968
Madrid Barjaras (MAD) – Tenerife North (TFN)
Scheduled: 1945-2130 (2h45m)
Actual: 2015-2145 (2h30m)
Airbus A320 EC-KOH

This flight was nearly fully booked. When we got to our seats in the sixth row, there was a lady sitting in the E seat (we had D and F). When she saw us, she jumped up and said "oh, I've got the A seat", and moved across the aisle…weird. Luckily, despite the full load, we ended up with an empty seat between us. Iberia have slim line seats with the seat pocket behind the head rest. Combined with the extra legroom towards the front, we had loads of space, far more than on BA.
Tarmac views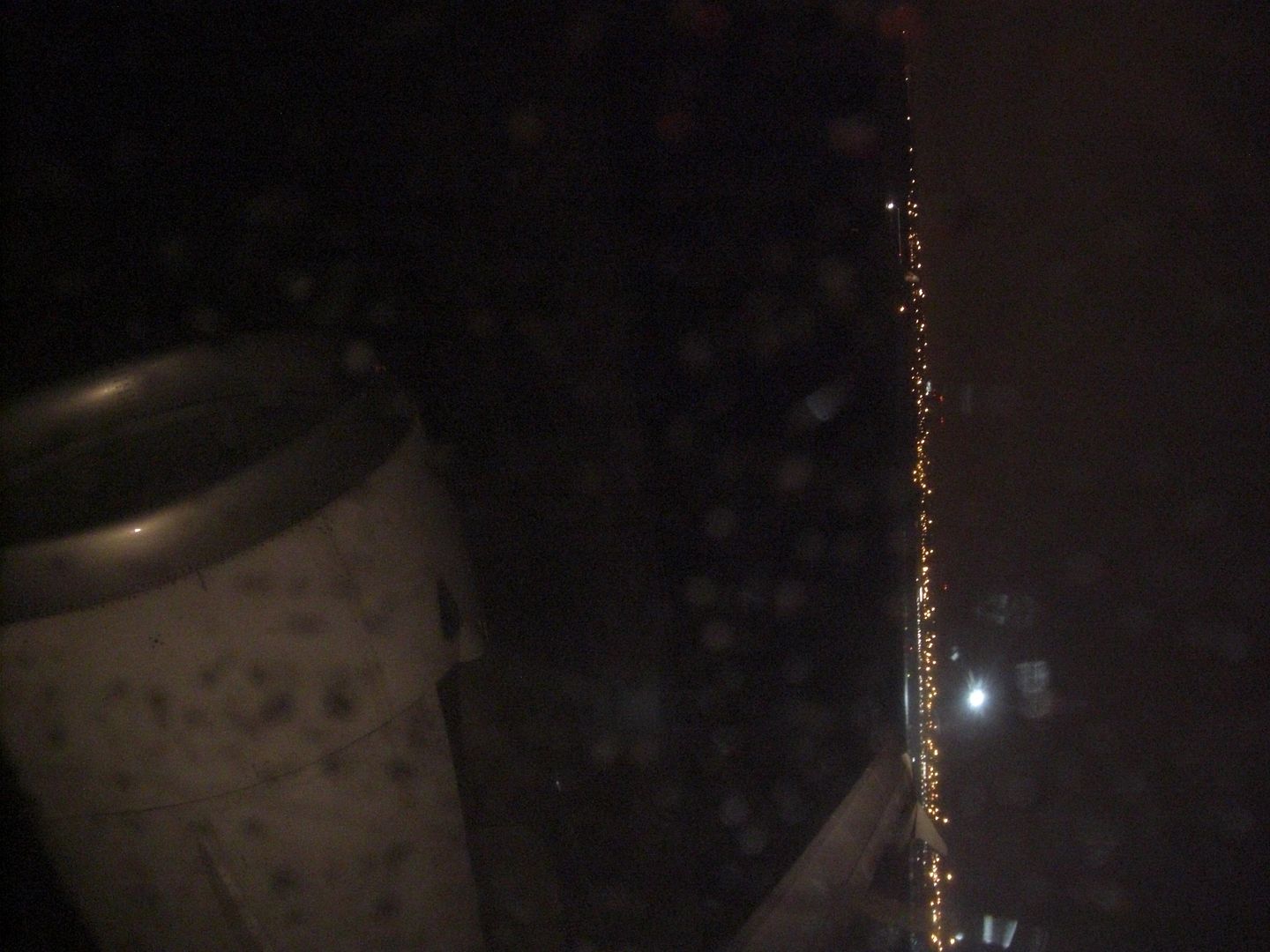 Portugalia
Blankets and pillows were handed out. The turkey and cream cheese croissant was something I swiped from the lounge. IB don't have ANYTHING free shorthual, not even water. The eyemask is from Air New Zealand.
Being a night flight, mainly over ocean, there wasn't much to see so I went to sleep. I awoke about fifteen minutes out of Tenerife. I was quite happy with this photo, which is of central Santa Cruz (the capital).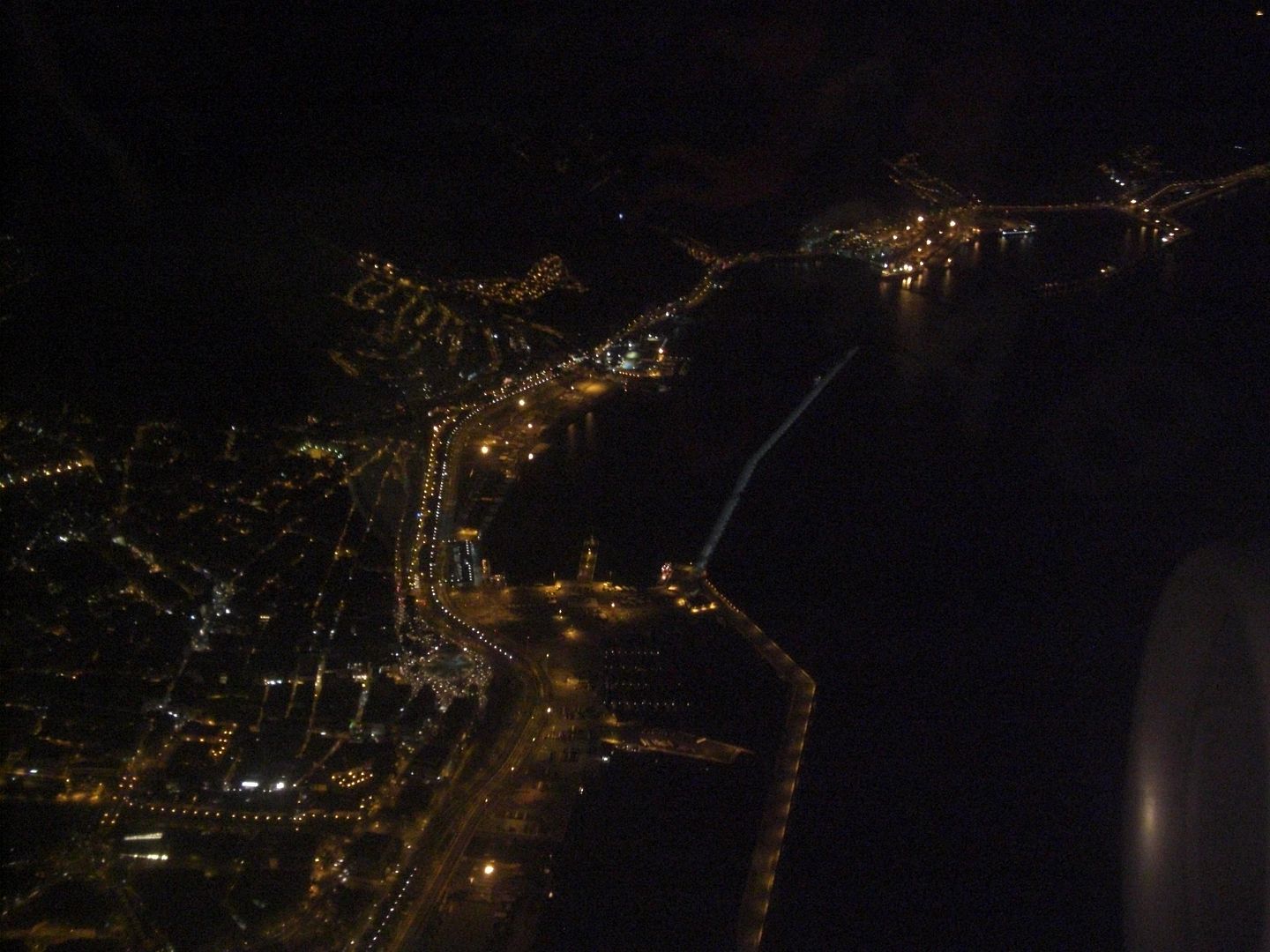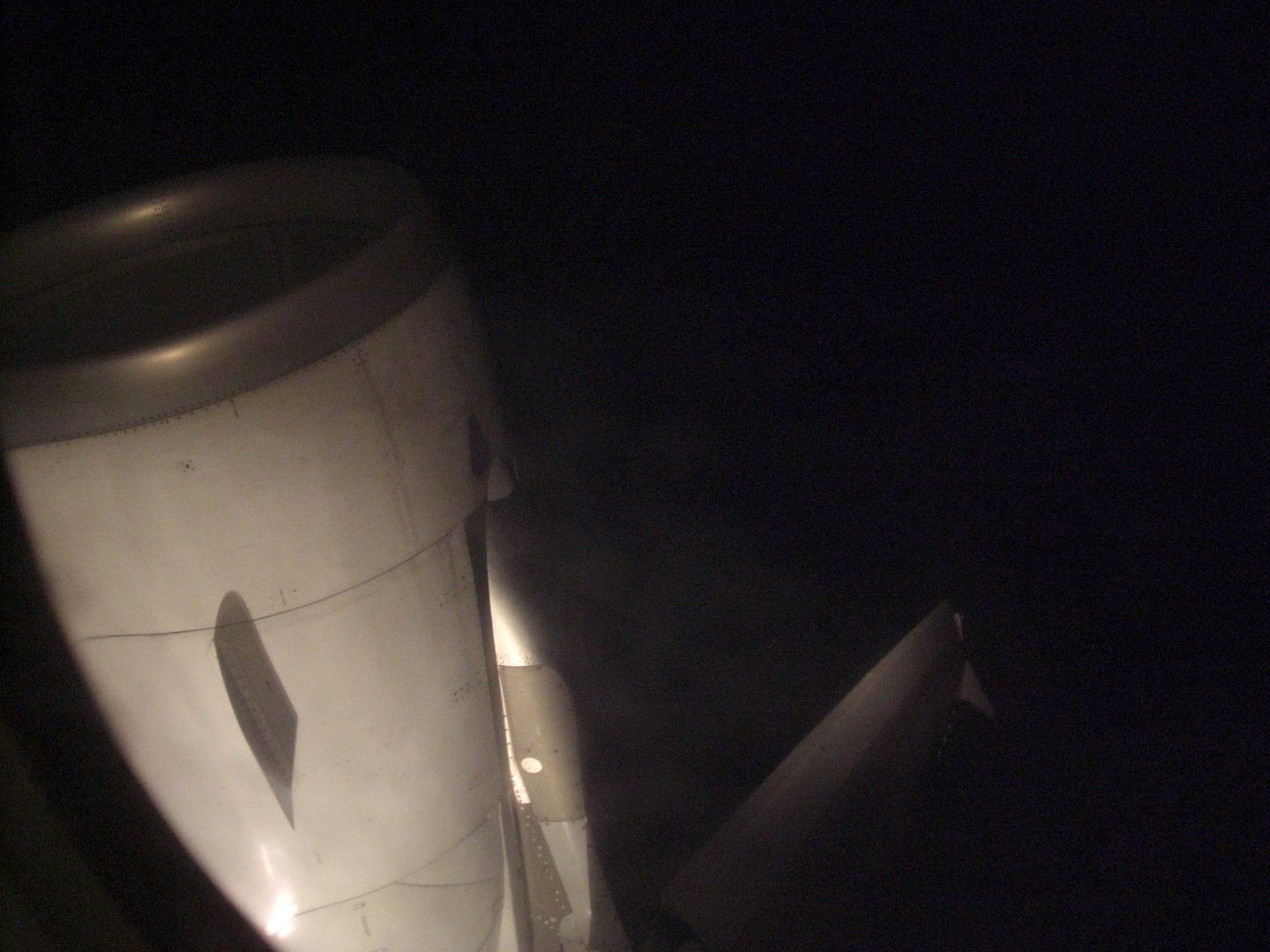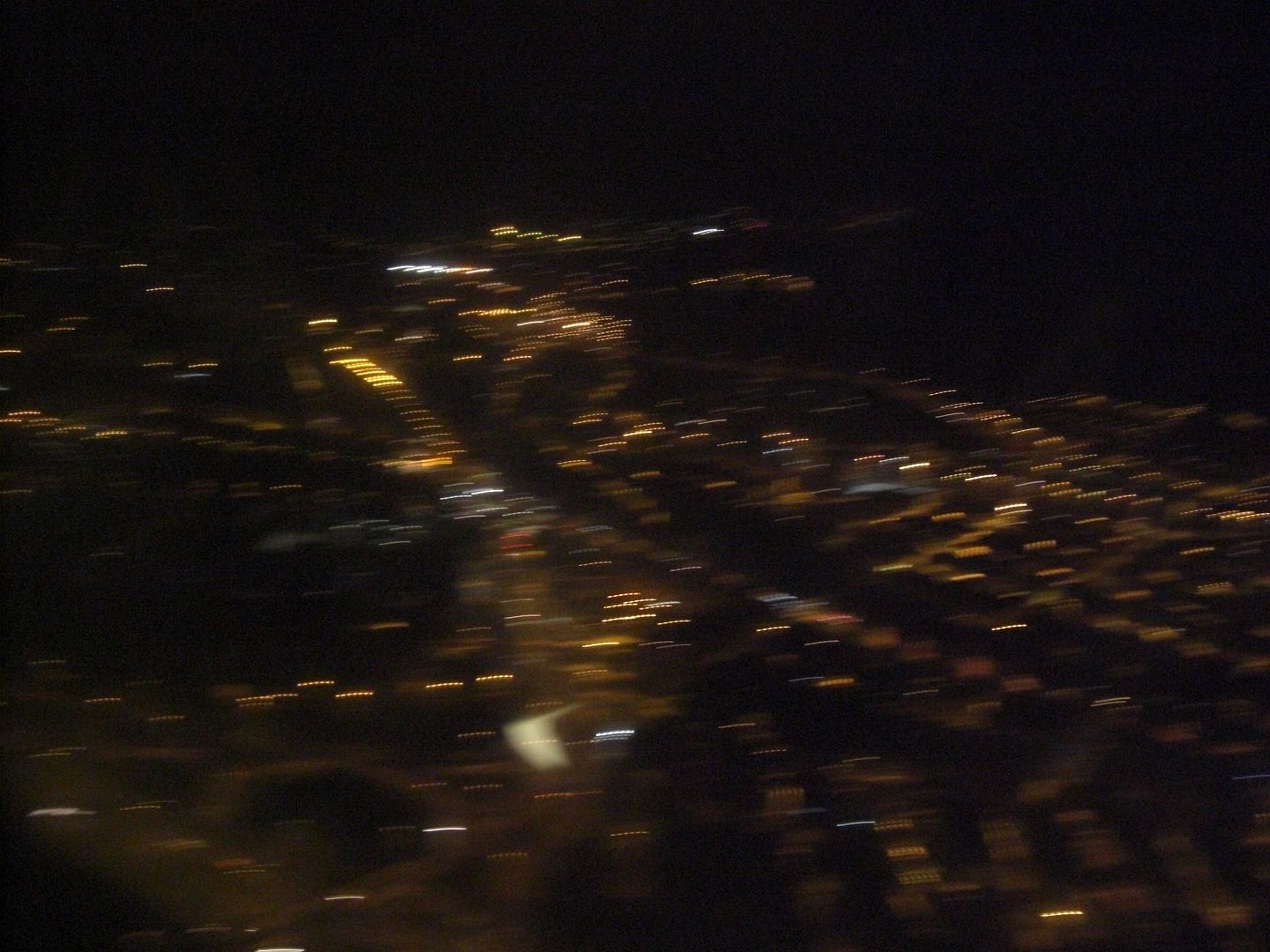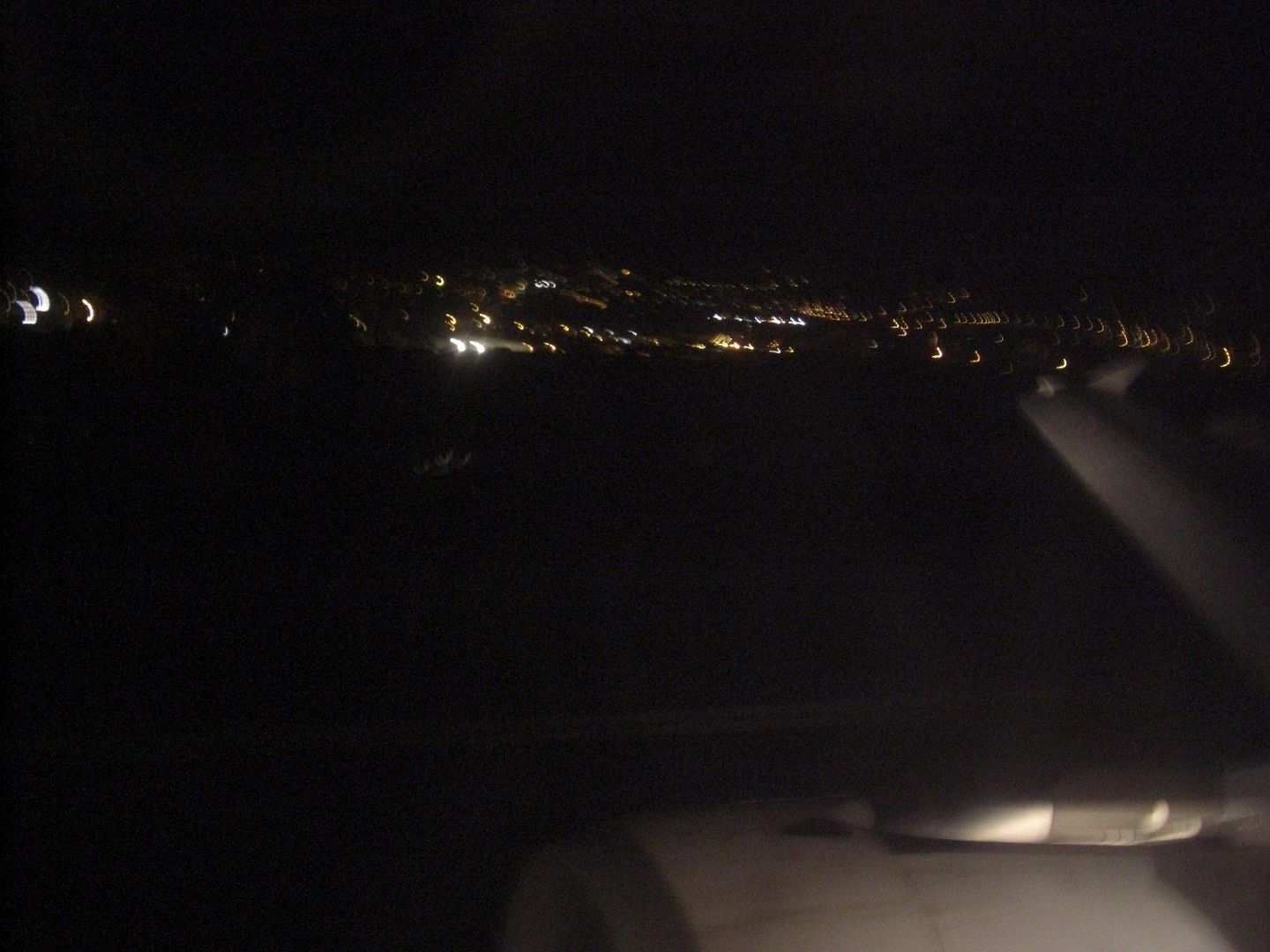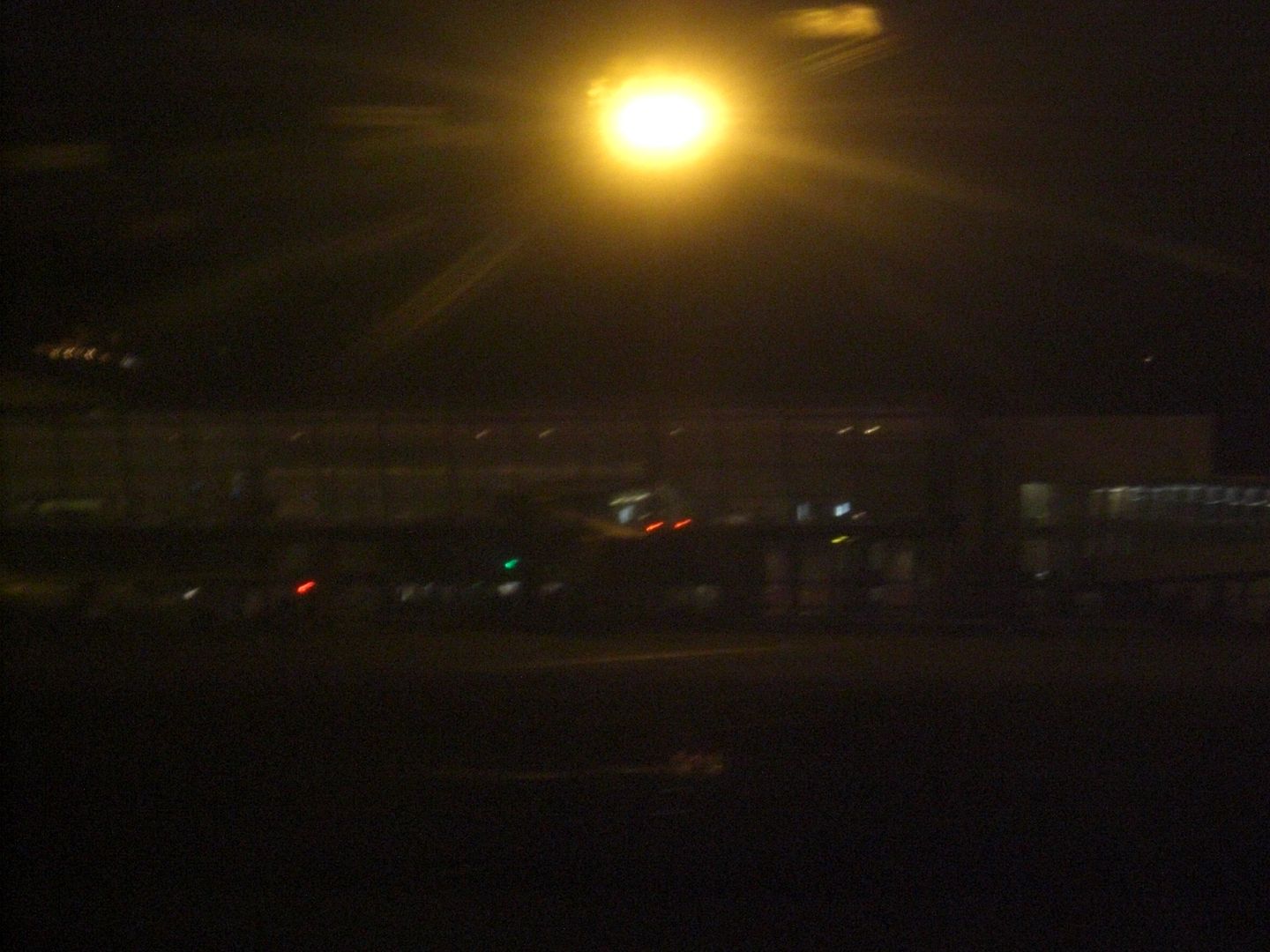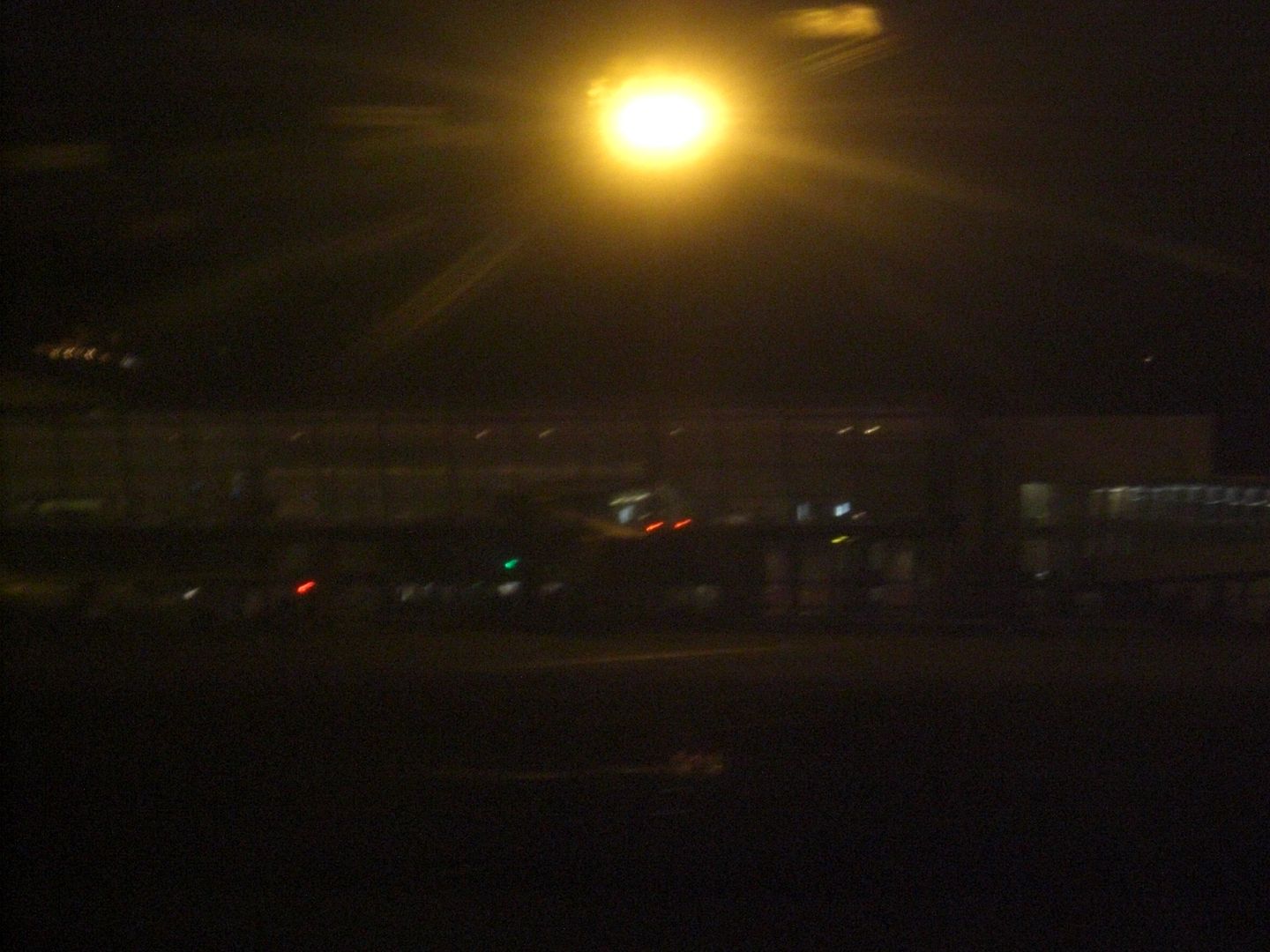 TFN was basically deserted at this time on a Saturday night. Other than a couple of Binter ATRs, we were the only aircraft on the tarmac.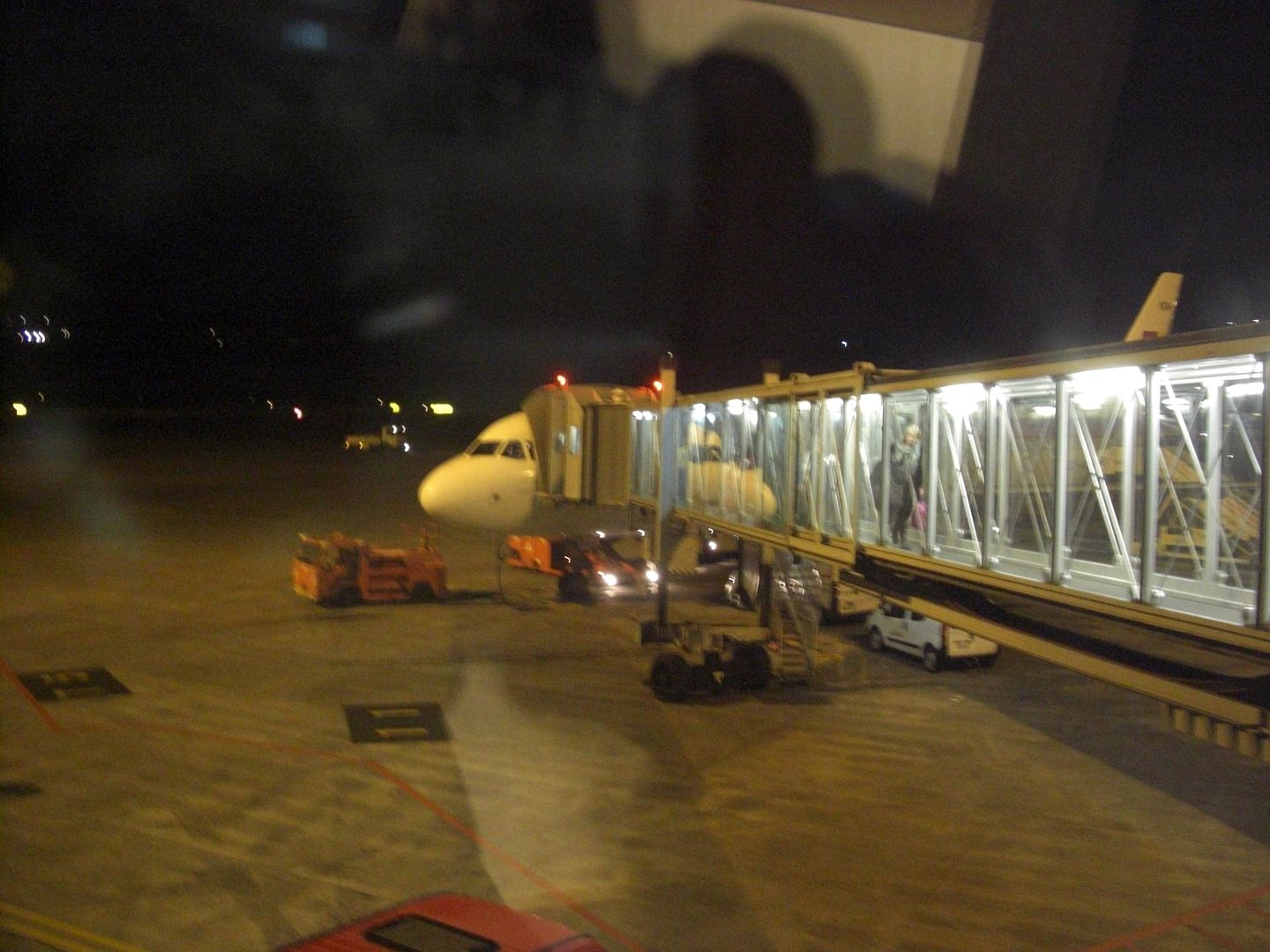 The arrivals hall
After collecting our bags, we made our way to the taxi rank, where it took about twenty minutes to get to our hotel.
Santa Cruz de Tenerife, where we stayed for 2 nights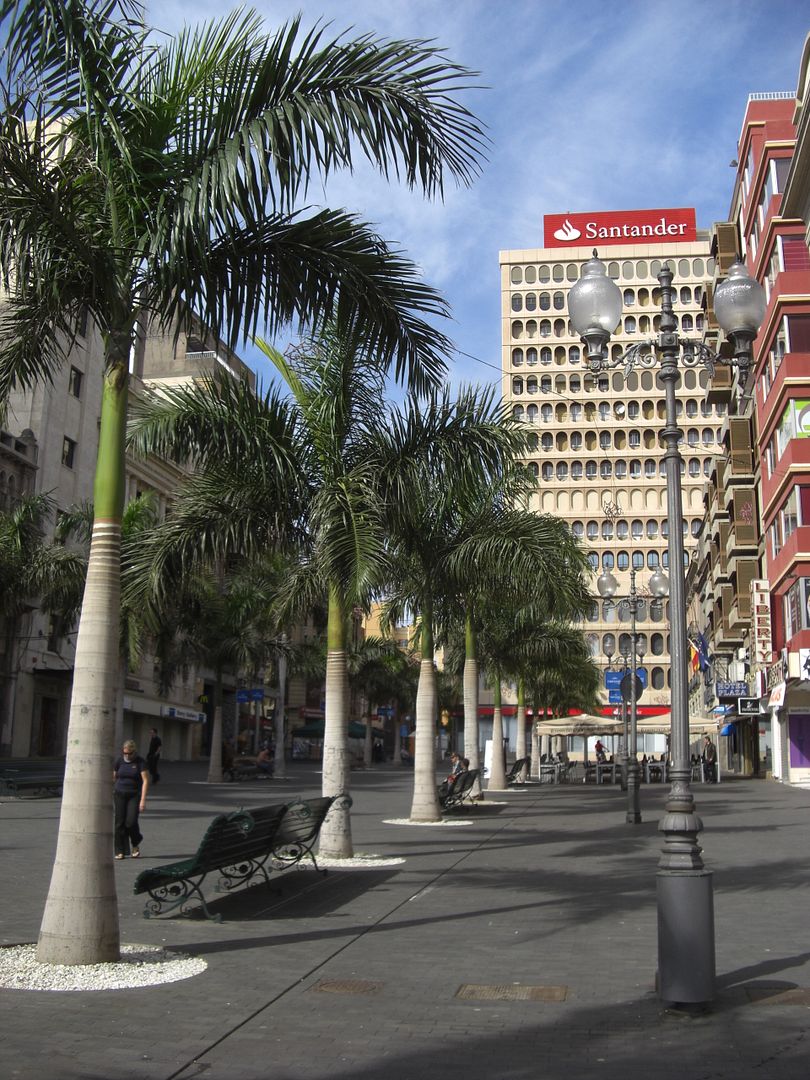 Some interesting mummies at the museum
The market
Lunch
A dragon Tree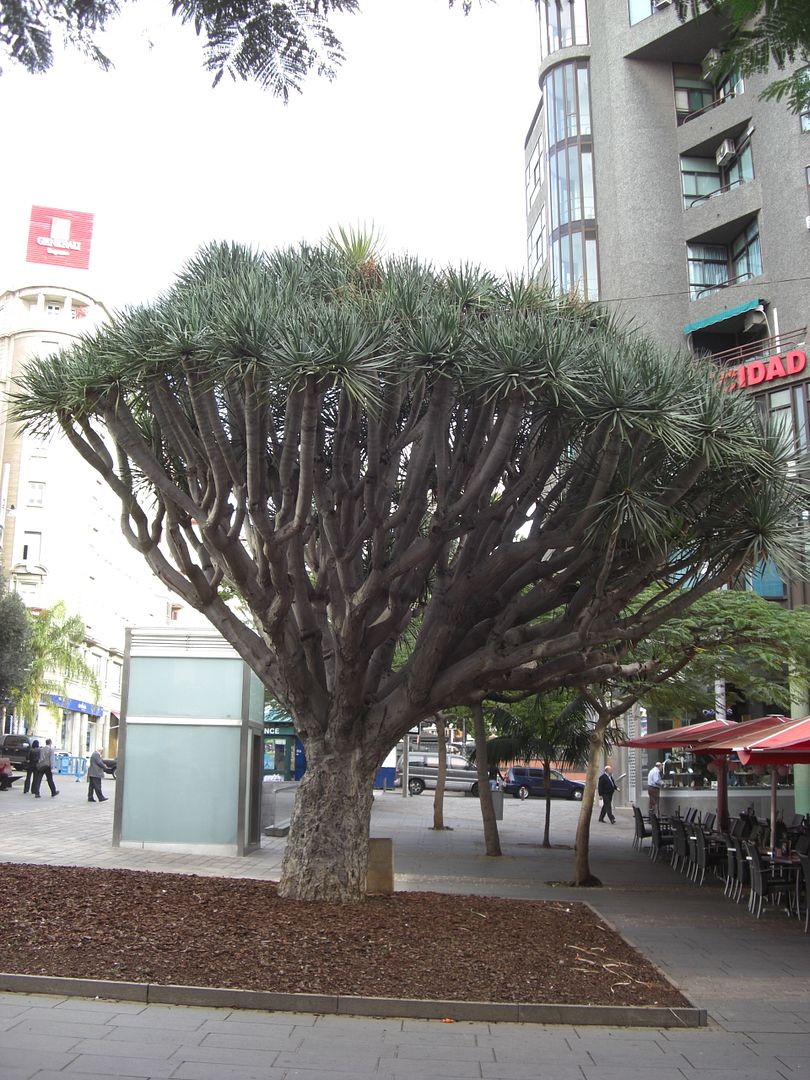 A beach north of the city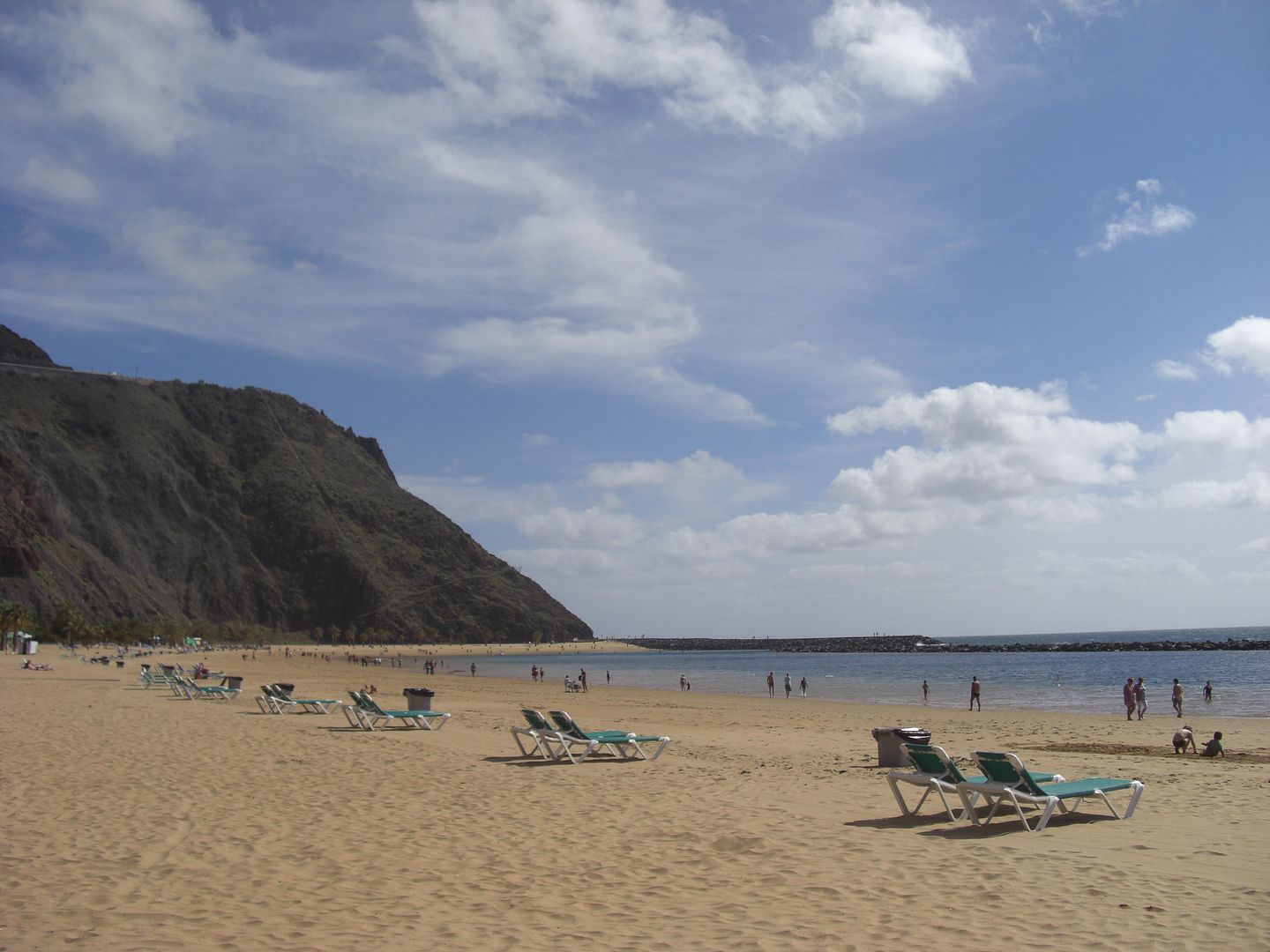 From Santa Cruz we drove on the Anaga mountains on a rather circuitous route up to the National Park, home of Spains highest peak, El Tiede.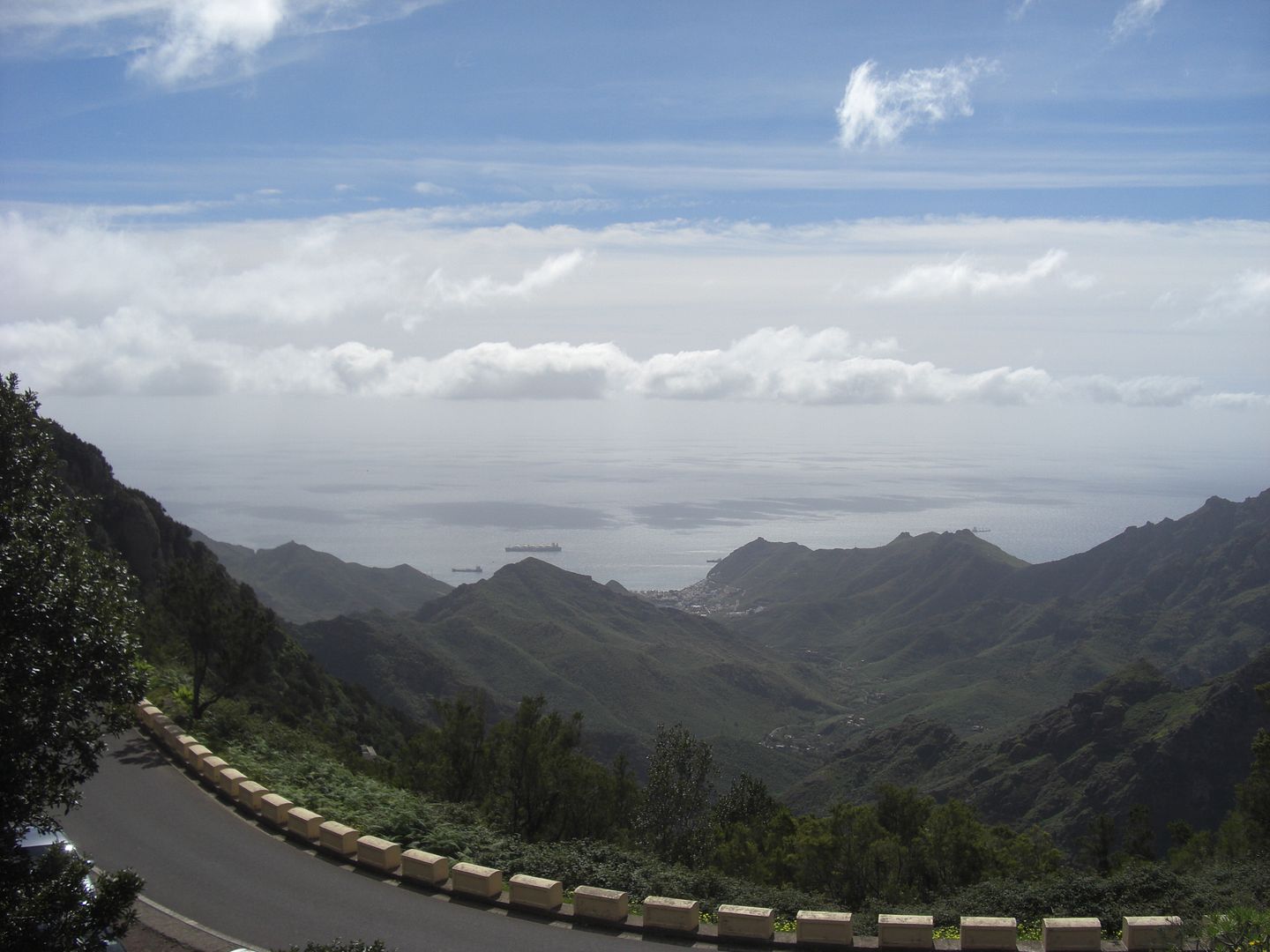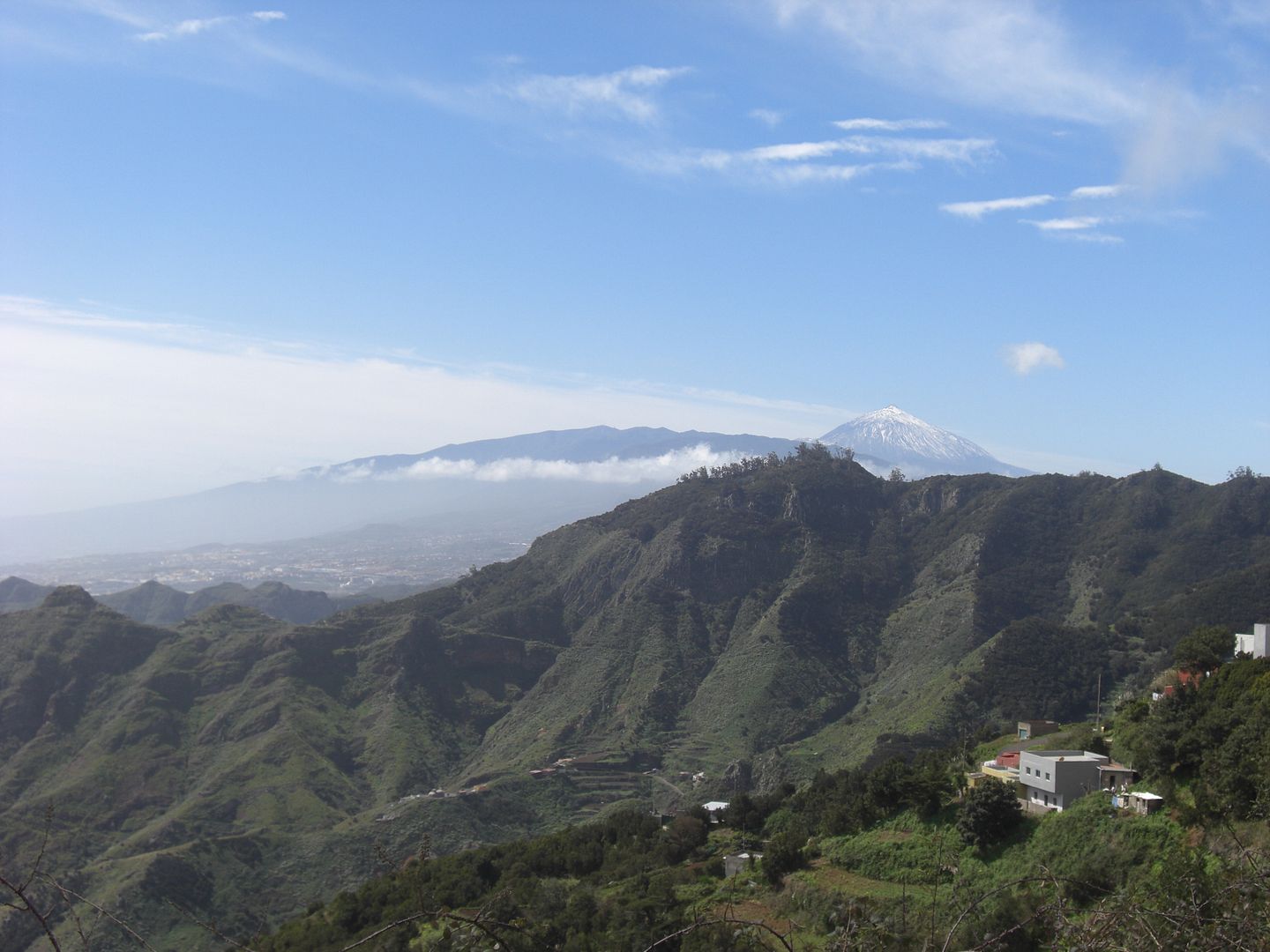 El Tiede with TFN in the foreground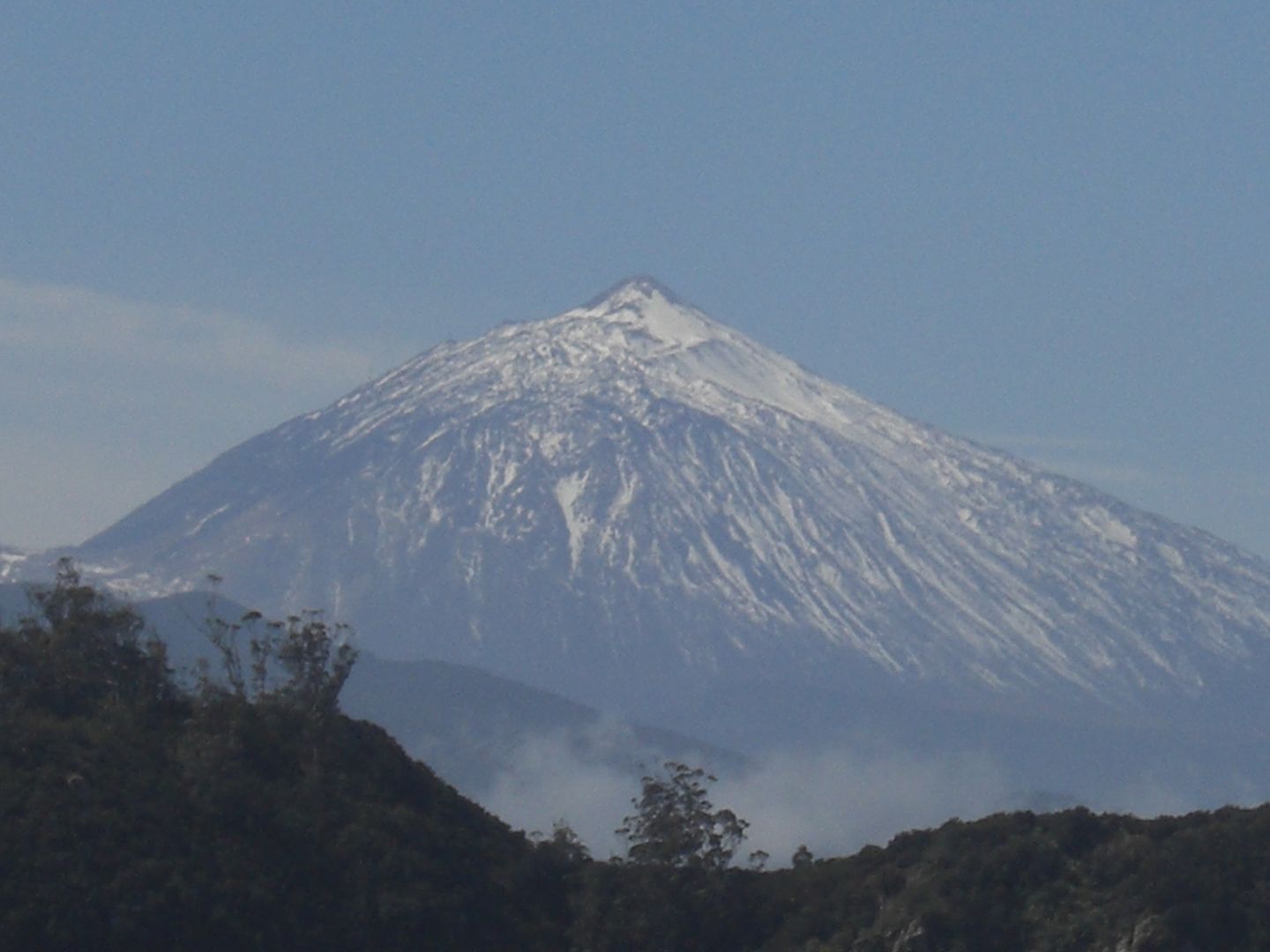 The drive was amazing (albeit rather hazardous). My friend spent most of the journey screaming in terror. The views were great, and the weather was perfect.
We stayed in the only hotel in the National Park, the Parador. Unfortunately, the standards weren't great, especially given the rather high price tag. We were, however, right in the centre of the park.
View from the hotel room
The wonders of the National Park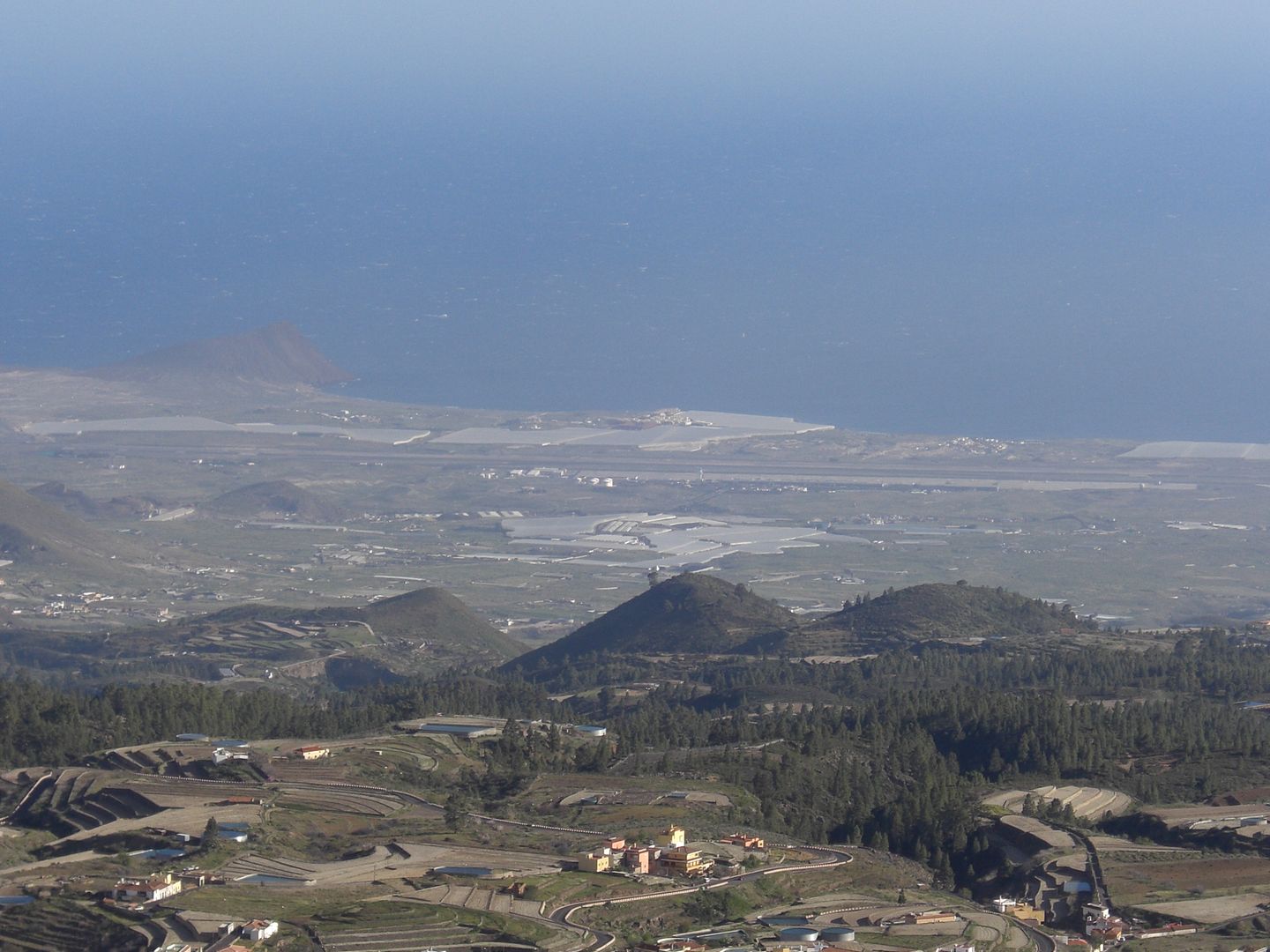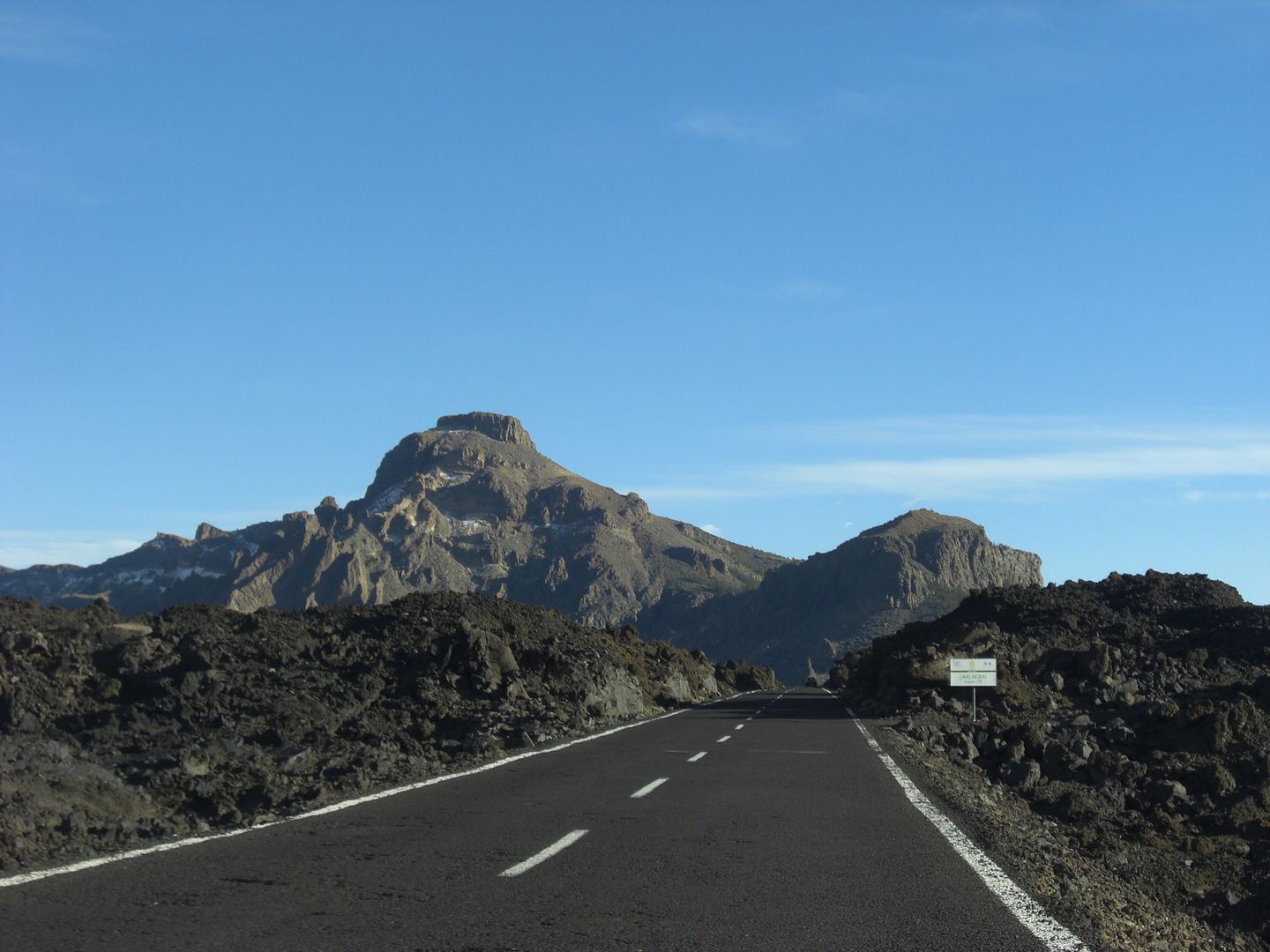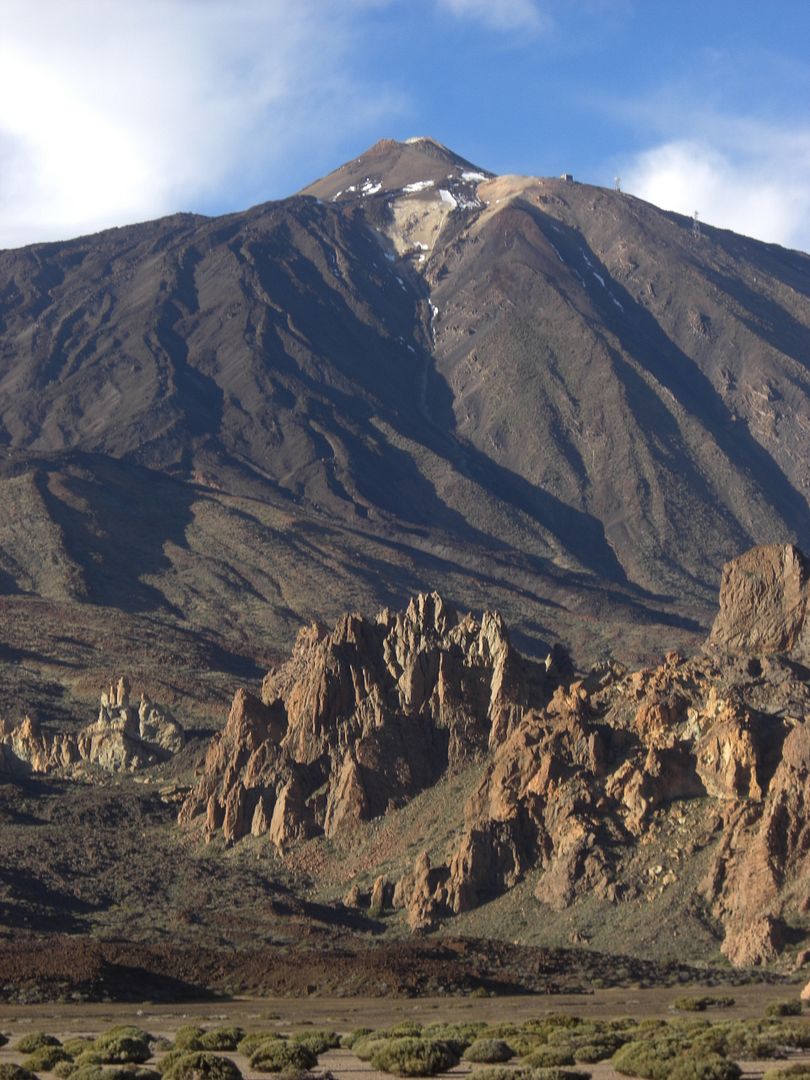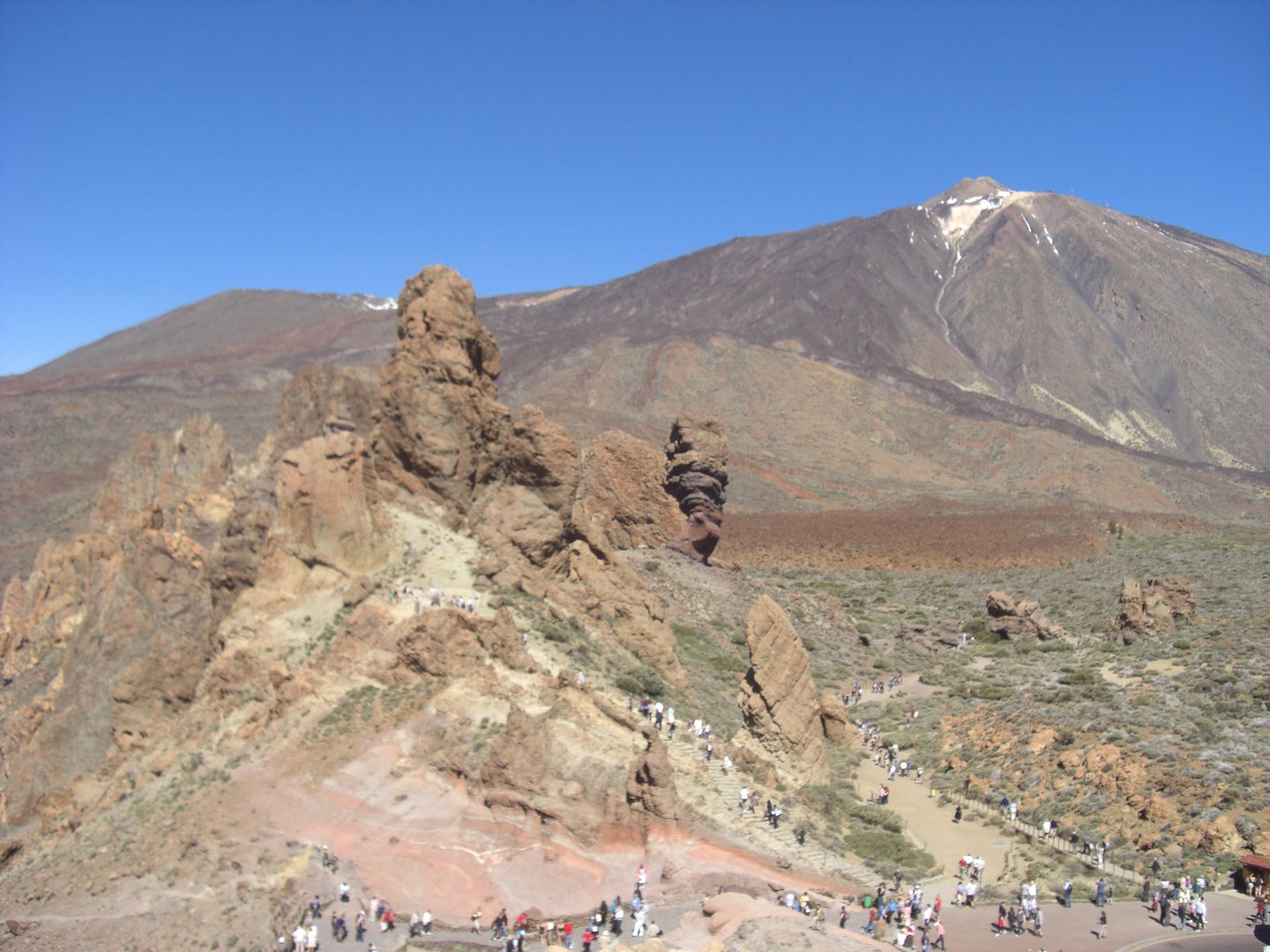 Our hotel, surrounded up hoardes of daytrippers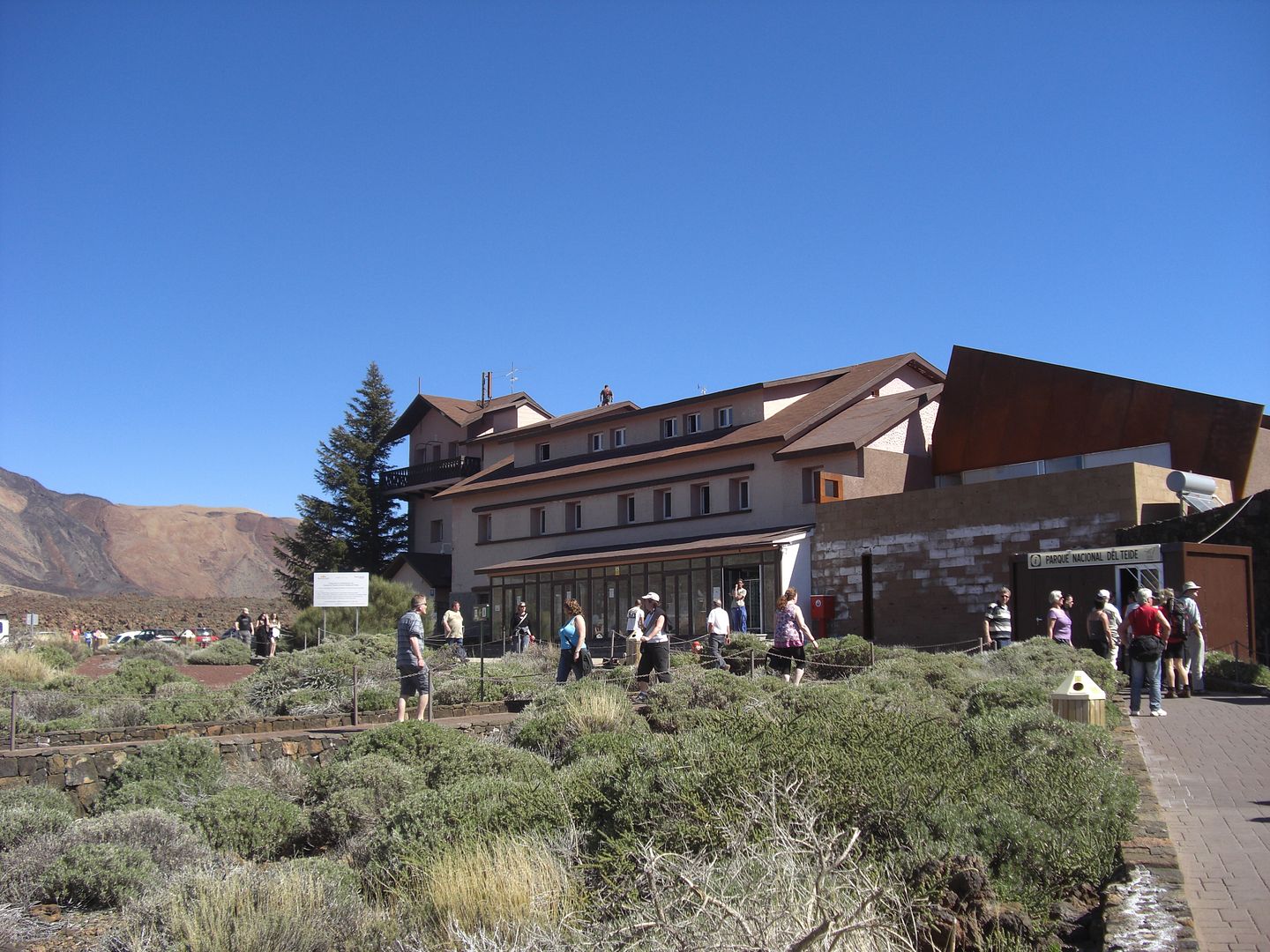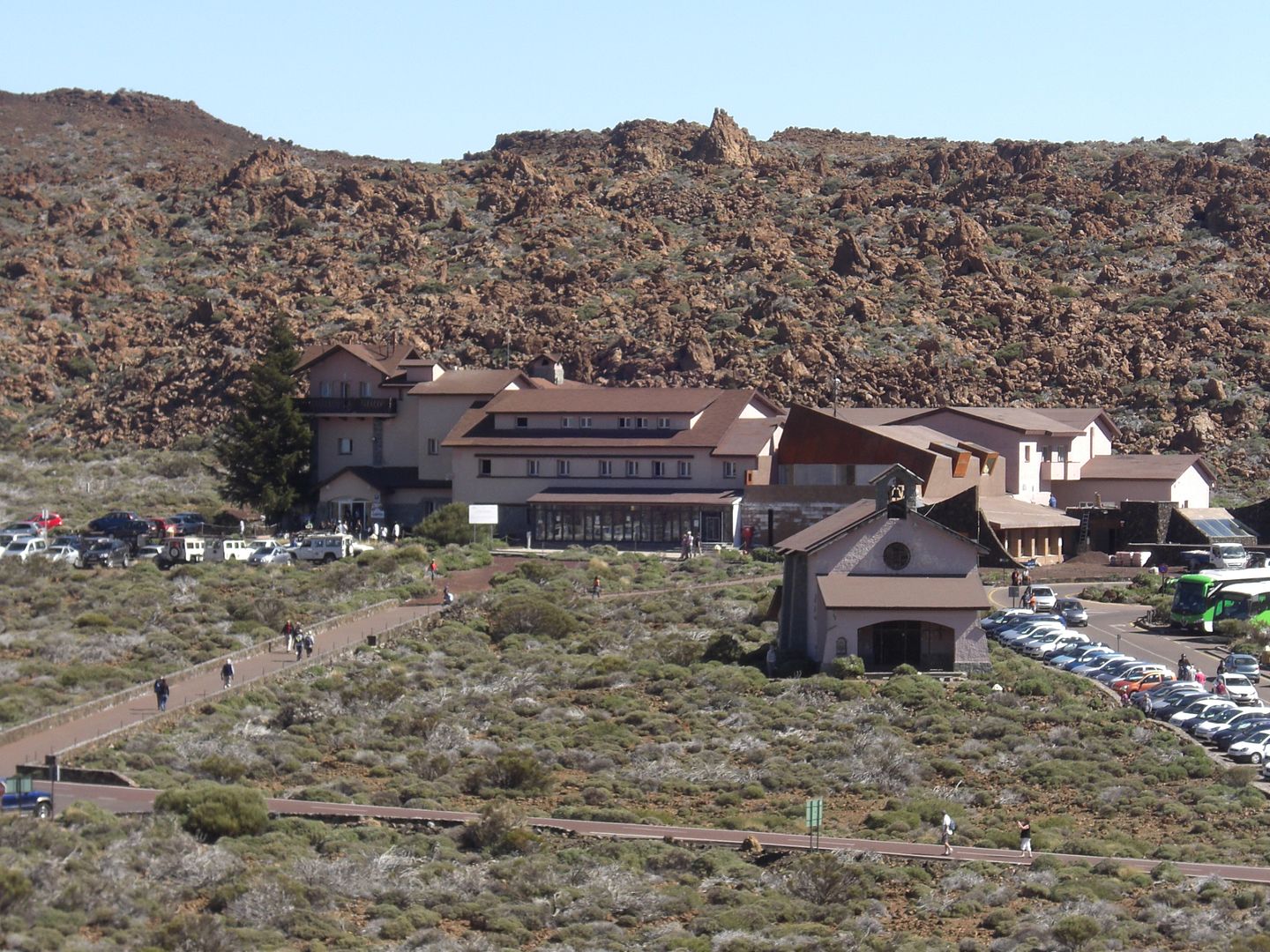 The cable car up to the top of Tiede. In Santa Cruz we went to try and get one of the limited numbers of permits to go right to the summit, but we were told it was closed due to snow and ice, which was a shame.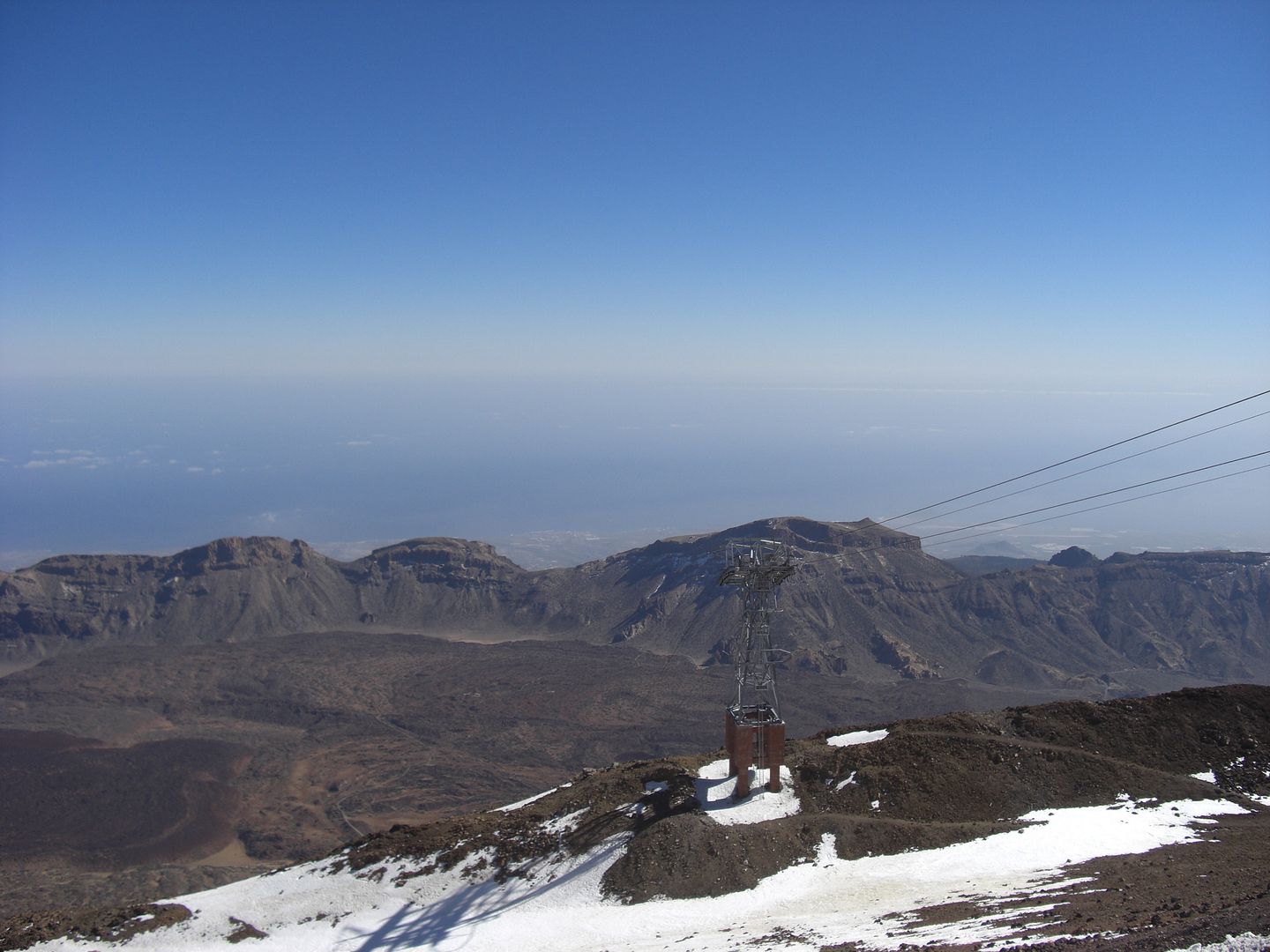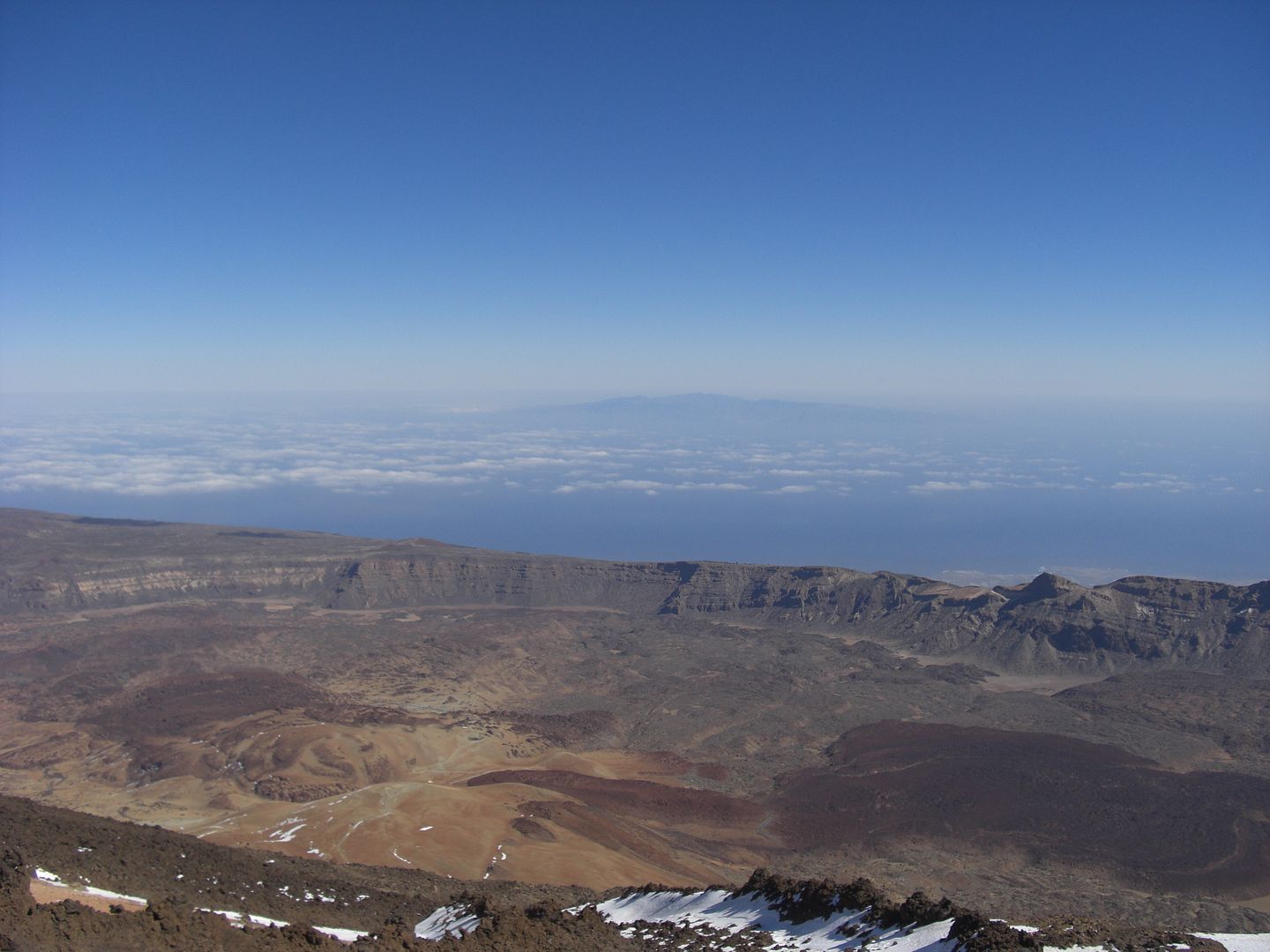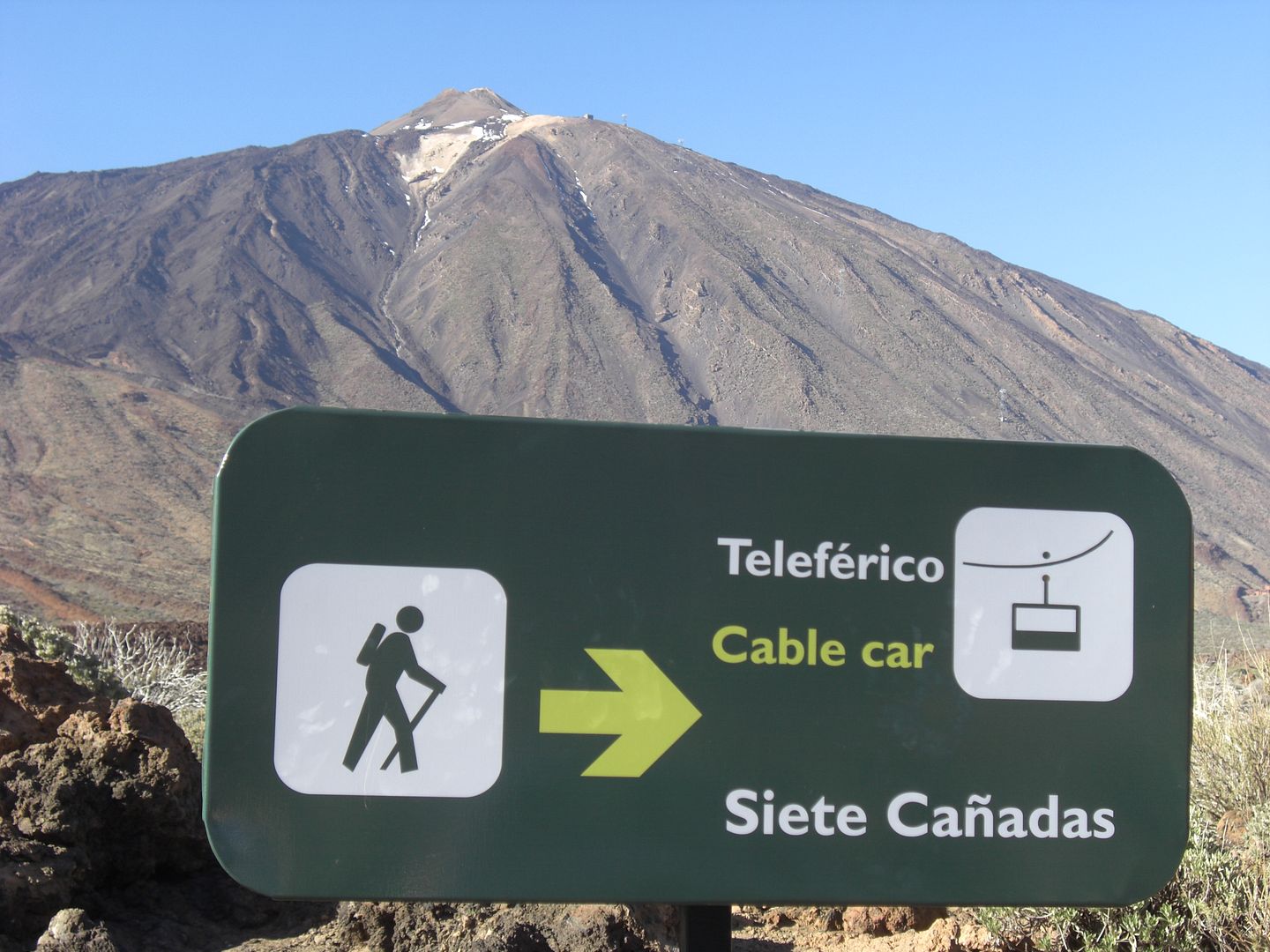 Gran Canaria
El Hierro
A desert bit of the park
Have any of you read "Tintin on the Moon"?
After our two nights up at the foot of Mt.Tiede, it was time to head to the beaches of Gran Canaria. There was a choice of two airlines from Tenerife, Binter and Islas. Islas had slightly cheaper fares, but only three flights a day compared to Binters 15 or so. After a bit of searching, I found some cheap seats on the 10am Binter flight over to Gran Canria. Unfortunately, this meant an early start from the Parador meaning missing out on the buffet breakfast. The drive down the mountain at dawn was fantastic – it's just a shame that we couldn't really drive slowly and appreciate the views – I'll have to go back again sometime – really, it's out of this world.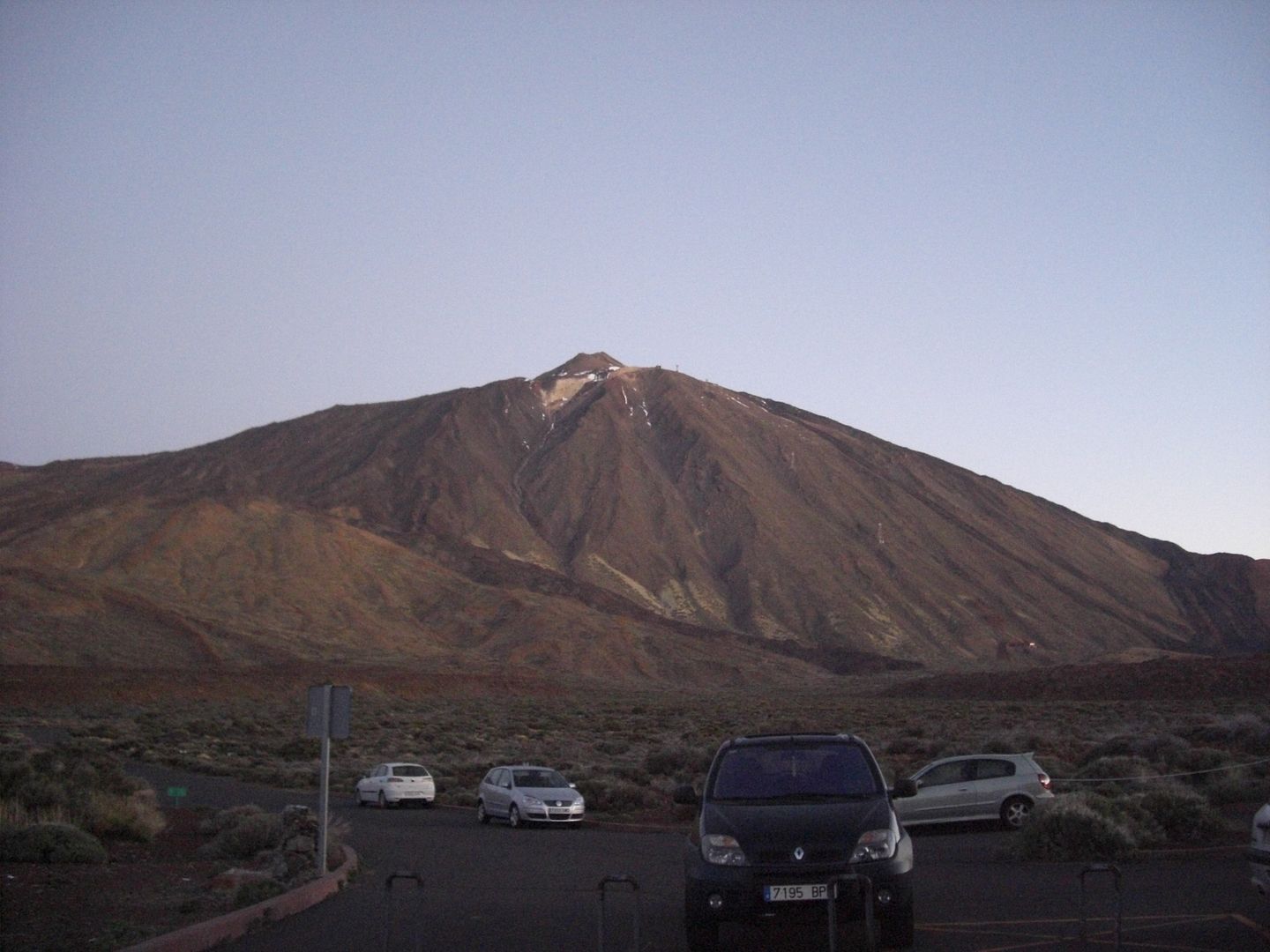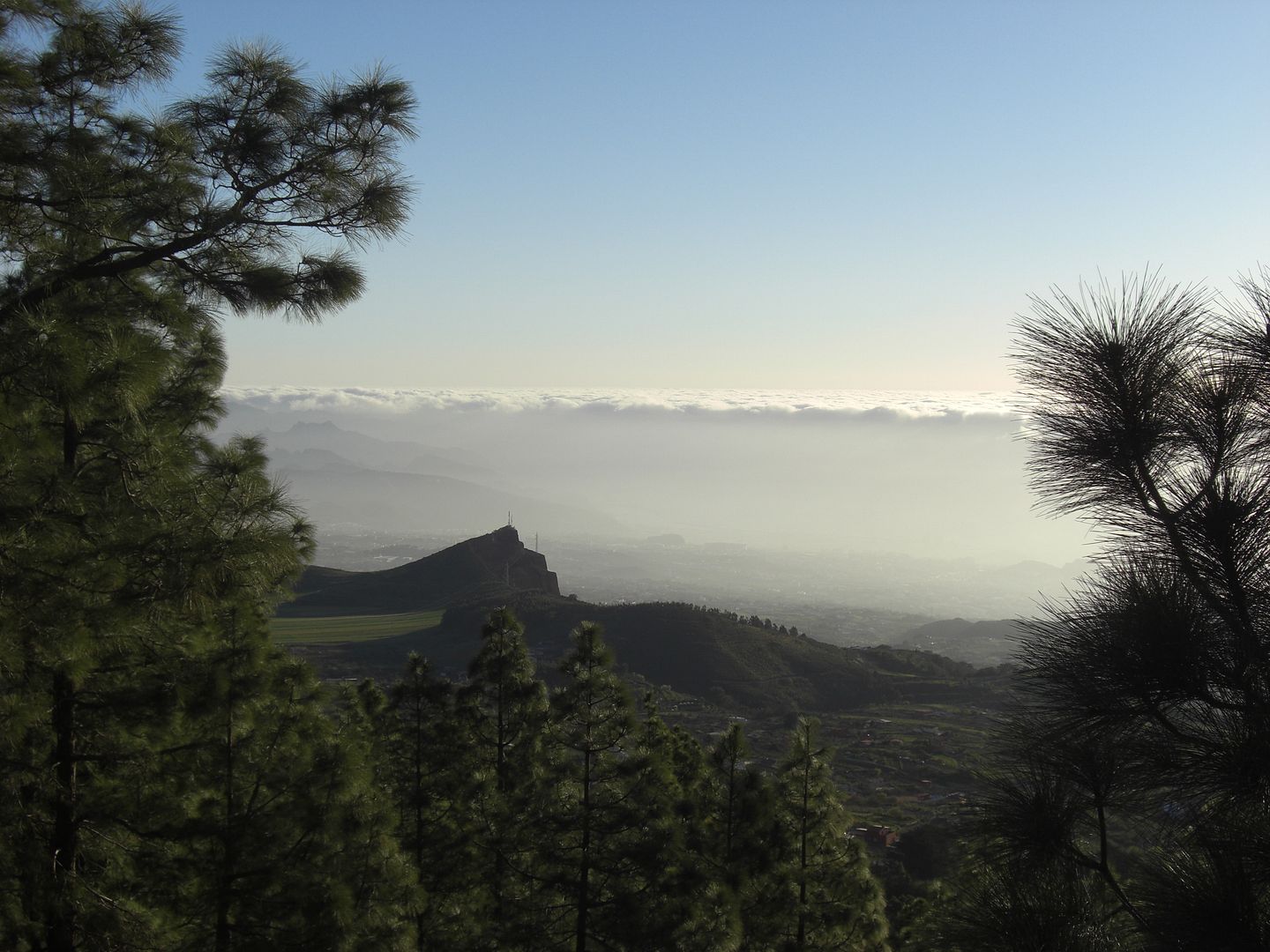 Despite taking slightly longer than planned, we arrived at Tenerife North Airport 90 minutes before departure, plenty of time to take back the hire car and check in. There are no pre-assigned seats on Binter, so check in was quick. I left my friend to sit in the departures area, whilst I took a tour of the terminal taking a few photos.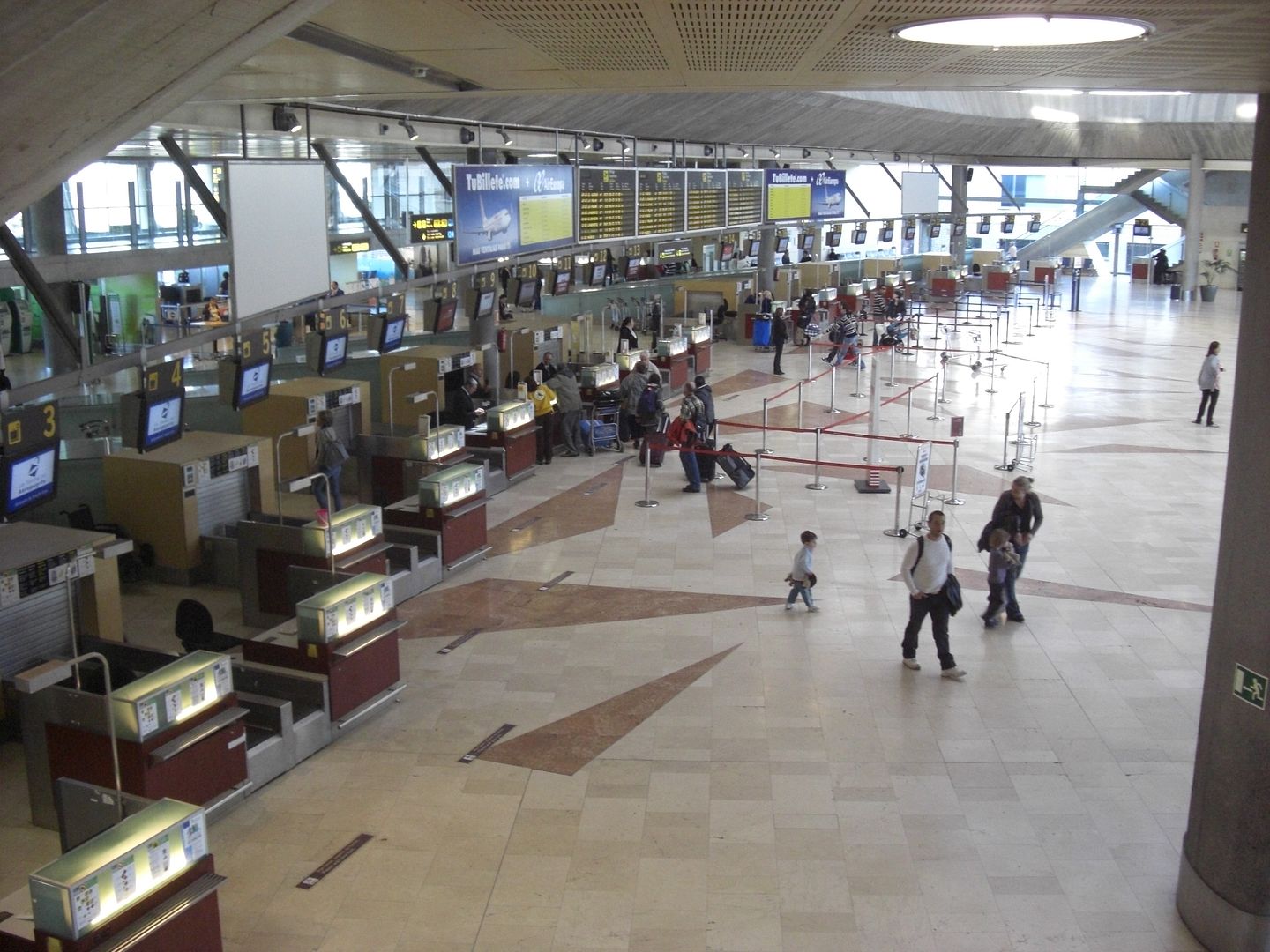 The airport might not be band new, but is a nice place to wander around for a bit. Other than a host of inter-island flights, all the other flights were for the mainland Spain, and one each to Nuremburg and Helsinki.
The queue for security was short, and I was through in a few minutes.
Binter NT 120
Tenerife North (TFN) – Gran Canaria (LPA)
Scheduled: 1000-1030 (0h30m)
Actual: 1009-1031 (0h22m)
ATR 72 EC-JBI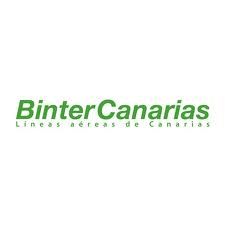 Out of the host of interisland flights leaving around the same time as us, we happened to be the only flight that was bussed out to the plane. On the plus side, we got an airport tour, and I was one of the first off the bus, and onto the plane, letting me snag my preferred window seat ahead of the wings.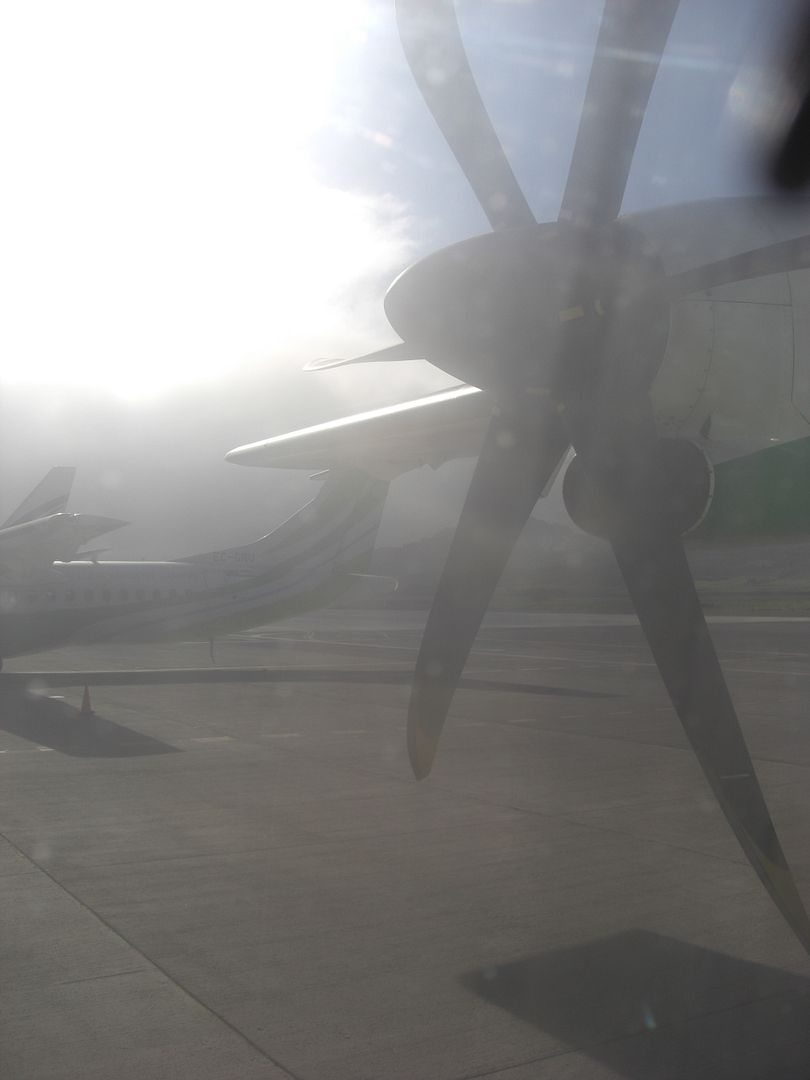 The terminal building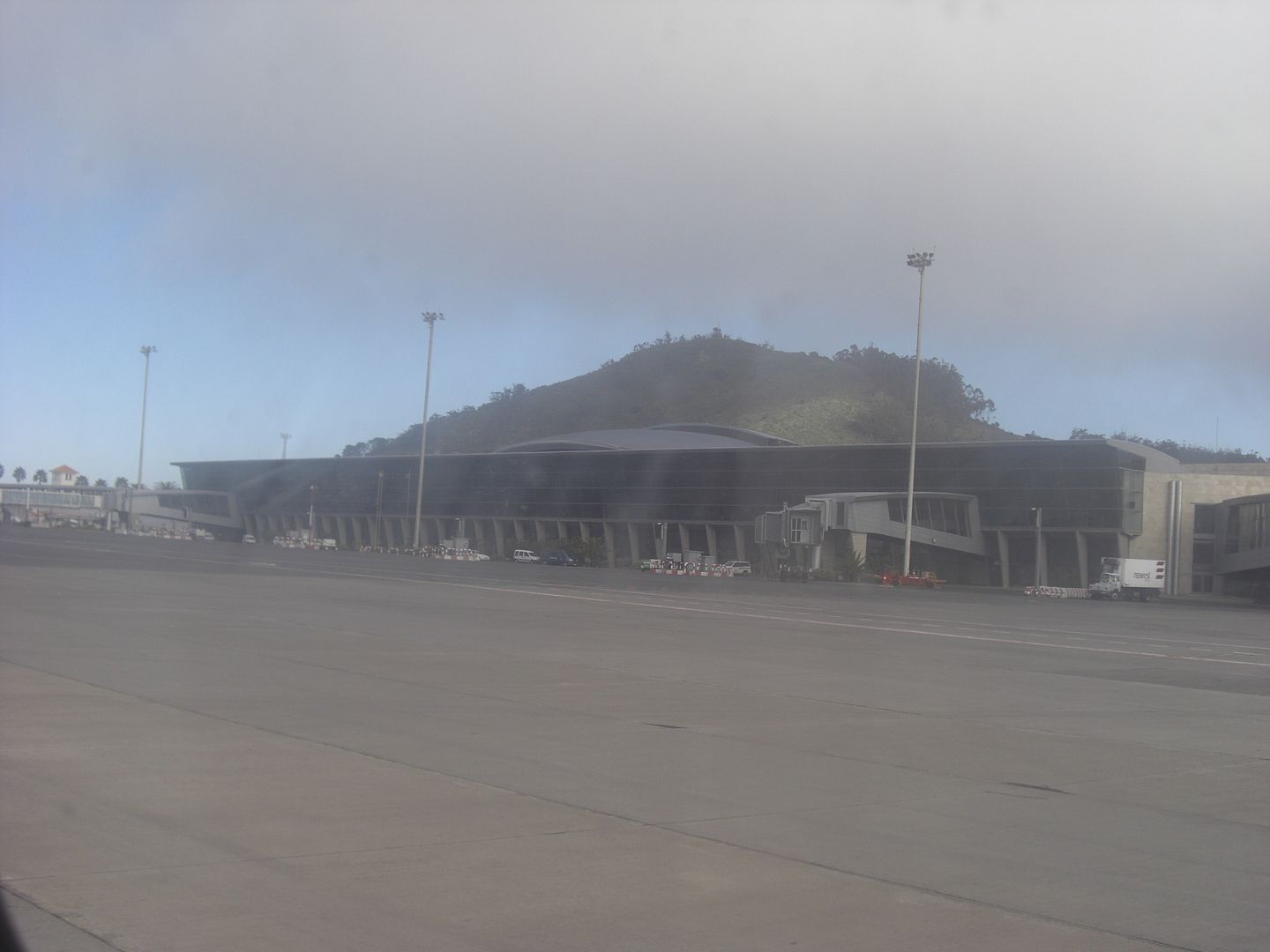 Mint Airways – anyone been on this?
Off we go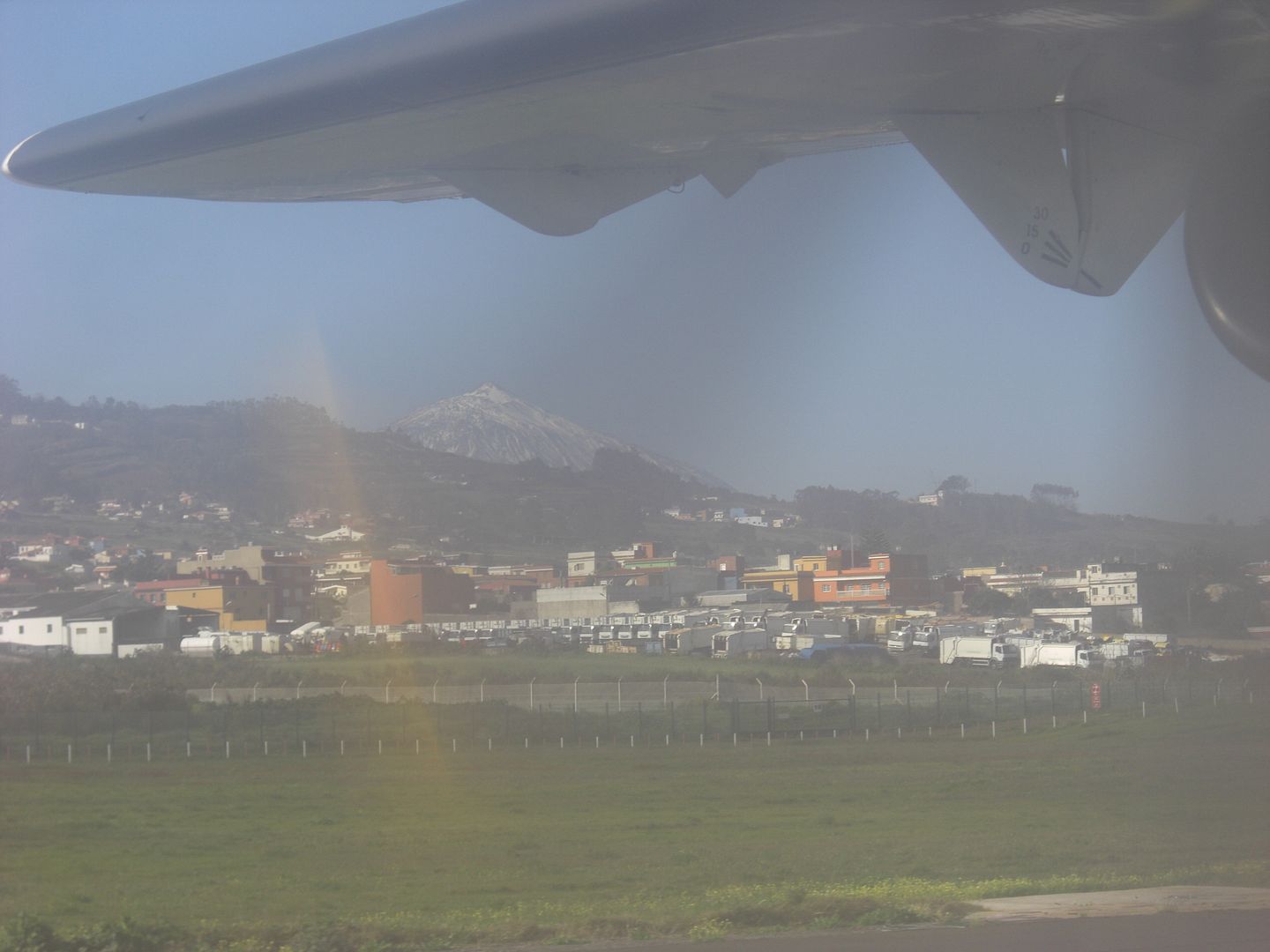 This flight proved just what can be achieved, service-wise, in the air. Tarmac to tarmac was 22 minutes. Two cabin crew, roughly 65 pax, with a bit of light turbulence. We were offered a choice of papers, still or sparkling water, a chocolate bar, a boiled sweet and a refreshing wipe. This was all done in Spanish and English and with a smile. So, to all you cabin crew out there with flight times hovering around 30 minutes (or more) who say you can't do a service, nonsense!
Views from the plane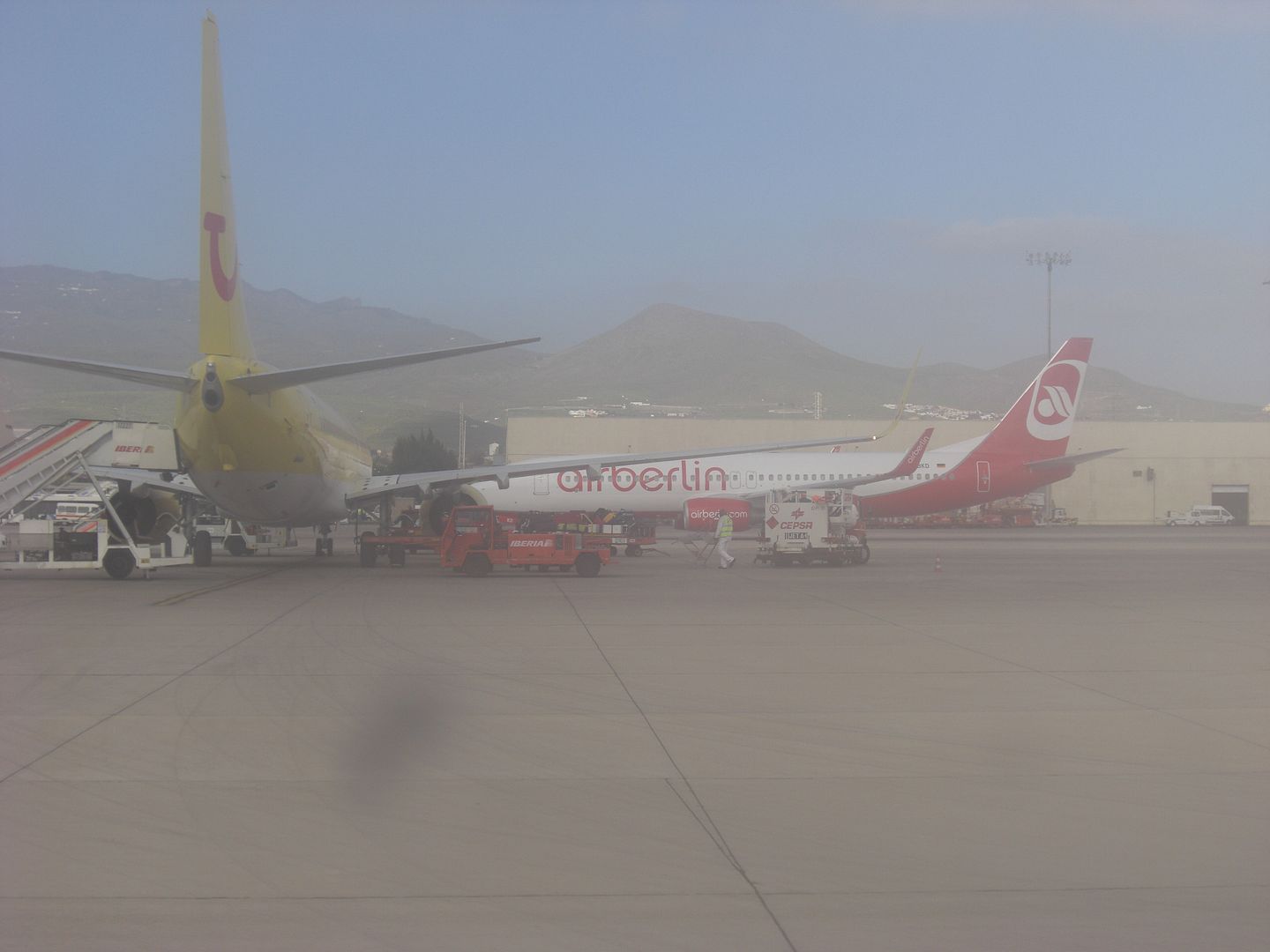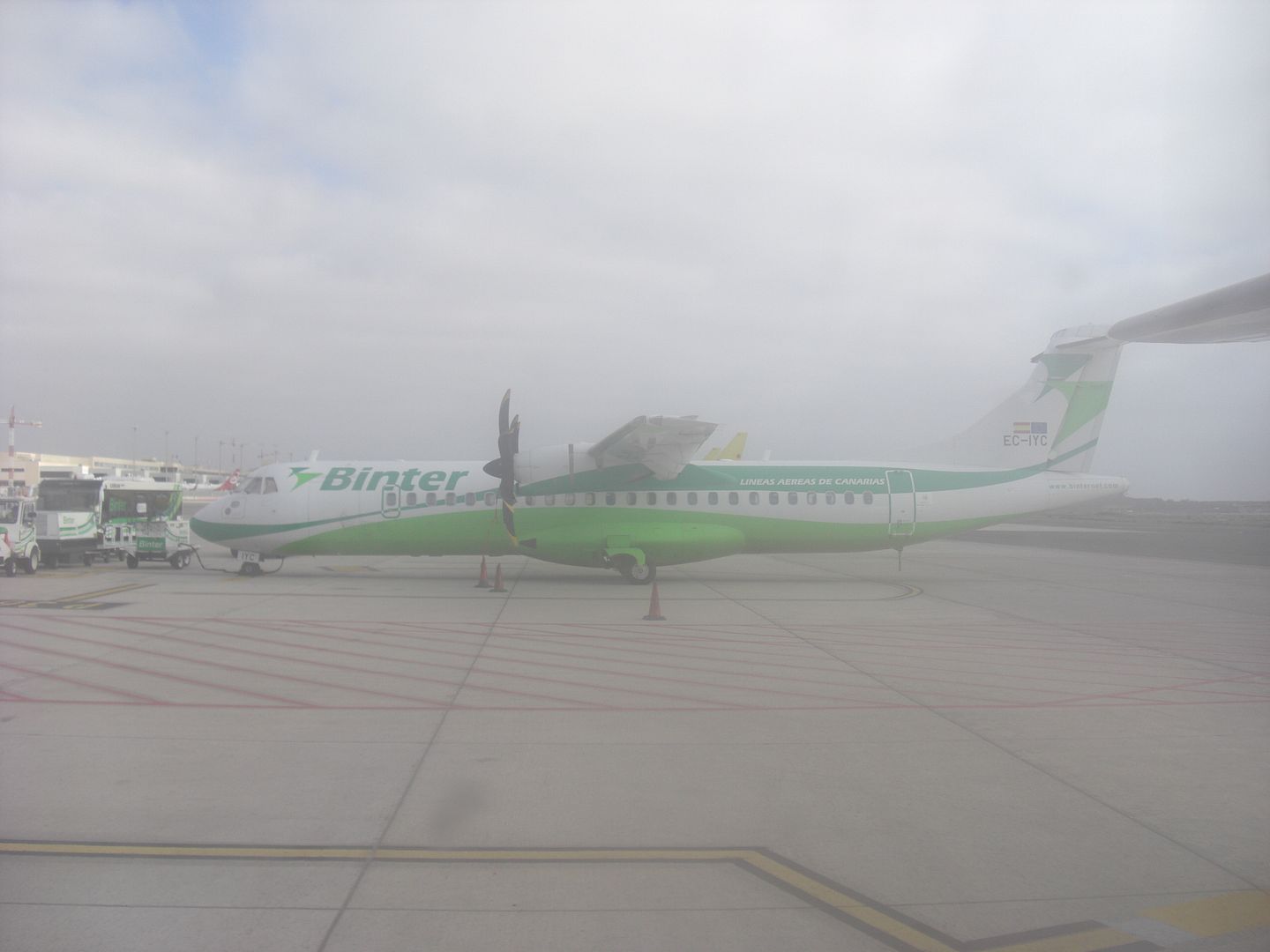 Comfortable seats on Binter (when disembarking)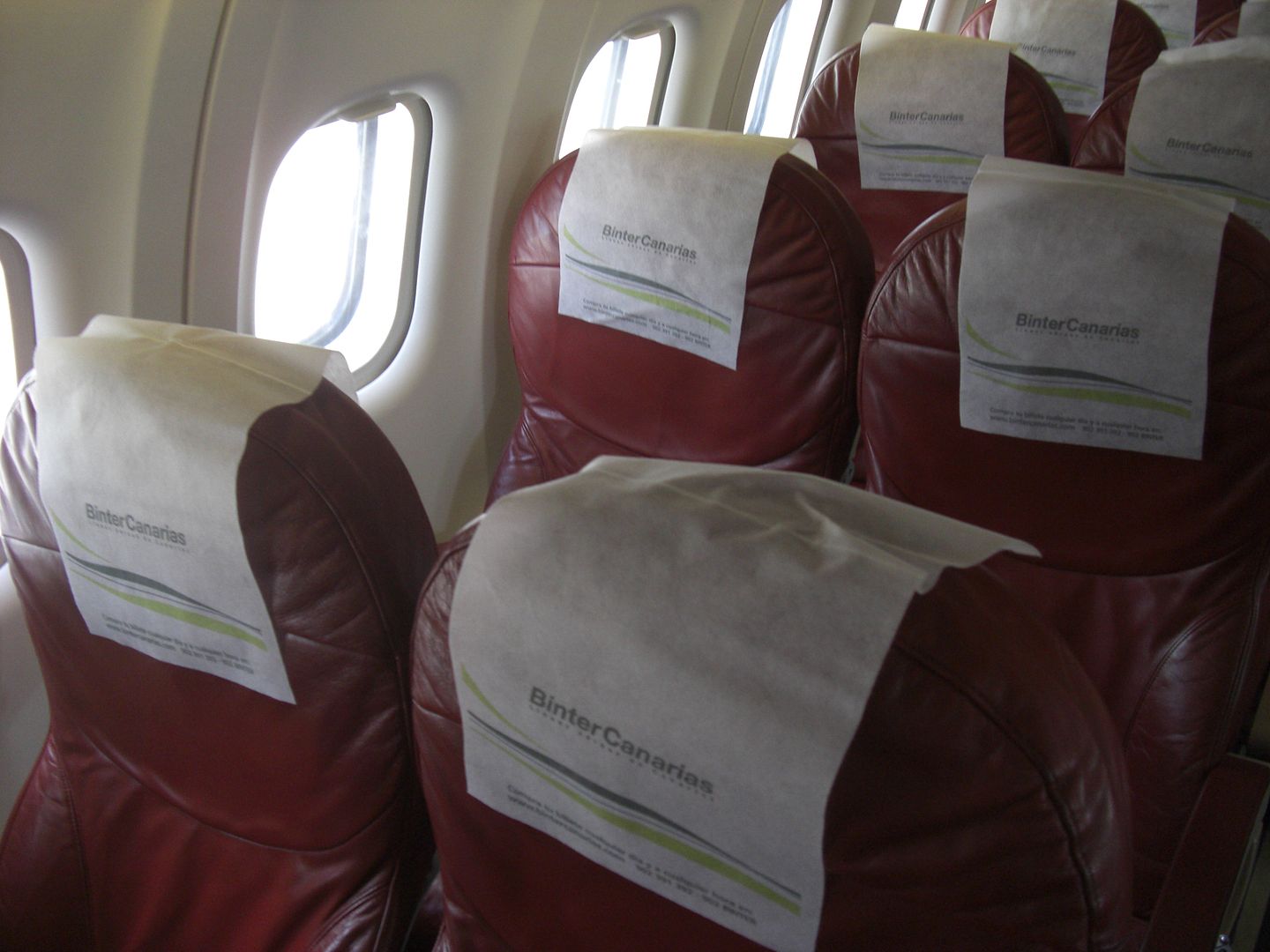 Compared to TFN, LPA was very busy. Today seemed to be German day at the airport, with no less than six TUIfly B737s on the ground, including one masquerading as a giant Haribo. There were also a load of Air Berlins and D-reg Thomas Cooks.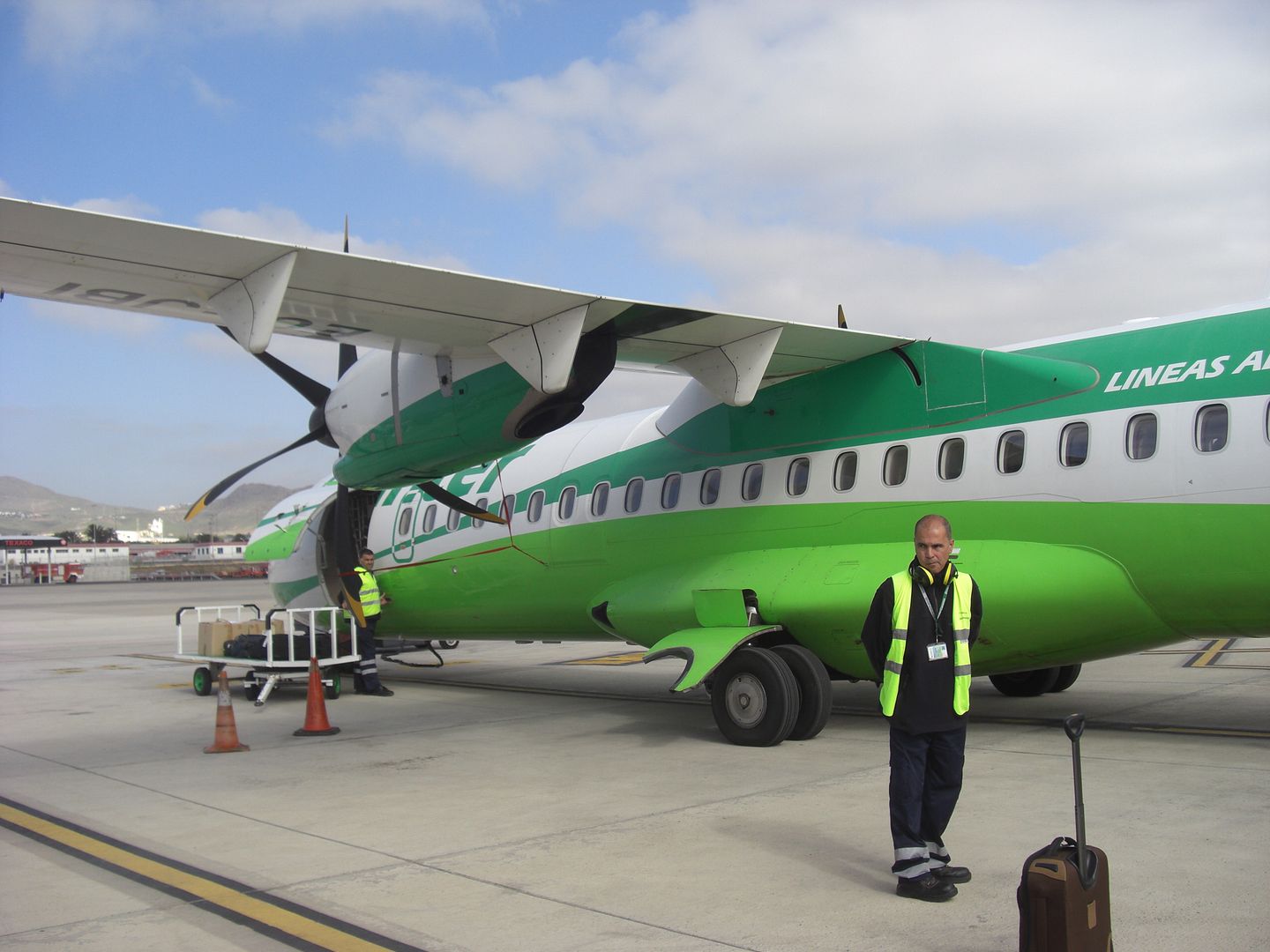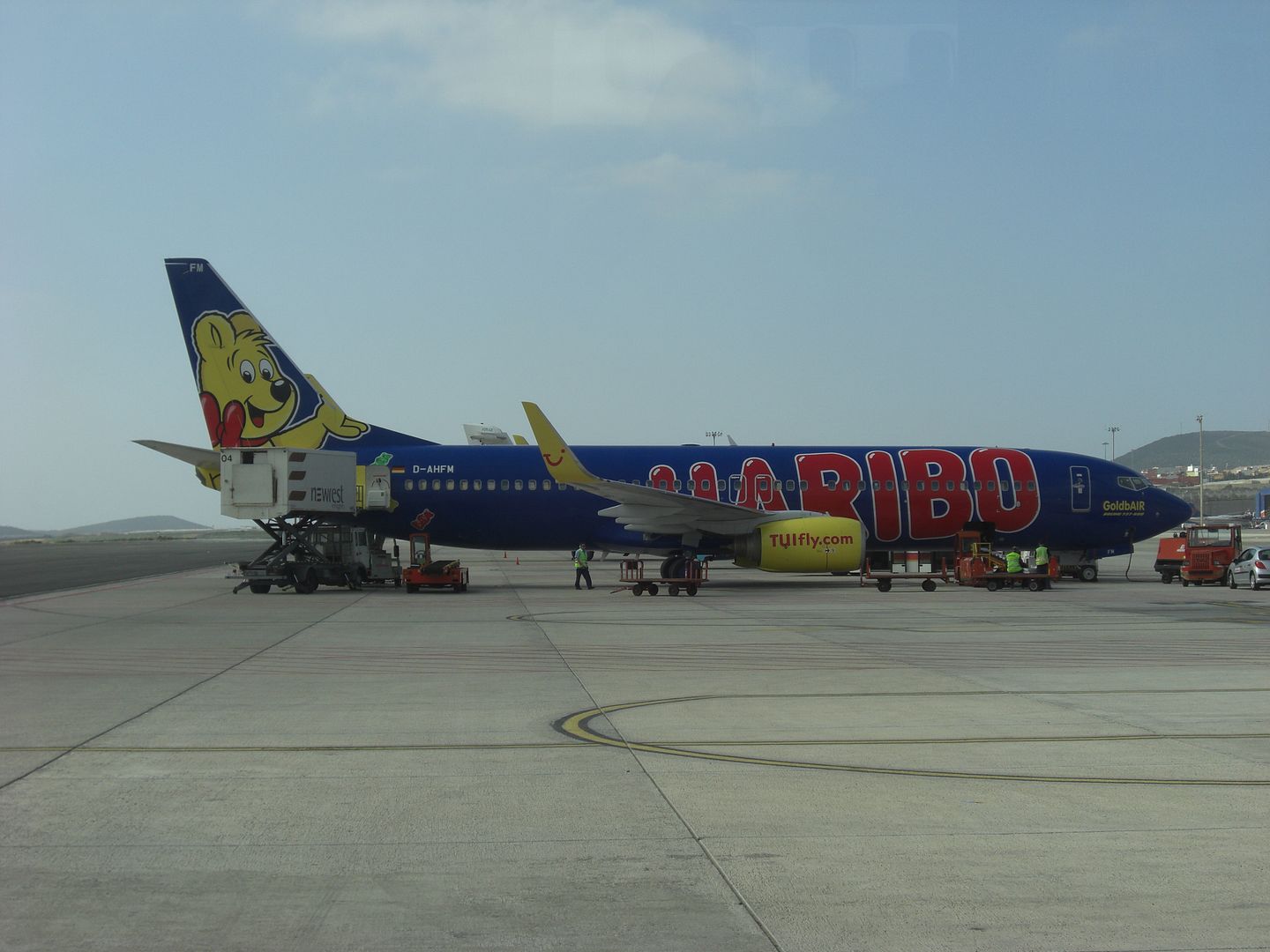 Interisland flights are handled in a separate part of the building, away from all the holidays flights.
Our hotel was overbooked, so we ended up spending one night in another hotel. As compensation, we got an upgrade to Half board, with drinks, a bottle of wine, and a fruit basket. Not bad, and worth the hassle. We had to really push to get it though, as other people that were moved got nothing.
The Yumbo Centre
A few views of Gran Canaria's famous dunes
After three days basking in the sun of Gran Canaria, it was time to head on to Madrid. IB fly around six flights a day between the two places, and we were booked on the second of the day.
Today seemed to be Scandinavia day at the airport, with flights to basically every Scandinavian and Finnish airport I could think of, along with a few German, Dutch, Belgian and Luxembourg flights. The UK was conspicuous by its absence, with just two FR flights listed for Bournemouth and Stansted. My friend spotted a FR flight heading to Santiago – I pointed out that thankfully it was Santiago de Compostela (Spain) rather than Santiago de Chile. Be both agreed that a FR flight to South America might be pushing the boundaries of comfort for most travellers. One interesting flight that I'd like to try one day is the SATA service on a DH1 from Gran Canaria to the Azores via Madeira (FNC). Sounds like an unlikely routing.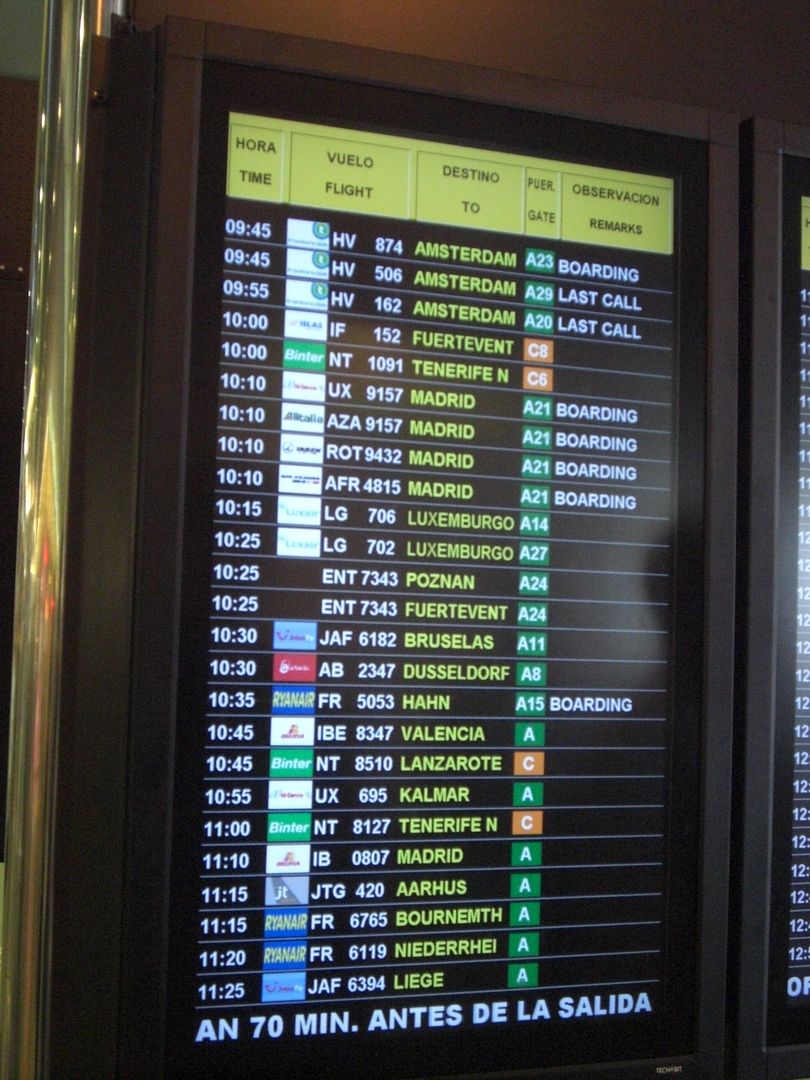 The check in area was pretty busy, and I was shocked to see an enormous queue for the IB check in.
There was just one desk being used for economy, and with a full A321, unsurprisingly there was a bit of a back up.
Luckily or us, there was no one in the Business Class queue, so we were seen straight away. The friendly lady at the desk printed out our boarding passes, and gave us a lounge invite, together with instructions on how to find it.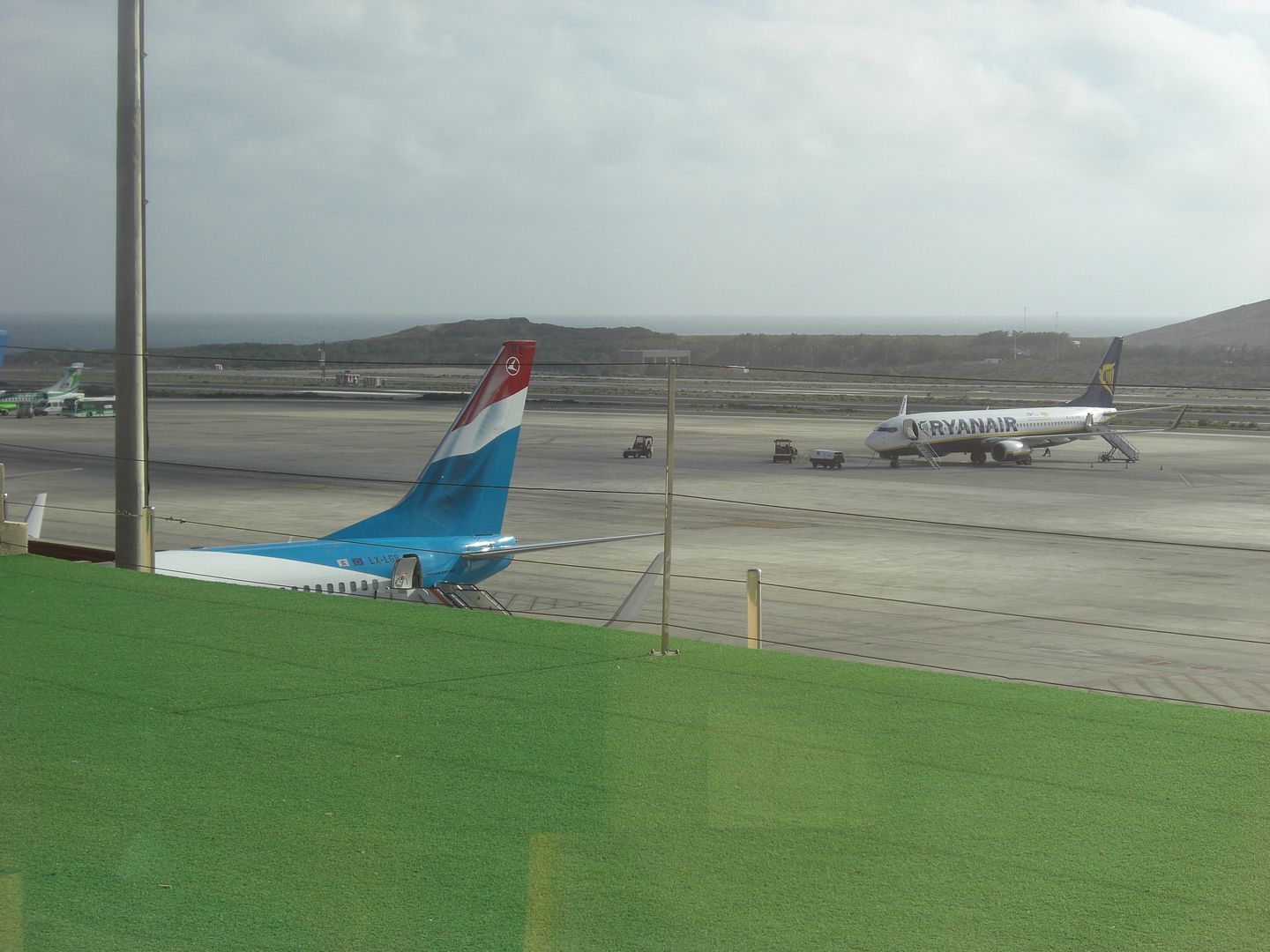 We headed through security, which had a very long queuing area, but a mercifully short queue, then went up to the higher level where there is an outdoor smoking area, a bar area, and the lounge. The two ladies on the door welcomed us in, and we took a seat. The lounge was quite large, and with plenty of sofas and tables, and views of the tarmac. Drinks options were pretty good, although the same cannot be said of the food selection, which consisted of small packets of peanuts and three bags of crisps. There were signs for free wifi, but even with the password, I couldn't get my computer to connect.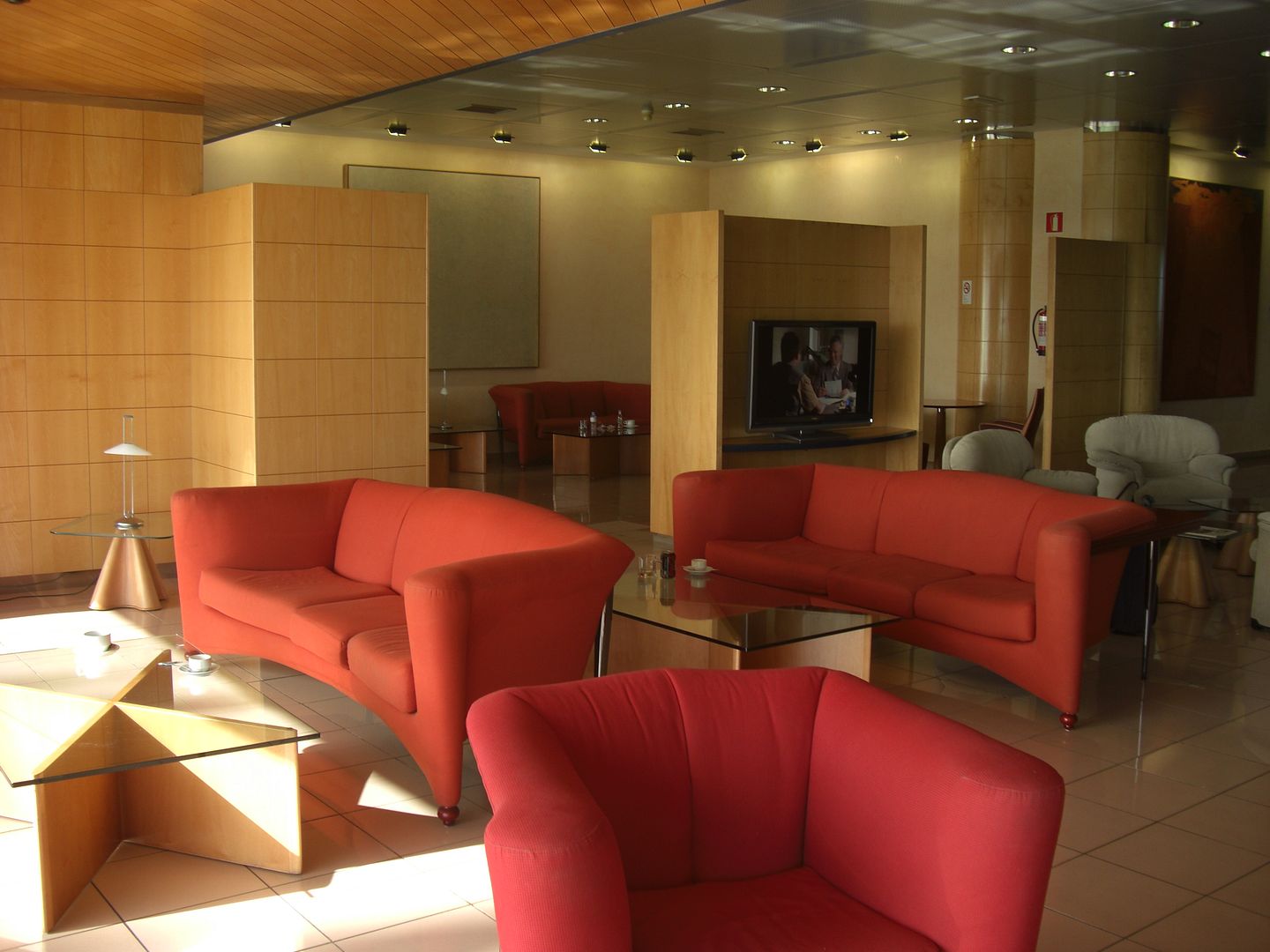 About ten minutes after I saw our plane land and taxi past, we left the lounge and headed the length of the terminal to the gate. Whilst the lounge wasn't great, the terminal was even worse. Busy busy busy!
Iberia IB 807
Gran Canaria (LPA) – Madrid Barjaras (MAD)
Scheduled: 1110-1445 (2h35m)
Actual: 1119-1450 (2h31m)
Airbus A321 EC-JDR

Upon boarding, we found most of a Spanish basketball (?) team filling the Business Class cabin. Another team (Murcia) were to be found in economy. The flight was completely full. Again, we had gone for a window and an aisle, but this time we had someone sat in between us. We pushed back ontime, but ended up waiting for an Air Europa flight to leave.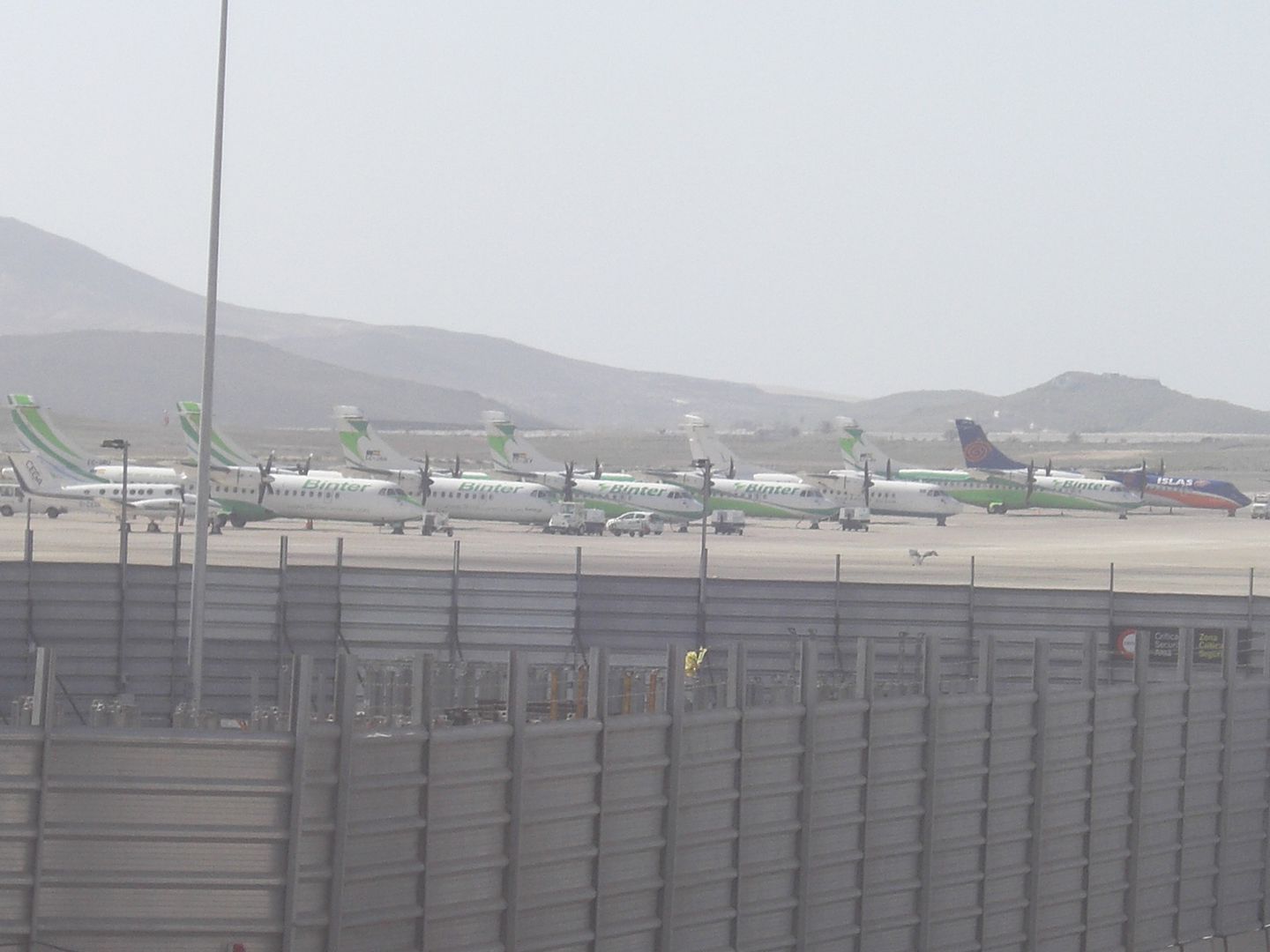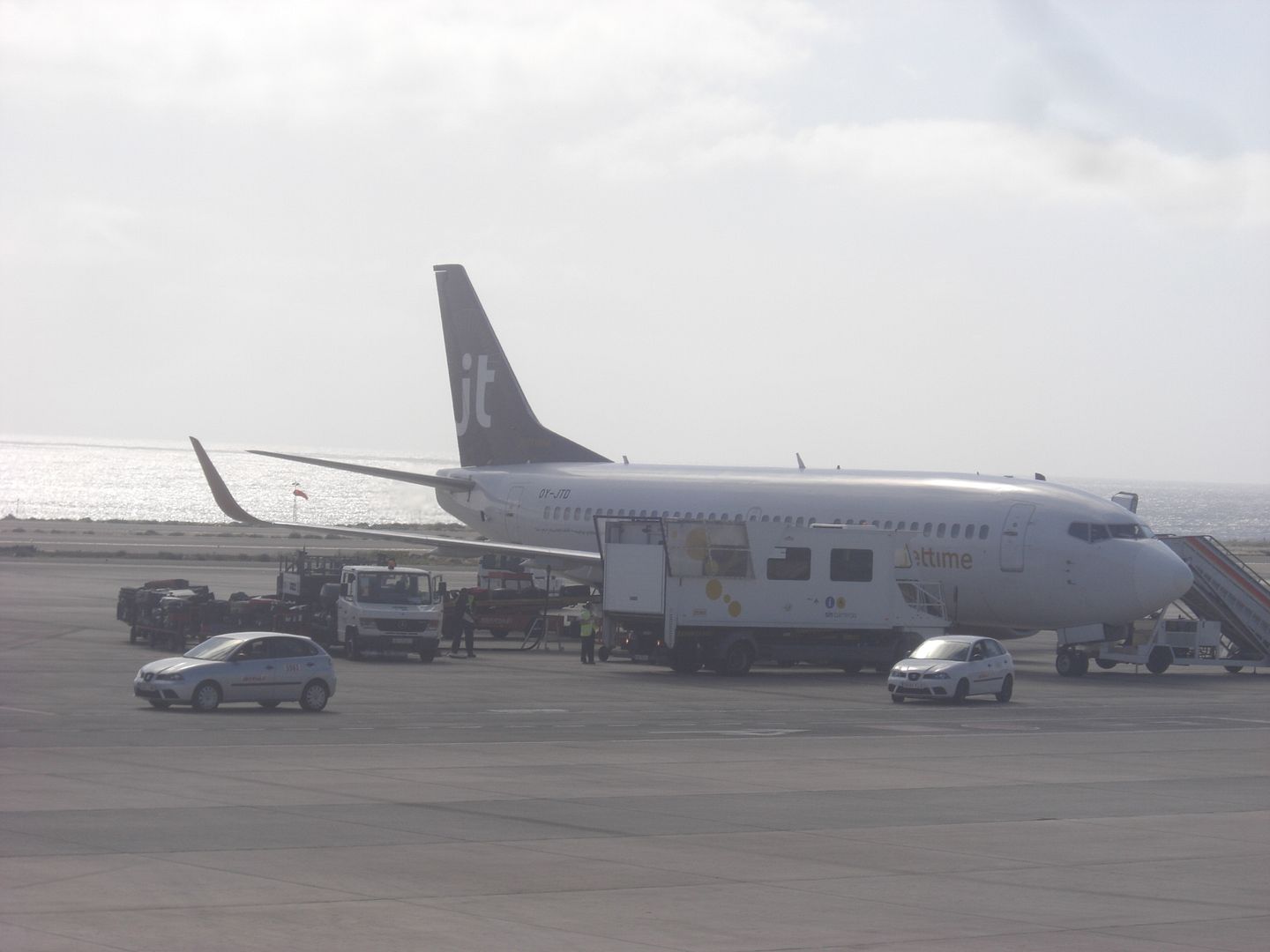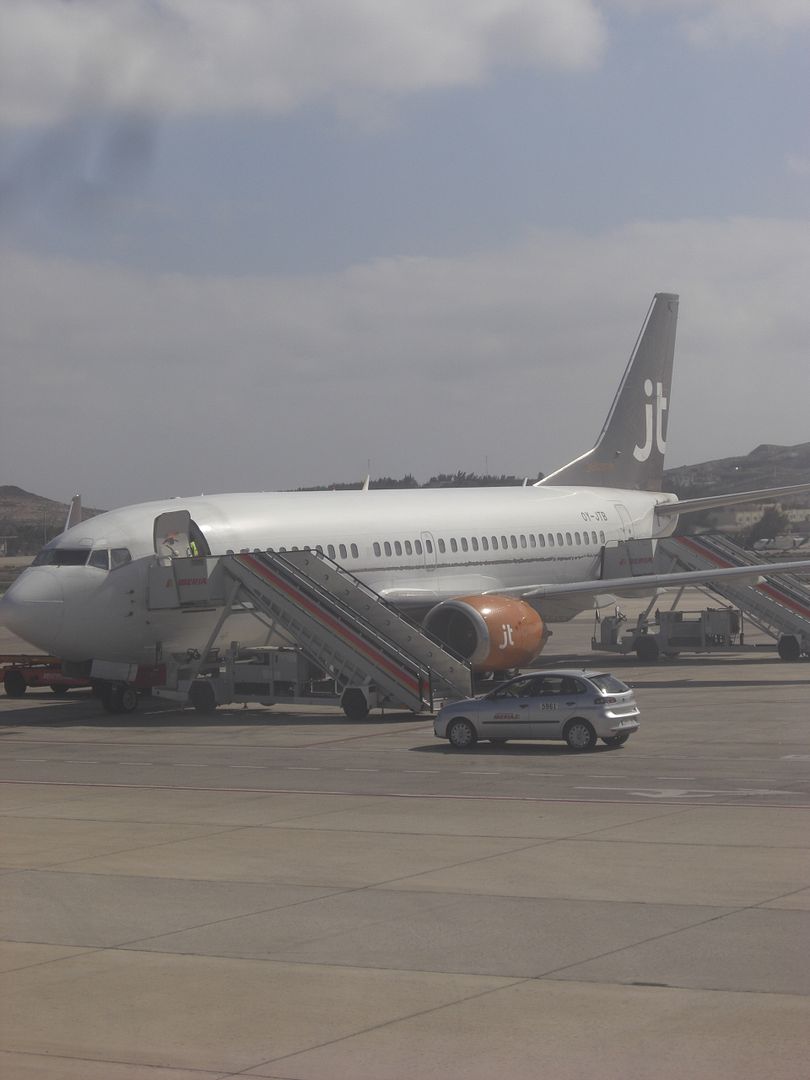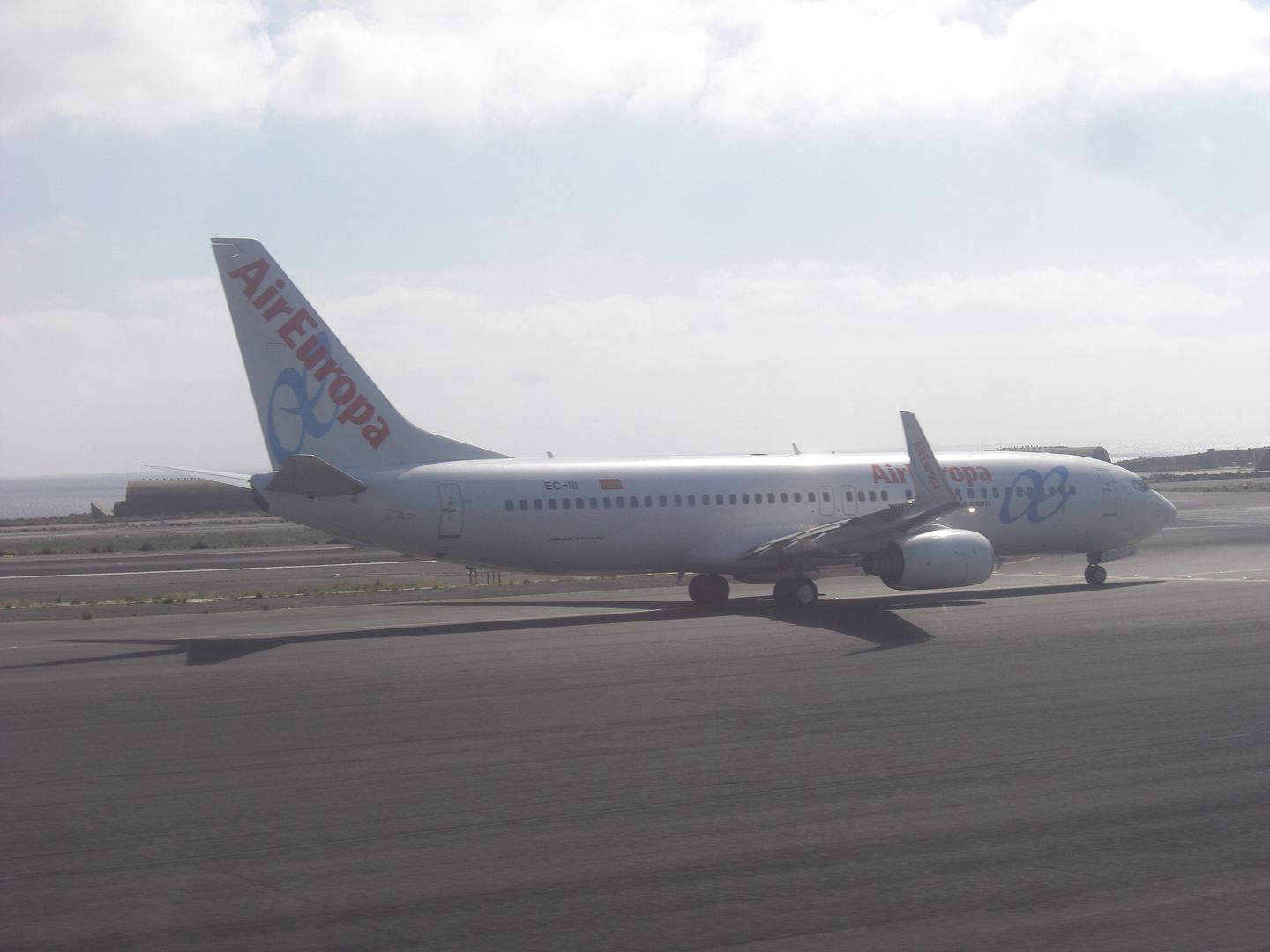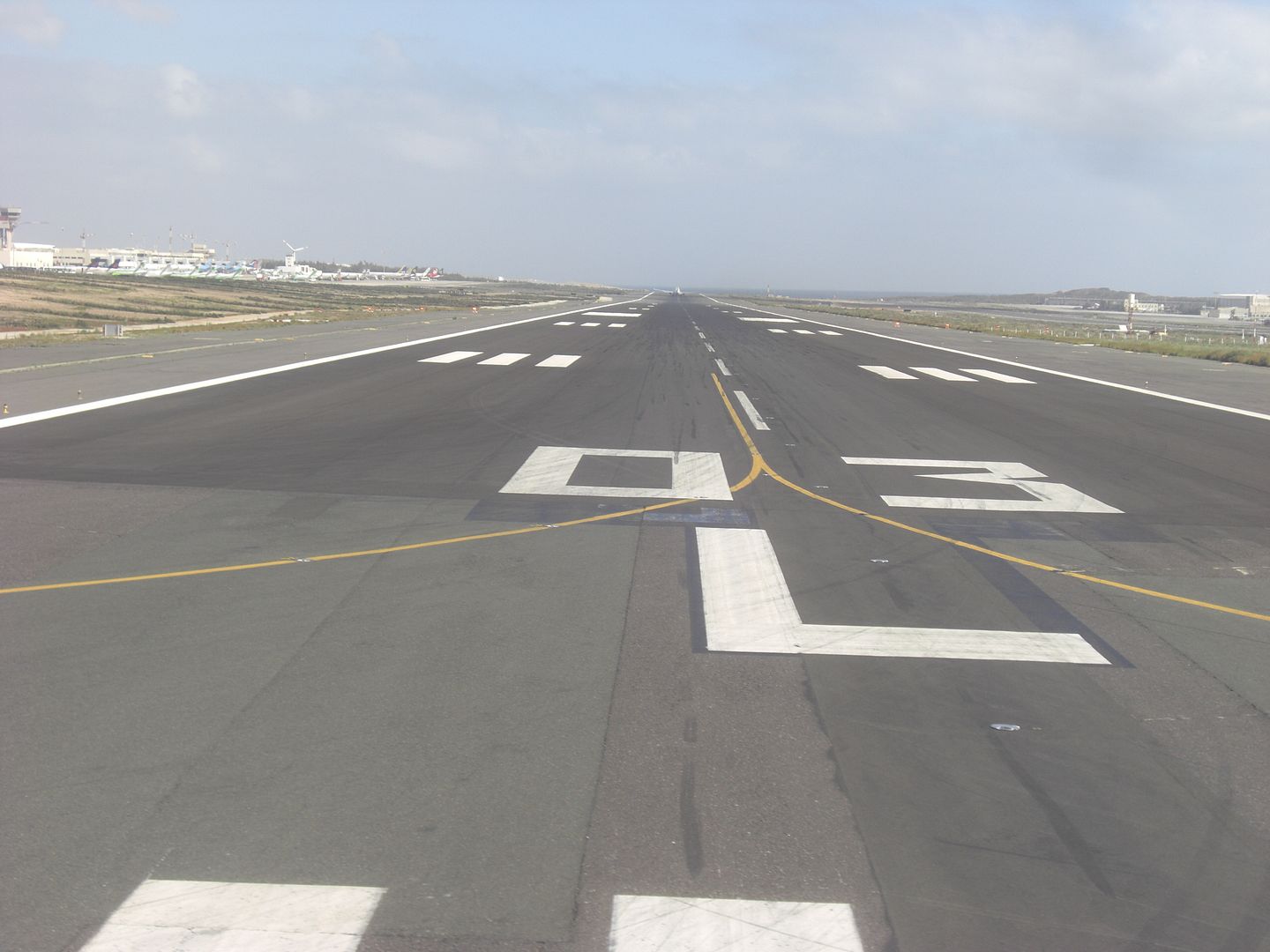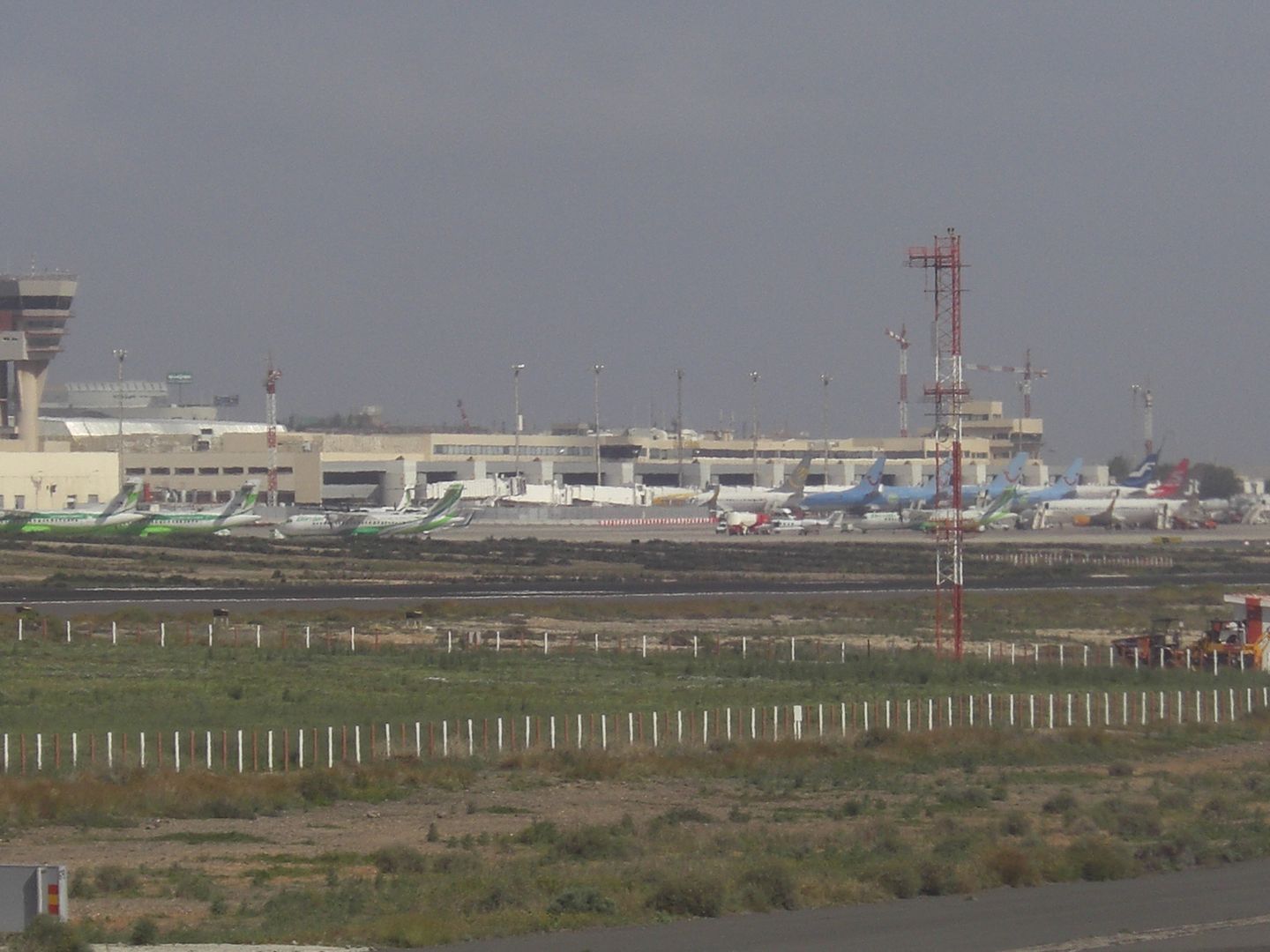 Leaving the lovely and warm Canaries.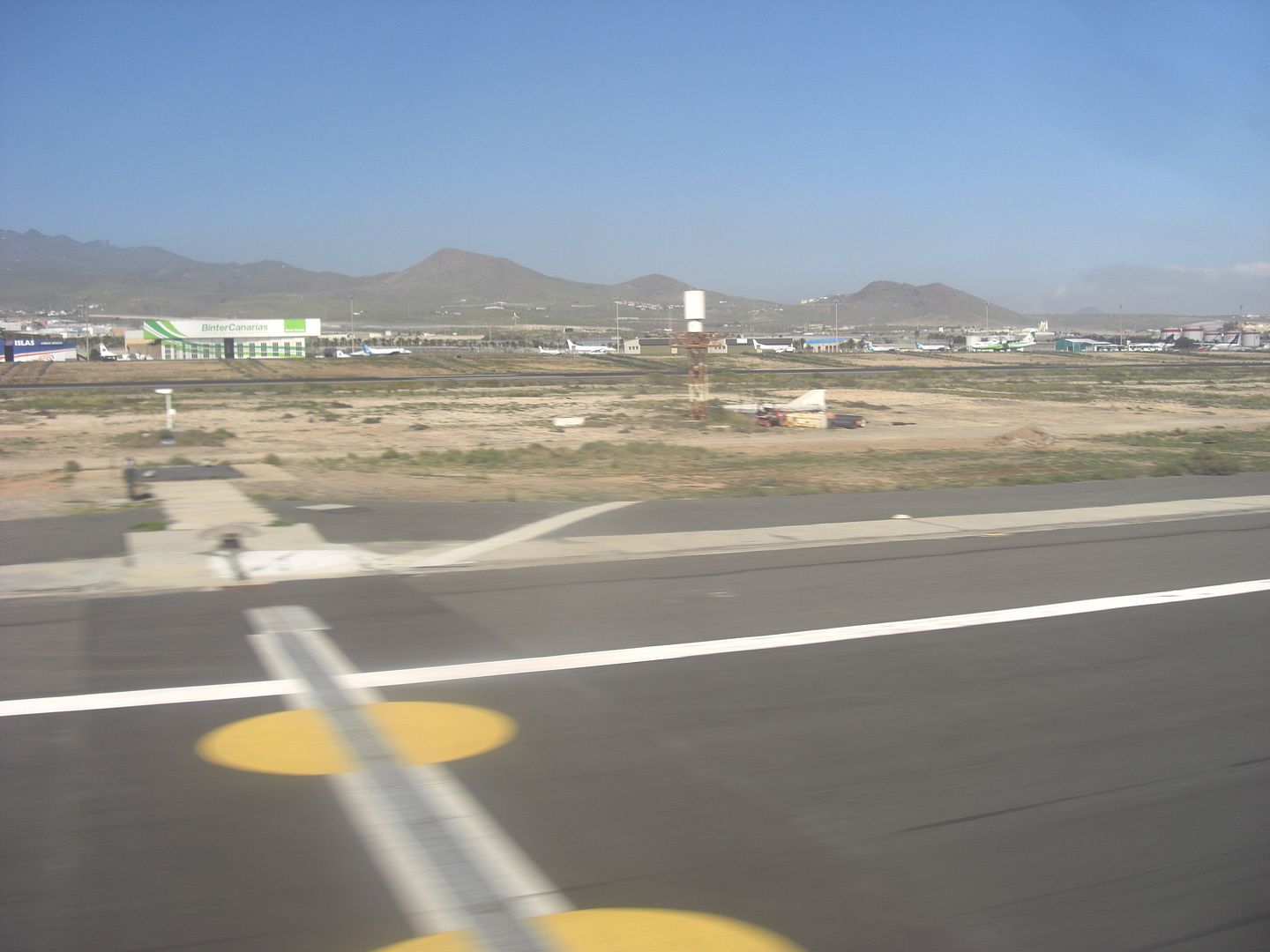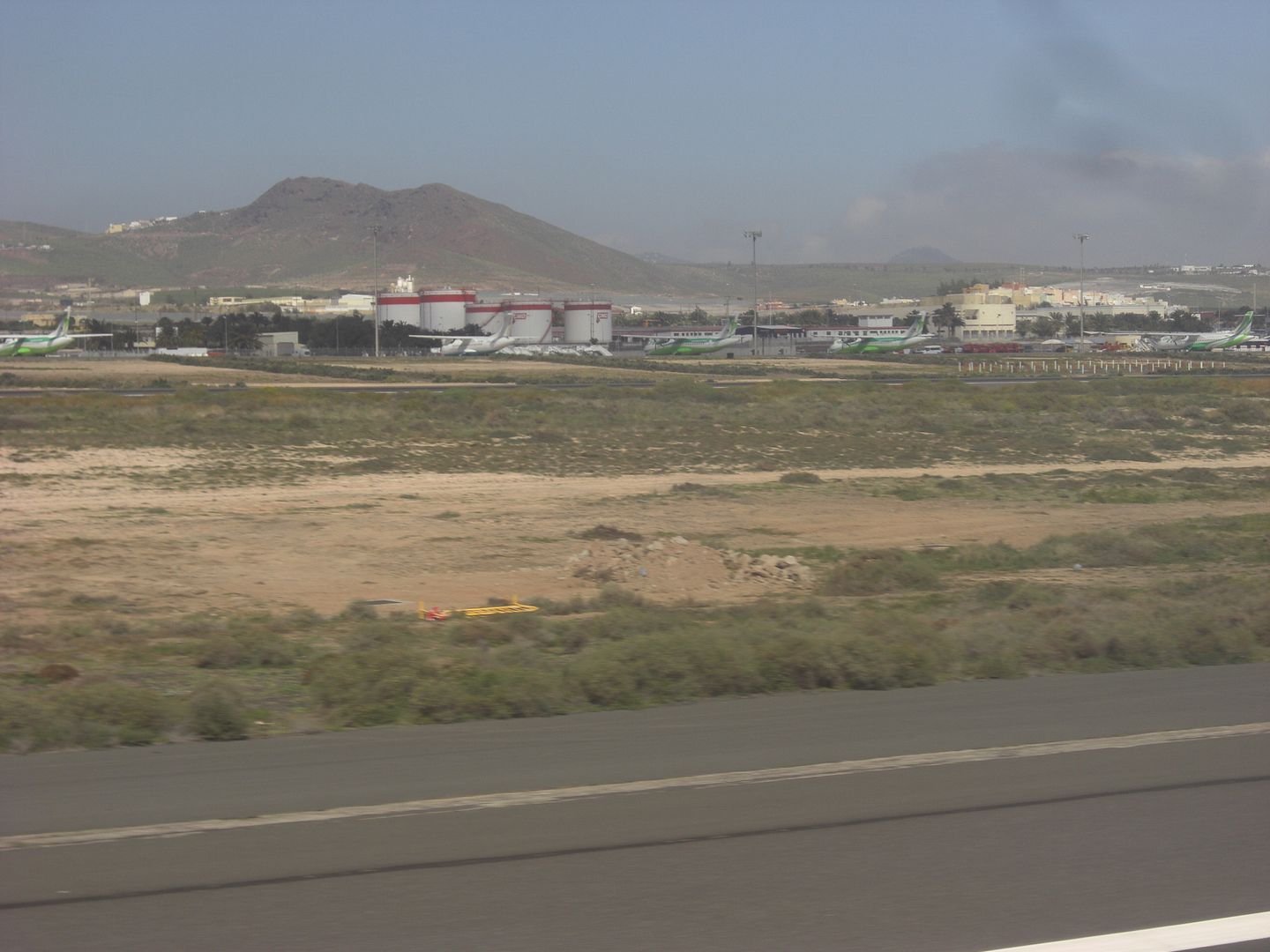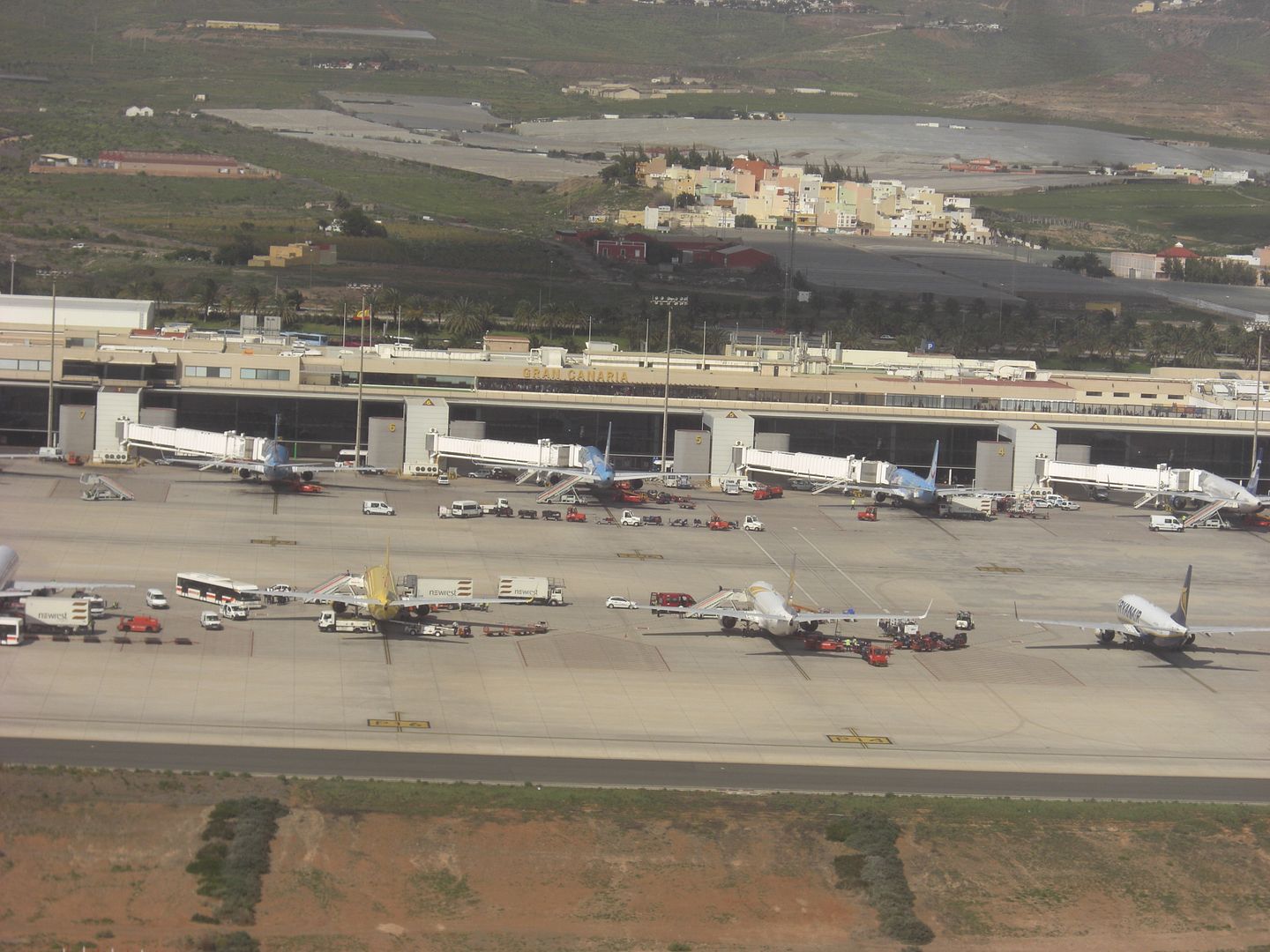 http://my.flightmemory.com/shefgab
Upcoming flights: AMS-RIX-BUD-VDA,ETH-TLV-FCO-LHR,STN-TXL-LCY,LTN-CPH-LTN,LGW-SZG,MUC-LHR