PERSONAL SERVICE ON A CLASSIC PLANE
Background:
As we have so called "winterholidays" in early march here in Germany, I thought, this would be the perfect opportunity to go, or better fly somewhere on a daytrip with my brother, who is a same aviation enthusiast as I am. As I live in central Europe, there are plenty of choices, where one can basically fly in one day.
I surfed a bit through the internet and found out, that Kuwait Airways flew between Rome Fiumicino and Paris Charles de Gaulle.
So I went forward and booked us two oneway tickets in Business class.
When I booked them back in october, the equipment was shown as A340-313X, but it changed one week prior to departure, but lets come to that later on.
To get to Rome, I decided to drive to Paris by car, because at nighttime the motorways are really empty in France and I can make it in about 3 hours, so that was no problem.
Further on, I booked a LH connection to FCO via MUC, a airport, I have never been to, because I normally use the other LH hub in Frankfurt for any longhaul flights, because it is way closer to my home.
But sure, the most important of the day would be the KU flight.
Because KU is not that known, I will give you a short overview from Wikipedia:
Following the oil boom of the 1940s the Kuwait Airways Company was formed in 1954, initially it served a limited network of Abadan, Beirut, Damascus and Jerusalem but a year later the fledgling carrier was facing economic hardship, and the government of Kuwait took a 50% interest in the airline, subsequently doubling the company's capital. The government later increased it sahreholding to 100%.
Kuwait Airways entered the jet age in 1962 by leasing a Comet 4-C, the world's first jet-engined airliner. In the 1960s, the national carrier rapidly expanded its route map, and scheduled services to London begun three times a week. To keep pace with fast-moving aviation needs, three Boeing 707s were delivered in 1968. Ten years later, Kuwait Airways had an all -Boeing 707 fleet of eight aircraft.
In 1978, Kuwait Airways entered the wide-body age by taking delivery of its first two B747-200s, adding a third the following year. This expansion permitted Kuwait Airways to extend its network to New York to the west and Manila to the east.
Modernization of the fleet continued, and four Boeing 727 were delivered in 1980-1981. Two years later eight Airbus A310 and Airbus A300-600were delivered, and in 1986 three Boeing 767-200ER aircraft joined the wide-body fleet.
Following the destruction of its premises and 42 of its aircraft during the Iraqi invasion of Kuwait, the airline was relaunched. Kuwait Airways fleet now comprises four A320-200, three A310-300, five A300-605R, five A340-300 and two Boeing 777-200ER, bringing the fleet to 20 aircraft.
Kuwait Airways aims to re-establish its network to reach more than 47 countries around the globe with a firm commitment to providing the finest service and comfort to passengers while continuing to rank safety as one of highest priorities.
For a very detailed report of the Economy class of KU, please read the tripreport of fellow A.net member Planehunter, who did a execellent job:
Fifth Freedom Tidbit: Kuwait Airways A300-600
(by
PlaneHunter
Dec 2 2010 in Trip Reports)
The day of travel: 08.03.2011
made by gcmap.com
With an 8.45 AM departure at CDG, I set my alarm at 2 AM, which is normally kind of way too early for me, but for some flying it's no problem at all.
We left the house at about 2.45 AM, and after about three and a half hours, we arrived at CDG terminal one, where LH is based in Paris.
the Concorde welcoming us
After printing out our boarding passes, the seats I have choosen already at home the day before, we made our way through security, which was a breeze.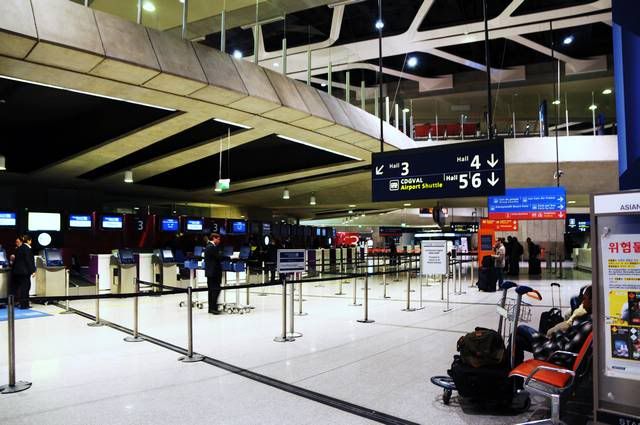 Once airside, there is not that much to do in the LH satelite, but they offered 30mins of free wifi and also had a pretty good view on one of the runways.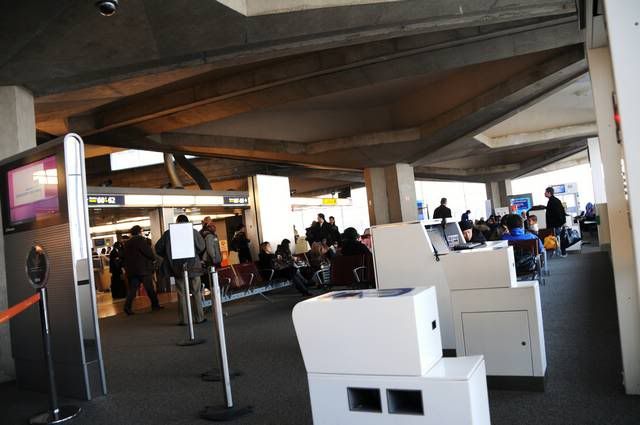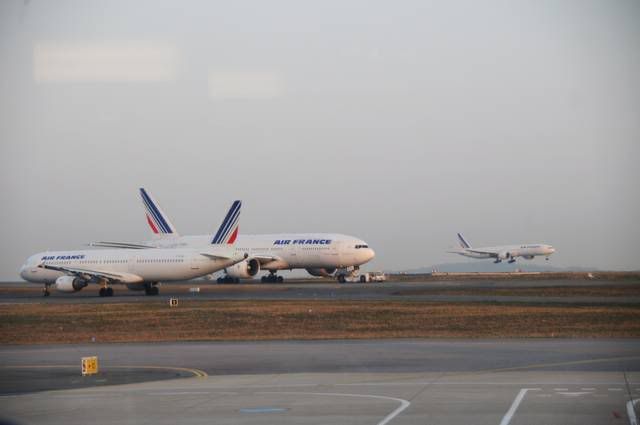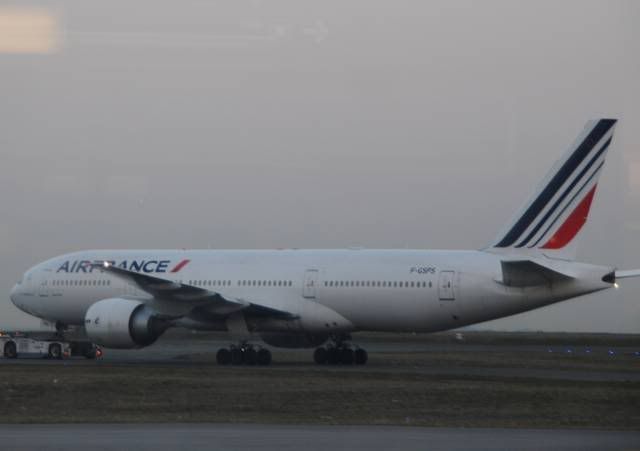 AF on the homebase CDG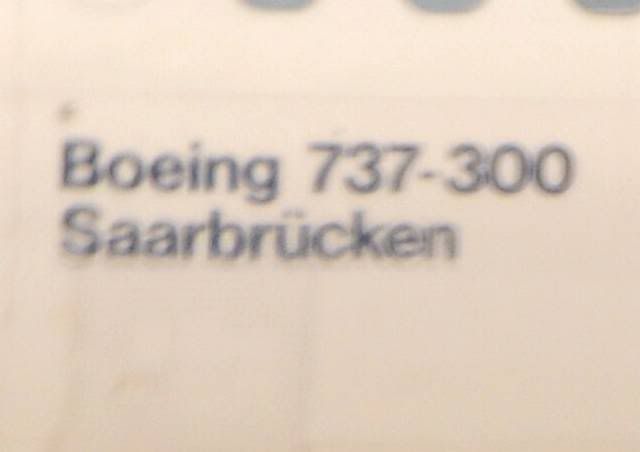 always good to feel home
Boarding for our flight started at about 8.20.
The flight:
CDG - MUC
Lufthansa LH2227
A320-200 D-AIZA
Pushback: 8.44 AM
Takeoff: 8.54 AM
Landing: 10.12 AM
Parkingposition: 10.17 AM
Flight duration: 1:18 h
Load: ~ 65%
http://www.airliners.net/photo/Lufth...d=2d9e72b69343431a598bf5c65559e57b
http://www.airliners.net/photo/Lufth...d=2d9e72b69343431a598bf5c65559e57b
My first thought, when I entered the plane, was "wow, that still smells and look like factory fresh", even if our bird was delivered in summer 2009. That proves again, that the maintenance of LH is very good.
My seat, 28A was in the last row, as this is my favorite one, and luckily I had the three seats to myself, what a perfect start of the day.
Three female F/A were on our flight to Munich and the one in the back was nice and friendly.
The boarding was finished soon afterwards, and we started our pushback, which was followed by a short taxi to the runway.
In the meantime, the F/A made the safety instruction and the cockpitcrew came over the PA to give the passengers some flightdetails.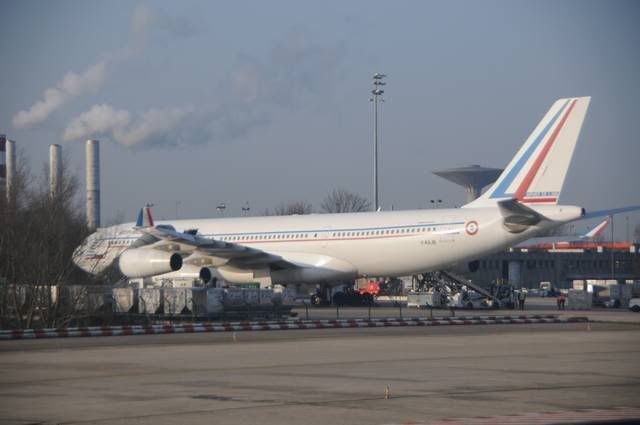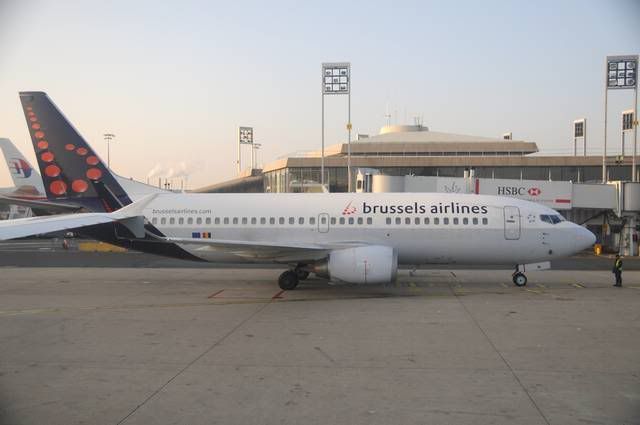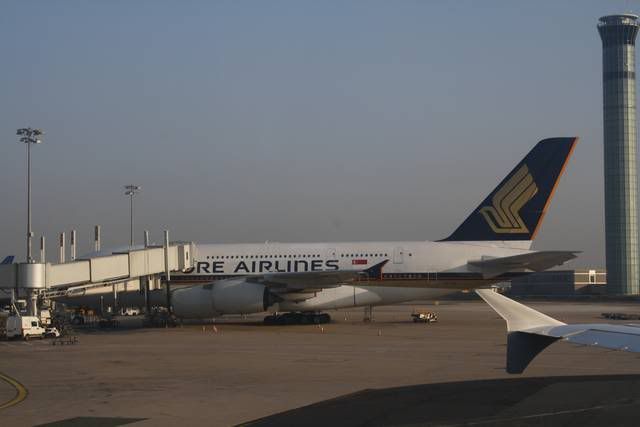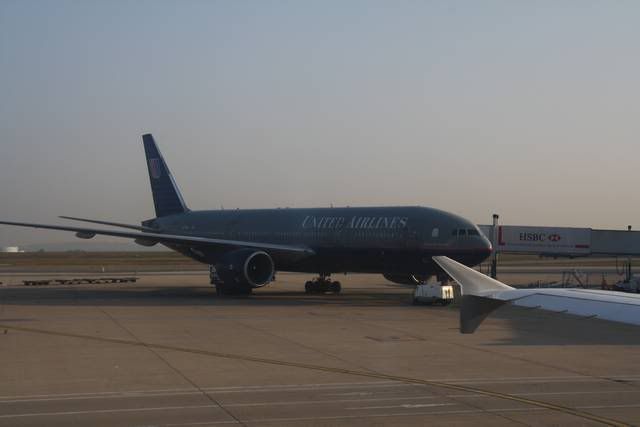 After a powerful takeoff run, we made our way into the cloudless French sky.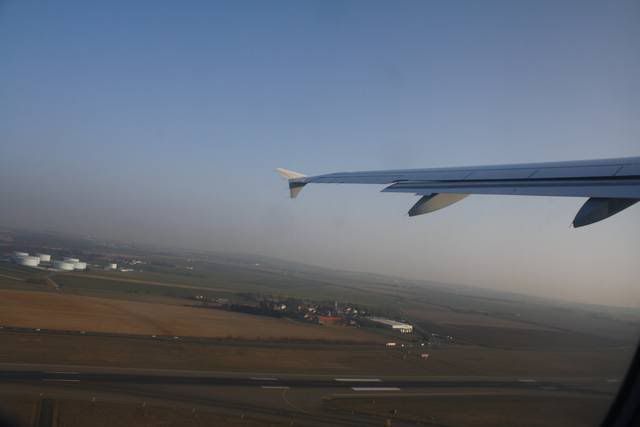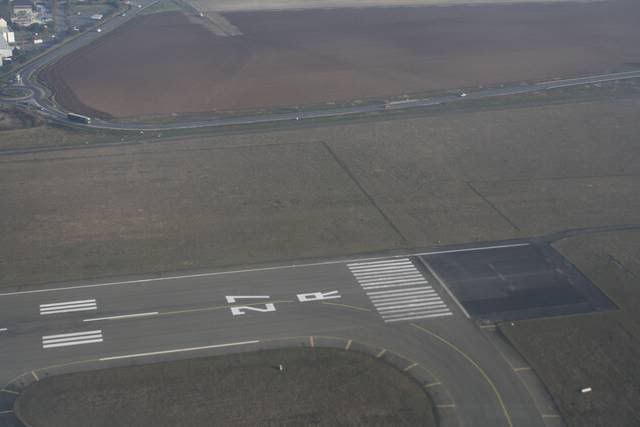 The service began about 10 mins into the flight and consisted of a bread bar and hot and cold beverages.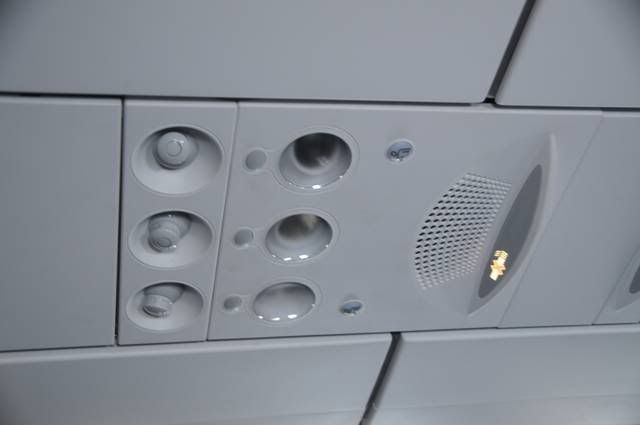 I opted for a coffee and a orangejuice, in my opinion, the perfect combination for a good start of the day.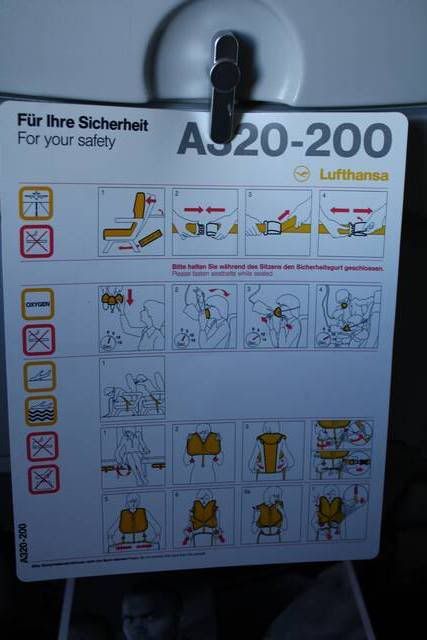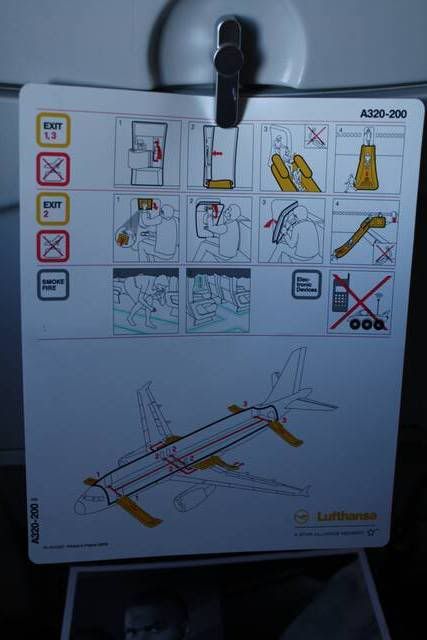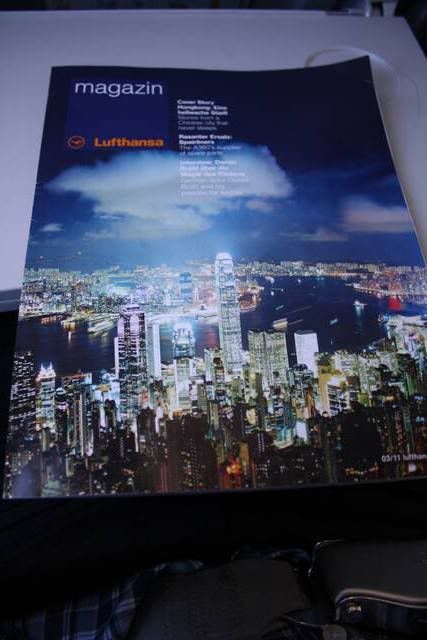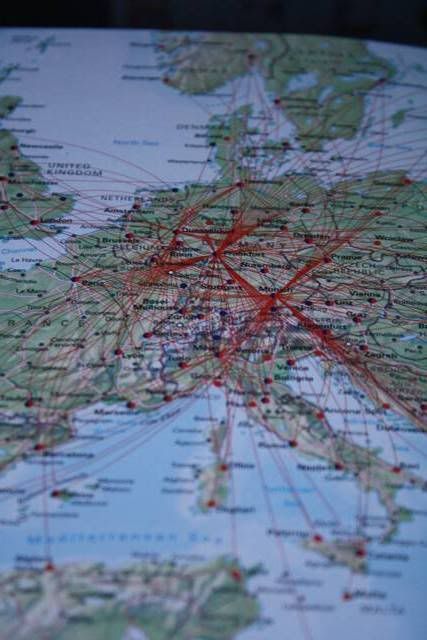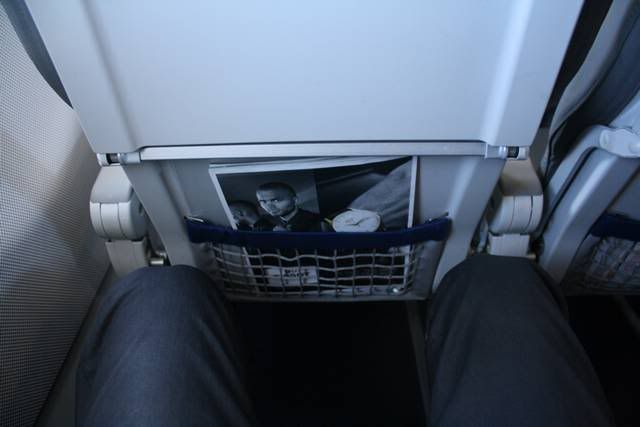 A nice surprise was that, we flew right over Frankfurt Airport and it gave me a perfect overview, how far they are with their new runway.
Soon we started our decent into MUC, and after 1:18h, we touched down on the "Erdinger Moos".
After a short taxi, we reached our parkingposition, a bus gate, which I always prefer over any jetbridge, as there are more possibilities to take pictures.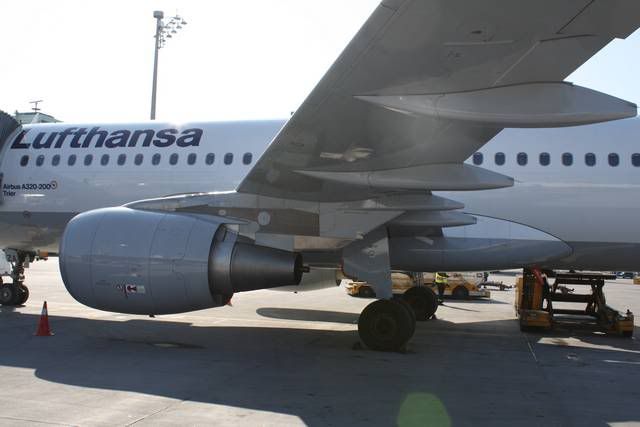 Transit in Munich:
We arrived at Terminal 2, which is only used by LH, its regional partners and Staralliance carriers.
My first impression was, that this is so much better than the old T1 in Frankfurt. It was very bright and had glass everywhere.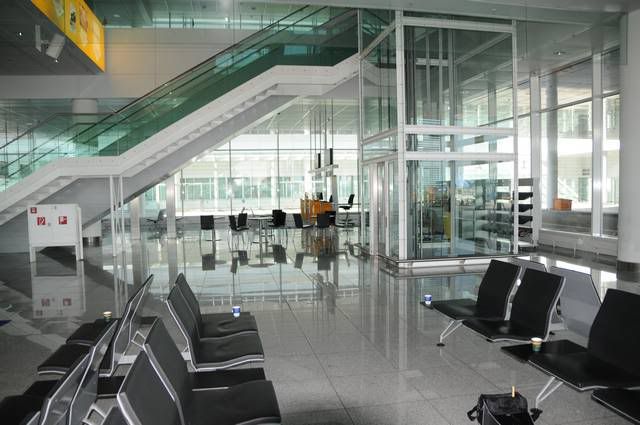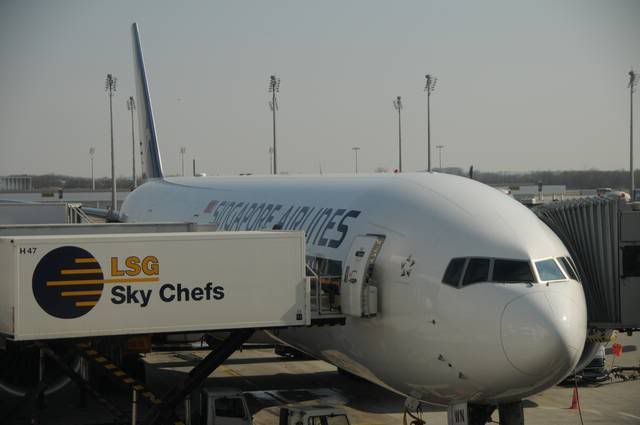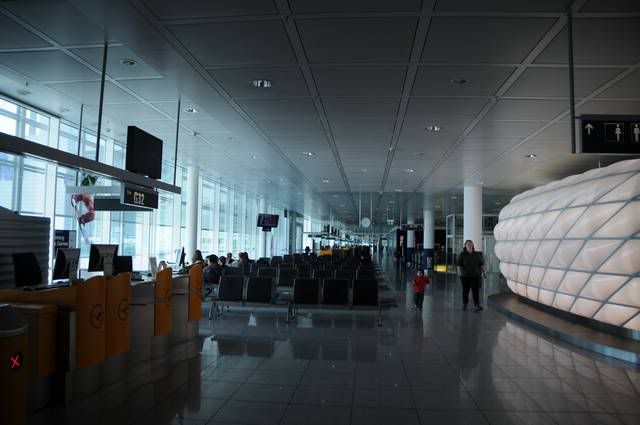 On the FIDS our onward flight to FCO was delayed, but as we had more than three hours in FCO, I was not worried.
The most amazing in MUC, I think is, that everywhere are free coffee machines and newspaperstands.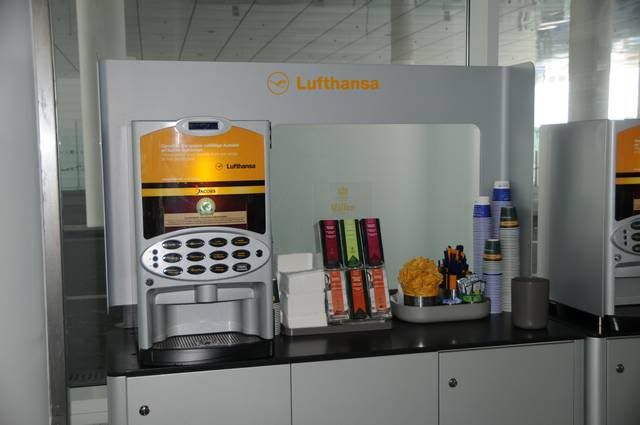 Our flight was delayed by about 50mins, as I was informed by LH via the SMS service.
At 12:30, the boarding started, and this time it was another busgate.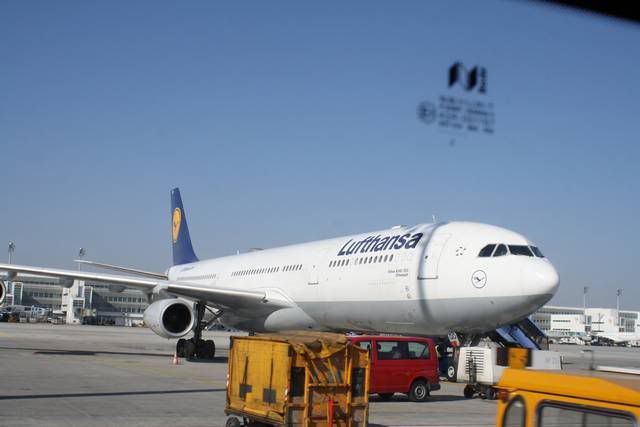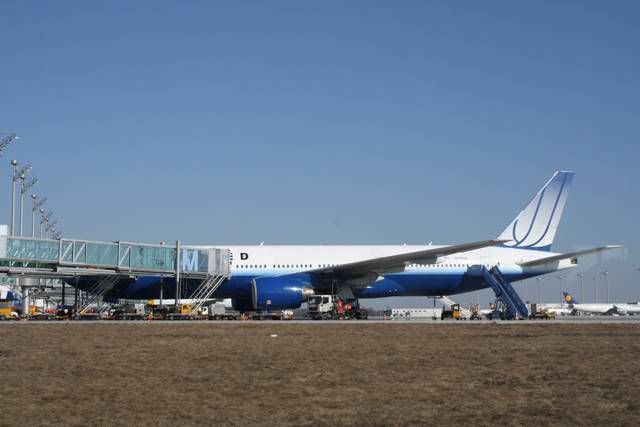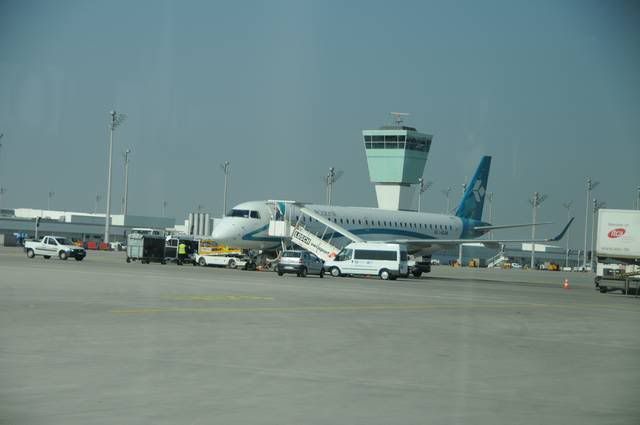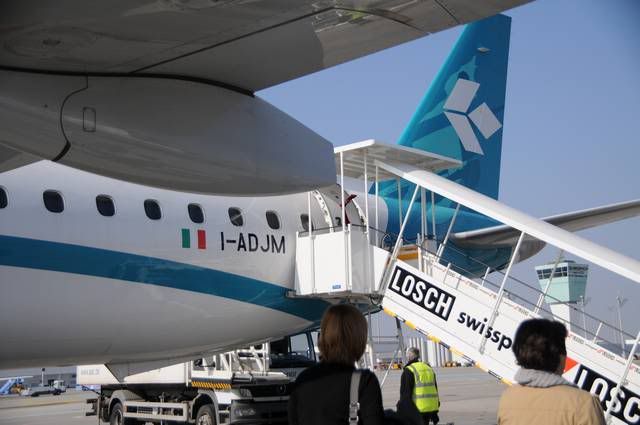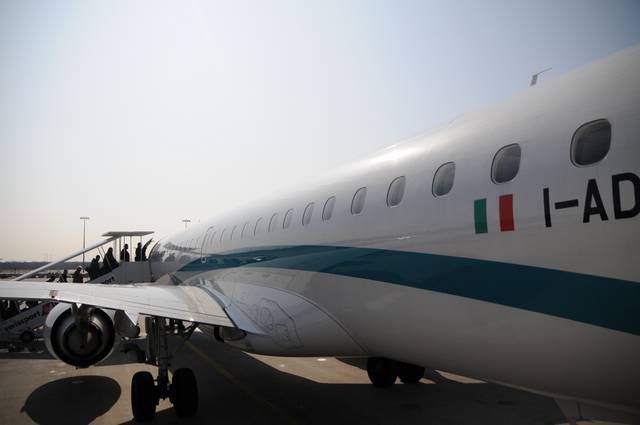 The flight:
MUC - FCO
Air Dolomiti LH1844
E195 I-ADJM
Pushback: 12.38PM
Takeoff: 12.44PM
Landing: 1.52PM
Parkingposition: 2.00PM
Flight duration: 1:08h
Load: ~ 90%
http://www.airliners.net/photo/Air-D...d=710c9c35a3e9867b8bccd5061fcbfc5e
http://www.airliners.net/photo/Air-D...d=710c9c35a3e9867b8bccd5061fcbfc5e
At the backdoor, we were greeted by two friendly italian female F/A, who also spoke german fluently.
This time I had seat 28A again, which is the fourth last row in the E-jet.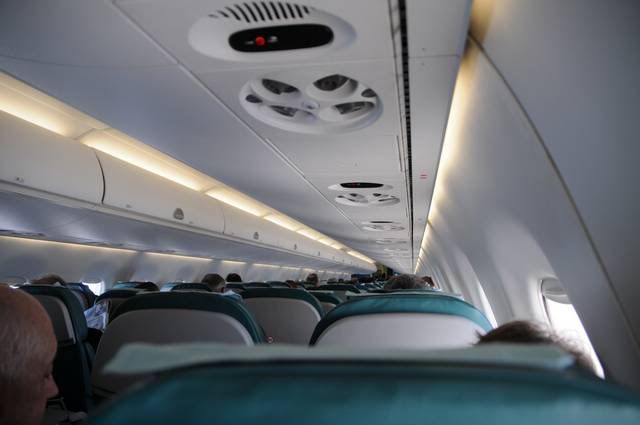 Unfortunately this time, the seat next to my was occupied by a French guy, who did not talk anythink at all.
Short afterwards, the boarding was finished and we made our way to Italy.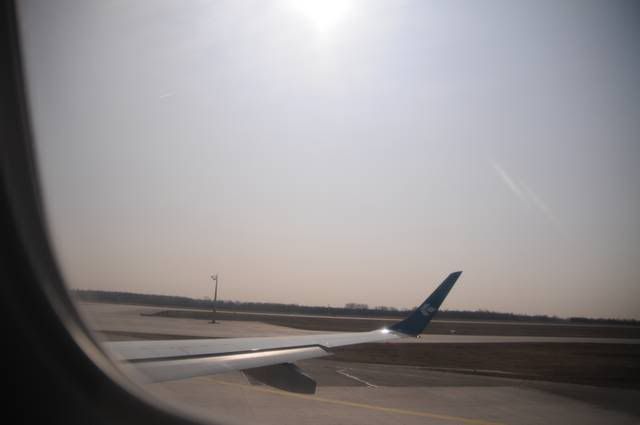 After the seatbelt signs were switched off, the service began and consisted of an italianstyle sandwich and drinks, I had a coke and a coffee.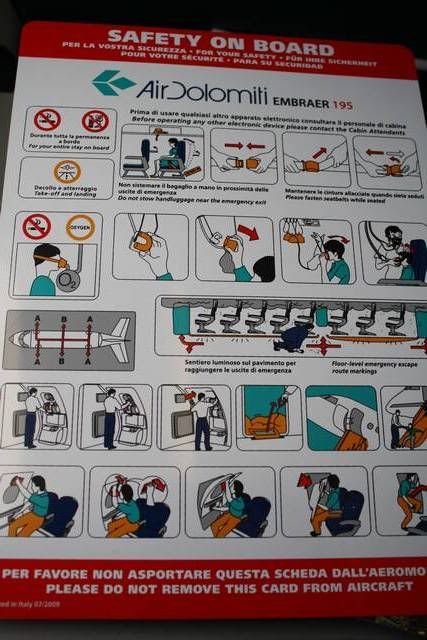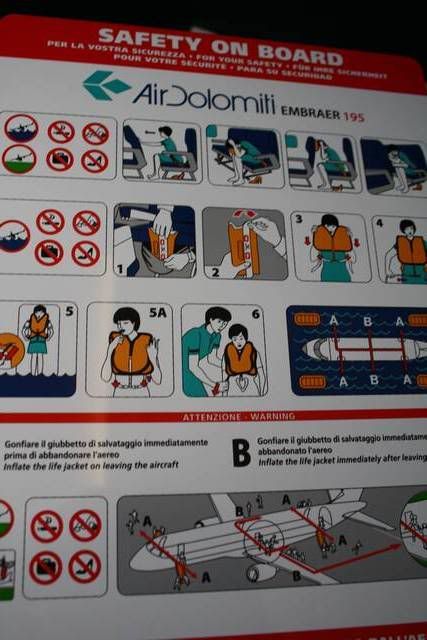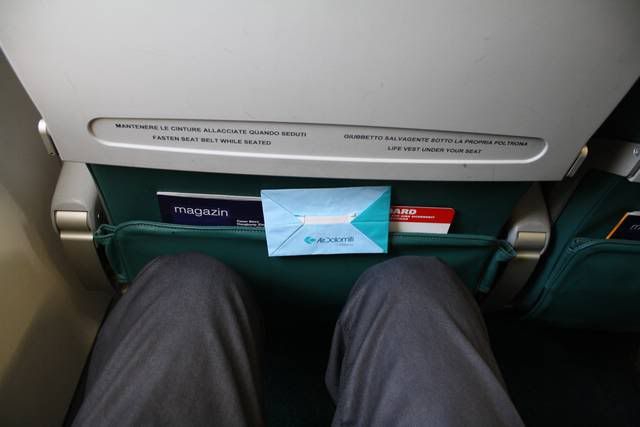 Without any cloud, we had amazing view on the alps, perfect for eating and looking out of the window.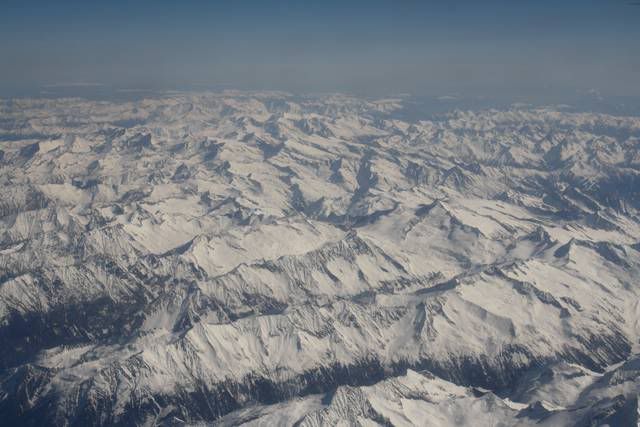 Our flightpath was over Venice, Bologna, Florence and down to Rome.
The rest of the flight was uneventful, but still very nice.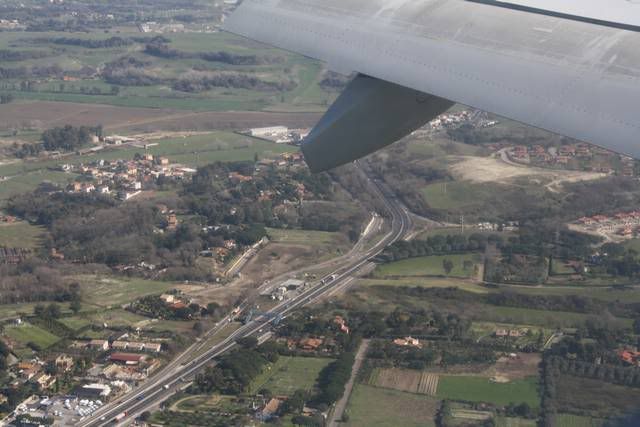 After a flying time of 1:08h, we touched down at FCO and made our way to Termial 3, where most non-Alitalia airlines are located.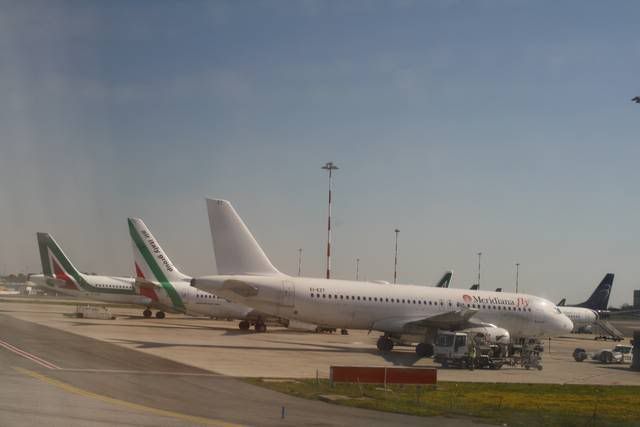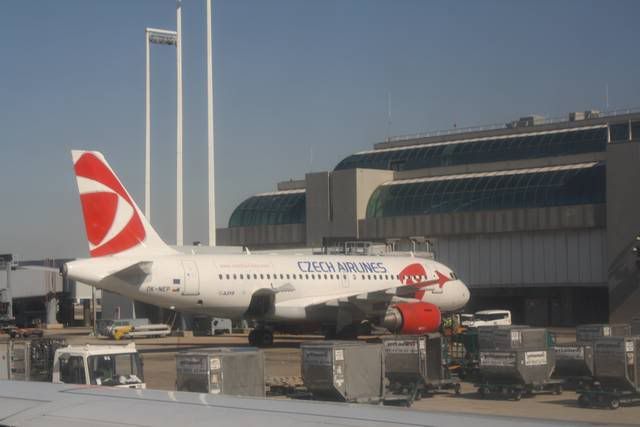 Transit in FCO:
As KU has no transfer desk in FCO and also does not offer online check in for departure in Rome, we had to leave the transit and entered the normal check-in hall, which look dirty and not nice at all.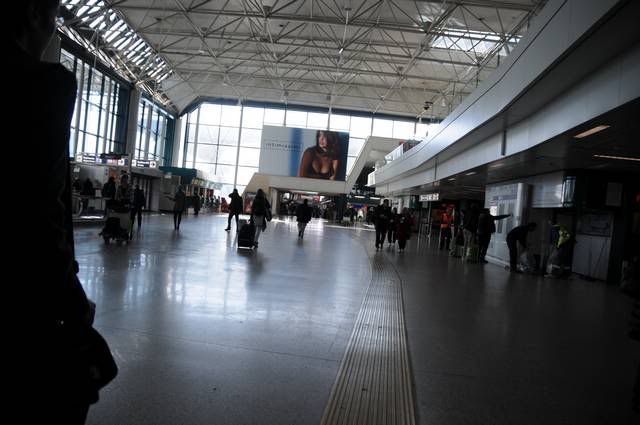 The KU check-in was guarded by two police officers, but we recieved our boarding passes in no time and made our way to security again.
Security was no problem at all and we were through in about 2mins.
The funniest part comes now: We had to go to the concourse or satelite G and had to go through a passport control again, but the italian officer thought it was the wrong way and didnt know that there are gates on the other side too, but finally after another one came, we were let through. You should have seen the face of the officer.
A people mover train brought us to the G satelite, where we firstly headed to the Le Anfore lounge.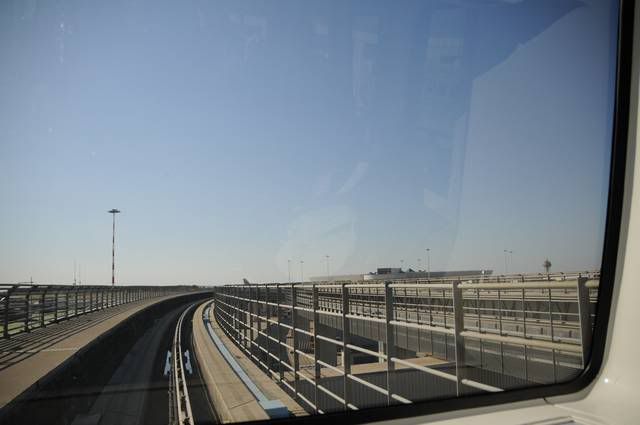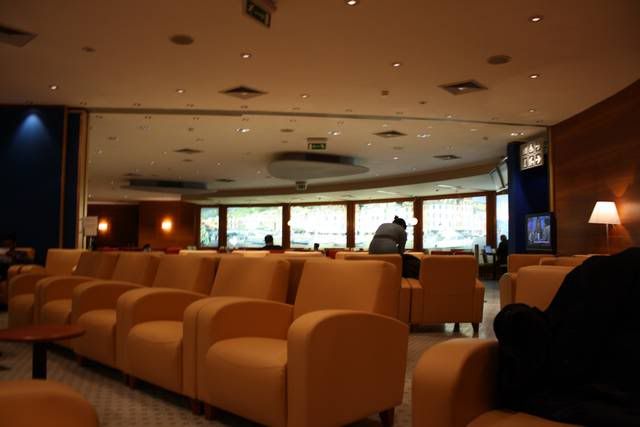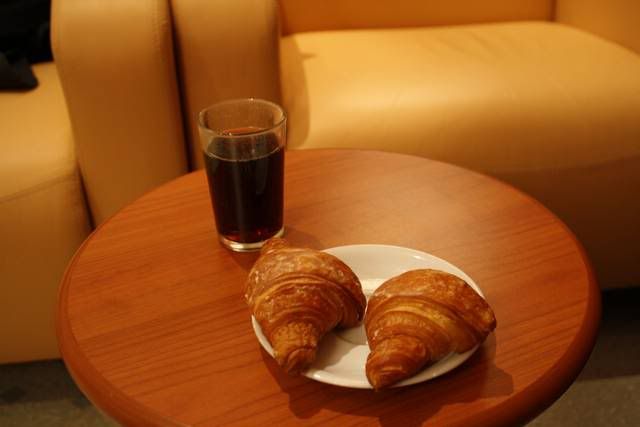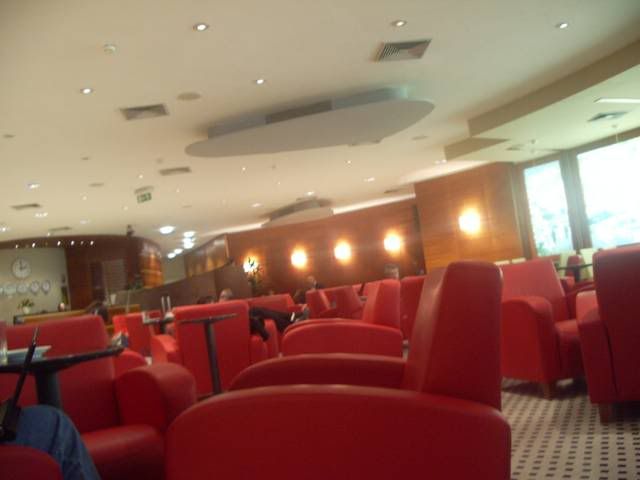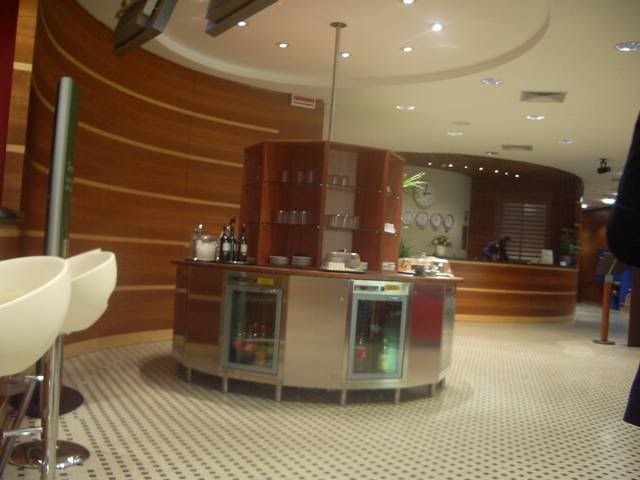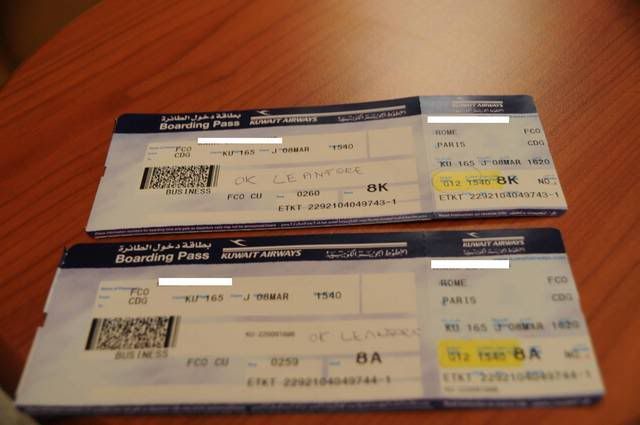 The lounge itself was nothing special, the food and drink choice was very limited, but the seats were comfortable and they had a FIDS.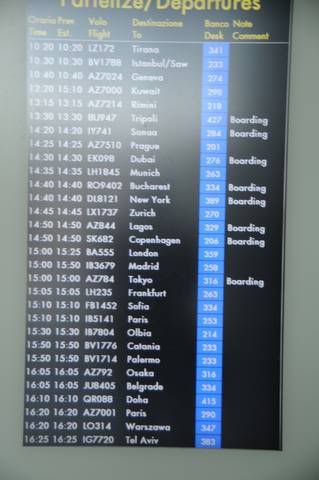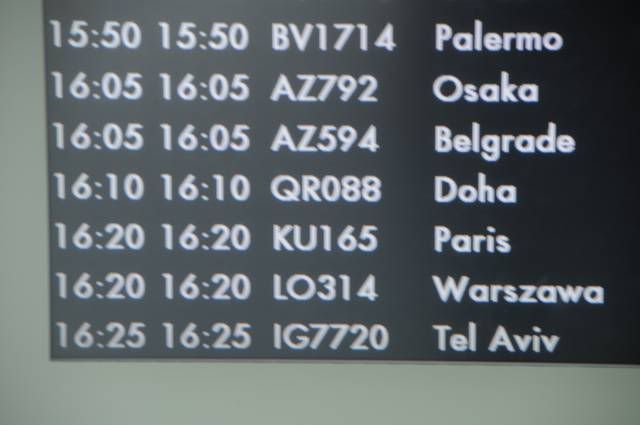 After 30mins in the lounge, we went upstairs again to take some shots of planes, and luckily our bird arrived on time.
I was a bit worried, because the KU plane to Kuwait was delayed by some 3 hours, so we could see both A300s in FCO, to my favor, the equipment of our flight changed, because the A300 is rarer than any A340.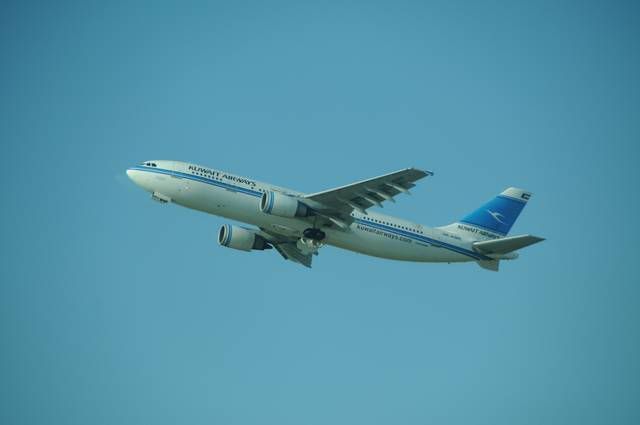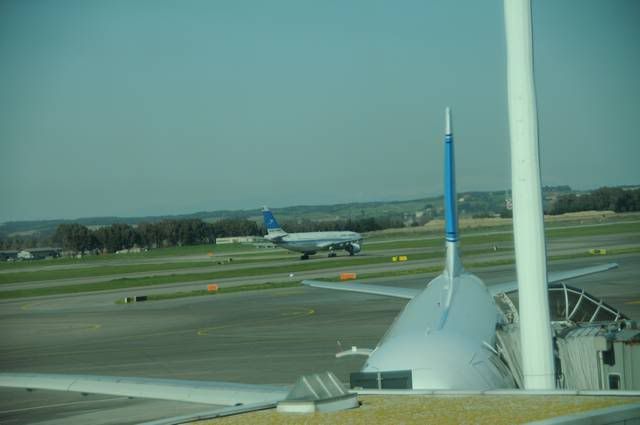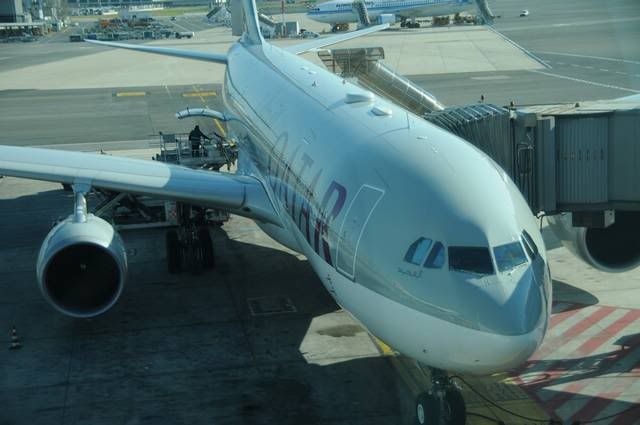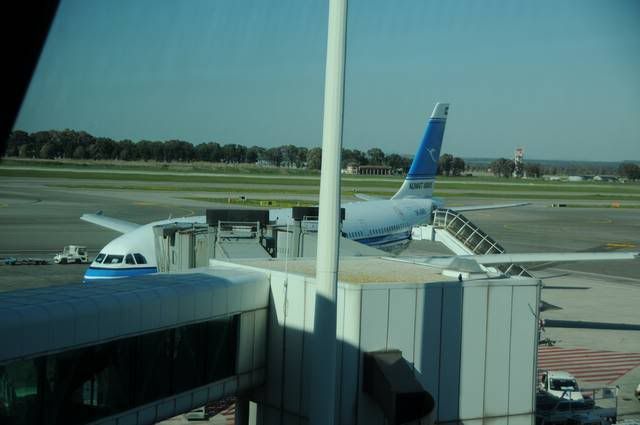 Soon it was time to board and I was really looking forward to KU.
The flight:
FCO - CDG
Kuwait Airways KU165
A300-600 9K-AMB
Pushback: 4.19 PM
Takeoff: 4.34 PM
Landing: 6.07 PM
Parkingposition: 6.17 PM
Flight duration: 1:33h
Load: 80-90% in Y
55% in J
~ 50% in F
http://www.airliners.net/photo/Kuwai...d=52f370b2bbaf565a8700078a3bbbf26b
http://www.airliners.net/photo/Kuwai...d=52f370b2bbaf565a8700078a3bbbf26b
After reading some reviews on KU, i was a bit worried how it would be, but nothing is right, and this was by far my best flight, beating LH, SQ and all the others.
We were greeted by 3 F/A, two younger female ones and one older male, which all were incrediblely friendly.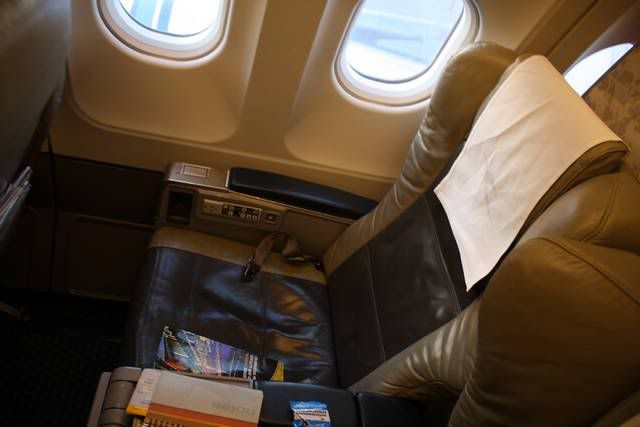 I was let to the seat 8F by Afshar, who was in my aisle. She brought me a pre-takeoff drink, a orange juice in my case, some arabic coffee and some nuts, which tasted very good.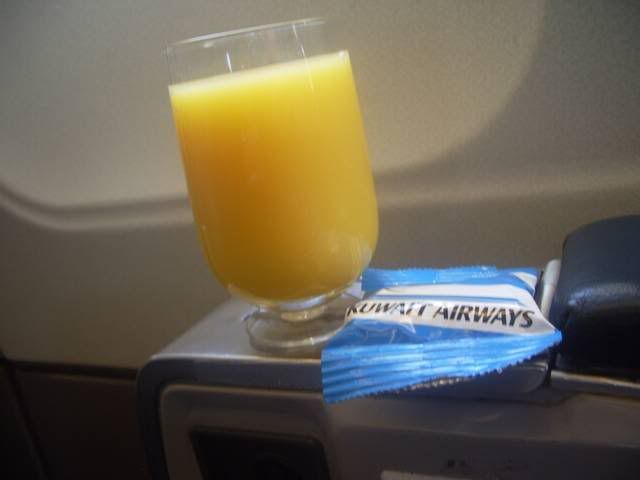 Soon the boarding was finished, there were only about 30 people, going on board in Rome, as this was a fith-freedom flight and most of the passengers came from KWI.
The safetly instruction was played on the overhead screen in arabic and english.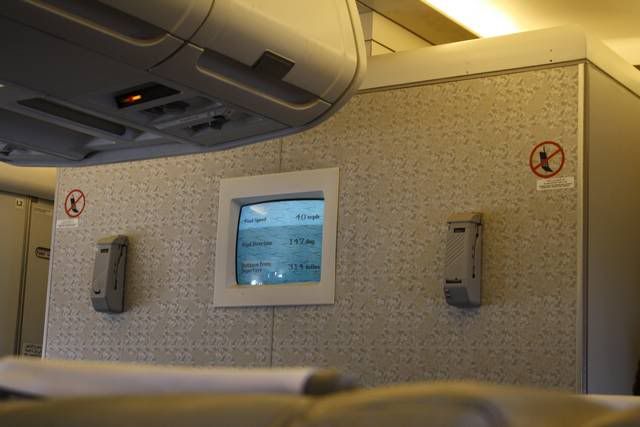 I just love the sound of those engines, and we made our way into the sky.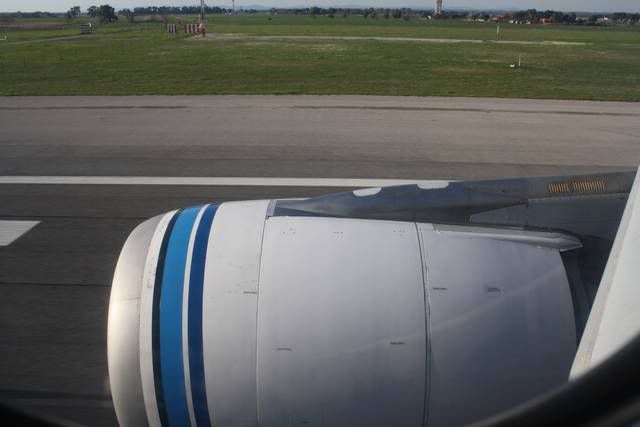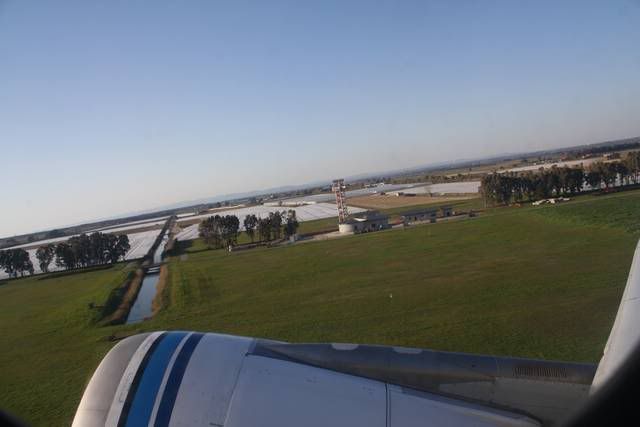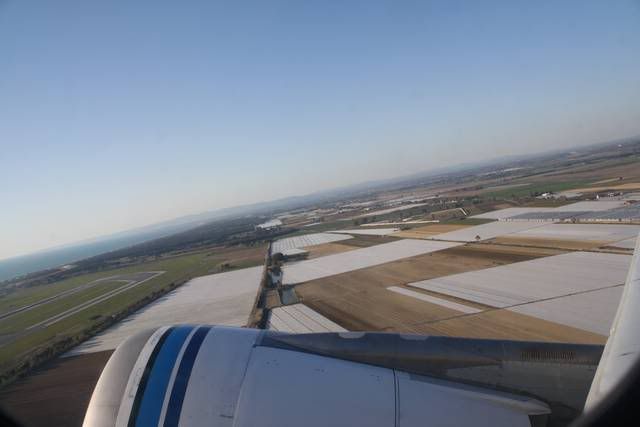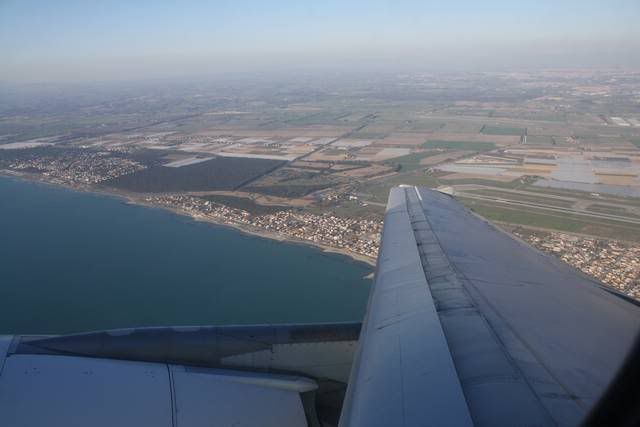 Shortly afterwards, after the seatbelt sign was switched off, Afshar came to me and brought a hot towel and talked a bit to me, she also knew some basic german which was nice.
I also turned on the PTV and my favorite channel, the airshow.
Soon, the meal was handed out and it consited of some typical arabic food pieces, which I could not really identify but tasted very good.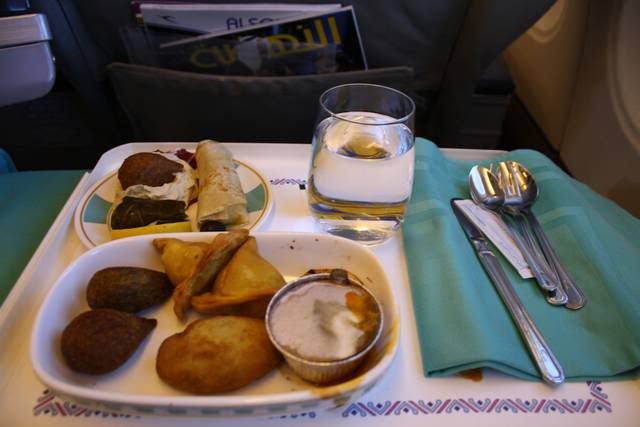 Water was also handed out.
By far the best part, was the small cake with vanilla sauce. It was so smooth and tasty. Some coffee was served with it.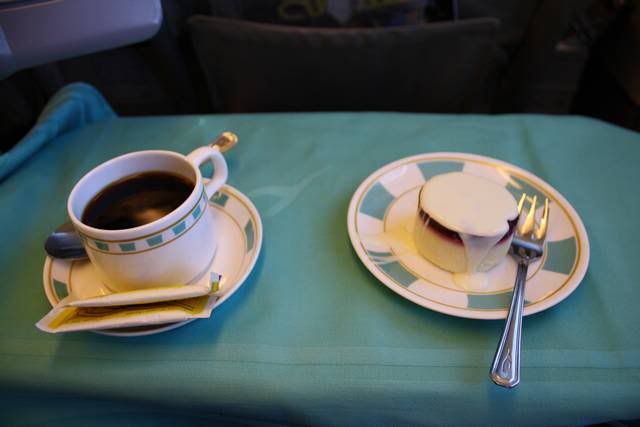 Afshar came again after the meal to collect the plates and for a little chat.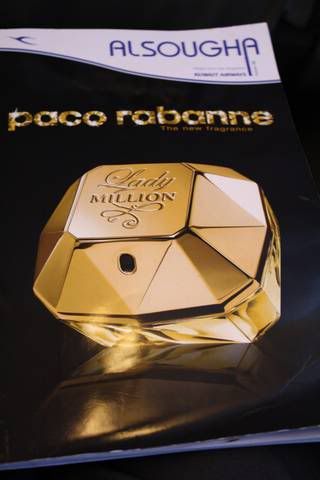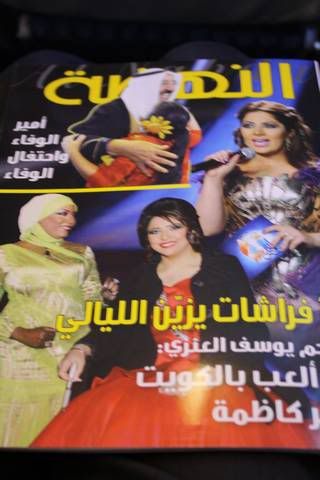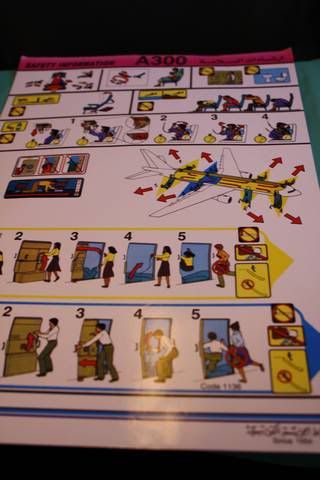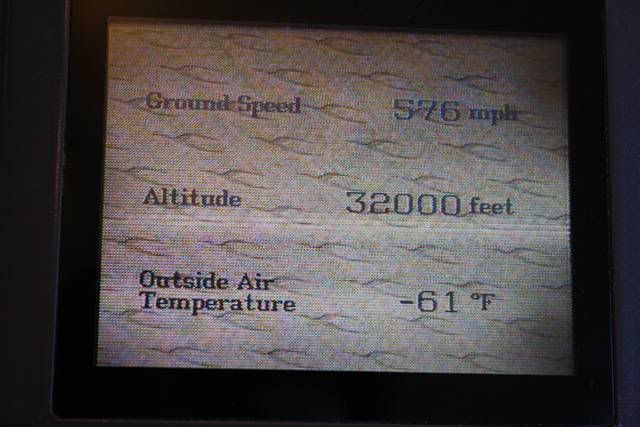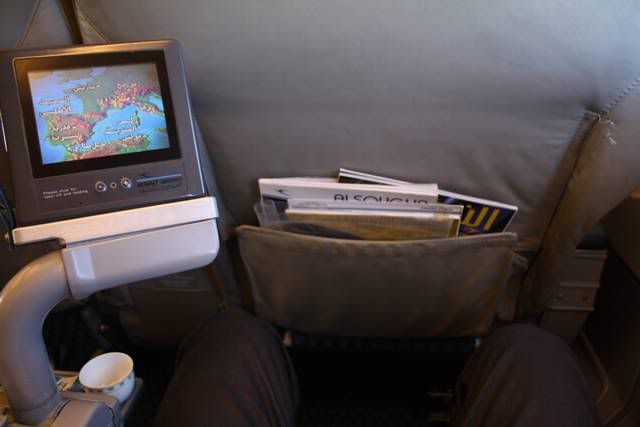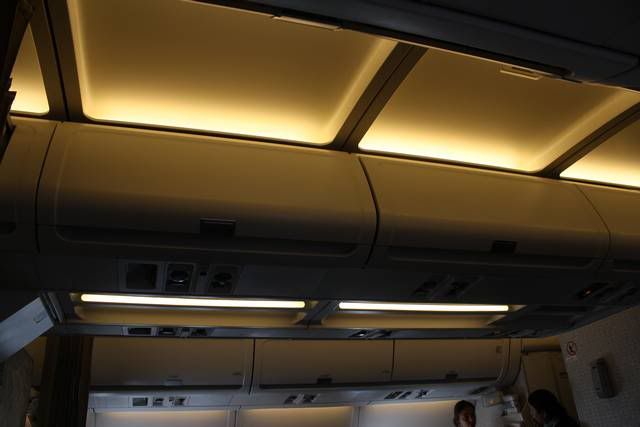 Far too soon, the descend into CDG started and we touched down after a flying time of 1.33h.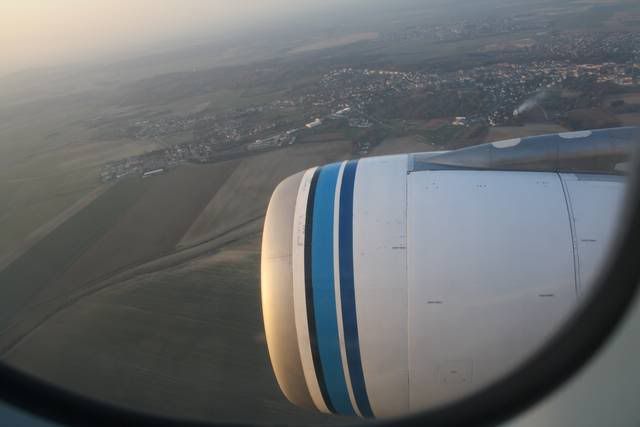 As we reached the airbridge, the economy passengers were hold until the Business and First class deplaned. I was the last one in the J-section and Afshar asked as a joke if I wanted to stay overnight in the plane, I would not have minded. I thanked her for the very personal service and had to go out of the plane, which was a bit sad.
Conclusion:
The Lufthansa flight was as professional as always and their planes are in an excellent shape.
Air Dolomiti is a nice small airline, which provides better service than mainline LH and if they fly the route I would definately go with them.
By far the best on the day was Kuwait Airways. First I got the rare A300, the service was very good and the F/A were just amazing. You have earned my trust.
Also a big thank you for my brother, who joined me on this trip and also took some photos, featured in this report.
If anything is missing, I'm sorry, i am still a bit tired of the trip yesterday.
Comments are highly welcome.
Thank you a lot for reading
Cheers
Johannes