Farewell to the Jumbo
Singapore Airlines Boeing 747-400
I am sure there will be a number of trip reports concerning the departure of Boeing 747-400 on Singapore Airlines' signature routes from Singapore to Los Angeles via Tokyo Narita. The "Mega-Tops" began its history of serving SQ long haul destination in 1989, and twenty-two years later, LAX and JFK are one of the few destinations that these jumbo planes touched down everyday. When I booked this ticket using my Delta Sky Miles, my motive was simply to issue one SQ first class ticket before Delta ended its mileage partnership with Singapore Airlines. However late last year, SQ has decided to introduce A380 on this LAX-NRT-SIN-NRT-LAX route, and this flight became a farewell trip to the Jumbo (of course the return flight will become a trip of a lifetime)! The photos are limited as most of you can easily find pictures of SQ Boeing 747-400 Skysuites. Despite the older seats, they are still comfortable and the service remains top notch, and unlike CX, SQ service remains impressive and the onboard products remain good. The meals are excellent as usual, and the two set of F/As are some of the best by SQ. There is no question in my mind why Singapore Airlines remains the top airline in the world all these years. As a first class passenger, you receive the full attention. For those who want to view the full album of 190+ pictures, please look at the shutterfly link!
March 3, 2011; Thursday
SQ 11 LAX-NRT Lv1315 Arr1755+1 Boeing 747-400 9V-SPN
Connect to March 4, 2011; Friday
SQ 11 NRT-SIN Lv1900 ARr0140+1 Boeing 747-400 9V-SPN
Photo link:
http://share.shutterfly.com/action/welcome?sid=8QbNHDNy5bqTFQ
Booking:
Delta surprisingly has a decent access to first class award seats on Singapore Airlines and this option to issue SQ tickets will be deeply missed. Getting a seat assignment on SQ is relatively simple. I just got the SQ confirmation code from Delta agent, and went on to SQ website and following the instruction on "Manage my Booking". Seat selection is straightforward and even during aircraft change later! It is a nice feature.
Check-in: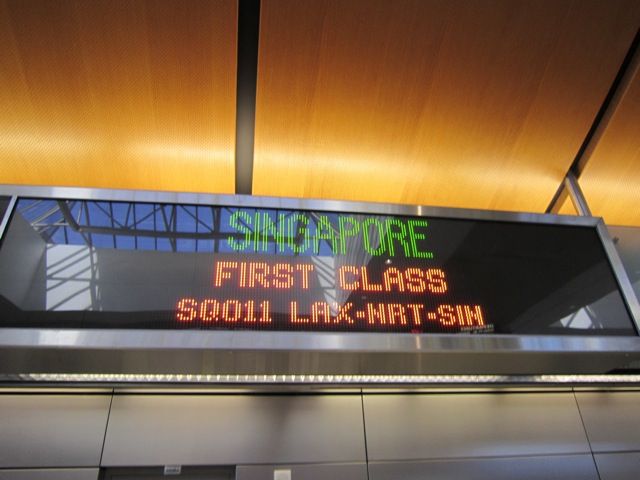 Singapore Airlines uses Tom Bradley International Terminal, and there are separate lines for first, business and economy passengers, as well as Internet check-in/web bag drop. The counters are all relatively quiet and first class line has no wait. The agent immediately greeted me upon arrival and minutes later, I was handed the boarding pass and was asked if I know where the lounge was. Fast track/premium line was available at TBIT this afternoon, and things were quiet in general.
Lounge:
Star Alliance lounge at LAX has become a familiar place for me and I was glad that the elevator worked today. Lounge was fine with a few passengers on my flight, as well as a few European passengers on the later Lufthansa flights. Turkish Airlines was launching its Istanbul flight on this day, but not much special scene except a few Turkish staff exploring the facilities and getting familiar with LAX. However I spotted balloons to be used later. The SQ dedicated agent informed me that she has left the new Strait times out, as well as informing me the boarding time.
Plane-spotting:
Most of the pictures were taken earlier in the day, while I was waiting in the Alaska Airlines lounge after arriving around 9am from Portland. I love the Board Room because of its great window view of all the actions at R/W24 and Tom Bradley International Terminal. The Board Room quieted out a bit after the 10am bank of Mexican flights departed.
Qantas Boeing 747-400 VH-OEH QF 93 from: MEL
Airbus A330-200 VH-EBH QF 107 from: AKL/ to: JFK
Emirates Boeing 777-300ER A6-ECV EK 217 from: DXB/EK 218 to: DXB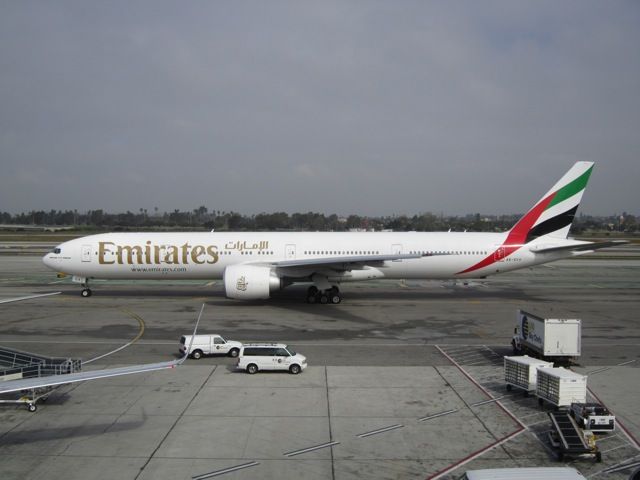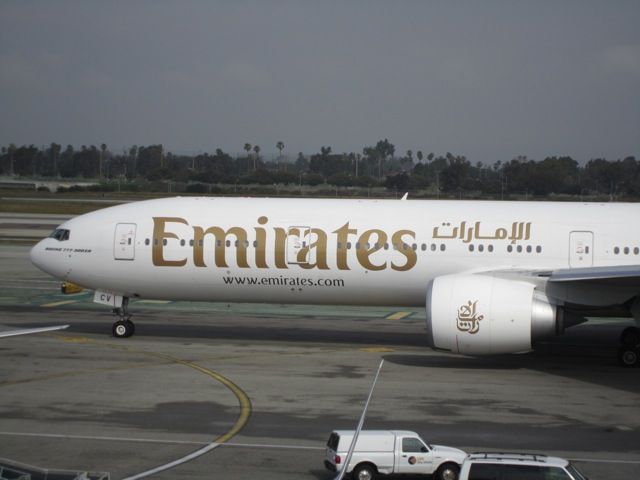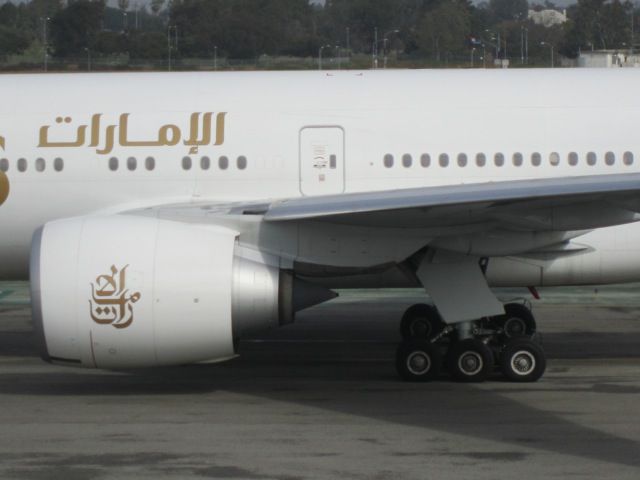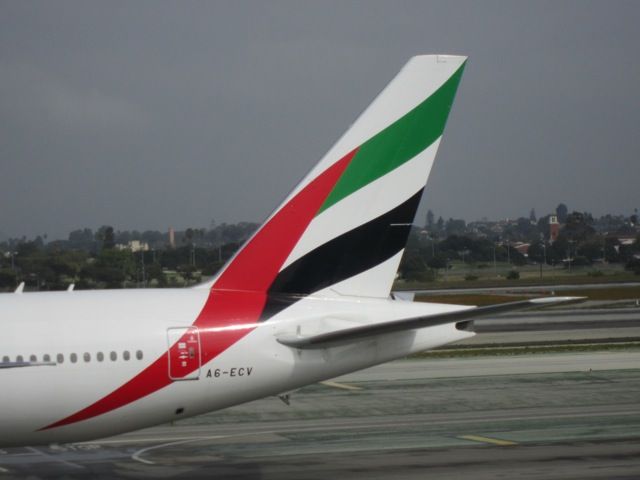 Cathay Pacific Boeing 777-300ER B-KPC CX 884/5 HKG
Qantas Airbus A380-800 VH-OQE QF 11 from: SYD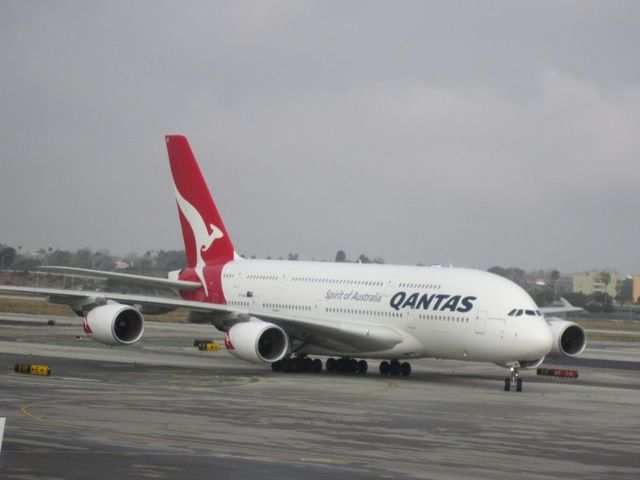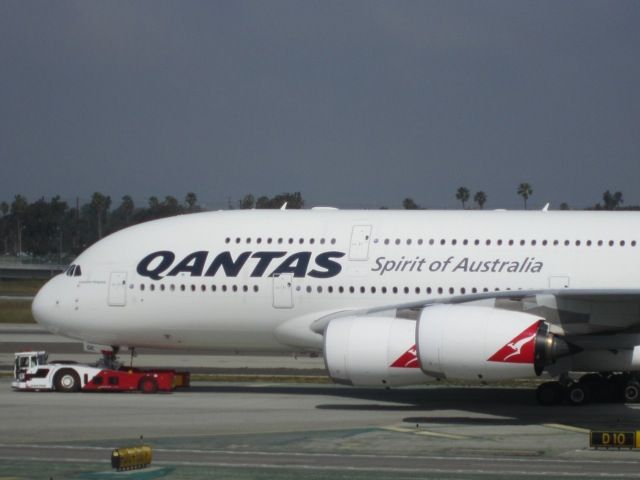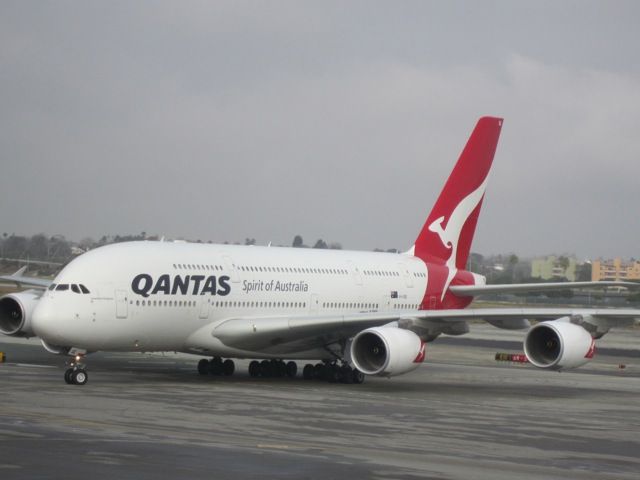 Going to rest