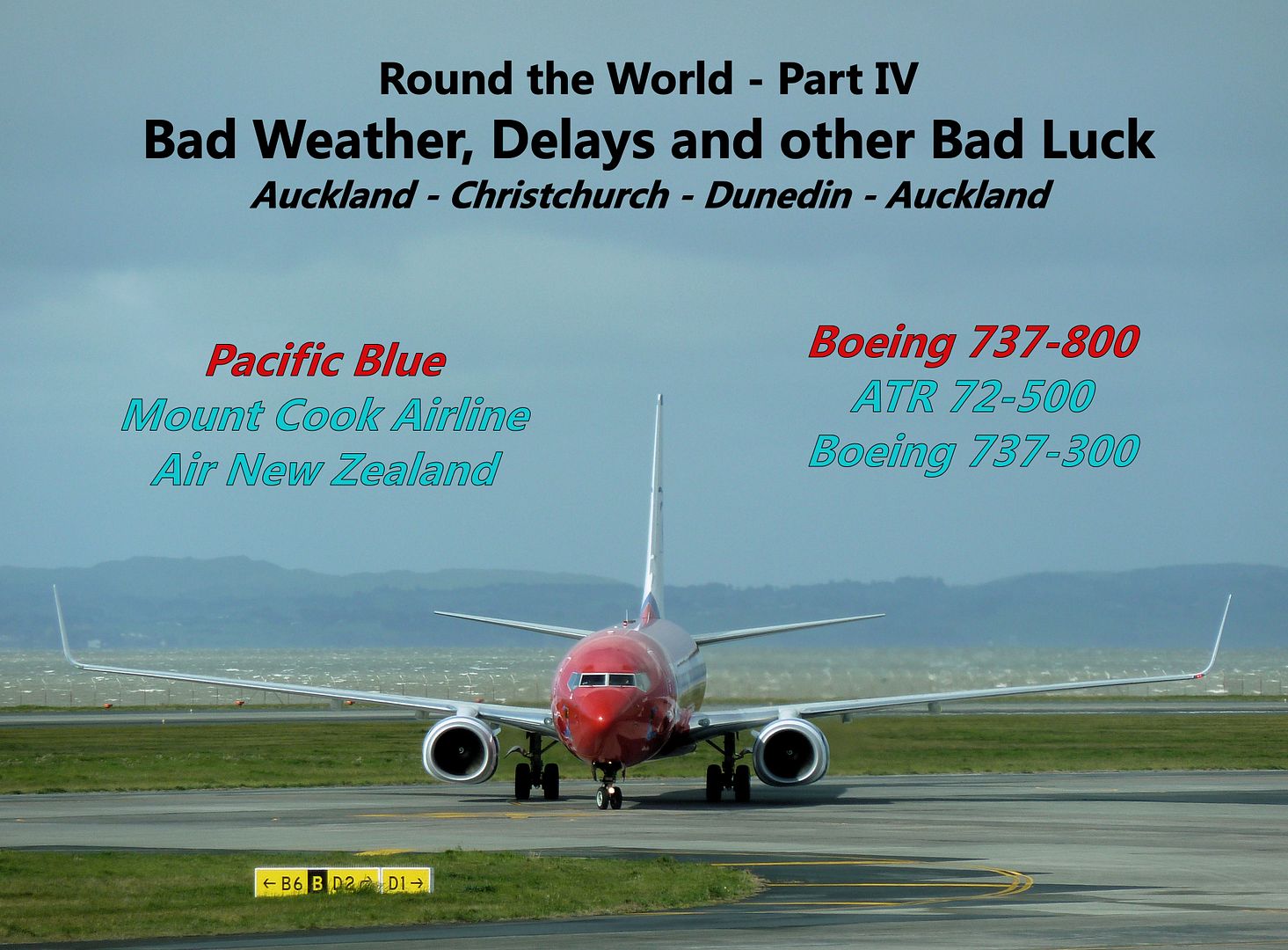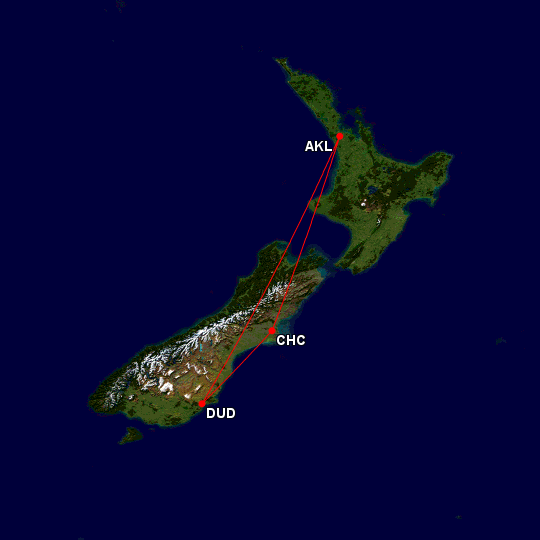 Map generated by the Great Circle Mapper - copyright © Karl L. Swartz
Background about the Round-the-World Trip
A round-the-world trip had been on my wish list for many years and last summer I finally decided to go. Originally, my plan for October 2010 was to visit a good friend in Brisbane again after a break of four years. While searching for flight options, I realized that a visit to Brisbane would be a great opportunity to create a round-the-world trip. RTW packages by the large alliances didn't attract me due to numerous restrictions and the limited choice of airlines. I found it much more interesting to combine all kinds of airlines without someone restricting anything.

As usual, my focus was on new carriers and new types - and my intensive searches turned out to be successful. First of all, I booked the long-haul flights, followed by a few connecting flights. Finally, I added some more side trip flights. Final routing: Munich-Bangkok-Brisbane-Melbourne-Albury-Sydney-Auckland-Christchurch-Dunedin-Wellington-Auckland-San Francisco-Munich. The itinerary included 12 flights, 7 new airlines, 5 new airports and 3 new types. I would leave on 2 October and return 11 days later, after flying 26345 miles (42398 kilometers).

Parts I, II and III can be found here:
Thai Fails To Impress: MUC-BKK-BNE On 744 & 777
Detours To Sydney: Wildlife, Tiger, REX & QFLink
Trans-Tasman Treat: Aerolineas Argentinas A340-200

Planning Details - Part IV
What would a visit to New Zealand be without an extended domestic side trip? After I had booked the flights to and from New Zealand, I started searching for interesting domestic options. The plan was to get at least two new airlines - and additionally, I tried to include Queenstown (ZQN) after reading a fabulous trip report by my friend Nicholas alias NZ107 (which you can find here). I didn't want to take any unnecessary risks, so I ruled out flying Jetstar to or from Queenstown (see Nicholas' report). Pacific Blue, a new airline for me, didn't fly to Queenstown on the desired day, so only Air New Zealand was left. Now I tried to combine an AKL-ZQN flight on NZ with two other sectors involving Air New Zealand Link and Pacific Blue.

However, I found out that fares on Air New Zealand were very expensive. I checked NZ's (German) website and numerous other travel sites, but couldn't find acceptable fares to and from Queenstown. So I skipped the Queenstown plan and started searching for alternatives. Finally, I decided to fly Auckland-Christchurch-Wellington-Auckland on Pacific Blue, Air New Zealand Link (Mount Cook Airline, another new carrier for me) and Air New Zealand.

After booking a reasonably priced Pacific Blue AKL-CHC flight (Boeing 737-800), I suddenly found out that Air New Zealand's domestic fares cost only half as much on the airline's local website as on the German version! So even flights from Auckland to Queenstown were still available at a reasonable price. However, the Pacific Blue flight was not refundable, so it wouldn't have made sense to change my plans. Anyway, I finally found an interesting and reasonably priced Christchurch-Dunedin-Wellington-Auckland connection on Air New Zealand Link (Mount Cook ATR 72-500 twice) and Air New Zealand (Boeing 737-300), all together in one booking. I had also tried to include an Air Nelson DHC-8-300 flight, but you cannot get anything. Anyway, I would get two new airlines and also fly all the way down to Dunedin, located in the very south of the South Island.

Only a few weeks later, Pacific Blue announced that it would cease all domestic operations by mid-October. I was glad to find out that the Auckland-Christchurch route would still be served on 11 October, so I didn't have to find an alternative. However, if I had booked another domestic route on Pacific Blue - as originally planned – I probably would have had a problem. Btw - while the booking process on Air New Zealand's website was faultless, I couldn't complete the reservation on Pacific Blue's website. I always got an odd error message - allegedly, my credit card number was too long. I booked that flight on Expedia in the end.
Monday, 11 October 2010
Auckland (AKL) - Christchurch (CHC)
Pacific Blue DJ3096
Scheduled times: 09:35-11:00
Actual times: 09:58-11:21
Flight duration: 01:10 (hrs)
Distance: 463 miles
Economy Class, seat 11C

Boeing 737-8FE
ZK-PBF (s/n 1462), named "Tapu'itea"
First delivered to Virgin Blue as VH-VOR in 03/2004
1st flight on ZK-PBF
17th 737-800 flight
27th 737NG flight
51st 737 flight
106th airline
Former appearance as VH-VOR:
Early in the morning, more than two hours before departure, I took the hotel shuttle to the domestic terminal. I went straight to a Pacific Blue check-in kiosk and entered my data. Then I couldn't believe what I saw: Only few seats were still available - neither window seats nor any seats in the back. Not a good start at all, I would have loved to see the country's landscape on every flight. So I picked 11C which was an aisle seat - still better than a middle seat.
I had been quite impressed by the international terminal, so I was a bit surprised when I arrived at my domestic gate area which was old and small. I could even feel the wind blowing in that porous building...not to say shack.
At least it felt a bit warmer near the heaters: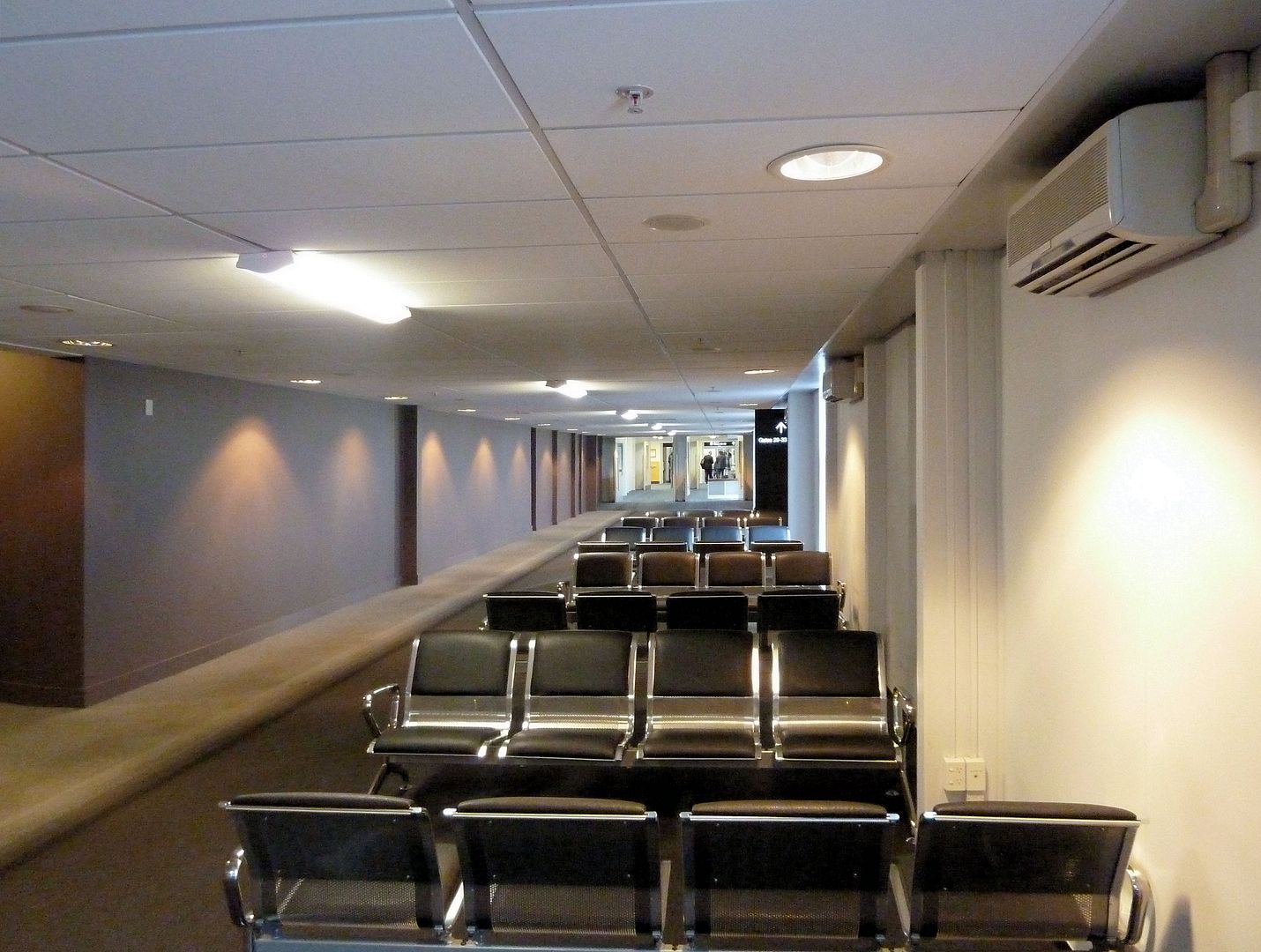 Viewing options were limited, too:
There was plenty of time left, so I walked to the other side of the domestic terminal which is much more modern and much nicer. I took a seat and enjoyed quite good views of the parallel runways and numerous parking positions.
My plane was delayed by 20 minutes, so I could stay in the modern terminal area some more time. I logged a total of 28 new registrations at AKL on that morning which was quite good. Finally, my aircraft arrived and I was glad that it was
ZK-PBF
, a kind of special plane, usually flying for Pacific Blue's subsidiary Polynesian Blue: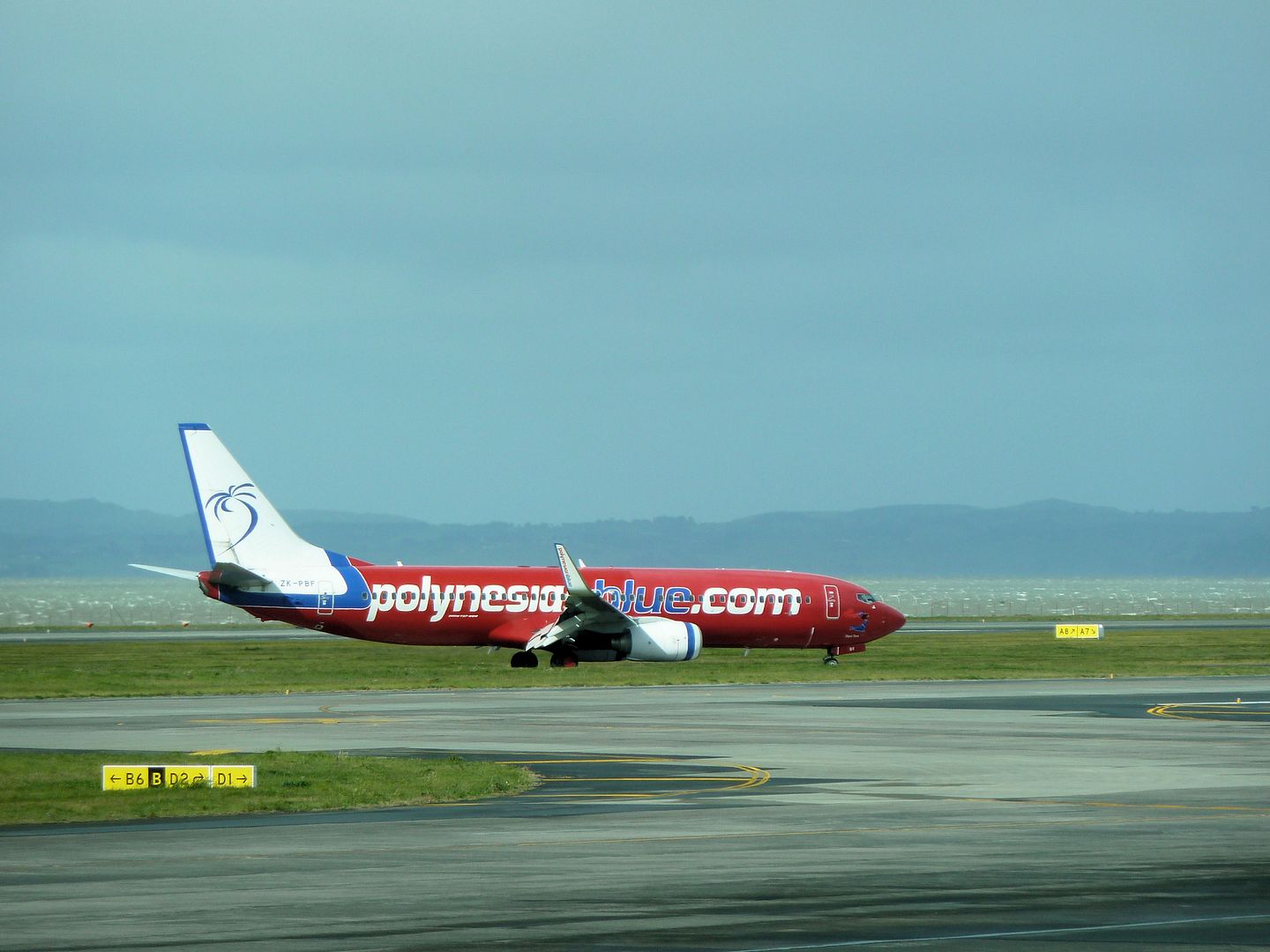 Nice perspective:
Despite its different livery,
ZK-PBF
is operated by Pacific Blue, along with nine other 737-800s: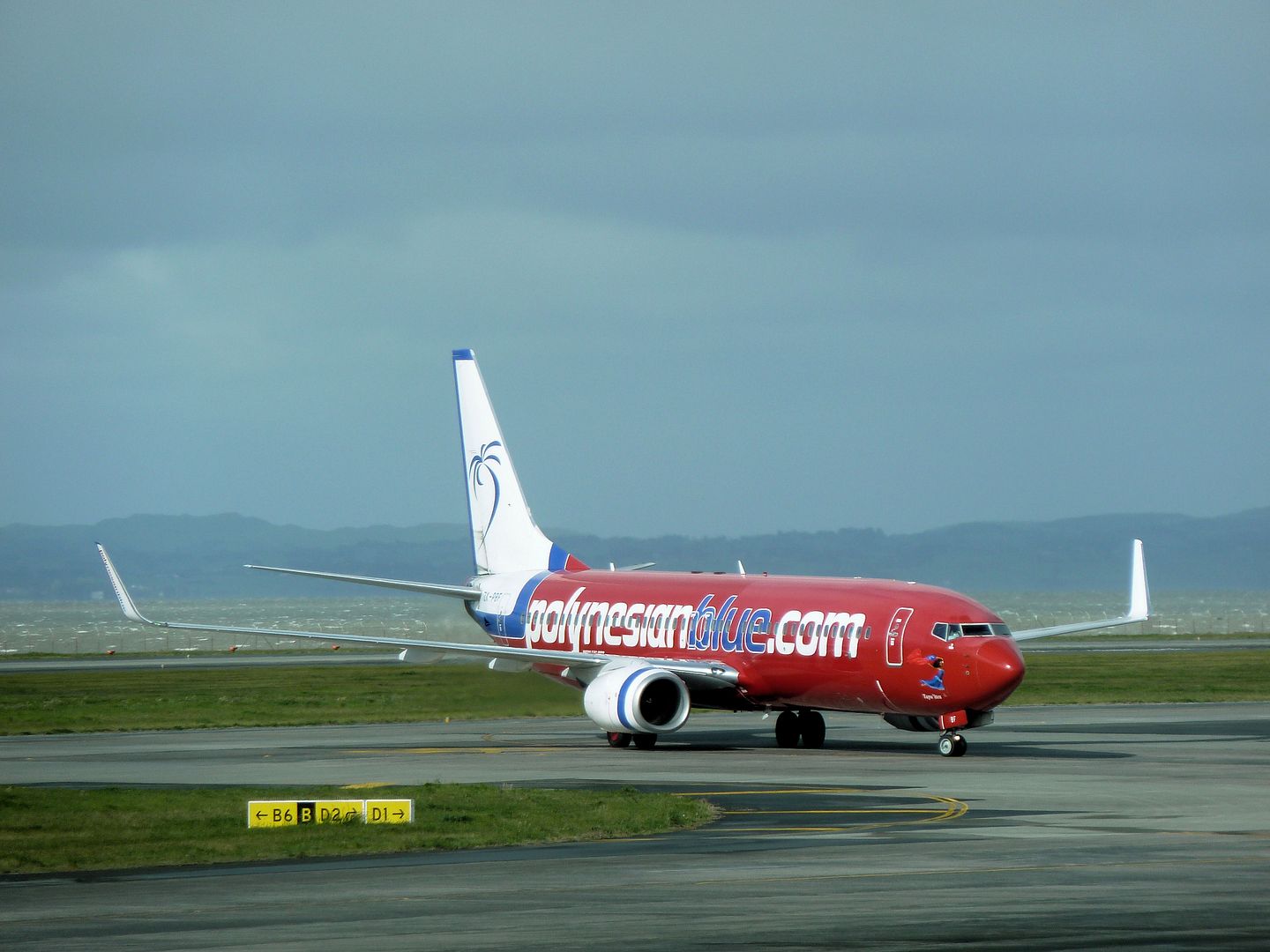 After the plane's arrival, I returned to my gate where it had become very crowded. That part of the terminal really needs to be replaced. What I found quite remarkable was that both a jet bridge and the rear stairs were used for boarding (depending on the row number):
Very friendly flight attendants welcomed me at the door. They had flowers in their hair, apparently a special Polynesian Blue feature.
The plane was equipped with comfortable old-style leather seats: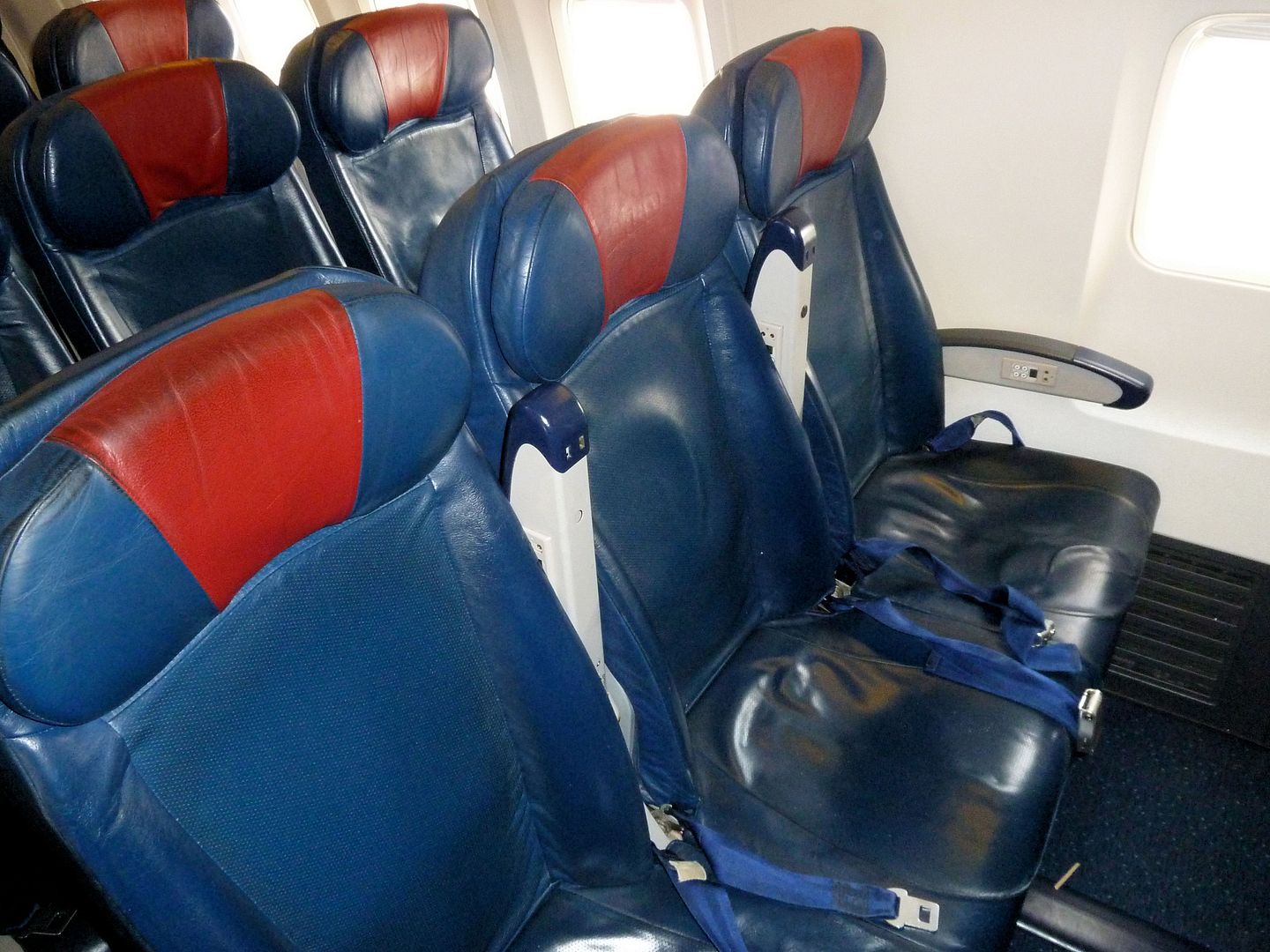 No PTVs on this bird:
Legroom was absolutely sufficient:
An elderly couple who had sat down next to me soon seemed to be a bit surprised that I took so many pictures. Later, after landing, when I they let them pass during disembarking, I quickly explained my intention.
After boarding had been completed, the purser explained that the flight to Auckland had been delayed due to strong winds and hail at Wellington. Well, I was hoping that I wouldn't be further affected by the weather later in the day...
ZK-PBF
left the gate 23 minutes late and soon climbed out after a powerful takeoff roll. I had planned to have breakfast on the plane, so I had a look at the buy-on-board menu: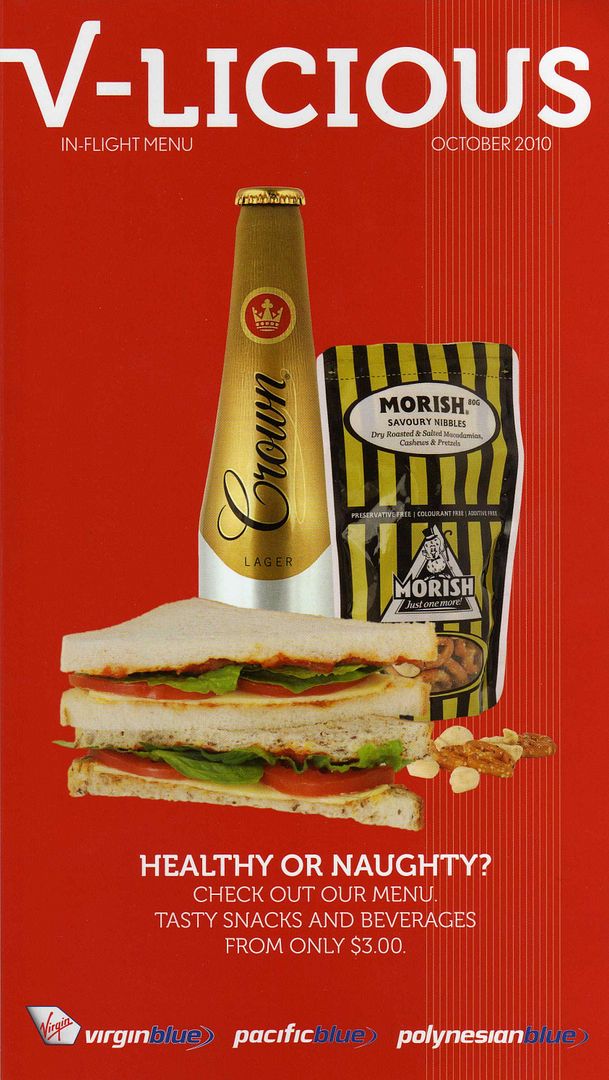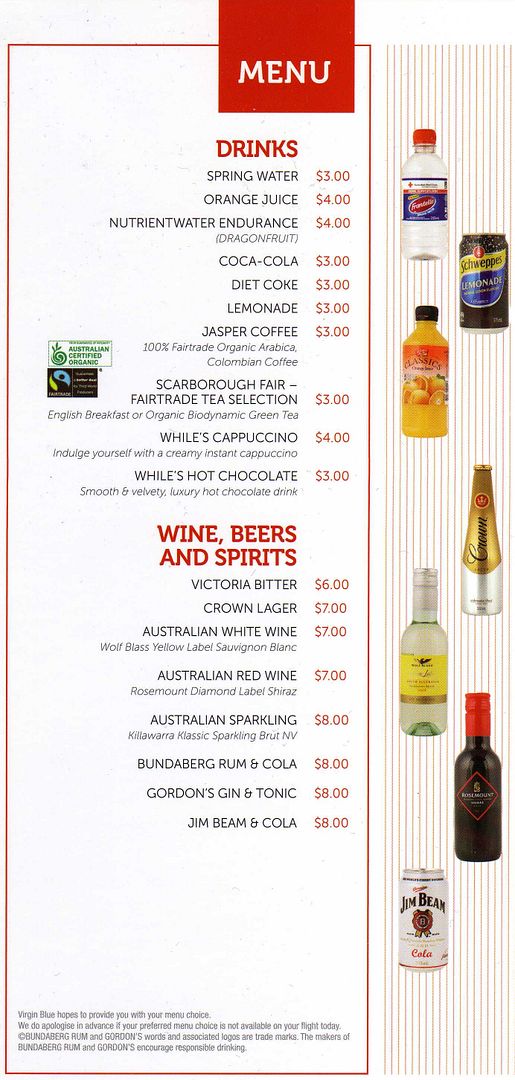 I decided to try a sandwich or a wrap, but the flight attendant told me that all these items weren't available on domestic flights. This was quite disappointing!
So I ordered a black tea (NZD 3) and a chocolate muffin (NZD 4) which tasted okay: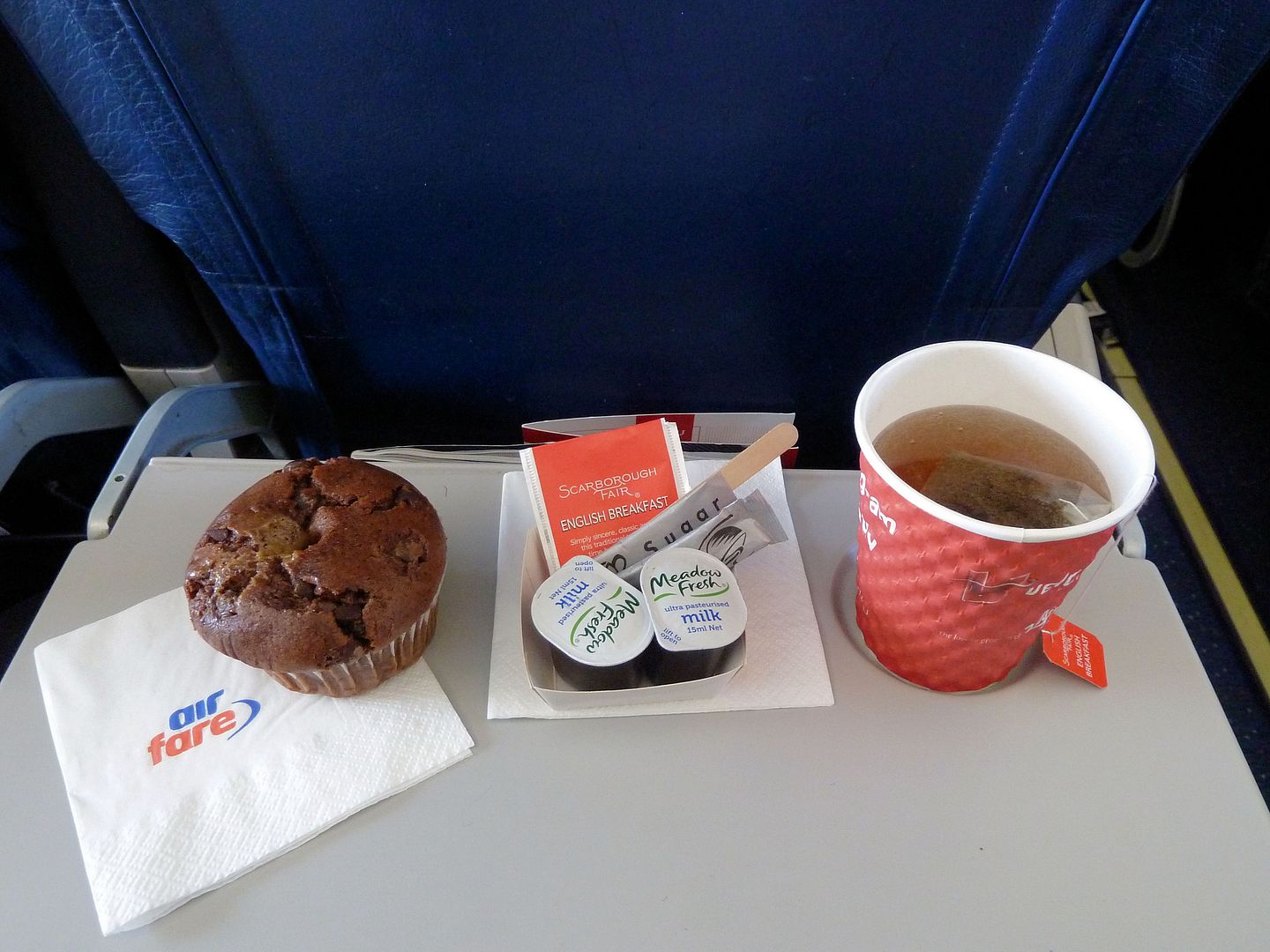 After the flight attendants had finished their service, I used the chance to take a cabin picture. The flight was packed: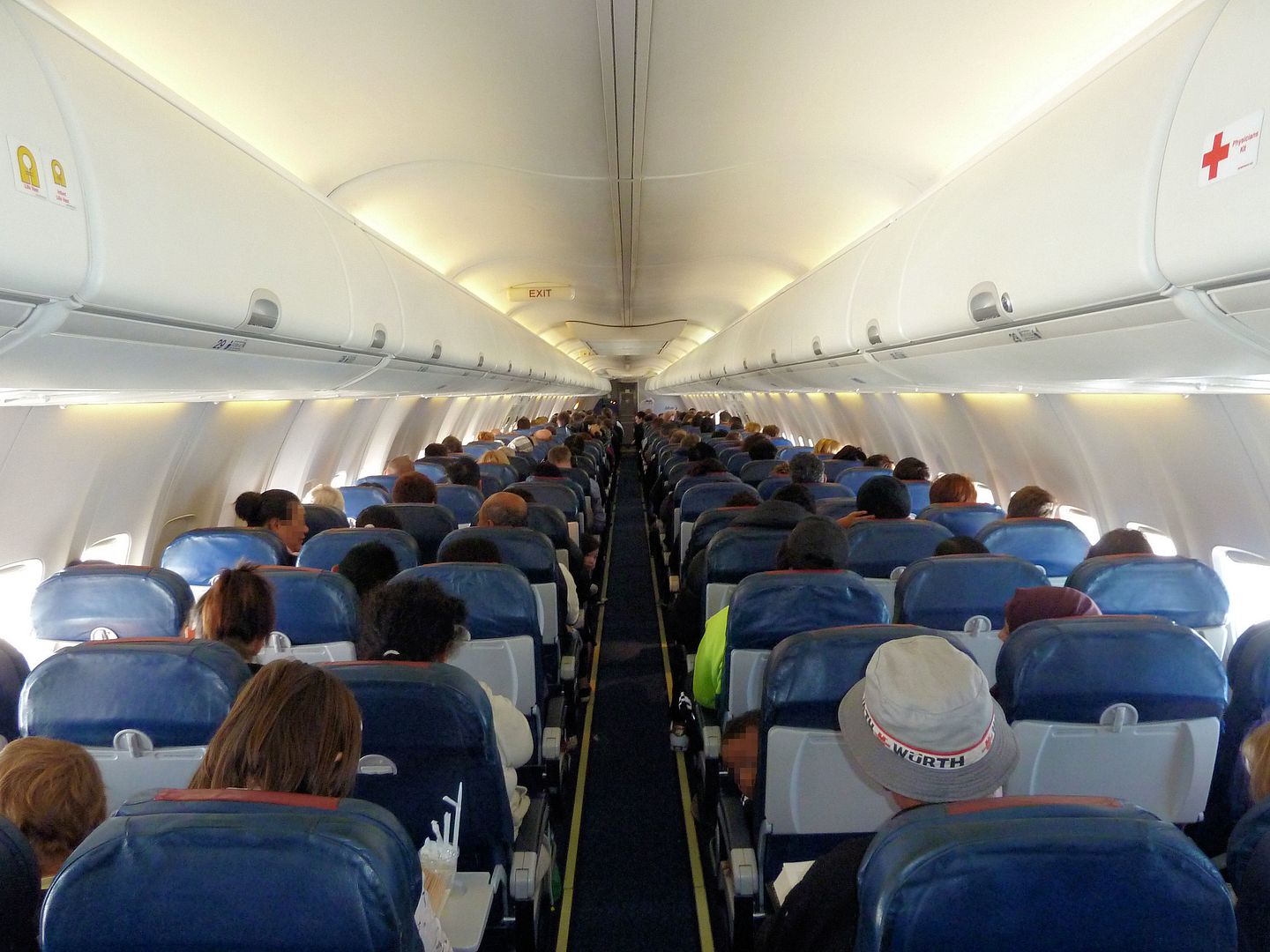 Exactly 1 hour and 10 minutes after takeoff, we touched down at Christchurch International Airport and arrived at the gate 21 minutes late.
Monday, 11 October 2010
Christchurch (CHC) - Dunedin (DUD)
Air New Zealand Link NZ5053, operated by Mount Cook Airline
Scheduled times: 13:30-14:30
Actual times: 14:29-15:28
Flight duration: 00:54 (hrs)
Distance: 204 miles
Economy Class, seat 13D

ATR 72-500
ZK-MCA (MSN 597)
Delivered in 10/1999
1st flight on ZK-MCA
4th ATR 72-500 flight
7th ATR 72 flight
9th ATR flight
107th airline
After disembarking, I went straight to an Air New Zealand check-in kiosk and printed all three boarding passes for the remaining flights of the day. All seat numbers were exactly the ones which I had reserved at the time of booking. Then I took the chance and asked an ANZ agent a question about the seat reservation on my upcoming AKL-SFO-MUC flights. While I was waiting, some dust and small grains came down from the low ceiling - the agent didn't seem to be surprised:
"Oh, I guess we had another earthquake"
, she calmly said. Well, I hadn't felt anything, so who knows.
My flight to Dunedin showed up with a slight delay on the departures screen, but the transfer time there would be more than two hours, so this was no reason for concern. I noticed that many other flights were delayed, too. The weather hadn't become better yet. Anyway, I went to the observation deck, but the wind was almost blowing me away. It had started raining, too, so I couldn't even take a single picture. I took a seat in a waiting area inside and logged a few registrations. Unfortunately, it wasn't very busy.
Some time later, I noticed that the delays were becoming worse - departure times were being postponed permanently. My flight NZ5053 was affected, too, and I was getting a bit nervous. I continued walking back and forth in the crowded gate area and soon read on the departures screen that NZ5053 would depart almost an hour behind schedule.
The gate area used for turboprop aircraft was quite small and many passengers waiting for various flights were hanging around, partly blocking the way for arriving passengers. Finally, my flight number appeared on the gate screen and boarding commenced shortly afterwards. I was really relieved! Btw - you don't have to pass security control if you board a turboprop flight at Christchurch, just like at Albury.
ZK-MCA
, Mount Cook Airline's first of 11 ATR 72-500s, would operate the short flight to Dunedin: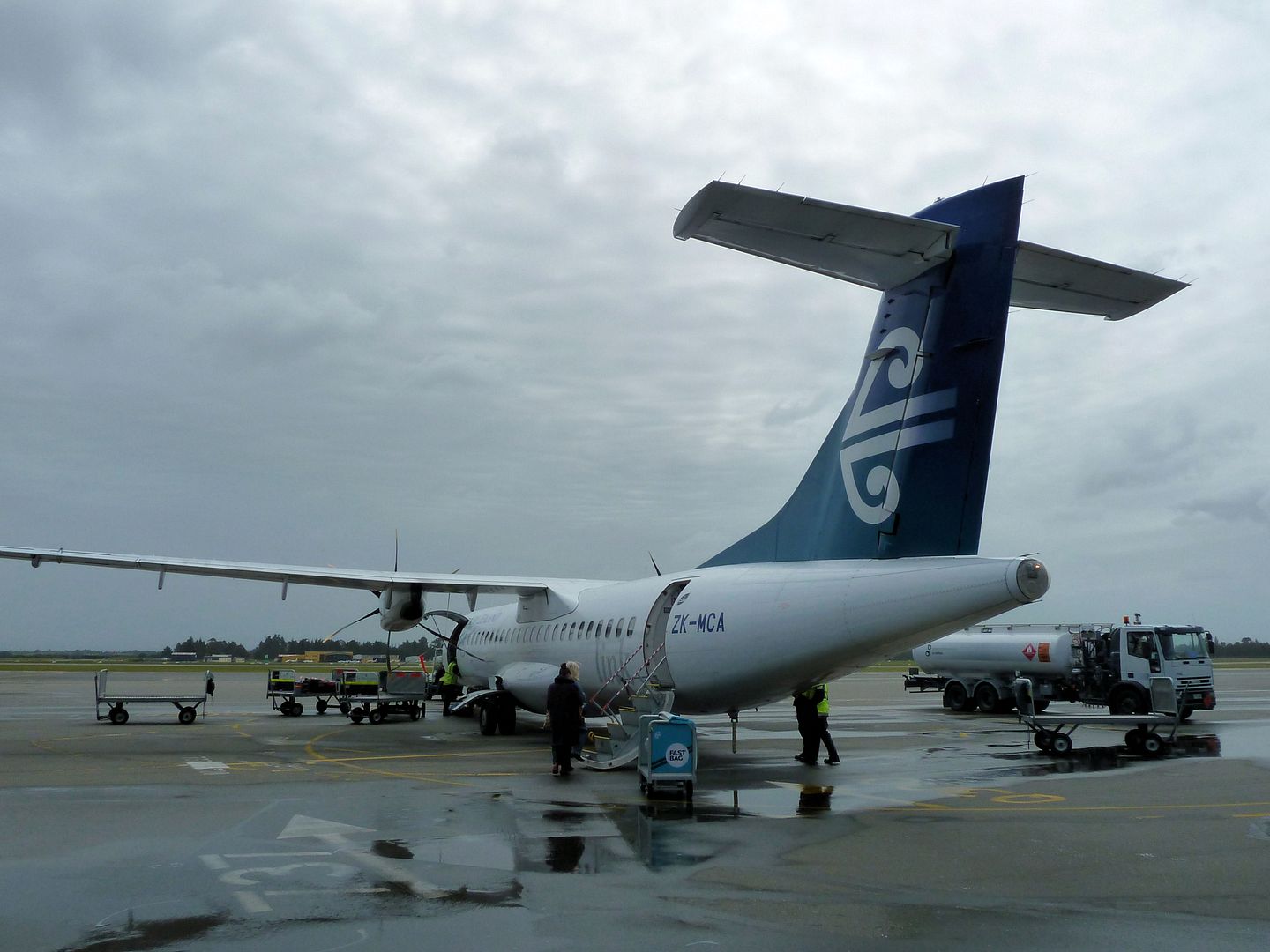 After a friendly welcome from the flight attendant, I discovered a lady occupying my seat – this was the third time in three days. We found out that 13D had been assigned twice, but a flight attendant who had meanwhile joined us asked the lady to let me take the seat. Apparently, the lady had received her boarding pass at Singapore - but I don't know why the flight attendant immediately classified her seat assignment as incorrect. Anyway, I had already reserved my seat at the time of booking, so I didn't care.
The old-style leather seats were comfortable...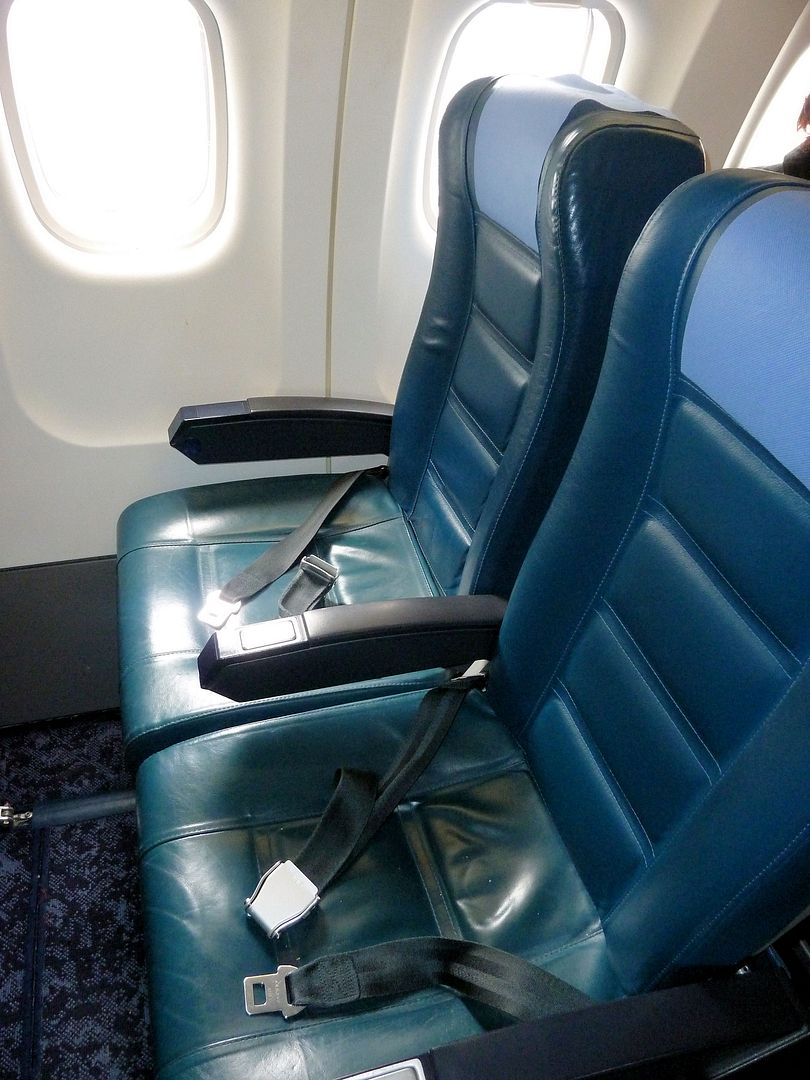 ...and I couldn't complain about legroom either: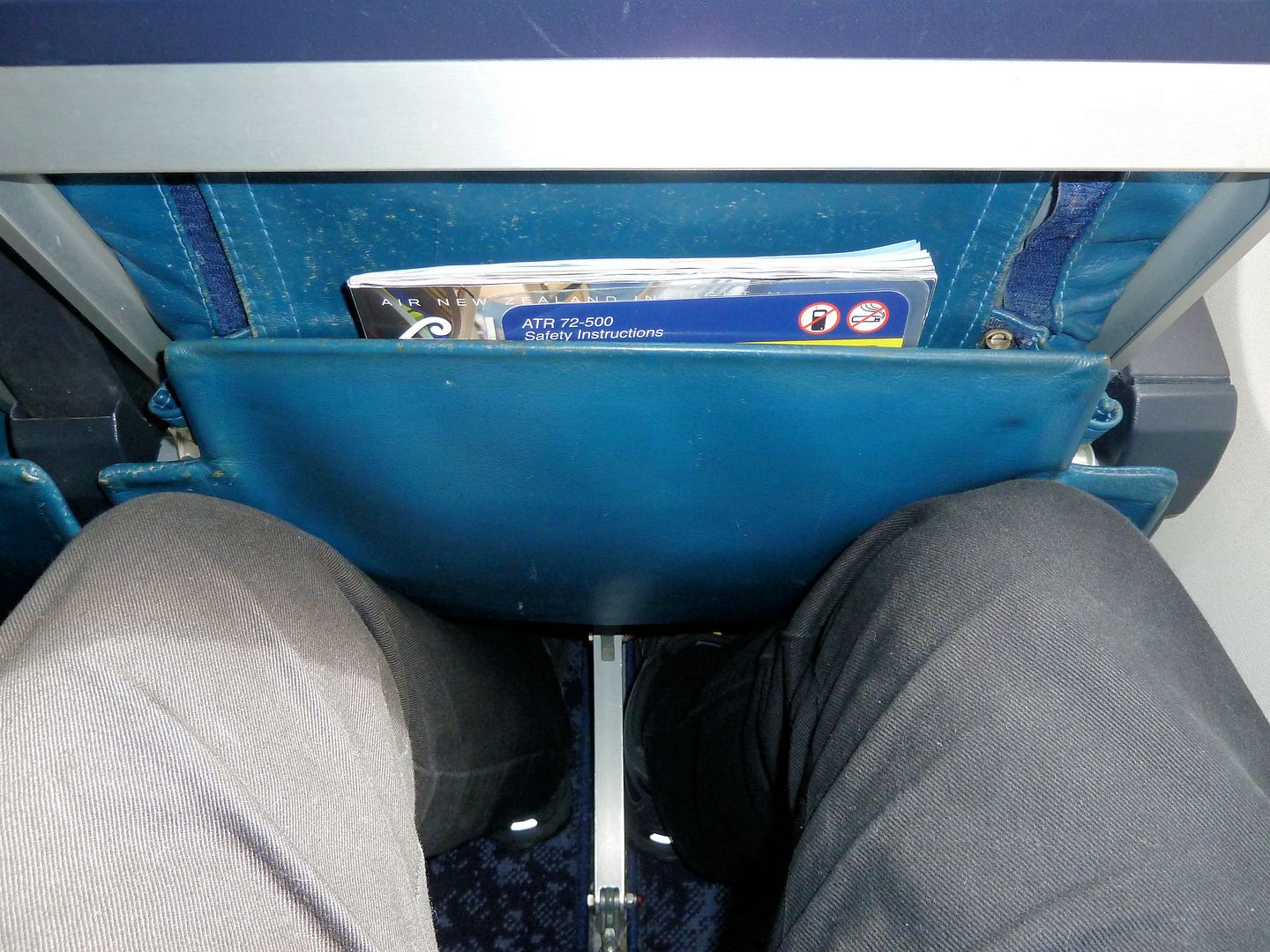 Most seats were taken, including the aisle seat next to me. My neighbor was a young man who had arrived from Singapore earlier today, as I could read off a boarding pass. Unfortunately, he had a really bad breath, so I couldn't just sit back and relax...
Two sister ships were parked next to us: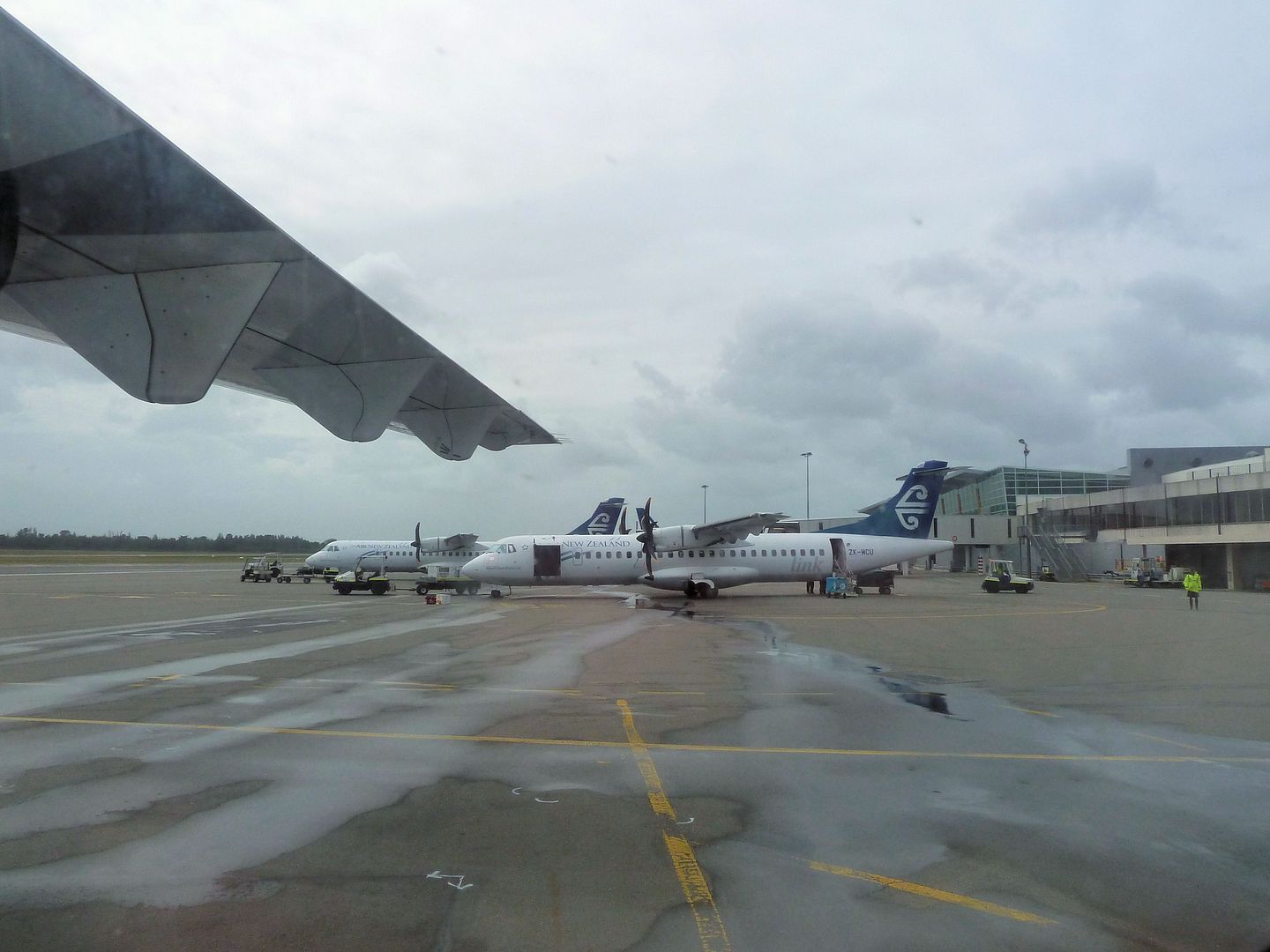 The purser informed us that the delay had been a result of the aircraft's late arrival...but she didn't say a word about the bad weather. We left the parking position 59 minutes behind schedule and soon climbed out:
First glimpse of the Southern Alps: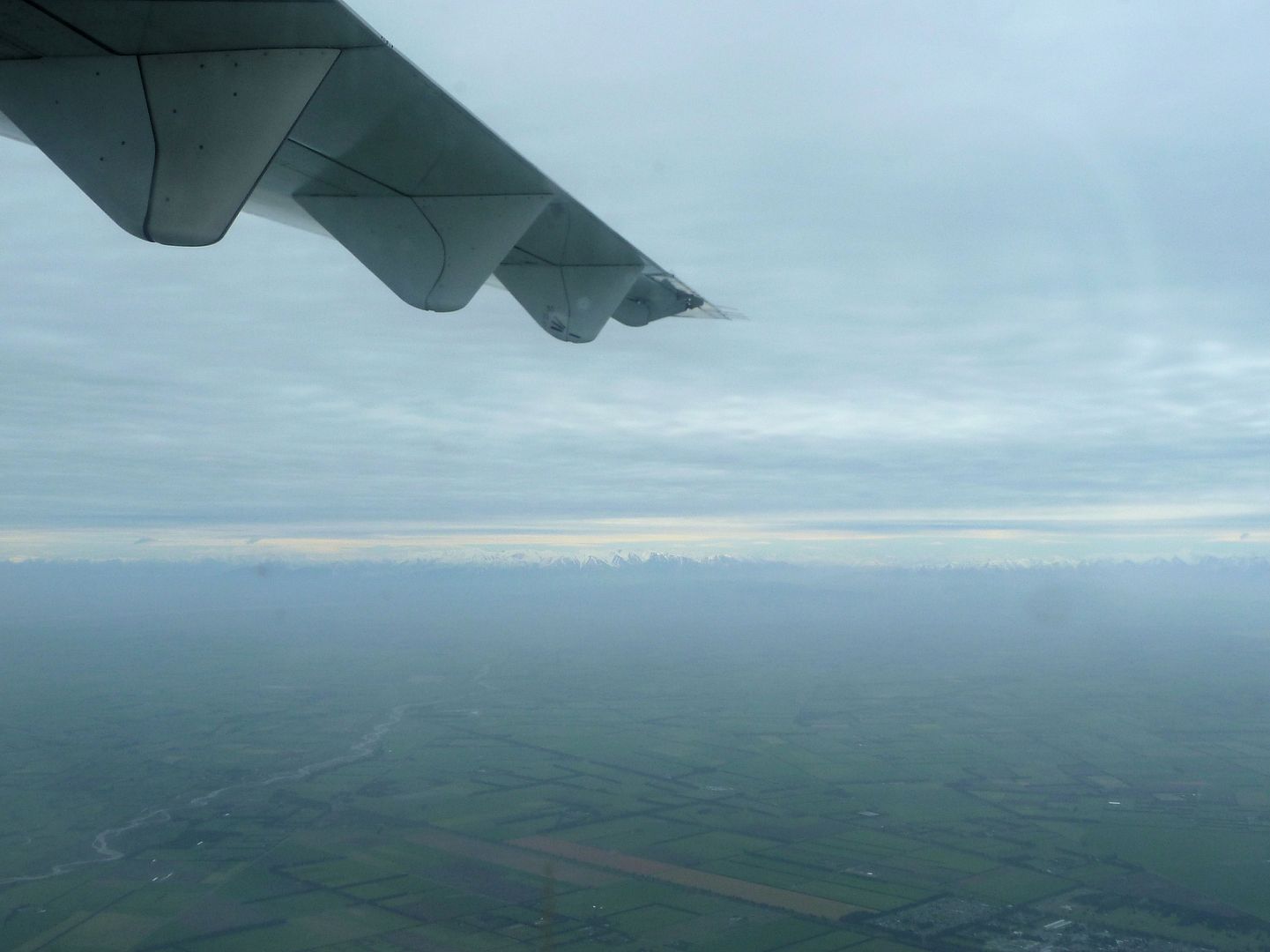 Ten minutes after takeoff, the flight attendants served tea, coffee, water and tasty macaroon cookies:
Later in the flight, the flight attendants also offered mint candies...the right thing for my seat neighbor!
I was facing the sun, so views weren't perfect, but still enjoyable:
Approach to Dunedin: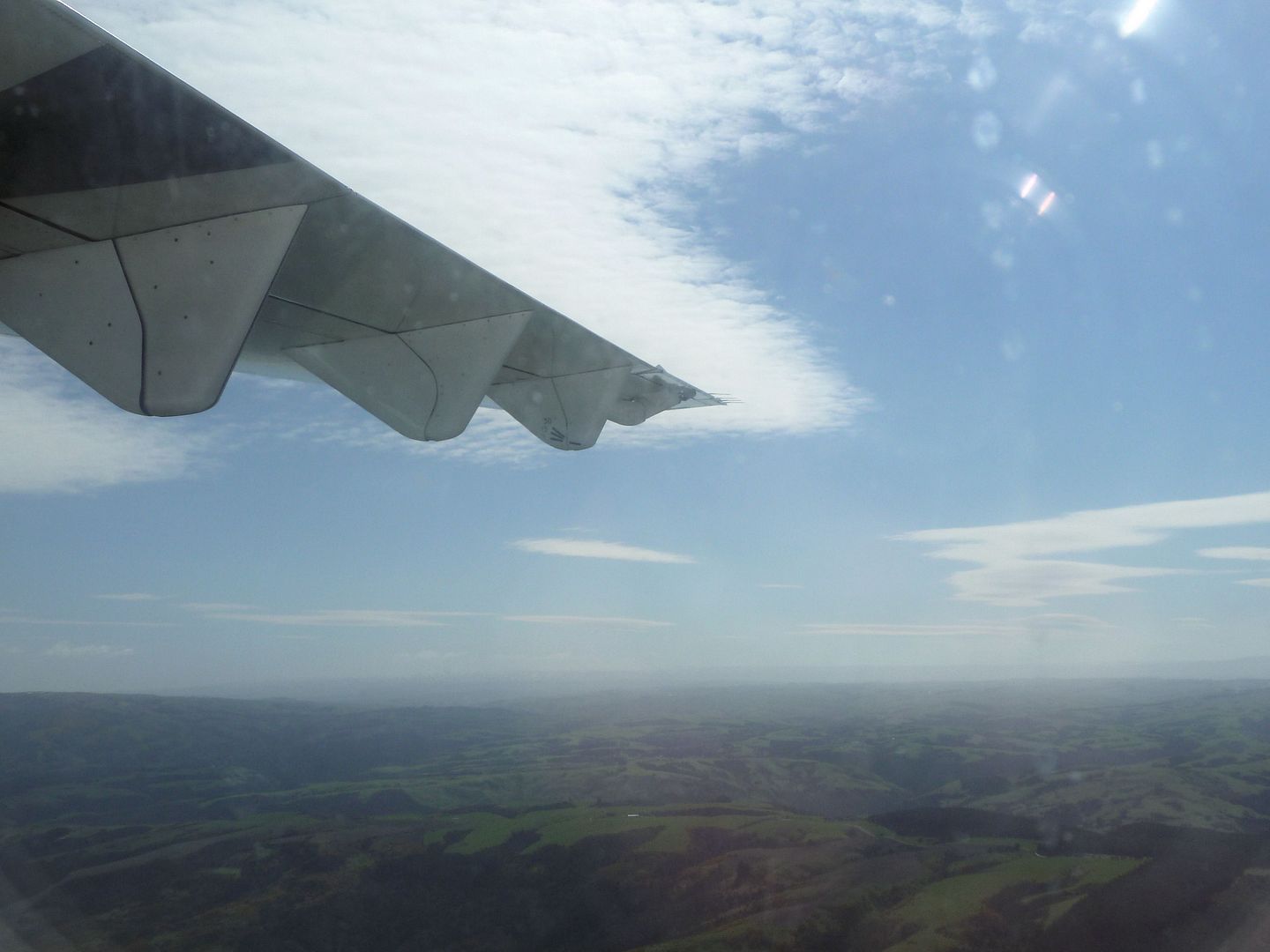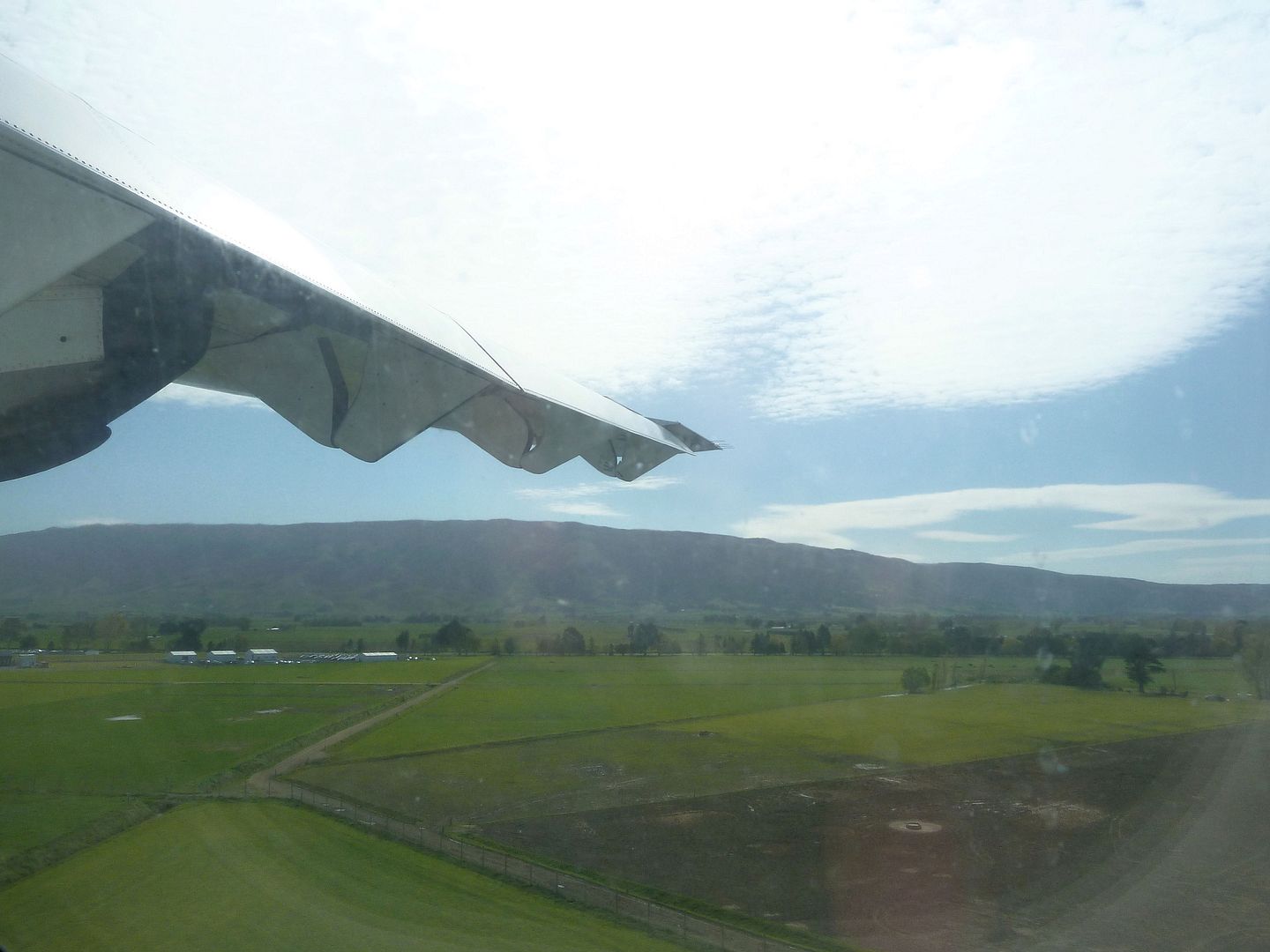 We touched down after 54 minutes and stopped at the parking position 58 minutes behind schedule.
Parked next to us was an Air Nelson DHC-8-300. Would have been nice to continue the domestic trip on this bird: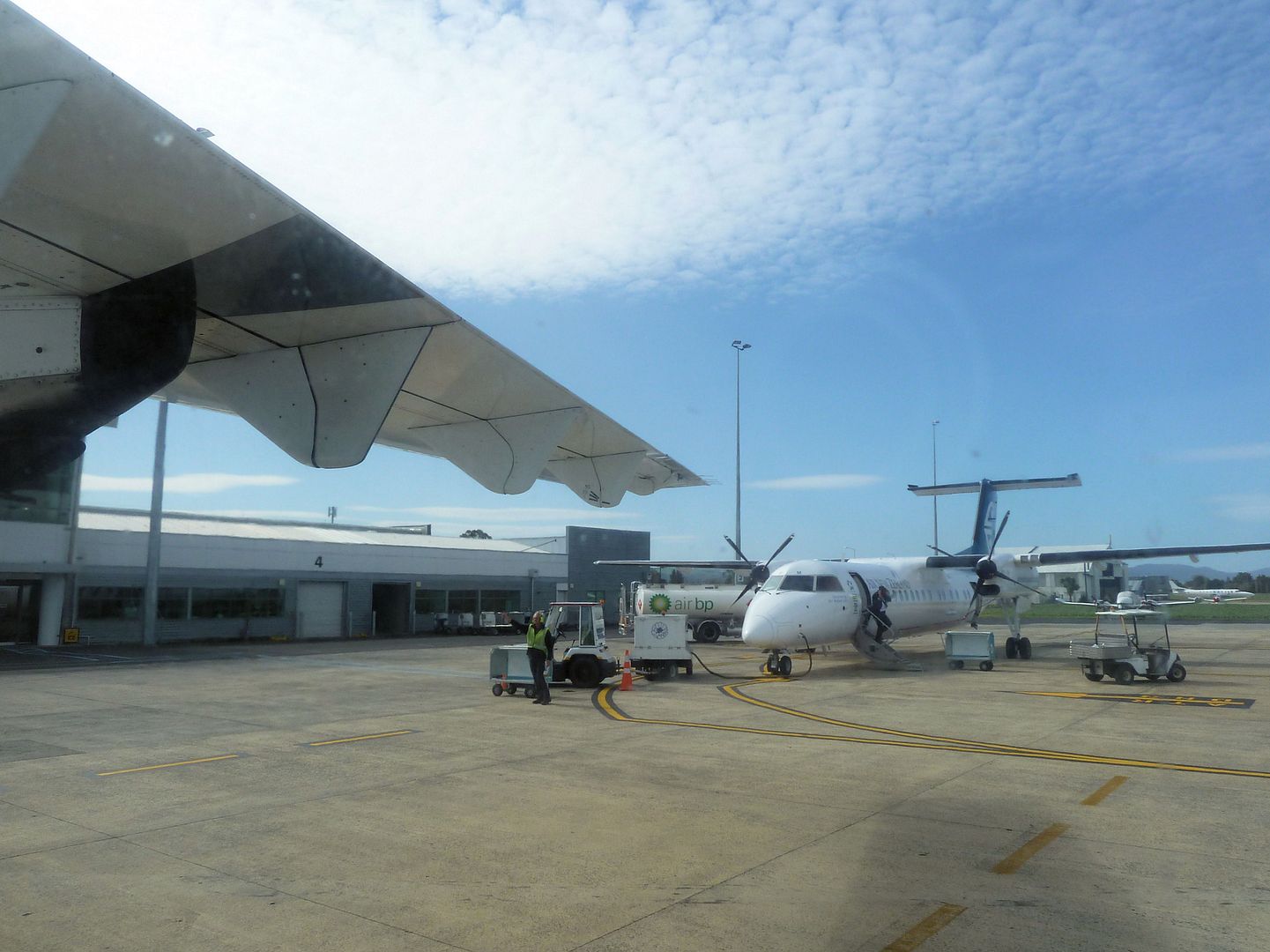 Of course I still needed to take a cabin picture: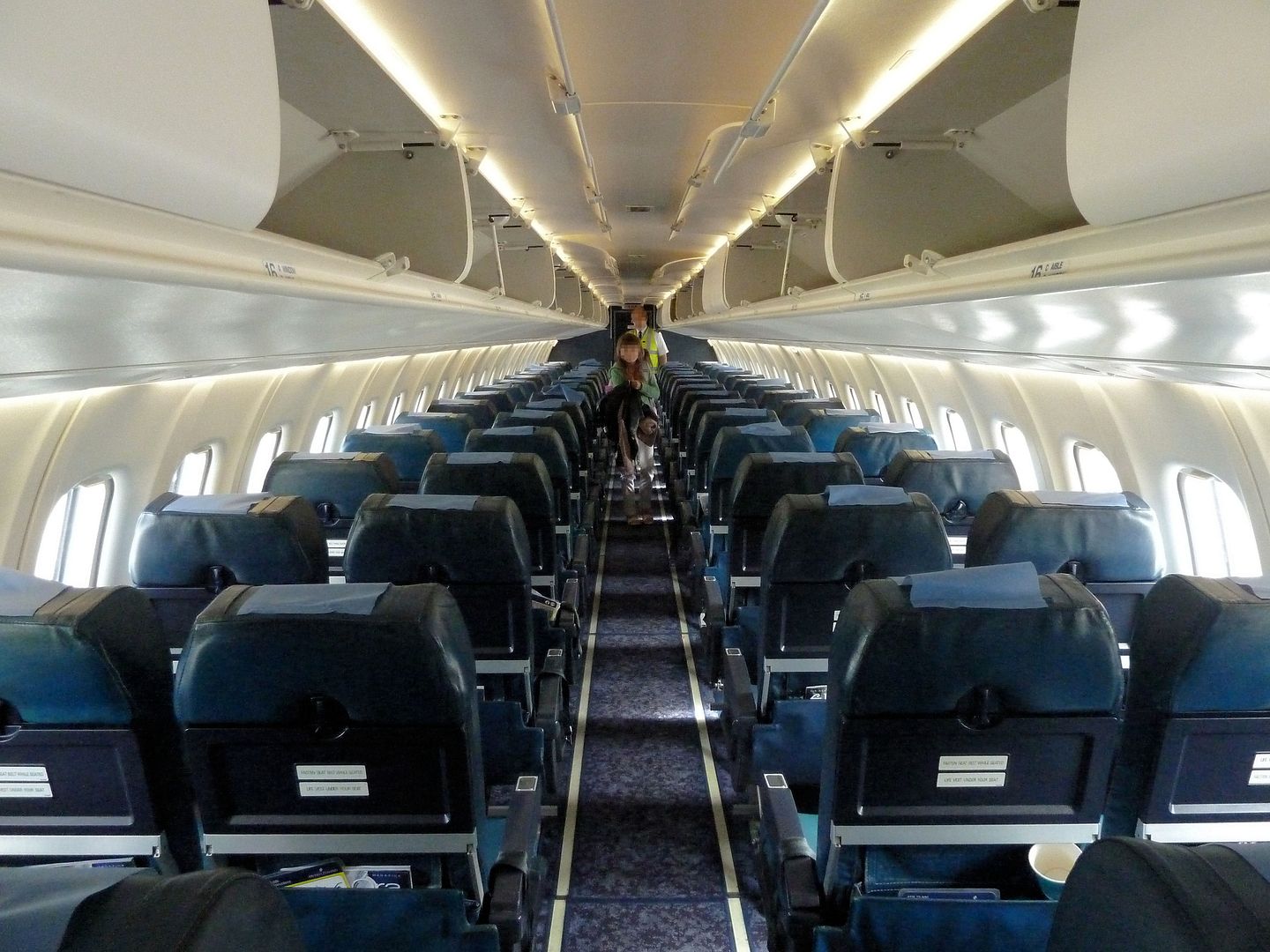 Goodbye,
ZK-MCA
: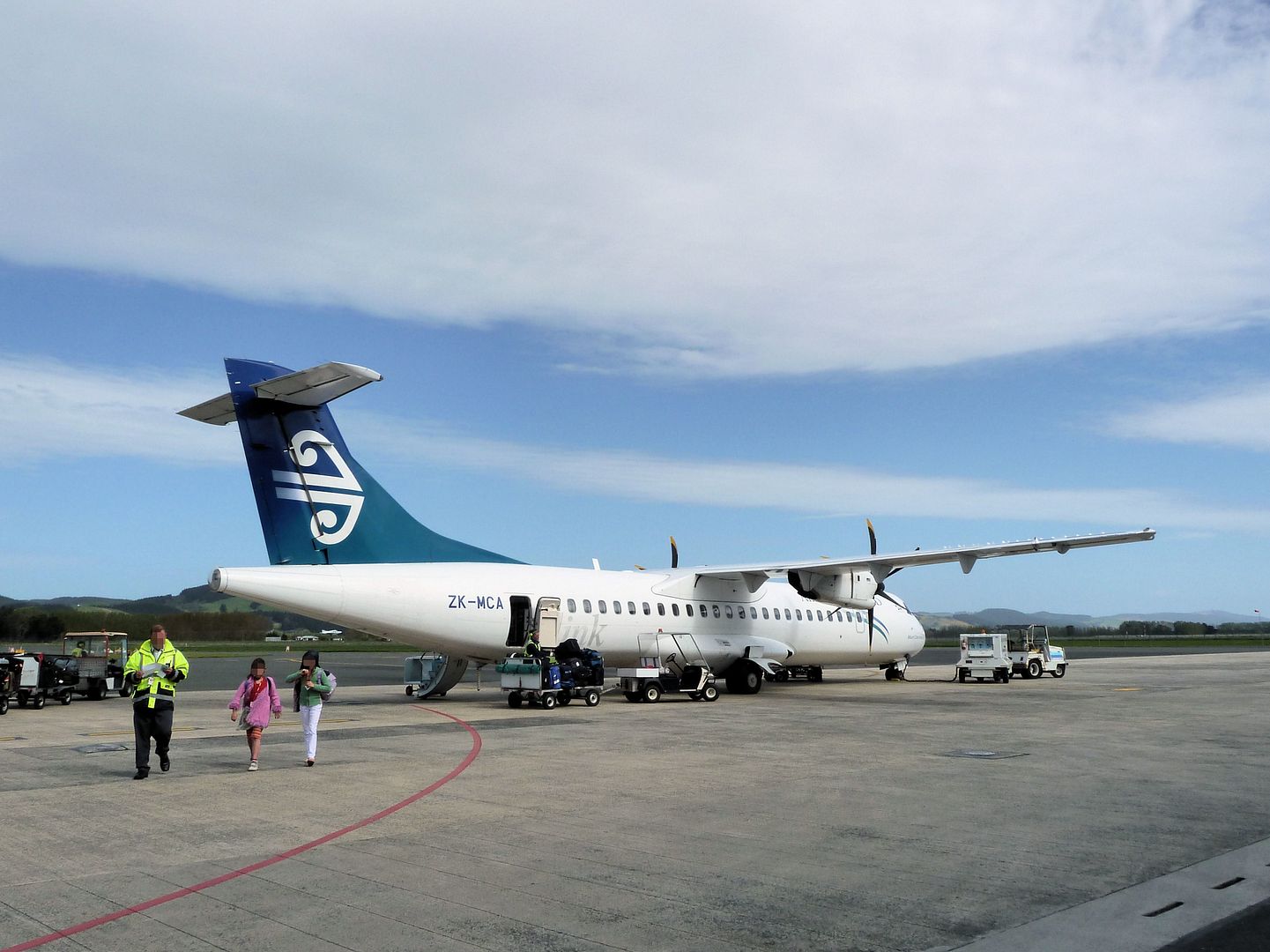 Rebooking!
Despite the delay, there was no reason to hurry. My flight to Wellington wouldn't leave earlier than 16:45, more than an hour away. However, I didn't feel relaxed any more after having a look at the departures screen: My flight would depart 50 minutes late - which meant that the transfer time at Wellington would shrink to 20 minutes!
I immediately went to the check-in hall and asked an agent whether I would still be able to catch my connecting flight at Wellington.
"Yes, you will make it. The flight to Wellington will be shorter today"
, she said. Well, now I was hoping that the delay wouldn't become worse...
Then I returned to the gate area, bought something to eat and took a seat. Views from the gate area are quite good: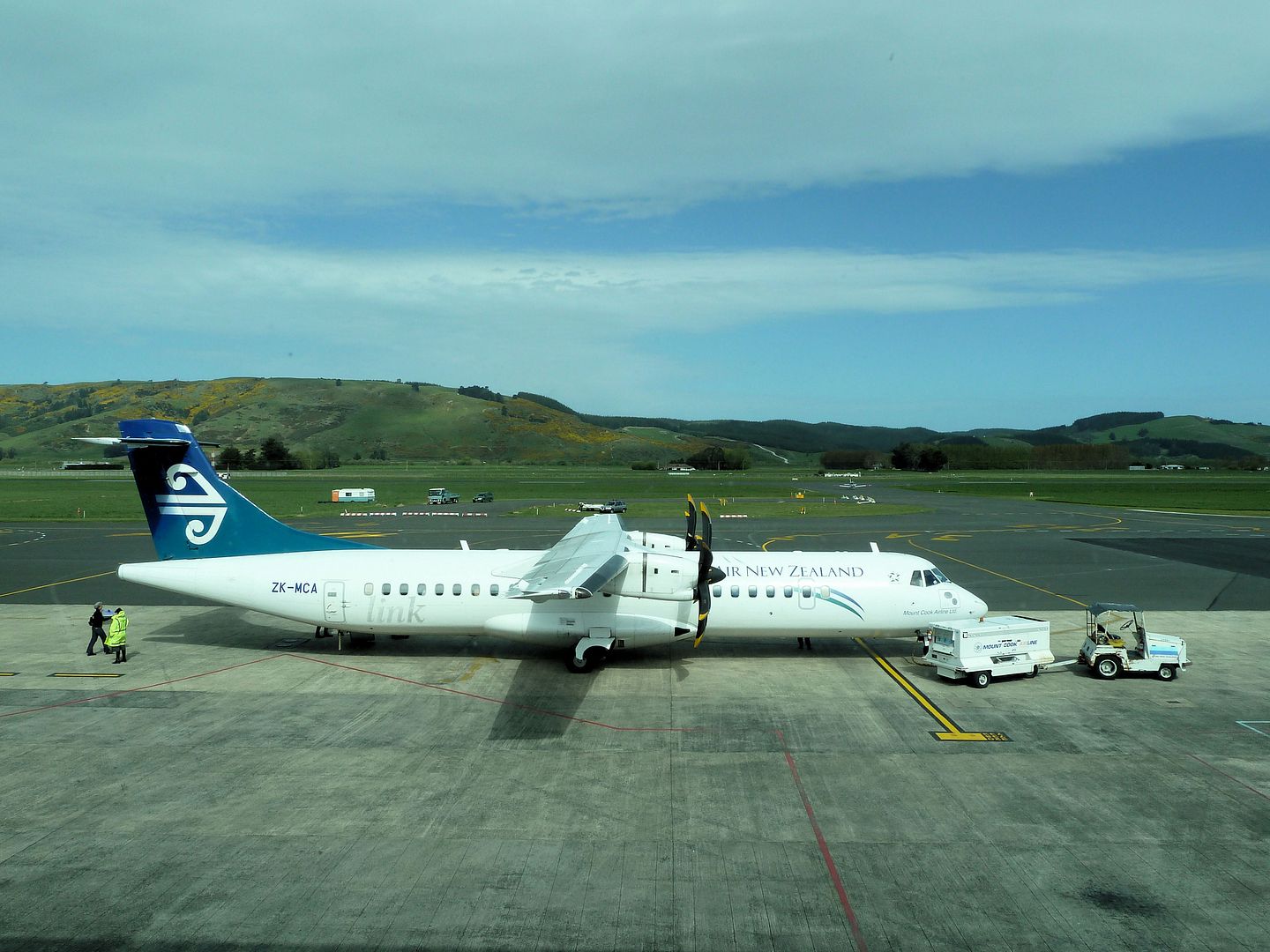 Just after I had finished eating, I heard my name being called, among some others. According to the announcement, all these Wellington-bound passengers should immediately go to an Air New Zealand counter...now it was clear that I wouldn't be able to make the connection.
Five minutes later, the agent who I had talked to earlier told me that I would be rebooked to a later flight due to ongoing delays. I was assuming that she meant a later Wellington-Auckland flight - but when I asked for further details she said:
"It will be a nonstop flight."
Dunedin-Auckland? That meant I would lose one flight and - not to forget - all my reserved window seats what I didn't like at all. I told her that I had booked the multi-stop itinerary on purpose, but she replied that she could only offer me a rebooking to that DUD-AKL nonstop flight - at least for the same day. An alternative routing via Wellington would involve an overnight stay at Dunedin.
Well, of course I accepted the rebooking to the nonstop flight which would leave Dunedin at 18:00 and arrive at Auckland 19:40 - ironically, almost an hour earlier than my originally booked Wellington-Auckland flight. No doubt, I was disappointed, but losing just another Mount Cook ATR 72 flight and missing the opportunity to visit Wellington Airport was better than an unplanned overnight stay at Dunedin or other trouble. At least I would still get an Air New Zealand Boeing 737-300 as originally planned. The agent quickly handed out the boarding pass, but I didn't like the assigned aisle seat (5D) in the front section. Neither window nor other aisle seats were available, but at least I could get a middle seat in the second last row (22E). So there would still be a slight chance to take a few landscape pictures...
Now I had almost two hours left until departure, so I walked around in the pretty airport building for a while. Dunedin location map:
Monday, 11 October 2010
Dunedin (DUD) - Auckland (AKL)
Air New Zealand NZ670
Scheduled times: 18:00-19:40
Actual times: 18:05-19:37
Flight duration: 01:22 (hrs)
Distance: 660 miles
Economy Class, seat 22E

Boeing 737-3U3
ZK-NGE (s/n 2969)
Built in 12/1997, first delivered to Winair as N931WA in 10/1998
1st flight on ZK-NGE
14th 737-300 flight
25th 737 Classic flight
52nd 737 flight
Former appearance as N931WA:
View Large
View Medium


Photo © Oliver Brunke
The ATR 72 which I was supposed to take to Wellington arrived more than an hour late, so it would have been absolutely impossible to make my connection. It was a good decision by Air New Zealand to rebook all connecting passengers to the nonstop flight. The 737-300 from Auckland, registered
ZK-NGE
, arrived on time:
Unfortunately, the good old "Pacific Wave" was already missing on that bird: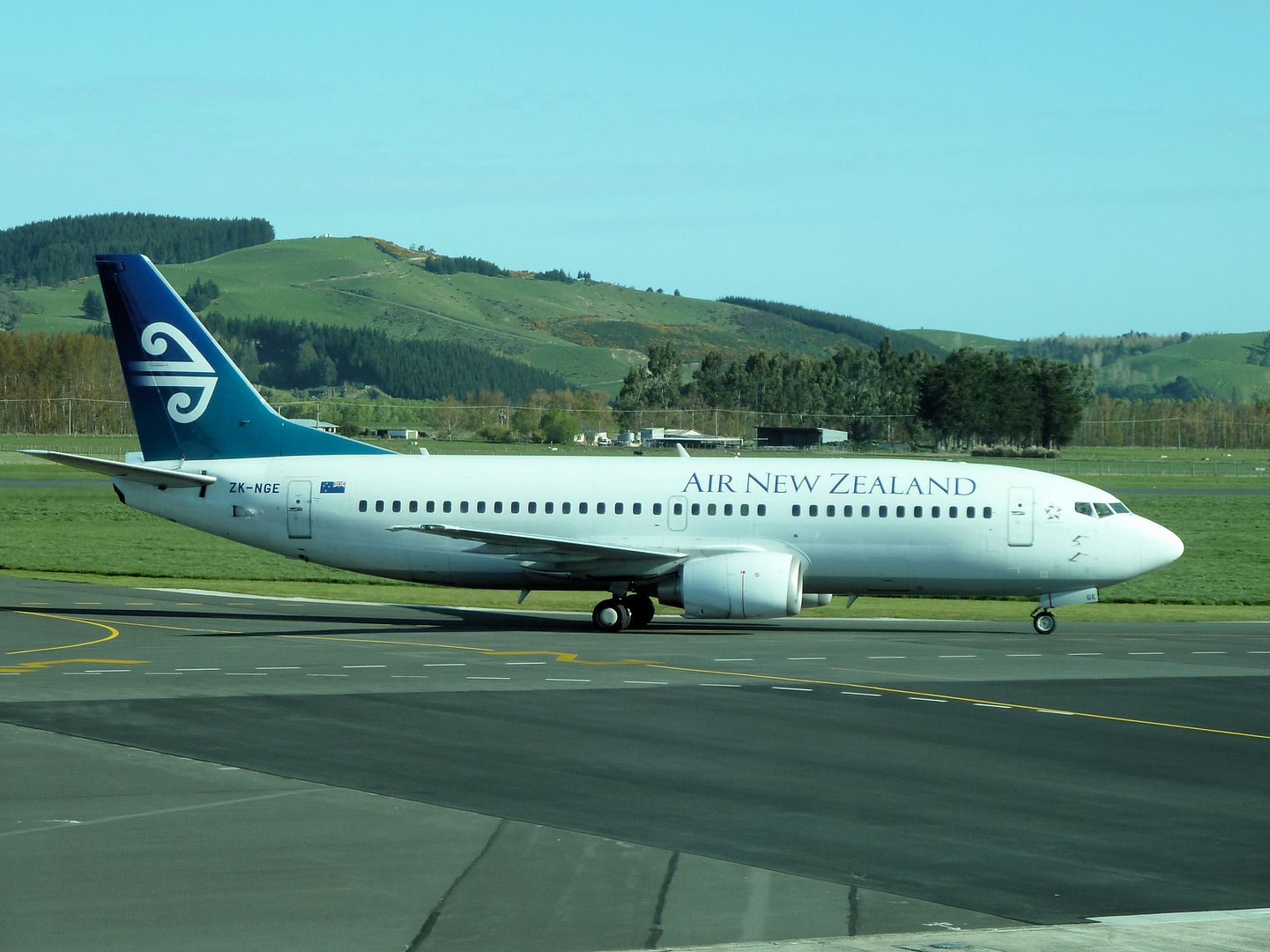 The plane made its first flight in December 1997, but Garuda Indonesia never took delivery. It wasn't until December of 1998 that Winair added the aircraft to its fleet. Finally, in March 1999, the plane was transferred to Air New Zealand.
This time, as a jet passenger, I had to pass a security checkpoint. View from the gate: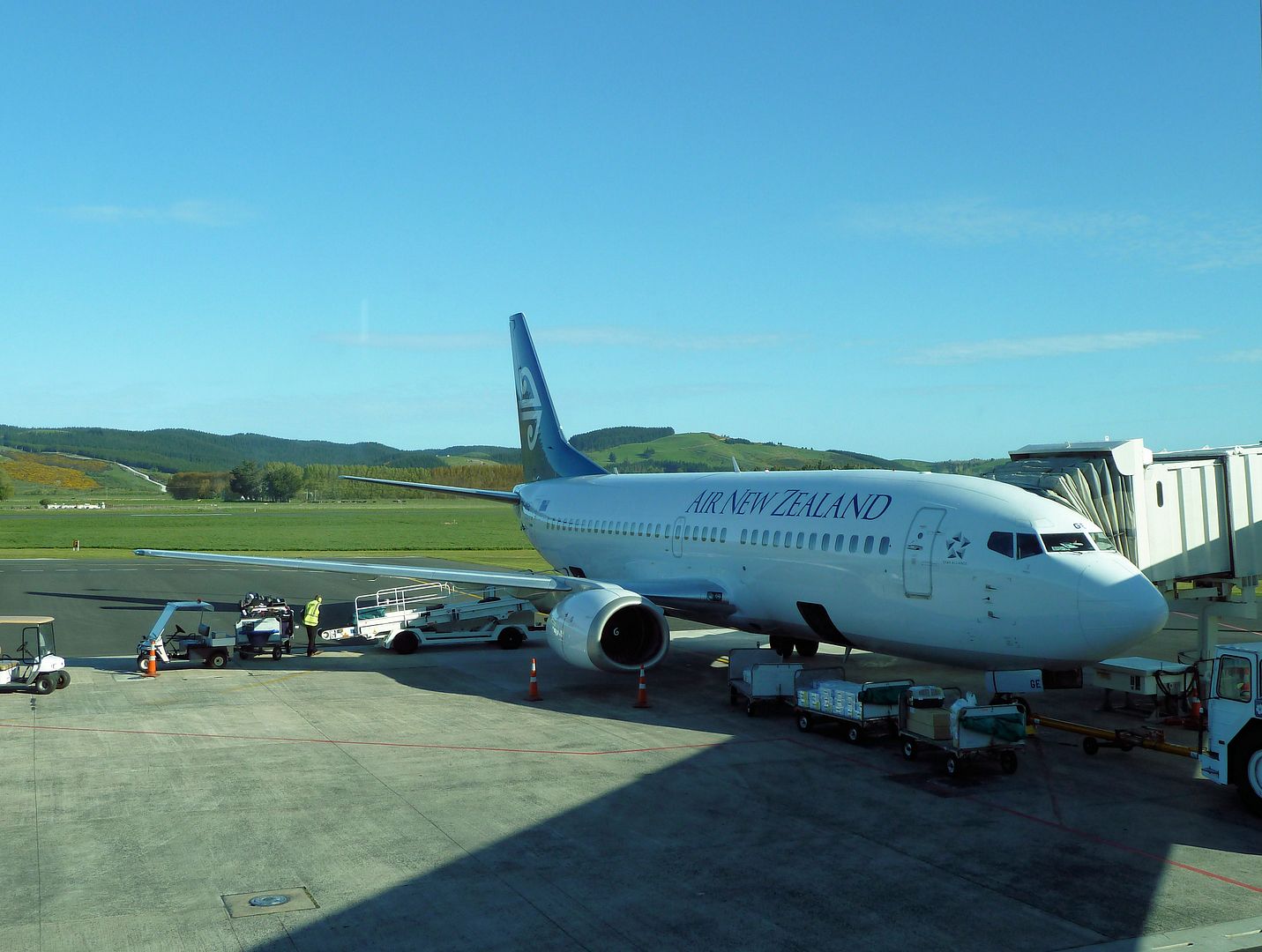 As soon as boarding commenced, I stepped on board so that I could undisturbedly take pictures. The flight attendants had offered a friendly welcome, definitely a good start.
The plane was equipped with decent slimline seats...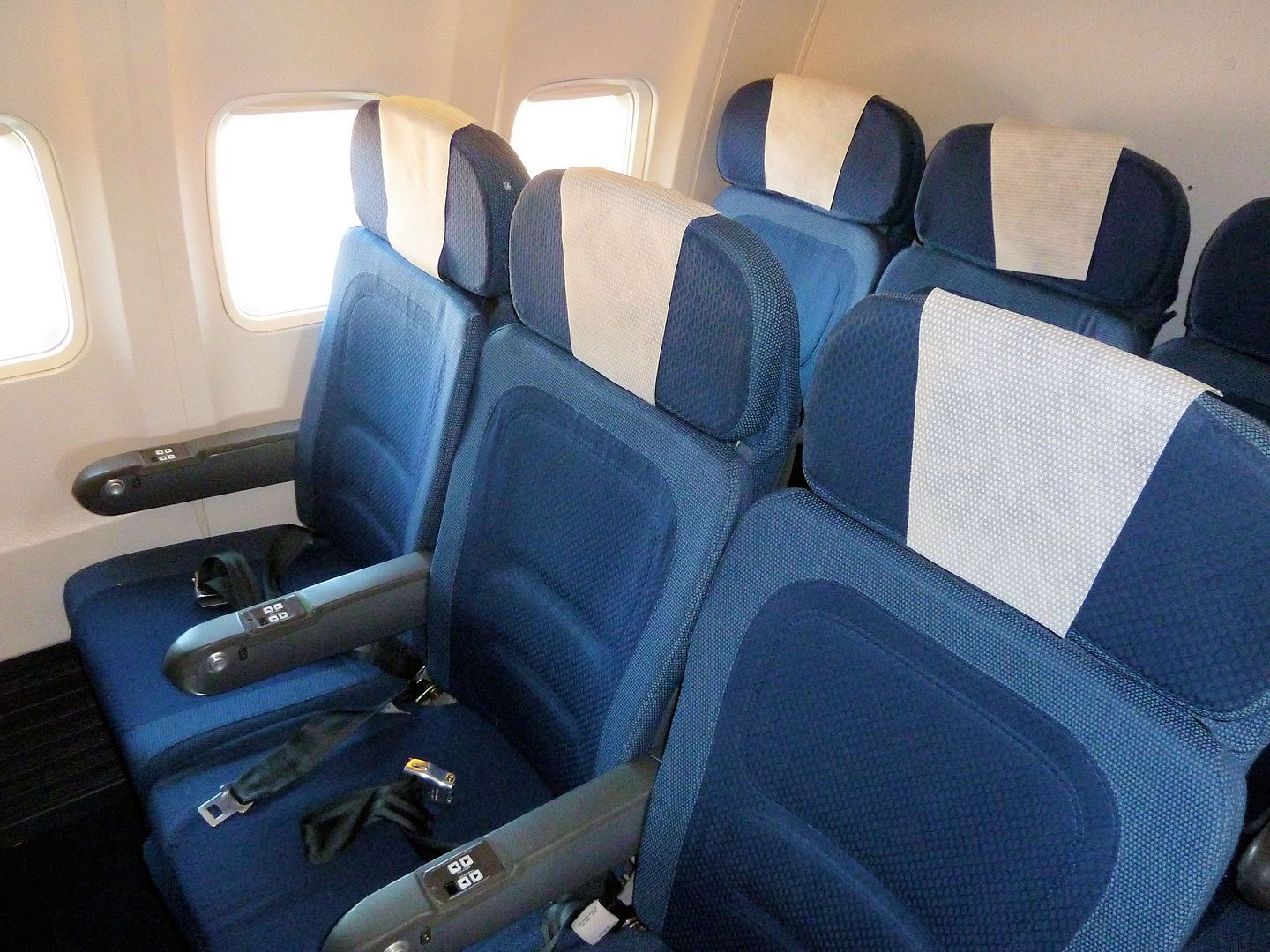 ...and legroom was sufficient: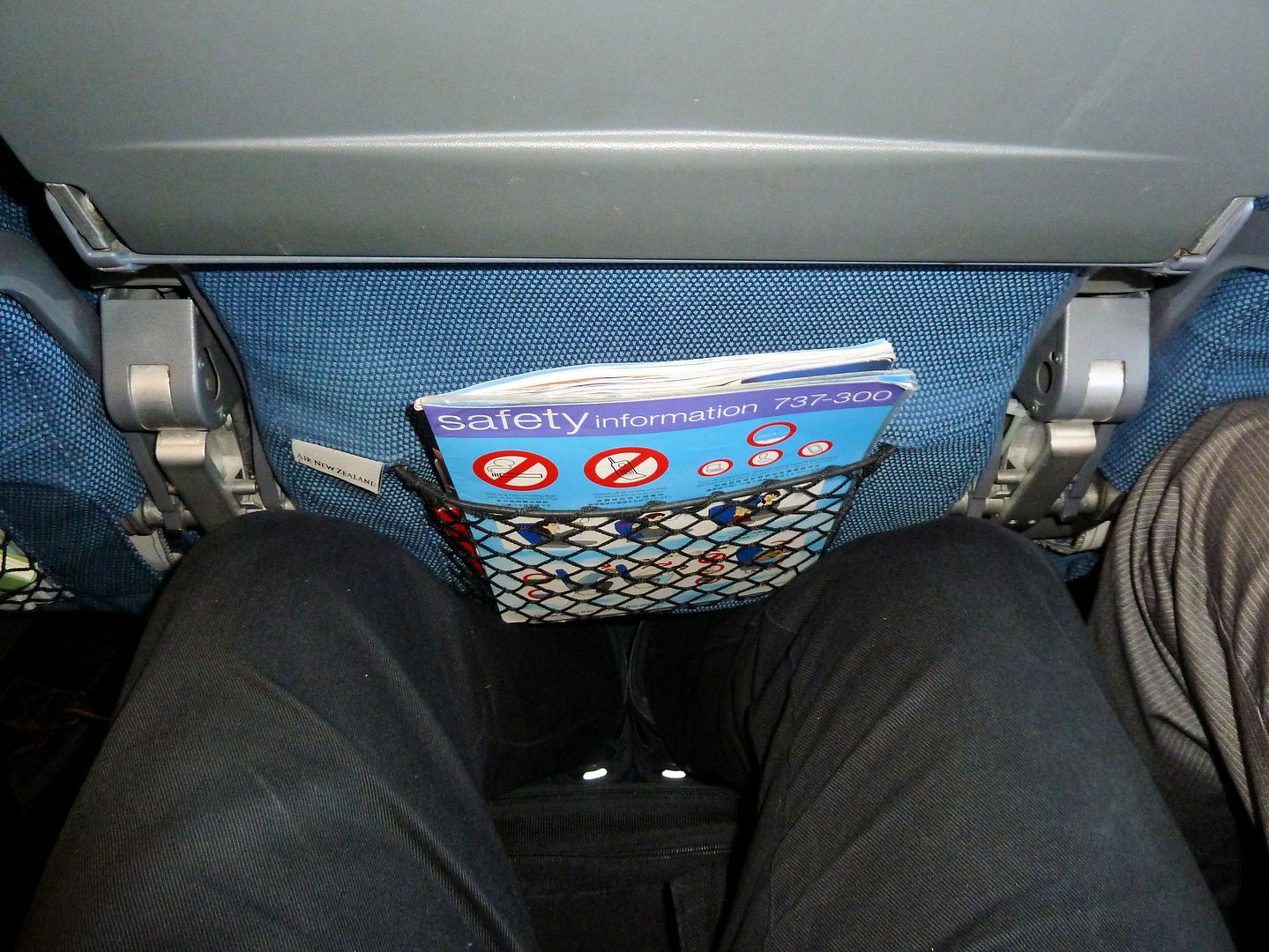 However, being squeezed in the middle seat is not a pleasure, especially if the neighbor is a tall and athletic guy. The aisle seat was taken by an older lady, so at least she did not reduce my space even further.
NZ's 737-300s are also equipped with fold-out screens: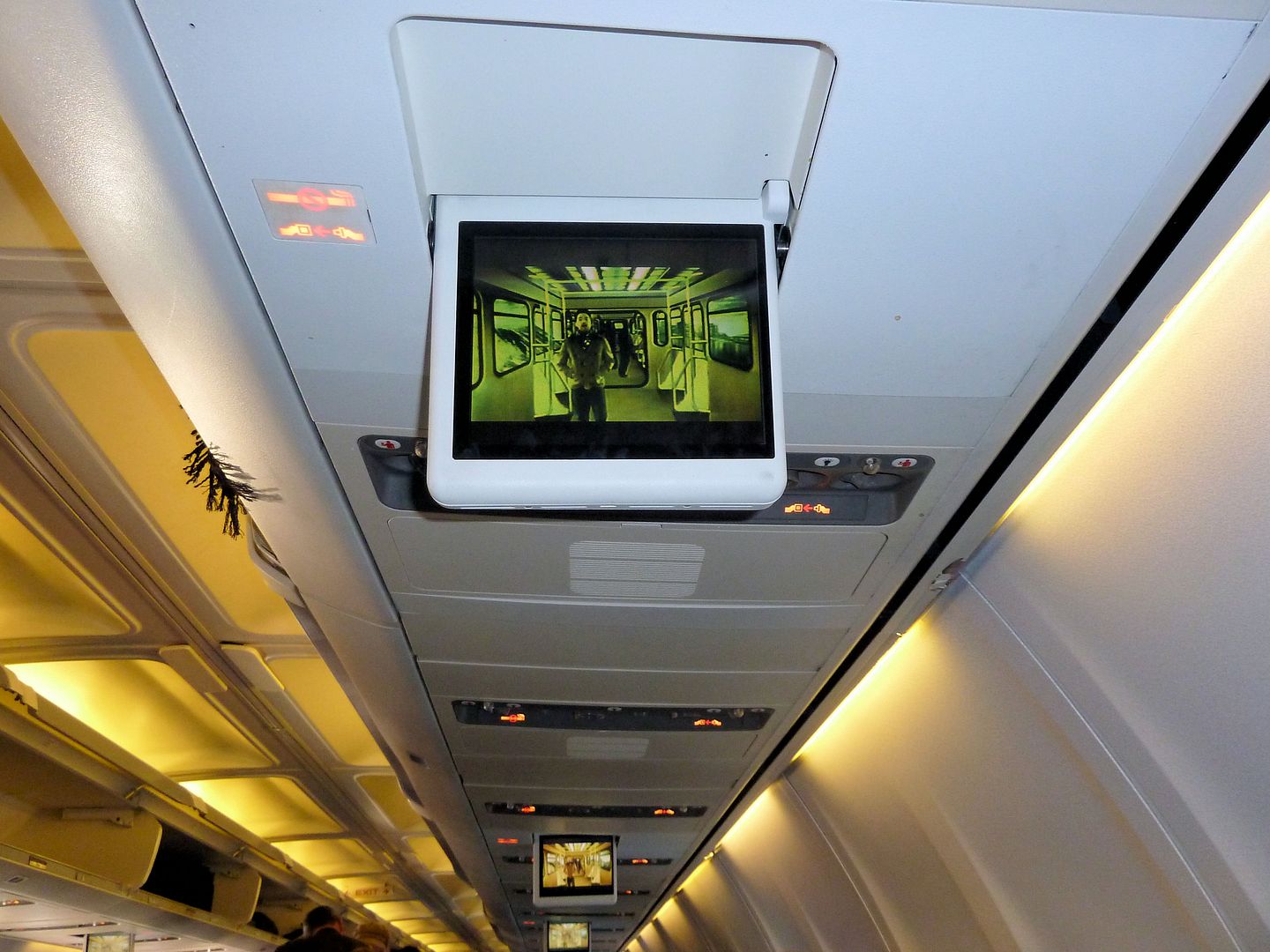 Unfortunately, an airshow was not available.
What I really liked was the "Crazy about Rugby" safety video - awesome! That's how you create attention!
http://www.youtube.com/watch?v=9f1awn9vBZE
Beautiful evening scenery: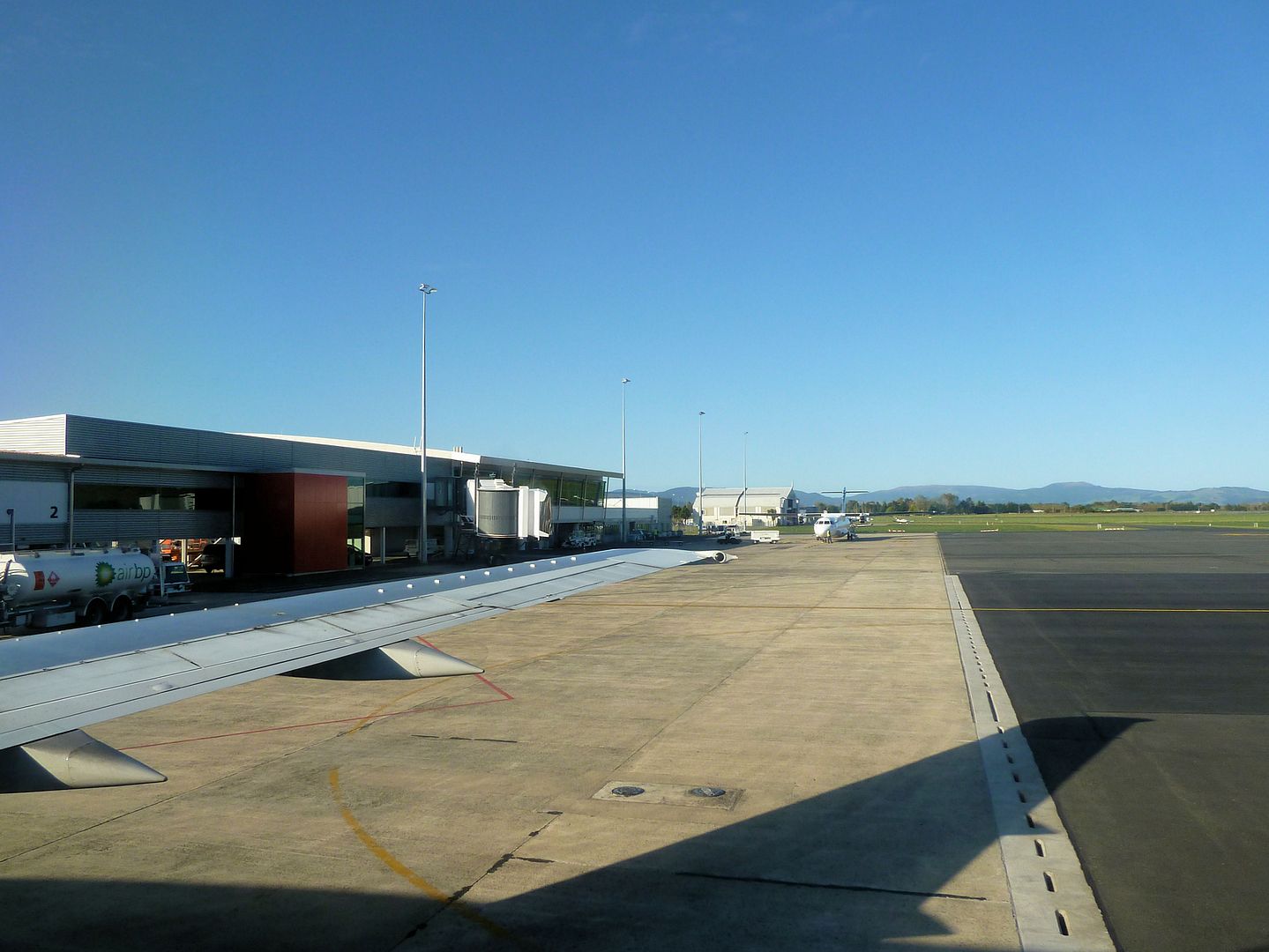 We left the gate almost on time and soon climbed out after a powerful takeoff run. I asked the guy next to me whether I could take some pictures and he kindly agreed: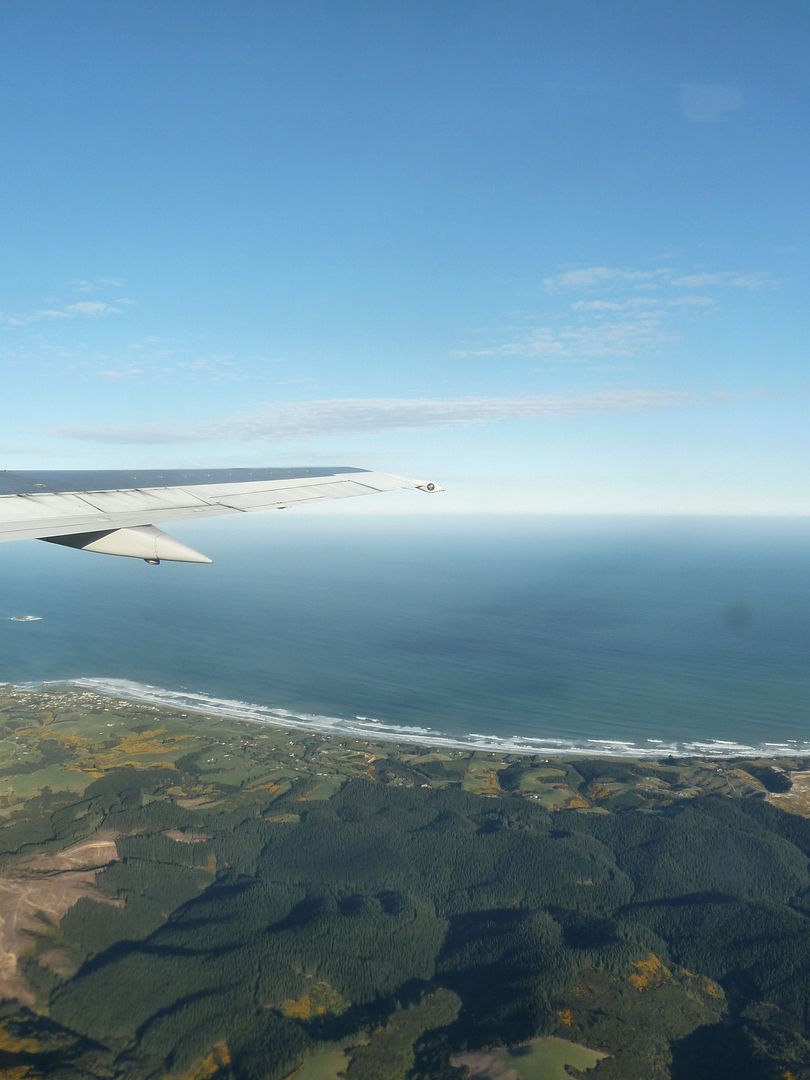 Nice view of Dunedin: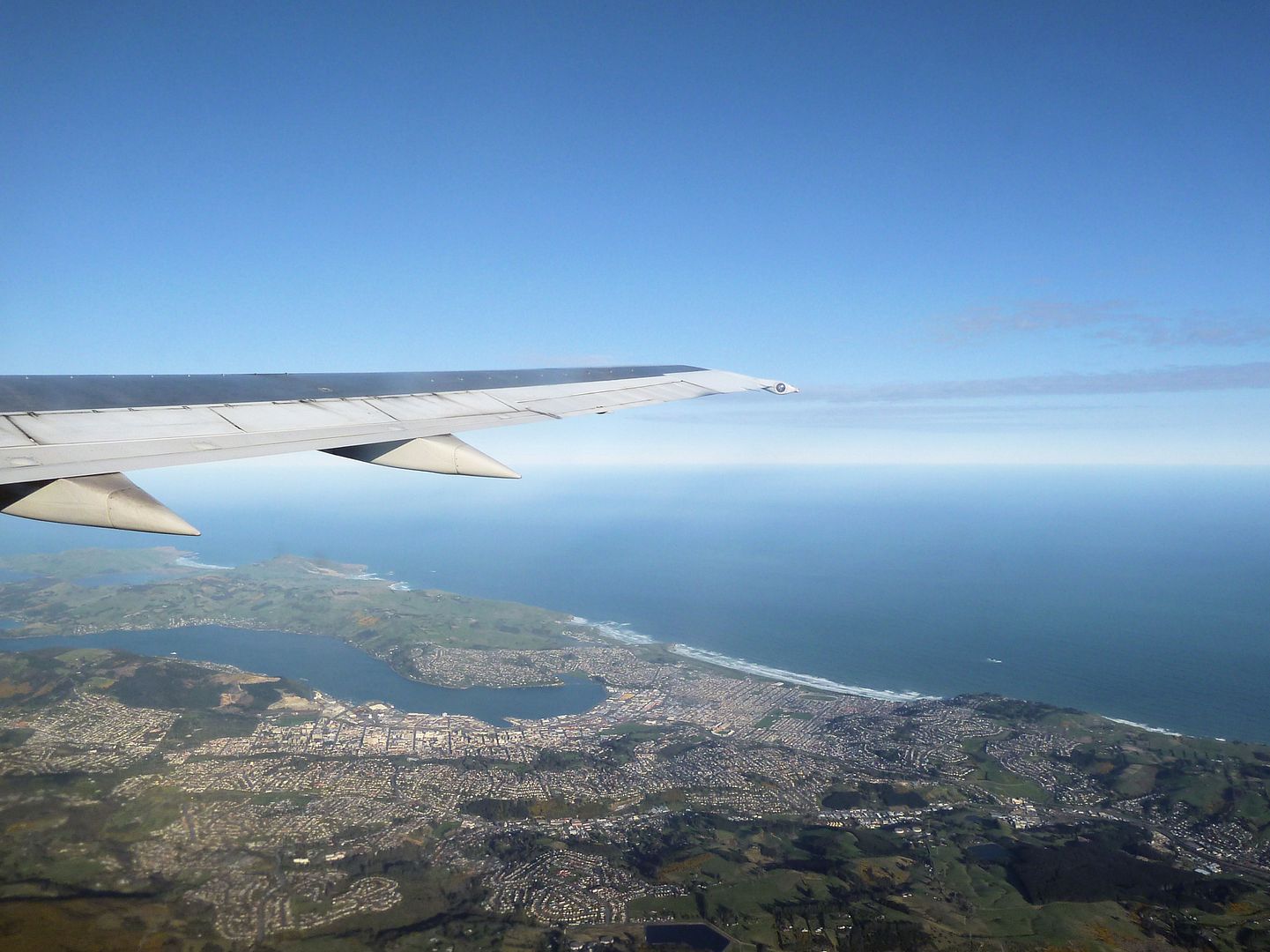 Shortly after takeoff, the purser announced that there would be a choice of three different kinds of snacks. I decided to try the "cheese platter", but that wasn't available any more when the flight attendants arrived at my row. So I ordered the "bagel bites" with tomato hummus dip which weren't bad: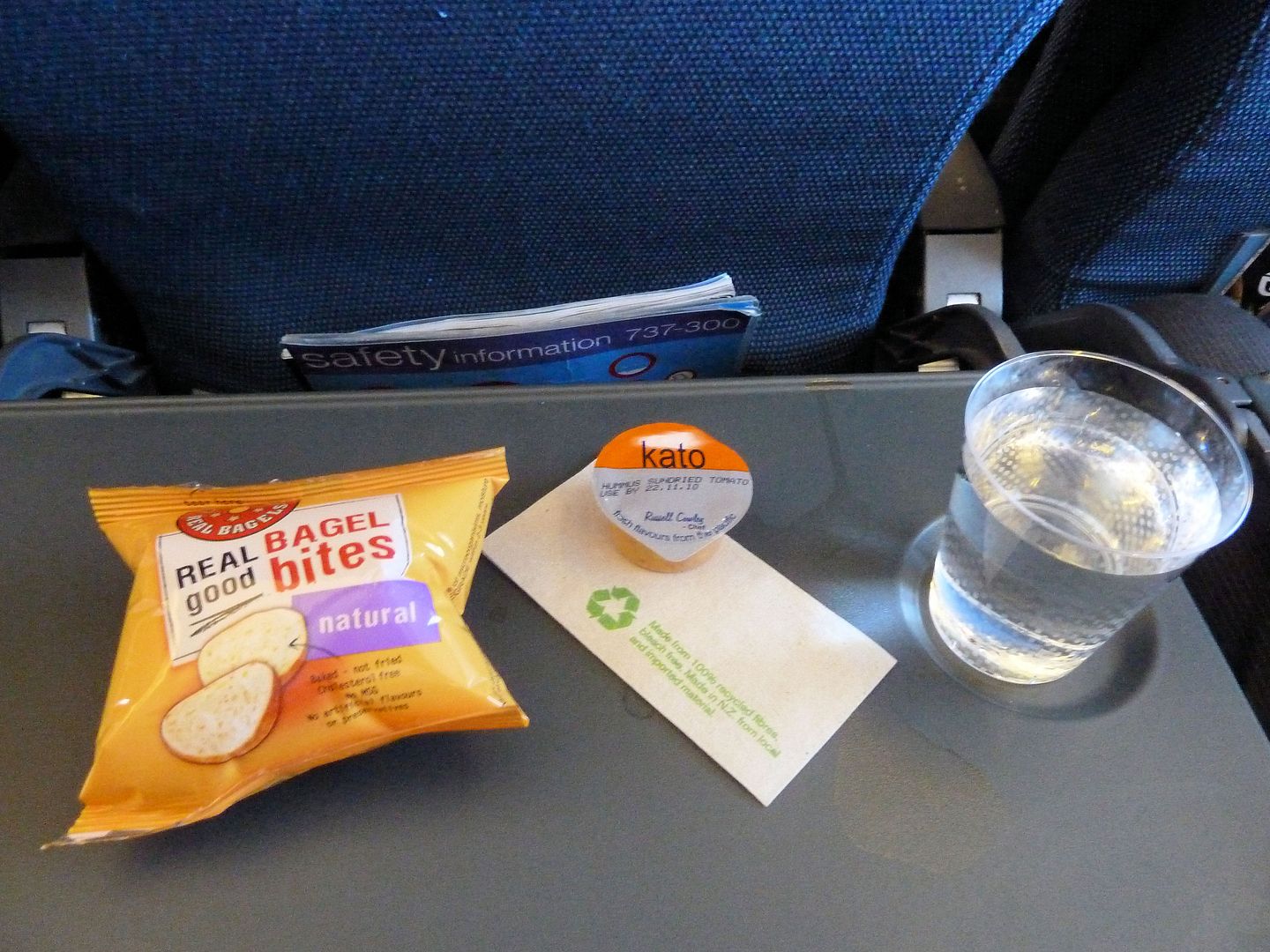 I soon started chatting with my seat neighbor who turned out to be an Australian on a business trip. As a frequent flyer, he knew a lot about aviation, but he was quite surprised when I told him about the purpose of my trip, my hobby in general and Airliners.net.
The obligatory cabin picture:
We touched down at Auckland after 1 hour and 22 minutes and arrived at the gate slightly ahead of schedule - how unusual that was!
One more picture of
ZK-NGE
:
Some 20 minutes after landing, I took the shuttle back to the
Jet Park Hotel
and spent a relaxed evening after an eventful day trip.
Story to be continued...
Conclusion
All three airlines offered a decent product with clean cabins, comfortable seating and friendly staff.
Air New Zealand
and its subsidiary
Mount Cook Airline
serve free drinks and snacks which is certainly nice. NZ even provides inflight entertainment, but that's not essential on these short routes. The question is whether that slightly better product justifies the generally higher fares compared to low cost carriers, or better said, the last remaining one which is Jetstar. Who knows why
Pacific Blue
failed to succeed in the domestic market. I cannot really complain about my Auckland-Christchurch flight.
No doubt, I was dogged by bad luck, but the problems could have been much more serious. One has to praise Air New Zealand for taking good care of all connecting passengers and rebooking them automatically. Well, I lost one flight, but it was the least important one. Most importantly, I could add two new airlines and also got the NZ 737-300, just as planned. Another positive aspect was that I suddenly ended up on the longest domestic route. Of course I would have loved to pass through Wellington Airport, too, but whatever. Postponed is not abandoned - my plan is to visit Wellington and Queenstown during my next trip to New Zealand, whenever that may be.
Best Regards,
PlaneHunter
P.S.: Just in case you missed them - my previous trip reports:
Trans-Tasman Treat: Aerolineas Argentinas A340-200
Detours To Sydney: Wildlife, Tiger, REX & QFLink
Thai Fails To Impress: MUC-BKK-BNE On 744 & 777
Painful Delay & My 100th Airline: AF A380, VO F100
Fifth Freedom Tidbit: Kuwait Airways A300-600
Ship Vs. Plane: Porto Santo Line & Sata Air Açores
Awesome Approach, Splendid Scenery: LIS, FNC & TAP
Guernsey, Ash Cloud Alarm & Mostly Empty SQ 77Ws
Totally Thrilling: Scenic Flight On Lufthansa A380
Cirrus D38, Adria CRJ & Captain Niki Lauda On Duty
Monarch Hot Meal, E195 & More: PMI-ALC-MAN-MUC
Premium Meal & Palma Spotting: MUC-PMI, DE 757-300
The Dead Slow Transfer: PEK-MUC On Air China A332
Cancellation Brings Joy: HKG-PEK on Dragonair A330
A380 Cacophony, 777 Star Livery: DXB-SIN-HKG on SQ
The Next 5* Carrier? MUC-MCT-DXB, Oman Air A330
Turkey For 1.5 Hrs: Daytrip To AYT On Sky Airlines
CO Scores Again: ATL-IAH-EWR-FRA On ERJ, 752 & 764
Riding The Ultra Long-Haul Twin: Delta 777-200LR
Pacific Coast Jaunt: 3 Carriers, E120, E140 & Fog
The Ultimate 737: LHR-IAH-PDX On CO 777 & 739ER
Bye Bye, Hell! TRD-OSL-TXL-NUE - DY/AB/HE DH4
My Trip To Hell: NUE-CPH-OSL-TRD On Cimber & SAS
SFO-YUL-FRA: Map- & Sleepless On Air Canada's 77W
Sin City Gloss & Virgin America's Chic First Class
Seat Dilemma & Canyon Glamour: FRA To LAX, AC 763
On Par With Air France? DTW-AMS-MUC, KLM A330
Goodbye, Red Tails! DC-9-40/50 & Chicago Tour
Champagne & World Of Coke: Air France A340 To ATL
"Mission A380": Disappointing Legs On BA/BD/EI
Delights Of Doha, 773 & 77W: DOH-DXB-LHR On EK
A380 Really a Step Forward? LHR-DXB-DOH On EK
Quality & Style: HKG-LHR On Air New Zealand 744
Taiwan Trio: TransAsia, UNI Air And The Taipei 101
"The Wings Of Taiwan": EVA Air A332, 744 Combi
SHA-SZX, Shanghai 757: Delayed By The Military
PEK-SHA, China Eastern A330 & Shanghai At Night
Striking Newcomer: Berlin-Beijing On Hainan A330
Short & Splendid: MXP-MUC On Air Dolomiti's 146
3 Hours On Blue1: HEL-MXP On The MD-90
BCN-MAD-ZRH-MUC: UX Shuttle Meets Swiss Quality
MUC-MAD-BCN: Star MD-87 & The Pain Of Vueling
Low Fares, Lovely Island: AK & Best Of Langkawi
4 Stars Or 5 Stars? FRA-KUL-FRA, Malaysia 777s
First And Last Time? JFK-FCO-MUC, Alitalia 777
JFK For 1 Day: Transatlantic Hop On CSA's A310
Sardinian Sun, Shiny New 73Gs & Cramped Mad Dog
Top And Flop: KIX-HEL-MUC, Finnair A320 & MD-11
The 524-Seat Twin-jet: HND-ITM On ANA 777-300
Kobe For 1 Hour: 767-Quickie On ANA & Skymark
Rocketing To Tokyo: FUK-HND On JAL (ex-JAS) 777
Oddities & Okinawa: JTA 734 & JAL 744D(Domestic)
MUC To Nagoya: Finnair E170 & (Old) "New" A340
Mad Dog, A320 Tech Delay & Best Of Lanzarote
Canaries Prop-Hopping: Islas Airways & Naysa
Canaries And Confusion: LH CRJ900 & Spanair A321
Hubbing For 162 Miles: HOQ-FRA-STR Ret On IQ/EW/LH
BOS-JFK-AMS-MUC: SSSS-Check And KLM 777
ATL-PIT-JFK-BOS: FL B717, JetBlue E190 And Delays
MUC-AMS-MEM-ATL On NWA A332 And 40-year-old DC-9
FRA-BKK-FRA Via CMB: SriLankan A332 & A343
BNE-SIN-DXB-MUC On Emirates B772ER & B773
2 Hours In Paradise: Hamilton Island (JQ/DJ)
BNE-SYD-BNE: Domestic Run On QF's Oldest B747-400
Testing Qantas: SYD-MEL-SYD-BNE (B738, B763, A332)
Going Down Under: MUC-DXB-SYD On EK A332 & A345
9/11 Review: Failed Trip To LAX - Fuel Dump Pics
Surprised By NIKI's Newest A320 & Screw-up By AB
Leisure Vs. Full Service: Condor & SN Brussels
"betterFly" On LH: Business Class For 99 Euro
Weekend Transatlantic Trip (2): US A321 & B762
Transatlantic For A Weekend (1): MUC-DCA On US
[Edited 2011-03-14 02:51:10]