Back in the saddle after a long 14 weeks out of the game, its time to hit the road again. Welcome to my latest trip report for A.NET
Making Plans.
Anything!!! Just give me anything that will get me back into an Airport and onto a plane. That was the thought running through my head. I can't spend much longer stuck on terra firma. This self imposed ban on flying was to allow my bank balance to recover somewhat before starting out with the 2011 season. As things returned to normal in that department it was time to start the search for some routes.
I had decided that for this year I was going to focus, where possible on flying routes within Europe that I had not previously logged. To add to this, my FlightMemory was showing a visited Airport total of 48. Obviously, this had to be rounded up to 50 on this trip.
For European routes I like to use Expedia. In the past I have found some decent fares by booking a return flight (including a Saturday night stop) to a given destination with a connection in either direction. I randomly typed in MAD as my destination and was presented with a route that would have me flying 4 new routes MAN-CDG-MAD-AMS-MAN and covering the 2 new airports needed to get me to the half century, these being CDG and MAD. The outbound legs were with Air France and the return with KLM giving me 2 new airlines for my collection also. The price was good at £141.50, so nothing much to think about in that area before moving my mouse arrow onto the purchase button. Interestingly, the fare was made up of a £4.50 Expedia charge and taxes/fees of £133.00 leaving just £4.00 in the ticket price. At just over £35 per segment I was happy with the outcome regardless.
Here is the route, shown using GreatCircleMapper.
I also needed a hotel for the Saturday night in Madrid. Using Expedia again I did a quick search of Hotels in the vicinity of the Airport. Looking for value over luxury I picked the Tryp Alameda Aeropuerto. 1km from the Airport with free shuttle bus service and an easy to swallow price of £58. We will look at the hotel in more detail later in this report.
12:03:2011
With the first leg not leaving until 15.10 there was no need for the early wake up call this time, and just as well really. A friend of mine recently got engaged to his girlfriend so we decided to throw a bit of a dinner/drink session for them back at my house the night before this trip. A very enjoyable evening was had, but as is the case when things get merry I was left feeling in a fragile state the following morning. No time to feel sorry for myself, better get moving before too long.
As usual I took the train over to Manchester and everything ran to time.
Terminal 3 was the departure point again today. I wanted to check in at a desk in the hope of getting all Four boarding passes. This took some time as there was a slow moving line of about 15 people in front. The process seemed really slow on this occasion. Once at the desk I was checked in for all Four segments with window seats secured.
One of the T3 check in areas. EasyJet having the longest queue with perhaps not very regular flyers slowing the process down.
Still feeling the effects of last nights booze I stopped by Costa for a bite to eat before negotiating security. I didn't feel like there excuse for a sandwich really helped matters though. At security the line up was really slow moving as well and some 30 minutes passed before I was stripping off to pass the metal detector. Must be one of those days?
Once through I found a window and watched some of the comings and goings.
Helvetic F100 operating for SWISS on the ZRH run.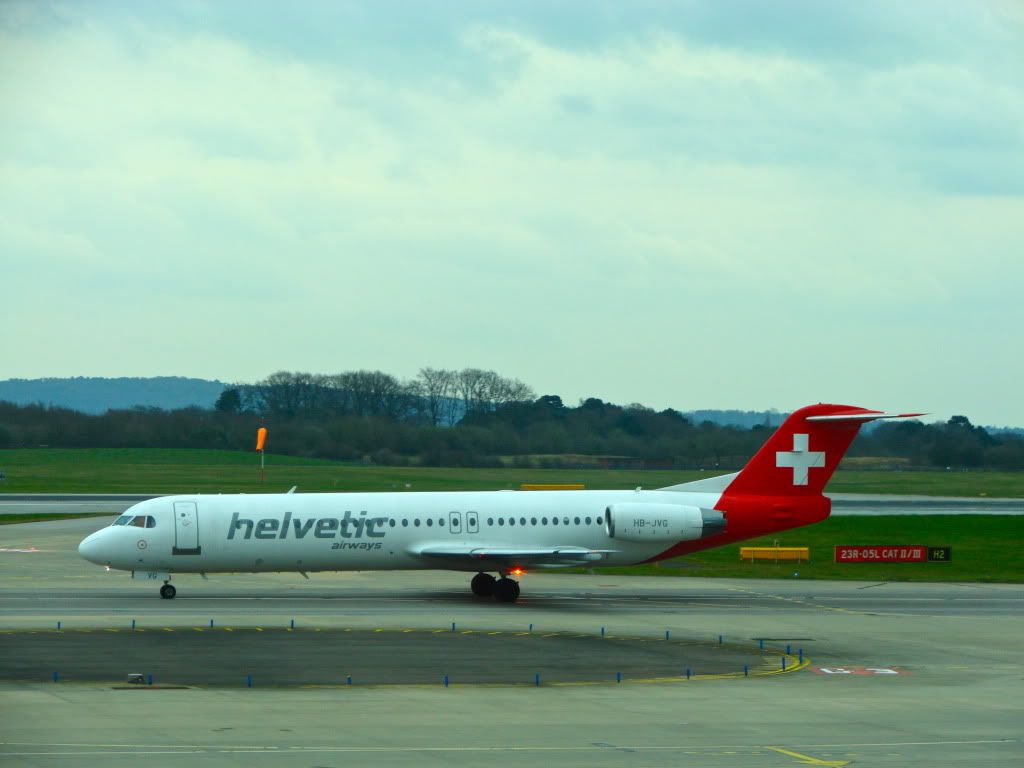 Route: MAN-CDG
Airline: Air France
(1st time flying this airline)
Flight Number: AF2269
Aircraft: A318
(1st time flying this type)
Seat: 19A
Economy Class
Flight Duration: 1hr:11m
Reg: F-GUGC
(1st time on this aircraft)
Boarding was eventually called and I headed off to gate 44. The original booking showed this service to be operated by an A319 so I was happy to see a smaller A318 attached to the bridge once there. A new type into the log book for me.
Seated in row 19, I was in the first boarding group. A member of cabin crew was welcoming people on board with a cheery bonjour. For sure the Two Female crew members on this flight were quite pleasing to the eye. Seated just behind the wing I was not far from the back of this baby bus. The cabin looked quite fresh and was fitted with the slimline, non-reclining type seats. Legroom was ok for a flight of this short duration.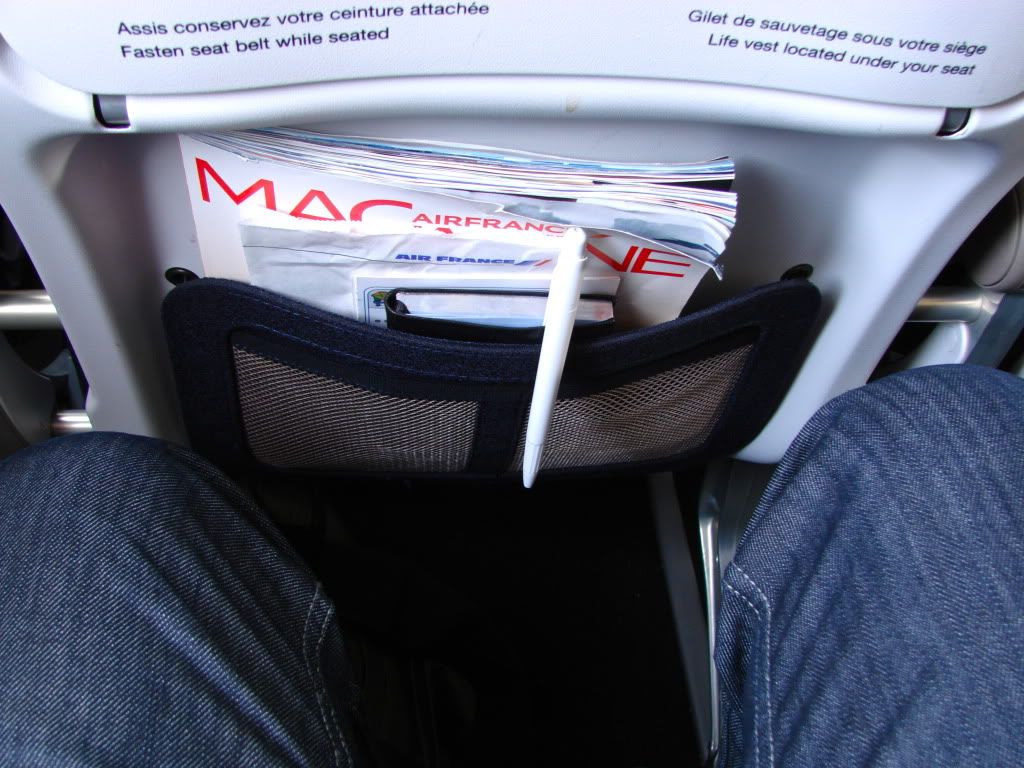 With a load of around 70% there were quite a number of empty middle seats looking down the cabin. Thankfully, this was the situation on row 19 as well helping with the feeling of space. Boarding was completed with time to spare but we remained on stand until the scheduled departure time. ATC were unable to accommodate an earlier departure.
It was quite an overcast day in Manchester so I was looking forward to climbing out of the murk and into the sunshine.
Just a couple of climb out shots.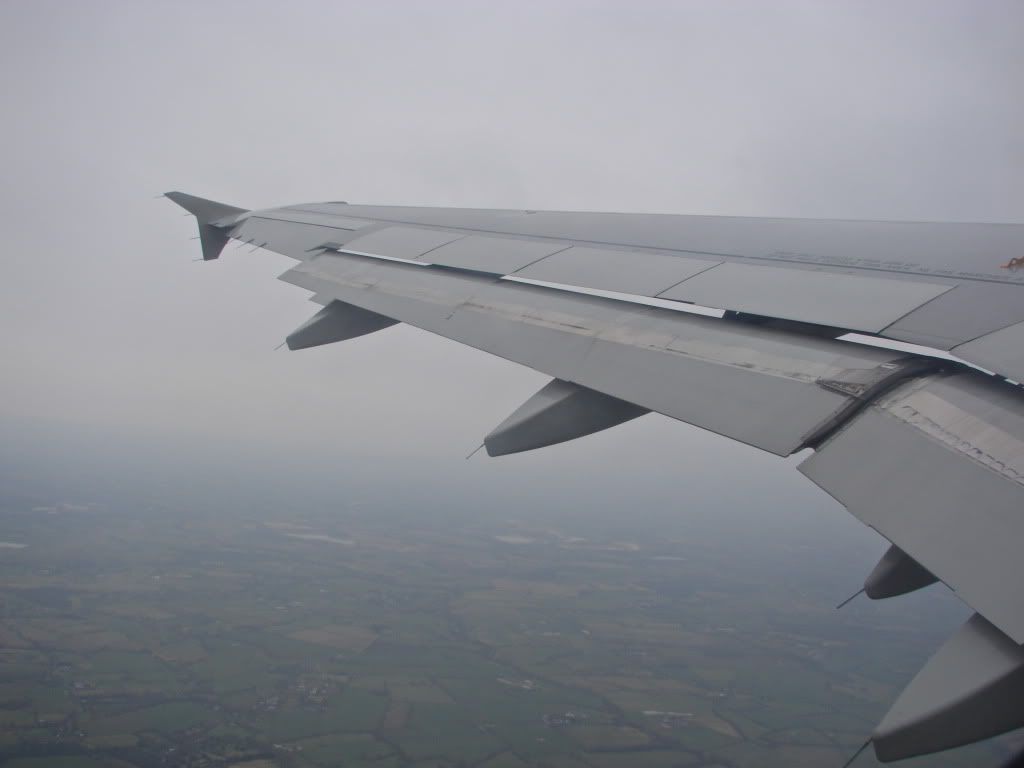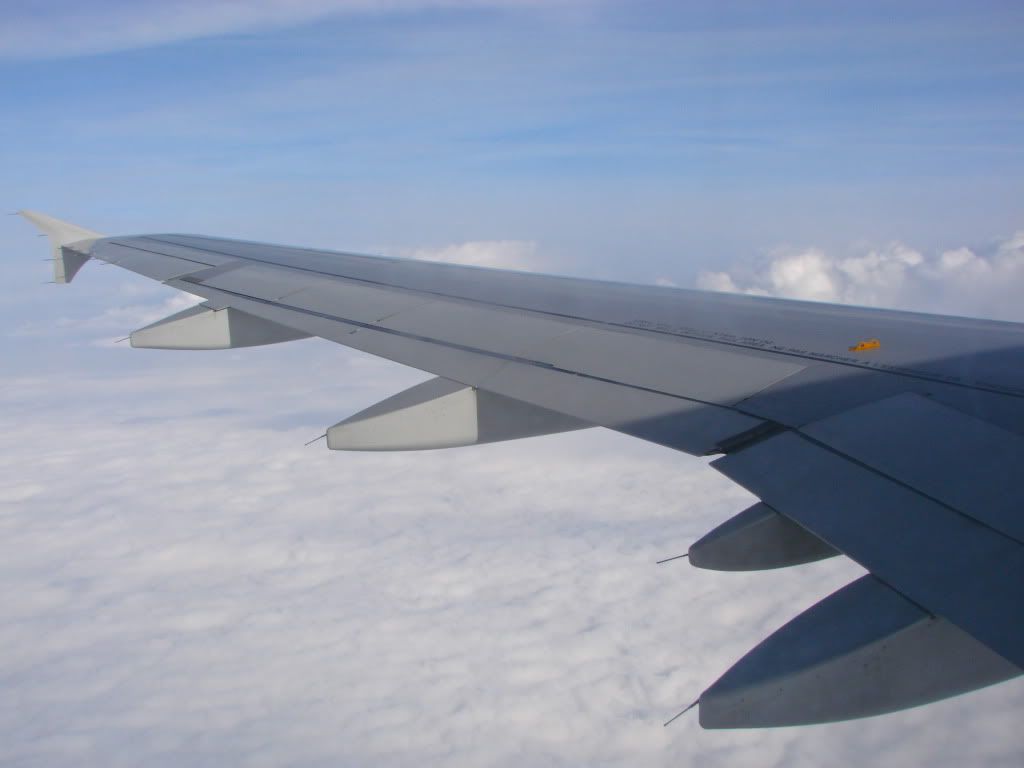 Once into the cruise the drinks service started. In my hungover situation I decided the best bet was to keep drinking, so I went for the red wine and was also served some biscuit type snack bites. That wine took some getting down I can tell you. Like swallowing a brick, but I managed.
Time to just sit back and look out of the window. Unfortunately it remained cloudy all the way down to Paris and we descended into similar conditions that were left behind in Manchester.
A few shots of the approach.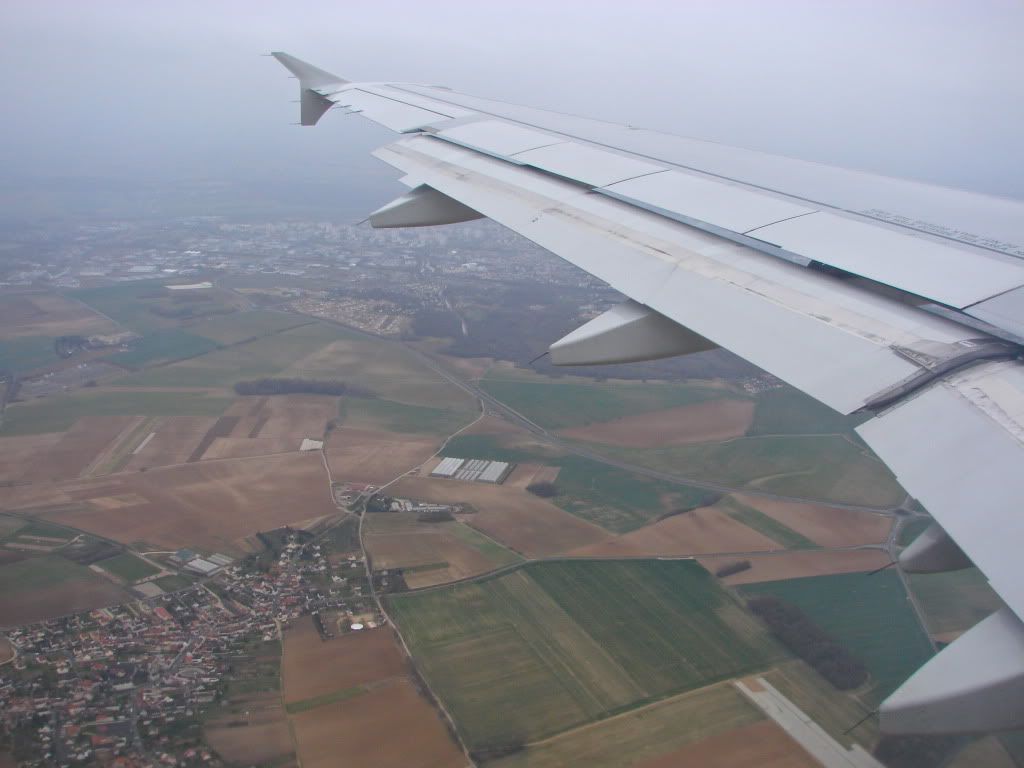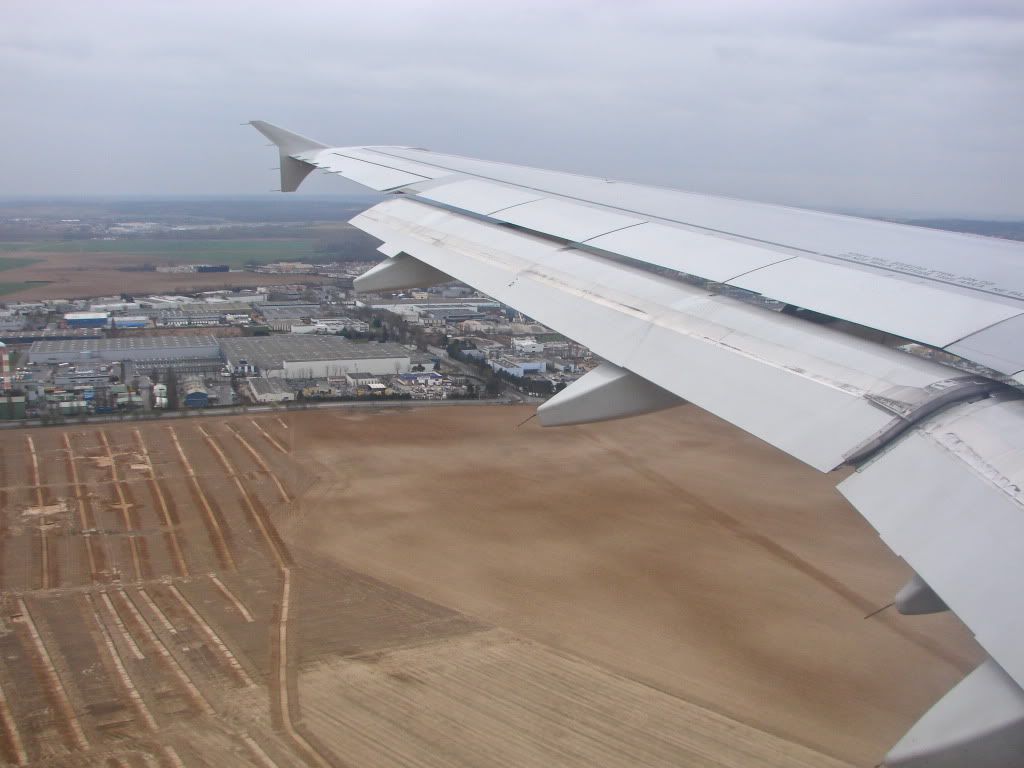 The final approach was quite a bumpy affair. Some heavy gusts of wind catching the vertical stabiliser and causing some quite noticeable yaw. As we approached 500ft the winds became less and we made a relatively smooth touchdown onto the runway followed by a taxi over to T2 E.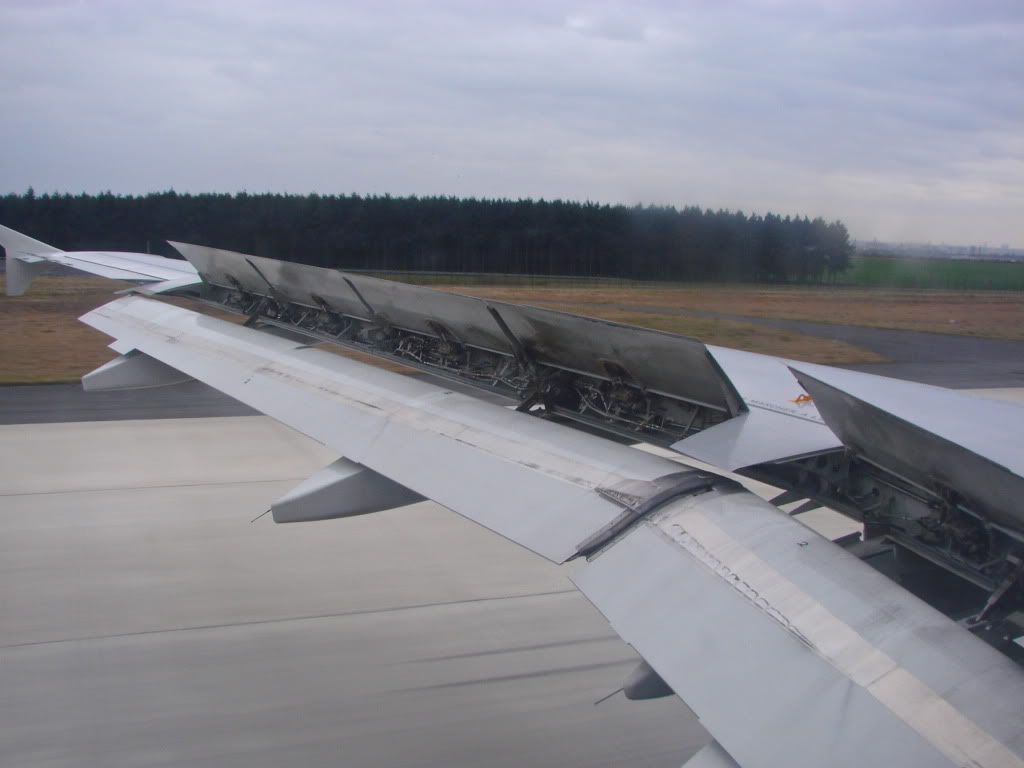 AF territory for sure here.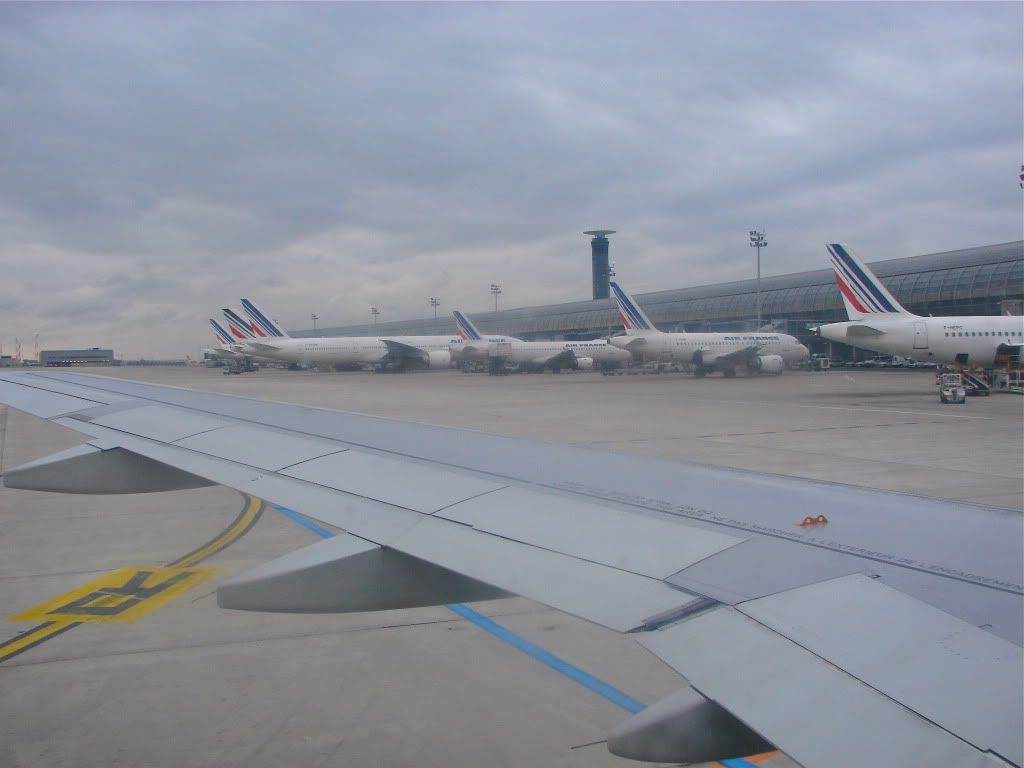 A layover of 1hr:25m was shown on the booking so I was happy to note an early arrival at the gate. By the time I had actually got off the plane this was back to the forecast time. Being my First visit to CDG I decided to head straight to my next gate to avoid any unwelcome surprises. The scene that greeted me at the passport check was something along those lines however. Only One fast lane desk was open and One desk for connecting passengers to all T2 zones. I joined the back of a long queue and watched the minuets tick by. The line seemed to move at different speeds but I made it through with about 40mins in hand. Liquids and laptop out for a scan next before entering the F section of T2 and then on to gate 31 with time to grab a sandwich before boarding.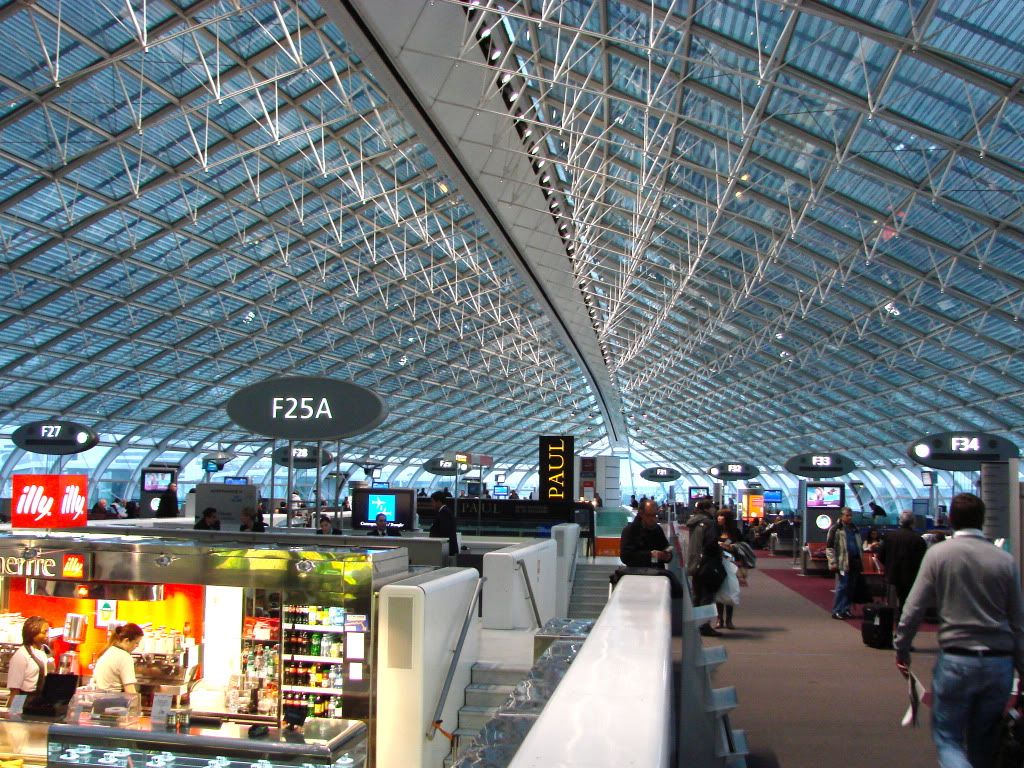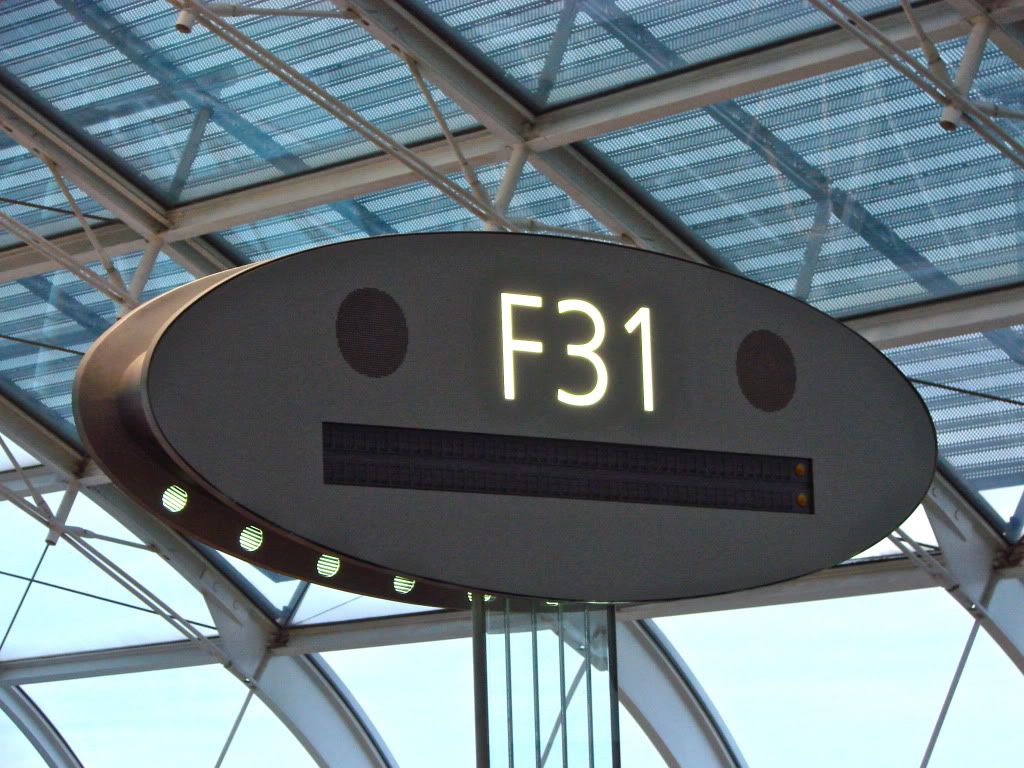 Route: CDG-MAD
Airline: Air France
(2nd time flying this airline)
Flight Number: AF2100
Aircraft: A320
(22nd time flying this type)
Seat: 19A / Switched to 22F
Economy Class
Flight Duration: 1h:40m
Reg: F-GFKJ
(1st time on this aircraft)
Time then for another surprise and also another First for me. F-GFKJ was being prepared at the bridge attached to gate 31 meaning? Yes, my First ride on a RetroJet.
Here she is waiting for the mission to MAD.(sorry for reflections, best I could do)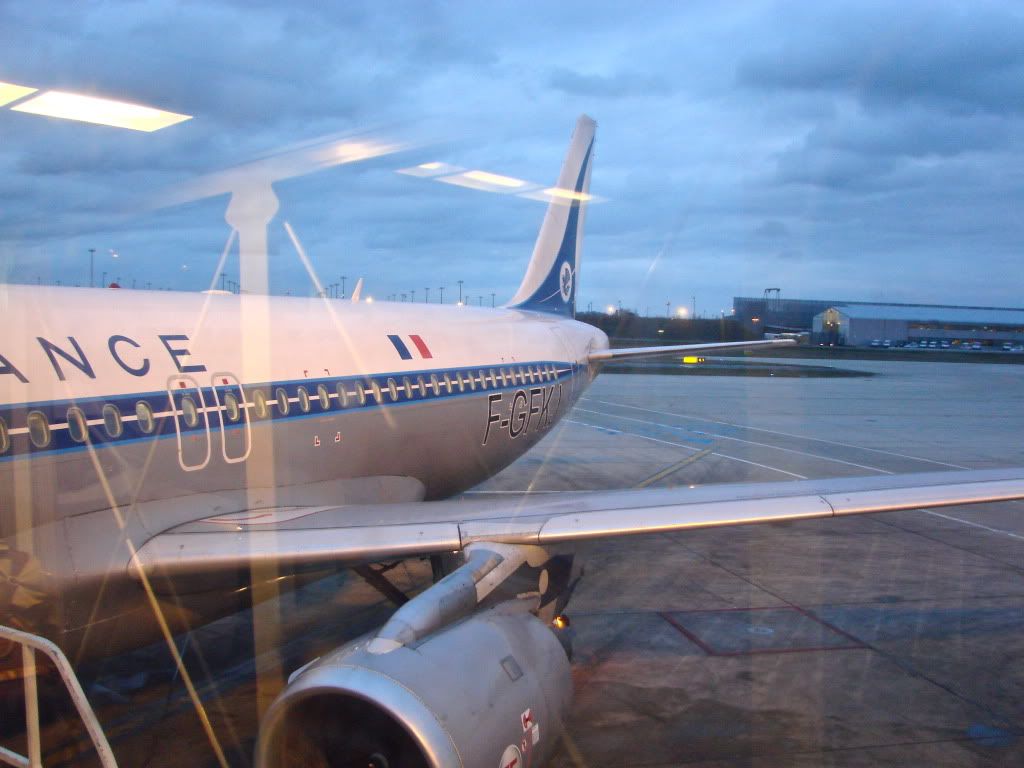 In keeping with the retro livery, the interior was trying its best to join the same era here. (taken after landing)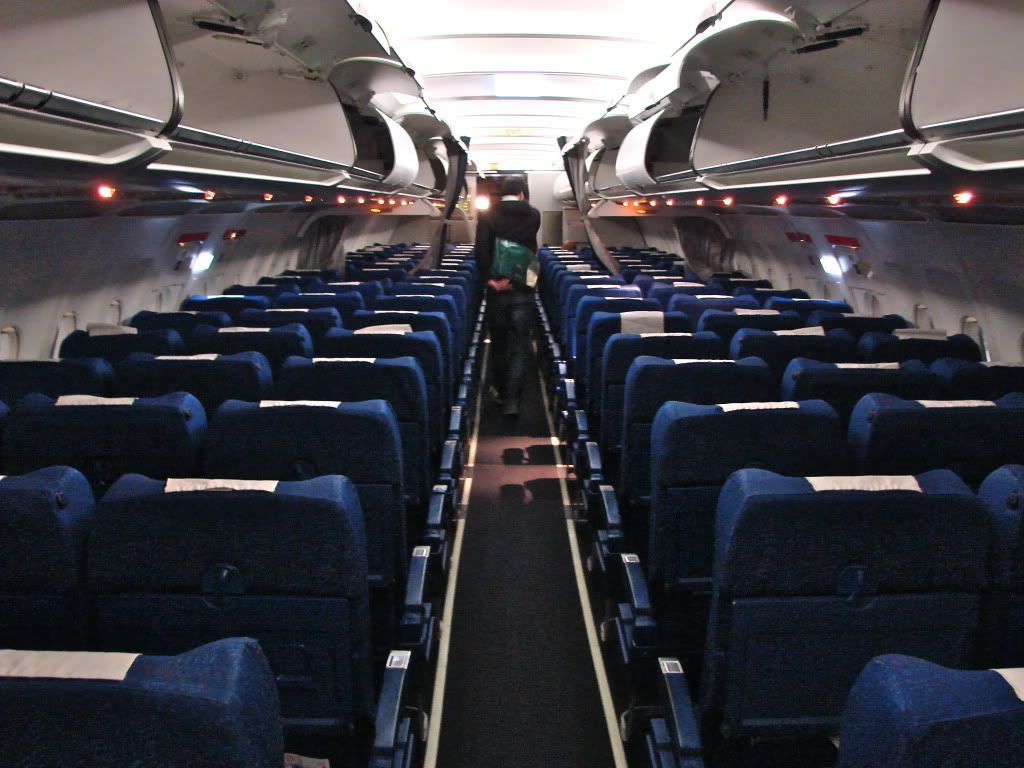 I could feel a marked difference with legroom in a negative way and the position of the stowed try table seemed to impede the upper body area. Nice to meet a friendly crew again though.
Quite a low load to mention here. Around 25-30% with many empty rows.
Safety demo carried out in the usual fashion followed with a pre-recorded version spoken in Japanese for the benefit of around 8 passengers of that nationality. It was unclear if they were on vacation or trying to get home so I hoped for them that all was fine with their family's and property after the recent earthquake and its after effects.
Push back and start on time before heading out to runway 26R with no need to hold position before advancing the throttles and climbing out with some light buffeting still catching us.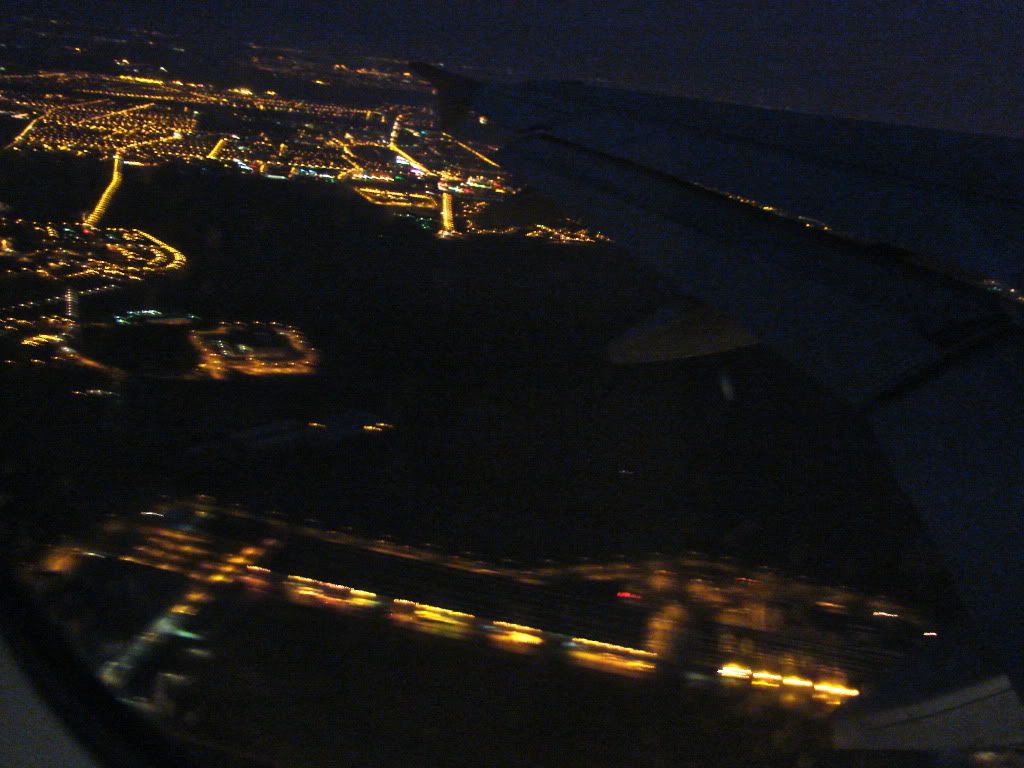 Things soon smoothed out and once above the cloud I could see the sun setting off to the starboard side. Typical that I find myself on the wrong side, but the low passenger load allows me to move across once the seatbelt light turns off.
Speaking of the seatbelt. I quite like the AF title etched into the buckle.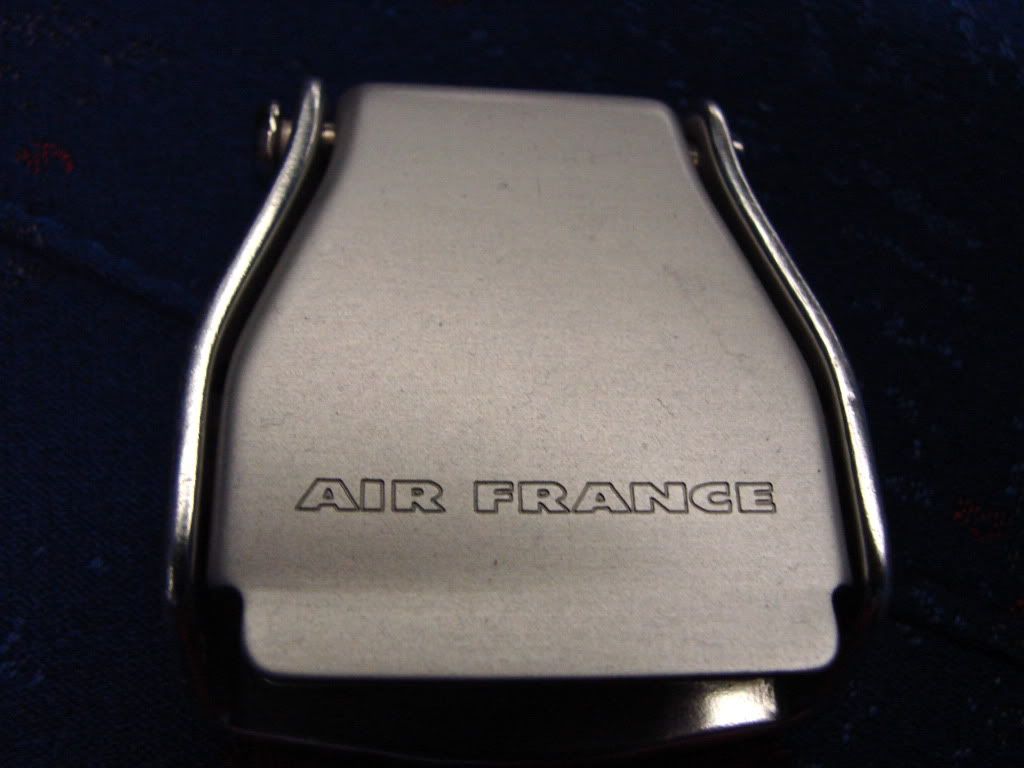 A couple of views as the suns light fades from this part of the world.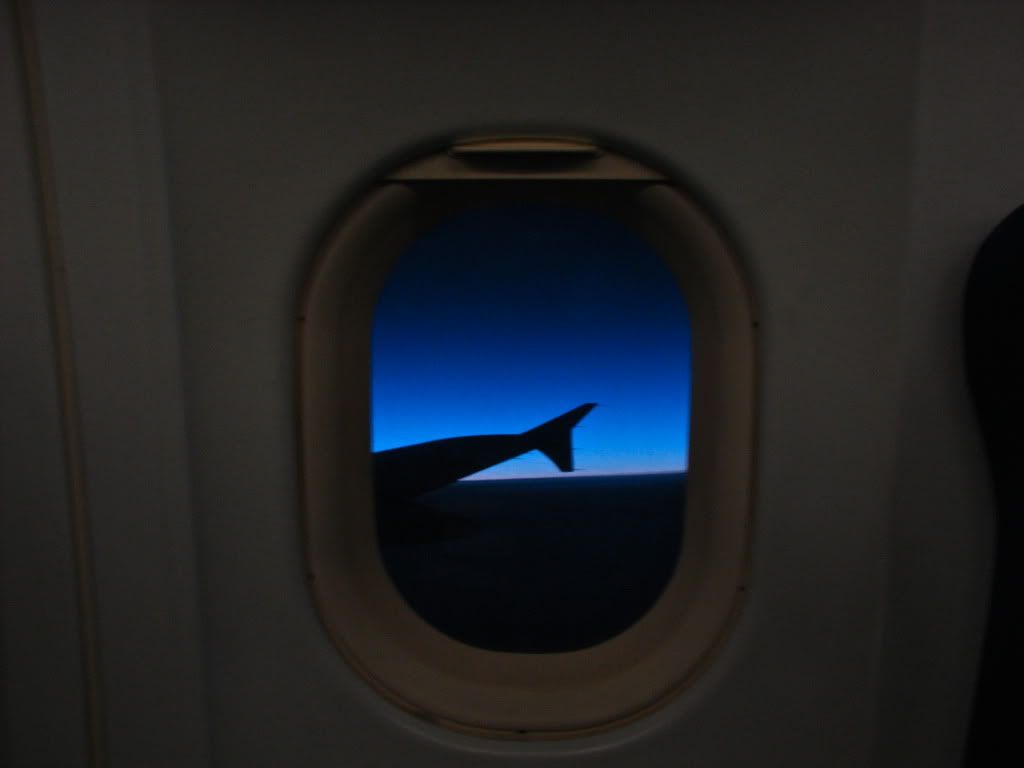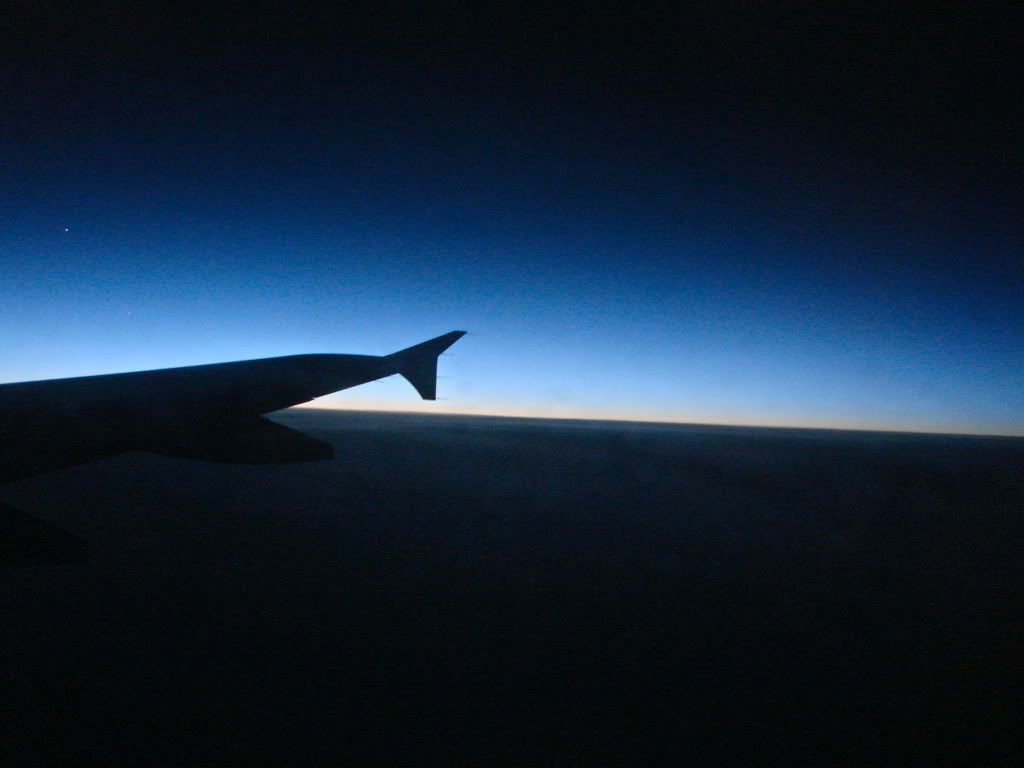 Soon onto the snack/drink service. Just a small Ham sandwich on offer, lacking any real substance I felt, but happy to accept another small bottle of Red. Perhaps a little on the cold side though.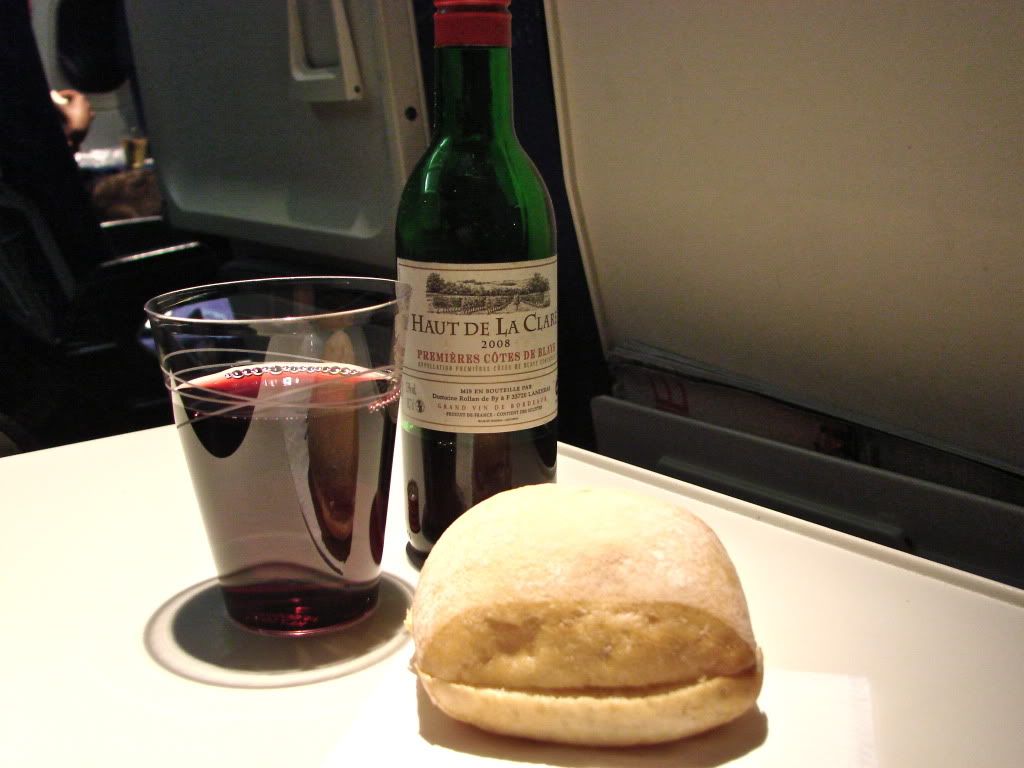 Nothing much going on through the window now it was dark aside from the occasional flash off lightning from the cloud in the distance. Time to grab a little sleep while things were quiet.
I woke up during the decent and prepared my things for landing. During the latter stages of the approach I noticed someone shining a laser pointer at out plane from the ground. I hear this is becoming something of a problem lately and was quite shocked at its powerful effect even at around 5000ft.
Just one attempt at a picture during final.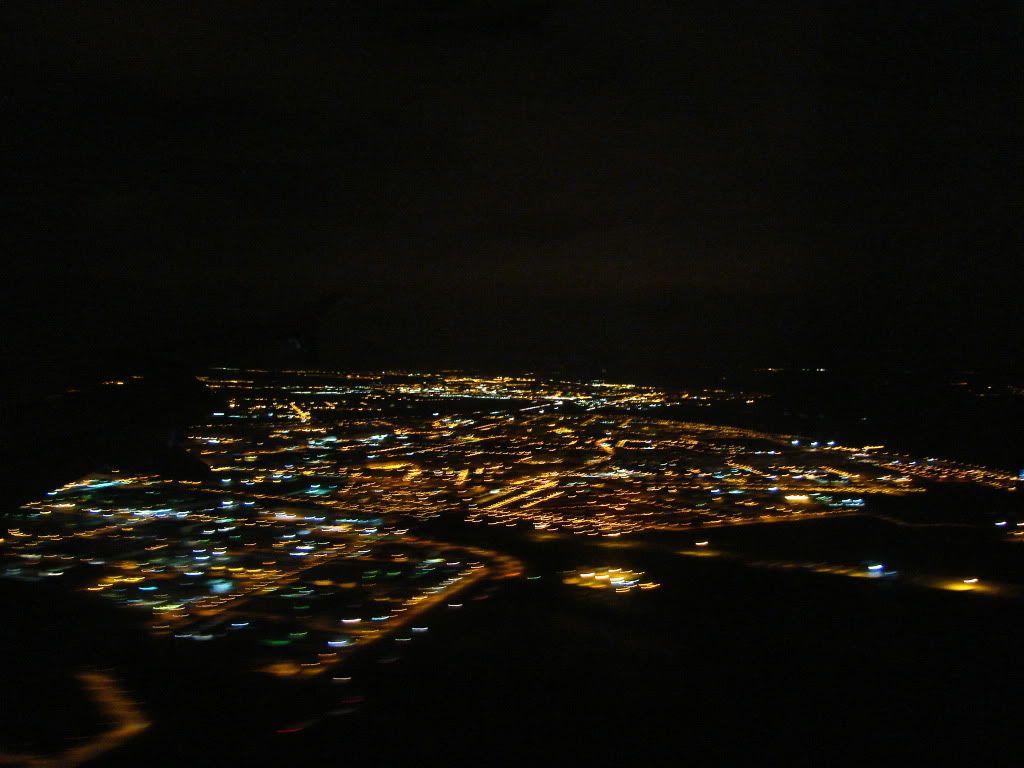 We made a smooth touchdown after 1h:40m flying time and started the long taxi over to T2. Looks from the outside as though this part of the airport is the poor relation.
Now time to head off the plane and phone the hotel for the shuttle service pick up. Easily arranged and picked up inside 5minutes, a good first impression. Just a few minutes more then until arrival at the hotel entrance. A strange location without doubt. Something of an industrial feel, slightly run down also. Efficient check in but with the bad news of no complimentary wi-fi. Lets have a look at the room.
Nice big bed and an ok feel to the place.
Clean bathroom but the décor is not to my taste.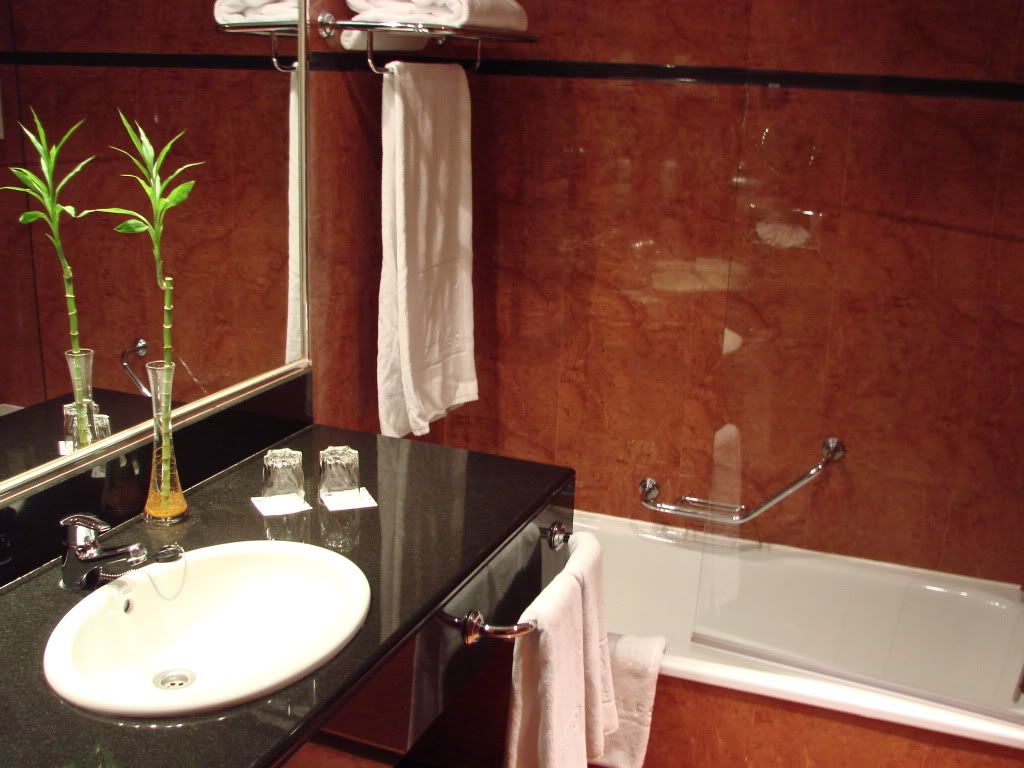 I headed downstairs for a beer. Friendly service by the bar staff and a modern feel to this section. No picture taking here i'm afraid due to a very busy area. Didn't want to ruffle any feathers of the camera shy amongst the guests. Mainly older generations staying here tonight, perhaps into the 50-60 age bracket.
Back upstairs and time to get some sleep then? Well that was the plan but I struggled to get to sleep for some reason. Some shouting was going on from outside which didn't help. Maybe after a couple of hours I drifted off, but with a departure time at a reasonable 10:15 nothing to worry about.
13:03:2011
I woke up in time for a quick bath before grabbing my stuff and checking out. Plenty of takers for the shuttle service, in fact, a full bus of 18. Only me for Terminal 2 though. Iberia taking the rest of the passengers to their destinations from T4.
As mentioned, I had my boarding passes already, so just time for a quick picture land side.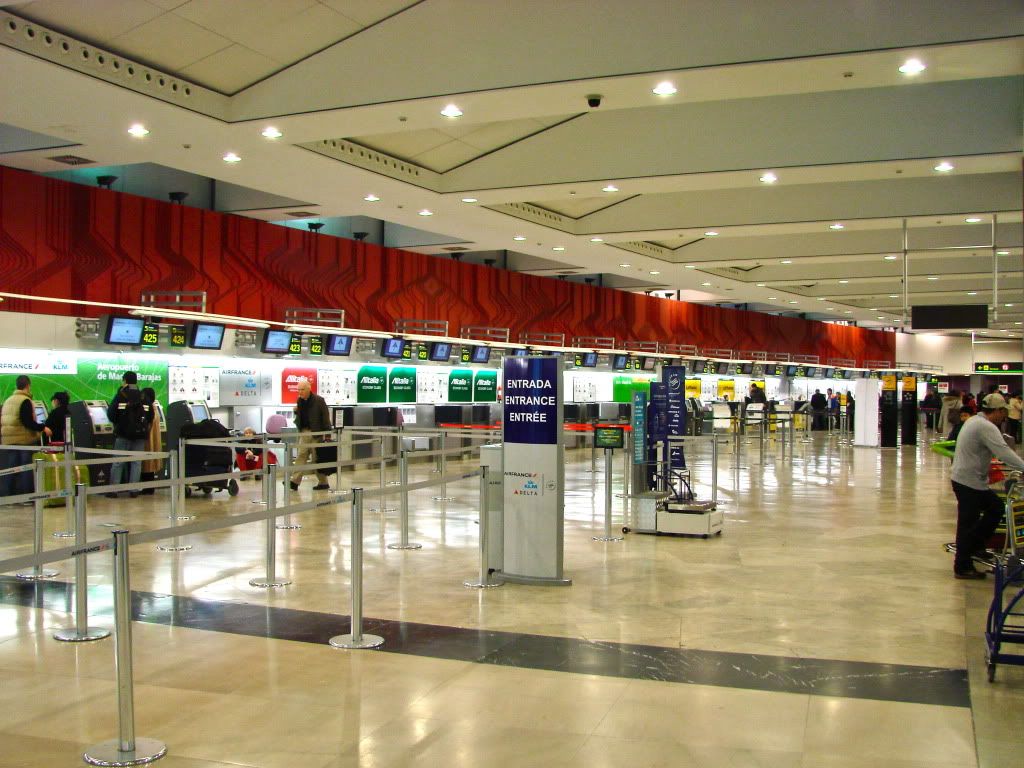 Breezed through the relevant checks to get airside and went for some breakfast.
Lemon Fanta with a Cheese and Ham roll and a calorific chocolate doughnut. Hey, I sold my car and now cycle 14 miles per day to work and back. I can eat this junk and avoid the weight gain effects now. Maybe?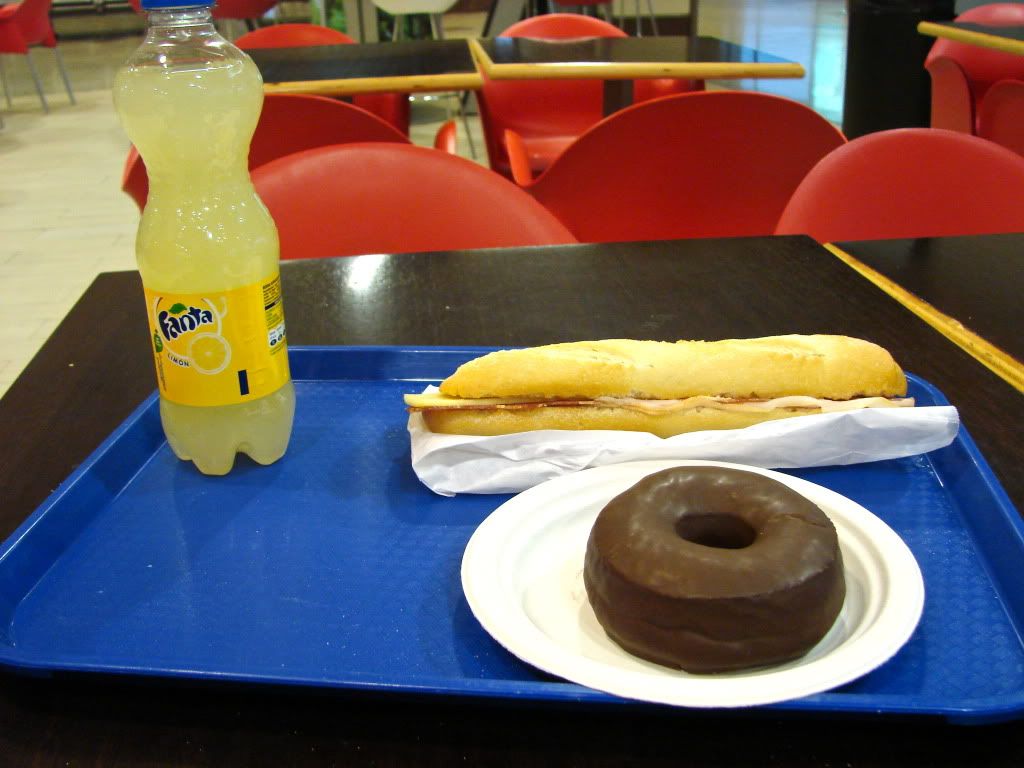 Some views over the ramp while waiting for my next flight.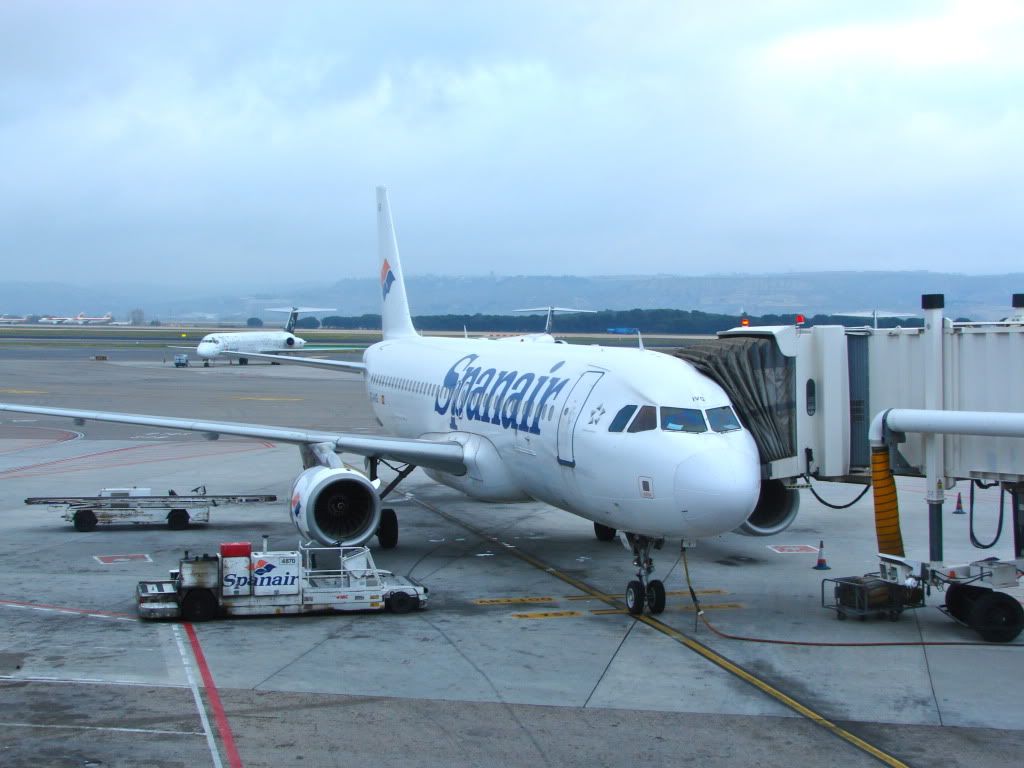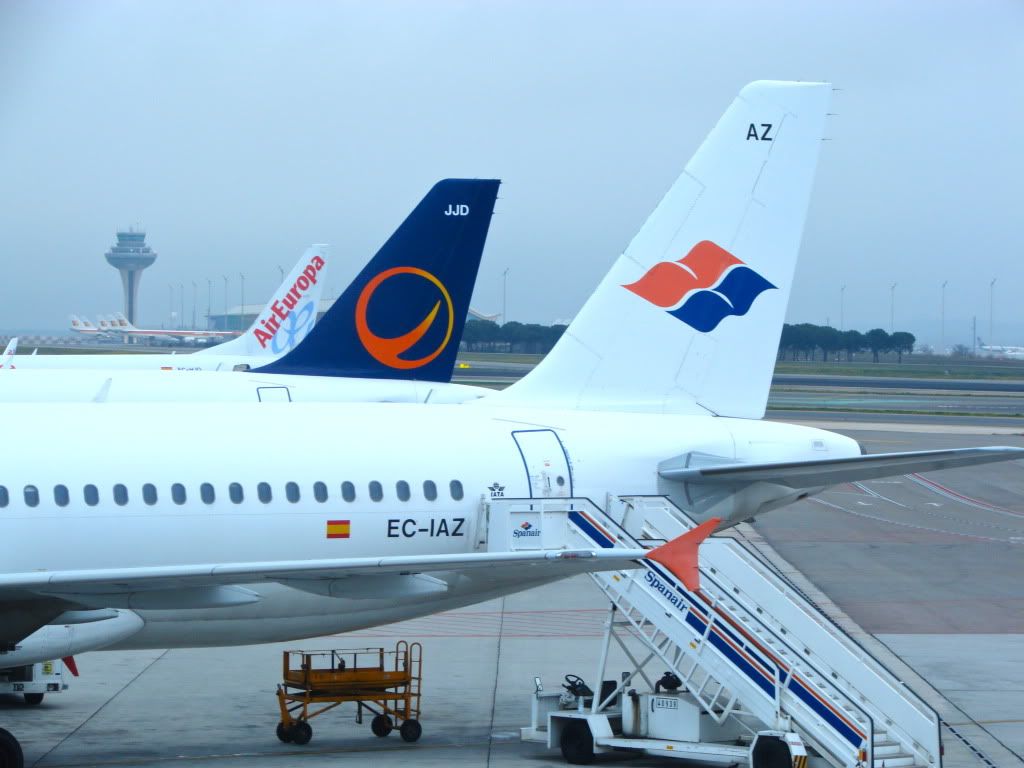 Hey, whats this? Yes, no mistake, time to fly another RetroJet. What are the chances to get two in succession?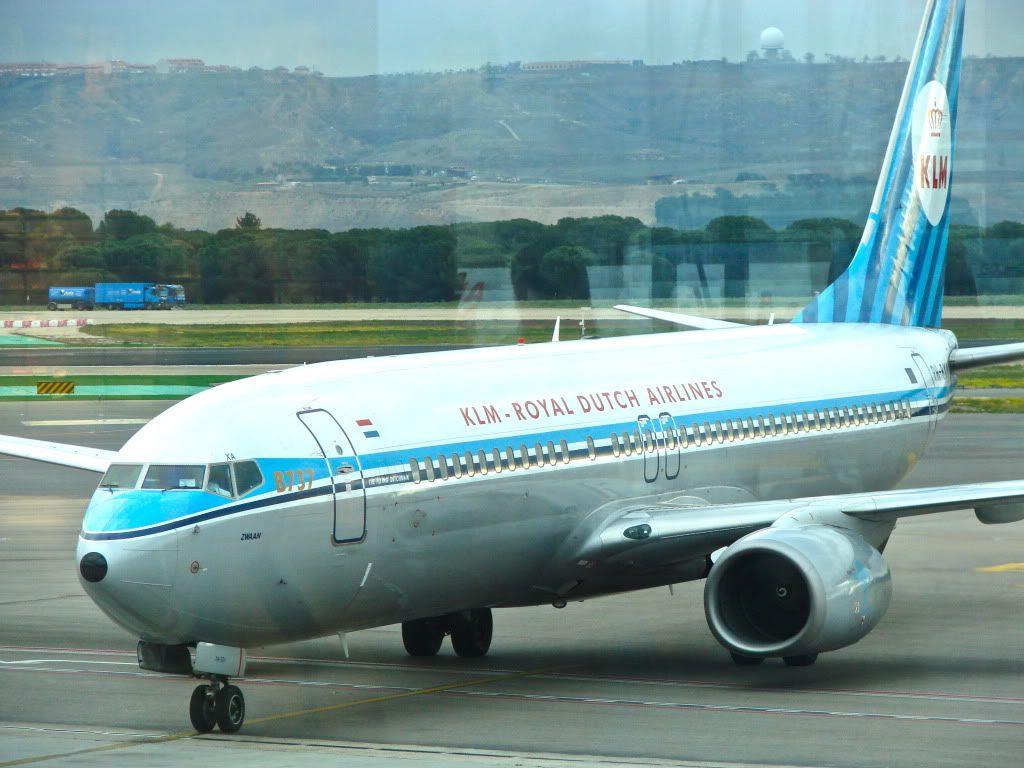 Route: MAD-AMS
Airline: KLM
(1st time flying this airline)
Flight Number: KL1700
Aircraft: 737-800(W)
(14th 737 flight)
Seat: 15F
Economy Class
Flight Duration: 1h:55m
Reg: PH-BXA
(First time on this aircraft)
Judging by the number of people around the gate a high load looks to be on the cards. One thing to note is the high number of priority boarders. I guess with only 15 segments needed to hit Silver status in FlyingBlue this is understandable.
Down the bridge and onto the plane then and the cabin looks nice. Good use of colours, again the slimline seats feature and everything looks clean. Big smiles from the cabin crew and a friendly hello to everyone as boarding continues. Legroom feels to compare to the First AF flight yesterday, so good news in that department. Passenger load was high at around 95%.
Something else to note here. I noticed one of the staff that had checked people in at the gate was on the plane with some paperwork in hand and trying to track down a certain person. The guy in question was sat in front of me. Seems that his hold bag had tried to make an escape while being driven out to the aircraft. Turns out that it was badly damaged as it was dragged along after falling. He seemed quite calm and was informed that KL will replace the damaged item once in AMS. A nice idea to tell him I thought as to prevent him thinking his bag had been broken into once it appears on the carousel.
We pushed back around 5 minutes late and made the long taxi over to runway 15L. Flight time was expected to be two hours and I was watching the time here. Only 40 minuets to connect in AMS left me somewhat uneasy so any time that could be gained was welcome.
Uneventful takeoff with fairly smooth conditions all the way up to a cruise altitude of FL380
Some pictures of the climb.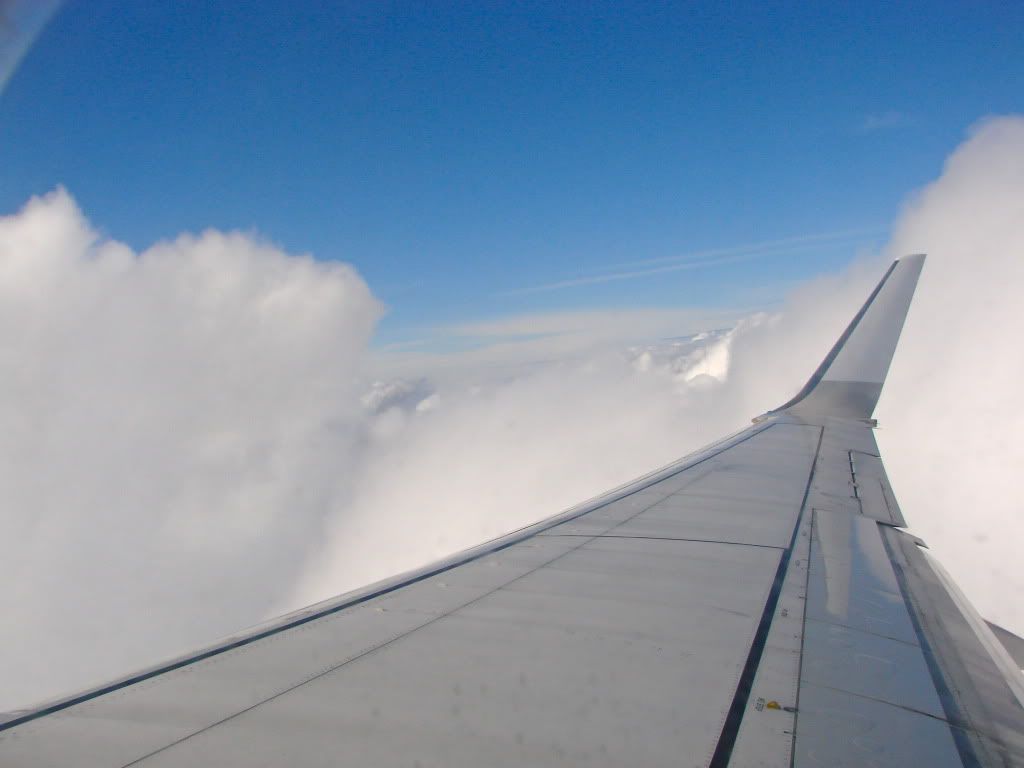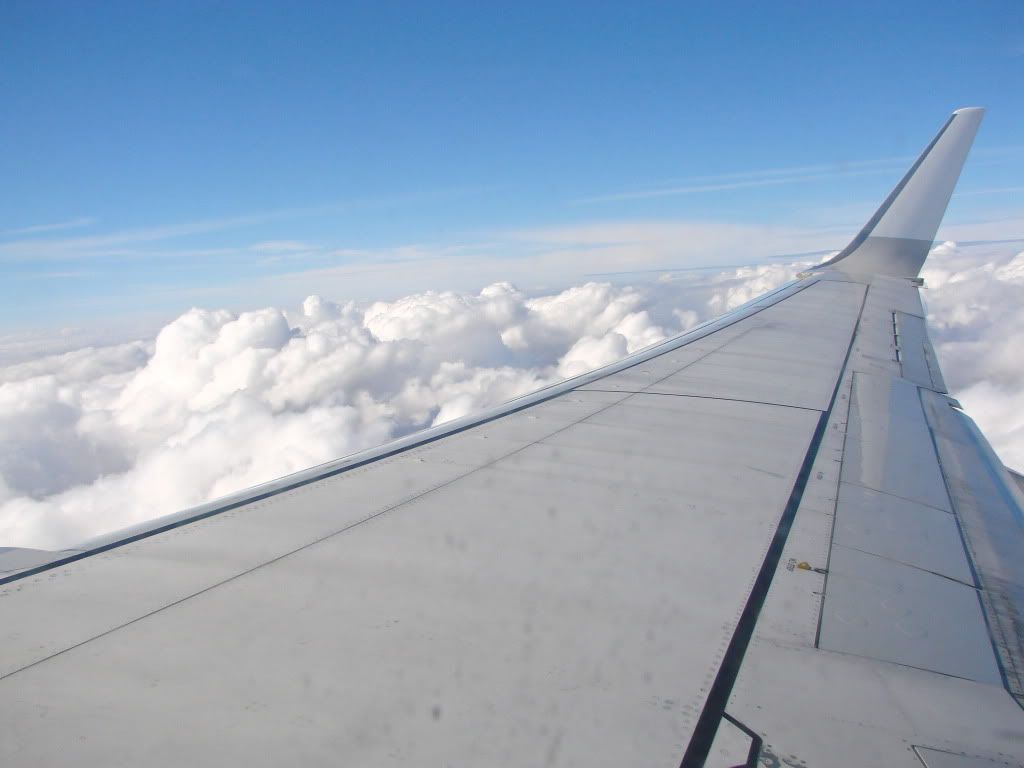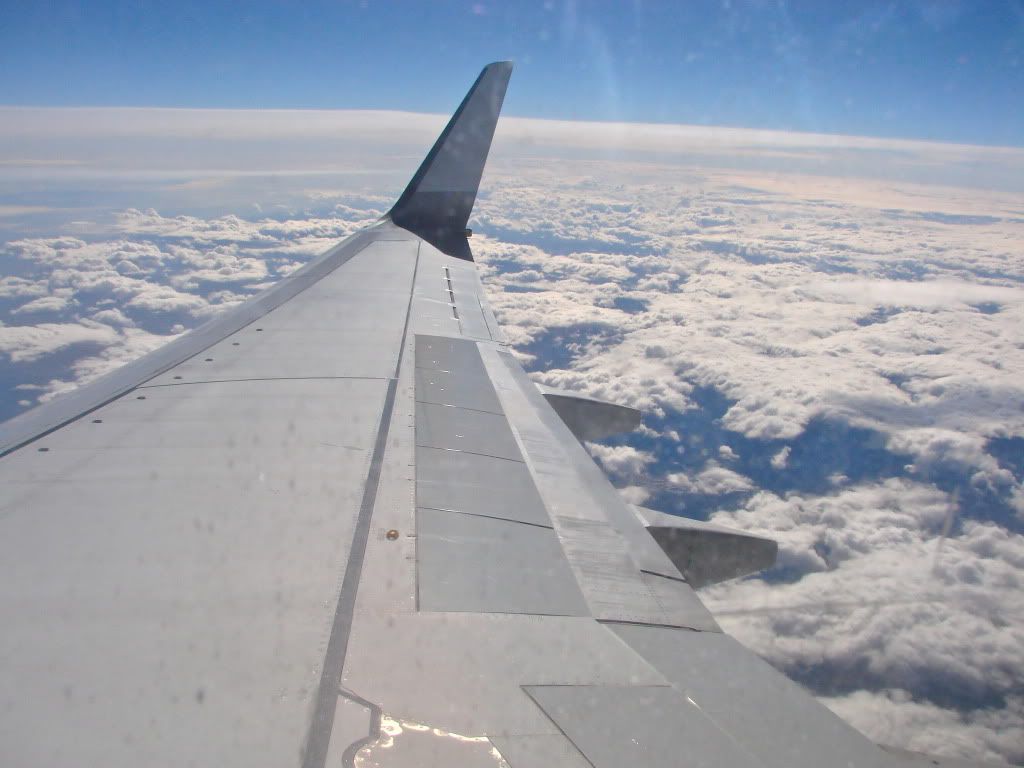 Onto the food and drink then. I was interested to see how the service compared to partner AF here.
Nice to see a good sized sandwich, nicely presented in a colourful carton with two different fillings, beef and an egg mayonnaise. Quite tasty. A good selection of drinks were offered and I went with Sprite.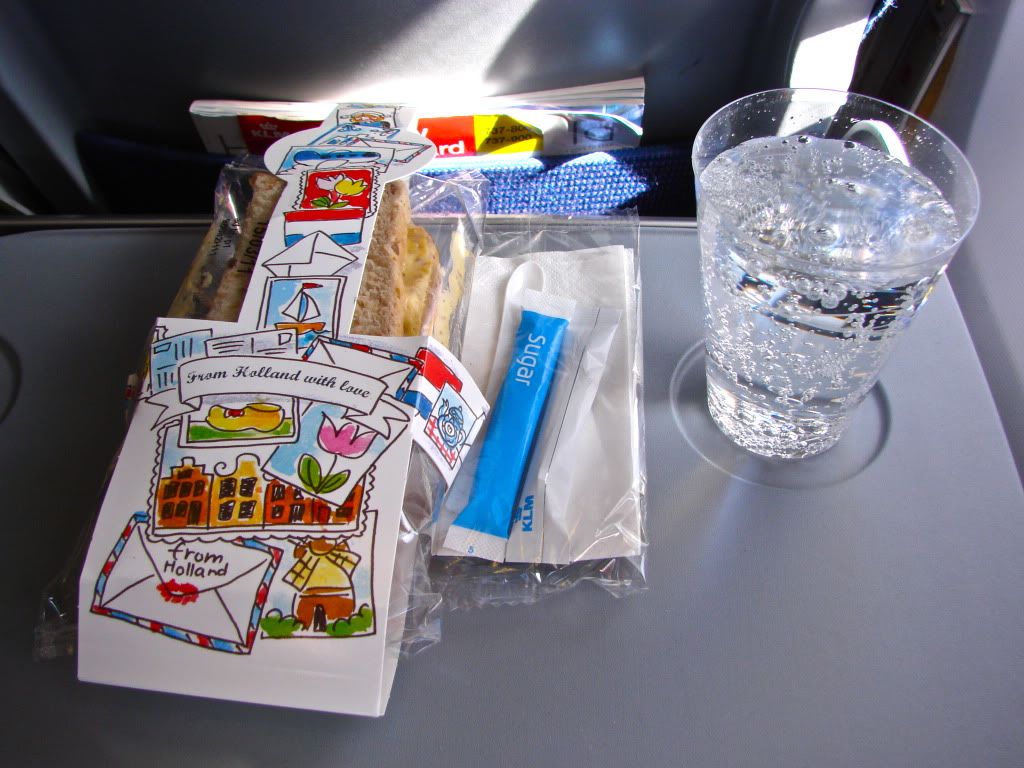 We were also offered a caramel biscuit.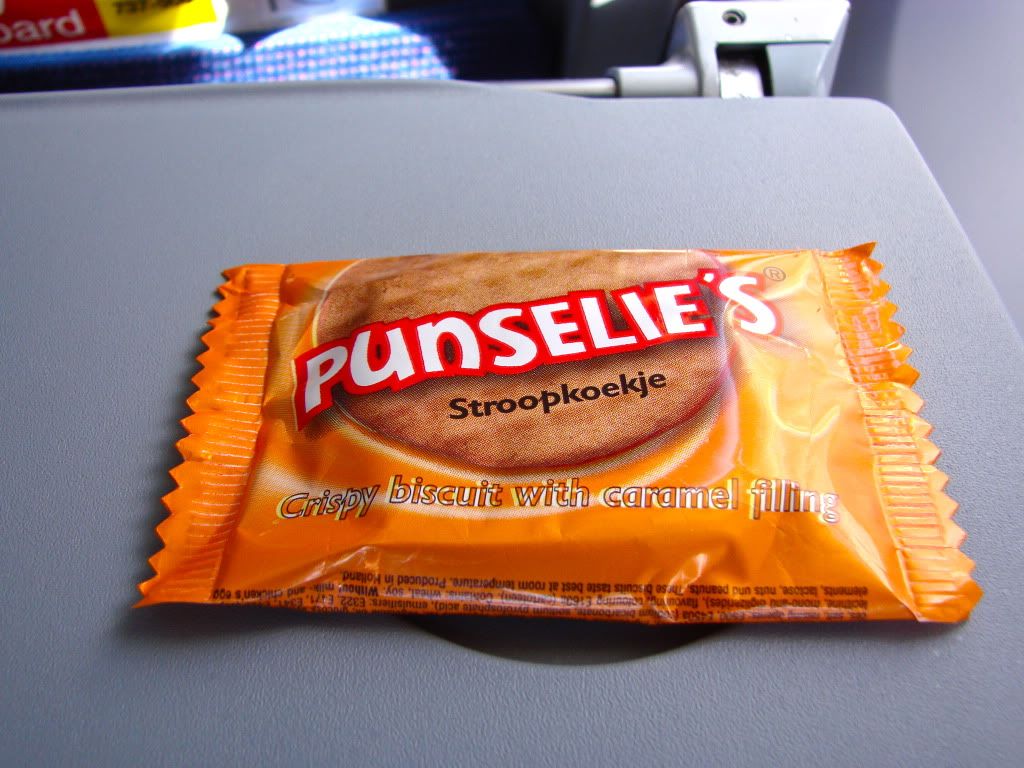 And the choice of Tea or Coffee. Black Coffee here to wake me up.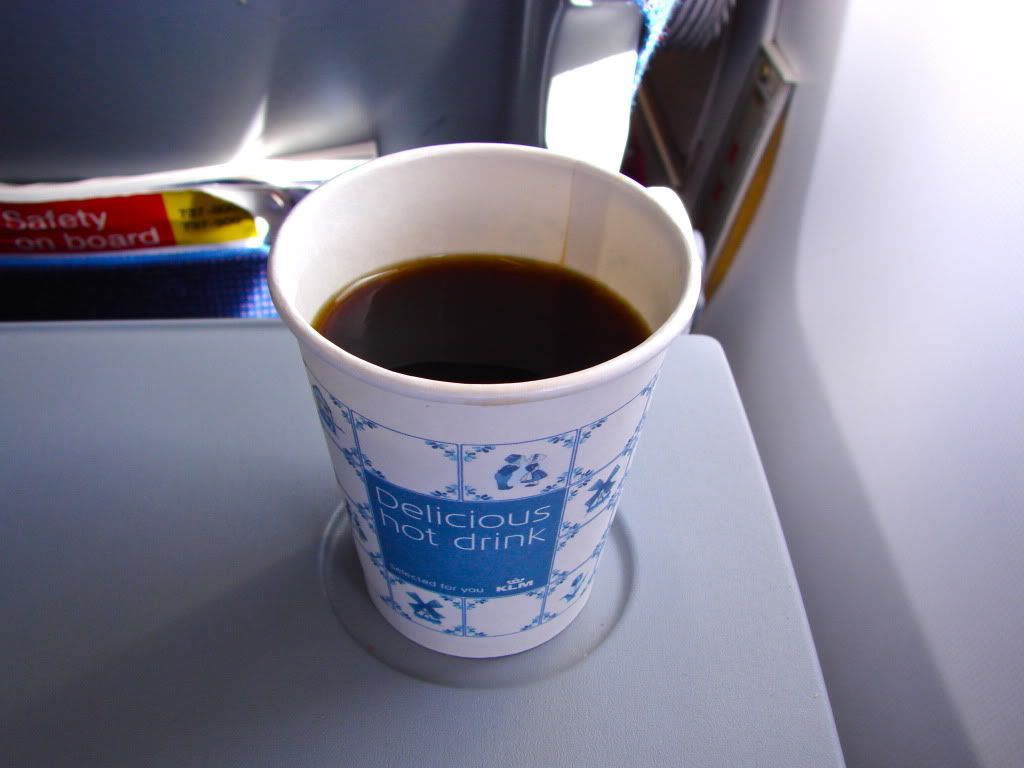 Oh, can't forget the legroom shot.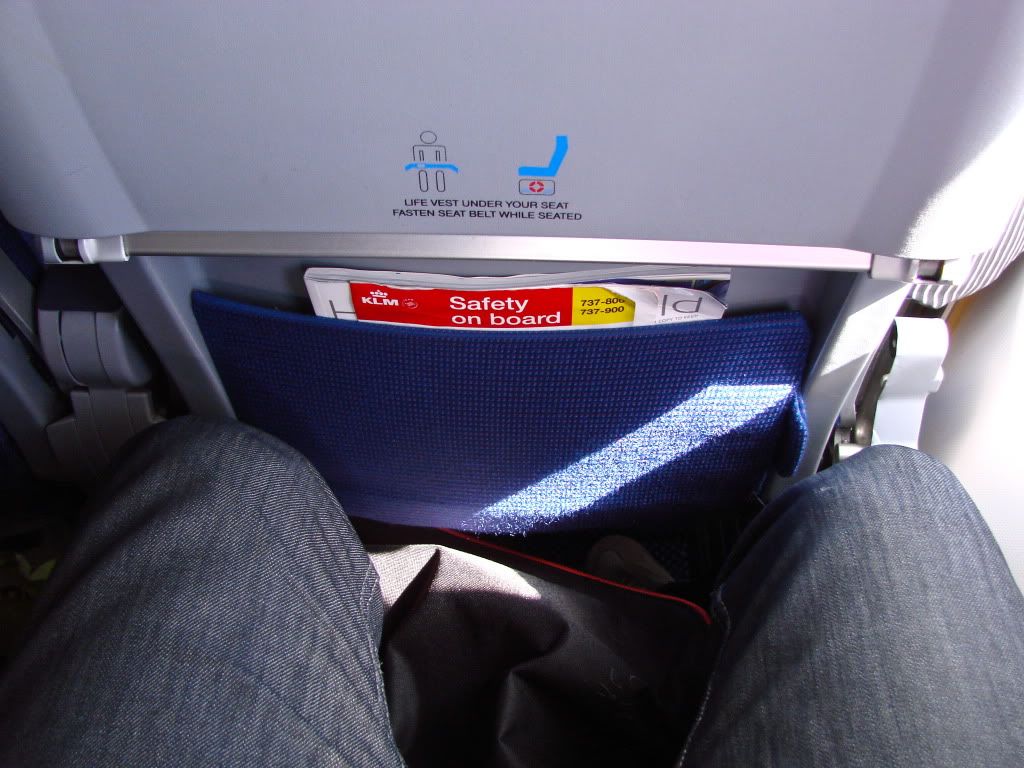 Just before top of descent the Captain was on the PA system to give us some arrival information. I was very happy to learn that 18C was our landing runway today and not the Polderbaan, meaning that the dreaded 15 minute taxi was replaced with a reasonable 5 minute taxi and more time for the transfer was secured.
Couple of landing pictures.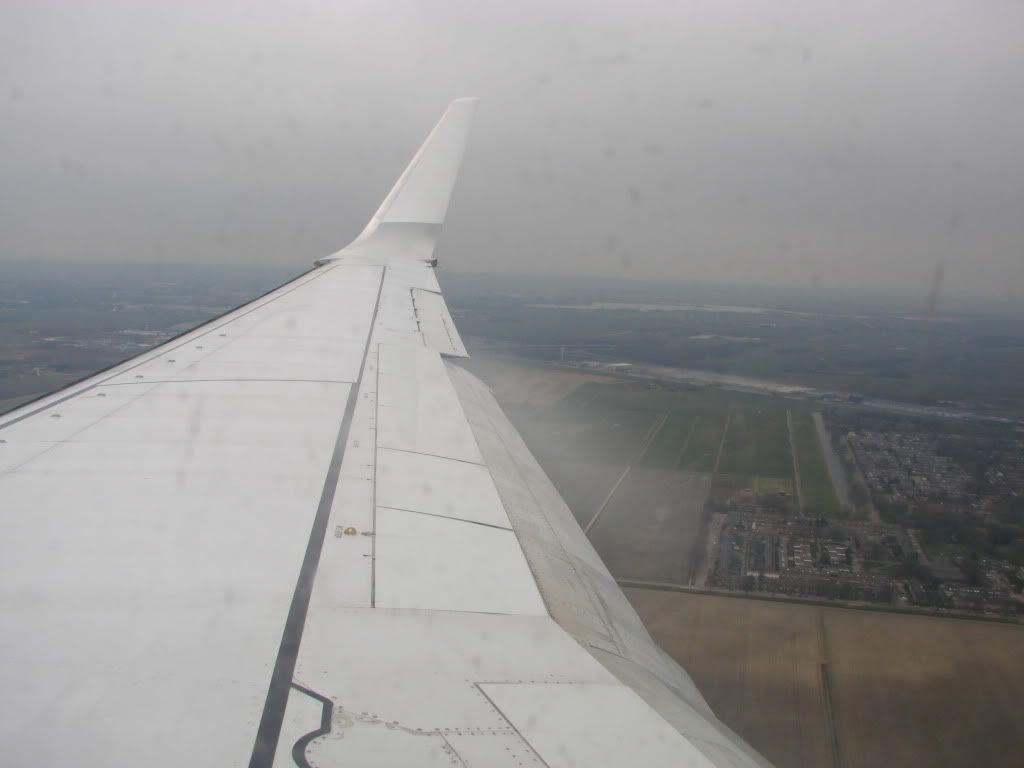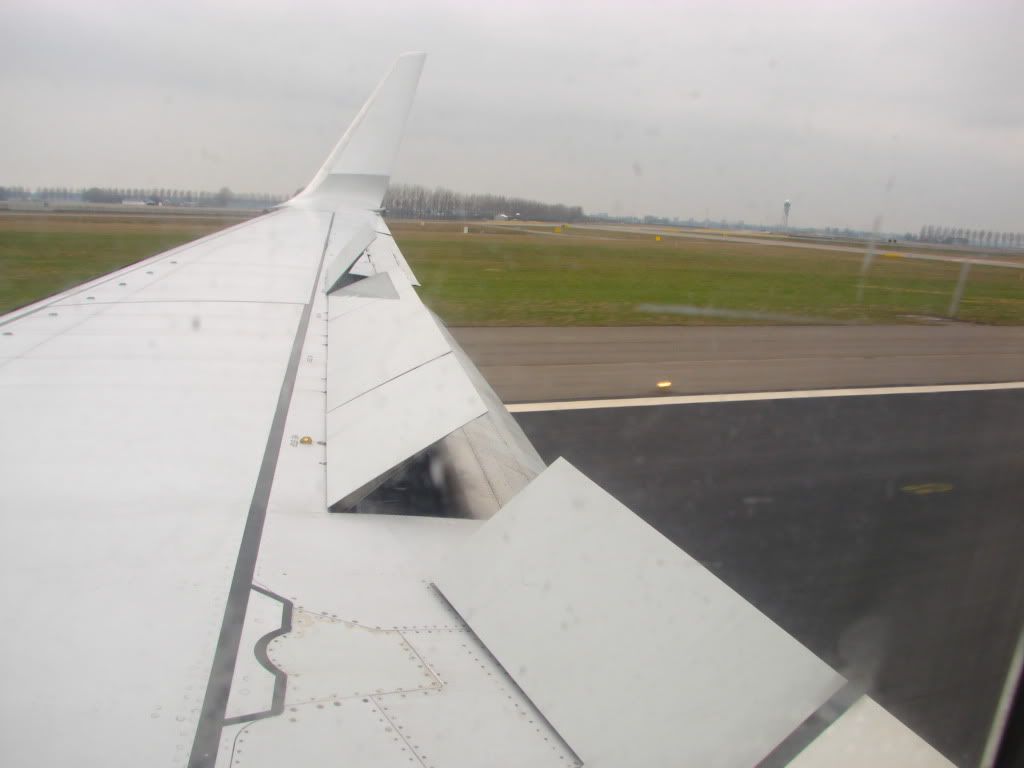 Less hanging around this time to get the transfer. A quick check of the next departure gate and on the way there after only 5 minutes. Something of a long line to be found at passport control so I tried my luck with the priority lane. The lady there understood my situation and granted my request to use it. Maybe 10 minutes there before a fast walk to D41 with a quick luggage scan at the gate just as boarding is called. Nice timing.
Just a minute to get a shot of the 737-700 for this flight.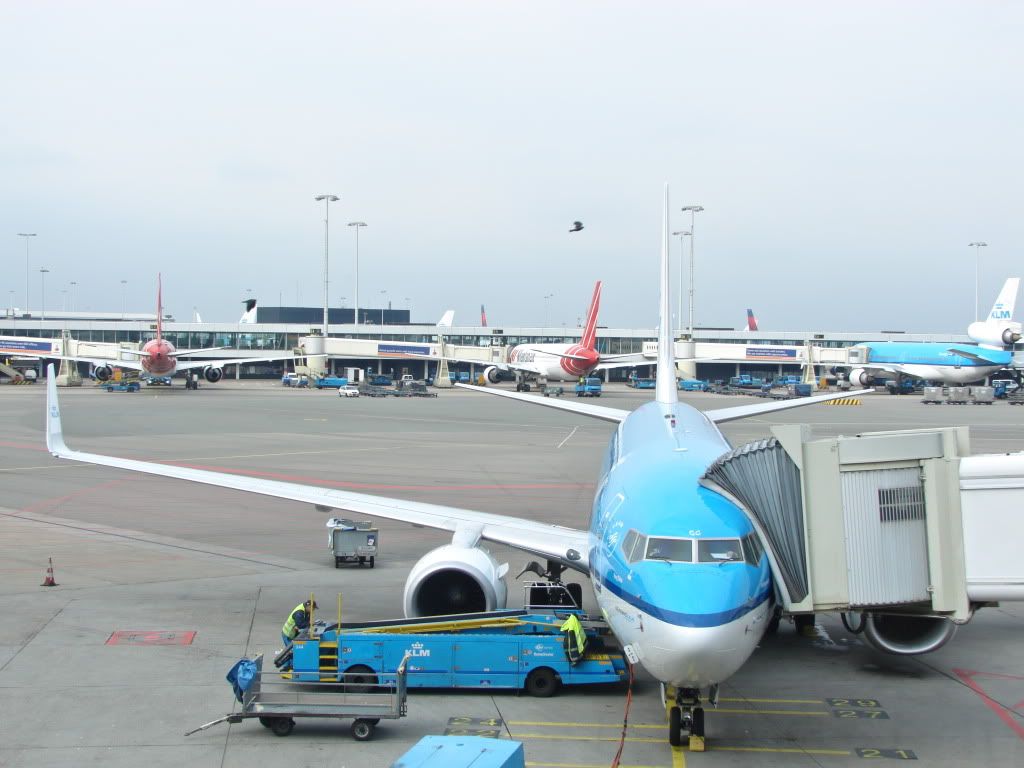 Route: AMS-MAN
Airline: KLM
(2nd time flying this airline)
Flight Number: KL1087
Aircraft: 737-700(W)
(15th 737 flight)
Seat: 11F
Economy Class
Flight Duration: 0h:58m
Reg: PH-BGG
(1st time on this aircraft)
Straight down the air bridge and onto my next ride to find another high load factor. Looks to be a real mix of passengers here. Business men in nice suits right through to young lads with a "spaced out" look on their faces. Perhaps too much of the substances consumed here that are frowned upon elsewhere.....?
PrivatAir in the distance. Push back right after we moved off.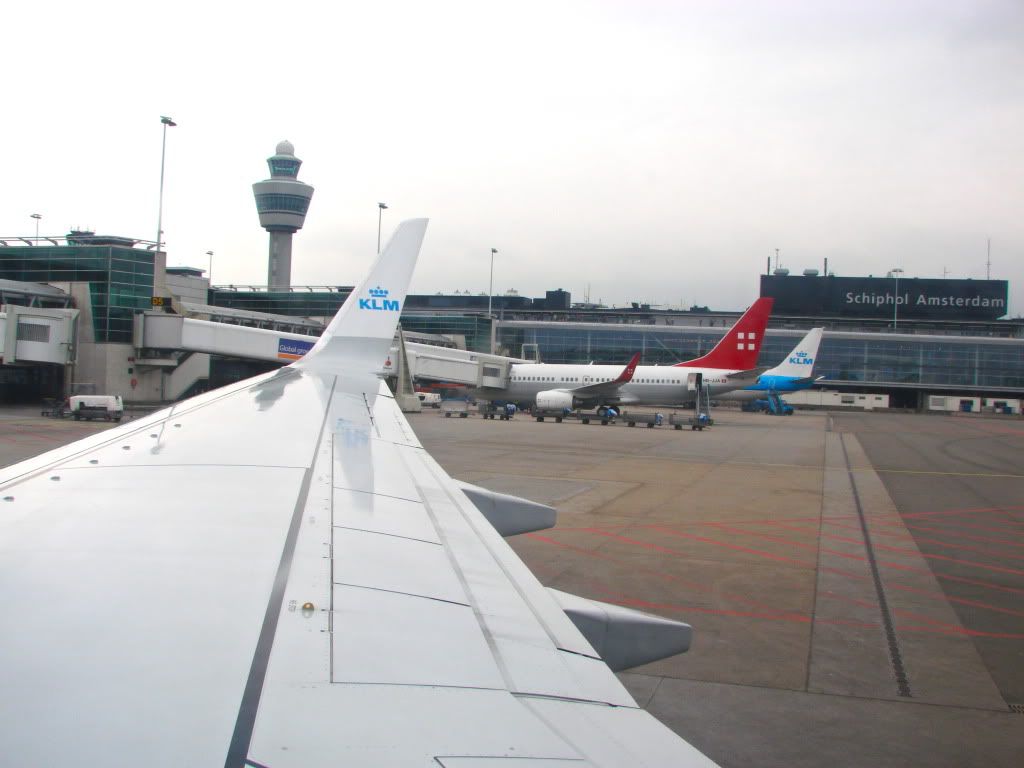 Departure off the Kaagbaan(if I recall correctly)giving a good view of how far away the Polderbaan really is from the rest of the airport.
Some pictures during the climb.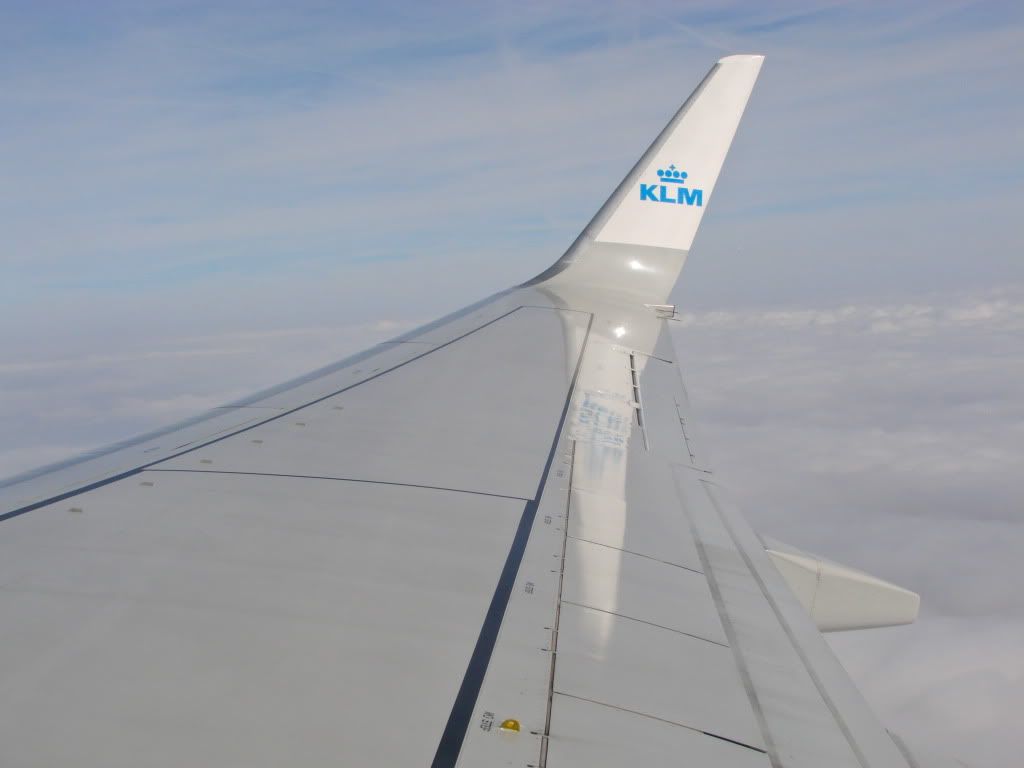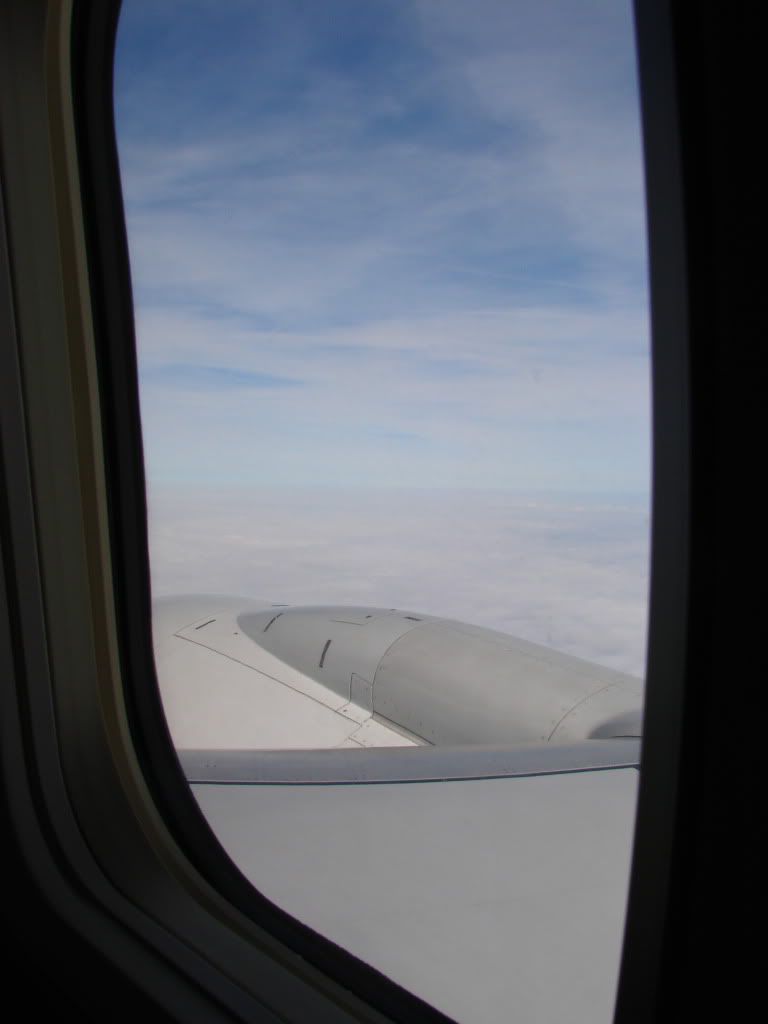 A close up of the Blended Winglet.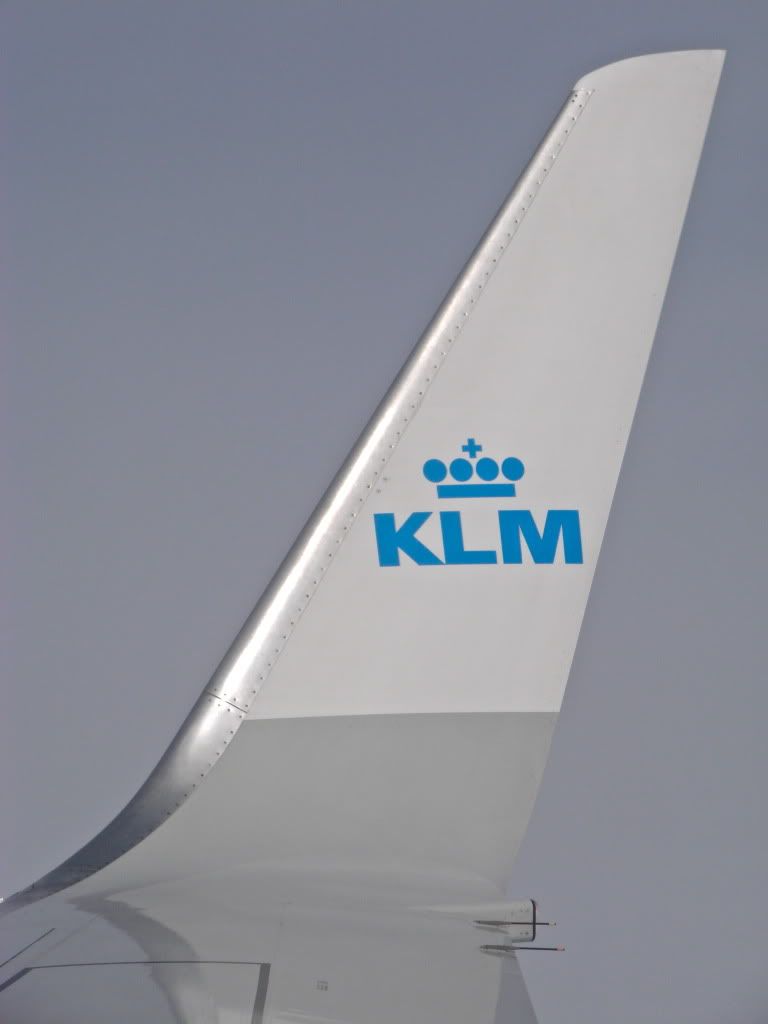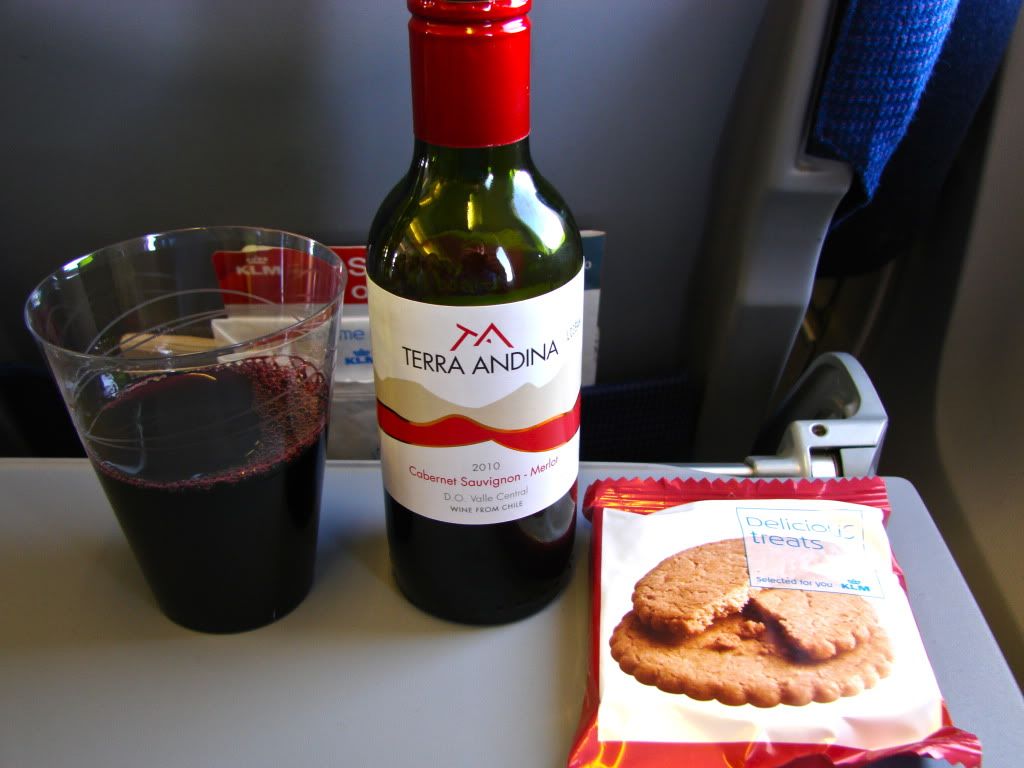 LBA from up here. An Airport closer to my house than MAN but one I hardly ever use.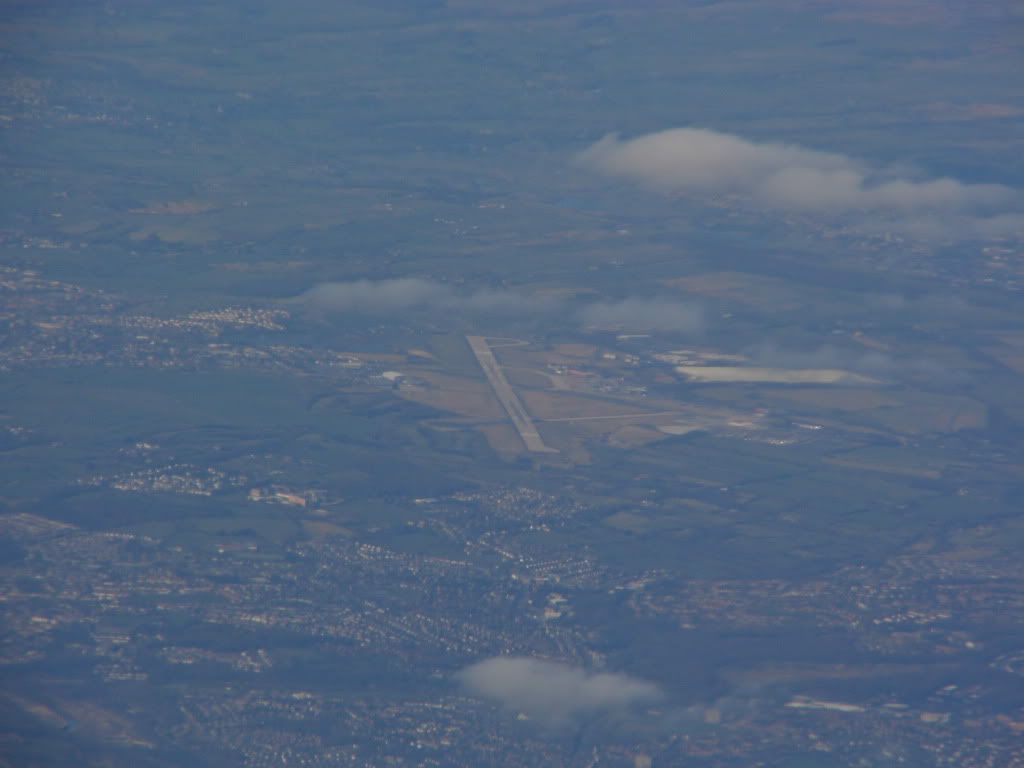 Other familiar locations to me spotted also, including my parents house meaning we were tracking toward the Pole Hill VOR before receiving radar vectors for an intercept on the 23R localizer.
Approach views.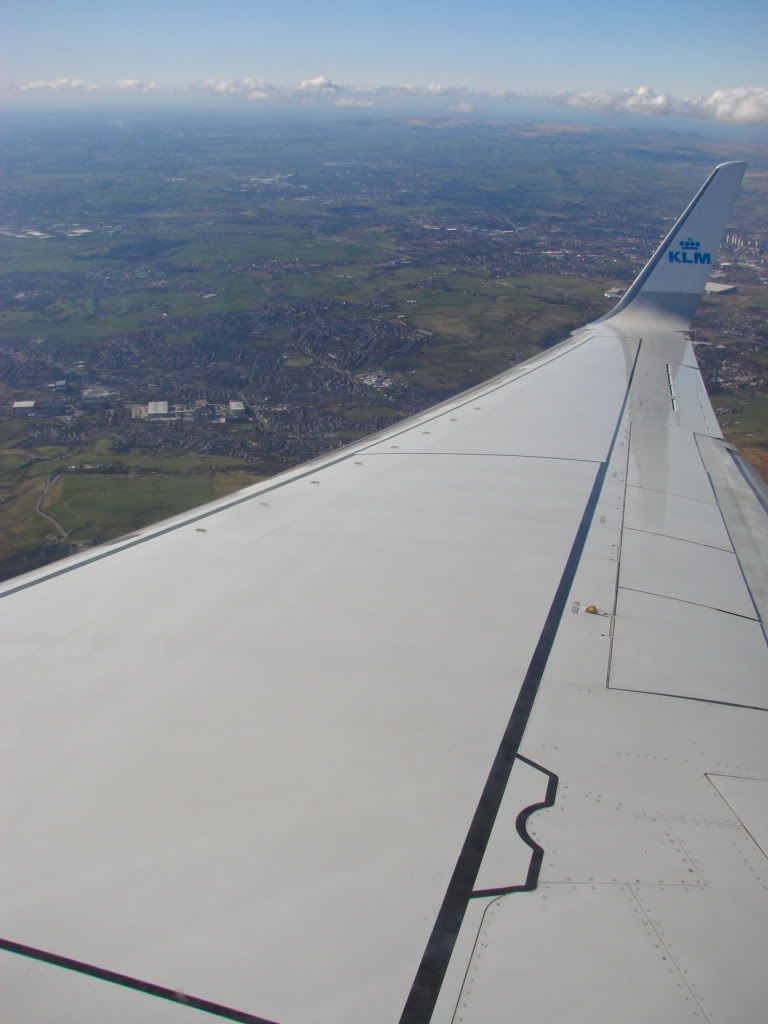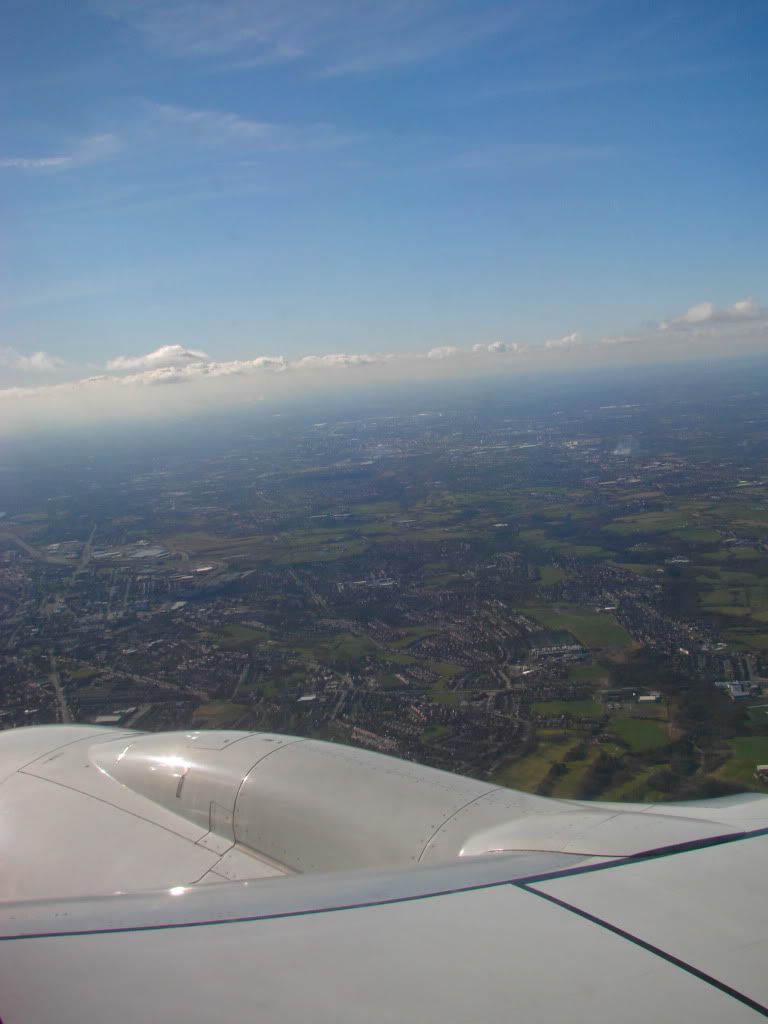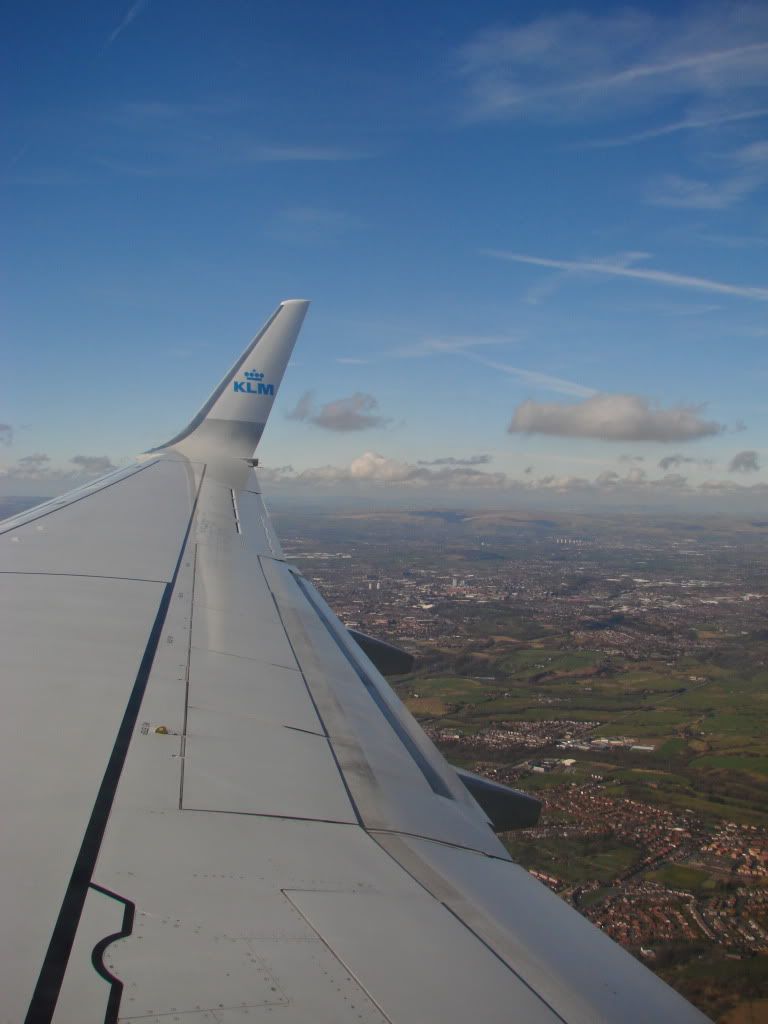 Nice touchdown on 23R and a opportunity to photograph this EK A380 as it trundles out for a trip home to DXB.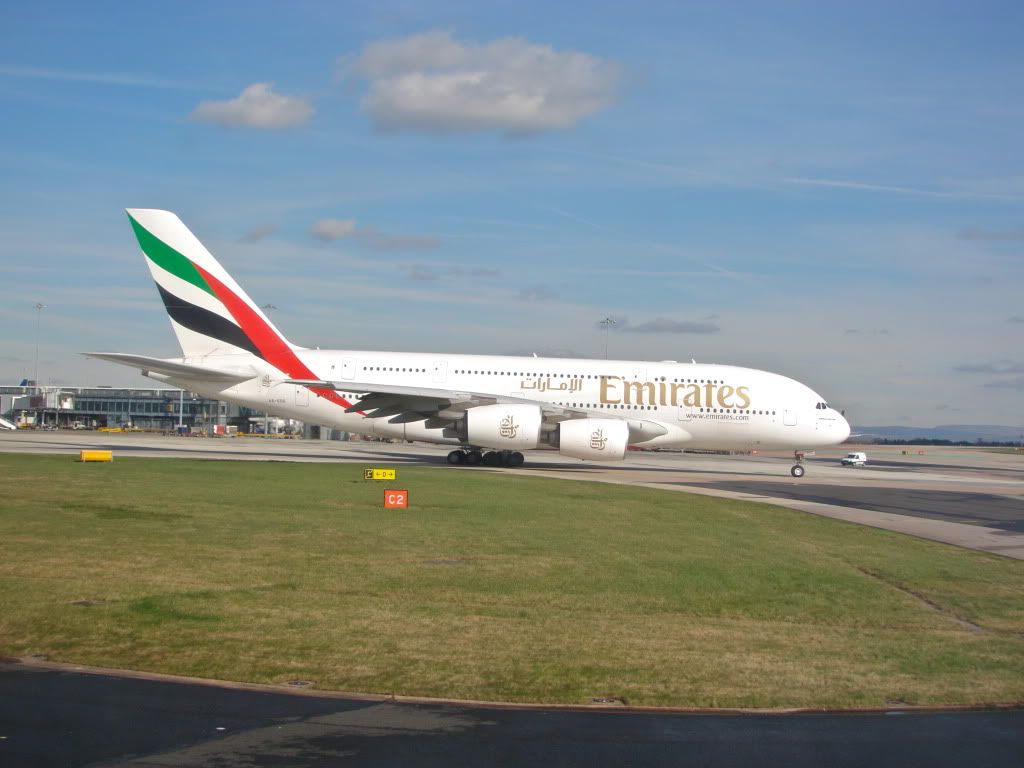 A nice welcome in Manchester with some sunshine for a change. Quite rare for this time of year.
Time to head for a gate at T2. Its been a while since I was in this terminal. Singapore Airlines used to feature in my plans more often back then.
I let the scramble to de-plane pass and then headed out to catch the train home. No time to wait here, the train was about ready to pull away.
Nothing really to mention about the train ride home. The usual old style trains with dirty interiors.
Airline Conclusion.
Air France: Not bad at all. The first flight with the new interior was obviously the better of the two in terms of cabin feel. The crews were absolutely fine on both legs. Smart in appearance, friendly and welcoming.
Perhaps the only below par area was the catering. Its not taken for granted these days to receive anything with certain airlines, but I felt the offerings here to be behind the curve.
KLM: Again, a good feel to the cabin with a decent amount of legroom. Crews of a very similar style to AF.
Im going to give KLM the upper hand here. The catering was above my expectations both in terms of quantity and quality. Nice to see the sandwich presented in such a way. Sometimes these little things make a big difference
Overall Trip Conclusion.
Another good weekend without doubt. Four new routes into the books and the 50 visited airports now secured.
Luck played something of a part to find two flights with both AF and KL RetroJets.
All arrivals on-time or early helping with the connections along the way.
One thing is for sure, the more of these trips I take, the more i'm loving this hobby.
Hope you enjoyed reading this report on these two partners and their European services.
Cheers, Lee.
[Edited 2011-03-17 12:01:32]
[Edited 2011-03-17 12:03:48]