Feedback always appreciated.

I > Background:
A friend of mine has been working in Korea as part of an ambitious airline project and I decided to visit him and make sure he is not creating a disastrous network (hehe). Since I was in California, the fastest way was to take the United nonstop to Incheon from SFO. J class tickets were cheap, and I decided to "pamper" myself by using one of my never used system-wide upgrades to try for First. After all, it was my new way of rolling
.
I did a search on A.Net and this seems like the first report on United's new reconfigured First Class. I find this highly surprising and since I am not an expert on using A.Net's "search" function, please correct me if there are other reports. It also covers a very unused route of SFO to ICN.
II > Pre-Flight:
a) Before Airport:
United Air Lines, Inc., is one of the major U.S. airlines and operates from hubs at ORD, IAD, DEN, SFO, and LAX. It is a founding member of Star Alliance and has a network spanning across the U.S., extensively into Far East/Oceania, with limited service to Europe, Latin America, and the Middle East. After a struggling decade, things are finally looking up for United, and the merger with Continental is poised to make it a stronger carrier facing the future.
United's website at
www.ual.com
is referred by many in the aviation community as the ".bomb" due to several technical glitches. I actually find the website pretty intuitive and easy to use. In a matter of minutes, I was able to book and pay tickets which arrived electronically in less than 5 minutes. I was able to book seats and request an upgrade, which surprisingly cleared immediately. I love UAL's higher J buckets and I have plenty of SWU's to last a lifetime. Even more impressive is that UAL's site gives you access to modify your reservation and change seats as many times as one wish. Many brownie points .
b) At Airport:
San Francisco's international terminal is (in my opinion) the best terminal in the entire U.S. It is clean, modern, airy, and does not have nasty 1980s carpeting which seem to prevail through most other major U.S. gateways. Ok, the rental car counters are in a different planet, but I will overlook that. Anyways, UAL has a very premium experience at SFO - starting from the dedicated drop-off area, to a very empty check-in area. Here, a wonderful agent greeted me by name and asked how I was doing. She saw my SWU request and said, "Mr. AM, I can help you not play gate roulette ... here is the F boarding pass". Nice! She then made sure I knew where the UA FCL lounge was, looked me in the eye, and thanked me sincerely for flying United. Awesome stuff!
United has a special security process for international F and it is like this "uber secret" door. It made the process smooth, and within minutes I was entering UAL's F-lounge. Now, as most know, lounges in the U.S. are slightly glorified holding rooms ... the SFO UAL FCL is not one of those. In fact, I remain convinced, it is the best U.S. lounge by an American carrier. While the meal offerings and other perks were still lacking, the decor and the serenity of it were significantly better than the usual RCC. Quick security later, I was airside and went to the RCC and had the "matron" welcome me in with 2 drink vouchers. Like most lounges in the U.S., UAL's SFO RCC is nothing special and the quality of offerings is below average by any international standard. An assortment of cookies, some fresh fruits, a vegetable platter, a fancy coffee machine, and some juices was all that was on offer. Besides that, you got sushi and some Chinese noodles - which were surprisingly good ... and unhealthy.
Boarding call was announced an hour before, and by the time I went to the gate, it was a mess. One interesting thing was the sheer amount of people who had to have their "DOCS OK" check done by the agent at the gate. There really needs to be a better system for those who do online check-in.
Boarding was quick and efficient and I was welcomed on-board by a very senior all-female UAL crew. After entering, I turned left, and made my way to seat 4K. A senior Korean purser was to look after our section and she came in a few minutes to take my coat and offer me some water. Sadly, she did not have much of a smile and looked the part of those much "hated" and often discussed UAL senior crew who work the trans-Pacific flight.
F load was 100%.
Airport - External:
(San Francisco Airport)
Check-in:
(First Class Check-In Area)
Airport - Internal:
(FIDS)
(Post Security @ SFO)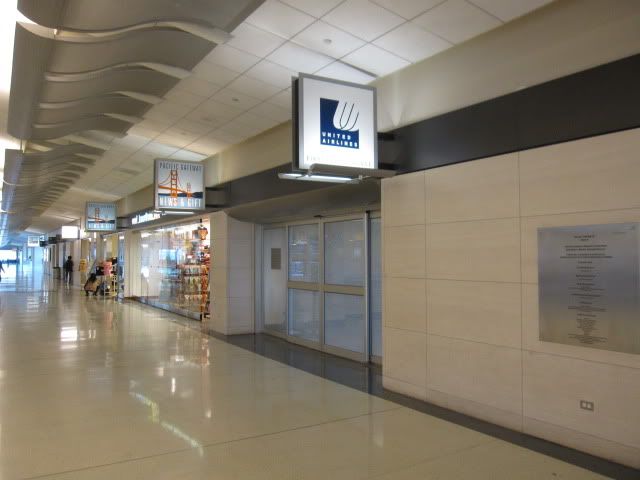 Scenes of the tarmac:
NONE
Lounge
(United's First Class Lounge)
*
(Much better than a RCC)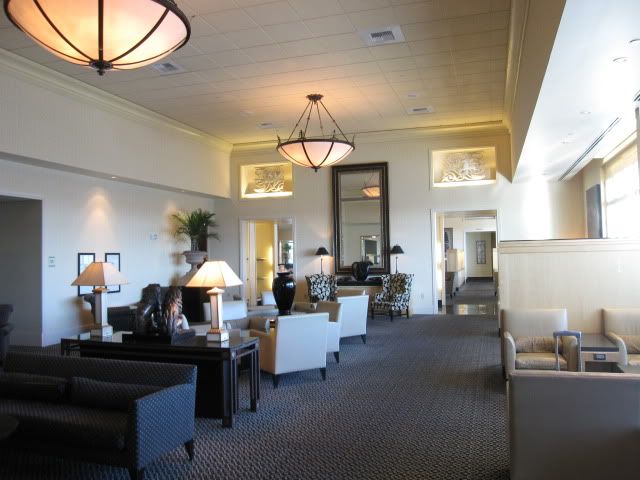 *
(Showers in an U.S. lounge!)
*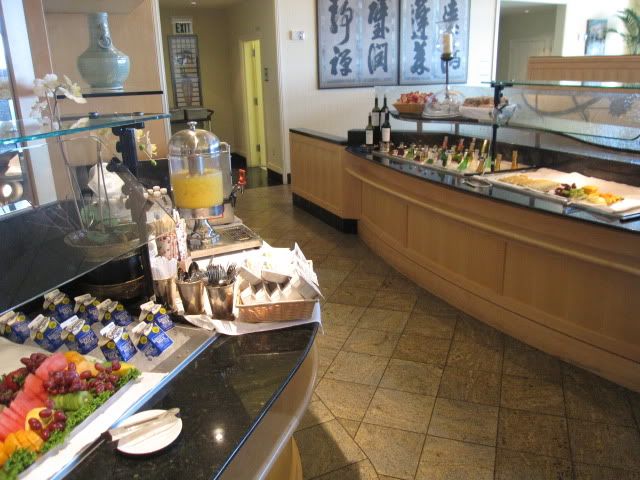 *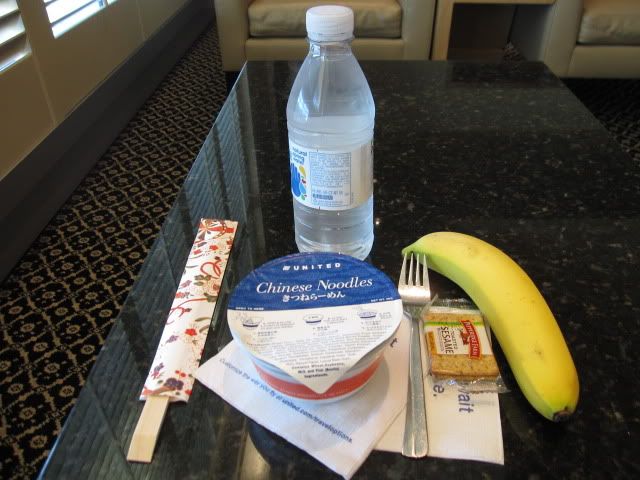 Boarding:
(Chaotic Gate area)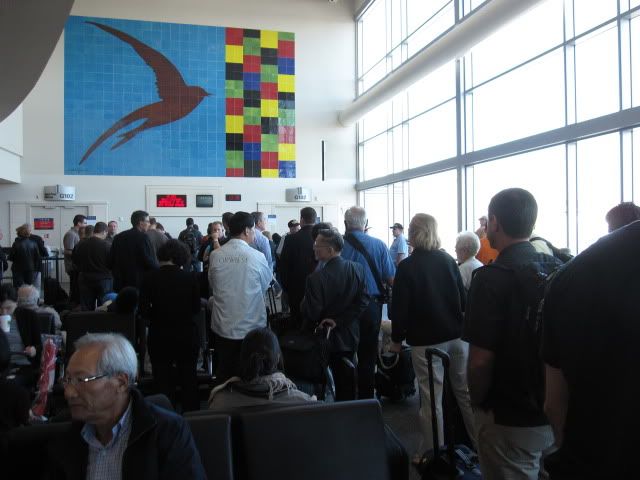 (Boarding)
NONE
III> In-Flight:
a) Service Schedule + Impressions:
Prior to take-off, hot towels, drinks service, menus and order taking. Amenity kits on seats upon arrival. Immediately post take-off, customary warm nuts with beverage run, followed by a light meal. Throughout the flight, snacks available either at snack counter or via crew for something more substantial. Lunch 120 minutes prior to arrival. Interestingly, no pajama service in F. Perhaps Asian airlines have just spoilt me?!
b) Aircraft + Seats:
The 744 is my favourite wide-body aircraft - and the United's 744's have come a long way indeed. While the new F seats are good, I don't think they are as much of an evolution than the older generation 744 F-seats. It is unlike the paradigm difference in United's J class. However, no one can fault the new seat for not allowing a good night's rest. While storage is very good around, the one thing that the seats lack is a level of privacy and intimacy that should be the hallmark of any First Class lounge. Perhaps because row 4 had 4 across, it felt very intrusive and the person next to me very close. There is ample legroom during seated position, the distance to the TV monitor is just right, it is comfortable to eat and work from, and MOST importantly, it is a true flat bed. There are definitely better true-flat seats out there, but United's can hold its own. What is the most amazing part is that in flat position, it is remarkably flat. There is only one major "fold" (or, "break") ensuring that you get a seat without too many crazy angles. Truly, a joy to sleep in. And, sleep I did … I think a full 8 hours! Finally, the bathrooms were remarkably clean and I did like the products being offered.
Aircraft:
(744 @ SFO - undoubtedly, the classiest aircraft in the world)
Views from Aircraft:
*
General Seat Views + Seat Legroom
(Seat)
*
(Front of seat)
*
(Seat controls)
*
(Legroom)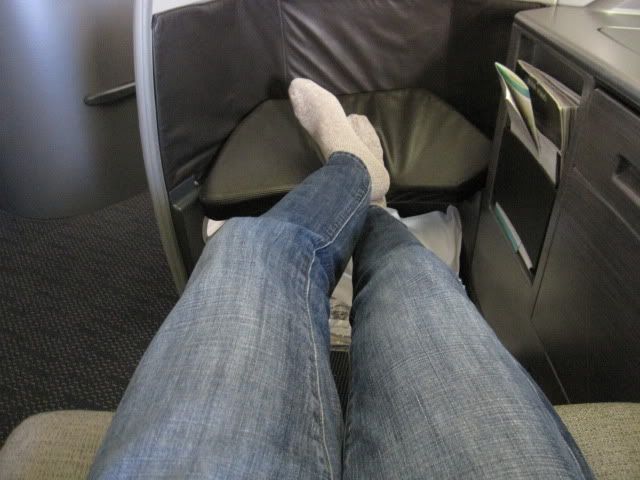 Seat Recline + Angle View: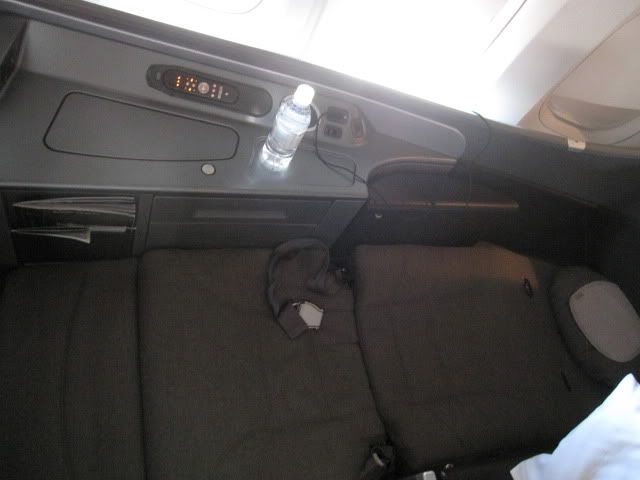 *
(Way too close - and NO privacy)
Cabin:
(A little too cramped)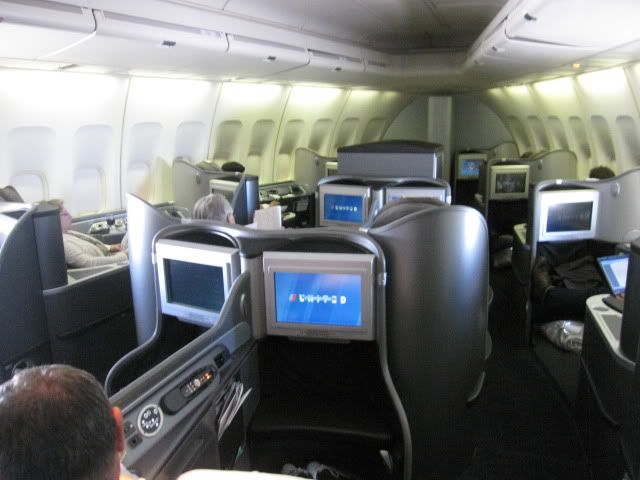 (Blanket ++)
(Bathroom: Showing her age)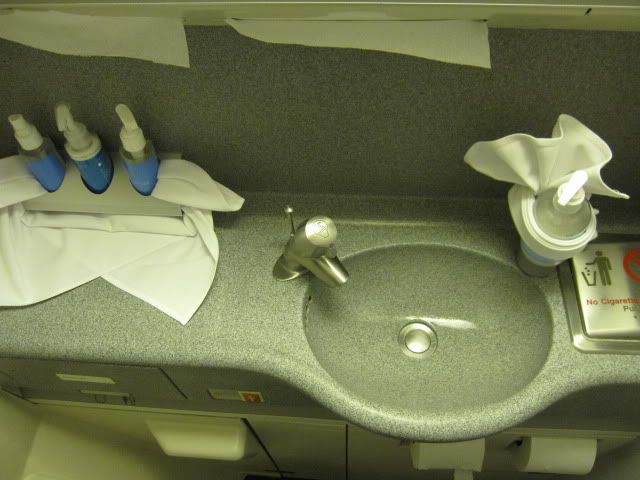 c) Meal + Beverage:
First class should be significantly above Business. In United's case, meal and beverage service were not that much better than J. Perhaps, this is why most people in UA's FCL cabin were upgrades. It's offering were industry average for the meal part; below industry for the beverage part.
The first course started with an excellent crisp jumbo crab cake. This was followed by a lentil soup that looked orphaned and out of place to the rest of the meal. I mean, a lentil soup was fine as part of an Indian culinary experience - but just felt random alongside the other course. Thankfully, the salad was fresh. For the main course, we had 4 options ... and I went with my usual "strategy" of asking which was the one course not offered in J. (Side bar: UAL usually offers the same product in JCL with one additional entreé). It turned out to be the stir fried shrimps and scallops over egg noodles ... and left me very unimpressed. The noodles were extremely soggy and the bok choy stale. Furthermore, presentation could have been improved. I stay away from the cheese tray, but treated myself to a nice ice-cream sundae. They are not as decadent as those on American ... but nevertheless nicely done ... and washed down well with a Graham's 2003 LBV.
Interestingly, lunch was a simple affair ... and included a choice of 2 mains and nothing to accompany. I chose the rather bland chicken and shrimp jambalaya. Again, nothing much to write home about. Overall, United would be much better served focusing on quality, than quantity. I know they are capable of excellent catering ... but increasingly convinced that UAL's catering shines on few select routes (NRT, KWI, DXB, etc.) While accompanying meals were rather generous beverage runs, the quality of the wine and champagne could definitely be improved.
Mid-flight, one could go to the snack bar, order a sandwich (honey roasted turkey), or have some noodles.
(Menu)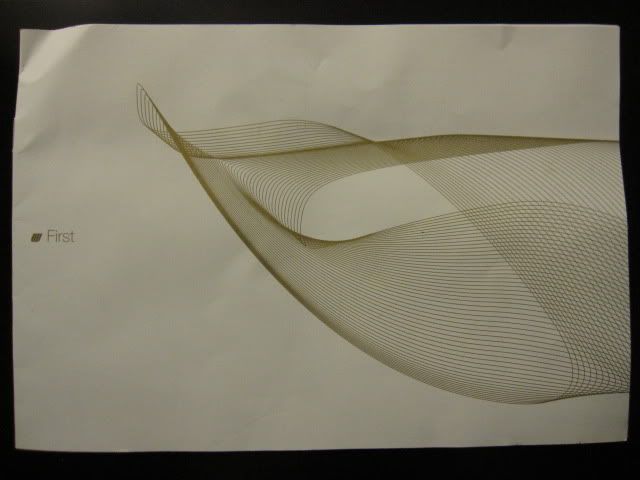 *
*
*
*
*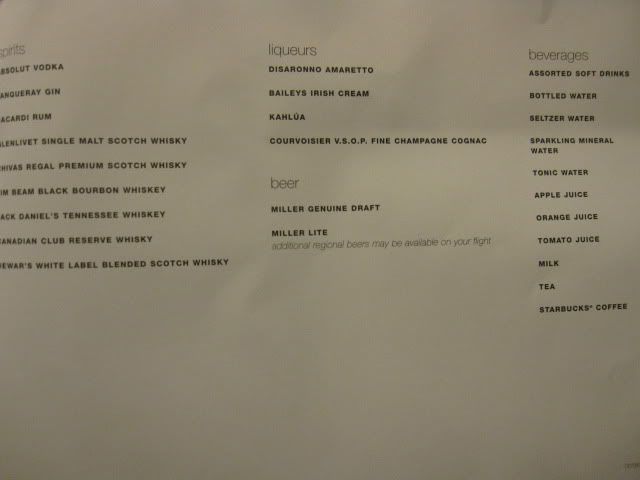 *
*
(Perhaps this cup is not befitting International First?)
*
(1st Meal Service)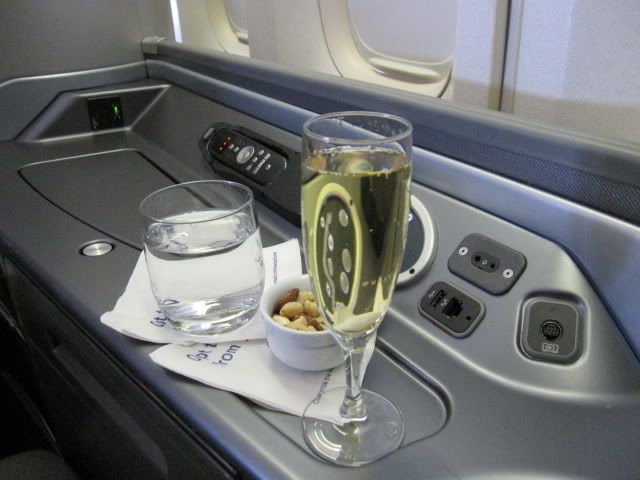 *
*
*
*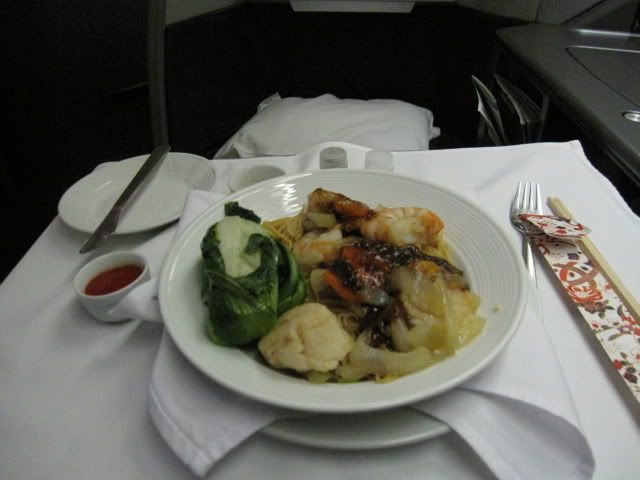 *
*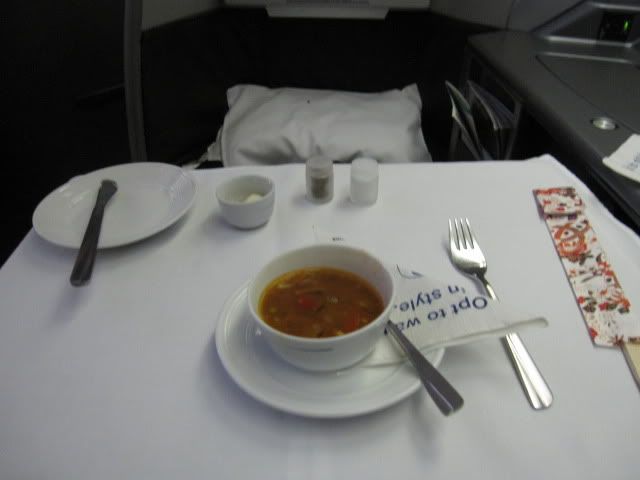 *
(2nd Meal Service)
d) Inflight Entertainment:
United's inflight entertainment system has come a long way. The screens are big and the quality of the video is very good. However, the headphones need to be improved, and I think UA should give out Bose headphones like American does, and differentiate between the two premium cabins. One thing … while a vast improvement, I thought the AVOD movie offerings were rather limited. As a frequent UAL flyer, it seems like their movies rarely get updated. Outside movies, I did like their TV offerings, and their music collection was solid with good intuitive ways to build your own playlist.
(Controls + Headset - come on, you can do better in FCL!)
*
(IFE System)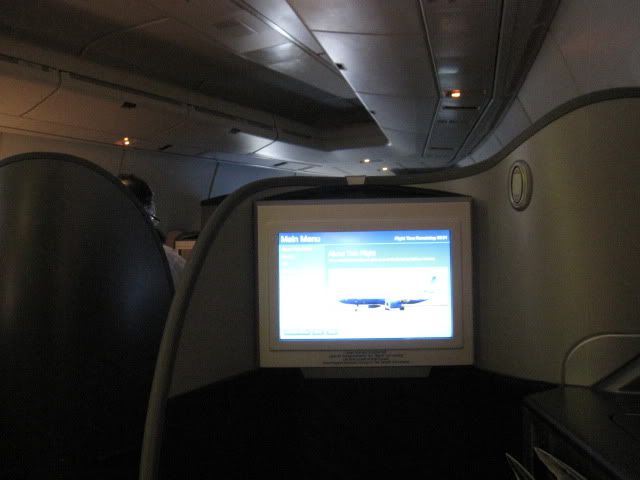 *
*
*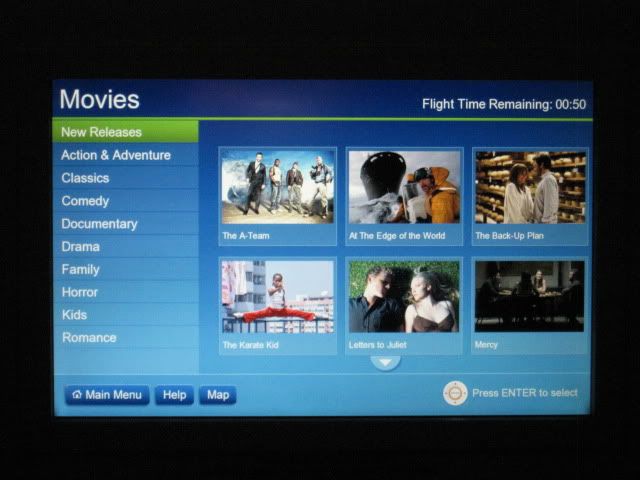 *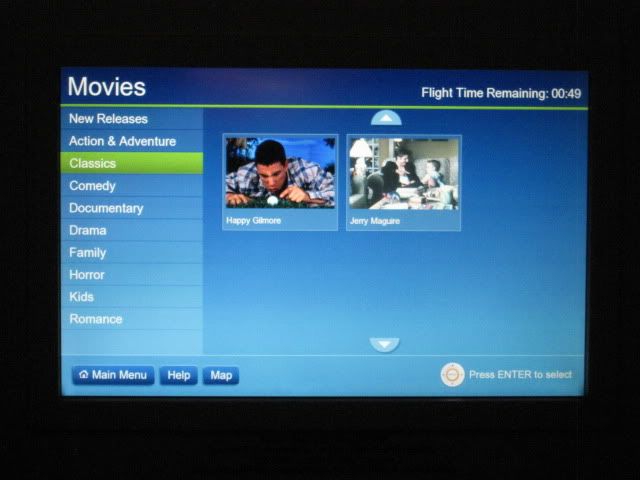 *
*
*
("In-flight magazines", Boarding Passes, etc.)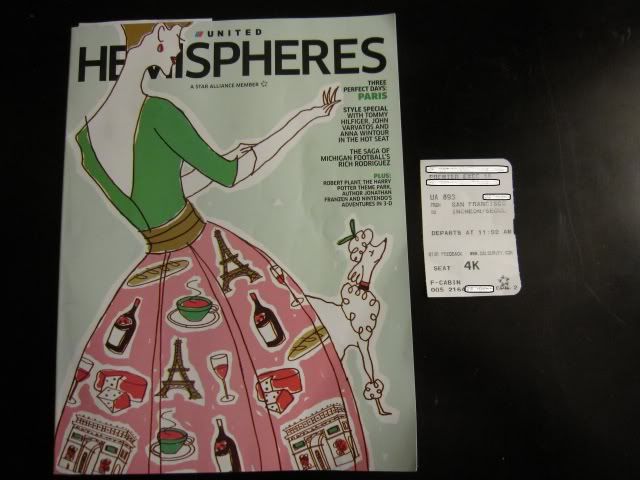 e) Crew:
I have always thought United's crew in general are above industry standard and display a genuine sense of warmth. In my last report of United (http://www.airliners.net/aviation-forums/trip_reports/read.main/149491/), I was blown away by an industry veteran who demonstrated true service from the heart, and an exemplary commitment to her job. Sadly, this flight was very different, and it reinforced my belief that there must be a balance between "seniority" and "good service". It was clear that the Korean FA who served us was a United veteran. I have seen her personally a few times before, and this was the first time when she worked my part of the cabin. Everything about her was dour. I did not see a single smile from her, and could feel her frown with every request. My polite "thank you's" were met with an indifference that made me question if she was human. Utterly disappointing. I spoke to a few regulars on the ICN flight and it seems that the senior crew who bid on the flights have forgotten what customer service is. Shame really, as she should probably spend some time with her cohorts on the SYD flights to get reacquainted with what makes United a great airline.
IV> Post-Flight:
Arrival at ICN was remarkably smooth and as usual the processing was top notch and I was soon outside giving my friend a hug.
(ICN Arrival - view of ICN - you get to truly appreciate it)
V> Impressions + Scores:
A First Class experience must be exclusive and distinct enough from Business. Otherwise, I strongly believe in getting rid of the whole thing. On the ground, United has been able to create an International First product that is uniquely different from Business - separate check/in, separate security, and a lounge that is far more impressive than the average U.S. RCC's. In the air, United fails miserably to create this segmentation. While the seats are flat and relatively nice, the rather open layout meant that I felt a little too close to the man across the aisle. Moreover, I did not feel that the seat was distinct enough from the JCL product to command a price premium. Similarly, while the meal was OK, it was nothing spectacular, and I would have been OK sitting in JCL. Both beverage quality AVOD depth could also be improved. However, all this pales in comparison to the senior crew who just did not belong in the premium cabin of a top airline. If you don't like your job, do something about it.
Before the reconfiguration, there was a strong incentive to book UA F vs. UA J. I just don't see it now. If United cannot make its First more exclusive, it should just get rid of it, and focus on J. While at it, it can also spend some time retraining its crew. Overall, a rather "blah" experience -
since I fly United a lot, I know this is not the norm and so would fly them again. On the basis of this flight alone, a single thumbs down.
VI> Other Trip Reports:
PREMIUM:
9.27: THAI AIRWAYS **FIRST** (108): BKK-LHR: 07/2010
8.66:
Brussels Airlines (93): FIH-BRU: 01/2010
8.64:
Turkish Airlines (59): JFK-IST: 11/2008
8.63:
Jet Airways (88): JFK-BRU: 10/2009
8.61:
Air Canada (49): YYZ-SCL: 06/2008
8.54:
Turkish Airlines (77): GRU-DKR-IST: 04/2009
8.36:
Kingfisher (98): BOM-HKG: 01/2010
8.30:
Jet Airways (74): KWI-BOM: 04/2009
8.23:
United Airlines (72): SFO-SYD: 03/2009
8.11:
Aeroflot (33): MOW-DEL: 09/2007
8.05:
Air India (80): CCU-JFK: 06/2009
8.04:
Korean Air (40): NRT-ICN: 10/2007
8.02:
Delta Airlines (24): JFK-CDG: 08/2007
7.66:
Sri Lankan (104): DEL-CMB: 07/2010
7.64:
Royal Jordanian (91): AMM-YUL: 12/2009
7.61:
China Southern (103): LOS-DXB: 04/2010
7.57:
Pakistan Airlines (102): ORD-BCN: 06/2010
7.46:
LAN (55): YYZ-JFK: 09/2008
7.82: UNITED ** FIRST ** (110): SFO-ICN: 10/2010
7.82:
Singapore Airlines (06): EWR-SIN: 09/2006
7.38: CATHAY PACIFIC **FIRST** (109): HKG-LHR: 10/2010
7.25:
Iran Air (88): BOM-IKA: 12/2009
7.23:
Virgin Atlantic (81): BOS-LHR: 07/2009
7.14:
Swiss (52): SCL-GRU: 06/2008
7.11:
Aer Lingus (105): MAD-IAD: 05/2010
7.11:
Austrian (79): VIE-JFK: 06/2009
7.07:
Privatair (84): BOM-FRA: 08/2009
7.02:
Qatar (68): DOH-JFK: 01/2009
6.96:
Etihad (61): JFK-AUH: 12/2008
6.93:
Delta Airlines (18): SEA-JFK: 11/2006
6.84:
ConViasa (65): CCS-DAM: 01/2009
6.82:
Air Burkina (106): BKO-OUA: 06/2010
6.81:
Air Canada (17): ICN-YYZ: 10/2006
6.70:
KLM (32): EBB-AMS: 08/2007
6.52:
Emirates (99): LHR-DXB: 02/2010
6.39:
South African (97): EZE-JNB: 01/2010
6.36:
Privatair (60): MUC-BOS: 12/2008
6.29:
TAM Brasil (96): POA-EZE: 02/2010
6.25:
Korean Air (45): NAN-ICN: 10/2007
6.21:
Iberia (87): BOS-MAD: 10/2009
6.11:
A SKY (107): OUA-COO: 06/2010
6.11:
TAP Portugal (53): GRU-OPO: 06/2008
6.00:
Gulf Air (75): BOM-BAH: 04/2009
5.88:
African Express (89): DXB-NBO: 11/2009
5.75:
Singapore Airlines (16): CCU-SIN: 10/2006
5.64:
SATA Azores (101): BOS-PDL: 04/2010
5.64:
NorthWest (46): ICN-NRT-SEA: 10/2007
5.54:
Ethiopian Airlines (95): ADD-BOM: 01/2010
5.46:
Icelandair (83): KEF-BOS: 08/2009
5.39:
LOT (54): WAW-JFK: 06/2008
5.21:
Egypt Air (73): CAI-IST: 02/2009
5.07:
TACA (66): JFK-SAP: 01/2009
4.42:
Air France: CDG-JNB (25): 08/2007
ECONOMY: Long + Medium:
9.26:
Air India (48): JFK-DEL: 02/2008
7.38:
Avianca (01): BOG-LIM: 07/2006
7.07:
Sri Lankan (62): KWI-CMB: 12/2008
7.00:
LAN (94): IPC-SCL: 01/2010
6.41:
Avianca (78): JFK-BOG: 05/2009
6.41:
American Airlines (58): LHR-BOS: 11/2008
6.39:
Condor (85): SEZ-FRA: 09/2009
6.26:
Jet Blue (21): CUN-JFK: 02/2007
6.06:
Air Canada (04): YYZ-YVR: 09/2006
5.89:
USA 3000 (19): PUJ-BDL: 01/2007
5.85:
Spanair (69): MAD-LPA: 02/2009
5.79:
Air New Zealand (42): RAR-NAN: 10/2007
5.52:
Aerolineas (86): USH-AEP: 10/2009
5.46:
TAP Air Portugal (23): OSL-LIS: 05/2007
5.19:
Air Europa (70): LPA-MAD: 02/2009
5.16:
Iberia (71): MAD-BOS: 02/2009
5.11:
Air China (82): FRA-PEK: 08/2009
ECONOMY: Short
8.56:
Paramount Airways (38): BLR-MAA: 09/2007
8.56:
Kingfisher (64): HYD-CCU: 12/2008
8.24:
Kingfisher (14): IXA-GAU: 10/2006
7.87:
Indian (34): BOM-MAA: 09/2007
7.72:
Alliance Air (13): CCU-IXA: 10/2006
7.57:
Indian Airlines (10): DEL-CCU: 09/2006
7.23:
West Jet (03): YYC-YVR: 09/2006
7.15:
JetLite (37): BOM-GOI: 09/2007
6.98:
Air Koryo (100): PEK-FNJ: 04/2010
6.70:
Spice Jet (09): CCU-DEL: 09/2006
6.63:
Air Fiji (44): NAN-SUV: 10/2007
6.63:
Jazeera (67): DAM-KWI: 01/2009
6.58:
Air Tran (02): EWR-MDW: 08/2006
6.48:
Air India Express (63): CMB-MAA: 12/2008
6.44:
CO Micronesia (39): ROR-YAP: 10/2007
6.41:
Pacific Sun (43): NAN-SUV: 10/2007
6.37:
Skybus (47): SWF-CMH: 02/2008
6.33:
Kenya Airways (29): NBO-BJM: 08/2007
6.33:
Sky Europe (56): LTN-BTS: 10/2008
6.31:
Indigo (15): GAU-CCU: 10/2006
6.31:
easyJet (57): BUD-LTN: 11/2008
6.22:
Air Link Swazi (28): MTS-JNB: 08/2007
6.22:
Air India (36): HYD-BOM: 09/2007
6.13:
Adam Air (07): SIN-CGK: 09/2006
6.13:
Air Rarotonga (41): RAR-AIT: 10/2007
6.00:
Transairways (27): INH-MPM: 08/2007
5.95:
Air Canada (05): ALB-YYZ: 09/2006
5.85:
SAS Norge (22): OSL-AES: 05/2007
5.81:
LAM Mozambique (26): JNB-MPM: 08/2007
5.69:
Air Deccan (12): IXZ-CCU: 10/2006
5.67:
Rwanda Air Exp (30): KGL-NBO: 08/2007
5.37:
Felix Airways (92): SCT-SAH: 12/2009
5.11:
Aero Republica (76): BOG-CCS: 04/2009
5.07:
Go Air (35): MAA-HYD: 09/2007
5.00:
Sky Airline (51): IQQ-SCL: 06/2008
4.96:
Valuair (08): CGK-SIN: 09/2006
4.78:
Air Comet Chile (50): SCL-IQQ: 06/2008
4.74:
Fly 540 (31): MYD-LAU: 08/2007
4.33:
Viva Aerobus (20): ELP-MTY: 02/2007
4.11:
Air Sahara (11): CCU-BOM: 09/2006
(Note on Codes: Y – Economy, J – Business, F – First :: I/D – International/Domestic :: SR/MR/LR – Short/Medium/Long Haul)
(Note on Date: Dates are modified to be +/- 3 days from actual flight date to not reveal actual flight pattern)
VII> Other Pictures:
(Amenity Kit – United First)