Lufthansa, operated by CityLine & Air Dolomiti: AMS-MUC-FCO-MUC-AMS
Introduction
Recently Lufthansa had a nice offer, return ticket for 159 euro to several European destinations, and most important: no minimum stay restrictions! Four flights for only 159 euro and not even on a low-cost carrier, great idea to book a nice trip. Rome Fiumicino has interesting traffic for me to log new registrations and this was also a good opportunity to try Air Dolomiti, which is a new airline for me. I asked a good friend of mine to join me and I booked the trip.
Monday, 21st of March
I left house just before seven o'clock to arrive in Badhoevedorp, a small village near Schiphol, about 10 minutes later. Free parking and paying 2,60 euro for a bus ticket rather then parking at the airport, which is very expensive, is a much better choice in my view. The bus showed up on-time and I arrived at the airport a few minutes before half past seven. We checked in by using the self-service kiosk. Good seats on all flights except for the first one to Munich. 14D and 30F and no other seats available to change it, hmm that sucks. First of all I don't like sitting on the last row (Well, 30F is the second to last row, I don't like that either, I always prefer seats just before, above or just behind the wing) and second of all we prefer seats next to each other. After security we went straight to the gate and asked for a seat change and the lady gave us 31D and 31F. Hmm, last row, but at least two seats together.

Date:
Monday, 21Mar11
Flight:
Lufthansa CityLine // LH 2301
From:
Amsterdam // AMS
To:
Munich // MUC
Duration:
1h20m
STD:
08.50 //
ATD:
09.05
STA:
10.15 //
ATA:
10.28
Aircraft:
Embraer ERJ-195 // D-AEBC
Seat:
Economy // 31F
Load factor:
~95%
The inbound aircraft arrived a few minutes late from Munich, an Embraer 195 operated by CityLine, as planned. Nothing happened for a while and the gate area filled up more and more. The early morning service to Munich was cancelled so the flight was very busy. Around 8.50 boarding was announced and almost all seats became occupied.
Pushback was 15 minutes late because of the slow boarding process. Runway 24 was in use and with no other traffic around take-off was just a few minutes after we left the gate. In the air we turned left and headed to the south east. The route today was via Arnhem, Cologne and Frankfurt. The cabin crew started with handing out the food on todays' flight followed with the bar service.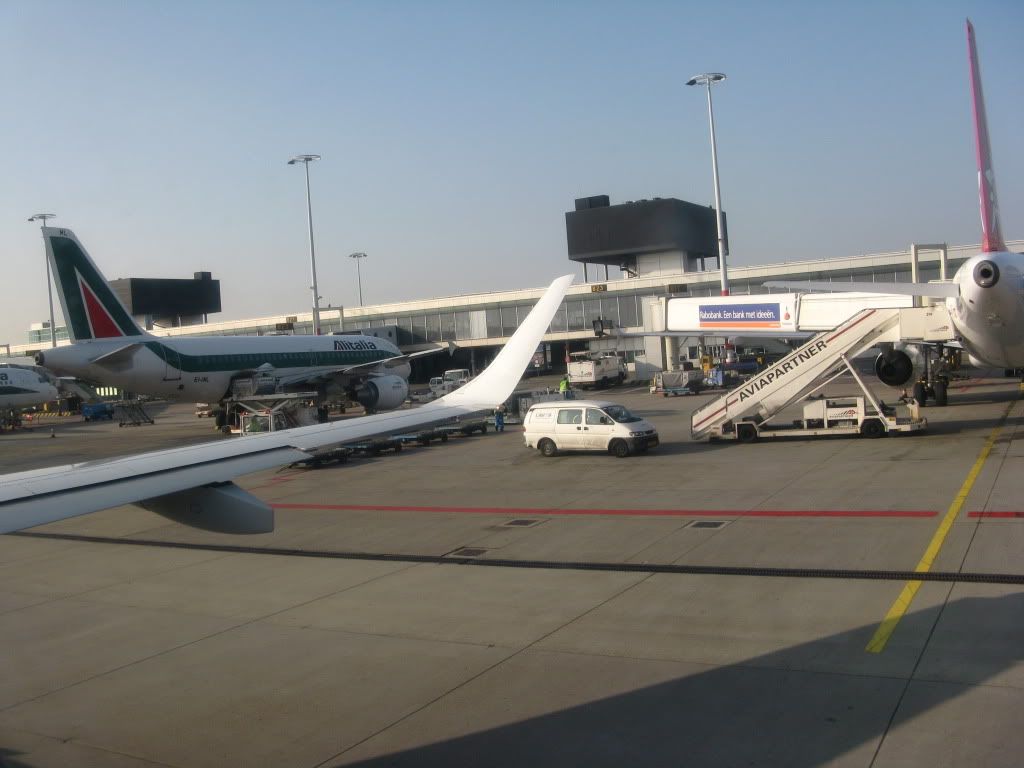 Take-off video:
http://www.youtube.com/watch?v=7ciDS2BP8go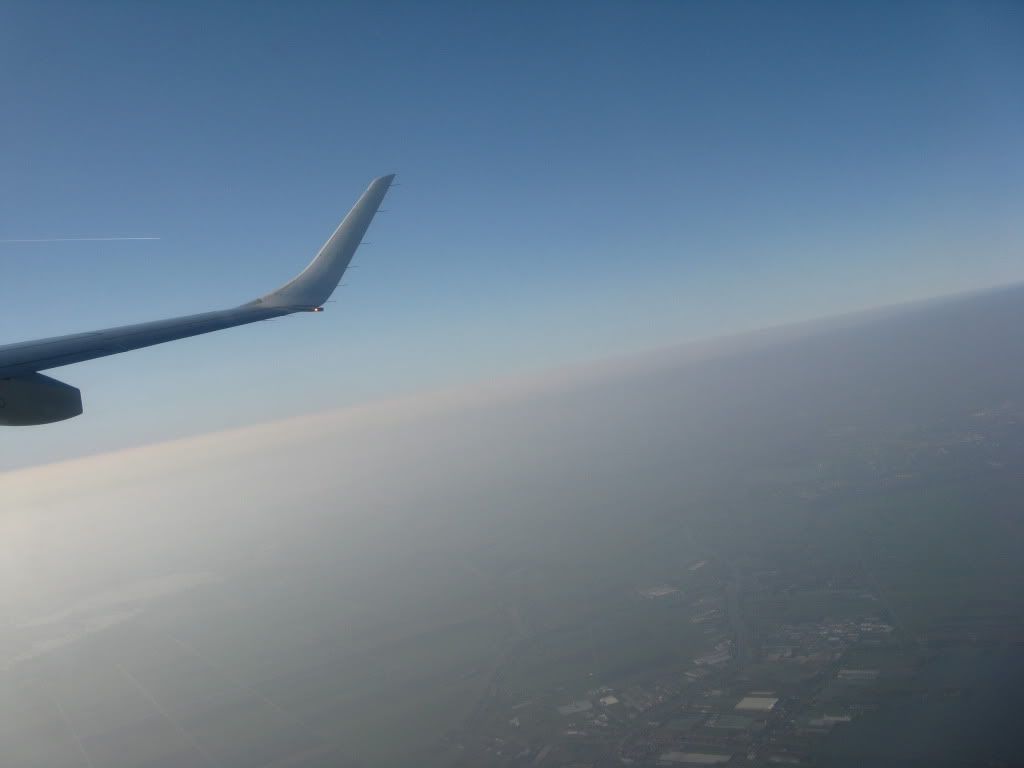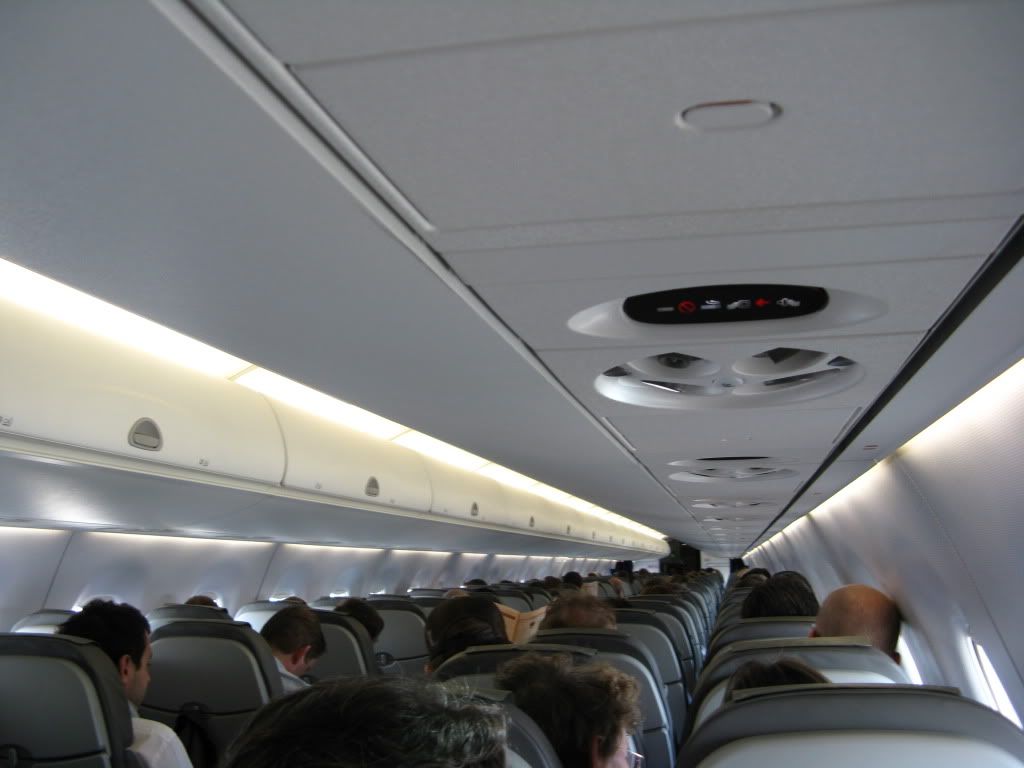 Full cabin today
Müsli, tea and mineral water
Cologne/Bonn airport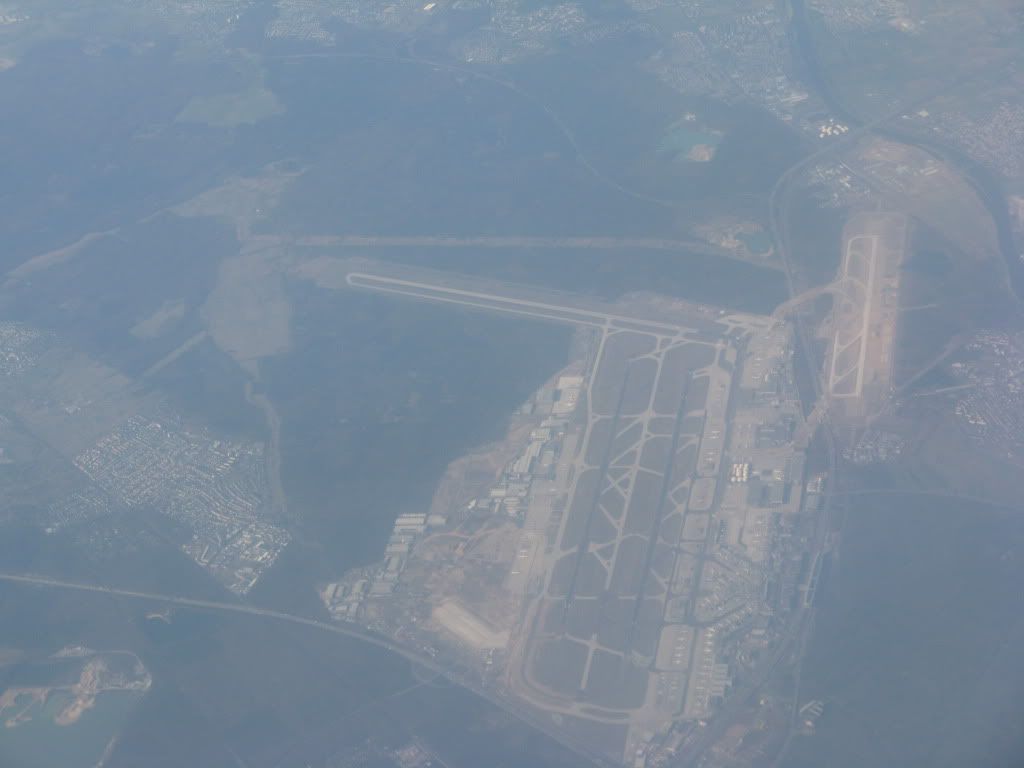 Frankfurt am Main airport
Shortly after we passed Frankfurt descending was started and 'Der Kapitän' informed us about the weather in Munich. The weather was almost the same as in Amsterdam, sunny, clear skies, 7C degrees and some light turbulence during the approach. Touchdown on German soil at 10.22 on runway 08L and parking at a remote stand.
Approaching Munich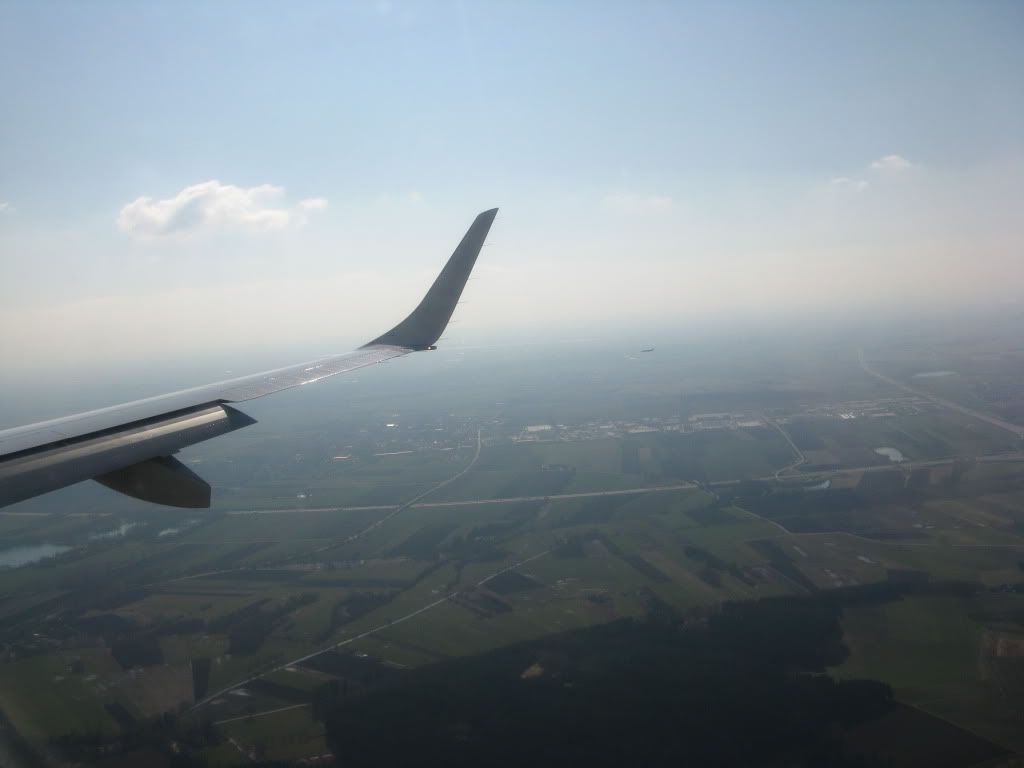 Final approach
Landing video:
http://www.youtube.com/watch?v=W4DSEjNOe8I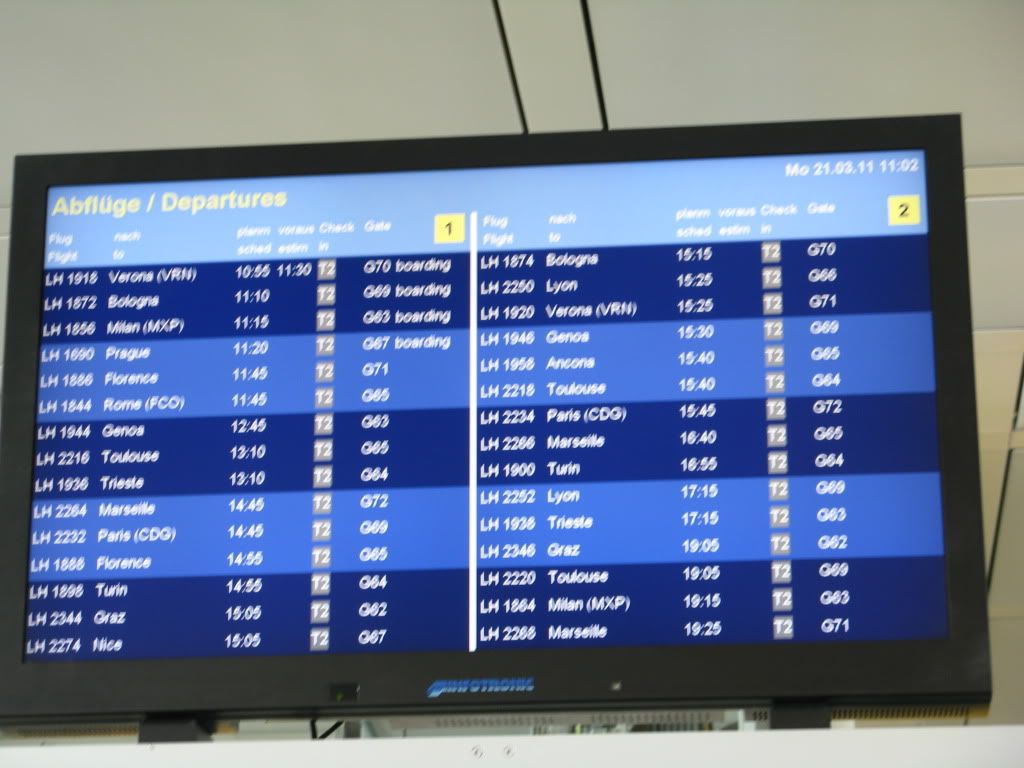 FIDS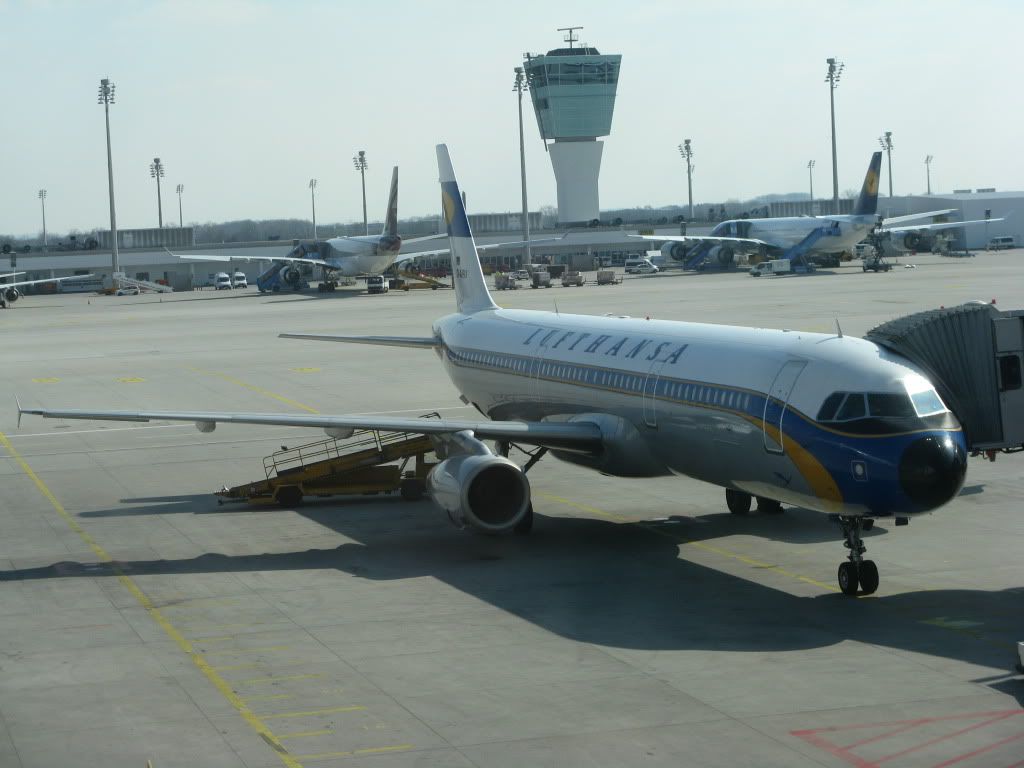 Lufty's retrojet
The bus brought us to the terminal and with an hour to go for our next flight we walked to the end of the terminal to see if there's any interesting registrations to log. Around eleven o'clock we decided to go the gate for our next flight. Gate G65, which is located downstairs and is used for all flights parked on remote stands. Boarding was announced on-time and to our surprise the male gate agent was Dutch. The bus drove us to I-ADJL, one of Air Dolomiti's Embraer 195 aircraft, they have five of them in total plus a dozen of ATR's.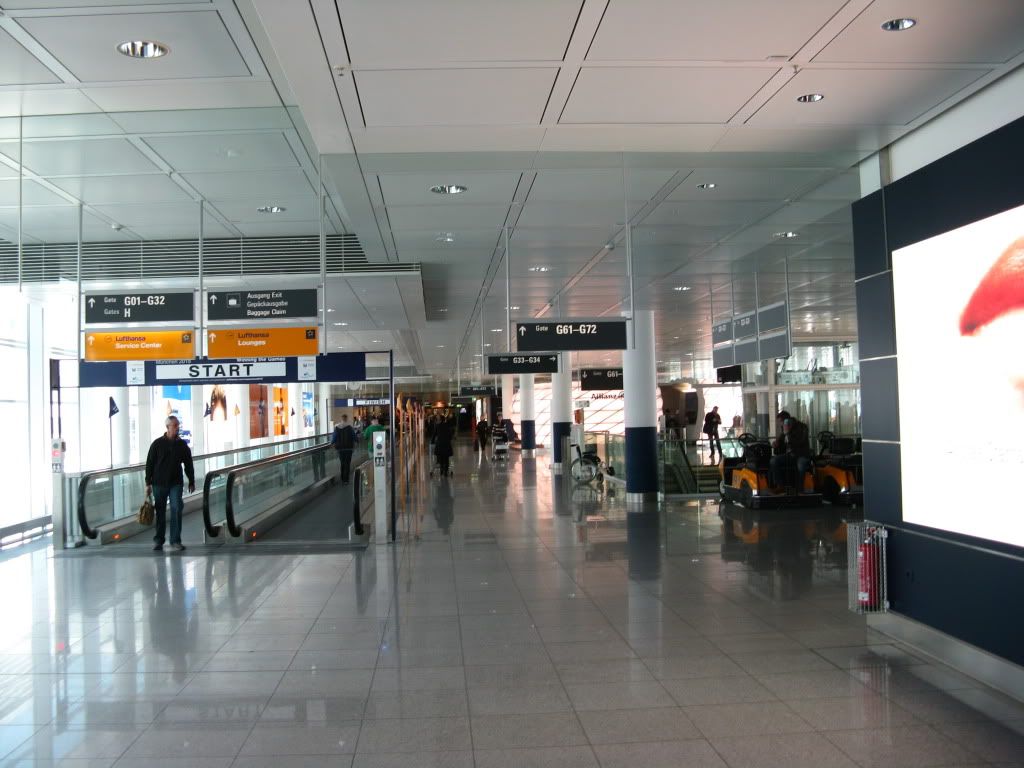 Air Dolomiti service desk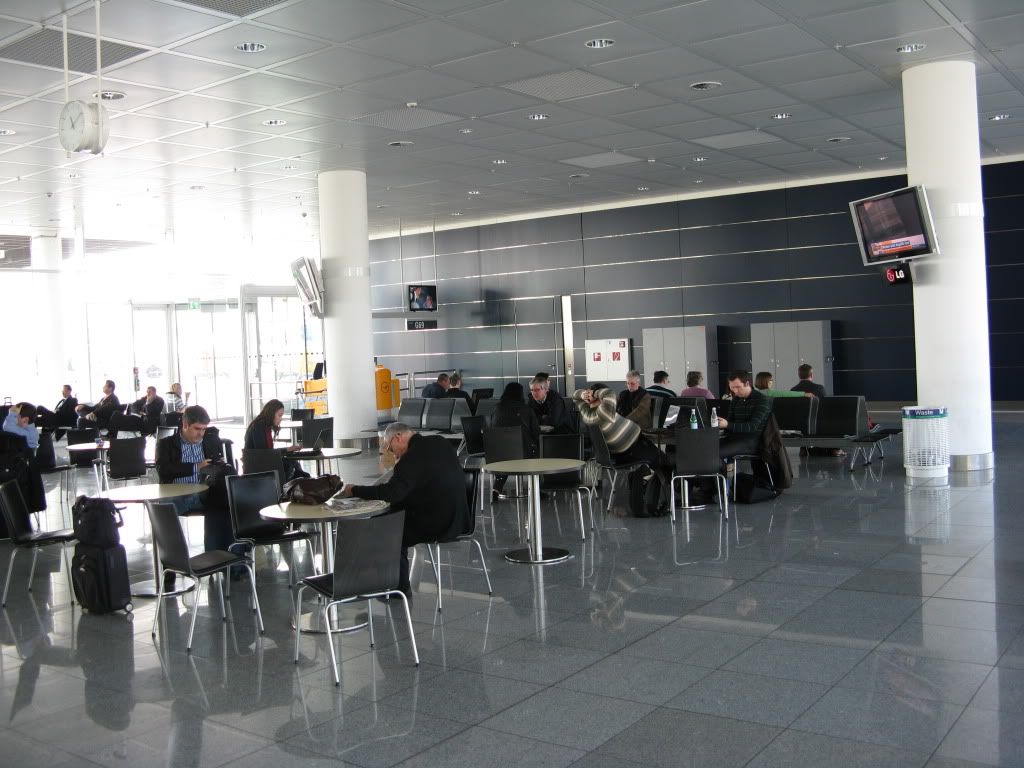 Date:
Monday, 21Mar11
Flight:
Air Dolomiti // LH 1844
From:
Munich // MUC
To:
Rome Fiumicino // FCO
Duration:
1h30m
STD:
11.45 //
ATD:
11.45
STA:
13.15 //
ATA:
13.09
Aircraft:
Embraer ERJ-195 // I-ADJL
Seat:
Economy // 20F
Load factor:
57% // 66 passengers
Originally we had seats 9D and 9F, but a pair with an infant was seated on 9A and 9C so we moved to 20D en 20F, which was no problem with the light load today. Exactly at 11.45 the flight crew started the engines and we taxied to runway 08R. Take-off was ten minutes later and after a right turn in the direction of the Alps we had a good view on Erding Air Base. While most passengers enjoyed the fantastic scenery outside the aircraft, the cabin crew started with the service. The service onboard Air Dolomiti is the same as on Lufthansa and other regional partners, some food and two drinks.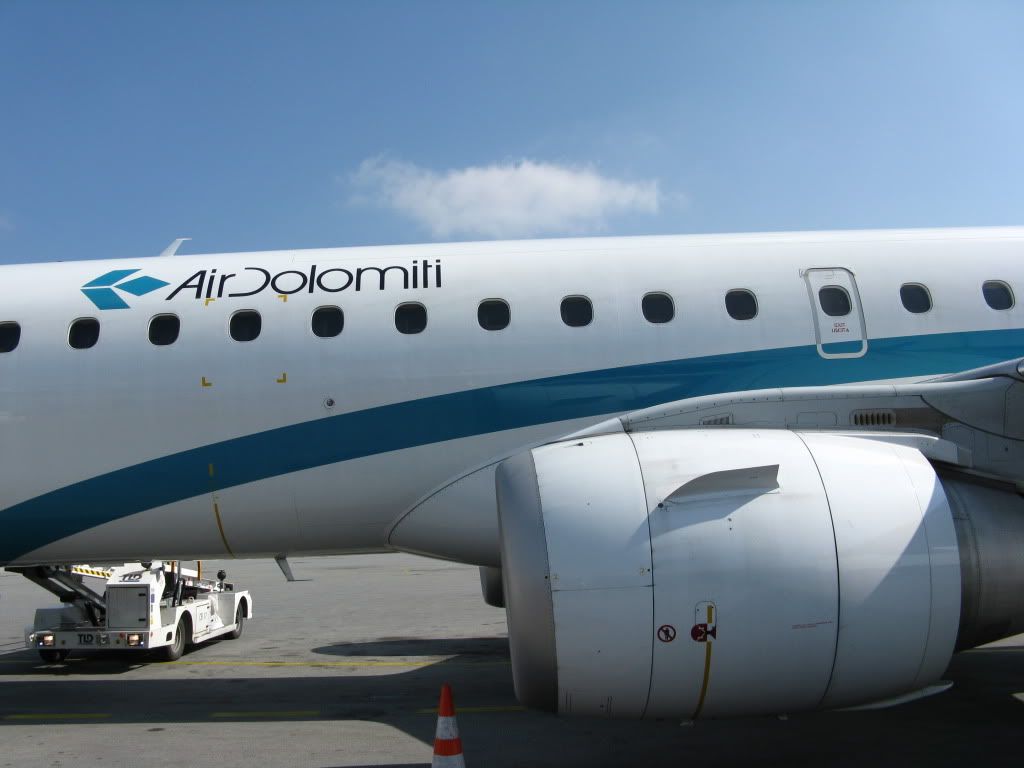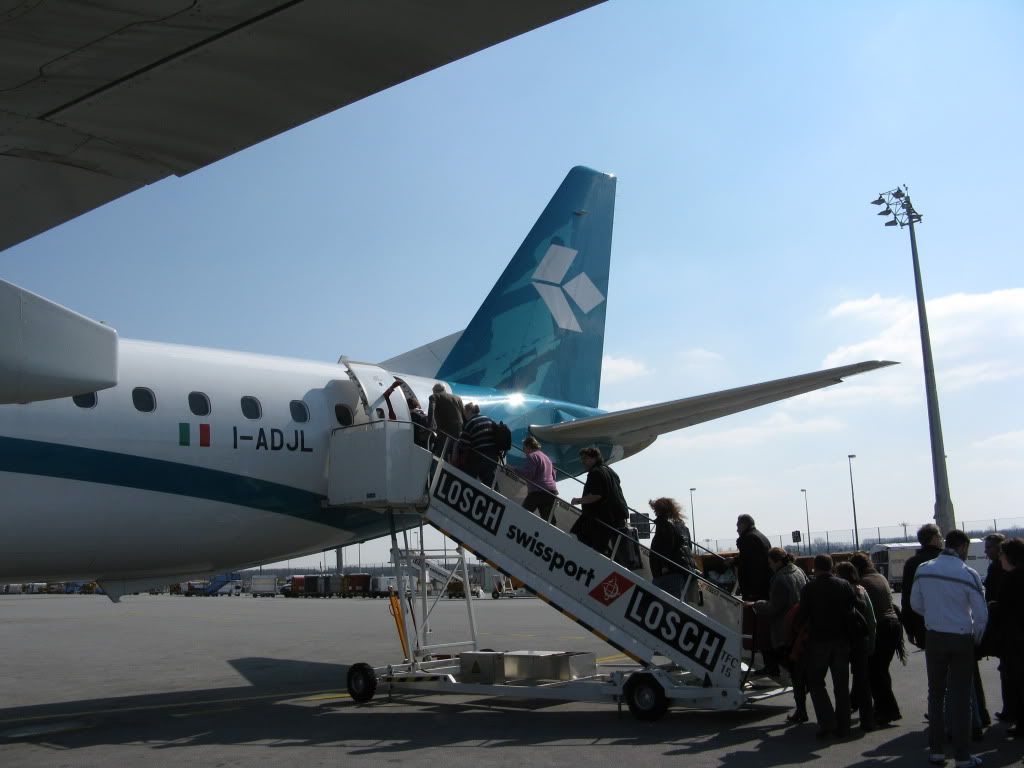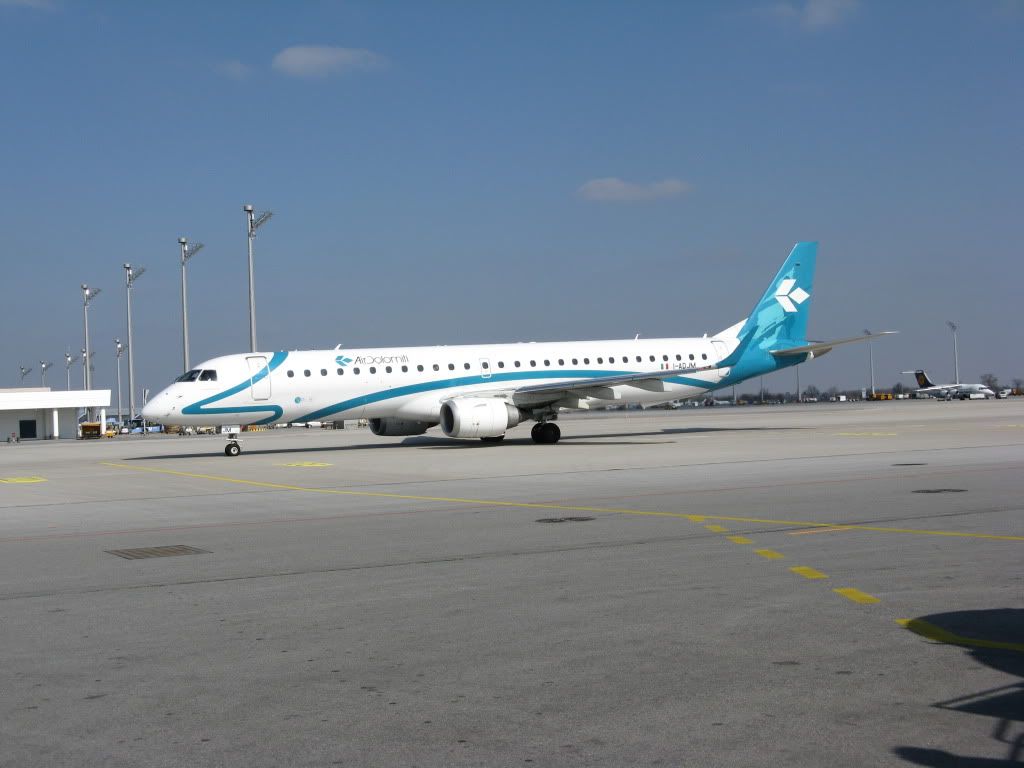 One of Air Dolomiti's other E-jets going to Milan Malpensa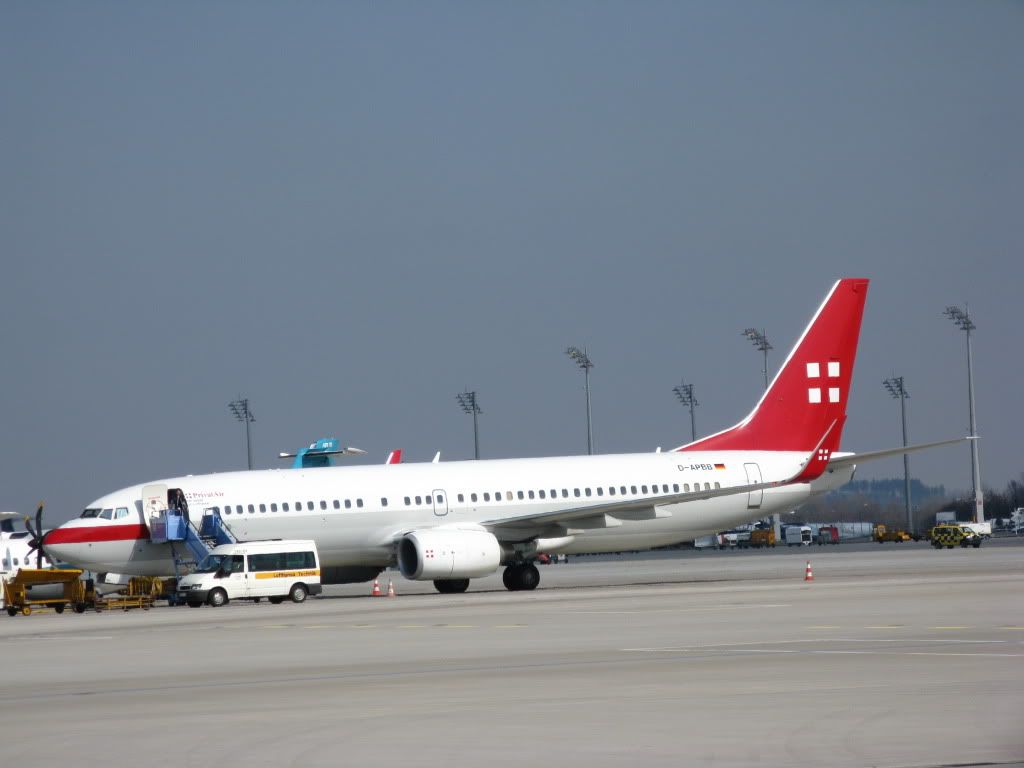 PrivatAir parked at a remote stand
Terminal 2, home to Lufthansa and it's Star Alliance partners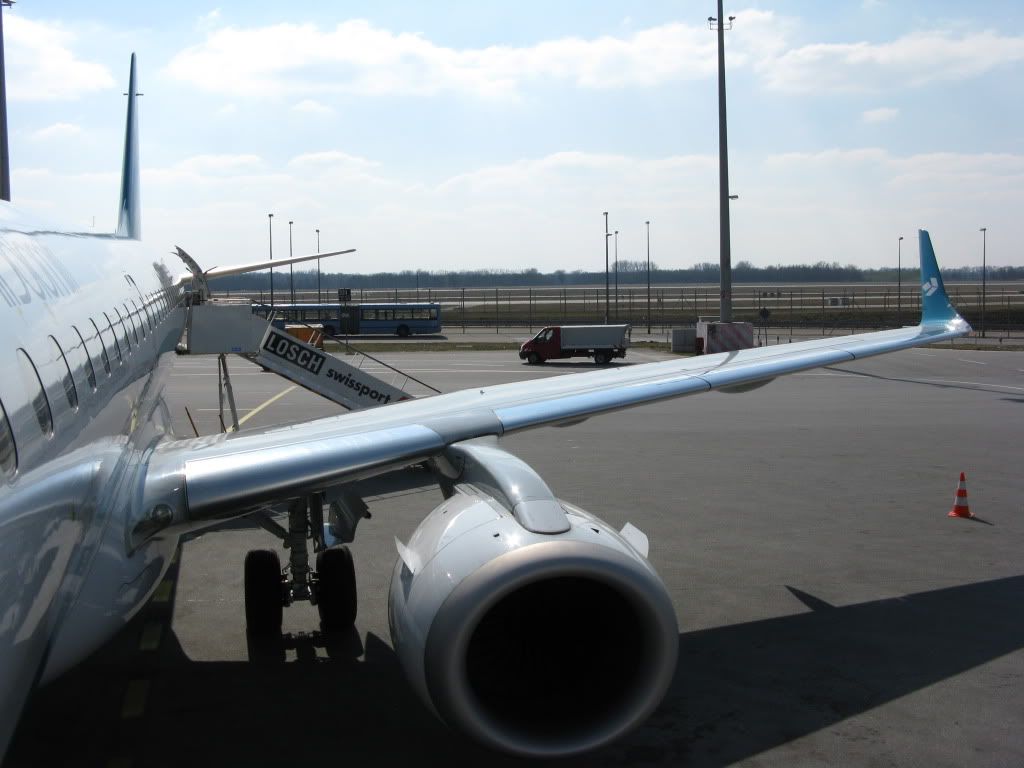 Waiting for take-off clearance
Take-off video:
http://www.youtube.com/watch?v=wWdrOWnHaRg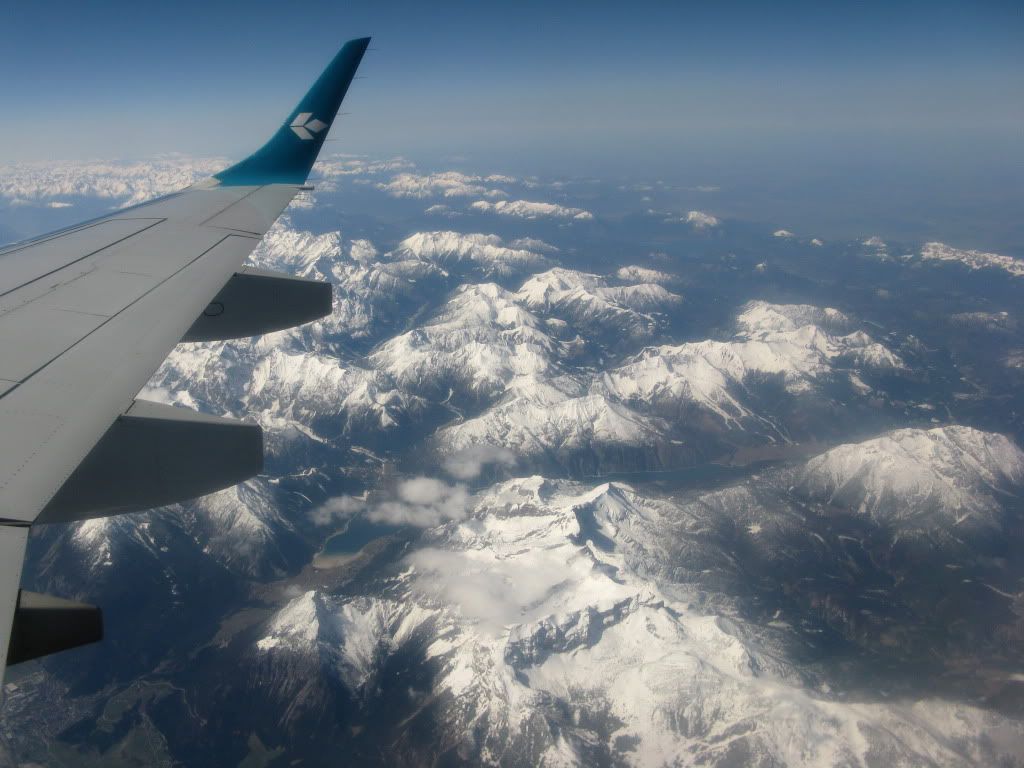 Flying over the beautiful Alps
Winglet close-up
The cabin as seen from seat 20F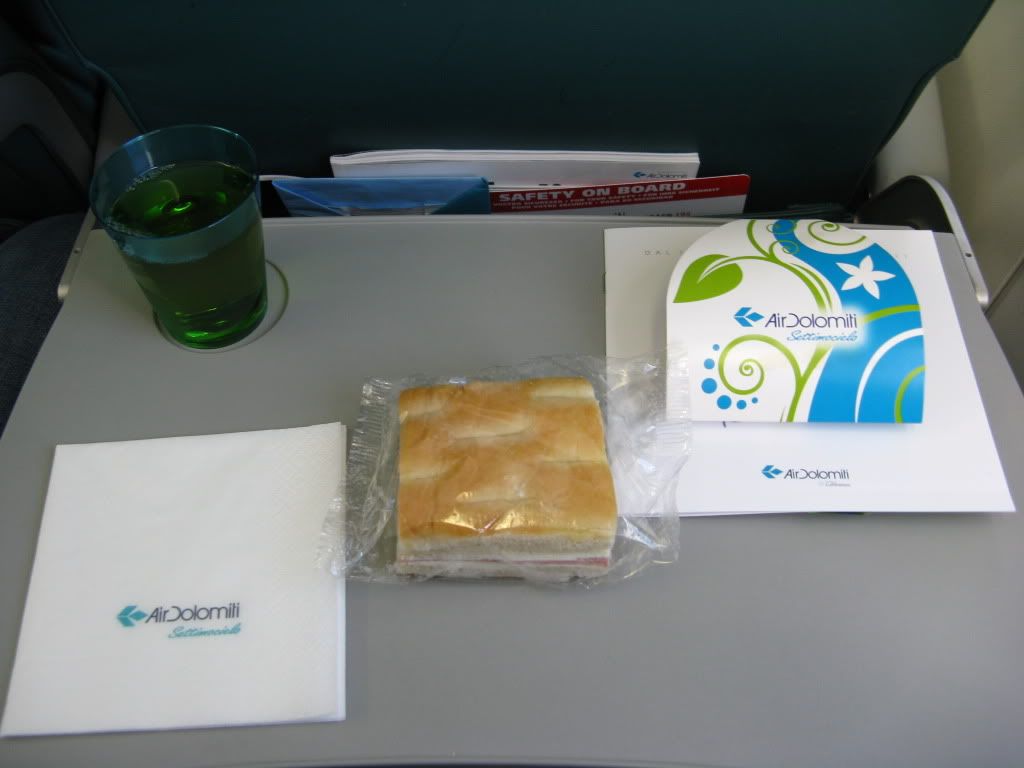 Italian ham sandwich, apple juice and tea, which arrived a few minutes later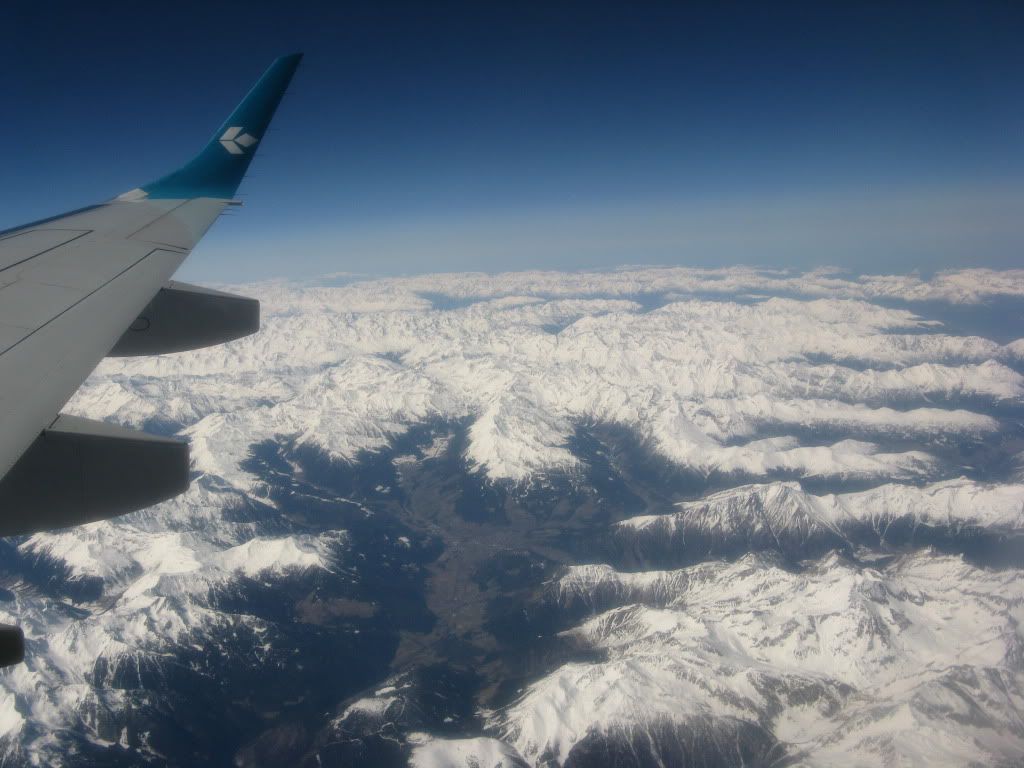 Headrest cover
Descending started early and it became more cloudy when we approached Rome. We made a very smooth landing at 13.01 on runway 16L. To my surprise we docked in at a normal gate, I was expecting a remote stand.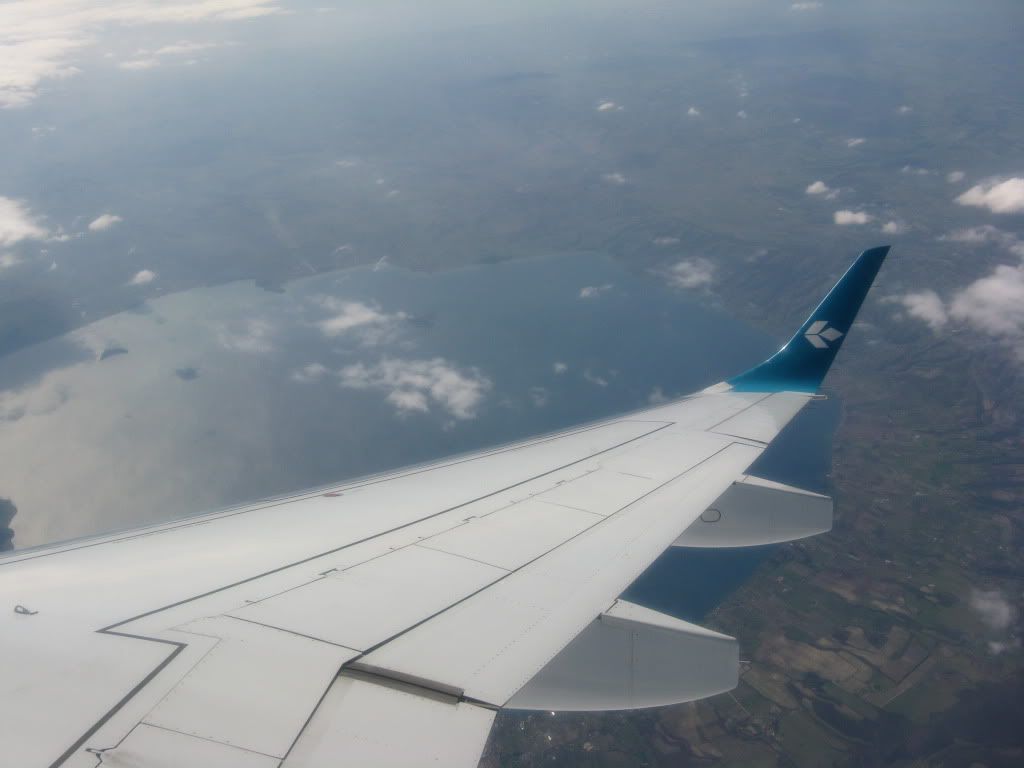 Starting our descend in to Rome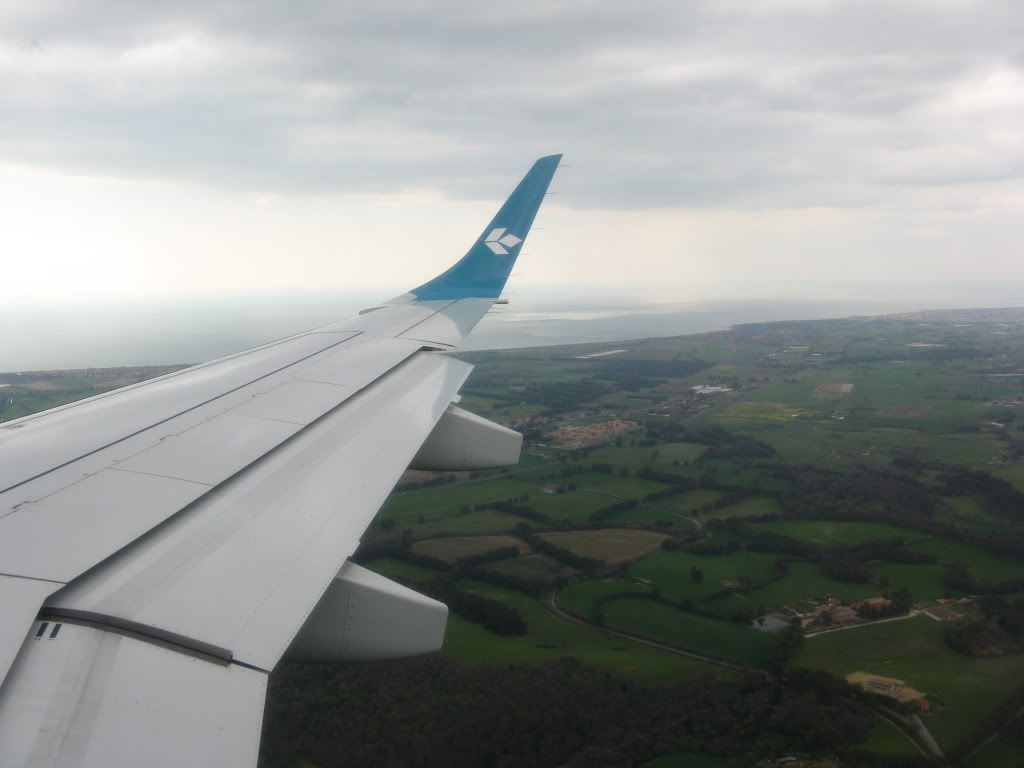 Final approach
Landing video:
http://www.youtube.com/watch?v=78zdsuAXKjg
On-time arrival
Well, welcome to Rome Fiumicino. In my opinion a bit outdated and not very clean at all places. The toilets are clean but the terminal itself could be improved. We walked around the several piers to log all registrations and went outside to see if there are any hidden aircraft. No Alitalia A330's present, that was a bit disappointing. There was an US Air Force C-40 parked next to terminal 5, but it was impossible to read the registration. Back at the main terminal complex I noticed the location from 'Bassie en Adriaan en de geheimzinnige opdrachtgever' (a Dutch tv serie from the past for children and for adults who were children during that time and grew up with the series, like me
) Italian episode.
The airport's church?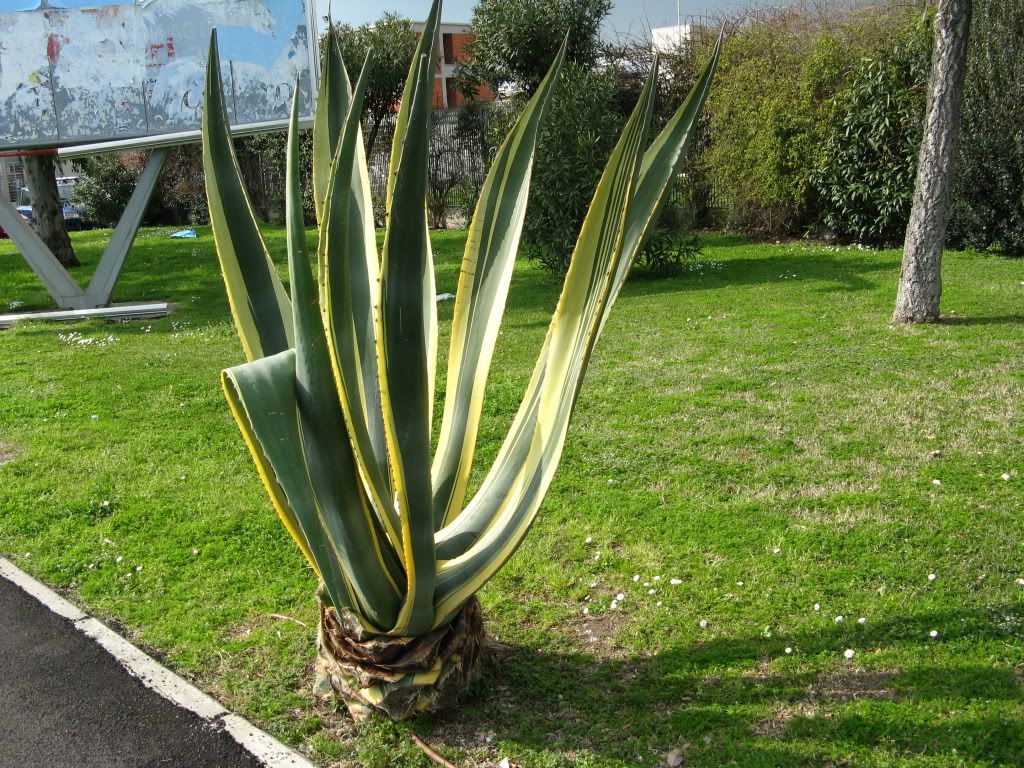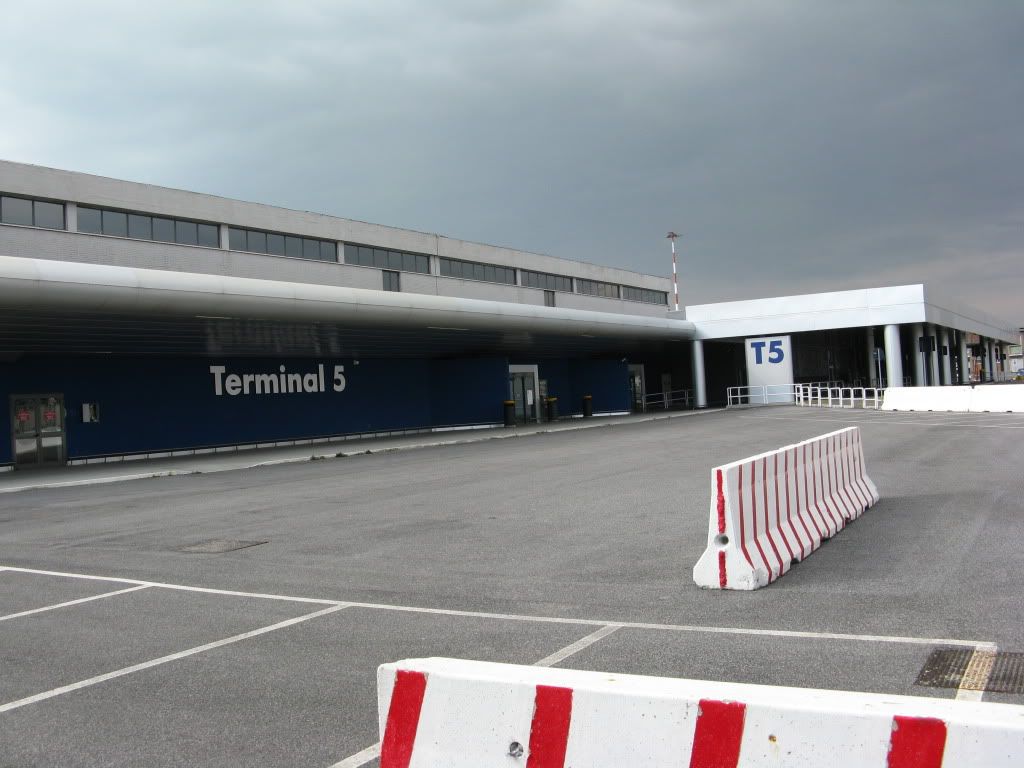 The remote Terminal 5, used by all American and Israeli airlines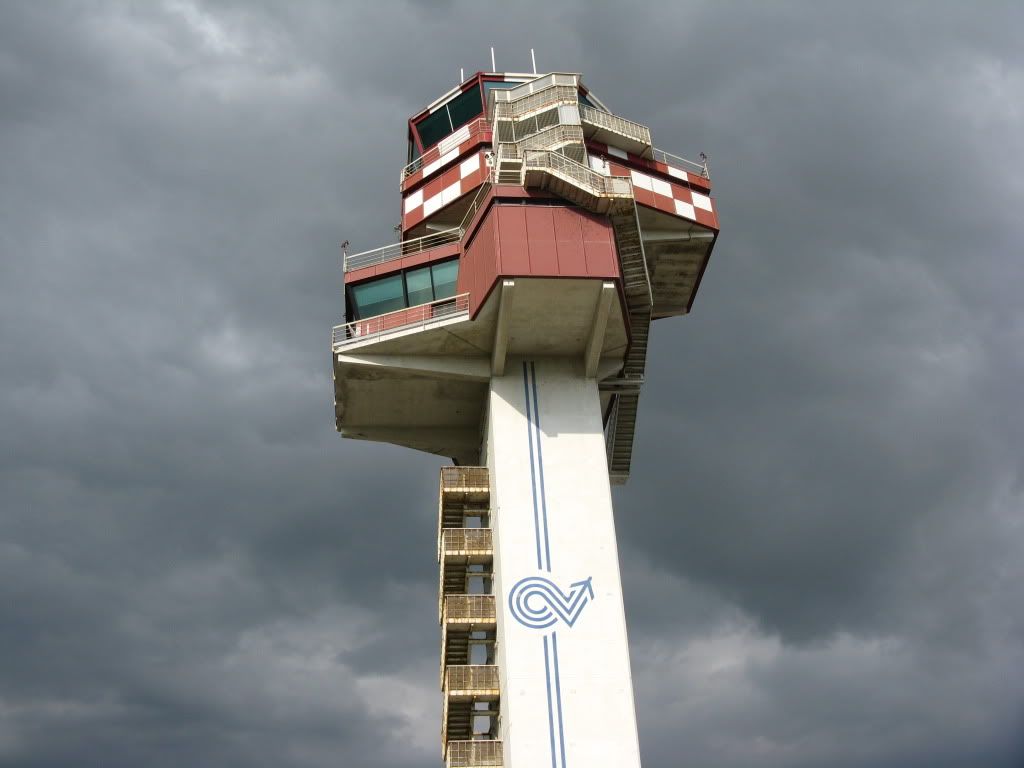 ATC tower, looks a bit like something from the Soviet Union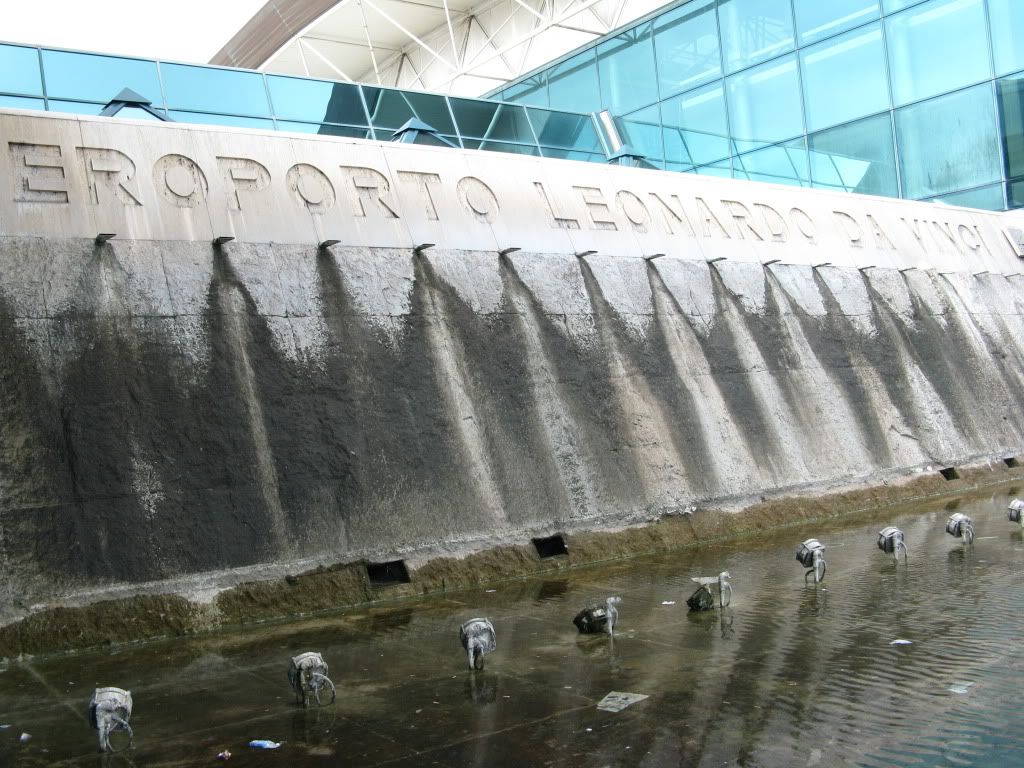 The fountain is not operational today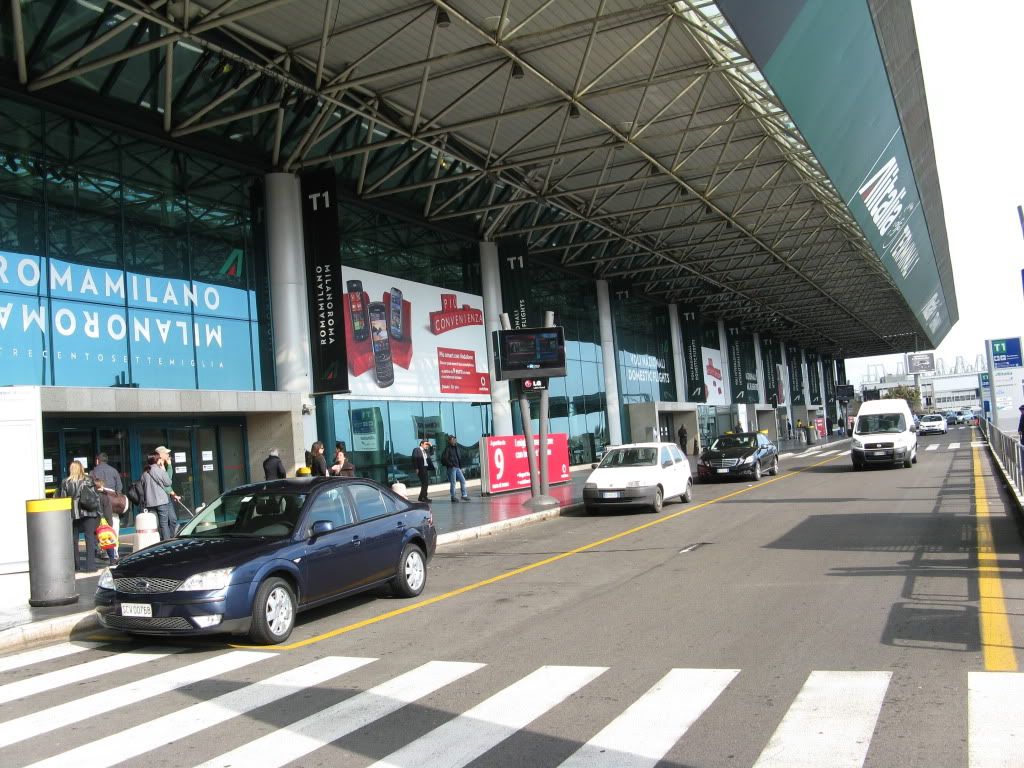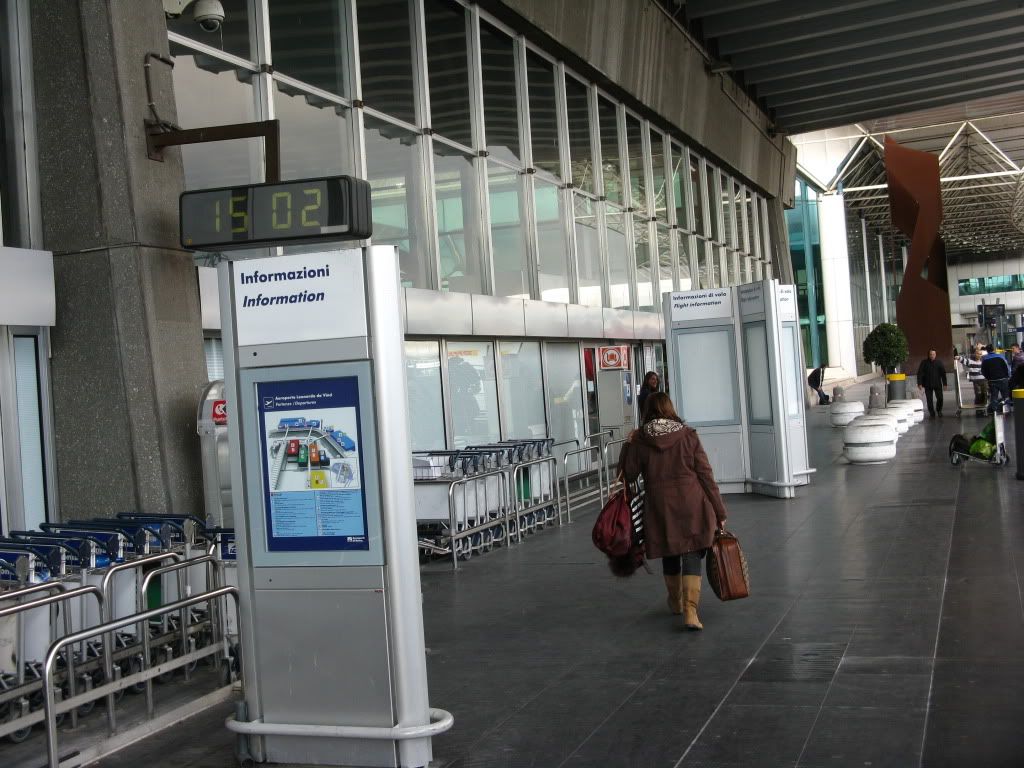 'Bassie and Adriaan' was filmed here
Check-in area
Fiat 500 in special colors on display
And another car on display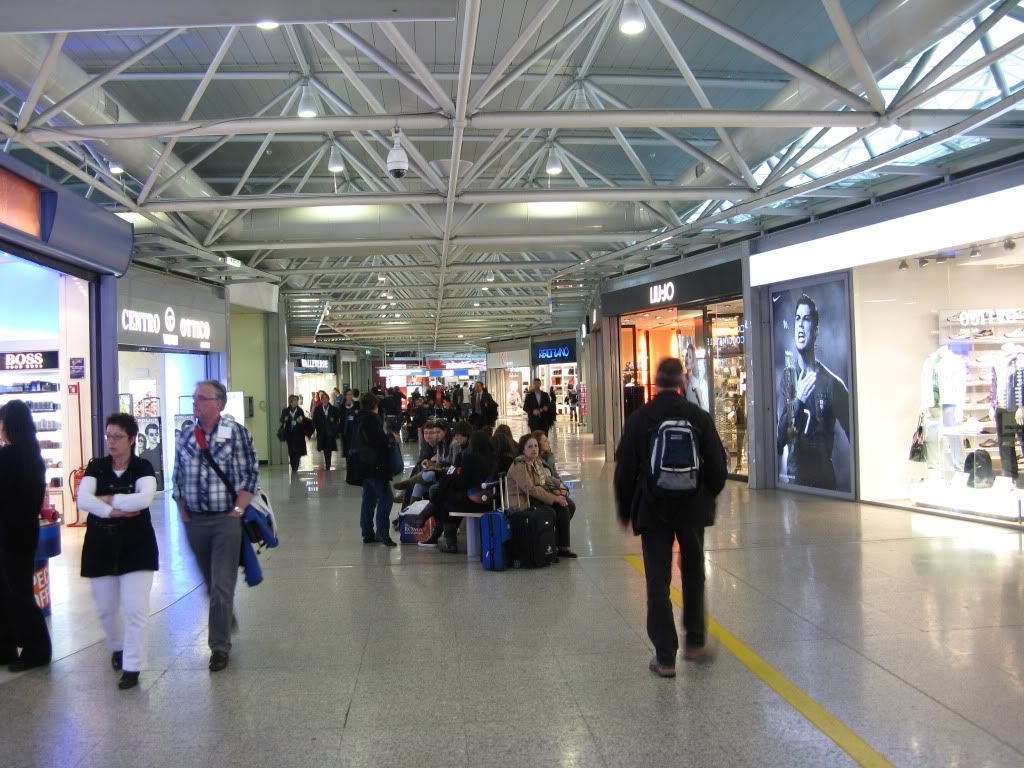 Airside shops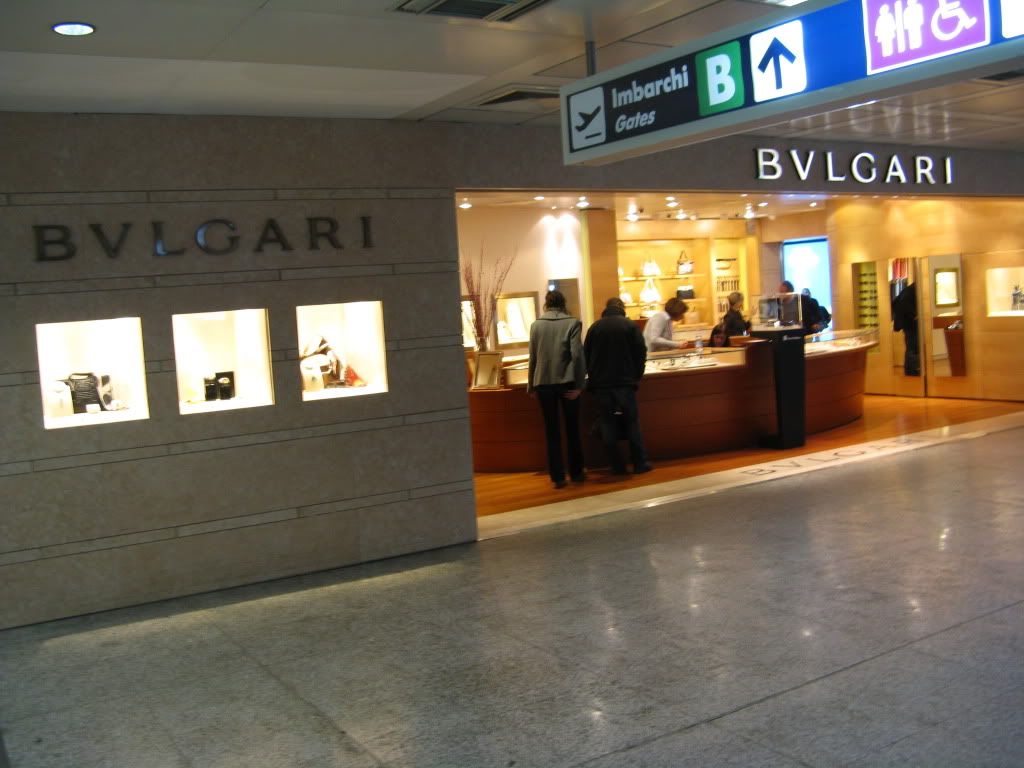 We decided to go to airside again and went to security. Security was quiet so it was done in only a few minutes. Once at airside again my companion was reading the registrations and I wrote them down on a notepad. And then, out of nothing, a police officer in civilian clothes but with a police batch on his chest showed up, and another one was watching in the background.
"Policia! What are you doing?"
We explained him that we are aircraft spotters and that we log aircraft registrations. Then he asked for my passport, browsed through it and took it with him together with my notepad. Hmm, what on earth is the problem, we're not doing anything illegal as far as I know. Every passengers can look out of the window and write down registrations if they like. After a few minutes he came back and asked again what exactly we were doing. We explained it to him again and he gave me back my passport and my notepad. It was ok now but it was absolutely forbidden to take pictures. What the… are we in Iran or on a militairy air base?
We walked away to another place and we haven't seen him anymore. By the way, it was almost impossible to take good pictures, they have to clean the windows first before you are able to do that.
Pier D
Around half past four the inbound aircraft from Munich landed, D-AIZB, one of the newest A320's in the fleet. My first flight with mainline Lufthansa by the way. Boarding was announced at ten pas five and I saw on the computer screen at the gate that the load would be 122 passengers, 6 in business class and 116 in economy class.
Date:
Monday, 21Mar11
Flight:
Lufthansa // LH 1847
From:
Rome Fiumicino // FCO
To:
Munich // MUC
Duration:
1h35m
STD:
17.30 //
ATD:
17.37
STA:
19.05 //
ATA:
19.02
Aircraft:
Airbus A320-200 // D-AIZB
Seat:
Economy // 4F
Load factor:
74% // C: 6 passengers // Y: 116 passengers
For a moment I was hoping for an upgrade, because we had seats 4D and 4F, but unfortunately row 4 was just behind the curtain today. Well, better luck next time I guess. Due to air traffic control restrictions we pushed back a few minutes late. Runway 25 was in use departures and 15 minutes after we left the gate we took off, back to Munich. The route today was via Perugia, Rimini, Venice and Innsbruck.
My view for the next 1,5 hour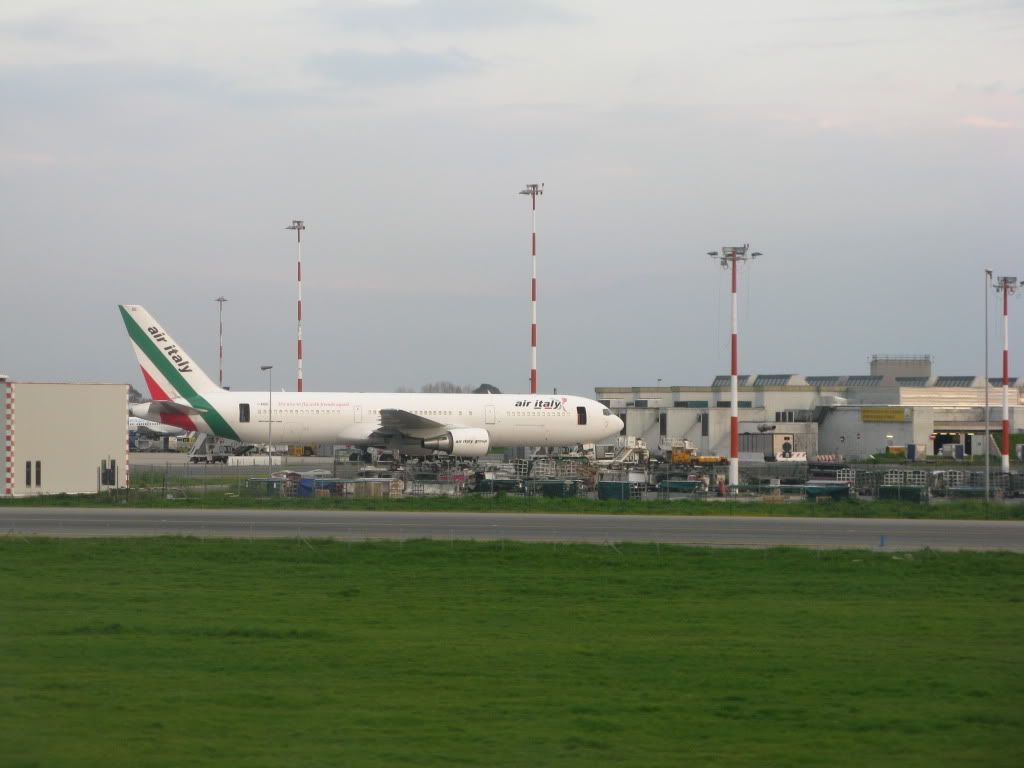 Air Italy 767-300 resting on a remote stand
Travel Service A320 and Blu-Express 737-400, one of Italy's low-cost airlines
Take-off video:
http://www.youtube.com/watch?v=4U13j47FwHU
Climbing to our cruise altitude
German sandwich with Brie cheese and cream cheese with apple juice and tea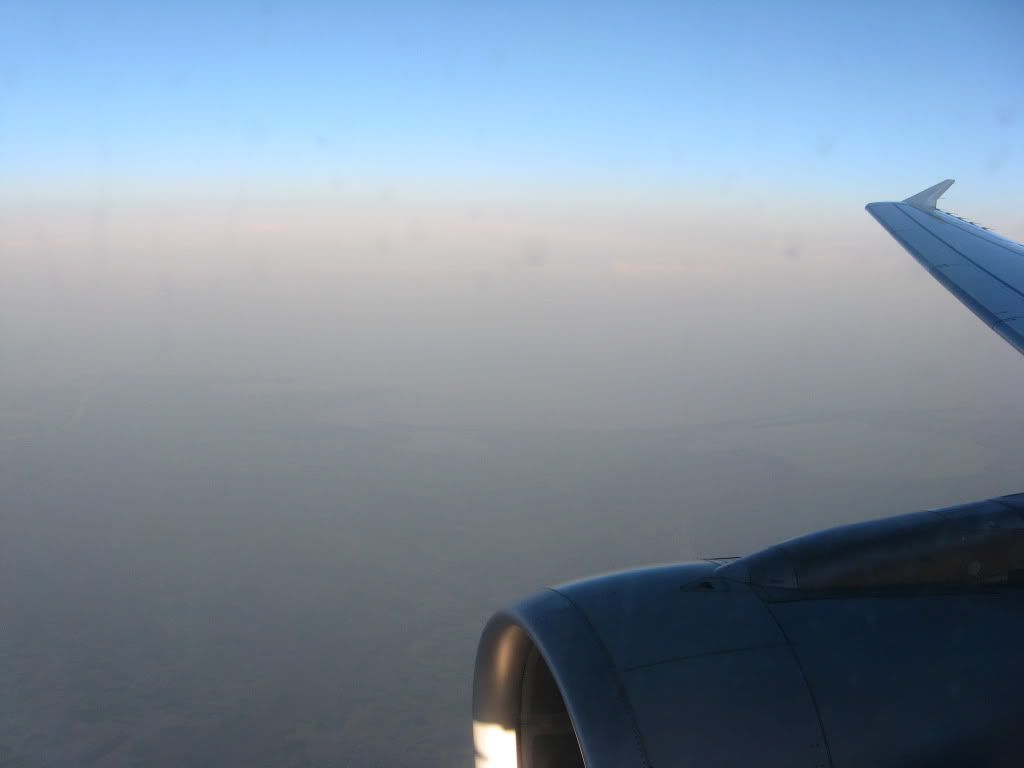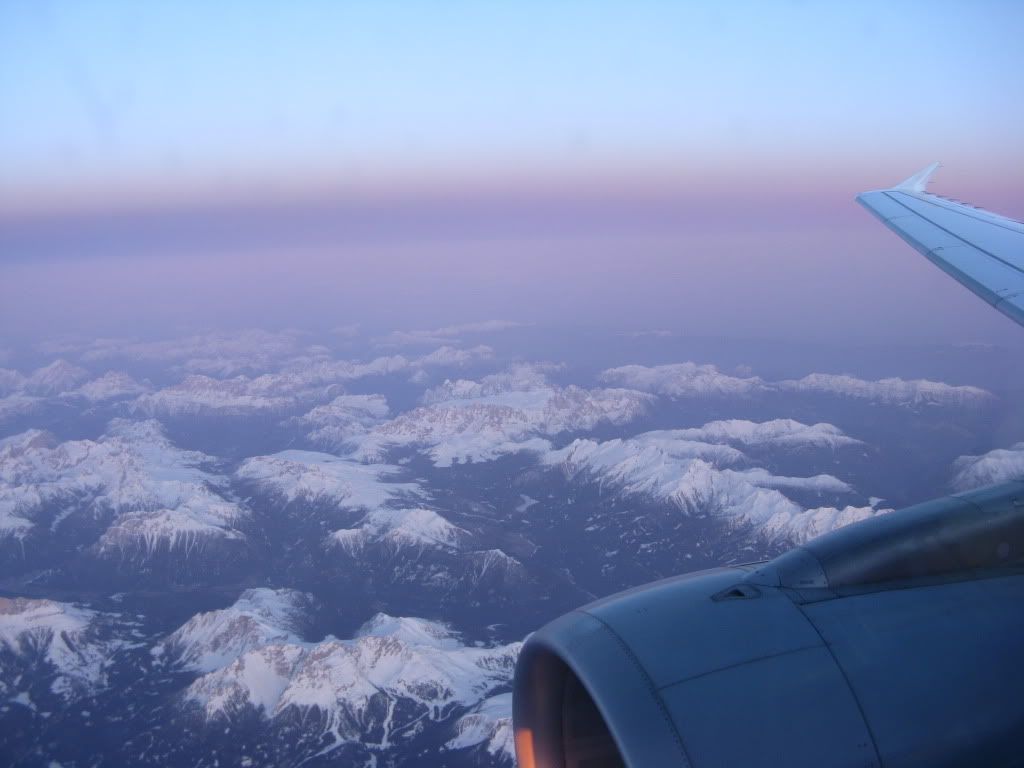 The Alps again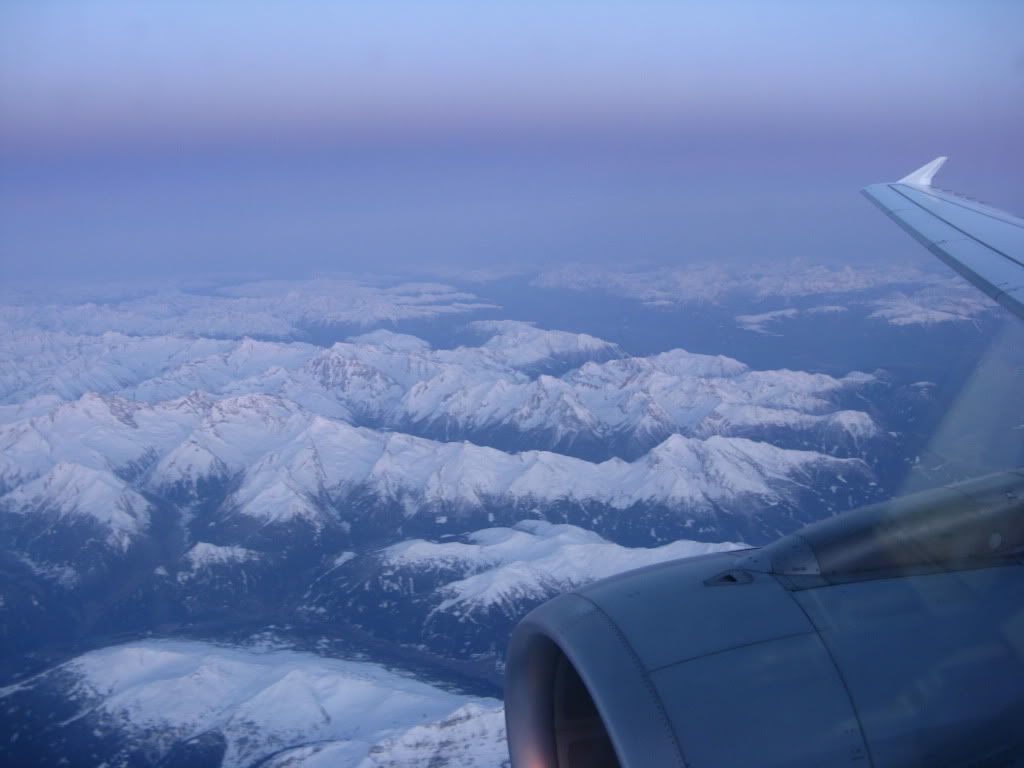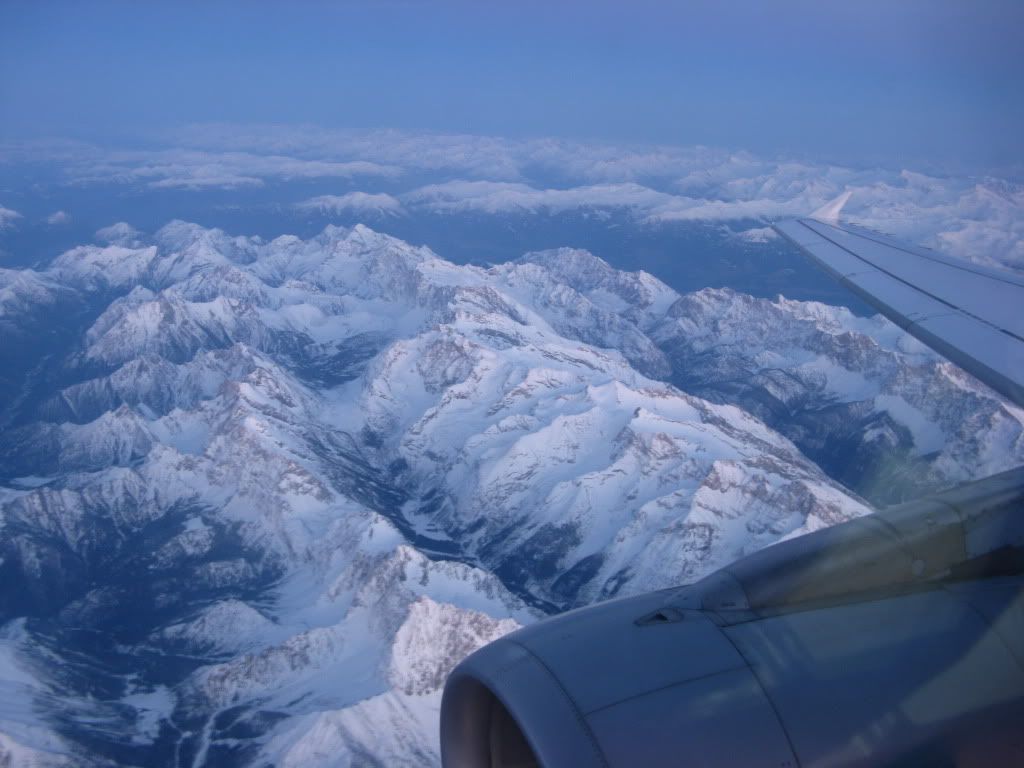 The new style Lufthansa cabin
Descending was started and 'Der Kapitän' came on the intercom to inform us that we would be landing in about 25 to 30 minutes, on time. The weather was almost the same as earlier today in the morning. Landing was at 18.58 on runway 08R and four minutes later we parked at gate G22.
Landing video:
http://www.youtube.com/watch?v=F1-F9QeI2gQ
On-time arrival
FIDS with connecting flights
A screen at the gate was showing connecting flights and our flight to Amsterdam was at gate G19. We walked to both ends of the pier and waited at the gate for the rest of the time. Boarding was announced on-time and everybody walked downstairs to the waiting bus on the apron. To my surprise our aircraft was parked at stand 233, which is one of the four stands on the other side of terminal 2. They could have used one of the downstairs gates and let us walk to the aircraft, that's more efficient and it will save them two busses.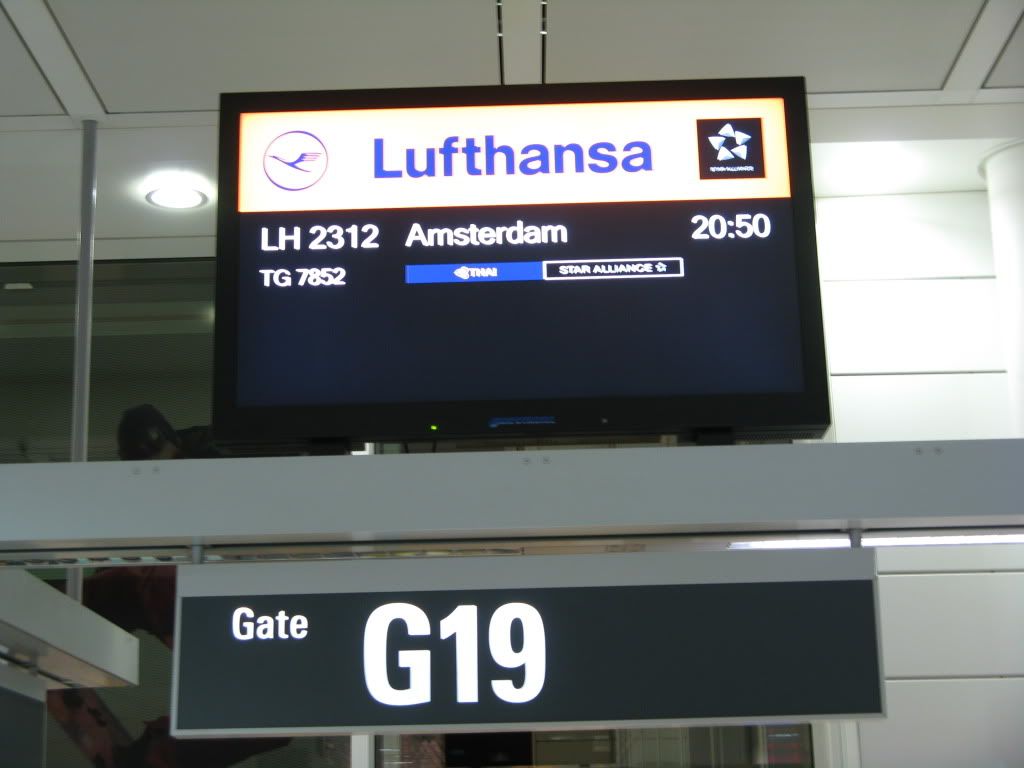 Date:
Monday, 21Mar11
Flight:
Lufthansa CityLine // LH 2312
From:
Munich // MUC
To:
Amsterdam // AMS
Duration:
1h35m
STD:
20.50 //
ATD:
20.47
STA:
22.25 //
ATA:
22.16
Aircraft:
Avro 146-RJ85 // D-AVRJ
Seat:
Economy // 7F
Load factor:
~60%
D-AVRJ, one of CityLine's Avro RJ85's was waiting for us. It's sad but I believe that they will leave the fleet in the near future, a few of them are already gone. On the internet there are several negative comments about the 3-3 configuration but in my opinion the seats are comfortable, enough legroom and not cramped at all. Boarding was completed and pushback was a few minutes ahead of schedule. We taxied at high speed to runway 08L for an immediate rolling take-off. The announced flying time was approximately 70 minutes and the route went via Nürmberg, Fulda and Münster.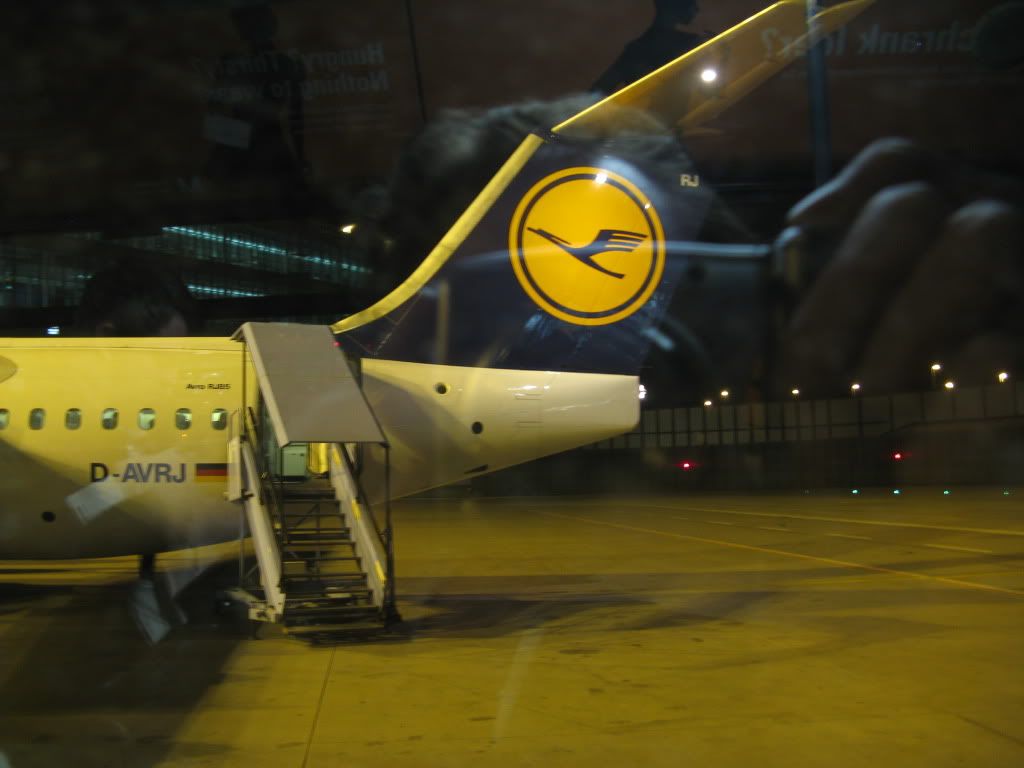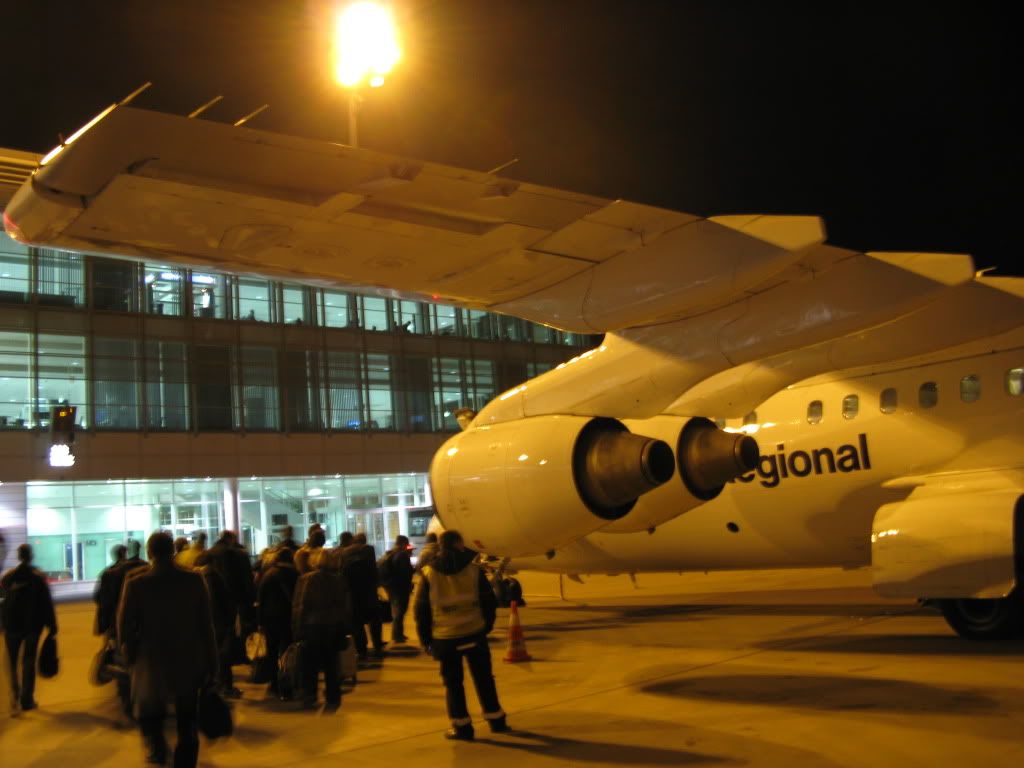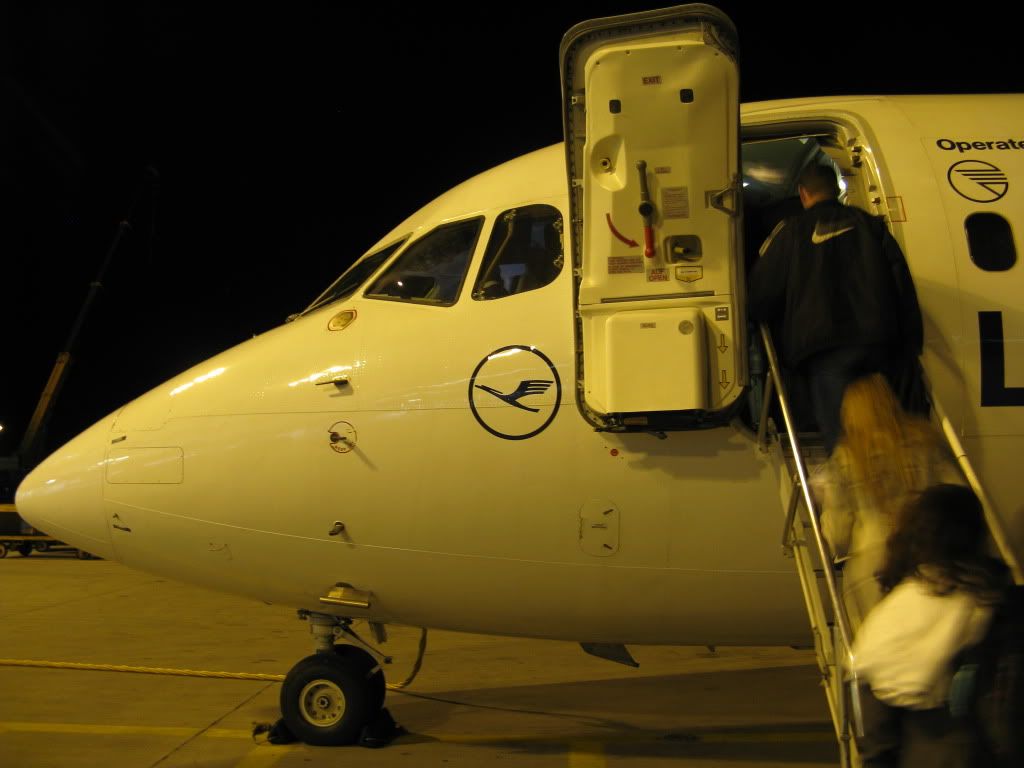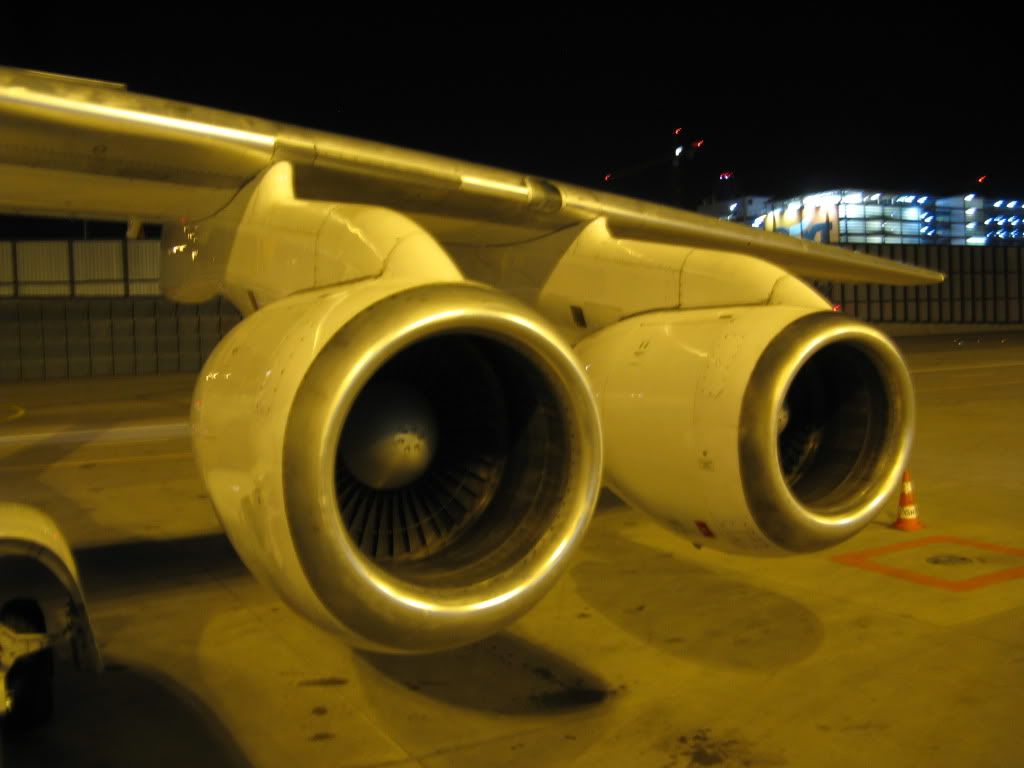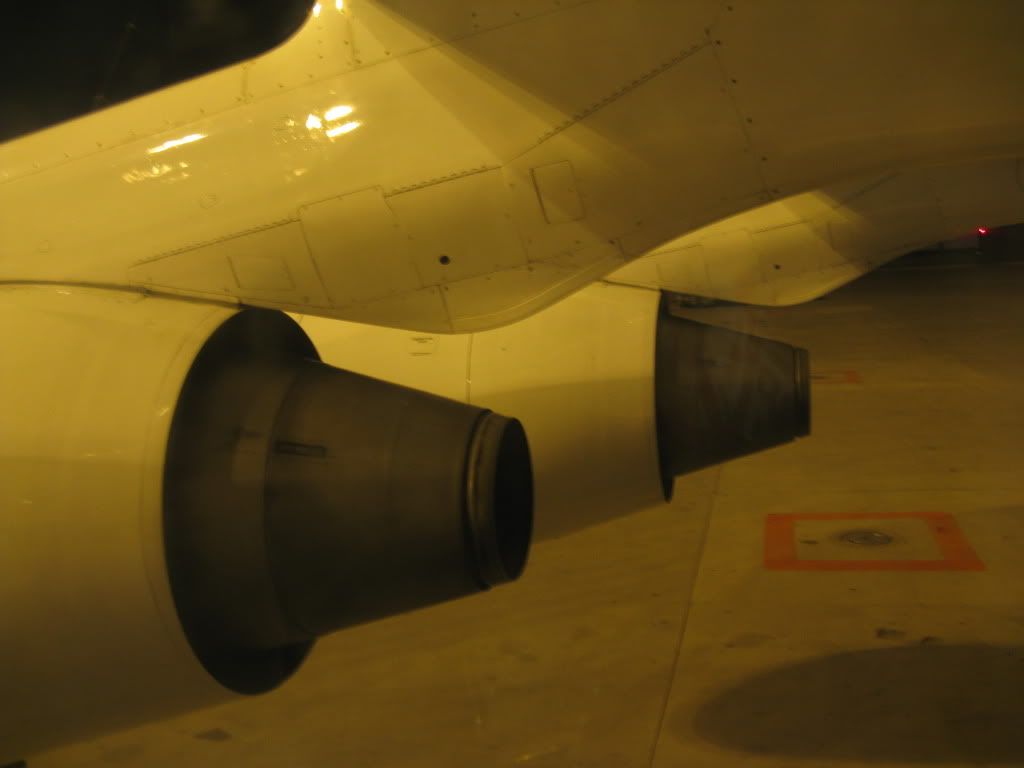 My view from seat 7F
Take-off video:
http://www.youtube.com/watch?v=30bJAHUfE08
The cabin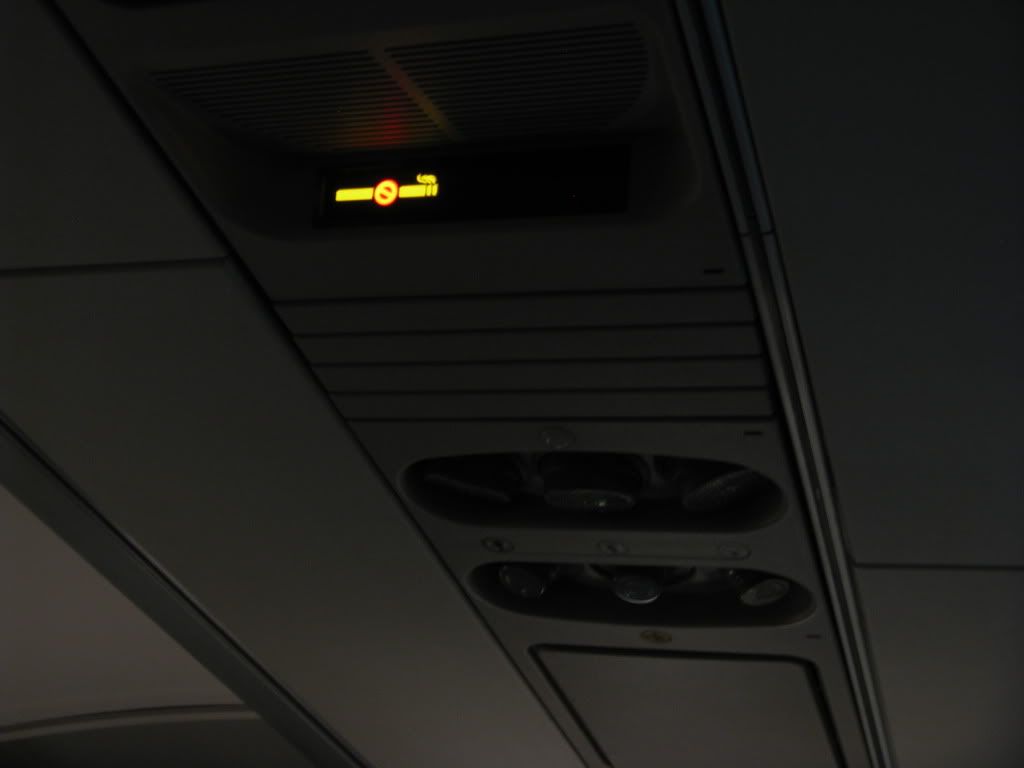 Pasta salade with meatball and crackers and apple juice and tea
Descending started somewhere near the border between The Netherlands and Germany and the approach went via Lelystad, Volendam, Alkmaar and on final approach, my own village Zwanenburg. Touchdown at 22.06 on runway 18R, a.k.a. the 'Polderbaan'. Just like in Munich the flight crew taxied at very high speeds. After crossing runway 18C-36C we made two fast turns from taxiway B to taxiway A and a lot of power was applied so we could overtake the Iberia A321. From runway 18R to gate B27 in barely 10 minutes, would be great if all flight crews taxied that fast.
Landing video:
http://www.youtube.com/watch?v=Hv95Obr_5uI
Arrived at gate B27, ahead of schedule
We went to the arrivals hall very fast so I could take the 22.33 bus to Badhoevedorp, I made it just in time. I asked for a ticket and the bus driver asked for my destination. He said it was rubbish to let me pay for a 10 minute ride and that I could ride for free today, now what a great guy!
I chatted with him for a while and it turned out that he was born in Zwanenburg as well and that he lived only a few streets away from my house in his early years, what a small world. Soon we arrived at Badhoevedorp and I thanked him for the free ride. Ten minutes later I was home and that's the end of this story.
Thank you for reading!
Best regards,
Jeroen
*Please feel free to comment or ask your questions.
Other trip reports:
Dubai T3 and the A380: DXB-LHR-AMS on EK and BD // 20Jan10

The 10-abreast 777 trip: AMS-LHR-DXB on KL and EK // 17Jan10

Flying the Avro's: AMS-DUB-LCY-AMS on EI, WX and BA // 09Dec09

AMS-LBA-LGW-AMS on LS, BE and BA // 20Jul09

Flying Norwegian, from Denmark!: AMS-STN-CPH-AMS on EZY and DY // 13May09

Flying The T7: AMS-MAN-GVA-AMS on WW, SV and EZS // 20Apr09

AMS-BHX-DUB-AMS on WW, FR and EI // 26Mar09

Destinazione Bergamo! AMS-EMA-BGY-AMS on WW, FR and HV // 21Jan09

A tribute to SkyEurope Airlines! AMS-PRG-AMS // 09Sep08

The Eire trip (part 2): AMS-WAT-GWY-DUB on EI, FR and EZY // 20May08

The Eire trip (part 1): AMS-WAT-GWY-DUB on RE // 19May08