Global Premier! SEAIR HKG-CRK-HKG (Lucky Draw!)
Reply to this trip report by April 10th, 2011 for a chance to win a SEAIR inflight magazine, act now for your chance! (1 copy available)
SEAir (South East Asia Airlines) started a partnership with Tiger Airways to launch international services. After SIN, HKG is their 2nd international with its first flight on March 16th. I was lucky enough to fly on this route on March 18th for a weekend getaways and fly Ultralights in the Philippines (trip report on that to follow).
This journey starts on Friday right after work, I rushed to the Airport Express Station to catch a train to the airport. SEAir uses the check-in counters over at Terminal 2, and it was dead quiet that night (or every night to be exact). Since all 3 of SEAir's A319 are leased from Tiger, it makes sense that they hire SATS to be the ground agent in HKG. Since I've got no checked-bags, the check-in was fast and smooth.
Not a soul insight @ SEAir Check-in
Check-in Row P @ T2
That is as simple as you can get with boarding passes, no design, no logos. Today's flight DG 7929, On Time.
This is my 3rd flights onboard SEAir, the previous twice was domestic flights in the Philippines. I really enjoy their cheerful services, hence I'm looking forward for this flight this time!
Departing from T2!
2100-2200 is the peak hour for Philippines bounding flights, UO, DG, PR, 5J, CX all bounding that way.
According to my previous experiences, most Manila flights should be full, but I'm not sure about Clark. Furthermore, only a very small portion of the pax of these flights are local ethnic Chinese, most of them are foreigners, hence the impact of the Travel Advisory issued for the Philippines since the bus-jack event didn't really affect loading at all.
As I've come to expected, my friend and I were the only ethnic Chinese onboard this flight. This flight was rather lightly loaded too at around 40% only, most passengers are locally working foreigners, just like me, flying off on Friday night for a short weekend getaways.
Gate 501-510 is located at the North Satellite Concourse, only accessible by shuttle bus.
North Satellite Concourse
Today's Gate - 507
This flight doesn't have a Business Class
Time for Boarding, the interior of this aircraft looks 95% like Tiger Airways, except the SEAIR logo on every seat. Tiger Airways' seats has always been my favorite among all the LCC in Asia, they are spacious and comfortable. (Much better than Air Asxx and Cexx Pacific).
No IFE, my Android tablet serves as my IFE. No Duty Free, simple BOB. Flight attentions have a very natural smile (not like those at Catxxy) and very polite too (are you listening, Unxxed!!!). The FA approach every pax who were reading a book to switch on their reading like before dimming the cabin for take off.
Boarding, Tiger Airway's design
All of them foreigners
SEAIR logo
Being 6ft tall, the leg room is awesome!
Safty Card + Inflight Megazine
Inflight Magazine mentions about the partnership between SEAIR and Tiger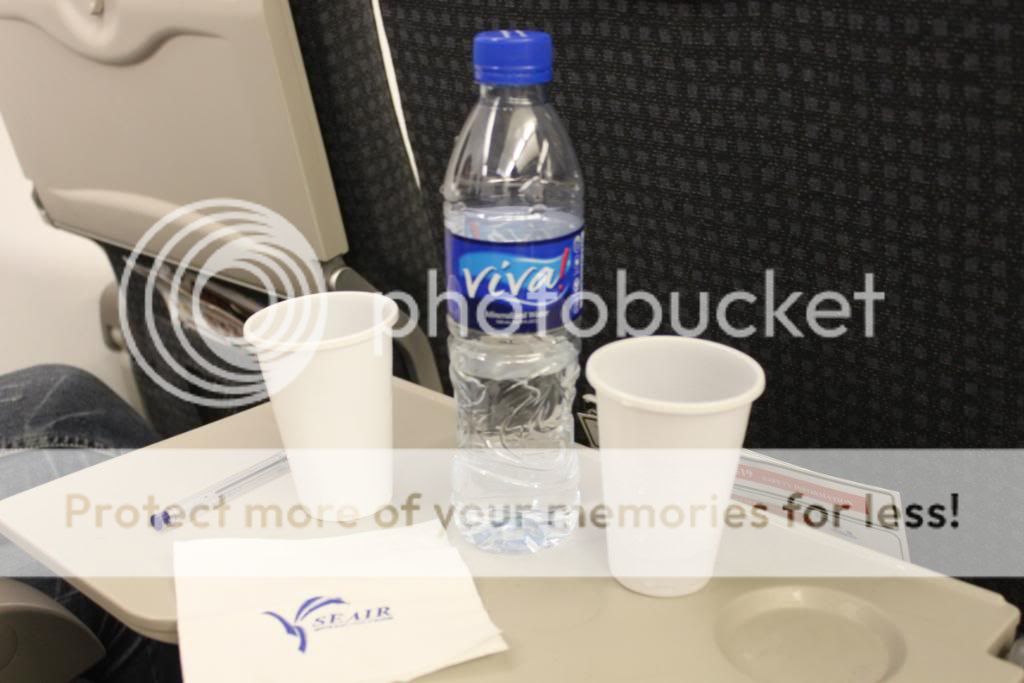 BOB item, HKD$5 or USD$0.64 or CDN$0.61
Upon arrival, I kindly ask the FA to request permission to visit the cockpit from the captain, but she didn't even ask and simply said "sure, do you want me to take some pictures for you two?" EXCELLENT!
Once we're inside the cockpit, the captain seems more excited than we do, taking picture of us and for himself, and he let us sit at the captain sit to get a feeling of it. Then he started asking about shopping in Hong Kong, where to get the best deal for Canon lens and I ask him about eating in Angeles City. It spends a good half an hour in the cockpit before all of us got kicked out by the airline cleaning crews. HAHA.
Captain!
Captain explains the A319
Due to health reason, I can never be qualify to sit here.
Standing in apron waiting for the shuttle bus. And the bus never show up, the baggage handler gave us a ride to the terminal building.
Since it took too long for us to get here, our flight information disappeared from the FIDS already. This is SEAIR's last flight of the day from SIN.
Baggage Claim Area
Time to go home, it sucks to know that I've to go to work tomorrow! What a beautiful sunset.
Sunset
The check-in area at CRK is very small, about 7-8 counters in size. Besides SEAIR, Air Asia, Jetstar, Spirit, Cebu Pacific and Asiana all serve here with daily schedule flights. Clark was the first route CR Airways of Hong Kong have ever launched back then. (Now Hong Kong Airlines)
Philippines might be the only nation I've visited that does not allow an umbrella onboard aircrafts, and I totally forgot about that, got one of my favorite umbrella taken away at security check-point.
Once Air-side, it is time for ICE CREAM! The wrap it in dry ice and check it in for me to claim it in HKG.
Check-in counter
Today's flight DG 7928, 19:20, Ontime
Depature Concourse
Lining up to check in for Cebu Pacific's flight to Macau (MFM)
Other Check-in Counters
Boarding Pass
We were the 2nd last flight of the day, with 5J's flight to Macau being the last.
Departure Lounge
Pre-Departure
Coffee Shop – Air side
Ramdon Shot
Onboard the aircraft, same as our previous leg, none of the pax onboard are ethnic Chinese, the loading is abit better this time at around 50%. And I realized that we are on the same aircraft with the same set of crew, and the crew even recognized me.
50% Loading
We moved to the same seat as the previous leg
Arrived at the North Satellite Concourse
There were only 1 item on the luggage claim
This is the one, my ice-cream!
- END -
Remember to reply for your chance to enter the lucky draw!