Apologies for the delay on this report, it's taken me this long to find the time (and the desire) to sit down and write, but here we are. You'll note that I've labelled this a tale of two airlines, when I only flew one. My experience can be summed up like that: two very different experiences on one airline.
This was my first ever trip to India, and my first international junket, where all expenses (ok, most) were paid for by my employer. Unlike other people who travel on company coin, there is no J class. There are no lounge privileges. I'm lucky to have even got them to pay for a cab to the airport. Such it is to work for a University.
Anyway, I did have some control over the spending of my travel grant. I got to pick who I flew with and when, rather than be told. Most other staff decided to fly with SQ as they offered a same day connection from MEL to CCU via SIN. Being devious, and knowing the travel regulations inside out, I flew TG and took advantage of an overnight stopover in BKK due to prevailing schedules. My immediate supervisor, impressed with my deviousness, booked on the same flights as I did.
He doesn't quite share my enthusiasm for aviation, and mocked me for my consistent photo taking, suggesting at times if I didn't put my camera away we'd end up in some derelict Indian prison.
The day arrived, as did my taxi at the appointed time. Via my colleague's house, we departed to Tullamarine, arriving with ample time. On check in we were told the flight was only about half full, and that they would give us a row to ourselves. Could have probably pressed for a row each, but no matter.
http://www.nearmap.com/?ll=-37.668472,144.845467&z=18&t=k&nmd=20110120
This link may or may not work. If it does, it shows the international terminal at MEL about 1030am on the day of my departure.
Passport and boarding pass.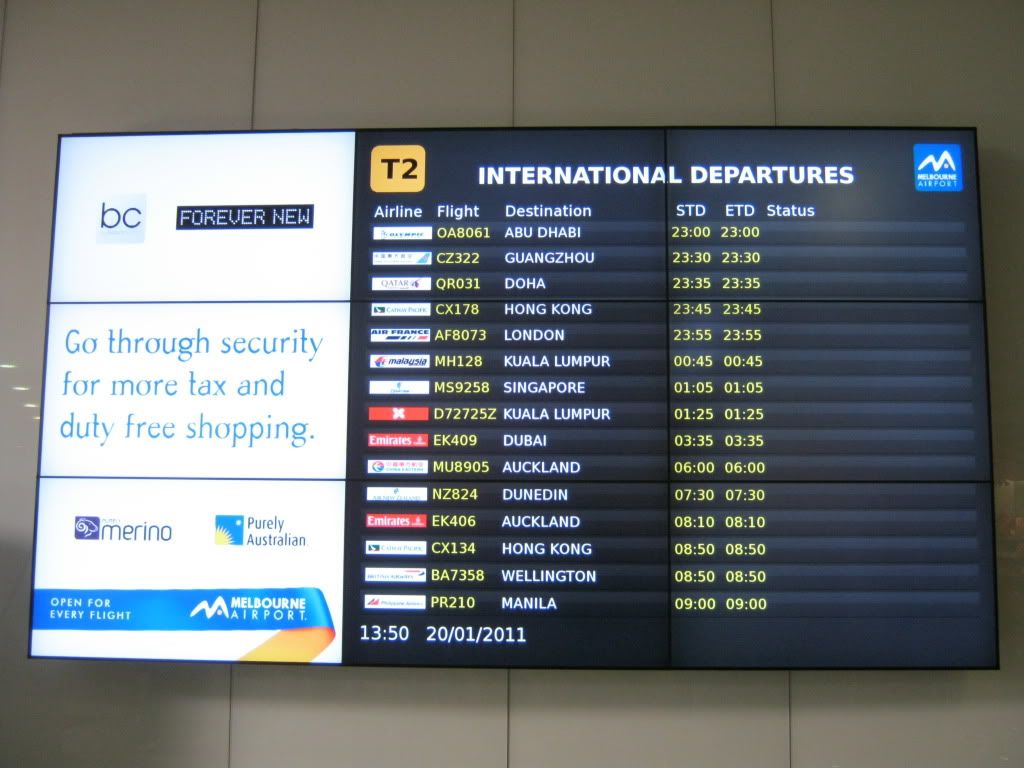 Departures board. Not as interesting as some airports, but some good destinations nonetheless. The afternoon is a busy old time at MEL for international departures.
Part of the international terminal renovations.
SQ 744. I thought these were disappearing from the MEL route, but apparently not.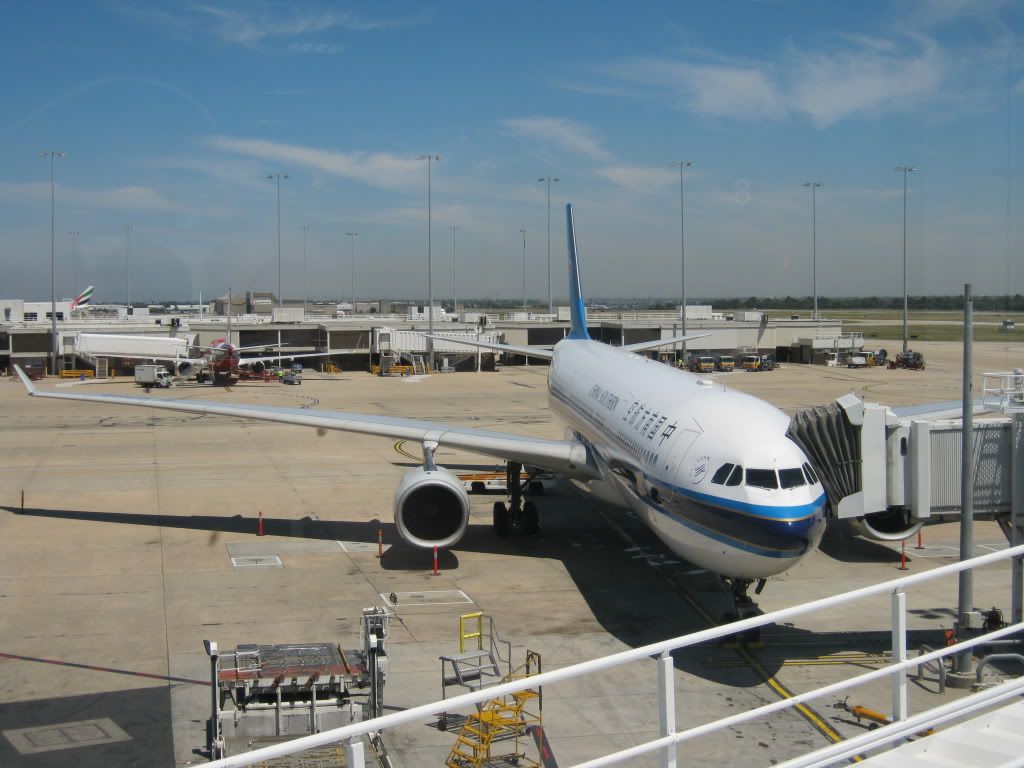 CZ eventually heading to CAN
QF A380...I couldn't spot the duct tape holding it together :P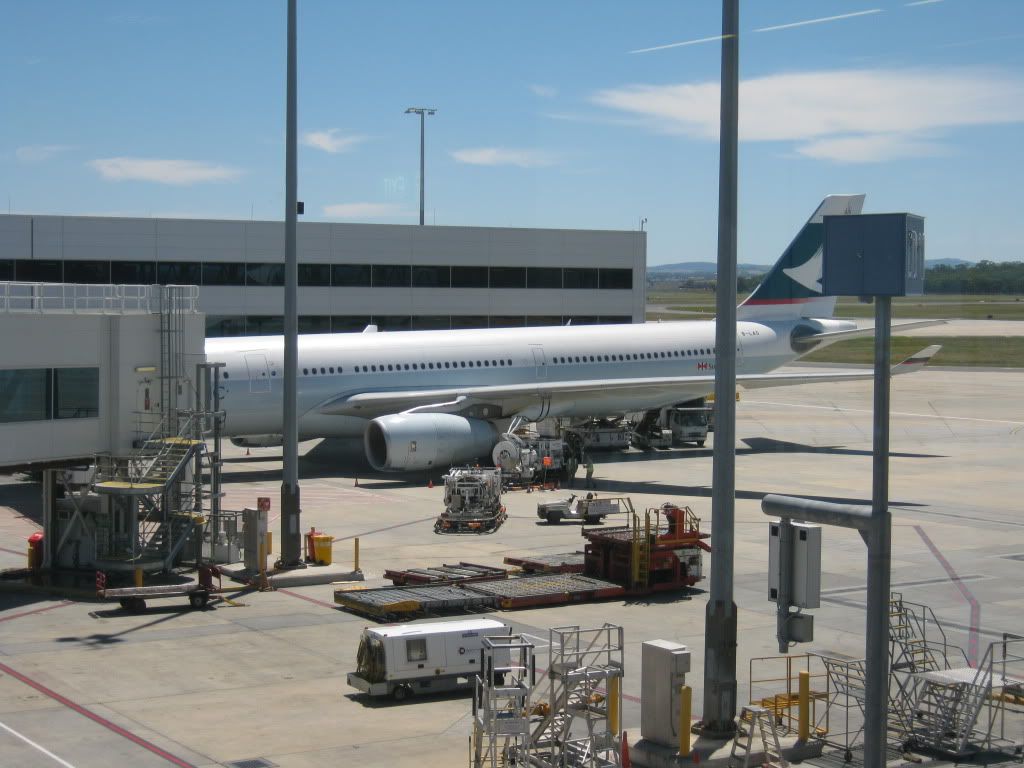 CX shortly departing to HKG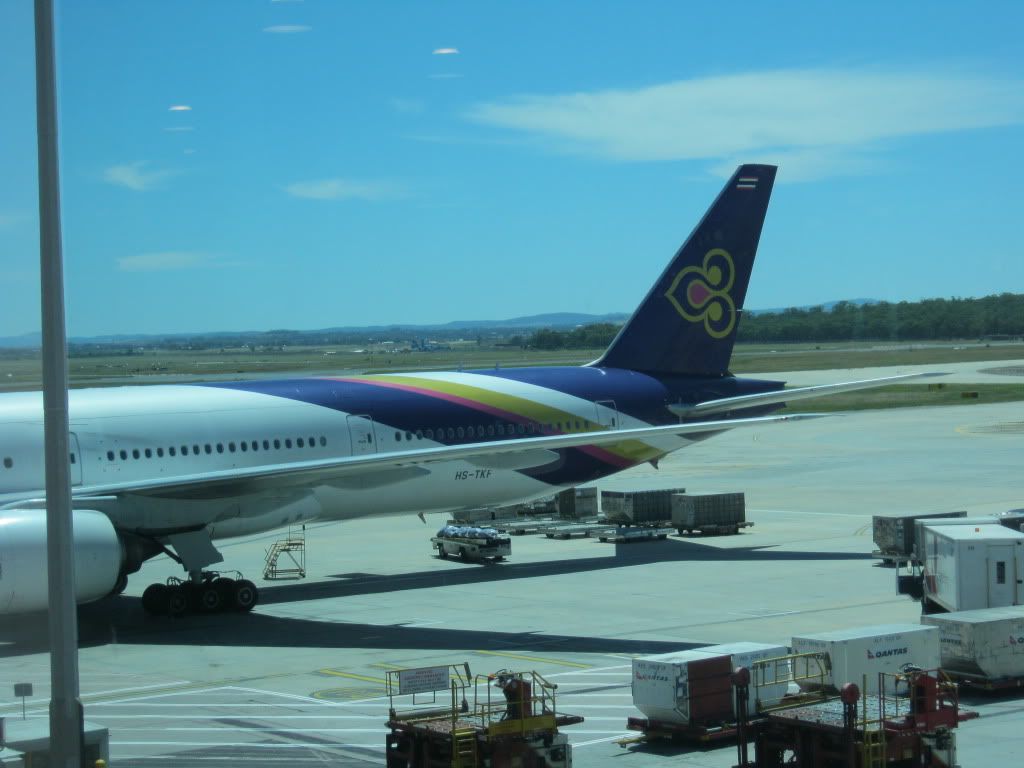 Best shot I could get of my chariot to BKK.
Flight TG466 MEL-BKK
Departed and arrived on time
Loading: about 50% in Y.
Aircraft: 773.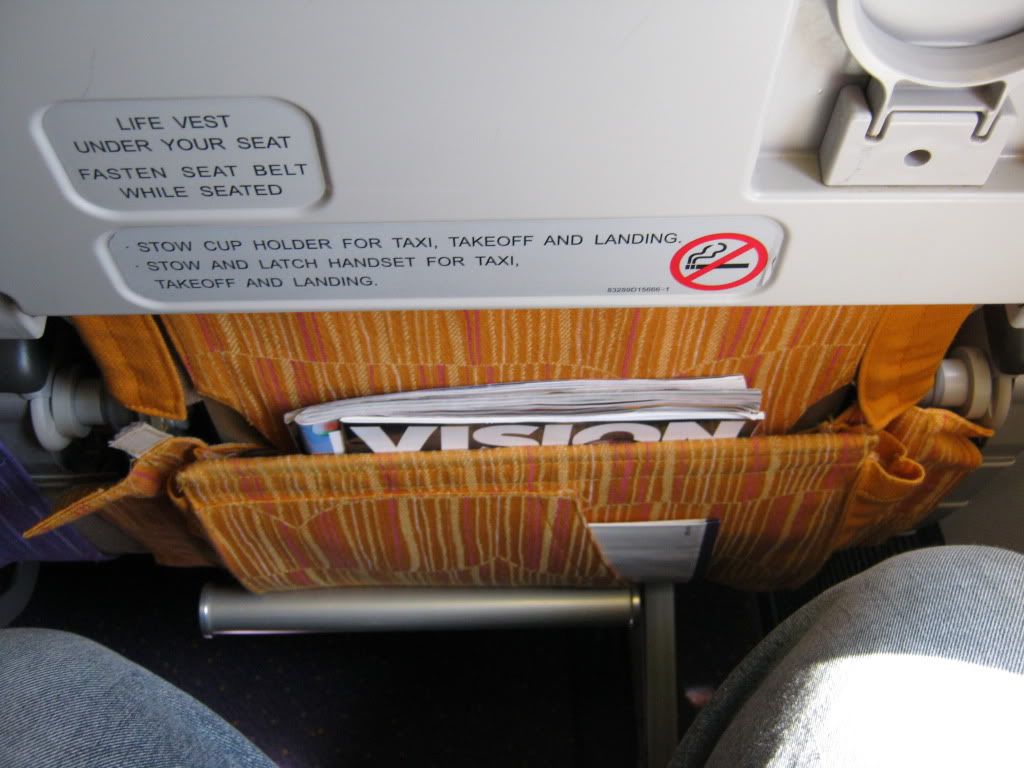 The ubiquitous a.net leg room shot. Actually, very roomy indeed. Quite comfortable.
The PTV. Unexciting, but I learned to appreciate it (more on this later).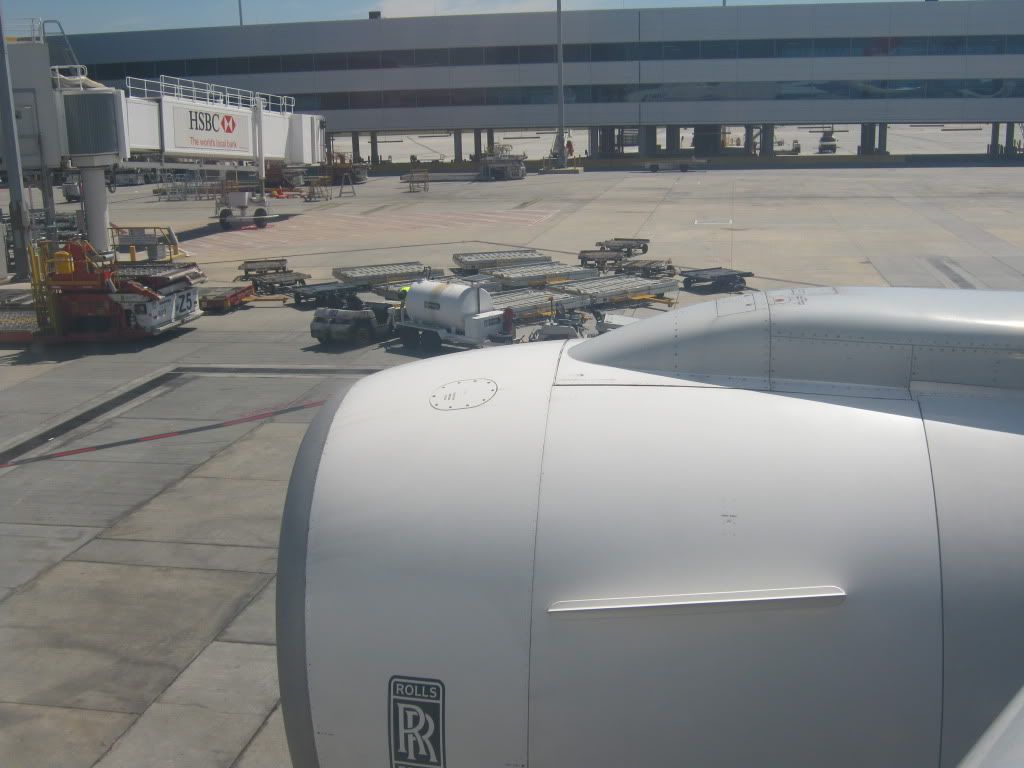 Ahhh...full of Rolls-Royce goodness.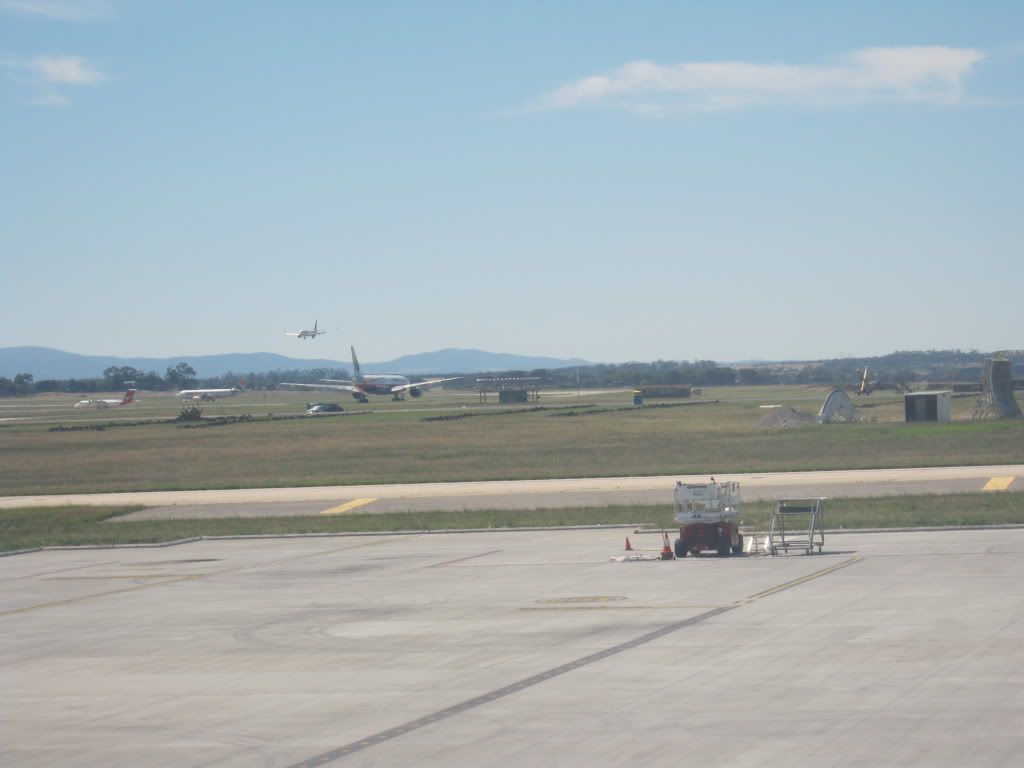 A modest queue for take off.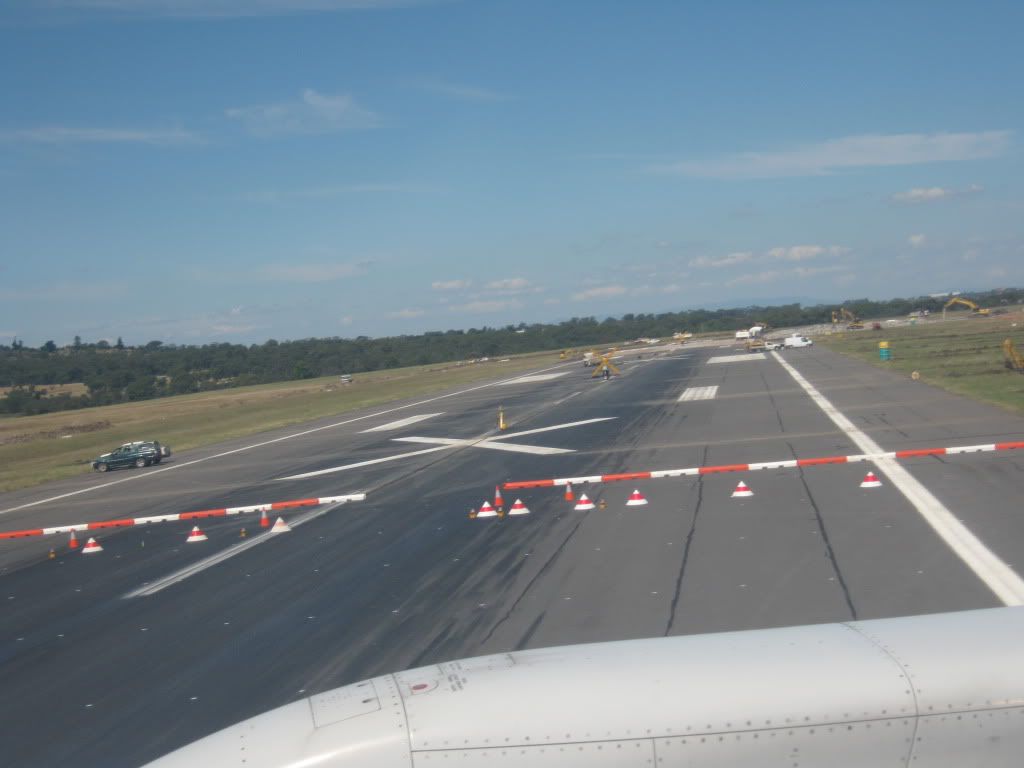 Runway under repair.
Such a forlorn sight...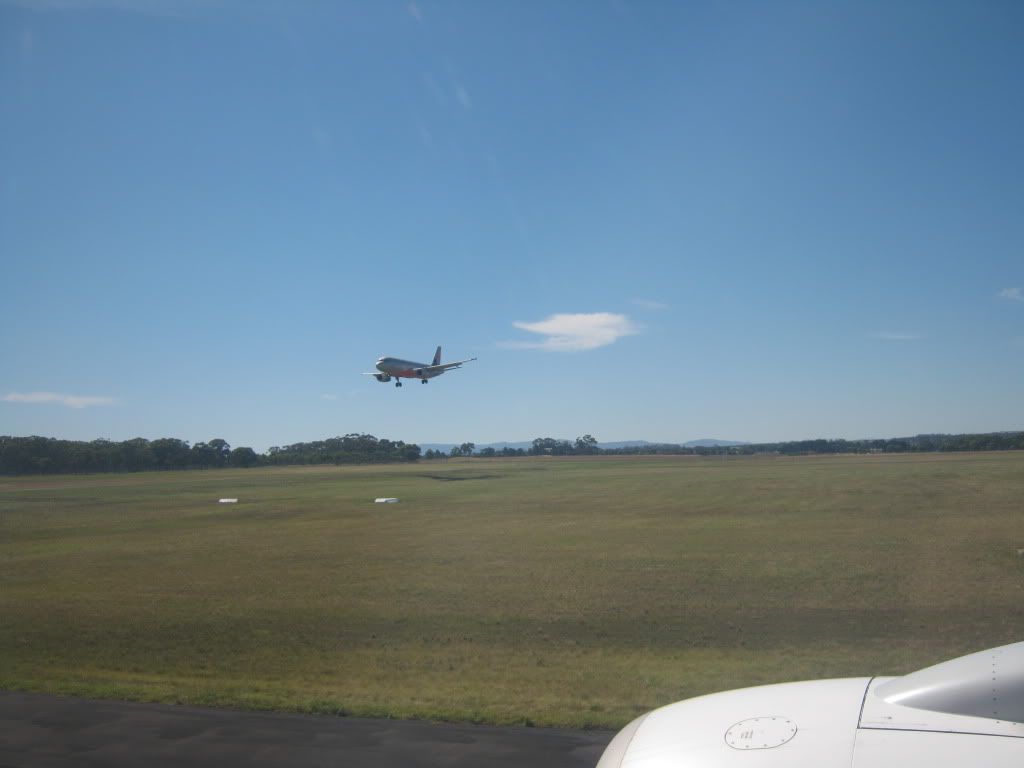 Awaiting JQ to land so we may take off.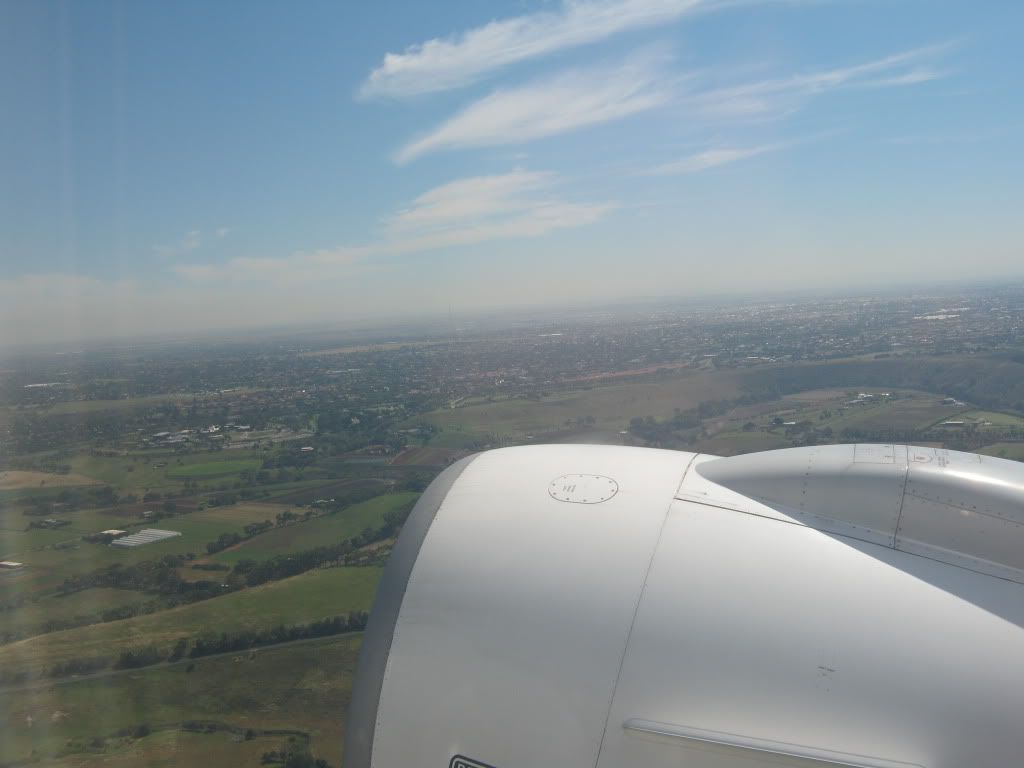 Airborne!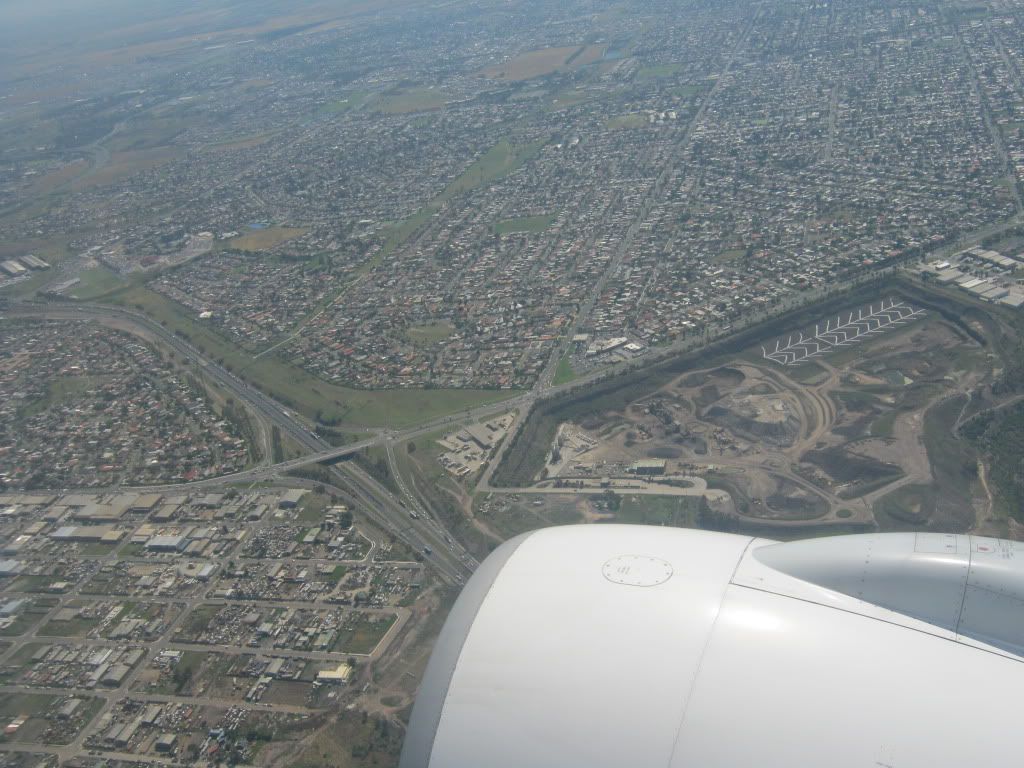 Banking over the western suburbs of Melbourne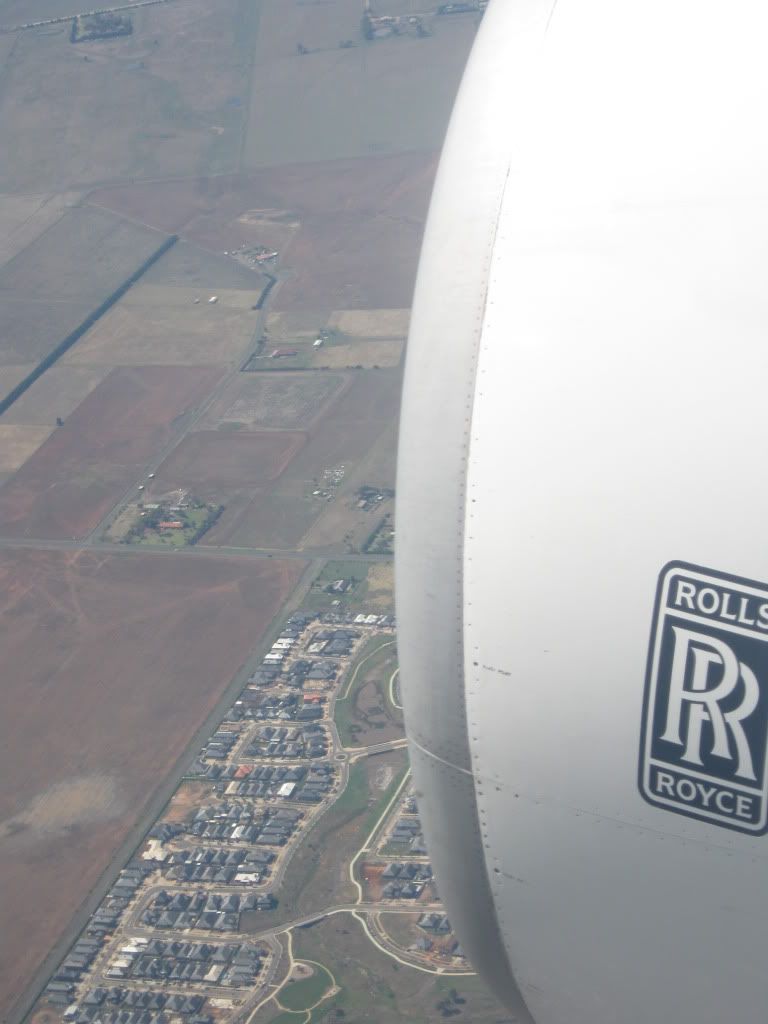 The edge of Melbourne.
Menu's had been passed out, and a selection was made. A beverage run was done first, and of I course I opted for a beer. Deliciously cold. My colleague's beer was half slushie...a beer daiquiri if you will.
Menu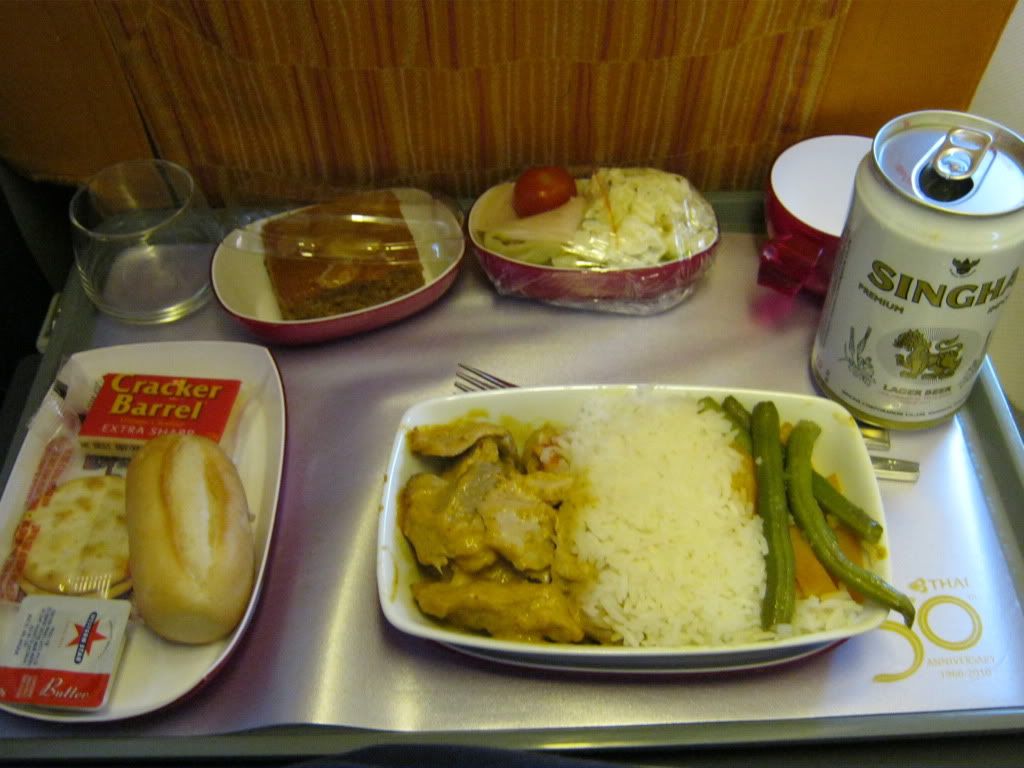 The red chicken curry. Good...better than many food court red currys I've had.
Somewhere over central Australia.
Better leg room shot. It really was quite roomy.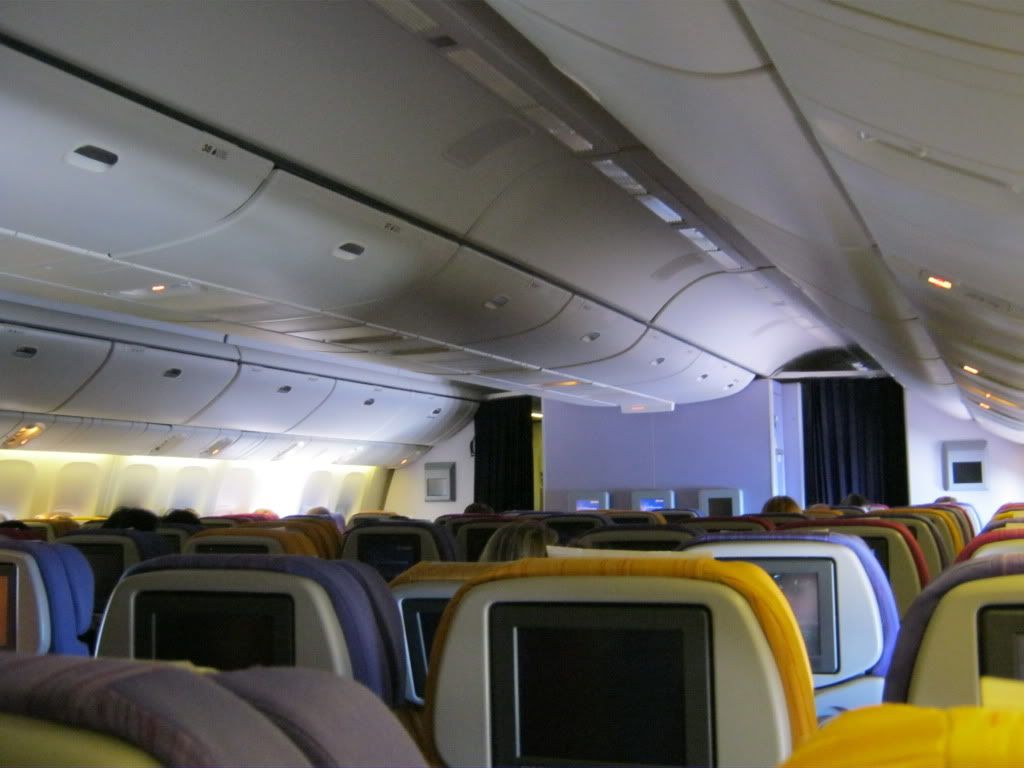 Half empty cabin.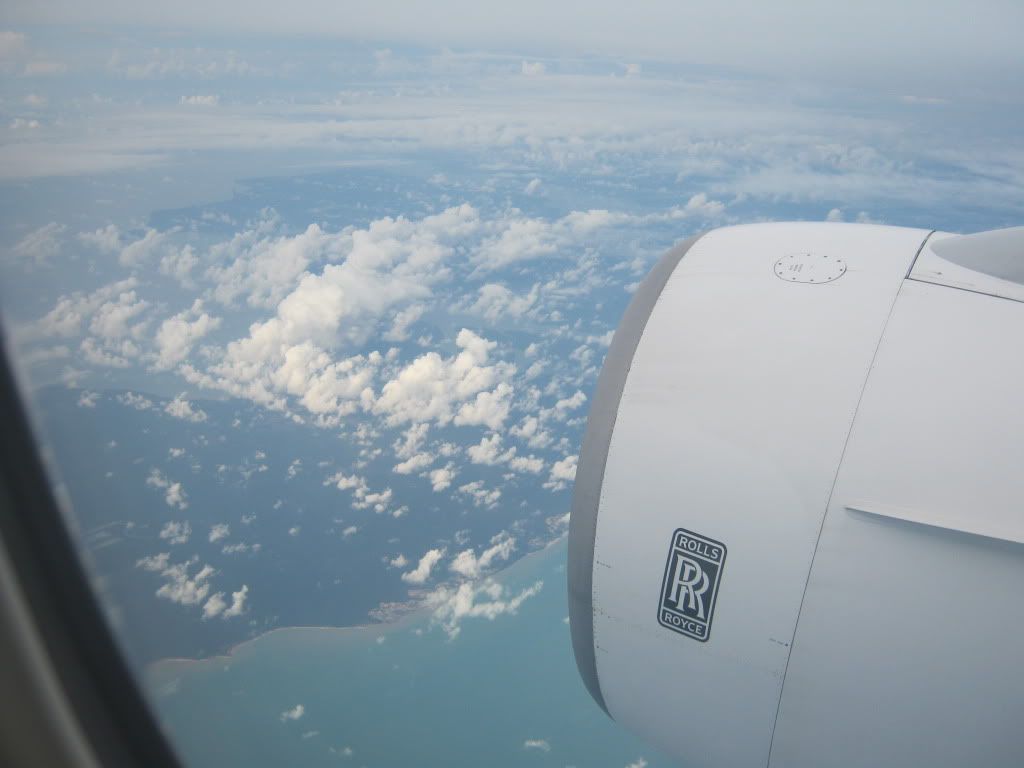 Leaving Australian shores.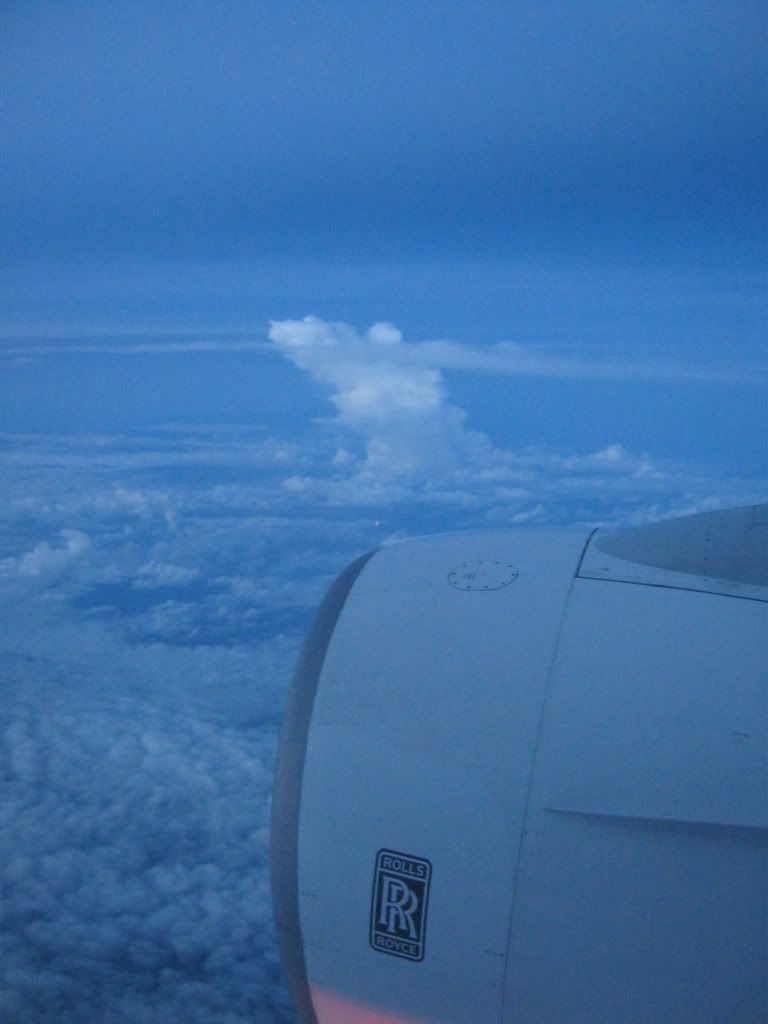 Twilight over Indonesia
Moonlight. Shame this didn't come out a little better.
Several movies, more beer, and generally foolish behaviour unbefitting two academics later...we arrived in BKK
Empty arrivals hall.
A short immigration line up, and we were in.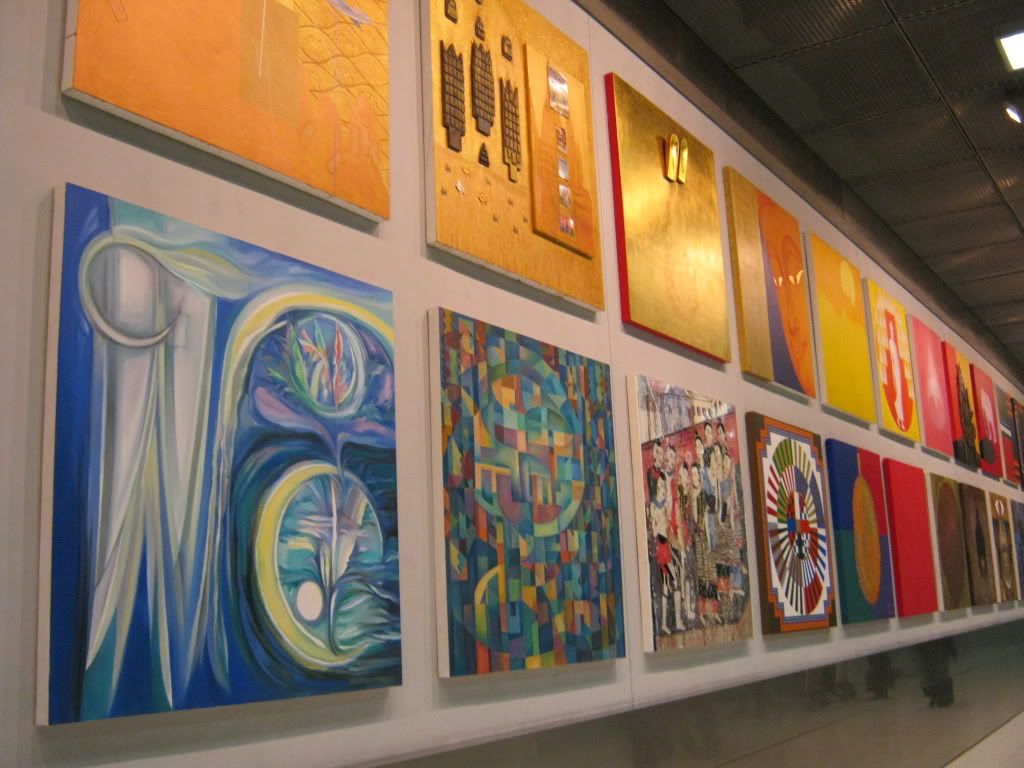 Murals near baggage claim.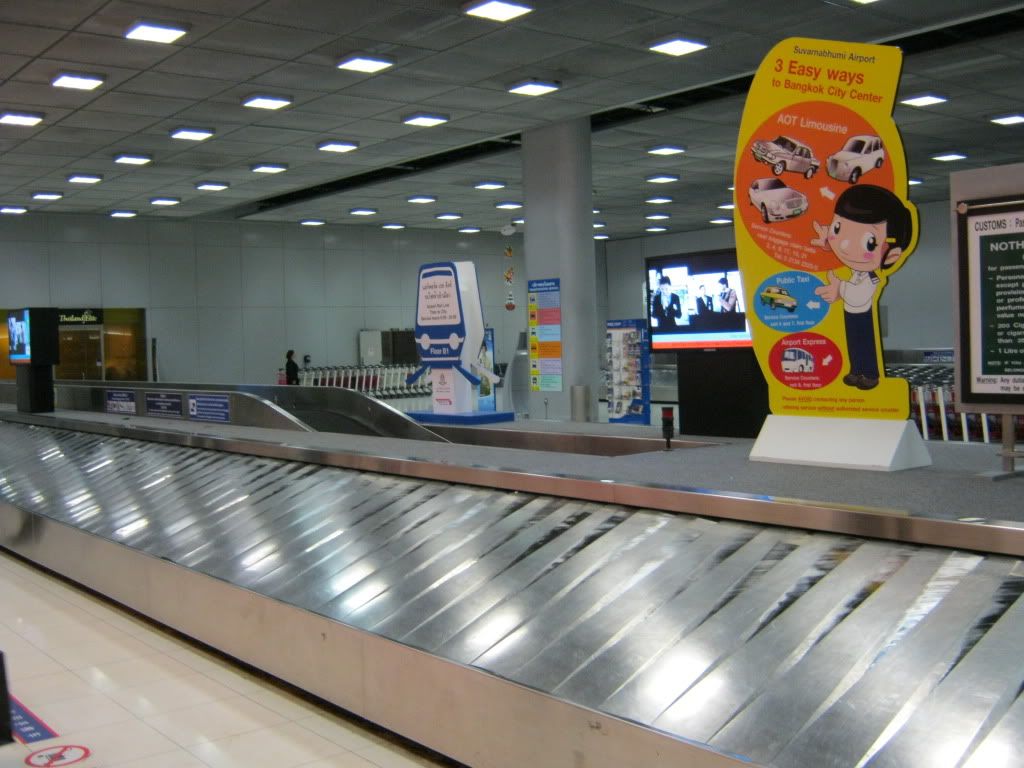 Baggage claim area.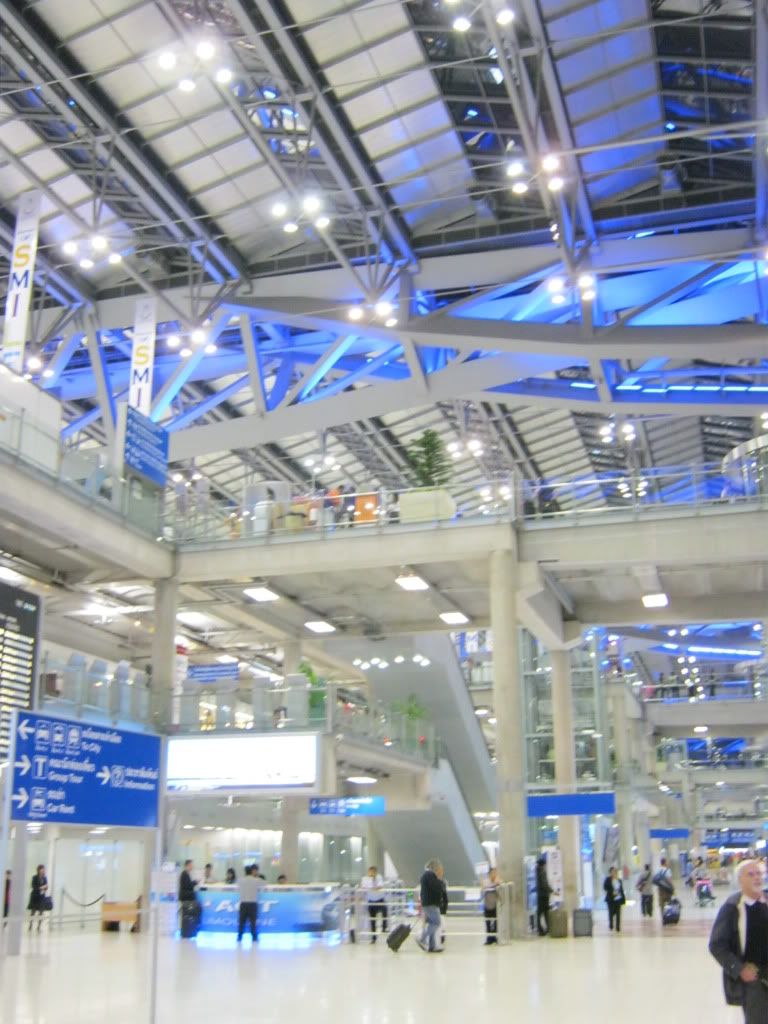 View of the main part of the terminal. Twas my first visit to Suvarna...Suwana..Suvanab...The new Bangkok airport. Quietly impressive.
We caught the new airport train, opting for the cheaper local service as it took us to where we needed to go: The Asia hotel. Criticism- no real indication of when a train was due, we waited for about 15 mins on the platform. Otherwise, quite a smooth operation.
Arrived at the hotel, checked in, dumped bags in my room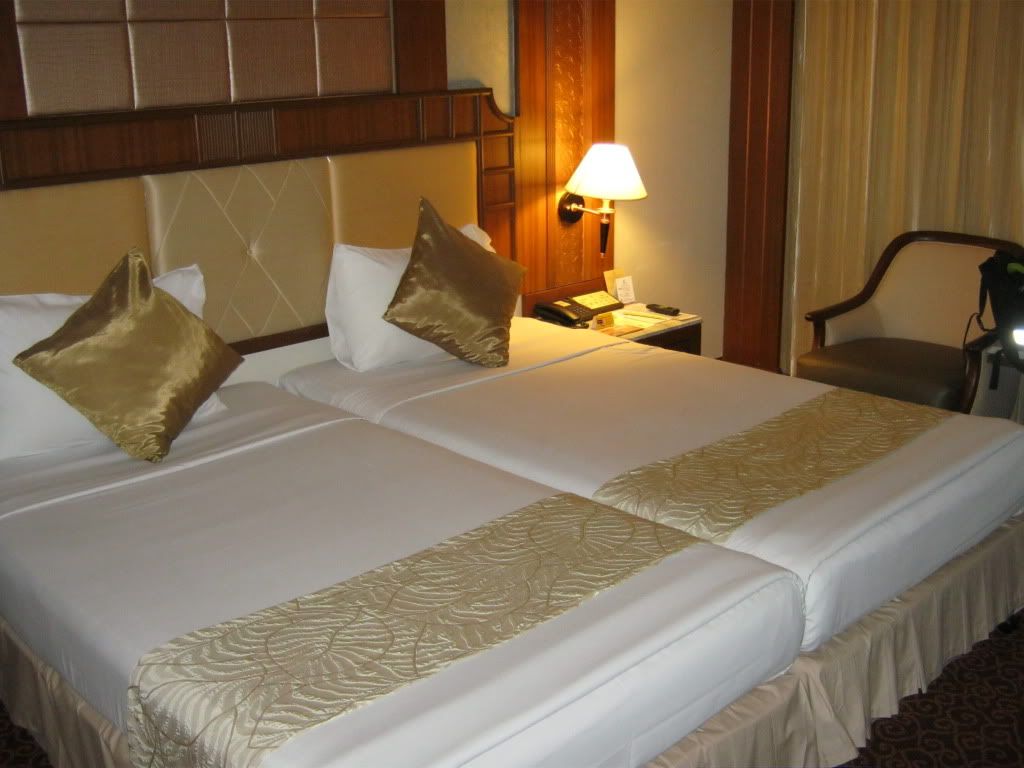 Then we set off to eat, drink and be merry. Neither of us were interested in the seamier side of Bangkok, so we went over the road to a bar complex and nibbled away at some food and drank several large beers each. Great times.
The next day we had to wait until about 8pm for our flight, but we had to also meet with some representatives from another University. A great day was had, we were fed and watered, and given a lift to the airport by our hosts.
Check-in was marred by the fact that we had to shell out for the departure tax, as it hadn't been included in our ticket.
Backstory: when we checked in at MEL they gave us the option of checking through to CCU or just BKK. Not fancying my bag spending the day at BKK and still making the flight, we opted to check through just to BKK. Now, had we checked through all the way, we'd have been issued boarding passes, we wouldn't have needed to check in, and in all likelihood, no-one would have noticed we'd passed immigration and hence been liable for the tax. As it was, our travel agent, dopey as they are, assumed we were going to hand around the airport for 21 hours. Fools!
700 Baht lighter, we passed immigration and security, and started the long haul down to C wing of the terminal.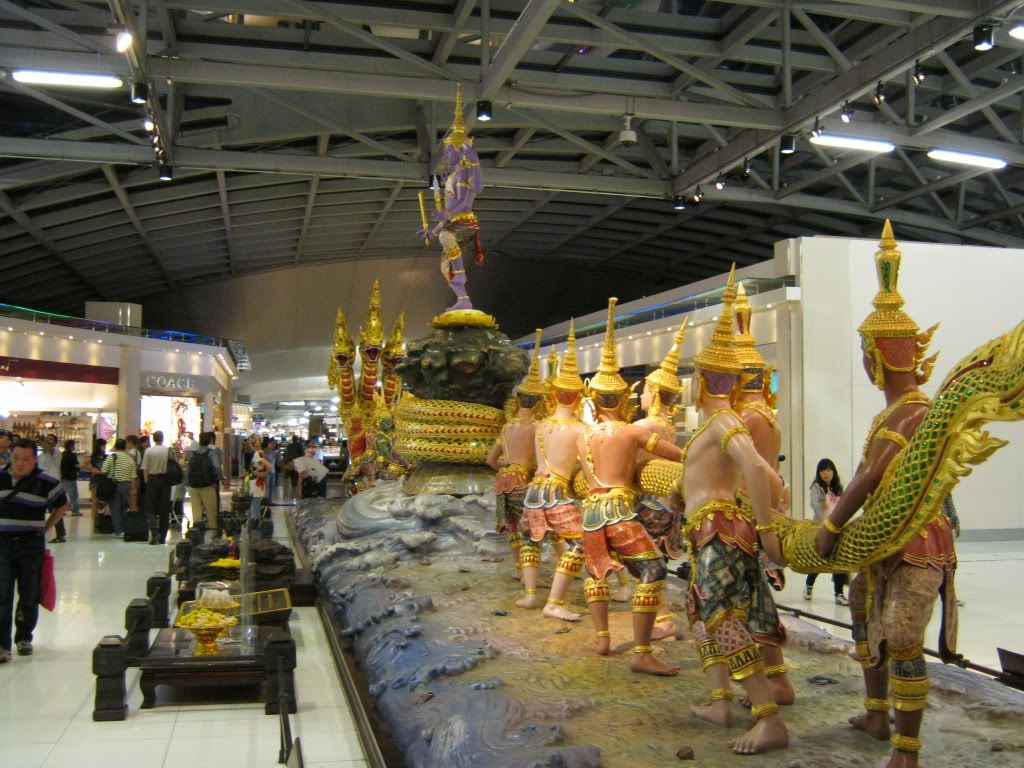 I'm sure many of you have seen this before.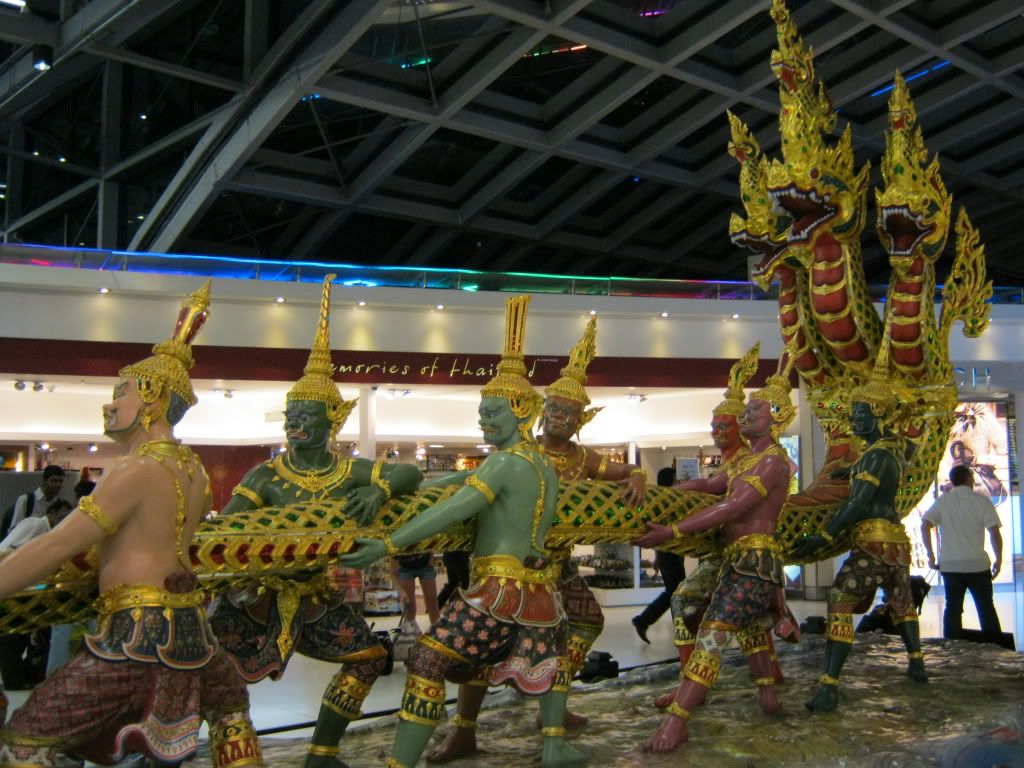 Another view
Many, many, many shops!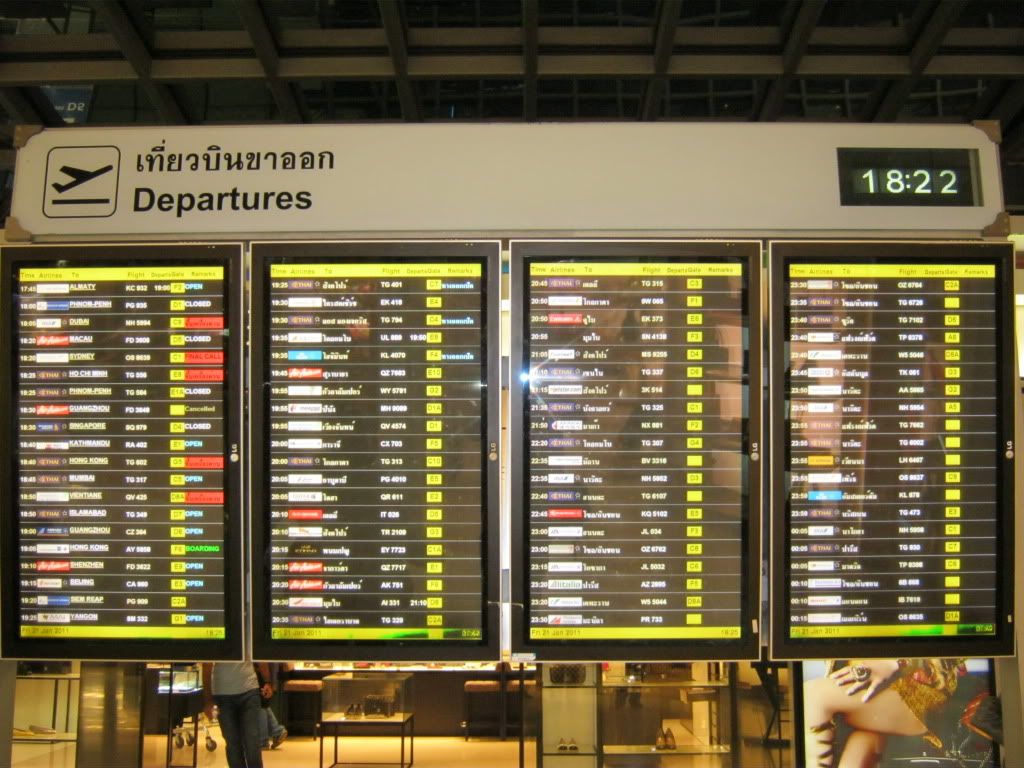 Departure board.
Interesting floral arrangement.
Doesn't look overly inviting...or even overly "Open".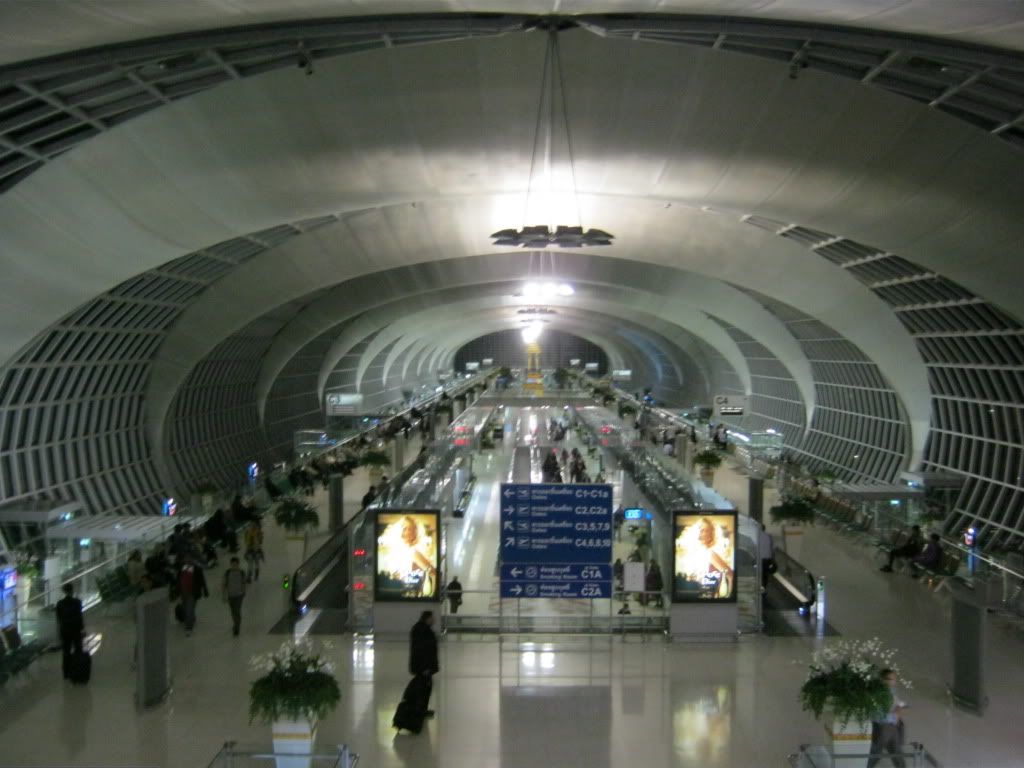 Feels like a railway station.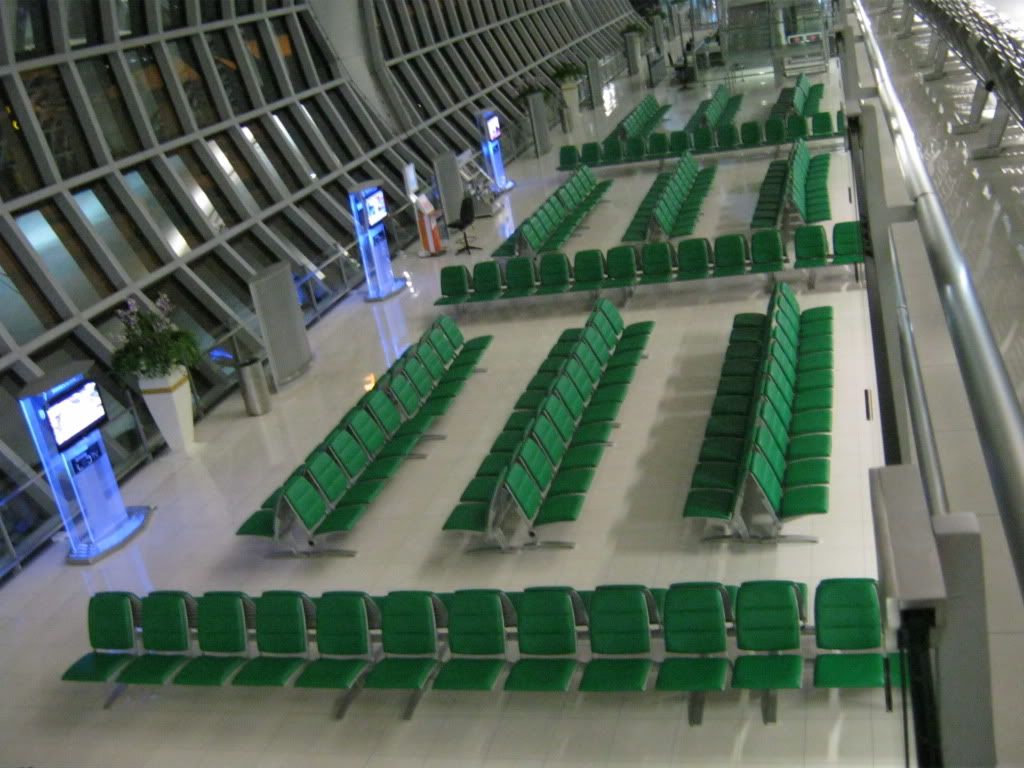 Empty gate lounge.
Flight TG314 BKK-CCU
Departed and arrived on time, more or less
Loading: 100% in Y.
Aircraft: A330
This flight was really a short flight, just 2.5 hours across to Kolkata. As expected, it was full with Indians, mostly returning from holidays. Few, it seemed, had actually stayed in Thailand. At least one other colleague was on this flight, surprising as thought she'd gone the day before us.
Let me suggest the concept of "carry-on" has slipped the Indian travelling population by. I swear to God I saw a man with a sack of potatoes. Another had a flatscreen TV.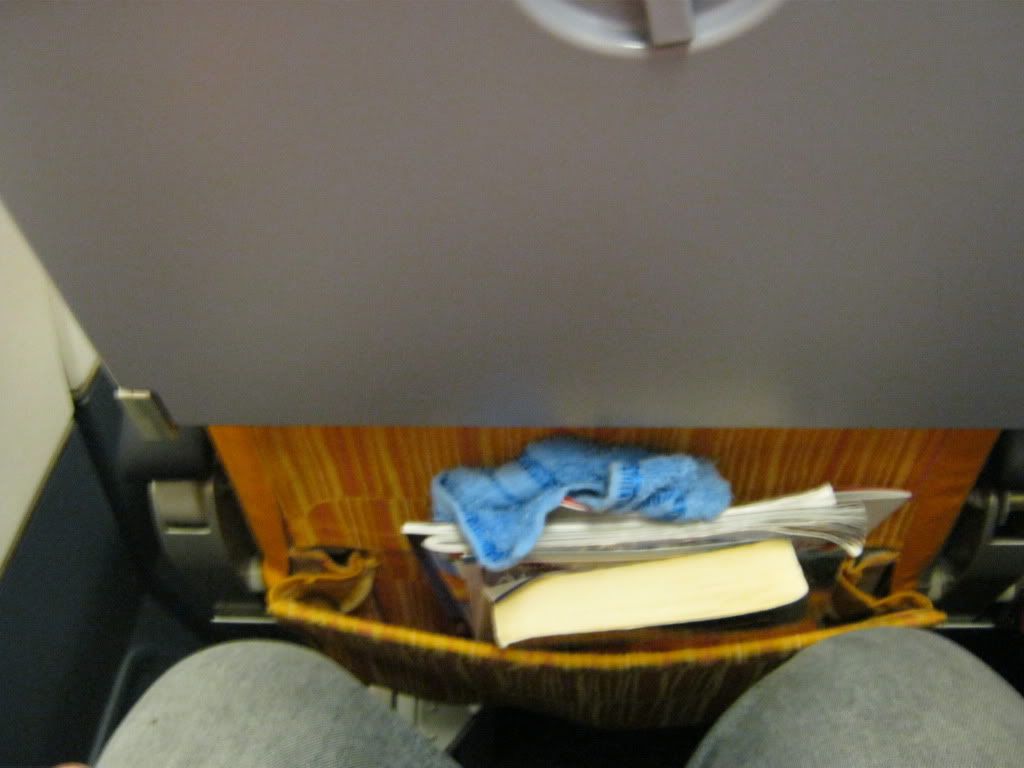 Leg room: not as good as the 777!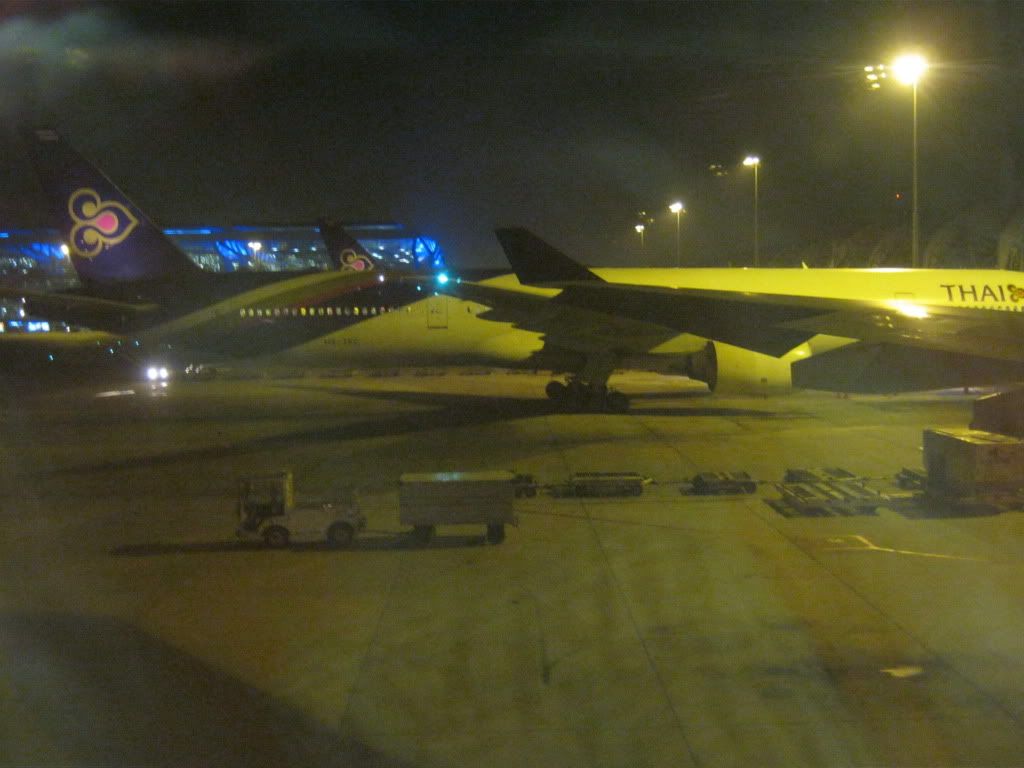 Company jet going to LAX from memory.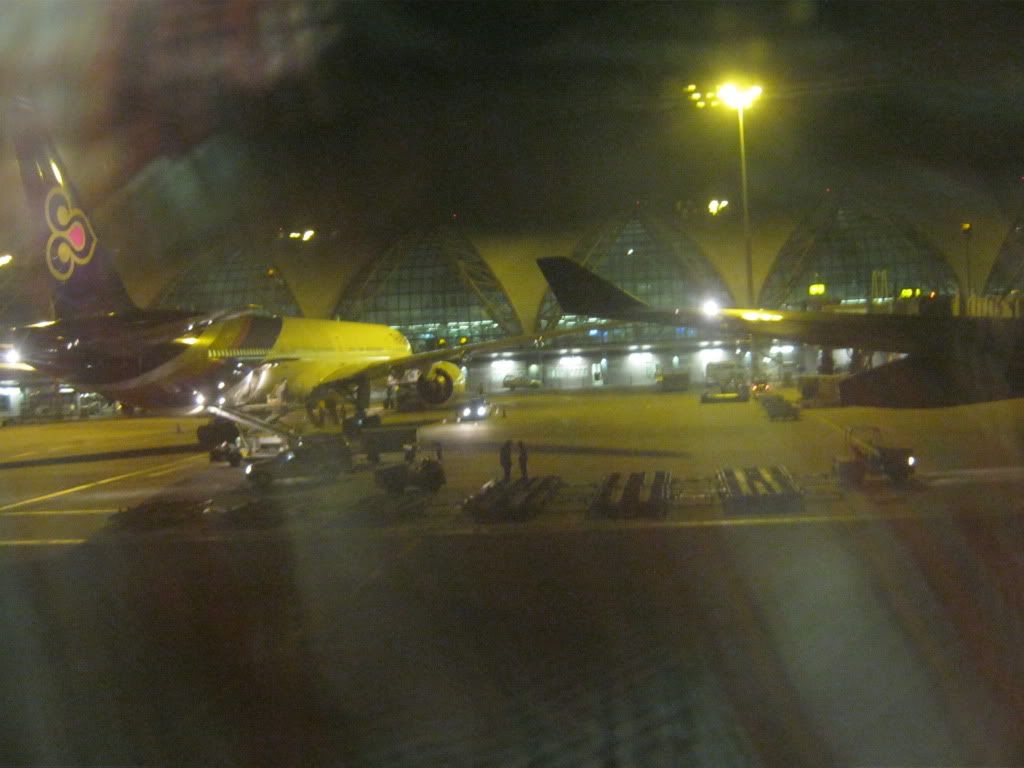 View of terminal.
Over BKK
Cabin shot.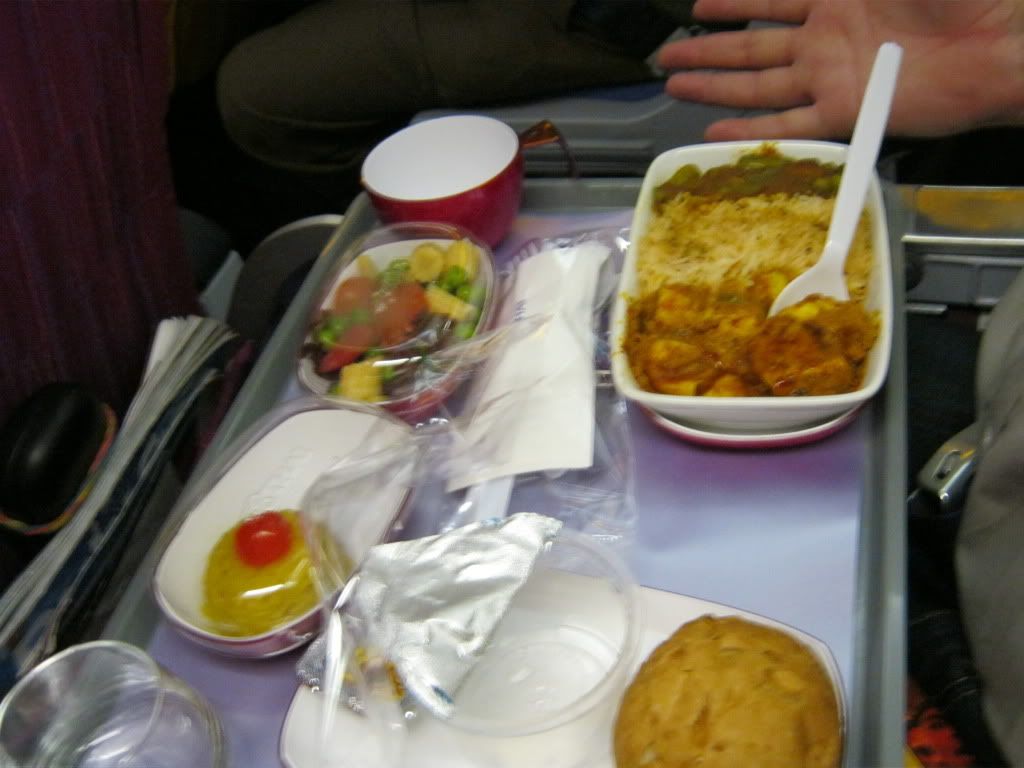 My colleagues "veg" meal. I had the non-veg. They looked identical.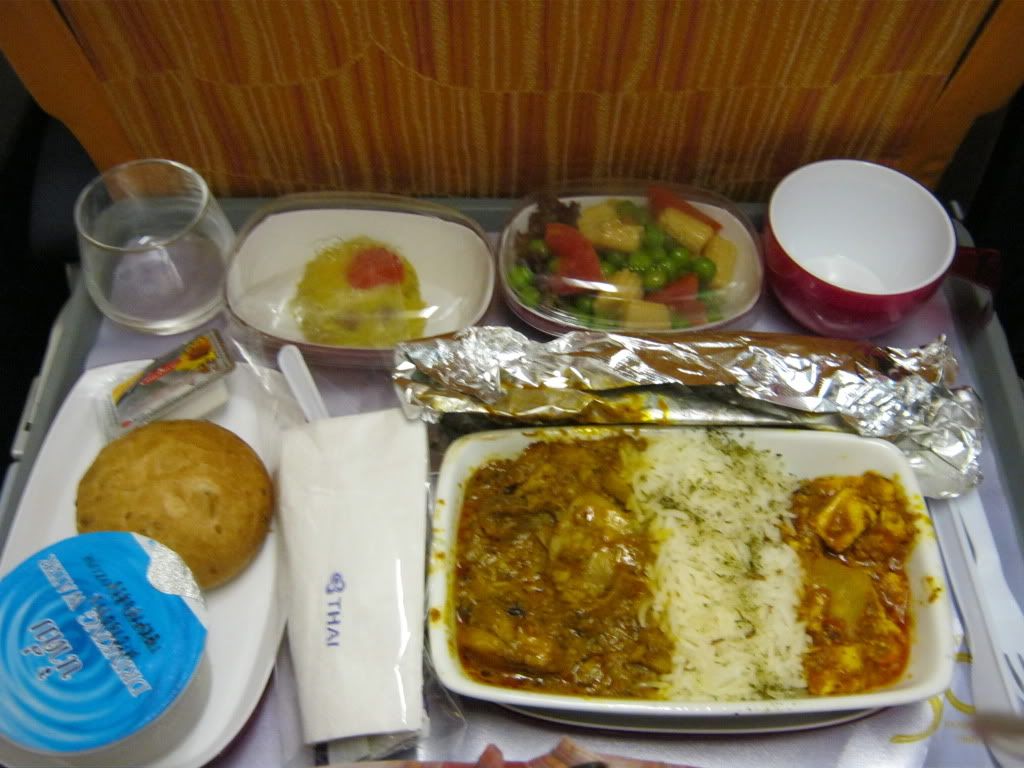 Mine had chicken in it. That's the difference.
The flight was smooth, and short. Before arrival, we were told rather pointedly that photography at Kolkata Airport is banned under Indian law. My colleague rather pointedly told me that announcement was for my benefit. Away went the camera.
Arrival was fine. The SQ A330 our other colleagues had flown in was on the ground, having arrived about 30 mins before us.
Of course, now, the fun began.
Arriving at immigration, and being obviously foreigners, we were sent to the diplomatic queue, which was nice. We had conference visas, as we were trying to be as legitimate as we could (and we were going to a conference after all). The immigration officials then demanded to see assorted paperwork, including invitations etc...that we didn't carry with us. Whether this was our fault, or them demanding something we didn't need to have was never made clear. At no point were we told we needed the invitations to get past immigration. When asked where my invitation was, I told them it was in my emails, something they struggled to comprehend. After much consultation with various officials, they let us through.
And the fun continued.
Baggage claim. A seething mass of humanity surrounded the carousel. I purloined a luggage trolley, whilst my colleague inserted himself in the mass. A dribbling of bags were coming out, after what was about 30 mins, an announcement was made, in Bengali. We established that it said "please go to the other carousel, to which the mass bolted the 10 metres across to be met with no bags...meanwhile, bags began to appear on the other carousel! Including my bag, but not my colleagues.
After 10 mins of no bags appearing on the second carousel, arguments began to erupt between irate passengers and airport staff. Much shouting and pointing, I thought punches were about to be thrown. A new announcement. I guess it was "go back to the first carousel" as people bolted back to the first one. More arguments, more gesticulation, now a bit of push and shove. Im watching this from afar, while my colleague hunts for his bag, which he find. We get the hell out of Dodge. It is now over an a hour and a half since we landed.
Yet more fun!
Customs was surprisingly easy. They took the form, and waved us through. We decided that although we had an organised ride in to town, we needed some money. But, we couldn't find and ATM anywhere! (must be the only one in the world without an ATM). I changed $20 worth of AUD at extortionately low rates. We headed outside, found our ride, and headed towards the city. It took an hour, mostly in a traffic jam. Welcome to India!
The return journeys:
There are no photos. I'm sorry. I have my reasons.
TG 314 CCU-BKK
A330
Journeying to CCU from my hotel took a whopping 3 hours due to traffic. Luckily, I had been warned of this probability, and left nearly 5 hours in advance. On arrival, I had all sorts of hassle getting in. I had changed my flight to a day earlier than booked, but the only paperwork I had was my old e-ticket saying I was flying the following day. Much arguing the point with the security man , he got his list out and found my name before waving me through...to the next security point where I had to start all over again! I eventually made it through.
Given the warnings of my colleagues who had already returned home, I went and had my luggage scanned and had the security tag thing applied. There is no sign or indication that you have to do this, I would not have known otherwise (it's tucked away down the back of the terminal). Check in went ok; I got my chosen seat, even had a vacancy next to me which was handy.
Immigration stamped me out without a whimper, I went up to the initial waiting lounge (a depressing place), successfully haggled with a vendor over a Cashmere scarf (where the sign said "fixed price no haggling", which gave me a sense of happiness) before passing security in to the second waiting lounge (more depressing than the first). Our flight was called on time...and we boarded.
The flight back was smooth, meal options were Thai and not Indian (ahhh...Green Chicken curry!). At one point, just before descent began I went to take a leak. When I got back I found an Indian in my seat. I asked to get out as that was my seat. He gave me a blank stare, then a smile and said "it is my seat now". I told him, no, it bloody well was not, and made to physically grab him out of the seat. He jumped up, waggled his finger at me, and went to steal someone elses seat. Eventually, cabin crew made him go back to his own seat under threat of arrest.
We landed on time. Sadly, a flight from Delhi had also just landed (late) and queues at immigration were massive. As one of a few westerners, some airport officials quietly pulled us aside and led us to another immigration area, much quieter than the first. We were through quite quickly.
Bags claimed, passed customs (though with a little more of a look than last time), found my waiting driver and off to the hotel for sleep. It was by this stage, nearly 3:30am.
A few days in Bangkok to relax, another meeting with my Thai colleagues, and before you know it it's time to go home.
Check-in was smooth, though they said the flight was nearly full, dammit!
TG465 BKK-MEL
772 (I think).
Now, I don't mean to be a snob, but this flight was packed full of very typical Australian bogan travellers. They'd mostly all been package tourists in Phuket or somewhere similar. They all bore Muay Thai or Singha singlets, had sunburn and/or bad tan lines, and behaved like idiots. One girl, two rows behind, obviously scared of flying, started singing "somewhere over the rainbow" from the Wizard of Oz, on repeat, from the start of the take-off roll, to 15 mins later. Loudly. Till someone told her to "STFU" in as many words.
The aircraft was an older one, and lacked PTV. This was disappointing. More disappointing was they only screened any programming on the main screens twice: with dinner, and with breakfast (6 hours apart). And they screened: the same Big Bang Theory episode! Annoying much?
Cabin crew were curt, to the point of rudeness. Asking for a drink was met with three-quarters of a glass. No full cans for us! Even though people two rows up got full cans. What was more annoying: no water cup with the meal! I was somewhat parched by this stage, and my request for more liquid was virtually denied. I had to drink from the faucet in the bathroom. Not sure if that was a good idea...but I was that thirsty.
Leg room was comfortable. I managed to get some sleep.
On arrival in MEL the people in the row across form cheered and said "now we can eat real food again". Oh, the Humanity! We were also made to remain in our seats whilst a quarantine officer boarded and inspected something, or someone. People got a bit narky, and blamed Thai airlines for what was obviously an Australian officials decision.
All up, I have mixed feelings about Thai. If my outbound flight was like SQ, my inbound flight was more like JQ. I may or may not fly them again, depending on my needs, but they'll be wanting to upgrade their aircraft, carry more drinks, and retrain their staff in customer service if they really want to compete in the big leagues.