Feedback always appreciated.
I > Background:
Ever since the Suites came out, I have always wanted to try Jet Airways' First Class. As I was in Asia, I decided to "reward" myself and finally make it happen. 9W was having a fare "sale" on their F-product on the daytime BOM-LHR flight and I decided to see what the fuss was all about. Besides, my new temporary way to roll was in intercontinental F-class.
I have given this disclaimer before - and need to make it again. I suck at A.Net searches. However, I am pretty sure this is the first true Jet Airways intercontinental F class review. There has been a few notable reviews of 9W's hard product on other carriers --- GF, TK, and TG --- but, ironically, this will probably be the first review of the product as it was intended. It also covers a very busy route that has not been covered on A.Net as one would have expected.
II > Pre-Flight:
a) Before Airport:
Jet Airways is India's pioneering airline based in Bombay. It is India's largest airline and has an extensive network in India, with international operations to the Americas, Europe, Africa, and Asia. It is well known for excellent customer service, and seems to have bounced back after a miserable 2008-09 period.
Jet Airways' website at
www.jetairways.com
is visually clean and the perfect way to make a reservation. It is crisp and within a few minutes I was able to use my credit card to buy my ticket. I was particularly impressed by the use of colors (especially in the "fare families" stage). Furthermore, the days where Indian carrier sites would choke on a foreign card seem to be truly over - my ticket was seamlessly issued. In a matter of minutes, a smart looking PDF e-ticket was delivered to my inbox. Now, the website gives you plenty of opportunities to view/modify bookings. However, it has no functionality for seat selection for any class of travel. This is a pet peeve of mine and I wish 9W changes this in the near future. I was able to get a seat assigned calling the excellent call center.
b) At Airport:
Jet Airways uses Gate A @ terminal 2B at BOM. As soon as my taxi pulled near the entrance, I noticed a smartly uniformed man with a Jet Airways placard saying, "First Class" (sorry everyone no picture). I identified myself as one and he immediately did the traditional Indian folded arm "namaste" and took my bag away from me. I insisted I was OK to carry it - but he insisted that it would be truly his pleasure. Not bad. He then took my passport, flashed his badge, and the nice security guy glanced at the paper work and let me in. It is pretty amazing how little touches could make CSIA @ BOM a nice hospitable terminal. I can't wait for it to be all done!
Anyways, the man escorted me to the dedicated First Class check-in area where the duty manager came and introduced herself. She also then introduced me to "Ms. 9W" who was introduced to "look after me" until the crew on the plane took over. As I wondered what this meant, another girl had checked me in after confirming that I was indeed "comfortable" with 1A.
After getting the boarding pass, I thanked the lady behind the counter, and started to make my way to the immigration counters. The horror on "Ms. 9W's" face was apparent when she almost tripped over the baggage scale and said in a very sweet Indian Bollywood way, "Sir, you are our guest. I will take you to the lounge". Usually, I am a self-service guy, but I really did not want to disappoint her.
So, I gave her my boarding pass and passport and followed as we cleared immigration and security in a flat 4 minutes. More than being escorted through these necessary procedures, I must admit, enjoying stared at and smiled at by all duty people, and being looked at quizzingly by others ... almost felt like a Bollywood celebrity! Anyways, "Ms. 9W" walked me to the Clipper Lounge (all the while we talked about the challenges 9W had overcome and their expansion plans - smart girl her!). Now here came the biggest surprise. I had probably used the Clipper Lounge over 30 times and had NEVER noticed a First Class section. "Ms. 9W" walked me to the section, told me to get comfortable, and mentioned that she would come pick me up "5 minutes prior to door close". I asked whether it was cutting a tad close ... she mentioned, "not for our most esteemed guest". Aaw. Look at me. Look at me. I have made it in the world
. The peaceful First class section of the Clipper lounge was pretty much my oyster as I had an array of people wanting to bring me things. I rested on a nice comfortable chair and had some Indian food and watched TV. While the lounge comes nowhere close to the TG First Class experience at Bangkok, I must appreciate the efforts Jet Airways has made to overcome the poor infrastructure and leverage their excellent human resources to pull out a classy act.
True to form, "Ms. 9W" appeared 10 minutes before and said, "Sir, I wanted to come 5 minutes early in case you thought I had forgotten you". Aaw. She then walked me to the gate, past the gate agent, directly to the purser ... who said, "Mr. AM, we have been waiting for you". And a little creepy (but pretty impressive next part) ... "We have not seen you since your last flight with us in July - hope the length of this flight gives us a better chance to show our service than the Bangkok - Delhi flight. WOW! I was actually stunned - and taken aback. While I recovered from that memorable exchange, "Ms. 9W" said, "I see you won't need me anymore - hope to see you soon". Haha. Again, all very classy and nicely done. I thanked her and the Purser ("Mr. 9W-P") walked me to my Suite.
The first thing you notice about 9W's First product is the intimate feeling you get from the Suites. Also, the faux wood and cherry red has a nice effect and makes you feel more upscale than the over-use of gold on the similar Emirates First. Of course, beauty is in the eyes of the beholder, but I found the cabin to be a whole lot understated elegant than the comparable EK-affair.
While on the ground, and as I was being brought various goodies, "Mr. 9W-P" came and introduced me to "Ms. 9W-C" who would personally take care of me. After he left, the woman told me a little bit about herself and we had a chat about flying, London, and what I thought about India.
F load was 40% ... and if these were revenue passengers, more than enough to sustain the route!
Airport - External:
(Bombay Airport)
Check-in:
(First Class Check-In Area)
*
(Other)
Airport - Internal:
(FIDS: No wonder BD and VS could not maintain service)
(Post Security @ BOM)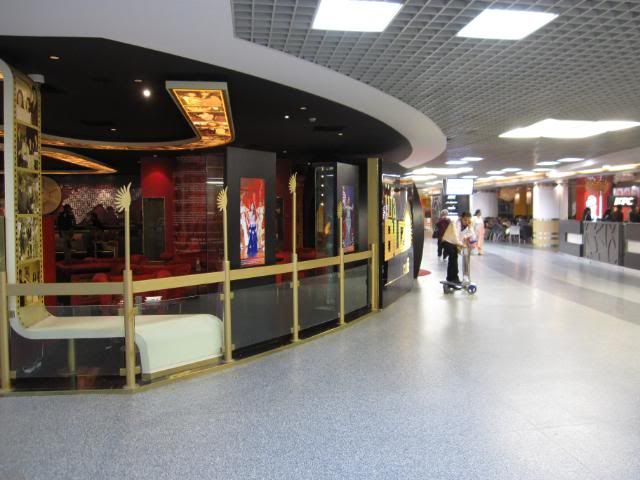 Scenes of the tarmac:
NONE
Lounge
(Jet Airways Clipper Lounge)
*
(F Class Section that I never knew existed)
*
*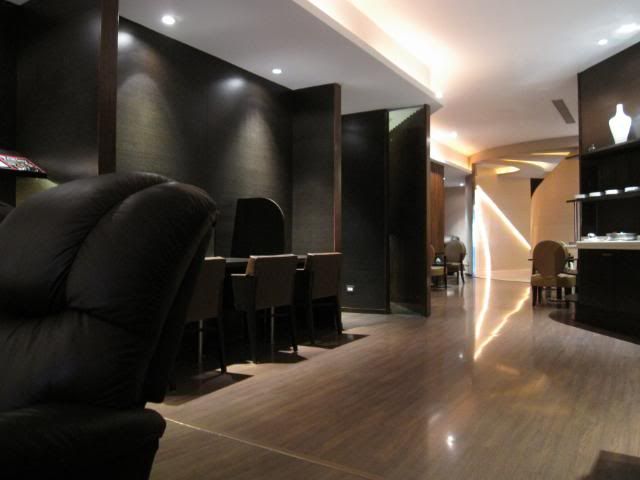 *
Boarding:
(My escort ... just like when I was an UM ... maybe you do become young when "old")
(Boarding)
NONE
III> In-Flight:
a) Service Schedule + Impressions:
Prior to take-off, service commenced with a choice of hot or cold towels. This was probably the nicest and thickest scented towels I had got in a while. Indian law apparently prohibits alcohol on the ground, and I was thus offered an extensive array of juices, sodas, and water (what I had). Also prior to take-off, I received pajamas, menus, amenity kits, and the very nice slippers. Soon thereafter, newspapers and magazines were distributed followed by nice noise canceling Bose headsets. All very elaborate and nice.
After take-off, there was a snack service ... followed by meals ... followed by a "movie-popcorn service" ... followed by a "pre-landing meal". Fast-track forms were also given out ... which I would not need later (more on that).
b) Aircraft + Seats:
Jet Airways smart looking 77W's were in immaculate condition. Externally, I really like their bright livery and the twist from Indian dresses at the front. The interior is spotless and the well-maintained and the mood lighting really makes you feel like you have stepped into somewhere upscale. As mentioned, the First Suites give you an intimate feeling and I do find it significantly more classier than the Emirates Suites.
The bathrooms are well stocked with Bvlgari products and were absolutely spotless throughout the flight ... though, I don't anticipate anything else in an intercontinental F class. My only small gripe would be that they turn the mood lighting on during boarding to enhance the ambience like on Virgin or Kingfisher.
One thing that I really like onboard Kingfisher, Virgin, and Emirates is the bar-area. This was missing from Jet which had a self-service bar ... of course, the self-service area was nicer than most airlines, but I would have preferred a little area to mingle. Having said that, perhaps the average FCL passengers values privacy more than anything else.
Speaking of privacy and space, this is something that 9W's FCL suite excels at. Remember, this is a configuration for 8 passengers in a space that can fit around 44 Emirates Y class passengers I am told. There are no overhead bins enhancing the concept of space, and the 1-2-1 layout implies no disturbing anyone to get out. Each of the private "suites" are separated using the individual double doors. Inside these "suites", one gets several smaller storage units, a wardrobe, and of course the nice 30-inch seat with an armchair which can be converted for a second person to have dinner with you. What I really appreciate is the huge table which helps perform work. Little touches like wood panels go on to enhance the cabin and add to the air of "premier-ness". As I said, the entire thing seems to be zen-inspired/feng shui classy than bling-bling.
The seat has a myriad of positions that usual FCL seats have, and the "massage" function is particularly nice. In bed position, it makes for a very comfortable sleep without many "folds" and the 9W "turn down" service ensures that one gets a very nice sleep.
Aircraft:
(77W - Photo from A.Net)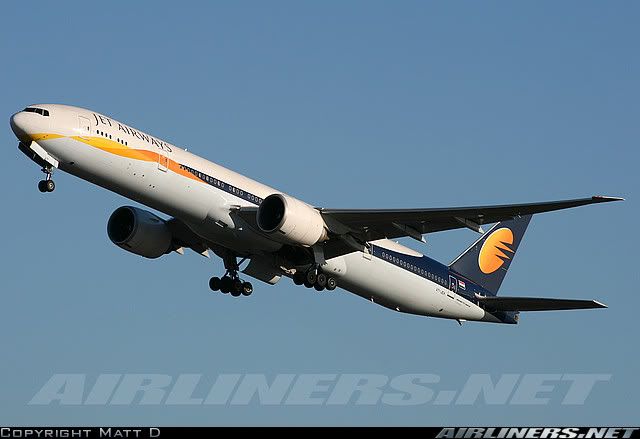 Views from Aircraft:
*
*
(LHR bound)
*
(Also this one)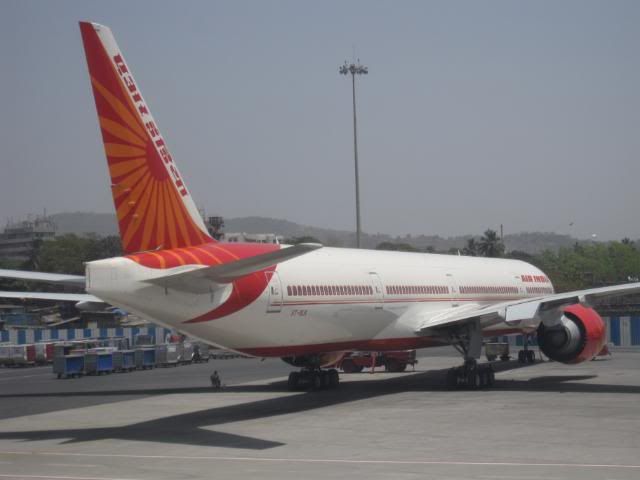 *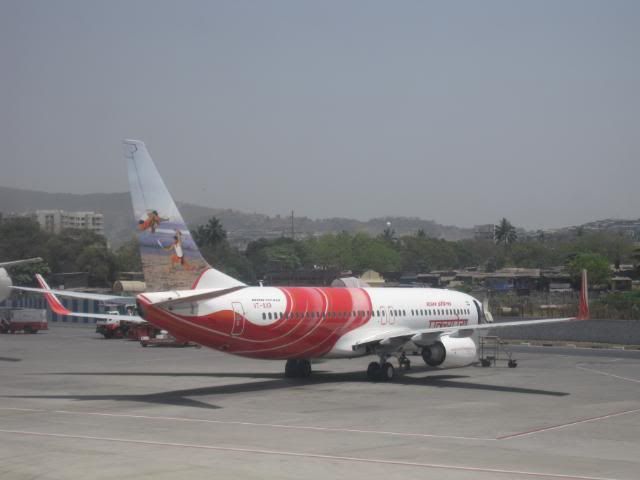 *
*
(Bye Bye Bombay)
General Seat Views + Seat Legroom
(Suite)
*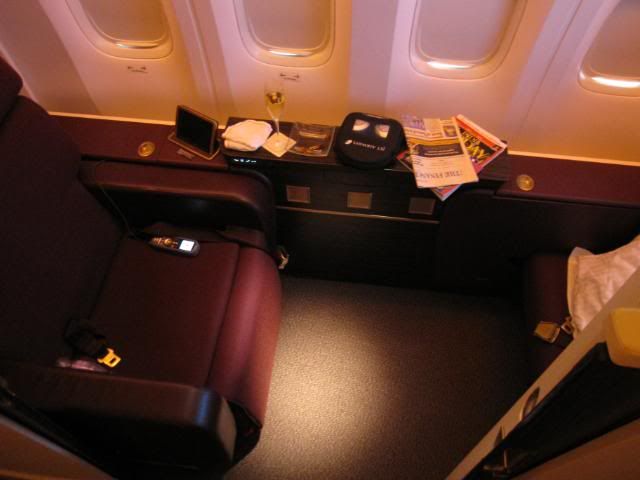 *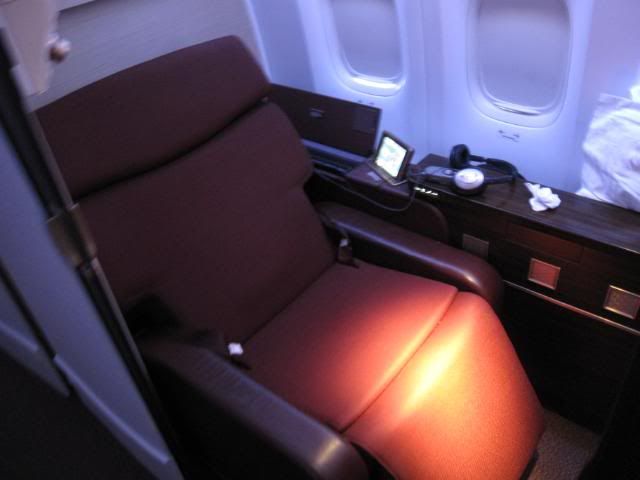 *
*
*
(Front of seat)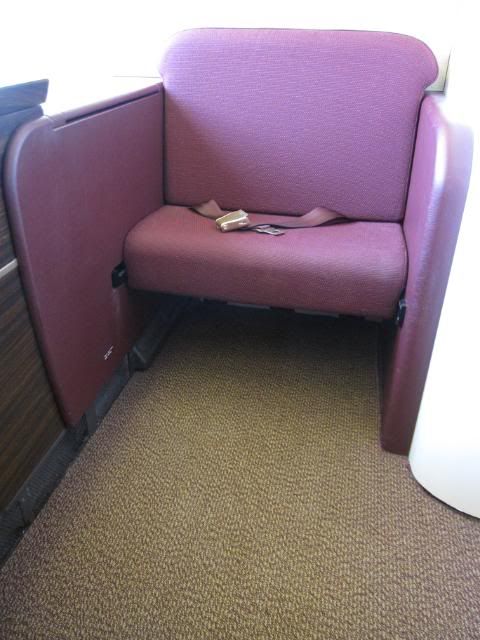 *
(Around the seat)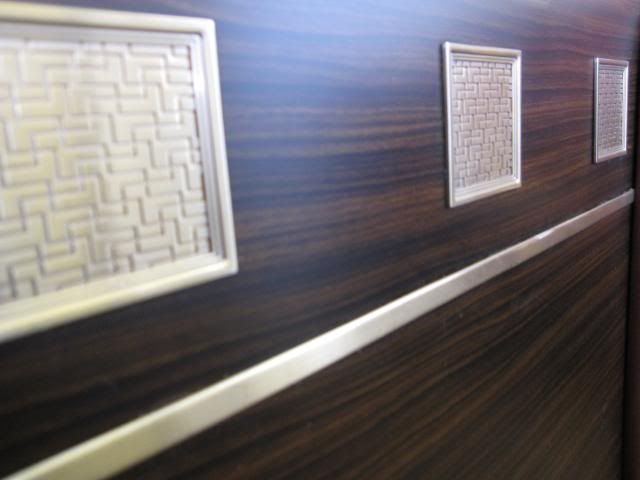 *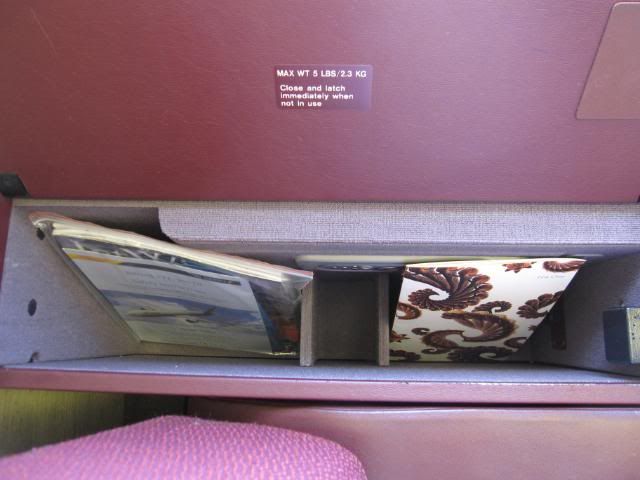 *
*
*
*
(Seat Controls)
*
*
*
*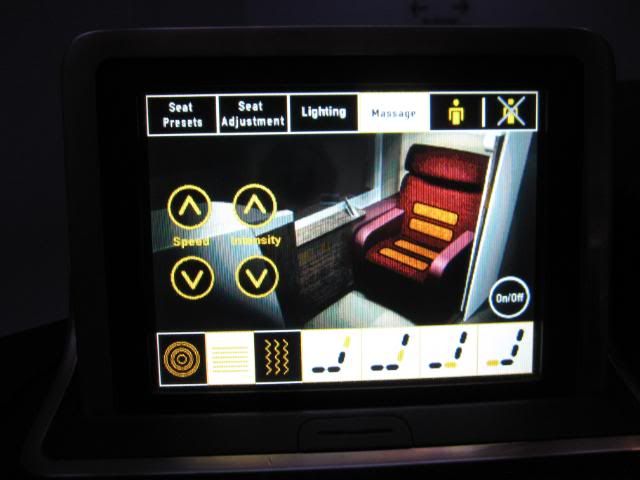 (Legroom)
Seat Recline + Angle View: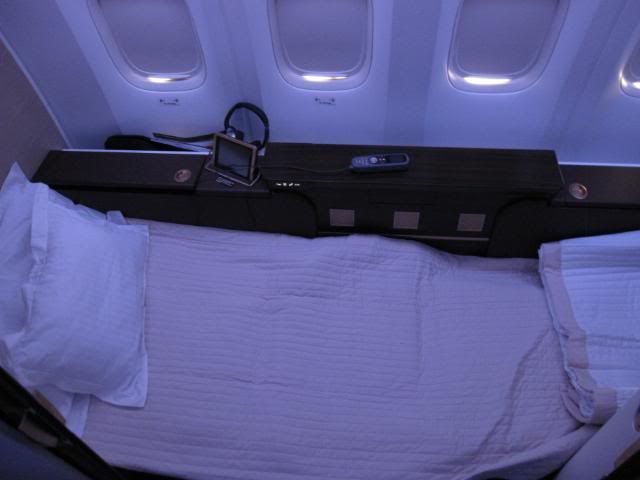 *
*
Cabin:
*
*
(Blanket ++)
NONE
(Bathroom: Showing her age)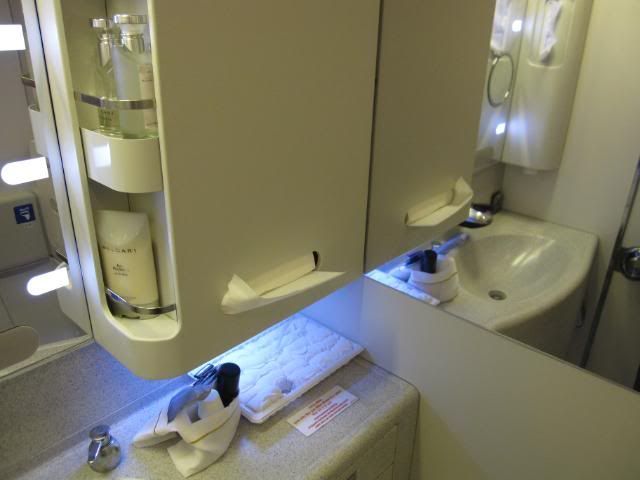 *
(Bar)
c) Meal + Beverage:
As I have said before, First Class should be significantly above Business. 9W hits the right notes as food and beverage options are all much better.
After the welcome drink on the ground, drink service starts soon after leveling off. Since Alex never turns down a glass (or ten) of Dom Pérignon, I request the same. This is served with an excellent shrimp-on-biscuit platter. As I lounge on and think of how fortunate I am to have my life, "Ms. 9W-C" comes by to ask when and how I would like my meals. After taking all the orders down, she notices my champagne level being low and gets the bottle to top it off. I liked her, "sir, we have been given explicit orders to empty these bottles. It is our way of reducing weight on the plane and thus save fuel and environment". Of course, all said with a smirk ... very nice! Oh, did I mention that the champagne glasses came chilled ... and I would get new glasses after a few refills. All very decadent, and a reminder of what F-service should be!
Since I was hungry, "Ms. 9W-C" comes and sets the linens for lunch. Again, very classy affair with Indian-fabric linens (I forget the fabric name). I skip the salad and go for the warm mushroom soup. This is followed by the main (there are 4 options) ... I chose the "Murgh Hara Masala" which is an excellent Indian dish of chicken and coriander. It was a very nice airline meal ... not the best, but one of the very nice ones, and close to a good restaurant. The food is accompanied by Indian condiments whose name you can find on the menu
. Throughout the meal, generous runs of champagne and Indian and European bread is offered.
For dessert, there are three choices and I chose the Indian option. This was nice, but I guess not to my cultural taste. But, it is accompanied by my signature drink ... a great glass of Port. This is followed by a selection of tea, coffee, and a very elaborate cheese tray ... which I avoid.
By the way, at some point during the meal service, I notice that they have Johnny Walker Blue. And since Alex, does not turn JW-Blue down, he switches to JW-Blue.
After the elaborate meal service, the crew does their periodic checks. When they notice I am watching a movie, they insist I have popcorn for the full effect. COOL!
Prior to landing, more food is offered. A choice of three, I go for the Indian plate of "Dahi Gujjiya" (see the menu for description). Again, it is excellent and I skip the fruit platter.
Throughout the flight, I stay entertained by several glasses of JW-Blue and an attentive crew who walks through to make sure one does not need anything else. There is also a self-service bar area ... God knows why because it is not like the crew ever wants you to get something yourself!
Overall, truly excellent affair!
(Menu)
*
*
*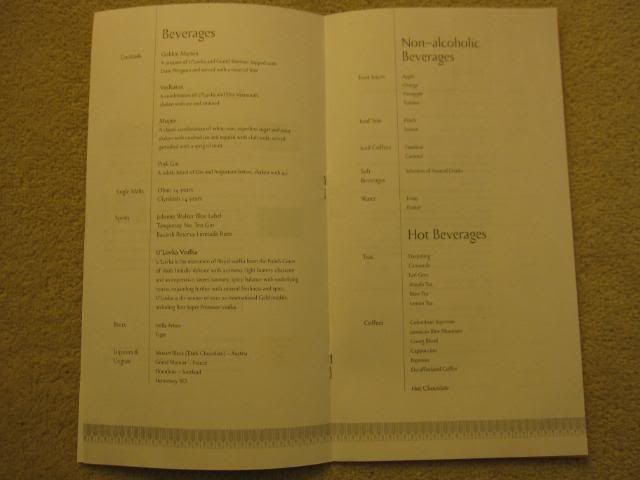 *
*
(On Ground)
*
*
(First DP)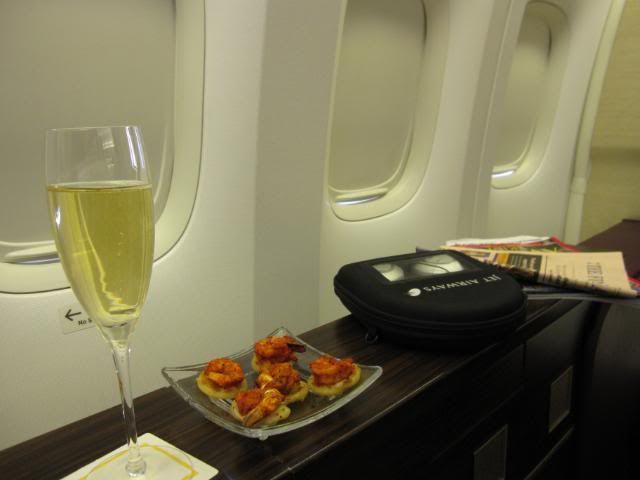 *
(1st Meal Service)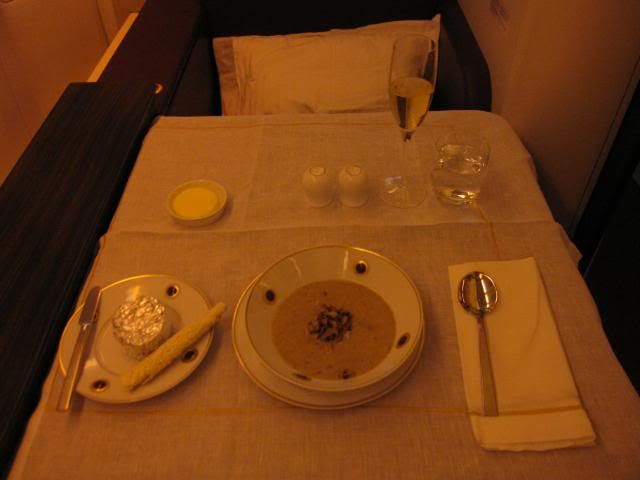 *
*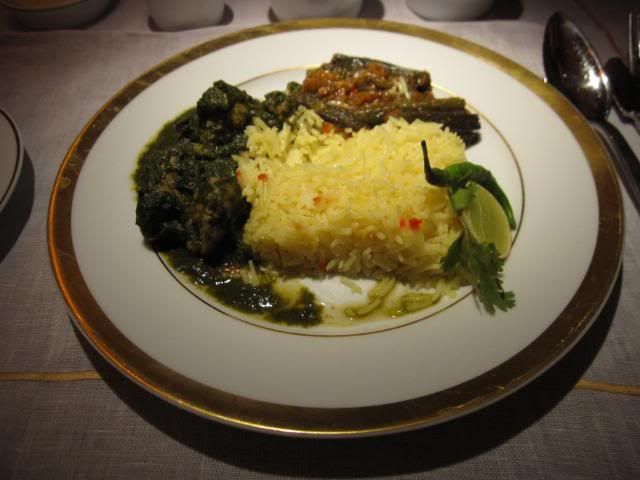 *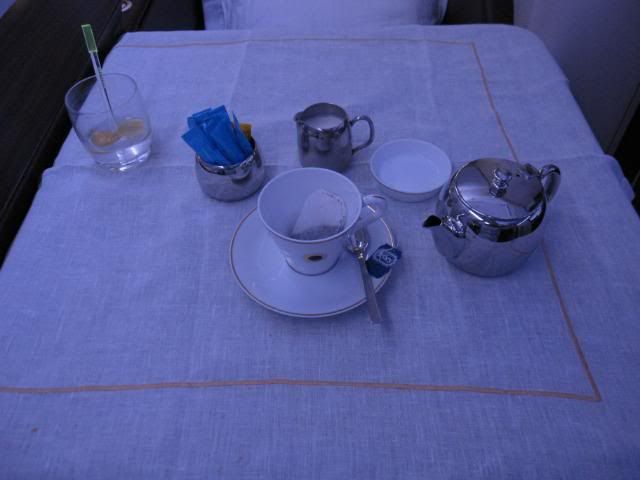 *
*
(Bring on Johnny Blue)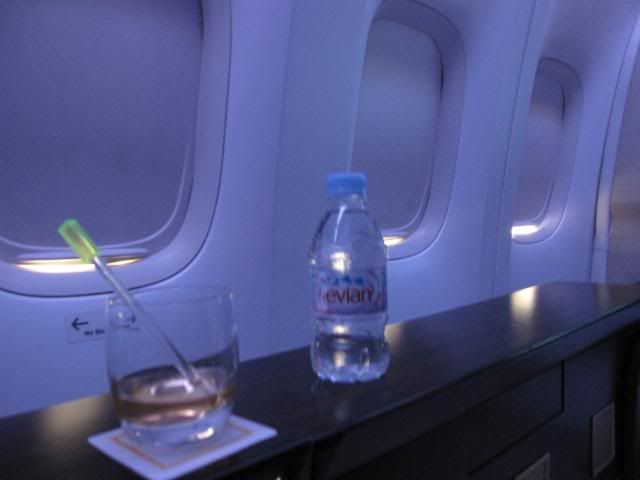 *
(Pop Corn Service)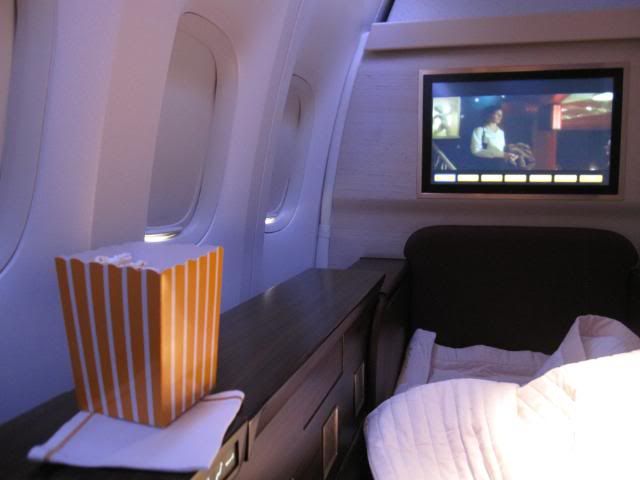 *
(2nd Meal Service)
d) Inflight Entertainment:
The first thing one notes about 9W's IFE are the huge personal screens in F. I don't know rankings, but it must be one of the biggest in the industry! These are controlled by a separate remote next to the seat. One can enjoy these with the accompanied Bose headphones and I blissfully watch "Amelia" keeping in mind the environment and hoping I don't end up like her. Screens are great, and the quality is crisp. My biggest complaint is that 9W's AVOD offerings is not on the same length as other parts of their service ... while they have enough movies, shows, and entertainment to keep you going, it is significantly behind industry benchmarks of Singapore and Emirates. The in-flight magazine is good and you have a nicely stocked selection of magazines and newspapers to keep you more than happy.
(Controls + Headset)
*
(IFE System)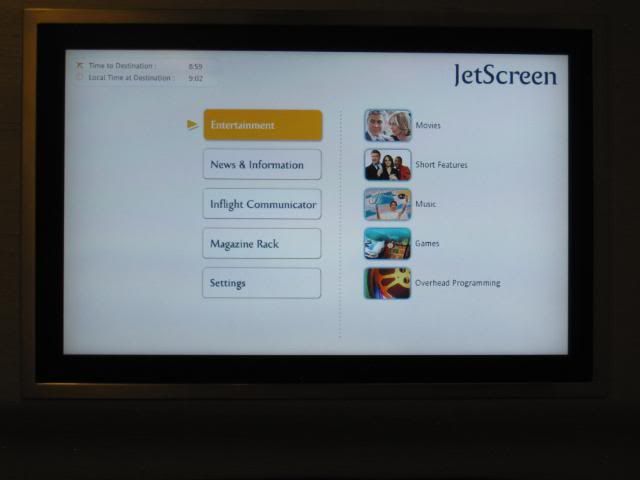 *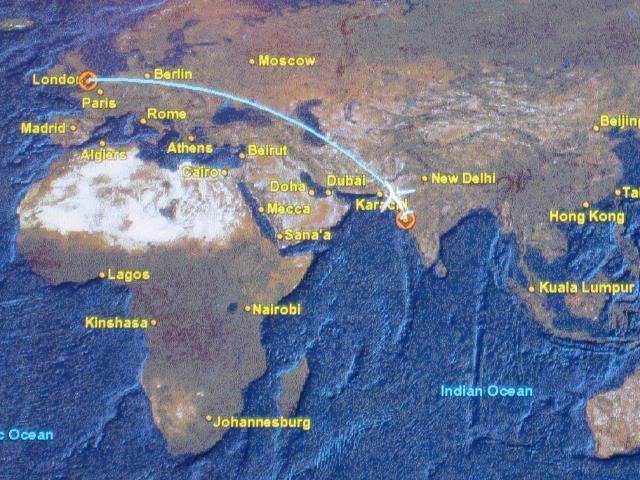 *
*
*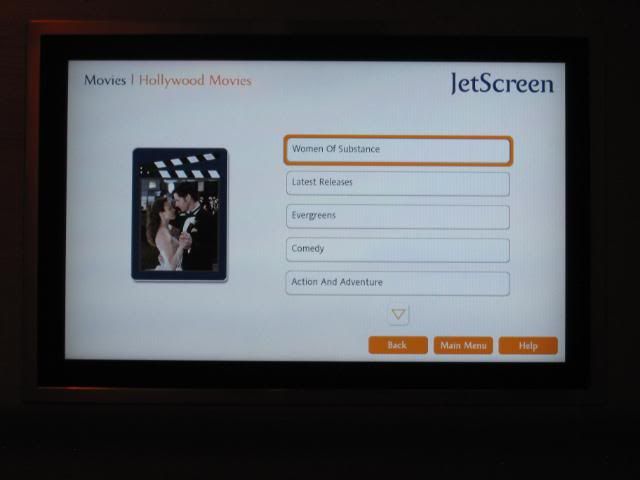 *
*
(Fitting)
*
("In-flight magazines", Boarding Passes, etc.)
*
*
e) Crew:
Another round of "WOW! WOW! WOW!" Another data point to support my theory that best cabin crew come from India and Sri Lanka . Yet another positive experience with 9W crew who are simply flawless. I have always preferred the "homely" service from heart approach by AI and IC crew on Indian carriers with IT's "hot women" trying way too hard. It is 9W that has (with each experience) moved from an IT-like delivery to more resembling AI/IC. There was a genuine level of caring that anticipated needs and executed. Just like their counterparts at Thai, they knew how sophisticated service meant balancing privacy with anticipation. They could laugh, joke, and in general just be awesome. As always, what I LOVE about Asian airlines ... which most of their European and American counterparts cannot match ... they had learnt the names and were not reading from the flight manifest in front of you! I loved the lead FA who was at ease with her duties and her interactions with me upon boarding. Throughout the flight, you could see them walk along the aisle checking on passengers, topping drinks and carrying bottles of water for those who needed it. All with polite, "Would you like some more?" and "Can I top it off?".
As always, consistent with Jet's pioneering tradition, at final disembarkation, the crew said something memorable:
"For those passengers disembarking in London, have fun in this great city. And, for those fellow Indians on board, the country misses you already".
Aaw.
Great cabin crew anticipates your needs. Very few airlines have mastered this concept. I got this on Thai ... and again on this flight, on Jet.
IV> Post-Flight:
Prior to arrival at LHR, the lead purser and the crew member "assigned" to me came by to wish their farewell and bring me a very nice gift. Along with the houses I receive on KLM, this was the nicest gift I have got ... and was nice especially after not receiving anything on EK, TG, UA, CX, etc. Moreover, in keeping with the "classy" theme, I found the gift simply awesome.
Unlike others, I don't mind arrival at LHR ... however, this is always made better with the presence of "Fast Track" cards. Just prior to landing, I asked the lead purser for one. With a smirk he said, "trust me, you won't need one". Hmm. It was a mischievous smile and I wondered what was up. (Later on, I found the LHR card in my jacket)
Disembarking at LHR, I understood why. The 9W ground staff were there to zip me in their golf cart all the way to the counter. I had never encountered this, and was thoroughly impressed
(LHR Scenes)
*
*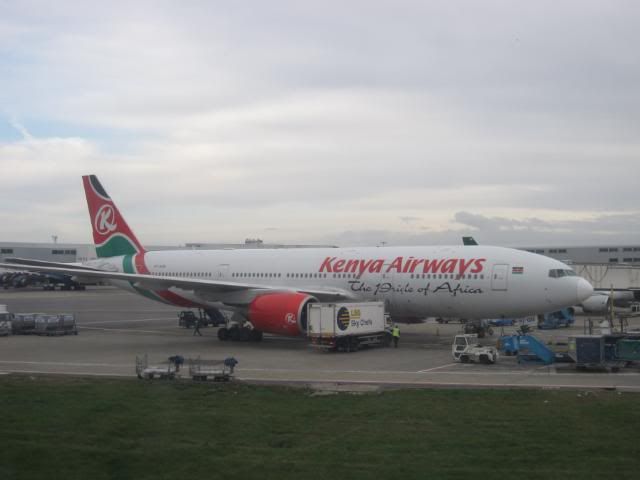 *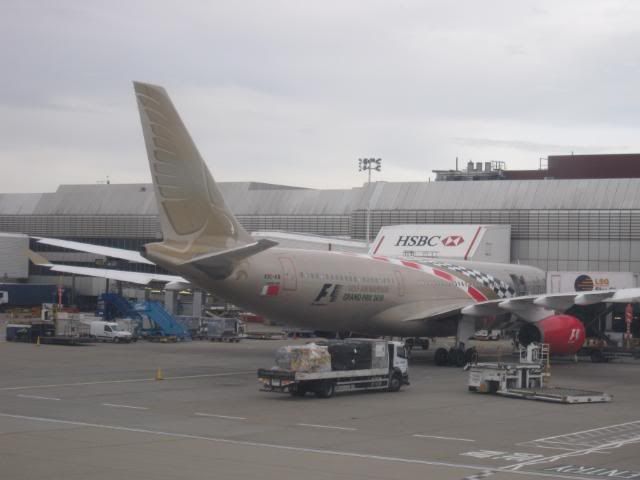 *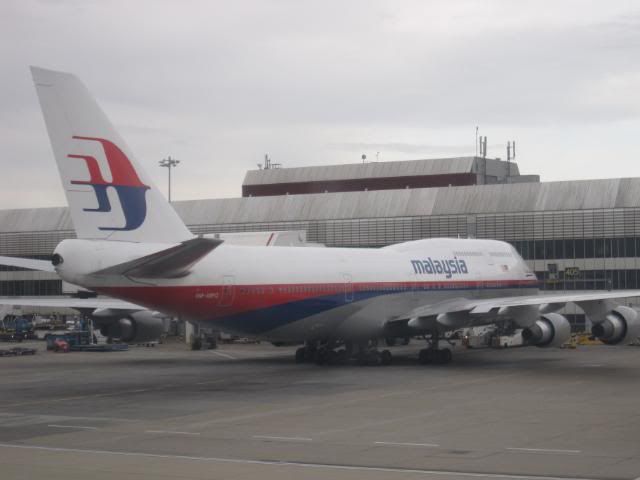 *
(My ride to immigration)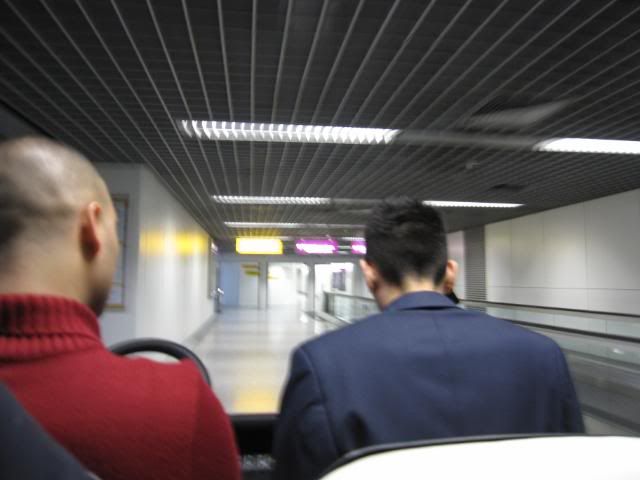 V> Impressions + Scores:
Jet Airways continues to be a joy to fly. It remains undoubtedly one of the best carriers out there with an in-flight experience that "even other airlines talk about"
. Service was flawless from the moment I stepped into the airport until I got off. I recognize Bombay is not Bangkok, but an airline is made up of its parts and I must criticize Jet for not aggressively building its own facility at BOM. If EK can have their own dedicated lounge, why not 9W? Having said that, every aspect of the human element was completely perfect. All the Jet staffers embodied Asian hospitality that anticipates needs and flawlessly executes any desires. The only aspect which has room for improvement is probably the AVOD.
As I say, First Class service should be distinguished from Business Class, exclusive and make you feel special. 9W far exceeded that from the moment I walked into the airport. I would continue to fly 9W in a heartbeat and go out of my way to chose them … and, be more than happy to pay a price premium. Two thumps way up!
Special Note:
I am adding this because while it does not affect this flight, this report (and my scores), it must be acknowledged since I know 9W reads these reports and mine end up on their Facebook page
. I would do a dis-service to all the wonderful 9W personnel by not mentioning it. 9W must do something about their absolutely rude and horrible Delhi service managers. I have flown 9W many times and both the international airport manager and his female compatriot on the domestic side left a lot to be desired. I was in DEL and almost walked away from buying a seat on their BOM-LHR flight due to the shocking service delivered by Mr. Muku**d Kulka*ni, Ms. Shivali*a, and Ms. Madhu**ta Barkha**ki.
VI>Other Trip Reports:
PREMIUM:
9.27: JET AIRWAYS ** FIRST ** (111): BOM-LHR: 10/2010
Joint #1
9.27: THAI AIRWAYS **FIRST** (108): BKK-LHR: 07/2010
8.66:
Brussels Airlines (93): FIH-BRU: 01/2010
8.64:
Turkish Airlines (59): JFK-IST: 11/2008
8.63:
Jet Airways (88): JFK-BRU: 10/2009
8.61:
Air Canada (49): YYZ-SCL: 06/2008
8.54:
Turkish Airlines (77): GRU-DKR-IST: 04/2009
8.36:
Kingfisher (98): BOM-HKG: 01/2010
8.30:
Jet Airways (74): KWI-BOM: 04/2009
8.23:
United Airlines (72): SFO-SYD: 03/2009
8.11:
Aeroflot (33): MOW-DEL: 09/2007
8.05:
Air India (80): CCU-JFK: 06/2009
8.04:
Korean Air (40): NRT-ICN: 10/2007
8.02:
Delta Airlines (24): JFK-CDG: 08/2007
7.82: UNITED AIRLINES **FIRST** (110): SFO-ICN: 10/2010
7.82:
Singapore Airlines (06): EWR-SIN: 09/2006
7.66:
Sri Lankan (104): DEL-CMB: 07/2010
7.64:
Royal Jordanian (91): AMM-YUL: 12/2009
7.61:
China Southern (103): LOS-DXB: 04/2010
7.57:
Pakistan Airlines (102): ORD-BCN: 06/2010
7.46:
LAN (55): YYZ-JFK: 09/2008
7.38: CATHAY PACIFIC **FIRST** (109): HKG-LHR: 10/2010
7.25:
Iran Air (88): BOM-IKA: 12/2009
7.23:
Virgin Atlantic (81): BOS-LHR: 07/2009
7.14:
Swiss (52): SCL-GRU: 06/2008
7.11:
Aer Lingus (105): MAD-IAD: 05/2010
7.11:
Austrian (79): VIE-JFK: 06/2009
7.07:
Privatair (84): BOM-FRA: 08/2009
7.02:
Qatar (68): DOH-JFK: 01/2009
6.96:
Etihad (61): JFK-AUH: 12/2008
6.93:
Delta Airlines (18): SEA-JFK: 11/2006
6.84:
ConViasa (65): CCS-DAM: 01/2009
6.82:
Air Burkina (106): BKO-OUA: 06/2010
6.81:
Air Canada (17): ICN-YYZ: 10/2006
6.70:
KLM (32): EBB-AMS: 08/2007
6.52:
Emirates (99): LHR-DXB: 02/2010
6.39:
South African (97): EZE-JNB: 01/2010
6.36:
Privatair (60): MUC-BOS: 12/2008
6.29:
TAM Brasil (96): POA-EZE: 02/2010
6.25:
Korean Air (45): NAN-ICN: 10/2007
6.21:
Iberia (87): BOS-MAD: 10/2009
6.11:
A SKY (107): OUA-COO: 06/2010
6.11:
TAP Portugal (53): GRU-OPO: 06/2008
6.00:
Gulf Air (75): BOM-BAH: 04/2009
5.88:
African Express (89): DXB-NBO: 11/2009
5.75:
Singapore Airlines (16): CCU-SIN: 10/2006
5.64:
SATA Azores (101): BOS-PDL: 04/2010
5.64:
NorthWest (46): ICN-NRT-SEA: 10/2007
5.54:
Ethiopian Airlines (95): ADD-BOM: 01/2010
5.46:
Icelandair (83): KEF-BOS: 08/2009
5.39:
LOT (54): WAW-JFK: 06/2008
5.21:
Egypt Air (73): CAI-IST: 02/2009
5.07:
TACA (66): JFK-SAP: 01/2009
4.42:
Air France: CDG-JNB (25): 08/2007
ECONOMY: Long + Medium:
9.26:
Air India (48): JFK-DEL: 02/2008
7.38:
Avianca (01): BOG-LIM: 07/2006
7.07:
Sri Lankan (62): KWI-CMB: 12/2008
7.00:
LAN (94): IPC-SCL: 01/2010
6.41:
Avianca (78): JFK-BOG: 05/2009
6.41:
American Airlines (58): LHR-BOS: 11/2008
6.39:
Condor (85): SEZ-FRA: 09/2009
6.26:
Jet Blue (21): CUN-JFK: 02/2007
6.06:
Air Canada (04): YYZ-YVR: 09/2006
5.89:
USA 3000 (19): PUJ-BDL: 01/2007
5.85:
Spanair (69): MAD-LPA: 02/2009
5.79:
Air New Zealand (42): RAR-NAN: 10/2007
5.52:
Aerolineas (86): USH-AEP: 10/2009
5.46:
TAP Air Portugal (23): OSL-LIS: 05/2007
5.19:
Air Europa (70): LPA-MAD: 02/2009
5.16:
Iberia (71): MAD-BOS: 02/2009
5.11:
Air China (82): FRA-PEK: 08/2009
ECONOMY: Short
8.56:
Paramount Airways (38): BLR-MAA: 09/2007
8.56:
Kingfisher (64): HYD-CCU: 12/2008
8.24:
Kingfisher (14): IXA-GAU: 10/2006
7.87:
Indian (34): BOM-MAA: 09/2007
7.72:
Alliance Air (13): CCU-IXA: 10/2006
7.57:
Indian Airlines (10): DEL-CCU: 09/2006
7.23:
West Jet (03): YYC-YVR: 09/2006
7.15:
JetLite (37): BOM-GOI: 09/2007
6.98:
Air Koryo (100): PEK-FNJ: 04/2010
6.70:
Spice Jet (09): CCU-DEL: 09/2006
6.63:
Air Fiji (44): NAN-SUV: 10/2007
6.63:
Jazeera (67): DAM-KWI: 01/2009
6.58:
Air Tran (02): EWR-MDW: 08/2006
6.48:
Air India Express (63): CMB-MAA: 12/2008
6.44:
CO Micronesia (39): ROR-YAP: 10/2007
6.41:
Pacific Sun (43): NAN-SUV: 10/2007
6.37:
Skybus (47): SWF-CMH: 02/2008
6.33:
Kenya Airways (29): NBO-BJM: 08/2007
6.33:
Sky Europe (56): LTN-BTS: 10/2008
6.31:
Indigo (15): GAU-CCU: 10/2006
6.31:
easyJet (57): BUD-LTN: 11/2008
6.22:
Air Link Swazi (28): MTS-JNB: 08/2007
6.22:
Air India (36): HYD-BOM: 09/2007
6.13:
Adam Air (07): SIN-CGK: 09/2006
6.13:
Air Rarotonga (41): RAR-AIT: 10/2007
6.00:
Transairways (27): INH-MPM: 08/2007
5.95:
Air Canada (05): ALB-YYZ: 09/2006
5.85:
SAS Norge (22): OSL-AES: 05/2007
5.81:
LAM Mozambique (26): JNB-MPM: 08/2007
5.69:
Air Deccan (12): IXZ-CCU: 10/2006
5.67:
Rwanda Air Exp (30): KGL-NBO: 08/2007
5.37:
Felix Airways (92): SCT-SAH: 12/2009
5.11:
Aero Republica (76): BOG-CCS: 04/2009
5.07:
Go Air (35): MAA-HYD: 09/2007
5.00:
Sky Airline (51): IQQ-SCL: 06/2008
4.96:
Valuair (08): CGK-SIN: 09/2006
4.78:
Air Comet Chile (50): SCL-IQQ: 06/2008
4.74:
Fly 540 (31): MYD-LAU: 08/2007
4.33:
Viva Aerobus (20): ELP-MTY: 02/2007
4.11:
Air Sahara (11): CCU-BOM: 09/2006
(Note on Codes: Y – Economy, J – Business, F – First :: I/D – International/Domestic :: SR/MR/LR – Short/Medium/Long Haul)
(Note on Date: Dates are modified to be +/- 3 days from actual flight date to not reveal actual flight pattern)
VII> Other Pictures:
(Amenity Kit, slippers, etc.: I really like the silk individual pouches)
(Pajama)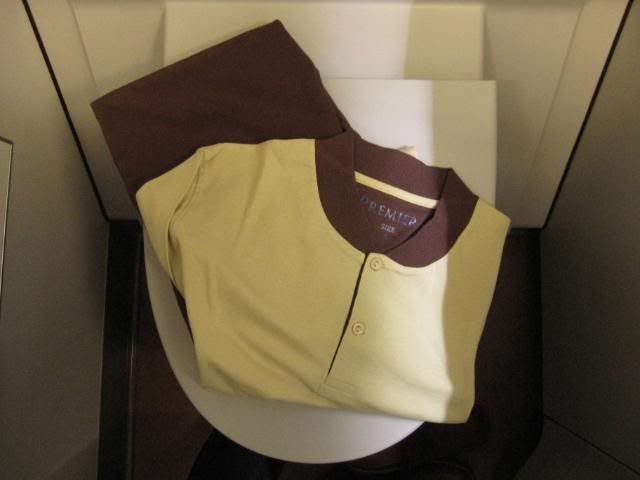 (Stationary)
(Classy parting gift)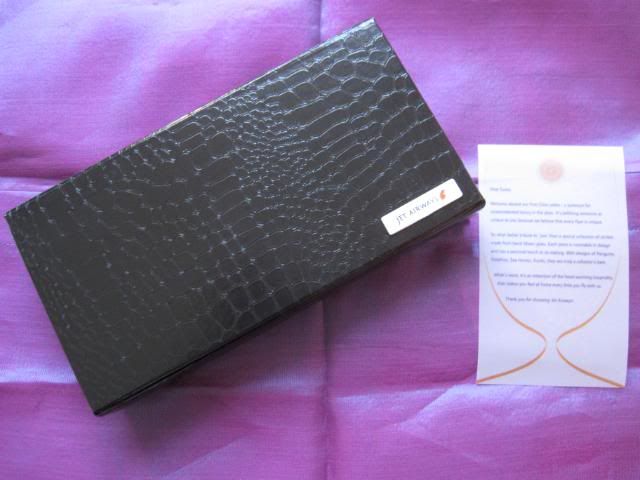 *
[Edited 2011-03-26 18:24:25]