The E135 and the towers of Bologna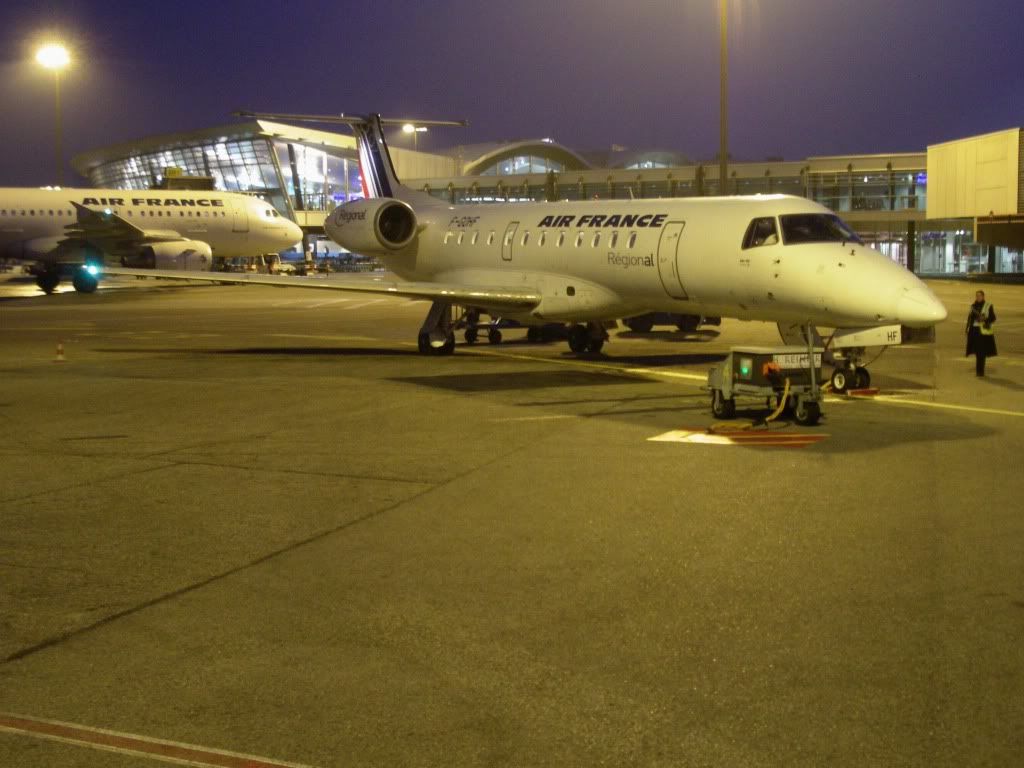 Ciao, dear readers,
the slim Embraer 135 is a not that common plane here in Europe. Only a small number of airlines operate that type.
What to do with an open inbound to VCE?.
Maybe a landside connection to BLQ, a view to that medieval towers and flying out on the E-Jet?.
No more time needed when I see that BLQ is also a new departure airport.
Here are the actual departure airports:
Departure airports
auf einer größeren Karte anzeigen
And also the route map:
Tripreporter´s Flüge
auf einer größeren Karte anzeigen
Three days after the return from
Trip Reports Premiere, The CR-K Alas CRJ1000
(by
FLIEGER67
Mar 13 2011 in Trip Reports)
I´am on the way for some more flying out of STR.
And no, SXB like the latest experience, is for sure not on the map today!.
Sunday, 06.03.2011
.
.
.
.
Service AF 2509 operated by Air France
Scheduled: 07.25 // 08.45
Well, it seems, I´am really more and more the expert for the short nights.
The family decides for a couple of days on skies in Austria,
back home from the shuttle after dinner at the hotel at 01.00 am, Sunday morning.
A leisurely late start at 04.30 am, so some long 3 hours, 30 minutes to sleep that night.
The first two legs of the day are the return from late last years VCE-CDG-STR on AF, rebooked by Exp.de from the originally booked and further on cancelled flights on OK.
The fare this way is 40.00 Euro´s for the first leg.
OLCI via KL´s website works quick and easy, leg one and two checked in within a minute.
Leaving my home office at 05.30 am and at the airport perfectly as scheduled at 06.30 am.
Close to no traffic that Sunday morning
and no bad sign for my flight from gate 310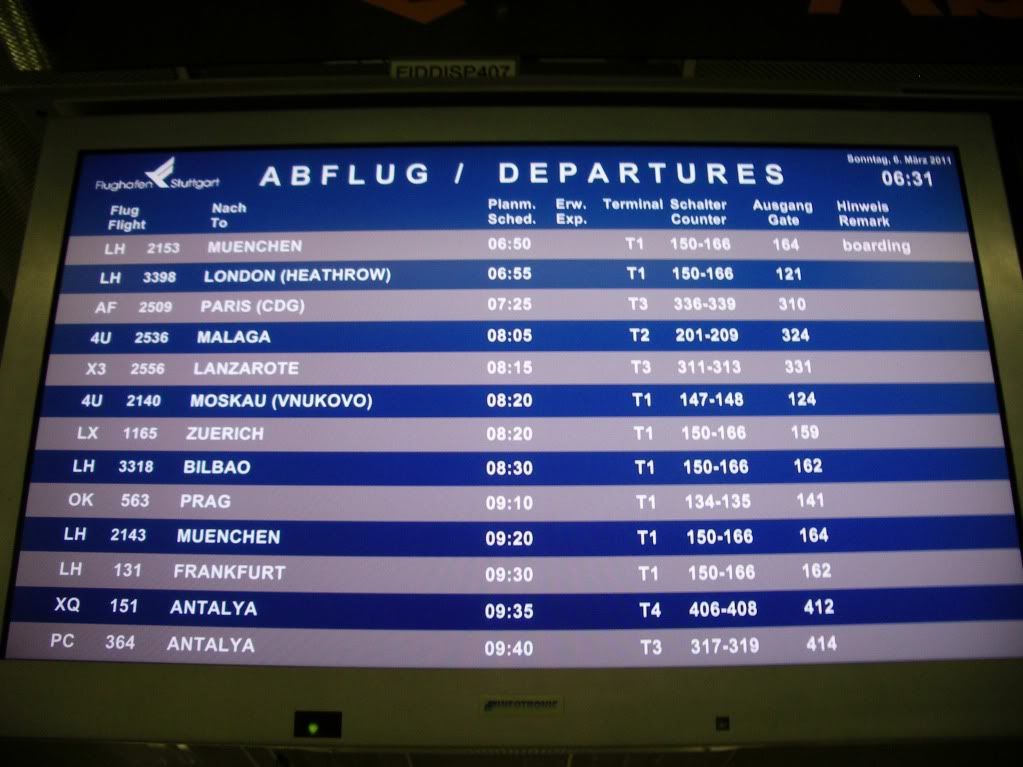 No time to wait at security.
Boarding 07.00 am, time to hit AF´s STR lounge.
Interesting to notice that Diners Club is now also here at STR in cooperation with the "Elly Beinhorn" lounge
Coffee and cookies on offer
Comfortable seaters here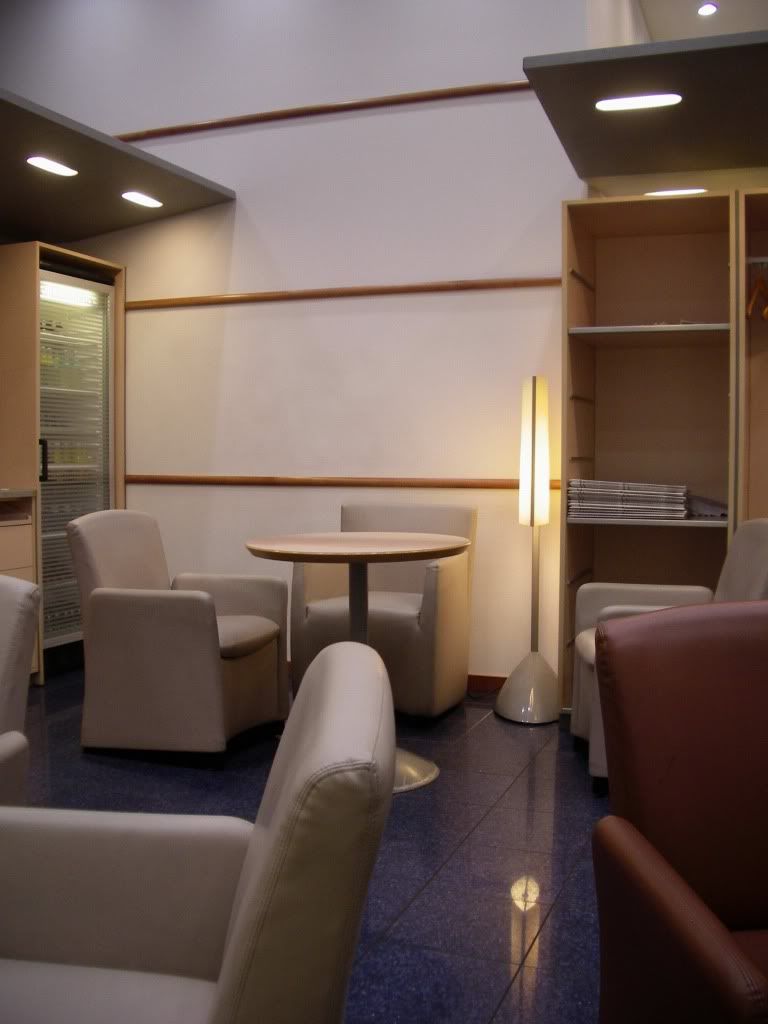 Only a very low number of customers this morning at this small place
Anyone in immediate need to go for "FlyingFinn" country?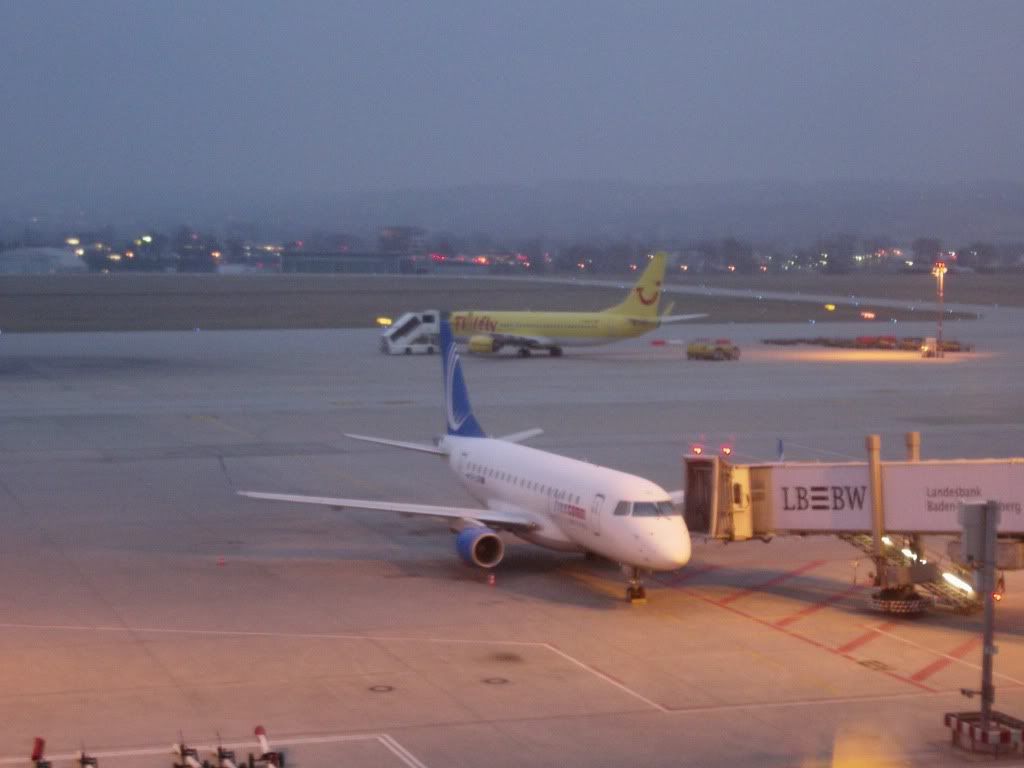 Preparations around my nightstopping machine
It´s F-GFKZ, an early Airbus A320 example,
first in service with AF from 05.03.1992, leased out to Vietnam Airlines at 26.02.1994 and back with AF at 01.03.1996.
Leg no. 72 on type and a new registration for the log.
One of 55 machines in the actual fleet.
The french captain is on the mike with a short welcome during boarding, we see a short delay due to late baggage loading, but nothing serious.
No further comment, route or flightlevel informations.
The A320 as scheduled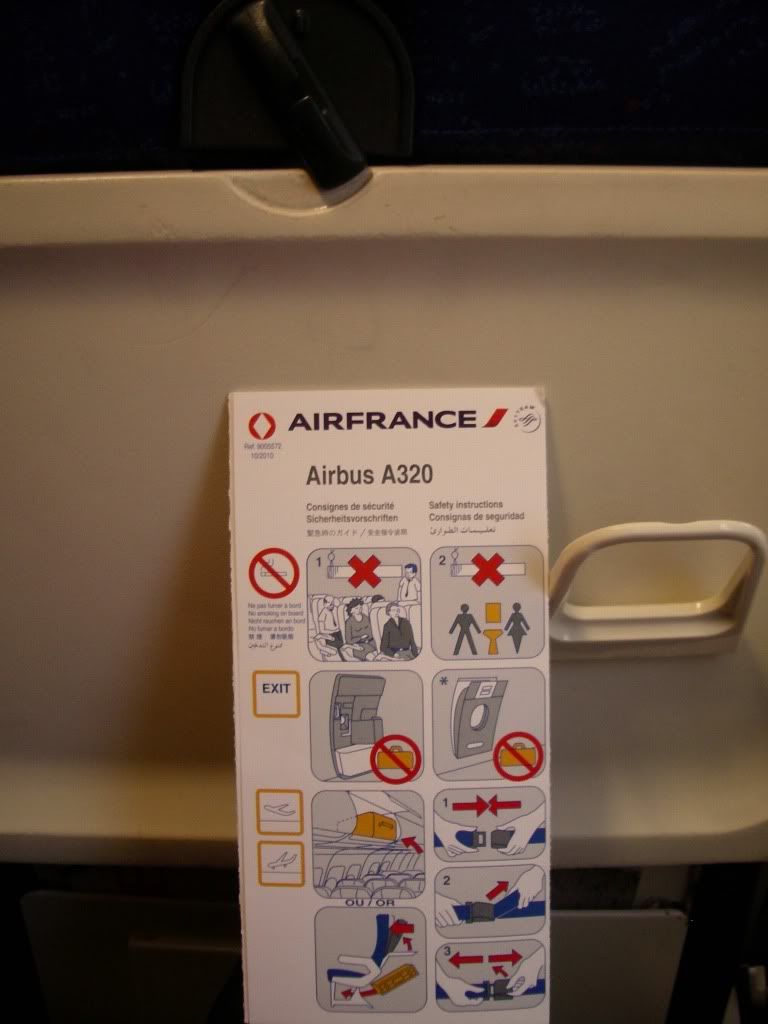 It´s 07.40 am, 15 minutes late, when we leave my homebase during a cold morning, light fog and - 3 degrees. One hour for CDG.
The cabin ceiling with a partial view to the oldfashioned, but nevertheless comfortable dark blue fabric seats, the cabin is clean so far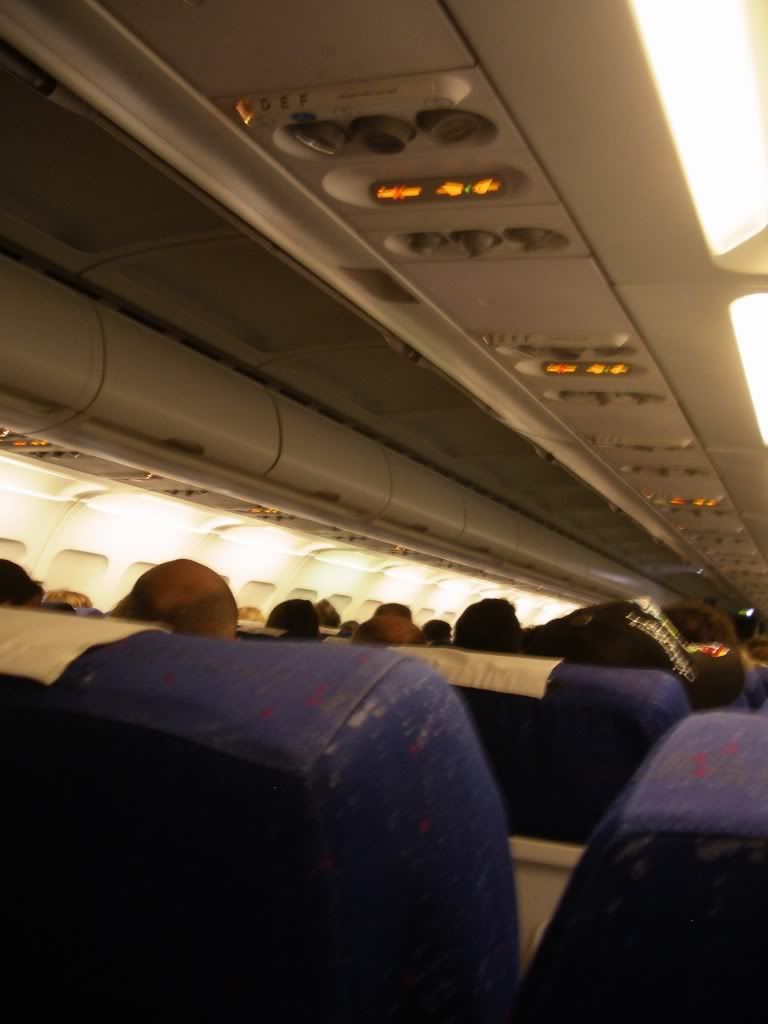 Legroom is acceptable here. 29F, the last row window, recline is ok, the aisle seat is taken, but thankfully, the middle seat remains open
Two male, two female FA´s today, all french and nothing special.
Service is coffee and a brioche for free.
Just departed from 07, with a sharp circle above the airfield
The load is 90%, mostly leisure travellers today.
Touchdown on the 2700 meters runway 08R, it´s 08.45 am,
ontime, clear sky and +1 degree´s.
A gate position at, big surprise, T2F today.
STR flights running usually in and out T2D, that´s also printed on the paper, imagine the confusion around the non frequent CDG travellers.
Sure ok for me today with the next flight on departure from exactly the same place, no extra security this way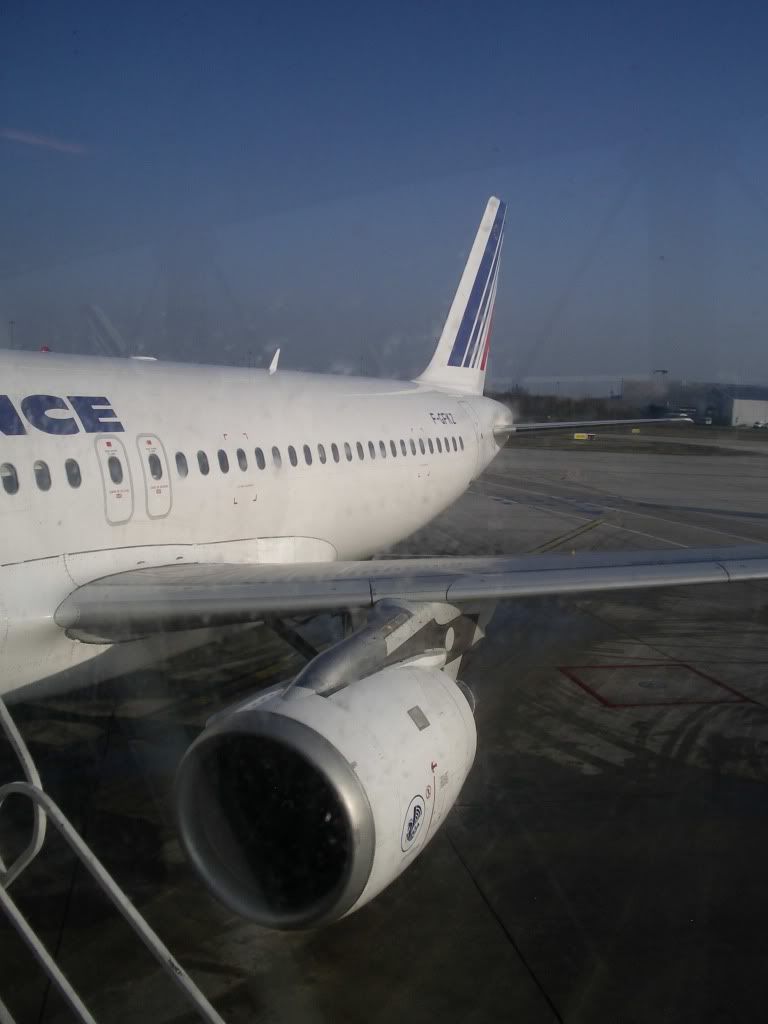 Company machines closeby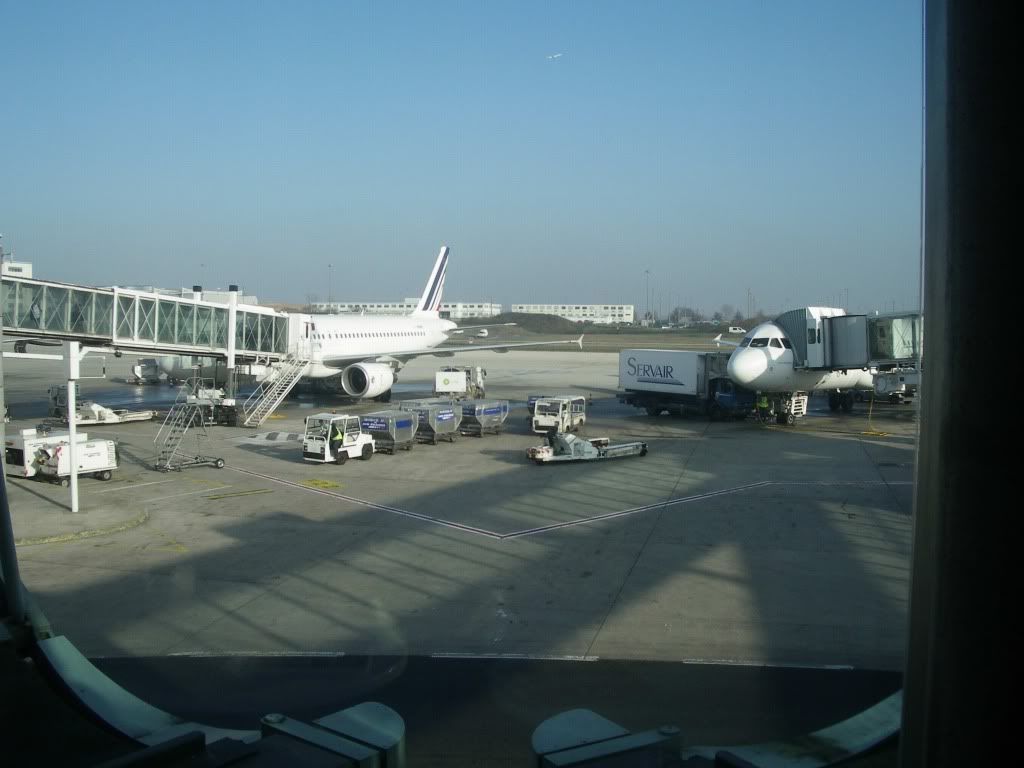 Sunday, 06.03.2011
.
.
.
.
Service AF 1426 operated by Air France
Scheduled: 09.55 // 11.35
.
The fare is again 40.00 Euro´s.
What about my flight to VCE?.
Expected on time from F30, for sure ok for me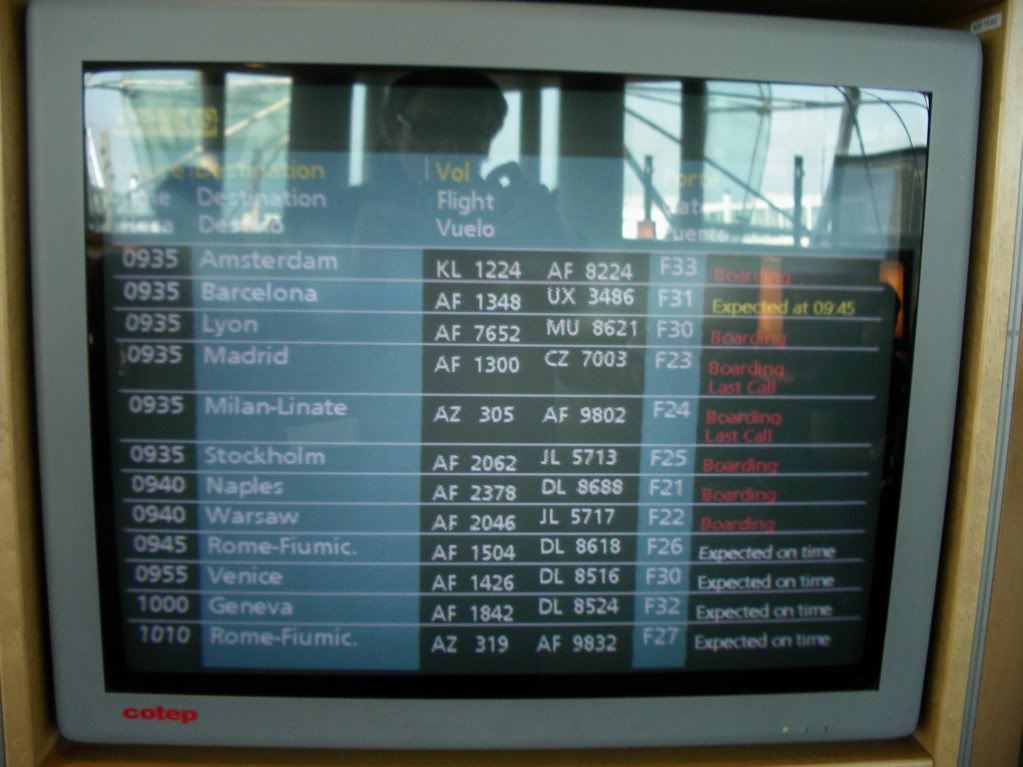 Well, let´s go for another cup of coffee with the next AF lounge.
More details on offer than at STR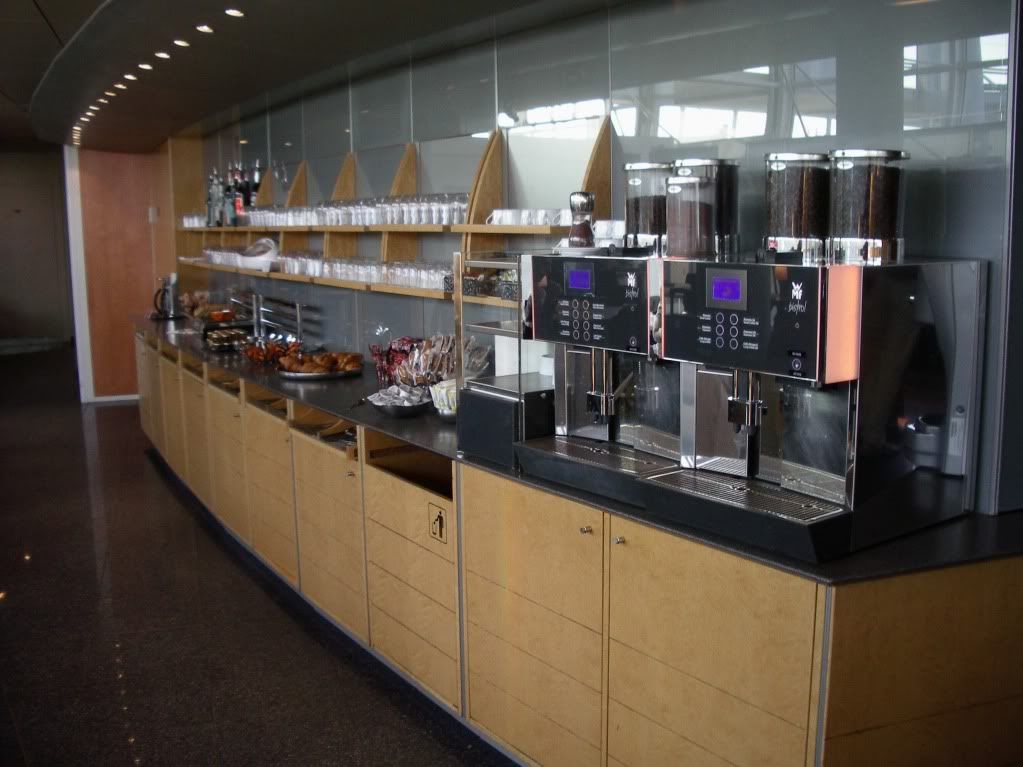 It is located downstairs from the standard gates with nice views to the apron action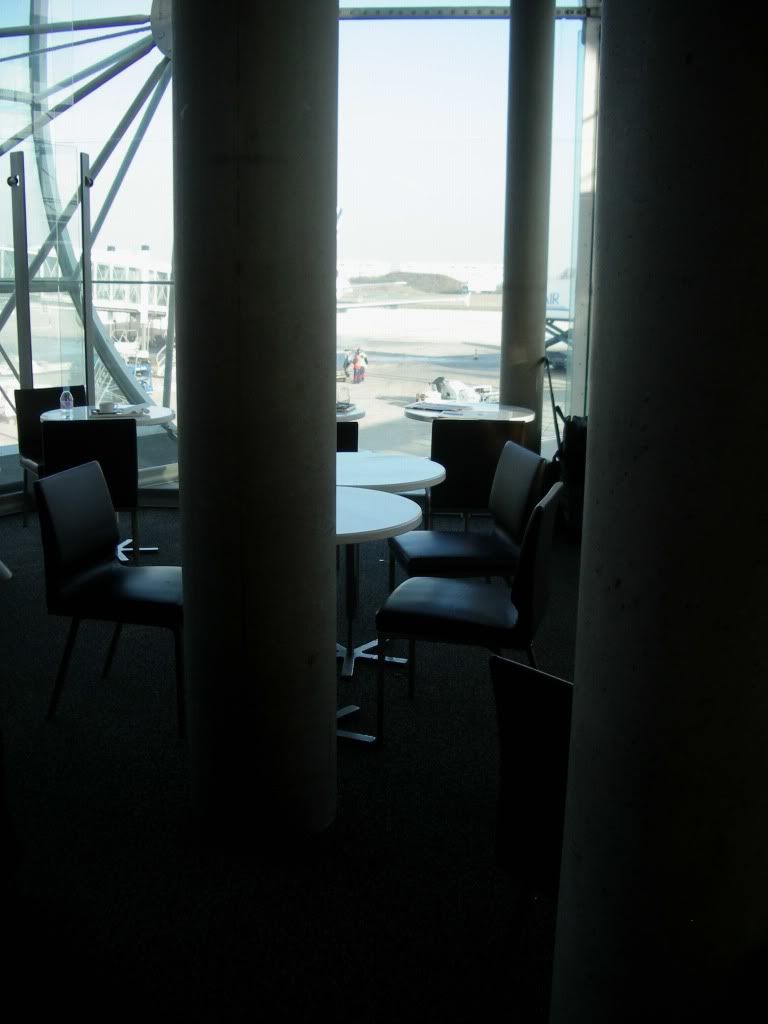 Upstairs again for a view to the big screen, a nice feature
and also the weather forecast looks like welcoming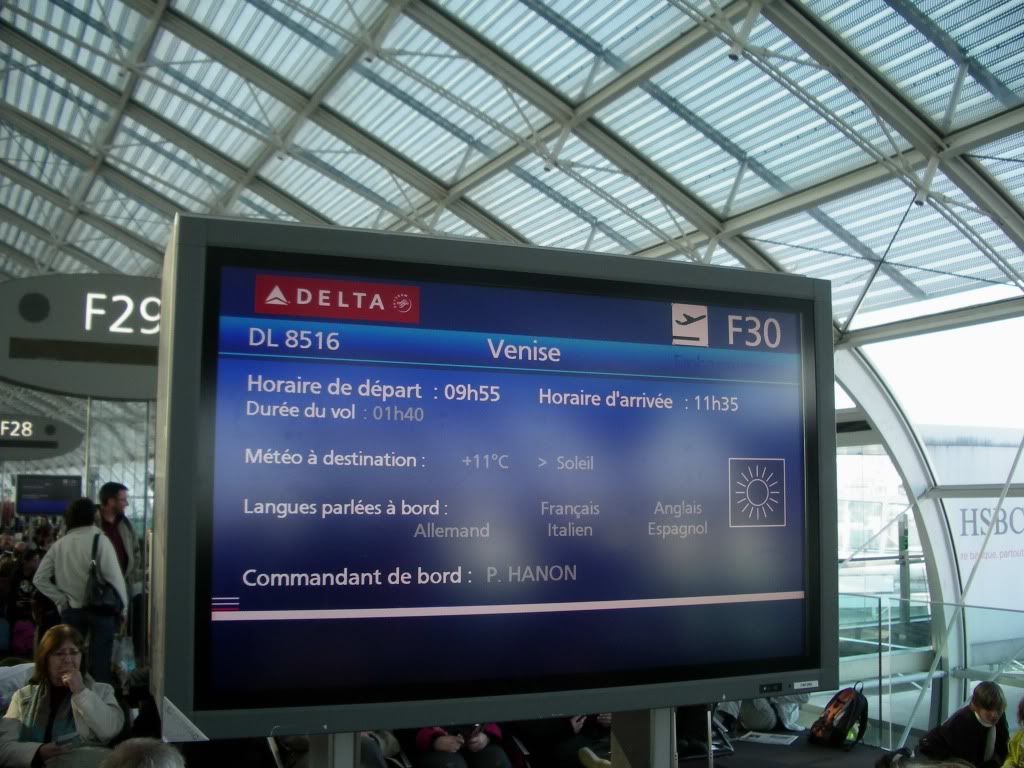 Lucky me, the plane beside my inbound gate is on the way to VCE.
It´s F-GFKM, leg no. 73 on type, the second new registration today.
Talking about that early A320 example on the previous flight, now that´s the really early example, in service with AF since 23.03.1990 and there are three older machines only in the fleet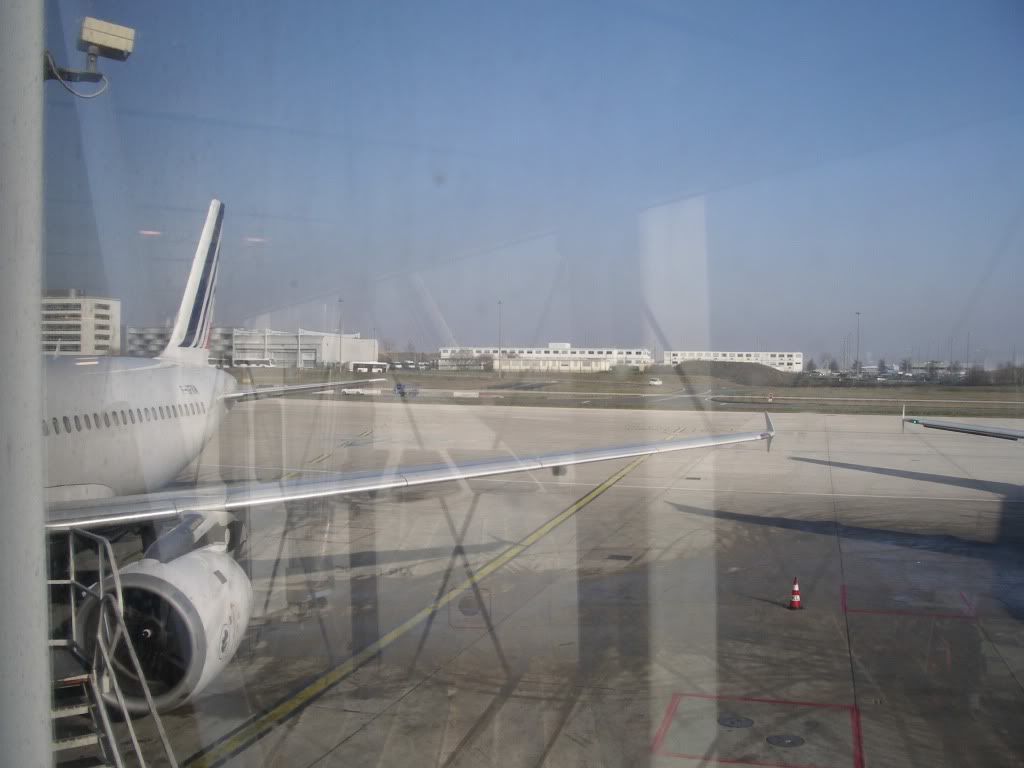 Nose close up
The cabin ceiling, the same seats here, old school dark blue fabric, clean so far.
No need to search for my seat, 29F, the last row window, this time all seats are taken, partial recline only here on this bird
And as scheduled, one more A320 for me, the load is very close to 100%, again mostly leisure travellers on the way
Cabin crew is all nice this time, three male and one female, all french.
The also french pilot with a short and nice welcome during boarding.
The temperature is still + 1 degrees, clear sky, when we leave CDG again from the 4215 meters runway 08L at 10.00 am, close to ontime, for the 1 hour 15 minutes to VCE.
Legroom is also sufficient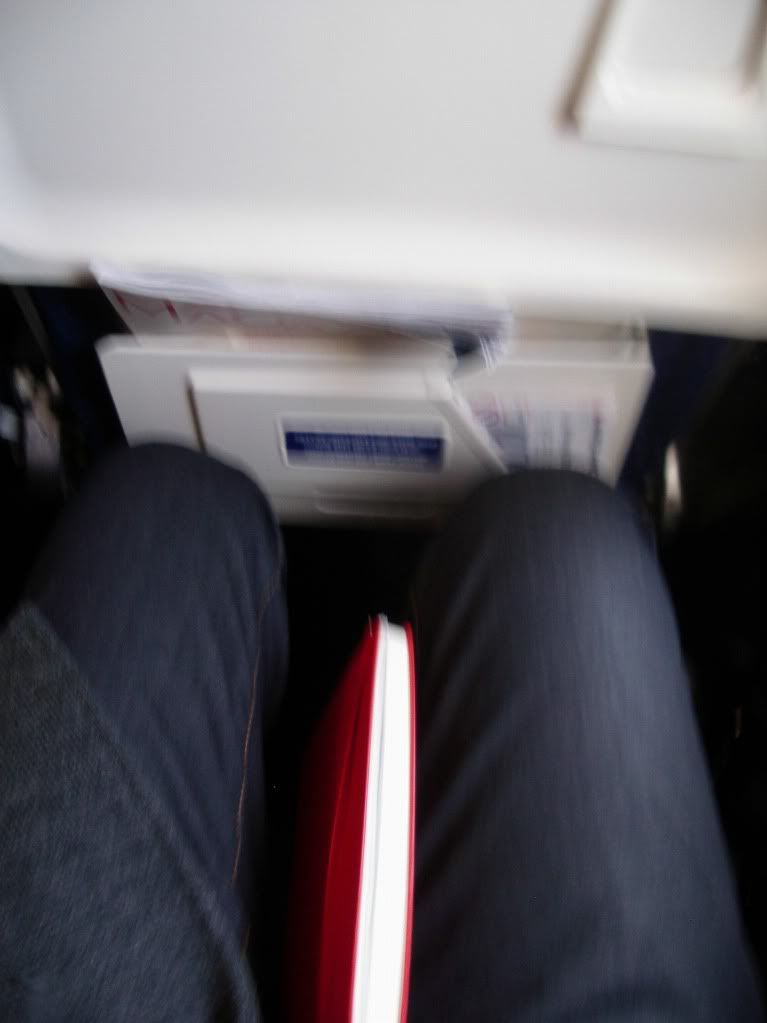 Service is cookies and coffee for free.
Cruising along the alps
Is this the adriatic sea?.
No way, it´s the "Lago di Garda", looks like very nice from above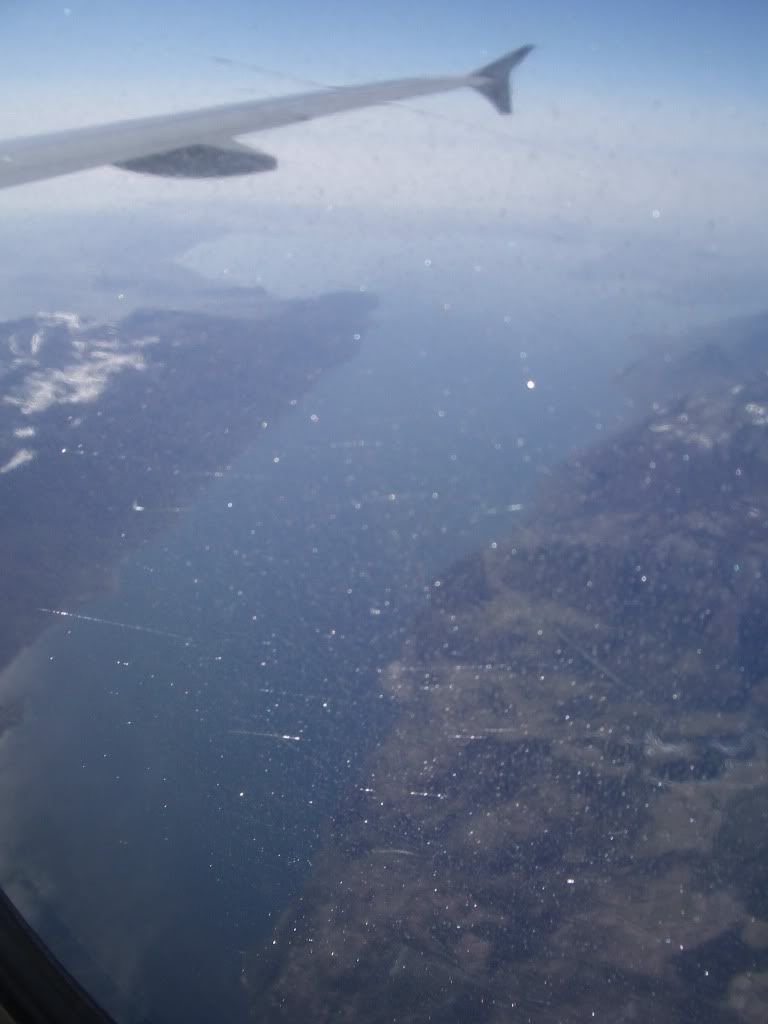 No more route or flightlevel details.
Water or land close to "Venise"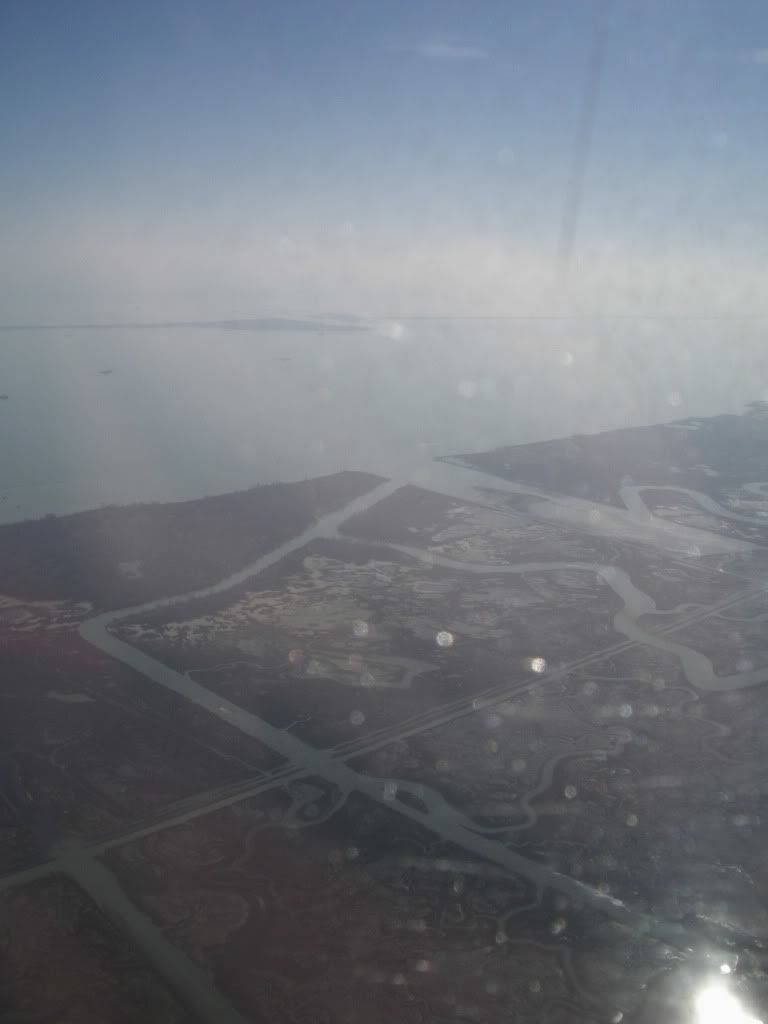 Well, it seems my seat decision is ok today
Venice, the magic city
The train tracks for "Venise Santa Lucia"
Waterways to the airport
Arrival at the 3300 meters runway 04R, the temperature is +7 degrees with sunny sky, i´ts 11.30 am, close to ontime.
Interesting visitors here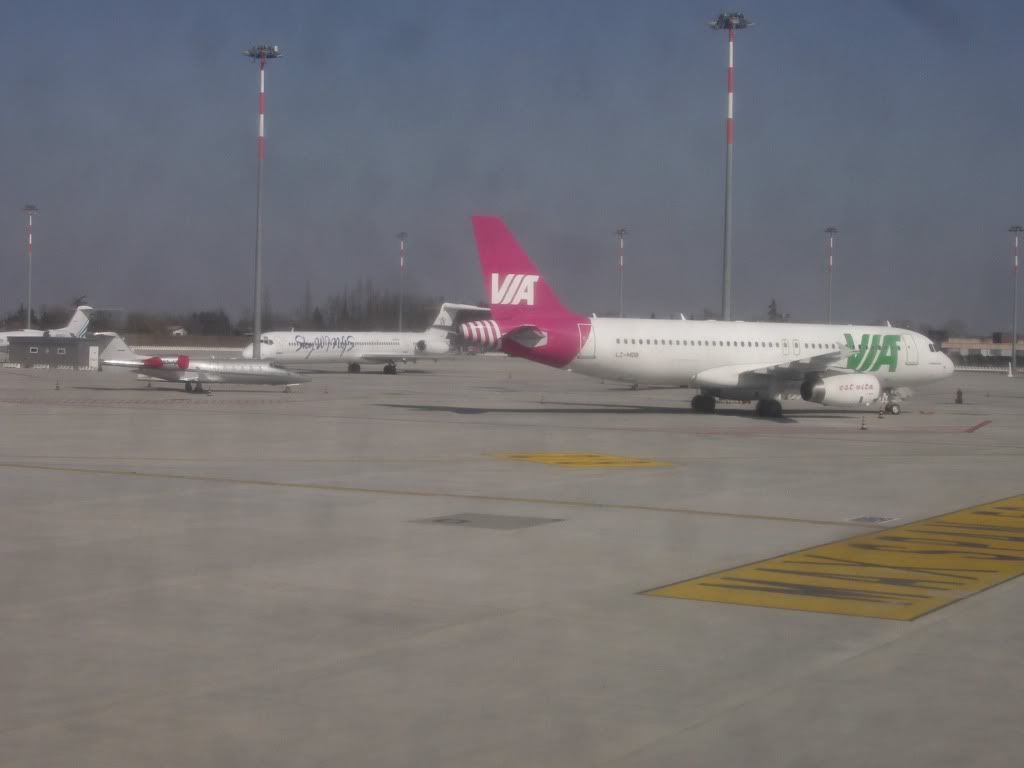 ....................