Feedback always appreciated.
I > Background:
So after a great weekend (as usual) in London, it was time to go home to Caracas. American offered a surprisingly cheap F fare via JFK and MIA ... and given that F is the only way I roll these days (I wish), I could not resist.
I am not even going to try doing A.Net searches as I am sure there have been plenty of reports on AA's prestigious trans-Atlantic F product. In any case, here is my own unique take on it.
II > Pre-Flight:
a) Before Airport:
American Airlines, Inc. (AA) is the world's fourth-largest airline in passenger miles transported, passenger fleet size, and operating revenues. American Airlines is a subsidiary of the AMR Corporation and is headquartered in Fort Worth, Texas adjacent to its largest hub at Dallas/Fort Worth International Airport. American operates an extensive international and domestic network, with scheduled flights throughout North America, Latin and South America, Europe, Asia/Pacific and the Caribbean. A founding member of the OneWorld alliance, American has been struggling of late and I want to see how it ends up with its 5 focused city policy.
American's website at
www.aa.com
is a joy to make reservations on. Crisp and clean, I was soon able to use my credit card and receive my e-ticket. What I love about the site is the ability to view and change flights and tickets ... and most importantly, chose and modify seat selections. All very cool!
b) At Airport:
American is the only foreign flag I can think of that has its own check-in mini-zone at terminal 3 at LHR for their F class passengers. Interestingly, these premium counters were relatively quiet, and an agent was quickly able to issue a boarding pass after confirming all the passport and visa requirements - always fun to show my VZ passport for entry into Venezuela and Liechtenstein for entry into U.S. (visa waiver) - and then get confused looks..
Anyways, boarding card and departure card in hand, I made it past fast track security and soon to the American Flagship lounge. The lounge is OK - nothing to write home about. The lack of dining options for a premium facility was a bit disappointing and I kept wanting more. Moreover, the lack of free internet in a F-facility was weird and I felt I should have just stuck with my usual combination of CX and JL lounges. Oh well.
45 minutes prior to departure, I made my leisurely walk to the gate which turned out to be a zoo. Thankfully, the priority lines made me skip the craziness of the boarding process that seems to increasingly be a hallmark of LHR departures.
Upon entering the 777, I was welcomed by the crew as I made it to my seat. It is here that I interestingly noted that American carriers are probably one of the few ones where the purser does not come greet F class passengers and/or take them to their seat.
As soon as I made it to my seat, a rather "blah" FA ("Mr. AA") came with a round of drinks. As I settled into the seat, the first thing you notice about American's 777 F-class product is how tired the interiors look. Perhaps, it is the rather dull lighting which makes the overall mood feel anything but premium.
As customary, while on the ground, and as I was being brought various goodies.
F load was 100% ... though a later chat confirmed that there were only 3 of us revenue paying First Class passengers.
Airport - External:
(LHR Terminal 3)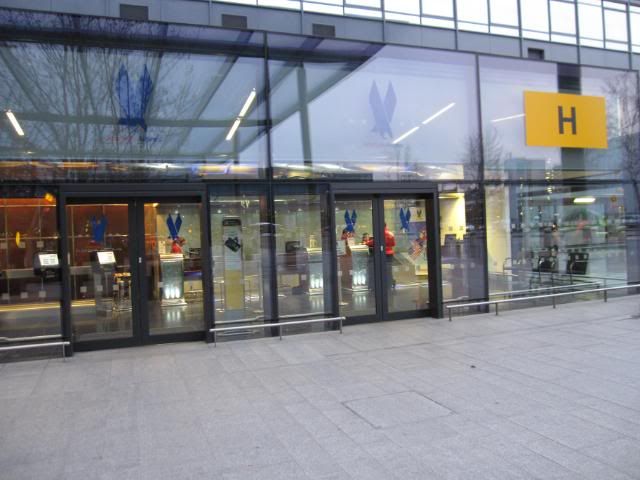 Check-in:
(First Class Check-In Area)
Airport - Internal: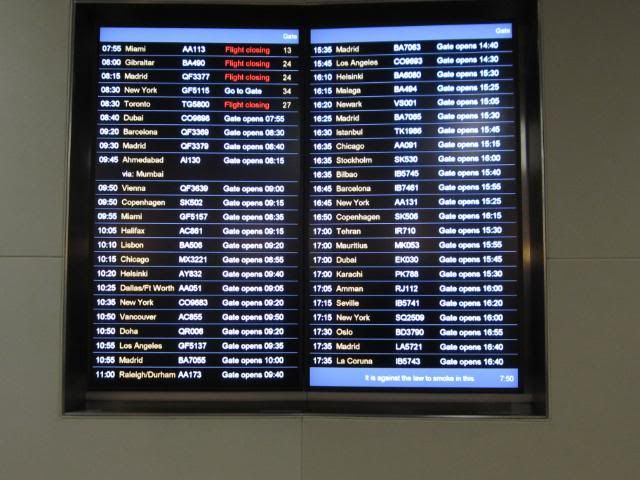 (Post Security @ LHR)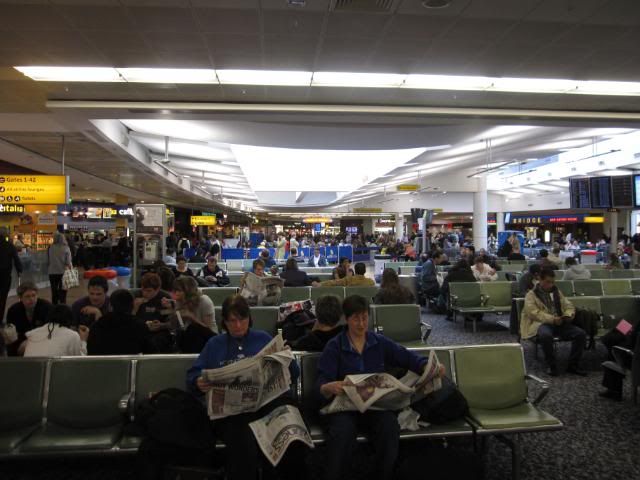 Scenes of the tarmac:
NONE
Lounge
(American Airlines Flagship Lounge)
*
(F Class Section)
*
*
*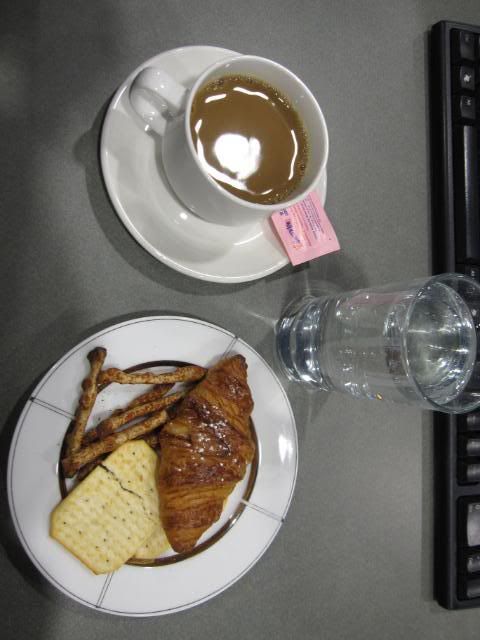 Boarding:
(Please stop the madness of LHR gates)
III> In-Flight:
a) Service Schedule + Impressions:
Prior to take-off, menus were distributed along with amenity kits. We were also given newspapers and Bose headsets. There was a champagne/OJ/water service as well. After take-off, cheap hot towels - where is the product differentiation from JCL here?, and a meal service. 90 minutes prior to landing, another meal service.
b) Aircraft + Seats:
As I mentioned, American's 772's looked tired. This was exacerbated with the lighting that made the interiors look far older than they should. Perhaps because I had flown a flight on 9W a few days earlier, these looked even worse than usual. Overall, not the best ambience for a flagship First class product.
On to the seat, American has an unique product. It is a lie-flat seat that swirls into position facing the window. While it does not have the privacy that Suites afford you, I personally am a big fan of this layout - especially as one can just switch off the rest of the cabin and just look out of the window. There are lots of little spaces here and there to store stuff - though, the lack of normal power point is a huge letdown. Come on American - the days of EmPower are SOO over.
Even though dated and showing age, the seat is actually very comfortable in all positions - including when being totally flat. It does not have the "bumps" and "folds" that have led to the downfall of many seats. Furthermore, the seat looks great in several "hang out" positions as well. Overall, not too shabby.
Another disappointing thing was the bathroom. Adding to the overall dingy lighting was a complete lack of amenities. Is this the best American can on her flagship intercontinental First?
Aircraft:
(772 - my aircraft taken much later on @ JFK)
Views from Aircraft:
(A Mini AA-reunion)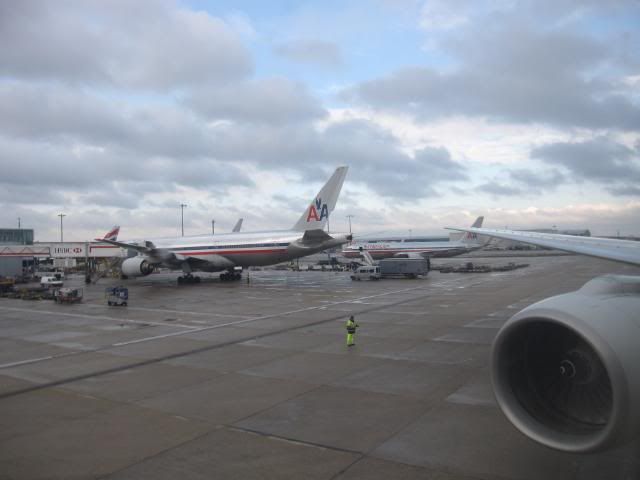 *
(More AA)
*
(And lots of AC)
*
(I just love BD's livery)
*
(380's in different livery - going to be increasingly common)
*
(But for me, still the Queen of the Skies)
General Seat Views + Seat Legroom
(SeAAt)
*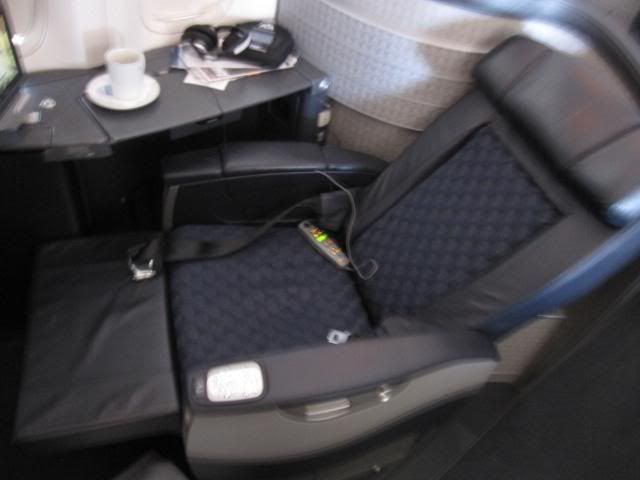 *
(Perfect View)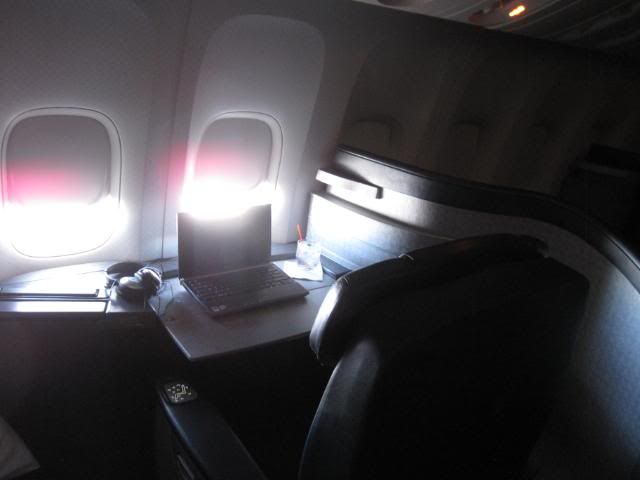 *
(Around the seat)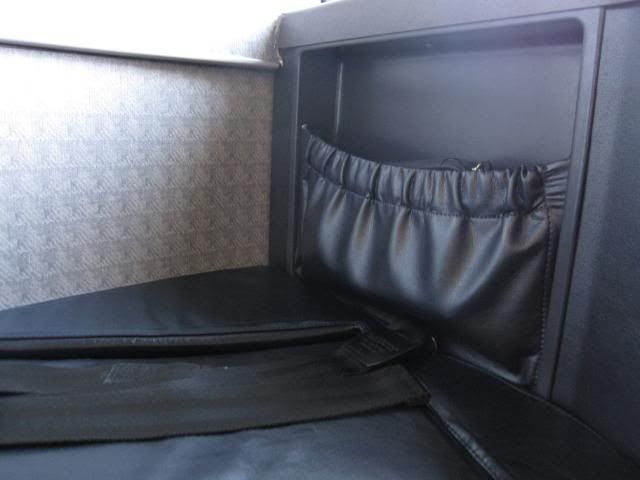 *
*
(Seat Controls)
*
(Legroom: My customary "brown shoe" shot)
Seat Recline + Angle View: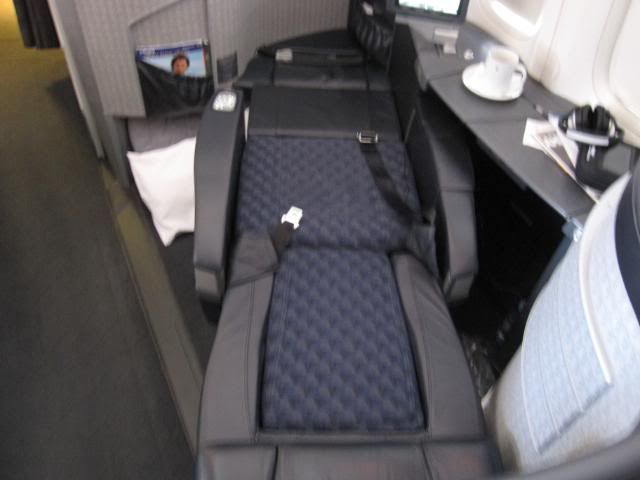 *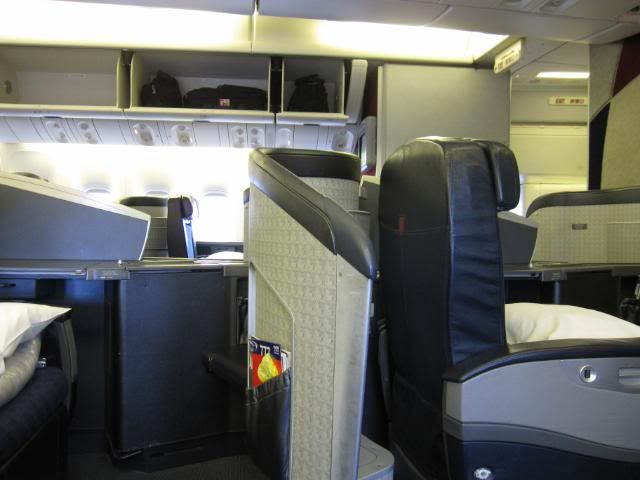 Cabin:
*
*
(Blanket ++)
(Bathroom: Showing her age + Where are the amenities?)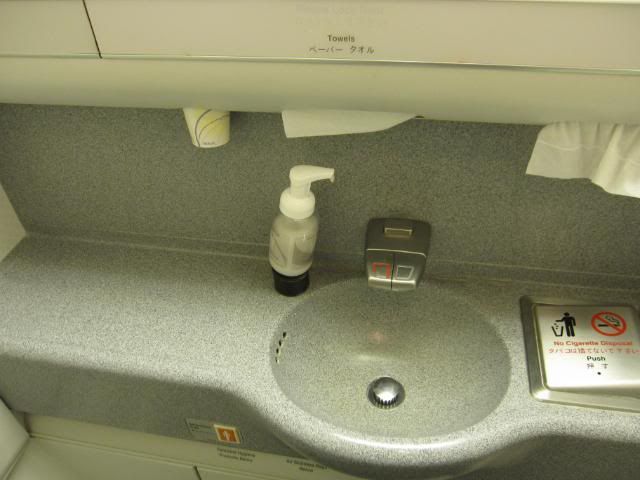 c) Meal + Beverage:
Possibly, the biggest disappointment of my American First class experience was in the "Meal & Beverage" department. As I have said in several reports, First class should be significantly above Business. In the case of AA, not only was the meals not befitting First, it should not even be considered a meal worthy of being loaded in JCL.
Service got off the ground on the ground with a glass of Nicholas Feuillaute ... nothing spectacular, but would do OK I guess. After take-off, I ordered a gin and tonic and waited for my meal. Choices for brunch included an Asian noodle, crepe, toast, and omelet. Seriously, that's it? Anyways, I chose the Asian noodle ... which was a bizarre and not really tasty. Moreover, served after a fruit salad, it just seemed wrong. Besides, the whole thing ... along with the rather stale croissant fell all over the place.
I had a few G&T's and fell asleep midway through the flight ... 90 minutes prior to landing, got a café and then had another rushed scallops meal served with warm nuts ... and another fruit salad. The whole two rounds of fruit salad just kept me wanting a real meal. Thankfully, AA's signature cookie was there at the end to neutralize my tongue after an overall extremely disappointing culinary affair.
(Menu)
*
*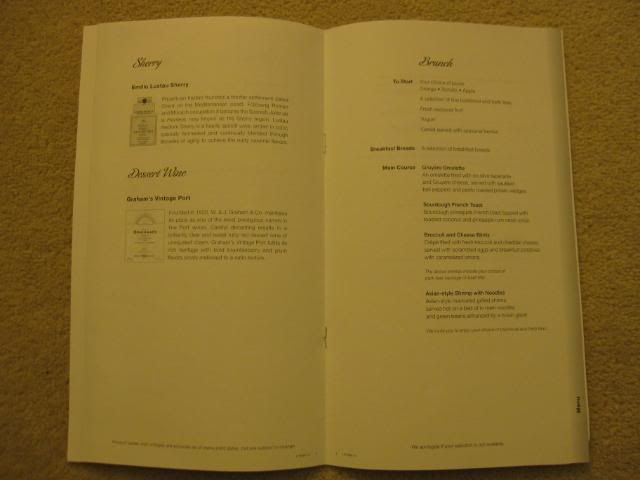 *
*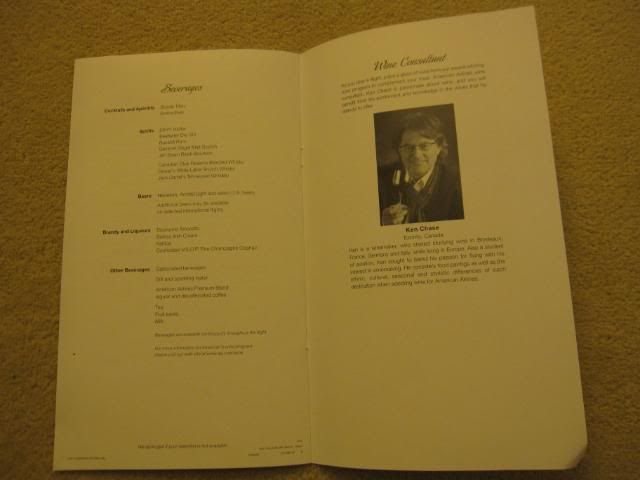 *
(On Ground)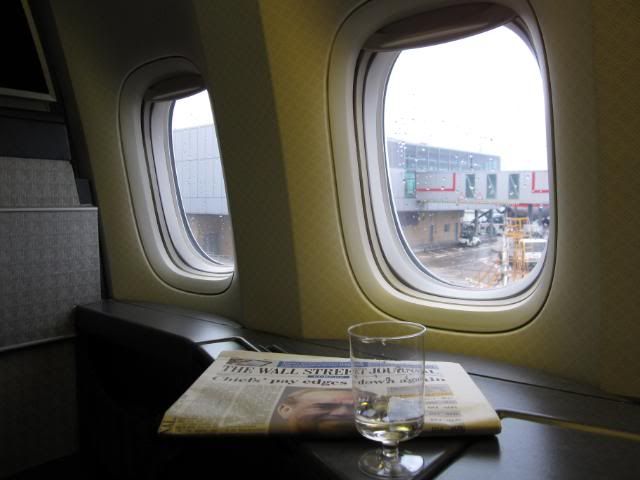 *
(1st Meal Service)
*
(Fruit Salad, Soggy Croissant, Yoghurt)
*
(Followed by some noodles ...)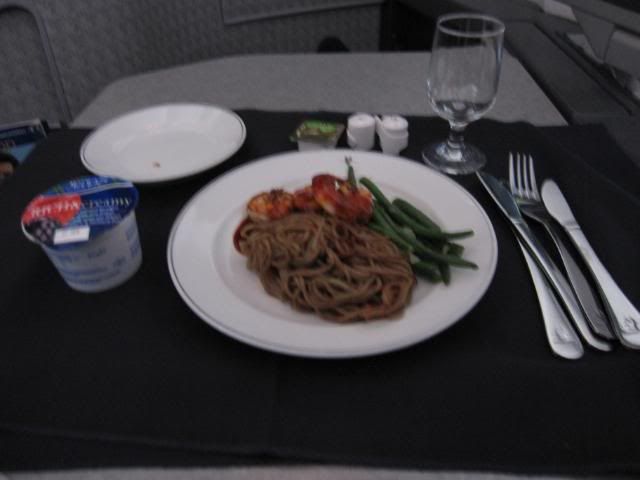 *
(Coffee on board)
*
(2nd Meal Service)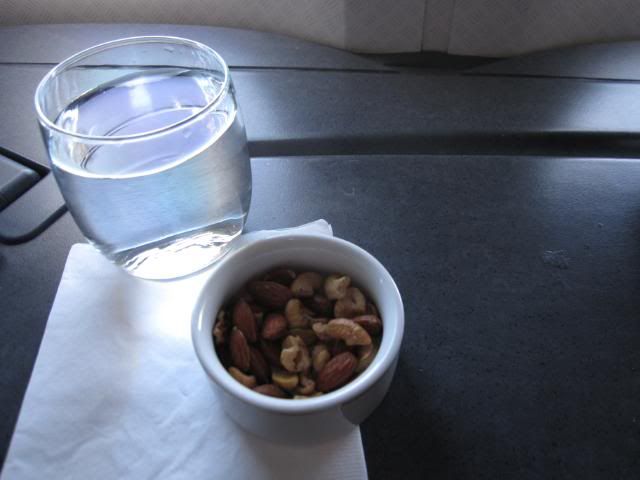 *
(This time, measly scallops as main)
*
(Followed by surprise ... another fruit salad and a cookie ... perfect combo ... roll eyes)
d) Inflight Entertainment:
Americans IFE also was not up to the mark. It is a generation behind its competitors and I think it is time it thinks of updating it. I did appreciate the Bose headsets ... but the choices in the content and the quality of the screen left much to be desired. However, I must say that the content were at least more up to date and refreshed than I have seen on other U.S. carriers.
I ended up watching "Sherlock Holmes" ... though, in hindsight, wish I watched it on a good screen rather than AA's tiny monitors.
(Controls + Headset)
*
(IFE System)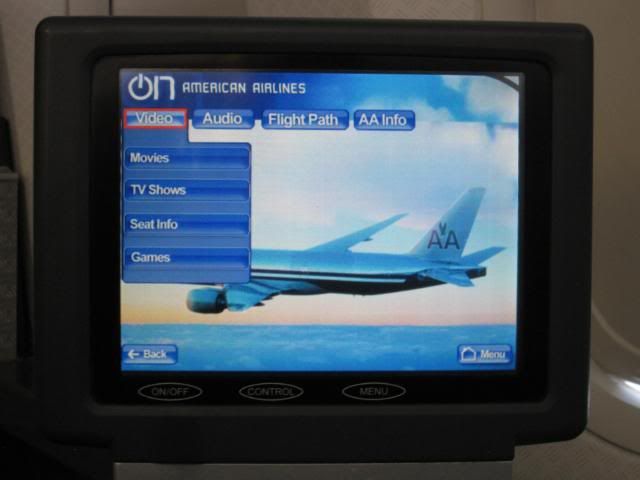 *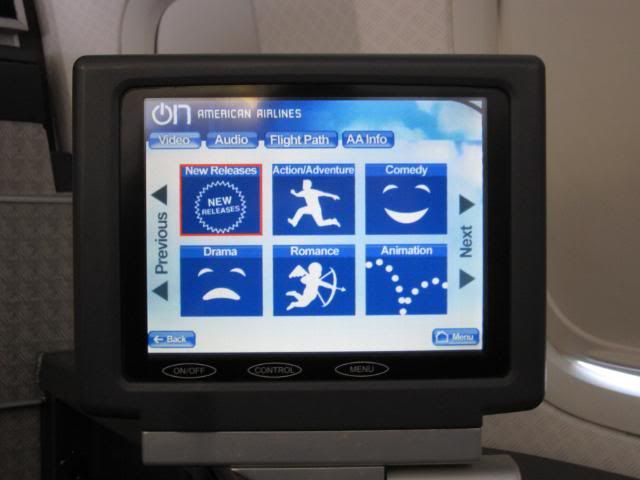 *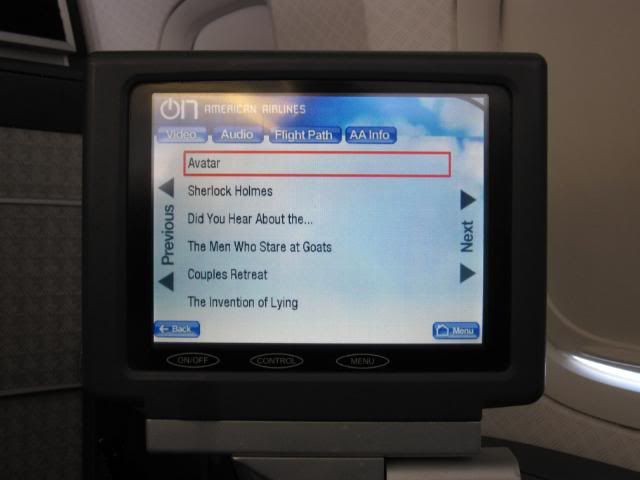 *
*
("In-flight magazines", Boarding Passes, etc.)
e) Crew:
I wish I could write a lot about the crew on American's flight. While there were no real nasty ones that stood out like the Korean purser on my United flight a few days earlier, the crew as a whole was utterly unmemorable. Perhaps because they had no pro-active desire to be there for the passenger, or perhaps because they never really did anything beyond the basics, I don't know ... but overall the crew just seemed to be in auto-pilot going through motions.
IV> Post-Flight:
Landing at JFK was on time ... but immigration took absolutely forever, and reminded me why I find JFK to be one of the ONLY TWO U.S. gateways I absolutely detest for international arrivals ... MIA is the other. Though to be fair, the quality of the facility at MIA has improvement significantly over the years. Now only if they can replace half the service professionals ... anyways, I digress.
(JFK Scenes - wish I could fly these!)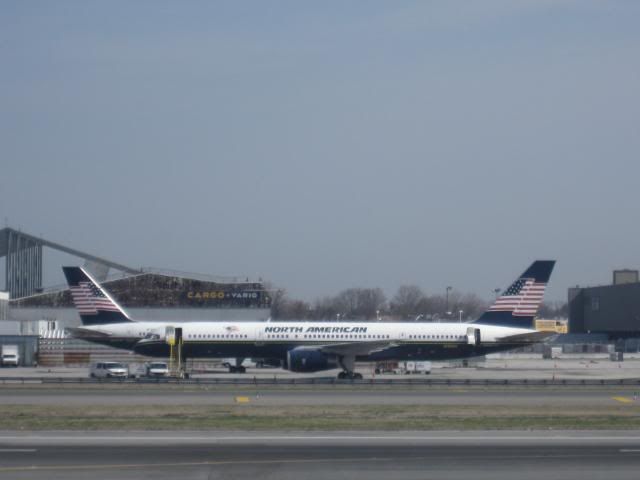 V> Impressions + Scores:
I have always been a fond of American's service on Latin America and domestic U.S. routes. Generally, I also enjoy the service offered by their AAdvantage program whose customer service usually is a notch above United. However, on this flight, I was thoroughly disappointed at the product offering. While the seat itself is good and innovative (when launched), the entire cabin felt tired and jaded. The meal service, the crew, and IFE all felt uninspired. Perhaps, it was symbolic of an overall airline that seems increasingly to lose its place in the world. This review reads quite "Blah" ... and the reason was because the experience was just that. "BLAH".
LHR - JFK is American's flagship route. It really needs to do much better than what I witnessed. I did not expect a Thai or Jet Airways like service complete with JD-Blue, pajamas, escorted service, popcorns, etc., but there is significant room for improvement on almost all fronts. Can't give a thumb up or down on this one.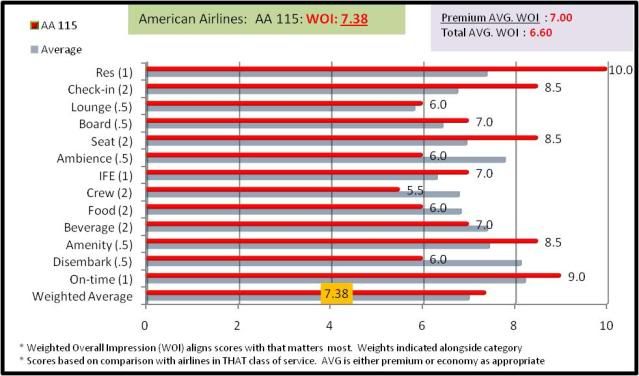 VI> Other Trip Reports:
PREMIUM:
9.27: JET AIRWAYS **FIRST** (110): LHR-BOM: 10/2010
9.27: THAI AIRWAYS **FIRST** (108): BKK-LHR: 07/2010
8.66:
Brussels Airlines (93): FIH-BRU: 01/2010
8.64:
Turkish Airlines (59): JFK-IST: 11/2008
8.63:
Jet Airways (88): JFK-BRU: 10/2009
8.61:
Air Canada (49): YYZ-SCL: 06/2008
8.54:
Turkish Airlines (77): GRU-DKR-IST: 04/2009
8.36:
Kingfisher (98): BOM-HKG: 01/2010
8.30:
Jet Airways (74): KWI-BOM: 04/2009
8.23:
United Airlines (72): SFO-SYD: 03/2009
8.11:
Aeroflot (33): MOW-DEL: 09/2007
8.05:
Air India (80): CCU-JFK: 06/2009
8.04:
Korean Air (40): NRT-ICN: 10/2007
8.02:
Delta Airlines (24): JFK-CDG: 08/2007
7.82: UNITED AIRLINES **FIRST** (110): SFO-ICN: 10/2010
7.82:
Singapore Airlines (06): EWR-SIN: 09/2006
7.66:
Sri Lankan (104): DEL-CMB: 07/2010
7.64:
Royal Jordanian (91): AMM-YUL: 12/2009
7.61:
China Southern (103): LOS-DXB: 04/2010
7.57:
Pakistan Airlines (102): ORD-BCN: 06/2010
7.46:
LAN (55): YYZ-JFK: 09/2008
7.38: AMERICAN AIRLINES ** FIRST ** (112): LHR-JFK: 10/2010
7.38: CATHAY PACIFIC **FIRST** (109): HKG-LHR: 10/2010
7.25:
Iran Air (88): BOM-IKA: 12/2009
7.23:
Virgin Atlantic (81): BOS-LHR: 07/2009
7.14:
Swiss (52): SCL-GRU: 06/2008
7.11:
Aer Lingus (105): MAD-IAD: 05/2010
7.11:
Austrian (79): VIE-JFK: 06/2009
7.07:
Privatair (84): BOM-FRA: 08/2009
7.02:
Qatar (68): DOH-JFK: 01/2009
6.96:
Etihad (61): JFK-AUH: 12/2008
6.93:
Delta Airlines (18): SEA-JFK: 11/2006
6.84:
ConViasa (65): CCS-DAM: 01/2009
6.82:
Air Burkina (106): BKO-OUA: 06/2010
6.81:
Air Canada (17): ICN-YYZ: 10/2006
6.70:
KLM (32): EBB-AMS: 08/2007
6.52:
Emirates (99): LHR-DXB: 02/2010
6.39:
South African (97): EZE-JNB: 01/2010
6.36:
Privatair (60): MUC-BOS: 12/2008
6.29:
TAM Brasil (96): POA-EZE: 02/2010
6.25:
Korean Air (45): NAN-ICN: 10/2007
6.21:
Iberia (87): BOS-MAD: 10/2009
6.11:
A SKY (107): OUA-COO: 06/2010
6.11:
TAP Portugal (53): GRU-OPO: 06/2008
6.00:
Gulf Air (75): BOM-BAH: 04/2009
5.88:
African Express (89): DXB-NBO: 11/2009
5.75:
Singapore Airlines (16): CCU-SIN: 10/2006
5.64:
SATA Azores (101): BOS-PDL: 04/2010
5.64:
NorthWest (46): ICN-NRT-SEA: 10/2007
5.54:
Ethiopian Airlines (95): ADD-BOM: 01/2010
5.46:
Icelandair (83): KEF-BOS: 08/2009
5.39:
LOT (54): WAW-JFK: 06/2008
5.21:
Egypt Air (73): CAI-IST: 02/2009
5.07:
TACA (66): JFK-SAP: 01/2009
4.42:
Air France: CDG-JNB (25): 08/2007
ECONOMY: Long + Medium:
9.26:
Air India (48): JFK-DEL: 02/2008
7.38:
Avianca (01): BOG-LIM: 07/2006
7.07:
Sri Lankan (62): KWI-CMB: 12/2008
7.00:
LAN (94): IPC-SCL: 01/2010
6.41:
Avianca (78): JFK-BOG: 05/2009
6.41:
American Airlines (58): LHR-BOS: 11/2008
6.39:
Condor (85): SEZ-FRA: 09/2009
6.26:
Jet Blue (21): CUN-JFK: 02/2007
6.06:
Air Canada (04): YYZ-YVR: 09/2006
5.89:
USA 3000 (19): PUJ-BDL: 01/2007
5.85:
Spanair (69): MAD-LPA: 02/2009
5.79:
Air New Zealand (42): RAR-NAN: 10/2007
5.52:
Aerolineas (86): USH-AEP: 10/2009
5.46:
TAP Air Portugal (23): OSL-LIS: 05/2007
5.19:
Air Europa (70): LPA-MAD: 02/2009
5.16:
Iberia (71): MAD-BOS: 02/2009
5.11:
Air China (82): FRA-PEK: 08/2009
ECONOMY: Short
8.56:
Paramount Airways (38): BLR-MAA: 09/2007
8.56:
Kingfisher (64): HYD-CCU: 12/2008
8.24:
Kingfisher (14): IXA-GAU: 10/2006
7.87:
Indian (34): BOM-MAA: 09/2007
7.72:
Alliance Air (13): CCU-IXA: 10/2006
7.57:
Indian Airlines (10): DEL-CCU: 09/2006
7.23:
West Jet (03): YYC-YVR: 09/2006
7.15:
JetLite (37): BOM-GOI: 09/2007
6.98:
Air Koryo (100): PEK-FNJ: 04/2010
6.70:
Spice Jet (09): CCU-DEL: 09/2006
6.63:
Air Fiji (44): NAN-SUV: 10/2007
6.63:
Jazeera (67): DAM-KWI: 01/2009
6.58:
Air Tran (02): EWR-MDW: 08/2006
6.48:
Air India Express (63): CMB-MAA: 12/2008
6.44:
CO Micronesia (39): ROR-YAP: 10/2007
6.41:
Pacific Sun (43): NAN-SUV: 10/2007
6.37:
Skybus (47): SWF-CMH: 02/2008
6.33:
Kenya Airways (29): NBO-BJM: 08/2007
6.33:
Sky Europe (56): LTN-BTS: 10/2008
6.31:
Indigo (15): GAU-CCU: 10/2006
6.31:
easyJet (57): BUD-LTN: 11/2008
6.22:
Air Link Swazi (28): MTS-JNB: 08/2007
6.22:
Air India (36): HYD-BOM: 09/2007
6.13:
Adam Air (07): SIN-CGK: 09/2006
6.13:
Air Rarotonga (41): RAR-AIT: 10/2007
6.00:
Transairways (27): INH-MPM: 08/2007
5.95:
Air Canada (05): ALB-YYZ: 09/2006
5.85:
SAS Norge (22): OSL-AES: 05/2007
5.81:
LAM Mozambique (26): JNB-MPM: 08/2007
5.69:
Air Deccan (12): IXZ-CCU: 10/2006
5.67:
Rwanda Air Exp (30): KGL-NBO: 08/2007
5.37:
Felix Airways (92): SCT-SAH: 12/2009
5.11:
Aero Republica (76): BOG-CCS: 04/2009
5.07:
Go Air (35): MAA-HYD: 09/2007
5.00:
Sky Airline (51): IQQ-SCL: 06/2008
4.96:
Valuair (08): CGK-SIN: 09/2006
4.78:
Air Comet Chile (50): SCL-IQQ: 06/2008
4.74:
Fly 540 (31): MYD-LAU: 08/2007
4.33:
Viva Aerobus (20): ELP-MTY: 02/2007
4.11:
Air Sahara (11): CCU-BOM: 09/2006
(Note on Codes: Y – Economy, J – Business, F – First :: I/D – International/Domestic :: SR/MR/LR – Short/Medium/Long Haul)
(Note on Date: Dates are modified to be +/- 3 days from actual flight date to not reveal actual flight pattern)
VII> Other Pictures:
(Amenity Kit)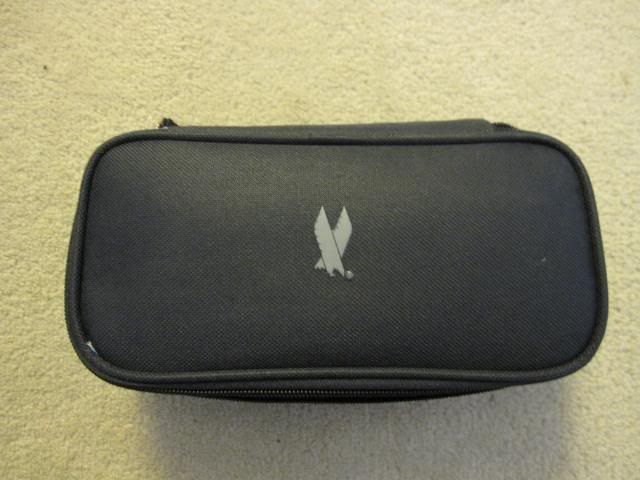 *