Croatian Airlines, LHR-ZAG,PUY-ZAD-ZAG-LHR
In an effort to maintain my "fly at least once every calendar month" goal, around mid-March I found myself urgently looking for some interesting flying to do. I was hoping to get a Star Alliance flight out of LHR, ideally one where I'd get lounge access (so limited to Lufthansa Miles and More airlines, LH, LO, OS, LX, SN and OU). After some hunting, I found some great flights (and prices) going on a long weekend with Croatian Airlines routing LHR-ZAG, PUY-ZAD-ZAG-LHR. This was a slight ambitious itinerary for just 3 nights away, but I thought I'd be interesting. I'd been to Zagreb before, so scheduled one evening and morning for Zagreb, then 2 nights (really, just one full day) in Pula. In retrospect, I should have stayed an extra day, but there we go.
After a nice lunch with a friend in London, I caught the tube down to Heathrow Terminal 1. I was only travelling with hand baggage, but when to the Business Class desk to get a boarding pass and ask about the lounge (I had been unable to confirm before the flight if I was given lounge access with OU – the Miles and More website implied yes, but there was nothing definitive). The guy on the desk was pretty clueless, saying "um, yes, I think you have access". I passed though the (deserted) security area, and down the endless corridors to the bmi Great British Lounge. The friendly guy on the door started scanning my boarding pass before apologizing saying that I couldn't come in as OU are only "part time" Star Alliance members. I think the correct terminology is a "Star Alliance Regional Member" or something. Either way, no lounge. I was now faced with a 2 hour wait….what delights did Terminal 1 hold….actually it's quite a nice place. Having come back from Paris just 2 days earlier, (and paying around Euro 9 for a pint), I as delight to find a bar with tarmac views with pints for less than £4…not bad, nearly a bargain! So I spent an hour sipping on my beer, before picking up a lovely hot sandwich from Pret. I'd rather have been in the lounge, but credit to BAA, T1 is quite nice (although lacking many windows).
Around 4pm I saw the inbound aircraft pull onto stand from Zagreb. I started to saunter over to the gate, where most people had already taken seats. I grabbed a copy of the Daily Mail, and took a seat near the gate.
March 2011
London Heathrow (LHR) – Zagreb (ZAG)
Scheduled: 1650-2005 (2h15m)
Actual: 1658-1952 (1h54m)
Croatia Airlines OU 493
Airbus A320 (9A-CTG)
Somehow I managed to get the second person down the airbridge when they announced boarding. I'm still surprised that cabin crew in most countries aren't obliged to check passengers' boarding cards when entering the plane, like it is the UK.
My seat was the far corner of the plane – leg room was adequate, and the window nearly smear free. The cabin seemed clean and the crew smiley. I was hoping that as the flight wasn't full that I'd end up with three seats to myself, but at the last moment a Croatian guy with a leather jacket, sunglass, and blaring ipod took the aisle seat……hmmm, not ideal, but at leas the middle seat was still free.
There was a short taxi to the runway where we ended up taking off eight minutes late.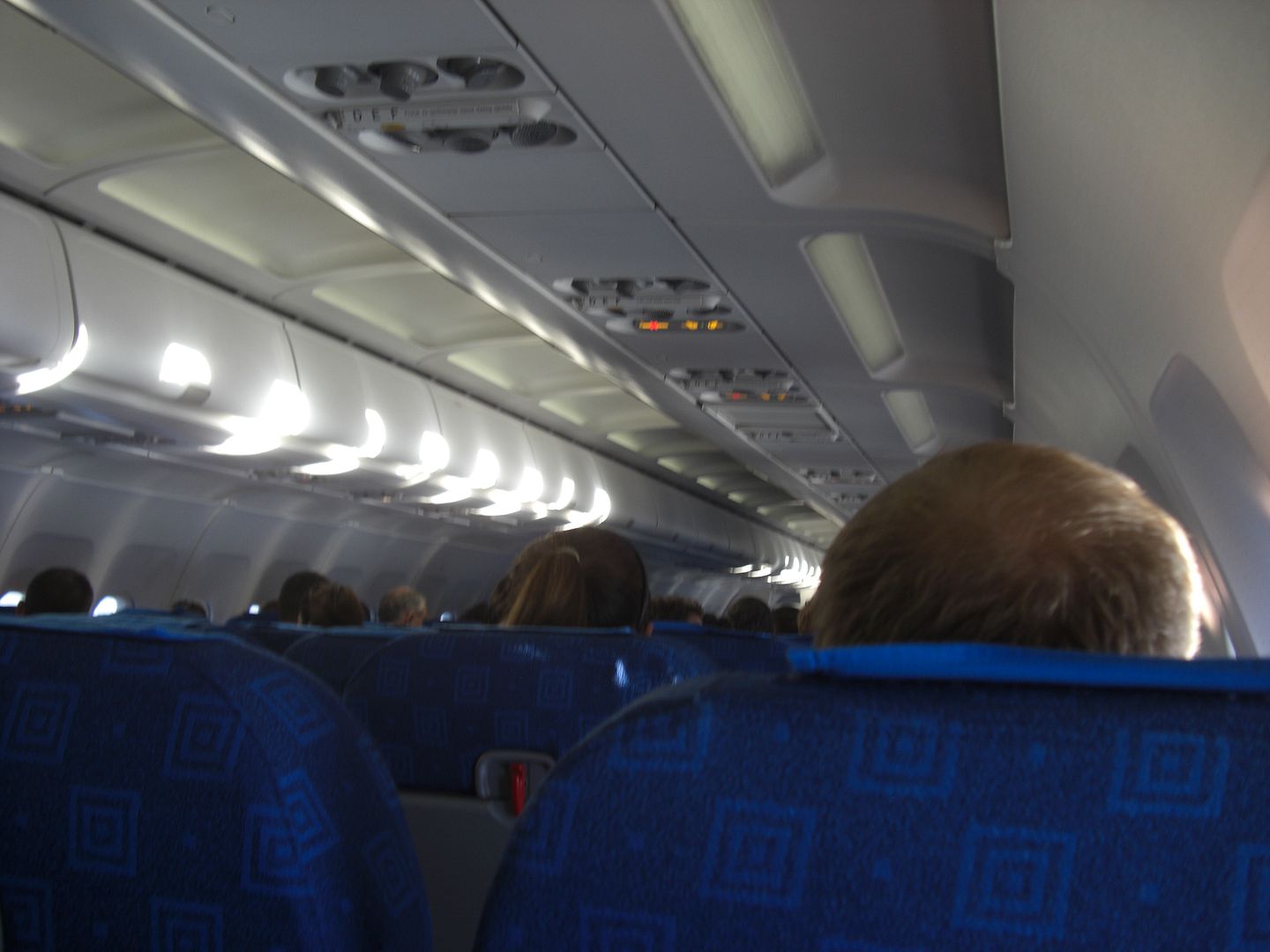 It didn't take long for the in-flight service to begin. My Expedia confirmation said that a hot meal would be served, which I though was highly improbable. It's been a good decade or so since I've had a proper meal served on a 2 hour economy class flight in Europe. You can imagine my surprise when the trolley to back to the back and I was handed this:
There was a nicely presented chicken roll with pasta in tomato sauce, together with a cream cheese salad, a cake, bread and butter, and a traditional Croatian paprenjak biscuit. Wonderful! Together with a Croatian beer, and a glass of water, this was a pretty good meal. Thumbs up to OU!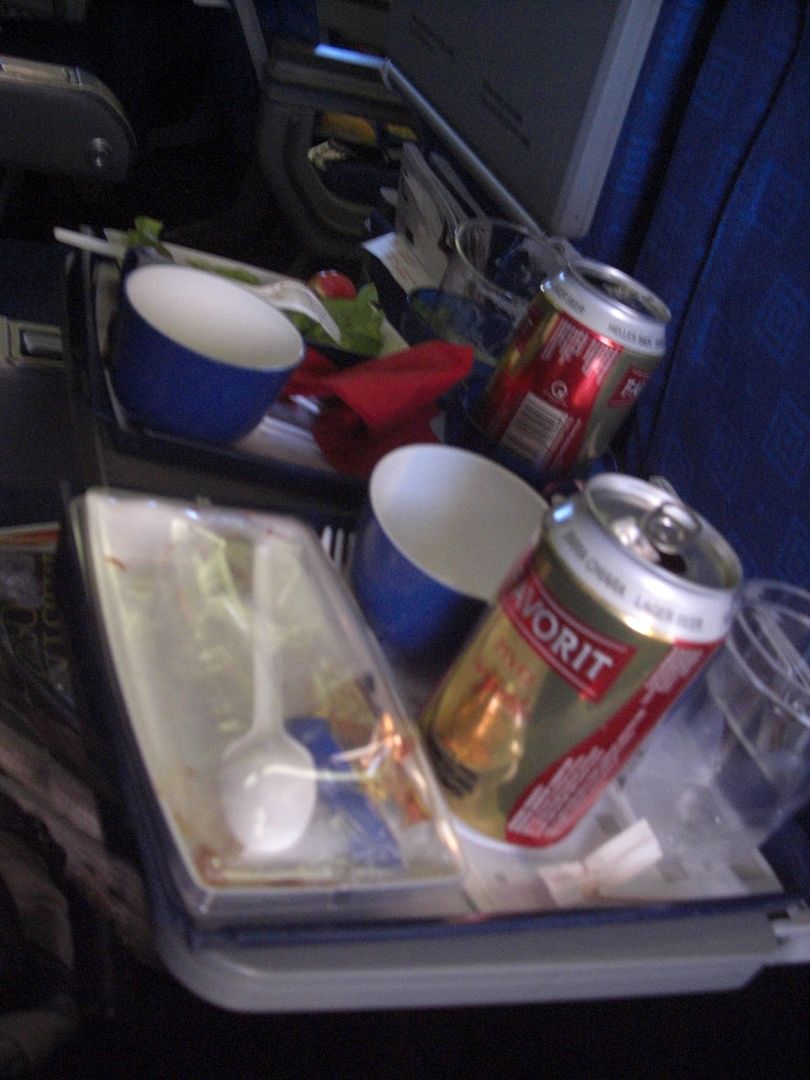 Not long after the trays were collected, the w*****r in the row in front (who had three seats to himself), without warming, reclined his seat full. I was reading the paper at that moment, so basically had it flung into my face. I always try and refrain from reclining the seat (unless on overnight flights), or else if I really want to recline, ask before I recline. I (not terribly subtly) proceeded to shuffle my paper quite violently, and crossed my legs, knocking his seat pretty hard. He turned around and asked if there was a problem. I said that there wasn't much leg room in the back row, and could he put his seat up. He said he wanted to recline. I said, how about moving to the empty middle seat, then you're not reclining onto anyone (when I have 3 seats to myself, I nearly always sit in the middle – more space!). He stayed where he was and said "how about I only recline half way?". What a douche (a nice American expression!). what made it even more annoying was that he was sat in the window seat, but had his window shade down…..grrrr.
We touched down a little ahead of schedule. I only had hand luggage, and was hoping to make it onto the 8pm bus to the city. Unfortunately, after a bizarrely long taxi, we were herded into buses, which then sat on the tarmac for a good few minutes, despite all pax being safely onboard, by which time it was well past 8pm. Immigration was quick, and after a bit of a wait, I left on the next Croatia Airlines bus for the city.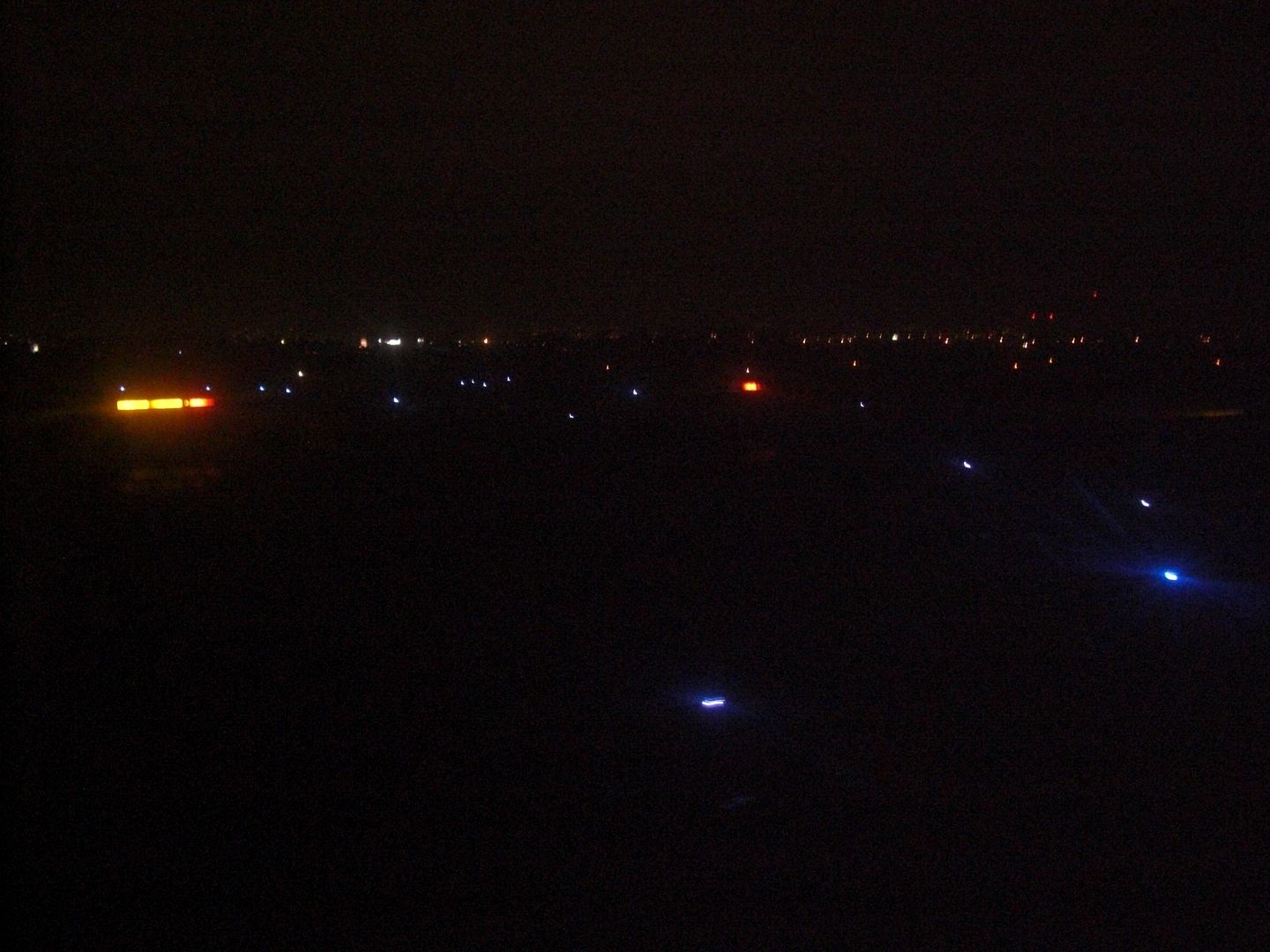 A few photos of Zagreb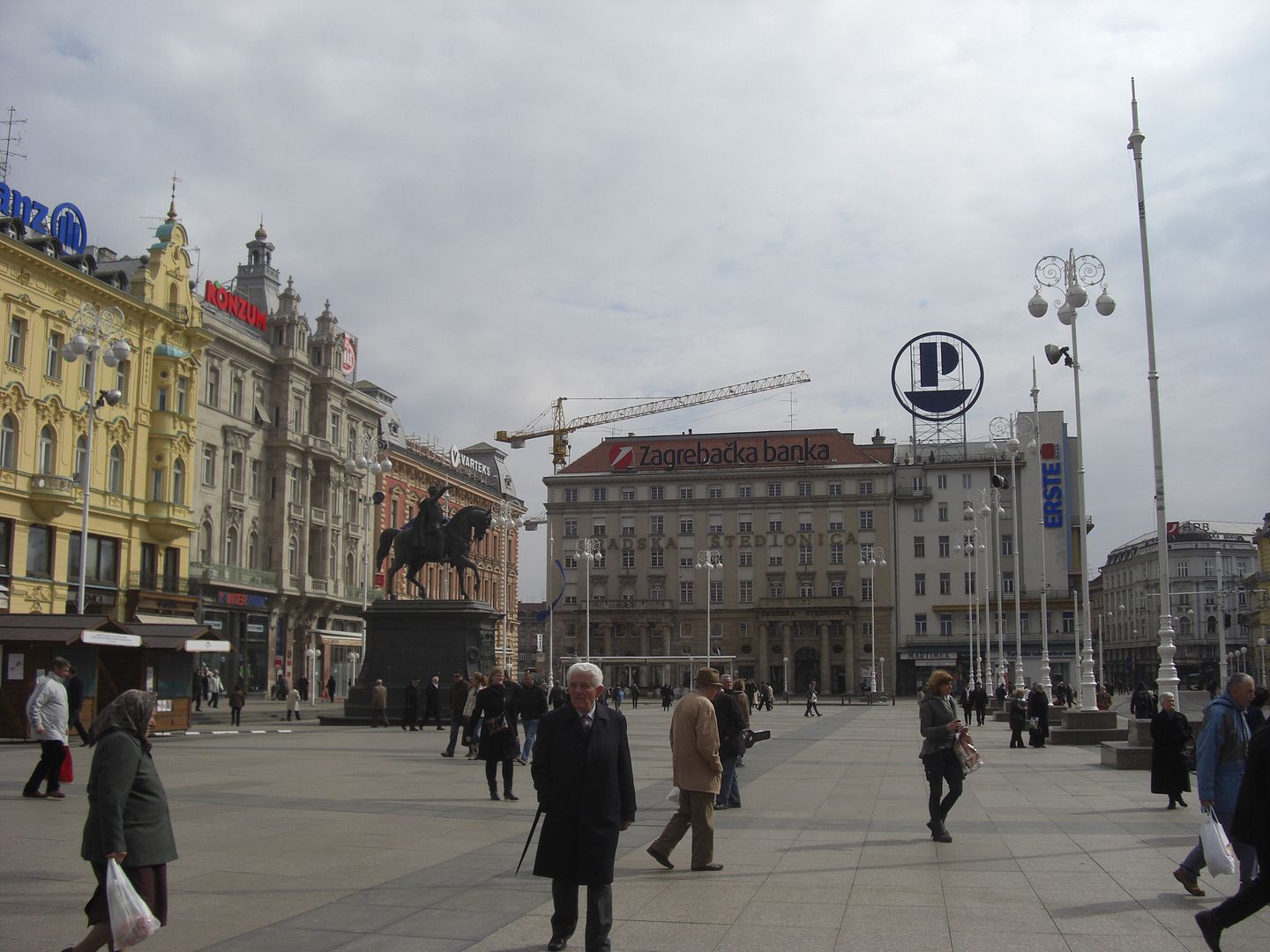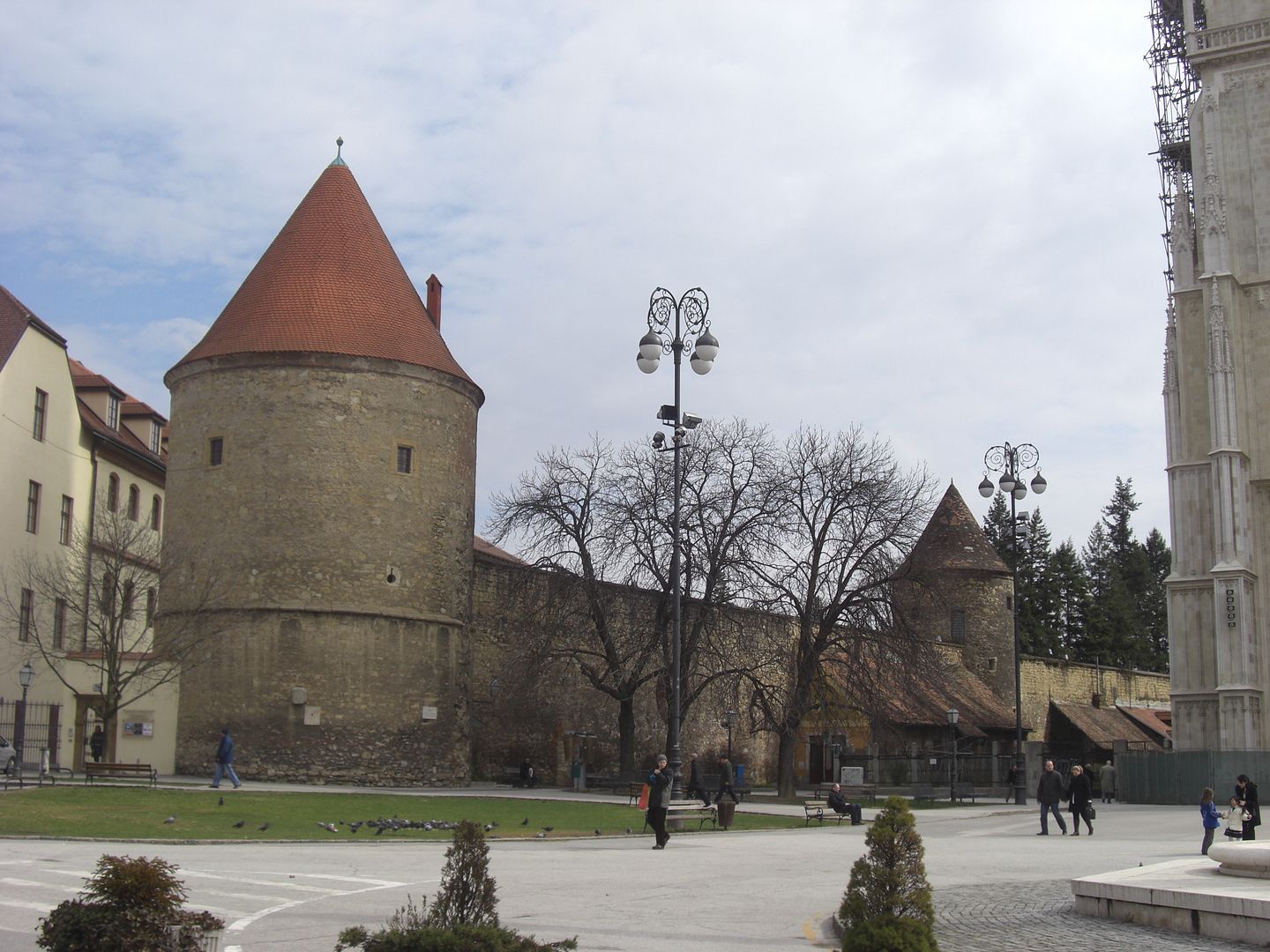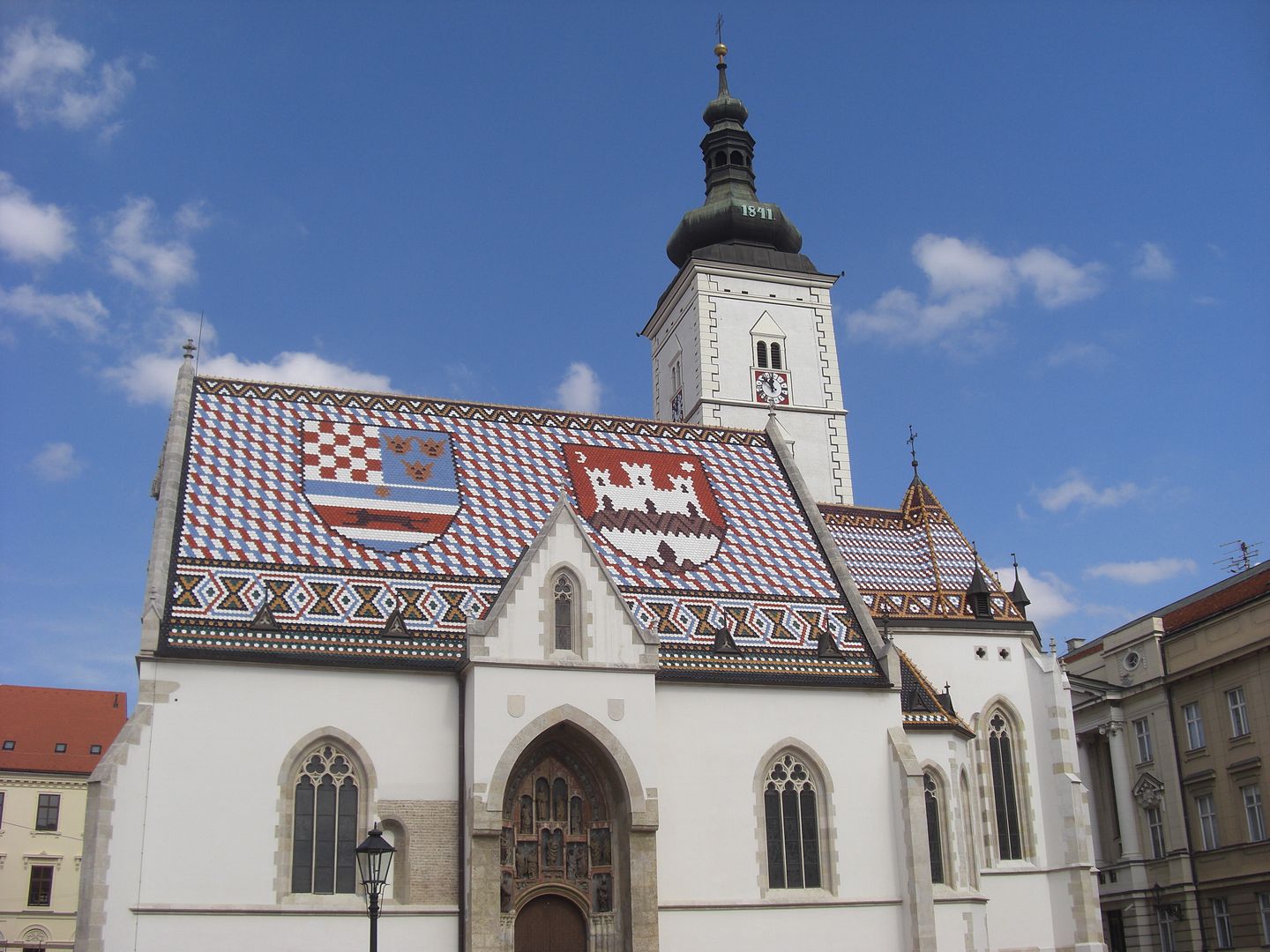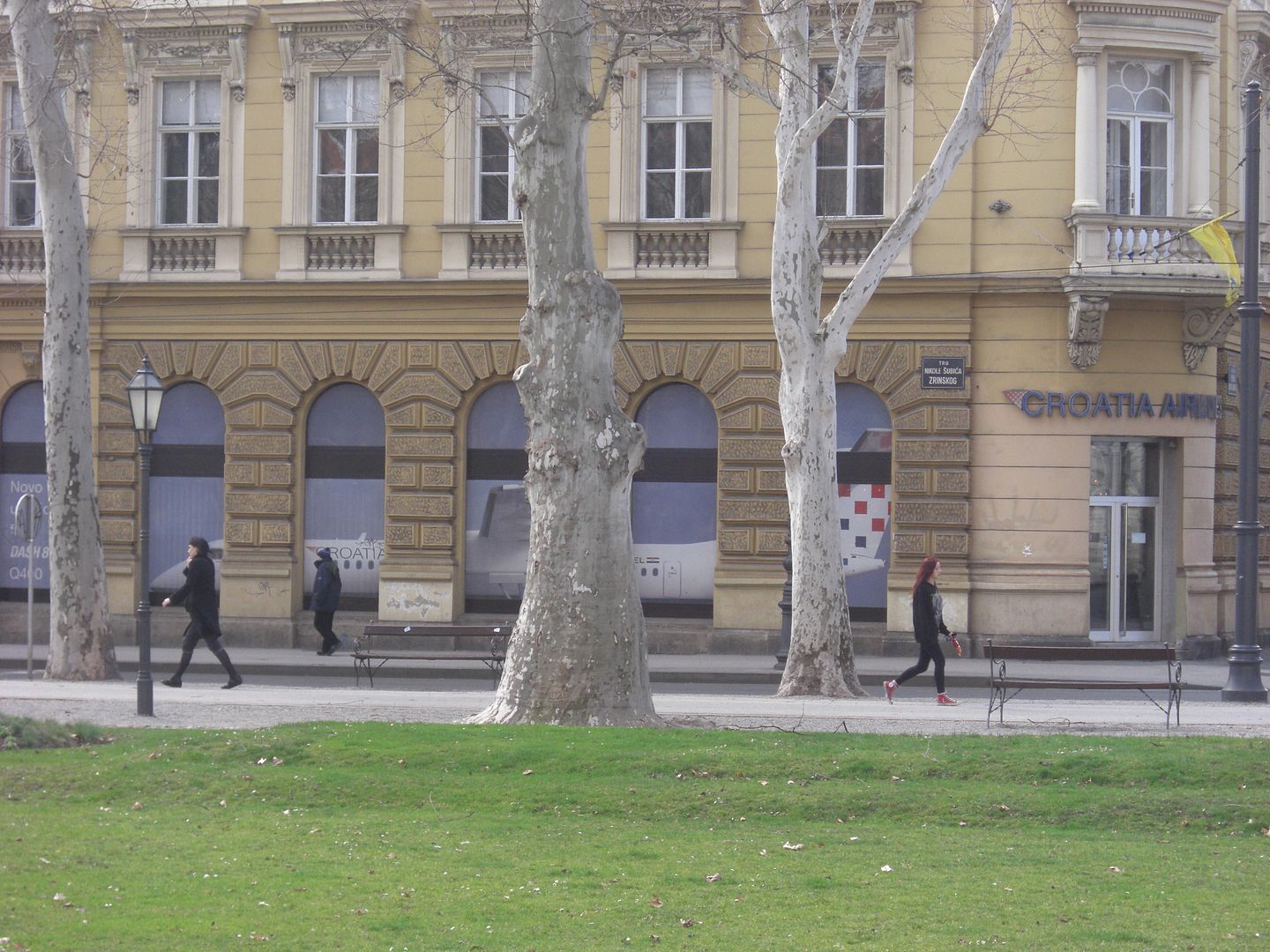 Croatian Naïve Art Museum
Japanese Embassy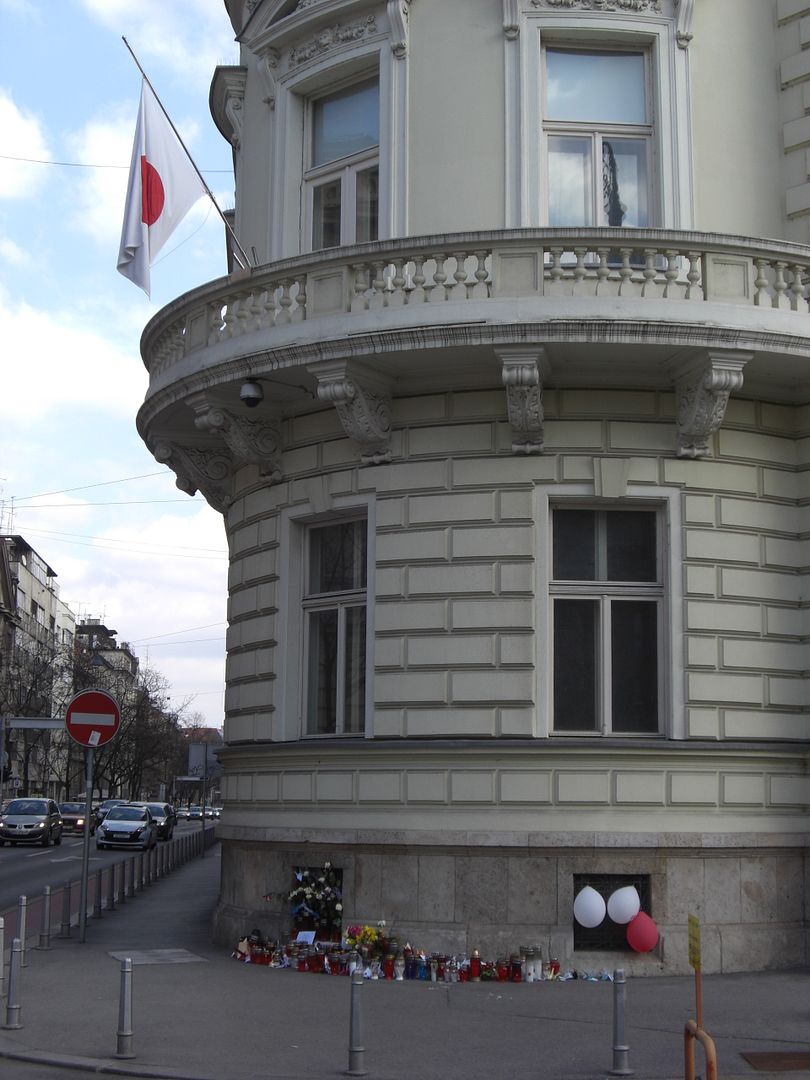 View from the bus enroute from Zagreb to Pula
Pula by night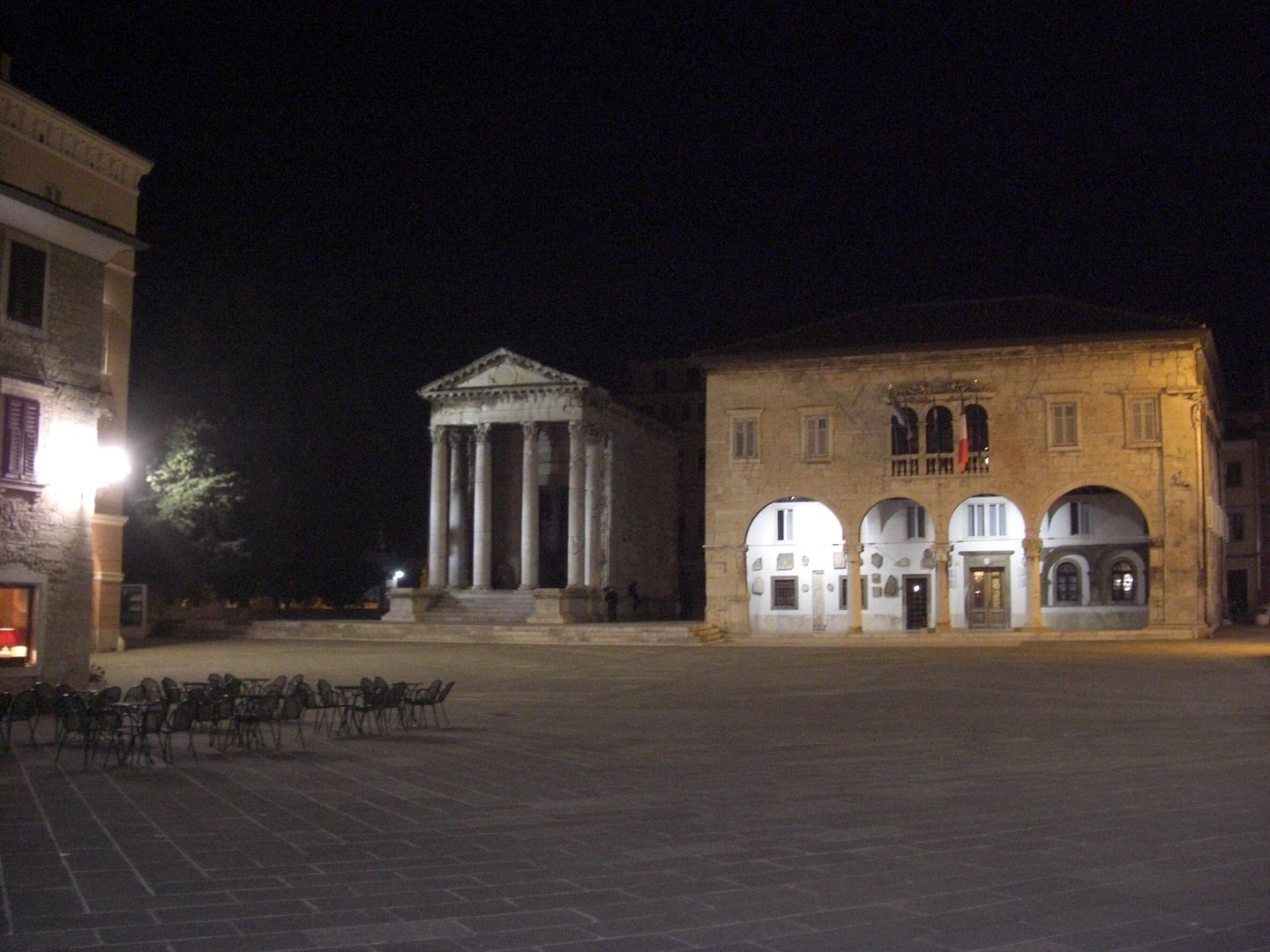 Pula Roman amphitheatre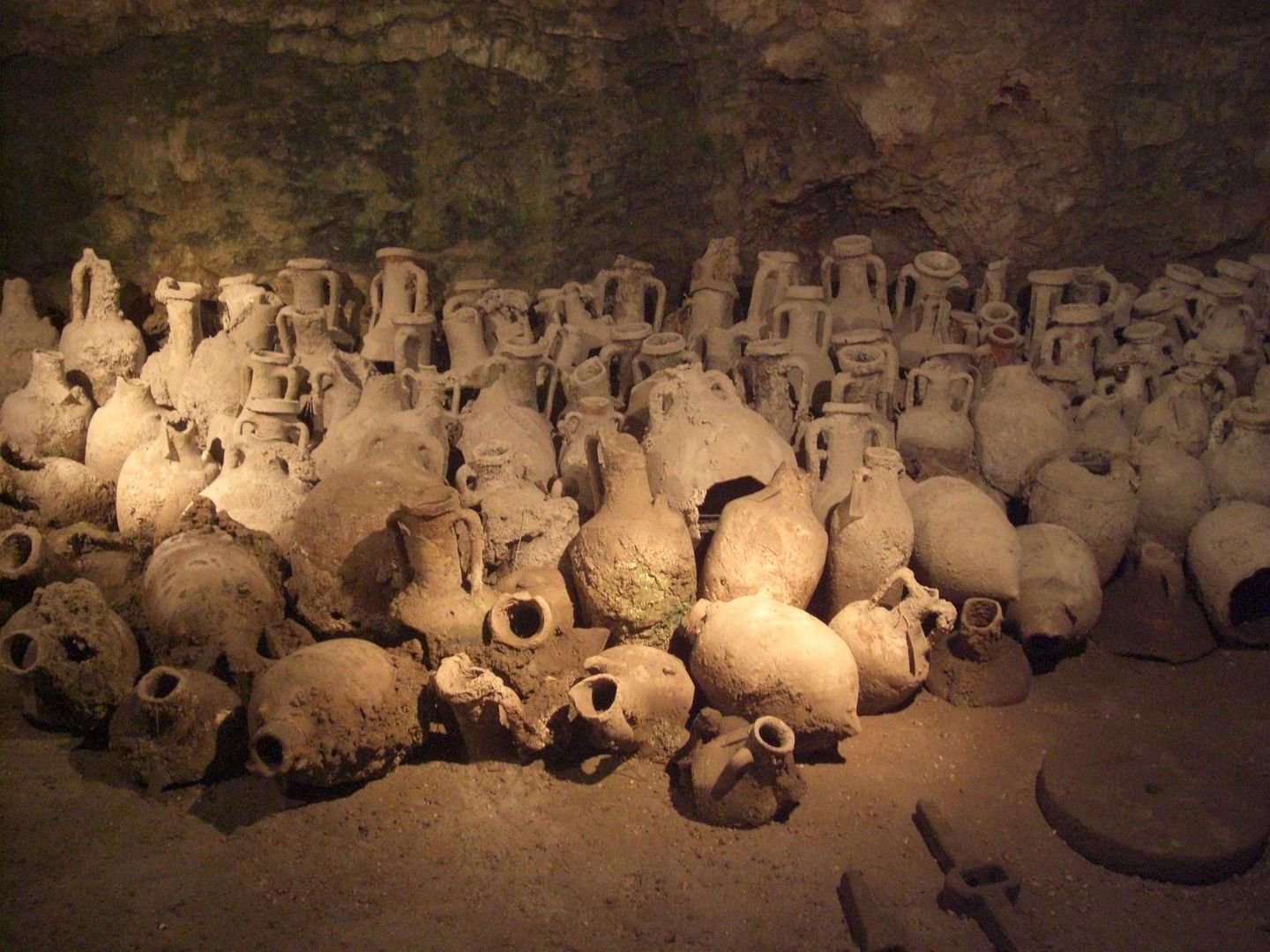 Rovinj by day (45 mins from Pula)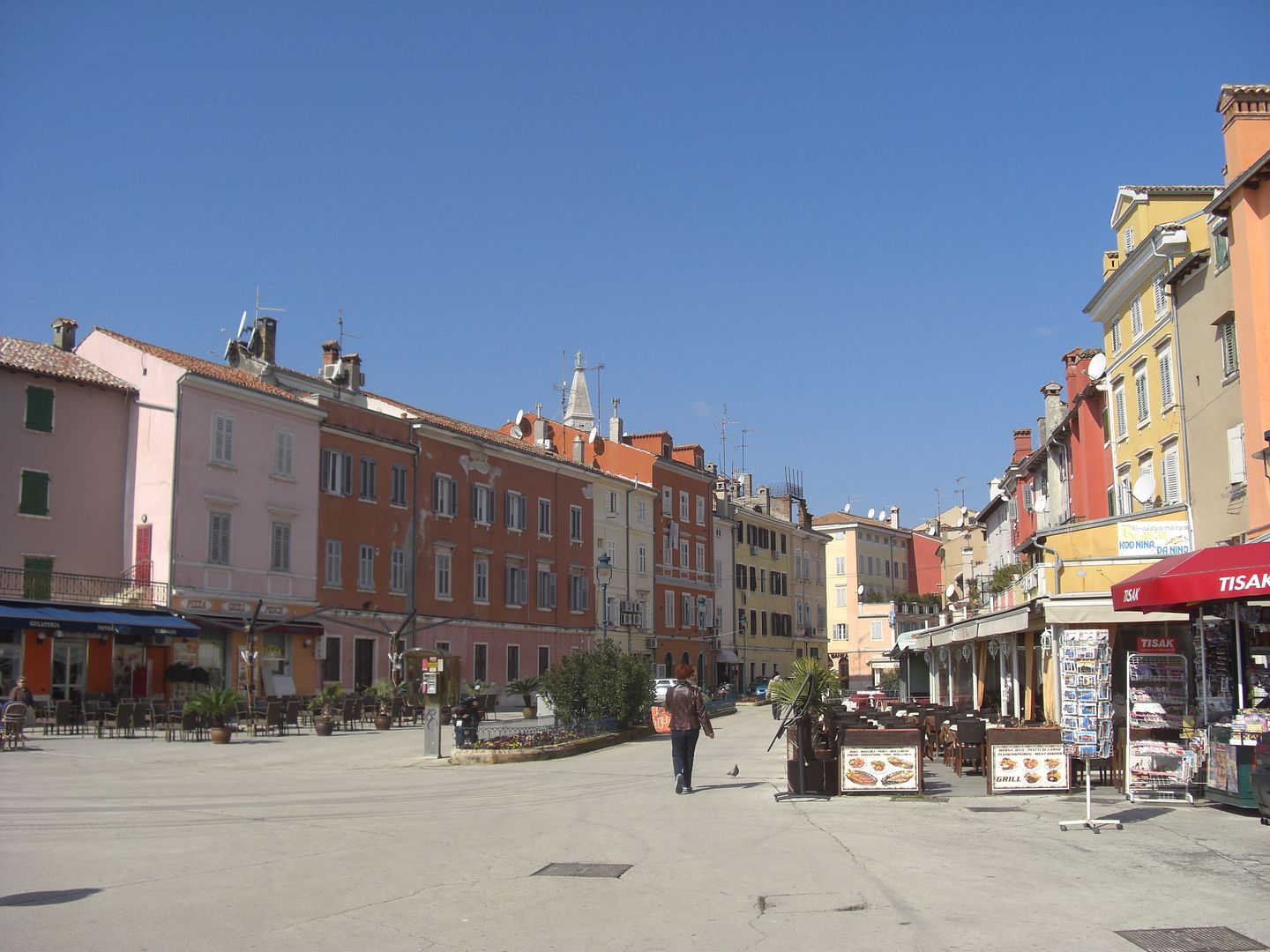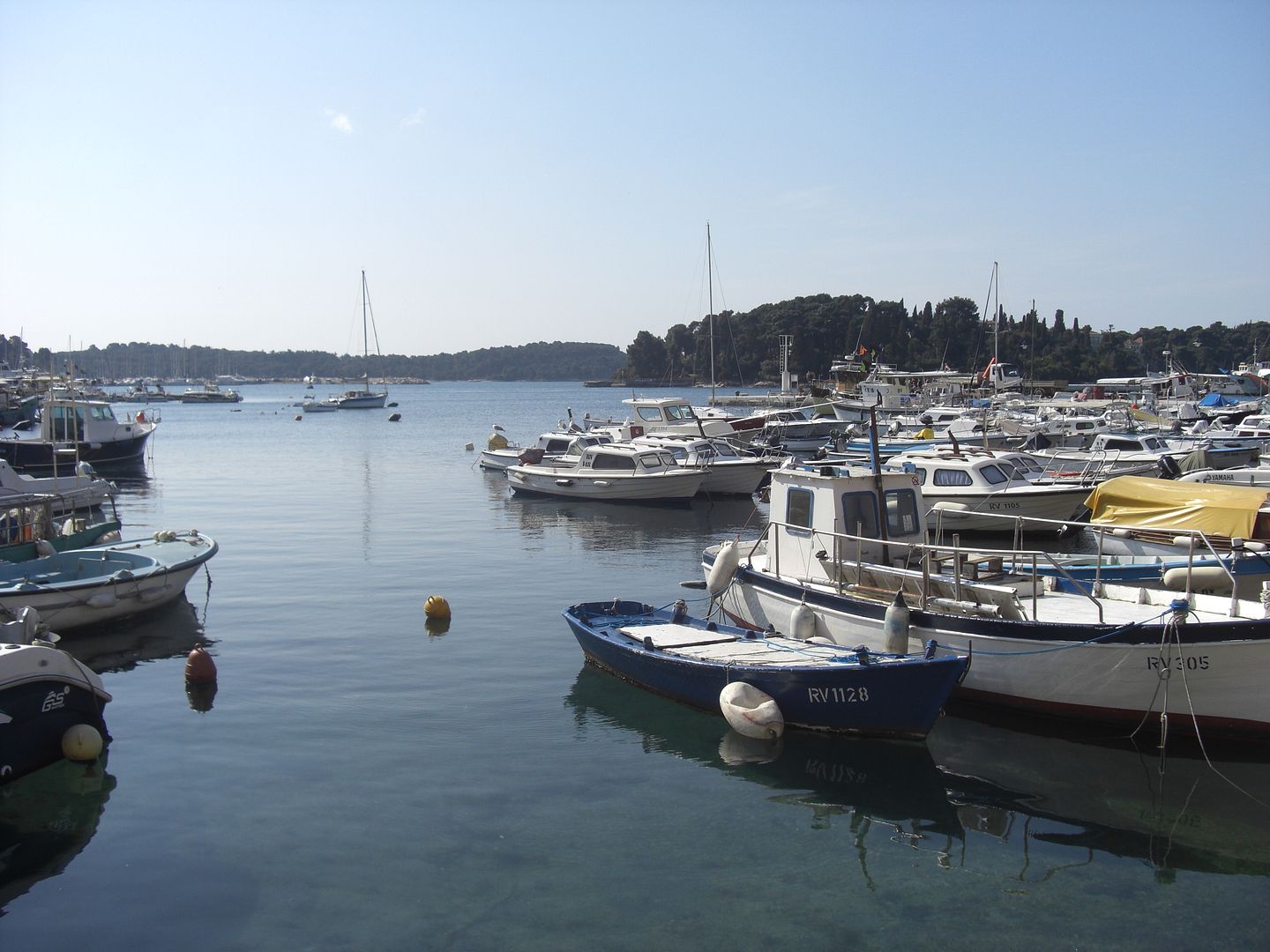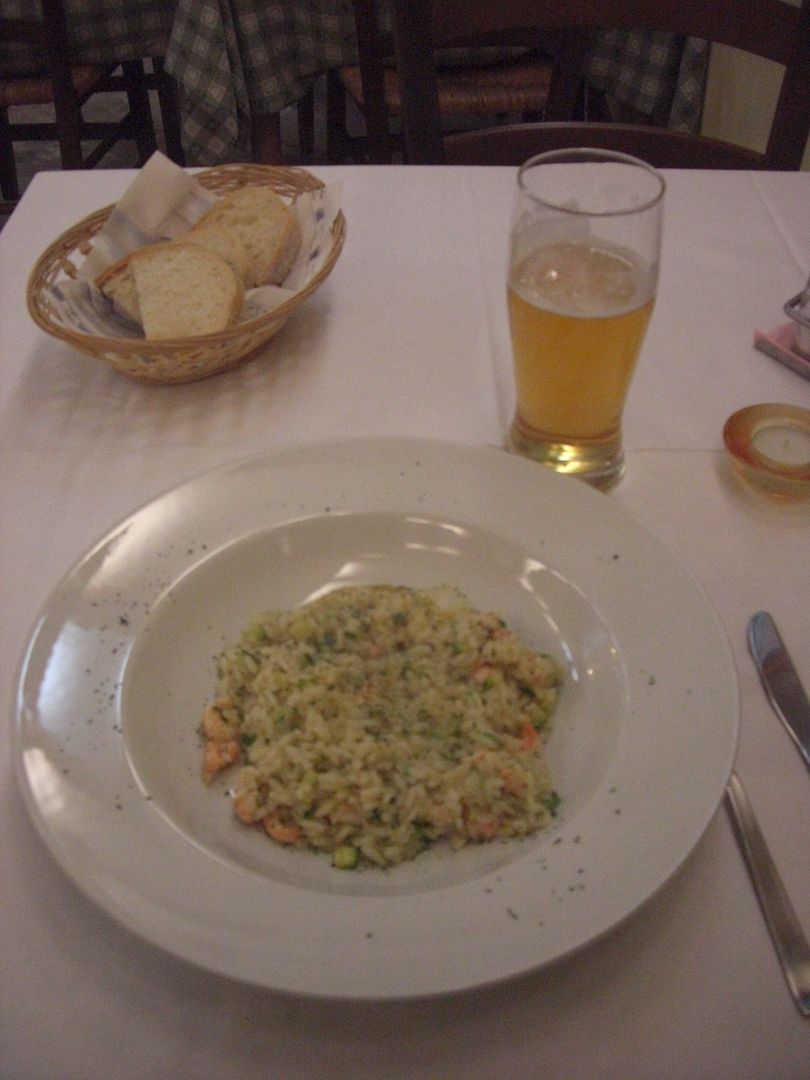 A very tasty squid-ink risotto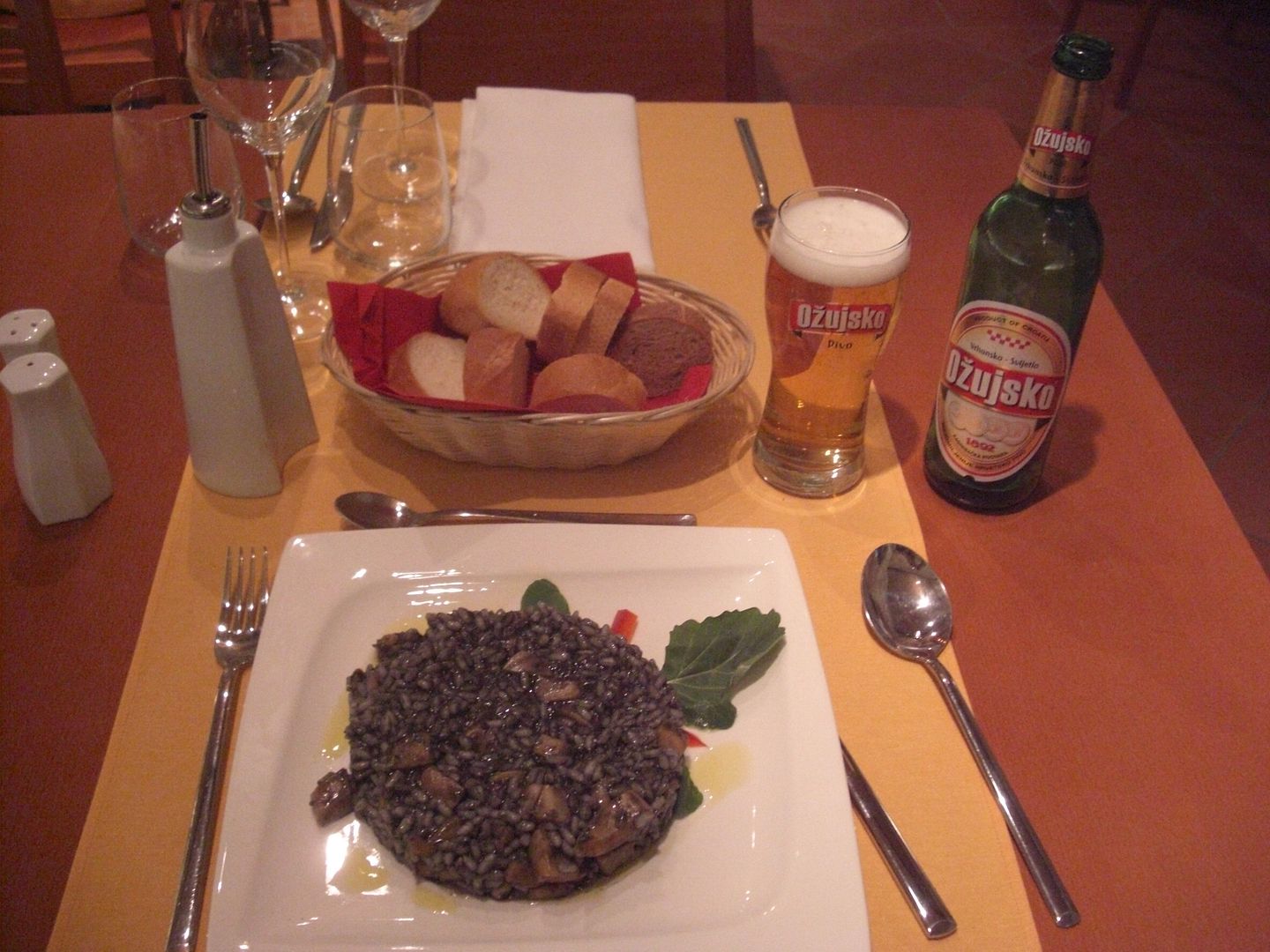 Pula airport isn't terribly busy in the winter, with just one daily flight. For the staff working at the airport, the timings are pretty horrendous, with one arrival from Zagreb and Zadar at 2250, and one departure (back to Zadar and Zagreb) at 0600. In the summer there lots of charter flights (most from the CIS) as well as assorted other flights from Europe (an FR to STN and HHN).
After a very quick taxi ride through the empty streets of Pula, I arrived at the airport at 0510. there were two desks open for our flight, and my bag was tagged (I'd gone shopping, and bought quite a bit of booze, so couldn't take it was hand baggage anymore), and I was given my first boarding pass. For some reason, my Zagreb-London boarding pass would have to be picked up in Zagreb.
There seemed to be far more staff around than passengers. It must be strange working only from 0403-0630 or so, the again 2230-2330.
When they opened the security area, I was the first one through into the vast and empty airside.
The aircraft had been sitting there since last night.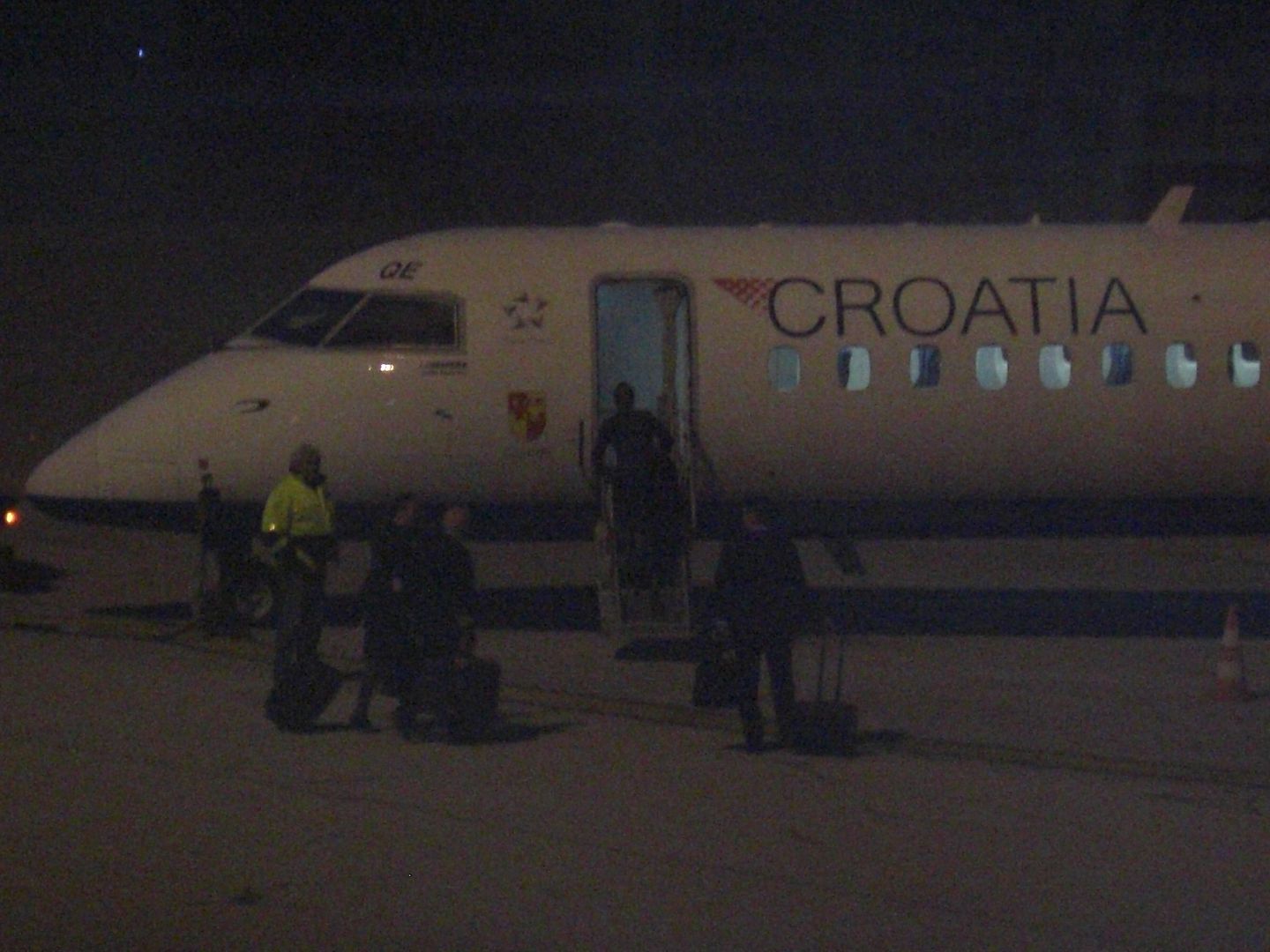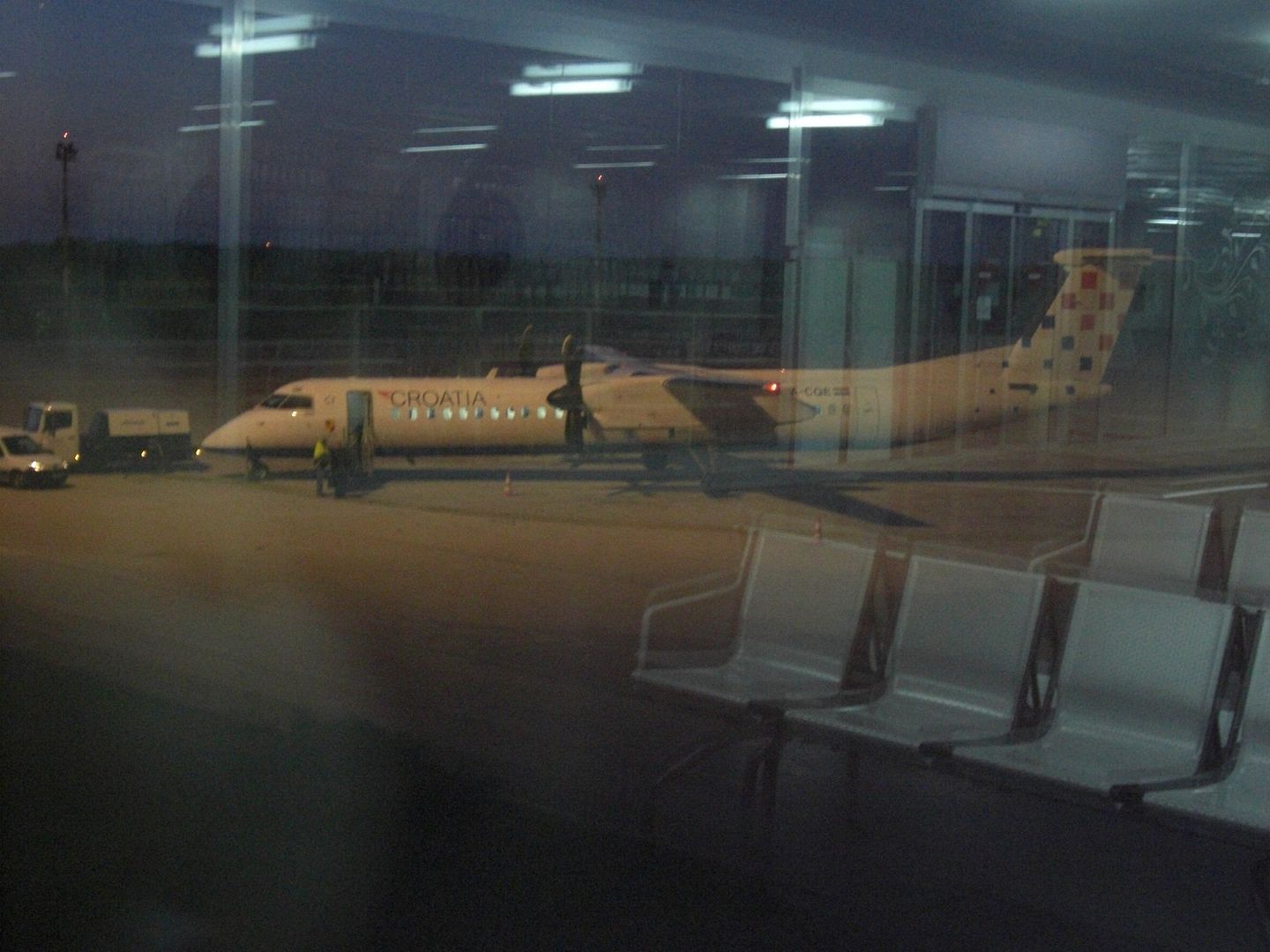 Some FR mementos in the terminal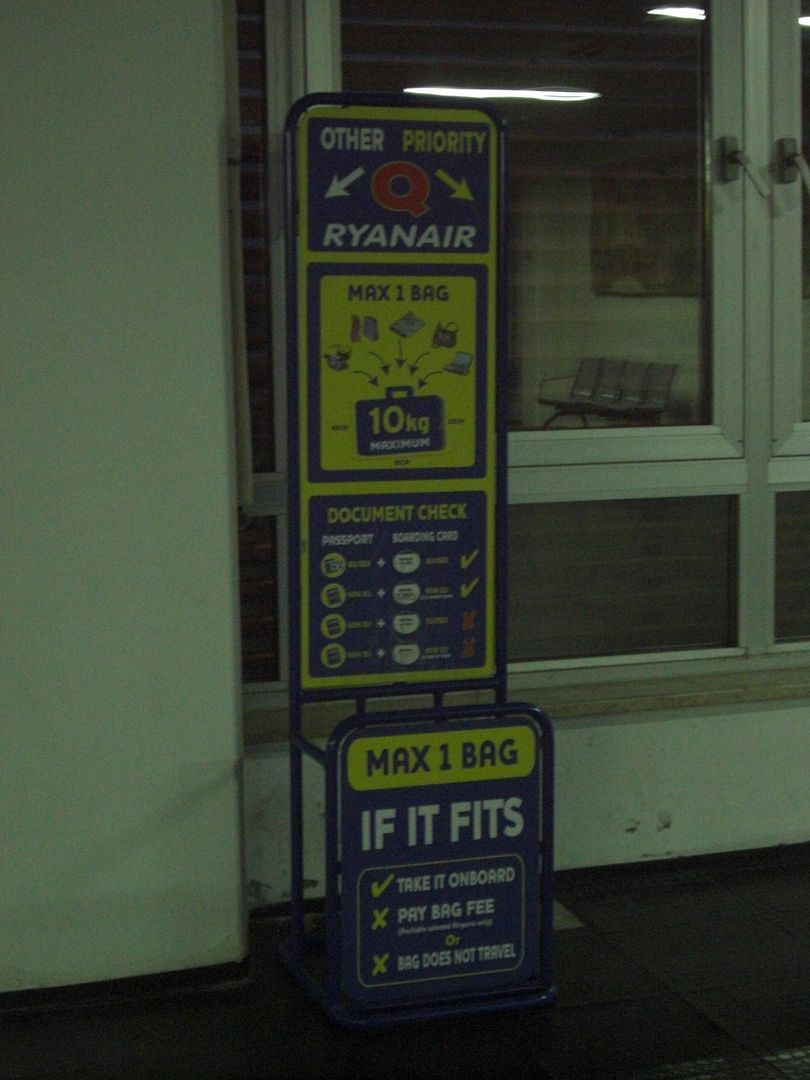 The load for this leg was around 20 pax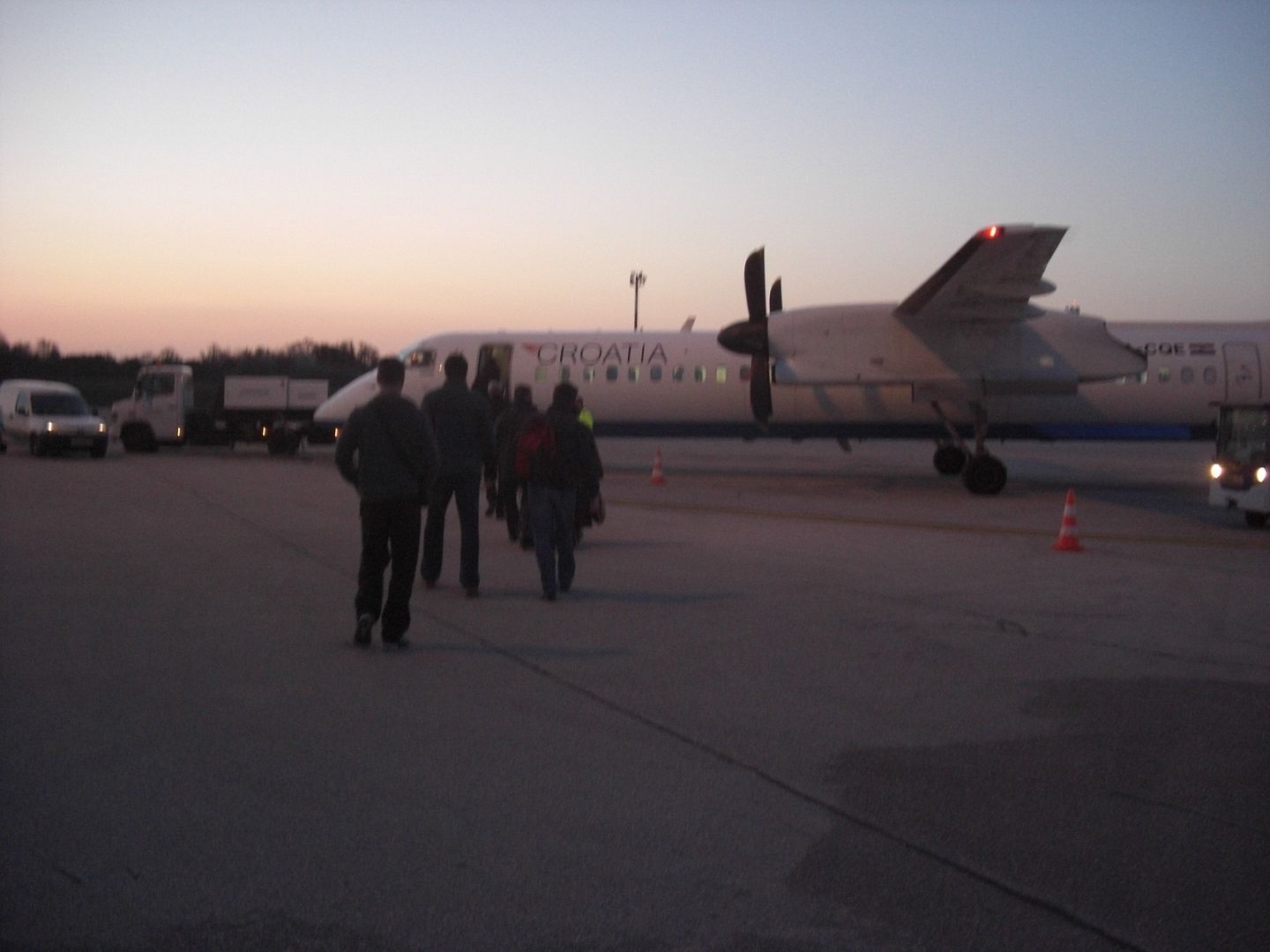 March 2011
Pula (PUY) – Zadar (ZAD)
Scheduled: 0600-0635 (0h35m)
Actual: 0611-0634 (0h23m)
Croatia Airlines OU 631
Dash 8-400 (9A-CQE)
Despite being the only aircraft, and no inbound delays, we ended up taking off eleven minutes late.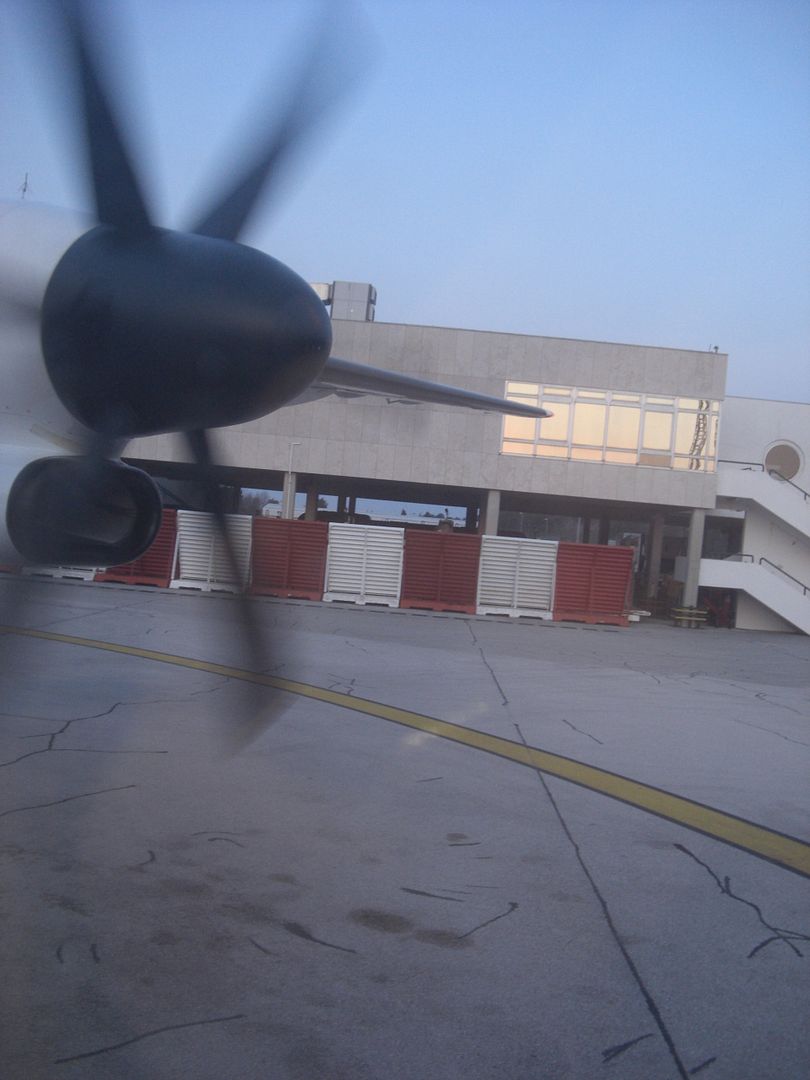 The sun was just rising as we rotated.
When planning my trip, I initially thought to fly from ZAG to Pula. However, I decided that it'd be better to do the return flight as I should be ale to get some nice views of the stunning Croatian coastline from the plane.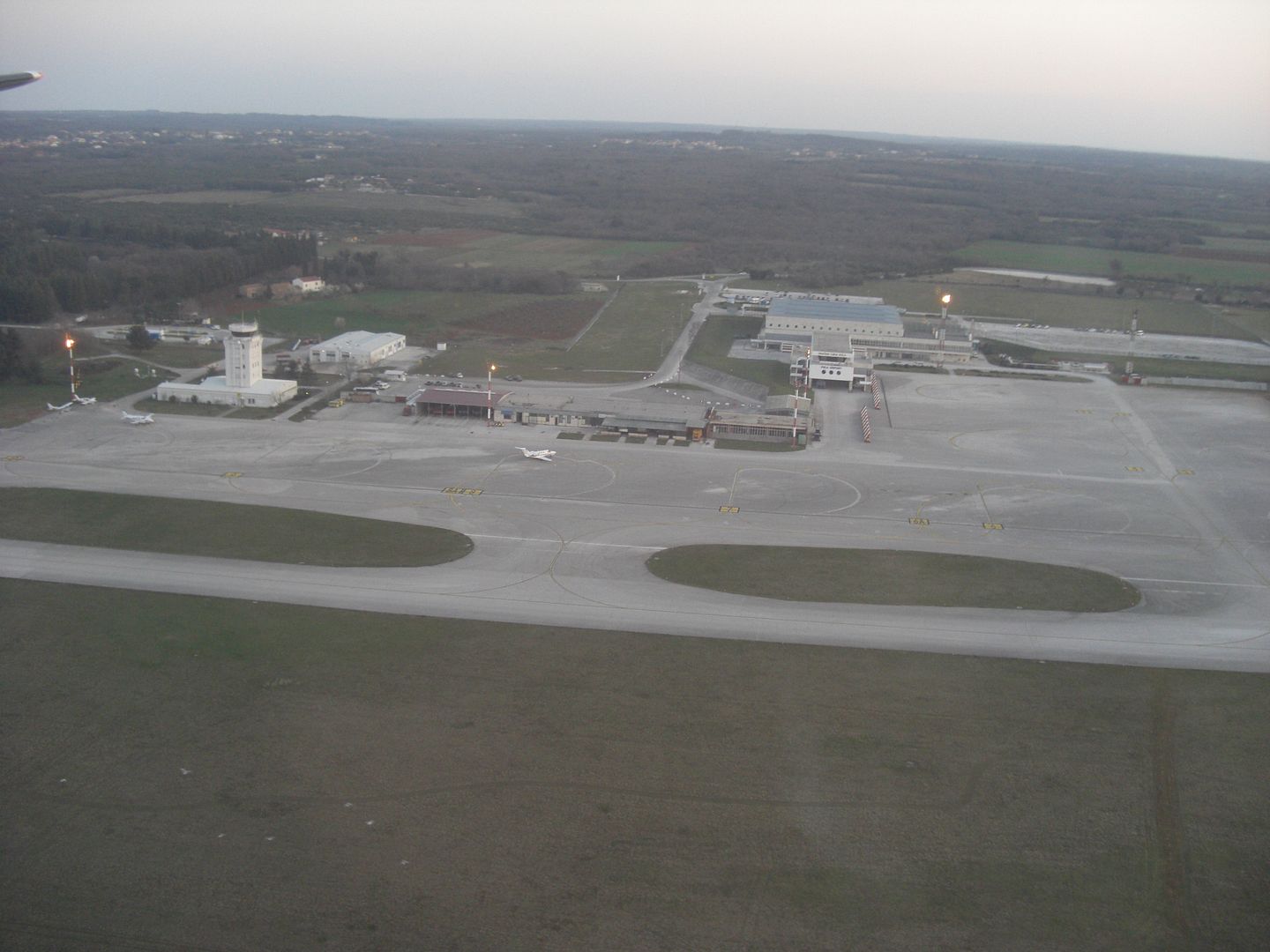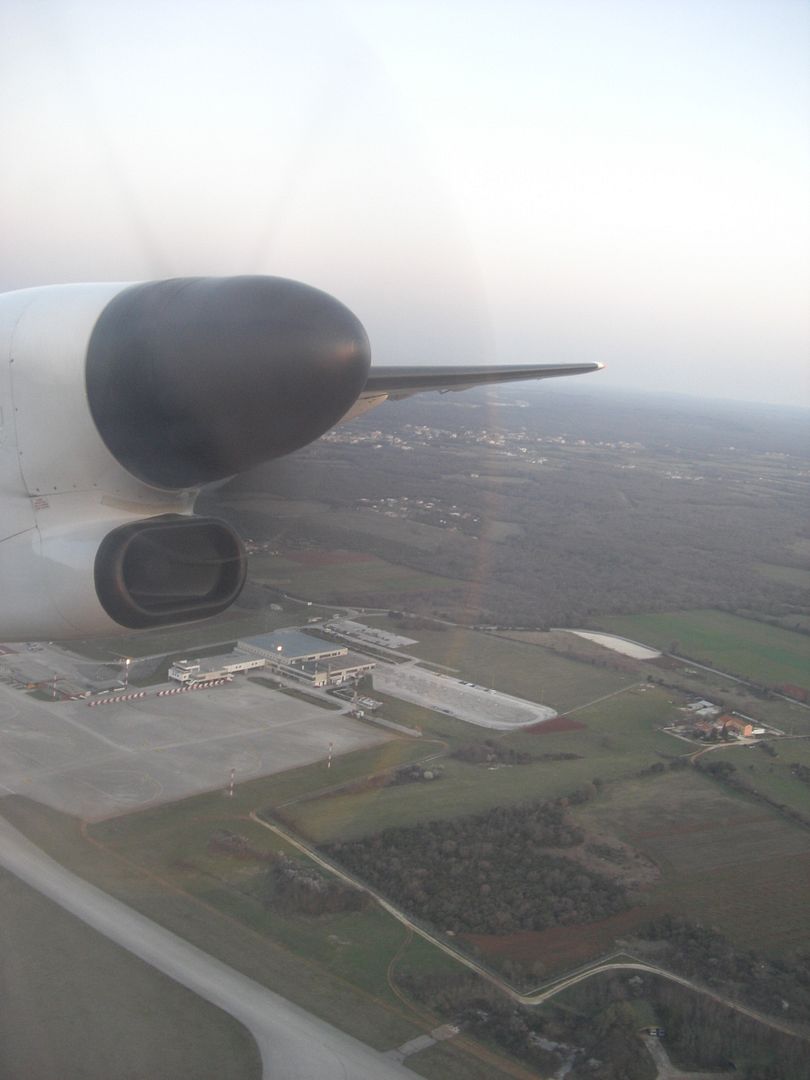 Despite the flight time being a minute longer than my February Binter flight from Tenerife to Gran Canaria (where we were served a drink and snack), there was no service on this sector, so all I had to do was to eat the breakfast I'd brought along with me and watch the views glide by.
After a short flight, we began our approach to Zadar. In the summer months, there are direct flights to both ZAD and PUY. However, the low numbers in the winter mean that these two flights are combined.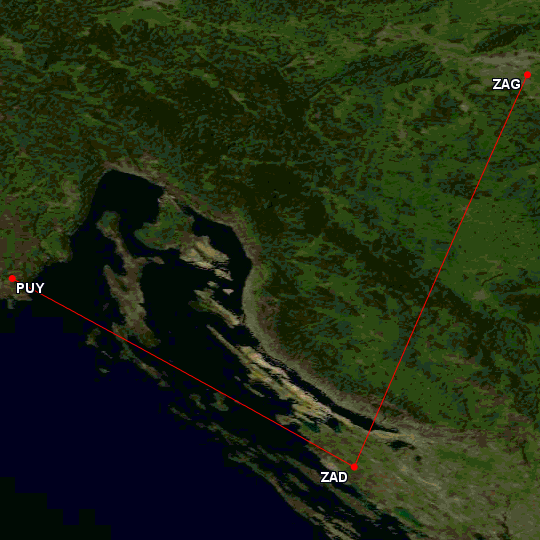 Unfortunately, I was on the wrong side for views of Zadar for arrival.
I was quite surprised to see four people disembark here. I suppose it does avoid a 6 hour coach ride though. The four pax were bussed to the terminal in a minivan.
We then waited around for the Zadar pax to join us. They boarded in dribs and drabs taking a good ten minutes for the forty of so of them to board. There was one business class passenger who had his breakfast carried out from the terminal before the doors closed – obviously catered here in ZAD.
March 2011
Zadar (ZAD) – Zagreb (ZAG)
Scheduled: 0700-0740 (0h40m)
Actual: 0714-0744 (0h30m)
Croatia Airlines OU 631
Dash 8-400 (9A-CQE)
We pushed back a little late again, and taxied through the very empty airport. There were three fireflighting planes parked up, reading for the almost inevitable summer forest fires.
This time I was on the right side for a few views of Zadar.
Some nice views of the Croatian Islands
Service on this leg consisted of a drink and a biscuit.
Approach to ZAG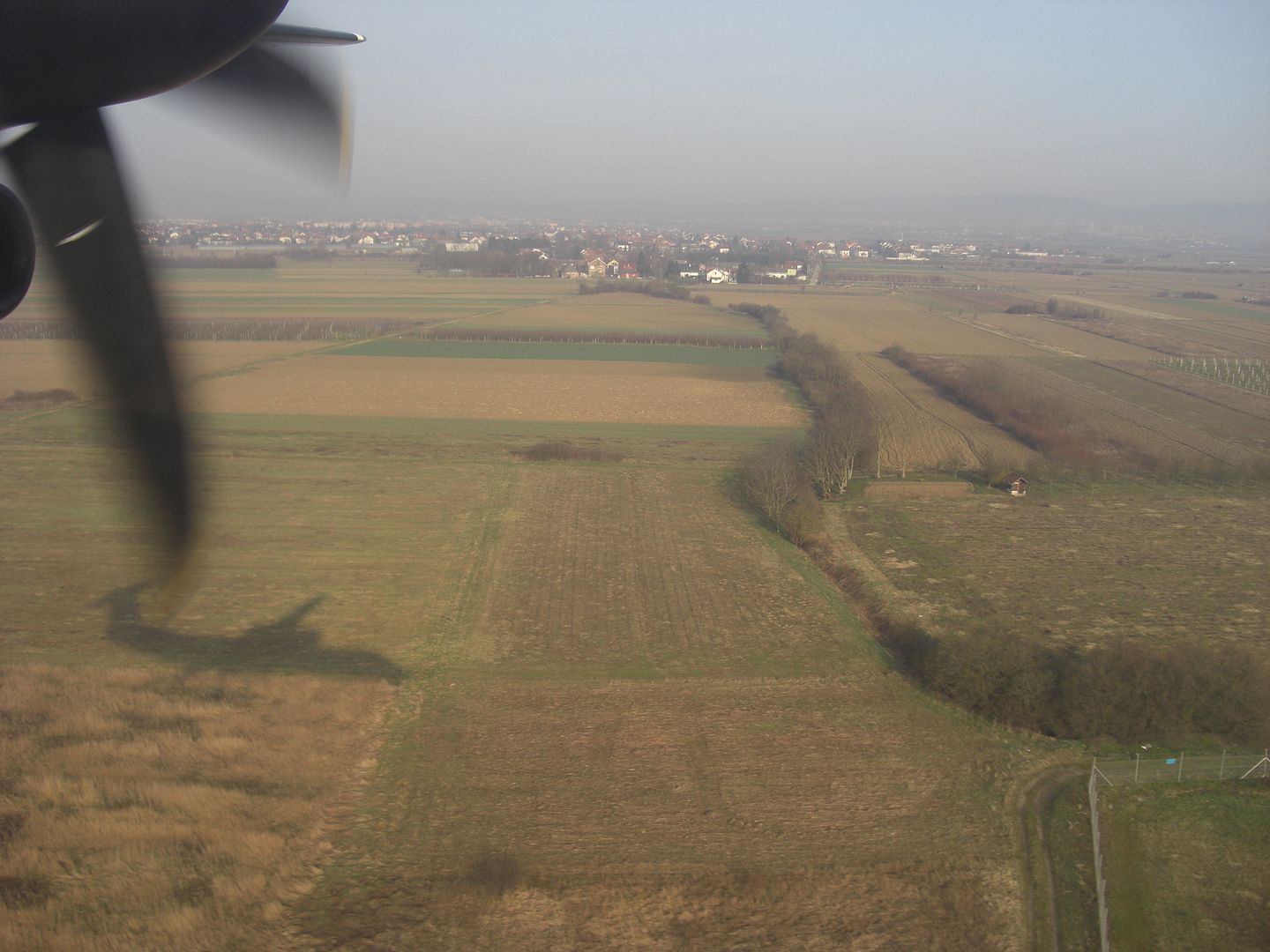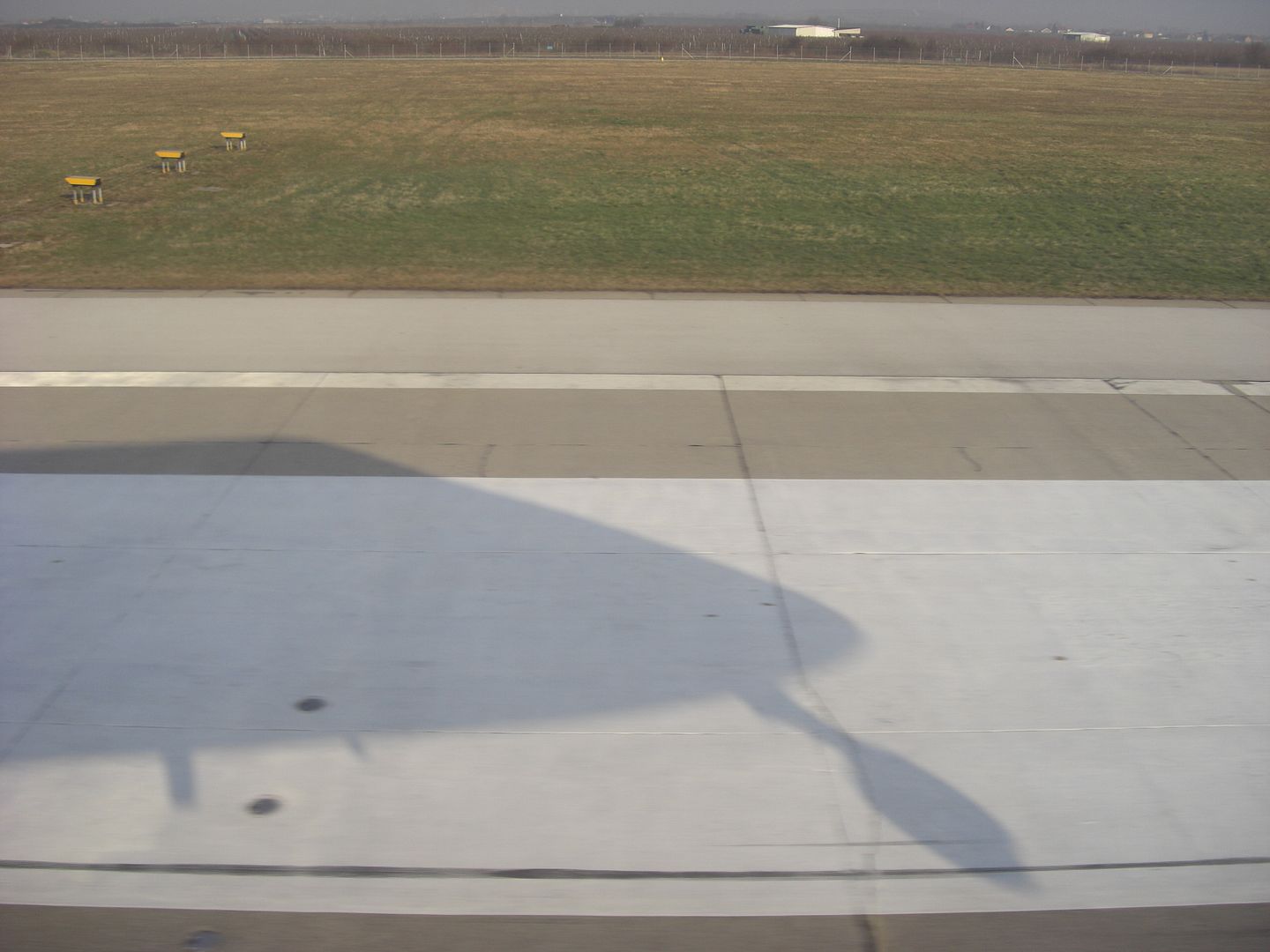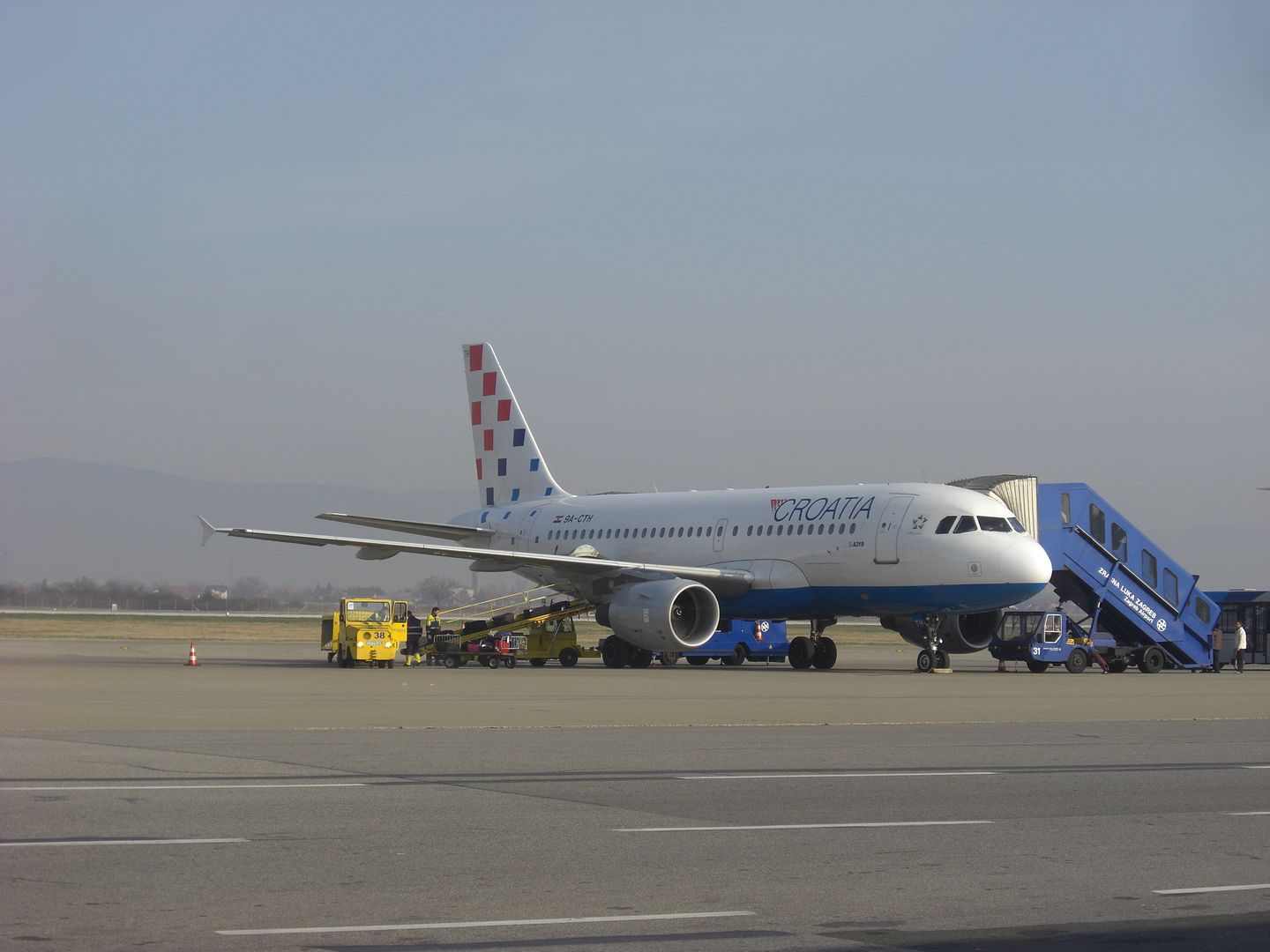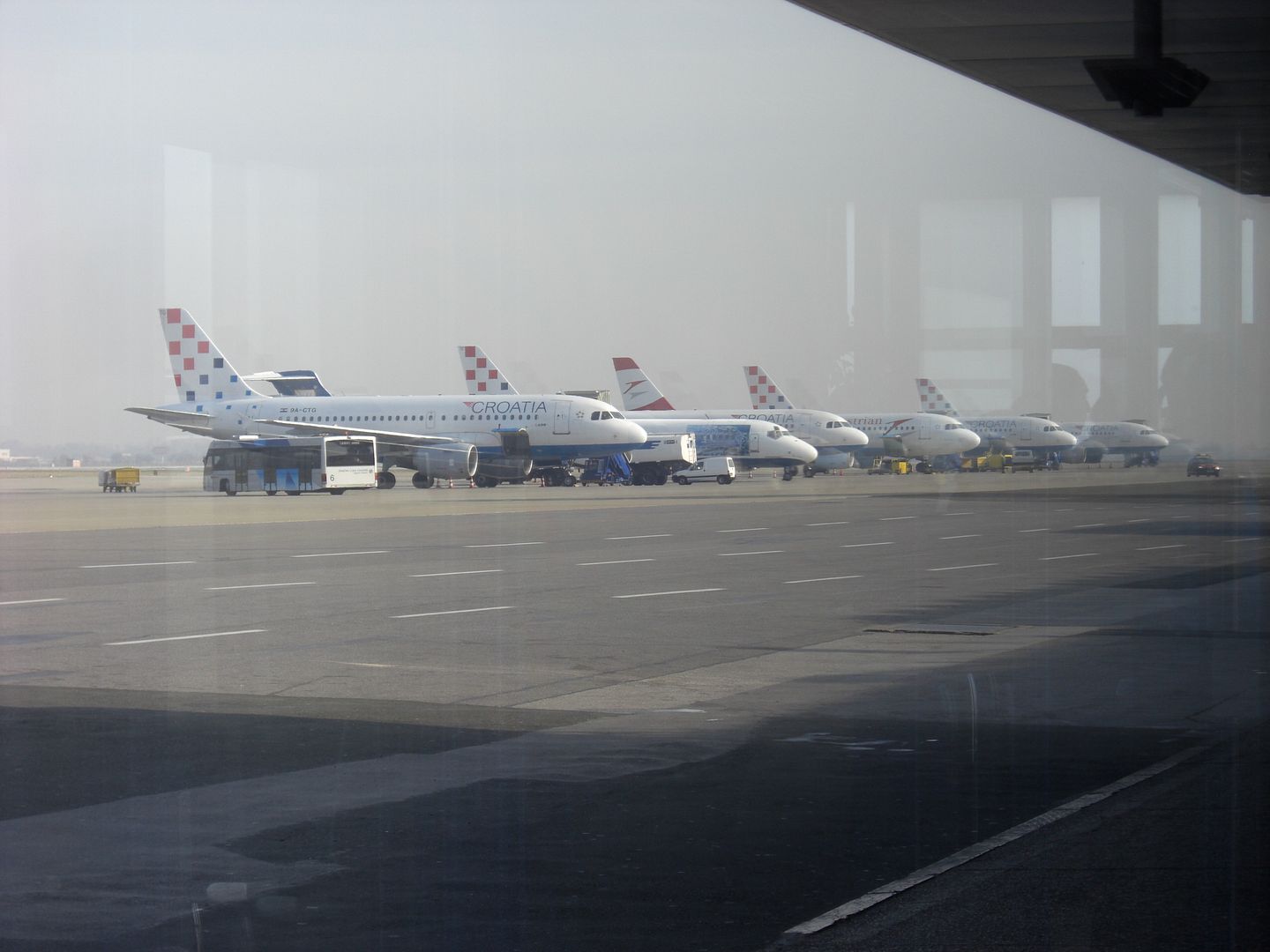 Thanks to our late departure, we arrived a few minutes late into Zagreb. It seemed nearly all of the OU fleet was in town that morning, along with a few other assorted Croatian Airlines, namely SunAdria and Dubronvik Airlines. There was also an Austrian A320.
We were bussed over to the terminal, where nearly all the passengers hurried to the connections area. As there were quite a few flights leaving in the next half hour, there was quite a scrum both from the passengers and the staff at the check point to get everyone their boarding passes. After a few minutes queuing, I had my boarding pass, and was let into the domestic departures area.
Upcoming departures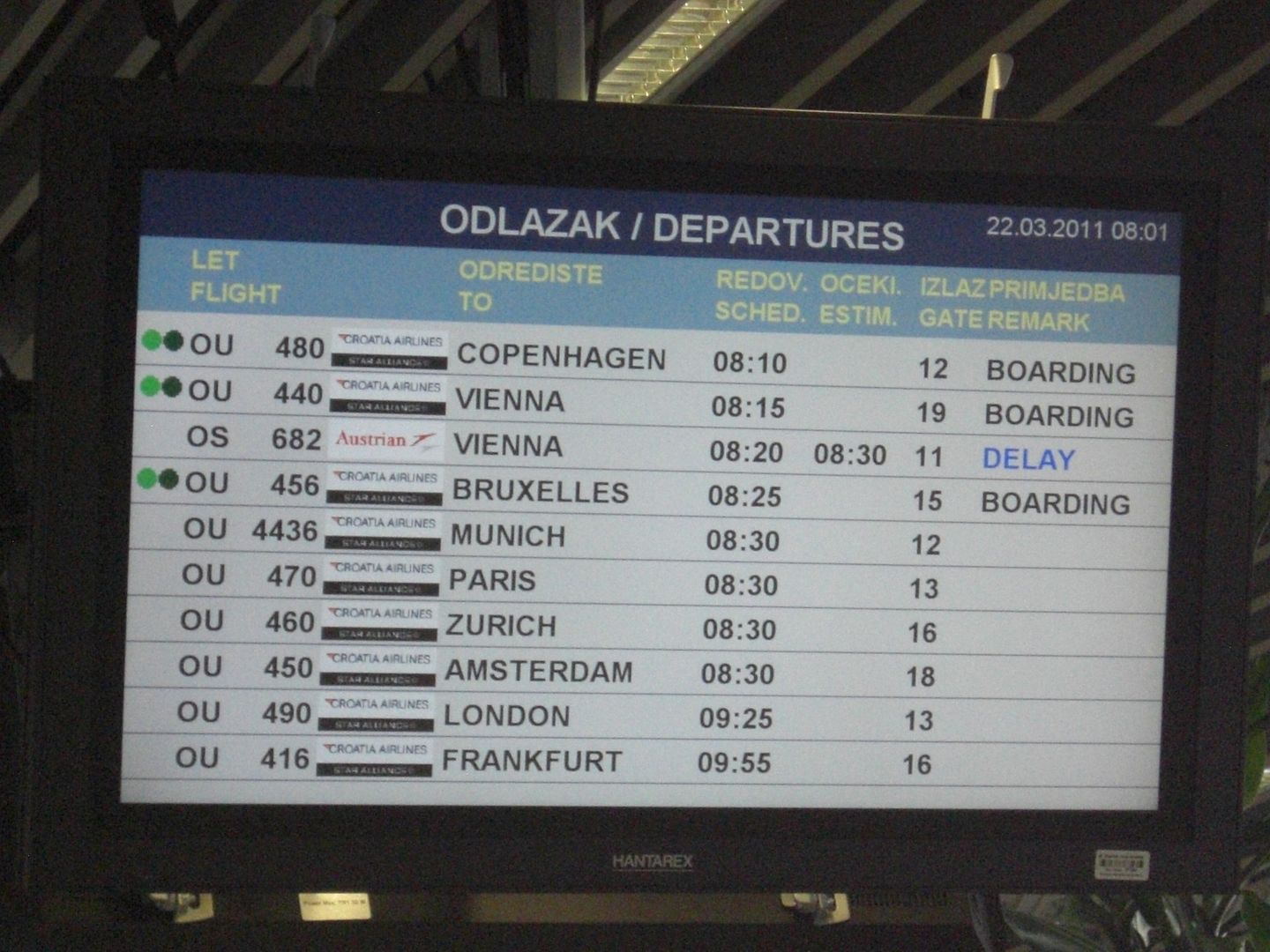 I should have staying the calm of the domestic departures area, but thought I should head through to international departures – big mistake! After passing immigration, going up a narrow staircase, then back down another staircase, I was in somewhere reminiscent of a bus station. Nasty! They could seriously do with a bit more space down here. I couldn't believe that this was the entire departures area, together with a duty free shop. Not impressed!
Thankfully, after the Amsterdam flight was boarded, the area cleared out a lot. Around five to nine, it was announced the boarding would begin shortly, so everyone queued up to board the bus.
March 2011
Zagreb (ZAG) – London Heathrow (LHR)
Scheduled: 0925-1050 (2h25m)
Actual: 0925-1026 (2h01m)
Croatia Airlines OU 490
Airbus A320 (9A-CTG)
I was quite disappointed to find myself back on exactly the same A319 as coming over. I was hoping to get on a Star Alliance liveried Airbus. Never mind.
Dubrovnik Airlines next to us
This time I was seated near the front – the difference in legroom is startling – plenty of space! Luckily the middle seat was left unoccupied.
Breakfast was served not long after take off – I was hoping for something hot, but we got a ham salad, cake, bread roll and a biscuit instead – still not bad!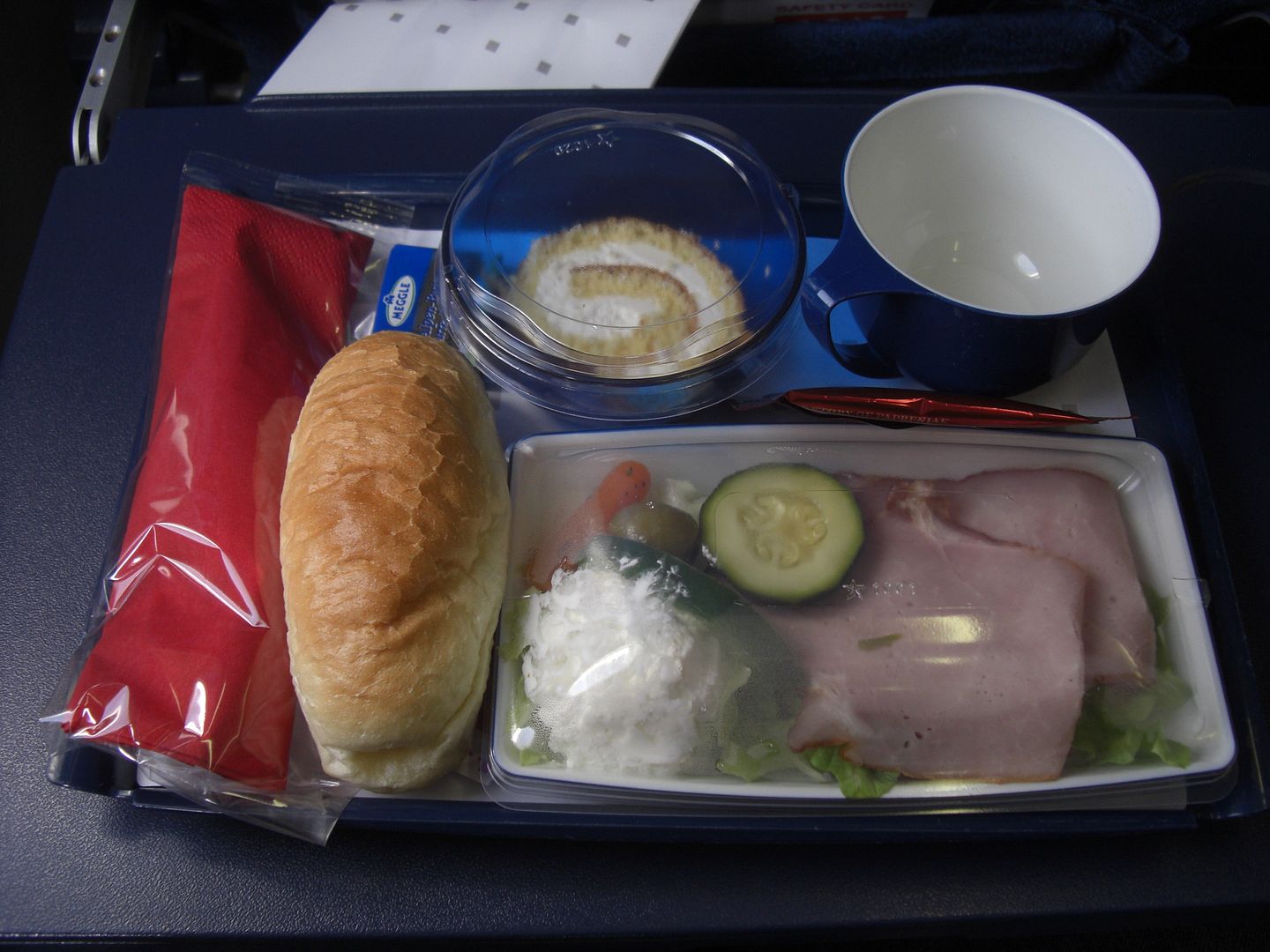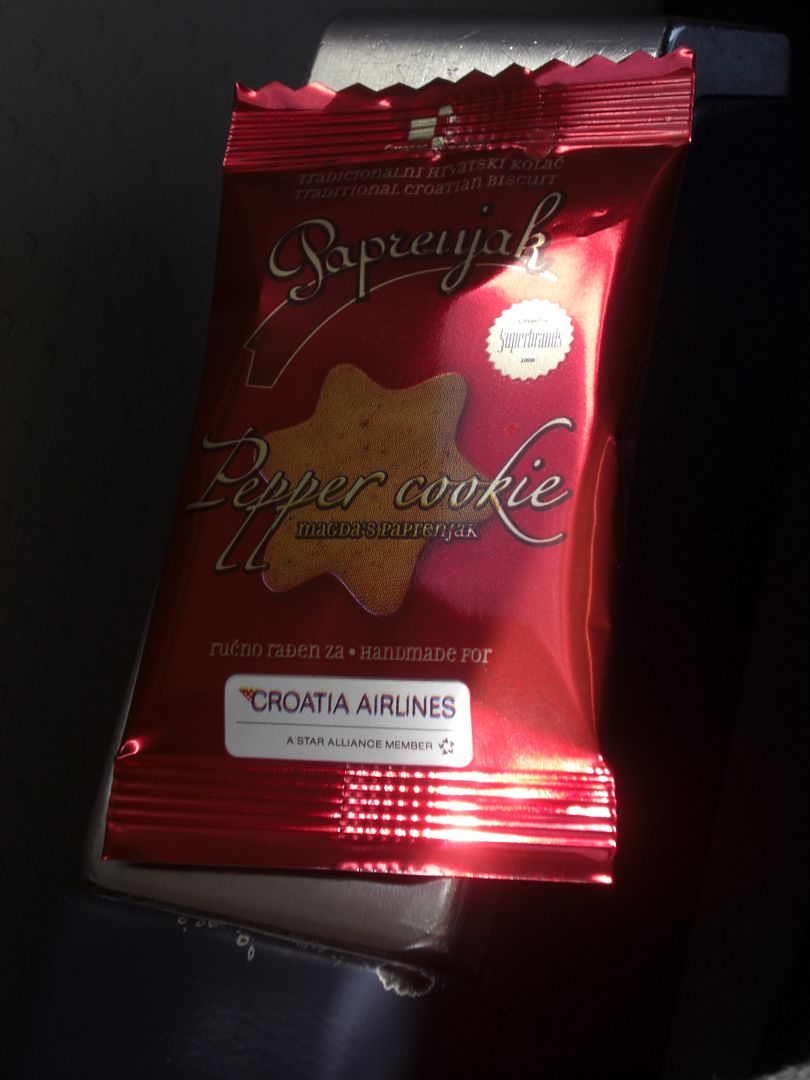 Views of the Alps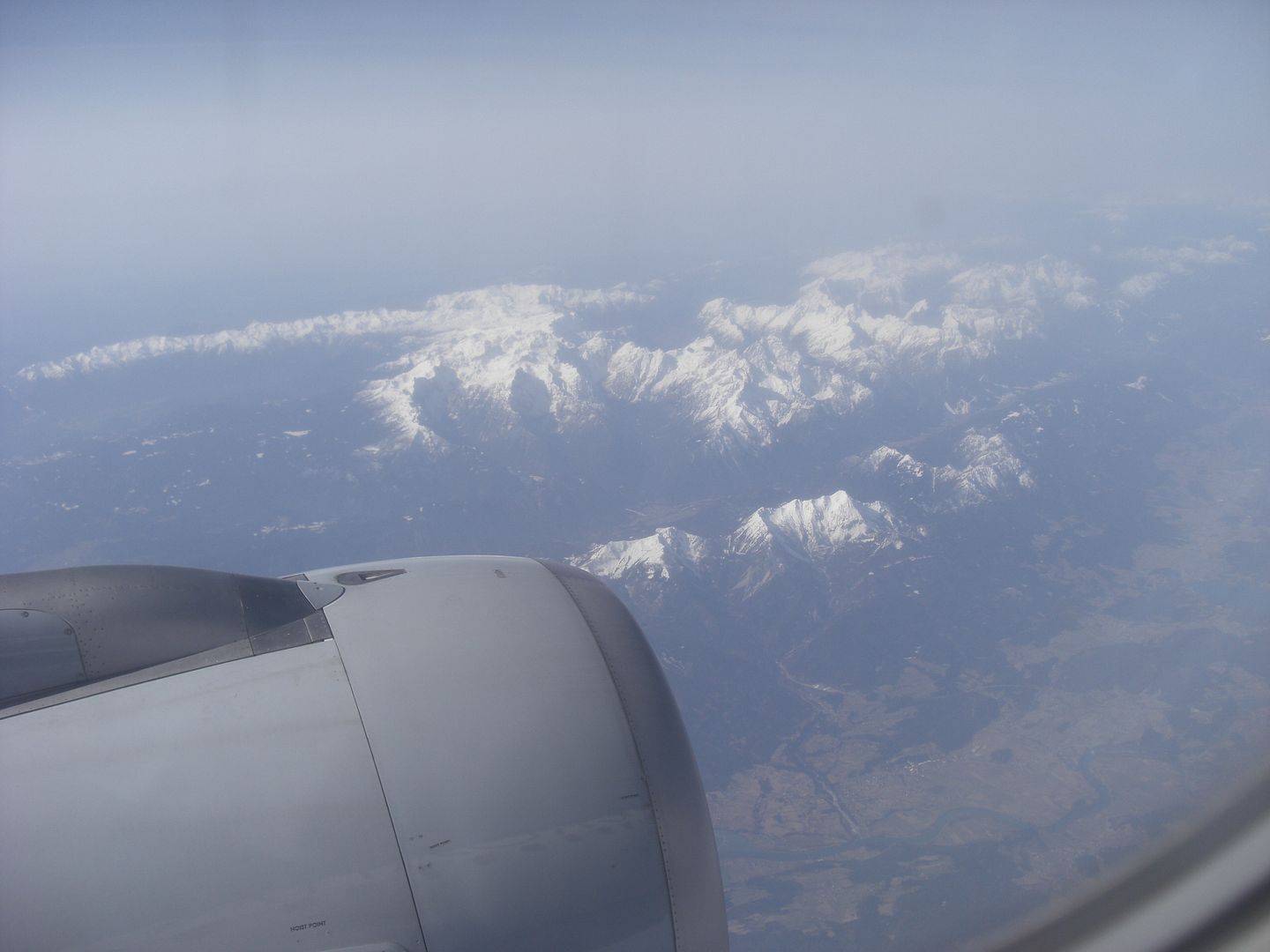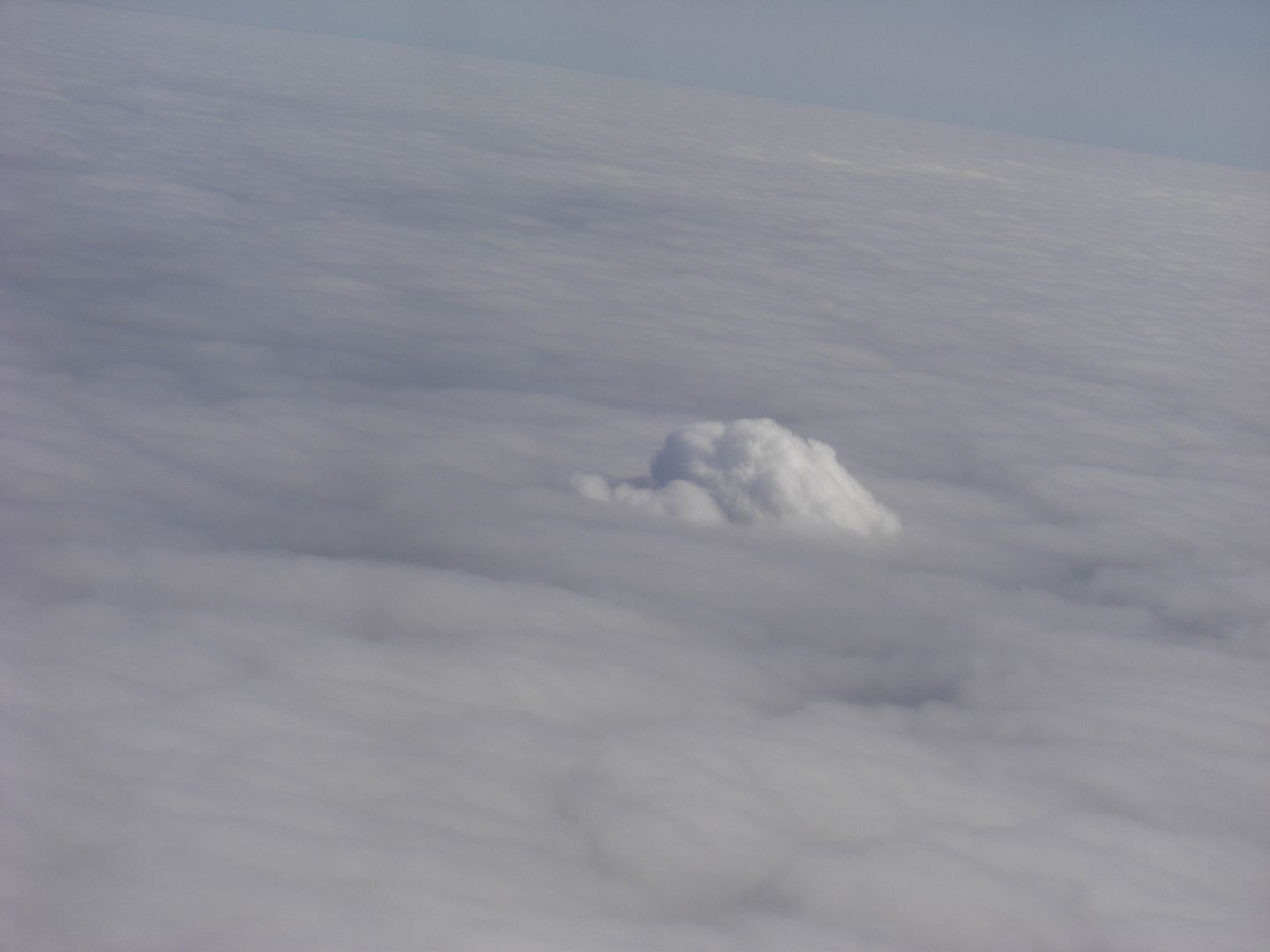 We ended up doing quite a few loops over London before finally landing nearly half an hour ahead of schedule.
A few shots of LHR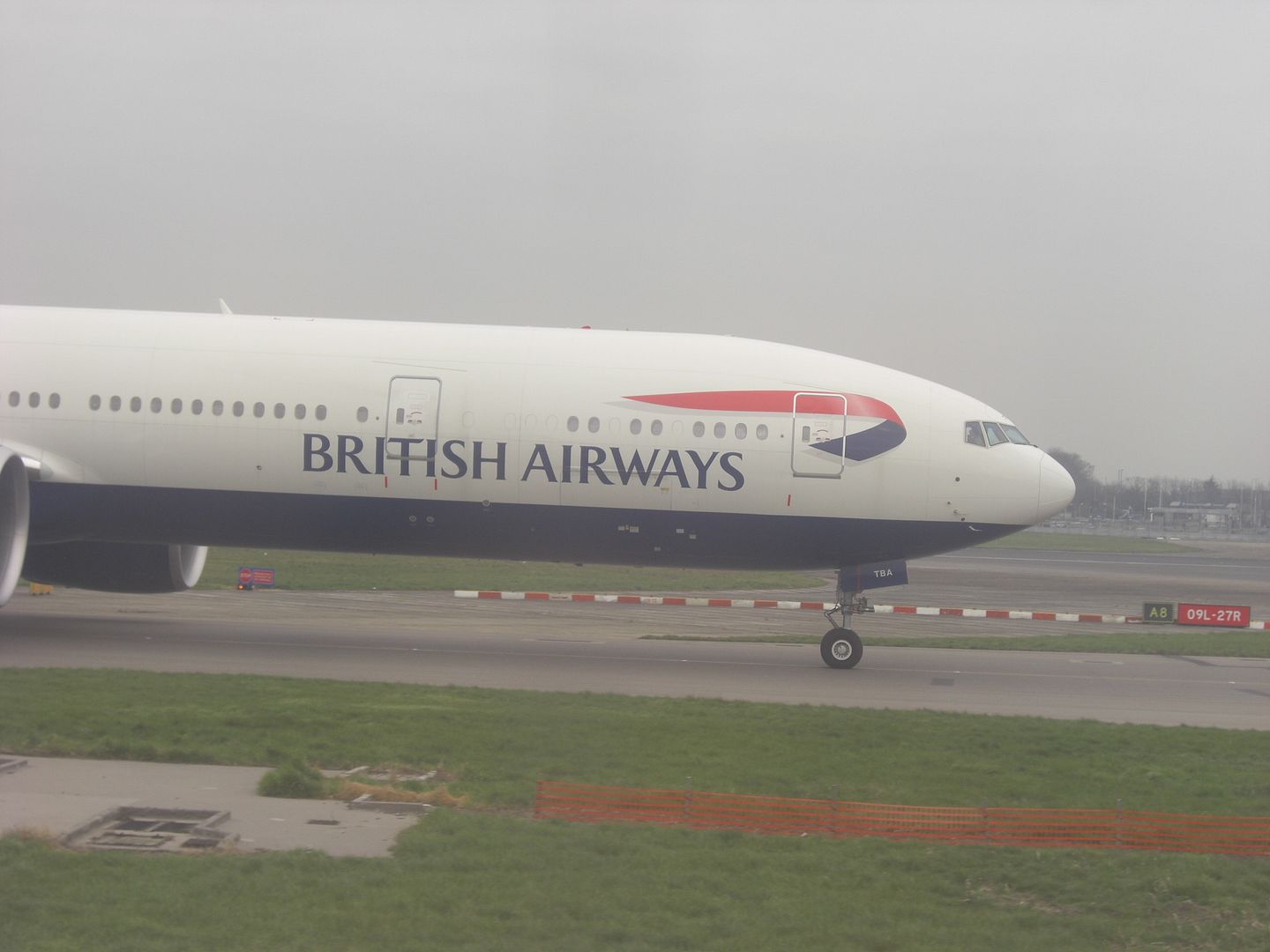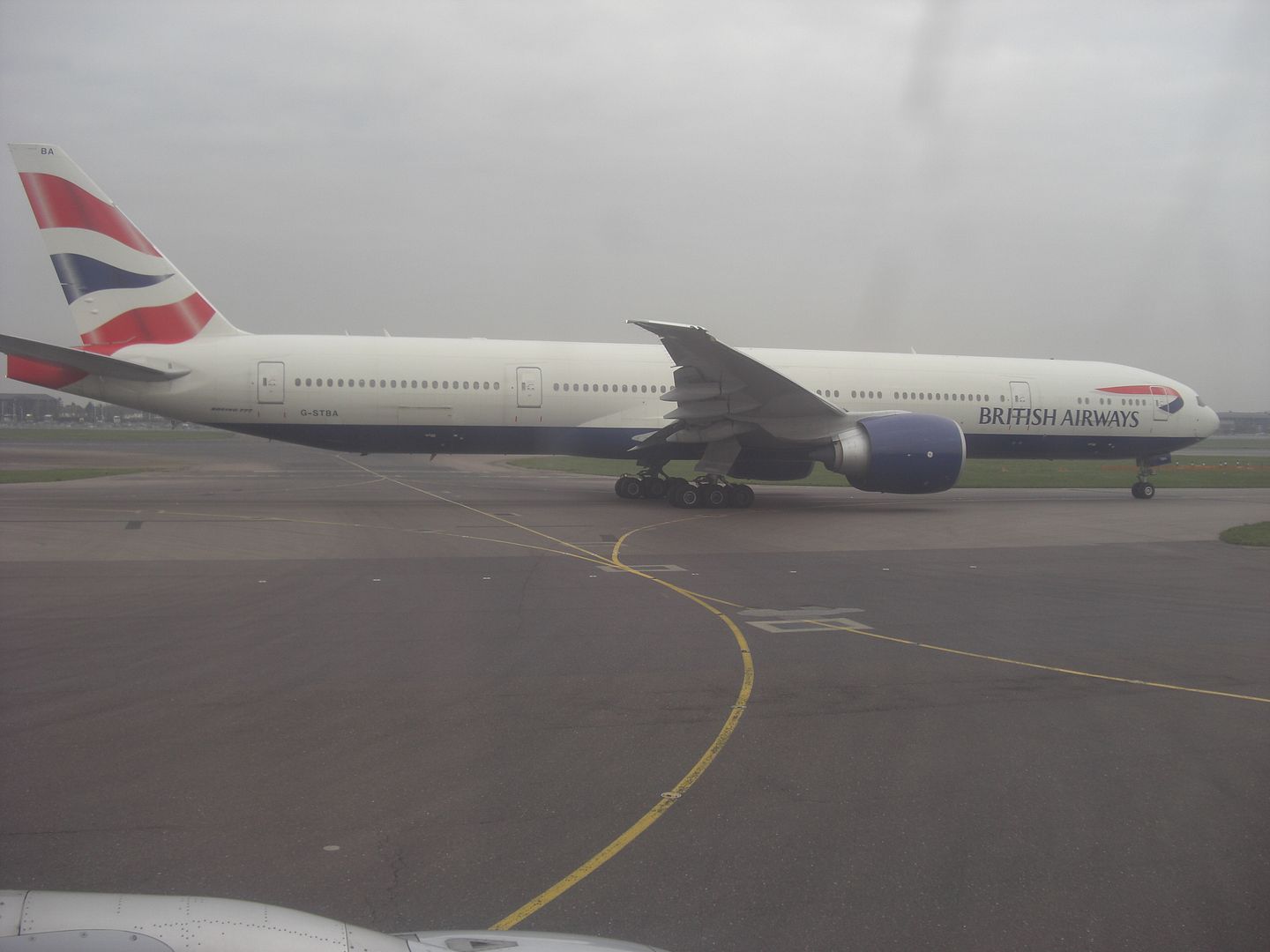 Verdict
OU offers a good value, high quality product. I was very impressed with the meal served – you just don't see that much in Europe nowadays. Croatia was really beautiful, although March isn't the best time to go – it was sunny, but pretty cold and windy.
My next flights are the week after next between London City and Antwerp, before an Easter trip to Jordan on RJ. Can't wait!
Comments and questions welcome!