Hi all, my name is Wei Heng, and this is my first ever post and trip report here on A.net! Been silently reading countless of trip reports since 2005, but only got to sign up for a premium account now (I was 14 years old in 2005). I am currently serving my national service in Singapore, since February 2010, and being lazy, I only got about writing this report 15 months after it actually happened! I had only planned to write a general trip report, not a detailed one, so I didn't really take many photos of the airport/journey. So all the following accounts are based on my lousy memory, and pardon the poor quality of the photos, as I was quite an amateur photographer then and my DSLR was pretty pretty old. (The fact that I took so long to start writing is a testament to my efficiency) I haven't been doing any writing/reading in the past year, so its inevitable that grammatical mistakes will occur here and there (Plus I come from a Chinese speaking family). Did a search but there are only a handful of reports on China Airlines available, and only 1 about Honolulu. This is going to be a long TR covering 6 flights so, I hope you all will enjoy this trip report, and I will appreciate comments on how to improve this maiden TR!
(Won't post every picture-i have 1000 plus i think- will only post relevant ones/in the case of spotting pictures, will post only special/uncommon scheme/aircraft)
Introduction
It was during the "A" Levels, the biggest examinations that I have ever encountered in my 18 years existence, when I kept pestering my parents to go on a long overseas trip before my enlistment, like to Greece or New Zealand. However, they asked me to focus on my studies first and "worry" about the trip later, showing signs of rejection of my idea, which they later reasoned that those places were too far away from Singapore. However, they were "secretly" searching for probable destinations behind my back. One day, my father told me," We saw SGD$880 return tickets to Hawaii on ANA". ANA were apparently having their winter sales, with cheap return tickets to all around the world like Hawaii, Chicago etc. I immediately thought, wow, does my father not know where Hawaii is (it's further away than New Zealand). I quickly asked them if they considered going there. The reply was a yes, but however, all tickets were fully booked, much to my disappointment. There goes my chance of visiting paradise, I thought. I went online to search for cheap fares to paradise, but to no avail. However, one day before the end of my examinations, my parents told me that they were deciding on a trip to Hawaii, but on China Airlines. 7 Days total, 1 in Taipei, 4 in Honolulu. What can you do in 4 days there? I urged my parents to extend the stay. The result was positive. We will be going to Hawaii still! (At around SGD 1.1k/pax for 7D/5N-still dirt cheap)
I went online to book seats for all of us on all of our 4 flights. Needless to say, I assigned window seat on the port side of the plane for myself.
The big day finally arrived. We were scheduled to fly on China Airlines flight 752 to Taipei. Singapore is a stop-over for the Surabaya-Taipei Taoyuan route. We reached the airport (T1) at around 8am, with ample time to check-in for the 1025 flight.
Check-in
It was slightly more than 2 hours ahead of departure time, but people were already at the counters checking-in. One agent called out to us to check-in at the Group Check-in counter.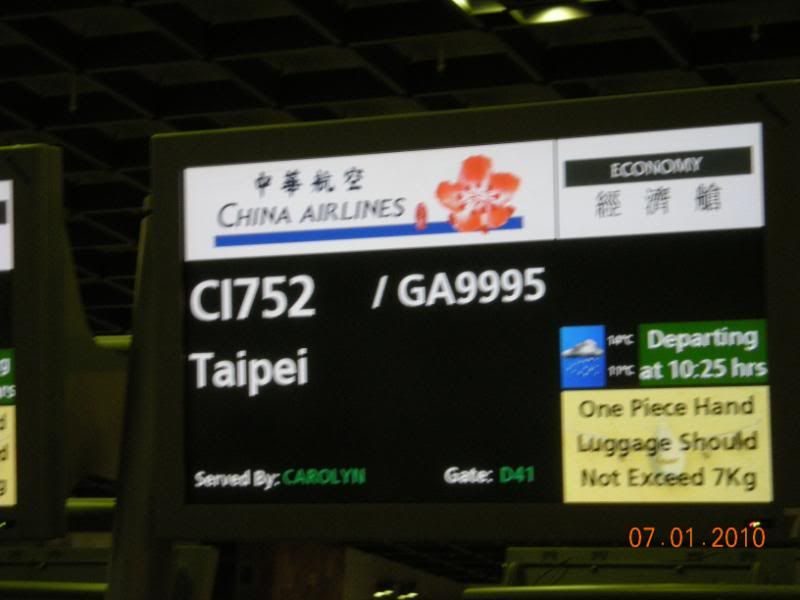 Check in went well, we produced all our necessary documents. Then came the problem. The agent asked, "Do you all have the ESTA authorization letter printed out?" We were visiting the United States, and being from Singapore, we were eligible for the Visa Waiver Program, which means we do not need to acquire visas. However, my mum thought that since the information was already "secured" inside the website, she did not need to print it out. The agent then called out another agent to clarify some doubts. He (the second agent) told us that the authorization letter was required as (he thought) we were transiting in TPE immediately for Hawaii, and that since our connecting flight was not "ready" yet, he could not confirm our authorization. We told him that we were staying in Taipei for 1 night instead, and the problem was thus resolved. We contacted my sister (who sadly wasn't with us due to studies) who told us our authorization number just in case, and we received our boarding passes.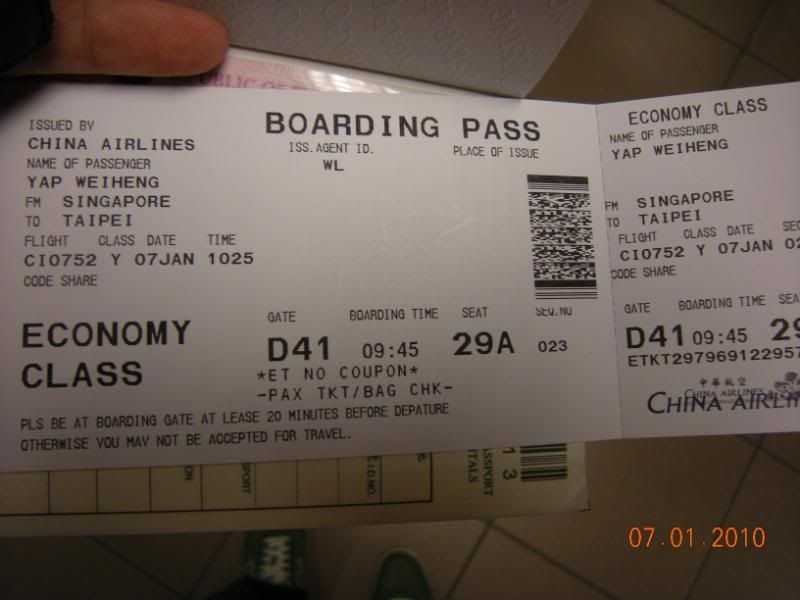 We had plenty of time left, went to the Kopitiam to have breakfast. I chose to have the Mee Rebus, while my parents settled on bread toast. I was feeling full after finishing my meal, and did not have the energy to do what I had previously intended to do, which was to visit the FIFA store in Terminal 3. We then went to have a look around the transit area, before proceeding to our gate (D41). It was raining outside, with some rays of sunshine. I saw our aircraft through a window beside our boarding gate, near the transit information centre. I started snapping (what else) but when I wanted to take a photograph of a UPS B767 located at the remote gate using my longer zoom lens, I found out something. The lid was stuck and I could here glass shards inside. (Oops) I spent a couple of minutes trying to open the lid, without being successful.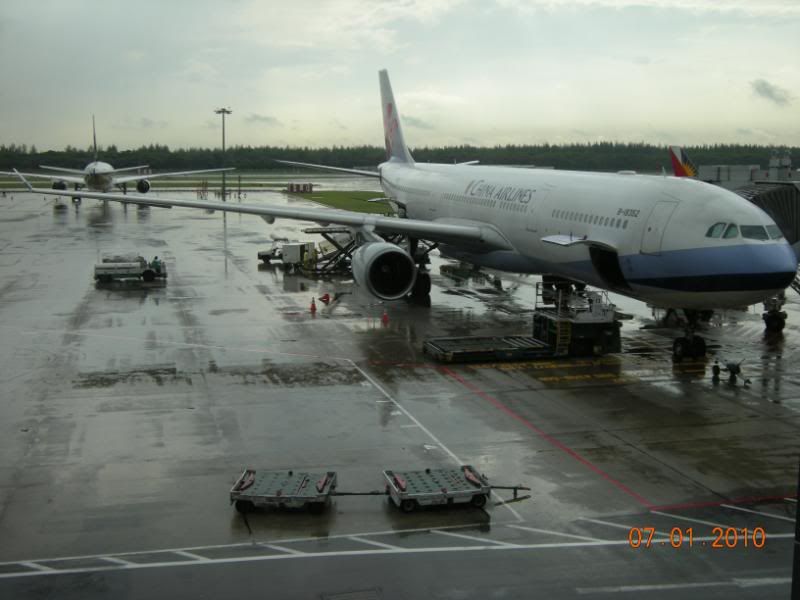 My flight today.
We then reached the boarding gate, where the passengers were all seated ready for boarding. I tried opening the lid again, and finally, the glass pieces flew out. Being the camera noob that I was at the point of time, I thought that I had spoilt my zoom lens, and did not dare to report this incident to my father till later on during the trip, when it was nearly too late. (Turned out later on that only the filter was gone) Soon, it was time to board the plane…..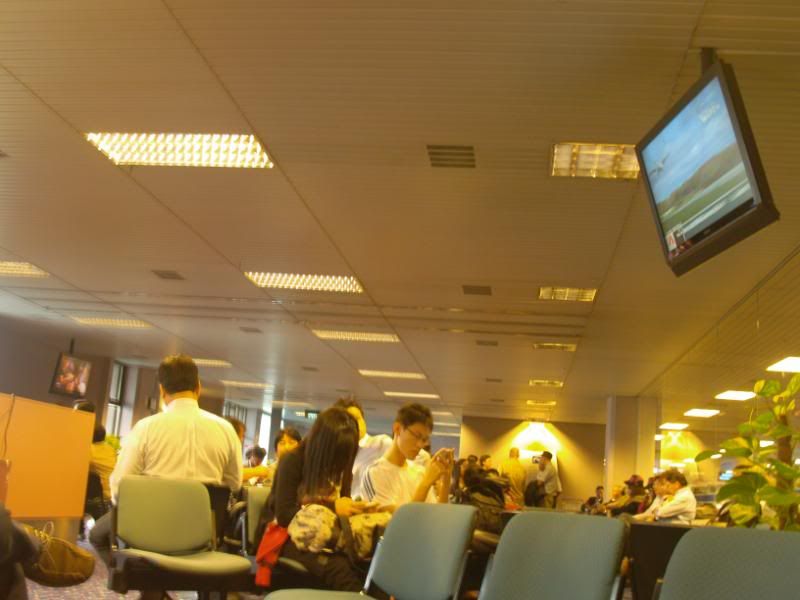 Boarding area
SECTOR 1
Date: 7th January 2010
Sector: Singapore Changi Airport (SIN) –Taipei Taoyuan International Airport (TPE)
Distance: 3226km
China Airlines Flight: CI 752
Gate: D41 (T1)
Aircraft: B-18352, A330-302
Delivered to CI: 08-02-2007
Seat: 29A
SDT (ADT): 1025 (1034)
SAT (AAT): 1500 (1510)
Flight Time: 4 hrs 36 mins
Boarding
Boarding was called out according to the rows, and the classes.
It was pretty efficient, and I went to my chosen seat of 29A.Legroom was average.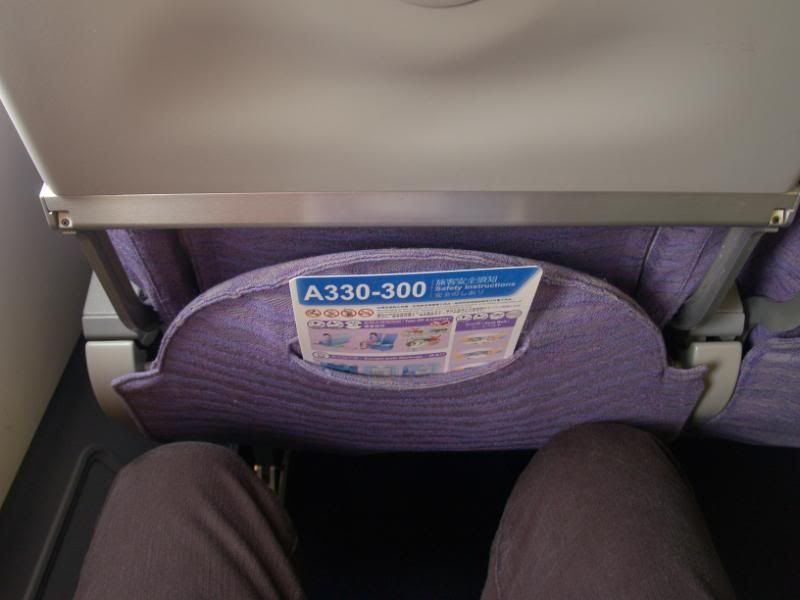 Soon everyone was on the plane. However due to the wet weather and the traffic, the plane remained stationary. At 1034, 9 minutes behind schedule, the gate finally closed.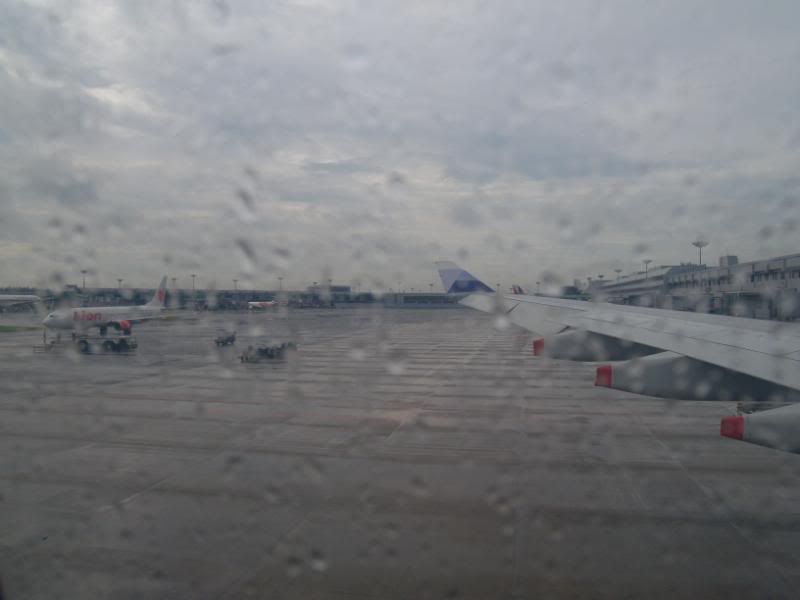 It was raining outside
As mentioned earlier, there was heavy traffic at SIN at that time. Our plane waited at the taxiway for at least 15 minutes. We were the 6th in the queue for takeoff from Rwy 20C.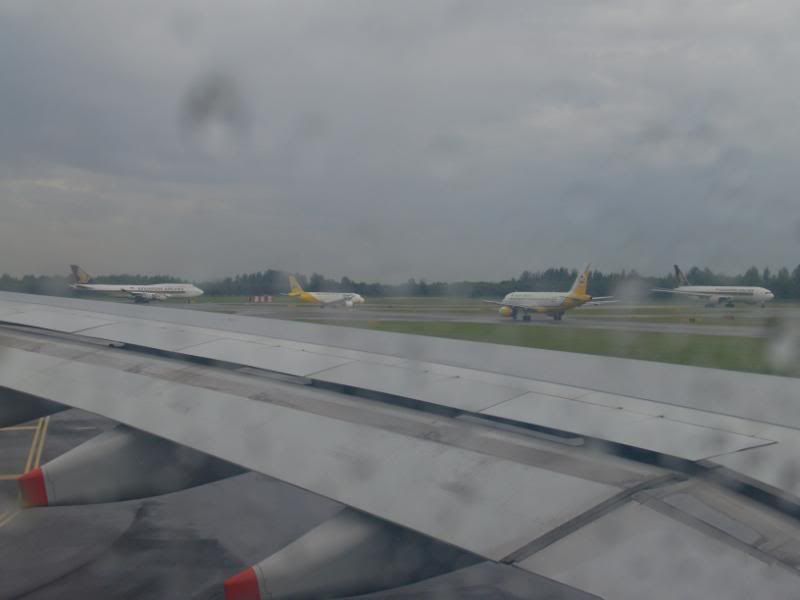 The queue at Rwy 20C
Takeoff at 1057 was smooth before we banked west to pass by Changi Airport again starting our journey to Taiwan.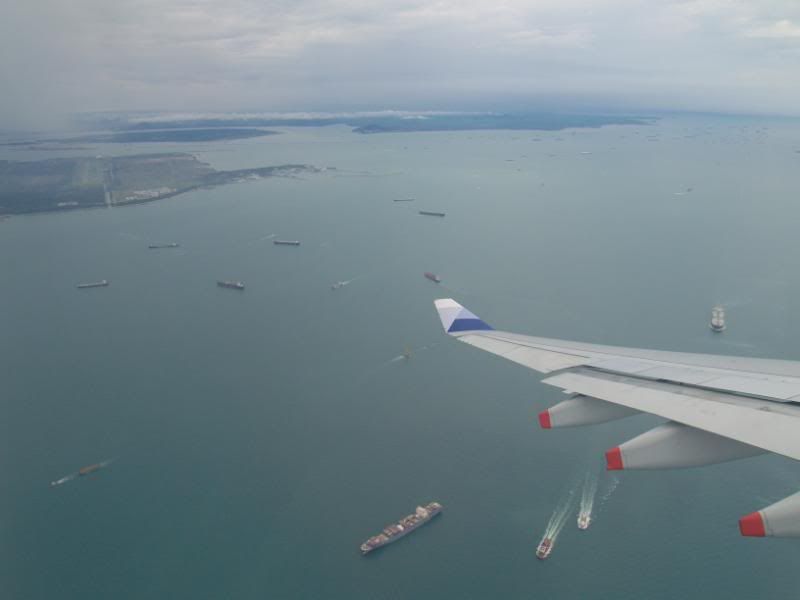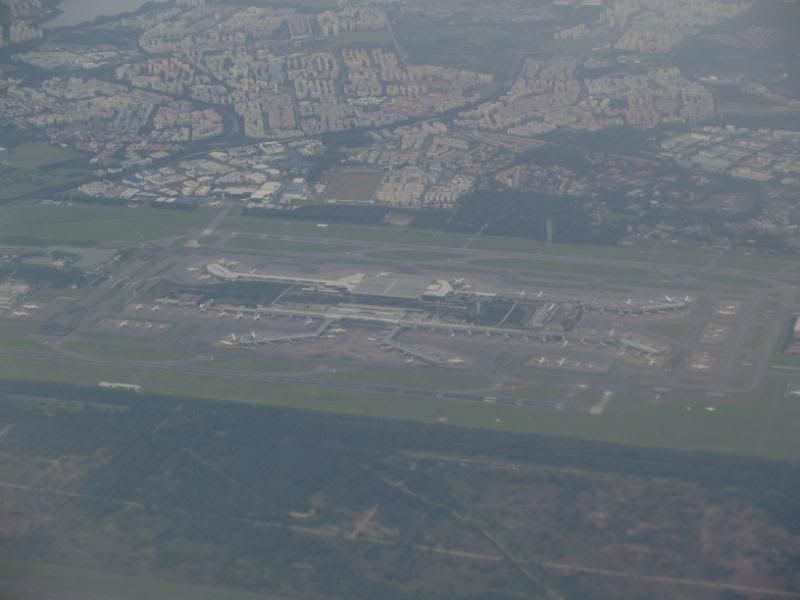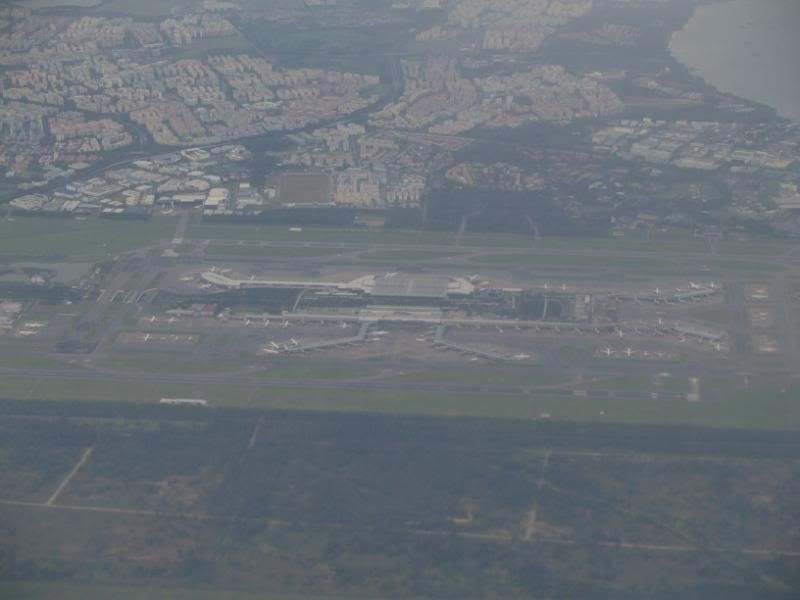 Overview of Changi Airport
In-flight
China Airlines has AVOD installed in all of its A340s and A330s. I began to use its IXplor, which shows the facts and figures about our flight and our position in the international airspace.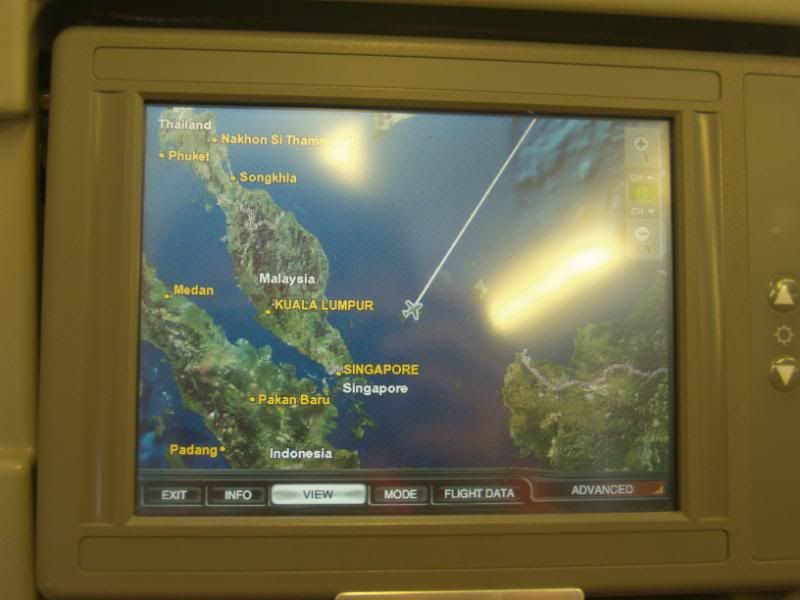 The IXplor
Cruising level
About 1 hour 15 minutes into this 4.5hour long journey, lunch was served. There were two choices, chicken and fish available, although by the time I was served, only the fish was left.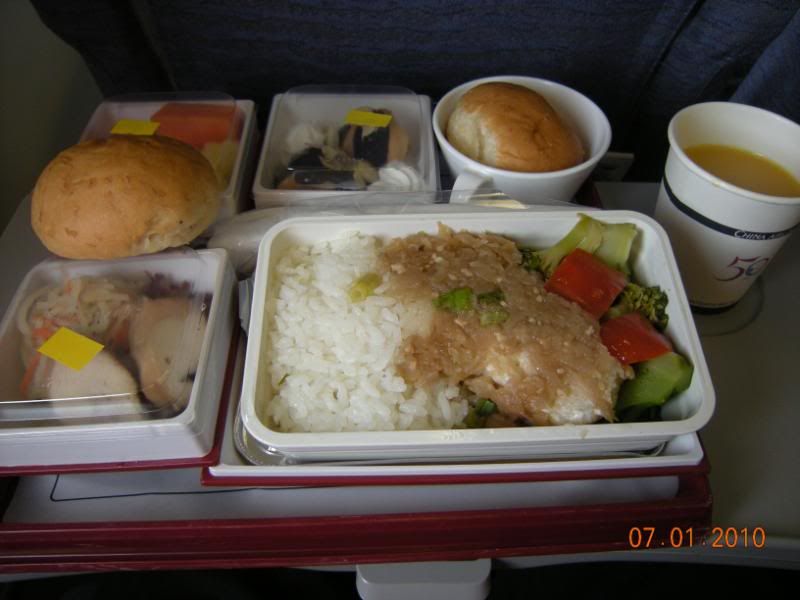 The fish
The fish was fabulous to say the least, as well as their hot bread. 2 good looking Flight attendants served us. After the meal, I started playing some mahjong and other games on the IFE, and of course, looked at the scenery that was right before my own eyes in the cabin. :p
Landing
We slowly descended into a cold and windy Taipei. Landing on Rwy 5 at 1510 was 10 minutes behind schedule and we slowly taxied to Gate A6 in Terminal 1. Upon arriving, nearly all the passengers started to wear thick clothings in preparation for the cold weather and true enough, the weather didn't "disappoint" us. Due to the lack of arrivals at that time, clearing immigration was a breeze, and we were waiting at the baggage claim within a few minutes. There was an airport police offer that brought her sniffer dog (or whatever it is called) to sniff out suspicious baggage.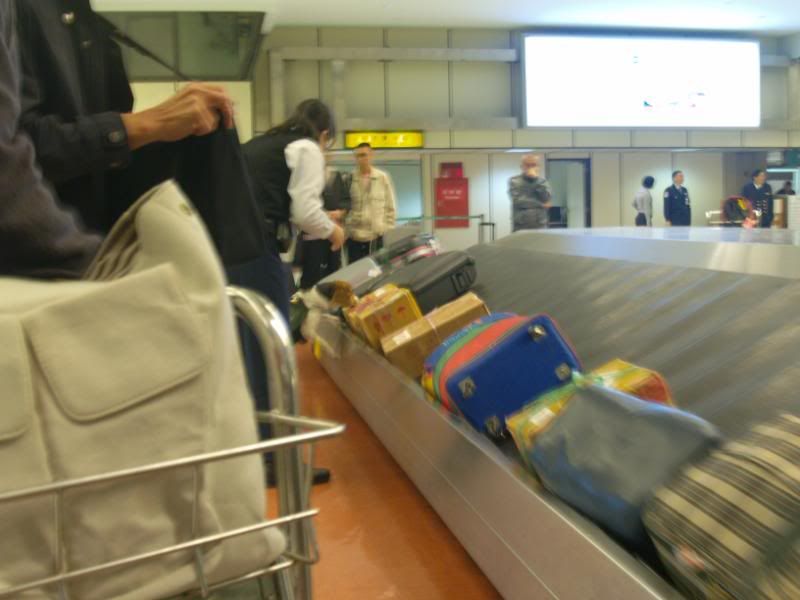 The sniffer dog (had to be discreet, so pardon the quality)
Indeed she found one (however I do not know what happened in the end as we have already collected our baggage). Walking out of the terminal, we found our driver (a local tour guide) waiting for us, who asked us to wait as he drove the van to the nearest exit to bring us to our accommodation for the night, City Suites Gateway Hotel, a 10 minute drive from the airport.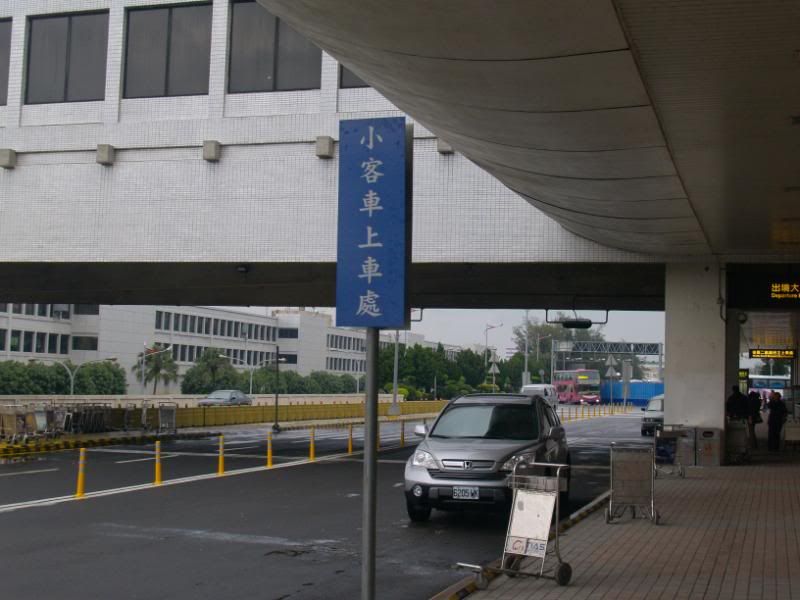 Outside the terminal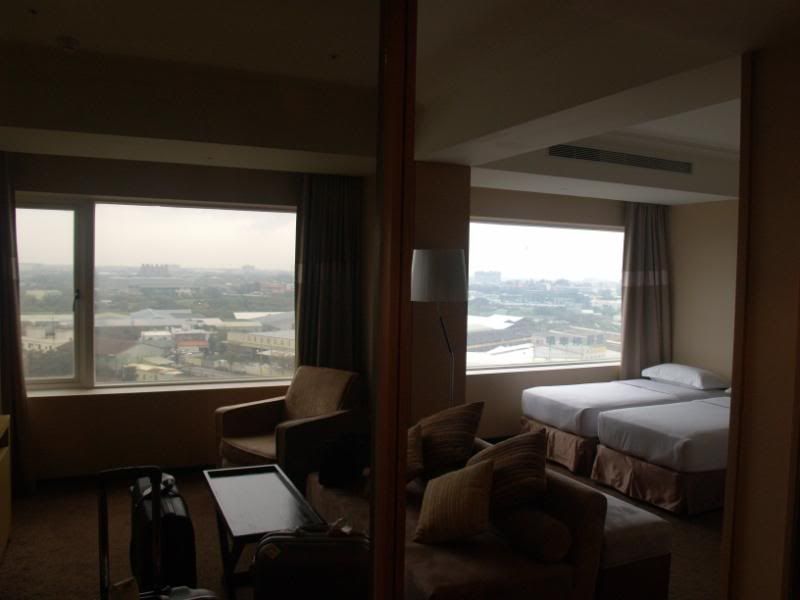 Hotel room
SECTOR 2
Date: 8th January 2010
Sector: Taipei Taoyuan International Airport (TPE) –Tokyo Narita Airport (NRT)
Distance: 2183km
China Airlines Flight: CI 018
Gate: D4 (T2)
Aircraft: B-18202, B747-409
Delivered to CI: 22-10-1997
Seat: 56A
SDT (ADT): 1405 (1429)
SAT (AAT): 1800 (1758)
Flight Time: 2 hrs 29 mins
Check-In
We arrived at the airport slightly more than 2 hours early, and check-in was completed very fast due to the lack of crowds. We soon cleared customs, before proceeding to have our lunch at some airside restaurant, where I had curry udon.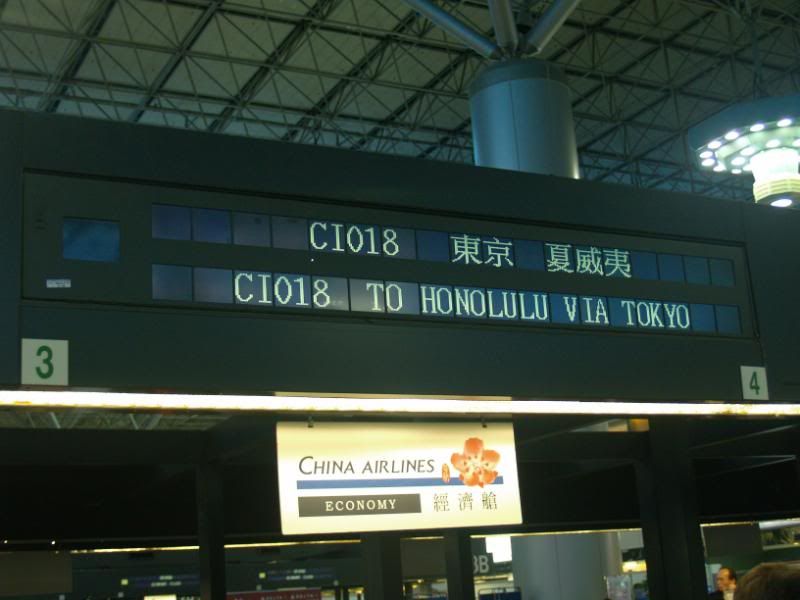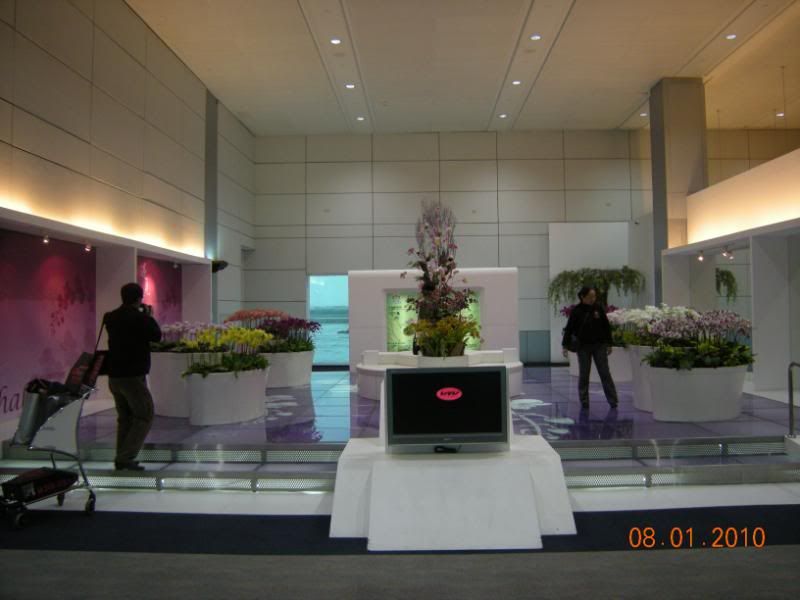 We had lunch here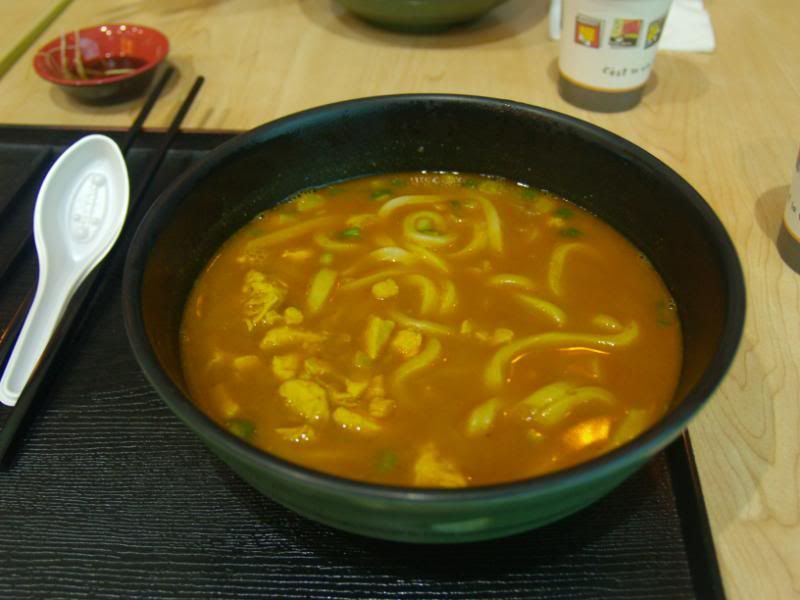 My curry udon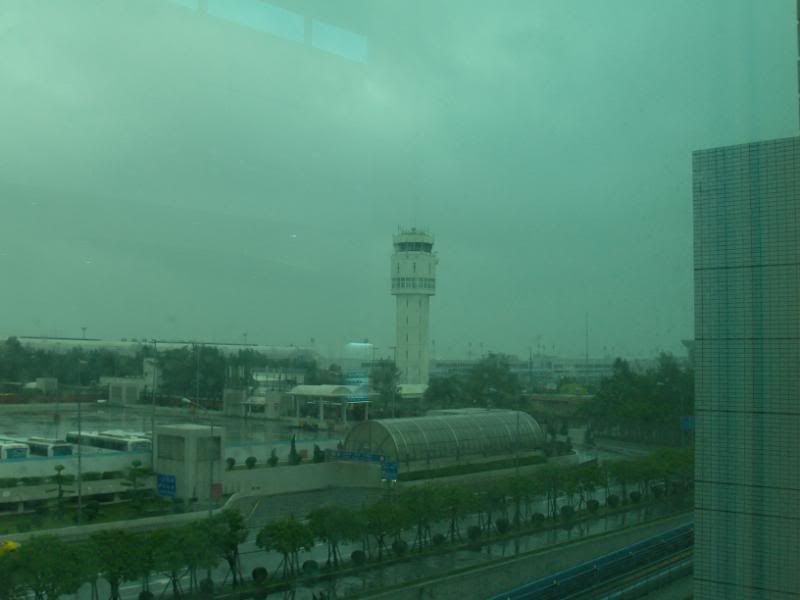 Control tower
We then wandered around the terminal, with me trying desperately to find an airport schedule, to no avail. Soon it was time for us to board our flight.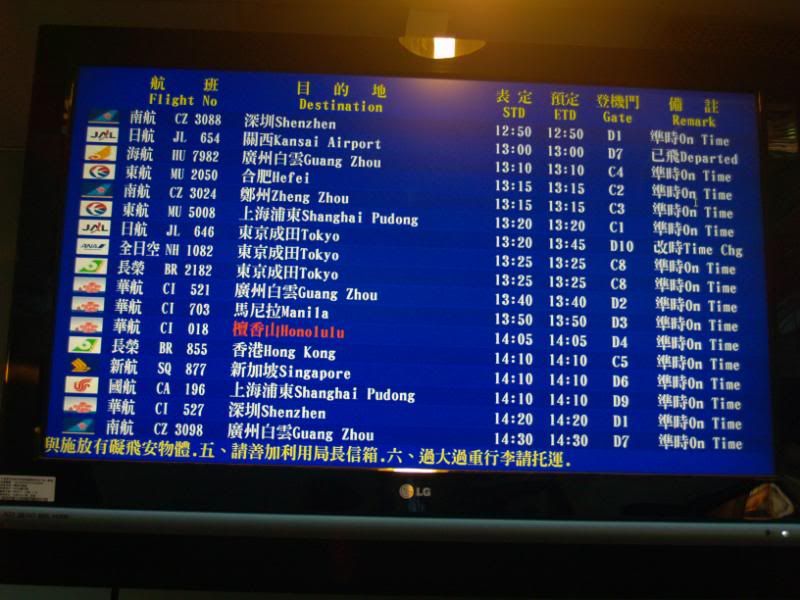 FIDS
B-18311, A330-302 in Taiwanese Fruits colour scheme
Boarding
There was bad weather outside, and boarding was called late, even though I've seen B-18202 at the gate since 2 hours ago.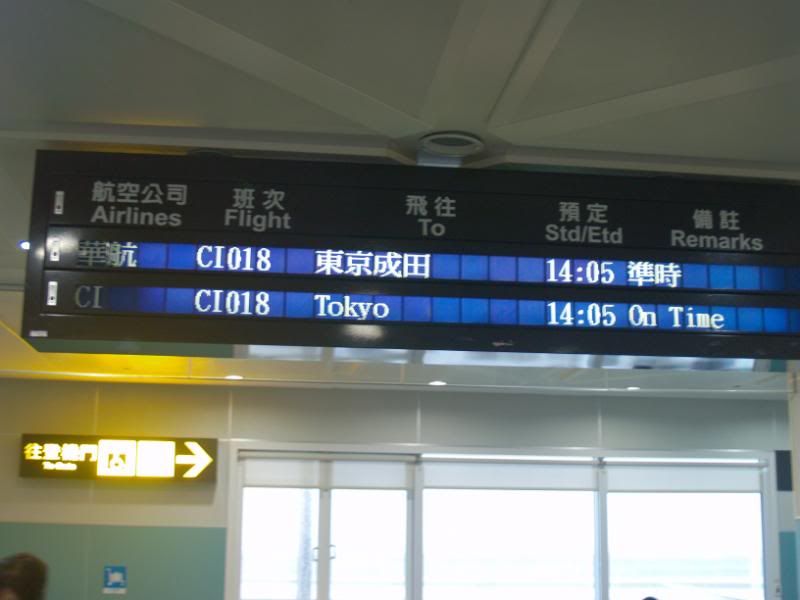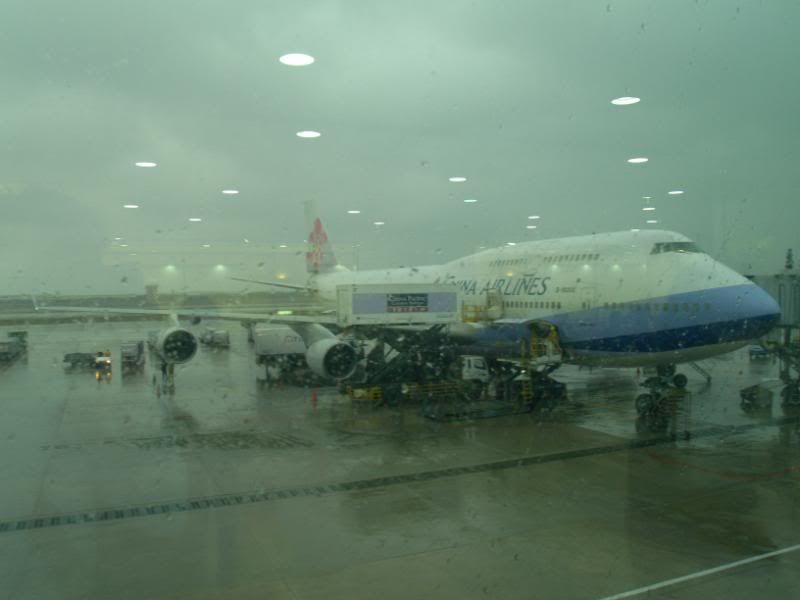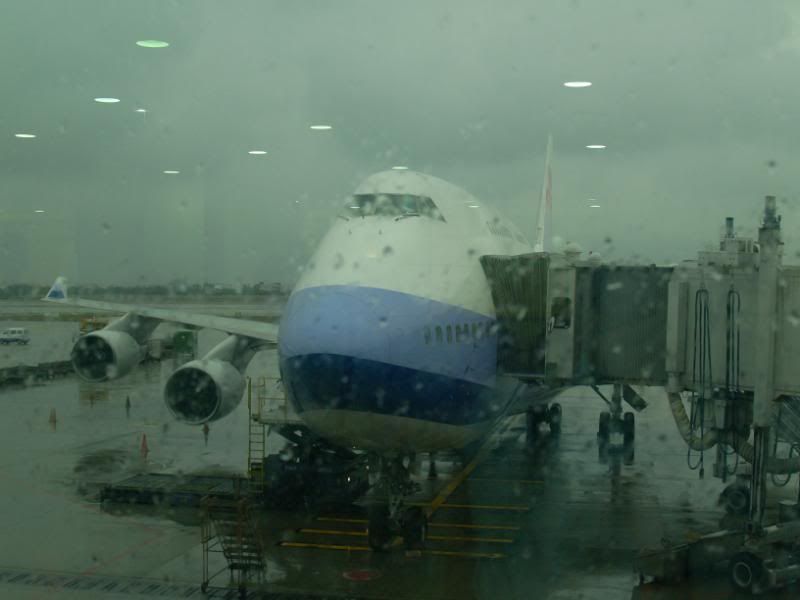 Our B744 to NRT and HNL
Waiting for boarding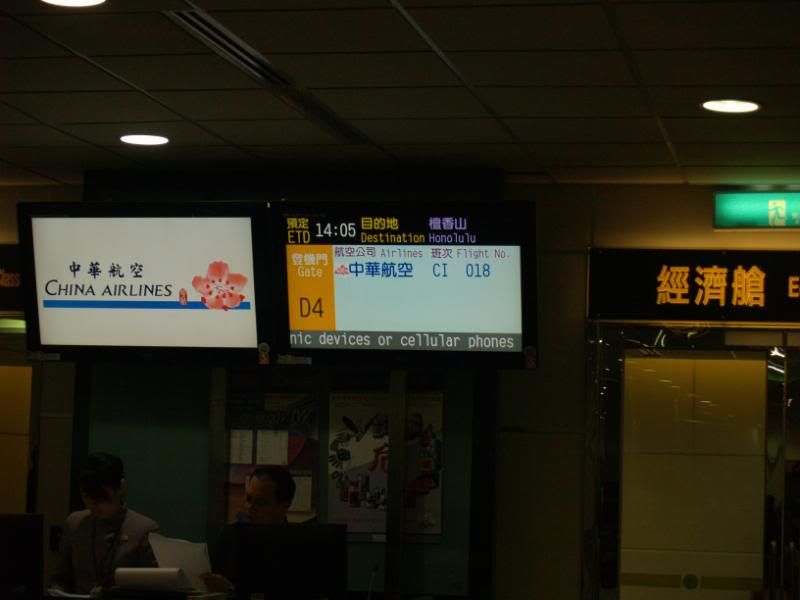 Boarding proceeded smoothly, again from back to front for Economy class. The flight was pretty much full, with a Y load of around 95%, although most people on the plane were deplaning in Tokyo. Pushback was at 1429, 24 minutes behind schedule. We slowly taxied to Runway 5 in the bad weather, before we rolled down the runway.
In-flight
We got B-18202, an old plane unfortunately, as China Airlines do (or so I heard) operate their newer B747-400s to Tokyo. Therefore, there was a lack of a PTV, something that should have been installed in all their long-haul aircrafts by end 2009. The legroom was decent.
No PTV!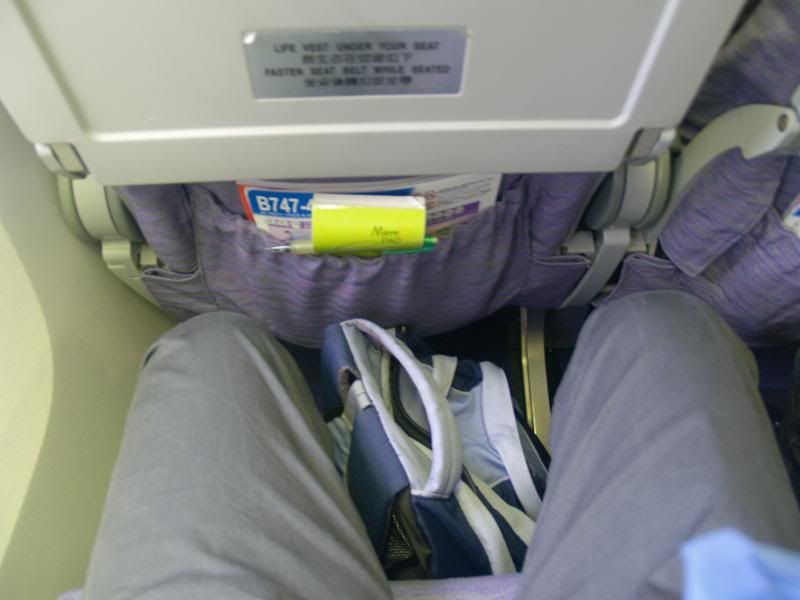 The mandatory shot
The seats were kind of old though, which was unsurprising. The flight was uneventful, due to it being a short international sector, with some snacks passed down.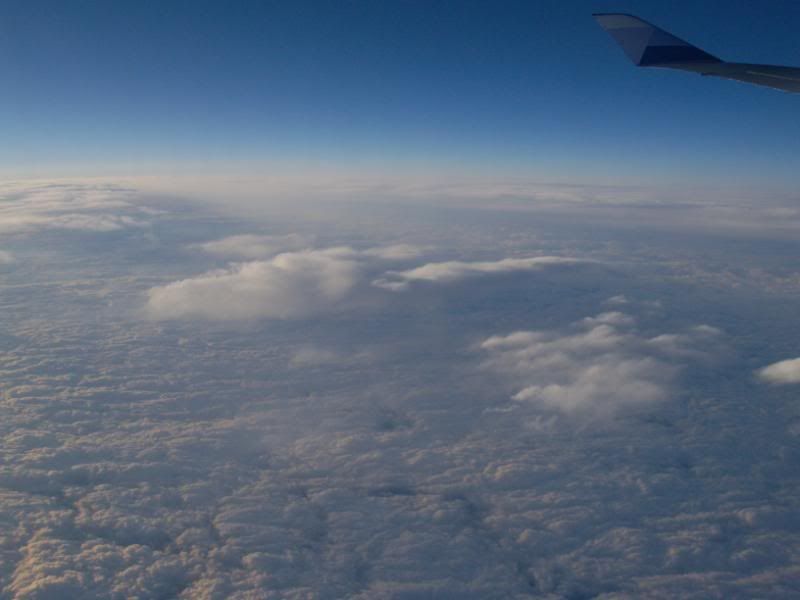 Around less than an hour into the flight, an early dinner was served. I chose to have Pork with rice, and I was not disappointed.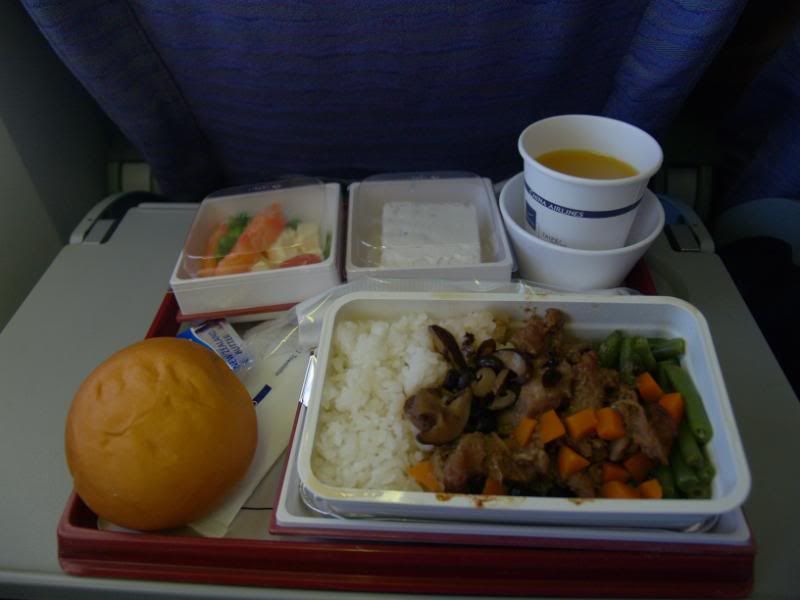 Dinner on board
At around 1800 local time, we touched down on Rwy 34L on a cold and dark Tokyo evening, and slowly, we taxied to Gate 74.
Once inside the terminal, the transiting passengers (to HNL) were given a card for clarification.
SECTOR 3
Date: 8th January 2010
Sector: Tokyo Narita Airport (NRT) - Honolulu International Airport (HNL)
Distance: 6142km
China Airlines Flight: CI 018
Gate: 74 (T2)
Aircraft: B-18202, B747-409
Delivered to CI: 22-10-1997
Seat: 56A
SDT (ADT): 1930 (1946)
SAT (AAT): 0700 (0640)
Flight Time: 5 hrs 54 mins
Check-in
We were ushered to the baggage screening area, where we once again passed through security. Being left with a bit of time, we checked out some crowded stores post-security. We did not have any Japanese Yen with us at that time, so that was all that we did, besides emptying our bowels. Soon it was time to be at the boarding gate, where a huge number of passengers were waiting to board the jumbo jet to paradise.
Boarding
Boarding was quite chaotic to say the least, we, at a point of time, had absolutely no room to maneuver. An airport staff saw us holding on to the transit card, and called us. For a moment, I foolishly thought that she was going to bring us to an express lane, but no, she just pointed out to us that we were not queuing in the right place, and directed us to the right lane. A short while later, there was another round of baggage check, where all passengers were required to remove their shoes, as part of US regulations on flight in/out of the States. Soon, we were back at our seats where we had and will rest at for the next couple of hours for the journey across the Pacific Ocean. The aircraft was quite full, with a load of 95%. Push back was delayed for around 15 minutes, before It was another long journey back to Rwy 34L for take off. We were airborne after a long take off roll, we were off into the dark Japanese sky. One could really see what a developed city Tokyo is, with bright lights lighting up the night sky.
In flight
Soon, we left the Japanese (mainland) airspace, and there was no need to bother looking out of the window. We were not going to encounter any lights or land, it's just the gigantic Pacific Ocean beneath us for the next 6 hours or so. Dinner was served around ½ an hour into the journey, and I had chicken with sauce. Not too bad, I thought. One thing to note was that I had my alarm clock with me all the time, and it was set to Hawaiian time, so as to allow me to acclimatize to the time. In other words, we had dinner at 2am (Hawaiian time).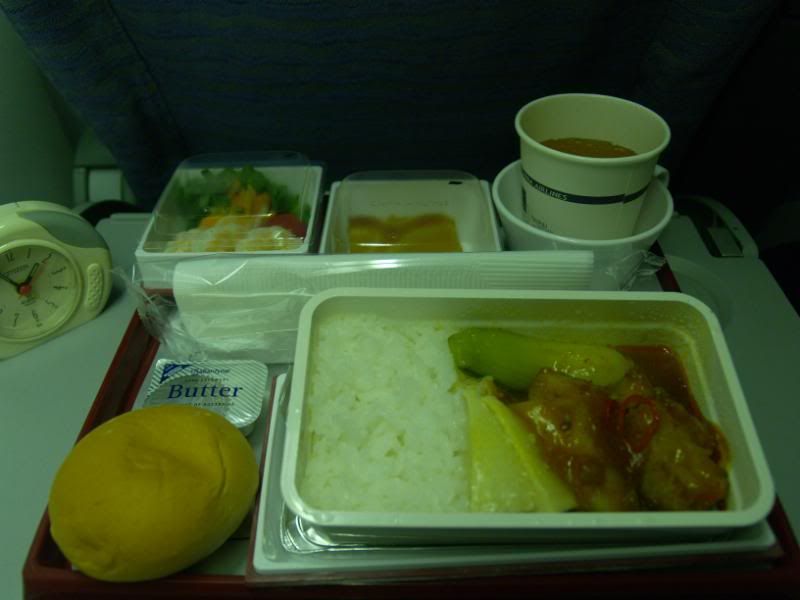 Our dinner
Pretty soon, the stewardesses came around to collect the tray, and the lighting was turned off to allow us passengers to rest. Initially, I was too excited to fall asleep. However, we soon encountered a few turbulences, and with wild thoughts ( A crash in the middle of the Pacific Ocean-will anyone find us?) running through my mind, I decided that it was best to fall asleep like my parents. This will also allow us to overcome jet lag.
I nearly slept through the whole journey, waking up only around 1 hour before landing. I witnessed (and captured) one of the most stunning sunrises I've ever seen (I have rarely seen any sunrise though), at 6am local time.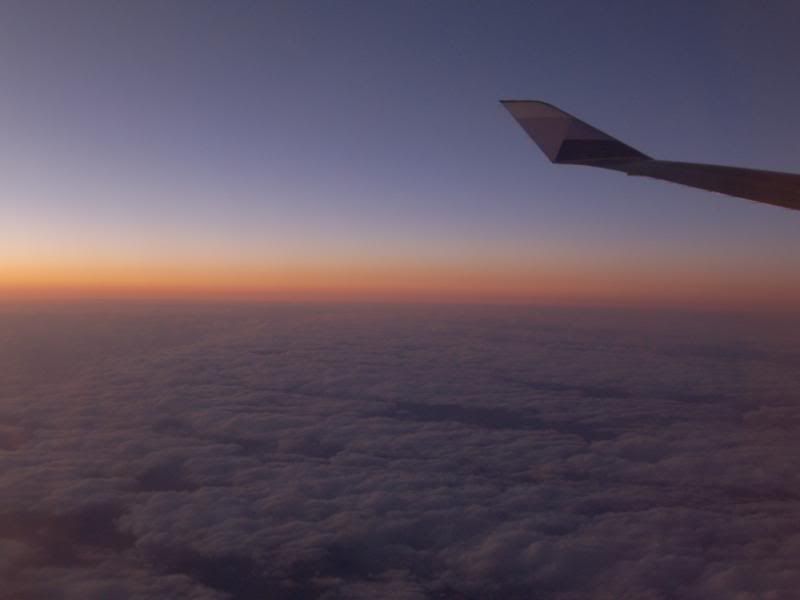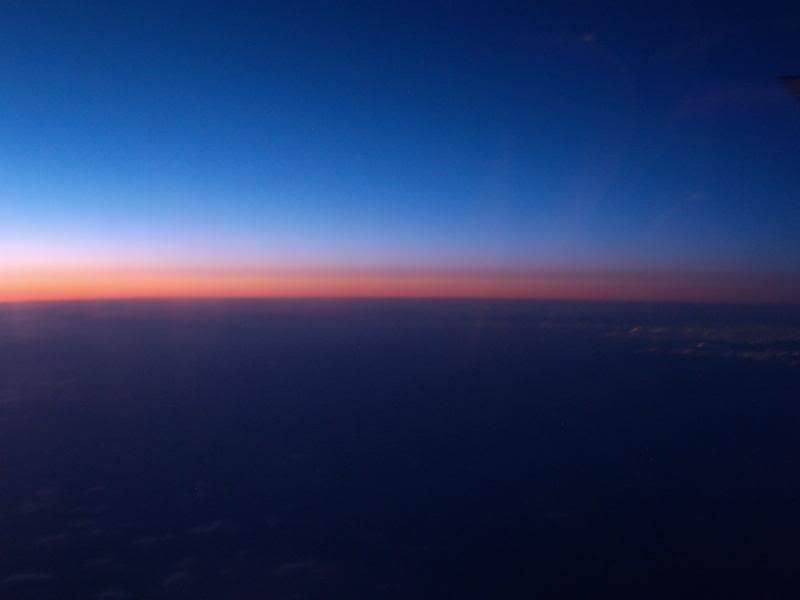 Beautiful sunrise
Pretty excited at the fact that we were reaching paradise soon, I started to play FIFA 10 on my PSP. Around ½ an hour before landing, the stewardesses and stewards came around to distribute sandwiches to us.
Approaching Hawaii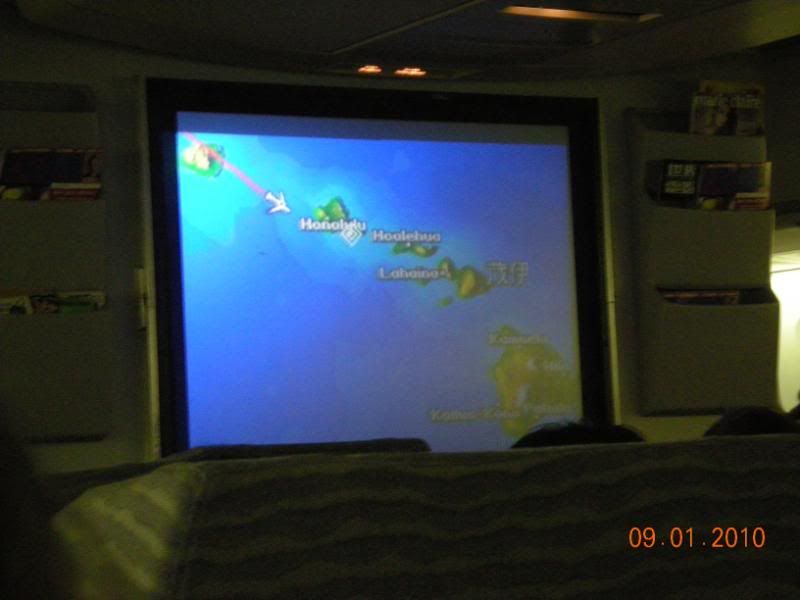 Even closer!
Soon, the clouds disappeared and we were able to see land for the first time since we left Asia. Even at around 6.30am, it was pretty bright on the streets. We flew closer and closer to HNL, flew over the famous Reef Runway, and we finally touch down on Rwy 4. We taxied to Gate 26, right beside a Japan Airlines flight from the same place that we came from.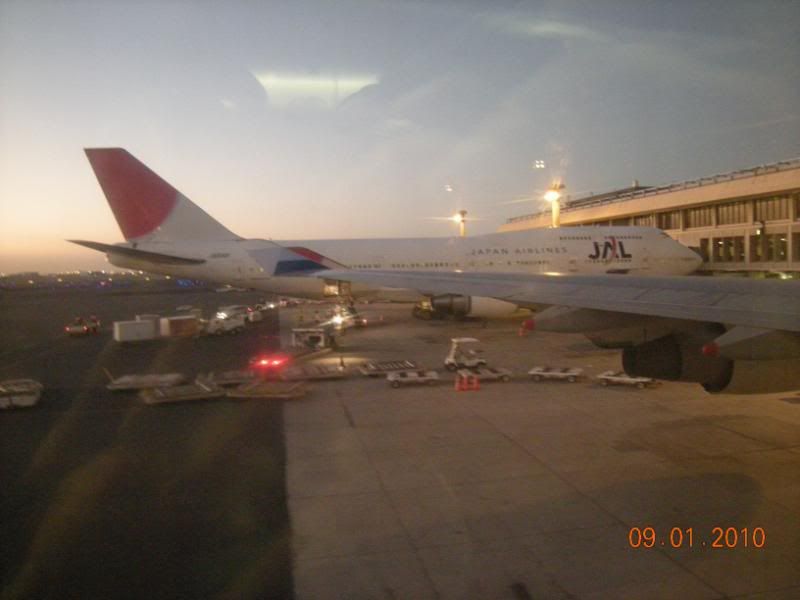 The JO flight from Narita that delayed us
However, the doors remained closed for quite a while, with the Captain relaying to us the instructions passed down from the air traffic control.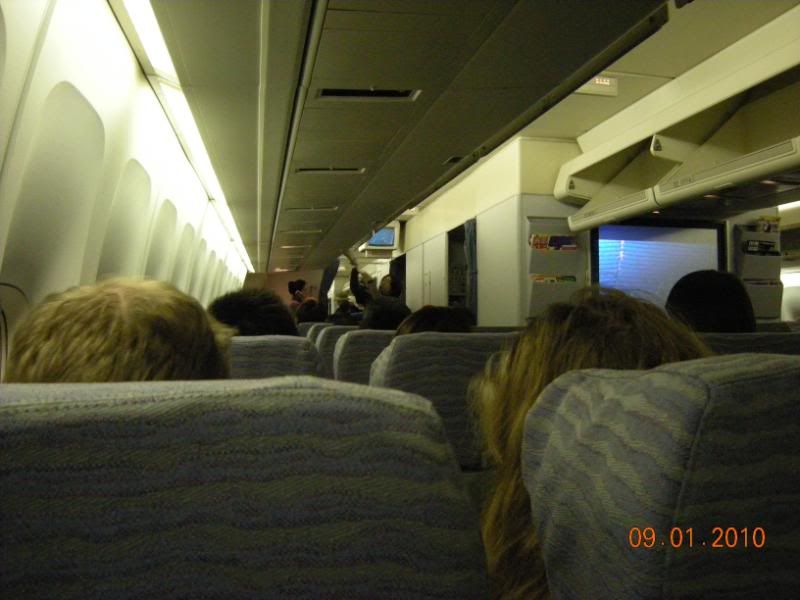 Waiting for instructions to disembark
Due to the extreme crowd (generated by the JO B744) at the immigration counters, we were required to wait inside our aircraft until further notice. Welcome to Hawaii.
There is a distinctively Hawaiian feeling (what else) of the airport once we stepped out of the airplane and the aerobridge. Mountains formed the backdrop of the airport. We made our way to the immigration counters, at the same time admiring the traffic on the HNL tarmac. I sighted the B738s of Fiji's Air Pacific, and also Alaska Airlines B738.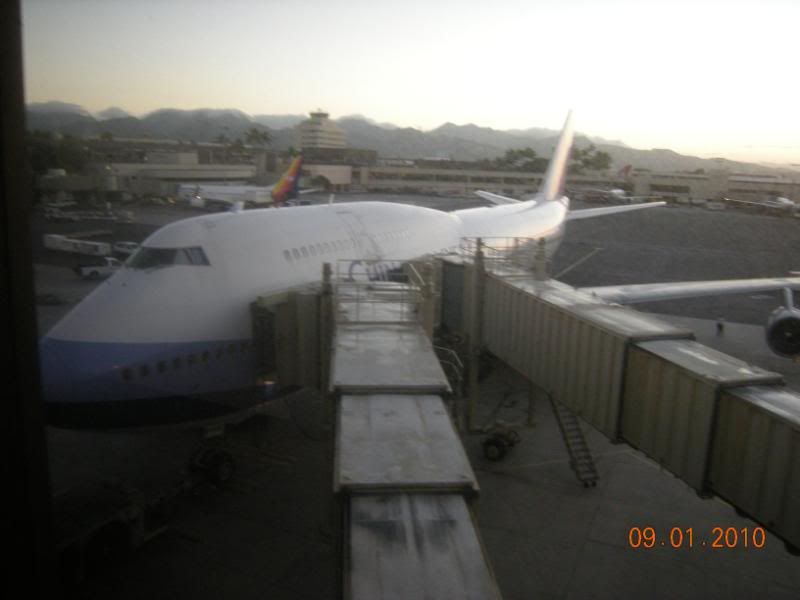 Air Pacific and the mountains (This pic was taken in a rush)
Last look at the 2 jumbo jets that have just arrived from Tokyo-Narita
We queued at the immigration line for more than half an hour, only to realize that we did not fill in all that was required in order to proceed. Nonetheless, the officers were very patient, and we finally got to the baggage collection point where our baggages were already waiting for us, not surprisingly. We left the area to be greeted by Hawaiians wearing leis and other Hawaiian clothing, while experiencing the cool Hawaiian breeze. We met up with our driver, and soon we were on our way to our hotel, the Marriott Waikiki to start my trip in the most isolated place that I've ever been at.
Welcome to PARADISE!!
(TBC in the next post.....)