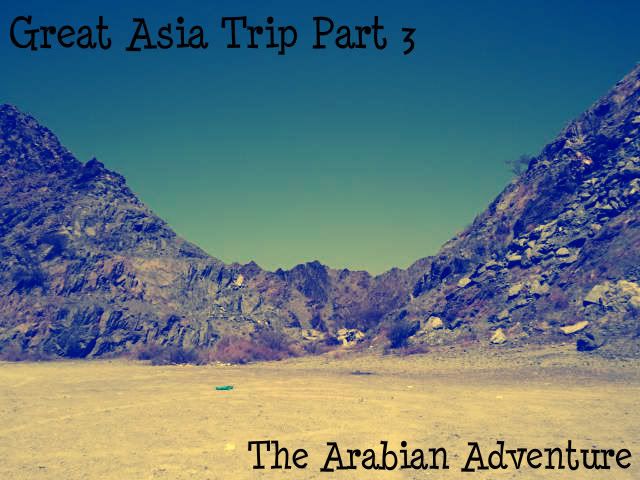 This is the third part of my trip report series that documents my travel around Asia. For more information about the trip, please refer to the following trip reports.
Great Asia Trip Part 1 - Propping To Luxury
(by
Initious
Mar 23 2011 in Trip Reports)
Great Asia Trip Part 2 - In Love With Emirates
(by
initious
Mar 27 2011 in Trip Reports)
Introduction
It was hard to forget the legendary service that Thai Airways International managed to offer me for my flight to Shanghai back in June. Thai naturally became my carrier of choice after just one trip with them and I was always looking forward to flying longer flights on Thai. However, the longest flight I ever had was a Shanghai to Bangkok flight with a block time of 4 hours and 42 minutes, I would not put that as a very long flight but only just enough to savour what Thai has to offer for their Royal Silk Class passengers.
Having to fly to Dubai for this part of the trip, I have decided upon Thai to bring me on yet another unforgettable journey. Being a slightly longer flight, I decided that Business Class would be the best choice for me. Besides choosing Thai for their service and food, the price is also a huge factor. Prices on EK and SQ from SIN-DXB would range from around S$3400 to S$4000 which is very steep for a student like me to afford. However, Thai is only offering S$1800 for SIN-BKK-DXB-BKK-SIN with stopovers allowed in both directions, which I fully utilized. Taking all the factors in mind, the only choice would be Thai.
Thai operates the Boeing 777-200 on this route. If you are in Economy Class, you are bound to be bored as there is no PTV for Economy Class passengers. However, Business Class passengers have PTV with AVOD coupled with lie flat beds, a wonderful combination for a 7 hour flight in the largest continent on Earth.
Booking Process
The booking process for this flight has got to be one of the most troublesome I ever faced. When I finally decided to book my tickets on 11th January, I hopped onto my computer once I reached home and got onto the Thai Airways website at
www.thaiair.com
where flight bookings, seat selections and online check-in can be done.
The website lets you reserve a fare for 72 hours should you decide to pay later on at their office or giving them a call at their call centre. Besides reserving the fare for you, it also allows you to reserve your confirmed seat on the aircraft. Even though I did not manage to utilize this feature, it is a nifty feature and I think all world class airlines should provide this. Besides that, should you decide to pay directly online, you can also reserve your seat upon booking.
The trouble came when I got to the payment page and keyed in my debit card details. It took a long time after I keyed in my details but all I could do was to wait out the time as I was afraid I might mess up the process if I close the browser or press the back button. Sure enough, the payment was processed a minute later but I was shown to an error page, which I presumed the money was not deducted from my account. To be on the safe side, I logged in to my internet banking account and was shocked to discover that the money was deducted from my account but there was no e-ticket issued even after 2 hours.
The next step involved me frantically calling the call centre, which can take more than 30 minutes to connect to the operator after 1pm. Despite several attempts to get through to the operator, I did not eventually get through so I decided to send a high priority email about the money deducted from my account and sure enough, I got a call from the Thai Airways office and they mentioned that the money will be refunded back to my bank account and I can make another payment once the money gets back. Sure enough, I finally got my money back and made another payment and finally getting my e-ticket exactly1 week later on 18th January.
Should you wish to know the full details of the whole process, please leave a comment and I'll be glad to let you know as I do not want to flood the report with details.
Check-In
The 4 Great Asia Trippers got a taxi from our hotel,
Adelphi Suites
in the heart of Bangkok on Sukhumvit Road to Bangkok Suvarnabhumi Airport, reaching at around 12pm. This is also where we will part as only Sandeep (AI151) and myself are headed to Dubai while Ish (777ish) and Preet are staying in Bangkok for 1 more day before heading to Kuala Lumpur on LH and back to Adelaide on MH.
Since Sandeep had an earlier flight at 2.30pm and my flight does not leave till 6.05pm, I decided to head for lunch with Ish and Preet before heading to the lounge and spa. Walking from row 9 where WY's check in counter is to row 1 where Thai has their premium check-in is long and on the way we passed by the Emirates check-in counter which reminded me that just 3 days ago my First Class experience on Emirates started and it ended so abruptly yesterday.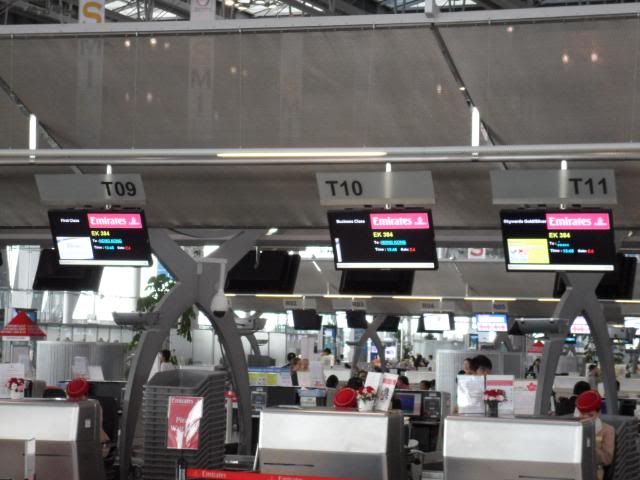 Emirates Check-In for EK384 to Hong Kong
Thai has a very nice premium check in area at Suvarnabhumi Airport, something that I appreciate as you can proceed on to the Thai Fast Track immigration right after check-in without the hassle of queuing up with everyone else. After checking in my (about to be badly broken) baggage and hoping that it can last to Dubai, I went for lunch with Ish and Preet. After some words of parting, we finally bade goodbye to each other and headed our separate ways. I'm sure we'll meet again sometime, someday, somewhere...

Boarding pass and lounge invitation
Immigration
Passing immigration in BKK would be a chore if you were an Economy Class passenger but thankfully, Thai's premium passengers get to use the immigration just located behind the premium check-in area as mentioned earlier. However, I was unaware of the immigration desk behind the area so I headed to the CIP Premium Fast Track lane and asked if I can get through with my Royal Silk Class boarding pass. The lady said entrance is only allowed if I have a Fast Track card and told me to line up with the long row of people at the normal lane. Being persistent, I headed to a nearby Thai Airways representative that told me the immigration for Thai's premium passengers is just behind the premium check-in, which I was grateful for. Although I had around 4 hours before my flight, I did not want to waste any of it queuing for immigration. Within 3 minutes, I was cleared and the escalator brings you straight down to the Royal Silk Lounge.
Thai Royal Silk Lounge & Royal Orchid Spa
Thai operates several lounges in the airport but I have decided to spend my time in the Royal Silk Lounge located at Concourse D this time as I just wanted a quiet place to sit down and surf the internet and catch up with some friends on Facebook. Before that, I decided to head to the Royal Orchid Spa located just opposite the lounge for a nice foot massage after all that walking around the airport.
It has become a habit for me to greet the locals with a warm "Sawasdeekrup" whenever I enter any places / shops etc. as I love the Thai language and I've read somewhere that the locals love it when foreigners reply them with the signature Thai "Wai" gesture. However, one thing I noticed is that people tend to reply me in Thai when I greet them with "Sawasdeekrup" and apparently quite a few locals told me that I look and speak like a Thai, especially when I do the "Sawasdeekrup" gesture. Even onboard, the crew speaks to me in Thai without me even opening my mouth. In the Royal Orchid Spa, this is no exception.
"Sawasdeekrup"
"?????"
"Sorry?"
"I'm sorry sir, would you like a massage?"
"Yes please"
"Foot or shoulder?"
"Foot massage please"
"Please take a seat while I arrange for a masseur"
As I sat down, a refreshing cold drink coupled with a cold towel was promptly delivered to me. It tasted very nice and I was still wondering what drink was that but I guessed it was some wheatgrass drink. Just after settling down, my masseur was ready so I took a small sip of the drink (it's too good to be wasted!) and followed my masseur, Ploy to my little space where I'll be spending a relaxing 30 minutes without any disturbance.
Ploy seemed shy but we started talking after a while. She told me she spoke only a little English and asked if I spoke Thai. I told her that I can only speak very limited Thai which I normally use for bargaining in night markets. Bargaining in Thai is much more fun compared to using English or the traditional "typing on calculator" method.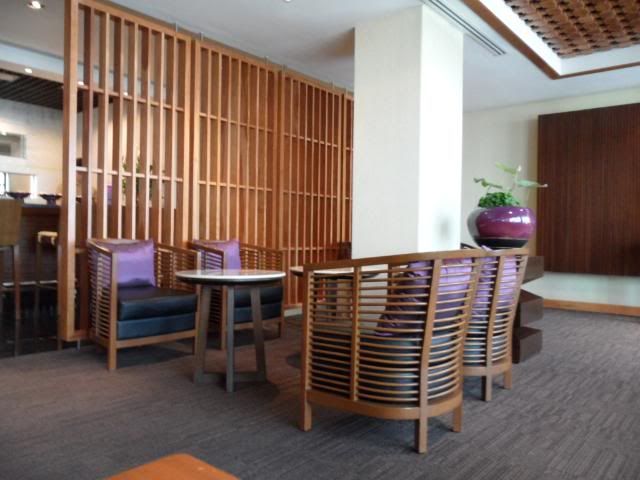 Waiting area for massage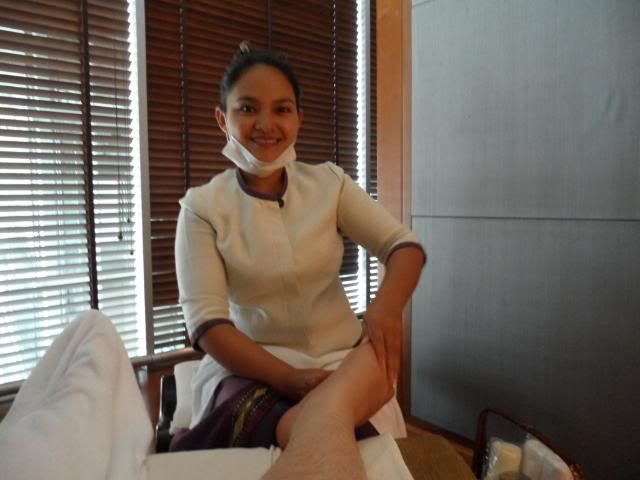 Ploy giving me my massage
She proceeded on to teach me some simple Thai phrases like "Khun Che Arai?" which means "What's your name?"and some others which I forgot. She also asked where I came from. Upon hearing my reply, Singapore, she commented that she has heard of the country before but never been there. She also read some information about Singapore on the internet. Continuing the conversation, I told her that I have also been to Chiang Mai back in 2008 and she told me she has not been there before too and that I was very lucky to have traveled so much. I would have guessed she is from a not very well-to-do family by what she told me.
Time flies by when you are chatting and enjoying the massage and sure enough, it was already over even before I knew it. Ploy did a very nice gesture of helping me wear my socks back on after the massage in which I felt a sense of warmth, akin to that of a mother's love even though she is not that old. I would be glad to have her as my masseur the next time I visit the spa!
I decided to relax in the Royal Orchid Spa after my massage and the prompt waiter brought me a cup of hot tea with some Thai coconut roll snacks. It's a wonderful combination and certainly helps you relax even further. After finishing the tea and snack, I proceeded on to leave the lounge. On my way out, I enquired if I will be able to utilize another massage on my way back but the receptionist told me that I am only entitled to one massage, although I don't really know what she meant. Was it one massage per ticket, or one massage per way?

Something to drink and nibble on after massage
Leaving that behind, I proceeded to the lounge and relaxed before heading on to gate D4, my boarding gate for the longest flight in my life, TG517 to Dubai.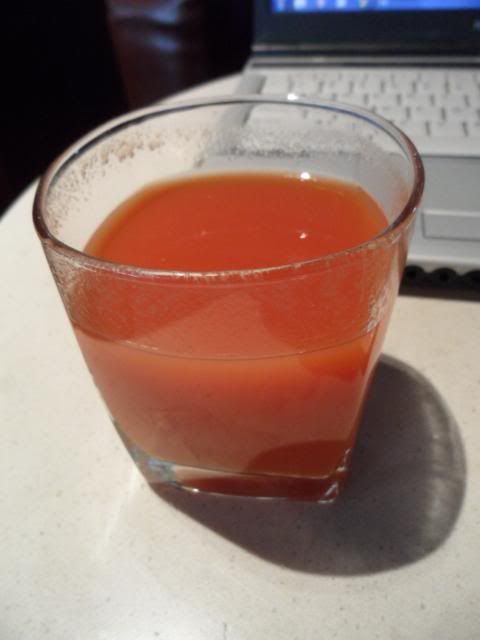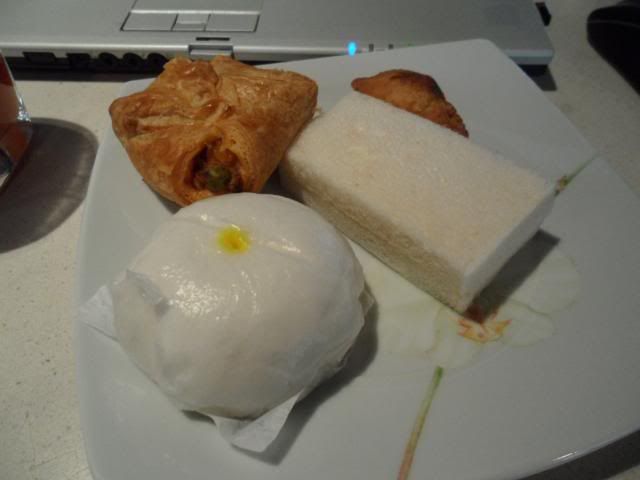 Grabbing a bite and something to drink in the lounge